Where All the Matcha Lovers Gather…まっちゃんの旅
Hello to all the Matcha Lovers, or まっちゃんズ.  まっちゃん(Matchan) is a nickname my friend gave me because I love matcha too much. You will not be wasting a minute of your time because this page will tell you everything you need to know about the best matcha gelato store you won't want to miss out on when visiting Tokyo!
Yes you have read correctly. It's not just ice cream, GELATO and it's located in Tokyo!!
It is about a 7 minute walk from Asakusa Shrine.
Tokyo tea shop, Suzukien (壽々喜園), has collaborated with Shizuoka's famous green tea gelato shop Nanaya (ななや) to sell the most intense matcha flavored gelato in the world.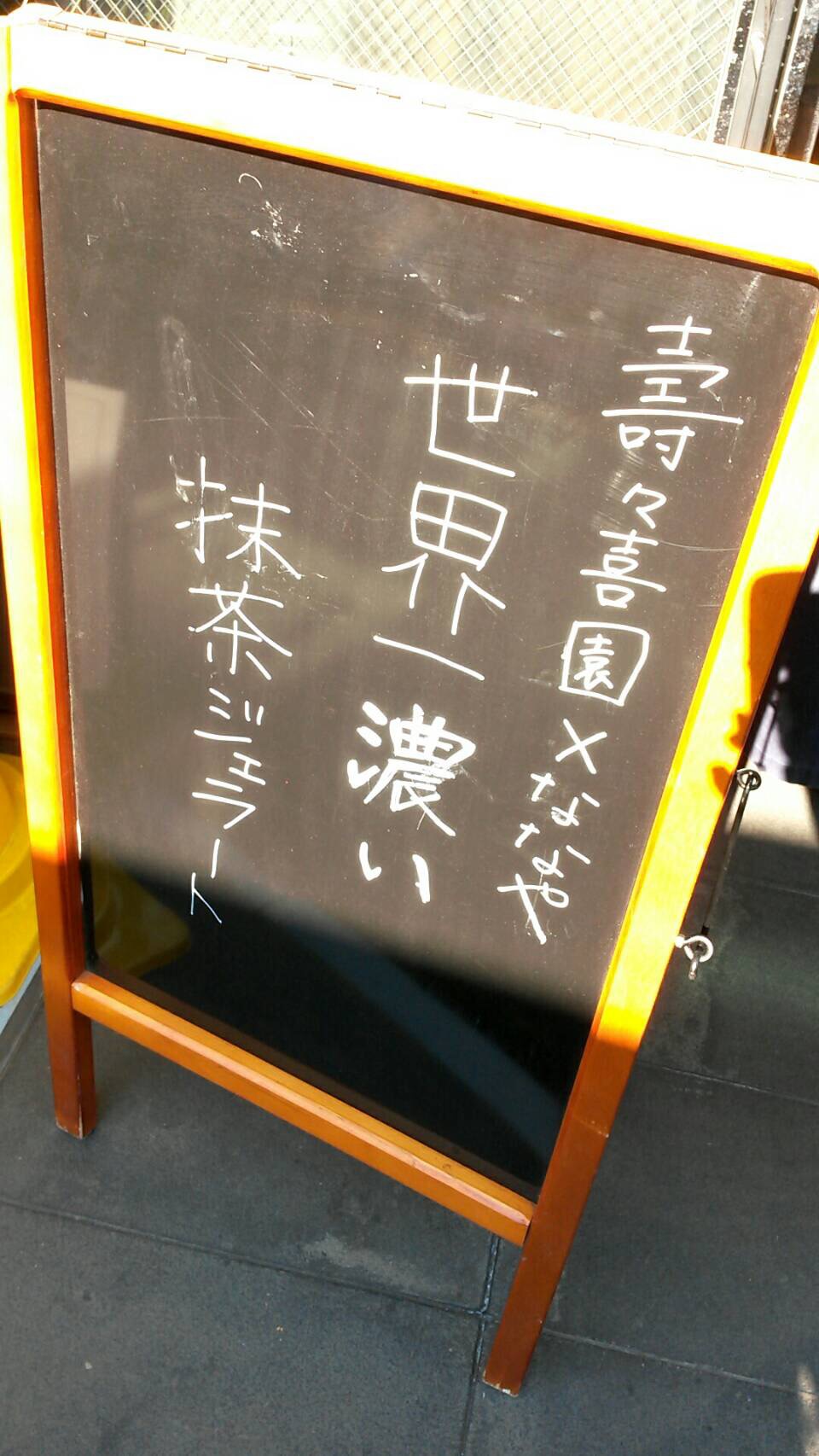 The way this works is that you can select the matcha level of your gelato from No.1~ No.7. No. 3 is considered to be the regular matcha flavor, so you can decide if you prefer a sweeter or bitter flavor. No. 7 is most bitter so of course I went for that one.
Meanwhile, there are other flavors such as Hojicha, black sesame, Genmaicha, and strawberry. I also wanted to try the strawberry, so I got a double scoop. You can see the greenness of No. 7 very well in this picture.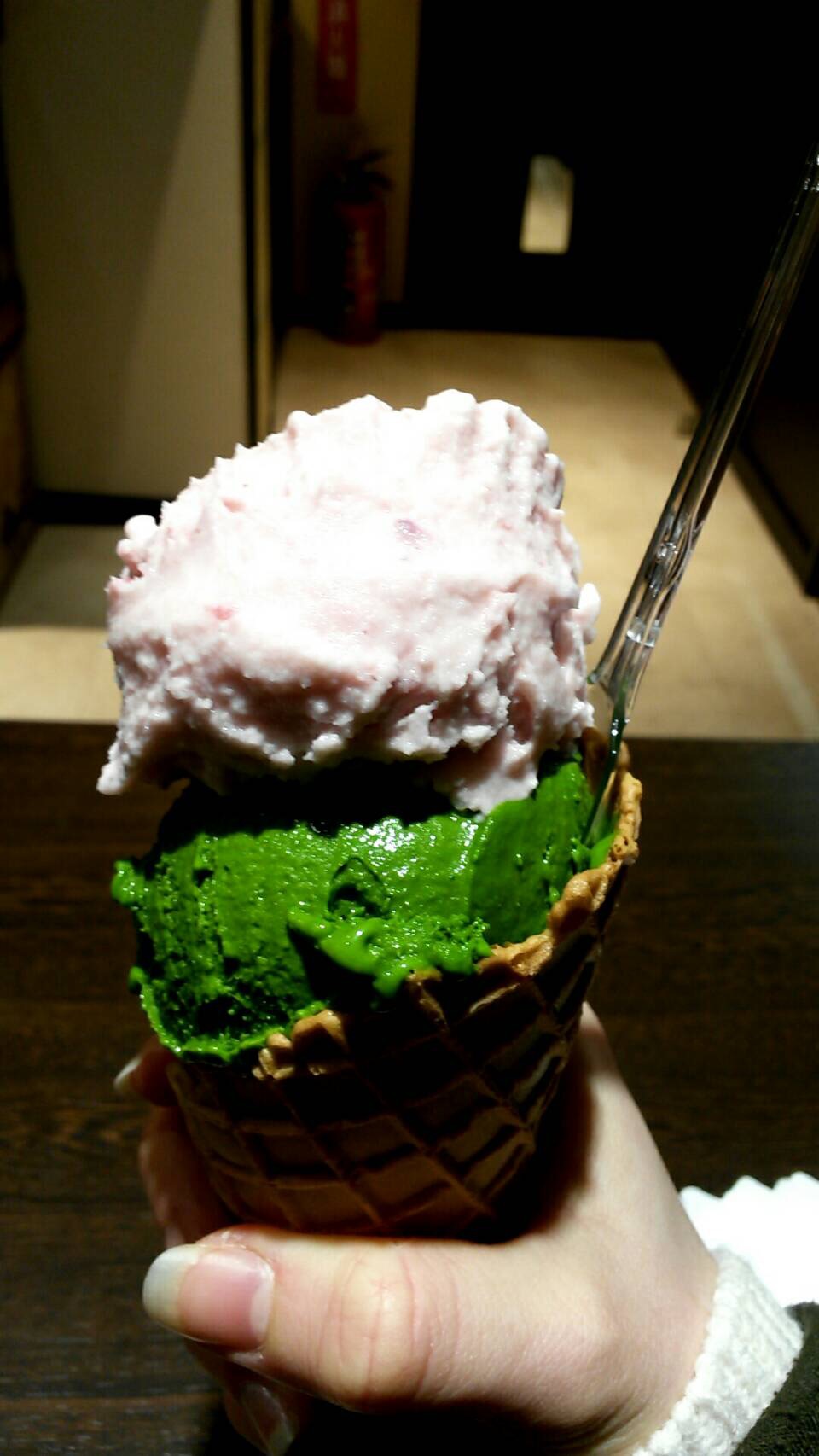 Single scoop in a cup (No.1~No.6) ¥340, On a cone ¥360
Double scoop in a cup (No. 1~No.6) ¥440, On a cone ¥460
Single scoop in a cup (No.7) ¥530, On a cone ¥550
Double scoop in a cup (No.7) ¥630, On a cone ¥650
It is a little pricey, but it is totally worth it…
After the first lick, the perfect word came out of my mouth, "神" (Kami). Kami literally means "god" and it is one of the "若者言葉" (Wakamono-kotoba), or slang words used by young Japanese people. It has recently been one the buzzwords and young people use it to praise something. The sweetness of the strawberry gelato and the bitterness of the matcha's combination were marvelous.
If you seriously love matcha, you must go there without a doubt.
Matcha hunting…to be continued….
■Information:
抹茶ジェラートショップ壽々喜園×ななや (Matcha Gelato Shop Suzukien x Nanaya)
Address: 3-4-3 Asakusa, Taito-ku, Tokyo
Time: 10am~5pm
TEL:03-3871-0311
■Writer:Jessica Poluhowich
Instagram:mintbaby
−−−
■Related article:Come and Try Yummy Soba
■Related article:Fukui prefecture's local soul foods :Good-old Japanese sweets store that represents Fukui prefecture will make you comfortable.
RELATED ENTRIES
Garrett Popcorn Releases its Richest Matcha Flavour in Japan

Chicago-based gourmet popcorn brand Garrett Popcorn Shops® is releasing its strongest matcha flavour to date alongside a new striped tin in Japan on June 1. Both are limited edition products and will be available while supplies last.

Named "Koi Matcha Kinako Kurumi" (Rich Matcha Soy Flour Walnut), the new matcha flavour is 40% stronger than the Matcha Caramel Crisp™ and blends together soybean flour and walnut for an aromatic crunch combination. The matcha holds a pleasant bitter flavour while the soybean flour is subtly sweet and gives off a rich, delightful smell.

The new tin takes Garret Popcorn's iconic striped design and throws in multiple colours and patterns for vivid effect. Combined with the new matcha flavour, it makes for the perfect home theatre accompaniment while you watch a movie.

Information

Koi Matcha Kinako Kurumi (Japanese Name: 濃抹茶きなこくるみ)

Available: Garret Popcorn Shops® branches in Japan (see below)

*Daily limited stock. Available while supplies last.

Running

Harajuku: June 1, 2020 – July 16, 2020

Shisui Premium Outlets: June 5, 2020 – July 16, 2020

Nagoya: Now until July 16, 2020名古屋店:発売中~7月16日(木)

LaLaport Expo City: June 1, 2020 – July 16, 2020

Prices/Sizes

Small: ¥620 / Medium ¥1,100 / Large ¥1,720 / Jumbo ¥3,450 / Quarter Tin ¥4,175 / 1 Gallon Tin ¥4,400 / 2 Gallon Tin ¥8,400

*Jumbo and 2 Gallon Tin sizes exclusive to the Shisui Premium Outlets and LaLaport Expo City branches of Garret Popcorn Shops®.

Official Website: http://jpgarrettpopcorn.com/

Brown Sugar Syrup Dorayaki to be Sold at FamilyMart Convenience Stores in Japan

With shops and businesses temporarily closed as a result of lockdown measures in Japan, Japanese convenience store chain FamilyMart is currently collaborating with famous shops around Japan. They recently teamed up with famous matcha company Kanbayashi Shunsho Honten to stock some authentic matcha treats on its shelves.

For its 5th collaboration, FamilyMart is collaborating with Eitaro Sohonpo, a Japanese confectionery store that has been around since 1818, to bring the company's brown sugar syrup dorayaki to their own shelves from May 29, 2020. Since being released in December 2018, the dessert has been sold over 1 million times.

The dorayaki is made with Eitaro Sohonpo's brown sugar syrup and coarse sweet red bean paste. Each and every ingredient is chosen with care to create this luxurious dessert. The adzuki beans are soaked in a brown sugar syrup made from sugar from Okinawa Prefecture. It's also made with whole soybean soy sauce and a whipped cream that's made from a blend of fresh Hokkaido cream and 26% milk.

The dorayaki pastry is soaked in brown sugar syrup which when eaten with the whipped cream and coarse sweet bean paste makes it truly a dessert for the gods.

Information

Eitaro Sohonpo – Brown Sugar Syrup Dorayaki (Japanese Name: 黒みつしみうま生どら焼)
Price: ¥298 (Tax Included)
Release Date: May 29, 2020
Available: Japan (Except Okinawa)
FamilyMart Official Website: https://www.family.co.jp/

Beauty Connection Ginza's Fruits Salon Reveals Mango Menu Line-Up

Beauty Connection Ginza and its second floor fruit course cafe Fruits Salon have been closed since April 8, 2020 as a result of the novel coronavirus (COVID-19) outbreak. But that hasn't stopped Fruits Corner wanting to deliver its tasty treats to customers as it reveals its new mango themed menu which is set to run for the whole month of June. It will be taking online orders.

Following the pear, citrus fruits, and strawberry line-ups, the new mango course is made up of four different vitamin-packed and refreshing accompaniments, all made with fresh mangoes from Miyazaki Prefecture.


Mango Full Course: ¥4,400 (Tax Included)


1st. plate "Terrine"


2nd. plate "Airy Tart"

Each of the four plates, packed full of rich and sweet mangoes, offers refreshing taste to give you that early summertime vibe.


3rd. plate "Parfait"


4th. plate "Dried Fruits/Mignardises/After-Meal Drink)

The third plate is a gorgeous, eye-catching parfait centred on mango gelato and made up of delicious ingredients that all come together harmoniously. Mix everything together to create new flavours. The full course is 90 minutes, and beckons you to use all five of your senses to enjoy it.

Matcha and Fruit Shaved Ice & Other Desserts Arriving to Saryo FUKUCHA in Kyoto This Summer

Saryo FUKUCHA is a cafe that was opened by FUKUJUEN in Kyoto Station in April 2019. A new batch of seasonal summertime menu items are set to arrive this June, including shaved ice drizzled in Uji tea and fruit sauce, a refreshing Uji matcha soda made with fresh fruit and jelly, and floats. These items will be served from June 1 to September 30 with a takeout option available.

Summer Menu

Uji Matcha & Fruit Shaved Ice


Matcha Berry Shaved Ice: ¥950 / Strong Matcha Berry Shaved Ice: ¥1,100 / Houjicha Banana Shaved Ice: ¥950 (All Before Tax)

The "Matcha Berry" shaved ice is paired with rich Uji matcha ice cream and berry sauce. It's also topped with a wafer cake shaped like a flower and filled with white bean paste, rice flour dumplings, and fruit.

Uji Tea White Peach Soda / Uji Tea Lemon Soda: ¥650 Each (Before Tax)

Full-bodied kabusecha tea from Uji made into a soda with fresh fruit pieces and jelly for a refreshing combination. Pick from super refreshing lemon or subtly sweet white peach.

Uji Matcha Float / Houjicha Float: ¥700 Each (Before Tax)

These floats are made using the best tea leaves selected by FUKUJUEN which are used to make a rich and frothy tea latte. Added to that is a dollop of soft serve ice cream topped with red bean paste and dried wheat gluten. Choose between authentic Uji matcha or aromatic houjicha.

Takeout Menu

Strawberry Flower Wafer Cake / Chestnut Houjicha Wafer Cake: ¥350 Each (Before Tax) 

Fruit wafer cakes are a popular dessert at Saryo FUKUCHA, and for the first time ever they are making them available for takeout so customers can enjoy them at home too. Pick from the strawberry flower flavour made with white bean paste or the chestnut and houjicha with chocolate cream.

Cream Anmitsu (Matcha/Houjicha): ¥700 (Before Tax)

FUKUCHAs specially-made anmitsu, or syrup-covered anko bean jam, is the perfect way to cool down on a hot summer's day. It's mixed with Uji tea honey and topped with various toppings like milk agar-agar, black soybeans, rice flour dumplings, white peach, raspberry, and mizu manju.

Information

Saryo FUKUCHA
Address: 901 Higashi Shiokojicho, Karasumadori Shiokoji Sagaru,, Shimogyo-Ku Kyoto Station Bldg. 2F, Kyoto 600-8216 Kyoto Prefecture
Opening Hours: 8:30-21:00 (Last Orders 20:30)
*The cafe is currently running on reduced opening hours as of May 26, 2020. Hours are now 10:00-19:00 (Last Orders 18:30). Times are subject to change.
TEL: 075-744-0552

Official Website: https://fukucha-fukujuen.com/

Ginza's Legendary Strawberry Mille-Feuille Dessert Arrives to Japan's Kansai Region

VMG HOTELS & UNIQUE VENUES is now serving a certain strawberry mille-feuille at several locations across Japan's Kansai region. Available from May 26 to 31, t's a recreation of the legendary dessert "Napoleon Pie" from Ginza in Tokyo.

In 1966, Sony co-founder Akio Morita opened a restaurant called Maxim's de Paris with the idea in mind to create a place for adults to meet and socialise over food. Since opening, it has tickled the taste buds of customers with its authentic French cuisine and dazzled them with its deep crimson decor. The "Napoleon Pie" is an especially popular dessert that has gained a legendary status. The custard is laced with fragrant cointreau, and the thick pastry is stuffed with strawberries. The dessert gets its name from how it looks like Napoleon's hat.

This strawberry mille-feuille is now being sold at select locations in Kyoto and Hyogo for just six days. It's the first time for the dessert to be served in Kansai.
The dessert is available for takeout so customers can enjoy an at-home cafe experience.

Information

Kyoto: LE UN FUNATSURU Kyoto Kamogawa Resort (TEL: 075-351-8541)
Kobe: LE UN Kobe Geihinkan (TEL: 078-739-7600)

Pricing
Half Size (8cm x 11cm x 12cm): ¥3,240 (Tax Included)
Full Size (16cm x 11cm x 12cm): ¥6,480 (Tax Included)

Locations
Kyoto (FUNATSURU Kyoto Kamogawa Resort, 180 Minoyachō, Shimogyō, Kyoto) [Serving: May 26, 30, 31]
Hyogo (Kobe Kitano Ijinkan-Gai, 2-9-3 Kitanochō, Chūō Ward, Kobe, Hyogo) [Serving: May 27-29]

*Available for takeout at THE GRAND GINZA following the Kansai sales
*Delivery available in the city until June 20, 2020

3 New Limited-Edition Botanical Drinks to Arrive This Summer at BOTANIST Tokyo

BOTANIST Tokyo, the flagship shop of BOTANIST in Omotesando, has announced a new collection of limited-edition drinks will be served on the second floor BOTANIST Cafe from July 12, 2020. BOTANIST Tokyo is currently closed but it scheduled to reopen on June 1.

There are three new refreshing drinks to choose from, all of which can be ordered for takeout. From apple mint to grapefruit, each beverage us the perfect accompaniment for cooling you down in Japan this summer.

REFRESH MENU


Refresh Soda: ¥600 (Tax Included)

A combination of grapefruit jelly and fizzy soda water make this one of those drinks that you go "Ahh!" afterwards on a hot summer's day. There's also a hint of sweet green apple.

Botanical Melon Soda: ¥800 (Tax Included)

This is a smoothie which blends together two types of melon soda and adds melon jelly and a dollop of ice cream. It's like a dessert in a cup!

Banana & Avocado Refresh Smoothie: ¥720 (Tax Included)

Enjoy the sweetness of banana and sugar beet together with the smoothness texture of the avocado in this smoothie which has apple and mint mixed into it for that refreshing summertime kick.

The cafe's regular menu has also been revised to add three new desserts.

REGULAR MENU


Vegan Waffles w/Drink: ¥800 (Tax Included)

These vegan waffles are healthier for the body if you're looking for some guilt-free indulgence. It's topped with soy whipped cream, maple syrup, and fruits of your choice.

Lemon Cheesecake w/Drink: ¥1,000 (Tax Included)

A crunchy cookie base, a creamy cheese top, and a lemon to top it all off. The combination of the salty flavour with the sour hit is a match made in heaven.

Homemade Rich Pudding: ¥500 (Tax Included)

An in-house made purin, which is a type of Japanese custard pudding. It's a delightful mix of rich egg and subtly sweet soy whipped cream.

Customers who spend over ¥4,000 (tax included) on items in the Refresh Series will also be entered in for a chance to win a "Refresh Soda." The soda is available while supplies last.

Information

REFRESH MENU
Serving: June 1, 2020 – July 12, 2020

REGULAR MENU
Serving: From June 1, 2020

BOTANIST Tokyo
Address: 6-29-2 Jingumae, Shibuya, Tokyo (1st Floor – Shop / 2nd Floor – Cafe)
TEL: 1st Floor: 03-5766-3777 / 2nd Floor: 03-5766-3778
Opening Hours: 11:00-20:00
Official Website: https://shop.botanistofficial.com/

Tropical Flavoured Pikachu Puré Gummies Dropping This Summer

Japanese confectionery company Kanro has revealed its new limited-edition, tropical flavoured Pikachu gummies which it developed in collaboration with Pokémon for its Puré gummy range. They will be released in Japan on June 2, 2020.

The sweet and chewy tropical gummies are made with pineapple juice which is the main flavour, mango juice, and banana juice. They also added a soda flavour for that Pikachu thunderbolt kick (and to balance the flavours!)

They come in limited-edition Pikachu shapes

A packet of these gummies includes the classic heart-shaped Puré gummy sweets as well as Pikachu-shaped ones. There are also four packet designs all featuring original and exclusive Pikachu illustrations.

Additionally, for a limited time, the regular lemon, grape, and muscat grape Puré gummy packaging feature Pikachu's paw prints on the front and back. There are even hidden Pikachu-shaped gummies inside these regular packets.

Pikachu online promotion

The product is being promoted over on the official Puré Twitter page. Pikachu is set to take over the page this June with promotional videos.

Famous Japanese Matcha Company Collaborates With Japan's Convenience Stores

With shops and businesses temporarily closed as a result of lockdown measures in Japan, Japanese convenience store chain FamilyMart decided that since people can't as easily get their hands on authentic matcha right now, they would collaborate with the famous matcha company Kanbayashi Shunsho Honten to stock some authentic matcha treats on its shelves. They were released at FamilyMart branches across Japan on May 19, 2020.

Umami Matcha Parfait

The parfait begins with a soft sponge bottom and is then layered with milk mousse and matcha mousse before being topped with matcha jelly, red bean paste, and other tasty accompaniments.

Umami Matcha Cheesecake Baumkuchen

The matcha baumkuchen is made using authentic Uji matcha and is baked to look like a cheesecake. You get the full rich matcha kick with this one.

Hidetoshi Kanbayashi (Kanbayashi Shunsho Honten) | Comment

"We use a blend of first-grade Uji matcha and top it with jelly and matcha mousse. We have made it in such a way that you can enjoy the full flavour and aroma of the matcha itself. Please enjoy."

Information

Kanbayashi Shunsho Honten Umami Matcha Parfait
Price: ¥298 (Tax Included)
Released: May 19, 2020
Available: FamilyMart convenience stores across Japan (except Okinawa)

Kanbayashi Shunsho Honten Umami Matcha Cheesecake Baumkuchen
Price: ¥298 (Tax Included)
Released: May 19, 2020
Available: FamilyMart convenience stores across Japan (except Okinawa)

FamilyMart Official Website: https://www.family.co.jp/

Kaori's Easy Recipe: Learn to Make Pompompurin Cheese Tarts

With just a small bit of ingenuity, turn everyday food into something cute using Kaori's Easy Recipe! With a few simple ideas, an ordinary recipe magically transforms into a cute dish.

In today's recipe, I'll be showing you how I made a batch of Pompompurin cheese tarts made using store-bought tart cups.

Ingredients (Makes 9-10)

9-10 store bought tart cups
200g cream cheese (brought to room temperature)
20-30g sugar
1 egg yolk
50ml fresh cream
8g potato starch (katakuriko)
Vanilla beans to taste (can be substituted for vanilla extract)
1 tbsp lemon juice

Step 1


Pour the following ingredients into a bowl in this order: cream cheese→sugar→egg yolk→vanilla beans→fresh cream→potato starch. Mix well. Make sure when you put the potato starch in last that you sprinkle it thinly.

Step 2
Bake the tart cups in an oven at 180℃ for 15-20 minutes. If you don't have store-bought cups, you can use small cocotte dishes.

Step 3

Leave to cool. Now you can start drawing the face.

For the hat I used sliced chocolate, for the ears sliced cheese, and for the facial features a chocolate pen.

Once you've drawn the face, it's time to tuck in!

Kaori invites you into her world of character-themed food dishes in her recipe series. Be sure to check out her Instagram where she has uploaded many pictures of her character dishes!

Kaori Kubota (@kaopan27)

I live in Hokkaido and I love to make character themed foods, desserts and pastries♡
I want to see my family smile, so I enjoy putting in a bit of effort to make character foods and changing food into something cute♡
You can see more of my character foods and character bento boxes on my Instagram page → @kaopan72

Tokyo's New Cat Shaped Cheesecake Shop 'Neko Neko Cheesecake' Opening in May 2020

ALL HEARTS COMPANY, a Japanese company that develops bakeries and patisseries across Japan, is launching an all-new cheesecake shop called Neko Neko Cheesecake which will open in Jiyugaoka, Tokyo on May 20, 2020. Serving cat-shaped cheesecakes, the shop will also take online orders.

Neko Neko Cheesecake is a sister brand of Neko Neko Kuu Pan from the same company which serves cat-shaped bread. Online deliveries will make for the perfect opportunity to bring that cafe experience to your own home.

Neko Neko Cheesecake – ¥1,800 (Before Tax) / Size: 11cm, 475g

The cake is made from the luxurious French brie cheese Brie de Meaux which is mixed with a homemade apricot jam to create rich, deep flavour. This means the cheesecake not only looks cute, but is the real deal too.

Their secret to bringing about amazing flavour and not just adorable looks can be broken down into four simple steps.

①They use the king of cheeses, Brie de Meaux.
②Although baked, the cheesecake is so soft it has a similar texture to a no-bake cheesecake.
③The sweet and sour homemade apricot jam elevates the overall flavour.
④The combination of mature cheese and the apricot jam changes the flavour to create a completely new kind of cheesecake.

The cheesecakes are boxed in box that has a simple yet chic design with two cats sat side by side.

The store will open on May 20, and online orders will launch on ALL HEARTS MALL on the same day.

Information

Neko Neko Cheesecake
Address: 1-16-14 Jiyugaoka, Meguro Ward, Tokyo 〒152-0035 (Connected to baguette rabbit's Jiyugaoka branch)
Opening Hours: 9:00-20:00
No Fixed Holidays (Except New Year's)
TEL: 03-6421-1208 (Line to baguette rabbit Jiyugaoka)
*Opening hours reduced due to COVID-19. Check the shop's official Twitter page below for updates.

Neko Neko Cheesecake Twitter: https://twitter.com/neko_cheese_
ALL HEARTS MALL Online Store: https://hbantique.official.ec/

Mister Donut Japan Launches Another New Matcha Doughnut Series

Mister Donut Japan is set to release yet another new limited line of matcha doughnuts in collaboration with Gion Tsujiri and Toshi Yoroizuka at all branches in Japan from May 15, 2020.

Last month, Mister Donut collaborated with Gion Tsujiri and Toshi Yoroizuka to release the "Matcha Itadaki Series." This time around, they're joining their sticky baking hands to bring the "Matcha Odoroki Series." The triple team's matcha creations are the fitting way to celebrate Mister Donut's 50th anniversary as Gion Tsujiri brings the best Uji matcha from Kyoto and Uji-born pastry chef Toshihiko Yoroizuka brings his creative ideas.

There are four treats in the line-up: the "Crisp Double Uji Matcha" and "Crisp Uji Match Chocolate" feature cookie and bagel dough bases, creating a crunchy and chewy mix, while the "Pon de Pie Uji Matcha" and "Pon de Pie Chocolate" feature Mister Donut's classic chewy Pon de Rings combined with a crunchy pie texture.

Crisp Double Uji Matcha – ¥230 (Before Tax)

A chewy and crunchy base laced with Uji matcha and topped with Uji matcha whipped cream and chocolate.

Crisp Uji Match Chocolate – ¥230 (Before Tax)

A chewy and crunchy base laced with Uji matcha and topped with Uji matcha chocolate and chocolate chips.

Pon de Pie Uji Matcha – ¥200 (Before Tax)

Enjoy both a chewy base and crunchy pie mix at the same time, topped with Uji matcha whipped cream.

Pon de Pie Chocolate – ¥200 (Before Tax)

Enjoy both a chewy base and crunchy pie mix at the same time, decorated with chocolate whipped cream.

The Matcha Odoroki Series sees the chefs' ideas shine through to create desserts that not only taste amazing but look gorgeous too, as well as taking into the account texture.

Information

Matcha Odoroki Series
Serving: May 15, 2020 until Early July 2020
Available: Most Mister Donut branches in Japan
Official Website: https://www.misterdonut.jp

Teeny Tiny Disney Cupcakes to be Baked Up by Ginza Cozy Corner in Japan

Ginza Cozy Corner is introducing nine new Disney "sports festival" themed cupcakes to cake shops through Japan on May 11, 2020.

Cute mini cupcakes with a sports theme

Nine cupcakes make up the collection which feature motifs from popular Mickey Mouse & Friends characters including Mickey, Minnie, Donald, Daisy, and Goofy. One look at the picture below is enough to have you thinking what a waste these nearly seem to eat because of how adorable they are.

Disney Sports Festival Cupcakes (Box of 9) – ¥2,500 / Available: May 11, 2020 – June 21, 2020

The designs take inspiration from different sports like tennis, rugby, skateboarding, and more. All nine come in a box so it's going to be difficult picking which one to start with!

Disney sports design box

Box Line-Up

Top Row From Left
Daisy Duck Rhythmic Gymnastics: Cheese Cream Roll Cake
Mickey & Friends Basketball: Chocolate & Vanilla Cream Roll Cake
Pluto Running: Chocolate Cream Cake

Middle Row From Left
Mickey & Friends Rugby: Sweet Adzuki Bean Paste Cream Matcha Cake
Mickey & Friends Cheerleader: Strawberry Cream Tart
Goofy Soccer: Orange & Chocolate Cream Tart

Bottom Row From Left
Minnie Mouse Tennis: Lemon Cream & Strawberry Cream Tart
Donald Duck Swimming: White Peach & Lychee Cream Shortcake
Mickey Mouse Skateboard: White Chocolate Cream & Raspberry Puree Tart