Lindt's 6 New Chocolate Cafe Mochas Will Warm You Up This Fall
Premium chocolate brand Lindt is releasing six new mocha beverages on November 1 at Lindt Chocolat Cafe branches across Japan (excluding Lumine Tachikawa). The line-up includes white, milk and dark varieties of their new "Lindt Iced Chocolate Drink Mocha" and "Lindt Hot Chocolate Drink Mocha."
From these two new drinks customers will pick between their favourite kind of chocolate―white, milk or dark―after which their coffee chocolate beverage will be prepared with love and care with a fresh shot of aromatic espresso. The coffee beans used for these mocha delights were carefully chosen by the cafe chain to ensure they enjoy a harmonious combination with the espresso, resulting in a velvety sweetness from the chocolate and rich, full-bodied fragrance from the coffee.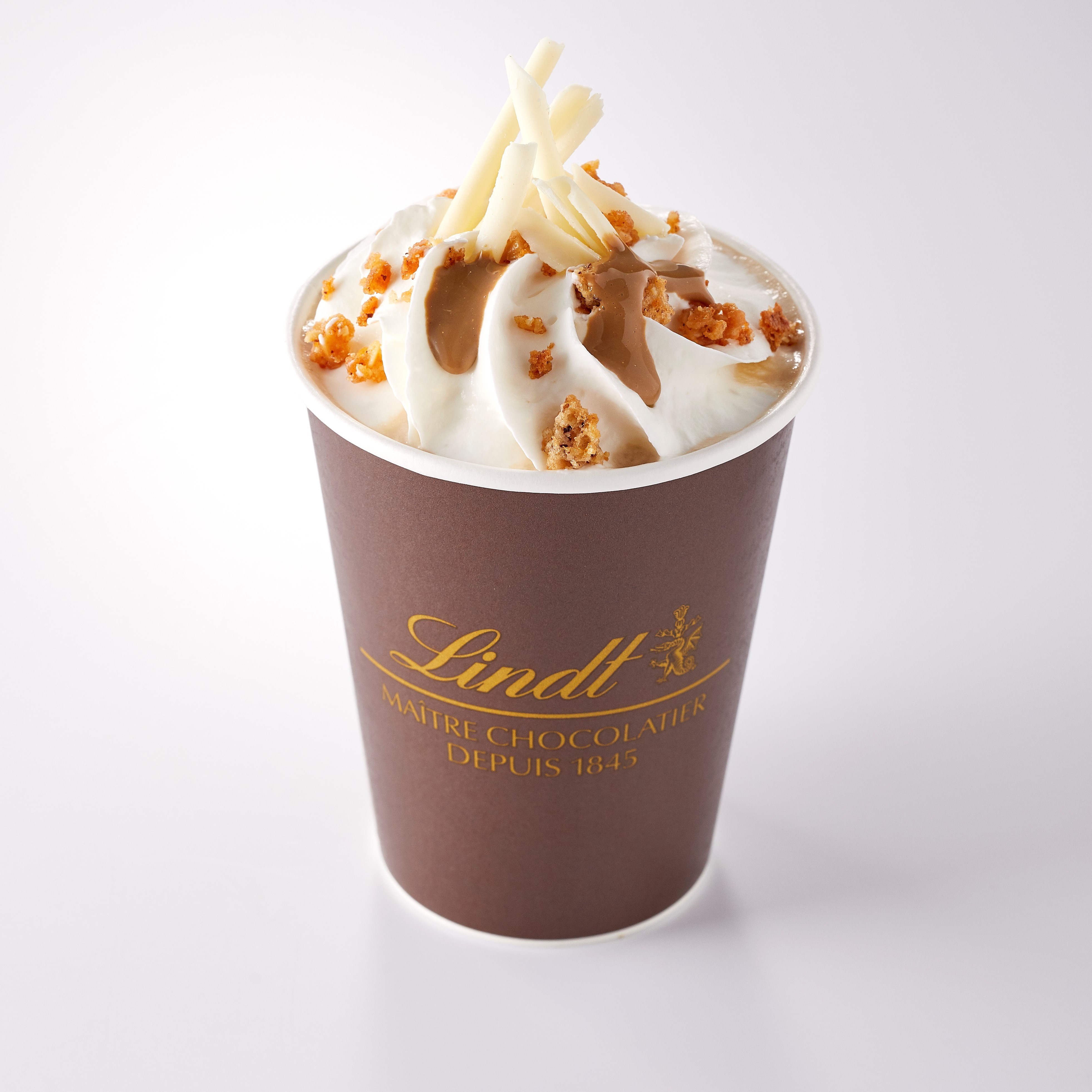 Choose between hot or iced depending on how you feel that day. The iced mochas have a refreshing aftertaste while the hot mocha leaves smooth lingering sweetness in your mouth while also relaxing and warming you up.
Each drink is topped with a light and fluffy mousse and is drizzled in a rich mocha sauce before chocolate nibs and crunchy hazelnuts are thrown on top for texture. Whichever you order, it will be like a dessert in a cup: filling and satisfying. If you're near a Lindt Chocolat Cafe while in Japan from November 1, be sure to pop in.
Information
Lindt Iced/Hot Chocolate Drink Mocha (White/Milk/Dark)
Price: ¥699 (Tax Included)
Running: November 1, 2019 – all year round
Available: At Lumine Chocolat Cafe branches in Japan (excluding Lumine Tachikawa)
Lindt Japan Official Website: https://www.lindt.jp/
RECOMMENDED ENTRIES
This Week's Dessert: Savouring Autumntime Matcha Sweets at ATELIER de GODIVA in Ikebukuro

One thing I do at least once a week without fail is treat myself out to some delicious food or dessert. It's very important time well spent to ensure happiness.

I've been working relatively hard as of late. I had some spare time before a business meeting, so I took advantage of the occasion to treat myself to some desserts. My destination: ATELIER de GODIVA located inside Seibu Ikebukuro.

GODIVA has numerous stores throughout Tokyo, but Ikebukuro's concept store branch has an eat-in space that's perfect for that tea or coffee break.

ATELIER de GODIVA boasts that same level of quality when it comes to their desserts, some of which are exclusive to this branch. There are only three branches: this one in Seibu Ikebukuro (Tokyo), another in Daimaru Kyoto (Kyoto), and the last in Hakata Hankyu (Fukuoka). The cake I am showing you today is a special dessert sold only in these three branches (and is takeout only at Hakata Hankyu).

The first delight I ordered was the Mousse Matcha Cherry.

Mousse Matcha Cherry: Eat in ¥980 / Takeout ¥780 (*Matcha Ice Cream is eat-in only)

Available: Until November 26, 2019 while supplies last

The shiny cake is served on a round white plate with a dollop of matcha ice cream. The pink berry sauce is drizzled around the plate to make the plating even cuter.

Time to tuck in. This extravagant cake is supported by a fluffy matcha mousse topped with a crunchy chocolate sable. On top of that still are juicy cherries, adding a hint of freshness to the cake. The matcha glaze on the mousse has just the right amount of bitterness, which when coupled with the subtly sweet matcha mousse makes for a heavenly balance of flavours. Lined around the base of the mousse are sweet and sour dried raspberries which elevated the matcha-ness of the matcha mousse.

The matcha ice cream which it comes with when you order to eat in is rich and creamy.

I was full up after my dessert, but since I'd taken the time to come here I wanted to order a drink too… so I got a takeout Chocolixir Uji Matcha Kiwami from a shop adjoining ATELIER de GODIVA.

Chocolixir Uji Matcha Kiwami – ¥602 (*Takeout only at the GODIVA Seibu Ikebukuro branch)

This new drink is part of GODIVA's chocolate and tea pairing series. The chefs at GODIVA have carefully selected the best varieties of tea to combine with chocolate. This one is an iced drink made with white chocolate and matcha.

It's a mix of GODIVA's popular smooth and sweet white chocolate and rich Uji matcha. It's crowned with a sprinkling of bitter Uji matcha powder. All of the flavours are highlighted in this sweet drink. The crunchy white chocolate pieces you sip up as you drink are delicious. It's the kind of drink where you're sure to find something new each time you take a drink.

My 30-minute tea break is my little self-indulgence for the day. Spare minutes in my daily schedule affords me the chance to go and enjoy some delicious desserts. You should treat yourself to some special autumntime sweets too.

Today's Presents

Matcha Adzuki ATELIER Tablet – ¥800

It's important to share the happiness between family and colleagues on when you get the chance to enjoy something tasty. The present I bought today was a tablet chocolate handmade in the shop. The matcha white chocolate has almonds in it as well as Japanese-style chocolate mixed with adzuki. It has a strong matcha flavour and isn't overly-sweet. You can also request for a ribbon to be tied around it for gift-giving. It's a chocolate that's sure to bring anyone joy.

Writer:Sayuri Mizuno(MOSHI MOSHI NIPPON)

Translator: Joshua Kitosi-Isanga

Information

ATELIER de GODIVA Seibu Ikebukuro

Address: Seibu Ikebukuro B1F, 1-28-1 Minami-Ikebukuro, Toshima Ward, Tokyo

Opening Hours: [Mon-Sat] 10:00-21:00 / [Sun & Holidays] 10:00-20:00

ATELIER de GODIVA Daimaru Kyoto

Address: Daimaru Kyoto B1F, 79 Tachiuri Nishimachi, Shimogyo Ward, Kyoto, Kyoto Prefecture

Opening Hours: [Mon-Sun] 10:00-20:00

ATELIER de GODIVA Hakata Hankyu

Address: Hakata Hankyu B1F, 1-1 Hakataekichūōgai, Hakata Ward, Fukuoka, Fukuoka Prefecture

Opening Hours: [Sun-Thurs] 10:00-20:00 / [Fri-Sat] 10:00-21:00

Chocolixir Uji Matcha Kiwami

Running: October 1, 2019 – November 30, 2019

Available: GODIVA

https://www.godiva.co.jp/boutique/?view=map&store_list_id=50

GODIVA Official Website: https://www.godiva.co.jp/

Ginza's Gorgeous Ice Cream Shop coisof Releases Halloween Parfait

Ginza's luxury ice cream shop has released a new parfait flavour for the Halloween and autumn season.

They have called it the "Akiiro Murasaki coi Parfait" (Autumn Colour Purple coi Parfait). Coloured like the vivid sumire plant―a species of violet―this mouth-watering parfait contains a jam made in-house with whole natsuhaze, a wild type of blueberry that has been used in Japan since ancient times. It's topped with a dollop of rich and milky ice cream, a puree made from in-season purple sweet potatoes, and assorted nuts for added crunch.

Natsuhaze blueberries contain a lot of polyphenols, giving them an elegant sour flavour which goes unbelievably well with the taste of the milky ice cream and sweet potato. The parfait is served with a liqueur made from sumire extract.

For the Halloween period between October 16 to 31, the parfait can also be topped with various spooky decorations at no extra cost, like chocolate ghosts, spiders and cobwebs.

If you're celebrating Halloween in Japan this year, or want to treat your date to a Halloween treat, then take them to Tokyo's high-class shopping district Ginza for a luxurious parfait.

Information

Akiiro Murasaki coi Parfait

Price: With Liqueur ¥1,200 (Before Tax) / Without Liqueur ¥1,000 (Before Tax)

Running: October 16, 2019 – November 30, 2019

*Free Halloween parfait toppings available October 16, 2019 – October 31, 2019

Coisof

Grand Opening: January 17, 2019

Address: re:Dine GINZA Floor 9F, 4-3-1 Ginza, Chuo Ward, Tokyo

Opening Hours: 11:00-22:00

TEL: 050-3628-5009

Website: coisof.favy.jp/

Starbucks Japan Unveils Halloween Dark Night Frappuccino®

Starbucks Coffee Japan has announced a new beverage called the Halloween Dark Night Frappuccino® which will be released at Starbucks branches (*1) across Japan from 17:22 (*2)―the time of sunset when night begins―on October 18, 2019. The coffee chain is also releasing its new "Halloween Masquerade" filter on Instagram (*3).

*1. Select branches not participating.
*2. Roll out time may differ at select branches.
*3. Instagram is a service owned by Facebook, Inc. The above-mentioned filter is not backed or managed by Instagram in any way nor is it affiliated with the service.

The Halloween Dark Night Frappuccino® is themed on an evening masquerade party. It will go on sale when the sun sets at 17:22 on October 18. As the name suggests, the drink itself is black and mysterious like the night, blending together black cocoa powder with white chocolate brownie.

The jet black beverage also has a red hue to it which comes from a sweet and sour red berry sauce made from raspberries, cranberries and strawberries. It's topped with a squirt of fluffy whipped cream, sprinkled with black cocoa powder, and drizzled with more of that red berry sauce to create that Halloween aesthetic. The black cocoa adds a delicious bitterness to the sweetness of the brownie and the sweet and sour mixed berries, creating a mouth-watering flavour combination.

The Halloween Masquerade filter was developed by Starbucks for people's Instagram stories this Halloween. There are four masks to choose from which can be changed by just tapping on the screen. There are other cool Halloween effects on the filter to find too. Something might even pop out of your mouth if you open wide…

Starbucks Japan will also sell the above-pictured Halloween cup stands when the drinks go on sale. Limited in stock, the stands come in black and white, titled Halloween Red Night Frappuccino® or the Halloween Dark Night Frappuccino® respectively. You can buy them separately or as a set.

Experience a spooky masquerade party at Starbucks this Halloween.

Information

Halloween Dark Night Frappuccino®

Price: Tall Size Only – ¥590 (Before Tax)

Running: October 18, 2019 at 17:22 to October 31, 2019 (While supplies last)

Available: At most Starbucks Japan branches

 

Starbucks "Halloween Masquerade" AR Filter

Available: From October 16, 2019 at 10:30 (JST)

How to Use:
・Available from Starbucks Japan's official Instagram profile @starbucks_j

・Download the Instagram app on your phone and access via https://sbux.jp/masq

*The filter will be removed without notice on November 1, 2019

Cup Stands


Running: October 18, 2019 – October 31, 2019 (While supplies last)

Halloween Red Night Frappuccino® / Halloween Dark Night Frappuccino®

Price: ¥990 Each (Before Tax) *Fits Tall size drinks only, Frappuccino® drink sold separately at ¥590

Available: At most Starbucks Japan branches

Starbucks Coffee Japan Official Website: https://www.starbucks.co.jp/
RELATED ENTRIES
Make Your Own Original KitKat at Tokyo's KitKat Chocolatory Miyashita Park Shibuya

Nestlé Japan is opening a new branch of KitKat Chocolatory inside Shibuya's new shopping mall Miyashita Park on August 4, 2020.


KitKat Chocolatory is a direct-to-consumer chain, serving premium, handcrafted KitKats made with top quality ingredients and production methods under full direction by Takagi Yasumasa―the owner and chef of LE PATISSIER TAKAGI. Its product line-up features a range perfect as gifts to friends, family and co-workers, or as a treat to yourself.

Japan is home to eight KitKat Chocolatory branches. The new Miyashita Park Shibuya branch will open as the fourth in Tokyo, as well as the first where you can create your own KitKat products.

My KITKAT: ¥2,000 (Before Tax)

"My KITKAT" comes as the world's first KitKat service where consumers can create their own original chocolate bars.

KitKat Waffle: ¥1,000 (Before Tax)

KitKat Chocolatory Sublime Soft Cream: ¥630 (Before Tax)

KitKat Chocolatory Miyashita Park Shibuya will also sell a variety of unique and exclusive KitKat desserts, like luxurious soft serve ice cream topped with couverture chocolate. It will also offer a cafe menu created by Nespresso, where customers can pair Chocolatory desserts with seasonal coffee menus, and more.

Shibuya-esque wall art will decorate the interior of the shop, making for plenty of photo opportunities.

Information

KitKat Chocolatory Miyashita Park Shibuya

Grand Opening: August 4, 2020

Address: Miyashita Park South 2F, 6-20-10 Jingumae, Shibuya, Tokyo

Opening Hours: 11:00-21:00 (Last Orders 20:00)

TEL: 03-6427-6811

Official Website: https://nestle.jp/brand/kit/chocolatory/

Eggs 'n Things Harajuku's Exclusive Chocolate Mint Pancakes Ship Nationwide in Japan

Eggs 'n Things Japan has announced that it is releasing its "Harajuku Chocolate Mint Pancakes" and "Mango Salsa Chicken & Eggs" to all branches throughout Japan (excluding temporarily closed branches).

Harajuku Chocolate Mint Pancakes: Eat In ¥1,480 (Before Tax), Takeout ¥880 (Before Tax) | Serving: May 15, 2020 – June 11, 2020

The Harajuku Chocolate Mint Pancakes speak for themselves. Enjoy a serving of mint flavoured pancakes drizzled in smooth mint cream which is sure to send a refreshing tinge through your nose. It's topped with an Oreo cookie, chocolate mint ice cream, and served with a side of chocolate sauce.

*The takeout option doesn't come with whipped cream or chocolate mint ice cream

Mango Salsa Chicken & Eggs: ¥1,280 (Before Tax) *Takeout option available | Serving: May 15, 2020 – June 11, 2020

A plate of juicy fried chicken and a punchy mango salsa with a flavourful coriander taste and spicy kick.

Two perfect dishes to enjoy an early summer this year, coming to Eggs 'n Things in Japan this Friday.

KitKat Chocolatory to Release Beautiful New Packaging Illustrated by Misaki Tanaka

Nestlé Japan is collaborating with popular Japanese illustrator Misaki Tanaka to release a new series of chocolate packaging on April 15 at KitKat Chocolatory. The concept behind the packaging is to have people choose the chocolate they want based on the words and pictures branded on the single chocolate boxes.

The KitKat Chocolatory is a direct-to-consumer chain, serving premium, handcrafted KitKats made with top quality ingredients and production methods under full direction by Takagi Yasumasa―the owner and chef of LE PATISSIER TAKAGI. Its luxurious line is endless, with products ranging from the elusive ruby chocolate, whose cocoa beans give the finish product its pink colour, to volcanic chocolate made from rare cocoa beans sourced from volcanic islands.

KitKat Mekakushi Chocolatory – ¥300~¥400 (Before Tax)

There are 15 different package designs in total which will be sold for a limited time. None of the boxes have information of the flavour or name of the chocolates; instead you pick which you want based on how the packaging looks. They make for a great gift to yourself and others.

The words chosen on the packaging reflect the feelings one goes through in love or everyday life. Misaki Tanaka has provided the perfect illustrations to better picture those times.

KitKat Mekakushi Chocolatory Full Box (15 Included) – ¥5,100 (Before Tax)

Those who want all of the flavours can purchase the assorted box of 15. The box lid features another original illustration by Miskai Tanaka. And if you roll up to KitKat Chocolatory Ginza between April 15 and May 17, they will have a special exhibition of the illustrations on show.

Information

KitKat Mekakushi Chocolatory

Available: 7 branches of KitKat Chocolatory (3 in Tokyo/2 in Osaka/1 in Kawasai/1 in Hiroshima) & Nestlé Japan Website (*Only 15 sets will be sold online)

Official Website: https://nestle.jp/brand/kit/chocolatory/mekakushi/

Ornament-Like Cake Parfaits Now Being Baked Up at Pascal Le Gac Tokyo in Akasaka

Pascal Le Gac Tokyo is the first overseas branch of internationally-recognised French-based chocolate company Pascal Le Gac which released some breathtaking new desserts to its menu on Wednesday.

Chocolate Parfait Flurry / Phrase Parfait Flurry

The original Parfait Flurry desserts are made in the image of a bloomed flower. When they were released back in April 2019, they instantly garnered attention across social media and news websites for their gorgeous design. Pascal Le Gac Tokyo has brought them back to the menu, this time in the form of cakes.

Cakes that are like parfaits

The new desserts take the same concept of the original parfaits, but instead turns them into cakes. But that doesn't simply mean taking the parfait ingredients as they are and turning them into a cake. Rather, the cakes recreate the taste of the parfaits, so it's like eating the real thing. The wine glass that the parfaits were served in have been recreated using icing to give that shiny effect, and the chocolate flowers have been cut thin so they are easy to eat.

Chocolate Flurry – ¥864 (Tax Included)

Starting from the bottom upwards, the Chocolate Flurry is layered with chocolate cookie pieces, chocolate flavoured almond sponge, chocolate cream, chocolate mousse, cacao flavoured vanilla cream, more chocolate cream, dark chocolate, milk chocolate, and chocolate glaçage. Every part of this art piece is made with cacao.

Phrase Flurry (Tax Included)

Starting from the bottom upwards, the Phrase Flurry is layered with pistachio cookie pieces, almond sponge, pistachio mousse, strawberry mousse, lychee jelly, strawberry compote, raspberry flavoured fresh cream, strawberry chocolate, and red glaçage. The marriage of strawberry, lychee, and pistachio flavours is nothing short of heavenly.

*Please note that opening hours and closures are subject to change depending on the situation of the coronavirus outbreak. Check the cafe's official website for the latest details.

Information

Pascal Le Gac Tokyo
Address: 2-12-13 Akasaka, Minato Ward, Tokyo
Opening Hours: [Weekdays] 10:00-20:00 (Last Orders 19:30) / [Weekends] 10:00-18:00 (Last Orders 17:30)

Closed: Sundays

Access: 5-minutes on foot from Exit 2 of Akasaka Station (via Chiyoda Line) / 1-minute on foot from Exit 11 of Tameike-Sannō Station (via Ginza and Namboku Lines)

TEL: 03-6230-9413

Official Website: http://www.legac-chocolatier.jp/

Tea & Chocolate Brownie Released by Dandelion Chocolate and IYEMON SALON ATELIER

Dandelion Chocolate and IYEMON SALON ATELIER have joined sticky fingers to bake up their new "Tea & Cocoa Brownie" which is now being served at IYEMON SALON ATELIER KYOTO and Dandelion Chocolate Kyoto Higashiyama Ichinenzaka.

This collaboration came about to celebrate 1 year since IYEMON SALON ATELIER KYOTO opened. The chocolates fuse IYEMON SALON's tea with Dandelion Chocolate's organic, single origin bean to bar chocolate.

Tea & Cocoa Brownie (Uji Matcha/Houjicha) – ¥1,800 (Before Tax) *Contains 2 of each flavour

The two different flavoured brownies, Uji matcha and houjicha, are filled with a ganache made from Japanese tea and carefully selected chocolate from the Dominican Republic. The chocolate has a strong, rich flavour like that of coffee and cherries, but is still easy to get without it tasting overwhelming. The brownies are also vegan-friendly and gluten-free, containing no eggs, dairy products, wheat, or white sugar. They are the perfect accompaniment to both tea and a mild-tasting sake.

The vegan lifestyle is slowly gaining recognition in Japan, so don't miss this chance to treat yourself to some melt-in-the-mouth vegan delights.

©Dandelion Chocolate Japan

GODIVA's Irresistible Chocolixir Sakura Drink Available This Spring

GODIVA Japan Inc. is releasing a new chocolate drink as part of their Chocolixir series. The new drink flavour "Chocolixir Sakura" will be sold from February 16 to April 9, 2020 at GODIVA shops only. 

Chocolixir Sakura: ¥630 (Before Tax)

Cherry blossom jelly and pink chocolate curls rest on top of a white cloud of whipped cream to create the appearance of cherry blossom petals. The drink creates the image of beautiful sakura petals as they reflect off the water's surface, creating the warm image of the rays of the spring sun. The sweet aroma and creamy melt-in-the-mouth white chocolate is divine. This chilled drink also contains small pieces of smashed white chocolate, creating a fun texture in your mouth. 

It looks just as wonderful as it tastes. One sip will fill your heart with the refreshing vibes of spring. GODIVA's velvety smooth chocolate drinks are always to die for. You just have to try it. 

McFlurry and KitKat Come Together in Long-Awaited Collaboration at McDonald's Japan

McDonald's Japan has teamed up with Nestlé Japan to release a KitKat® McFlurry®. It was released on Wednesday at all McDonald's branches in Japan.

It has been seven years since McFlurry® and KitKat® came together in their delicious chocolatey ice cream combination. It was such a hit back in 2007 that it has finally made its fabled return to the delight of sweet-tooth McDonald's customers.

The KitKat® McFlurry® is a simple combination of smooth soft serve ice cream and crushed KitKat®. It's also drizzled in a special sauce made from rich couverture chocolate.

The mix of the wafer-like chocolate KitKat® with the soft serve ice cream is a combination to die for, and the sauce only adds to the mouth-watering flavour.

The dessert will be served in limited-edition cups as pictured above. These cups are limited in stock and will discontinue once all are sold.

Information

McFlurry® KitKat®

Running: February 12, 2020 – Early March 2020 (subject to change)

Available: McDonald's in Japan (Select branches not participating)

Serving: All Day

Price: ¥290 (Tax Included)

*KITKAT and キットカット are registered trademarks of Nestlé Group.

McDonald's Japan Official Website: http://www.mcdonalds.co.jp/ 

9 Must Try Desserts and Sweets in Hokkaido & at New Chitose Airport – MOSHI MOSHI NIPPON

We at MOSHI MOSHI NIPPON know our readers love desserts and sweets as much as we do, and that's why we make sure to never go too long without writing about the latest must-try treats in Japan, like our recent article on

matcha desserts in Sapporo

.

We return to you once more with the 9 must-try delectable delights at New Chitose Airport in Hokkaido, and at various locations across Hokkaido. If you're heading to Japan's northernmost prefecture, and are using this airport, or are travelling throughout Hokkaido, then you can't miss out on these irresistible picks.

Today, we are joined by Kei, a Japanese Instagrammer who posts enticing pictures of the delicious desserts and drinks he has tried at cafes around Hokkaido. He has kindly provided us with his incredible pictures along with a descriptions, which we have translated into English. Enjoy!

GINRYU・BonBon BERRY | New Chitose Airport

GINRYU・BonBon BERRY is a revamp of the original shop, GINRYU. Located on the second floor of New Chitose Airport Terminal, the new shop has teamed up with BonBonBERRY, another store right next to Atami Station in Shizuoka Prefecture.

The shop specialises in Tokachi Ginryu strawberries, a variety of strawberry produced in the town of Otofuke. They have a distinct appearance and taste, with their beautiful white inside, low acidity, and high sugar content.

Omocchiizu Strawberry Skewer – ¥432

This skewered dessert is made up of strawberries, cheese-filled sticky rice cake, and strawberry baumkuchen. This is the ultimate strawberry indulgence!

Strawberry Bavarois – ¥740

The Strawberry Bavarois and soft serve ice cream look super cute too. The high sugar content of the Ginryu strawberry makes them perfect for any kind of dessert.

The shop is stocked full of other great sweet treats too, so be sure to check out their strawberry range.

▼GINRYU・BonBon BERRY

Address: New Chitose Airport Terminal – Floor 2F

Opening Hours: 8:00-20:00

No Fixed Holidays

Enquiries: 0123-29-4480

Chocolatier Masale | New Chitose Airport

Chocolatier Masale is a standout name in Hokkaido. This leading chocolate company have multiple branches – in addition to the Sapporo shops, they have sites in both the lobby and gate lounge of New Chitose Airport.

Mousse Glacee White Chocolate & Hokkaido Milk – ¥410

Exclusive to the departure lobby branch of Chocolatier Malase, this chocolatey dessert is an ensemble of ice cream made from mousse-packed Hokkaido milk and covered in chocolate. It's finished with cracked freeze-dried strawberries which give a fruity kick to the smooth taste of the ice cream and delightful chocolate.

▼Chocolatier Masale – New Chitose Airport Departure Lobby (ショコラティエマサール 新千歳空港出発ロビー店)


Address: New Chitose Airport Terminal – Floor 2F

Opening Hours: 8:00-20:00

No Fixed Holidays

Enquiries: 0123-29-4115

siretoco sky sweets | New Chitose Airport

siretoco doughnuts were created in the town of Nakashibetsu in Hokkaido. The New Chitose Airport Terminal branch is immensely popular for its cute mini animal doughnuts which are steamed instead of being dropped into hot oil, making them a healthier doughnut option.

Happy New Year Lucky Rat – ¥420 / Rich★Cream Cheese – ¥390

The doughnut on the left celebrates 2020 and the Year of the Rat in the Chinese Zodiac. It's white chocolate and strawberry chocolate flavoured. It's also not too sweet and has a soft and fluffy texture. The cheese doughnut has a very cheesy flavour indeed. All the animal faces are also made by hand, so each and every one is unique. Both are really cute looking.

▼siretoco sky sweets (シレトコ スカイ スイーツ)

Address: New Chitose Airport Terminal – Floor 2F

Opening Hours: 8:00-20:00

No Fixed Holidays

Enquiries: 0123-46-2109

Cafe Owl | Lake Shikotsu

Handmade Baked Purin – ¥500

Cafe Owl is situated in Shikotsuko Onsen, a popular tourist spot about a 55-minute transit bus ride from New Chitose Airport. It has a warm atmosphere to it with its log house-like appearance. Their food menu has just two things on it: pizza and purin (Japanese custard pudding). I ordered a purin and cup of coffee as a set.

The photo doesn't show how big the purin actually is – it's like a cake slice. It has a refreshing taste and isn't overly-sweet so can be chowed down easily.

▼Cafe Owl (カフェアウル)

Address: Shikotsuko Onsen, Chitose, Hokkaido

Opening Hours: 9:00-17:00

Closed: Wednesdays

Enquiries: 0123-25-2590

Pennennolde | Lake Shikotsu

Atsuma Honeysuckle Rare Cheese & Cocoa – ¥380 / Walnut Chocolate Ganache – ¥380

This cafe is also located in Shikotsuko Onsen. Their main meal is muffins, which are served warm inside their very relaxed space. The honeysuckle cheese muffin is thick and sticky, and doesn't have an unpleasant smell from the cheese. It's simply delicious. The chocolate ganache too is melted which only adds to the nice texture of the walnuts.

The muffins can be ordered for takeout too, so you can take them with you to enjoy the local sights.

▼Pennennolde (ペンネンノルデ)

Address: Bangaichi, Shikotsuko Onsen, Chitose, Hokkaido

Opening Hours: 10:00-17:00

No Fixed Holidays

Enquiries: 0123-25-4115

Kita no Umaimonten Hekisui | Lake Shikotsu

Raspberry Chocolate Soft Cream – ¥500

This cafe is close to Lake Shikotsu. They sell soft serve ice cream from the famous Iwase Farm located in the city of Sunagawa. This flavour is made with rich chocolate ice cream and is topped with freeze-dried raspberries, creating a great balance between the two.

This small place has its own eat-in area too, so you can kick back and relax while you enjoy the taste of some Hokkaido soft serve ice cream.

▼Kita no Umaimonten Hekisui (北のうまいもん店碧水)

Address: Shikotsuko Onsen, Chitose, Hokkaido

Opening Hours: Not known

Closed Days: Not known

Enquiries: 0123-25-4115

Official Website: Not known

Doremo LeTAO | Chitose

Chocolate Noisette Berry – ¥1,540

Doremo LeTAO is just a 15-minute walk from Chitose Station. Their "Chocolate Noisette Berry" is packed fully of rich chocolate, nuts, and berries.

Berry Mascarpone – ¥1,650

The "Berry Mascarpone" comes with four pancakes drizzled in berry sauce, mascarpone, custard, strawberries, and vanilla ice cream. The pancakes have soft meringue inside them, but are still light to eat, so you can rest assured you won't have a heavy stomach afterwards.

▼Doremo LeTAO (ドレモルタオ)

Address: 6-1-1 Asahinochi, Chitose, Hokkaido

Opening Hours: 11:00-18:00

No Fixed Holidays

Enquiries: 050-5570-2975

Mirtillo | Osatsu

Mirtillo is a gelato shop on the outskirts of Osatsu in Chitose. It's a tricky place to reach without a car, but it still stands as an incredibly popular gelato store. They have 16 flavours of gelato including several limited-time options.

I tried their "Waffle Parfait," which lets you pick from two gelato of your choice along with toppings. The combination of the crunchy waffles with the gelato is delicious. Added together with the blueberry sauce and fruits, you get a variety of tastes and textures.

The blueberries are actually all grown on site.

▼Mirtillo (ミルティーロ)

Address: 2 Osatsu, Chitose, Hokkaido

Opening Hours: 11:00-18:00

No Fixed Holidays

Enquiries: 0123-23-5323

Donut Chaya Honwaka | Eniwa

Honwaka Cocoa – ¥140 / Autumn Chestnut – ¥220

Honwaka is a doughnut shop about 1.5km from Eniwa Station. I got to try some of their seasonal autumn flavours: the fluffy and flavourful "Honwaka Cocoa," and the chestnut and chestnut cream-loaded "Autumn Chestnut." The chestnut cream is just the right amount of sweetness and has a really delightful chestnut flavour.

The store offers limited-time seasonal flavours with each passing season, so be sure to check out my Instagram to see more.

▼Donut Chaya Honwaka (ドーナツ茶屋 ほんわか)

Address: 7-18-4 Koganeminami, Eniwa, Hokkaido

Opening Hours: 11:00-17:00

No Fixed Holidays

Enquiries: 0123-25-5346

Did you enjoy these dessert picks? We hope you get to try some of them, and if you want even more dessert recommendations from Hokkaido, be sure to follow

Kei

on Instagram.

Photos & Original Text: Kei / 敬 (@607keih)

Translation: Joshua Kitosi-Isanga

*Information written in this article is correct at the time of publishing. For more details on each shop, please visit their official websites and social media pages.

*Food names are translated from Japanese into English where appropriate.

Valentine's Day 2020 Gift Recommendations: Chocolates and Treats at Tokyo Station

If you're in Tokyo in the run up to Valentine's Day, and are in in need of some ideas to bestow your loved one, then you'll want to head to Tokyo Station City where they are never short of great ideas when the season of love rolls around.

From little gifts under ¥500 to more indulgent delights over ¥1,000, Tokyo Station has it all. We've picked out some recommendations ranging from chocolates to sweets and other great ideas for those without a sweet tooth.

【Under ¥500】Little gifts to hand out

Heart de Katsu Burger – ¥237 @ Tonkatsu Maisen (GRANSTA) *Available until February 14, 2020

For a limited time only, Tonkatsu Maisen's popular katsu burgers are being served in the shape of a heart up right now until Valentine's Day. If you're with your loved one in Tokyo until then, then how about enjoying one of these together?

Heart Senbei (3 Included) @ Fujimido (GRANSTA) *Available until February 14, 2020

Senbei are Japanese rick crackers, and these heart-shaped ones come as a set in black pepper, tuna mayo, and ume katsu (plum pulp and bonito flakes) flavours. Perfect for those who don't like sweet things, and great with a cup of Japanese sake.

Shizuko Chocolate (1 Included) – ¥378 @ Naruto Kintoki Honpo Kurio (GRANSTA) *Available until February 14, 2020

Kurio's potato sweet bean jelly is made from the store's sweet potato bean paste which is set and thus has the original flavour maintained. It's mixed with dark chocolate for that luxury feel as well as sweet potato skin.

Coffee Bean Chocolates (50g) – ¥432 @ Marche du Chocolat (GRANSTA)

For those with more of an adult flavour palate, these coffee beans are coated in milk chocolate. A must-have for all coffee lovers out there!

[¥500-¥1,000] Show your love with prices too good to overlook

Jelly in Puree Chocolatey in Sachinoka Strawberry & Dark Chocolate (24g) – ¥500 @ Hitotsubu Kanro (GRANSTA) *Available until March 14, 2020

Part of Hitotsubu Kanro's popular "Jelly in Puree Chocolatey" series, this limited edition flavour is made with sachinoka strawberries. Pick from four different designs.

Orangette (1 Box) – ¥680 @ Fairycake Fair (GRANSTA) *Available until February 14, 2020

Those who love a mix of chocolate and fruit will want a box of these orangettes, which exquisitely combine the bitterness of orange peel with chocolate. Exclusive to GRANSTA.

Hazelnuts & Puffs (1 Box) – ¥680 @ Fairycake Fair (GRANSTA) *Available until February 14, 2020

Two types of chocolate, hazelnut and puff, fill up a box of these treats, each with their own crunchy textures. Also exclusive to GRANSTA.

USHIO CHOCOLATL (1 Included) – ¥810-¥864 @ SHARED TOKYO (GRANSTA)

These chocolates are made simply from cocoa beans and salt. The packaging is super stylish too making them a great gift. They are limited in stock, so if you like the look of them, you'd best get in there quick.

[Over ¥1,000] High quality and luxurious indulgence

Cher Milieu – ¥1,404 @ le billet (Ecute Tokyo)

Made with rich Belgian sweet chocolate, sharp and bitter dark chocolate, and orange-flavoured sake, these raw chocolates are a welcome melt-in-the-mouth experience for Valentine's Day.

Raw Chocolate (9 Included) – ¥1,500 @ Quatre (Ecute Keiyo Street)

Each and every one of these raw chocolates is handmade with the chef's specially-selected chocolate and lots of fresh cream from Hokkaido. Every bite is a trip to chocolate paradise.

Dassai Matcha Truffles (4 Included) – ¥1,620 @ Waraku Beniya (Ecute Tokyo)

Waraku Beniya's Dassai Matcha Truffles are made with high quality Uji matcha from Kyoto, an original blend of white chocolate, and a special brand of Japanese sake.

Tokyo Station is the place to go this Valentine's Day, and there's plenty more to see in addition to what's on this list. Now is the time to give back to your loved one with a Valentine's treat.

*All listed prices include tax

Valentine's Day 2020 in Japan: Must-Buy Chocolate & Sweet Gifts

Christmas is over, and Easter is still on the horizon, but if you love chocolate as much as we do, never fearーas our sweet tooth cravings will soon be satisfied with the season of love.

In Japan, shop's and restaurant's are already carving their Cupid arrows to fire at customers for Valentine's Day to tempt them into one of their many tantalising treats. If you're in Japan this year, we've whipped up a list just for you of five must-buy gifts for Valentine's Day 2020.

Garrett Popcorn

Almond Chocolate Truffle | Garrett Valentine's Tin | Valentine's Mix

Garrett Popcorn is an American brand of popcorn that boasts a myriad of gourmet handcrafted popcorn flavours. You may not know that it's also a household name in Japan, where they also make the popcorn fresh every day for snack-hungry customers. For Valentine's, they serving up an exclusive series full of love which consists of the "Almond Chocolate Truffle," "Garrett Valentine's Tin," and "Valentine's Mix."

Almond Chocolate Truffle in Garrett Valentine's Tin – From ¥1,130

First up, the Almond Chocolate Truffle. If you're not already drooling at that name, let the description begin: this popcorn takes Garrett's crushed almond CaramelCrisp™️, coats it in chocolate, and sprinkles it generously with a dust storm of cocoa powder. The fragrant scent and texture of the almonds adds an incredible touch to the combination of the sweet, velvety milk chocolate and the slightly-bitter bite of the cocoa powder. Get in the Valentine's mood even more by purchasing one of the Garrett Valentine's Tin – the perfect accompaniment to your movie night in with your loved one.

Valentine's Mix (Chocolate Cocoa & Strawberry) – ¥1,200

Valentine's Mix (Chocolate Cocoa & White Chocolate Bark) – ¥1,200

Last year, Garrett Popcorn release a cute heart-shaped tin big enough to fit in the palm of your hands. 2020 will see the return of the tin, this time with two different designs: one with kissing lips and the other with hearts.

Inside the first tin is a mix of sweet chocolate cocoa flavoured CaramelCrisp™️ and sour freeze-dried strawberries. The other tin, which has a more sophisticated chocolate brown and salmon pink design, contains the same cocoa flavoured CaramelCrisp™️ but combines it with "white chocolate bark" – a white chocolate made with almonds and dried cranberries.

▶︎Garrett Popcorn Valentine's Day Products

Running: January 10, 2020 – February 14, 2020 (Mix available from January 17, 2020) *While supplies last

Prices:
・Almond Chocolate Truffle: Small ¥620/Medium ¥1,100/Large ¥1,720/Jumbo ¥3,450/Quart Tin ¥1,750/1 Gallon ¥4,400/2 Gallons ¥8,400
・Garrett Valentine's Tin/Quart Tin: From ¥1,130
・Valentine's Mix: ¥1,200
Available: Garrett Popcorn Shops®︎ branches in Japan
Official Website: http://jpgarrettpopcorn.com/

KitKat Chocolatory

Ruby 2020 Assortment

KitKat Chocolatory is releasing a new assortment of KitKat treats for the Valentine's season in Japan made with ruby chocolateーthe fourth type of chocolate alongside milk, white, and darkーwhich was developed by Belgian-Swiss chocolate makers Barry Callebaut.

KitKat Chocolatory Ruby 2020 Assortment – ¥1,200

Ruby chocolate gets its striking pink colour from the original bean and has a distinct fruity sourness to it. This is the perfect Valentine's Day giftーor even just as a treat to yourself!

▶︎KitKat Chocolatory Ruby 2020 Assortment

Price: ¥1,200
Running: from January 15, 2020
Available: KitKat Chocolatory store/Online
Official Website: https://nestle.jp/brand/kit/chocolatory/

GODIVA

Valentine's Collection

GODIVA, one of the main players in the Japanese chocolate game, has developed the "Chocolate Chronicle Sweet Collection"ーan assortment of individually unique chocolates. The "chronicle" refers to the many places the chocolates have encountered since being created, both in the past and present.

Chocolate Chronicle Sweetheart (Contains 6) – ¥3,240

Chocolate Chronicle Chic Assortment (Contains 15) – ¥6,264

The "Original Maya" considers the civilisation and mysteries of Mesoamerica. The "Cocoa Honey Delight" uses honey to sweeten the chocolate like they did in the latter half of the Middle Ages when there was no sugar. The "Modern Love"burns into your mind the image of its vivid red heart lovingly made with sweet and sour strawberries, ganache, and milk chocolate.

▶︎GODIVA Valentine's Collection 2020

Running: from January 10, 2020 (Limited Time)
Prices:
Chocolate Chronicle Sweetheart: 6 Set ¥3,240/12 Set ¥5,400
Chocolate Chronicle Chic Assortment: 4 Set ¥1,296/6 Set ¥2,160/10 Set ¥3,240/16 Set ¥5,400
Chocolate Chronicle Sweet Kare Assortment: 6 Set ¥1,080
Chocolate Chronicle Chic Collection: 4 Set ¥1,836/6 Set ¥2,700/9 Set ¥3,888/12 Set ¥5,076/15 Set ¥6,264/20 Set ¥8,208
Official Website: https://www.godiva.co.jp/

Koi Suru Chocolate

Valentine's Collection 2020

The base of these treats is chocolate by Shiroi Koibito. The collection was first released in January 2018 and is very reminiscent of Hokkaido chocolate. There are lots of chocolates in the collection made with cute pink ruby chocolate too.

Mille-feuille (Contains 3) – ¥520

These mille-feuille are layered with milk and white chocolate and coated in things like couverture chocolate and ruby chocolate.

The Heart (Contains 7) – ¥1,080

Each of these hearts has its own distinct sauce: the ruby chocolate has blackcurrant, the milk chocolate has caramel, and the white chocolate has yuzu.

▶︎Koi Suru Chocolate Valentine's Collection 2020

Release Date: January 17, 2020
Available: ISHIYA store/Online
Prices:
Mille-feuille: 3 Set ¥540/6 Set ¥1,080/12 Set ¥2,160
The Heart: 7 Set ¥1,080/14 Set ¥2,160
Official Website: http://www.ishiya.co.jp/koi_choco/

Morozoff

Valentine's Dessert Plate

Morozoff specialises in western-style sweets, and at Cafe Morozoff, they're serving up a Valentine's-only dessert.

Valentine's Dessert Plate – ¥1,200

The beautiful dessert plate is an assortment of cute heart-shaped treats. The rich chocolate mousse has an orange scent, and the fluffy chocolate sponge combines sweet and sour strawberries with smooth whipped cream which elevate the flavour of the chocolate.

▶︎Morozoff Valentine's Dessert Plate

Running: January 15, 2020 – February 14, 2020

Available: select Cafe Morozoff branches in Japan
Price: ¥1,200 (comes with tea or coffee)
Official Website: http://www.morozoff.co.jp/

Did you enjoy this list? There's plenty of Valentine's Day delights to be enjoyed while in Japan. Which on this list has you drooling the most?

Make Your Own Rilakkuma Valentine's Day Treats With Kai's Recipe Kits

Cupid is readying his arrows for Valentine's Day 2020 which is right around the corner. It's the time of the year to show your special someone that you love them with some tasty chocolatey treats.

If you're wanting to make a grand gesture this year by making your own gifts, but are struggling for ideas or are intimidated by the task, the Kai Corporation in Japan has you covered with its collection of Rilakkuma goods. Now you can make some Instagram-worthy gifts with little effort. Let's take a look.

Make lots of Rilakkuma chocolates with this simple tool

Rilakkuma Silicone Chocolate Maker – ¥850 (Before Tax) – Buy Here

Five different patterns of Rilakkuma, Kiiroitori, and Korilakkuma make up this silicone tray, allowing you to make lots of bite-sized chocolates at once. This is perfect for sharing between you and your loved one or amongst friends. It can be used for making gummy treats and ice for drinks too, meaning it's useful for the entire year.

Make cute cookies by simply pressing your dough

Korilakkuma Cutter Set – ¥650 (Before Tax) – Buy Here

Anyone can make cute Korilakkuma cookies easily with this cutter set which you simply press the dough with. It comes with two different poses so you can make an assortment of them. If you know someone who's not a fan of chocolate, then this is a perfect alternative.

Decorate your sweets and desserts with this mini chocolate tray

Mini Chocolate Tray – ¥650 (Before Tax) – Buy Here

This chocolate tray makes makes chocolate bears which can hold things like nuts and candy. They can be used in a lot of creative different ways. The tray was made in collaboration with Cookpad.

Super simple recipes that take out the work

Here are some super simple recipes that remove the labour out of making and decorating sweet treats. Learn how to make Instagrammable delights with these items and techniques.

Korilakkuma Cookie Marshmallow Sandwich – Item Used: Korilakkuma Cutter Set

All you need to do is warm some marshmallows in a microwave and stick them between two cookies for a gooey and crunchy treat. At some toppings like freeze-dried strawberries for colour and to make them even cuter.

Gateaux Chocolate Cupcakes – Item Used: Rilakkuma Face Cupcake Paper Wraps (5 Included)

Make your Valentine's cupcakes even more adorable with these paper wraps with Rilakkuma's kawaii face on them.

Tiny Bear Chocolates: Item Used – Mini Chocolate Tray

There are many creative ways you can utilise these tiny bear chocolates. Make them hold small candy, nuts, and other delicious bites, or just simply top them on another dessert.

Take the stress out of making something for Valentine's Day this year with this range of items from Kai.

Love At First Sip: Starbucks Japan To Release Valentine's 2020 Drink Series 'CHOCOLATE with'

Starbucks Japan has developed a new Valentine's drink series called 'CHOCOLATE with' to celebrate Valentine's Day 2020. Some drinks in this romantic series include the Chocolate with Almond Praline Frappuccino® and the White Chocolate with Latte®. The series will be launched on January 17, 2020 in most Starbucks cafés across Japan.

The 'CHOCOLATE with' series aims to spark a sense of anticipation for the next delicious flavour to fill the gap and hopes to tempt more people to surrender to the delicious flavour of chocolate. This fun series aims to be loved by all genders and all ages across Japan.

Left: CHOCOLATE with Passion Fruit Frappuccino®: Tall ¥590 *(Only available in Tall)
Middle: CHOCOLATE with Almond Praline Frappuccino®: Tall ¥590 *(Only available in Tall)
Right: White CHOCOLATE with Latte: Short ¥450, Tall ¥490, Grande ¥530, Venti® ¥570

The CHOCOLATE with Passion Fruit Frappuccino® is a chocolate-flavoured drink with refreshing yellow streaks of passion fruit sauce, chocolate chips and shaved chocolate for the topping. This Frappuccino® enjoys both a fruity flavour as well as comforting chocolate. *Contains less than 5% passion fruit juice.

The CHOCOLATE with Almond Praline Frappuccino® is made by mixing chocolate sauce with caramel and coffee for a creamy and deep base flavour. Crunchy and fragrant candied almonds and chocolate sauce top the drink, providing a very chocolatey experience perfect for any chocoholic.

The elegant and sweet White CHOCOLATE with Latte contains creamy and smooth couverture chocolate white flakes, espresso and warm milk, combined for a strong and relaxing flavour.

Right: CHOCOLATE Mousse with Latte (Hot): Short ¥390 Tall ¥430 Grande ¥470 Venti® ¥510
Left: CHOCOLATE Mousse with Drip Coffee (Hot): Short ¥340 Tall ¥380 Grande ¥420

These 'CHOCOLATE Mousse with' drinks are perfect for drip coffee and Starbucks latte fans. These Valentine's season-limited drinks are customisable so you can enjoy the delicious flavour of chocolate mousse in the form of a new Valentine's drink. The smooth chocolate mousse is light and melts in your mouth. By adding the drip coffee, the flavours merge together for a brand new and exciting flavour experience.

CHOCOLATE with Milk Tea Frappuccino®Tall ¥590 *(Only available in Tall)

On January 31, the CHOCOLATE with Milk Tea Frappuccino® with its delicious aroma, chocolatey flavour and fun textures will make its debut. The tea is made from a blend of several different kinds of tea. Milk and milk tea powder is added to enhance the flavour and then blended with white mocha syrup and chocolate chips. This is the perfect chance to enjoy chocolate and milk tea in one drink.

This year, Starbucks will also be selling Valentine's merchandise. This year's theme colours are pink and navy. A range of cute yet fancy designs decorate Starbucks' classic flasks and mugs and is bound to deliver a heart-warming experience with every sip. There are also pink Starbucks cards decorated with hearts and love letter-themed message card sets in the series. If you're looking for a causal-style gift for someone special, how about something from the Starbucks Valentines series rather than traditional chocolates?

Come try a drink from the CHOCOLATE with series for a new and exciting chocolate drink experience.

Information

Starbucks Japan CHOCOLATE with Drink Series

CHOCOLATE with Passion Fruit Frappuccino®

 CHOCOLATE with Almond Praline Frappuccino®  

White CHOCOLATE with Latte 

CHOCOLATE Mousse with Latte

CHOCOLATE Mousse with Drip Coffee

Selling: January 17 – February 14, 2020

CHOCOLATE with Milk Tea Frappuccino®

Selling: January 31 – March 31, 2020

*Available while stocks last

Available At: Most Starbucks cafés across Japan

Starbucks Japan Official Website: https://www.starbucks.co.jp