Kyoto Sightseeing | Yokokuji Temple's Autumn Event Schedule Announced
Yanagidani Kannon, also known as Yokokuji Temple, is located in Kyoto Prefecture's city of Nagaokakyo and has been used as a place of prayer for many people with eye disease since the Heian Period. It is believed that praying at the temple will cure eye disease.
For autumn-time this year, the temple is set to hold an event titled "Yanagidani Kannon Autumn Colours Week" from November 2 to December 1. With a seasonal schedule that includes illuminations in the gardens to a flower display at the temple water basin, if you're looking for the must-visit locations in Kyoto this autumn, then you'll want to add Yokokuji Temple to your list.
Jodoen Garden Illuminations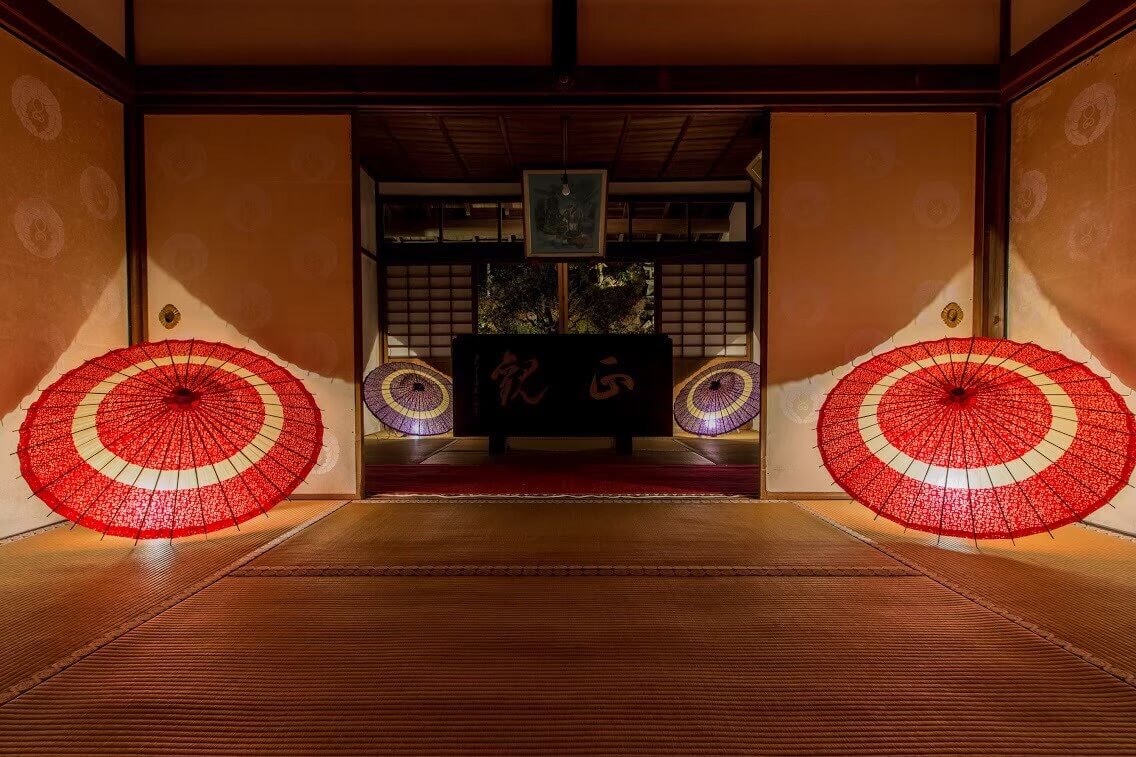 Last year's popular light-up event is making a return for 2019, with gorgeous illuminations developed by light designer Yuuki Kogawa which will brighten the area with an enchanting and mystifying aura different from a usual visit to the garden.
Dates: November 8th, 15th, 22nd-23rd
Time: 17:30-18:30  (Reception open from 17:00)
Price: ¥2,500 (Includes limited edition goshuin stamp)
No. of People: 20 (Bookings Only)
Bookings: https://yanagidani.jp/contact/
Special Opening of the Joshoin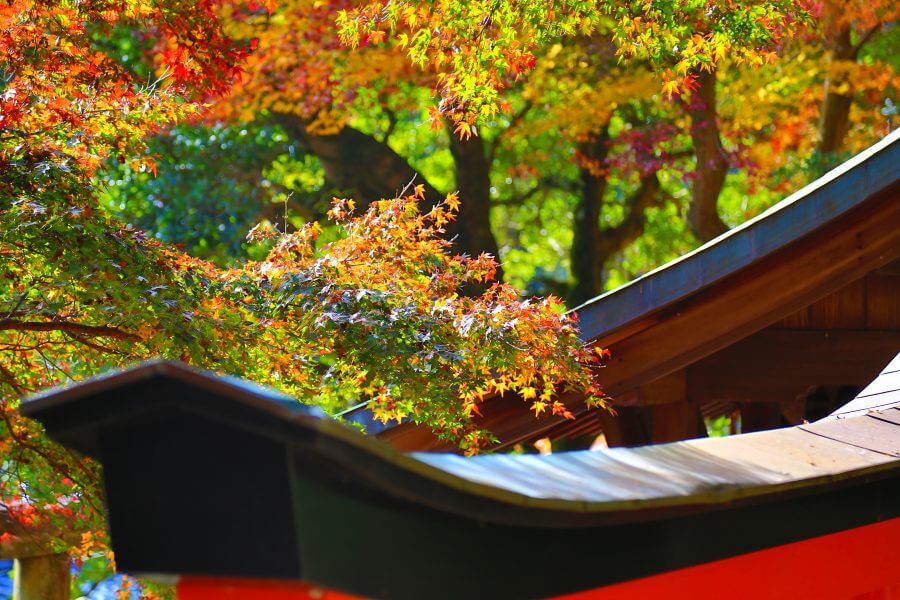 Normally, the Joshoin only opens on the 17th of every month, but for this autumn week event, it will be open every day. It's an area normally limited to officials and those in the imperial family. The beauty of its autumn colours have come to be enjoyed by VIPs, dating back to the pre-war period when it was designated as a place of scenic beauty.
Hanachomizu Flower Water Basin
At every temple and shrine in Japan there is a water basin which you are to use to cleanse yourself before entering. The Hanachomizu has become hugely popular on social media since the name first appeared 3 years ago, where leaves and flowers are placed into the basin. It has become adopted at temples across the country, with the one at Yokokuji Temple starting the trend. When it was first posted onto social media, it received reactions from over 80,000 people both in Japan and overseas. The flowers used change with the seasons, from hydrangeas to maple leaves.
Limited Edition Goshuin Stamp Book Designs – Garasha Matsuri & More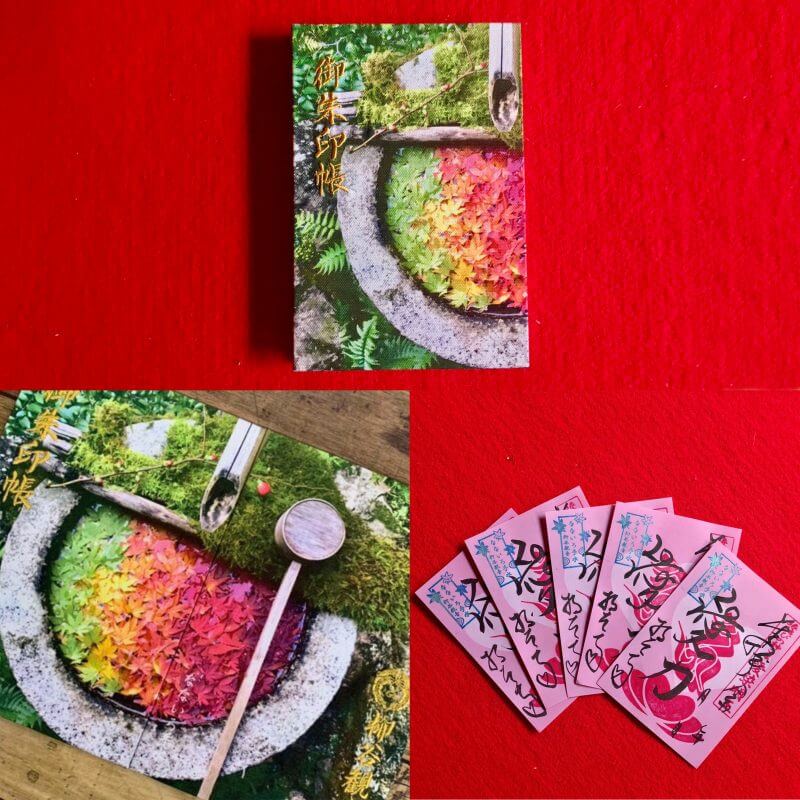 Visitors will be able to pick up limited-edition goshuin stamp books which never fail to sell out whenever they are released. Goshuin are collectable stamps/seals at temples around Japan. They are ¥500 each and limited in stock.
This is just a small peek into what's to come during Yanagidani Kannon Autumn Colours Week. If you're in Kyoto, make sure you pay a visit to Yokokuji Temple.
Information
Yanagidani Kannon Autumn Colours Week
Running: November 2, 2019 – December 1, 2019
Time: 9:00-16:00 (Joshoin open 10:00-15:00)
Location: Yanagidani Kannon, Yokokuji Temple (Dōnotani-2 Jōdodani, Nagaokakyo, Kyoto)
Entry Price: ¥300
Full Ticket: ¥1,100→¥1,100 (Includes entry to multiple areas)
Official Website: http://yanagidani.jp/
RELATED ENTRIES
'Kyoto Yura Hotel M Gallery' New Halloween Menu Features Adorable Monster Motifs

The '1F Lounge & Bar 1867' at the Kyoto Yura Hotel M Gallery will be hosting a Halloween themed afternoon tea from October 1 2021, with tea sets and cocktails available. The premium hotel is owned by Accor, a Paris, France based group that owns over 5,000 hotels and resorts in 110 countries.

The Halloween-themed afternoon tea has been made by Jennie Chiu, a pastry chef who grew up in America, the home of Halloween. The afternoon tea features cute and playful monster motifs, including a witch-hat Mont Blanc, a Cassis and Chestnut Cake topped with a small ghost, and a spider-web topped Raspberry and Chocolate Mousse. For savory treats, Chef Nishimura Niki has prepared Foie Gras soaked in Salted Koji, plus two luxurious lobster dishes.

The creative Halloween cocktails were brainstormed by Yamazaki Sousei, who ranked in the Japan Top 10 category of bartending competition 'WORLD CLASS 2021.' The Halloween and apple pie inspired lineup was inspired by Scotland and the Celtic people, looking back to when Halloween was first celebrated. 

Enjoy some adult-only time in this retro-modern "family mansion" themed space. 

Information

Halloween Afternoon Tea Set

Availability: October 1 ~ October 31 2021

Location: Lounge & Bar 1867 

Serving Hours: 12:00 and 15:00 *Please reserve your table by 17:00 on the day prior to your arrival

Halloween Cocktails

Availability: October 1 ~ October 31 2021 

Price: ¥1,900
Location: Lounge & Bar 1867

Serving Hours/Opening Hours: 11:30 ~ 21:00 (L.O. 20:30) 

Official Site:  https://kyotoyurahotel-mgallery.com/ja

Halloween Sweets Now Available at Historical Kyoto Sweets Shop Tsuruya Yoshinobu

Founded in 1803, Tsuruya Yoshinobu is a famous Japanese sweets shop specializing in wagashi, or traditional Japanese confections. To celebrate Halloween, the shop is now selling some themed treats through the end of October. 

Halloween Pumpkin/Halloween Ghost Japanese Sweets

Happy Halloween Cookie Assortment

The celebration of Halloween dates back to the ancient Celtic festival of Samhain, before later being Christianized as All Hallow's Day. A day to ward off evil spirits and celebrate the fall harvest, it has become a much less serious holiday in recent decades. Children dress up in costumes and go door-to-door asking for candy, and the past is largely forgotten. The sweets available at Tsuruya Yoshinobu are decorated with cute expressions and are sure to be a hit at tea time with friends and family. Be sure to keep an eye out for the ghosts, featuring six different expressions!

Japanese sweets aren't as strong as their American counterparts, and each is sculpted like a work of art. These will melt in your mouth and are perfect for enjoying with matcha, tea, or coffee! Be sure to fill out the blank card along with the cookie gift box for a thoughtful gift this holiday season.

Information

Tsuruya Yoshinobu Halloween Wagashi

On Sale: 

Happy Halloween Cookie Assortment, Available October 10 – Late October: ¥1,620 (Tax Included)

Halloween Pumpkin Japanese Sweets, Available October 16-31: ¥486 each (Tax Included)

Halloween Ghost Japanese Sweets, Available October 16-31: ¥486 each (Tax Included)

Where to Buy: Tsuruya Yoshinobu

*Please note that products are only available in-store, not online. 

*Certain locations may not offer these products. 

Official Site: https://www.tsuruyayoshinobu.jp/

Kurobe Gorge Trekking Tour Offers Breathtaking Two-Day Trolley Journey

The Kurobe Gorge Trolley in Toyama will offer a special two-day journey through the fall foliage on October 29 and November 1, 2021. 

Atobiki Bridge

Okukane Bridge

Promenade

Babadani Jigoku

On the day of the tour, guests will enjoy a leisurely journey through nature as a Kurobe Gorge tour guide explains the features of the surrounding environment. 

Kyoto's Kurodani Temple, Typically Closed to the Public, to Accept Visitors for Limited Time

Constructed in 1175, the Kurodani Temple is one of the head temples of the Jodo Sect of Buddhism. Though typically closed to the public, the grounds will open for a short period to allow guests to experience some beautiful autumn scenery beginning November 12, 2021. This temple is associated with the Shinsengumi and served as the headquarters of the Aizu Clan at the end of the Edo period, so those interested in history won't want to miss out on this incredible opportunity. 

[Night] Shiun Garden

[Day] Autumn Leaves at the Main Gate

[Day] Shiun Garden

[Night] Autumn Leaves at the Main Gate

Temple Grounds at Sunset

The Tiger's Room

Ohoujou Garden

Founders Hall

Live Koto Performance

Gokoushiyuiamidabutsu, 'Afro Buddha' 

Guests will be able to enjoy the gorgeous autumn temple scenery during both daytime and nighttime, with the night viewing also offering some traditional Japanese live music. Visitors can also see various temple treasures and historical items, as well as the Tiger Room, known for its painted doors. The unique and aptly named Afro Buddha will also be on display. After training for an extremely long period of time, the Buddha's hair piled up, giving him this strangely modern appearance. 

On a clear day, guests will be able to see clear to the Abeno Harukas building in Osaka. Vividly painted ceilings and other statues will completely surround visitors in spiritual history. At night, traditional Japanese music will be played at three different times in the front gardens. On Friday, Saturday, and Sunday, the temple will offer a Premium Plan, allowing interested guests to enter the grounds 30 minutes before general admission starts. (This will require reservations made on the official website.) This will also include a guided tour!

How would you like to experience this piece of Japanese history while surrounded by unforgettable autumn foliage? 

Information

Special Autumn Viewing

Kudodani Temple, Kyoto – The Head Temple of the Jodo Sect of Buddhism

Address: 121 Kurodanicho, Sakyo-ku, Kyoto

Night Viewing Details: https://www.kurodani.jp/lightup/

Day Viewing Details: https://www.kurodani.jp/sp_daytime/

Daytime Viewing

Running: November 12 – December 5, 2021

Hours: 10:00-16:30 (Final Admission at 16:00)

Special Viewing Areas: Mikado, Daihojo, the Gardens, two locations at the main gate

Night Viewing

Running: November 12 – December 5, 2021

Hours: 17:30-20:30 (Final Admission at 20:00)

Live traditional Japanese music will be performed in the garden located in front of the Main Hall at 17:45, 18:30, and 19:15

Applause Square Nagoya to Offer Autumn Dinner with Birthstone-inspired Sweets

Wedding venue Applause Square Nagoya will be opening a limited-time restaurant for eight days only during October and will offer some of the most artful desserts you've ever seen. The wedding hall is not normally open to the public, so this will be an opportunity to see this incredible mansion up close while savoring some unique fall flavors. 

Jewel Art Topaz Parfait, made with Rum Raisin and Iced Chestnut Mont Blanc with Orange Parfait, and three Chocolate Bonbons

Six hors-d'oeuvres, each a vibrant and unique color

Sea Bream Vapeur with Eggplant and Chips that resemble Autumn Leaves, paired with Hot consommé soup scented with sherry and served in front of guests

Roasted Chita Pork with Tomato Chutney Sauce and Ginger, covered with Brown Mushrooms


Each of the six hors d'oeuvres were inspired by birthstones. Following are a number of luxurious meat and fish dishes, followed by a rich and abundant parfait filled with autumn flavors.

'Shiseido Parlour Ginza Salon de Cafe' Reveals Limited Autumn Dessert Menu

The 'Shiseido Parlour Ginza Salon de Cafe' has announced that between October 1 and October 31 2021, customers can enjoy a limited edition Autumnal sweets menu. This year their menu includes the Jersey milk 'Japanese Chestnut Mont Blanc Parfait from Kyushu' and the 'Shine Grape Fruit Sandwich.' There will also be two special additions to the menu to celebrate the 96th Azuma Odori.

Japanese Chestnut Mont Blanc Parfait from Kyushu using Jersey Milk: ¥2,500 (Tax Incl.)


 

Strawberry Parfait using "Koihime" strawberries from Nagano's Hatake Kobo: ¥2,100 (Tax Incl.)

 

Weekday / Limited Quantity Products

Shiseido Parlour Story: ¥2,600 (Tax Incl.) (Drink Incl.)


Shine Grape Fruit Sandwich with grapes from Iizuka Orchard: ¥1,700 (Tax Incl.)

Shinbashi Color Ice Cream Soda: ¥1,150 (Tax Incl.)


The Japanese Chestnut Mont Blanc Parfait is made using Jersey milk ice cream, chestnut cream, and fresh cream, along with the "Koihime" Fruit Sandwich, made using Kashu "Koihime" Strawberries are available on both the regular and limited Shiseido Parlour Ginza menus. Meanwhile, the luxurious Shiseido Parlour Story and the seasonal Shine Grape Fruit Sandwich, filled with various Autumnal fruits and centred around the grape, are only served on weekdays and holidays in limited quantities.

In the late Meiji Era, Shinbashi geisha were often seen wearing blue and green kimonos, with the color combination being coined Shinbashiiro (Shinbashi Color.) The elegant and retro Shinbashi Color Ice Cream Soda recreates the iconic look using green apple syrup, lemon, and ginger ale, topped with a traditional vanilla ice cream.

 

 

 Immerse yourself in the season with a feast of Fall sweets in Ginza.

Information

Shiseido Parlour Ginza Salon de Cafe

Address: Tokyo Ginza Shiseido Building 3F, 8-8-3, Ginza, Chuo-ku, Tokyo

Opening Hours:

Tuesday to Saturday:  11:00 ~ 21:00 (L.O. 20:30)

Sunday, public holidays: 11:00 ~ 20:00 (L.O.19:30)

Closures: Mondays (excluding public holidays), New Year 

Junei Hotel Kyoto Adds New Plan Allowing Guests to Reserve Entire Property

The Junei Hotel Kyoto Imperial Palace West, a small luxury hotel located in the heart of Japan's ancient capital, has revealed a new plan allowing guests to rent out the entire premises. Imagine being in a hotel with only your closest family and friends!

The Junei Hotel Kyoto Imperial Palace West – Guest Room

The Junei Hotel Kyoto Imperial Palace West – Bathroom

The Junei Hotel Kyoto – Bamboo Suite

The Junei Hotel Kyoto – Bamboo Suite Bathroom

The Junei Hotel Kyoto – Standard Room

The Junei Hotel Kyoto – Standard Bathroom

The Junei Hotel Kyoto – Breakfast at Futago

The Junei Hotel Kyoto – Futago Restaurant Interior

The Junei Hotel Kyoto – Dinner at Futago

Arashiyama Yusaitei

Arashiyama Yusaitei

Kibune Riverbed

Hozucho River Boat Ride

The Junei Hotel Kyoto Rooftop View of Kiyomizu-dera Lights

The Junei Hotel Kyoto Rooftop Garden Moon Viewing

With two locations in Kyoto, guests will be able to enjoy the entirety of the hotel in complete privacy while still enjoying hotel hospitality. With between 8-11 rooms, this would be the perfect spot for a family gathering, wedding reception, graduation trip with friends, corporate meeting place, or even for overseas guests!

The Junei Hotel Kyoto Imperial Palace West opened in 2017 as a community-based luxury hotel with only eight rooms, with a single mission: bringing the beauty of Japan to the world. Beyond simply finding a place to sleep for the night, the hotel wants guests to experience something special and to provide an unforgettable experience. By partnering with local tourism associations, the Junei Hotel hopes to accurately convey the traditions and singular culture of the city of Kyoto. 

In March 2020, a second location opened. The Junei Hotel Kyoto is surrounded by bamboo, and in fact, the theme of the hotel itself is bamboo and the moon. Each of the guest rooms is decorated with traditional and local bamboo crafts, and every detail is pulled from the natural beauty of Higashiyama, Kyoto. 

The restaurant attached to the hotel, Futago, is the perfect place for adults to unwind and recharge. The kappo-style course menu features Kyoto vegetables and seasonal ingredients, blending the delicious with the nutritious. Chefs will cook each dish using a variety of methods, and guests will be amazed by how the flavor of the meat changes from course to course. The menu changes each month, so be sure to come back throughout the year!

Guests can also rent out Arashiyama Yusaitei, a gorgeous building deep in the forests of Kyoto perfect for wedding receptions, photoshoots, tea ceremonies, and more. The rooftop garden offers a stunning view of Kiyomizu-dera and is also perfect for moon viewing. Those wanting to get even closer to nature can enjoy a boat ride down the Hozucho river, and for those craving desserts, a Japanese sweets-making class is also available!

Who would you take with you on a private stay at the Junei Hotel Kyoto? 

Starry Night Bonfire Event in Nikko Invites Guests to Relax Under the Full Moon

Nikko-Yumoto, a hot spring hotel located near the picturesque Nikko National Park, will hold a limited-time event starting October 6. On select nights in October and November, guests are invited to sit around a bonfire and enjoy the full moon, new moon, and meteor showers while learning about astrology!

Harvested throughout the autumn months, Natsuotome strawberries grown in nearby Senjogahara are used to make a hot fruit wine to enjoy while gazing at the night sky. A warm drink will be perfect for cold nights in Oku-Nikko, located over 1,500 meters above sea level. In October, the night temperature can be as low as 40 degrees Fahrenheit! For those not wanting something alcoholic, feel free to enjoy some tasty hot cocoa. 

What's the first thing you think of when you see a bonfire? Roasting marshmallows, of course! During the event, a bag of magical powder will be tossed into the fire, turning the flames into different colors. Don't worry–the powder itself contains no harmful substances and is safe for both humans and the environment. 

Information

Starry Night Bonfire

Dates: October 6, October 9, October 20, October 21, November 5, November 18, November 19 / 19:30-20:30

Fee: Free *The event may be canceled in the case of inclement weather. 

Official Site: https://www.qkamura.or.jp/nikko/activity/

Kyoto Brighton Hotel Offers New Morning Plan to Admire Autumn Leaves

The Kyoto Brighton Hotel is offering a special morning plan that will charter temples and shrines exclusively for hotel guests between November 17 and November 30 2021.

 

Hougon-in

Anrakuji

Kitano Tenmagu Shrine

        

Koudaiji

Shisendou

Taizouin

Touji

Even throughout Japan, Kyoto has one of the highest amounts of Autumn leaf viewing spots. This unique viewing plan allows guests to enjoy the vivid autumn leaves by charter, with special permission to visit each spot before it opens to the general public. With this plan, you can experience the wonders of Kyoto in Autumn while avoiding the crowds.

 

The "Morning Plan" proposed by the Kyoto Brighton Hote offers guests the chance to spend a peaceful time in the fresh, dignified early morning air while avoiding the crowds. This popular plan has been running for 20 years.

Not only is the viewing private, but you will also learn more about the area with guidance from the priests and staff. 

After returning to the hotel, you will be treated to a special "Kyoto Breakfast" which uses local ingredients arranged in both Japanese and Western styles. This breakfast will taste even better following the cleansing of body and mind in the crisp early morning air.

 

Why not take part in this purifying "Morning Activity" and immerse yourself amongst the Autumn leaves?

Information

Autumn Leaves Special Morning Activity Plan

Location: Kyoto Brighton Hotel

Duration: November 17 ~ November 30 2021

Official Site: https://kyoto.brightonhotels.co.jp/ 

Autumn Sweet Potato Frappuccino Now Available at Starbucks Japan

Fall is in the air, which means seasonal treats are back at Starbucks! The Sweet Potato Frappuccino will be available at participating Starbucks locations beginning September 22, which also happens to be the first day of autumn. 

The 4th annual Artful Autumn @ Starbucks promotion is back for 2021! This year's concept is 'Made by Earth,' and the lineup of new products features fall ingredients that highlight the bounty of the planet. 

Tall Sweet Potato Frappuccino To-Go: ¥638 / In-store: ¥650

The new drink is filled with the flavor of baked sweet potato, honey, and molasses. Each beverage is made with roasted sweet potatoes that have been cut into pieces, keeping some of their unique texture. Sweet potato flakes sprinkled on top add a bit of crunch!

If you're in Japan, be sure to grab one before they're gone!

Information

Sweet Potato Frappuccino®

Available: September 22, 2021 – October 19, 2021 (While supplies last.) 

Where: Participating Starbucks locations nationwide. 

Official Site: https://www.starbucks.co.jp/

Autumn Scenery Coming to teamLab Forest Fukuoka for a Limited Time Only

The permanent museum teamLab Forest Fukuoka is bringing autumn scenery to the virtual exhibition for a limited time only beginning September 18, 2021. A number of animals made of autumn foliage will be roaming through the space, and you won't want to miss this memorable experience!

teamLab Forest Highlights

Shifting Valley, Living Creatures of Flowers, Symbiotic Lives – teamLab, 2020

Animals of Flowers, Symbiotic Lives II – teamLab, 2019

Soft Terrain and Granular Topography –  teamLab, 2020

Flutter of Butterflies, Ephemeral Life –  teamLab, 2020

The prolific works of the teamLab art collective change with the seasons. In the Forest of Movement, guests can enter the 'Shifting Valley, Living Creatures of Flowers, Symbiotic Lives' exhibit, where creatures made of flowers exist in a three-dimensional space. For this fall event, these flowers will be those found in the autumn months. The 'Soft Terrain and Granular Topography' will display tons of colorful grains raining down on visitors, while the 'Flutter of Butterflies, Ephemeral Life' will change the usual butterflies to have autumn colors as they fly around guests. 

teamLab Forest is a new museum created by art collective teamLab. The museum consists of two sections: the first, 'The Catching and Collecting Forest,' invites guests to explore with their smartphone to capture various unique creatures, while the second, 'The Athletics Forest,' is a physical creative space which asks visitors to use their body to immerse themselves in interactive areas. 

Would you like to visit this distinctive museum in Fukuoka on your next trip to Japan?

Information

teamLab Forest Fukuoka – SBI SECURITIES Co., Ltd.

Autumn Scenery Coming on September 18, 2021

Venue: BOSS E・ZO FUKUOKA 5F, Next to Fukuoka PayPal Dome (2-2-6 Jigyohama, Chuo-ku, Fukuoka)

Official Site: http://forest.teamlab.art

The National Museum of Modern Art in Kyoto Opens Meiji Era Exhibition

A special exhibition titled 'Japanese Landscapes Discovered: Views from and for the Outside World,' showcasing a private collection of Meiji era paintings, is now on display at the National Museum of Modern Art in Kyoto until October 31, 2021.

Inside the Exhibit

Inside the Exhibit

 

This exhibition is designed to take visitors on a journey through the Meiji period (1868-1912), the beginning of Japan's modern era, through oil and watercolor paintings of the time, and through the landscapes and customs depicted in these pieces of art. During this time, many foreign painters visited Japan, and were inspired to paint the country's beautiful landscapes and unfamiliar customs, bringing these creations back to their countries of origin. Japanese artists studied these unfamiliar painting techniques, and made their own culturally-inspired paintings, often selling them to foreign visitors as souvenirs.

Many works on display in this exhibition have never been shown publicly, with many being brought back to Japan from locations abroad. These include long-lost oil paintings by Kuroda Seiki and a massive newly-discovered work by Tamura Soryu. Other Japanese artists inspired by Western-style on display include Hiroshi Yoshida, Jirokichi Kasagi, Shotaro Koyama, and Ioki Bunsai.

Also on display are works by foreign artists who visited Japan during this period, including British news painter Charles Wirgman, French news painter Georges Bigot, and British landscape painters Alfred Parsons, Alfred East, and John Varley Jr. These three men in particular triggered a watercolor boom in Japan during the late Meiji period. Vibrant female painters such as British watercolorist Ella du Cane, a lover of Japanese gardens, also make an appearance.

Be sure to see these incredible depictions of Japan before they're gone.

Information

Japanese Landscapes Discovered: Views from and for the Outside World

Running: September 7 – October 31, 2021

Hours: 9:30-19:00 (Until 20:00 on Friday and Saturday)

Closed: Mondays, and on September 21. *The museum will be open September 20.

Tickets/Official Site: https://www.momak.go.jp/

*Admission is open until 30 minutes before closing.

*To prevent the spread of COVID-19, hours are subject to change. Please check hours before visiting.