Kyoto Sightseeing | Yokokuji Temple's Autumn Event Schedule Announced
Yanagidani Kannon, also known as Yokokuji Temple, is located in Kyoto Prefecture's city of Nagaokakyo and has been used as a place of prayer for many people with eye disease since the Heian Period. It is believed that praying at the temple will cure eye disease.
For autumn-time this year, the temple is set to hold an event titled "Yanagidani Kannon Autumn Colours Week" from November 2 to December 1. With a seasonal schedule that includes illuminations in the gardens to a flower display at the temple water basin, if you're looking for the must-visit locations in Kyoto this autumn, then you'll want to add Yokokuji Temple to your list.
Jodoen Garden Illuminations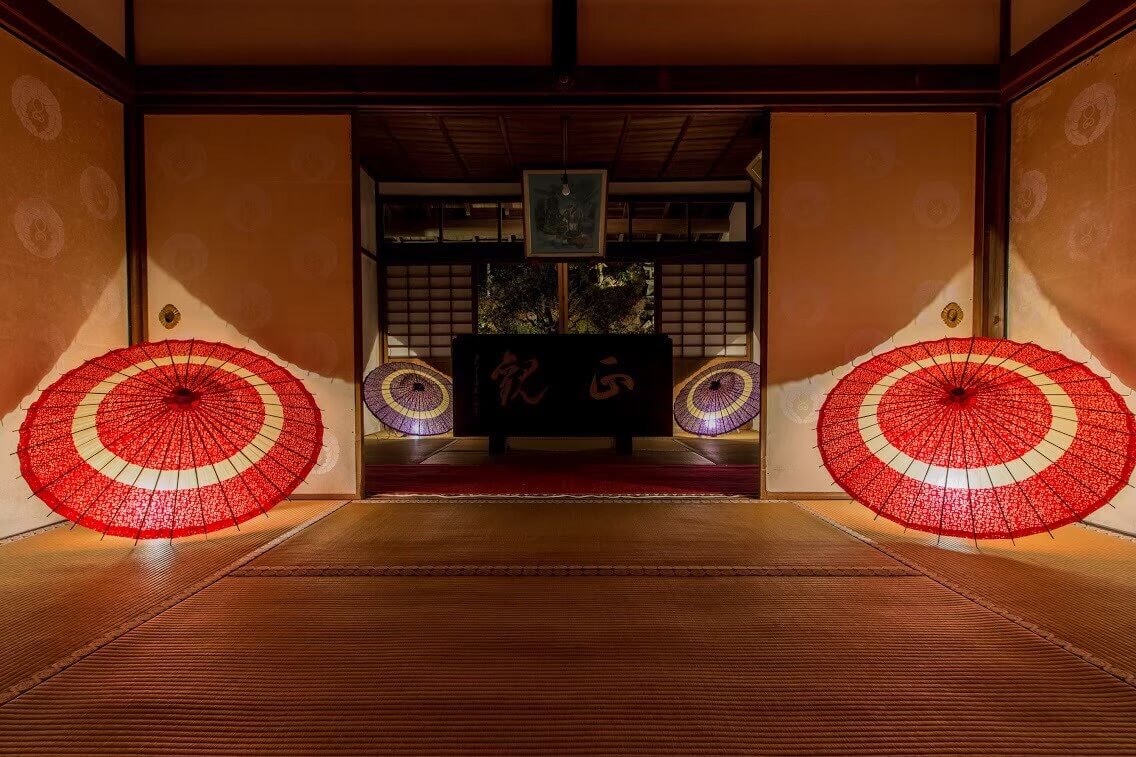 Last year's popular light-up event is making a return for 2019, with gorgeous illuminations developed by light designer Yuuki Kogawa which will brighten the area with an enchanting and mystifying aura different from a usual visit to the garden.
Dates: November 8th, 15th, 22nd-23rd
Time: 17:30-18:30  (Reception open from 17:00)
Price: ¥2,500 (Includes limited edition goshuin stamp)
No. of People: 20 (Bookings Only)
Bookings: https://yanagidani.jp/contact/
Special Opening of the Joshoin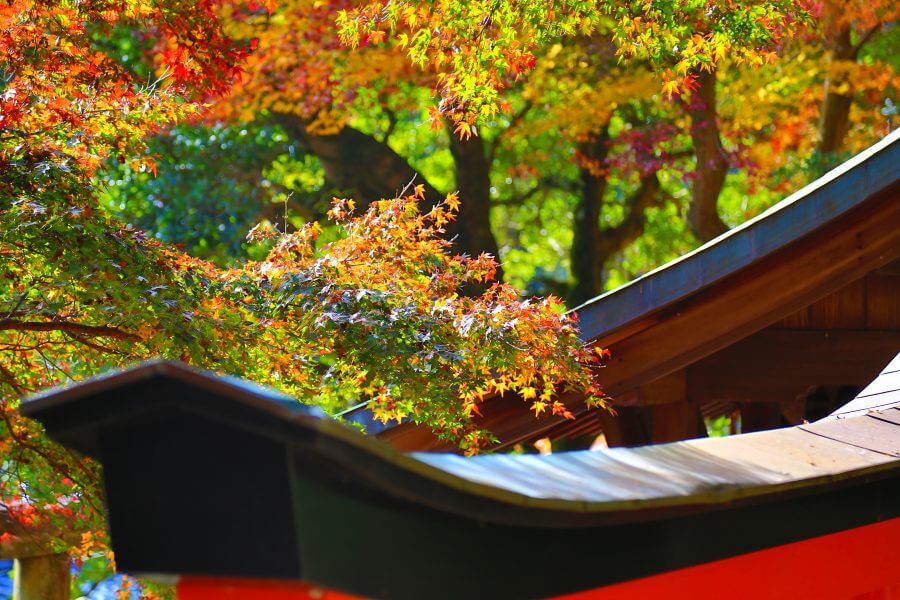 Normally, the Joshoin only opens on the 17th of every month, but for this autumn week event, it will be open every day. It's an area normally limited to officials and those in the imperial family. The beauty of its autumn colours have come to be enjoyed by VIPs, dating back to the pre-war period when it was designated as a place of scenic beauty.
Hanachomizu Flower Water Basin
At every temple and shrine in Japan there is a water basin which you are to use to cleanse yourself before entering. The Hanachomizu has become hugely popular on social media since the name first appeared 3 years ago, where leaves and flowers are placed into the basin. It has become adopted at temples across the country, with the one at Yokokuji Temple starting the trend. When it was first posted onto social media, it received reactions from over 80,000 people both in Japan and overseas. The flowers used change with the seasons, from hydrangeas to maple leaves.
Limited Edition Goshuin Stamp Book Designs – Garasha Matsuri & More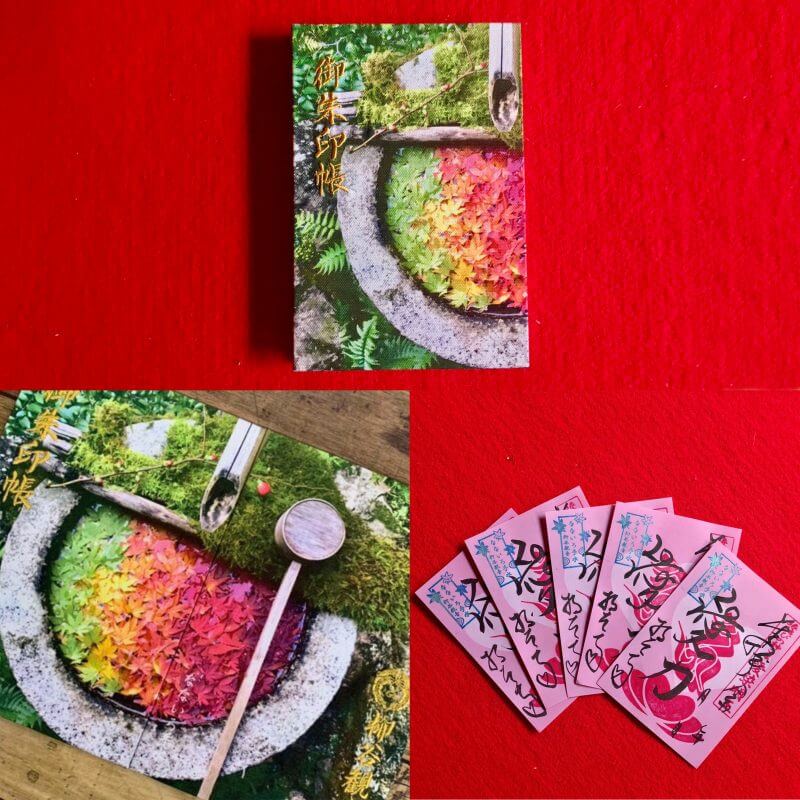 Visitors will be able to pick up limited-edition goshuin stamp books which never fail to sell out whenever they are released. Goshuin are collectable stamps/seals at temples around Japan. They are ¥500 each and limited in stock.
This is just a small peek into what's to come during Yanagidani Kannon Autumn Colours Week. If you're in Kyoto, make sure you pay a visit to Yokokuji Temple.
Information
Yanagidani Kannon Autumn Colours Week
Running: November 2, 2019 – December 1, 2019
Time: 9:00-16:00 (Joshoin open 10:00-15:00)
Location: Yanagidani Kannon, Yokokuji Temple (Dōnotani-2 Jōdodani, Nagaokakyo, Kyoto)
Entry Price: ¥300
Full Ticket: ¥1,100→¥1,100 (Includes entry to multiple areas)
Official Website: http://yanagidani.jp/
RELATED ENTRIES
4 Refreshing Matcha Shaved Ice Flavours Released at Itohkyuemon in Kyoto

Kyoto's famous tea shop Itohkyuemon began serving four new Uji matcha and shaved ice mixed desserts on its menu yesterday (June 29). Itohkyuemon was founded in 1832 in the latter period of Edo. Ujitawara, the place in Kyoto where the shop is located, is famous for the tea served by Itohkyuemon which has been harvested by the Ito family for years.

Uji Matcha Parfait Ice: ¥1,490 (Tax Included) | Serving: Until Late September 2020 | Avaialble: Itohkyuemon JR Uji Station/Itohkyuemon Gionshijo

The Uji Matcha Parfait Ice uses a blend of matcha and milk-infused ice as its base. It's then topped with sweet treats like rice flour dumplings, red bean paste, ice cream, matcha jelly, and more to turn it into a parfait.

Uji Matcha Daifuku Ice: ¥1,290 (Tax Included) | Serving: Until Late September 2020 | Avaialble: Itohkyuemon JR Uji Station/Itohkyuemon Gionshijo

This Uji Matcha Daifuku Ice is an upgrade of the one Itohkyuemon served last year. It has a creamy custard base with matcha daifuku hidden in the shaved ice.

Fluffy Uji Kindokei Vanilla Ice Cream: ¥990, Matcha Ice Cream ¥1,090 (Tax Included) | Serving: Until Late September 2020 | Avaialble: Itohkyuemon JR Uji Station/Itohkyuemon Gionshijo


Fluffy Uji Kindokei Rice Flour Dumpling: ¥850, Rice Flour Dumpling & Vanilla Ice Cream ¥970, Rice Flour Dumpling Matcha Ice Cream ¥1,090 Serving: Until Late September 2020 | Avaialble: Itohkyuemon Uji Main Branch

These two "Kindokei" (Gold Watch) servings use more ice. At the main branch of Itohkyuemon they're more crunchy, while at the JR Uji Station and Gionshijo branches they're more fluffy.

BEAMS Japan Kyoto finally opened on June 11, 2020 after the postponed grand opening of ShinPuhKan shopping centre in which it is located.

BEAMS Japan Kyoto comes as the first branch of BEAMS Japan in Kyoto and aims to be a hub of made-in-Japan products from BEAMS's "TEAM JAPAN" range, a project to curate content across a broad range of categories based on the keyword "Japan." The store will collaborated with Kyoto-based creators and businesses and offer a wide selection of branded products, original apparel lines, and more—through the lens of TEAM JAPAN.

The 3.5m high ceiling art of the legendary mythical bird Hou-ou catches the eye upon entry, and the shop lends a modern tinge to its traditional aesthetic. Here, BEAMS JAPAN's many different products are lined up against one another.


BEAMS JAPAN opened a brand in Shinjuku in April 2016 and subsequently in Shibuya in December 2019. BEAMS Japan Kyoto comes as the company's third branch.

Kyoto's New Hotel Mitsui Garden Hotel Kyoto Kawaramachi Jokyoji Fuses With a Temple

Mitsui Garden Hotel Kyoto Kawaramachi Jokyoji, a new hotel by major real estate developer Mitsui Fudosan and Mitsui Fudosan Hotel Management, opened bookings for the new hotel last Friday. The hotel is set to officially open on September 28, 2020.

The hotel was developed to integrate into Jokyoji, a temple in Kyoto with a history spanning over 500 years. Even in Japan, where it is common for temples to undergo reconstruction, this is a rare project. The hotel aims to be a model case for breathing new life into temples.

The hotel is just a 1-minute walk from Kyoto-Kawaramachi Station and within walking distance from the bustling retail area of Shijō Kawaramachi, the Hanamachi district Ponto-chō, and Kyoto's geisha district Gion. Guests are wrapped in the serene atmosphere of Jokyoji Temple where they can enjoy its historically maintained art, get involved in morning activities, and more.

Entrance Lobby

Mitsui Garden Hotel Kyoto Kawaramachi Jokyoji's design concept is "Hotel Temple." Nikken Space Design crafted the hotel's interior design, which makes use of Jokyoji Temple's preserved wood, gold leaf-covered folding screens and other features, while adding a modern white and black colour scheme throughout, giving a sense of comfort and high quality. From the lobby, guests can glimpse the main area of the temple and feel one with it.

Spacious rooms and baths

  

Guest rooms, even the standard room types, are a spacious 24m². All rooms can accommodate 2+ people, and there are even triple rooms which can house 3 people. Every room also comes with separate toilets and showers. Up on the second floor are the baths where guests can wind down after a day of travelling and sightseeing.

Restaurant

The 2nd floor restaurant, Sanga Ono Kyoto Jokyoji, was developed by ONO GROUP which has built many restaurants in Fukuoka Prefecture. This is the company's first restaurant to be built outside Fukuoka. Guests can enjoy delicious Japanese rice, Kyoto vegetables, tai-chazuke (green tea poured over sea bream), Kyoto-style grilled fish, and more. The restaurant will also serve Japanese buckwheat noodles overseen by Akamachaya Asago, a restaurant listed in the Michelin Guide.

Experience Jokyoji Temple

Jokyoji Temple was founded in 1171 by Taira no Shigemori. In 1591, the temple was moved to Teramachi-dori where it has stayed to this day. When the hotel opens its doors, it will offer various activities to guests. Those who take part in the morning activity will receive a goshuin stamp from the chief priest.

Experience a hotel and a temple like never before as both are fused together at Mitsui Garden Hotel Kyoto Kawaramachi Jokyoji.

FUNATSURU Kyoto Kamogawa Resort Opens Rooftop 'KAMOGAWA Tenku Terrace'

FUNATSURU Kyoto Kamogawa Resort, the administrative building of VMG HOTELS & UNIQUE VENUES, has opened its 4th floor rooftop terrace 'KAMOGAWA Tenku Terrace' for a limited time. It will remain open until August 31, 2020.

VMG HOTELS & UNIQUE VENUES uses historical buildings to open new brands, like hotels and unique venues, while offering historical and cultural experiences of the buildings' local areas.

FUNATSURU Kyoto Kamogawa Resort originally opened as a traditional inn priding itself on its cuisine back in 1870. It was renovated and reopened as FUNATSURU Kyoto Kamogawa Resort in 2008. Its historical and artistic value has been highly acclaimed as a time-honoured work of architecture and was registered as a tangible cultural property of architecture by Japan's Agency for Cultural Affairs. It has banquet and ceremony spaces, and in the summer you can enjoy its restaurant on the riverbed. The building is also used for parties and wedding ceremonies.

Like all businesses, FUNATSURU Kyoto Kamogawa Resort too has suffered at the hands of the COVID-19 pandemic, but the facility wants people to enjoy the summer nighttime skies of Kyoto and so while observing the necessary coronavirus precautions it has opened its rooftop terrace which can be used as a bar.

Information

KAMOGAWA Tenku Terrace
Running: June 6, 2020 – August 31, 2020 (Closed Tuesdays & rainy days)
Opening Hours: 20:00-Midnight (Last Orders 23:00)
Price: Table Charge ¥1,000 per person (includes tax and service charge)

Official Website: https://www.funatsuru.com/restaurant/news/#new_01

Nazuna Kyoto Tsubaki: A Luxury Ryokan Renovated From a Traditional Townhouse Alleyway

Nazuna Kyoto Tsubaki St. is a new inn that recently opened in Kyoto which is made up of 23 machiya (townhouses) and two restaurants. It was co-developed by Nazuna and Kiraku and offers an accommodation experience like no other.

Nazuna Kyoto Tsubaki St. is renovated from an entire 110-year-old L-shaped alleyway of machiya spanning 1,400 square meters. The reception building sits on an unassuming streetand  serves as both an entrance to welcome guests, as well as a passage from the outside world into Tsubaki St. On the other side, guests are greeted by a world reminiscent of the historical geisha districts of Kyoto known as Hanamachi. In the evening, guests can experience the luster of Tsubaki St. as the Japanese paper lanterns and paper lamps illuminate the stone-cobbled path.

All guest rooms enjoy private semi open-air baths

All 23 guest rooms are named and decorated based on the elements of nature that have long been enjoyed in the ancient city of Kyoto: TAKE (bamboo), MIZU (water), IWA (stone), HANA (flower), and HA (leaf). And since each guest room is its own building, guests can enjoy the entire space to themselves. There is also a large open area between the reception and guest rooms to reduce the chance of running into other guests, offering a more private experience.

Chisao Shigemori's modern rock garden greets guests at the reception

The first floor of the reception building features a rock garden created by landscape architect Chisao Shigemori which fuses the traditional and the modern. His grandfather was Mirei Shigemori, a famous Japanese landscape architect who is known for having designed the Tofukuji Hojo Temple gardens in Kyoto, amongst other projects. Chisao himself has produced numerous works both inside and outside Japan, such as at Matsuo-Taisha Shrine.

The reception building's second floor is a lounge space where guests can enjoy tea and confections made by d:matcha after checking in. It's a chance to try Kyoto's famous Uji matcha. At nighttime, this are is free for people to use where they can enjoy friendly soft drinks and alcohol.

Unforgettable food at two different restaurants

Behind a secret door located somewhere inside Tsubaki is "q," a six-seated chef's table produced by Hiroshi Sasaki, who is the owner of the Michelin three-star restaurant Gion Sasaki, and TOROMO PRODUCE. A roster of chefs will rotate for service, with Hiroshi Sasaki in the line-up. The restaurant will open officially on July 2, 2020 and is now taking enquiries via mail@toromi.co.jp. Group and family bookings are available. The restaurant will serve special courses the likes of which cannot be experienced anywhere else.

The other restaurant, "Wagyu Ryotei bungo" will serve courses made with specially-selected high quality Japanese wagyu beef. There are counter seats as well as 7 private and semi-private rooms which house 2-8 people.

Information

Nazuna Kyoto Tsubaki St.
Address: 838 Bomoncho, Shimogyo-ku Kyoto 600-8388
TEL: 075-748-0402

NEARBY STATIONS & AIRPORTS
5 minutes on foot from Omiya Station (Hankyu Kyoto Line) and Shijo-Omiya Station (Keifuku Arashiyama Line)
10 minutes by taxi from Kyoto Station

Official Website: https://www.nazuna.co/property/nazuna-kyoto-tsubaki-st/

Kyoto Sightseeing | Yokokuji Temple's Annual Hydrangea Week Event Announced

This year's Hydrangea Week at Yokokuji Temple is set to take place from June 13 to July 5 where 5,000 breathtaking hydrangea will take over the temple grounds.

Yanagidani Kannon, also known as Yokokuji Temple, is located in Kyoto Prefecture's city of Nagaokakyo and has been used as a place of prayer for many people with eye disease since the Heian Period. It is believed that praying at the temple will cure eye disease.

Special Opening of the Joshoin: Spectacularly Lush Flowers

Normally, the Joshoin only opens on the 17th of every month, but for this autumn week event, it will be open every day. It's an area normally limited to officials and those in the imperial family. The beauty of its autumn colours have come to be enjoyed by VIPs, dating back to the pre-war period when it was designated as a place of scenic beauty. The Nanboku-cho Period painting Amida Sanzon Raigo Zu of Amida standing on a lotus pedestal will be displayed during the opening.

Entry Price: ¥1,000

Entry Times: 9:30-14:30

Limited Edition Goshuin: "Oku-no-in," "Wagan-aigo," "Airyoku"

We've covered goshuin many times on MOSHI MOSHI NIPPON. They are stamps or seals you can receive at most temples and shrines in Japan. Collected in a goshuincho, or stamp book, you pay a fee and the staff there will write gorgeous Japanese calligraphy in your book of the temple or shrine name and the date you visited along with a stamp. Every temple and shrine has their own unique stamps.

For Hydrangea Week, you can get the following words written in your book: Oku-no-in (Inner Shrine) Wagan-aigo, (Gentle Face, Loving Words), and Airyoku (Power of Love).

Goshuin: "Omoi"

This special goshuin prays for the fulfilment of people's Omoi, which can mean thoughts, desires, wishes, affections, and so on. It also features a picture of the temple water basin.

Price: ¥600

Seasonal Pressed Flower Goshuin Kit

This special goshuin kit has you pressing your own flowers to create your own personal and unique design. The theme of this kit changes each season. For June, the theme is hydrangeas.

Price: ¥1,000

Hydrangea Goshuincho

The temple is also selling seven different goshuincho stamp books. Orders are being carried out on the official website.

Price: ¥3,500 (+¥500 handling fees)

Yanagidani Kannon Treasure Exhibition

The "Yanagidani Kannon Treasure Exhibition" is a monthly showcasing of the temple's treasured articles which are normally unavailable to the public. For June, they will be showing the art piece Daffodils by Japanese painter Keika Kanashima who was active during the Taisho and Showa periods. Her work is also on display at the Imperial Household Agency. The painting incorporates the Shijō school of Japanese painting as well as the intai style.

Items Bestowed to the Imperial Household & Buddhist Art

The temple will display items bestowed to the Imperial Household from its collection, including Emperor Nakamikado's mirror which has a deep green hue, a flower vase owned by Japan's last empress regnant Empress Go-Sakuramachi, and more.

Information

Hydrangea Week
Location: Yanagidani Kannon, Yokokuji Temple (Dōnotani-2 Jōdodani, Nagaokakyo, Kyoto)
Running: June 13, 2020 – July 5, 2020

Time: 9:00-16:00 (Last Entries 15:00)
Price: ¥300 (Combination ticket for entry, access to the Joshoin and Jihouku costs ¥1,000)

Official Website: http://yanagidani.jp/

New Open Fruit Sandwich Shop 'Fruits Panda by bekkaku' Opens at Kyoto Tower

Kyoto-based confectionery company Bijuu opened its new shop "Fruits Panda by bekkaku" inside Kyoto Tower on June 4, 2020.

 

Premium sandwiches made with high quality bread

Fruits Panda by bekkaku serves colourful and Instagrammable open sandwiches made from bread baked by Kyoto-based luxury bread company bekkaku which is topped with a variety of fresh fruits and one of the shop's rich creams. The in-house made creams, whether it be the caramel cream, condensed milk cream, or another, all bring out the delicious taste of both the fruit and bread.

Strawberry Panda (Strawberries/Red Bean Paste/Condensed Milk Cream): ¥350 (Tax Included)

Topped with fresh strawberries and sweet red bean paste, this open sandwich is served with a side of velvety condensed milk cream for a harmony of flavours.

Kiwi Panda (Kiwi/Honey Cream): ¥350 (Tax Included)

Sweet and sour kiwis coupled with sweet honey is a match made in heaven that creates a refreshing aftertaste.

Banana Panda (Banana/Chocolate Cream): ¥350 (Tax Included)

Subtly sweet fried bananas and rich chocolate cream are a classic combination which create a full-bodied aroma and delicious aftertaste.

The shop will also be selling bekku's "Tanabiki" bread, so if you visit the shop, use this opportunity to try out their luxurious loaves.

Fruits Panda by bekkaku plans to serve seasonal combinations too so customers can enjoy their open fruit sandwiches all year round.

Information

Fruits Panda by bekkaku

Location: Kyoto Tower (Floor 1F), 721-1 Higashishiokojicho, Shimogyo Ward, Kyoto, 600-8216

Instagram: @fruitspanda

Stunning Hydrangea Parfait Now Being Served at Itohkyuemon's Cafe in Kyoto

Kyoto-based tea company Itohkyuemon is now serving its gorgeous new "Hydrangea Parfait" at each of its cafes.

Hydrangea Parfait: ¥1,290 (Tax Included) / With Drink ¥1,690 (Tax Included)

In Kyoto's city of Uji, where Itohkyuemon's cafes are based, lies Mimuroto Temple which is famous for its hydrangeas. The temple bustles with tourists and sightseers during Japan's rainy season who flock to see the gorgeous gardens. During this season, wait times for the cafe can last up to three hours.

The Hydrangea Parfait is made with mashed sweet matcha hydrangea, hydrangea-coloured crushed jelly, tea leaf-shaped matcha cookies, blueberries, and more.

Itohkyuemon will also be serving a special "Hydrangea Chakai" tea set for ¥1,900 (tax included) which sees the parfait topped with warabimochi. You also get a drink of your choice.

Information

Hydrangea Parfait
Serving: From May 19, 2020 until stock sells out
Available: Itohkyuemon Uji Honten / Itohkyuemon JR Uji Station / Itohkyuemon Gion-Shijo

Official Website: https://www.itohkyuemon.co.jp/corporate/

Kyoto Neko Neko: Cat Shaped Desserts and Pastries Served at Kyoto's New Bakery

ALL HEARTS COMPANY, a Japanese company that develops bakeries and patisseries across Japan, opened its new bakery and confectionery shop Kyoto Neko Neko in Shijo, Kyoto on June 1, 2020. There, they are serving cat-shaped pastries and desserts including Kyoto-exclusive products from their Neko Neko Bread brand and Neko Neko Cheesecake shop.

Kyoto Neko Neko Danish Bread: ¥1,200 (Before Tax)

This butter-loaded Danish pastry is folded into a braid shape and baked which keeps the pastry moist. It's topped with a sprinkling of sugar, leaving it glistening. It's recommended that you first try the pastry as it is—soft and moist. You can then try lighting toasting it which gives it a crispy texture and brings out the delicious aroma of the butter.

Products are packaged in a cute box making them a great gift idea.


Kyoto Neko Neko Cheesecake (On sale from mid-June 2020)

This cheesecake is made with Brie de Meaux cheese and is laced with black cocoa. The luxurious cheese combined with black soy beans and brown sugar syrup jelly makes for a marriage between Japanese and Western flavours. You get an extra layer of deliciousness too with a dusting of soy flour.

Kyoto Neko Neko Bread (Plain): ¥550 (Before Tax)

This Kyoto version of the Neko Neko Bread is still made without water, but rather than using only milk, Kyoto Neko Neko has added soy milk made using soy beans from a tofu shop in Kyoto, lending a smooth and rich flavour to the bread. And instead of mascarpone cheese, Kyoto Neko Neko uses soybean cream, and instead of dairy butter a soy cream butter.

Kyoto Neko Neko Bread (Houjicha): ¥680 (Before Tax)

Kyoto Neko Neko Bread (Matcha): ¥680 (Before Tax)

There's also a houjicha flavour made with houjicha tea and white chocolate, as well as a matcha flacvour combined with black soybean.

Information

Kyoto Neko Neko Shioji
Address: 578 Obiyamachi, Tachiuri Nakanocho, Shimogyo Ward, Kyoto
Grand Opening: June 1, 2020
Opening Hours: 10:30-18:00
No Fixed Holidays (Closed: New Year's Holidays)
TEL: 075-221-1001

Official Website: https://nekoshoku.jp/

MAXPLAN AZABU10: The New Landmark of Tokyo's Azabu Juban District

MAXPLAN Co. is set to open MAXPLAN AZABU10 on October 22, 2020 which is set to become the new symbol and a landmark of Tokyo's Azabu Juban District. The building will offer many unique and extraordinary experiences.

Nakamura Suzuko (CEO, MAXPLAN Co.) | Comment

"This project borrows the strength of internationally-active architect Kengo Kuma. I am overjoyed to have the opportunity to be a driving force together with him once again. This building, which is the 'Azabu Juban Development Project,' will be a place that creates and discovers new collective value between companies and individuals. A place of creative symbiosis. It aims to offer well being for companies that brings about a sense of cultural values. It will be a creative space for companies and individuals to resonate, bounce ideas off, and flow with one another. I pray from the bottom of my heart that these things will serve as a connection to how we want to live in the future."

Kengo Kuma (Architect) | Comment

"Azabu Juban is Tokyo's intersection between tradition and the future. I wanted to create a symbol for this district of 'fluctuations' around its crossroads. Combining panels of varying sizes with different heights, thicknesses, and textures expresses the district's diversity and energy. I wanted the building to blend in as part of the 'fluctuations,' as well as create a small 3D city which itself has 'fluctuations' […]"

We look forward to seeing how this new landmark and symbol of Azabu Juban brings together the traditional and the futuristic.

Information

MAXPLAN AZABU10
Building Site: 4-1-1 Azabu Juban, Minato Ward, Tokyo
Access: 1-minute on foot from Azabu Juban Station (via Tokyo Metro Namboku Line and Toei Oedo Line)
Grand Opening: October 2020 (subject to change)

Matcha and Fruit Shaved Ice & Other Desserts Arriving to Saryo FUKUCHA in Kyoto This Summer

Saryo FUKUCHA is a cafe that was opened by FUKUJUEN in Kyoto Station in April 2019. A new batch of seasonal summertime menu items are set to arrive this June, including shaved ice drizzled in Uji tea and fruit sauce, a refreshing Uji matcha soda made with fresh fruit and jelly, and floats. These items will be served from June 1 to September 30 with a takeout option available.

Summer Menu

Uji Matcha & Fruit Shaved Ice


Matcha Berry Shaved Ice: ¥950 / Strong Matcha Berry Shaved Ice: ¥1,100 / Houjicha Banana Shaved Ice: ¥950 (All Before Tax)

The "Matcha Berry" shaved ice is paired with rich Uji matcha ice cream and berry sauce. It's also topped with a wafer cake shaped like a flower and filled with white bean paste, rice flour dumplings, and fruit.

Uji Tea White Peach Soda / Uji Tea Lemon Soda: ¥650 Each (Before Tax)

Full-bodied kabusecha tea from Uji made into a soda with fresh fruit pieces and jelly for a refreshing combination. Pick from super refreshing lemon or subtly sweet white peach.

Uji Matcha Float / Houjicha Float: ¥700 Each (Before Tax)

These floats are made using the best tea leaves selected by FUKUJUEN which are used to make a rich and frothy tea latte. Added to that is a dollop of soft serve ice cream topped with red bean paste and dried wheat gluten. Choose between authentic Uji matcha or aromatic houjicha.

Takeout Menu

Strawberry Flower Wafer Cake / Chestnut Houjicha Wafer Cake: ¥350 Each (Before Tax) 

Fruit wafer cakes are a popular dessert at Saryo FUKUCHA, and for the first time ever they are making them available for takeout so customers can enjoy them at home too. Pick from the strawberry flower flavour made with white bean paste or the chestnut and houjicha with chocolate cream.

Cream Anmitsu (Matcha/Houjicha): ¥700 (Before Tax)

FUKUCHAs specially-made anmitsu, or syrup-covered anko bean jam, is the perfect way to cool down on a hot summer's day. It's mixed with Uji tea honey and topped with various toppings like milk agar-agar, black soybeans, rice flour dumplings, white peach, raspberry, and mizu manju.

Information

Saryo FUKUCHA
Address: 901 Higashi Shiokojicho, Karasumadori Shiokoji Sagaru,, Shimogyo-Ku Kyoto Station Bldg. 2F, Kyoto 600-8216 Kyoto Prefecture
Opening Hours: 8:30-21:00 (Last Orders 20:30)
*The cafe is currently running on reduced opening hours as of May 26, 2020. Hours are now 10:00-19:00 (Last Orders 18:30). Times are subject to change.
TEL: 075-744-0552

Official Website: https://fukucha-fukujuen.com/

Ginza's Legendary Strawberry Mille-Feuille Dessert Arrives to Japan's Kansai Region

VMG HOTELS & UNIQUE VENUES is now serving a certain strawberry mille-feuille at several locations across Japan's Kansai region. Available from May 26 to 31, t's a recreation of the legendary dessert "Napoleon Pie" from Ginza in Tokyo.

In 1966, Sony co-founder Akio Morita opened a restaurant called Maxim's de Paris with the idea in mind to create a place for adults to meet and socialise over food. Since opening, it has tickled the taste buds of customers with its authentic French cuisine and dazzled them with its deep crimson decor. The "Napoleon Pie" is an especially popular dessert that has gained a legendary status. The custard is laced with fragrant cointreau, and the thick pastry is stuffed with strawberries. The dessert gets its name from how it looks like Napoleon's hat.

This strawberry mille-feuille is now being sold at select locations in Kyoto and Hyogo for just six days. It's the first time for the dessert to be served in Kansai.
The dessert is available for takeout so customers can enjoy an at-home cafe experience.

Information

Kyoto: LE UN FUNATSURU Kyoto Kamogawa Resort (TEL: 075-351-8541)
Kobe: LE UN Kobe Geihinkan (TEL: 078-739-7600)

Pricing
Half Size (8cm x 11cm x 12cm): ¥3,240 (Tax Included)
Full Size (16cm x 11cm x 12cm): ¥6,480 (Tax Included)

Locations
Kyoto (FUNATSURU Kyoto Kamogawa Resort, 180 Minoyachō, Shimogyō, Kyoto) [Serving: May 26, 30, 31]
Hyogo (Kobe Kitano Ijinkan-Gai, 2-9-3 Kitanochō, Chūō Ward, Kobe, Hyogo) [Serving: May 27-29]

*Available for takeout at THE GRAND GINZA following the Kansai sales
*Delivery available in the city until June 20, 2020