KFC Japan Introduces Snoopy & Peanuts Gang Mug Designs
KFC Japan is teaming up with the Peanuts franchise to release a new line of mugs featuring designs of Snoopy and the rest of the gang. They will be released on November 22, with in-store pre-orders opening on November 1.
Christmas is a big time for KFC in Japan as it's a location many people enjoy dining at during the holiday season. This special Snoopy collaboration has been dubbed a pre-Christmas celebration.
Four mugs will be available, including pink, yellow and blue ones as well as a "rare" mug which is the hardest one to obtain. The mugs feature completely original illustrations of Snoopy and his friends playing in the snow.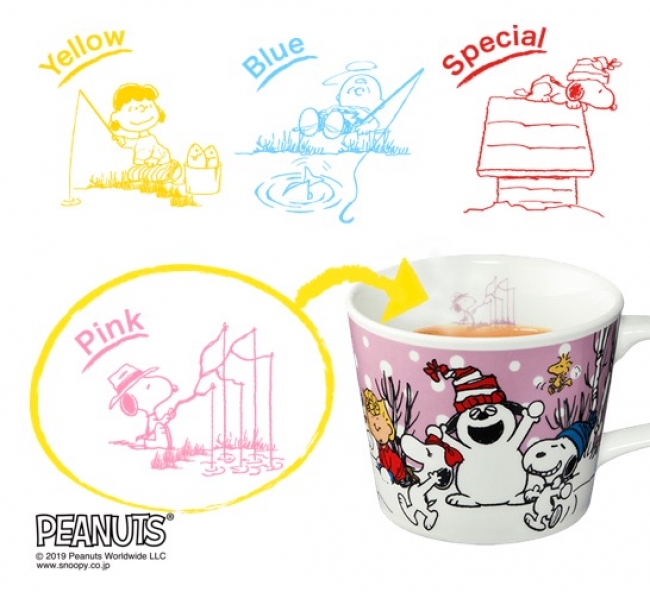 Also arriving on November 1 is a series of other Snoopy-themed merchandise which can be obtained when ordering the kids meals pictured below. The first in the series will be a plate which comes with the same 4 designs as the mugs.
It's a tradition to eat KFC in Japan at Christmas, so celebrate this holiday season together with Snoopy and his friends.
Information
Pack Set w/ Snoopy Soup Mug
Snoopy Soup Mug Pack Set A – ¥1,520
Snoopy Soup Mug Pack Set B – ¥1,520
Snoopy Soup Mug Sandwich Set – ¥1,220
Snoopy Soup Mug Chicken Set – ¥1,220
Complete Pack – ¥4,980
*Complete Pack not available at select stores
*Mug design is entirely random and cannot be chosen. There is also a smaller stock of rare mugs than the other 3 designs.
Release Date: November 22, 2019 (Pre-orders open November 1, 2019)
Available: At most KFC branches in Japan (While supplies last)
Kids Menu w/ Snoopy Plate
Kids Nugget Set – ¥500
Kids Crispy Set – ¥500
Release Date: November 1, 2019
Available: At most KFC branches in Japan (While supplies last)
KFC Japan Website: https://www.kfc.co.jp/top.html
RELATED ENTRIES
Snoopy Design Eco Bags Release in Collaboration With 11 Brands

Fashion, beauty, and creative company MASH Holdings has announced a collaboration with the Peanuts comic strip titled "TAKE CARE WITH PEANUTS" which sees the arrival of an eco bag collection in collaboration with 11 different fashion brands. The bags were released at USAGI ONLINE, as well as other online stores and shops in Japan on April 28.

The Line-Up

SNIDEL | ¥1,980 (Tax Included)

gelato pique | ¥2,420 (Tax Included)

FRAY I.D | ¥2,200 (Tax Included)

Lily Brown | ¥2,970 (Tax Included)

Mila Owen | ¥3,300 (Tax Included)

CELFORD | ¥2,530 (Tax Included)

Emmi | ¥4,950 (Tax Included)

SNIDEL HOME | ¥3,850 (Tax Included)

Styling | ¥1,980 (Tax Included)

FURFUR | ¥4,950 (Tax Included)

UNDERSON UNDERSON | ¥3,960 (Tax Included)

The eco bags see Snoopy and the Peanuts Gang making an effort to promote sustainable alternatives to plastic bags. Fans of the comic can help the gang take care of the planet with this stylish reusable line-up.

Information

TAKE CARE WITH PEANUTS

Released: April 28, 2021

Available Online:
・USAGI ONLINE: https://usagi-online.com/
・Official online stores of each participating brand


Available In-Store:
・In-store at each participating brand (release dates different for each)

MASH Holdings Official Website: https://www.mash-holdings.com/

Peanuts 70th Anniversary Shop Opens in Ikebukuro

The Snoopy Time Capsule Exhibition Final Tour Special Shop opened at Seibu Ikebukuro on April 21 as part of the ongoing celebrations to commemorate the 70th anniversary of the Peanuts comic strip.

70th Anniversary Items

Snoopy Plush | ¥3,850 | 1 Per Person

Big Eco Bag | ¥2,750

All-In-One Gels | ¥1,210 Each

Mini Towels | ¥660 Each

Exclusive Snoopy Nanbu Tekki Teapot | ¥7,590

Exclusive Snoopy Handkerchiefs | ¥550 Each

Exclusive Snoopy Komon Pattern Plates | ¥1,320 Each

Exclusive Snoopy Coin Purses | ¥1,210

Snoopy Pillow | ¥2,750

Mini Mugs | ¥1,320 Each

Medium-Sized Eco Bags | ¥1,320

Bonus Item

Snoopy Photo Spots Recreating Famous Peanuts Scenes

The shop arrives as part of the Snoopy Time Capsule Exhibition which was first held in 2019. It takes the original main visual as well as a new main visual to feature on a special line-up of around 2,000 pieces of merchandise , including regional exclusives. There are also photo spots for people to snap pictures at, and the first 200 visitors to visit the shop each day and spend over ¥5,000 will receive a bonus eco tote bag.

© 2021 Peanuts Worldwide LLC 

Information

Snoopy Time Capsule Exhibition Final Tour Special Shop

Running: April 21, 2021 – May 9, 2021

Time: 10:00-20:00 (Until 16:00 on May 9)

Where: Seibu Ikebukuro Bekkan Floor 2F Seibu Gallery

Entry: Free
Official Website: http://www.snoopy.co.jp/

Snoopy Town Shop to Open in Kobe

Peanuts fans will be excited to know that KIDDYLAND is set to open the new Snoopy Town Shop in Kobe on April 29, 2021.

The theme of the new shop is "Happiness is…a warm puppy" which will be echoed in its cute decor and line-up of merchandise. The shop is incorporating a farmhouse style which combines traditional Kobe designs with a contemporary taste that elicits a sense of nostalgia. Inside, shoppers will find the Peanuts gang relaxed and chilling around the shop along the shelves and up the official gallery wall where scenes from the comics trip will be depicted.

This Japan-official shop will also sell an exclusive line-up of items with the theme "Welcome Home" which features Snoopy and his friends relaxing at home.

Freebie for fans

The first 1,000 people to spend over ¥3,000 (tax included) in the shop will receive a free face towel.

A small look at some of the limited-edition line-up

The following items will be sold on the opening day only and will be limited to one piece per customer, per transaction.

Pin Set | ¥1,518 (Tax Included)

Bandana | ¥1,100 (Tax Included)

Glasses | ¥1,650 (Tax Included)

Tote Bag | ¥2,530 (Tax Included)

The following items will be sold on the opening day only and will be limited to two pieces per customer, per transaction.

From Left: Buffer Knife ¥660 / Small Spoon ¥660 / Small Fork ¥660 / Medium Spoon ¥770 / Medium Form ¥770 (Tax Included)

Left: Folder ¥308 / Right: Set of 2 Art Cards ¥330 (Tax Included)

Left: Wash Towel ¥1,100 / Right: Flat Pouch ¥1,100 (Tax Included)

T-Shirt | ¥2,420 (Tax Included)

© 2021 Peanuts Worldwide LLC

Queen Bee Garden has released its new Snoopy-themed natural Pure Honey PEANUTS and Pure Maple PEANUTS in collaboration with the Peanuts comic strip.

The Line-Up

Snoopy Pancake Syrup

Pure Honey PEANUTS

Line up multiple pots together to make a cute Peanuts image

Pure Honey PEANUTS Orange Flavour

Wooden charm different with every product

Queen Bee Garden has produced maple syrup and honey made with entirely natural ingredients. Each bottle or jar also comes with a cute wooden charm.

© 2020 Peanuts Worldwide LLC( 短縮形 © 2020 Peanuts )

Peanuts Comic Launches 70th Anniversary Birthday Campaign in Japan

Japan's five Peanuts comic-themed cafes are now holding a birthday plan campaign in celebration of the series' 70th anniversary.

Each cafe branch is offering something different

PEANUTS Cafe Nakameguro x WHYTROPHY With Birthday Rosette

PEANUTS DINER Yokohama With Embroidered Striped Pin

PEANUTS DINER Kobe With Embroidered Striped Pin

PEANUTS Cafe Snoopy Museum With Tote Bag

PEANUTS Cafe Nagoya With Tote Bag

Campaign Art

Customers at the cafes will also be randomly selected to stay at the PEANUTS HOTEL and will receive a free sticker as pictured above. All who order the birthday plan and their group will even receive a free present.

(C) 2021 Peanuts Worldwide LLC (短縮形 (C) 2021 Peanuts)

Snoopy Café Opens in Niigata in Collaboration With Hoshi Tabeyo Rice Crackers

Befco is collaborating its Hoshi Tabeyo star-shaped rice crackers with the lovable Peanuts comic strip to open a themed café at Hotel Nikko Niigata. Named the "Hoshi Tabeyo x Snoopy Café @ Hotel Nikko Niigata," the café will open for a limited time from April 9 to May 9."

Snoopy and fans of Japanese snacks can look forward to an original themed menu, with every food item and drink ordered getting them a free novelty. Of course, the café will sell its own original merchandise too. The café will be decorated in all things Peanuts and Hoshi Tabeyo, and there will even be two photo booths for snapping a commemorative photo of your fun day.

The Menu

1. Snoopy Beef Stew: With a juicy meat and bouillon base, this stew is made with beef, onion, and mushrooms, all topped off with a Snoopy made from rice.

2. Snoopy Hamburger Curry: Snoopy's rice ears are topped with a hamburger, and the curry sauce is made with fruit and vegetables. There's even a little Woodstock made from cheese.

3. Snoopy Hot Sandwich: There are two different sandwiches, one with ham and cheese and the other with potato salad, and both have a different toasted illustration on them. These come in a free lunch box.

4. Hoshi Tabeyo Shaka Shaka Caesar Salad: A salad served in a cup drizzled in a Caesar dressing and with Hoshi Tabeyo rice crackers instead of croutons.

5. Thick Soufflé Pancake: Fat and fluffy pancakes combined with French meringue and served with a Snoopy cookie and sweet-tasting Hoshi Tabeyo. Enjoy together with the accompanying strawberry sauce.

6. Chocolate Parfait: A towering, chocolate-packed parfait layered with chocolate sauce, chocolate cornflakes, chocolate ice cream, and brownie. This is all topped off with a Snoopy cookie and Hoshi Tabeyo rice cracker.

7. Hotel Original Cookies (Set of 4): Crunchy cookies with various prints of familiar faces like Snoopy and Woodstock.

8. Lemonade: A sweet and refreshing lemonade beverage served with honey.

*Dishes 1-3 come with the Shaka Shaka Caesar Salad

*Ordering anything from the menu gets you one of four possible Hoshi Tabeyo x Snoopy postcards

Merchandise

© 2021 Peanuts Worldwide LLC( 短縮形 © 2021 Peanuts )

Information

Hoshi Tabeyo x Snoopy Café @ Hotel Nikko Niigata

Running: April 9, 2021 – May 9, 2021

Location: Hotel Nikko Niigata Floor 31F

Address: 5-1 Bandaijima, Chuo Ward, Niigata

Opening Hours: 11:30-18:30 (Last Orders 17:30)

Official Website: https://www.hotelnikkoniigata.jp/sys/news/detail/323

Sony Store Collaborates With Snoopy on New PEANUTS Collection

Sony Marketing released its new PEANUTS Friends Collection on Wednesday in collaboration with the beloved American comic strip Peanuts known for its iconic cast of characters like Snoopy and Charlie Brown. The colleciton includes wireless headphones, wireless speakers, and Walksman®.

 

A look at just some of the items in the PEANUTS Friends Collection

WF-XB700 Wireless Stereo Earphones | ¥16,500 (Tax Included)

The WF-XB700 wireless stereo earphones comes in 36 different patterns from a choice of six designs including Snoopy A, Snoopy B, Snoopy C, Woodstock, Charlie Brown, and Snoopy's Footprints.

There are also two case designs as pictured above featuring Woodstock and Snoopy/Charlie Brown and Snoopy.

The WF-XB700 offer crystal clear, high-quality audio wirelessly and are durable against water droplets like rain and sweat.

WF-XB700 Wireless Stereo Headset | ¥22,000 (Tax Included)

This headset features Snoopy on the left ear and Charlie Brown on the right. They offer immersive, high-quality sound and can be folded up to make them compact for carrying.

SRS-XB23 Wireless Portable Speakers | ¥15,400 (Tax Included)

Listen to your music wherever you go whether in the bathtub, kitchen, are at the beach, outdoors, and more with these wireless portable speakers. Available in two designs: Snoopy & Woodstock/Snoopy & Charlie Brown.

Walkman® NW-A50 Series| ¥27,500 (Tax Included)

This stylish collection of Walkmans® will make you forget about listening to music on your phone. What's even better is that buyers can have letters, Japanese characters, and numbers (up to 23) engraved on them to create a personalised device whether for yourself or as a birthday present for someone.

Walkman® S Series | ¥15,400 (Tax Included)

A slimmer version of the Walkman® if you're looking for something more compact. Up to 16 letters can be engraved on this one.

Snoopy Cherry Blossom Marshmallow Latte and Lemonade Serve Up at PEANUTS Cafe Nakameguro This Spring

PEANUTS Cafe Nakameguro is now serving up two new cherry blossom beverages for the spring season: the Sakura Lemonade and Sakura Charred Marshmallow Latte, both of which are now available to order until April 11.

Sakura Charred Marshmallow Latte ¥700 (Before Tax) / Sakura Lemonade ¥650 (Before Tax)

PEANUTS Cafe Nakameguro serves limited-time drinks every cherry blossom season in Japan, and this year is no different. Both beverages capture the cute pink tones of the country's national flower which invite feelings of springtime walks and Hanami flower viewing.

(C) 2021 Peanuts Worldwide LLC

Information

PEANUTS Cafe Nakameguro Spring 2021 Drinks

Serving: March 20, 2021 – April 11, 2021

Address: PEANUTS Cafe Nakameguro, 2-16-8 Aobadai, Meguro-ku, Tokyo

TEL: 03-6452-5882

Official Website: http://www.peanutscafe.jp/

Snoopy Time Capsule Exhibition in Kobe Celebrates Peanuts Comic's 70th Anniversary

In celebration of the 70th anniversary of the Peanuts comic strip, the "Snoopy Time Capsule Exhibition" will be held from March 24 to April 5 at the Daimaru Museum on the 9th floor of Daimaru Kobe.

The exhibition will pay homage to the beloved characters and story of the comic series with merchandise, events, photo ops, and more.

 

All Visitors Get a Free Secret Key

All tickets bought for the exhibition are coupled with a special key. Visitors must find 5 illustrations dotted around the exhibition venue which have keyholes that the key fits. This will give them a comic illustration that can be taken home at the end of the exhibition.

The Exhibition

Entrance

Waiting to greet visitors at the exhibition entrance is the Peanuts Gang all with their own keys.

Time Leap

Towering panels detail the history of Peanuts and author Charles M. Schulz in a timeline format.

Peanuts Through the Ages

Featured throughout the exhibition is artwork, photo spots, and interactive gimmicks divided by the years Peanuts was drawn and theme.

There is a section that pays love to the unrequited infatuation Lucy has for Schroeder.

As well as an area dedicated to all the different outfits and occupations Snoop finds himself in.

 

Visitors can also become Charlie Brown's Peggy Jean, his girlfriend in the comic strip, at this special photo spot where you can sit beside him and Snoopy at the lake shore.

Time Capsule Movie

A special, event-original video is available to watch at the exhibition that looks back over Peanuts like a time capsule.

An Homage to Charles M. Schulz

Learn all about Charles M. Schulz, the author of Peanuts. There's a display detailing his background as well as Peanuts merchandise, books, and more.

 

Snoopy Time Capsule Exhibition Original Merchandise

The exhibition will be home to the "Peanuts 70th Anniversary Market" where around 100 original and exclusive pieces of merchandise will be sold amongst other related Peanuts items.

The Merchandise

Snoopy Plushie | ¥3,850 (Tax Included)

A4 Folder | ¥440 (Tax Included)

 

Alphabet Key RIngs | ¥1,320 Each (Tax Included)

 

Snoopy Face Masks (Washable 100 Times) | ¥1,320 (Tax Included)

© 2021 Peanuts Worldwide LLC( 短縮形 © 2021 Peanuts )

Information

Snoopy Time Capsule Exhibition

Running: March 24, 2021 – April 5, 2021

Location: Daimaru Museum at Daimaru Kobe (Floor 9F)

Opening Hours: 10:00-19:30 (Until 15:30 on April 5)

Snoopy Japan Official Website: https://www.snoopy.co.jp/

Snoopy Embroidered Cap Collection to be Released at PEANUTS Cafe

The official online shop for PEANUTS Cafe, a chain of cafes in Japan themed entirely on the Peanuts comic strip, is lauching pre-sales of a new cap collection and mini pouch this Friday (March 12).

Cotton Twill Caps (Beige, Pink, Black Denim) | ¥2,900 Each (Before Tax)

Cotton Twill Cap Mini Pouches (Beige, Pink, Black Denim) | ¥2,200 Each (Before Tax)

The cotton twill caps and pouches are embroidered with the same artwork that's displayed on the first floor of the PEANUTS Cafe located in Nakameguro, Tokyo. The cute pouches are downsized versions of the caps and are compact enough for storing cards, cosmetics, earphones, and other little bits and bobs you need to take with you on the go – convenient enough to strap onto your bag or belt loop.

The collection will be released for general sale in the near future. The official date will be announced via Snoopy Japan's official social media pages, so don't miss out. Links below.

(C) 2021 Peanuts Worldwide LLC (短縮形 (C) 2021 Peanuts)

Rare Snoopy Merchandise to be Sold at PEANUTS Cafe Nagoya

PEANUTS Cafe Nagoya is set to release a collection of rare merchandise on February 20 including a plush toys, bags, and a glass.

PEANUTS Cafe NGO Pelicans Snoopy Plush Toy | ¥2,700 (Before Tax)

PEANUTS Cafe NGO Pelicans Snoopy Plush Key Chain | ¥1,600 (Before Tax)

PEANUTS Cafe NGO Pelicans Musette Bag With Pins (Black/Hickory) | ¥4,800 Each (Before Tax)

PEANUTS Cafe NGO Pelicans Glass Jar | ¥1,200 (Before Tax)

PEANUTS Cafe Nagoya is a cafe themed on the popular Peanuts comic strip featuring Charlie Brown and Snoopy. It opened in autumn of last year and sells a range of crockery, apparel, and other merchandise related to the popular comic.

Information

Rare Snoopy Merchandise

Release Date: February 20, 2021

Where: PEANUTS Cafe Nagoya

Address: RAYARD Hisaya-odori Park, 3-18-15 Marunouchi, Naka-ku, Nagoya, Aichi

TEL: 052-211-9660

Official Website: https://www.peanutscafe.jp/

Japan's Snoopy Themed PEANUTS Cafe Reveals Charlie Brown Inspired Dessert

Six branches of the hugely-popular PEANUTS Cafe in Japan are welcoming a collection of tasty new seasonal menu items this Saturday which are set to be served until March 14.

The Limited-Time Line-Up

Brownie Charles's Brownie Chocolat | ¥950 (Before Tax)

Strawberry Whipped Hot Chocolate | Eat In ¥750 – Takeout ¥700 (Before Tax)

The collection includes a chocolate brownie inspired by the scene when Charlie Brown meets Peggy Jean for the first time. He is very nervous and mistakenly introduces himself as "Brownie Charlies." There's also a sweet strawberry hot chocolate topped with a squirt of whipped cream and drizzle of strawberry sauce.

(C) 2021 Peanuts Worldwide LLC

Information

PEANUTS Cafe Limited-Time Menu
Running: February 13, 2021 – March 14, 2021
Participating Branches: PEANUTS Cafe Nakameguro, PEANUTS DINER Yokohama, PEANUTS DINER Kobe, PEANUTS Cafe Kobe, PEANUTS Cafe Snoopy Museum, PEANUTS Cafe Nagoya
PEANUTS Cafe: http://www.peanutscafe.jp/
PEANUTS DINER: http://www.peanutsdiner.jp/
Snoopy Japan Official Website: http://www.snoopy.co.jp/