Idol Group Keyakizaka46 Themed Cafes to Open in Harajuku, Osaka & Nagoya
The new cafe TOKYO BOX CAFE&SPACE will open in Omotesando, Harajuku on November 21, 2019.
The cafe will serve as a space to promote artists, franchises and more by collaborating with them. For the grand opening, the cafe's first collaboration will be with Japanese idol group Keyakizaka46 which will run for a limited period from November 21, 2019 to January 13, 2020. The collaboration will subsequently move to Osaka and Nagoya where it will open on November 22 and 28 respectively.
The names of cafe menu dishes below are translated from Japanese.
Cafe Menu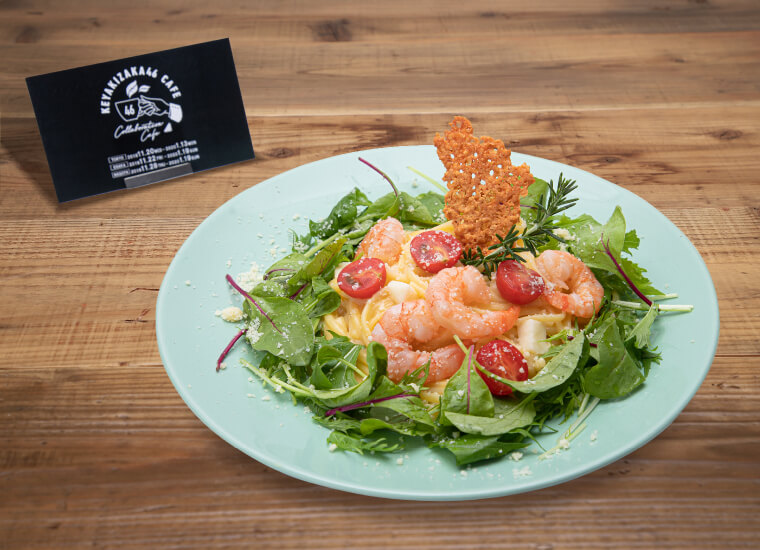 Break the Cheese! – ¥1,690
This cheesy pasta dish is made with crispy cheese, the spaghetti is bathed in a rich cheese sauce, and the plate is finished with delicious seafood. Break the cheese up and tuck in!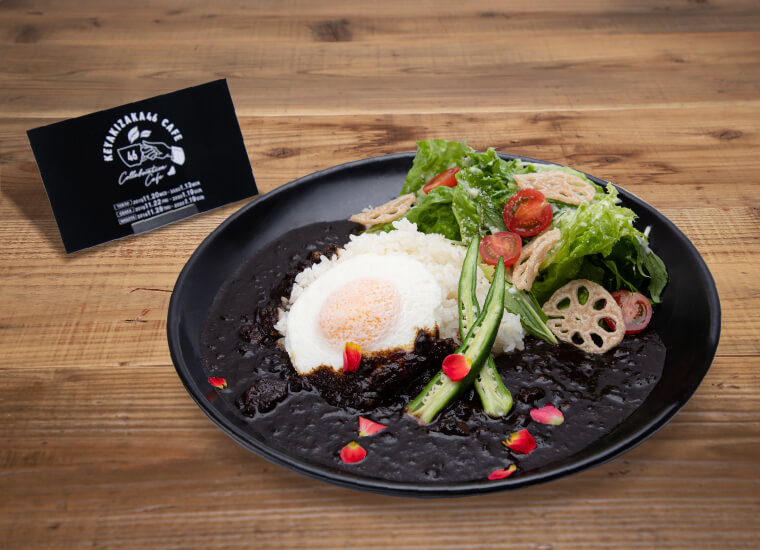 Black Vegetable Curry – ¥1,590
The quirk of this veggie-packed meal is the black colour of the curry. Topped with okra, tomatoes, Japanese mustard greens, sunny-side up egg and more, this nutritional dish is sure to fill your belly.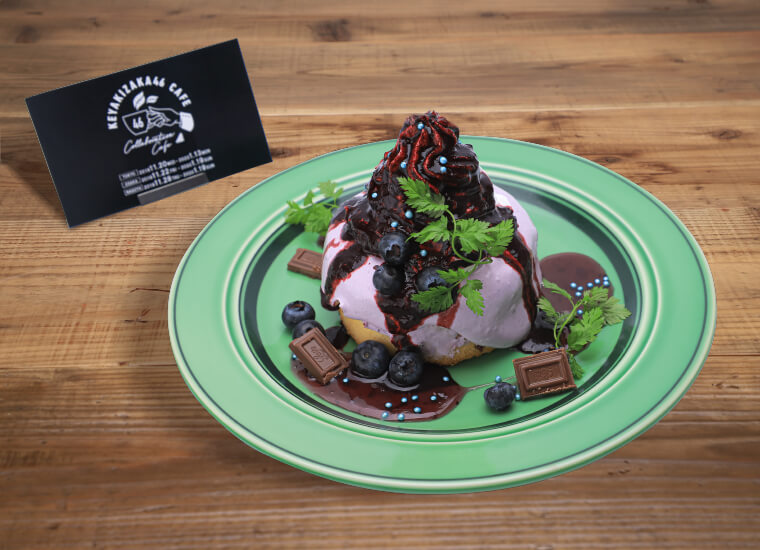 2 People Season Pancakes – ¥1,790
For the sweet-tooths out there, they can look forward to forking into some chocolatey pancakes lathered sweetly in blueberry sauce and blueberry cream. Between the pancakes are fruits and chocolate to create a pancake sandwich, and adorning the plate is more chocolate, fruit, and blue dragées.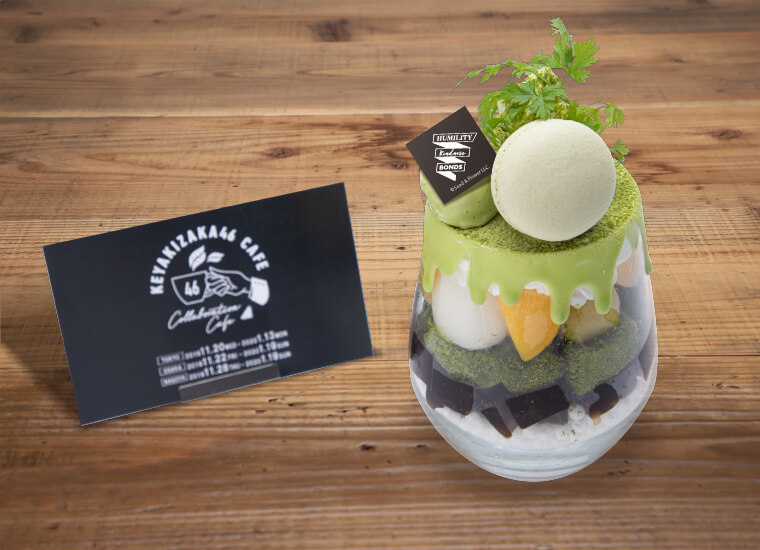 Humility! Kindness! Bonds! Shining Brightly, Keyakizaka46 Parfait – ¥1,690
Named after one of the group's catchphrases, this matcha parfait is green which is a colour that symbolises Keyakizaka46. It's piled with chocolate, macarons, ice cream, warabimochi and more for a truly hearty and mouth-watering dessert.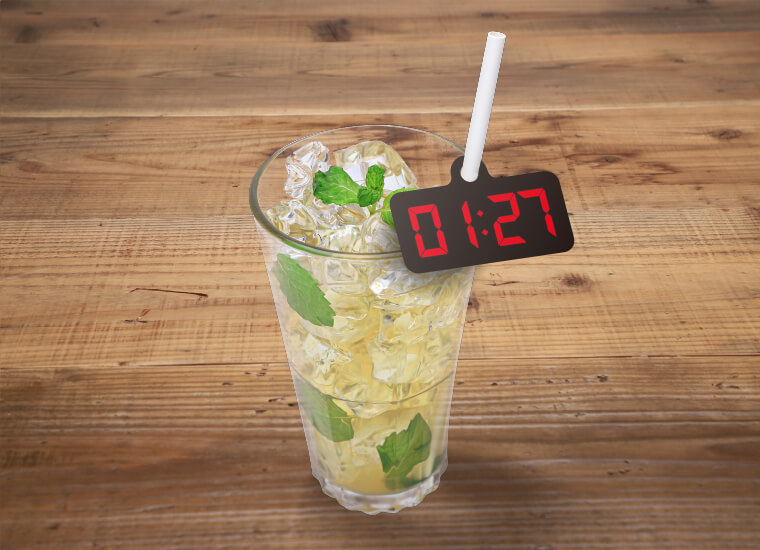 Late-Night Herb Tea – ¥890
During those nights when you can't fall asleep, there's nothing better than some refreshing herbal tea.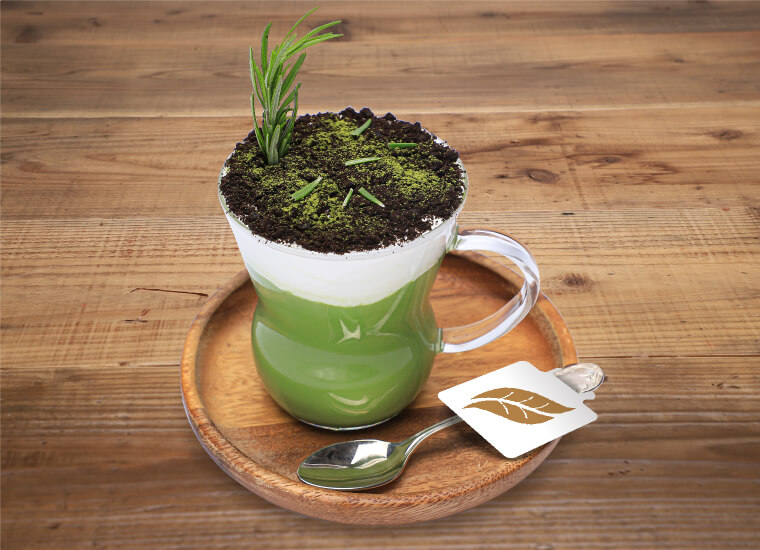 Matcha Milk That Stays Hot Even When It Blows In The Wind – ¥890
Nothing beats a cup of hot matcha milk during the cold weather. Coloured green like the group's iconic colour, this gorgeous, garden-like beverage is sure to warm up your mind and body.
Exclusive Merchandise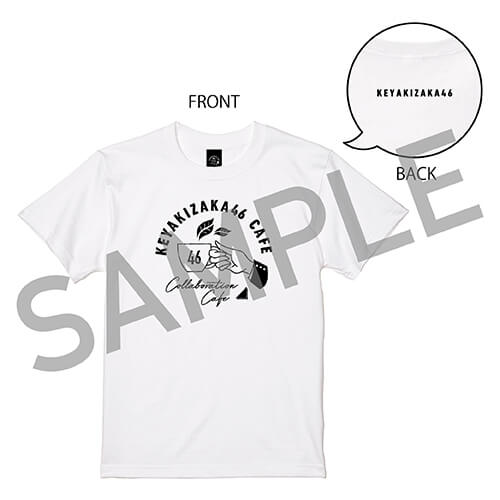 T-Shirt (White) – ¥3,100
Acrylic Keyring – ¥900
Tote Bag – ¥1,800
Bonus Items
Those who book a table in advance  (¥650 per person, tax excluded) and order something from the menu will randomly receive one of 26 possible trading cards pictured above.
If you order something from the food or dessert menu, you'll also receive one of 26 possible signed mini cards, chosen randomly.
Finally, if you get a drink, you can get one of these 8 possible coasters, also chosen randomly.
This is just a small peek into what's to come at the cafesーthere are more drinks, dishes and merchandise to get your hands on, so don't miss out.
*All listed menu item prices do not include tax
*All listed merchandise items include tax
*Photos are for illustrative purposes only
©Seed & Flower LLC.
Information
Keyakizaka46 Collaboration Cafe
Dates/Locations:
TOKYO BOX CAFE&SPACE (6-3-7 Jingumae, Shibuya, Tokyo) / November 21, 2019 – January 13, 2020 (Closed December 30-January 3)
Shinsaibashi contact (1-6-24 Kitahorie, Nishi Ward, Osaka) / November 22, 2019 – January 19, 2020/2019 (Closed December 31-January 1. Open later on January 2 from 14:00.)
NAGOYA BOX CAFE&SPACE (LACHIC Floor B1F, 3-6-1 Sakae, Naka Ward, Nagoya, Aichi) / November 28, 2019 – January 19, 2020 (Closes early on December 31 at 18:00. Closed January 1-3)
Table Reservations
Now open at all branches. Price: ¥650 (Before Tax). Includes bonus item.
Keyakizaka46 Official Website: http://keyakizaka46-cafe.jp
RECOMMENDED ENTRIES
Christmas Gifts, Delicious Desserts & More Coming to Tokyo Skytree Town This Holiday Season

The dessert shops and and bakeries on the second floor of Tokyo Solamachiーthe shopping facility at the base of Tokyo Skytreeーare reading themselves for Christmas by baking up a whole range of festive delights for the holiday season, perfect for parties, gifts, or as a little self-indulgence. Let's dive in and take at what's on offer this year.

The perfect cakes for spending Christmas at home

Bonheur du Noel – ¥6,480 @ Ginza BOUL'MICHI (Tower Yard Floor 2F) [Reservations: November 1 – December 13 / Serving: December 21-25] *Tokyo Solamachi exclusive

Macarons are in this year in Japan, so BOUL'MICHI has whipped up the perfect strawberry chocolate cake adorned with colourful macarons and fresh strawberries to give it that Christmas-y look. Only 50 of these precious cakes will be sold, so don't miss out.

Fromage Citron @ – ¥2,970  Ginza Ginger (Tower Yard Floor 2F) [Reservations: November 1 – December 10 / Serving: December 23-25] *Tokyo Solamachi exclusive

This no-bake cheesecake is made with Oceania cheese and layered with an almond base followed by a sumptuously sour lemon cream.

16cm Yule Log – ¥4,104 @ Sweet Heart Tree (Tower Yard Floor 2F) [Reservations: November 1 – December 20 / Serving: December 15-25]

A gourmet yule log made with rich chocolate and packed with fruits and nuts. This sophisticated dessert is one for the adults to enjoy.

Takeout Sweets & Christmas Merchandise

 

Tiny Waffles (Dark Chocolate/White Chocolate) – ¥486 Each @ RL waffle cake (Tower Yard Floor 2F) [Reservations: November 1 – December 23 / Serving: December 20-25]

If you're looking for something a little smaller, perhaps as a Christmas present to friends and family or as a little gift to yourself, then check out these fluffy waffles made with strawberries, chocolate and whipped cream. Simple, but delicious!

Mamegui Towels (Santa Clause/White Christmas/Snowman) – ¥550 Each @ Mamegui (East Yard Floor 4F) [Available From November 1] *Gifts inside sold separately from ¥388

Mamegui are a type of towel used in Japan to wrap gifts in for people. These Christmas versions are perfect for wrapping up small presents for people, like Japanese snacks and candy.

Crispy Cakes (Happy Wreath/Santa/Reindeer) – ¥508 Each @ pon pon×Chris.P (East Yard Floor 2F) [Available From November 15]

These tiny crispy cakes are another great little bite to eat. The cute Santa version is cookie and milk flavoured and has marshmallows as the fluff of his hat.

Tokyo Skytree's THE SKYTREE SHOP Christmas Items

THE SKYTREE SHOP is the official souvenir store of Tokyo Skytree®. This Christmas they are selling a new batch of themed items, including plenty featuring their cute official mascot Sorakara-chan.

TOKYO SKYTREE Premium Chocolates – ¥1,706 @ Tokyo Skytree Floors 345 & 450 [Available From November 7]

This luxurious assortment of Tokyo Skytree-shaped chocolates come in a variety of flavours, including ruby chocolate.

Left: Sorakara-chan Winter Collection S – ¥2,200 / Right: Sorakara-chan Winter Collection Mascot – ¥1,375 @ Tokyo Skytree Floors 1, 5 & 450 [Available From November 7]

You can't leave Tokyo Skytree without a little memento, so why not pick up a cute duffle coat clad Sorakara-chan? Available this winter only.

Sorakara-chan Compact Mirrors – ¥968 @ Tokyo Skytree Floors 1, 5 & 450 [Available From November 7]

Also part of the Sorakara-chan winter collection are these compact mirrors which are filled with glitter that falls like stars or snowflakes depending which one you go for. They are small enough to fit into your pocket or bag making them super convenient.

And that's not allーTokyo Solamachi has countless other goodies, from desserts to souvenirs, to pick up this Christmas too. If you're in Tokyo this winter season and are planning a trip to Tokyo Skytree, be on the lookout.

*All listed prices include tax. Applicable tax rate may vary on certain products in line with Japan's consumption tax increase.
*Products and sale periods subject to change. Products available while supplies last.
*Pictured photos are for illustrative purposes only.

©TOKYO-SKYTREE

Warm Up With Tokyo Disney Resort's New Hot DrinksーRuby Chocolate, Matcha & More

Are you feeling the cold yet? Don't worry if you're in Tokyo this year, because Tokyo Disney Resort has you covered with its new batch of hot drinks which they began serving on November 1.

 

Left: Ruby Chocolate & Raspberry Milk – ¥500 / Right: Cheese Caramel Milk Tea

The Ruby Chocolate & Raspberry Milk drink is sold at Squeezer's Tropical Juice Bar and Ice Cream Cones at Tokyo Disneyland. It is made with the elusive ruby chocolate and retains its characteristic sour taste which melds temptingly with the sweet and sour raspberry syrup to create a luxurious hot beverage. Enjoy the gentle sweet notes of the chocolate and fruitiness of the cacao tickle your nose.

You'll find the Cheese Caramel Milk Tea at either Cafe Orleans or Rackety's Raccoon Saloon at Tokyo Disneyland, or Sultan's Oasis at Tokyo DisneySea®. The drink is a caramel-lined milk tea topped with a rich cream cheese. The subtle sweetness of the caramel milk tea coupled with the salty cream cheese is a flavour you're sure to become addicted to.

Hot Matcha Milk (Tapioca & Strawberry) – ¥450

Roll up to Hudson River Harvest in Tokyo DisneySea for a cup of this Hot Matcha Milk which has been filled with chewy matcha flavoured tapioca pearls, a texture that's deliciously enjoyable when fused with the faint fragrance of the strawberry.

Hazelnut Milk Hot Cocktail – ¥760

And if you head to Ristorante di Canaletto, also at Tokyo DisneySea, you can enjoy this cocktail served hot with a hazelnut liqueur and foamy milk. The added chocolate only makes the milk more delicious.

The drinks are a part of the Sweets & Sips campaign now running around Tokyo Disney Resort.

There are plenty of other drinks as well as churros, doughnuts, crepes and more to enjoy too, so be sure to check out the official websiteーor better yet, head to Tokyo Disneyland and DisneySea!

KFC Japan Introduces Snoopy & Peanuts Gang Mug Designs

KFC Japan is teaming up with the Peanuts franchise to release a new line of mugs featuring designs of Snoopy and the rest of the gang. They will be released on November 22, with in-store pre-orders opening on November 1.

Christmas is a big time for KFC in Japan as it's a location many people enjoy dining at during the holiday season. This special Snoopy collaboration has been dubbed a pre-Christmas celebration.

Four mugs will be available, including pink, yellow and blue ones as well as a "rare" mug which is the hardest one to obtain. The mugs feature completely original illustrations of Snoopy and his friends playing in the snow.

Also arriving on November 1 is a series of other Snoopy-themed merchandise which can be obtained when ordering the kids meals pictured below. The first in the series will be a plate which comes with the same 4 designs as the mugs.

It's a tradition to eat KFC in Japan at Christmas, so celebrate this holiday season together with Snoopy and his friends.

Information

Pack Set w/ Snoopy Soup Mug

Snoopy Soup Mug Pack Set A – ¥1,520

Snoopy Soup Mug Pack Set B – ¥1,520

Snoopy Soup Mug Sandwich Set – ¥1,220

Snoopy Soup Mug Chicken Set – ¥1,220

Complete Pack – ¥4,980

*Complete Pack not available at select stores

*Mug design is entirely random and cannot be chosen. There is also a smaller stock of rare mugs than the other 3 designs.

Release Date: November 22, 2019 (Pre-orders open November 1, 2019)

Available: At most KFC branches in Japan (While supplies last)

Kids Menu w/ Snoopy Plate

Kids Nugget Set – ¥500

Kids Crispy Set – ¥500

Release Date: November 1, 2019

Available: At most KFC branches in Japan (While supplies last)

KFC Japan Website: https://www.kfc.co.jp/top.html
RELATED ENTRIES
BT21 Cafe to Open in Tokyo and Osaka With a Spring Theme

The 6th run of the popular BT21 Cafe is here. The cafes will open at TOKYO BOX cafe&space Tokyo Solamachi on February 28, 2020, and at TOKYO BOX cafe&space Omotesando and UMEDA BOX cafe&space on March 5, 2020.

BT21 are the LINE messenger app characters created by K-pop group BTS. The cafe has seen five runs in Japan, and has proven immensely popular amongst fans for the selection of original dishes and drinks as well as exclusive merchandise.

TOKYO BOX cafe&space Omotesando & UMEDA BOX cafe&space

Kobu Salad & Baguettes – ¥1,690

Chef's Crepe – ¥1,690

Drinks – ¥990 Each

"Springtime" is the theme this time around. TOKYO BOX cafe&space Omotesando and UMEDA BOX cafe&space will be based around a spring party, and customers will be able to order a set menu with food or dessert.

TOKYO BOX cafe&space Tokyo Solamachi

SHOOKY's Brown Burger — ¥1,690

TATA's Very! Berry! Sandwich – ¥1,690

Drinks – ¥990 Each

TOKYO BOX cafe&space Solamachi's menu will be centred on the BT21 Baby Series, where all the characters have been turned into babies.

TOKYO BOX cafe&space Omotesando & UMEDA BOX cafe&space – "Let's Party With You" Original Stickers and Coasters

TOKYO BOX cafe&space Tokyo Solamachi – "BABY" Original Stickers and Coasters

Customers can also get their hands on some original merchandise and bonus items too. Book a table and receive one of seven stickers, and order a drink to receive one of seven coasters.

Information

BT21 Cafe

TOKYO BOX cafe&space Omotesando (6-3-7 Jingumae, Shibuya, Tokyo) / Running: March 5, 2020 – March 29, 2020

TOKYO BOX cafe&space Tokyo Solamachi (Tokyo Skytree Town Solamachi Floor 1F East Yard, 1-1-2 Oshiage, Sumida, Tokyo) / Running: February 28, 2020 – March 23, 2020

UMEDA BOX cafe&space (16-7 Chayamachi, Kita Ward, Osaka, Osaka Prefecture) / Running: March 5, 2020 – April 19, 2020

Reservtions: ¥650 (Before Tax)

BT21 Cafe Official Website: https://box-cafe.jp/

'SAKURA Romantic Tea Party' is Q-pot CAFE. Omotesando's Newest Afternoon Tea Experience

Q-pot. has revealed its new "SAKURA Romantic Tea Party" line-up which is set to be served at Q-pot CAFE. in Omotesando, Tokyo from March 1, 2020 for a limited time.

The cherry blossom pink coloured and flavoured line-up includes a glamorous afternoon tea set, limited-edition parfaits, plated goodies, drinks, and more. "Romantic" is the key word for this beautiful Japanese springtime assortment.

Romantic SAKURA Parfait w/ Drink – ¥1,850 (Tax Included)

The tall Romantic SAKURA Parfait is layered with a mix of both Japanese and Wesrern flavours, built up delicious with cherry blossom cream cherry blossom petal-laced jelly, houjicha tea sauce and more, all of which is topped off with cherry blossom cookies and meringue.

Romantic SAKURA Mont Blanc Plate w/ Drink – ¥2,060 (Tax Included)

This plate of delight features a soft mont blanc made with cherry blossom bean paste cream, rich matcha chocolate, Japanese waguri chestnut, and chestnut cream. Q-pot. CAFE offers a selection of original macarons too which you can pick from including strawberry, chocolate, lemon, and melon. Feel the call of Japanese spring with this romantic cherry blossom mont blanc.

Romantic SAKURA Afternoon Tea Set w/ Drink – ¥2,400 (Serves 1) (Tax Included) *Photo shows tea set for two

Simply put: a colourful pink and romantic afternoon tea set.

The top tier is decorated with cherry blossom St. Honoré cakes made with gorgeous cherry blossom cream, peach bavarois, strawberry cookies, and rich cream ganache-filled biscuits.

The bottom tier includes fat croissants filled with duck pastrami and cucumber that has been dressed with white wine vinegar. They're served together with a white asparagus cream potage soup and skewered olives, mini tomatoes and pickles, creating a truly gourmet addition to your afternoon tea experience.

Romantic SAKURA Berry Blossom Tea (Hot/Iced) – ¥750 Each (Tax Included)

There's also a cute pink cherry blossom tea that can be served hot or iced. It's made using Q-pot CAFE.'s popular "Flower Garden" flavour which has a refreshing after taste as well as a floral and fruity sweet scent. Added to it is cherry blossom and raspberry flavouring which mixes deliciously with the milk.

Hanami Party Plan – ¥3,000 Per Person (Tax Included) *Reservation-only

You can also book a special hanami party plan which adds a sparkling beverage to the afternoon tea set together with a a cherry blossom card and a crunchy meringue. You must reserve for 2+ people, making it perfect for enjoying together with a friend or special someone.

It's not long until March now, meaning springtime, cherry blossoms, and Hanami flower-viewing is just around the corner in Japan. Why not celebrate romantically at Q-pot CAFE.?

Information

SAKURA Romantic Tea Party

Running: March 1, 2020 – April 26, 2020

Online Reservations: Now Open

*Afternoon tea set and hanami plan to be served until March 29, 2020

Q-pot. Omotesando

Address: 3-4-8 Jingumae, Shibuya, Tokyo

Opening Hours: 11:00-20:00 (Last Orders 19:30)

Closed: New Year's Holidays

Official Website: https://www.q-pot.jp/eng/

Yellow Coloured Minnie Mouse Cafes to Open in Tokyo, Osaka, Nagoya & Fukuoka

A new line of Minnie Mouse cafes are set to open in Tokyo and Osaka from February 28, 2020 and Nagoya and Fukuoka from February 29, 2020 for a limited time. Named "OH MY! MINNIE MOUSE," the cafes are an official collaboration between Disney and the Japanese cafe chain OH MY CAFÉ.

The cafe takes on the theme of Minnie Mouse being a living, breathing icon of today with a positive lifestyle. This is represented through the yellow colouring of the cafe, which features her iconic polka dots as well as ribbon taking on a yellow colour. Tuck into a cute menu line-up and get your hands on some cafe-exclusive Minnie Mouse merchandise.

Original Menu

Cheerful Burger – ¥1,990

This healthy burger is packed full of vegetables with a black bun made in the image of Minnie's silhouette. Feel as energised as Minnie with one bite of this tasty burger.

Beef Hash Ribbon Rice – ¥1,390

Inspired by Minnie Mouse's iconic ribbon, this hearty dish is a beef stroganoff plated with rice and veg. The ribbon is so cute it almost seems a waste to eat!

Fruit Sandwich – Single ¥990/ With Plate ¥2,790

An absolute must-order if you're wanting a dessert. This sandwich is piled with fresh fruits creamy yoghurt, sprinkled with poppy seeds, and doused in lemon juice.

Fizzy Lemon Squash – Single ¥690 / With Coaster ¥1,390

Charge yourself up with this fizzy lemonade and its refreshing aftertaste.

Relaxing Chamomile Tea – Single ¥490 / With Mug ¥2,090

Kick back and relax after your meal with a cup of chamomile tea♡

Original Merchandise

Heart Badge (8 Designs/Chosen Randomly) – ¥500

Folder – ¥350

Lunch Mat (6 Designs/Chosen Randomly) – ¥650 (*Table reservation required)

Those who book a table in advance will be given one of six possible lunch mats chosen randomly.

If you're in Japan for the spring, then why not stop by the OH MY! MINNIE MOUSE cafe for a Disney treat?

©Disney

Information

OH MY!MINNIE MOUSE

Locations/Dates

Tokyo: OH MY CAFE TOKYO (Tokyu Plaza Omotesando Harajuku Floor 3F, 4-30-3 Jingumae, Shibuya, Tokyo)

Running: February 28, 2020 – April 12, 2020

Osaka: kawara CAFE&DINER Shinsaibashi (Shinsaibashi OPA Floor 9F, 1-4-3 Nishi-Shinsaibashi, Chuo Ward, Osaka, Osaka Prefecture)

Running: February 28, 2020 – April 19, 2020

Nagoya: kawara CAFE&KITCHEN Nagoya PARCO (Nagoya PARCO South Building Floor 5F, 3-29-1 Sakae, Naka Ward, Nagoya, Aichi Prefecture)

Running: February 29, 2020 – April 26, 2020

Fukuoka: Kawara CAFE & KITCHEN KITTE Hakata (KITTE Hakata Floor 9F, 9-1 Hakataekichuogai, Hakata Ward, Fukuoka)

Running: February 29, 2020 – March 28, 2020

"OH MY! MINNIE MOUSE" OH MY CAFE Booking Website: https://mm.ohmycafe.jp/

Detective Conan Cafes to Open to Promote the Release of 'The Scarlet Bullet ' Anime Movie

To celebrate the release of the upcoming Detective Conan: The Scarlet Bullet movie on April 17, 2020, twelve official themed cafes will roll out in nine cities across Japan from March 25 in Tokyo, Osaka, Hokkaido, Saitama, Chiba, Nagoya, Hiroshima, Fukuoka, and Okinawa.

*Menu item names have been translated from Japanese

APTX4869 Beef Curry (Apoptoxin Curry) – ¥1,490

Young Detective's Exciting Children's Plate – ¥1,690

Ai Haibara's Healthy Sweets Basket – ¥1,690

Conan's Voice-Changing Butterfly Necktie Cream Soda – ¥890

An incredible line-up of 100 items will feature on the menu, from food to drinks, all inspired by the characters and actual dishes that appear in the franchise. The theme of the cafe is "A Home Party at Hiroshi Agasa's House"ーhim being of course the next door neighbour of the titular protagonist.

Acrylic Badges (8 Designs/Randomly Chosen) – ¥520

Mugs – ¥1,800

Jump into the world of Detective Conan and uncover every secret of Detective Conan Cafe 2020.

©Gosho Aoyama/Shogakukan・Yomiuri Telecasting Corporation・TMS 1996

Information

Detective Conan Cafe 2020

・Tokyo (Shibuya) @ SHIBUYA BOX cafe&space (Shibuya LOFT Floor 2F) / March 25, 2020 – June 30, 2020

・Tokyo (Oshiage) @ TOKYO BOX cafe&space (Tokyo Solamachi) / March 28, 2020 – June 30 2020

・Tokyo (Ikebukuro) @ THE GUEST cafe&diner Ikebukuro (Ikebukuro PARCO Floor 7F) / April 3, 2020 – May 31, 2020

・Chiba (Chiba) @ Character Cafe SOGO Chiba (JUNNU Building Floor 1F) / March 28, 2020 – June 30 2020

・Saitama (Koshigaya) @ BOX cafe&space (Aeon Laketown kaze Laketown Gate Floor 1F) / April 2, 2020 – June 30, 2020

・Aichi (Nagoya) @ THE GUEST cafe&diner Nagoya (Nagoya PARCO West Building Floor 8F) / April 2, 2020 – May 31, 2020

・Osaka (Abeno) @ Abeno contact (Abeno Q's Mall Floor 4F) / March 25, 2020 – June 21, 2020

・Osaka (Umeda) @ BAR DESOLE (Osaka Station City Floor 5F) / March 27, 2020 – June 30, 2020

・Hiroshima (Hiroshima) @ TRATTORIA CACCiNU (SOGO Hiroshima Main Building Floor 10F) / March 31, 2020 – June 30, 2020

・Hokkaido (Sapporo) @ Coach & Four Shinkawa-Dori Cafe Interlude / April 4, 2020 – June 30, 2020

・Okinawa (Naha) @ OKINAWA BOX cafe&space (Naha OPA Floor 2F) / April 4, 2020 – June 30, 2020

Cafe Official Website: https://conan-cafe.jp/

Neon Genesis Evangelion Themed Food Buffet to be Served at The Strings Hotel Nagoya

The Strings Hotel Nagoya has announced a special collaboration with the internationally-celebrated anime series Neon Genesis Evangelion. The hotel will serve up an Evangelion-themed buffet titled "Evangelion Buffet ~The Time Has Come~" which will be served at the hotel from February 15 to March 22 this year.

The Strings Hotel Nagoya sits at the doorstep of Sasashima-Raibu, making it one of the first places you will see upon arriving there. As part of the Evangelion Chukyoen Project, which aims to promote Evangelion to the world from Sasashima-Raibu, the hotel is hosting this very special themed buffet which will consist of an assortment of food, drinks, and dessertsーall serve Strings Hotel-style.

A statue of popular Evangelion character Kaworu Nagisa will be located on the first floor lobby, and there will also be a rally held to decipher a code.

The food menu is made up of 15 unique Evangelion-inspired dishes, such as the Misato Katsuragi Roast Pork, Pen Pen Penne Arrabbiata, Angel Attack, and more. Fans can also tuck into one of the 12 delicious desserts, like the Evangelion mecha coloured desserts, the "Hazelnut & Lemon Opera ~NERV~" based on the Nerv organisation, and more. For beverages, there's a selection of 9 soft drinks including 6 original non-alcoholic cocktails.

The buffet will take place at the hotel's Rooftop Garden which will  be decorated in all things Evangelion.

Information

Evangelion Buffet ~The Time Has Come~

Running: February 15, 2020 / February 22-24, 2020 / March 7-8, 2020 / March 21-22, 2020

Opening Hours:

February 22-23, 2020 / March 21, 2020

→Reception Opens: 11:30 / Dining: 12:00-13:30 (90 Minute Slot)

February 15, 2020 / February 22-24, 2020 / March 7-8, 2020 / March 21-22, 2020

→Reception Opens: 18:30 / Dining: 19:00-20:30 (90 Minute Slot)

Details

Location: The Strings Hotel Nagoya's "Rooftop Garden"

Address: 4-60-7 Hiraikecho, Nakamura Ward, Nagoya, Aichi Prefecture

Prices: Adults ¥5,000 / Children ¥2,500 / 3-6 Years Old ¥1,000 / 0-2 Years Old – Free (Tax & Service Charge Included)

Event Details (Japanese): https://www.strings-hotel.jp/nagoya/recommend/party/banquet/7188.html

渚カヲル立像特別展示

期間:2020年1月10日(金)~2020年3月31日(火)

場所:ストリングスホテル名古屋1階ロビーレストラン「ニューヨークラウンジ」前

暗号解読ラリー

期間:2020年1月10日(金)~2020年3月29日(日)の土日祝日

場所:ストリングスホテル名古屋1階レストラン「鉄板焼匠」前

*用紙配布場所:中京テレビ本社1Fロビー配布時間:10:00~17:00

詳細:https://www.ctv.co.jp/eva/areainfor.html#quizrally

The Strings Hotel Nagoya Official Website (English): https://www.strings-hotel.jp/nagoya/en/

Sanrio to Open Official My Melody Shops in Tokyo, Osaka and Nagoya to Celebrate Character's 45th Anniversary

Sanrio has announced that it is opening an official My Melody store to commemorate the popular character's 45th anniversary this year. It will open for a limited time on the first floor of Takashimaya Shinjuku in Tokyo from February 12 to 25.

The store is a must-visit for fans of Sanrio's kawaii white rabbit where they can get their hands on a huge assortment of merchandise, including exclusives, so adorable you'll want to add everything to your collection.

The line-up looks back at My Melody's 45 years in the business. The first 4,000 people to visit the store will be given a limited-edition shopping back, and the first 1,000 people who spend over ¥2,000 (tax included) will receive a free card.
*One card per person, per transaction

The store will also feature interactive projection mapping showcasing My Melody's 45-year history which when touched reacts. On February 15, the designer for the store will be drawing illustrations as well as doing signings for people.

As well as Takashimaya Shinjuku, the shop is set to hit Nagoya's Takashimaya Gate Tower Mall Nagoya and Osaka Takashiyama. Check the dates below, and help My Melody commemorate her 45th anniversary!

©'76, '20 SANRIO 著作(株)サンリオ

Information

My Melody 45th Anniversary Shop
Location: Takashimaya Shinjuku 1st Floor Main Square
Running: February 12, 2020 – February 25, 2020 (Closed February 19)
Opening Hours: [Mon-Thurs & Sun] 10:00-20:00 / [Fri-Sat] 10:00-20:30

Signings
Date: February 15, 2020 (Two Slots – ①11:30 / ②15:00)
No. of People: 20 per slot
Location: My Melody 45th Anniversary Shop
How to Participate:
・Receive a lottery draw ticket to the signing at the shop on the day (February 15) between 10:00-10:20.

・In the case that there are more people who want to join, one person may not receive two tickets for two signings. Additionally, tickets will not be handed out after 10:20.

・Winners and the order they will enter the signing will be announced at 10:20.

・Those who are chosen will receive a "Buyers Ticket." This must be exchanged for a ticket to attend the signing by spending more than ¥4,000 (tax included) at the My Melody 45th Anniversary Shop and handing over your Buyers Ticket.

*Signings and illustrations will only be done on paper and not merchandise.

*Requests for designs cannot be made

・My Melody 45th Anniversary Shop Nagoya
Running: March 25, 2020 – April 7, 2020
Location: Takashimaya Gate Tower Mall 7th Floor Rose Terrace

・My Melody 45th Anniversary Shop Osaka
Running: April 1, 2020 – April 7, 2020
Location: Takashimaya 1st Floor Good Shock Place

Sanrio Official Website: https://www.sanrio.co.jp/

3 Delicious, Mouthwatering Desserts in Osaka Perfect For Instagram

Our news website has already touched on a number delicious cafés in Japan's Kansai region. For those of you who are struggling with their itineraries for their upcoming trip to Osaka, we've got a sweet treat for you: a list of cafés serving up irresistible desserts in Osaka that you must try. 

All the cafés in this article were recommended by Instagram expert Tiara who knows everything there is to know about desserts in the Kansai region. Today we'll be using Tiara's mouthwatering photos to entice you that little bit more. 

Chihiro Sweets Shop/Nishiohashi

This shop belongs to desserts reporter Chihiro, whose reports have even been broadcasted on TV. The financier almond cakes and chocolate cakes here are very popular. You can also order to take out. 

Neoclassic Purin Set (Comes with financier almond cake and hot coffee)


This set includes a Neo Custard Purin topped with homemade vanilla ice cream full of rich vanilla flavour straight from the pod. The firm yet jiggly purin enjoys a rich eggy flavour which harmonises perfectly with the vanilla ice cream. The freshly baked financier almond cake is incredibly tasty . Chihiro's sweets shop opens from 12:00 but the café opens at 13:00 so if you're planning a  trip, make sure to not mix up the times.

▼Chihiro Sweets Shop (ちひろ菓子店)

Address: Floor 1, 1-25-13, Shinmachi, Nishi Ward, Osaka

Opening Hours:
Chihiro Sweets Shop: 12:00 – 19:00
Café: 13:00 – 19:00
No Fixed Holidays
Website: https://chihiroshop.thebase.in

Futsu ni Fruits Tosabori Parlor/ Higobashi

We've covered Futsu ni Fruits Tosabori Parlor in detail because it's just so good. The first floor serves takeout desserts while the second floor is used as an eat-in space. The café menu varies according to the time of day. For example, the morning menu includes toasts with a variety of toppings including fruit. The lunchtime menu introduces Futsu ni Fruits' main eye-catcher: the fruit sandwich. 


Seasonal Fruits Sandwich

 The rich flavour of the fresh cream perfectly embraces the fruity flavours and will leave you feeling refreshed. If a fruit sandwich isn't your thing, there are plenty of other ways to enjoy delicious fruits here. 

▼Futsu ni Fruits Tosabori Parlor

Address: 1-1-30, Tosabori, Nishi Ward, Osaka

Opening Hours:
Floor 1 Takeout: 10:00 – 16:00

Floor 2 Eat-In: 10:00 – 19:00
Closed: Mondays
Website: https://www.instagram.com/futsuunifuruutsu_cafe/

Fukushima Sugar/ Fukushima

Each dessert at this cake shop is handmade. This is the perfect place to enjoy the flavours of the season. Only 10 groups can eat-in per day so if you want to eat in, make sure to reserve in advance. 

Fig Chiffon cake/ Grape Tarts Assortment of 2/ Choux Pastry with Chestnut Cream Filling


The fig chiffon cake is soft and just one bite will fill you with happiness. The cakes are served on the most beautiful wooden plate. The cake menu changes according to the season so if you're interested, check out their Instagram. The showcase is lined with a variety of takeout desserts – you'll be spoilt for choice.

▼Fukushima Sugar

Address: 6 Chome-22-11 Fukushima, Fukushima Ward, Osaka

Opening Hours:
Takeout: From 13:00

Eat-In: 14:00 – 17:00 (Reservation Required)  

*It is possible to get a seat without reservation after 17:00

Closed: Mondays and Tuesdays

Website: https://www.instagram.com/sugar_fukushima/

All of Tiara's recommendations are just so mouthwatering – can you resist?

Tiara's Instagram is full of the most gorgeous cafés. If you're looking for a dessert in the Kansai region, make sure to check out Tiara's Instagram and you're bound to find your dream destination in no time. 

Original Text and Photos: @happy_pinkrose_tiara

*As cafés are constantly updating their menus, please check the official website or social media accounts of the cafés mentioned in this article for the most accurate information. 

Food Review | Going On An Adventure With Maruko & Coji-Coji at Ginza's MARUKO & COJICOJI CAFÉ

When I was a kid, I found myself relating to Maruko-chan a lot. I was bad at studying, I loved just kicking back and relaxing, was sly, was always spoiled by my mother. I've always thought I was just like Maruko. I spent my childhood together with her, reading Ribon magazine, reading manga, and watching anime. I love her so much that even to this day, when I'm at home on Sundays, I never fail to watch the show.

Then there was Coji-Coji, who has a mellow and laid-back outlook, whose lines are sharp and quick, and who, if you see him, is sure to get a surprised reaction out of you. I was raised reading Chibi Maruko-chan, meaning I was of course a fan of the author Momoko Sakura, so it was only natural that I loved Coji-Coji which she wrote too.

With that long introduction out of the way, it's time for the main event. Combining the best of both worlds and my two favourites, the new MARUKO & COJICOJI CAFÉ opened at Ginza Marionette Gate 1 on January 31 and it's set to run until July 31.

I form part of the editorial team here at MOSHI MOSHI NIPPON, and loving Maruko-chan as much as I do, I of course had to make a trip to the cafe. I was joined by Chinese model and talent Etsuna.

Artwork from the Markuko-chan and Coji-Coji picture book Ehon Maru Koji. The pictures have a gentle touch to them and are enough to make you feel at ease at the first glance.

You feel warm and fluffy seeing the two of them getting along together like this.

There's huge pieces of artwork too like this one Etsuna is standing next to.

The tables have these lunch mats on them. There's two designs; one of Maruko and Coji-Coji walking across a field of grass and another with them swimming in the ocean amongst the fishes. Both are just too precious♡ I feel happy seeing the two of them having fun together. Boy, am I glad I came here.

The menu line-up is overflowing with originality too, each like its own little art piece. I ordered the baked cheesecake with a drink and Etsuna got the parfait drink.

Coji-Coji Is Here Cheesecake (w/Drink) – ¥1,380 (Before Tax)

The cheesecake is topped with Coji-Coji and Mount Fuji cookies. You can get a Maruko-chan cookie instead of Coji-Coji too, but I went for the Coji-Coji one. The cheesecake has a refreshing taste with cream that's not overly sweet. And when you add the berry sauce, it becomes a completely different delicious flavour.

I ordered a hot black coffee as part of the set, and the mug it was serve in had an original design on it in line with the cafe's theme. You can buy these mugs new there too.

Onigiri Aliens & The Star Festival Parfait – ¥1,700 (Before Tax)

This drink is inspired by the Milky Way of Tanabata. It's topped with Maruko-chan, Coji-Coji, and alien cookies.

Etsuna was spellbound by its gorgeous purple colour too♡

The parfait and drink come in separate vessels、so I recommend enjoying them one at a time. After tucking into the subtly sweet fruits, vanilla ice cream, and cream of your parfait, feel even more refreshed with a sip of your cream cheese-filled drink.

The Three Of Us Get Along – ¥1,880 (Before Tax)

There are plenty of colourful options to choose from the menu, but the one that struck my attention the most was this tomato cream and pumpkin sauce mix which contains seafood.

You get an edible Maruko-chan and Coji-Coji on the side too with tears in their eyes… what a melancholic expression. I feel sad just looking at this one.

The character cookies aren't just printed on – each and every one is hand drawn carefully. Which means the both of them have lots of different expressions! And they seem such a waste to eat (though of course I ate them all…)

If you want to see what else is on the menu, check out our other article here: https://www.moshimoshi-nippon.jp/ja/289822

Mug: ¥1,200 (Before Tax)

The cafe sells its own exclusive merchandise too, like the mug I got when my coffee and cake arrived.

Masking Tapes – ¥350 Each / Ballpoint Pens – ¥600 Each

B6 Notebooks – ¥280 Each

I picked up a notebook, pen and some masking tape. Perfect for when the cherry blossom season starts.

Hand Towel: ¥400 (Before Tax)

Etsuna got her hands on a hand towel. Everything they have in stock is cute, so I urge you to get lost in the wares of the MARUKO & COJICOJI CAFÉ if you visit! It's possible to book a table in advance, but the weekends are particularly busy, so if you have a day in mind don't forget to book.

The MARUKO & COJICOJI CAFÉ is packed full of Momoko Sakura's world. It was a mix of fun, cute, sad, and relaxing.

When I'm looking at Chibi Maruko-chan, I think of Sakura, and my chest feels tight and painful. But coming to this cafe made me think that when I look at Maruko-chan and her radiating personality, not just in the world of anime but in various different places, I feel that even if I've become an adult, I can always live my life together with Maruko-chan and Momoko Sakura, and that makes me happy. If you love Maruko-chan, Coji-Coji, and Momoko Sakura too, then be sure to jump into the picture book world of Ehon Maru Koji at MARUKO & COJICOJI CAFÉ.

©️Momoko Sakura ©️Sakura Production

Information

MARUKO & COJICOJI CAFE

Location: Sunday Brunch, Marronnier Gate Ginza 1 Floor 4F (2-2-14 Ginza, Chuo Ward, Tokyo)

Running: January 31, 2020 – July 31, 2020 (Subject to change)

Opening Hours: 11:00-21:00

Reservations/Official Website: http://www.marucoji-cafe.com

The Very Hungry Caterpillar Cafe to Crawl and Munch Its Way to Tokyo's Kichijoji Area

A cafe themed on Eric Carle's internationally beloved children's picture book The Very Hungry Caterpillar Cafe is set to open at Sunday Branch in Kichijoji PARCO in Tokyo on April 1, 2020 where it's set to run for an entire year, ending on March 31, 2021.

The picture book has seen its fair share of themed cafes, with the first having taken place in Ginza back in 2018, which was so popular that customers had to book a month in advance to dine there. The cafe was always fully booked.

The franchise also collaborated with multiple branches of J.S. Pancakes from October 2018 to January 2019, and again at Cafe Cucina in Shibuya from March to April last year.

Now returning once again, the Kichijoji cafe is set to see a completely new menu.

"Fruit parlour" is the concept of this cafe, which will have a menu line-up centred on the caterpillar's favourite fruits. The menu will change for each season, ensuring that the fruits themselves are in-season and therefore at their most delicious. It will bring to life the colourful and vivid world of Eric Carle right onto your plate.

The menu will also sell "art cookies" which will derive their colour from natural ingredients.

The cafe decorations will make for Instagram-worthy posts, the caterpillar himself will be ready to greet customers at tables in the form of plush toys. It will be like stepping into the world of the picture book and will absolutely be enjoyed by kids and adults alike.

Sunday Brunch has teamed up with The Very Hungry Caterpillar before, as well as Shaun the Sheep, to open limited-time cafes that were hugely successful. Now the caterpillar is heading to Kichijoji. If you're travelling to Tokyo between April this year and March this year, don't miss out on a visit!

TM & © 2020 Eric Carle LLC.

Matcha Croissants & Other Breakfast Delights at CHAVATY in Omotesando

If you're looking for a very special breakfast in the Harajuku/Omotesando area during your trip to Tokyo, then we recommend grabbing a bite to eat at CHAVATY with their new breakfast service.

CHAVATY is a cafe specialising in tea lattes made using high quality tea leaves. The cafe is announcing a special new breakfast called "CHAVATY Morning" which will begin on Sunday February 16 and will subsequently take place on the third Sunday of every month. You must make a reservation in advance, but what you get is indeed a treat sure to delight your eyes and belly, from teas to croissants, scones, granola, and more.

 

Wake up and smell the coffee, or in this case the tea, with a choice of either uva straight tea or your choice of a tea latte. While sipping on that, you can enjoy a salad, two scones, and the main of this particular breakfast line-up: the matcha croissaint. There's also homemade granola with yogurt. All of this for just ¥1,180 (before tax) so you can start your morning right.

The homemade matcha croissants are baked fresh to order, so you can enjoy them nice and hot. Top them and fill them with the accompanying matcha cream for a luxurious CHAVATY-esque morning matcha explosion.

The granola is also homemade, and served with plenty of acacia honey. The yogurt is made from 100% raw milk, so you get a mix of that refreshing taste of the milk, the richness of the honey, and the sweetness of the granola. You also get a combination of textures too, from the crunch of the granola to the smooth, fresh cream-like yogurt. A perfectly balanced breakfast for your morning.

Tea Scone Sablés (Uva/Houjicha/Matcha) – ¥280 Each (Before Tax)

You can also much down on one of the three homemade tea scone sablés, which come in uva, houjicha, and matcha flavours. Perfect with a cup of tea made from CHAVATY's high quality tea leaves.

Looking for the perfect Harajuku/Omotesando morning? Then head to CHAVATY.

Information

CHAVATY Morning

Price: ¥1,180

How to Order:
・Running every third Sunday of the month. Reservations are mandatory. 

・Please call the cafe to reserve a table (03-3401-2378)

・Reservations are subject to closure in the case that all places are taken
・Running at the Omotesando branch of CHAVATY only

CHAVATY
Address: Minami-Harajuku Bldg. 1F, Jingumae, Shibuya, Tokyo

Business Hours: 10:00-20:00 (Last Orders 19:30)

Info (Japanese): https://tabelog.com/tokyo/A1306/A130602/13224245/

Solve the Puzzles Of Osaka Metro and Reach the Goal With New Subway Game

Osaka Metro is currently holding a puzzle-solving game for passengers which will run until March 31, 2020. As of January 24, over 12,000 people have participated in this exciting endeavour.

The game requires people to ride with Osaka Metro and travel around Osaka while solving various puzzles to reach the goal. This style of escape game has proven incredibly popular in the subway around Tokyo and Nagoya, but this marks the first time it has been held in Osaka. The course is designed in such a way as to enable people to discover or rediscover the wonders of Osaka, allowing them to enjoy the many sights.

Participants must purchase a puzzle-solving kit, which comes with a 1-day train ticket to use Osaka Metro, and follow the instructions to complete the course. Once a puzzle is solved, they are granted knowledge of the next location to head to.

There is also a giant 4-meter long photo spot at Morinomiya Station which can be accessed via Osaka Metro's Chuo Line and Nagahori Tsurumi-ryokuchi Line. Snap a photo of yourself with the colourful train carriage handles, and also take a photo together with Osaka Metro's official mascot character Nyanbarou.

After completing the event, head to the photo spot so you can add to your Osaka travel album.

*"リアル脱出ゲーム" and "ナゾトキ街歩きゲーム" are registered trademarks of SCRAP Co., Ltd.

Information

Nazotoki Machiaruki Game "Puzzle Solve Metro Trip"

Running: November 28, 2019 – March 31, 2020

Puzzle Kit: ¥2,300 (Adults Only) at Osaka Metro stationmaster offices, and from February 29, 2020 will be available at season ticket sellers

*Comes with a one-day ticket to use with Osaka Metro

*Ticket cannot be used on the Osaka City Bus or Imazato Liner

Osaka Metro Official Website: https://www.osakametro.co.jp/en/index.php

Star Wars Theme Cafe Opens in Tokyo, Osaka, Nagoya, Hokkaido & Fukuoka

With The Rise of Skywalker concluding the Skywalker saga of the Star Wars film franchise, fans are left craving more from the galaxy far far away.

If you're one of those people, and need a fix before season two of The Mandalorian, which is coming in late 2020, then you'll want to hit up the all-new Star Wars-themed cafes now open for a limited time at branches of OH MY CAFE across Japan in Tokyo, Osaka, Nagoya, Hokkaido, and Fukuoka.

We visited the Tokyo branch of the cafe which is located inside Tokyu Plaza Omotesando Harajuku. Here's our report of this must-see cafe for Star Wars fans, a museum-like space chock-full of concept art.

Ready to greet you as you walk into the cafe is none other than Darth Vader. This life-size recreation of the Sith Lord is really striking, but don't worryーthough he is realistic, he won't use his Force choke on you, he only wishes for you to have a nice meal.

Plastered across the cafe walls are pieces of concept art used during the production of the Star Wars film series.

Here's a galactic showcasing of the cafe's menu. There are 7 food items and 5 drinks to choose from, all inspired by the franchise and its characters.

<STAR WARS> Far Far Away Galaxy Black Curry – ¥1,590

A signature dish of the cafe, this black curry features the Star Wars logo which is actually an edible wafer. The space design is bamboo charcoal-cooked rice which is mixed with spicy sauce and topped with peanuts for stars.

<BB-8> Seafood BB-8 Gratin – ¥1,690

Fans of BB-8 won't be able to resist this delicious gratin, served with salad and French bread for a full belly.

<Yoda> Root Leaf Stew – ¥1,590

This stew is inspired by Yoda living his final years in his little shack in Dagobah during Star Wars: Episode V – The Empire Strikes Back. It's packed full of vegetables and will no doubt be enjoyed by both kids and adults alike.

<R2-D2 & C-3PO> Buddy Burger Plate – ¥1,990

This set of two chicken burgers comes with an R2-D2 seasoned with béchamel sauce and a C-3PO burger seasoned with meat sauce. You can take the flags home with you too. We recommend sharing this between two people.

Portion Bread – ¥500

This is the one I was most interested in personally, because I was curious to know from its appearance how it would taste. It's the portion bread that Rey tries eating in the film. At first glance it looks crunchy, but to my surprise it was soft with a subtle sweet flavour.

Lightsaber Drinks – ¥600 Each (w/ Coaster ¥1,300)

From the left, the flavours are Darth Vader blood orange, Luke Skywalker ramune, and Yoda melon. When you draw your straw from the paper wrapping, it turns into a lightsaber!

<STAR WARS > Jet Black Coffee – ¥600 (w/Bottle ¥1,750)

These limited edition bottles of black coffee feature the famous Star Wars opening crawl credits. Which one you get is randomーa must-have for all fans!

After enjoying some Star Wars food and drink, it's time to check out the cafe's exclusive merchandise. There are 13 types of merch in total all bearing artwork from across the film series.

Folder – ¥350

I recommend picking up one of these folders made in collaboration with the cafe. It has illustrations of the food and drinks being sold there.

Tote Bag – ¥3,500

This tote bag has illustrations of characters from Star Wars and how they are all connected.

There's plenty of other must-grab merch too, from music to stationery and more.

Customers who spend over ¥1,000 (excluding tax) on any of these exclusive items will receive the above-pictured limited edition bag. These are limited in stock so are available while supplies last.

There's plenty of places inside for fans to take great photos, so make sure you snap lots.

Also, if you book a table in advance and order something from the menu, you'll receive one of these 25 possible A5 folders, so be sure to book before you go!

© & TM Lucasfilm Ltd.

*All listed prices are pre-tax. Photos are for illustrative purposes only.

Information

"Star Wars" at OH MY CAFE

Locations/Dates:

■Tokyo: OH MY CAFE TOKYO (Tokyu Plaza Omotesando Harajuku) / January 18, 2020 – February 23, 2020

■Osaka: kawara CAFE&DINING Shinsaibashi / January 17, 2020 – February 23, 2020
■Nagoya: kawara CAFE&KITCHEN Nagoya PARCO / January 23, 2020 – February 25, 2020

■Hokkaido: Cafe Interlude, Coach & Four Shinkawa-dori / January 24, 2020 – February 24, 2020

■Fukuoka: kawara CAFE & DINING KITTE Hakata / January 24, 2020 – February 26, 2020

"Star Wars" OH MY CAFE Official Website: https://sw.ohmycafe.jp/