Idol Group Keyakizaka46 Themed Cafes to Open in Harajuku, Osaka & Nagoya
The new cafe TOKYO BOX CAFE&SPACE will open in Omotesando, Harajuku on November 21, 2019.
The cafe will serve as a space to promote artists, franchises and more by collaborating with them. For the grand opening, the cafe's first collaboration will be with Japanese idol group Keyakizaka46 which will run for a limited period from November 21, 2019 to January 13, 2020. The collaboration will subsequently move to Osaka and Nagoya where it will open on November 22 and 28 respectively.
The names of cafe menu dishes below are translated from Japanese.
Cafe Menu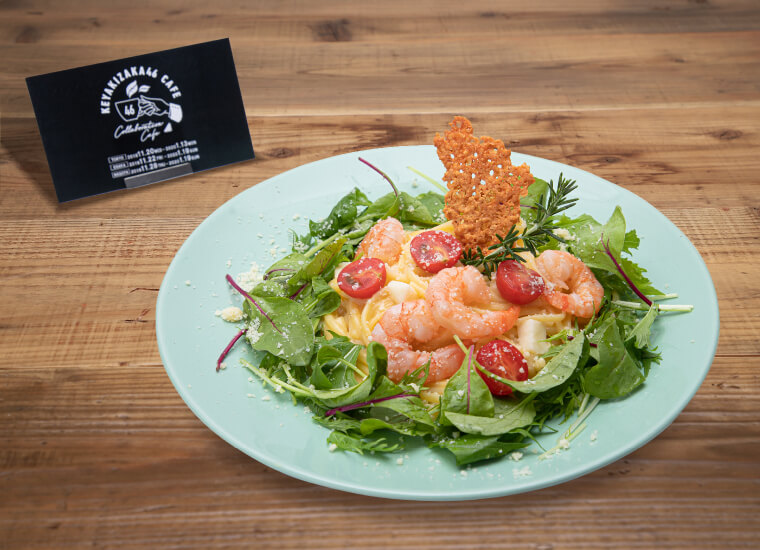 Break the Cheese! – ¥1,690
This cheesy pasta dish is made with crispy cheese, the spaghetti is bathed in a rich cheese sauce, and the plate is finished with delicious seafood. Break the cheese up and tuck in!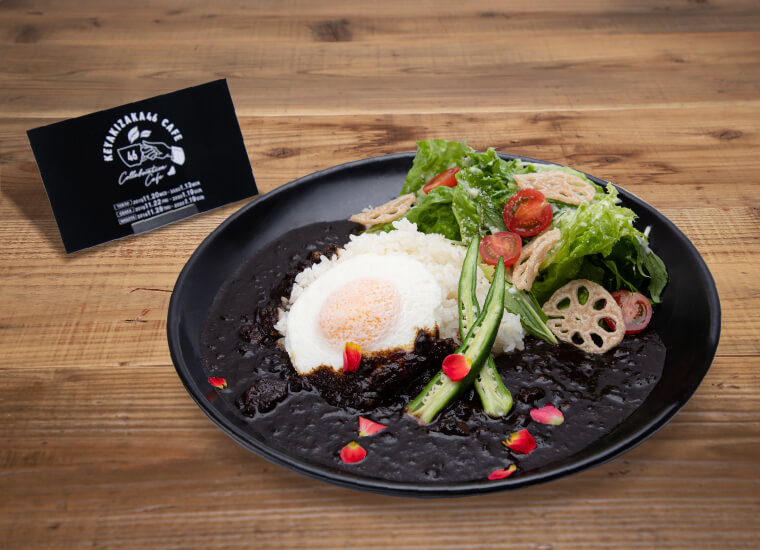 Black Vegetable Curry – ¥1,590
The quirk of this veggie-packed meal is the black colour of the curry. Topped with okra, tomatoes, Japanese mustard greens, sunny-side up egg and more, this nutritional dish is sure to fill your belly.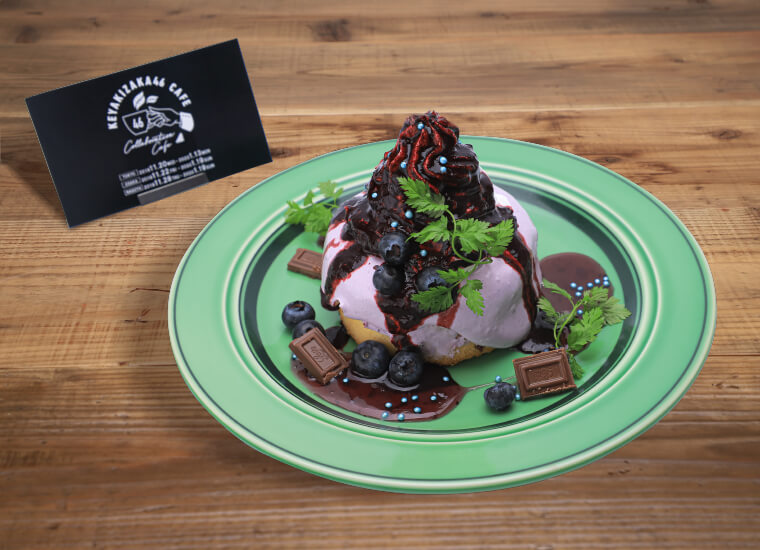 2 People Season Pancakes – ¥1,790
For the sweet-tooths out there, they can look forward to forking into some chocolatey pancakes lathered sweetly in blueberry sauce and blueberry cream. Between the pancakes are fruits and chocolate to create a pancake sandwich, and adorning the plate is more chocolate, fruit, and blue dragées.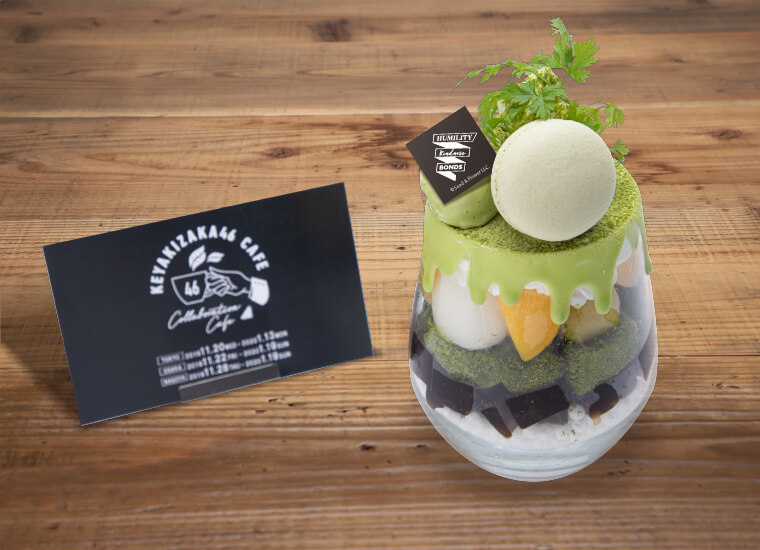 Humility! Kindness! Bonds! Shining Brightly, Keyakizaka46 Parfait – ¥1,690
Named after one of the group's catchphrases, this matcha parfait is green which is a colour that symbolises Keyakizaka46. It's piled with chocolate, macarons, ice cream, warabimochi and more for a truly hearty and mouth-watering dessert.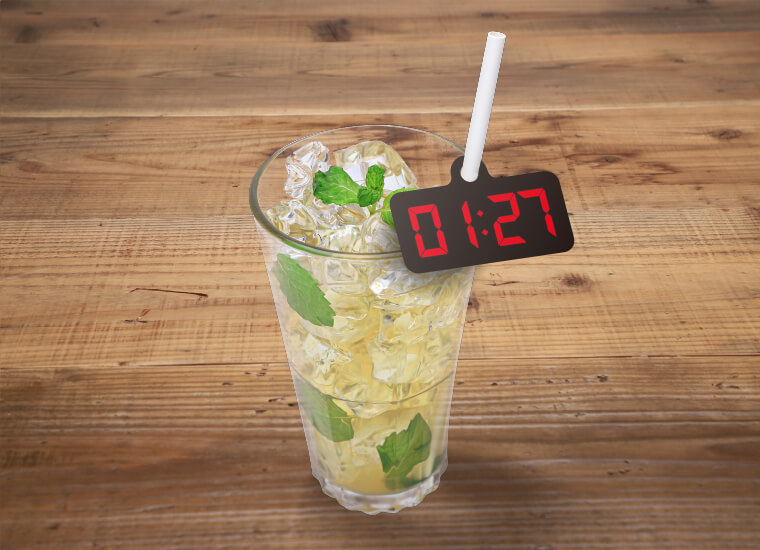 Late-Night Herb Tea – ¥890
During those nights when you can't fall asleep, there's nothing better than some refreshing herbal tea.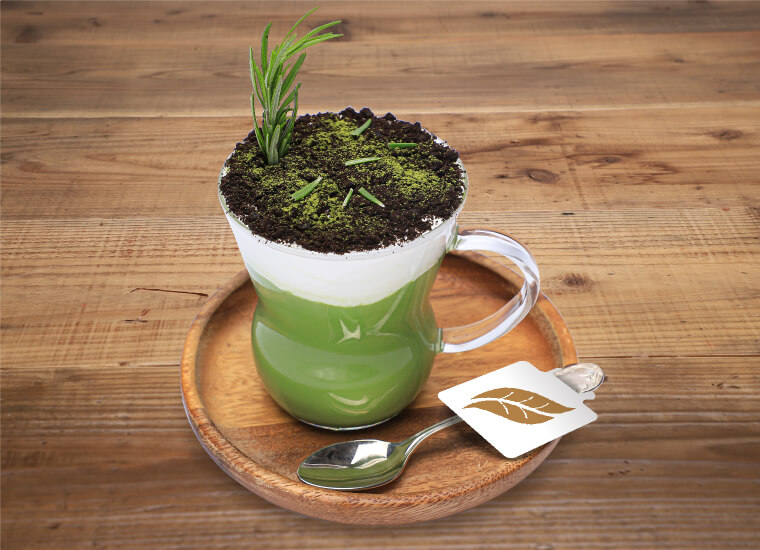 Matcha Milk That Stays Hot Even When It Blows In The Wind – ¥890
Nothing beats a cup of hot matcha milk during the cold weather. Coloured green like the group's iconic colour, this gorgeous, garden-like beverage is sure to warm up your mind and body.
Exclusive Merchandise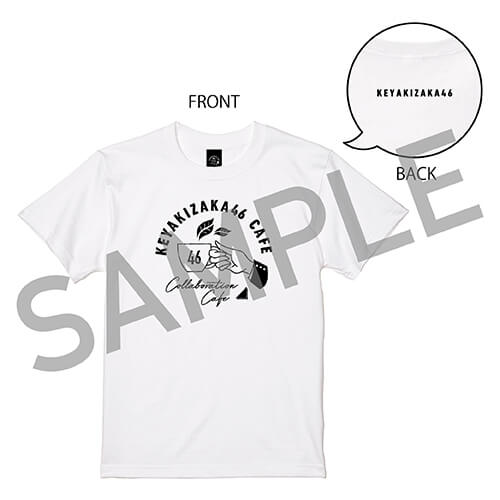 T-Shirt (White) – ¥3,100
Acrylic Keyring – ¥900
Tote Bag – ¥1,800
Bonus Items
Those who book a table in advance  (¥650 per person, tax excluded) and order something from the menu will randomly receive one of 26 possible trading cards pictured above.
If you order something from the food or dessert menu, you'll also receive one of 26 possible signed mini cards, chosen randomly.
Finally, if you get a drink, you can get one of these 8 possible coasters, also chosen randomly.
This is just a small peek into what's to come at the cafesーthere are more drinks, dishes and merchandise to get your hands on, so don't miss out.
*All listed menu item prices do not include tax
*All listed merchandise items include tax
*Photos are for illustrative purposes only
©Seed & Flower LLC.
Information
Keyakizaka46 Collaboration Cafe
Dates/Locations:
TOKYO BOX CAFE&SPACE (6-3-7 Jingumae, Shibuya, Tokyo) / November 21, 2019 – January 13, 2020 (Closed December 30-January 3)
Shinsaibashi contact (1-6-24 Kitahorie, Nishi Ward, Osaka) / November 22, 2019 – January 19, 2020/2019 (Closed December 31-January 1. Open later on January 2 from 14:00.)
NAGOYA BOX CAFE&SPACE (LACHIC Floor B1F, 3-6-1 Sakae, Naka Ward, Nagoya, Aichi) / November 28, 2019 – January 19, 2020 (Closes early on December 31 at 18:00. Closed January 1-3)
Table Reservations
Now open at all branches. Price: ¥650 (Before Tax). Includes bonus item.
Keyakizaka46 Official Website: http://keyakizaka46-cafe.jp
RECOMMENDED ENTRIES
Christmas Gifts, Delicious Desserts & More Coming to Tokyo Skytree Town This Holiday Season

The dessert shops and and bakeries on the second floor of Tokyo Solamachiーthe shopping facility at the base of Tokyo Skytreeーare reading themselves for Christmas by baking up a whole range of festive delights for the holiday season, perfect for parties, gifts, or as a little self-indulgence. Let's dive in and take at what's on offer this year.

The perfect cakes for spending Christmas at home

Bonheur du Noel – ¥6,480 @ Ginza BOUL'MICHI (Tower Yard Floor 2F) [Reservations: November 1 – December 13 / Serving: December 21-25] *Tokyo Solamachi exclusive

Macarons are in this year in Japan, so BOUL'MICHI has whipped up the perfect strawberry chocolate cake adorned with colourful macarons and fresh strawberries to give it that Christmas-y look. Only 50 of these precious cakes will be sold, so don't miss out.

Fromage Citron @ – ¥2,970  Ginza Ginger (Tower Yard Floor 2F) [Reservations: November 1 – December 10 / Serving: December 23-25] *Tokyo Solamachi exclusive

This no-bake cheesecake is made with Oceania cheese and layered with an almond base followed by a sumptuously sour lemon cream.

16cm Yule Log – ¥4,104 @ Sweet Heart Tree (Tower Yard Floor 2F) [Reservations: November 1 – December 20 / Serving: December 15-25]

A gourmet yule log made with rich chocolate and packed with fruits and nuts. This sophisticated dessert is one for the adults to enjoy.

Takeout Sweets & Christmas Merchandise

 

Tiny Waffles (Dark Chocolate/White Chocolate) – ¥486 Each @ RL waffle cake (Tower Yard Floor 2F) [Reservations: November 1 – December 23 / Serving: December 20-25]

If you're looking for something a little smaller, perhaps as a Christmas present to friends and family or as a little gift to yourself, then check out these fluffy waffles made with strawberries, chocolate and whipped cream. Simple, but delicious!

Mamegui Towels (Santa Clause/White Christmas/Snowman) – ¥550 Each @ Mamegui (East Yard Floor 4F) [Available From November 1] *Gifts inside sold separately from ¥388

Mamegui are a type of towel used in Japan to wrap gifts in for people. These Christmas versions are perfect for wrapping up small presents for people, like Japanese snacks and candy.

Crispy Cakes (Happy Wreath/Santa/Reindeer) – ¥508 Each @ pon pon×Chris.P (East Yard Floor 2F) [Available From November 15]

These tiny crispy cakes are another great little bite to eat. The cute Santa version is cookie and milk flavoured and has marshmallows as the fluff of his hat.

Tokyo Skytree's THE SKYTREE SHOP Christmas Items

THE SKYTREE SHOP is the official souvenir store of Tokyo Skytree®. This Christmas they are selling a new batch of themed items, including plenty featuring their cute official mascot Sorakara-chan.

TOKYO SKYTREE Premium Chocolates – ¥1,706 @ Tokyo Skytree Floors 345 & 450 [Available From November 7]

This luxurious assortment of Tokyo Skytree-shaped chocolates come in a variety of flavours, including ruby chocolate.

Left: Sorakara-chan Winter Collection S – ¥2,200 / Right: Sorakara-chan Winter Collection Mascot – ¥1,375 @ Tokyo Skytree Floors 1, 5 & 450 [Available From November 7]

You can't leave Tokyo Skytree without a little memento, so why not pick up a cute duffle coat clad Sorakara-chan? Available this winter only.

Sorakara-chan Compact Mirrors – ¥968 @ Tokyo Skytree Floors 1, 5 & 450 [Available From November 7]

Also part of the Sorakara-chan winter collection are these compact mirrors which are filled with glitter that falls like stars or snowflakes depending which one you go for. They are small enough to fit into your pocket or bag making them super convenient.

And that's not allーTokyo Solamachi has countless other goodies, from desserts to souvenirs, to pick up this Christmas too. If you're in Tokyo this winter season and are planning a trip to Tokyo Skytree, be on the lookout.

*All listed prices include tax. Applicable tax rate may vary on certain products in line with Japan's consumption tax increase.
*Products and sale periods subject to change. Products available while supplies last.
*Pictured photos are for illustrative purposes only.

©TOKYO-SKYTREE

Warm Up With Tokyo Disney Resort's New Hot DrinksーRuby Chocolate, Matcha & More

Are you feeling the cold yet? Don't worry if you're in Tokyo this year, because Tokyo Disney Resort has you covered with its new batch of hot drinks which they began serving on November 1.

 

Left: Ruby Chocolate & Raspberry Milk – ¥500 / Right: Cheese Caramel Milk Tea

The Ruby Chocolate & Raspberry Milk drink is sold at Squeezer's Tropical Juice Bar and Ice Cream Cones at Tokyo Disneyland. It is made with the elusive ruby chocolate and retains its characteristic sour taste which melds temptingly with the sweet and sour raspberry syrup to create a luxurious hot beverage. Enjoy the gentle sweet notes of the chocolate and fruitiness of the cacao tickle your nose.

You'll find the Cheese Caramel Milk Tea at either Cafe Orleans or Rackety's Raccoon Saloon at Tokyo Disneyland, or Sultan's Oasis at Tokyo DisneySea®. The drink is a caramel-lined milk tea topped with a rich cream cheese. The subtle sweetness of the caramel milk tea coupled with the salty cream cheese is a flavour you're sure to become addicted to.

Hot Matcha Milk (Tapioca & Strawberry) – ¥450

Roll up to Hudson River Harvest in Tokyo DisneySea for a cup of this Hot Matcha Milk which has been filled with chewy matcha flavoured tapioca pearls, a texture that's deliciously enjoyable when fused with the faint fragrance of the strawberry.

Hazelnut Milk Hot Cocktail – ¥760

And if you head to Ristorante di Canaletto, also at Tokyo DisneySea, you can enjoy this cocktail served hot with a hazelnut liqueur and foamy milk. The added chocolate only makes the milk more delicious.

The drinks are a part of the Sweets & Sips campaign now running around Tokyo Disney Resort.

There are plenty of other drinks as well as churros, doughnuts, crepes and more to enjoy too, so be sure to check out the official websiteーor better yet, head to Tokyo Disneyland and DisneySea!

KFC Japan Introduces Snoopy & Peanuts Gang Mug Designs

KFC Japan is teaming up with the Peanuts franchise to release a new line of mugs featuring designs of Snoopy and the rest of the gang. They will be released on November 22, with in-store pre-orders opening on November 1.

Christmas is a big time for KFC in Japan as it's a location many people enjoy dining at during the holiday season. This special Snoopy collaboration has been dubbed a pre-Christmas celebration.

Four mugs will be available, including pink, yellow and blue ones as well as a "rare" mug which is the hardest one to obtain. The mugs feature completely original illustrations of Snoopy and his friends playing in the snow.

Also arriving on November 1 is a series of other Snoopy-themed merchandise which can be obtained when ordering the kids meals pictured below. The first in the series will be a plate which comes with the same 4 designs as the mugs.

It's a tradition to eat KFC in Japan at Christmas, so celebrate this holiday season together with Snoopy and his friends.

Information

Pack Set w/ Snoopy Soup Mug

Snoopy Soup Mug Pack Set A – ¥1,520

Snoopy Soup Mug Pack Set B – ¥1,520

Snoopy Soup Mug Sandwich Set – ¥1,220

Snoopy Soup Mug Chicken Set – ¥1,220

Complete Pack – ¥4,980

*Complete Pack not available at select stores

*Mug design is entirely random and cannot be chosen. There is also a smaller stock of rare mugs than the other 3 designs.

Release Date: November 22, 2019 (Pre-orders open November 1, 2019)

Available: At most KFC branches in Japan (While supplies last)

Kids Menu w/ Snoopy Plate

Kids Nugget Set – ¥500

Kids Crispy Set – ¥500

Release Date: November 1, 2019

Available: At most KFC branches in Japan (While supplies last)

KFC Japan Website: https://www.kfc.co.jp/top.html
RELATED ENTRIES
KINGDOM HEARTS Melody of Memory Themed Cafes to Open in Japan This Holiday Season

Japanese company LEGS has announced the opening of two limited-time cafes themed on the video game KINGDOM HEARTS Melody of Memory which will run from December 11, 2020 to January 31, 2021.

KINGDOM HEARTS Melody of Memory is a rhythm action game developed by Square Enix. Released on November 11 in Japan and November 13 everyone else, it is the latest instalment to Square Enix and Disney's video game series Kingdom Hearts.

The cafe menu features a line-up of dishes, drinks, and desserts inspired by characters and worlds found throughout the internationally-beloved video game series. The items all adhere to Disney's nutrient guidelines and so are low in salt and sugar, offering fans a healthier option. The cafe will also sell a range of original merchandise.

The Menu

Food (Excerpt)

<Sora> Power of Waking Tomato Pasta | ¥1,599

A red tomato pasta inspired by Sora that comes with a potato salad shaped like King Mickey.


<Riku> Daybreak Chicken Burger | ¥1,599

A black chicken burger based on Riku becoming enveloped by the Power of Darkness. This dish also comes with a potato salad shaped like King Mickey.


<King Mickey> King's Tuna Sandwich | ¥1,399, with plate +¥2,000

A tuna sandwich branded with a King Mickey symbol that comes with a side of fruit.


<Neverland> Island Seafood Curry | ¥1,699

A squid and shrimp seafood curry inspired by Peter Pan's Neverland which you can travel to in Kingdom Hearts.

Drinks (Excerpt)


<Sora, Riku & Kairi> Fate's Pineapple Herb Soda | ¥899, with acrylic coaster +¥1,000

A pineapple herb soda based on the Paopu Fruit from the series.


<Roxas, Xion, Axel> Sea Salt Ice Cream & Milk | ¥1,199, with acrylic coaster +¥1,000

Based on the sea salt ice cream that Roxas, Xion, and Axel all eat together. It's served with hot milk that can be poured over the ice cream for a tasty treat.


<Hundred Acre Wood> Honey Latte | ¥799, with mug +¥1,650

A latte sweetened with Winnie the Pooh's favourite thing in the world: honey.

Merchandise (Excerpt)

Folder ¥500 / Acrylic Magnet ¥700


Tote Bags (3 Designs) | ¥3,500 Each (Timeless River/Keyblade A/Keyblade B)

Bonus Items

Customers who book a table in advance (¥650 before tax) and order from the menu will receive one of two folders, and if they order a drink, one of four coasters. Available while supplies last.

© Disney. © Disney/Pixar.

*All prices listed are pre-tax

Information

KINGDOM HEARTS Melody of Memory Cafe
・Tokyo (Shibuya): SHIBUYA BOX cafe&space
Running: December 11, 2020 – January 31, 2021
Address: LOFT (Floor 2F), 21-1 Udagawacho, Shibuya, Tokyo

・Osaka (Umeda): UMEDA BOX cafe&space
Running: December 11, 2020 – January 31, 2021
Address: Umeda LOFT (Floor 1F), 16-7 Chayamachi, Kita-ku, Osaka-shi, Osaka

KINGDOM HEARTS Melody of Memory Cafe Official Website: https://khmom.ohmycafe.jp/

Super Nintendo World Theme Park Area to Open at Universal Studios Japan in February 2021

Universal Studios Japan (USJ) has announced that its highly-anticipated new Super Nintendo World area will open on February 4, 2021, which also happens to fall on the day of USJ's 20th anniversary.

Super Nintendo World comes as the world's first theme park area to be based around Nintendo's characters and games, combining innovative ideas with cutting-edge technology.


While the grand opening is still a couple of months away, USJ is teasing fans by unveiling a portion of the park's Mario Kart-themed ride which takes place inside of a reconstructed Bowser's Castle.

Bowser's Castle

Bowser's Castle stands as one of the main symbols of Super Nintendo World. It's a faithful recreation with towering stone walls, thick and heavy steel doors, pointed iron fencing, and more, not to mention the enormous stone Bowser statue that adorns the middle of the winding staircase ready to greet guests. There are plenty of thrills and chills to look forward to inside the castle of the King Koopa himself.

Mario Kart: Koopa's Challenge will open as the world's first theme park ride centred on the popular video game series Mario Kart.


Thomas Garrity (Universal Creative, Executive Producer) | Comment

"Deep inside Bowser's Castle lies Mario Kart: Bowser's Castle, a collaborative effort between Nintendo and Universal Studio's Creative Team to recreate the world of the hugely popular Mario Kart series which has sold over 150 million copies. Guests will put on their headsets and experience limitless excitement and thrills as they speed around courses." (Translated from Japanese by MMN)

Mario Kart: Koopa's Challenge

Mario Kart: Koopa's Challenge is an XR ride that lets people feel like they are inside the world of Mario Kart while in the real world. The ride will feature all the details fans of the video game series are familiar with as they drift and spin around exciting courses alongside the game's characters while collecting items from boxes to use on their opponents.


The attraction makes use of AR and projection mapping technology to make the game as immersive as possible. Fans are sure to love driving through their favourite courses and scenes recreated using leading-edge technology. The attraction is six years in the making and the results of efforts between Nintendo's Creative Team, USJ, and the legendary Shigeru Miyamoto himself.

Endless fun for fans of Mario

SUPER NINTENDO WORLD will be the first-ever multilevel Nintendo-themed area at USJ, and the first of its kind in the world. Fans of the internationally beloved games can expected to see a whole host of rides and attractions dedicated to their favourite characters, from Mario Kart to Yoshi and beyond, as well as a themed cafe, merchandise shops—the list goes on. There is endless amount of fun for fans to feel a part of the Nintendo world as they take up the role of Mario and hit blocks to receive coins, collect items, and much more.

Guests will be able to purchase the Power Up Band, a wristband that works together with a smartphone app that allows you to collect virtual coins by punching Questions Blocks like Mario which are scattered around the park. Scores can be seen on the leaderboard so you can see how you stack up against other players.

Sanrio's Little Twin Stars Get Themed Cafe in Osaka This Holiday Season

Sanrio's popular characters Kiki & Lala, also known as the Little Twin Stars, are getting their own themed cafe which will open for a limited time at the Fruits Parlor & Bakery Season & Co. in LINKS UMEDA in Osaka From December 3, 2020 to January 24, 2021.

The cafe will serve up a variety of menu items inspired by the Little Twin Stars as well as sell related merchandise. There will also be a photo spot for taking cute pictures, and a special dessert assortment made in collaboration with the popular artist Dream Ami which includes a parfait made up of their favourite sweet treats.

Cafe Menu (Prices Listed Before Tax)

Menu ①: December 3, 2020 – December 25, 2020


Little Twin Stars Shortcake (X'mas Ver.) | ¥1,900


Kiki's Shooting Star Sweets Parfait | ¥1,600

Menu ②: December 26, 2020 – January 24, 2021


Little Twin Stars Tart | ¥1,700


Lala's Shooting Stat Sweets Parfait | ¥1,700

Drinks Menu (Excerpt) (Available Throughout Collaboration)

Little Twin Stars Strawberry Tea Latte | ¥1,000

Dream Ami's Special Collaborative Menu (Available Throughout Collaboration)

Dream Ami×Little Twin Stars Star Sweets 2020 2,100円

Customers who spend more than ¥1,000 (before tax) on merchandise at the cafe will also receive a free A4 folder. These are available while supplies last.

Dream Ami's collaborative dessert looks both cute and delicious and definitely worthy of being on a Little Twin Stars menu!

Information

Little Twin Stars Collaborative Cafe
Running: December 3, 2020 – January 24, 2021
Location: Fruits Parlor & Bakery Season & Co.
Address: LINKS UMEDA (Floor 1F), 1-1 Ofukacho, Kita-ku, Osaka-shi, Osaka
Opening Hours: 9:30-22:00 (Last Orders 21:30)
TEL: 06-6743-4212

Official Website: https://season-co.shop

Hatsune Miku Symphony to be Released On Amazon Music HD Using Dolby Atmos®

To celebrate the 5th anniversary of Hatsune Miku Symphony, three concerts are being held in Japan. The first took place at Suntory Hall for the first time on September 21, the second in Yokohama on October 17, and the third is scheduled to take place tomorrow (November 27) at Festival Hall in Osaka.

Fans unable to attend the final show will be pleased to know that part of the set list from Hatsune Miku Symphony 2019 is also being released tomorrow on Amazon Music HD in Dolby Atmos® format.

Dolby Atmos is a surround sound format that breaks the wall on the limits of mono and stereo sound and allows sounds to be interpreted in 3D, creating an entirely new immersive experience. This will make listening to a show like Hatsune Miku Symphony a true delight to Vocaloid lovers.

Those attending the Osaka concert will be able to listen to Miku Symphony in one of the Amazon Echo Studio booths that will be available at the venue. These booths will also be equipped with Dolby Atmos through Amazon Music HD.

The Yokohama performance that took place on October 17, 2020 is scheduled to be released on Blu-ray on February 3, 2021. It will be available to pre-order at the Osaka show.

Embroidery Art – ¥16,500 (Tax Included) | Acrylic Key Rings (7 Designs) – ¥800 (Tax Included)

A selection of merchandise will be available to buy at the Osaka show including an all-new piece of embroidery art, acrylic key rings, and more. These items will also be available to pick up at Magical Mirai 2020 in OSAKA taking place this weekend (November 28 and 29).

© Crypton Future Media, INC. www.piapro.net

Egyptian God Anime Series Tototsu ni Egypt Kami Announces December 7 Broadcast

It has been announced that the first episode of Frontier Works's upcoming web anime series Tototsu Ni Egypt Kami ("Suddenly, Egyptian Gods") will be posted on December 7, 2020 at 12:00pm (JST).

New promotional video released alongside air date announcement

Check out the newest PV release for the series which introduces each of the main characters.

Web Anime "Tototsu Ni Egypt Kami" PV Long Version


Get a free postcard in Japan

To promote the series, Japanese anime goods chain Animate is holding a campaign where for every ¥1,000 spent on Tototsu Ni Egypt Kami merchandise at Animate stores in Japan customers will receive one of 13 postcards.

Running: December 19, 2020 – January 17, 2021

Participating Stores: Animate / Animate Online / Shosen Grande / Horindo Takadanobaba

AMOCAFE Ikebukuro is also celebrating the release of the anime series by serving up a themed menu as well as selling exclusive merchandise.

Running: November 25, 2020 – December 9, 2020

Location: AMOCAFE Ikebukuro, 1-31-6 Higashi-Ikebukuro, Toshima-ku, Tokyo

Opening Hours: 11:00-19:45 (Reservation Only)

Official Website: https://amocafe-reserve.jp/to_to2ni_cafe/

Who would have thought that the Egyptian gods could be kawaii? Well, that's exactly what they've become in Tototsu Ni Egypt Kami, a series set in Ancient Egypt where the Egyptian deities, like Anubis, Thoth, Bastet, and Ra live laid-back and relaxed lives. The series is adapted from a popular line of character mascots of the same name.

©yuka/とーとつにエジプト神プロジェクト

Information

Tototsu Ni Egypt Kami

Initial Broadcast: December 2020

Watch On: YouTube, GYAO!, Bandai Channel, FOD, ABEMA, d Anime Store, U-NEXT

Official Website: https://to-to2ni-anime.jp

W Osaka: Japan's First Luxury Lifestyle Hotel to Open in March 2021

Marriott International has announced that W Osaka will have its grand opening on March 16, 2021. Room bookings opened via the hotel&#39;s official website on Wednesday (November 18).

W Osaka is a luxury lifestyle hotel that will open along Midosuji, the primary main street in central Osaka, positioning it within walking distance of Shinsaibashi which is home to world-leading luxury brand stores, Dotonbori which hails as one of the main tourist spots in Osaka where one can find an unending selection of restaurants and places for a great night out, and Minamisenba where you can find Osaka-based designer stores, coffee shops, and more. It&#39;s also conveniently situated near the business district of Honmachi.

The Hotel's Theme: A fun place for Osaka's merchants

The hotel's design was overseen by Osaka-born international architect Tadao Ando. The 32- storey building is coloured a simple yet stylish black and is based around crystals.

The interior design was carried out by Concrete Architectural Associates from the Netherlands who have recreated the image of Osaka's city lights with dazzling neon lights. Under the rule of the Tokugawa shogunate during the Edo period, extravagance was banned, but that was well over a century ago, so it is of course permitted now. But while W Osaka incorporates flashy design, its interior isn't overly-sophisticated and maintains an air of light-hearted fun to it.

A single button caters to whatever, whenever when it comes to guests

The 337 guest rooms boast beautiful vivid colours and contemporary designs that are sure to leave an impression. Washrooms are spacious and are equipped with rainfall showers. The rooms'; windows also stand from the floor to the ceiling, allowing for a perfect view of Osaka's beautiful streets. Best of all, all room telephones are fitted with a "Whatever/Whenever" button on them which enables hotel staff to cater to guests' needs and wishes at all times no matter what it is.

A Michelin-star chef's menu

In the lobby, guests will see a mic on a mic stand which is a nod to Osaka's famous manzai culture of comedy duos. The hotel also plans to open a bar area. For now, however, guests can enjoy the all-dining restaurant which boasts a menu supervised by a Michelin-star-winning chef who has also ranked in Asia's Best Restaurants 50. In the future, W Osaka plans to be host to unique wedding ceremonies too.

If you'e planning a trip to Osaka next year, be sure to check out W Osaka, opening March 16, 2021.

Hatsune Miku and Rascal the Raccoon to Collaborate at Magical Mirai 2020 in Osaka

Nippon Animation and Crypton Future Media are set to collaborated for the 4th time by bringing together the popular character Rascal from the Japanese animated series Rascal the Raccoon and VOCALOID. The two companies will release pre-sales of collaborative merch at Magical Mirai 2020 in Osaka from November 27 to 29.

Rascal celebrate hits 40th anniversary back in 2017, the same year his collaboration with VOCALOID began. "Japanese Festival" is the theme for the merchandise line-up which sees the adorable raccoon come together with familiar faces from the VOCALOID roster including Miku, Rin, Len, Luka, KAITO, and MEIKO, all of whom are donning their appropriate festive garbs. There's also a "Firework Festival" collection of merchandise too which was designed in collaboration with Japanese illustrator Omutatsu.

The merchandise will also be released at the official Nippon Animation shop ANi★CUTE in Ikebukuro, Tokyo on December 18, 2020.

Artwork sample

Merchandise sample

Information

Magical Mirai 2020 in OSAKA
Running: November 27, 2020 – November 29, 2020
Venue: INTEX Osaka Buildings 3 and 4
Address: 1 Chome-5-102 Nankokita, Suminoe Ward, Osaka
Official Website: https://magicalmirai.com/2020/
COCOLLABO Official Website: https://www.cocollabo.net/sp/Magicalmirai2020/

Nippon Animation Official Shop ANi★CUTE
Release Date: December 18, 2020
Location: Sunshine City Alpa 2F
Address: 3-1-2 Higashi-Ikebukuro, Toshima-ku, Tokyo
Opening Hours: 10:00-20:00
TEL: 03-6914-2668

Attack on Titan The Final Season Themed Cafe to Open in Ikebukuro

Two branches of Animate Cafe, Animate Cafe Ikebukuro 3 and Animated Cafe Nagoya 2, are set to collaborate with Attack on Titan from November 25 in promotion of the anime's upcoming final season which will begin airing on December 7. This marks Animate Cafe's fourth collaboration with the anime.

Menu

Animate Cafe held a poll amongst customers who dined at the previous Attack on Titan collaboration cafes to find out what the most popular dishes were. These have been chosen to go on the menu for this collaboration.

5 Years Colossal Hamburger & Mother's Handmade Stew | ¥1,000


Eren Meringue & Bertholdt Tart | ¥750


Hange's Experiment Drink | ¥600


Eren's Death Wish Drink | ¥600

New additions to the menu include Hange's Experiment Drink and Eren's Death Wish Drink.


The Final Season Special Rose Cake | ¥750


Gorgeous Champagne Jelly | ¥600

Original merchandise


Big Acrylic Stands (4 Designs) | ¥1,600


Trading Pins (A Group: 6 Designs/B Group: 7 Designs/C Group: 4 Designs) | ¥400 Each


Print Cookies | ¥1,000 Each (Comes with 1 illustration card)

©️Hajime Isayama・Kodansha / Attack on Titan The Final Season Production Committee

Information

Animate Cafe x Attack on Titan The Final Season
Running: November 25, 2020 – December 14, 2020

Locations: Animate Cafe Ikebukuro 3 / Animated Cafe Nagoya

*On November 25, November 27, and weekends, customers must sign up to dine at the cafes – those who sign up will be selected randomly. On all other days, it's free-entry where you don't have to book, but keep in mind that the cafe may still be busy on these days.
Official Website:  https://cafe.animate.co.jp/event/shingeki2011/

Sailor Moon Handbags and Accessories Released in Collaboration With Samantha Thavasa

Samantha Thavasa Japan Limited launched a new collection of merchandise last Friday (November 6) in collaboration with the Sailor Moon franchise to promote the upcoming two-part Sailor Moon Eternal anime film which will be released on January 8, 2021 and February 11, 2021 respectively.

The collection features an original line-up of bags, purses, and accessories created by Samantha Thavasa Group. They were released at SAMANTHAVEGA, Samantha Thavasa Petit Choice, and Samantha Tiara respectively.


Each of the bags by SAMANTHAVEGA are nods to each of the Sailors' costumes with their colouring, ribbons, and more. And they're not just for show either – they are practical and functional handbags.


Samantha Thavasa Petit Choice has crafted a handful of delicate and fashionable purses for keeping your coins safe.


And from Samantha Tiara is a collection of breathtakingly beautiful accessories including necklaces and a ring, all of which when bought are packaged in a gorgeous box inspired by Super Sailor Moon's outfit.

The brands have also created a separate series of items based on Super Sailor Moon.


From SAMANTHAVEGA is a collection of stylish bags and a pass case each of which have glitter on them.


There's also the eye-catching pink leather purses by Samantha Thavasa Petit Choice which are based on the Climax Moon Compact from the anime and manga series.


Samantha Tiara has also created even more accessories and jewellery including two different rings and necklaces.


The necklace and ring pictured above will be available to purchase online only in Japan from November 20.

A Sailor Moon pop-up store is now open inside Samantha Thavasa Omotesando GATES until November 17 where you can get your hands on some of these items. There's also a special photo spot for taking pictures and giant LED displays promoting Sailor Moon Eternal.

Information

Samantha Thavasa x Sailor Moon Eternal
Release Date: November 6, 202
*サマンサタバサ公式オンラインショップは11時~順次発売

Sailor Moon Pop-Up Store
Location: Samantha Thavasa Omotesando GATES

Address: 6-5-6 Jingumae, Shibuya, Tokyo
Opening Hours: 11:00-20:00
TEL: 03-3400-2258

Special Site: https://online.samantha.co.jp/layout/feature/20sailormoon.html

Kirby Pop-Up Shop Opens Inside EKI MARCHÉ OSAKA For 2020

A Kirby pop-up shop opened up inside the EKI MARCHÉ OSAKA shopping mall in Osaka on Friday (November 6) where it is set to stay until December 10.

Kirby fans can expect to get their hands on a whole range of merchandise from stationery and plush toys to key rings and more.

Original Postcard

Customers who spend over ¥2,200 at the pop-up shop will receive an original postcard too. These are limited in stock.

If you're in Japan this autumn and winter then be sure to grab some of these wintery Kirby goods.

Information

Kirby Pop-Up Shop
Running: November 6, 2020 – December 10, 2020

Opening Hours: 10:00-20:00 (until 17:00 on December 10)

Location: EKI MARCHÉ OSAKA S07, EkiHeso
Address: 3-1-1 Umeda, Kita-ku, Osaka
Access: Directly outside Osaka Station's Sakurabashi Exit on the JR side

Official Website: https://www.heso-pro.com/

Universal Studios Japan Announces Christmas 2020 Program

Universal Studios Japan is planning a special series of Christmas events for this year to celebrate everyone's endeavours throughout this tumultuous 2020. Set to run from November 13 to December 27, the park will be changing its Universal Crystal Christmas event from last year which included a night show and special Christmas tree set-up to create a more safe experience for guests during the pandemic.

The park is set to bring as much fun, excitement, and smiles as ever for this year's Christmas celebrations.

Happy Christmas Street Party: Dance with the park's characters

Happy Christmas Street Party is a new event to Universal Studios Japan this Christmas which will welcome characters from Sesame Street and Peanuts, as well as snowmen and entertainers, all dressed in their holiday season garbs to sing and dance for guests. Guests will be able to feel as one as they sing and dance to Christmas songs in a safe, socially-distanced environment, together with the characters.

Location: Hollywood Area

Duration: 2-3 times a day, approx 20 mins

The singing show gets a Christmas makeover

A special and romantic Christmas story of love called "New York Christmas Wish" will take over this year's singing show. Christmas songs will also be sung for the popular "Power of Pop" show.

Minion Park's Yellow Christmas: Happiness here, there, and everywhere

USJ welcomes the "Minion Park's Yellow Christmas" event once again this year where Minion decorations will adorn the park streets and the Minions themselves will be out and about dressed in Christmas costumes.

Happy Deco Masks

The park will be selling special stickers for people to adorn their masks with like decorating a Christmas tree.

 

Christmas food and merchandise

Guests can expect to tuck into some delicious Christmas-y food as well as get their hands on exclusive Christmas merchandise. There will also be special items available for guests who hold an Annual Passport to the park.

 

Universal Studios Japan Hotel

The park's official hotel is now offering a special plan for the holiday season called "Christmas Dramatic Stay" which included a special Christmas dinner and breakfast to guests who stay there.

More details will be released on USJ's official website in the lead up to the park's Christmas program.

WIZARDING WORLD and all related trademarks, characters, names, and indicia are © & ™ Warner Bros. Entertainment Inc. Publishing Rights © JKR. (s20)

Minions and all related elements and indicia TM & © 2020 Universal Studios. All rights reserved.

© Nintendo

TM & © 2020 Sesame Workshop

© 2020 Peanuts Worldwide LLC

© 1976, 2020 SANRIO CO., LTD. APPROVAL NO. EJ0102601

TM & © Universal Studios & Amblin Entertainment

©Fujiko Pro/2020 STAND BY ME Doraemon 2 Film Partners

Universal elements and all related indicia TM & © 2020 Universal Studios. All rights reserved.

Information

Universal Studios Japan Christmas Program

Running: November 13, 2020 – December 7, 2020

Address: 2-1-33 Sakurajima, Konohana-ku, Osaka

Official Website: https://www.usj.co.jp/web/en/us

The Promised Neverland Cafe to Serve Up Themed Food and Drink in Tokyo

A special exhibition centred on the popular manga series The Promised Neverland will take place at Roppongi Hills Tokyo City View in Tokyo from December 11, 2020.

The Promised Neverland is a manga series written by Kaiu Shirai and illustrated by Posuka Demizu. The series was published in Weekly Shonen Jump and concluded with its final volume on June 15, 2020. A live-action film will be released in December while the anime adaptation's second season will air next year.

The exhibition will explore and celebrate the world of The Promised Neverland in detail, with displays, illustrations, early conceptions, and much more. A special 19-page manga episode written by Kaiu Shirai and illustrated by Posuka Demizu will also be shown.

Fans at the exhibition can also dine at CAFE GRACE FIELD,  the series-themed cafe opening up temporarily at Cafe THE SUN. Let's take a closer look and see what fans can expect to see at the cafe.

CAFE GRACE FIELD Collaboration Cafe

Illustrative photo showcasing the cafe

The Promised Neverland is set inside Grace Field House, an orphanage in a forest that houses children with no relatives. It's here that we meet the main characters: Emma, Norman, Ray, and Mom. CAFE GRACE FIELD is inspired by Grace Field House and the children who live in it, with food based on the characters and certain episodes in the series, a cafe latte you can order and get a free coaster with, and many other dishes, drinks, and desserts exclusive to the exhibition.

The Menu

Isabella's Burger | ¥1,480 (Tax Included)

A hearty hamburger inspired by Isabella, the Mom of Grace Field House, filled with a fat patty, tomatoes, and lettuce. It's served with chips which are topped with a key that opens all doors in the house.

Emma's Omelette Rice | ¥1,380 (Tax Included)

A serving of omurice (rice-filled omelette) which features Emma's trademark lock of hair that sticks up and orange edible flowers scattered over the tomato sauce, all to capture Emma's smiley personality.

Norman's Farm Green Curry | ¥1,580 (Tax Included)

A spicy green curry based on Norman standing in the fields of the forest. The plate includes the pen Norman finds which belongs to William Minevra, as well as the name Minevra written in Morse code around the outside of the dish.

Ray's Final Book Sandwich | ¥1,550 (Tax Included)

This dish is inspired by the scene when Ray gives Emma the last book he reads before escaping the house. The sandwich itself is made to look like the book and is filled with egg salad, crunchy fried fish, and tomatoes.

Full Score Parfait | ¥1,450 (Tax Included)

An assortment of ingredients based on the three main characters in the series who receive a full score: Emma (orange jelly), Norman (panna cotta), and Ray (chocolate pudding and cake). A parfait that's not overly sweet and displays each of the three characters' I.D. Numbers which are used for identification in the series.

Little Bunny Shortcake | ¥1,350 (Tax Included)

A mixed berry shortcake with Conny's precious Little Bunny on top. The bunny is made from milk pudding and sat on a bed of yogurt cream-filled fluffy sponge.

The House's Lantern Drink | ¥1,050 (Tax Included)

A lantern-style dessert drink with everyone from Grace Field House, topped with chocolate whip, frozen yogurt, and two pieces of orange inspired by Emma's hair.

The Promised Pendant Drink | ¥1,050 (Tax Included)

A refreshing combination of ginger ale, Calpis, and Blue Curaçao topped off with apple flavoured ice. The blue and green gradation of the beverage is based on the pendant given to Emma by Mujika, a key item of the story.

Emma's Cafe Latte, Norman's Cafe Latte, Ray's Cafe Latte | ¥850 Each (Tax Included)

Three cafe lattes with Emma, Norman, and Ray print on them. Every cup ordered gets you an original coaster. There are three coaster designs, each given randomly for every drink order.

Twitter Campaign – Christmas Edition Cafe Latte

Running: December 11, 2020 – December 25, 2020

From December 11-25, fans who answer the official Twitter quiz correctly have the chance to order the Christmas Edition Cafe Latte. Every cup ordered gets you a special coaster.

©Kaiu Shirai・Posuka Demizu /Shueisha

Information

THE PROMISED NEVERLAND SPECIAL EXHIBITION

Running: December 11, 2020 – January 11, 2021

Opening Hours: 10:00-22:00 (Last Entries 21:30)

Location: Roppongi Hills Tokyo City View Sky Gallery

Address: Roppongi Hills Mori Tower Floor 52F, 6-10-1 Roppongi, Minato-ku, Tokyo

Exhibition Website: https://yakuneba-ten.jp/

*Information about this event is subject to change without notice. Please visit the exhibition's portal site or Roppongo Hills Mori Tower's official website for the latest updates, cautions, and measures against COVID-19.