Krispy Kreme Celebrates the Year of the Rat With Cute New Year's Doughnuts
Krispy Kreme Doughnuts Japan is releasing three new end-of-year doughnuts on December 26. They will be available for a limited time only.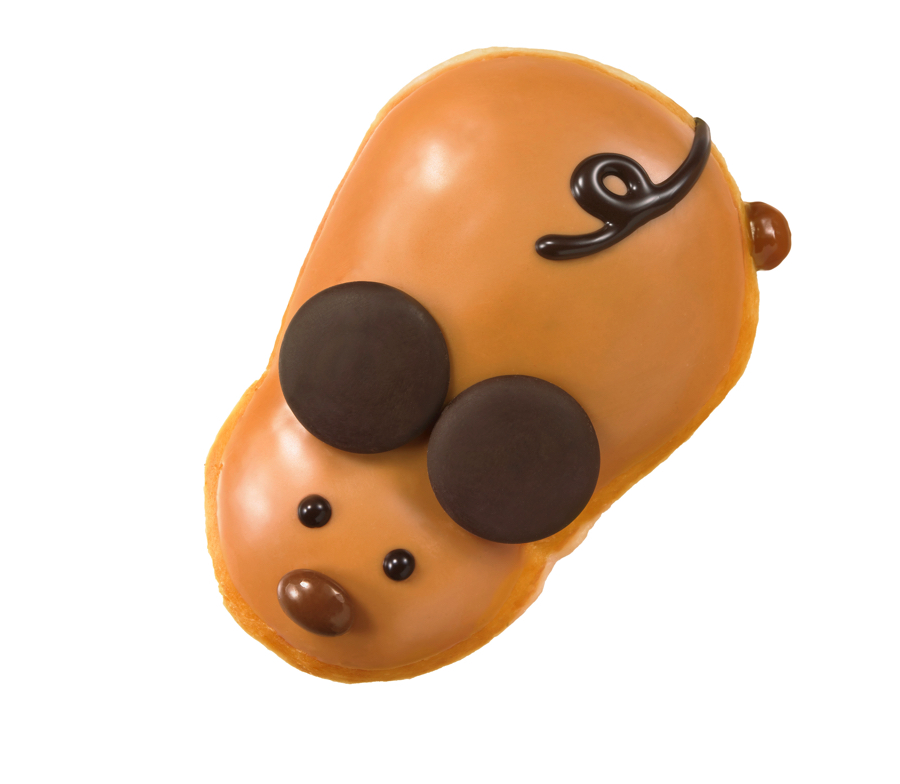 2020 is the Year of the Rat in the Chinese zodiac, and so Krispy Kreme has taken that theme to create its own adorable rat doughnut. Lathered in caramel chocolate, this cute doughnut is filled with rock salt caramel cream. Its eyes, tail and large round ears are made of  dark chocolate while its nose is made of coffee chocolate.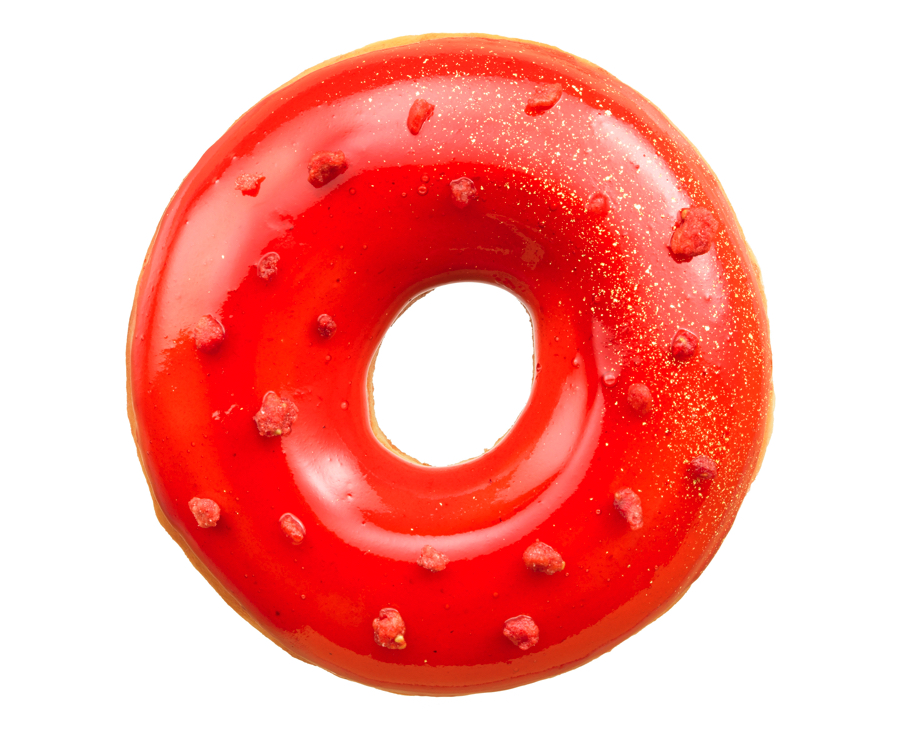 The second New Year's doughnut in the series is the Lucky Strawberry Ring (¥230), which gets its deep crimson colour from the sweet and sour nappage made from strawberry puree and milky white chocolate. It's finished with sprinkles of freeze-dried strawberries and gold leaf for that festive touch.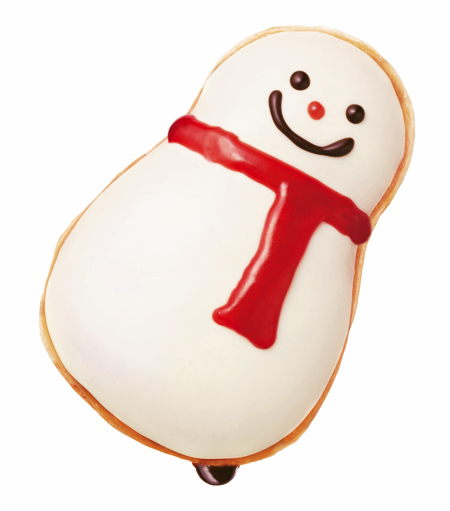 The Snowman Chocolate (¥230) is a cute snowman shaped doughnuts filled with a rich chocolate cream and covered in a milky snow white chocolate coating. Together with the Lucky Strawberry Ring, you get a festive mix of red and white which are symbolic colours of the New Year in Japan.
The three doughnuts are also available to purchase in a box set called Good Luck Zodiac Dozen which comes with twelve doughnuts including four Original Glazed®, the chain's most popular doughnut.
Welcome the new year with some delicious and kawaii doughnuts from Krispy Kreme Japan.
Information
New Year's Doughnuts
Available: December 26, 2019 to Mid-January 2020 (subject to change)
Official Website: https://krispykreme.jp/
RECOMMENDED ENTRIES
Deliciously Rich Freshly Baked Caramel Cheese Tarts Cooked Up at BAKE CHEESE TART

Japanese food chain BAKE CHEESE TART, which specialises in freshly baked cheese tarts, is serving up a rich new delight for the holiday season: the "Freshly Baked Caramel Cheese Tart" will be released on December 1.

Freshly Baked Caramel Cheese Tart – ¥290 Each (Tax Included)

Made with an original blend of cheese mousse, this fragrant cheese tart is mixed with rich caramel and has a gentle flavour. The saltiness of the cheese mousse helps bring out the sweet taste of the caramel, effectively creating a salted caramel flavour.

The cream cheese used for the cheese mousse is a balanced mix of carefully chosen cream cheeses, with the majority of them coming from Hokkaido, to bring out unique flavours and textures. And to make the tart itself nice and crunchy, it is doubled-baked: once by itself, and again with the mousse on stop. The characteristic bitterness of the caramel has also been eliminated, so kids and adults alike can enjoy the tart this holiday season.

And to get people in the Christmas spirit, the tarts are served in holiday season packaging too. Available for a limited time only, grab yourself a tart and get munching.

Information

Freshly Baked Caramel Cheese Tart

Running: December 1, 2019 – December 28, 2019

Available: BAKE CHEESE TART branches throughout Japan (Except ASSE Hiroshima & SAN-A PARCO CITY branches)

Official Website: https://cheesetart.com

Freshly-Baked Caramel Flavoured Custard Apple Pies Cooking Up at RINGO in Japan

RINGO, a chain of freshly-baked custard apple pie stores in Japan, is bringing back its caramel flavoured pies to all branches for a limited time commencing on November 15, 2019. The flavour was originally released last winter at RINGO's first flavour.

This time around, the caramel has been cooked together inside the apple filling together with kogashi flour to elevate the gorgeous flavour of the apple, resulting in a rich "caramel apple" flavour.

The sweetness of the smooth and velvety custard melts into the caramel-laced apple filling which itself has a pleasantly palatable taste. The pie itself is crunchy, baked with cocoa powder and drizzled in a full-bodied caramel flavoured chocolate sauce.

This pie is perfect for the season, with its fragrant caramel and the sweet and sour combination of the apple, a fruit which is most delicious throughout autumn and winter.

Information

Freshly-Baked Caramel Custard Apple Pie

Running: November 15, 2019 – December 25, 2019 (*Limited supplies each day)

Available: At RINGO branches across Japan

Price: ¥486 (Tax Included) for one

Official Website: http://ringo-applepie.com 

Omotesando Hills Christmas 2019: Christmas Chocolate Parfait & Other Delicious Desserts

The Omotesando Hills shopping complex recently began rolling out information for its Christmas celebrations for 2019. Omotesando Hills Christmas 2019 is set to run from November 13 to December 25.

Enchanting illuminations will adorn the main building and its atrium, taking on the theme "Christmastime seduced by water magic." Restaurants and eateries will also serve up some limited-time goodies for "CHRISTMAS SWEETS with CHOCOLATE." Christmas shoppers can also look forward to getting their hands on a range of festive items amongst other things.

CHRISTMAS SWEETS with CHOCOLATE

10 restaurants throughout Omotesando Hills will serve up chocolatey Christmas-themed desserts from November 13 to December 25. There's a lot to look out for, including the strawberry-packed parfait, a parfait made with noble rot wine jelly, a vegan tiramisu and more. Let's take a look at a select few of these mouth-watering delights.

Parfait do Noel – ¥1,870 (Tax Included) @ HUGO & VICTOR (Main Building Floor 1F)

This Christmas parfait is lavish with fresh strawberries and adorned with tempting dark chocolate ice cream and chocolate flavoured macaron. It's also layered with a spicy crumble, caramel sauce, and smooth chantilly cream. Your taste buds will be treated to each distinct flavour and texture as you spoon your way through the dessert.

Serving: 11:00-20:30 (Until 19:30 on Sundays)

Noble Rot Wine Parfait – ¥1,980 @ Wine Shop Enoteco & Bar  (Main Building Floor 3F) *15 served per day

Noble rot wine has a distinct rich sweetness like that of honey. This jelly used in this parfait is made with noble rot wine from intenrnationally revered winery Baron Philippe de Rothschild and topped with chocolate ice cream and orange. Pour over the rest of the wine to complete this sophisticated dessert.

Serving: 11:00-21:30 (Until 20:30 on Sundays)

*Contains alcohol

Vegan Tiramisu Chocolate Parfait – ¥1,518 (Tax Included) @ Cosme Kitchen Adaptation (Main Building Floor B2F)

Vegan food has not entered the mainstream in Japan yet but more and more places are catching on. This mascarpone-flavoured vegan tiramisu is made with tofu and nuts. It has a refreshing taste and is sure to fill you up with its mix of tofu gateau chocolate, organic and domestic blueberries, cacao nibs, and organic coffee.

Serving: 11:00-22:00 (Until 21:00 on Sundays)

*Contains alcohol but can be ordered without alcohol

Raw Chocolate & Wine Marriage – ¥1,100 (Tax Included) @ bar à vin PARTAGER (Main Building Floor 3F) *15 served per day

Another one for the adults is this sweet made with rich raw chocolate and red wine, served together with with a fruity wine in a glass. Enjoy the bitterness of the chocolate together with the full-bodied notes of the wine.

Serving: 11:00-22:00 (Until 21:00 on Sundays)

*Contains alcohol

Omotesando Hills Limited-Edition Items

20 stores throughout Omotesando Hills will sell holiday season-inspired items between November 13 and December 25, from bags and purses in Christmas colours to cosmetics and fragrances. Here's a small peek at what's to come. Everything will be limited-edition and available while supplies last.

Bag – ¥53,900 (Tax Included), Wallets – ¥31,900 Each (Tax Included) @ EPOCA UOMO PRIMA (Main Building Floor 2F)

Adorned in Christmas colours are this bag made from soft sheep leather from Turkey and three fold purse. The inside of the bag is made with synthetic leather, and the bag itself is both light and holds plenty.

Millefiori Christmas Gift – ¥12,650 (Tax Included) @ Millefiori (Main Building Floor B2F)

This gorgeous kit is decorated with bright-red preserved flowers and contains high-quality room fragrances from ZONA. The scents include the refreshing "Oxygen" with citrus notes and the "Musk Flower" with elegant floral notes. These are limited in stock with only 5 available for each.

There are countless other sweets and items to get your hands on at Omotesando Hills this Christmas season, so if you're in Tokyo, don't miss out.
RELATED ENTRIES
Disney's Mickey and Minnie Mouse Feature on Lotte's Choco Pie Chocolate Treats

Japanese confectionery company Lotte is joining white gloves with Mickey and Minnie Mouse to collaborate on their popular chocolatey Choco Pie treats. The tie-up will roll out in Japan from January 26.

Lotte Choco Pie Heartful W Strawberry

Lotte Choco Pie Heartful W Chocolate

Try and find the Mickey head on the packaging

Get your hands on one of 10 packaging designs

Line up these two to make it look like Mickey and Minnie kissing

 

Handmade Choco Pie Art

This marks Choco Pie's first collaboration with Disney's characters with Mickey and Minnie appearing in ten different designs. Each design has a hidden Mickey head to find (like in Kingdom Hearts III). Lotte is has also showcased some unique designs you can make for Valentine's Day with the Choco Pies, so get creative!

ⓒDisney

Information

Lotte Choco Pie Mickey & Minnie Design
Release Date: January 26, 2021
Official Website: https://www.lotte.co.jp/

K Confect released a batch of its new 'SNOW SAND' chocolate sandwich cookies for the winter season on Wednesday (January 20) made with ingredients from Hokkaido and within just 30-minutes the online stock sold out. The company has now been launching a new limited batch every day since January 21st. All orders come with an original polar bear postcard.

Front and back of polar bear postcard

The SNOW SAND sandwich cookie brings some warm and cosy love this cold winter season with its delicious combination of butter made in Hokkaido, wheat flour, and sugar. The cookie packaging comes in two designs based on two works of art by Japanese painter Otani Kazuyoshi.

Japan declared a state of emergency on January 5, 2021 in response to the COVID-19 pandemic, and so those unable to make it to the company's pop-up shops at Daimaru Sapporo and Daimaru Tokyo, which will open on January 27, can order the cookies online too.

Information

SNOW SAND Raw Chocolate Sandwich Cookie
Online Orders: From January 20, 2021

Buy Here: https://www.snowsand.jp/

Daimaru Pop-Up Shop Orders: January 27, 2021 to February 14, 2021

Daimaru Official Website: https://www.daimaru-matsuzakaya.jp/valentine/

Daimaru Pop-Up Shops
Daimaru Tokyo: Available on Floor 1F's sweets section

Daimaru Sapporo: Available on Floor 1F's Valentine's section

Opening Hours: 10:00-20:00

*Those who spend over ¥3,160 (Tax Included) will receive an original mini tote bag – available while supplies last

TALENT PROFILE

Ema Tanioku

"Emaeri" is the nickname for models Ema and Eri Tanioku, who are Aomoji fashion model twins. Ema and Eri Tanioku specialise in twin fashion coordination. Over the years their fanbase has increased due to their cute looks. Ema Tanioku spreads Harajuku culture within Japan as well as overseas and works as a Harajuku Tourism Ambassador. Starting off as a model, Ema has broadened her talent range from fashion magazines to TV, and from playing the lead role in dramas to movies.

Valentine's Day Treats Cooked Up at The St. Regis Osaka

The St. Regis Osaka, a hotel located in Chuo, Osaka, is seducing couples with the reveal of its luxurious Valentine's Day dessert line-up which will be sold at the hotel's Italian restaurant La Veduta from February 1 to 14.

2021 Valentine's Collection Line-Up

Valrhona Chocolate Bark | Single Bag: ¥1,200 (Before Tax)

A bag of irresistible chocolates made using chocolate by the French premium chocolate brand Valrhona. It's available in three flavours: Milk (Hazelnut/Miso), Dark (Almond/Soy Sauce), and White (Macadamia/Sake Lees).

Extra Dark Chocolate Gateau Chocolat | ¥2,800 (Before Tax)

A truly full-bodied chocolate experience made with 61% chocolate that can be indulged chilled or warmed up.

Valentine's Edition Valrhona Guanaja & Jivara Lactee Chocolate Éclairs | ¥750 (Before Tax)

A chocolate cake strip loaded with thick ganache and topped with chocolate-covered hazelnuts to create a bite-sized éclair.

St Regis Signature Brioche | Set of 3: ¥1,000 (Before Tax)

A set of three of St Regis's signature brioches: the extra dark Valrhona chocolate "Danish," the Valrhona Guanaja & Jivara Lactee chocolate "Ganache," and the Valrhona "Passion Fruit Inspiration."

La Veduta's Italian Valentine's Day Menu

Dinner For Two | ¥32,000 (Before Tax)

The menu line-up at La Veduta features a dinner for two which includes an amuse-bouche, marinated Japanese amberjack, heart-shaped ravioli capresi, Tournedos Rossini beef fillet with tai sea bream, a strawberry tiramisu, and tea snacks.

This is a real indulgence for couples looking for a romantic dining experience or treat.

Information

The St. Regis Osaka Valentine's Day
Running: February 1, 2021 – February 14, 2021
Address: 3-6-12 Honmachi, Chuo-ku, Osaka-shi, Osaka
Opening Hours: [Mon] 8:00-14:00 / [Tue-Sun] 8:00-18:00

La Veduta
Running: February 10, 2021 – February 14, 2021
Opening Hours: 17:30-21:00 (Last Orders 19:30) *Closures at 20:00 until February 7
Enquiries: 06-6105-5659 (10:00-19:00)
The St. Regis Osaka Official Website: https://www.marriott.co.uk/hotels/travel/osaxr-the-st-regis-osaka

Delicious Parfait and Smoothie Made With Strawberries From Fukuoka Serving at Ginza Cozy Corner

Ginza Cozy Corner released a new parfait and smoothie made with amaou strawberries from Fukuoka Prefecture at its 12 cafes and restaurants on Saturday (January 23).

The amaou strawberry is known for its plump form, rich sweetness, and refreshing flavour. Ginza Cozy Corner has taken this delicious fruit to whip up a parfait topped with strawberry gelato, vanilla ice cream, and fresh cream, as well as a smoothie made from a whole bunch of blended amaou strawberries and milky ice cream.

Left: Fukuoka Amaou Parfait – ¥1,380 (Tax Included) | Right: Fukuoka Amaou COZY Smoothie – ¥1,000 (Tax Included)

The parfait is loaded with four deluxe-size strawberries so you can enjoy their fresh, soft texture together with the ice cream, gelato, and fresh cream combo, while a straw-sip of the ice-mixed smoothie will tickle taste buds sweetly with the sherbet hidden at the bottom.

Information

Ginza Cozy Corner Amaou Parfait & Smoothie
Serving: January 23, 2021 – Early March 2021
Ginza Cozy Corner Official Website: https://www.cozycorner.co.jp/

Hello Kitty Valentine's Day Chocolates by Bicerin Are Sure to Surprise Your Lover

Café Al Bicerin released a special collection of chocolates in Japan for Valentine's Day on Wednesday (January 20) in collaboration with Hello Kitty.

Café Al Bicerin is a cafe in Torio, Italy, that first opened back in 1763. It has a long history and is a place that was enjoyed by the likes of Friedrich Nietzsche and Ernest Hemingway.

Bicerin × Hello Kitty Love Assortment | ¥2,160 (Tax Included)

Bicerin × Hello Kitty Love Assortment | ¥2,160 (Tax Included)

Valentine's Baci di Dama (Includes 5) | ¥1,350 (Tax Included)

© 2021 SANRIO CO., LTD. APPROVAL NO. L617585

Information

Bicerin x Hello Kitty Valentine's Collection
Released: January 20, 2021
Available: Bicerin Japan (Ginza SIX, Takashimaya Shinjuku, Midland Square, Hankyu Umeda, Roppongi Hills, Tokyo Midtown Hibiya)
Official Online Store: https://shop.bicerin.co.jp/
Official Website: http://www.bicerin.co.jp/

McDonald's KitKat McFlurry to be Whipped Up in Japan

McDonald's Japan is teaming up with Nestlé next week to bring back last years' customer-favourite McFluffy® KitKat® for a limited time starting on January 27.

McFlurry KitKat | ¥290

The delicious dessert combines McDonald's tasty soft service ice cream with crushed KitKat and finishes it with a drizzle of special sauce made with couverture chocolate. Mix everything together for pure chocolatey heaven goodness.

McFlurry Oreo | ¥290

McDonald's Japan also serves the McFlurry Oreo, a regular item on the menu, and right now is the only time you can enjoy comparing the tastes and textures between both the Oreo and KitKat McFlurries.

Which one has you drooling more?

Information

McFlurry® KitKat®
Running: January 27, 2021 – Late March 2021

Available: McDonald's Japan (Select branches not participating)
Serving Times: 10:30 until closure
Official Website: http://www.mcdonalds.co.jp/

*KitKat is a registered trademark of Nestlé Group.

Luxury Japanese Gateau Chocolate Infused With Sake Made From Famous Yamada Nishiki Rice

Japanese sweets and dessert brand KAKERI opened pre-orders for its new luxury chocolate "Nihonshu Gateau Chocolat" on Monday (January 18) which is made in collaboration with Inami Shuzo, a distillery based in Miki, Hyogo, a city known for a type of rice called Yamada Nishiki. Pre-order opened exclusively on Makuake.

Daigin Koshu – Bronze Award winner in the Sake category at IWC2020

Inami Shuzo

The chocolate is infused with Daigin Koshu, a sake made by Inami Shuzo which won a Bronze award at the International Wine Challenge for Japanese Sake in 2020. The chocolate is also best paired with a cup of strong sake too. Online orders are shipped in freezer refrigeration and can be eaten frozen too, giving it an ice cake-like texture. If left to defrost in the fridge, the taste and fragrance of the infused sake increases, so sake-lovers can pick how they best want to enjoy their gateau treat.

What makes this chocolate so special is that it enjoys the combination of ingredients and a workforce all from the city of Miki where the distiller is located. The sake is made with a rice called Yamada Nishiki which is grown in Miki and is famous for being used to make sake. The consumption amount of this rice has decreased as a result of the pandemic and so the chocolate was developed to help spread word of the rice and ensure it doesn't go to waste.

Valentine's Dessert Sets Served Up at Harajuku's Tea Latte Shop CHAVATY

CHAVATY, a cafe in Harajuku that serves tea lattes made with high quality tea leaves, is getting ready for Valentine's Day early with the release of some tasty new desserts which they began serving up on Thursday (January 14).


Valentine's Set | ¥1,100 (Before Tax)


Valentine's Scone Set (6 Included) | ¥2,480 (Tax Included)


Raspberry Chocolate | ¥970 (Tax Included)

The Valentine's Set comes with a cute scone as well as fondant chocolate made with rich, high-grade chocolate from the French chocolate brand Cacao Barry. It also comes with a tea latte of your choice. There's also a scone set which comes with two each of three different scones for a total of six including the Berry & Cocoa Pink Chocolate, Orange & Chocolate Chip Double Chocolate, and Dried Fruits & Nuts White Chocolate. CHAVATY has also made their own seasonal homemade spread: the Raspberry Chocolate.

Information

CHAVATY Valentine's Set
Running: January 14, 2021 – February 14, 2021

Address: Minami-Harajuku Bldg. 1F, 4-6-9 Jingumae, Shibuya, Tokyo

Official Website: https://chavaty.shop-pro.jp/

Pokémon Tokyo Banana Adds Special Pikachu Box Set Online

Tokyo Banana World recently added its special Dengeki Box (Electric Box) of Pikachu Tokyo Banana confections to its official website which is available to order in Japan until January 30, 2021 at 17:00 (JST).

Tokyo Banana is Tokyo's official souvenir sweets brand and it launched its new Pokémon Tokyo Banana series of confections in November last year with the first catch being Pikachu. It subsequently added Eevee to the collection in December. The Pikachu confections are also available to buy at Tokyo Station.

Pikachu Tokyo Banana – Dengeki Box | Box of 12 Packs (24 Confections) | ¥3,456 (Tax Included)

The limited-time addition of the Dengeki Box to Tokyo Banana's official website means that anyone in Japan can get a taste of the electrifyingly delicious sweet fluffy custard-filled sponge cakes without having to travel to Tokyo.

Waiting inside the Dengeki Box are 12 packages each with two cakes in and each in one of six different Pikachu designs to greet hungry Trainers, all of which are positively kawaii. The box itself also features these adorable illustrations.

Left: Front of Box | Right: Back of Box

The box even has a handle attached to it so you can reuse it after to store all your bits and bobs.

©2021 Pokémon. ©1995-2021 Nintendo/Creatures Inc./GAME FREAK inc.
Pokémon, ポケットモンスター, and ポケモン are registered trademarks of Nintendo, Creatures Inc., and GAME FREAK inc..

Information

Pikachu Tokyo Banana – Online Orders
Running: January 12, 2021 – January 30, 2021
*Available while supplies last

*Shipping not available to select islands in Japan

Tokyo Banana Group Official Online Shop
https://www.paqtomog.com/shop/c/cpk-bana/

Luxurious Gin Infused White Chocolate by Dean & DeLuca Tempts With Tasty Allure

Asakusa-based 'aromatic raw chocolate' brand MAISON CACAO created a new gin-flavoured white chocolate for Dean & DeLuca which was released in Japan on January 15, 2021.

The "Aroma Raw Chocolate (Gin)" keeps the original flavour of the white chocolate and infuses with a craft gin known as "COMMON" by Toranomon Joryusho.

Aroma Raw Chocolate GIN FOR DEAN & DELUCA | ¥2,592 (Tax Included)

​One bite into a piece of this artisanal chocolate fills the mouth with a tang of subtly fruity chocolate. Then comes the refreshing taste of the gin which complements the sweetness and adds sophistication to the chocolate in an exquisite balance of flavours.

 COMMON gin is fruity and clear

COMMON craft gin has a 'botanical' flavour. Its base is a shochu made on the islands of Hachijō-jima and Nii-jima. It also contains soft water taken from Okutama Sawai.

"It has a faint fruity taste that combines with the flavour of the cacao, and he used really delicious white chocolate," explains Shingo Ishihara of MAISON CACAO who helped in the chocolate's development. "I hope people indulge in its enjoyable melt-in-the-mouth texture."

Information

Aroma Raw Chocolate GIN FOR DEAN & DELUCA

Japanese Name: アロマ生チョコレート GIN FOR DEAN & DELUCA

Released: January 15, 2021
DEAN & DELUCA Official Website: https://www.deandeluca.co.jp/

Snoopy and Charlie Brown Turn Into Confections at Japanese Convenience Stores

Bandai's character-inspired Japanese confectionery series Tabemas is releasing two new traditional Japanese wagashi confections inspired by the Peanuts comic series. Snoopy and Charlie Brown will arrive at Lawson convenience stores across Japan on January 19, 2021.

Tabemas Snoopy | ¥264 Each (Before Tax)

The cute confections capture the little details of the iconic characters, from Snoopy's doggo features and collar to Charlie Brown's hair and shirt. The Snoopy confection is filled with chocolate bean paste—a nod to his favourite chocolate chip cookies—while Charlie Brown is filled with custard bean paste as a nod to his trademark shirt. The packaging features exclusive art drawn for the Peanuts comic's 70th anniversary with Snoopy atop his dog house.

© 2021 Peanuts Worldwide LLC

Information

Tabemasu Snoopy / Charlie Brown
Release Date: January 19, 2021

Available: At the chilled sweets section of Lawson convenience stores in Japan (Excluding Natural Lawson and Lawson Store 100)

*Available while supplies last

*Stock date may differ from branch to branch

*Select stores not participatingProduct Page: https://www.bandai.co.jp/candy/tabemas/snoopy03/

Delicious Valentine's Day Desserts Served Up at Eggs 'n Things

Eggs 'n Things is set to serve up a special limited-time Valentine's menu in Japan from January 16 to February 28 including the Torokeru Fondant Chocolate Pancakes and Strawberry & Banana Chocolate French Toast.

Valentine's Menu

Torokeru Fondant Chocolate Pancakes | Eat In ¥1,480 (Before Tax)

Torokeru Fondant Chocolate Pancakes | Takeout ¥1,080 (Before Tax)

 

Strawberry & Banana Chocolate French Toast | Eat In ¥1,380 (Before Tax)

Strawberry & Banana Chocolate French Toast | Takeout ¥980 (Before Tax)

Valentine's Drinks

Strawberry White Mocha | Hot or Iced ¥680 (Before Tax)

Hawaiian Cafe Mocha | Hot or Iced ¥580 (Before Tax)

This lovingly-prepared chocolate and fruit-loaded line-up is sure to get the butterflies stirring hungrily for this year Valentine's.