Shizuoka matcha sweets factory "Nanaya" to release new matcha chocolates bursting with flavour!
"Nanaya" makes sweets using matcha sourced from Shizuoka. From roasting the cacao beans until the final stage ー Naname sees that every step is completed in a homemade fashion. This "bean to bar" chocolate production kicked off in 2016. As we have now hit 2017, three new varieties of chocolate ー the "matcha truffle", "chocolat au japon" and "TEA CHOCOLATE MATCHA 7" will be released on 4th February. The best matcha chocolate truffle in the world, "Ao-truffle" will be released on 10th February.
Nanaya's matcha chocolate is made by melting and mixing the finest quality of Belgian white chocolate with matcha for a fantastic, full flavour. These new chocolates release a beautiful aroma of true matcha chocolate that cannot be obtained anywhere else. No artificial flavourings or preservatives are used to make this chocolate. The maximum flavour from the raw cacao is harnessed, creating a truly splendid chocolate.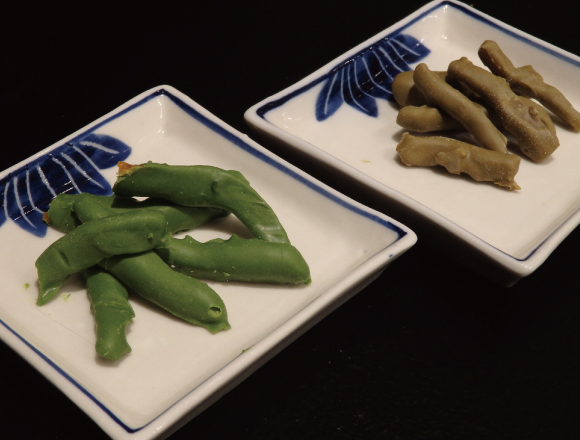 Experience the true essence of matcha through these new chocolates. Try them for yourself!
■Information
Nanaya (ななや)
−−−
■ Related article: Indulge in cherry blossoms and matcha over at the "Nescafé Dolce Gusto Uji Matcha Retreat" coffee pod
■ Related article: Kit Kat Chocolatory to celebrate opening of Ginza store with sushi Kit Kats!
RELATED ENTRIES
Sanrio Puroland Announces Christmas 2020 Event PURO RAINBOW CHRISTMAS

Sanrio Puroland has announced that this year's PURO RAINBOW CHRISTMAS event will run from November 13 to December 25. The theme for 2020 is "Rainbows," and this time around, the event can be enjoyed both at the park and online.

Colourful and Kawaii Christmas Food

Sanrio Puroland will once again serve up a special Christmas menu of ten items, with iconic characters like Hello Kitty, My Melody and the Little Twin Stars wearing colourful Santa Claus hats.


Food includes dishes like "Hello Kitty's Christmas Gift Curry" with Hello Kitty holding a Christmas present, the snow white "Rainbow Christmas☆Snow Omelette Pasta," and more. There are also desserts such as "My Melody's Pink Yule Log Cake" and "Pochacco's Pistachio & Strawberry Tree Parfait." The multi-coloured menu line-up takes up Christmas classics like chicken and snow.

Cute Rainbow Coloured Merchandise

Mascots | ¥1,650 Each (Tax Included)

A collection of different mascots from Sanrio Puroland each wearing colourful Santa outfits.

Confectionery Set | ¥1,080 (Tax Included)

An assortment of confections served in an eye-catching box featuring familiar Sanrio faces.


Christmas Illuminations – "Rainbow Santa's Christmas Eve"

An exciting Christmas illumination show will take place at Puroland Village to the sound of Christmas-y Puroland music. Lights will brighten up the place with in a kaleidoscope of colours.

PURO RAINBOW CHRISTMAS Special Greeting

Visitors will be able to meet and take photos with the Sanrio characters in person for one whole minute. The cast will wear Christmas red outfits from November 13 to December 1 and change into white costumes from December 5. This will take place on the first floor Event Corner and will see Hello Kitty, My Melody, Pompompurin, Cinnamoroll, Wish me mell, and Dear Daniel make an appearance.  It will be carried out using social distancing measures.

Enjoy Puroland Christmas at Home

This year, Sanrio Puroland will stream past popular Christmas events held at the park on the Japanese video streaming site SHOWROOM on December 12. Shows include "HAPPY GIFT CHRISTMAS" from 2016, "The Puro Christmas" from 2019, and more.

Infinite Online Greetings

Sanrio Puroland launched online content back in June in response to COVID-19 which included getting to meet the characters online. They will host a special Christmas version on December 22 also on SHOWROOM where the characters will wear their white costumes from the Christmas show "The Puro Christmas." Participating characters include Hello Kitty, My Melody, Pompompurin, Cinnamoroll, Little Twin Stars (Kiki & Lala), Wish me mell, and Dear Daniel.

©'13,'20 SANRIO S/D・G ©'15,'20 SANRIO S/T・F ©'15,'20 SANRIO S/F・G ©'17,'20 SANRIO MP,TX©'75,'76,'79,'84,'85,'86,'88,'89,'90,'92,'93,'96,'98,'99,'01,'04,'05,'10,'12,'20 SANRIO

A BATHING APE® x COMME des GARCONS to Release Autumn/Winter Collection On October 24

​​COMME des GARCONS is a worldwide-famous Japanese brand that was launched in 1969 by fashion designer Rei Kawakubo. A BATHING APE® is also an internationally-popular Japanese fashion brand which first began in Tokyo in 1993 and has since led street fashion culture.

Both companies are coming together once again to release their third collaborative collection together on October 24, 2020.

The main colours of their collaborations to date have focused on black and white, but for this autumn/winter collection, they are adding to the monotone line-up with a two-coloured zipper hoodie and a red variant.

The collection will be released exclusively at BAPE STORE® COMME des GARCONS OSAKA on October 24, 2020.

Information

A BATHING APE® x COMME des GARCONS
Release Date: October 24, 2020
Enquiries: BAPE STORE® COMME des GARCONS OSAKA
TEL: 06-4963-6150

Product Page: https://bape.com/pages/cdg20aw

Demon Slayer: Kimetsu no Yaiba Collaborates With Kyoto's Famous Kabuki Theatre Minami-za

Minami-za, one of the most respected kabuki theatres in Japan, has announced a special exhibition in collaboration with the TV anime series Demon Slayer: Kimetsu no Yaiba which will run from November 6 to 23.

Minami-za is the oldest theatre in Japan and is registered as a Tangible Cultural Property of Japan. The Demon Slayer exhibition will feature displays, decorations, and a range of exclusive merchandise.

Lobby Exhibit

Fans will find a range of character boards displayed at the entrance lobby to Minami-za with the characters donning traditional kabuki attire.

Special Stage Photo Spots

Cut-outs of the main cast of characters will be displayed on stage. People will be able to stand up on stage and take photos with the characters in this unique collaboration with kabuki.

Signboard

An original signboard will be displayed at the entrance to Minami-za.

Free Bonus Items

All customers who visit the theatre will receive one of these 18 possible coasters for free.

Merchandise

Those who hold a ticket to the event will be able to purchase a selection of original merchandise at the theatre. The items will also be sold online at Shochiku Kabuki-ya Honpo.

Teabags (4 Flavours) | ¥800 (Tax Included)

Special teabags will also be sold at the Tokyo and Kobikicho Square branches of Shochiku Kabuki-ya Honpo as well as their online website between October 21 and 23.

Tickets to the event are available via Lawson in Japan.

©Koyoharu Gotouge/Shueisha・Aniplex・ufotable

Information

Demon Slayer: Kimetsu no Yaiba x Minami-za
Location: Minami-za (Hashihigashizumecho, Higashiyama-ku, Kyoto)
Running: November 6, 2020 – November 23, 2020 (Closed November 9 and 16)
[Tue-Thur] 15:00-20:00 (Last Entries 19:00)

[Fri-Sun] 10:00-20:00 (Last Entries 19:00)
Tickets: https://l-tike.com/kabukimetsu_minamiza/
Official Website: https://www.kabukimetsu.com/

TV Anime Burning Kabaddi Reveals More Main Voice Cast

More of the main cast members for the upcoming TV anime series Burning Kabaddi have been revealed along with comments for each voice actor.

Soma Azemichi (Voiced by: Gen Sato)

Soma Azemichi is a first-year student at Nōkin High School, the same school as the series protagonist Tatsuya Hoigoshi. His parents home and pottery workshop sits high up in the mountains, so every day of Soma's life is like muscle training. As a result, he is very strong despite his small body. He's played kabaddi for one month.

Gen Sato | Comment

"I'm Gen Sato, and I'll be voicing Azemichi! I begin the voice work after actually having a go at kabaddi, and all I can say is that it was a lot of fun. Do you know about this hot, burning sport too? Or maybe you've never heard of it? If that's the case, then I urge you to check out Burning Kabaddi! You're sure to be burning to try it after you see it."

Kei Iura (Voiced by: Makoto Furukawa)

Vice captain of Nōkin High School's kabaddi team. He is very intelligent with incredible analytic ability. At first glance, he seems like a calm and gentle person, but he's actually a cunning fellow. When the protagonist Tatsuya Hoigoshi joins the kabaddi club, Kei sees him as a threat. He has 6 years experience in kabaddi.

Makoto Furukawa | Comment

"I'm Makoto Furukawa, and I'm working on Kei Ura's voice. Kei has excellent analytical ability. He has an aloof air to him, especially towards Hoigoshi and other club members who enter the world of kabaddi, but on the inside he's pretty passionate. It's my job to express that!"

The Burning Kabaddi anime series will premiere in April 2021. The story is centred Tatsuya Yoigoshi, a former soccer ace who cut his ties with sports after entering high school. He gets invited to the school's kabaddi club and finds himself getting wrapped up in the contact sport.

©2020 Hajime Musashino・Shogakukan / Burning Kabaddi Production Committee

Hoshino Resorts KAI Poroto to Open in Hokkaido in January 2022

Hoshino Resorts, Japan's premiere hotel management company boasting over 40 properties both inside and outside Japan is set to its new onsen ryokan (hot spring Japanese style inn) Hoshino Resorts KAI Poroto in January 2022 following the completion of a partnership agreement with Shiraoi, Hokkaido on June 28, 2018.

KAI Poroto comes as the 19th property for the KAI brand, following KAI Nagato (opened in March 2020), KAI Kirishima (scheduled to open in January 2021), and KAI Beppu (scheduled to open in summer 2021). It will also be the third KAI property to open in Hokkaido, following RISONARE Tomamu in Shimukappu and OMO7 Asahikawa in Asahikawa. The new property will be designed by Japanese architect Hiroshi Nakamura.

(Hiroshi Nakamura & NAP)

Guests will be able to enjoy Shiraoi onsen water at KAI Poroto. The water comes from a "moor spring" which contains organic minerals derived from plants. This type of water is rare throughout the world. KAI Poroto faces the shores of Lake Poroto and is surrounded by the natural forests of Hokkaido where many species of wild bird live. All guest rooms boast a lake view where changes in scenery throughout the seasons can be enjoyed.

KAI Poroto will is cooperating with both the town of Shiraoi as well as "Upopoy", the National Ainu Museum and Park, which has the aim of becoming a "symbolic space for ethnic harmony". The facility will respect Ainu culture and provide a place of accommodation for guests to experience it.

Upopoy: A symbolic space for ethnic harmony

A symbolic space for ethnic harmony by the name of "Upopoy opened in Shiraoi, Hokkaido on July 12, 2020. This national centre serves as a base for the reconstruction and development of Ainu culture, which is in danger of survival. The main facilities are the National Ainu Museum and the National Ainu Park. The National Ainu Museum is the first national museum in Japan centred around indigenous Ainu people and the history and culture of the people as expressed through their perspective. This is expressed in a variety of different exhibits. The National Ainu Park is a field museum, where Ainu culture can be taught through a number of programs. Experiences on-site include the Ainu traditional dance, which is registered as UNESCO intangible cultural heritage, wood carving, and embroidery workshops, as well as food and traditional performing arts experiences. "Upopoy" means "to sing (in large numbers)" in the language of Ainu.

Designed by Hiroshi Nakamura

Japanese architect Hiroshi Nakamura is behind the design of KAI Poroto. "Poroto" means a large lake in the Ainu language and KAI Poroto boldly draws this lake into its premise. In the lobby of the birch forest, guests will be greeted by a magnificent view of the lake, which leads to Mount Tarumae. Guests can also relax in the lounge while watching the flames in the fireplace, something which was at the centre of Ainu people's lives. On the surface of the lake, a bathhouse called Kashi, which is built using traditional Ainu construction methods, stands like a village. The open-air bath makes one feel as if you are immersed in the lake. The design has been created in a way that is modern, inspired by the lifestyles, nature, and family of Ainu people.

Cute Pika-Pika Pikachu Designs Featured On Lemon Flavoured Puré Gummies

Japanese confectionery company KANRO has once again joined pika-paws with Pikachu for the third time to feature the beloved Pokémon on the lemon flavour their Puré gummies. They will be released in Japan from October 27, 2020 in limited quantities.

Pikachu Puré Gummies – Third Collaboration

Following the success of the first two collaborations in June and July this year, with buyers expressing how cute they are in Japanese social media, KANRO is at it again, this time with their lemon flavour. There will be eight different Pikachu packet designs for this third collaboration, each with an attractive neon sign logo. The combination of gelatine and pectin is what gives Puré gummies their chewy texture.

Puré Gummy Lemon Pokémon (56g) | ¥130 (Tax Included)

In a packet of these gummies you'll find two shapes: the classic Puré heart shape and Pikachu shape, so you'll always be in for a surprise each time you reach into the bag.

Puré Gummy Pikachu Video

KANRO has released yet another promotional video for this third collaboration. The video for the first collaboration garnered 1 million views in just three days. Check out the adorable video below.

Pika Puré Merchandise Campaign

KANRO is also holding a campaign on their official Twitter page from October 28-30 where you can win a free Pika Puré eco bag.

Additionally, 210 random people who buy Puré gummy products in Japan from October 27 to December 20 will be chosen to win additional merchandise. 10 people will get a big cushion and 200 a big blanket. To enter, purchase select Puré products in Japan and send your receipt to the company via the LINE messaging app.

©2020 Pokémon ©1995-2020 Nintendo/Creatures Inc./GAME FREAK inc.
Pokémon, ポケットモンスター, and ポケモン are registered trademarks of Nintendo, Creatures Inc., and GAME FREAK inc..

SCANDAL Releases 'Message' Clothing Collection in Collaboration With Ground Y

Ground Y is a clothing brand conceived by Yohji Yamamoto that claims a new fashion concept: genderless and ageless, which is expressed through synchronising various aspects. Japanese all-female rock band SCANDAL, who will celebrate their 15th anniversary next year, are releasing a clothing collection in collaboration with the brand on October 22, 2020.

SCANDAL previously joined hands with Ground Y when the clothing brand reappeared in 2017 after a break. The band featured on the company's key visual upon its re-debut.

Now, the two are coming together once more to combine each member of SCANDAL's thoughts and messages they wish to convey with Ground Y's unique designs in an original collection.

HARUNA: A bright future for people and animals

"I've always loved animals, especially dogs. Since taking my beloved pup into my house last year, I've become interested in becoming active in animal welfare. I want to slowly find what I can do to help out. I pray for a bright future for both humans and animals."

MAMI: ENRICH YOUR HEART

"Washing your hands cleanses both your heart and body. As does the sadness and negativity – it washes away with the bubbles. My message [for the collaboration] is about looking to turn things into positives, no matter the time."

RINA: Your life is yours

"My design symbolises the feminine identity, something which we carry and treasure in our work. My message is for people to be able to live how they like, always."

TOMOMI: Without haste, but without rest

"My design is inspired by slipware which is a type of pottery I love. It features words that capture the mind, something which I am looking after these days in life. I hope we can overcome this time positively, and stay positive even if a little bit, while making sure to listen to our hearts."

Each of the members' items will be released weekly between October 22 and November 12.

Pokémon Cafe and Pikachu Sweets by Pokémon Cafe Reveal New Desserts Including Polteageist Tea Set

Pokémon Cafe and Pikachu Sweets by Pokémon Cafe are releasing a new teatime menu at their respective branches on October 24, 2020.

Pokémon Cafe

Polteageist & Sinistea Tea Party! Fruit Tea Set ~Apple Flavoured~ | ¥1,188 (Tax Included)


Polteageist & Sinistea Tea Party! Fruit Tea Set ~Strawberry Flavoured~ | ¥1,188 (Tax Included)

Pokémon Cafe is serving up two different fruit tea sets based on the Ghost-type Pokémon Polteageist and Sinistea. Customers are free to pour in their desired amount of fruit syrup which changes the colour of the tea. The sets come with a cute cookie too.

Pikachu Sweets by Pokémon Cafe

Left: Polteageist's Tea Party! Fruit Tea ~Mixed Berry Flavour~ / Right: Polteageist's Tea Party! Fruit Tea ~Peach Orange Flavour~ | ¥700 Each (Before Tax)

Pikachu Sweets by Pokémon Cafe is also going to serve up some Polteageist themed fruit teas as well as a selection of desserts like macarons and financier almond cakes which have Pokémon tail and ear designs.

After ordering one of the Polteageist fruit teas, customers can place their cups under the Polteageist tea pot as pictured above and activate the pot to dispense their drink, so it's like Polteageist  really pouring tea for you.

Left: Swirlix Strawberry Macaron | Middle: Pikachu Vanilla Macaron | Right: Galarian Ponyta Pistachio Macaron – ¥500 Each (Before Tax)

Treat yourself to one of the super cute Swirlix, Pikachu, or Ponyta macarons each with designs that tell you instantly which Pokémon they're inspired by.


Polteageist Fruit Tea and & Pikachu Macaron Set

Customers can order a tea and macaron combination set too.

Pikachu Parfaits

Pikachu Glass Parfait Set | ¥1,500 (Before Tax)

An adorable set of Pikachu parfaits, one being caramel banana flavoured and the other chocolate.

Pikachu Tea Party Assortment – Pika Pika Pikavee Set | ¥2,800 (Before Tax)

Another set to share between friends and family, this time with two Pikachu glass desserts as well as Pikachu and Eevee cupcakes.

Pikachu Tea Party Assortment – Ghost Type Set | ¥2,800 (Before Tax)

This set comes with the Pikachu glass desserts as well as Ghost-type Gengar and Litwick mousse cakes.

The Polteageist teapot and Sinistea teacup used at the Pokémon Cafe and Pikachu Sweets by Pokémon Cafe will also be released at Pokémon Center Online in Japan on December 5, 2020.

© 2020 Pokémon.©1995-2020 Nintendo/Creatures Inc./GAME FREAK inc.
Pokémon, ポケットモンスター, and ポケモン are registered trademarks of Nintendo, Creatures Inc., and GAME FREAK inc..

Information

Pokémon Cafe (Nihombashi, Tokyo)
Address: Nihombashi Takashimaya SC East Bldg. 5F, 2-1-2 Nihombashi, Chuo Ward, Tokyo
Business Hours: 10:30-22:00
No Fixed Holidays (Except when Nihombashi Takashimaya SC is closed)
Reservations: https://www.pokemoncenter-online.com/cafe/reservation.html

Pokémon Cafe (Shinsaibashi, Osaka)
Address: Daimaru Shinsaibashi Honkan 9F, 1-7-1 Shinsaibashisuji, Chuo Ward, Osaka, Osaka Prefecture
Business Hours: 10:00-21:30
No Fixed Holidays (Except when Daimaru Shinsaibashi is closed)
Reservations: https://www.pokemoncenter-online.com/cafe/reservation.html

Pikachu Sweets by Pokémon Café 

Address: Sunshine City Alpa Floor 2F, 3-1-2 Higashiikebukuro, Toshima City, Tokyo

Opening Hours: 10:00-20:00
Official Website: https://www.pokemoncenter-online.com/cafe/pikachu_sweets/

*Opening hours subject to change, please check in advance before travelling.

*Food served and duration subject to change without notice.

*Photos are for illustrative purposes only.

*Seat reservations are taken online only – phone reservations not available.

World's First Mario Cafe and Shop Opens at Universal Studios Japan in Osaka

Universal Studios Japan (USJ) announced earlier this month that its new Nintendo-themed area SUPER NINTENDO WORLD will open in spring 2021. While the grand opening of SUPER NINTENDO is still a while away yet, USJ has everyone covered, as the new and first of its kind Mario Cafe & Store officially opened inside the park's Hollywood Area on October 16, 2020.

The cafe and shop is dream come true for fans of the Mario bros as they enter into a world inspired by the video game series with Mario and Luigi and level decorations in every corner. It can be easily spotted thanks to the red and green "M" and "L" letters on the windows symbolising Mario and Luigi as well as the Mario and Luigi hats. Gamers can enjoy this exciting space while they wait for the official opening of SUPER NINTENDO WORLD.

Themed food and merchandise line-up

Decorations are instantly recognisable with Question Blocks and Pipes on the walls, Mario Mushroom-coloured tables, and more.

The food line-up includes dishes, drinks, and desserts like pancake sandwiches made to look like Mario and Luigi's hats, fruit dream soda inspired by the brothers' moustaches, and a selection of original merchandise which reads "WHOSE CAP?" on it like T-shirts and more. You can see more of what's on the menu here.

© Nintendo.

Japan's Elephant Zoo Ichihara Elephant Kingdom to Receive Revamp For Spring 2021

Ichihara Elephant Kingdom is the home to the largest number of elephants in Japan. The zoo has announced major renovations set for completion next spring which will allow for the elephants to live an even more enjoyable life.

Ichihara Elephant Kingdom is located in central Chiba and is home to 12 elephants. It's also home to around 80 other species of animals like red pandas, beavers, capybaras, hippos, and more. The zoo also has a variety of attractions, like the Elephant Ride which sits behinds where the elephants live, and the Elephant Lift where you can ride up and down an elephant trunk. The Head of  Ichihara Elephant Kingdom, Sayuri Sakamoto, served as the writer for the 2005 Japanese drama film Shining Boy & Little Randy. One of the zoo's Asian elephants, Randy, was also a model for the film.

The renovations will introduce a new home for the elephants as the current one is seeing wear over time, as well as a new large-scale pond for the elephants to play in, a playground, and more. The zoo has always ensured a safe distance between visitors and the elephants so people can enjoy watching them will making sure the elephants stay happy. It is now creating new spaces to continue that service.

The water pond the zoo is building for the elephants is called Elephant Splash, and they are launching a crowdfunder on October 27, 2020 to ask for people's help with funding the project. It will allow a new space for the elephants to play which visitors are sure to enjoy too, like seeing the 1- and 2-year-old Ramu and Momoka splashing around.

The crowdfunding project has nine different tiers including tickets to an evening cherry blossom party at the park, a chance to ride the elephants, and more. The campaign will end on January 15, 2021, the same date as Ramu's birthday.

Information

Ichihara Elephant Kingdom

Opening Hours: 10:00-16:00 (Last Entries 15:00)

Access

Car:
About 5 minutes from Ichihara-Tsurumai interchange of Ken-O Expressway

Highway-Bus:
About 65 minutes from Tokyo station,
About 80 minutes from Yokohama station,
About 35 minutes from Haneda airport
to Ichihara-Tsurumai Bus Terminal.
About 5 minutes by our free shuttle bus from Ichihara-Tsurumai Bus Terminal.

Train:
About 10 minutes from Takataki station of Kominato railway by the zoo's free shuttle bus.

Official Website: http://www.zounokuni.com/english/

Lipton Tea Announces Hello Kitty Collaboration With Cute Yellow Label Designs

Tea brand Lipton has announced its first-ever collaboration with popular Sanrio character Hello Kitty to release limited-edition designs of its Yellow Label tea in Japan. The tea will hit shelves in Japan this December.

Teabag design

Join Hello Kitty for a cup of tea with her first ever tie-up with Lipton, a company that has been sipped for 130 years. Hello Kitty is donning a cute teacup hat, a design made exclusively for this collaboration, which features on the packaging as well as the teabag packs.

The packs will be sold at major supermarkets and elsewhere in Japan this winter from December. And to celebrate Tea Day in Japan, as well as Hello Kitty's Birthday—both of which fall on November 1—select items in this new tea range will be released early at the end of this month at Sanrio.

Lipton Japan will also post the first chapter of an original 4-panel Hello Kitty comic on its Twitter page in early November. The cute comic will be centred on Hello Kitty enjoying her cup of tea.

Information

Lipton Yellow Label Hello Kitty Design (25 Bags)

Price: ¥300

Lipton Yellow Label Hello Kitty Design (50 Bags)

Price: ¥500

Lipton Japan Official Website: http://www.lipton.jp/

Tokyo's New Shisha Bar 'AROMA SMOKE SHIROKANE' Opens This November

AROMA SMOKE SHIROKANE is a new shisha bar set to open in Shirokane, Tokyo, this November, offering private booths to all customers.

Shisha is a flavoured tobacco made from a syrupy tobacco mix. The shisha experience is popular worldwide with groups coming together to enjoy the experience at shisha bars or hookah lounges and in recent years have grown in popularity in Japan, particularly amongst women and people who weren't regular cigarette or roll-up smokers before.

Private rooms for a shisha get-together with friends

Shisha bars continue to open up in Tokyo, but AROMA SMOKE SHIROKANE boasts as the only place in Japan's capital with completely private rooms for all customers. This is particularly favourable during the pandemic in order to greatly reduce the risk of coming into contact with other customers.

Enjoy shisha while having a meeting

Shisha is enjoyed by a lot of business-people in Japan, and recently there has been an increasing demand for more business meetings to be had over shisha. The private booth setting makes AROMA SMOKE SHIROKANE perfect for realising this request, so customers can discuss all their ideas over a smoke.

Try two different flavours on the same visit

Customers are able to change up their shisha flavour once during their two hour session, allowing them to try two completely different flavours on the same visit completely free of charge. Now that's service.

With the professional interior design of AROMA SMOKE SHIROKANE one can't help but feel like it's otherworldly. Customers can spend their time in class and comfort and smoke without having to worry about others. If you visit Tokyo, and love shisha, then this is a place you can't pass up.

Information

AROMA SMOKE SHIROKANE
Address: 6-21-12 Shirokane, Minato-ku, Tokyo
No Fixed Holidays
Opening Hours: 11:00-18:30
Price: From ¥4,000 (Before Tax)
Official Website: https://aroma-smoke-shirokane.business.site