TOTOCO Odawara: Kanagawa's Sea Food Theme Park Opens November 22
Gyoko no Eki TOTOCO Odawara is a new "fish theme park" set to have its grand opening on November 22, 2019 at 10:00am (JST).
The facility was established to promote further exchanges with Odawara Fishing Port which is said to be the biggest fish market in western Kanagawa Prefecture. It is the first "Fishing Port" (Gyoko no Eki*) and will sell seafood sourced locally, fishery products and more, as well as hold events to help promote Odawara.
The building has three flours. The first floor is like a marketplace where fish, fishery products, produce, and more will be sold. The second and third floors house seafood restaurants and offer a panoramic view of Sagami Bay. This view is best observed from the terrace while you enjoy your delicious meal.
*Fishing Port (in Japanese: Gyoko no Eki, or 漁港の駅) is a registered trademark of Odawara City to highlight facilities that promote exchange with Odawara Fishing Port. (Registered Trademark No.: 6163121).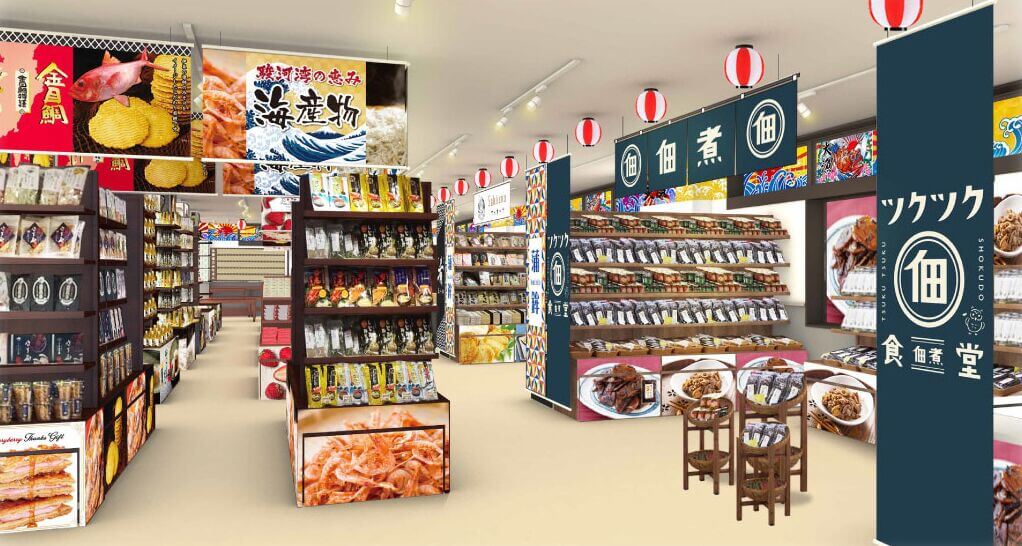 Odawara Fishing Port sells fresh fish sourced from the waters of Sagami Bay, which houses a variety of fish species, as well as fish and processed marine products from around Japan. TOTOCO Odawara will sell these very same products, all delivered directly from the port, to help spread the fishing culture and economy of Odawara.
Let's take a look at some of the delicious gourmet seafood meals you can expect to tuck into at TOTOCO Odawara!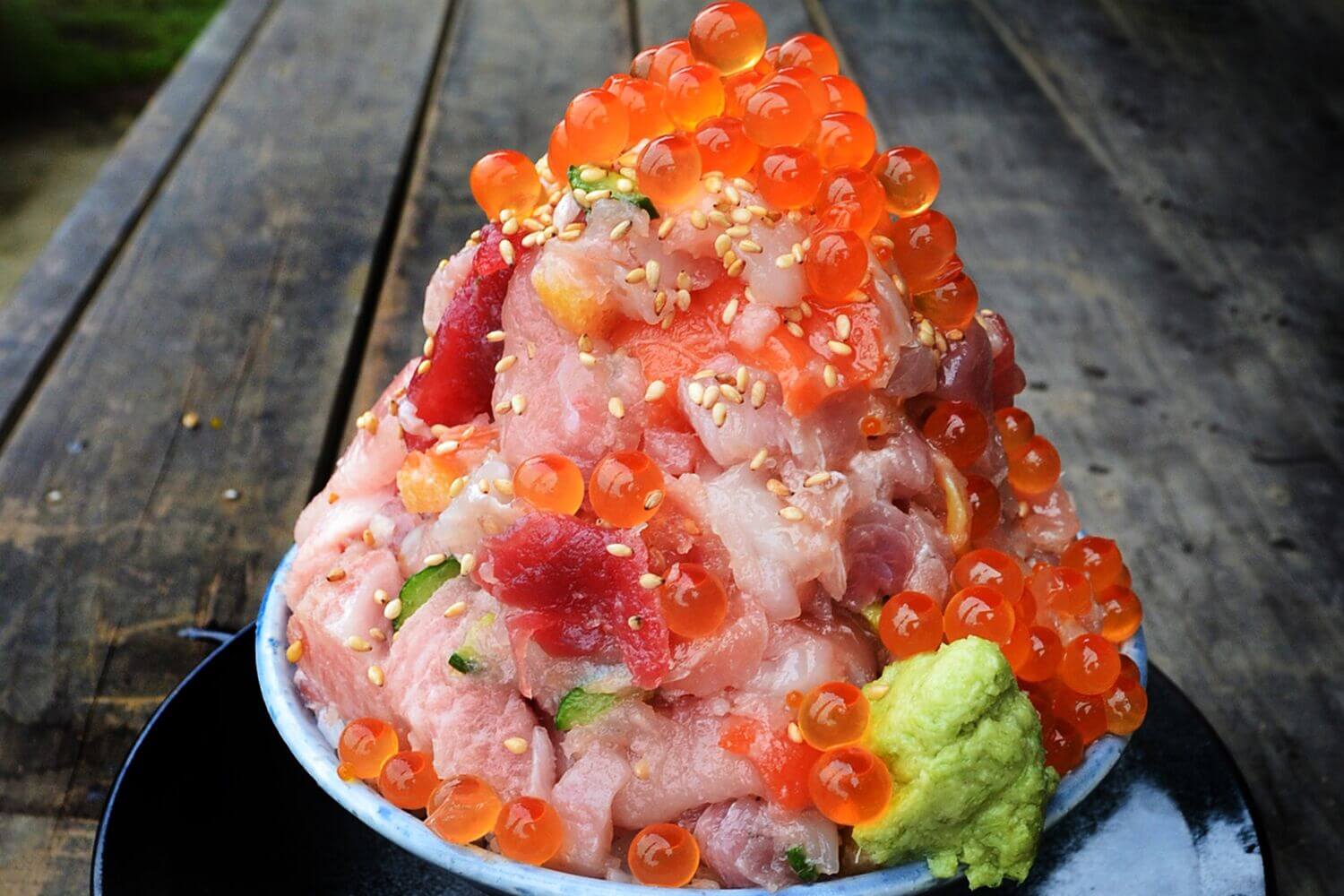 Totomaru Summit Bowl – ¥2,480
A hearty and towering dish so high that it looks like it might topple over.
Greedy Sea Urchin Eggs & Salmon Roe Bowl – ¥4,280
A dream combination you've been waiting for your entire life. Savour the richness and sweetness of both of these mouth-watering delights.
Oyster Egg Donburi Set – ¥1,680
You can't even see the rice any more for the pile of tasty oyster eggs, with their exquisitely soft texture.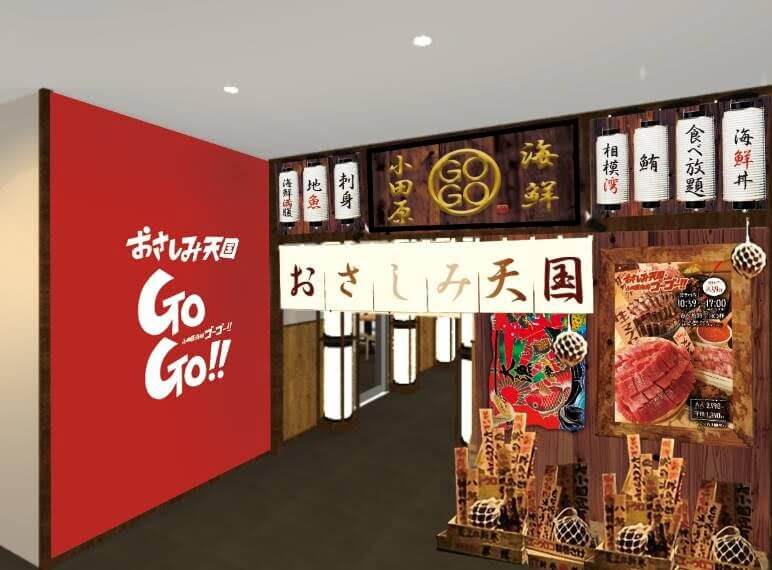 Osashimi Tengoku – Odawara Kaisen GO GO
The third floor of the building is home to Osashimi Tengoku – Odawara Kaisen GO GO, a restaurant that calls itself "Sashimi Heaven" and offers a 59 minute all-you-can-eat buffet of fish, sides, desserts and more.
59 Minute All-You-Can-Eat
Adults – ¥2,590 / Children (Elementary School & Younger) – ¥1,390 / 3-Years & Younger – Free (All Prices Before Tax)
Gyoko no Eki TOTOCO Odawara is easily reachable from Tokyo and right next to the local station. If you've come to Japan looking to try the country's famous seafood, then make sure to put this place on your list.
Information
Gyoko no Eki TOTOCO Odawara
Address: 1-28 Hayakawa, Odawara, Kanagawa Prefecture (West side of of Odawara Fishing Port)
Opening Hours: 9:00-17:00 (Subject to change depending on the season)
Access: By train – 10 minutes on foot from JR Hayakawa Station / By car – 2 minutes from Seishō Bypass Hayakawa Interchange or 4 minutes from Odawara-Atsugi Road Odawara-Nishi Interchange
Official Website: https://www.totoco-odawara.com
RECOMMENDED ENTRIES
This Week's Breakfast: Warming Up With Asa Kayu at Asora no Chaya in Ise

One thing I do at least once a week without fail is treat myself out to some delicious food or dessert. I find it very important time well spent in order to live a happy, fulfilling life.

During a business trip to Ise, I decided to treat myself to some breakfast in the coastal city. I got up nice and early and went to pray at the Toyo' ukedaijingu of Ise Grand Shrine before making my way to Asora no Chaya to order some of their Asa Kayu ("Morning Porridge") to warm myself up since I was feeling a little cold.

Asora no Chaya is about an 8-minute walk from Ise Stationーwhich by the way is the closest station to the Toyo' ukedaijingu of Ise Grand Shrineーand just a minute's stroll from the inner shrine itself.

At the entrance they had "Asa Kayu" written on the door as pictured above. The cafe itself is located on the second floor.

The cafe has wood-based decor, and the windows are nice and big, letting lots of natural light seep in. From the window I could see Ise Grand Shrine which I prayed at just moments ago. It's a place where you can wind down and relax.

I ordered the "Mike no Asa Kayu Awabi" (in Japanese: 御饌の朝かゆ 鮑). I found out that the word mike is used to refer to precious, sacred food. Apparently, your good fortune will increase if you eat it after praying to the god of food at the Toyo' ukedaijingu.

Mike no Asa Kayu Awabi (御饌の朝かゆ 鮑) – ¥2,040 (Tax Included)

My meal arrived in a wooden box. When I opened it, I was happy to see that I not only received the porridge, but other small plates and bowls of food too.

I was charmed by how shiny the rice was in the sunlight. To eat the thin rice porridge, you add the awabi, pickled vegetables, kombu, bonito broth and other ingredients.

The rice porridge is easy to digest and warms you up to the coreーthe perfect way to relax on a cold day. The combination of the tender bonito and the smooth porridge is a match made in heaven. It's a very simple dish with no unnecessary additions. It has a gentle flavour that makes your mind and body just wind down and relax.

As well as the rice porridge, the meal comes with other healthy foods too like dried fish, soft boiled egg and vinegared ingredients. For dessert, you get zenzai which is a type of sweet soup. This is a very special breakfast you can only experience here at this cafe, coupled with a view of Ise Grand Shrine, all in the early morning.

Whenever I wake up early, it feels like I'll have a very different start to the day than usual, but spending my morning in Ise, praying at Ise Grand Shrine and eating kayu porridge at Asora no Chaya had me holding my head high.

This morning, it was the start of another new day, and I began it feeling dignified.

Today's Souvenir

Awabi Gohan no Moto – ¥1,300 (Tax Included)

I wanted to share the happiness between friends and family on this fine day where I got to eat a delicious breakfast. This Awabi Gohan no Moto is an easy way to enjoy awabi. You took it together with rice to make awabi rice. Being able to purchase awabi, which is a high quality ingredient, at this price is an absolute steal.

Writer: Sayuri Mizuno (MOSHI MOSHI NIPPON)


Translator: Joshua Kitosi-Isanga

Information

Asora no Chaya

Address: Ise Sekiya Honten Floor 2F, 13-7 Honmachi, Ise, Mie Prefecture

Closed: Wednesdays

Opening Hours: Asa Kayu 7:30-10:00 / Lunch 11:30-14:30 / Cafe 7:30-17:00 (Until 16:00 on weekdays)

Official Website: https://www.asoranochaya.com

Make Your Own Matcha Drink and Try Black Bean Butter Toast in Nakameguro, Tokyo

If you're looking for a cool café experience in Tokyo then head to Nakameguro for a goldmine of craft beer taprooms, coffee roasters and restaurants. One café to consider adding to your list of must-go places is music café and wine bar epulor. The café has added a number of exquisite and unique items to its menu this November including a matcha drink, black bean paste and butter toast and craft cola.

Take a seat and admire the walls of old records which create a soothing artistic atmosphere while sipping your cup of the café's specialty hand drip coffee or sommelier-selected wine as the music of old records fills the air. When you have finished, feel free to take a gander at the gallery corner to appreciate the cafés art. 

The November menu introduces a high-quality matcha by UK brand Matchæologist®, providing the opportunity to make and enjoy your own matcha drink. From the high-quality rich flavour to the contemporary design of the tea vessel, Matchæologist® lives up to its reputation as artisanal matcha green tea specialists.

Fans of epulor's popular Red Bean Paste and Butter Toast are in for a treat as the café is now serving up the Black Bean Paste and Butter Toast. The bread is a charcoal bread from the bakery Lotus baguette, which uses only natural yeast, Japan-produced wheat and no additives. The binchotan charcoal used to prepare the bread is a traditional charcoal which has been used since the Edo period. The appearance is just as striking as its taste. 

The café has also started to sell Japan's craft cola TOMO COLA. The cola is spiced with flavours from around the world including kola nut, nutmeg, Japanese herbs and Japanese citrus fruits. This natural cola contains no additives so you can indulge in the taste of nature and enjoy a unique flavourful experience of Japan. 

epulor is the perfect spot to enjoy a luxurious moment of relaxation during your busy day while immersing yourself in an artistic and cultural experience. 

Information

epulor

Address: ESCENARIO AOBADAI Floor 1, 1-19-10,Aobadai, Meguro, Tokyo

Opening Hours: 11:00 – 24:00

Closed: Mondays

Website: http://www.epulor.jp/

Instagram-Worthy New York Christmas Lunch and Dessert Buffet Jollies Up Omotesando, Tokyo

BAR & GRILL DUMBO is a restaurant heavily inspired by the Brooklyn neighbourhood town of Dumbo in New York. They will be adding a sprinkle of New York Christmas magic to the menu from November 7 – December 25, 2019 with the Christmas New York lunch and dessert buffet.

The buffet table will be filled with irresistibly cute and delicious desserts. From the Statue of Liberty to Brooklyn Bridge, the background is lined with skyscrapers and New York's most iconic landmarks. 

The S'more Bar is the perfect opportunity to toast your own marshmallows. Sandwich your molten marshmallow between two crackers to enhance your New York Christmas experience. 

Put your icing skills to the test at the Iced Biscuits Corner where you can enjoy decorating your own biscuits to your liking.

There is more than just desserts, however. You must try the Christmas gratin, which is garnished with a jolly green Christmas tree made from romanesco broccoli. There is also a DUMBO Caesar Salad in the shape of a wreath, a delicious Roast Turkey Breast dish and much more. 

Make sure to pop down to Omotesando for a jolly New York-style Christmas celebration.

Information

Christmas in New York Lunch and Dessert Buffet

Running: November 7 – December 25, 2019

Location: BAR & GRILL DUMBO, The Strings Omotesando Floor 2

Address: The Strings Omotesando, 3 Chome-6-8 Kitaaoyama, Minato City, Tokyo

Running: 15:00 – 16:30 (90-minute time slot)

Buffet Photography Times: 14:45 – 15:00

Prices: Adults:¥4,500/ Children: ¥2,250 *Tax and Service Charge Included)

Reservations: www.strings-hotel.jp/omotesando/event/sweetsbuffet/
RELATED ENTRIES
Shaun the Sheep Themed Food Served Up in Japan to Celebrate 25th Anniversary

To celebrate 25 years since the screen debut of the beloved clay animated Shaun the Sheep, a new shop and cafe called "Shaun the Sheep Farm Cafe Stand" is opening up in Kanagawa serving up themed food, drink, and desserts.

Shaun the Sheep Farm Cafe Stand

Shaun the Sheep Farm Cafe Stand will open on October 15, 2020 in Kamiooka, Kanagawa, as a takeout cafe stand inspired by Shaun the Sheep. Customers can look forward to a selection of coffees and desserts based on the adorable sheep himself. And to celebrate the cafe's grand opening, a special free show will take place there from October 15-18, 2020.

Shaun Soft Cream | ¥500 (Before Tax)

Subtly sweet soft serve ice cream topped with a Shaun the Sheep cookie.

Shaun Cafe Latte | ¥700 (Before Tax)

A foamy latte with a cute Shaun marshmallow sat on top.

Shaun the Sheep Farm Cafe Stand

Location: mioka LIST (Floor 6F)

Access: Directly connected to Kamiōoka Station via the Tokyu Line and Yokohama City Blue Line
Opening Hours: 11:00-21:00 (Last Orders 20:45)

Shaun the Sheep Village Shop & Cafe

The Shaun the Sheep Village Shop & Cafe in Minami Machida Grandberry Park, which opened in November 2019, introduced a limited-time autumn menu last month which is still being served.

Shaun's Special Meatball Spaghetti | ¥1,580 (Before Tax)

A hot meatball spaghetti served with a Shaun the Sheep waffle which can be enjoyed together with fresh cream, maple syrup, and the meat sauce.

Baby Shaun's Forest Grape Trifle w/ Drink | ¥1,480 (Before Tax)

A towering trifle topped with seasonal grapes, vanilla ice cream, grape sherbet, custard, and grape jelly for a sweet and sour autumntime mix.

Fluffy Baby Shaun Custard or Caramel | ¥250 for one, ¥1,000 for five (Before Tax)

An adorable confection enjoyed by both child and grown-up customers. The cafe has now introduced a new caramel flavour.

Shaun the Sheep Village Shop & Cafe

Location: Grandberry Park Central Court Wonder Theatre (Floor 1F)

Opening Hours: 10:00-22:00 (Food Last Orders 21:00 / Drinks Last Orders 21:30)

Shaun the Sheep Farm Cafe: Halloween Menu

Shaun the Sheep Farm Cafe, a permanent cafe located inside Prime Tree Akaike Shopping Mall in Aichi, is serving up a special Halloween menu this year.

Shaun's Happy Halloween Plate 2020 | ¥1,380 (Before Tax)

A bright-red tomato sauce hamburger served with pumpkin cream soup and salad.

Shaun's Happy Halloween Dessert Assortment | ¥1,180 (Before Tax)

A sweet combo of pumpkin mont blanc and a pumpkin tart.

SHAUN THE SHEEP AND SHAUN'S IMAGE
ARE ™ AARDMAN ANIMATIONS LTD. 2020

Pokémon Illuminations to Shine at Lake Sagami in Kanagawa

Lake Sagami Pleasure Forest, an outdoor multi-resort in Sagamihara, Kanagawa, has announced that the Kanto region's biggest illumination event SAGAMIKO ILLUMILLION is set to return for 2020-2021. The event will see 6 million illuminations light up the area from November 14, 2020 to April 4, 2021.

About SAGAMIKO ILLUMILLION

SAGAMIKO ILLUMILLION is an annual winter event held at Lake Sagami Pleasure Forest. About an hour from the main city, the event takes place up a high slope with the 6 million lights becoming one with the surrounding natural environment. The event uses the latest in lighting technology and has gotten bigger and better every year. In 2018, it was chosen as one of Kanto's three main illumination events.

This year marks the 12th run of SAGAMIKO ILLUMILLION, and this time around it's collaborating with the Pokémon franchise with lots of colourful illuminations set to light up the area and plenty of Pokémon photo spots to take your picture with including Pikachu sleeping in the forest, Charmander taking a nap by an open-air, and more.

As well as the Pokémon illuminations, the 40,000㎡ illumination area will be split into 10 different kinds of illuminations, with each individual area having their own colourful lights. There will also be a 250 meter lift people can ride, amongst lots of other exciting things.

SAGAMIKO ILLUMILLION is being held with all the necessary precautions in place against COVID-19.

Information

SAGAMIKO ILLUMILLION
Address: 1634 Wakayanagi, Midori-ku, Sagamihara, Kanagawa
Running: November 14, 2020 – April 4, 2021

Illumination Times: 16:00-21:00 (Last Entries 20:30)

*Illumination times to begin from 17:00 starting in February

Official Website: https://www.sagamiko-resort.jp/illumillion/

Japan's New High Speed Bus Travels From Kyoto to Mount Koya

Keihan Bus and Nankai Rinkan Bus are bringing back their high-speed bus service this year which will run from September 18 to November 30. The service will incorporate a mandatory booking system, making it even more convenient than last year.

Mount Kōya is the name of the temple settlement found in Wakayama which first settled in 819. It is the centre for the Kōyasan Shingon sect of Japanese Buddhism and is designated as a World Heritage Site, one of many found in Kyoto alongside Kinkaku-ji, Kiyomizu-dera, and Shimogamo Shrine.

The new Kyoto Koya-san buses offer a smooth, direct ride to the World Heritage Site, arriving there from Kyoto in just 2 hours and 40 minutes.

Information

Kyoto Koya-san Bus (Japanese Name: 京都高野山線)
Running: September 18, 2020 – November 30, 2020

Keihan Bus Official Website: https://www.keihanbus.jp/

Monet & Matisse Exhibition at Hakone's Pola Museum of Art Expanded

Pola Museum of Art in Hakone, Kanagawa is currently holding an exhibition centred on Monet and Matisse titled Monet and Matisse: Visions of the Ideal. Eight more Monet works and six more Matisse pieces were added to the exhibition on Saturday.

The exhibition opened on June 1, but due to the situation surrounding the COVID-19 pandemic, the museum was not able to obtain the full line-up of artwork from abroad that was originally scheduled to be exhibited. The entire range is now on display, including Monet's Wisteria borrowed from Musée Marmottan Monet in Paris as well as Matisse's tapestry The Lute from Mobilier National, also in Paris.

Claude Monet, Wisteria, 1919-1920
Musée Marmottan Monet, Paris ©Musée Marmottan Monet, Paris, France / Bridgeman Images 原画:アンリ・マティス 

Henri Matisse, The Lute, 1947-1949, Pola Museum of Art
Mobilier national, Paris © Mobilier national / Isabelle Bideau

No.35 Claude Monet, Water Lilies, 1907
Musée d'Art Moderne et Contemporain de Saint-Étienne Métro-Pole
Yves Bresson / Musée d'Art Moderne et Contemporain de Saint-Étienne Métropole


No.80 Henri Matisse《光の縞模様のある室内》1942年 油彩/カンヴァスマティス美術館、ル・カトー=カンブレジ
Musée départemental Matisse, Le Cateau-Cambrésis
Photo Musée départemental Matisse, Philip Bernard


The exhibition is running until November 3, 2020, and is a chance for people in Japan to enjoy the original works from two of France's most famous painters.

Information

Monet and Matisse: Visions of the Ideal
Running: August 8, 2020 – November 3, 2020
*Closed September 1-3
Opening Hours: 9:00-17:00 (Last Entries 16:30)

Pola Museum of Art
Address: 1285 Sengokuhara, Hakone, Ashigarashimo District, Kanagawa Prefecture
TEL: 0460-84-2111

Official Website: https://www.polamuseum.or.jp/english/exhibition/20200423s01/

RELAX FUJINO: The New Glamping Guest House Opening in Kanagawa

Hibiya-Kandan is set to open a new glamping guest house by the name of "RELAX FUJINO" on August 21, 2020.

Just an hour and a half's journey from the city, RELAX FUJINO is opening in Kanagawa Prefecture's town of Fujino, a place known for its abundant nature and traditional arts. It aims to be a place where both "the heart and body can be happy."

The guest house promises to serve guests the ultimate relaxation experience, have them feeling positive about themselves, and opening their eyes to new discoveries. They will be able to enjoy the region's culture and nature while indulging in the kind of luxurious experience that Hibiya-Kandan is known for offering.

The glamping site is home to two separate sites: the Japanese-style "RURI" and the Western-style "ECRU," both of which have decks offering a panoramic view of the mountain range. Each site also has its own dome-shaped tent which span 28 square meters in length. There are counter tables which offer a panoramic view of the sights, garden tables, and even BBQ spaces. This mix of indoors and outdoors makes guests feel like part of Fujino's gorgeous natural environment. There are communal showers and toilets inside too, as well as a nearby hot spring facility.

The food served is made with plenty of organic vegetables grown in Fujino. A stay at the site means you get a free dinner and breakfast too.

There are plenty of both indoor and outdoors activities to get involved in, like yoga, coffee roasting, crafts, blueberry picking, and more.

Bookings open on August 1, 2020. If you're in Japan this summer, then why not get away from the hustle and bustle and enjoy a relaxing time out in nature?

Information

RELAX FUJINO
Grand Opening: August 21, 2020 (Bookings open from August 1, 2020)
Address: 4611-1 Magino, Midori-ku, Sagamihara, Kanagawa
TEL: 042-649-0286

Official Website: https://hibiya-stay.com/relax/

Witness 10,000 Sunflowers Bloomed in the Fields of Yokosuka Soleil Hill in Kanagawa

The sunflower season is set to bloom on Soleil Hill, a park in Yokosuka, Kanagawa, from mid July to late August where approximately 10,000 bright yellow sunflowers will shine across the 5,000㎡ rolling expanse. And it's free to enter.

Yokosuka Soleil Hill

Soleil Hill is a slightly elevated mass spanning 24.6 hectares which faces Sagami Bay in the Miura Peninsula. It's a comprehensive park home to the Miura Peninsula farm as well as a host of hands-on activities. For example, you can experience picking the vegetables planted there, make your own bread, craft your own crafts, and more. You can also come into contact with various animals such as capybara and alpaca, go go-karting, sledding, and more.

Soleil Hill's Sunflowers

Mid July to late August is the best time to see Soleil Hill's sunflowers as this is when they are in full bloom. This period can change however depending on the weather. The spectacle of the beaming yellow flowers beneath the blue summer sky attracts over 130,000 visitors every year, making is a popular sightseeing spot. On a good day when the weather is clear, you can even see Mount Fuji and Sagami Bay.

The park has an atmosphere and aesthetic similar to Provence in southeastern France with its array of terracotta and brick buildings. In fact, the word "soleil" means "sun" in French, making it a fitting name for the sunflower fields of Soleil Hill. As well as there being plenty of photo opportunities there this year, the park will also be holding a stamp rally. Collect all of the stamps around the park and receive a prize. They even have sunflower-inspired food too.

MAXPLAN AZABU10: The New Landmark of Tokyo's Azabu Juban District

MAXPLAN Co. is set to open MAXPLAN AZABU10 on October 22, 2020 which is set to become the new symbol and a landmark of Tokyo's Azabu Juban District. The building will offer many unique and extraordinary experiences.

Nakamura Suzuko (CEO, MAXPLAN Co.) | Comment

"This project borrows the strength of internationally-active architect Kengo Kuma. I am overjoyed to have the opportunity to be a driving force together with him once again. This building, which is the 'Azabu Juban Development Project,' will be a place that creates and discovers new collective value between companies and individuals. A place of creative symbiosis. It aims to offer well being for companies that brings about a sense of cultural values. It will be a creative space for companies and individuals to resonate, bounce ideas off, and flow with one another. I pray from the bottom of my heart that these things will serve as a connection to how we want to live in the future."

Kengo Kuma (Architect) | Comment

"Azabu Juban is Tokyo's intersection between tradition and the future. I wanted to create a symbol for this district of 'fluctuations' around its crossroads. Combining panels of varying sizes with different heights, thicknesses, and textures expresses the district's diversity and energy. I wanted the building to blend in as part of the 'fluctuations,' as well as create a small 3D city which itself has 'fluctuations' […]"

We look forward to seeing how this new landmark and symbol of Azabu Juban brings together the traditional and the futuristic.

Information

MAXPLAN AZABU10
Building Site: 4-1-1 Azabu Juban, Minato Ward, Tokyo
Access: 1-minute on foot from Azabu Juban Station (via Tokyo Metro Namboku Line and Toei Oedo Line)
Grand Opening: October 2020 (subject to change)

Plum Blossom Festival 2020: See the Plum Blossoms Of Odawara Flower Garden

The plum blossoms of Odawara Flower Garden, which is located in Odawara, Kanagawa, are at the height of their blossom right now. The park's Keiryu no Baien ("Mountain Stream Plum Garden") area boasts the largest collection of plum blossoms in Japan's Kanto region, with 480 trees spanning 200 species.

This year's Plum Blossom Festival at the park is now running until March 8, 2020, and is the perfect time to witness these beautiful flowers.

Home to 480 trees spanning 200 types of plum blossom treeーfrom early bloomers to late bloomersー, the Keiryu no Baien is a true spectacle to behold and a must-visit for any plant-lovers out there visiting the Kansai region of Japan. Every year, the Plum Blossom Festival takes on a unique theme, with 2020's titled "Rare Plum Blossoms ~Uncommon Plum Blossoms in the Auspicious Months of Early Spring~".

As the theme suggests, the Keiryu no Baien is home to many rare types of plum blossoms you won't see anywhere else, such as the ougonbai (黄金梅), which has distinct thin, pale yellow petals. This year's festival shines the spotlight on many more of these uncommon speciesーan unmissable chance for horticulturalists.

Plum Blossom Festival Soba Noodles – ¥600 (Tax Included) / With Drink ¥700 (Tax Included)

The Odawara Flower Garden cafe, Cafe Hibiscus, is serving a selection of plum blossom themed meals and drinks for the festival. This includes the above-pictured new soba noodle dish, which is topped with plum pulp grown in Odawara as well as kamaboko fish cake, shrimp fritters, and spring onion. The broth in particular is worth of note which the staff went to great lengths to create. There's also plum blossom ice cream too made with nanko plums, as well as other delicious bites.

Entry to Odawara Flower Park as well as use of the car park are completely free. The festival runs until early March, but to fully enjoy the early and mid bloomers in their height, now is the best time to go. Don't miss out.

Information

Odawara Flower Garden

Address: 3798-5 Kuno, Odawara-shi, Kanagawa Prefecture
Garden Opening Hours: 9:00-17:00 (Last entries to the Tropical Dome – 16:30)

Entry: Free (Fee charged to enter the Tropical Dome – Adults ¥200/Children ¥100)

Closed: Mondays (Or the following day if the Monday falls on a National Holiday) / National Holidays / New Year Holidays (December 29-January 3)

Access:

①Board the Izuhakone Bus towards "Flower Garden" (フラワーガーデン・県立諏訪の原公園) from Platform 2 of Odawara Station's East Exit and get off at "Flower Garden".

②20 minutes on foot from Iidaoka Station via the Daiyūzan Line

Plum Blossom Festival

Running: January 25, 2020 – March 8, 2020

Time: 9:00-17:00

Official Website: https://www.seibu-la.co.jp/odawarafg/

Kyoto Brighton Hotel Offers 5 New Hotel Plans For Springtime, Cherry Blossom & Temple Experiences

Kyoto Brighton Hotel is now selling reservations for its new "Haru no Asobi Plan" (Springtime Fun Plan) which is taking place between March and May this year and offers guests the opportunity to enjoy Kyoto in the spring and its cherry blossoms.

Spring in Kyoto is the most popular season for tourists and travellers who flock from not only across Japan but from around the world. The Haru no Asobi Plan is made up of 5 exciting plans to see the ancient capital's breathtaking cherry blossoms, vibrant green maples, and other offerings.

"Asakatsu" – An early morning temple visit and stroll

Get away from the crowded streets and enjoy the rare opportunity to experience incredible early morning sights you don't normally get to see. Spend a quiet morning in a gorgeous environment in this plan. Several temples and gardens are in place for the experience: Kōdaiji Temple, Bishamon-do Temple, Taizō-in, Haradanien, and Tenryū-ji.

Kiyomizu-dera Temple special night viewing

One of the must-visit spots when travelling to Kyoto is Kiyomizu-dera, officially a World Heritage Site. This plan rents out the temple for you to experience it at nighttime. The main building is currently undergoing large-scale renovation to secure the roof as well as the inner construction of the temple. Seeing the temple is truly a sight to behold.

You are guaranteed a view of the famous "Stage of Kiyomizu," an enormous veranda attached to the main hall. The surrounding trees will be lit with enchanting lights, and you'll be able to gaze at the distant city nightscape. Experience Kyoto like never before as the warm lights illuminate the Niōmon (Deva Gate), 3-storey pagoda, and purified water which runs from the Otowa Waterfall.

Discover the world of Kyoto embroidery

The traditional practice of Kyounui, or Kyoto-style embroidery, has continued since the Heian Period and is even garnering attention overseas. It's a delicate and refined style of embroidery unique to Kyoto.

After your embroidery session which will take place in a Kyoto town house nearby the cherry blossom-filled Hirano Shrine, you'll look at kimono and yukata so beautiful they'll look like they should be in an art museum, before heading to eat together with the creator.

See the green maple trees of Hōgon-in on a private train

Board the private 1-2 carriage Randen train on the Keifuku Electric Railroad, which runs from Shijō-Ōmiya to Arashiyama. This cute retro train will take you Arashiyama where the green maples are breathtakingly beautiful.

You'll also get to stroll through the quaint gardens of Hōgon-in Temple, view artwork painted by Noriko Tamura, and more.

Sky Bus

Enjoy a panoramic view on a private ride of the Sky Bus, a double-decker bus which is gaining huge popularity right now. You will ride through the city of Kyoto and see the rows of pink cherry blossoms. In April, they will also do an evening tour of the cherry blossoms so you can see them at night, and in May they'll do a green maple tree tour.

Discover the beauty of Kyoto in this very special hotel plan at Kyoto Brighton Hotel.

Bunjee Jump From the Top of Kyoto Tower With Their New VR Experience

Have you ever wondered what the thrill of bungee jumping would be like, but are too afraid of heights to even consider putting it on your bucket list? Have no fear, because Kyoto Tower is bringing a new VR bungee jumping experience to the top of the building which will be available to experience from February 1 for a limited time.

This VR experience was first brought to the tower in the fall of 2018, and this year it is making its grand return. After the event originally ended, there was huge demand for it to be held again.

Those brave enough to have a go at this VR bungee jump (or bungy, depending where you are from), will go above and beyond the 100 meter observation deck to the highest accessible point of Kyoto Towerーup 120.9 metersーwhich is normally closed off to the public, to the special VR deck which has been prepared.

The experience will offer you not only the thrill of jumping from Kyoto's tallest structure, but the chance to gaze upon a panoramic view of the beautiful city too.

Information

Kyoto Tower VR Bungy Jump

Running: February 1, 2020 – March 31, 2020

Time: 12:00-21:00 (Last Entries 20:45)

Location: Kyoto Tower Observation Deck – Floor 1F (the 11th floor of Kyoto Tower)

Price:

・VR Bungy Ticket: ¥800 (Tax Included)

・Observation Deck & Bungy Set Ticket (Tax Included): Adults: ¥1,400 (Individual Purchase: ¥1,600)/High School Students: ¥1,300 (Individual Purchase: ¥1,450)/Elementary & Junior High Students: ¥1,100 (Individual Purchase: ¥1,350)

*Ages 7+ only

*Set tickets are available to purchase on floor 1F of Kyoto Tower

*Run times subject to change

*Ticket charges applied for ages 7+; those aged below 7-years-old are not permitted to use the VR system

*An entry ticket to the Kyoto Tower observation deck is not necessary to experience the VR system

Official Website: https://vr-bungee.com/

Japan Shopping Festival: Hello Kitty Supports Huge Shopping Event Aimed at Foreigners

一The Japan Shopping Tourism Organization (JSTO) has announced that it will hold an event titled "Japan Shopping Festival" aimed at foreign tourists in Japan from December 1, 2019 to February 29, 2020.

①Questionnaire Campaign

A questionnaire will be carried out for non-Japanese travellers to win round-trip tickets to Japan. Travellers will be selected randomly from a lucky draw.

②Instagram Photo Contest

Follow Japan Shopping Festival on Instagram and post photos related to the designated themes with the hashtag #jsfphoto. The themes are: ①Memories of what you bought and experienced in Japan, ②Your favourite fruits in Japan, and ③Good things about Japan you want to boast.

③Coupons, Goods & Experiences

Japan Shopping Now is one of Japan's biggest online shopping portal sites, and they are now promoting information on Japanese shopping overseas in English, Traditional Chinese, Simplified Chinese, and Korean. This includes coupons, sales, and more at almost 1,000 participating stores.

④Special Events

・Japan Shopping Festival Tohoku (December 1, 2019 – February 29, 2020)

This shopping festival will take place at 6 prefectures across Tohoku. Discover Japanese confectioneries, fashion, sake, fruit and more, including a tie-up with JR EAST PASS.

Official Website:  http://tohoku.japanshopping.org/

・Matsuyama Shopping Festival (December 1, 2019 – March 31, 2020)

From Okaido Shopping Street to Matsuyama Gintengai Shopping Arcade, Matsuchika Town, and more, look forward to end-of-year lucky draws, food events, shopping, and so on.

Official Website:  http://matsuyama.japanshopping.org/

Discover the wonders of shopping in Japan and learn more about the country with the Japan Shopping Festival.

Top 4 Places to Visit in Kyoto This Winter: Snow, Gourmet Food, Hot Springs & More

Kyoto is known as the ancient capital of Japan. It is said to be the place where quintessential Japanese culture started, and has charmed the world over with its incredibly rich 1,200-year history. Today, we take a look at some of the best places to visit in Kyoto this winter as covered by the November 2019 issue of Japanese magazine Mou Hitotsu no Kyoto ("The Other Kyoto").

From gourmet food to sightseeing spots, the arts and moreーif you're in Kyoto this year, you have plenty of reasons to leave your hotel room or house.

Yuki Tourou: See the snowy thatched-roof huts

Miyama Kayabuki no Sato is located in Miyamachokita, Nantan. It is home to 39 houses with thatched roofs and is a popular sightseeing spot due to its gorgeous natural scenery throughout the entire year. It was listed in Japan's Groups of Traditional Buildings in 1993.

In the New Year, snow falls on the huts, which looks beautiful when they light up the "Yuki Tourou"ーor snow lanternsーin late January every year. There are stalls that serve hot food in this little town, and they also host an event where you can make your own snow lantern.

Running: January 25, 2020 – February 1, 2020

Official Website: http://www.yukitouro.jp/

Amanohashidate: One of Japan's "Three Scenic Views"

Amanohashidate is a sandbank located in Miyazu Bay that separates the north and south inlet of the Asoumi Sea. It formed as a result of pebbles being carried by the ocean current for thousands of years. Its name comes from the way it looks like a bridge spanning across the sky. It is known as one of Japan's "Three Scenic Views"

Amanohashidate is a sight to behold at any point throughout the year, but if you can travel there in the winter, you're in for a surprise, as the entire sandbank is littered with pure white snow. On very cold days in the morning the snow even covers the tops of the pine trees, but when the sun rises and the temperature warms up the snow on the frost-tipped trees melts. This has led to it being called an "illusionary sight" due to its rarity. Make a point of getting up super early so you don't miss it!

Address: Tango-Amanohashidate-Ōeyama Quasi-National Park, Miyazu, Kyoto

Official Website: https://www.amanohashidate.jp/lang/en/

Fukuchiyama Castle: The magnificent castle of snow

Fukuchiyama Castle sits atop a tall hill in the city of Fukuchiyama. The castle was established as the new Tanba province by Akechi Mitsuhide in 1579 following the province's capture in 1576. The castle was demolished once during the Meiji Period but was restored again in 1986. It is now the only castle that remains today built by Mitsuhide.

The castle architecture has a lot of personality, and during the winter months takes on a gorgeous white as a result of the snow. Gazing across the castle land from the watchtower is an absolute must when visiting. Also, if you're visiting next year, the new Fukuchiyama Mitsuhide Museum is set to open on January 11, so be sure to check that out too.

Address: 5 Chome Naiki, Fukuchiyama, Kyoto

Opening Hours: 9:00-17:00 (Last Entries 16:30)

Closed: December 28-31, 2019 / January 4-6, 2020

Entry Price: General ¥330 / Elementary & Junior High School Students ¥110
Official Website: https://dokkoise.com/en/temple_shrine/index.html

Monjusou Shourotei: Feast on crab fondue while gazing at Amanohashidate

Monjusou Shourotei is a ryokanーa Japanese-style innーlocated along Amanohashidate, one of Japan's Three Scenic Views which we mentioned earlier on this list. All guests staying at the inn are given a window view of Amanohashidate from their rooms.

The inn offers an original salted snow crab fondue. Snow crab is particularly enjoyed for its degree of freshness. It's served with vegetables and the boiled crab itself, making for a delicious combination of flavours.

The hot springs at Amanohashidate are famous and praised as "the baths of the gods." They are also said to leave your skin looking beautiful after a dip. The inn also offers open-air baths lined with stones from Shikoku and wild grass from the mountains, offering a truly indulging experience.

Address: Amanohashidate Monjudomisaki, Miyazu, Kyoto

Official Website: https://shourotei.com/

These are just some of the incredible places you can enjoy in wintertime Kyoto. You can find more information on Kyoto Side or from one of our many articles on Kyoto.