Seven Days War Anime Film New Visual Teased With Voice Actors as Anime Characters
The anime film adaptation of Osamu Souda's short novel series Seven Days War (Bokura no Nanokakan Sensou), which has over 20 million copies in print, will be released on December 13, 2019.
The film is set in Hokkaido in the year 2020, almost 30 years since Japanese actress Rie Miyazawa made her debut as Hitomi Nakayama in the 1988 live-action film adaptation Seven Days' War. It has been revealed that she will reprise her role as Nakayama in the new animated film.
The anime film will maintain the spirit of the original work while crafting a new story. It stars Academy Award-winning actor Takumi Kitamura as the male protagonist Mamoru Suzuhara and Kyōko Yoshine who plays the main heroine Aya Chiyono.
A special promotional visual was created featuring the lead voice actors' respective characters doing the same pose as them.
The visual is a collaboration with TOHO Cinemas' and a popular section in their magazine entitled "POP! Movie Theatre, Popcorn & Me." The visual began being handed out at TOHO Cinemas for free yesterday. The illustrated versions of Takumi Kitamura and Kyōko Yoshine's characters, Mamoru and Aya, were drawn by mangaka Aoko Sasaki.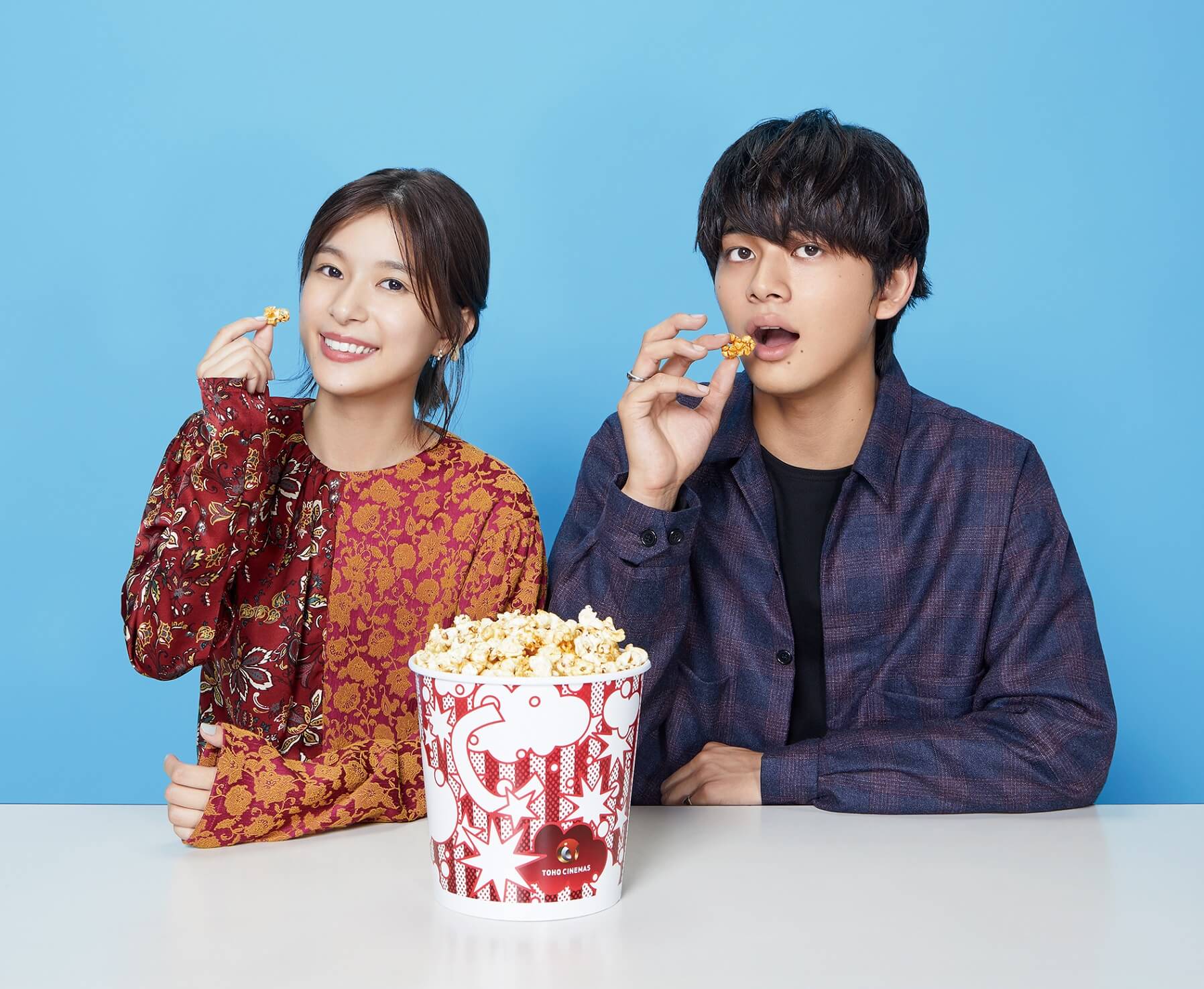 Speaking about his involvement with the visual, Kitamura commented, "I'm so happy they used us to draw the illustration! I hope I look like a protector!" Yoshine also commented, "I'm overjoyed to be part of such a tremendous project."
The two of them were also asked about their memories with popcorn. Kitamura said, "When I go to the movie theatre, I'm the kind of person to buy everything. Caramel popcorn, churros, and a drink." Yoshine said, "I get popcorn and oolong tea. When I go with my childhood friend, we get a mix of half salt and half caramel. It's always a scramble when I go with my parents or older brother <laughs>."
It has been 34 years since the first book in the novel series, and 31 years since the first film adaptation. The all-new Seven Days War will hit theatres in Japan this winter on December 13, 2019.
TM& ©️2019 TOHO CINEMAS LTD, ALL RIGHTS RESERVED. Photo: RiEamano
Information
Seven Days War
Release Date: December 13, 2019
Based on: Seven Days War (Bokura no Nanokakan Sensou) by Osamu Souda (KADOKAWA Tsubasa Bunko/KADOKAWA Bunko/KADOKAWA)
Official Website: http://7dayswar.jp/
RELATED ENTRIES
New Seven Days War PV Shows the Power of Social Media Over Young People

The anime film adaptation of Osamu Souda's short novel series Seven Days War (Bokura no Nanokakan Sensou), which has over 20 million copies in print, will be released on December 13, 2019.

The film is set in Hokkaido in the year 2020, almost 30 years since Japanese actress Rie Miyazawa made her debut as Hitomi Nakayama in the 1988 live-action film adaptation Seven Days' War. It has been revealed that she will reprise her role as Nakayama in the new animated film.

The anime film will maintain the spirit of the original work while crafting a new story. It stars Academy Award-winning actor Takumi Kitamura as the male protagonist Mamoru Suzuhara and Kyōko Yoshine who plays the main heroine Aya Chiyono.

A special new promotional video for the upcoming film was released, making the case that the bonds between young people are all over the place as a result of social media.

The video begins with Honda—the father of the main female character Aya and a politician—exposing the personal information of a multitude of children, except Aya, on an online message board. The instant he posts it online, the information revealing the secrets and hidden pasts of the children blows up across the web. The male protagonist Mamoru sees the situation on his smartphone and is taken aback in absolute disbelief. He hurries to leave and go to where his friends are, and it's revealed in the meantime that Souma was bullied and Hiroto has a secret alternate account online. The mean things that Saki said to Hiroto's alternate account are posted online which breaks her heart. Aya realises from the fact that nothing about her is posted online that it's her father who is involved with this. At the end of the PV, we see the work place of the father of Aya's best friend Kaori, and how damaged their friendship will become after the exposing of their secrets. Will the children make it through this seven days of war with today's adults?

It has been 34 years since the first book of the series was released, and 31 years since the first live-action film adaptation. It's a story of Japanese youth that continues to be passed down and loved from generation to generation. We look forward to seeing how today's kids take the anime film.

Information

Seven Days War

Release Date: December 13, 2019

Based on: Seven Days War (Bokura no Nanokakan Sensou) by Osamu Souda (KADOKAWA Tsubasa Bunko/KADOKAWA Bunko/KADOKAWA)

Official Website: http://7dayswar.jp/

Sano ibuki's Seven Days War Anime Film Theme 'Omajinai' Features in Special YouTube Video

Sano ibuki released his debut album STORY TELLER last month and has already reverberated across Japan, with ibuki being praised as an up-and-coming newcomer. He released his first single, Sensou Zenya/Omajinai/Spirit on Wednesday.

The track Omajinai features as one of the main themes for the anime film Seven Days War which hit Japanese theatres yesterday on December 13. In line with the hotly-anticipated release of the movie, a special video was released on Sano ibuki's YouTube channel in collaboration with it. Check it out below.

The anime film is an adaptation of Osamu Souda's short novel series Seven Days War (Bokura no Nanokakan Sensou), which has over 20 million copies in print. Sano's three-track single tells the story of the children's battle against the adults.

Omajinai is a ballad full of hopes and prayers. Sano ibuki conversed with the film's director Yuta Murano on numerous occasions on how and when it should be used during the movie. The special collaborative video features the beautiful and iconic scene with the lanterns being raised into the night sky with other memorable scenes interwoven throughout.

Information

Sano ibuki 1st Single – "Sensou Zenya/Omajinai/Spirit"

Released: December 11, 2019
First Press Regular Edition: ¥1,200 (Before Tax) [UPCH-89415] *Includes special framed CD cover

Regular Edition: ¥1,200 (Before Tax) [UPCH-80526]

Download/Stream: https://lnk.to/Si7days

Sano ibuki Official Website: https://www.sanoibuki.com/

Seven Days War

Release Date: December 13, 2019

Based on: Seven Days War (Bokura no Nanokakan Sensou) by Osamu Souda (KADOKAWA Tsubasa Bunko/KADOKAWA Bunko/KADOKAWA)

Official Website: http://7dayswar.jp/

Seven Days War Anime and Live-Action Films Appear in Special Promotional Video

The anime film adaptation of Osamu Souda's short novel series Seven Days War (Bokura no Nanokakan Sensou), which has over 20 million copies in print, will be released on December 13, 2019.

The film is set in Hokkaido in the year 2020, almost 30 years since Japanese actress Rie Miyazawa made her debut as Hitomi Nakayama in the 1988 live-action film adaptation Seven Days' War. It has been revealed that she will reprise her role as Nakayama in the new animated film.

The anime film will maintain the spirit of the original work while crafting a new story. It stars Academy Award-winning actor Takumi Kitamura as the male protagonist Mamoru Suzuhara and Kyōko Yoshine who plays the main heroine Aya Chiyono.

A special new promotional video was released to promote the upcoming film. It features scenes both from the anime film itself as well as the 1988 live-action film.

The video begins with interlacing scenes of both films, and showcases memorable moments including when the children board a tank to fight off the adults. When the song starts playing—which is Sensou Zenya ("Last Night's War") by up-and-coming singer-songwriter Sano ibuki and also the main theme for the film—we see the children finding the best way to wage war on the adults in both the anime and live-action adaptations.  It shows that the spirit of the series continues to live on to today in spite of time having passed.

It has been 34 years since the first book of the series was released, and 31 years since the first live-action film adaptation. It's a story of Japanese youth that continues to be passed down and loved from generation to generation. We look forward to seeing how today's kids take the anime film.

Information

Seven Days War

Release Date: December 13, 2019

Based on: Seven Days War (Bokura no Nanokakan Sensou) by Osamu Souda (KADOKAWA Tsubasa Bunko/KADOKAWA Bunko/KADOKAWA)

Official Website: http://7dayswar.jp/

Seven Days War Anime Film Release Promoted With Themed Cafe in Shinjuku

To celebrate the December 13th release of the upcoming anime film Seven Days War, a themed cafe will open at EJ Anime Theater in Shinjuku, Tokyo. The cafe will collaborate with popular creator Pantovisco who has over 680,000 followers across his social media.

The collaboration was born from Pantovisco's being able to relate to the theme of Seven Days War which focuses on the heart of today's youth.

The cute menu line-up features Seven Days War-inspired food and desserts with Perochi and his friends joining in with the fun.

There's also a drinks menu with a line-up of colourful beverages and lattes which you can get various latte art drawings on.

And for every food item ordered on the collaboration menu, you'll receive an original sticker selected randomly from several designs.

And if you order a drink, you'll get a special card introducing various characters from both Seven Days War and the world of Pantovisco.

©2019 Osamu Souda・KADOKAWA / Seven Days War Production Committee

©Pantovisco

Information

Cafe de Perochi with Seven Days War

Running: December 13, 2019 – January 12, 2020

Location: EJ Anime Theater Shinjuku Floor 5F (Shinjuku Bunka Bldg., 3-13-3 Shinjuku, Shinjuku Ward, Tokyo)

*Please check the EJ Anime Theater website for details on the menu items and more

・All customers using the cafe during this collaboration must each order at least one item

・Entry restrictions and time limits may be implemented during very busy hours

・Cash only

・Photography allowed including posting online. Post with the hashtag #EJアニメシアター and let them know how you liked it!

*Photography is prohibited for certain displays which will be marked in Japanese with "撮影禁止"

Seven Days War Official Website: http://7dayswar.jp/

Pantovisco Official Website: http://www.pantovisco.com/
EJ Anime Theater Shinjuku Official Website: https://ej-anime-t.jp/shinjuku/

Cafe Webpage: https://ej-anime-t.jp/cafe_and_gallery/perochi_7dayswar/

Seven Days War Anime Film Episode and Music Details Revealed at Press Conference

The anime film adaptation of Osamu Souda's short novel series Seven Days War (Bokura no Nanokakan Sensou), which has over 20 million copies in print, will be released on December 13, 2019.

The film is set in Hokkaido in the year 2020, almost 30 years since Japanese actress Rie Miyazawa made her debut as Hitomi Nakayama in the 1988 live-action film adaptation Seven Days' War. It has been revealed that she will reprise her role as Nakayama in the new animated film.

A press conference was held to promote the film which was attended by the main voice cast, including Takumi Kitamura (who voices Mamoru Suzuhara), Kyōko Yoshine (Aya Chiyono), and Tatsuhisa Suzuki (Sōma Ogata). The film's director Yuta Murano also made an appearance.

The film sees a group of children use an old coal factory as secret base to hold a 1-week birthday camp away from the adults. In line with the story, the venue for the press conference itself was set up to look like an abandoned factory. Kitamura, who plays the protagonist Mamoru, commented on the atmosphere the studio gave off. "It's exciting, isn't it? It makes you feel just like they do in the film. It's a strange feeling <laughs>." Yoshine, who voices the main heroine Aya, followed this up, saying, "It feels like I've jumped right into the film. I feel really happy." Suzuki, who voices their classmates Sōma, also said, "Normally when I'm in the studio, I often have to picture the scenes in my head. I'm so happy they did this, it's not often you get to see it in real life."

This marked Yuta Murano's film director debut, and when asked about the studio set himself, he responded: "It makes you recall going to that place in the film. It's nostalgic <laughs>." Speaking about what he's expressing with the film, he explained: "I believe the film has a lot of different messages for each generation, whether it's the people who grew up with the manga or live-action film, kids in their teens like Mamoru and the other characters, and those even younger than that. Mamoru and the others aren't children who hold some kind of special power. And that's why it's aimed at children. It says to them, 'This film is for you.'"

Murano was also asked about the film's use of the main theme song SEVEN DAYS WAR by TM NETWORKーoriginally featured in the live-action adaptationーduring an important scene in the film. He responded: "We were in talks with others for the main theme song, but we wanted to respect the previous work, and as a fan of Seven Days War, when you're talking about that film, I felt that that song is indispensable […]"

Each member was asked to give his impressions of the other cast members present at the conference. Kitamura said: "Whenever I spoke with the director, he had a kind demeanour. It gave me moral support when he said to me, 'You already sound like Mamoru.' It was when I heard those words that I thought what a warm atmosphere the set had. Yoshine is strong-willed and has a really great voice. We both supported each other while surrounded by such professional voice actors <laughs>. Suzuki also really helped me out. He taught me so many things during the recording. I realised how amazing voice actors really are."

Following this, Yoshine said: "The director was so kind in guiding me on certain things, like how close I should be to the mic during rehearsals, and how I should go about speaking while looking at the scenes. His help cleared many of my worries away, so it's thanks to him that I was welcomed so warmly when it came to the real recording. Kitamura really had our backs, didn't he, Suzuki? <laughs> Whenever the voice actors seemed a bit down, he would take it on board and support them from behind. I was able to overcome everything because everyone had strength."

Suzuki said: "I was kindly given this role on my first audition. I heard I'd be recording with the two of them, and all the main members got together […] I was asked by the sound team to be a mediator between the two of them so that they feel good and perform like they always do, so I paid much more attention to the atmosphere on set after that. When I was talking to the director and staff, I also heard about a delicious restaurant from Yoshine <laughs>."

Kitamura is known for liking anime. He gets excited when talking about his co-voice-actors, as well as voice actors from other series. "Oh, it's that character's voice!" he said. He continued, "The main recording took two days, so it was a 'Two Days War,' and also 'Two Days Inspiration' <laughs>."

Each member gave a final comment. "Please go and watch this recreation of the first days of youth adulthood we have worked so hard to make!" said Suzuki. Yoshine commented: "I am overjoyed to be associated with something with history and something loved by so many people. I hope it's enjoyed by lots of people." Kitamura concluded with: "When I was in elementary school, we had the books in our library. It's a series that helped me deal with pent-up feelings I had towards my parents and teachers at the time. I am so grateful to be involved with an anime adaptation of it. So just as it gave me courage when I was in school, I hope it continues to do the same for teenagers who have some kind of pent-up feelings too."

Information

Seven Days War

Release Date: December 13, 2019

Based on: Seven Days War (Bokura no Nanokakan Sensou) by Osamu Souda (KADOKAWA Tsubasa Bunko/KADOKAWA Bunko/KADOKAWA)

Official Website: http://7dayswar.jp/

Seven Days War Anime Film Release Date Announced & Cast Revealed

It was revealed back in June that Osamu Souda's short novel series Seven Days War (Bokura no Nanokakan Sensou), which has over 20 million copies in print, will receive an anime film adaptation. It was announced today that the film will be released on December 13, 2019.

The film will star actor and singer Takumi Kitamura as the male protagonist Mamoru. Kitamura is known as the vocalist and guitarist of dance rock band DISH//. He also received a Japan Academy Award for Best New Actor for his role in the live-action romance drama film Let Me Eat Your Pancreas (2017) and receive praise for his role in the romance film Kimi wa Tsukiyo ni Hikarikagayaku (2019).

Actress and voice actress Kyōko Yoshine will play the main heroine Aya. She is known for her part in the television drama series Beppinsan as the main character Sumire Bando. She also won Japan Academy Awards for Best New Actor in the film Kasane (2018) and series Samurai's Promise.

Speaking about why they chose these two actors, KADOKAWA commented: "We wanted to entrust the roles of these characters to them, because they have a realistic persuasive power that's needed for this story, which is about waging a war on adults. We have seen the acting roles they have taken up to now. They have the ability to portray both the delicate feelings hidden in the heart as well as to take great action. They understand Mamoru and Aya's true motives and will breathe life into them with their voices. They will make them characters that people will want to cheer on. That's why we sent them the offer. All of the staff were shocked just how well the both of them fit together during rehearsals."

Kitamura, who is known as an anime fan and who was reading the manga before he received the offer, commented: "When I was reading it, I was getting those anguished emotions characteristic of those in their teens when doing so, so when the offer came I didn't even have to think about it. I said, 'I'll definitely do it.'" Yoshine, too, spoke about her joy in getting to be involved with such a famous series: "It's a series that I've seen in the library since elementary school. I'm so happy to be associated with a series loved by so many people in this way."

Speaking about working together for the first time as voice actors, Kitamura said, "When I first heard her voice before the main recording, I felt she was somebody who had the power to pull you in with her voice." Yoshine praised Kitamura too, saying, "I thought to myself how talented he is. He acts, sings, and even works as a voice actor!"

The original novel Bokura no Nanokakan Sensou lauded for its story which has been described as relevant to each and every generation. Kitamura spoke about how he is looking forward to seeing the series updated for modern times, saying: "The original work was the backbone for student movements back then, so I believe the characters' 'war' will be both modern and will draw on the delicateness of today's age where you're not able to spit out your [true] feelings."

It has been 34 years since the first book in the novel series, and 31 years since the first film adaptation. The all-new Seven Days War will hit theatres in Japan on December 13, 2019.

Information

Seven Days War

Release Date: December 13, 2019

Based on: Seven Days War (Bokura no Nanokakan Sensou) by Osamu Souda (KADOKAWA Tsubasa Bunko/KADOKAWA Bunko/KADOKAWA)

Official Website: http://7dayswar.jp/