Cö shu Nie Adds Zepp Tokyo Concert to 2020 Tour
Cö shu Nie's newest song bullet is being used as the current ending theme for the season three of the ongoing hit TV anime series Psycho-Pass, and received a remix by American DJ and singer-songwriter Slushii last week.
The band's highly-anticipated 2020 tour, entitled "PURE" -who are you?-, is set to begin on January 24 next year, and they've just announced that they are adding an extra show at Zepp Tokyo for March 6.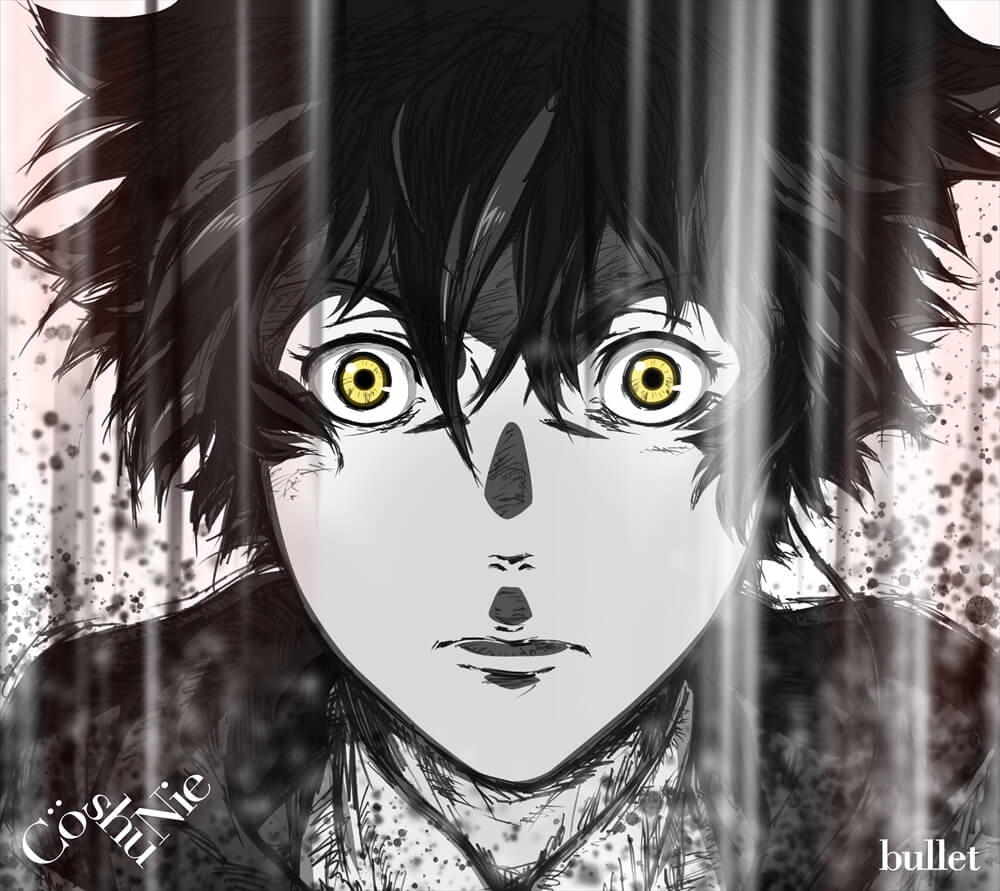 Cö shu Nie will release their new album PURE on December 11, 2019, but before that they will drop their bullet single on November 11. Fans can gain access to pre-sale tickets for the newly-announced Tokyo Zepp concert via the flyers coupled with the CD release of the single. The single itself will also feature piano arrangements of the band's songs Zettai Zetsumei and Lamp which were used for the TV anime series The Promised Neverland.
©️Psycho-Pass Production Committee
Information
single – "bullet"
CD Release Date: November 20, 2019
First Press Limited Edition A (CD-Only): ¥1,200 (Before Tax) [AICL-3783]
First Press Limited Edition B (CD+DVD): ¥2,000 (Before Tax) [AICL-3784~3785]
Digital Download/Stream:  https://smar.lnk.to/IEGkRWN
Cö shu Nie – bullet (Slushii Remix)
Released: November 15, 2019
Streaming/Download: https://smar.lnk.to/AKiVqWN
Album – "PURE"
CD Release Date: December 11, 2019
First Press Limited Edition (CD+DVD): ¥3,800 (Before Tax) [AICL-3788~9]
Regular Edition (CD-Only): ¥3,000 (Before Tax) [ICL-3790]
Cö shu Nie Tour 2020 "PURE" – I am I – *Extra show
Date: March 6, 2020
Venue: Zepp Tokyo, Tokyo
Time: OPEN 18:00 / START 19:00
Price: All Standing – Advance ¥4,400 / Doors ¥4,900 (Includes tax) *Separate mandatory drink charge applied upon entry to venue
*Those under the age of 18-years can get ¥500 cashback on the day if they show a form of ID
Enquiries: 03-3405-9999 (SOGO Tokyo)
Pre-sale Tickets
①Available via the link written on the flyer given when purchasing the CD single bullet
Ticket Window: Open until November 28, 2019 at 23:59 (JST)
②Available via eplus
Ticket Window: December 7, 2019 at 12:00 (JST) to December 15, 2019 at 23:59 (JST)
Link to Buy: https://eplus.jp/coshunie2020w-zepp/hp/
Cö shu Nie Official Website: http://coshunie.com
RELATED ENTRIES
The Promised Neverland Stylish Clothing Collection Releases in Collaboration With UNION STATION

Japanese apparel brand UNION STATION released a new clothing collection in collaboration with the ongoing TV anime series The Promised Neverland on Tuesday (March 16) on its official website and select branches.

The Line-Up

Motif Print Long Sleeve Tee – Emma (3 Colours)

Motif Print Long Sleeve Tee – Norman (3 Colours)

Motif Print Long Sleeve Tee – Ray (3 Colours)

Motif Print Long Sleeve Tee (2 Colours)

Motif Print Long Sleeve Tee (2 Colours)

Motif Print Hoodie (2 Colours)

Hoodie Field Coat

Stand Field Coat

Numbering Logo Print Shirt

Numbering Logo Print Hoodie

The stylish collection of cut and sewns and hoodies are not only a nod to the popular series but look extremely fashionable too, so you can look good and express your anime love at the same time!

© 白井カイウ・出水ぽすか/集英社・約束のネバーランド製作委員会

The Promised Neverland Anime Series Collaborates With Sony Walkman®

Sony Marketing has launched a collaboration with the ongoing second season of the TV anime series The Promised Neverland, which began airing in January, and its own Walkman® and wireless headphone products. The collab began on March 11 and will run until September 2.

Walkman®NW-A55 The Promised Neverland Collaboration Model

The Walkman®NW-A55 features high-res audio and can play CD audio. It's also fitted with a Bluetooth® receiver so it can play high-res songs from smart devices.

Engraved design

Original packaging

The Walkman itself features an original engraved design of the anime series' three main characters. The box it's packaged in, too, has an original design illustrated exclusively for this collaboration.

Wireless Stereo Headset WF-H800 The Promised Neverland Collaboration Model

The WF-H800 wireless headphones are not only small and light, they can also play upscaled hi-res audio or music and videos, from CDs, MP3, streaming services and more thanks to being fitted with DSEE HX™ technology. When Bluetooth plays compression sound sources such as CD or MP3 in codec of SBC/AAC in state of DSEE HX ON, the headphones can expand to up to 96kHz/24bit.

Engraved image

Original packaging

Like the Walkman, the headphones too come with an original engraving and box design.

Original Calendar (Postcard Size) – April 2021 to June 2021

Customers who buy either the Walkman or wireless headphones will receive an original calendar set for April 2021 to June 2021.

The Promised Neverland Teases Season 2 Blu-ray & DVD Cover Art

The ongoing second season of the TV anime series The Promised Neverland has teased the cover art for the upcoming first volume of the DVD and Blu-ray which is set to hit shelves in Japan on April 7, 2021. An anime music video for the ending theme Mahou by Myuk was also released.

Blu-ray & DVD Volume 1 Cover Art

Myuk – "Mahou" Anime Music Video

Information

The Promised Neverland Season 2 – Volume 1

Release Date: April 7, 2021 (Japan)

Limited Pressing Edition Blu-ray: ¥9,800 (Before Tax)

Limited Pressing Edition DVD: ¥8,800 (Before Tax)

Episodes: 1-4

Official Website: https://neverland-anime.com/

The Promised Neverland Jewellery Collection Features Emma, Norman, and Ray

Japanese collaboration licensing website Fan Fun MARKET is now taking orders for a new collection of jewellery inspired by the TV anime series The Promised Neverland which is currently airing its second season. Orders are open until February 24, 2021.

The Promised Neverland – Jewellery Line-Up

The accessory assortment includes rings and necklaces based on the main characters of the series including Emma, Norman, and Ray. The items are engraved with the characters' serial numbers and are fitted with a coloured stone based on the colour scheme of the characters. The rings are available in Japanese sizes 7-21.

Emma Serial Ring | ¥10,000 (Before Tax)

Norman Serial Ring | ¥10,000 (Before Tax)

Ray Serial Ring | ¥10,000 (Before Tax)

The three necklaces feature a special design where if you put each of the puzzle pieces together it writes out the message "Hopefully there is light ahead." The necklaces are 40m in size plus an extra 5cm using the adjuster.

Emma Serial Necklace | ¥11,000 (Before Tax)

Norman Serial Necklace | ¥11,000 (Before Tax)

Ray Serial Necklace | ¥11,000 (Before Tax)

Bookmark

The accessories are coupled with a bookmark of the character whose items you choose.

Original Jewellery Box

大人気TVアニメ「約束のネバーランド」の世界観を存分に楽しめるコラボジュエリーをチェックしよう。

©白井カイウ・出水ぽすか/集英社・約束のネバーランド製作委員会

Information

TV Anime "The Promised Neverland" Collab Jewellery
Running: January 21, 2021 – February 24, 2021
Available: FanFun MARKET
Buy Here (Japan): https://fanfunmarket.jp/neverland

The Promised Neverland Anime's Second Promo Video Released

A new promotional video for season two of the ongoing TV anime series The Promised Neverland has dropped. The series is set to begin airing on January 7, 2021. Fans outside Japan can catch the highly-anticipated second season on Crunchyroll.

Promos/Commercials

PV・CM

Season 2 Commercial 1:

Season 2 Commercial 2:

Season 2 OP Commercial:

Season 2 ED Commercial:

Myuk Performs The Promised Neverland Season 2's Ending Theme

It has been announced that Myuk will perform the ending theme Mahou ('Magic') for the upcoming second season of the TV anime series The Promised Neverland, adapted from Kaiu Shirai's manga of the same name, which is set to begin airing on January 7, 2021. The song was written by popular Japanese artist Eve.

Myuk | Comment

"I love The Promised Neverland. I watched the first season as a fan and looked forward to a new episode every week. Now I get to sing a song written by Eve, an artist who I've always listened to and have great respect for. It all feels like a dream. The time you spend with someone precious to you as like 'magic,' and even should that fade some day, your memories of them will live on. That will be your nourishment. In this song I sing about feeling lost when moving forward, and those nights of solitude when you feel lonely. I'm personally honoured to have this song, 'Mahou,' playing together with Emma and her friends, who I love so much, on screen. I pray that lots of people get to hear it!"

Eve | Comment

"It has hit me hard on many occasions seeing those young boys and girls facing their cruel world with a positive outlook. I've learned a lot some this series. This was my first time working with Myuk's voice, and just like those simple and honest boys and girls, her voice has both tremendous strength together with a tense of transience, like she is going to disappear. It made me feel confident that 'Magic' as a song will be far-reaching as it resonates."

The Promised Neverland Season 2's Opening Theme to be Performed by Kiro Akiyama

Kiro Akiyama will perform the opening theme Identity for the upcoming season season of the TV anime series The Promised Neverland. Season two is set to begin airing on January 7, 2021, as the continuation of the anime adaptation of Kaiu Shirai's manga series, illustrated by Posuka Demizu, which wrapped up with its 20th and final volume in June this year.

Kiro Akiyama | Comment

"I love the the manga series, I read it since it began serialisation, so I'm really happy to be involved! Usually, the influence you have from reading a manga or watching an anime when writing a song for a series is immeasurable. The colours and smells of this series really stand out, so much so that I feel they've become part of who I am. I tackled the song head on, so I hope I too have become part of the series. Like how the story of Emma and everyone ties them together and they're right there next to you […]"

Identity will be released on January 27, 2021.

New The Promised Neverland Trailer Reveals Two New Characters

A new commercial was released for the upcoming second season of the TV anime series The Promised Neverland which is set to begin airing on January 7, 2021. The video reveals two new characters: Sonju and Mujika who are voiced by Shinichiro Kamio and Atsumi Tanezaki respectively.

The Promised Neverland Season 2 – 2nd CM


Shinichiro Kamio (Voices: Sonju) | Comment

"No matter how many times I read the manga, I always end up crying. I really love the series and watched the first season, so I was so excited to find out that I passed the audition. I tried to stay faithful to Sonju as a character to capture everything he's about, from his relationship with Mujika to his emotional involvement with the other children, his beliefs and his anguish as a demon. Please look forward to it!"

Atsumi Tanezaki (Voices: Mujika) | Comment

"Please take a look at the key visual. That's right, Mujika is a Demon. But she's a very mysterious presence, so I paid much attention to the nuance of each and every one of my lines. I had read the manga before I was chosen for the role, so I was very nervous each take."

New Key Visual

©白井カイウ・出水ぽすか/集英社

The Promised Neverland Season 2 Premiere Date Scheduled For January 7

The second season of the TV anime series The Promised Neverland will premiere on January 7, 2021 via Fuji TV's Noitamina programming block and other channels in Japan.

The Promised Neverland season two key visual

The Promised Neverland Season 2 CM

Season one of the anime adaptation of Posuka Demizu's manga series is currently re-airing in Japan with commentary from the voice cast. A live-action film is also set for release on December 18, 2020.

If you've yet to check out the first season of the anime series,  you won't be disappointed. Be sure to catch up before season two officially airs in the New Year on January 7.

©Kaiu Shirai・Posuka Demizu /Shueisha

©The Promised Neverland Film Production Committee

The Promised Neverland Cafe to Serve Up Themed Food and Drink in Tokyo

A special exhibition centred on the popular manga series The Promised Neverland will take place at Roppongi Hills Tokyo City View in Tokyo from December 11, 2020.

The Promised Neverland is a manga series written by Kaiu Shirai and illustrated by Posuka Demizu. The series was published in Weekly Shonen Jump and concluded with its final volume on June 15, 2020. A live-action film will be released in December while the anime adaptation's second season will air next year.

The exhibition will explore and celebrate the world of The Promised Neverland in detail, with displays, illustrations, early conceptions, and much more. A special 19-page manga episode written by Kaiu Shirai and illustrated by Posuka Demizu will also be shown.

Fans at the exhibition can also dine at CAFE GRACE FIELD,  the series-themed cafe opening up temporarily at Cafe THE SUN. Let's take a closer look and see what fans can expect to see at the cafe.

CAFE GRACE FIELD Collaboration Cafe

Illustrative photo showcasing the cafe

The Promised Neverland is set inside Grace Field House, an orphanage in a forest that houses children with no relatives. It's here that we meet the main characters: Emma, Norman, Ray, and Mom. CAFE GRACE FIELD is inspired by Grace Field House and the children who live in it, with food based on the characters and certain episodes in the series, a cafe latte you can order and get a free coaster with, and many other dishes, drinks, and desserts exclusive to the exhibition.

The Menu

Isabella's Burger | ¥1,480 (Tax Included)

A hearty hamburger inspired by Isabella, the Mom of Grace Field House, filled with a fat patty, tomatoes, and lettuce. It's served with chips which are topped with a key that opens all doors in the house.

Emma's Omelette Rice | ¥1,380 (Tax Included)

A serving of omurice (rice-filled omelette) which features Emma's trademark lock of hair that sticks up and orange edible flowers scattered over the tomato sauce, all to capture Emma's smiley personality.

Norman's Farm Green Curry | ¥1,580 (Tax Included)

A spicy green curry based on Norman standing in the fields of the forest. The plate includes the pen Norman finds which belongs to William Minevra, as well as the name Minevra written in Morse code around the outside of the dish.

Ray's Final Book Sandwich | ¥1,550 (Tax Included)

This dish is inspired by the scene when Ray gives Emma the last book he reads before escaping the house. The sandwich itself is made to look like the book and is filled with egg salad, crunchy fried fish, and tomatoes.

Full Score Parfait | ¥1,450 (Tax Included)

An assortment of ingredients based on the three main characters in the series who receive a full score: Emma (orange jelly), Norman (panna cotta), and Ray (chocolate pudding and cake). A parfait that's not overly sweet and displays each of the three characters' I.D. Numbers which are used for identification in the series.

Little Bunny Shortcake | ¥1,350 (Tax Included)

A mixed berry shortcake with Conny's precious Little Bunny on top. The bunny is made from milk pudding and sat on a bed of yogurt cream-filled fluffy sponge.

The House's Lantern Drink | ¥1,050 (Tax Included)

A lantern-style dessert drink with everyone from Grace Field House, topped with chocolate whip, frozen yogurt, and two pieces of orange inspired by Emma's hair.

The Promised Pendant Drink | ¥1,050 (Tax Included)

A refreshing combination of ginger ale, Calpis, and Blue Curaçao topped off with apple flavoured ice. The blue and green gradation of the beverage is based on the pendant given to Emma by Mujika, a key item of the story.

Emma's Cafe Latte, Norman's Cafe Latte, Ray's Cafe Latte | ¥850 Each (Tax Included)

Three cafe lattes with Emma, Norman, and Ray print on them. Every cup ordered gets you an original coaster. There are three coaster designs, each given randomly for every drink order.

Twitter Campaign – Christmas Edition Cafe Latte

Running: December 11, 2020 – December 25, 2020

From December 11-25, fans who answer the official Twitter quiz correctly have the chance to order the Christmas Edition Cafe Latte. Every cup ordered gets you a special coaster.

©Kaiu Shirai・Posuka Demizu /Shueisha

Information

THE PROMISED NEVERLAND SPECIAL EXHIBITION

Running: December 11, 2020 – January 11, 2021

Opening Hours: 10:00-22:00 (Last Entries 21:30)

Location: Roppongi Hills Tokyo City View Sky Gallery

Address: Roppongi Hills Mori Tower Floor 52F, 6-10-1 Roppongi, Minato-ku, Tokyo

Exhibition Website: https://yakuneba-ten.jp/

*Information about this event is subject to change without notice. Please visit the exhibition's portal site or Roppongo Hills Mori Tower's official website for the latest updates, cautions, and measures against COVID-19.

The Promised Neverland Special Exhibition Arrives in Tokyo This December

A special exhibition centred on the popular manga series The Promised Neverland will take place at Roppongi Hills Tokyo City View in Tokyo from December 12, 2020.

The Promised Neverland is a manga series written by Kaiu Shirai and illustrated by Posuka Demizu. The series was published in Weekly Shonen Jump and concluded with its final volume on June 15, 2020.

The exhibition will explore and celebrate the world of The Promised Neverland in detail, with displays, illustrations, early conceptions, and much more. A special manga episode will also be shown.

Entrance Exhibition

A towering display of every manga book cover will be on show, spanning 6 meters tall and 17 meters across. A photo spot for fans to take pictures with their favourite characters will be placed at the entrance area. Tokyo's night sky will also provide a beautiful backdrop.

Tickets

Tickets to the exhibition will go on sale via LINE Tickets on October 5, 2020. Limited edition tickets will also be sold which comes with a special booklet. And to reduce the risk of COVID-19 spreading, visitors must book a time and date in advance when purchasing their tickets. Full details are available here in Japanese.

Merchandise & Themed Food

Fans can also get their hands on a selection of exclusive and rare merchandise. The exhibition will also open CAFE GRACE FIELD, a collaborative cafe serving up food themed on the series.

©Kaiu Shirai・Posuka Demizu / Shueisha 

Information

THE PROMISED NEVERLAND SPECIAL EXHIBITION

Running: December 11, 2020 – January 11, 2021

Opening Hours: 10:00-22:00 (Last Entries 21:30)

Location: Roppongi Hills Tokyo City View Sky Gallery

Address: Roppongi Hills Mori Tower Floor 52F, 6-10-1 Roppongi, Minato-ku, Tokyo

Exhibition Website: https://yakuneba-ten.jp/

TV Anime The Promised Neverland Season 2 Teaser Visual Released

The June 2020 issue of Weekly Shonen Jump teased the first visual for the upcoming second season of the TV anime series The Promised Neverland. It also confirmed that the series will begin airing in Japan every Thursday at 01:25am on Fuji TV's Noitamina programming block starting from January 2021.

The anime's official website also released information on a range of plans that will take place in Japan to celebrate the 4th anniversary of the original manga.

The Promised Neverland Anime Vote (August 11-31)

Before the first season re-airs in Japan this October, a vote will take place where people can vote in two categories: for their favourite characters and favourite scenes. Fans are allowed to pick up to three characters for the Character category and five scenes for the Scene category.

The Promised Neverland Anime Quiz (August 11-31)

A quiz of 50 questions will test how much fans know about season one of The Promised Neverland. All participants will receive an online score sheet.

The Promised Neverland Radio Title Card Illustration Applications (August 11-31)

The official YouTube radio show for The Promised Neverland is taking applications for people to design their title card. Participants can submit whatever they like as long as it's within the conditions, including taking photos inspired by the series.

Celebrate Emma's Birthday (August 17-31)

Emma is the main character in The Promised Neverland. Her birthday falls on August 22, and so the creators are taking all celebratory messages from fans. If you tweet your message from the show's official website you can receive a birthday illustration on her big day.

Information

TV Anime "The Promised Neverland" Season 2
Initial Broadcast: January 2021

Official Website: http://neverland-anime.com