No Chocoholic Can Resist Lindt's New Nutty Caramel Chocolate Drinks
Since being founded in 1845, Lindt has carried its reputation as a Swiss brand of chocolate throughout the centuries, capturing the hearts of chocoholics in over 120 countries across the world. Lindt will be releasing a brand new chocolate drink on December 1, 2019 across Japan. The chocolate drink will be available in hot and cold and is made using an irresistible Gianduia chocolate hazelnut spread.
Both the hot and cold versions of the drink contain Lindt's signature melt-in-the-mouth milk chocolate which is mixed with luxurious hazelnut praline paste. The praline paste is made from roasted hazelnuts fused into delicious caramel. Once the aroma of both roasted hazelnuts and caramel entices you to take a sip, the rich flavour will spread through your mouth and you won't be able to stop.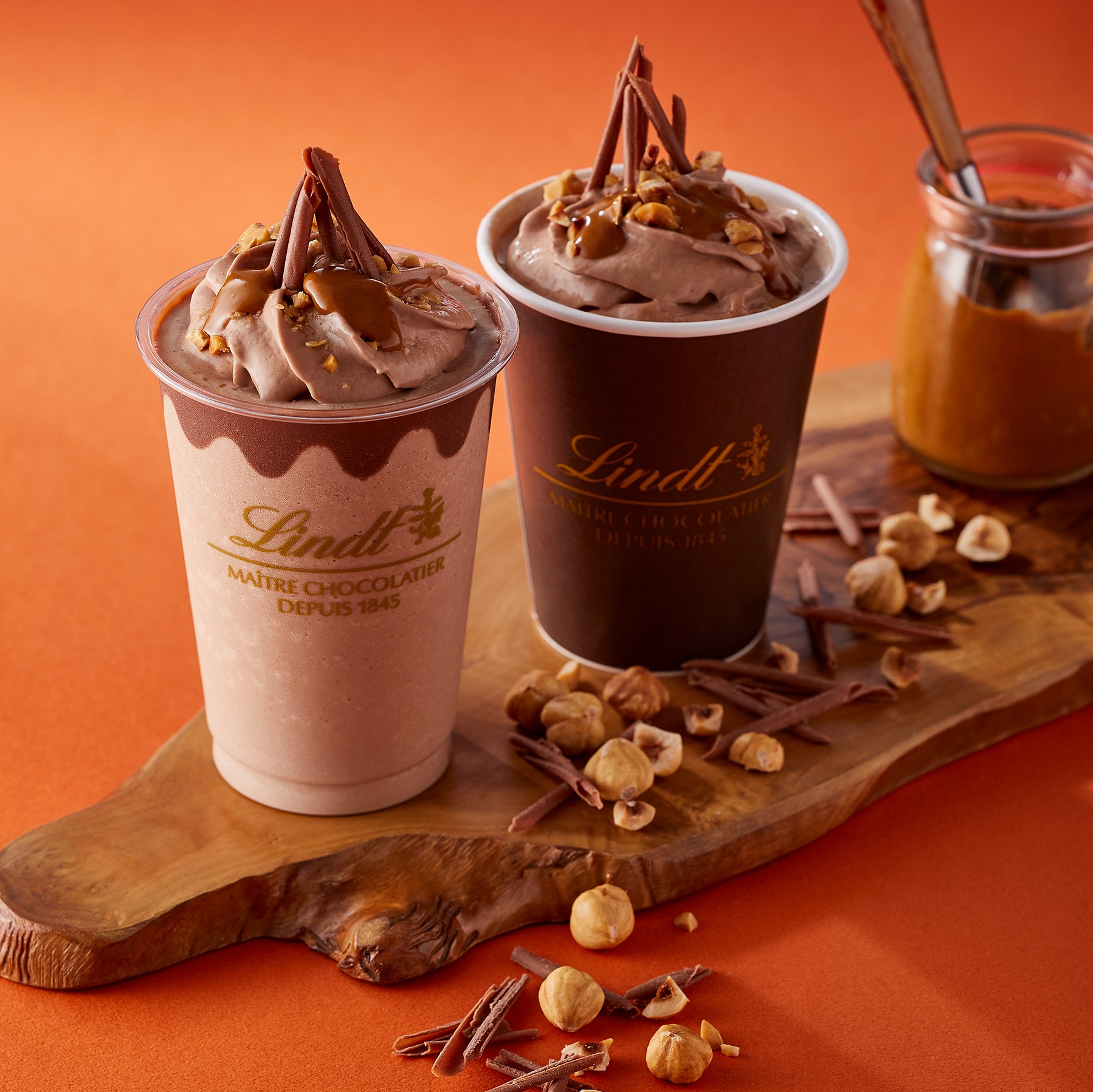 The drinks are topped with a fluffy chocolate and whipped cream combination and chocolate flakes which add a wonderful texture. The finishing touches on the drink consist of a drizzle of hazelnut praline sauce and a sprinkle of chopped hazelnuts. The wavy water pattern that can be seen decorating the iced chocolate drink can be mixed into the drink and enjoyed. If you're looking for a quick chocolatey refresh, the iced chocolate drink is perfect for you. For those of you who succumb to the winter chills, the hot chocolate drink will warm you up right away.
Once the fragrance of these drinks reaches your nose, no chocoholic will be able to resist.
Information
Lindt Iced Chocolate Drink Gianduia 
Lindt Hot Chocolate Drink Gianduia 
Price: ¥699 (After Tax)
Release: December 1, 2019 (to sell throughout the year)
Purchasable from all Lindt Chocolate Cafés in Japan.
Lindt Japan Official Website: https://www.lindt.jp/
RECOMMENDED ENTRIES
McDonald's Releases Luxuriously Chocolatey Winter Drinks

McDonald's McCafé by Barista serves up delicious coffee around the clock. From November 27, a heart-warming, chocolatey lineup will be arriving in McDonald's restaurants across the country which own a McCafé by Barista. The four new drinks to spice up your winter are: the Premium White Chocolate Frappé, Premium Chocolate Frappé, Premium Hot Chocolate and the Premium Iced Chocolate.


Whether it's a frappé, hot drink or an iced drink, pick your favourite to match your mood.


The Premium White Chocolate Frappé consists of white chocolate sauce and milk mixed with smashed pieces of chocolate. The drink is topped with whipped cream and chocolate sauce made from high-quality couverture chocolate. Finally, two chocolate sticks garnish the drink.White chocolate shavings dust the drink, creating the wonderfully wintery image of snow. Take a sip of this high-quality, Instagram-worthy drink to enjoy the chocolate melt in your mouth. The pieces of chocolate floating in the drink will add a wonderful texture to your experience.

From the left: Premium Iced Chocolate, Premium White Chocolate Frappé, Premium Chocolate Frappé, Premium Hot Chocolate.

 

The Premium Chocolate Frappés, Premium Hot Chocolate and Premium Iced Chocolate drinks are just as luxurious as the Premium White Chocolate Frappé and enjoy the same beautiful toppings.

 

Get in the winter spirit with one of McCafé by Barista's luxurious, winter-limited drinks.  

*The above images are not real and are representations of what the drink will look like. 

Information

Premium White Chocolate Frappé 

Price: ¥490 (M), ¥530 (L) 

Available: November 27 – mid December 2019 (Subject to change)

Premium Chocolate Frappé 

Price: ¥490 (M), ¥530 (L)

Premium Hot Chocolate 

Price: ¥450 (M)

Premium Iced Chocolate 

Price: ¥450 (M)

Available: November 27 – mid January 2020 (Subject to change)

*All prices above are tax included.

*Available to purchase from McDonald's restaurants across Japan which have a McCafé by Barista.

*Find out more information about McDonald's restaurants on their official store locator: http://www.mcdonalds.co.jp/coffee/top.php

*The drinks can only be purchased during McCafé by Barista running times. The running times vary from restaurant to restaurant.

Starbucks to Release Two Anniversary Drinks in Kyoto and Hyogo for Only 10 Days

Starbucks Coffee Japan is commemorating 20-years since opening their Kyoto and Hyogo Prefecture branches with a 10-day-limited anniversary project which will run from November 12 to November 21. The barristers of both prefectures rose to the challenge to come up with three anniversary drinks and a vote took place to decide on a winning drink for each prefecture. The winners were announced as the Kyoto Erai Matcha Matcha Frappuccino® and the Hyogo Bari Choco Haittou Frappuccino®.  

*  Update: Starbucks Coffee Japan has just announced that the 20-year commemoration drink sales period has been postponed. The new drink launch date and limited period is yet to be announced. For more information, please follow this link (Japanese only) : https://www.starbucks.co.jp/press_release/pr2020-3224.php 

One sip of the Kyoto anniversary drink will send your taste buds on a journey to Kyoto. The ideas for the drink originated from the Kyoto Porta West branch. The barristers of Kyoto took it in their hands to interpret the culture of Kyoto in the form of a Starbucks drink by infusing the essence of Kyoto's historical temples and elegant flavours. The taste of Starbucks' popular Matcha Cream Frappuccino® can be tasted in the drink. Just seeing the green colour is enough to trigger memories of the Zen Buddhist temple Saiho-ji, which is famous for its moss garden to the extent that it is even called "Koke-dera", meaning "moss temple".

The whipped cream creates a contrast with the green matcha which will definitely spark memories of Ryoan-ji Zen temple in some keen Kyoto travellers. The drink is dusted with matcha and dark mocha powder, creating the image of green and brown leaves. The milk base fully enhances the matcha flavour. A creamy cloud of whipped cream and dusting of bitter matcha are layered to create a wonderful flavour adventure which is bound to take your taste buds on a journey off the beaten track.

Stretching from the north to the south of the Japan, Hyogo Prefecture is the largest prefecture in the Kinki region and is home to many towns which are bursting with originality. Hyogo's barristers created their drink based on the concept of increasing love for Hyogo Prefecture's unique towns. The idea for the Hyogo Bari Choco Haittou Frappuccino® came from the barristers of the Himeji Minami branch. 

The Port of Kobe opened in 1868 and has since flourished as the gateway to the world. Foreign culture including western confectionary has since spread across Japan with Kobe as its starting point. Considering Kobe's history with western culture and the cold winter days that lie ahead, chocolate was chosen as the main flavour. Chocolate chips, chocolate sauce and chocolate whipped cream decorate the drink in diversity. The drink is even topped with chocolate sauce and dark mocha powder, making the perfect luxury Frappuccino® to tempt all chocoholics. After just one sip, you will immediately fall in love with the top-class chocolatey flavour. 

If you're in Kyoto or Hyogo, make sure to stop by a Starbucks to get your fill of cultural flavours.

Information

Kyoto Erai Matcha Matcha Frappuccino®

Price:¥590 (Tall, Before Tax)

Available at 33 Starbucks Cafes across Kyoto Prefecture 

*Sales will end once stock has been fully depleted.

Hyogo Bari Choco Haittou Frappuccino®

Price:¥590 (Tall, Before Tax)

Available at 54 Starbucks Cafes across Hyogo Prefecture

*Please be aware that not all Starbucks Cafes sell the Hyogo Bari Choco Haittou Frappuccino®. Sales will end once stock has been fully depleted.

Release: Please follow this link for updates on the new sales period and start date (Japanese only):https://www.starbucks.co.jp/press_release/pr2020-3224.php

Starbucks Japan Official Website: https://www.starbucks.co.jp/en/

Starbucks Japan Releases Merry Strawberry Cake Frappuccino

The holiday season has finally hit Starbucks in Japan, and for the first drink in their series of Christmas beverages, they are serving the new Merry Strawberry Cake Frappuccino which is made to look and taste like a strawberry cake. Customers can even customise their drinks with as much free strawberry sauce as they like.

Merry Strawberry Cake Frappuccino – Tall ¥590 w/ Free Strawberry Sauce (*Sauce not available with other drinks)

The drink is built on sponge cake flavoured base, on top of which sits ascending layers of bright-red strawberry sauce, whipped cream, and a sprinkling of freeze-dried strawberries, effectively creating a dessert that you can drink. One sip of this pink delight fills your mouth with the sweet and refreshing taste of fresh fruity strawberries.

We recommend customising yours with non-fat milk or soy milk. If you want to hold back on some of the sweetness, go for the non-fat milk option, and if you want something smoother, get the soy milk. Drizzle over additional strawberry sauce to your liking, and you've got yourself a festive treat for the season!

Information

Merry Strawberry Cake Frappuccino

Released: November 9, 2019

Available: At most Starbucks branches in Japan while supplies last

Official Website: https://www.starbucks.co.jp/
RELATED ENTRIES
Aromatic Kamakura Raw Chocolate Brand to Open New Branch in Nagoya

MAISON CACAO, the company behind the aromatic raw chocolate brand of the same name, will open a store on floor B1F of JR Nagoya Takashimaya on March 3, 2021. It will be the brand's first permanent shop in Japan's Tokai region.

The company held a special Valentine's event from late January to Valentine's Day where MAISON CACAO made the second most sales. They also enjoyed other sold out products, and showcased some exclusive indulgences like the gold leaf-adorned "Aroma Raw Chocolate ARMOUR" and "Aroma Raw Chocolate STRAWBERRY" as well as the all-new "Cacao Butterland."

The Nagoya Line-Up

Aroma Raw Chocolate AMOUR | ¥6,000 (Before Tax)

Exclusive to this new Nagoya branch of MAISON CACAO, these "AMOUR" chocolates are all handmade using techniques that have been passed down through the company. The dark chocolates are wrapped in luxurious gold leaf and have a fruity, sweet, and bitter combination. One box contains a generous serving of 16.

Cacao Butterland | ¥2,000 (Before Tax)

MAISON CACAO uses cacao beans from Columbia to bake its menu. These gooey treats are made with cacao butter and chocolate caramel with a double layering of dark and white chocolate. A rich and filling serving of six comes in a box.

 

Aroma Raw Chocolate STRAWBERRY | ¥2,200 (Before Tax)

Also a Nagoya-exclusive, these strawberry variants are made with intensely sweet JApanese amaou strawberries white combine with the fragrance cacao butter and white chocolate for a refreshing taste. You get 16 in a single box.

But Wait, There's More…

Raw Chocolate Butter Cake | ¥3,500

A cake made with velvety chocolate butter cream packed with roasted nuts, raisins, and caramel chips.

Rich Raw Chocolate Tart STRAWBERRY | ¥2,000

Yet another exclusive to Nagoya, these crunchy tarts are lathered in amaou strawberry chocolate and filled with runny and fruity amaou strawberry cream. A box comes with three included.

Other Popular Goodies Available While Supplies Last

Aroma Raw Chocolate MAISON (Grape) | ¥2,400 (Before Tax)

Babka | ¥2100

Raw Gateau Chocolate | ¥2500 (Before Tax) 

Information

MAISON CACAO

Grand Opening: March 3, 2021

Location: JR Nagoya Takashimaya Floor B1F

Address: 1-1-4 Meieki, Nakamura-ku, Nagoya-shi, Aichi

Opening Hours: 10:00-20:00

MAISON CACAO Official Website: https://maisoncacao.com/

Art and Chocolate Melt Together in Chocola Meets Crowdfunder

A new chocolate brand by the name of Chocola Meets has been cooked up in Japan that prioritises bean to bar chocolate made from fairtrade cocoa beans. The brand's USP however lies in its collaboration with artists who pen work for the chocolate's packaging.

16 art pieces created by 4 artists for the craft chocolate packaging

Chocola Meets will begin selling its tasty chocolate collection from mid-March, but for those who can't wait, the brand launched a crowdfunding campaign on February 15 via CAMPFIRE which offers pre-sales.

 

Chocola Meets prides itself on its collaborative business model which provides support to participating artists by giving them a cut of sales. This includes the money made for the crowfunder as well as the proceeds made from chocolate sales.

Sasabe (Chocola Meets, Operations Officer) | Comment

"The concept for Chocola Meets is, 'Meet My Like: Experience What it Feels Like to Find Your Likes.' This is something we value and is the reason why Chocola Meets exists. The reason behind our collaborative business model of Art x Craft Chocolate, something which hasn't been done before, is to continuously offer that very concept – one which holds irreplaceable value. And in order to do that, we needed something that allows the artists to continue living comfortably. So we're giving proceeds from the chocolate to the artists which gives them an incentive to create."

The CAMPFIRE crowdfunder offers pre-sales of the chocolates at a discounted price. There are other benefits too, like framed art by the artists, coupons, and more.

Chocola Meets successfully met their Crowdfunding goal, having raised ¥430,700 of the pledged ¥300,000 (as of February 16, 2021).

Fruit and Sake Infused Chocolates by Lotte to Release in Japan

Japanese confectionery company Lotte is releasing two new chocolates on March 23 that are infused with sweet and tangy fruits and sake: the "Torotto Strawberry Liqueur Chocolate" and "Torotto Citrus Liqueur Chocolate."

The Line-Up

Torotto Strawberry Liqueur Chocolate | ¥200 (Before Tax)

This melt-in-the-mouth milk chocolate delight is laced with a sweet strawberry liqueur filling that's sure to please the taste buds of all who love combination of chocolate and alcohol.

Torotto Citrus Liqueur Chocolate | ¥200 (Before Tax)

This one is also wrapped in velvety milk chocolate but its filling is replaced with a citrus fruit liqueur, lending a fresh, flavourful finish.

These chocolates are the perfect combination of sweet and sour fruits and Japanese sake for the coming spring season.

Harajuku Whips Up Oita Prefecture's Jazz Youkan Sweet Adzuki Bean Block

The Jazz Youkan is a cute confection made from sweet adzuki red bean paste and made to look like a little piano. It's made in Japan's Oita Prefecture, but Tokyo residents can now enjoy this sweet treat at HARAJU Cross JAPAN MASTERY COLLECTION_est which is located on Floor B1F of WITH HARAJUKU, a shopping complex in front of Harajuku Station. It is being sold until February 14 in three flavours: Chocolat, Matcha Chocolat, and Classic.

The Jazz Youkan

The Jazz Youkan is a confectionery made by Jazz to Youkan Yufuin CREEKS, a shop in Yufu, Oita. It's part of their concert series of sweets and pairs well with a cup of coffee or glass of wine.

Line-Up (Prices Include Tax)

Chocolat | ¥2,646

The seasonal winter Chocolat is made with sweet white bean paste, couverture chocolate, dried cherries, fig, and raisins. All the chocolates in this series are individually handmade by the shop's chocolatiers, and this time, the classic Chocolat variant has been made even more delicious. It's smooth, moist, and rich without being too sweet. Best enjoyed with coffee or wine.

Matcha Chocolat | ¥2,646

If you love matcha then this is the treat for you. It's different from the normal Chocolat version of this sweet as it's made without dried fruits. Instead, it contains large-grained adzuki beans for an irresistible texture.

Classic | ¥2,160

The Classic version is made with brown sugar from Okinawa and adzuki beans and contains dried figs soaked in wine. Another perfect pairing with coffee or wine, and the piano face shows the work of true Japanese artistry.

©冬季限定 ジャズ羊羹 chocolat

Information

Jazz Youkan
Order Window: January 16, 2021 – February 14, 2021
Orders: TEL: 03- 6384-5815 / E-mail: shop_est@japanmasterycollection.jp
Sales Window: February 7, 2021 – February 14, 2021
Where: HARAJU Cross JAPAN MASTERY COLLECTION_est
Address: 1-14-30 Jingumae, Shibuya, Tokyo
Opening Hours: 12:00-18:00
Jazz to Youkan Yufuin CREEKS Official Website: http://www.jazz-youkan.com/

Pokémon, My Melody, Moomin and More Valentine's Day Chocolates Arrive at Daimaru Tokyo

The Hoppe Town area of Daimaru Tokyo is currently celebrating Valentine's Day up to February 14 with the release of a selection of gift chocolates by six brands in collaboration with popular characters.

Pokémon Chocolate Set (Large Box) | ¥1,404 (Tax Included)

My Melody x Goncharoff Chocolates (Contains 21) | ¥2,160 (Tax Included)

Moomin x Merry Chocolate's Hattifatteners Chocolates (Contains 11) | ¥1,188 (Tax Included)

Dick Bruna by Morozoff: Picture Book Chocolates (Contains 15) – ¥864 (Tax Included) / Miffy Pouch Chocolates (Contains 8) – ¥1,320 (Tax Included)

Chatrois Kitten Tiny Plain Chocolates | ¥783 (Tax Included)

Katanukiya Angel Panda | ¥684 (Tax Included)

Which of these cute and tasty-looking treats has caught your eye the most?

©Nintendo・Creatures・GAME FREAK・TV Tokyo・ShoPro・JR Kikaku ©Pokémon
©1976,2021 SANRIO CO,LTD.APPROVAL NO.L613374
©Moomin Characters™

Information

Daimaru Tokyo Valentine's Sweets
Running: January 27, 2021 – February 14, 2021

Location: Hoppe Town on Floor 1F of Daimaru Tokyo
Official Website: https://www.daimaru.co.jp/

Tokyo's Fancy New Pink Afternoon Tea at THE GRAND GINZA is Topped With Chocolate and Strawberries

THE GRAND GINZA in Tokyo is getting ready for Valentine's Day and White Day with the revealing of its new afternoon tea menu which will be served from February 1 to March 31.

The "Pink Afternoon Tea" is a combination of succulent strawberries and fruity ruby chocolate, which is the fourth type of chocolate alongside milk, dark, and white. It includes a ruby hot chocolate for staying warm during these cold winter months, strawberry macarons, strawberries to dip in ruby chocolate, strawberry quiche curry, and other unique items for a mix of sweet and savoury. There's also a strawberry mille-fuille made with a recipe by Ginza's famous French restaurant Maxim's de Paris.

There are also 18 drinks to choose from including 13 types of teas from TWG. It's a must-visit for Valentine's Day.

Sankt Gallen Brewery to Release 800 Limited-Edition Chocolate Beer Bottle Sets

Sankt Gallen Brewery has announced the release of a new drinking set which includes its chocolate-flavoured beer "Imperial Chocolate Stout" and a special glass for drinking it out of. The brewery, which is located in Atsugi, Kanagawa, will launch it as a limited-edition release on February 1, 2021 with just 800 sets available.

Imperial Chocolate Stout ¥600 | Le Lectier Chocolate Stout 2021 Edition Flavour ¥500 | Orange Chocolate Stout ¥500 | Sweet Vanilla Stout Valentine Label ¥460 (All Prices Pre-Tax)

Chocolate Glass

Chocolate Glass Set

The Imperial Chocolate Stout isn't made with cacao or the chocolate used in sweets. It's in fact made with "chocolate malt," a raw beer ingredient roasted at a high temperature which draws out its chocolaty flavour. Although the beer uses almost 30% more of this raw ingredient than regular beer, only about half the amount is brewed from a single distilling compared to regular beer, which gives the beverage a distinct jet black colouring. The bubbles on top make it almost like a chocolate shake.

Other drinks in this series include the Le Lectier Chocolate Stout which arrives this year in a limited-edition 2021 flavour. It's made with the Le Lectier, a rare type of pear that is difficult to grow. The Orange Chocolate Stout is made with thinly sliced bitter orange peel, the kind that's used in marmalade, of which half is boiled to intensify its citrusy notes. It's inspired by the classic French confection that coats orange peel in chocolate. Finally, the Sweet Vanilla Stout comes in a Valentine's Day label for 2021. This beer, which is richly black like an espresso, is laced with vanilla, bringing with it a sweet fragrance and vanilla chocolate aftertaste.

These chocolate beers themselves go perfectly with some actual chocolate, and so Sankt Gallen Brewery teamed up with the Japanese patissier Tadashi Yanagi to create a glass made of chocolate to drink the beer from.

Which of these beverages has your mouth watering the most?

The Perfect Valentine's Day Treats in Japan Can Be Found at Tokyo's Hotel Metropolitan Edmont

Hotel Metropolitan Edmont, a hotel situated in Chiyoda, Tokyo, will celebrate Valentine's Day with an angelic line-up of sweet treats that will be sold from February 1 to 14.

The Chocolates

Truffle au Chocolat – Box of 4: ¥1,200 (Before Tax) / Box of 6: ¥1,800 (Before Tax) / Box of 10: ¥3,000 (Before Tax)​

Indulge in a luscious assortment of four chocolates: the citrus-filled 'Grand Marnier,' the slightly bitter 'Rum,' the full-bodied and tangy 'Raspberry,' and the Uji-matcha packed 'Matcha.'

Orangette (Contains 15) | ¥2,000 (Before Tax)

If you love chocolate combined with fruit, then the Orangette will be your poison, filled with fresh and bitter orange peel and coated in chocolate. It has a distinct refreshing fragrance to it which expands across the taste buds with every bite.

Raisin Chocolat | ¥1,200 (Before Tax)

Love rich, full-bodied flavour? These raisins are soaked in French Sauternes wine and covered in dark chocolate. Their fruity flavour makes them a perfect accompaniment to a glass of whisky or bourbon.

The Cakes & Pastries

Eme | ¥600​

A perfect pick for Valentine's Day: a heart-shaped mousse containing rich, velvety chocolate that's jam-packed with fresh raspberry jelly.

Brioche Chocolat | ¥260

Enjoy taking a bite out of this brioche made from butter and egg that's laced with custard cream and chocolate.

Loving Valentine's Day Chocolates Tempt at The Peninsula Boutique & Café in Tokyo

Peninsula Merchandising Limited is set to capture hearts this Valentine's Day with the announcement of a desiring new collection of chocolates which will be served at two branches of The Peninsula Boutique & Café in Shin-Marunouchi Building and Isetan Shinjuku from February 1.

Sweetheart | ¥3,400 (Before Tax)

Macarons (6 Included) | ¥2,860 (Before Tax)

Truffle Truffle | ¥1,500 (Before Tax)

Strawberry Bear Ruby Chocolate Bar | ¥1,750 (Before Tax)

Eponge | ¥560 (Before Tax)

Croquembouche | ¥720 (Before Tax)

Rose Rouge | ¥1,500 (Before Tax)

Love Lock Key Ring | ¥5,000 (Before Tax)

The romantic line-up features an assortment of lovingly-crafted confections, from ruby chocolate to colourful macarons, a rose-topped chocolate, and more—all available for the season of love. The boutique cafes will also sell a special heart-shaped key ring for lovers to express to their special someone that they complete them.

Disney's Mickey and Minnie Mouse Feature on Lotte's Choco Pie Chocolate Treats

Japanese confectionery company Lotte is joining white gloves with Mickey and Minnie Mouse to collaborate on their popular chocolatey Choco Pie treats. The tie-up will roll out in Japan from January 26.

Lotte Choco Pie Heartful W Strawberry

Lotte Choco Pie Heartful W Chocolate

Try and find the Mickey head on the packaging

Get your hands on one of 10 packaging designs

Line up these two to make it look like Mickey and Minnie kissing

 

Handmade Choco Pie Art

This marks Choco Pie's first collaboration with Disney's characters with Mickey and Minnie appearing in ten different designs. Each design has a hidden Mickey head to find (like in Kingdom Hearts III). Lotte is has also showcased some unique designs you can make for Valentine's Day with the Choco Pies, so get creative!

ⓒDisney

Information

Lotte Choco Pie Mickey & Minnie Design
Release Date: January 26, 2021
Official Website: https://www.lotte.co.jp/

Hello Kitty Valentine's Day Chocolates by Bicerin Are Sure to Surprise Your Lover

Café Al Bicerin released a special collection of chocolates in Japan for Valentine's Day on Wednesday (January 20) in collaboration with Hello Kitty.

Café Al Bicerin is a cafe in Torio, Italy, that first opened back in 1763. It has a long history and is a place that was enjoyed by the likes of Friedrich Nietzsche and Ernest Hemingway.

Bicerin × Hello Kitty Love Assortment | ¥2,160 (Tax Included)

Bicerin × Hello Kitty Love Assortment | ¥2,160 (Tax Included)

Valentine's Baci di Dama (Includes 5) | ¥1,350 (Tax Included)

© 2021 SANRIO CO., LTD. APPROVAL NO. L617585

Information

Bicerin x Hello Kitty Valentine's Collection
Released: January 20, 2021
Available: Bicerin Japan (Ginza SIX, Takashimaya Shinjuku, Midland Square, Hankyu Umeda, Roppongi Hills, Tokyo Midtown Hibiya)
Official Online Store: https://shop.bicerin.co.jp/
Official Website: http://www.bicerin.co.jp/

Luxury Japanese Gateau Chocolate Infused With Sake Made From Famous Yamada Nishiki Rice

Japanese sweets and dessert brand KAKERI opened pre-orders for its new luxury chocolate "Nihonshu Gateau Chocolat" on Monday (January 18) which is made in collaboration with Inami Shuzo, a distillery based in Miki, Hyogo, a city known for a type of rice called Yamada Nishiki. Pre-order opened exclusively on Makuake.

Daigin Koshu – Bronze Award winner in the Sake category at IWC2020

Inami Shuzo

The chocolate is infused with Daigin Koshu, a sake made by Inami Shuzo which won a Bronze award at the International Wine Challenge for Japanese Sake in 2020. The chocolate is also best paired with a cup of strong sake too. Online orders are shipped in freezer refrigeration and can be eaten frozen too, giving it an ice cake-like texture. If left to defrost in the fridge, the taste and fragrance of the infused sake increases, so sake-lovers can pick how they best want to enjoy their gateau treat.

What makes this chocolate so special is that it enjoys the combination of ingredients and a workforce all from the city of Miki where the distiller is located. The sake is made with a rice called Yamada Nishiki which is grown in Miki and is famous for being used to make sake. The consumption amount of this rice has decreased as a result of the pandemic and so the chocolate was developed to help spread word of the rice and ensure it doesn't go to waste.