Hotel Royal Classic Osaka: A Museum & Hotel Fusing Tradition and Innovation in an Art Museum-Style Space
Shin Kabuki-za is an old theatre in Osaka that has been loved by locals since it opened in 1926. The theatre is set to find new life as Hotel Royal Classic Osaka, a new hotel developed by Japanese architect Kengo Kuma which is set to open on December 1, 2019. The MOSHI MOSHI NIPPON editorial team received exclusive access to view the hotel before it opens to report on it and showcase how it differs completely from other hotels with its characteristic charms.
Its direct connect to Namba Station means super easy access
Hotel Royal Classic Osaka is situated in the central part of Osaka Minami. Direct access to the hotel from the Osaka Metro section of Namba Station will be made available from March 2020, allowing for easy access and the reassurance that you won't get lost wandering the streets trying to find your accommodation. Its location means easy access for tourists and travellers with a lot of luggage, working professionals who want to shorten the distance between commutes as much as possible, and pretty much any other scenario where accessibility is a priority.
An iconic building exterior combining tradition and modern innovation
Shin Kabuki-za is known by the locals who live in the area for its magnificent karahafu roof gables. The hotel will inherit this symbolic part of the theatre's design and restore the lower part of the building. The upper part makes use of multiple layers of aluminium to create a dynamic and intricate design, resulting in a unique appearance that fuses both the traditional formation of the original theatre with a modern touch. Thanks to Kengo Kuma's skillful architectural work, the building merges effortlessly with the surrounding buildings while retaining the local culture.
It's as much of an art museum as a hotel
Olympic Girl 100m by Ay-O (Takao Iijima)
The hotel also stands tall and proud as an art museum. As you walk down its corridors, your eyes will meet a plethora of gorgeous pieces of artwork which serve to lay guests into a sense of calmness and tranquility. These works are scattered throughout the hotel, both at the front desk, guest rooms, and elsewhere, making it feel like you have really stepped into a museum of art. High-class pieces also line the walls nonchalantly, so give yourself time to appreciate the many masterpieces you'll find there.
High ceilings create spaceーspace which is nothing less than relaxing
There are 150 guest rooms in total, consisting of Standard Rooms, Premium Rooms, and Suite Rooms. Not only does each and every room boast a beautiful and panoramic window view of Osaka's nightscape, they also enjoy high ceilings, creating a sense of space and freedom.
Wood is the base of all the rooms, giving them a natural and relaxed feeling. The furniture is simple which gives the rooms a minimalist design, again adding to the space and sense of luxury. We stayed in one of the Standard Rooms. Don't let going for Standard make you feel inferior, however, as we felt the room was incredibly spacious with plenty of space to store luggage.
Room lighting is controlled with a tablet located next to the bed. The tablets are compatible in four languages. Each icon on them also has universally easy-to-recognise pictures for easy use.
Also, the bathtubs in Standard Rooms have a little window that looks into the main bedroom. If you're with someone you're on good terms with, whether friends, family or a loved one, you can communicate back and forth while you take a soak. (There is of course a sliding door so you can close it off too!)
We were also shown around one of the Suite Rooms which are fitted with a living room and spacious washroom. It really is penthouse-level extraordinary.
The bathrooms have a window that looks out across the city nightscape, allowing for an indulging soak with a breathtaking view. It's not one we could afford every single time we book a hotel, on a special occasion one time it's an absolute definite.
Amenities galore to pamper your hair and body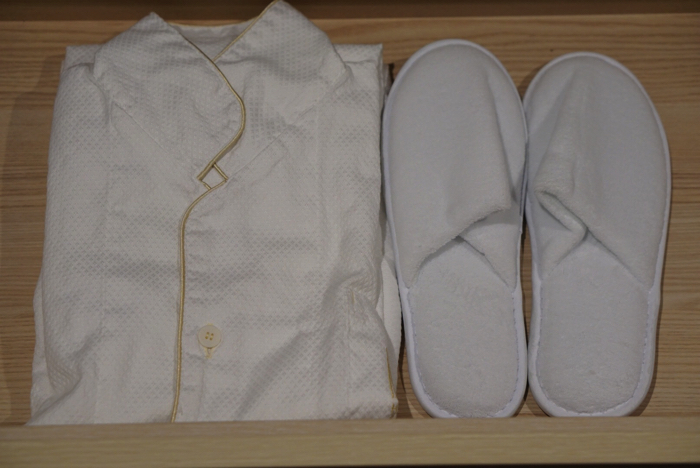 The rooms come with a long line-up of fantastic amenities, like comfy cotton PJs, fluffy slippers, and our personal favourite: a compressed bag for your clothing. 
The amenities in the washroom were bountiful too, from shampoo to conditioner, shower gel and body gelーall of which, by the way, are by the Thai organic brand Panpuri. They all smelled incredible and filled the bathroom with their gorgeous scent.
They have all your ordinary must-haves too like a hair comb, cotton buds, toothbrush, and so on.
KUMO KUMO: The bar and lounge with comfy sofas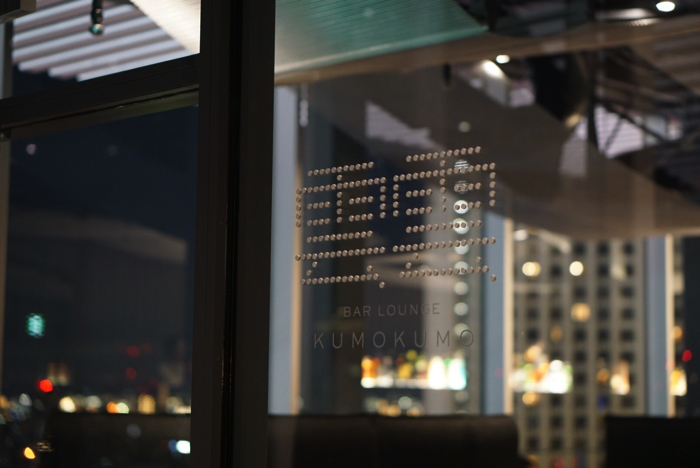 The hotel building has a total of twenty floors. After enjoying our time in the hotel portion, we headed up to the bar and lounge KUMO KUMO on the 20th floor. Inside the elevator, piano music plays while you gaze at the several pieces of art fitted inside. There was even a piece by Yayoi Kusama, so be sure to take a look.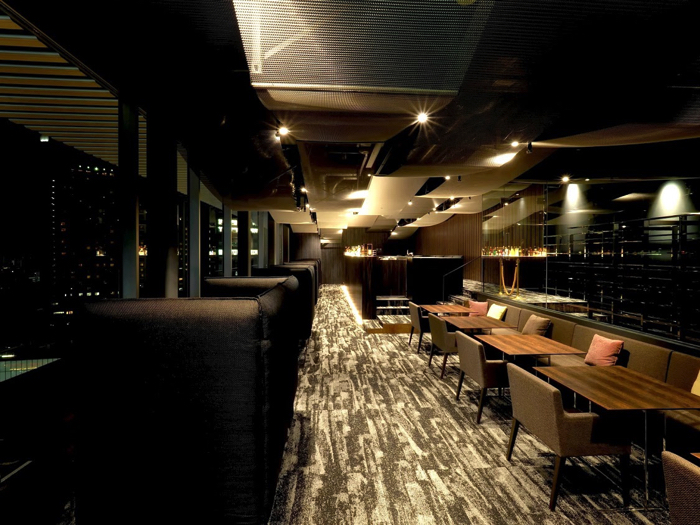 When entering KUMO KUMO, there's not only seats at the counter, but lots of sofas too with a window view.
Jazz music flowed through the bar and lounge, which is best enjoyed with a cup of delicious sake while staring out over nighttime Osaka.
HAFU is a restaurant for guests only that serves breakfast.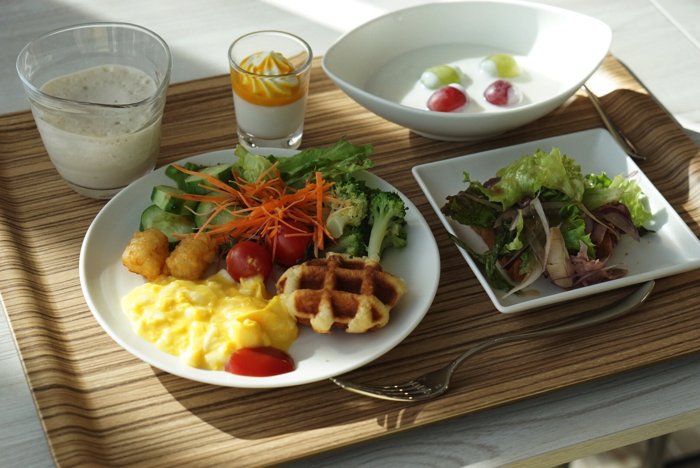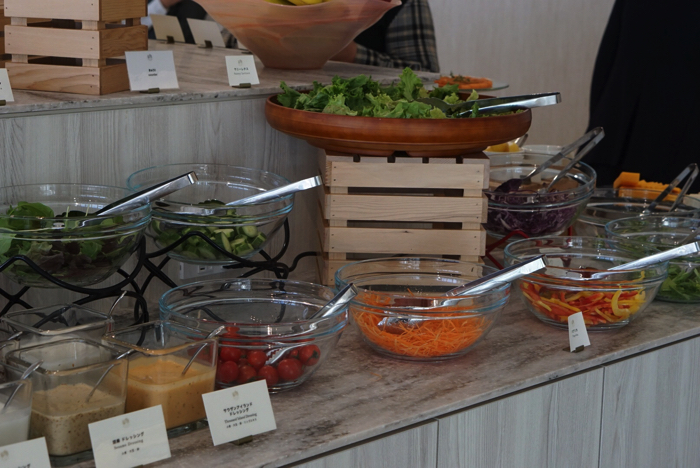 Their menu consists of lots of healthy options, from fruits to salads.
The chef will also prepare fresh hotel-grade egg and meat dishes too, amongst other delicious delights. There's also a range of slim-friendly menu items made with foreign guests in mind. The assortment was truly incredible, we can't recommend this place enough.
Of course, there's yogurt, mini sweets and other dessert-like morning treats to indulge in too. It was a breakfast for the gods.
YURAYURA: A restaurant that combines Japanese and Western cuisine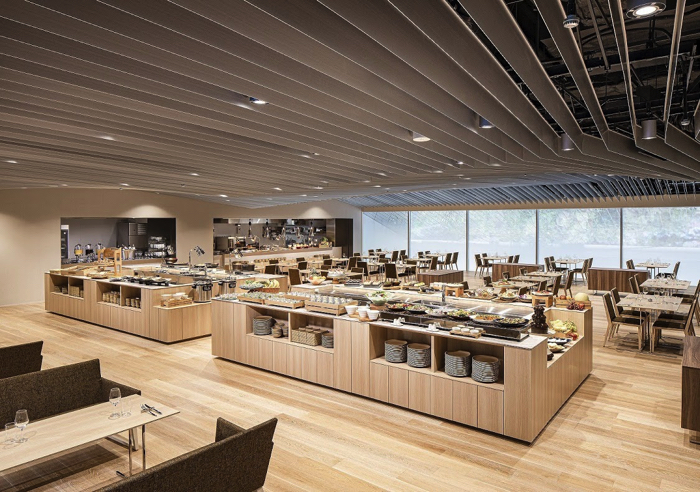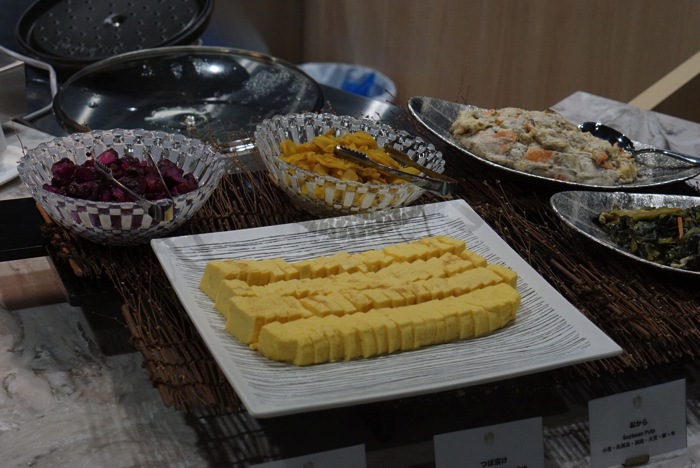 The team enjoyed lunch at YURAYURA too, a buffet-style restaurant that also seats non-guests. Their menu is an amalgamation of the Japanese and Western palate, serving carefully-selected ingredients from countries around the world.
They had various foods from around Asia too like nasi goreng from Indonesia, as well as Korean japchae, and more.
Other things we spotted were pincho and small-cut sweets too.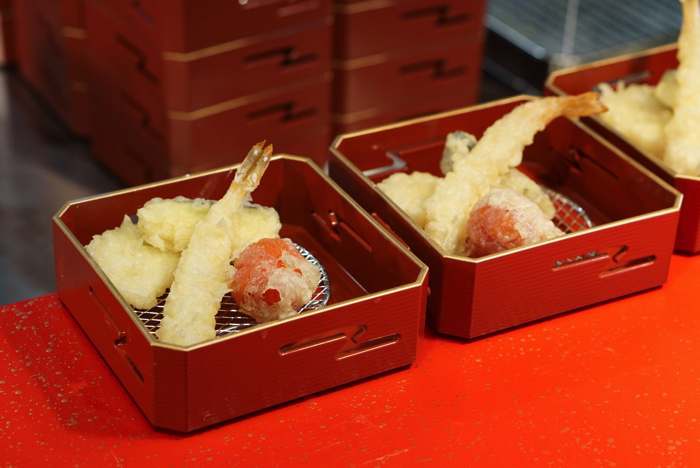 For Japanese food there were things like freshly-fried tempura, and large cuts of roast beef which were cut there and then by the chef.
What I was personally happy about was their cafe menu, with things like cafe latte and other hot drinks. It was a satisfying 90-minutes spent, wolfing down food and then enjoying some sweets with a cafe latte.
5 spaces that can be used for weddings, parties & more

The hotel building even houses two chapels, as well as banquet halls, which can be used for weddings, parties and more. The chapels have large windows that let in plenty of natural sunlight. The use of natural wood also gives the room a warm feeling to it.
Floor 8's HANAEMI
There are five banquet halls in total each on a different floor and each with their own concept. Those on floors 7, 8 and 9 even have terraces for parties too. Whether you're having a party, a wedding, or a conference, there is a room for you.
Hotel Royal Classic Osaka's speciality is its inclusion of leaving a part of traditional Japan in there while still letting you feel the Japan of today. Whether you're travelling to Osaka for some sightseeing and fun, or you're in the business scene and need a regular-use hotel, look no further. We felt connected to Osaka in our experience there, so if you're planning a trip to Osaka, be sure to book with Namba's newest landmark.
Information
Hotel Royal Classic Osaka
Address: 4-3-3 Namba, Chuo Ward, Osaka
Grand Opening: December 1, 2019
Access:
①From March 2020, the hotel will be directly connected to Exit 12 of Namba Station in the Osaka Metro section
②4-minutes on foot from Namba Station via the Nankai Main Line
③3-minutes on foot from Namba Station via the Hanshin Namba Line
④10-minutes on foot from Namba Station via the JR Line by way of Namba Walk (underground)
Official Website (English): https://hotel-royalclassic.jp/en/
RECOMMENDED ENTRIES
This Relaxing Onsen Hotel with Picturesque Nature and Luxurious Local Cuisine is the Perfect Getaway

Japan is full of picturesque locations where you can be at one with nature and soak the tiredness of your body away in the onsen baths. If you are looking for an escape from busy working life, then you're in luck: Today we'll be introducing you to a modern onsen hotel which is perfect for families, lovers, and even solo travellers. 

Escape from Tokyo on the bullet train, ride the Zairai line and finally, catch a bus. After your two-hour journey, you will arrive at onsen hot spot Uonuma city in Niigata Prefecture. Today, we'll be heading to Tomoya Hotel. The picturesque scenery of paddy fields and mountains will unfold before your very eyes and put your mind at ease.    

Sunlight pours over the reception desk from the giant window. It was time to check in. After being informed on meal times and private onsen rentals, I quickly headed to my room.

I was given room 305. The warm wooden structure made the room feel lavishly large. Whether you're snuggling up with a lover, chilling out with friends or relaxing with family, the atmosphere and size of the room allows for flexible usage.

The Sanashi river was right outside my window. I could watch the soothing clear water flow out to the horizon for hours. 

The room was prepared with loungewear, bath towels, toothbrushes, socks and many other amenities. It was even fitted with a fridge and water heater. 

From the lamps lighting the stairway and hallway sofas to the displayed artwork, every item in Tomoya Hotel is a carefully selected item of special design. 

There was even a DJ area next to the lobby which contained a surprising stash of records, CDs and DVDs which was uncountably large. Being able to discover new music and films is another admirable feature of the hotel. 

The front lobby is filled with a fresh and liberating atmosphere. There are plenty of spots to sit and read to yourself as the melodies of records weave through the air.

The shop sells specially selected products including locally produced juice, snacks and much more. You can even purchase Tomoya Hotel's original skincare goods. Reading the cheerful and thoughtful comments written on the goods by the manager made it clear that every single item in the shop was chosen with the utmost care. 

One by one, several lavish courses arrived at my door for dinner that evening. The locally-sourced ingredients and seasonal vegetables were served with Niigata prefecture's uonuma koshihikari rice, which is famed as Japan's best rice. 

Nameko mushroom hotpot, salt-fried East Asian trout, tofu mixed with lotus root, and sashimi were just some of the hotel's many original dishes that were brought to my door. As the rice was harvested from the first crop of the year, it was very sweet and so delicious that I helped myself to multiple servings without realising. The food was flavoured and seasoned very lightly to ensure that guests could fully enjoy the true flavours of the fresh harvest from the mountains and the sea. The luxurious dinner was highly enjoyable. 

I enjoyed sipping a small glass of Tomoya's chilled Reishu sake with my meal. This is an original recipe sake created by Tomoya Hotel and local sake brewery Tamagawa Shuzo. It was so refreshing, easy to drink and perfectly complimented every dish. The hotel provided a rich variety of alcoholic dinks including refreshing beer, carefully-selected wines, rare local sake, homemade fruit liqueurs, and more.

The onsen is home to rich history dating back to the year 1300 when it first opened its doors to the public. There are two types of private rental onsen and large public onsen indoors. Some square-shaped baths sit right beside a small stream which branches off from the Sanashi river. Treat yourself to a soothing soak in a historical onsen while absorbing the beautiful scenery. 

After finishing your relaxing soak, head to floor 1 of the main building to spend some time relaxing. This space is for guests to use freely and how they please. There are bookshelves lined with books and games available.

The first floor of the hotel annexe was my favourite place. Music from a variety of genres is played here. A disco ball hangs high, splashing light across the spacious room. There is a ping-pong table, a pool table, massage chair, piano, an old Nintendo game, manga and much more. It may seem like a relaxing place at first glance, but my heart was racing with excitement as I got hooked on the games.

The following morning, breakfast was delivered right to my room again. Seeing the tray filled with a luxurious mix of both western and Japanese-style cuisine was very pleasing to see. I indulged in yaki-fu: baked wheat gluten which is a specialty of Niigata, fried fish, rolled Japanese-style omelette, homemade cheesecake and much more. All the meals served at the hotel are made with the utmost care and precision. 

If I were to introduce all the wonderful services and features of Tomoya hotel then there would be no end to this article. The main highlights were the delicious meals made with locally sourced ingredients, the soothing onsen, the music, films and experience of art culture, and of course, the opportunity to get in touch with nature, watching the water trickle down the mountain streams as your mind discovers peace. 

If you are looking to heal your body, mind and soul whilst discovering nature and art, then Tomoya Hotel is perfect for you. 

Writer:Ellie(MOSHI MOSHI NIPPON)

Chat and Eat Japanese Sweets With a Real Maiko at Hoshinoya Kyoto

Hoshinoya Kyotoーa Japanese inn in Arashiyama where all rooms offer a river viewーhas announced a new event titled "Maiko Salon" which will run next year from February 4 to March 4 which offers female guests the chance to chat with a maiko (an apprentice geisha).

Maiko Salon is a women-only get-together that offers female guests to chat casually with a real maiko. The clothes that a maiko wears, including the kanzashi ornate hairpin, kimono, obi sash, obidome sash clip, okobo footwearーeverything, from head to toeーis carefully crafted by an expert artisan. This is why maiko have been called "walking pieces of traditional craftsmanship." At the Maiko Salon, you have the opportunity to wear such craft made in Kyoto and enjoy a sophisticated womanly party.

For example, the table runners are made with Nishijin-ori, a type of fabric made in Kyoto's district of Nishijin that has a history spanning over 1,000 years. The walls will also be decorated with obi cloth art panels with Maiko motifs.

Learn all about the Hanamachi geisha district through womanly conversation

Being entertained by geisha, known in Japanese as Ozashiki Asobi, is associated with maiko and geisha serving and entertaining men, and as being very private and inaccessible without being introduced by someone else. But since 2018, Hoshinoya Kyoto has been holding this women-only occasion for women to learn more about the culture in a casual environment. It's a chance to learn more about maiko and their lifestyle through womanly topics like skincare, makeup and so on. There will also be a dance performance, after which attendees can ask about the practises of a maiko, what they think of their work, and so on.

Edible Kanzashi Ornate Hairpins

An original Japanese confection made to look like kanzashi ornate hairpins has been whipped up in 5 flavours by Kameya Yoshinaga, a long-standing Japanese confectionery maker which first opened almost 200 years ago. Enjoy together with sparkling wine during your time with the maiko.

Information

Maiko Salon

Running: February 4, 2020 – March 4, 2020 (Not running on select days)

Price: Free

Bookings: Not required

Location: Salon & Bar Kura (Hoshinoya Kyoto)

Time: 16:00-17:00 (Maiko dance held twice daily)

Includes: Conversation with maiko, maiko performance, Japanese confection, sparkling wine

For: Guests at Hoshinoya Kyoto only (Men can also participate)

Notes: Times and days subject to change on certain days. The confections are also subject to change.

Hoshinoya Kyoto Official Website: https://hoshinoya.com/en/

Tokyo's My Hero Academia Themed Hotel Rooms Unveil Designs | Tokyo Prince Hotel

Tokyo Prince Hotel has announced a collaboration with the upcoming anime film My Hero Academia: Heroes: Rising which is set for release on December 20, 2019. Bookings are now open for their My Hero Academia themed hotel rooms, which will be available to stay in from December 7 this year until February 29, 2020.

The room designs and hotel plans were revealed today. There are two plans available: the "Concept Room Plan" where guests can stay in a room that recreates the world of the movie and comes with free merchandise and a themed drink, and the "Regular Room Plan," which features a regular hotel room decked out with lots of My Hero Academia decorations, and also comes with the merch and drink.

The concept room is split into two rooms: the first recreating the room in which the students of class 1-A meet the protagonist, Izuku Midoriya, and the second on Midoriya's bedroom.

Expect to see illustrations of the students as well as the Villains in the rooms too. Bookings are first-come, first-served, so don't miss out!

©️2019 "My Hero Academia THE MOVIE" Production Committee ©️Kohei Horikoshi/Shueisha

Information

My Hero Academia Collaboration Hotel Plan

Location: Tokyo Prince Hotel

Running: December 7, 2019 – February 29, 2020

Bookings: Open from December 22, 2019 (First-come, first-served)

Booking Page: https://www.princehotels.co.jp/tokyo/plan/contents/myheroacademia_stay/

Plan Details

①Concept Room Plan (Original Merchandise & Drink)

②Regular Room Plan (Original Merchandise & Drink)

Amenities:

・Pop-up card

・Metal keyring

・Pass case

・Toothbrush set

・Original drink (w/ coaster)
RELATED ENTRIES
Hoshino Resorts KAI Poroto to Open in Hokkaido in January 2022

Hoshino Resorts, Japan's premiere hotel management company boasting over 40 properties both inside and outside Japan is set to its new onsen ryokan (hot spring Japanese style inn) Hoshino Resorts KAI Poroto in January 2022 following the completion of a partnership agreement with Shiraoi, Hokkaido on June 28, 2018.

KAI Poroto comes as the 19th property for the KAI brand, following KAI Nagato (opened in March 2020), KAI Kirishima (scheduled to open in January 2021), and KAI Beppu (scheduled to open in summer 2021). It will also be the third KAI property to open in Hokkaido, following RISONARE Tomamu in Shimukappu and OMO7 Asahikawa in Asahikawa. The new property will be designed by Japanese architect Hiroshi Nakamura.

(Hiroshi Nakamura & NAP)

Guests will be able to enjoy Shiraoi onsen water at KAI Poroto. The water comes from a "moor spring" which contains organic minerals derived from plants. This type of water is rare throughout the world. KAI Poroto faces the shores of Lake Poroto and is surrounded by the natural forests of Hokkaido where many species of wild bird live. All guest rooms boast a lake view where changes in scenery throughout the seasons can be enjoyed.

KAI Poroto will is cooperating with both the town of Shiraoi as well as "Upopoy", the National Ainu Museum and Park, which has the aim of becoming a "symbolic space for ethnic harmony". The facility will respect Ainu culture and provide a place of accommodation for guests to experience it.

Upopoy: A symbolic space for ethnic harmony

A symbolic space for ethnic harmony by the name of "Upopoy opened in Shiraoi, Hokkaido on July 12, 2020. This national centre serves as a base for the reconstruction and development of Ainu culture, which is in danger of survival. The main facilities are the National Ainu Museum and the National Ainu Park. The National Ainu Museum is the first national museum in Japan centred around indigenous Ainu people and the history and culture of the people as expressed through their perspective. This is expressed in a variety of different exhibits. The National Ainu Park is a field museum, where Ainu culture can be taught through a number of programs. Experiences on-site include the Ainu traditional dance, which is registered as UNESCO intangible cultural heritage, wood carving, and embroidery workshops, as well as food and traditional performing arts experiences. "Upopoy" means "to sing (in large numbers)" in the language of Ainu.

Designed by Hiroshi Nakamura

Japanese architect Hiroshi Nakamura is behind the design of KAI Poroto. "Poroto" means a large lake in the Ainu language and KAI Poroto boldly draws this lake into its premise. In the lobby of the birch forest, guests will be greeted by a magnificent view of the lake, which leads to Mount Tarumae. Guests can also relax in the lounge while watching the flames in the fireplace, something which was at the centre of Ainu people's lives. On the surface of the lake, a bathhouse called Kashi, which is built using traditional Ainu construction methods, stands like a village. The open-air bath makes one feel as if you are immersed in the lake. The design has been created in a way that is modern, inspired by the lifestyles, nature, and family of Ainu people.

Pokémon Cafe and Pikachu Sweets by Pokémon Cafe Reveal New Desserts Including Polteageist Tea Set

Pokémon Cafe and Pikachu Sweets by Pokémon Cafe are releasing a new teatime menu at their respective branches on October 24, 2020.

Pokémon Cafe

Polteageist & Sinistea Tea Party! Fruit Tea Set ~Apple Flavoured~ | ¥1,188 (Tax Included)


Polteageist & Sinistea Tea Party! Fruit Tea Set ~Strawberry Flavoured~ | ¥1,188 (Tax Included)

Pokémon Cafe is serving up two different fruit tea sets based on the Ghost-type Pokémon Polteageist and Sinistea. Customers are free to pour in their desired amount of fruit syrup which changes the colour of the tea. The sets come with a cute cookie too.

Pikachu Sweets by Pokémon Cafe

Left: Polteageist's Tea Party! Fruit Tea ~Mixed Berry Flavour~ / Right: Polteageist's Tea Party! Fruit Tea ~Peach Orange Flavour~ | ¥700 Each (Before Tax)

Pikachu Sweets by Pokémon Cafe is also going to serve up some Polteageist themed fruit teas as well as a selection of desserts like macarons and financier almond cakes which have Pokémon tail and ear designs.

After ordering one of the Polteageist fruit teas, customers can place their cups under the Polteageist tea pot as pictured above and activate the pot to dispense their drink, so it's like Polteageist  really pouring tea for you.

Left: Swirlix Strawberry Macaron | Middle: Pikachu Vanilla Macaron | Right: Galarian Ponyta Pistachio Macaron – ¥500 Each (Before Tax)

Treat yourself to one of the super cute Swirlix, Pikachu, or Ponyta macarons each with designs that tell you instantly which Pokémon they're inspired by.


Polteageist Fruit Tea and & Pikachu Macaron Set

Customers can order a tea and macaron combination set too.

Pikachu Parfaits

Pikachu Glass Parfait Set | ¥1,500 (Before Tax)

An adorable set of Pikachu parfaits, one being caramel banana flavoured and the other chocolate.

Pikachu Tea Party Assortment – Pika Pika Pikavee Set | ¥2,800 (Before Tax)

Another set to share between friends and family, this time with two Pikachu glass desserts as well as Pikachu and Eevee cupcakes.

Pikachu Tea Party Assortment – Ghost Type Set | ¥2,800 (Before Tax)

This set comes with the Pikachu glass desserts as well as Ghost-type Gengar and Litwick mousse cakes.

The Polteageist teapot and Sinistea teacup used at the Pokémon Cafe and Pikachu Sweets by Pokémon Cafe will also be released at Pokémon Center Online in Japan on December 5, 2020.

© 2020 Pokémon.©1995-2020 Nintendo/Creatures Inc./GAME FREAK inc.
Pokémon, ポケットモンスター, and ポケモン are registered trademarks of Nintendo, Creatures Inc., and GAME FREAK inc..

Information

Pokémon Cafe (Nihombashi, Tokyo)
Address: Nihombashi Takashimaya SC East Bldg. 5F, 2-1-2 Nihombashi, Chuo Ward, Tokyo
Business Hours: 10:30-22:00
No Fixed Holidays (Except when Nihombashi Takashimaya SC is closed)
Reservations: https://www.pokemoncenter-online.com/cafe/reservation.html

Pokémon Cafe (Shinsaibashi, Osaka)
Address: Daimaru Shinsaibashi Honkan 9F, 1-7-1 Shinsaibashisuji, Chuo Ward, Osaka, Osaka Prefecture
Business Hours: 10:00-21:30
No Fixed Holidays (Except when Daimaru Shinsaibashi is closed)
Reservations: https://www.pokemoncenter-online.com/cafe/reservation.html

Pikachu Sweets by Pokémon Café 

Address: Sunshine City Alpa Floor 2F, 3-1-2 Higashiikebukuro, Toshima City, Tokyo

Opening Hours: 10:00-20:00
Official Website: https://www.pokemoncenter-online.com/cafe/pikachu_sweets/

*Opening hours subject to change, please check in advance before travelling.

*Food served and duration subject to change without notice.

*Photos are for illustrative purposes only.

*Seat reservations are taken online only – phone reservations not available.

World's First Mario Cafe and Shop Opens at Universal Studios Japan in Osaka

Universal Studios Japan (USJ) announced earlier this month that its new Nintendo-themed area SUPER NINTENDO WORLD will open in spring 2021. While the grand opening of SUPER NINTENDO is still a while away yet, USJ has everyone covered, as the new and first of its kind Mario Cafe & Store officially opened inside the park's Hollywood Area on October 16, 2020.

The cafe and shop is dream come true for fans of the Mario bros as they enter into a world inspired by the video game series with Mario and Luigi and level decorations in every corner. It can be easily spotted thanks to the red and green "M" and "L" letters on the windows symbolising Mario and Luigi as well as the Mario and Luigi hats. Gamers can enjoy this exciting space while they wait for the official opening of SUPER NINTENDO WORLD.

Themed food and merchandise line-up

Decorations are instantly recognisable with Question Blocks and Pipes on the walls, Mario Mushroom-coloured tables, and more.

The food line-up includes dishes, drinks, and desserts like pancake sandwiches made to look like Mario and Luigi's hats, fruit dream soda inspired by the brothers' moustaches, and a selection of original merchandise which reads "WHOSE CAP?" on it like T-shirts and more. You can see more of what's on the menu here.

© Nintendo.

Disney: Twisted-Wonderland Mobile Game Gets Themed Cafes in Tokyo, Osaka and Nagoya

LEGS, INC. has announced that it will open three cafes themed on the mobile game Disney: Twisted-Wonderland at OH MY CAFE branches in Tokyo and Osaka on November 20 and in Nagoya on November 27.

Disney: Twisted-Wonderland is a Japanese mobile game that was released on March 18, 2020. The concept, character designs, and scenario for the adventure rhythm game were conceived by Yana Toboso, the creator of the popular Black Butler manga series. The game is centred on the villains of Disney.

The cafe's theme places customers in the food hall of Night Raven College, the magic training school where the game is set. It will be adorned in decorations inspired by the game's food hall, and coupled with that, the cafe will serve up food and drink that actually appear in the game. There's also exclusive merchandise for players to get their hands on.

The Menu

There are four different lunches to pick from, all of which are low in salt content and so are a healthy option for wizards and witches flying into the cafe.

Food

<Lunch Option A>


Deluxe Menchi Katsu Sandwich | ¥1,990, with plate ¥4,290 (Before Tax)

The most popular item on the food hall's menu is the non-fried menchi-katsu meat cutlet sandwich.

<Lunch Option B>


Salmon Cream Stew | ¥1,990, with plate ¥4,290 (Before Tax)

A cream stew packed with salmon and vegetables and served with slices of baguette for dipping.

<Lunch Option C>


Tomato Base Squid Ink Pasta | | ¥1,990, with plate ¥4,290 (Before Tax)

A colourful tomato-based veggie pasta in squid ink and served with fruity yoghurt.

<Lunch Option D>


Four Mushroom Risotto | ¥1,990, with plate ¥4,290 (Before Tax)

A creamy, mild-flavoured risotto served with four different kinds of mushrooms.

Drinks


Character Drinks (7 Flavours) – Heartslabyul, Savanaclaw, Octavinelle, Scarabia, Pomefiore, Ignihyde, Diasomnia | ¥890 with coaster ¥1,790 (Before Tax)

A selection of colourful tinted waters inspired by seven different characters seen in the game.

Merchandise


Superdeformed Series Art Example


Pattern Series Art Example

Magic-wielding players can get their hands on a selection of merchandise both at the cafes, and from November 20, via the OH MY CAFE STORE website. There are two different designs for the merch line-up as pictured above.

Bonus Items

Customers who book a table in advance (¥650 before tax per person) at the cafe will receive one of 22 possible lunch mats, and if they order a drink, one of 22 coasters.

©Disney

Information

Disney: Twisted Wonderland @ OH MY CAFE

OH MY CAFE TOKYO

Address: Tokyu Plaza Omotesando, 4-30-3 Jingumae, Shibuya, Tokyo

Running: November 20, 2020 – January 31, 2021

kawara CAFE&DINING Shinsaibashi

Address: Shinsaibashi Opa Floor 9F, Nishi-Shinsaibashi, Chuo Ward, Osaka, Osaka Prefecture

Running: November 20, 2020 – February 2, 2021

kawara CAFE&KITCHEN Nagoya PARCO
Address: Nagoya PARCO, 3-29-1 Sakae, Naka-ku, Nagoya-shi, Aichi
Running: November 27, 2020 – February 9, 2021

Official Website: http://twst.ohmycafe.jp

Rilakkuma Book Cafe Themed Afternoon Teas in Osaka Will Serve Bear-Huggingly Kawaii Food

Major bookstores across Japan are rolling out the Rilakkuma Book Fair where fans can get their hands on short Rilakkuma fairy tails, exclusive merchandise, and more.


In line with the event, Fruits Parlor & Bakery Season & Co., a cafe in Umeda, Osaka, is serving up a special menu with the theme "Rilakkuma Book Cafe" from October 30 to November 30. This includes a afternoon teas which also celebrates the cafe's 1st anniversary, more exclusive merchandise, and novelties for customers who order from the Rilakkuma menu.

Rilakkuma Zukin Afternoon Tea | ¥4,000 (Before Tax) *Reservation-only

A special afternoon tea featuring 13 different goodies from desserts to a sandwich, quiche, and more. It comes with a fruit iced tea welcome drink too.

Rilakkuma Yuki Hime Afternoon Tea | ¥4,000 (Before Tax) *Reservation-only

A different afternoon tea that serves up 12 items. This also comes with a fruit iced tea.

Rilakkuma's Honey Apple Smoothie | ¥800 (Before Tax)

A honey apple smoothie topped with refreshing vanilla ice cream, smooth fresh cream, and a Rilakkuma jelly candy.

Rilakkuma's Royal Chocolate Milk Tea | ¥1,200 (Before Tax)

Classic royal milk tea served with chocolate Rilakkumas. Eat on their own or dip into your tea!

The cafe is now taking reservations for the afternoon teas. Bookings must be made two days in advance by telephone or the official website.

Information

Rilakkuma Book Cafe
Running: October 30, 2020 – November 30, 2020
Reservations: https://season-co.shop/rilakkuma2020/

Fruits Parlor & Bakery Season & Co.
Address: LINKS UMEDA 1F, 1-1 Ofukacho, Kita-ku, Osaka
Opening Hours: 9:30-22:00 (Last Orders 21:30)
TEL: 06-6743-4212
Official Website: https://season-co.shop

Snow Fireworks to Light Up the Winter Skies of Miyazaki at Phoenix Seagaia Resort

Phoenix Seagaia Resort, a resort located in Miyazaki Prefecture whose brand slogan claims them as the most beautiful in all of Japan, has announced a heart-warming new experience for the winter season.

Seagaia's Snow Fireworks

Miyazaki doesn't see a lot of snowfall, but this winter, the prefecture is welcoming an all-new fireworks festival which will launch fireworks into the sky that falls like pure white snow. Phoenix Seagaia Resort is also offering a guest plan which combines a stay at the resort with front row seats to the fireworks.

Running: December 4, 2020 – February 27, 2021 (Fridays and Saturdays only + January 10, 2021)
Time: 20:00 (Approx 3 minutes)
Bookings: https://bit.ly/3lurZWK

Starlight Winter Illuminations

THE LIVING GARDEN is the garden area of Sheraton Grande Ocean Resort exclusive to guests. This winter, the garden will be lit up with 30,000 LED lights and lanterns to create a magical, starry sky-like atmosphere by both of the garden's pools.

Running: November 1, 2020 – February 28, 2021
Location: THE LIVING GARDEN, Sheraton Grande Ocean Resort
Illumination Times: Sunset to 23:00

Price: Free (Exclusive to Sheraton Grande Ocean Resort guests)

A Cosy Menu For a Warm Stay

Gazebos by the waterside at THE LIVING GARDEN

S'mores

Sheraton Grande Ocean Resort will also serve s'mores, hot cocktails, and other treats at THE LIVING GARDEN with gazebos and fire pits. Enjoy fluffy marshmallow s'mores served with nuts and salted chocolate.

Running: November 6, 2020 – February 28, 2021 (Excluding Wednesdays & Thursdays)

Times: 19:30-23:00 (Last Orders 22:30)

Location: KUROBAR, THE LIVING GARDEN, Sheraton Grande Ocean Resort

BT21 Cafe to Open in Tokyo, Osaka and Nagoya For Autumn 2020

The 7th run of the popular BT21 Cafe is set to open in Tokyo, Osaka, and Nagoya starting from October 17, 2020.

BT21 are the LINE messenger app characters created by K-pop group BTS. The cafe has seen six runs in Japan until now, and has proven immensely popular amongst fans for the selection of original dishes and drinks as well as exclusive merchandise. The 6th run ran back in February and March with a spring theme.

The theme of the 7th edition is centred on having a pyjama party in the long autumn evenings. The cafe artwork as well as food and merchandise is all themed on the autumn season.

FOOD

The food menu is a choice of a main, such as pasta or paella, and a side like clam chowder which is served up a cute character mug of your choice.

Fish Ragu Fusilli Pasta Set Menu Example | ¥1,490

A fusilli pasta dish served with a seafood tomato sauce.

Eggplant & Zucchini Lasagne Set Menu Example | ¥1,490

A lasagne served with the summer vegetables eggplant and zucchini as the main ingredient.

Seafood Paella Set Menu Example | ¥1,490

A Spanish dish containing Paella made with a seafood stock and served with potato wedges covered in a bravas sauce.

Margherita Pizza Set Menu Example | ¥1,490

The staple takeout pizza topped with tomatoes, mushrooms, and basil.

DESSERT

A selection of cakes served in different mugs with BT21 character designs.

Shortcake / Chocolate Cake / Mont Blanc / Cheesecake  – ¥1,290 Each

DRINKS

Drinks are self-service and include carbonated water, milk, and other beverages all of which can be topped with a dollop of character ice cream. This is a new kind of drink to be introduced at BT21 Cafe.

Character Drinks: KOYA/RJ/SHOOKY/MANG/CHIMMY/TATA/COOKY  – ¥990 Each

Glass Drinks: KOYA/RJ/SHOOKY/MANG/CHIMMY/TATA/COOKY – ¥500 Each

TAKEOUT DRINK | 1,690

The takeout drink is a blueberry milk combination.

GOODS

Fans can get their hands on a selection of original and exclusive miscellaneous merchandise all with the stay-at-home pyjama party theme.

Heart Pins | ¥600 Each (Design Chosen Randomly)


Card File | ¥1,300

Bonus Items

Cafe Original Cards

Cafe Original Coasters

Customers who book a table in advance will receive a free cafe original card, and those who order a drink a free coaster.

©BT21

Information

BT21 Cafe

Tokyo Cafe

Running: October 17, 2020 – November 23, 2020

Address: PINE UNDER FLAT B1F, 5-13-2 Jingumae, Shibuya, Tokyo

Osaka Cafe

Running: October 17, 2020 – November 27, 2020
Address: TOWER RECORDS CAFE UMEDA NU CHAYAMACHI, 10-12 Chayamachi, Kita-ku, Osaka-shi, Osaka

Nagoya Cafe

Running: October 17, 2020 – November 27, 2020
Address: TOWER RECORDS CAFE Nagoya Sakae SKYLE, 3-4-5 Sakae, Naka-ku, Nagoya-shi, Aichi

Table Bookings
Price: ¥650 (Before Tax)
BT21 Cafe Official Website: https://box-cafe.jp/

SUPER NINTENDO WORLD Will Open at Universal Studios Japan in Spring 2021

Universal Studios Japan (USJ) has announced that its new Nintendo-themed area SUPER NINTENDO WORLD will open in spring 2021. The park was originally scheduled to open last year, the year of the Tokyo Olympics, but the date was postponed due to COVID-19.

SUPER NINTENDO WORLD: A Nintendo Fan's Dream

SUPER NINTENDO WORLD will be the first-ever multilevel Nintendo-themed area at USJ, and the first of its kind in the world. Fans of the internationally beloved games can expected to see a whole host of rides and attractions dedicated to their favourite characters, from Mario Kart to Yoshi and beyond, as well as themed restaurants, merchandise shops—the list goes on. There is endless amount of fun for fans to feel a part of the Nintendo world as they take up the role of Mario and hit blocks to receive coins, collect items, and much more.

While the grand opening of SUPER NINTENDO is still a while away yet, USJ has everyone covered. The new and first of its kind Mario Cafe & Store will officially open inside the park's Hollywood Area on October 16, 2020. Let's take a closer look.

Mario Cafe & Store

Mario Cafe & Store's location inside the Hollywood Area


This Mario themed space will serve up food and drink inspired by everybody's favourite plumber as well as sell merchandise.

The cafe and shops' exterior designs

The cafe and shop can be easily spotted thanks to the red and green "M" and "L" letters on the windows symbolising Mario and Luigi as well as the Mario and Luigi hats. Gamers can enjoy this exciting space while they wait for the official opening of SUPER NINTENDO WORLD.

Mario & Luigi themed food

The food and drink line-up pays tribute to the beloved Mario video game franchise with instantly-recognisable motifs.

①Strawberry Shortcake Mario Hat Pancake Sandwich ②Grape Cheesecake Luigi Hat Pancake Sandwich ③Mario's Strawberry Cream Fruit Cream Soda ④Luigi's Apple Cream Fruit Cream Soda ⑤Soft Drinks (Super Mushroom, comes with drinks bottle)

Everything on the menu is sure to have you snapping some photos for Instagram.

Exclusive Mario merchandise

The shop is located next to the cafe and offers a whole range of exclusive merchandise with references to the Mario games like the brothers' hats, Princess Peach's crown, and more.

There's also a special "WHOSE CAP?" series of goods to grab.

Stay tuned for future updates on SUPER NINTENDO WORLD.

*Photos are for illustrative purposes only

WIZARDING WORLD and all related trademarks, characters, names, and indicia are © & ™ Warner Bros. Entertainment Inc. Publishing Rights © JKR. (s20)
Minions and all related elements and indicia TM & © 2020 Universal Studios. All rights reserved.
TM & © 2020 Sesame Workshop © 2020 Peanuts Worldwide LLC © 1976, 2020 SANRIO CO., LTD. APPROVAL NO.EL0061901
TM & © Universal Studios & Amblin Entertainment TM & © Universal Studios. All rights reserved.
Nintendo properties are trademarks and copyrights of Nintendo. © Nintendo.

Visit Osaka This Christmas For the Grand Wish Christmas 2020 Illuminations

Grand Front Osaka has announced a Christmas event this year called 'Grand Wish Christmas 2020' which will run from November 11 to December 25. 'Winter Voyage' is the theme for the event which will switch on host of dazzling illuminations to warm up the cockles of everyone's heart this coming winter.

Winter Voyage: A journey of hope to connect the world

The ball-draped Winter Voyage Tree was created by Japanese designer Kimi Hasegawa and will be placed inside the mall's Knowledge Plaza. Guests will also be welcomed by the Champagne Gold Illumination which has been fitted with 400,000 balls, and there will also be a photo exhibition made in collaboration with travel culture magazine TRANSIT that showcases beautiful sights around the world.

*Please note that parts of the event are subject to change or cancellation depending on the situation surrounding the COVID-19 pandemic.

Winter Voyage Tree: The main Christmas tree

The balloons that adorn the tree each represent a continent and how the world is connected to the same sky. The Winter Voyage Tree is a magical Christmas tree to deliver wishes this winter, with the balloons each having motifs of animals, buildings, and plans from each place around the world. See them illuminated with the 'Lighting Show' this winter.

Running: November 11, 2020 – December 25, 2020

Lighting Show: [Weekdays] 17:00-Midnight / [Weekends] 16:00-Midnight

Location: Knowledge Village, Grand Front Osaka North Building Floor 1F

Champagne Gold Illumination

126 trees around the 1 hectare-wide Umekita Plaza in front of Osaka Station will glow with 400,000 champagne gold lights.

Running: November 11, 2020 – February 23, 2021

Illumination Time: Everyday 17:00-Midnight

Locations: Umekita Plaza, Keyaki Namiki, West Side of Grand Front Osaka's North Building

TED HYBER -Ugly Christmas Sweater-

Ted Hyber is a giant teddy bear created by French contemporary artist Fabrice Hybert. A symbol of Grand Front Osaka's Umekita Plaza, he will be dressed up in an "Ugly Christmas Sweater" this year.

Running: November 11, 2020 – December 25, 2020
Location: Grand Front Osaka South Building

TRANSIT Photo Exhibition – "It's a beautiful planet"

Travel culture magazine TRANSIT will be showcasing a selection of photos taken by a number of artists such as Yayoi Arimoto, who works for the magazine, taken around the world. It's a great opportunity for those unable to travel in the current climate.

Running: November 11, 2020 – December 25, 2020
Location: Grand Front Osaka North Building Floors 3F-6F

An Otaku's Dream: The EJ Anime Hotel in Saitama Where You Can Stay in Rooms Themed On Anime Series

Manga publisher KADOKAWA opened the new anime concept hotel EJ Anime Hotel at Tokorozawa Sakura Town in Tokorozawa, Saitama, on October 1, 2020.

Tokorozawa Sakura Town is a new shopping complex set to open on November 6, 2020, where it will serve as a hub for the latest in Japanese pop culture with events, shops, restaurants, a museum, and more. EJ Anime Hotel opened on early Thursday in the run up to the complex's grand opening to welcome guests.

The 'EJ' of EJ Anime Hotel stands for 'Entertainment Japan.' The hotel aims to have guests living inside the stories they love from a wide range of Japanese media from anime to manga, movies, tokusatsu SFX movies, idol culture, and more.

As well as room decorations and the exclusive merch that will be on sale, the hotel is also offering a new kind of accommodation experience by incorporating videos, sounds, lighting, and more. Its restaurant will also offer a selection of food and drink in collaboration with various series including all-out full course dinners.

When using the hotel elevator, you will hear announcements from none other than popular Japanese voice actor Yuki Kaji who has played many big roles in anime including Eren Jaeger in Attack on Titan. "As an anime fan first and foremost, having such a fun concept hotel like this open, not to mention getting to be involved as an announcer, makes me really happy," explains Kaji. "I want guests to make some great memories staying at EJ Anime Hotel."

"Bofuri: I Don't Want to Get Hurt, so I'll Max Out My Defense." Collab Room ©2020 夕蜜柑・狐印/KADOKAWA/防振り製作委員会

"Uzaki-chan Wants to Hang Out!" Collab Room © 2020 丈/KADOKAWA/宇崎ちゃん製作委員会

"KonoSuba: God's Blessing on this Wonderful World!" Collab Room ©2019 暁なつめ・三嶋くろね/KADOKAWA/映画このすば製作委員会

"A Certain Scientific Railgun T" Collab Room ©2018 鎌池和馬/冬川基/KADOKAWA/PROJECT-RAILGUN T




"Yuki Yuna Is a Hero" Collab Room ©2017 Project 2H

Right now, EJ Anime Hotel is collaborating with five different anime series: Bofuri: I Don't Want to Get Hurt, so I'll Max Out My Defense., Uzaki-chan Wants to Hang Out!, KonoSuba: God's Blessing on this Wonderful World!, A Certain Scientific Railgun T, and Yuki Yuna Is a Hero. The hotel is taking bookings on its official website.

If you're thinking of travelling to Japan as an anime fanatic, then look no further and book with EJ Anime Hotel.

Information

EJ Anime Hotel
Grand Opening: October 1, 2020
Location: Tokorozawa Sakura Town Floor 6F
Address: 3-31-3 Higashitokorozawawada, Tokorozawa-shi, Saitama Prefecture
Opening Hours: 24 hours a day
Check In: 4pm / Check Out: 10am
No Fixed Holidays
Official Website: https://tokorozawa-sakuratown.jp/hotel/

Taiko-en: Osaka's Oasis in the City Begins 2020 Autumn Illumination Event

Taiko-en is an enormous site spanning 250,000 square feet and is home to a breathtaking garden, restaurant, and more. This year, the site is giving host to a special illumination event for autumn this year which began on Saturday.


Since July 2019, Taiko-en has been lighting up its garden with illuminations for people to enjoy the beautiful garden in the evening, bringing together nature with the history of the site.


The illuminations begin with projection mapping at the entrance of the garden which rolls out an autumn colour carpet. As visitors walk along the projected path, the lights and colours dance beneath their feet.

Further in they will come to the "Night Museum" area where they will find stone statues collected by Denzaburō Fujita lit up, as well as paper lanterns, and more, offering a magical atmosphere different from that during the daytime. There's also a path home to moso bamboo as well as acrylic bamboo with LED lights in it which lead visitors into a mystical world of dazzling radiance. In the main area, there's a lake with a sea of clouds above it, and the trees of the garden coloured bright red.

The restaurant and banquet area are open for business, so after enjoying a gourmet meal, visitors are encouraged to go and see the light show.

Information

Taiko-en 2020 Autumn Garden Illuminations (Japanese: からくれないに染まる夜~2020 秋~)

Running: From September 26, 2020 everyday from 19:00
Price: Adults ¥500 / Children ¥300

*Price subject to change depending on the season

Solo Sauna Tune: Tokyo's New Privacy Guaranteed Finnish-Style Sauna

Solo Sauna Tune is a new sauna that offers "total privacy" which is set to open its first branch inside UNPLAN Kagurazaka in Tokyo this November.


Most sauna facilities in Japan cater to groups, but at Solo Sauna Tune, all guests are given their own space where they can undress, bathe, and relax in their own private room. This is especially desirable during the current pandemic where social distancing is paramount, and is a great opportunity for people not wanting to travel in groups.

The solo saunas are heated using sauna stoves imported from Finland. Adding water to the sauna stones lets guests control the amount of steam in the room so they can adjust as they like. There is also a Japanese white birch aroma provided to the löyly (Finnish for 'steam').

Guests can also cool off in cold water. The Chiller provides water at 15℃. There are also overhead showers for cooling down, and the showerheads can be adjusted to make the water come out like mist.

The relaxation area is coloured in a stylish black where guests can kick back for a while.


After using the sauna, guests can visit the powder room where there are a varieties of free amenities. There's also a café which serves craft beers, food, and other treats.

Information

Solo Sauna Tune
Address: UNPLAN Kagurazaka, 23-1 Tenjincho, Shinjuku-ku, Tokyo
Grand Opening November 2020

Opening Hours: TBA

Prices: TBA
Access: 3-minutes on foot from Kagurazaka Station / 7-minutes on foot from Edogawabashi Station / 9-minutes on foot from Ushigome-Kagurazaka Station

Official Website: https://www.solosauna-tune.com/