This Relaxing Onsen Hotel with Picturesque Nature and Luxurious Local Cuisine is the Perfect Getaway
Japan is full of picturesque locations where you can be at one with nature and soak the tiredness of your body away in the onsen baths. If you are looking for an escape from busy working life, then you're in luck: Today we'll be introducing you to a modern onsen hotel which is perfect for families, lovers, and even solo travellers. 
Escape from Tokyo on the bullet train, ride the Zairai line and finally, catch a bus. After your two-hour journey, you will arrive at onsen hot spot Uonuma city in Niigata Prefecture. Today, we'll be heading to Tomoya Hotel. The picturesque scenery of paddy fields and mountains will unfold before your very eyes and put your mind at ease.    
Sunlight pours over the reception desk from the giant window. It was time to check in. After being informed on meal times and private onsen rentals, I quickly headed to my room.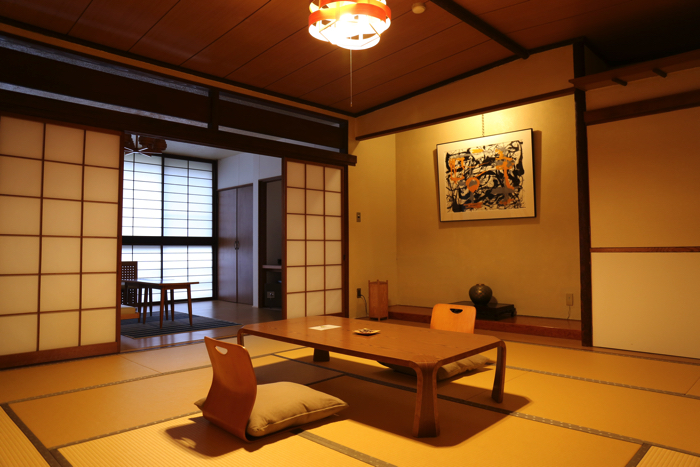 I was given room 305. The warm wooden structure made the room feel lavishly large. Whether you're snuggling up with a lover, chilling out with friends or relaxing with family, the atmosphere and size of the room allows for flexible usage.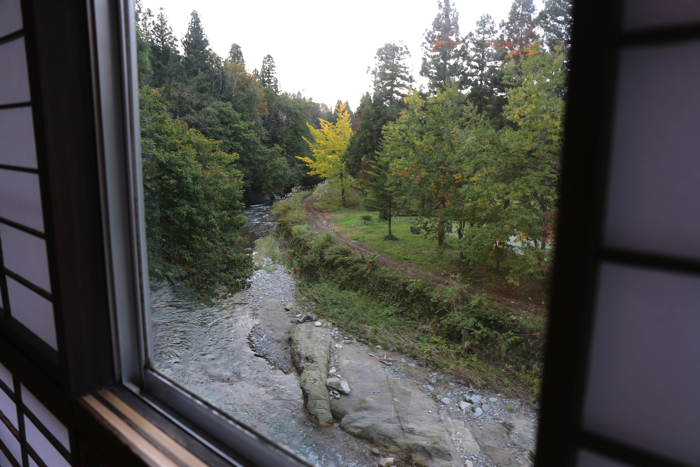 The Sanashi river was right outside my window. I could watch the soothing clear water flow out to the horizon for hours.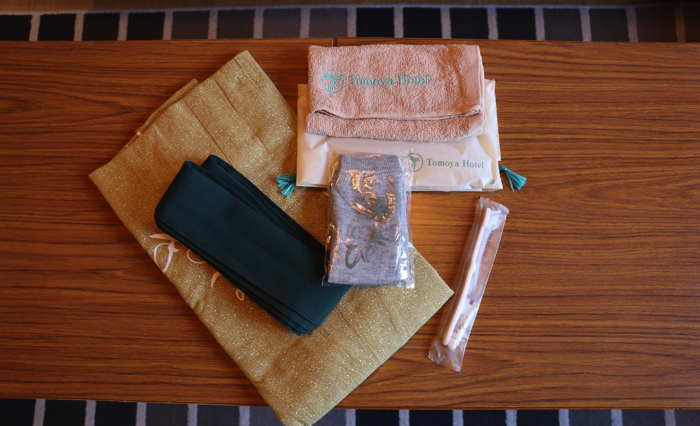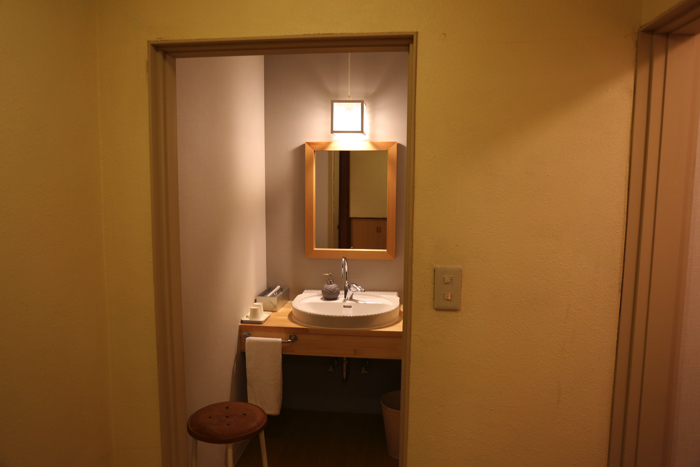 The room was prepared with loungewear, bath towels, toothbrushes, socks and many other amenities. It was even fitted with a fridge and water heater.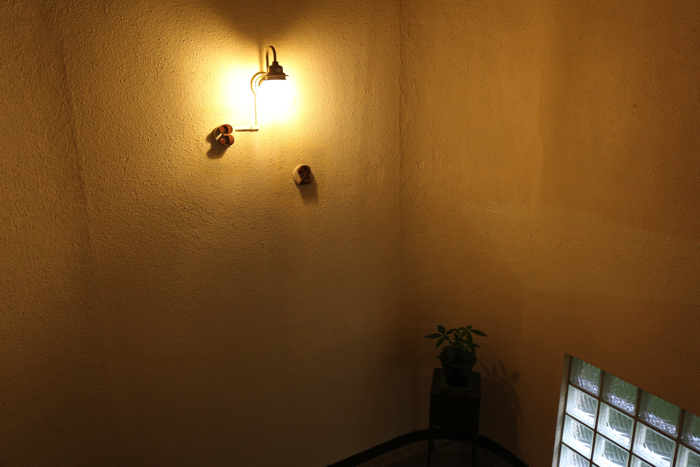 From the lamps lighting the stairway and hallway sofas to the displayed artwork, every item in Tomoya Hotel is a carefully selected item of special design. 
There was even a DJ area next to the lobby which contained a surprising stash of records, CDs and DVDs which was uncountably large. Being able to discover new music and films is another admirable feature of the hotel.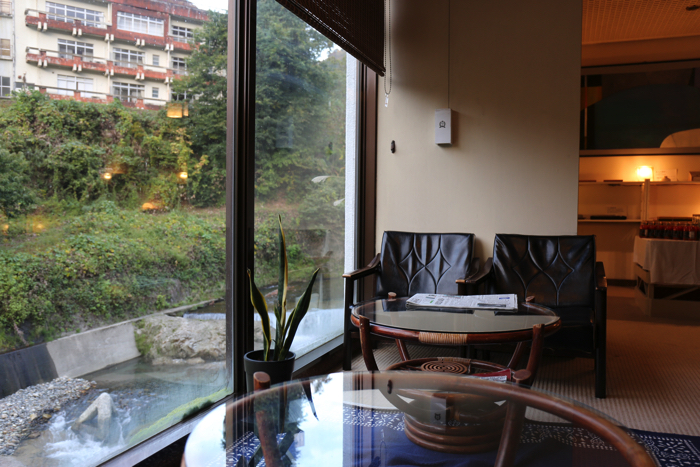 The front lobby is filled with a fresh and liberating atmosphere. There are plenty of spots to sit and read to yourself as the melodies of records weave through the air.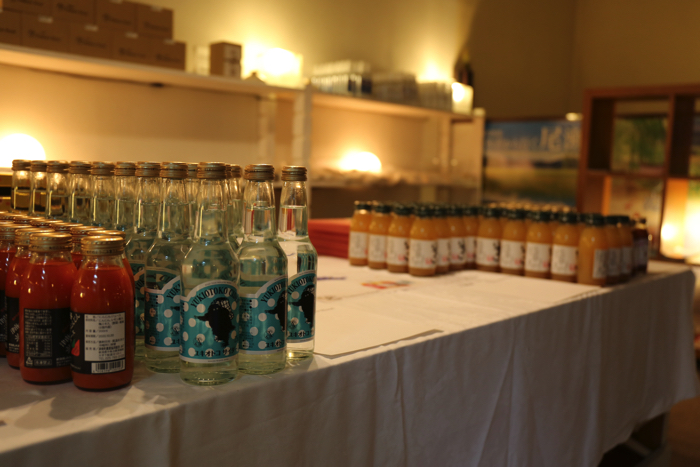 The shop sells specially selected products including locally produced juice, snacks and much more. You can even purchase Tomoya Hotel's original skincare goods. Reading the cheerful and thoughtful comments written on the goods by the manager made it clear that every single item in the shop was chosen with the utmost care.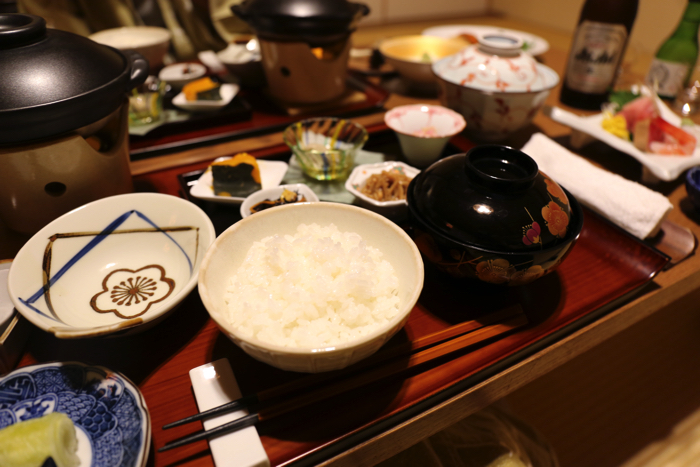 One by one, several lavish courses arrived at my door for dinner that evening. The locally-sourced ingredients and seasonal vegetables were served with Niigata prefecture's uonuma koshihikari rice, which is famed as Japan's best rice. 
Nameko mushroom hotpot, salt-fried East Asian trout, tofu mixed with lotus root, and sashimi were just some of the hotel's many original dishes that were brought to my door. As the rice was harvested from the first crop of the year, it was very sweet and so delicious that I helped myself to multiple servings without realising. The food was flavoured and seasoned very lightly to ensure that guests could fully enjoy the true flavours of the fresh harvest from the mountains and the sea. The luxurious dinner was highly enjoyable. 
I enjoyed sipping a small glass of Tomoya's chilled Reishu sake with my meal. This is an original recipe sake created by Tomoya Hotel and local sake brewery Tamagawa Shuzo. It was so refreshing, easy to drink and perfectly complimented every dish. The hotel provided a rich variety of alcoholic dinks including refreshing beer, carefully-selected wines, rare local sake, homemade fruit liqueurs, and more.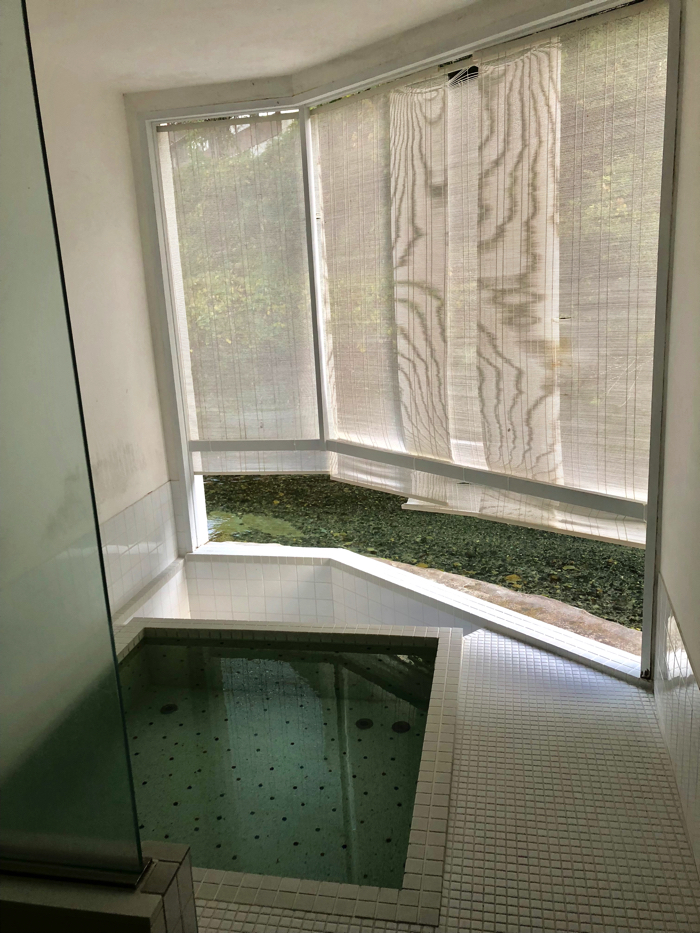 The onsen is home to rich history dating back to the year 1300 when it first opened its doors to the public. There are two types of private rental onsen and large public onsen indoors. Some square-shaped baths sit right beside a small stream which branches off from the Sanashi river. Treat yourself to a soothing soak in a historical onsen while absorbing the beautiful scenery.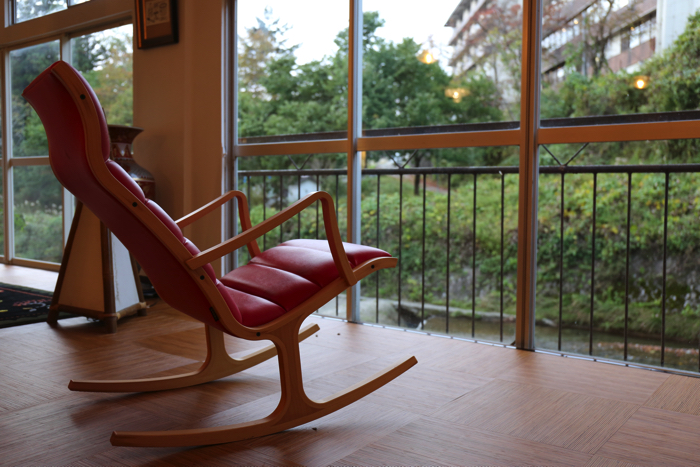 After finishing your relaxing soak, head to floor 1 of the main building to spend some time relaxing. This space is for guests to use freely and how they please. There are bookshelves lined with books and games available.
The first floor of the hotel annexe was my favourite place. Music from a variety of genres is played here. A disco ball hangs high, splashing light across the spacious room. There is a ping-pong table, a pool table, massage chair, piano, an old Nintendo game, manga and much more. It may seem like a relaxing place at first glance, but my heart was racing with excitement as I got hooked on the games.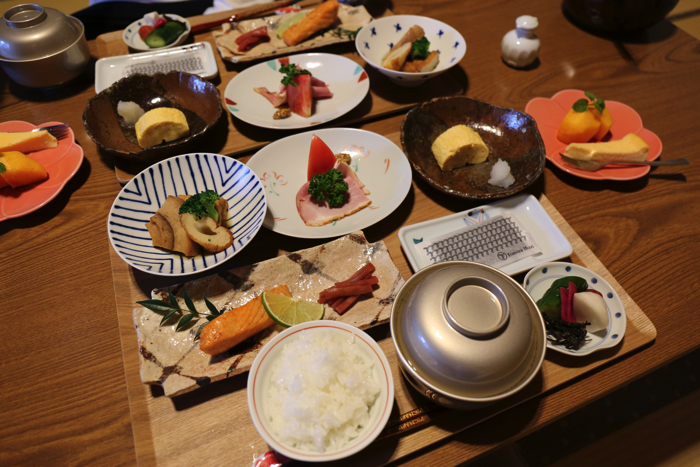 The following morning, breakfast was delivered right to my room again. Seeing the tray filled with a luxurious mix of both western and Japanese-style cuisine was very pleasing to see. I indulged in yaki-fu: baked wheat gluten which is a specialty of Niigata, fried fish, rolled Japanese-style omelette, homemade cheesecake and much more. All the meals served at the hotel are made with the utmost care and precision. 
If I were to introduce all the wonderful services and features of Tomoya hotel then there would be no end to this article. The main highlights were the delicious meals made with locally sourced ingredients, the soothing onsen, the music, films and experience of art culture, and of course, the opportunity to get in touch with nature, watching the water trickle down the mountain streams as your mind discovers peace. 
If you are looking to heal your body, mind and soul whilst discovering nature and art, then Tomoya Hotel is perfect for you. 
Writer:Ellie(MOSHI MOSHI NIPPON)
RECOMMENDED ENTRIES
Kyoto Sightseeing | 4 Spots to Visit Before Autumn 2019 Ends

Autumn is a popular season in Japan, especially amongst tourists and travellers. While in spring you have the bright pink cherry blossoms, when autumntime rolls around, the trees turn into enchanting reds and yellows. People from around the world flock to see this incredible sight, with Kyoto being a very popular location.

Of course, viewing the beautiful colours of the trees and their leaves is a must during the daytime, but seeing them in the evening has become popular in recent years too. It offers you an entirely different experience and atmosphere. So if you're in the ancient capital for autumn this year, why not experience the season in an entirely new lightーat night?

Jitokuin Temple

Jitokuin Temple is located in the town of Yosano in Yosa District. Maple trees were planted almost 11 years ago with the help of locals and the chief priest to create local ties. Every autumn, the trees behind the mountain bloom in vivid hues, leading the temple to be nicknamed "Koyo-ji," or "Temple of Autumn." The locals work hard in the surrounding gardens day by day, so the sights change a little bit every year.

The maple trees are planted in a way that it looks like they take an entire side of the mountain. They are a sight to be hold during the day, but for one week in November there will be illuminations in the evenings, creating a magical scene under the night sky.

▼Jitokuin Temple

Light-Up Period: November 9, 2019 – November 16, 2019

Light-Up Time: 17:00-20:00 (Temple is open 09:00-20:00)

Autumn Foliage Peak Period: Early-Mid November

Address: 2250 Akeshi, Yosano, Yoza-gun, Kyoto

Support Fund: ¥300

Official Website: http://jitokuin.com

Nariaiji Temple

Nariaiji Temple, located in Kyoto Prefecture's city of Miyazu, is an ancient temple betwixt mountains overlooking Amanohashidate, one of Japan's "Three Scenic Views." It's home to a grand 5-storey pagoda which is surrounded by hundreds of maple trees, offering an incredible, quintessentially Japanese view during autumn.

During the day, you can snap some gorgeous photos with the Sea of Japan and Amanohashidate in the back. For two nights only, on Saturday November 9 and Sunday November 10, the entire area will be beautifully lit up with warm illuminations.

▼Nariaiji Temple

Light-Up Period: November 9, 2019 – November 10, 2019

Light-Up Time: Sunset – 21:00 (Temple is open 08:00-16:30)

Autumn Foliage Peak Period: Early-Late November

Address: 339 Nariaiji, Miyazu, Kyoto

Price: ¥500

Official Website: http://www.nariaiji.jp/

Kasagiyama Prefectural Natural Park

Kasagiyama Prefectural Natural Park: is located atop Mt. Kasagi and is also home to Kasagi-dera, a temple with a 1,300-year history. During autumn, one entire side of the park is dyed in autumnal colours.

This November, the area will be lit up for a limited period, offering a gorgeous view from the mountain peak of the trees below as well as the flowing Kizugawa river.

▼Kasagiyama Prefectural Natural Park

Light-Up Period: November 1, 2019 – November 30, 2019

Light-Up Time: 17:00-21:00 (Temple is open 09:00-16:00)

Autumn Foliage Peak Period: Early-Mid November

Address: Mt. Kasagi, Kasagi, Soraku District, Kyoto

Price: Illuminations – Free / Temple – Adults ¥300, Children ¥100

Official Website: https://www.kasagidera.or.jp

Yokokuji Temple

Normally, the Joshoin at Yokokuji Templeーalso known as Yanagidani Kannonーonly opens on the 17th of every month. But for a special autumn event, it is now open every day up until December 1. The beauty of its autumn colours have come to be enjoyed by VIPs, dating back to the pre-war period when it was designated as a place of scenic beauty. For more details on this event, click here.

▼Yanagidani Kannon Autumn Colours Week

Running: November 2, 2019 – December 1, 2019

Time: 9:00-16:00 (Joshoin open 10:00-15:00)

Location: Yanagidani Kannon, Yokokuji Temple (Dōnotani-2 Jōdodani, Nagaokakyo, Kyoto)

Entry Price: ¥300

Full Ticket: ¥1,100→¥1,100 (Includes entry to multiple areas)

Official Website: http://yanagidani.jp/

Take the time to enjoy an autumnal Kyoto this year at one of the city's seasonal events.

5 Must-Visit Spots in Kyoto For Autumn Scenery: Floor Reflections to Flowery Temple Water Basins

Kyoto's autumn hues have enchanted travellers, tourists and locals alike for untold years. Today, we are joined by Macchan, an Instagrammer who has provided us with their incredible photographs of Kyoto's breathtaking autumnal scenery. Take note of these locations for your next trip!

Wachu-an, Notre Dame Jogakuin Junior and Senior High School

Wachu-an is a merchant and heritage home with a long history dating back to the early days of the Showa Period (1926–1989). It's normally off-limits to the public, but opens during autumntime for everyone to visit. This year, it will be open from November 22 to December 1.

Trickling away in the large gardens is a small river, and enveloped in the gorgeous greenery connected to a passage on the slant of the foothill is the reception hall and a western-style house. When autumn rolls around, visitors enjoy the beautifully polished veranda of the Japanese-style room together with the floor of the western-style building which reflects the surrounding sights beautifully.

Wachu-an, Notre Dame Jogakuin Junior and Senior High School

Autumn Opening: November 22, 2019 – December 1, 2019

Time: 10:00-16:00

Address: 110 Shishigatani Sakuradanicho, Sakyo Ward, Kyoto

Price: ¥600 (Discount for groups of 15+) / Free for junior high school students and younger

Access:

① 9 minutes on foot from the "Shinnyodomae" or "Kinrin Shako Mae" bus stops via the Kyoto City Bus 5 from Kyoto Station

② 7 minutes on foot from "Miyanomaecho" bus stop via the Kyoto City Bus 100 from Kyoto Station

③ 9 minutes on foot from the "Shinnyodomae" or "Kinrin Shako Mae" bus stops via the Kyoto City Bus 93 or 204 from Jingū-Marutamachi Station (Keihan Electric Railway)

④ 5 minutes on foot from the "Kami Miyanomaecho" bus stop via the Kyoto City Bus 32 from Kyoto-kawaramachi Station (Hankyu Railway)

⑤ 9 minutes on foot from the "Shinnyodomae" or "Kinrin Shako Mae" bus stops via the Kyoto City Bus 203 from Kyoto-kawaramachi Station (Hankyu Railway)

Yokokuji Temple

Yanagidani Kannon, also known as Yokokuji Temple, is holding the event "Yanagidani Kannon Autumn Colours Week" from November 2 to December 1. It includes special access to the Joshoin which is normally closed to the public, workshops, flower decorations at the temple's purifying water basin, and more.

Enjoy the beautiful natural landscape surrounding the temple, dyed in the red and yellow hues of autumn. For more details on this event, click here.

Yanagidani Kannon Autumn Colours Week

Running: November 2, 2019 – December 1, 2019

Time: 9:00-16:00 (Joshoin open 10:00-15:00)

Location: Yanagidani Kannon, Yokokuji Temple (Dōnotani-2 Jōdodani, Nagaokakyo, Kyoto)

Entry Price: ¥300

Full Ticket: ¥1,100→¥1,100 (Includes entry to multiple areas)

Access: 15 minutes by taxi from Nagaokakyo Station (JR Line) / 10 minutes by taxi from Nishiyama Tennozan Station

Official Website: http://yanagidani.jp/

Shinnyo-dō Temple (Shinshōgokuraku-ji)

Shinnyo-dō Temple is a famous sightseeing spot during autumn as tourists and locals flock to see autumn fall around the ancient structure. From mid-November, the maple and ginkgo trees blossom from their beautiful buds along the stone path leading up to the temple.

The three-storied pagoda is a sight to behold during this time of the year, as is the carpet of fallen leaves behind the main temple which symbolises the curtain call of autumn. On average, the autumn foliage can be observed until early December here every year.

Shinnyo-dō Temple (Shinshōgokuraku-ji)

Address: 82 Jōdoji Shinnyochō, Sakyo Ward, Kyoto, Kyoto Prefecture

Opening Hours: 9:00-16:00 (Reception open until 15:45)

*Restricted access to the garden and Shoin on November 10 and December  8

Price: ¥1,000 (¥900 for elementary school children, free for those younger)

Access:

①Take the Kyoto City Bus 5, 17 or 100 bound for Ginkaku-ji (銀閣寺行き) from Kyoto Station and alight at Kinrin Shako Mae from which it is an 8 minute walk

Official Website: https://shin-nyo-do.jp/

Konzoji Temple

This quiet little mountain temple sits tucked away halfway up the mountain known as Koshioyama. The temple as it is today was restored in the Edo Period. It's a popular hiking spot amongst travellers as it offers a panoramic view of the Kyoto Basin (京都盆地), but it also attracts a lot of visitors during the autumn season.

The reflection of the autumn foliage from the water is nothing short of breathtaking. The hike up is tiring, but worth it, so if you've the stamina we highly recommend putting this one on your list. You won't be disappointed.

Konzoji Temple

Address: 1639 Ōharano Ishizukurichō, Nishikyo Ward, Kyoto, Kyoto Prefecture

Donation Fee: ¥200

Access:

①Take the Hankyu Bus 65 from Mukōmachi Station (JR Tōkaidō Main Line) or Higashi-Mukō Station (Hankyu Railway) and get off at the last stop, Minamikasugacho (南春日町), after about 25 minutes. It's then a 60-70 minute walk from there.

②Board the Keihan Kyoto Bus at the East Exit of Katsura Station that is bound for Oharano & Nagamine (大原野・長峰). Get off at the last stop, Nagamine, and it's a 50-60 minute walk.

Byodoin Temple

Byodoin Temple, listed as a World Heritage Site, is also a popular spot in the fall. You can take some spectacular photos of the temple from across the lake. The height of the autumn foliage this year is late November to early December.

There is more information on the foliage dates on the official website, so be sure to check it out before visiting at the link below.

Byodoin Temple

Address: Renge-116 Uji, Kyoto

Price: General ¥600 / Junior High School Students ¥400 / Elementary School Students ¥300 (*Includes garden and Byodoin Museum access)

Access:

①10 minutes on foot from Uji Station via the JR Nara Line from Kyoto Station

②10 minutes on foot from Uji Station via the Keihan Main Line from Gion-Shijo Station

Foliage Info: https://www.byodoin.or.jp/flower/

Official Website: https://www.byodoin.or.jp/

If you want more information about Kyoto on the best spots to visit, be sure to follow Macchan on Instagram.

Photos: Macchan

Kyoto Sightseeing | Yokokuji Temple's Autumn Event Schedule Announced

Yanagidani Kannon, also known as Yokokuji Temple, is located in Kyoto Prefecture's city of Nagaokakyo and has been used as a place of prayer for many people with eye disease since the Heian Period. It is believed that praying at the temple will cure eye disease.

For autumn-time this year, the temple is set to hold an event titled "Yanagidani Kannon Autumn Colours Week" from November 2 to December 1. With a seasonal schedule that includes illuminations in the gardens to a flower display at the temple water basin, if you're looking for the must-visit locations in Kyoto this autumn, then you'll want to add Yokokuji Temple to your list.

Jodoen Garden Illuminations

Last year's popular light-up event is making a return for 2019, with gorgeous illuminations developed by light designer Yuuki Kogawa which will brighten the area with an enchanting and mystifying aura different from a usual visit to the garden.

Dates: November 8th, 15th, 22nd-23rd

Time: 17:30-18:30  (Reception open from 17:00)

Price: ¥2,500 (Includes limited edition goshuin stamp)

No. of People: 20 (Bookings Only)

Bookings: https://yanagidani.jp/contact/

Special Opening of the Joshoin

Normally, the Joshoin only opens on the 17th of every month, but for this autumn week event, it will be open every day. It's an area normally limited to officials and those in the imperial family. The beauty of its autumn colours have come to be enjoyed by VIPs, dating back to the pre-war period when it was designated as a place of scenic beauty.

Hanachomizu Flower Water Basin

At every temple and shrine in Japan there is a water basin which you are to use to cleanse yourself before entering. The Hanachomizu has become hugely popular on social media since the name first appeared 3 years ago, where leaves and flowers are placed into the basin. It has become adopted at temples across the country, with the one at Yokokuji Temple starting the trend. When it was first posted onto social media, it received reactions from over 80,000 people both in Japan and overseas. The flowers used change with the seasons, from hydrangeas to maple leaves.

Limited Edition Goshuin Stamp Book Designs – Garasha Matsuri & More

Visitors will be able to pick up limited-edition goshuin stamp books which never fail to sell out whenever they are released. Goshuin are collectable stamps/seals at temples around Japan. They are ¥500 each and limited in stock.

This is just a small peek into what's to come during Yanagidani Kannon Autumn Colours Week. If you're in Kyoto, make sure you pay a visit to Yokokuji Temple.

Information

Yanagidani Kannon Autumn Colours Week

Running: November 2, 2019 – December 1, 2019

Time: 9:00-16:00 (Joshoin open 10:00-15:00)

Location: Yanagidani Kannon, Yokokuji Temple (Dōnotani-2 Jōdodani, Nagaokakyo, Kyoto)

Entry Price: ¥300

Full Ticket: ¥1,100→¥1,100 (Includes entry to multiple areas)

Official Website: http://yanagidani.jp/
RELATED ENTRIES
See 3,000 Rhododendrons in Full Bloom at the Tsutsuji Garden by Lake Ashi in Hakone

May is the most colourful time of the year at Hotel de Yama near Lake Ashi in Hakone, when a total of 3,000 rhododendronsーcomprised of 30 different typesーbloom their beautiful flowers in the large Tsutsuji Garden, where one can enjoy a great view of Mount Fuji and Lake Ashi.

Tsutsuji Garden at Hotel de Yama

"Tsutsuji" is the Japanese word for rhododendron. The Tsutsuji Garden at Hotel de Yama was once the villa of Koyata Iwasaki, "the fourth and last president of a unified Mitsubishi." During that time, numerous varieties of rhododendrons were planted in the garden, which have since been maintained. There are plants amongst them that are over 100-years-old, ones that tower over the human stature, and more; with petals that bloom pink, red, purple, and white.

A combined view of the kaleidoscopic rhododendrons and Mount Fuji

The staff who are experts on the garden have set up two photo frame stands in two of the best spots in the garden for taking picturesque photos. Snap some Instagrammable and memories with the colourful rhododendrons and Mount Fuji together.

Rhododendron Desserts: Saison a colorier – ¥1,634 / Tea Set – ¥2,360 (Before Tax)

Salon de thé Rosage, the dessert restaurant that sits in front of the hotel, is serving up a new special dessert called "Saison a colorier" in line with the full bloom of the rhododendrons. It captures the colourful pink, red, white, and purple appearance of the flowers, and looks like a mini version of the hotel's garden on your plate. The main part of the dessert is the tea mousse, which has a bright red colour as it is coated beautifully in a strawberry puree nappage. The tea used in the mouse is an original rhododendron blend exclusive to the restaurant.


The white rhododendron dessert is a macaron that's filled with raspberry sorbet. The red which contrasts with the white is a rhododendron milk tea cream and fresh raspberries. The rest of the plate is adorned with pink jelly and edible flowers. The perfect afternoon tea to finish off your time at Tsutsuji Garden.

Coronavirus in Japan: Kaname Inn Tatemachi in Kanazawa Offers Free Accommodation to Foreigners Who Can't Get Home

Kaname Inn Tatemachi, a hotel in Kanazawa, Ishikawa, has announced a project named "Room for rescue" which will offer free accommodation to foreigners unable to travel back to their home countries from Japan due to lockdowns and restrictions from going outside as a result of the ongoing COVID-19 pandemic

With flights cancelled around the world, there is no way for foreigners to return home from Japan, resulting in them being forced to change their plans and extend their stay. They are living their days in constant worry, both financially and mentally. To ensure that foreign travellers don't feel like their trip to Japan was a bad experience, free accommodation is becoming available to those who meet certain prescribed conditions.

In response to the decreasing number of tourists, Kaname Inn Tatemachi opened its doors to Japanese citizens through Facebook for free accommodation to help support businesses like local restaurants that could no longer make a living. They received a lot of guests, as well as a request from a friend who asked if someone from the Netherlands could stay there because they couldn't get back to their country. This sparked the "Room for rescue" project for stranded foreign tourists to stay at Kaname Inn Tatemachi for free too.

 

Kaname Inn Tatemachi is using its own funds to pay for the project and allow free stay. However, doing this long term will put strain on the business, so to help pay for hotel use and staff's wages, the hotel has opened up a crowd funding page which you can find here.

Information

Room for rescue

Aimed at: Foreign travellers who cannot return home

How to Apply

Send the following details to the e-mail address r4r@kaname-japan.com

①Write "Room 4 Rescue" as the subject of your e-mail

②Include which country you are from

③Write the names of all the people who wish to stay at the hotel

④Write the number of adults

⑤Write the number of children

⑥Write your check-in time and date

⑦Write your check-out time and date

⑧Attach a screenshot or photo of your cancelled flight details

Application Deadline: March 28, 2020 at 23:59 (JST)

Free Accommodation Stay Time: Until April 15, 2020

Feel Like You're Living On Okinawa's Taketomi Island With HOSHINOYA's New 'Workation' Hotel Plan

HOSHINOYA Taketomi Island in Okinawa rolled out a new hotel plan on March 18 that's set to run until June 30 this year.

Taketomi Island can be said to be home to landscape of what Okinawa used to be, with the Ryukyuan red roof tiles of its buildings, stone walls, and alleys spread with coral sand. Someone plucks away at a three-stringed sanshinーthe Okinawan precursor to the mainland shamisenーas time flows with gentle ease on the island. Taketomi Island is rich in traditional culture which can be felt throughout.

The guest rooms at HOSHINOYA Taketomi Island emulate the island's traditional architecture. All guest rooms have south-facing windows that can be opened to let in the southern winds, which the local islanders say are lucky. HOSHINOYA Taketomi Island developed its new workation plan in response to the current situation when more people are having to do remote work and work from home. It enables people a private abode where they can work and relax simultaneously. And all the necessary amenities have been prepared for a workation.

The guest rooms at HOSHINOYA Taketomi Island are known as guest pavilions, which allow for you feel like you're living like a real islander. They are equipped with Wi-Fi, printers, pand photocopiers too, making it the perfect work environment. And you don't have to worry about hay fever as there are no Japanese cedar or cypress trees around.

The pavilions offer a beautiful view of the bright blue sky and sea. The beaches are also open from March, so you can take a dip in the springtime sea too while basking in the warm climate.

Information

Paikaji Workation

Running: March 18, 2020 – June 30, 2020
Price: From ¥278,460 (Before tax/service charge)

People: Up to 2 people per room

*70% off from the normal price. The above-listed price is calculated for 30 days of stay.

HOSHINOYA Taketomi Island

Address: Taketomi, Yaeyama District, Okinawa 907-1101

TEL: 0570-073-066

Official Website: https://hoshinoya.com/taketomijima/en/
*You must select the meal option if you require food

Witness Mount Fuji and Fully Bloomed Cherry Blossoms at HOSHINOYA Fuji

HOSHINOYA Fuji is offering a very special Hanami flower-viewing experience for guests from April 7 to 21 this year where they can observe the springtime cherry blossoms against the backdrop of Mount Fuji. Offers include cherry blossom desserts, a glamping experience inside a cabin eating curry while enjoying the scenery of the outdoors, a private outdoor dining dinner, and more.

HOSHINOYA Fuji hails as Japan's first luxury camping resort. Located on the hill overlooking Lake Kawaguchi near Mount Fuji. It offers the ultimate glamping experience, with a large outdoor terrace surrounded by nature, cabins that can be enjoyed throughout the year, and more. It's difficult to go out and enjoy the cherry blossoms on the streets right now, but if you'd still like to enjoy spring safely with your special someone, then HOSHINOYA Fuji has created a special springtime experience.

Sakura Apéro: Witness the cherry blossoms during sunset with desserts in hand

"Sakura Apéro" is a chance to take a breather and enjoy all the beauties nature has to offer. It is held in the cabin area of HOSHINOYA Fuji under the towering cherry blossom trees. Sit back, relax, and enjoy an evening treat of cherry blossom flavoured bean paste rice cake, a cup of matcha milk or a matcha cocktail, and a front row seat of the cherry blossoms as the sun sets.

Hanami on the terrace

HOSHINOYA Fuji's cabina area is built in such a way so that guests can enjoy an outdoor experience. One third of the cabin has a terrace area with an enormous window that looks out into the natural landscape. A fireplace and kotatsu is available so you can still enjoy the outdoors even inside while relaxing with a comfortable stay into the late nights. Some of the cabins offer a view of the surrounding cherry blossom trees, inviting spring into your room.

Curry made on one of Mount Fuji's lava plates

At HOSHINOYA Fuji, guests can enjoy outdoor cooking in luxury be it in one of the cabins or the dining restaurant in the forest. Those who want to relax in a cabin are recommended the "Glamping Curry" at the terrace. You grill beef and vegetables yourself on a Mount Fuji lava plate and can combine five spices of your choice to create your own original flavour. In the outdoor dining area, which is exclusive to groups of guests, game meat is also served, such as boar and deer, as well as seasonal vegetables prepared in a dutch oven. For dessert, there's cherry blossom flavoured ice cream. You can also make your own strawberry sauce using fresh strawberries over a fire to pour over your ice cream before topping it with matcha crumbles.

Due to the ongoing situation surrounding the coronavirus, all guest rooms and public areas at all HOSHINOYA facilities are being thoroughly cleaned in line with the recommended guidelines to ensure the health and safety of guests and staff. Alcohol gel is available at all HOSHINOYA facilities, and staff's health and hygiene are being consistently examined.

Information

HOSHINOYA Fuji

Address: 1408 Ōishi, Fujikawaguchiko, Minamitsuru-gun, Yamanashi

Official Website: https://www.hoshinoya.com/

Dine in Luxury With Truffle Toast at Patisserie SATSUKI in Hotel New Otani Osaka

If you're looking to indulge yourself during your trip to Japan, and happen to be staying in Osaka, then Hotel New Otani Osaka's pastry shop Patisserie SATSUKI has you covered with their new "Spring Truffle Toast" which is made with Bianchetto truffles. Only 5 servings are served per dayーand 10 on weekends and public holidays.

The arrival of Japan's unprecedented bread boom

In recent years, Japan as a country has seen a boom in the baking and serving of bread. NOGAMI, a bread shop in Osaka, is credited with lighting the fire of the "shokupan" boom, a type of fluffy bread in Japan. This has resulted in many more shops opening selling shokupan. In spring 2017, Hotel New Otani Osaka decided it wanted the people of Kansai to buzz about high quality shokupan too, so it developed its French-inspired "Spring Truffle Toast." Since releasing, the bread has continued to sell out, and if you don't place an order for one you won't be able to get your hands on it. Their tasty truffle toast has returned again this year.

Premium toast with loaded truffle

Spring Truffle Toast With Bianchetto Truffles – ¥1,500 Per Loaf (Before Tax)

The ambrosial Spring Truffle Toast lacks nothing when it comes to taste, texture, and smell. The ingredients used to make ordinary bread like eggs, milk, and butter aren't used for the shop's Spring Truffle Toast. Instead, strong flour, yeast, water, and finely chopped spring truffles are used. To bring out even more flavour, truffle butter, pure olive oil, and shortening is used.


The same goes for the crustーeggs and milk aren't used like in ordinary bread. And to prevent the bread from drying out, more time and labour is put into kneading the dough. A lava pot is used to bake the dough. By using far infrared to heat it, it makes the finished bread nice and chewy.


The shop's head chef wanted to ensure that the bread's fragrant smell is preserved when you take the lid off, and so the entire loaf is lathered in truffle oil, which also gives it a moist taste.

The bread can be toasted and enjoyed on its own, and you're guaranteed great flavour and smell, but you can take it to the next level by topping it with a fried egg or scrambled egg to create an extraordinary and filling meal.

These truffles can only be harvested in spring

Truffles are a delicacy in kitchens around the world. The types used for the Spring Truffle Toast are Bianchetto. They are a very popular traditional truffle of Italy and can only be harvested from mid-March to April. As a result, they are extremely rare in Japan, making the toast that much more special.

Information

Spring Truffle Toast With Bianchetto Truffles

Location: Patisserie SATSUKI – Hotel New Otani Osaka Floor 1F)

Available: Until Mid-April 2020

Opening Hours: 10:00-20:00

Price: ¥1,500 (Before Tax)

Sales: Limited to 5 servings per day (10 on weekends and public holidays)

Reservations: 06-6949-3298 (Patisserie SATSUKI)

Official Website: https://www.newotani.co.jp/osaka/restaurant/p-satsuki/bianchetto-truffle-toast

Hoshino Resorts to Open New KAI Poroto Ryokan in Hokkaido in Winter 2021

Hoshino Resorts, which manages 42 ryokan inside and outside Japan serving Japanese tradition and culture, signed a partnership agreement with the town of Shiraoi in Hokkaido on June 28, 2018, which would have them open a hot spring ryokan there. It has been revealed that the new facility will be named Hoshino Resorts KAI Poroto.

Hoshino Resorts KAI Poroto. Built by Japanese architect Hiroshi Nakamura, the site will open its doors in winter 2021 as the 19th branch of Hoshino Resorts's hot spring ryokan brand KAI, of which it operates 16 in Japan. It will be the third branch of KAI in Hokkaido, following from Hoshino Resorts RISONARE Tomamu in Shimukappu village and Hoshino Resorts OMO7 Asahikawa.

Hot springs in Shiraoi, Hokkaido include moor springs, a type of organic spring water that is rare globally. KAI Poroto faces Poroto Lake, which is enveloped in nature and home to creatures such as wild birds. All rooms at the ryokan enjoy a view of the lake, as well as a chance to see the trees and flowers bloom and change in different colours throughout the seasons.


KAI's aim is to offer Japanese hospitality that can only be experienced in that town or city, and during that season, as well as to give guests a comfortable experience in a Japanese-style accommodation. At KAI Poroto, they are set to offer a completely new experience tied to Ainu culture in collaboration with the Upopoy National Ainu Museum and Park currently in development in Shiraoi.

Upopoy is scheduled to open at Lake Poroto on April 24, 2020. "Upopoy" is a word in the Ainu language that means "singing in a large group." The museum is the first national museum in Japan to be dedicated to the indigenous Ainu people. It will serve as the national center for the revival and development of Ainu culture, something which is on the verge of extinction, and it will do this by showcasing Ainu culture and history through exhibitions, hands-on programmes, performances, and more.

Hiroshi Nakamura is the architects that designed Hoshino Resorts KAI Poroto. "Poroto" is also a word in Ainu to mean "large lake." The ryokan's lobby, which is decorated with Japanese white birch, offers a view of the lake and Mount Tarumae. There are also small bath houses called kashi which have been made using Ainu architectural methods, as well as open-air baths that have you feeling like you're taking a dip in the lake.

Information

Hoshino Resorts KAI Poroto

Address: 1-1018-1 Wakakusacho, Shiraoi, Shiraoi District, Hokkaido

Construction Work Start: Mid-May 2020 (subject to change)
Grand Opening: Winter 2021 (subject to change)

Official Website: https://kai-ryokan.jp/

Winston in Bloom: Afternoon Tea Collaboration by Harry Winston and Park Hyatt Tokyo Releasing in April

Harry Winston and Park Hyatt Tokyo are joining hands to release a special afternoon tea set titled "Winston in Bloom." It will be served at Peak Lounge on the 41st floor of Park Hyatt Tokyo from April 1 to 30 and be inspired by Harry Winston's floral jewellery.

Known as the "King of Diamonds" and "Jeweler to the Stars," Harry Winston founded his brand in New York in 1932. He was captivated by the beauty of flowers and how they produce themselves naturally, a beauty which is represented in his jewellery.

The collaborative "Winston in Bloom" afternoon tea is made in the image of a high-class flower garden adorned with diamonds and coloured stones.

This is the Harry Winston brand's first afternoon tea collaboration in Japan, and offers an elegant taste experience for anyone who wishes to munch through this garden.

Special gifts are also prepared for anyone that orders this afternoon tea. These are available while supplies last.

Information

Winston in Bloom Afternoon Tea

Running: April 1, 2020 – April 30, 2020

Time: Weekdays 14:00-17:00 / Weekends & Holidays 12:00-17:00)

Price: ¥5,000 per person (Service charge and tax not included)

Location: Peak Lounge (Park Hyatt Tokyo Floor 41F)

Reservations

TEL: 03-5323-3461

O Park OGOSE: Saitama's Hotel Resort Opens New Sauna Suite Cabin

BIO RESORT HOTEL & SPA O Park OGOSE, a hotel resort in Iruma, Saitama, is opening a new accommodation facility on March 12, 2020 called the "Sauna Suite Cabin."

This single-building cabin brings to mind a sauna cabin of Northern Europe. The entire interior is decked out in beautiful warm wood. It's roomy and fully equipped with furniture, a Finnish-style private sauna, jaccuzi, stove, and other bits.

Guests can enjoy a contrast bath experience with the sauna and open-air bath, as well as entertain themselves with a glamping-style dinner in the spacious outdoor dining area.

To make the Sauna Suite Cabin's atmosphere even more enjoyable, O Park OGOSE teamed up with Finland's oldest textile brand, Finlayson, which turned 200-years-old this year, to bring in some of their elephant design furniture and products, including bed linen, towels, and more. Their "ELEFANTTI" line-up is popular even in Japan.



In the bedroom drawers, their are even ELEFANTTI notebooks and letter sets which guests are free to take and use.

If you're looking for a private sauna experience away from the busy city while in Japan, then be sure to check out the new Sauna Suite Cabin at BIO-RESORT HOTEL & SPA O Park OGOSE.

Information

Sauna Suite Cabin

Location: BIO-RESORT HOTEL & SPA O Park OGOSE (3083-1 Ueno, Ogose, Iruma-gun, Saitama Prefecture)

Date: March 12, 2020

Time: 11:00-14:00
Official Website: https://opark.jp/

New Cyclist-Friendly Villa to Open in Japan's Town Of Nasu

Towa Nasu Resort K.K., which manages such locations as Towa Pure Cottagesーa location home to a varied and wide-ranging number of accommodationsーand Nasu Highland Resort Youth Hostel, amongst other facilities, has come together with logging and house construction company Sumitomo Forestry to create a new "cyclist-friendly" villa accommodation. It is set to open in mid-March this year, offering both the time and space for cyclists to enjoy riding.

Bike Maintenance Space

Bicycles can be brought into your room. There is a path leading from the entrance to a space which has a bike rack and tools for fixing up your bike.

Specialist Tools Selected by a Pro Team

Japanese UCI Continental cycling team Nasu Blasen, who have their own mechanic, have picked out a selection of specialist tools for guests to use, such as hex wrenches, torx spanners, screwdrivers, floor pumps, Shimano Di2 battery, a maintenance stand, chain oil, and more.

An Open Space With All Glass and No Walls

The huge space which is made up of the maintenance space, living room, dining room, and kitchen is decked out with warm walnut wood, and has no walls separating the rooms inside, so you can still watch over your bike while spending time with friends and family. The room is furnished with an enormous wooden frame provided by Sumitomo Forestry, and around 95% of the outer wall is made up of glass windows, offering a spectacular view of Nasu's natural surroundings during the day. At night, the plants are lit up to offer an entirely different atmosphere. All rooms are also as extremely secure and durable as police and fire stations.

If you're a cyclist travelling to  Japan, consider booking at the all-new Cyclist * Friendly * Villa .I.

Information

Cyclist * Friendly * Villa .I

Address: 3376 Oaza Takakuotsu, Nasu, Nasu District, Tochigi (Japanese: 那須ハイランド別荘地内 栃木県那須郡那須町高久乙3376、那須ハイランド別荘管理事務所向い)

Capacity: 2-6 people

Price: From ¥39,000 (Before Tax) on weekdays

Official Website: https://www.nasu-resort.com/#1

MOSHI MOSHI ROOMS Opens Sentō Bathhouse and Sumō-Themed Fusion Accommodation Called 'DOSUKOI'

MOSHI MOSHI ROOMS is located in the heart of Harajuku's tourism welcomes travellers from all over the world to immerse in Japanese culture in a way they've never experienced before. The cherry blossom-themed accommodation SAKURA is a blooming success throughout the year and ORIGAMI's mesmerizing and clever designs never fail to make tourists crease their necks in amusement. 

The third Japanese culture accommodation has stomped into MOSHI MOSHI ROOMS as a fusion of sumō wrestling and sentō bathhouse culture called 'DOSUKOI'. The word dosukoi is phrase that sumo wrestlers shout out to get hyped up – perfectly summing up your excitement as you explore this spectacular fusion world from corner to corner. From a giant sumō hand to a historical sentō bathtub with a magnificent mural artwork scenery, the entrance, living room and sentō-style bathing area is overflowing with originality.

Living Room

The entrance to the living room is themed around a sentō bath. The tiled roof and traditional entranceway noren fabric dividers will be the first thing to welcome tired travellers. 

A giant sumō hand overshadows the light on the ceiling, representing the tsuppari striking technique used by sumō wrestlers. The furniture, including the soft sofa, rug and chairs, is white and beige to represent the colour of the sumō ring. 

The relaxing room is punctuated with powerful illustrations of sumō wrestlers that cover the wallpaper. 

Bathroom


The round bathtub is made from Japanese cypress wood and is large enough to fit 3-4 people – perfect to soak off your tiredness with friends and family. A large wall painting (mural)  of a grand ocean view dominated by Mount. Fuji stretches across the wall. A purple curtain is suspended above the circular bath, representing the mizuhikimaku curtain which hangs above a sumō ring. 

The dressing area is equipped with a fridge and chair like a traditional bathhouse. DOSUKOI guests will also find complimentary bath salts which are a gift.

The grand mural is an original piece by Kiyoto Maruyama – one of Japan's three remaining sentō mural artists. This graceful painting was created using a large and smaller brush. As you admire the bold colours and fine details of this rare art, which is fading away as society progresses, you will be sent on a journey back through time. 

Bedroom

The spacious sleeping area consists of two levels, each of which has enough room for two people to sleep. The room also has another bed in storage, meaning that up to five guests can stay. 

Sink and Toilet

The separate sink area is equipped with a hair dryer. There is also a Japanese Washlet toilet with multiple functions. 

Amenities and Extras

The kitchen is fully equipped with cooking utensils, a microwave, refrigerator and all the daily essentials. 

After a long, relaxing hot soak, put on a light yokozuna yukata robe and you'll feel just like a sumō champion. There are also many amenities and items that fit with the DOSUKOI theme. 

MOSHI MOSHI ROOMS isn't just a hotel but is also the perfect party space for you and your friends to get together. As the cold days are still with us, how about warming up in a toasty sentō-style bathtub with your friends?

THE HIRAMATSU Kyoto is a New Luxury Hotel On Muromachi Street Renovated From a Traditional Townhouse

The new luxury hotel THE HIRAMATSU Kyoto is set to open along Muromachi Street in Kyoto on March 18, 2020.

"Explore and indulge your curiosity" is the hotel's concept

The hotel aims to create a place that encourages guests to explore and indulge their curiosities, and one that welcomes and treasures its guests in a way that only THE HIRAMATSU Kyoto can.

Built from a traditional Edo Period Kyoto-style townhouse

THE HIRAMATSU Kyoto sits pretty much in the heart of Kyoto, and is just a three-minute stroll from Karasuma Oike Station. It faces Muromachi Streetーa street that has long thrived when it comes to trade. The hotel is renovated from an old townhouse that has been around since the Edo Period, and it has been made sure that it hasn't lost that traditional design.

Nakamura Sotoni Komu: A contemporary craftsman

To progress with the renovation work, THE HIRAMATSU KYOTO called on board the executive building director of Kyoto's famous craftsman company Nakamura Sotoni Komu, who lent their skill to effect the effort.

Information

THE HIRAMATSU Kyoto

Grand Opening: March 18, 2020

Address: 361 Sanjo Agaru Ennogyojacho, Muromachi-dori, Nakagyo Ward, Kyoto
Access: 15-minutes by taxi from Kyoto Station / 3-minutes on foot from Karasuma Oike Station (via Kyoto Municipal Subway)

Official Website: https://www.hiramatsuhotels.com/eng/kyoto/

UMI HOTEL ANNEX: The New Luxury Hotel Opens in Shizuoka's Resort Area Usami

Usami is known as the resort area of Ito in Shizuoka Prefecture, and it's here that the new luxury relaxation hotel UMI HOTEL ANNEX, which boasts a horizon-stretched ocean view, has openedーtogether with the new restaurant and bar known as The SEA.

UMI HOTEL ANNEX, a hotel for relaxation

UMI HOTEL ANNEX offers a breathtaking experience for guests with its ocean view, the sounds of the waves, and the natural scent of trees that envelop it. The hotel is on the small side, built with just six rooms, but this opens the door for greater hospitality, consideration, and comfort. If you want to wind down from a long day of travelling, need some adequate sleep, and wish to get away from the hustle and bustle of Japan's busy cities, then UMI HOTEL ANNEX has you covered.

Enjoy a sweeping ocean view

Upon entering a guest room, you are met with an unobstructed view of the sea. All rooms are also equipped with mirrorsーwhich span the entire wallーwhich bring the view of the ocean into your own room too. This means you can sleep soundly while surrounded by the sea, which is just 30 seconds from the hotel. *4 rooms of the rooms offer the ocean view

Rooms also have a pillar made from hiba cypress, a type of tree symbolic of Aomori Prefecture. The pillars not only serve to support the structure of the hotel, but also wrap the room with the natural scent of timber. Hiba is a strong antibacterial and pesticide wood, and its aroma also has a relaxing effect. 

Open-air infinity pool baths with water flowing from the source

The roof is decked out with infinity pool baths with water flowing in from the source. Everything in and around the pools is made from the same Aoyama hibi cypress, including the pools themselves, meaning all rooms enjoy that warm smell of cypress. The pool joins together with Usami Bay, which stretches 1km, offering a feeling of openness like no other. There are even waterproof sofas in the pool rooms for more relaxation.

Amenities galore for a quiet night's sleep

Amenities offered include items by Sansatia, a Bali-based natural cosmetics company. There's also an original line of room wear made from a special Japanese gauze which can also be used in the surrounding area outside too. The linen is provided by Imabari Towel, and the beds by Simmons. There's also bath salts, shoehorns, and more.

All guest rooms are equipped with pots, microwaves, refrigerators, irons, and trouser pressers. There's also coin operated laundry machines, accommodating for those longer stays.