This Relaxing Onsen Hotel with Picturesque Nature and Luxurious Local Cuisine is the Perfect Getaway
Japan is full of picturesque locations where you can be at one with nature and soak the tiredness of your body away in the onsen baths. If you are looking for an escape from busy working life, then you're in luck: Today we'll be introducing you to a modern onsen hotel which is perfect for families, lovers, and even solo travellers. 
Escape from Tokyo on the bullet train, ride the Zairai line and finally, catch a bus. After your two-hour journey, you will arrive at onsen hot spot Uonuma city in Niigata Prefecture. Today, we'll be heading to Tomoya Hotel. The picturesque scenery of paddy fields and mountains will unfold before your very eyes and put your mind at ease.    
Sunlight pours over the reception desk from the giant window. It was time to check in. After being informed on meal times and private onsen rentals, I quickly headed to my room.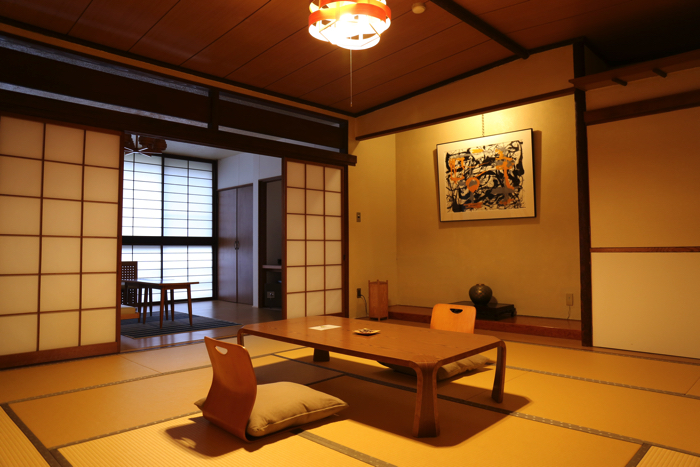 I was given room 305. The warm wooden structure made the room feel lavishly large. Whether you're snuggling up with a lover, chilling out with friends or relaxing with family, the atmosphere and size of the room allows for flexible usage.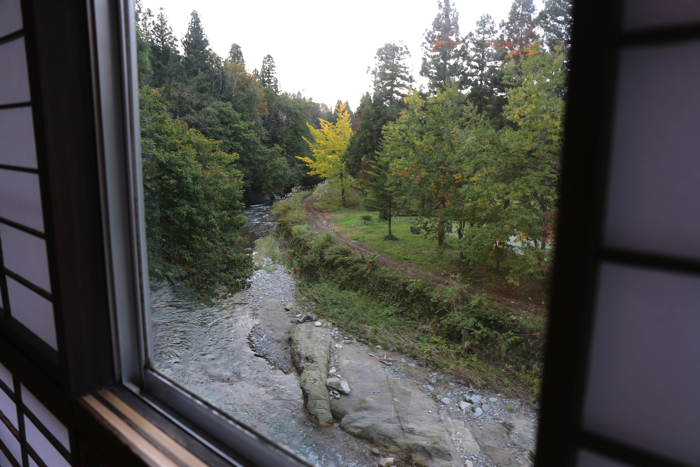 The Sanashi river was right outside my window. I could watch the soothing clear water flow out to the horizon for hours.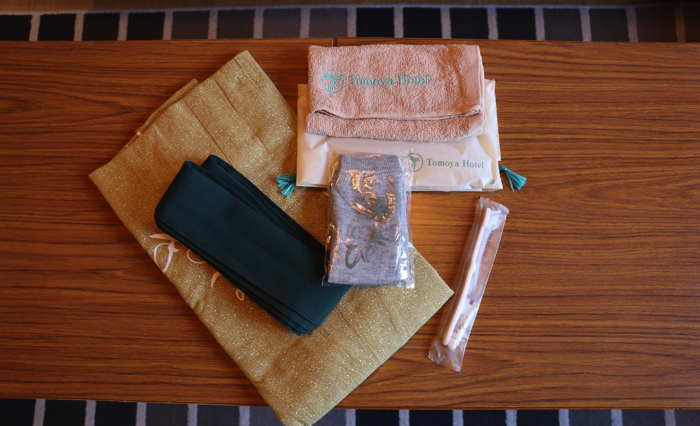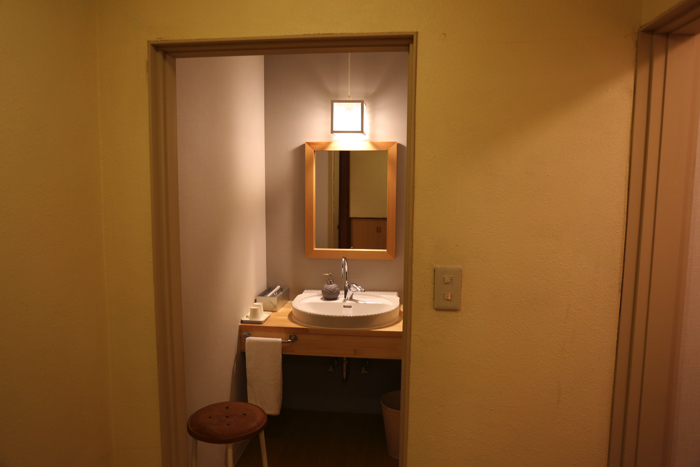 The room was prepared with loungewear, bath towels, toothbrushes, socks and many other amenities. It was even fitted with a fridge and water heater.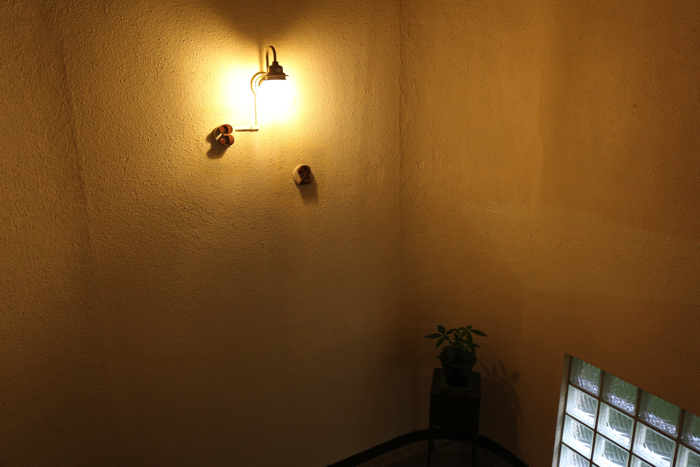 From the lamps lighting the stairway and hallway sofas to the displayed artwork, every item in Tomoya Hotel is a carefully selected item of special design. 
There was even a DJ area next to the lobby which contained a surprising stash of records, CDs and DVDs which was uncountably large. Being able to discover new music and films is another admirable feature of the hotel.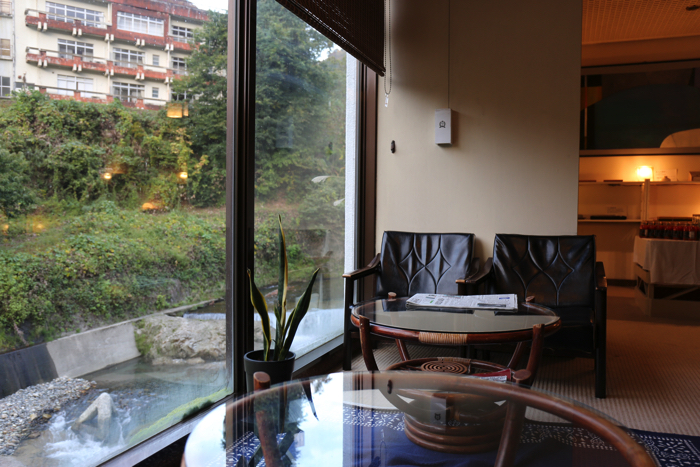 The front lobby is filled with a fresh and liberating atmosphere. There are plenty of spots to sit and read to yourself as the melodies of records weave through the air.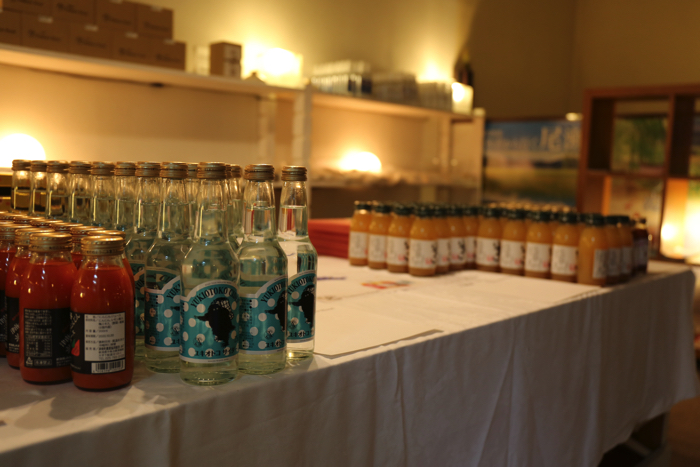 The shop sells specially selected products including locally produced juice, snacks and much more. You can even purchase Tomoya Hotel's original skincare goods. Reading the cheerful and thoughtful comments written on the goods by the manager made it clear that every single item in the shop was chosen with the utmost care.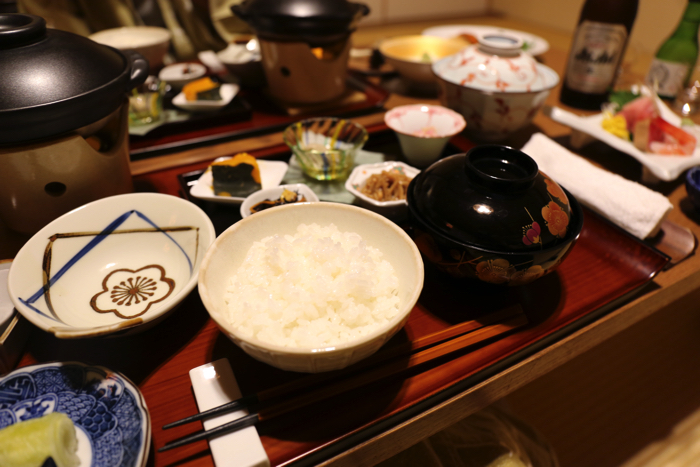 One by one, several lavish courses arrived at my door for dinner that evening. The locally-sourced ingredients and seasonal vegetables were served with Niigata prefecture's uonuma koshihikari rice, which is famed as Japan's best rice. 
Nameko mushroom hotpot, salt-fried East Asian trout, tofu mixed with lotus root, and sashimi were just some of the hotel's many original dishes that were brought to my door. As the rice was harvested from the first crop of the year, it was very sweet and so delicious that I helped myself to multiple servings without realising. The food was flavoured and seasoned very lightly to ensure that guests could fully enjoy the true flavours of the fresh harvest from the mountains and the sea. The luxurious dinner was highly enjoyable. 
I enjoyed sipping a small glass of Tomoya's chilled Reishu sake with my meal. This is an original recipe sake created by Tomoya Hotel and local sake brewery Tamagawa Shuzo. It was so refreshing, easy to drink and perfectly complimented every dish. The hotel provided a rich variety of alcoholic dinks including refreshing beer, carefully-selected wines, rare local sake, homemade fruit liqueurs, and more.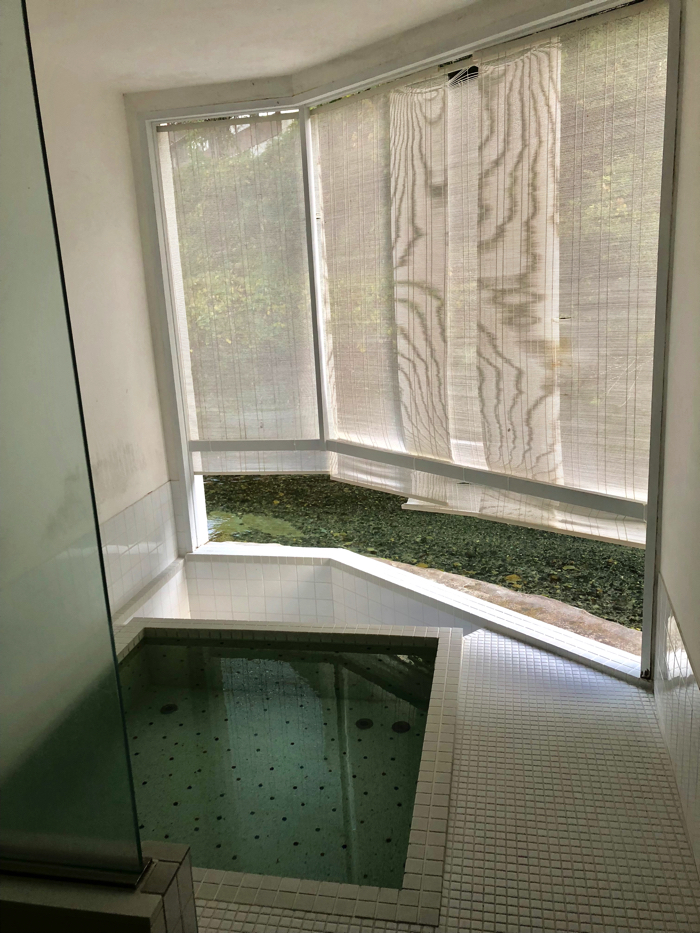 The onsen is home to rich history dating back to the year 1300 when it first opened its doors to the public. There are two types of private rental onsen and large public onsen indoors. Some square-shaped baths sit right beside a small stream which branches off from the Sanashi river. Treat yourself to a soothing soak in a historical onsen while absorbing the beautiful scenery.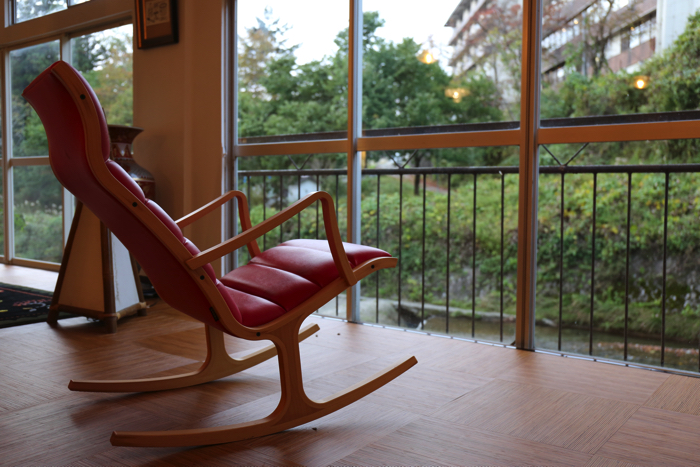 After finishing your relaxing soak, head to floor 1 of the main building to spend some time relaxing. This space is for guests to use freely and how they please. There are bookshelves lined with books and games available.
The first floor of the hotel annexe was my favourite place. Music from a variety of genres is played here. A disco ball hangs high, splashing light across the spacious room. There is a ping-pong table, a pool table, massage chair, piano, an old Nintendo game, manga and much more. It may seem like a relaxing place at first glance, but my heart was racing with excitement as I got hooked on the games.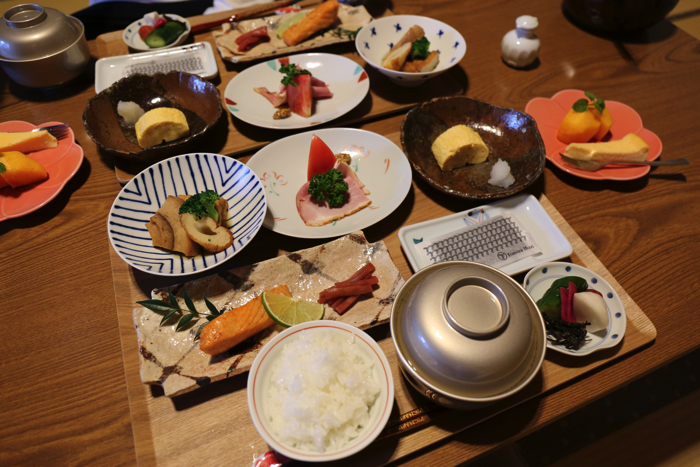 The following morning, breakfast was delivered right to my room again. Seeing the tray filled with a luxurious mix of both western and Japanese-style cuisine was very pleasing to see. I indulged in yaki-fu: baked wheat gluten which is a specialty of Niigata, fried fish, rolled Japanese-style omelette, homemade cheesecake and much more. All the meals served at the hotel are made with the utmost care and precision. 
If I were to introduce all the wonderful services and features of Tomoya hotel then there would be no end to this article. The main highlights were the delicious meals made with locally sourced ingredients, the soothing onsen, the music, films and experience of art culture, and of course, the opportunity to get in touch with nature, watching the water trickle down the mountain streams as your mind discovers peace. 
If you are looking to heal your body, mind and soul whilst discovering nature and art, then Tomoya Hotel is perfect for you. 
Writer:Ellie(MOSHI MOSHI NIPPON)
RECOMMENDED ENTRIES
Kyoto Sightseeing | 4 Spots to Visit Before Autumn 2019 Ends

Autumn is a popular season in Japan, especially amongst tourists and travellers. While in spring you have the bright pink cherry blossoms, when autumntime rolls around, the trees turn into enchanting reds and yellows. People from around the world flock to see this incredible sight, with Kyoto being a very popular location.

Of course, viewing the beautiful colours of the trees and their leaves is a must during the daytime, but seeing them in the evening has become popular in recent years too. It offers you an entirely different experience and atmosphere. So if you're in the ancient capital for autumn this year, why not experience the season in an entirely new lightーat night?

Jitokuin Temple

Jitokuin Temple is located in the town of Yosano in Yosa District. Maple trees were planted almost 11 years ago with the help of locals and the chief priest to create local ties. Every autumn, the trees behind the mountain bloom in vivid hues, leading the temple to be nicknamed "Koyo-ji," or "Temple of Autumn." The locals work hard in the surrounding gardens day by day, so the sights change a little bit every year.

The maple trees are planted in a way that it looks like they take an entire side of the mountain. They are a sight to be hold during the day, but for one week in November there will be illuminations in the evenings, creating a magical scene under the night sky.

▼Jitokuin Temple

Light-Up Period: November 9, 2019 – November 16, 2019

Light-Up Time: 17:00-20:00 (Temple is open 09:00-20:00)

Autumn Foliage Peak Period: Early-Mid November

Address: 2250 Akeshi, Yosano, Yoza-gun, Kyoto

Support Fund: ¥300

Official Website: http://jitokuin.com

Nariaiji Temple

Nariaiji Temple, located in Kyoto Prefecture's city of Miyazu, is an ancient temple betwixt mountains overlooking Amanohashidate, one of Japan's "Three Scenic Views." It's home to a grand 5-storey pagoda which is surrounded by hundreds of maple trees, offering an incredible, quintessentially Japanese view during autumn.

During the day, you can snap some gorgeous photos with the Sea of Japan and Amanohashidate in the back. For two nights only, on Saturday November 9 and Sunday November 10, the entire area will be beautifully lit up with warm illuminations.

▼Nariaiji Temple

Light-Up Period: November 9, 2019 – November 10, 2019

Light-Up Time: Sunset – 21:00 (Temple is open 08:00-16:30)

Autumn Foliage Peak Period: Early-Late November

Address: 339 Nariaiji, Miyazu, Kyoto

Price: ¥500

Official Website: http://www.nariaiji.jp/

Kasagiyama Prefectural Natural Park

Kasagiyama Prefectural Natural Park: is located atop Mt. Kasagi and is also home to Kasagi-dera, a temple with a 1,300-year history. During autumn, one entire side of the park is dyed in autumnal colours.

This November, the area will be lit up for a limited period, offering a gorgeous view from the mountain peak of the trees below as well as the flowing Kizugawa river.

▼Kasagiyama Prefectural Natural Park

Light-Up Period: November 1, 2019 – November 30, 2019

Light-Up Time: 17:00-21:00 (Temple is open 09:00-16:00)

Autumn Foliage Peak Period: Early-Mid November

Address: Mt. Kasagi, Kasagi, Soraku District, Kyoto

Price: Illuminations – Free / Temple – Adults ¥300, Children ¥100

Official Website: https://www.kasagidera.or.jp

Yokokuji Temple

Normally, the Joshoin at Yokokuji Templeーalso known as Yanagidani Kannonーonly opens on the 17th of every month. But for a special autumn event, it is now open every day up until December 1. The beauty of its autumn colours have come to be enjoyed by VIPs, dating back to the pre-war period when it was designated as a place of scenic beauty. For more details on this event, click here.

▼Yanagidani Kannon Autumn Colours Week

Running: November 2, 2019 – December 1, 2019

Time: 9:00-16:00 (Joshoin open 10:00-15:00)

Location: Yanagidani Kannon, Yokokuji Temple (Dōnotani-2 Jōdodani, Nagaokakyo, Kyoto)

Entry Price: ¥300

Full Ticket: ¥1,100→¥1,100 (Includes entry to multiple areas)

Official Website: http://yanagidani.jp/

Take the time to enjoy an autumnal Kyoto this year at one of the city's seasonal events.

5 Must-Visit Spots in Kyoto For Autumn Scenery: Floor Reflections to Flowery Temple Water Basins

Kyoto's autumn hues have enchanted travellers, tourists and locals alike for untold years. Today, we are joined by Macchan, an Instagrammer who has provided us with their incredible photographs of Kyoto's breathtaking autumnal scenery. Take note of these locations for your next trip!

Wachu-an, Notre Dame Jogakuin Junior and Senior High School

Wachu-an is a merchant and heritage home with a long history dating back to the early days of the Showa Period (1926–1989). It's normally off-limits to the public, but opens during autumntime for everyone to visit. This year, it will be open from November 22 to December 1.

Trickling away in the large gardens is a small river, and enveloped in the gorgeous greenery connected to a passage on the slant of the foothill is the reception hall and a western-style house. When autumn rolls around, visitors enjoy the beautifully polished veranda of the Japanese-style room together with the floor of the western-style building which reflects the surrounding sights beautifully.

Wachu-an, Notre Dame Jogakuin Junior and Senior High School

Autumn Opening: November 22, 2019 – December 1, 2019

Time: 10:00-16:00

Address: 110 Shishigatani Sakuradanicho, Sakyo Ward, Kyoto

Price: ¥600 (Discount for groups of 15+) / Free for junior high school students and younger

Access:

① 9 minutes on foot from the "Shinnyodomae" or "Kinrin Shako Mae" bus stops via the Kyoto City Bus 5 from Kyoto Station

② 7 minutes on foot from "Miyanomaecho" bus stop via the Kyoto City Bus 100 from Kyoto Station

③ 9 minutes on foot from the "Shinnyodomae" or "Kinrin Shako Mae" bus stops via the Kyoto City Bus 93 or 204 from Jingū-Marutamachi Station (Keihan Electric Railway)

④ 5 minutes on foot from the "Kami Miyanomaecho" bus stop via the Kyoto City Bus 32 from Kyoto-kawaramachi Station (Hankyu Railway)

⑤ 9 minutes on foot from the "Shinnyodomae" or "Kinrin Shako Mae" bus stops via the Kyoto City Bus 203 from Kyoto-kawaramachi Station (Hankyu Railway)

Yokokuji Temple

Yanagidani Kannon, also known as Yokokuji Temple, is holding the event "Yanagidani Kannon Autumn Colours Week" from November 2 to December 1. It includes special access to the Joshoin which is normally closed to the public, workshops, flower decorations at the temple's purifying water basin, and more.

Enjoy the beautiful natural landscape surrounding the temple, dyed in the red and yellow hues of autumn. For more details on this event, click here.

Yanagidani Kannon Autumn Colours Week

Running: November 2, 2019 – December 1, 2019

Time: 9:00-16:00 (Joshoin open 10:00-15:00)

Location: Yanagidani Kannon, Yokokuji Temple (Dōnotani-2 Jōdodani, Nagaokakyo, Kyoto)

Entry Price: ¥300

Full Ticket: ¥1,100→¥1,100 (Includes entry to multiple areas)

Access: 15 minutes by taxi from Nagaokakyo Station (JR Line) / 10 minutes by taxi from Nishiyama Tennozan Station

Official Website: http://yanagidani.jp/

Shinnyo-dō Temple (Shinshōgokuraku-ji)

Shinnyo-dō Temple is a famous sightseeing spot during autumn as tourists and locals flock to see autumn fall around the ancient structure. From mid-November, the maple and ginkgo trees blossom from their beautiful buds along the stone path leading up to the temple.

The three-storied pagoda is a sight to behold during this time of the year, as is the carpet of fallen leaves behind the main temple which symbolises the curtain call of autumn. On average, the autumn foliage can be observed until early December here every year.

Shinnyo-dō Temple (Shinshōgokuraku-ji)

Address: 82 Jōdoji Shinnyochō, Sakyo Ward, Kyoto, Kyoto Prefecture

Opening Hours: 9:00-16:00 (Reception open until 15:45)

*Restricted access to the garden and Shoin on November 10 and December  8

Price: ¥1,000 (¥900 for elementary school children, free for those younger)

Access:

①Take the Kyoto City Bus 5, 17 or 100 bound for Ginkaku-ji (銀閣寺行き) from Kyoto Station and alight at Kinrin Shako Mae from which it is an 8 minute walk

Official Website: https://shin-nyo-do.jp/

Konzoji Temple

This quiet little mountain temple sits tucked away halfway up the mountain known as Koshioyama. The temple as it is today was restored in the Edo Period. It's a popular hiking spot amongst travellers as it offers a panoramic view of the Kyoto Basin (京都盆地), but it also attracts a lot of visitors during the autumn season.

The reflection of the autumn foliage from the water is nothing short of breathtaking. The hike up is tiring, but worth it, so if you've the stamina we highly recommend putting this one on your list. You won't be disappointed.

Konzoji Temple

Address: 1639 Ōharano Ishizukurichō, Nishikyo Ward, Kyoto, Kyoto Prefecture

Donation Fee: ¥200

Access:

①Take the Hankyu Bus 65 from Mukōmachi Station (JR Tōkaidō Main Line) or Higashi-Mukō Station (Hankyu Railway) and get off at the last stop, Minamikasugacho (南春日町), after about 25 minutes. It's then a 60-70 minute walk from there.

②Board the Keihan Kyoto Bus at the East Exit of Katsura Station that is bound for Oharano & Nagamine (大原野・長峰). Get off at the last stop, Nagamine, and it's a 50-60 minute walk.

Byodoin Temple

Byodoin Temple, listed as a World Heritage Site, is also a popular spot in the fall. You can take some spectacular photos of the temple from across the lake. The height of the autumn foliage this year is late November to early December.

There is more information on the foliage dates on the official website, so be sure to check it out before visiting at the link below.

Byodoin Temple

Address: Renge-116 Uji, Kyoto

Price: General ¥600 / Junior High School Students ¥400 / Elementary School Students ¥300 (*Includes garden and Byodoin Museum access)

Access:

①10 minutes on foot from Uji Station via the JR Nara Line from Kyoto Station

②10 minutes on foot from Uji Station via the Keihan Main Line from Gion-Shijo Station

Foliage Info: https://www.byodoin.or.jp/flower/

Official Website: https://www.byodoin.or.jp/

If you want more information about Kyoto on the best spots to visit, be sure to follow Macchan on Instagram.

Photos: Macchan

Kyoto Sightseeing | Yokokuji Temple's Autumn Event Schedule Announced

Yanagidani Kannon, also known as Yokokuji Temple, is located in Kyoto Prefecture's city of Nagaokakyo and has been used as a place of prayer for many people with eye disease since the Heian Period. It is believed that praying at the temple will cure eye disease.

For autumn-time this year, the temple is set to hold an event titled "Yanagidani Kannon Autumn Colours Week" from November 2 to December 1. With a seasonal schedule that includes illuminations in the gardens to a flower display at the temple water basin, if you're looking for the must-visit locations in Kyoto this autumn, then you'll want to add Yokokuji Temple to your list.

Jodoen Garden Illuminations

Last year's popular light-up event is making a return for 2019, with gorgeous illuminations developed by light designer Yuuki Kogawa which will brighten the area with an enchanting and mystifying aura different from a usual visit to the garden.

Dates: November 8th, 15th, 22nd-23rd

Time: 17:30-18:30  (Reception open from 17:00)

Price: ¥2,500 (Includes limited edition goshuin stamp)

No. of People: 20 (Bookings Only)

Bookings: https://yanagidani.jp/contact/

Special Opening of the Joshoin

Normally, the Joshoin only opens on the 17th of every month, but for this autumn week event, it will be open every day. It's an area normally limited to officials and those in the imperial family. The beauty of its autumn colours have come to be enjoyed by VIPs, dating back to the pre-war period when it was designated as a place of scenic beauty.

Hanachomizu Flower Water Basin

At every temple and shrine in Japan there is a water basin which you are to use to cleanse yourself before entering. The Hanachomizu has become hugely popular on social media since the name first appeared 3 years ago, where leaves and flowers are placed into the basin. It has become adopted at temples across the country, with the one at Yokokuji Temple starting the trend. When it was first posted onto social media, it received reactions from over 80,000 people both in Japan and overseas. The flowers used change with the seasons, from hydrangeas to maple leaves.

Limited Edition Goshuin Stamp Book Designs – Garasha Matsuri & More

Visitors will be able to pick up limited-edition goshuin stamp books which never fail to sell out whenever they are released. Goshuin are collectable stamps/seals at temples around Japan. They are ¥500 each and limited in stock.

This is just a small peek into what's to come during Yanagidani Kannon Autumn Colours Week. If you're in Kyoto, make sure you pay a visit to Yokokuji Temple.

Information

Yanagidani Kannon Autumn Colours Week

Running: November 2, 2019 – December 1, 2019

Time: 9:00-16:00 (Joshoin open 10:00-15:00)

Location: Yanagidani Kannon, Yokokuji Temple (Dōnotani-2 Jōdodani, Nagaokakyo, Kyoto)

Entry Price: ¥300

Full Ticket: ¥1,100→¥1,100 (Includes entry to multiple areas)

Official Website: http://yanagidani.jp/
RELATED ENTRIES
Hoshino Resorts KAI Poroto to Open in Hokkaido in January 2022

Hoshino Resorts, Japan's premiere hotel management company boasting over 40 properties both inside and outside Japan is set to its new onsen ryokan (hot spring Japanese style inn) Hoshino Resorts KAI Poroto in January 2022 following the completion of a partnership agreement with Shiraoi, Hokkaido on June 28, 2018.

KAI Poroto comes as the 19th property for the KAI brand, following KAI Nagato (opened in March 2020), KAI Kirishima (scheduled to open in January 2021), and KAI Beppu (scheduled to open in summer 2021). It will also be the third KAI property to open in Hokkaido, following RISONARE Tomamu in Shimukappu and OMO7 Asahikawa in Asahikawa. The new property will be designed by Japanese architect Hiroshi Nakamura.

(Hiroshi Nakamura & NAP)

Guests will be able to enjoy Shiraoi onsen water at KAI Poroto. The water comes from a "moor spring" which contains organic minerals derived from plants. This type of water is rare throughout the world. KAI Poroto faces the shores of Lake Poroto and is surrounded by the natural forests of Hokkaido where many species of wild bird live. All guest rooms boast a lake view where changes in scenery throughout the seasons can be enjoyed.

KAI Poroto will is cooperating with both the town of Shiraoi as well as "Upopoy", the National Ainu Museum and Park, which has the aim of becoming a "symbolic space for ethnic harmony". The facility will respect Ainu culture and provide a place of accommodation for guests to experience it.

Upopoy: A symbolic space for ethnic harmony

A symbolic space for ethnic harmony by the name of "Upopoy opened in Shiraoi, Hokkaido on July 12, 2020. This national centre serves as a base for the reconstruction and development of Ainu culture, which is in danger of survival. The main facilities are the National Ainu Museum and the National Ainu Park. The National Ainu Museum is the first national museum in Japan centred around indigenous Ainu people and the history and culture of the people as expressed through their perspective. This is expressed in a variety of different exhibits. The National Ainu Park is a field museum, where Ainu culture can be taught through a number of programs. Experiences on-site include the Ainu traditional dance, which is registered as UNESCO intangible cultural heritage, wood carving, and embroidery workshops, as well as food and traditional performing arts experiences. "Upopoy" means "to sing (in large numbers)" in the language of Ainu.

Designed by Hiroshi Nakamura

Japanese architect Hiroshi Nakamura is behind the design of KAI Poroto. "Poroto" means a large lake in the Ainu language and KAI Poroto boldly draws this lake into its premise. In the lobby of the birch forest, guests will be greeted by a magnificent view of the lake, which leads to Mount Tarumae. Guests can also relax in the lounge while watching the flames in the fireplace, something which was at the centre of Ainu people's lives. On the surface of the lake, a bathhouse called Kashi, which is built using traditional Ainu construction methods, stands like a village. The open-air bath makes one feel as if you are immersed in the lake. The design has been created in a way that is modern, inspired by the lifestyles, nature, and family of Ainu people.

Gaze at the Starry Sky in a Hot Swimming Pool This Winter at HOSHINOYA Okinawa

HOSHINOYA Okinawa has announced its new "Hoshizora Hot Pool" experience where guests will be able to stay warm in the hotel's warmed-up swimming pool while gazing up at the winter night sky. It will run from December 1, 2020 to February 28, 2020.

Okinawa enjoys a mild winter each year; it's uncommon for the temperature to dip below 15℃. Winter is a time where all of us enjoy being in the warmth of indoors, but in Okinawa you can enjoy being outside even during the cold season. And that's where Hoshizora Hot Pool comes in as the end of the year approaches, a time when there are many events and celebrations to be had.

The outdoor pool at HOSHINOYA Okinawa can be heated and so is perfect during the winter season. Guests are invited to soak in the infinity pool, where you can hear the sounds of the waves, and where it looks like the sea and sky become one. Almost all 88 of the constellations can be seen in Okinawa, and since the sky is clear during the winter nights, it's the opportune time to be turning your gaze skyward.

Glowing lanterns make for a romantic atmosphere

When the sun sets, lanterns are lit by the poolside and breathe a warmth light to the cool evenings. The lights sway back and forth, reflecting off the water to create a magical atmosphere.

Hot cocktails by the pool

Guests will also be able to order from the bar once the lanterns are lit from the evening with a selection of refreshing drinks made with fresh fruits to hot cocktails to warm the body.

Float beneath the starry sky to the sounds of the waves

Guests can enjoy floating in the pool as an endless tapestry of stars unravels itself overhead. The Hoshino Resorts Banta Cafe will be open for business in the evening too. Guests can order some fruity desserts, rent lanterns, and more.

Information

Hoshizora Hot Pool
Address: 474 Gima, Yomitan, Nakagami District, Okinawa
Running: December 1, 2020 – February 28, 2021
Price: Free (Drinks from the bar however must be paid for)

Time: Open 24 hours (But only adults can use the pool after sunset)

Bar Opening Hours: Sunset until 22:00

*Available to HOSHINOYA Okinawa guests only

Irumi Banta
Opening Hours: 19:00-22:00 (Last Orders 21:00

Price: Dessert Set for Two = ¥2,728 (Before Tax)

*Available to guests and non-guests

Official Website: https://hoshinoya.com

Snow Fireworks to Light Up the Winter Skies of Miyazaki at Phoenix Seagaia Resort

Phoenix Seagaia Resort, a resort located in Miyazaki Prefecture whose brand slogan claims them as the most beautiful in all of Japan, has announced a heart-warming new experience for the winter season.

Seagaia's Snow Fireworks

Miyazaki doesn't see a lot of snowfall, but this winter, the prefecture is welcoming an all-new fireworks festival which will launch fireworks into the sky that falls like pure white snow. Phoenix Seagaia Resort is also offering a guest plan which combines a stay at the resort with front row seats to the fireworks.

Running: December 4, 2020 – February 27, 2021 (Fridays and Saturdays only + January 10, 2021)
Time: 20:00 (Approx 3 minutes)
Bookings: https://bit.ly/3lurZWK

Starlight Winter Illuminations

THE LIVING GARDEN is the garden area of Sheraton Grande Ocean Resort exclusive to guests. This winter, the garden will be lit up with 30,000 LED lights and lanterns to create a magical, starry sky-like atmosphere by both of the garden's pools.

Running: November 1, 2020 – February 28, 2021
Location: THE LIVING GARDEN, Sheraton Grande Ocean Resort
Illumination Times: Sunset to 23:00

Price: Free (Exclusive to Sheraton Grande Ocean Resort guests)

A Cosy Menu For a Warm Stay

Gazebos by the waterside at THE LIVING GARDEN

S'mores

Sheraton Grande Ocean Resort will also serve s'mores, hot cocktails, and other treats at THE LIVING GARDEN with gazebos and fire pits. Enjoy fluffy marshmallow s'mores served with nuts and salted chocolate.

Running: November 6, 2020 – February 28, 2021 (Excluding Wednesdays & Thursdays)

Times: 19:30-23:00 (Last Orders 22:30)

Location: KUROBAR, THE LIVING GARDEN, Sheraton Grande Ocean Resort

An Otaku's Dream: The EJ Anime Hotel in Saitama Where You Can Stay in Rooms Themed On Anime Series

Manga publisher KADOKAWA opened the new anime concept hotel EJ Anime Hotel at Tokorozawa Sakura Town in Tokorozawa, Saitama, on October 1, 2020.

Tokorozawa Sakura Town is a new shopping complex set to open on November 6, 2020, where it will serve as a hub for the latest in Japanese pop culture with events, shops, restaurants, a museum, and more. EJ Anime Hotel opened on early Thursday in the run up to the complex's grand opening to welcome guests.

The 'EJ' of EJ Anime Hotel stands for 'Entertainment Japan.' The hotel aims to have guests living inside the stories they love from a wide range of Japanese media from anime to manga, movies, tokusatsu SFX movies, idol culture, and more.

As well as room decorations and the exclusive merch that will be on sale, the hotel is also offering a new kind of accommodation experience by incorporating videos, sounds, lighting, and more. Its restaurant will also offer a selection of food and drink in collaboration with various series including all-out full course dinners.

When using the hotel elevator, you will hear announcements from none other than popular Japanese voice actor Yuki Kaji who has played many big roles in anime including Eren Jaeger in Attack on Titan. "As an anime fan first and foremost, having such a fun concept hotel like this open, not to mention getting to be involved as an announcer, makes me really happy," explains Kaji. "I want guests to make some great memories staying at EJ Anime Hotel."

"Bofuri: I Don't Want to Get Hurt, so I'll Max Out My Defense." Collab Room ©2020 夕蜜柑・狐印/KADOKAWA/防振り製作委員会

"Uzaki-chan Wants to Hang Out!" Collab Room © 2020 丈/KADOKAWA/宇崎ちゃん製作委員会

"KonoSuba: God's Blessing on this Wonderful World!" Collab Room ©2019 暁なつめ・三嶋くろね/KADOKAWA/映画このすば製作委員会

"A Certain Scientific Railgun T" Collab Room ©2018 鎌池和馬/冬川基/KADOKAWA/PROJECT-RAILGUN T




"Yuki Yuna Is a Hero" Collab Room ©2017 Project 2H

Right now, EJ Anime Hotel is collaborating with five different anime series: Bofuri: I Don't Want to Get Hurt, so I'll Max Out My Defense., Uzaki-chan Wants to Hang Out!, KonoSuba: God's Blessing on this Wonderful World!, A Certain Scientific Railgun T, and Yuki Yuna Is a Hero. The hotel is taking bookings on its official website.

If you're thinking of travelling to Japan as an anime fanatic, then look no further and book with EJ Anime Hotel.

Information

EJ Anime Hotel
Grand Opening: October 1, 2020
Location: Tokorozawa Sakura Town Floor 6F
Address: 3-31-3 Higashitokorozawawada, Tokorozawa-shi, Saitama Prefecture
Opening Hours: 24 hours a day
Check In: 4pm / Check Out: 10am
No Fixed Holidays
Official Website: https://tokorozawa-sakuratown.jp/hotel/

Solo Sauna Tune: Tokyo's New Privacy Guaranteed Finnish-Style Sauna

Solo Sauna Tune is a new sauna that offers "total privacy" which is set to open its first branch inside UNPLAN Kagurazaka in Tokyo this November.


Most sauna facilities in Japan cater to groups, but at Solo Sauna Tune, all guests are given their own space where they can undress, bathe, and relax in their own private room. This is especially desirable during the current pandemic where social distancing is paramount, and is a great opportunity for people not wanting to travel in groups.

The solo saunas are heated using sauna stoves imported from Finland. Adding water to the sauna stones lets guests control the amount of steam in the room so they can adjust as they like. There is also a Japanese white birch aroma provided to the löyly (Finnish for 'steam').

Guests can also cool off in cold water. The Chiller provides water at 15℃. There are also overhead showers for cooling down, and the showerheads can be adjusted to make the water come out like mist.

The relaxation area is coloured in a stylish black where guests can kick back for a while.


After using the sauna, guests can visit the powder room where there are a varieties of free amenities. There's also a café which serves craft beers, food, and other treats.

Information

Solo Sauna Tune
Address: UNPLAN Kagurazaka, 23-1 Tenjincho, Shinjuku-ku, Tokyo
Grand Opening November 2020

Opening Hours: TBA

Prices: TBA
Access: 3-minutes on foot from Kagurazaka Station / 7-minutes on foot from Edogawabashi Station / 9-minutes on foot from Ushigome-Kagurazaka Station

Official Website: https://www.solosauna-tune.com/

Hotel New Otani Tokyo, Osaka & Makuhari Now Serving Rich Chestnut Pancakes For Autumn

The Tokyo, Osaka, and Makuhari branches of Hotel New Otani are now serving seasonal autumn versions of their specially made pancakes at their coffee shop and all-dining restaurant SATSUKI until November 30, 2020

Fantastically fluffy pancakes

Hotel New Otani has been serving its special pancakes for the past 10 years which have become a favourite amongst guests.

The hotel's pastry chefs have whisked up a variety of flavours in line with the changing seasons this past decade using strictly-selected ingredients including strawberry, melon, mango, chestnut, and more.

A marriage of rich chestnut and fluffy pancake

Hotel New Otani Specially Made Chestnut Pancakes 2020 | ¥2,800 (Before Tax/Service Charge)


Chestnuts are the flavourful theme for autumn 2020's pancakes, made with strictly-selected chestnut astringent skin, sweet bean jelly, and topped with a chestnut macaron.
The pancakes are served with melt-in-the-mouth Italian ricotta. There are two different doughs, one made from coffee flour which has high nutritional value, and the hotel's original "White Cereal" which is a combination of millets and amaranth.
The pancakes are cooked on a low heat for about 5 minutes on each side so they rise to a fluffy 5cm thickness and become startlingly smooth.

Strawberries for winter

For this year's winter, the hotel will be serving strawberry pancakes.

Enjoy a selection of seasonal pancakes when staying at Hotel New Otani.

Information

Hotel New Otani Tokyo
Location: SATSUKI, Hotel New Otani Tokyo Main Lobby
Address: 4-1 Kioicho, Chiyoda-ku, Tokyo
Bookings/Enquiries: 03-5275-3177 (10:00-21:00)
Official Website: https://www.newotani.co.jp/tokyo/restaurant/satsuki/

Hotel New Otani Makuhari
Location: SATSUKI, Hotel New Otani Makuhari
Address: 2-120-3 Hibino, Mihama-ku, Chiba, Chiba Prefecture
Bookings/Enquiries: 043-299-1848 (07:00-21:00)
Official Website: https://www.newotani.co.jp/makuhari/restaurant/satsuki/

Hotel New Otani Osaka
Location: SATSUKI, Hotel New Otani Osaka
Address: 1-4-1 Shiromi, Chuo-ku, Osaka, Osaka Prefecture
Bookings/Enquiries: 06-6949-3234 (07:00-20:00)
Official Website: https://www.newotani.co.jp/osaka/restaurant/satsuki/

Kyoto's Female-Only Hotel CAFETEL Kyoto Sanjo for Ladies Reveals Halloween Room

CAFETEL Kyoto Sanjo for Ladies, a hotel in Kyoto exclusive to female guests, is offering a new Halloween room plan between October 1 and November 1. There is just one room and it can only be booked for one day between that period. This plan was offered last year and was a resounding success amongst guests.

Last year's Halloween room took on a more cute and bright theme, but they're going for something darker this time. The theme this year is "The Secret Witches-Only Get-Together," with all ideas and designs conceived and handmade by the hotel staff themselves.

Guests will find decorations all around the room, such as bats on doors and walls who will listen in on the witches' gossip to creepy crawly spiders in the bed. Candles are provided in the room to set the Halloween mood, and there's even witch and devil costumes and props for guests to dress up in.

Free goodies for the witch get-together

Guests can enjoy a gorgeous view of the Kamogawa River from their room. They are also presented with a free Halloween drink exclusive to those who stay in this room.

Information

CAFETEL Kyoto Sanjo for Ladies

Running: October 1, 2020 – November 1, 2020

Rooms: 1 (up to 3 people)

Price: From ¥10,650

Official Website: https://cafetel.jp/

Luxurious Shine Muscat Grape Parfait Served Up at Hotel Gajoen Tokyo For Autumn

Hotel Gajoen Tokyo, a museum and hotel combination, is home to New American Grill "KANADE TERRACE," the hotel's restaurant popular for its food grilled in the open kitchen, its afternoon teas made with seasonal ingredients, and cocktail lineup.

This autumn, Hotel Gajoen Tokyo is serving up its new "Shine Muscat Parfait," an richly-sweet and elegance-scented dessert made using Shine Muscat grapes.

Shine Muscat Parfait ¥2,800 | With Champagne ¥3,600 (Before Tax & Service Charge)

The parfait is layered with Kyoho grape and shampagne jelly, crémet d'Anjou which is made from fresh cheese, and maqui berry granola. It's topped with blackcurrant sherbet and tuile.

Information

Shine Muscat Parfait
Serving: October 1, 2020 – November 20, 2020

Location: New American Grill "KANADE TERRACE" (Hotel Gajoen Tokyo)

Serving Hours: 14:30-17:30 everyday

Official Website: https://www.hotelgajoen-tokyo.com/archives/54655

nol kyoto sanjo: Kyoto's New Hotel Renovated From an Old Townhouse

Tokyu Land Corporation are set to open the new hotel "nol kyoto sanjo" in central Kyoto on November 1, 2020. The hotel is just a 5-minute walk from Karasuma Oike Station.

A place where you can be yourself

Hotels in Japan are more and more catering to a wide variety of guests' needs as well as not only providing convenience and being affordable, but creating a space that really places importance on peoples' stay experience. And nol kyoto sanjo follows suit, allowing people to both let their hair down where they can be themselves as well as enjoy the local area. This comes in response to peoples' desire to have a stay experience that feels like it's their own home.

Clad in Kyoto, living in Sanjo

The concept for the hotel's design was conceived by Kyoto Vintage. Sanjo-dori is connected to Kyoto's main street, making it a convenient location for reaching the city centre. It's also home a variety of architectural examples from old, ancient buildings to more modern ones built during the Meiji Period. Surrounding the hotel is a whole selection of cafes famous for their breakfast menus, restaurants that use local ingredients, long-standing stationery shops, and more. The hotel sits in the perfect spot for coming in contact with the local people and city.

The hotel lounge built from an old townhouse

The hotel site is renovated from a townhouse that was built during the Edo Period. It was formerly used as a place for selling Kinshi Masamune sake. To ensure that old, quaint charm was preserved in the refurbishment, the hotel hired a Japanese designer and planner who is known for renovating these kinds of townhouses in Japan.

The entrance to the hotel greets guests with the lounge which gives people a chance to kick back and relax in this authentic building. Guests are even given some Kinshi Masamune sake as a welcome drink.

High grade guest rooms for medium to long stays

There are three kinds of guest rooms including 2-people rooms, 4-people rooms, and rooms with an additional Japanese-style room attached to it, for a total of 48, all of which face the hotel gardens. The rooms were designed by Yukio Hashimoto who has made sure to preserve both the townhouse and feel of the materials which have only ripened with age while adding a high grade feel to them. The scent of hinoki leaf invites you to relax in your room. All rooms are equipped with microwaves, washing machines, and mini kitchens too, making it perfect for guests looking to stay a while. Pick up some local ingredients from town and get cooking.

Old-time Kyoto served in a new style

Old townhouses used since ancient times are on the decrease in Kyoto. By renovating and reusing, new life can be breathed into them while promoting that ancient culture. If you're planning a trip to Kyoto, be sure to check out nol kyoto sanjo, opening November 1, 2020.

Information

nol kyoto sanjo

Grand Opening: November 1, 2020

Address: 700 Osakazaimokucho, Nakagyo-ku, Kyoto, Japan (in Japanese: 京都市中京区堺町通姉⼩路下る⼤阪材⽊町700 番)
Rooms: 48

Access: 5-minutes on foot from Karasuma Oike Station

Official Website: https://www.nolhotels.com/kyoto-sanjo/

FUFU NIKKO: The New Hot Spring Hotel in Nikko, Tochigi Prefecture

Kato Pleasure Group is set to open its 4th branch of FUFU NIKKO hotels in Nikko, Tochigi on October 2, 2020 following their Atami, Lake Kawaguchi, and Nara branches.

A resort steeped in Japanese history and culture

The site in which the hotel is located has a sacred air to it. It dates back to the Meiji Period and has continued into modern times. Upon entering the hotel, your ears are treated to the sound of classical music. Overhead you will spot high ceilings made from wood which give it a warm and welcoming atmosphere.The shadows of the outside walls, the warmth of the inviting lights, and the metallic decorations which catch the light present a calm and quiet mood.

Classy and sophisticated cuisine

Both the food and plates it is served on capture the essence and beauty of the Japanese way. Meals are prepared using seasonal ingredients from Tochigi as well as high quality foods like foie gras, truffles, and caviar. Each dish expresses elegance and refinement and combines both Japanese and Western flavours.

Hot spring water sourced from Tamozawa

All rooms at the hotel are fitted with hot springs or large baths which natural light from the outdoors shining through. In the open-air baths, guests get to experience the surrounding sights of nature coupled with the sound of the flowing stream and chirping birds.

Information

FUFU NIKKO JAPAN

Grand Opening: October 2, 2020

Address: 1573-8 Honcho, Nikko, Tochigi Prefecture

Official Website: https://www.kpg.gr.jp/

Grand Front Osaka Opens New Cafe PANCAKE&books bibliotheque

Grand Front Osaka opened its new cafe PANCAKE&books bibliotheque on September 11, 2020, serving a wide variety of fresh pancakes made with high quality ingredients.

Special Fruit Genmai Guilt-Free Pancakes | ¥1,500

These pancakes are made using gluten-free brown rice flour which creates a delicious fragrance and delightfully chewy texture to the pancakes. The pancakes are made even more chewier thanks to the incorporation of silken tofu, an ingredient which is also said to be good for dieting and the intestinal tract. The pancakes are topped with nuts and dried fruits, making them a very nutritional option.

Strawberry & Marshmallow Brûlée | ¥1,300

A hybrid pancake of two different desserts. It's loaded with fluffy caramelised custard sauce to create a brûlée-like appearance and texture and is topped with sliced strawberries and roasted marshmallows. The caramel sauce drizzled on top adds a sweet and slightly bitter edge, bringing everything together.

Whole Peach & Fromage Blanc Cream Pancake | ¥1,500

Served with a whole juicy peach, these pancakes are combined with refreshing fromage blanc. The peach adds an ambrosial sweetness that melts perfectly with the fluffy pancakes. Complete the pancakes with a drizzle of the accompanying mint anglaise sauce.

Kyoho Grape, Blackcurrant, & Mascarpone Cream Pancakes | ¥1,700

A special combination of seasonal fruits including Kyoho grapes and blackcurrants. The mascarpone cream adds sweetness and the blackcurrant sauce a sour kick. If you're wanting to taste autumn, then this one's for you.

Mont Blanc & Praline Cream Pancakes in Caramel Sauce | ¥1,400

These pancakes make you feel summer changing to autumn with its fat dollops of rum-infused chestnut cream and praline cream. The chestnut cream brings a rich sweetness to your taste buds and the caramel sauce an appetising bitterness.

Pancake Burger | ¥1,300

bibliotheque's incredible pancakes have also turned into hamburgers stuffed with a hand-rolled patty, melted cheddar cheese, sunny-side up egg, tomato, and lettuce.

Eggs Benedict Pancakes | ¥1,500

Pancakes towered with bacon, tomato, salad, and poached egg. The runny egg is a match made in heaven when combined with the homemade hollandaise sauce.

Salmon & Ricotta Cheese Pancakes | ¥1,500

Salad pancakes of smoked salmon, ricotta cheese, and poached egg. They are finished with rich Gruyère cheese.

Original Milkshake "Mixed Shake" | ¥700

A hybrid drink of authentic milkshake and Osaka's speciality "Mixed Juice" beverage, this shake contains sakura tamago egg from Awaji Island and premium grade milk from Hamanaka in Hokkaido. It's also made with vanilla cream and is topped with an apricot compote.

Information

PANCAKE&books bibliotheque
Grand Opening: September 11, 2020

Address: Grand Front Osaka Shops & Restaurants (South Bldg. 1F), 4-Ofukacho, Kita-ku, Osaka
TEL: 06-6359-1389
Opening Hours: 11:00-21:00

Official Website: http://www.bibliotheque.ne.jp/pancake/

Giant Pink Snoopy Placed Inside Rooms at Kobe's PEANUTS HOTEL Now Available as Plush Toys

Last year, the PEANUTS HOTEL celebrated its 1st anniversary by selling giant Snoopy plush toys, all of which sold out. The hotel is doing the same again this year, releasing two different sizes on September 4.

ROOM64: "Happiness is a warm puppy"

Lucy squirms when Snoopy kisses her, but she sure loves hugging him, because of his warmth. ROOM64 is inspired by this lovable comic, and uses millennial pink for the walls, chairs and even the fireplace. There's also a big pink Snoopy that you can hug any time you want. Lucy's iconic Lemonade stand stands next to a signboard that says, "1 cent for hugging a cute puppy". It is a room filled with humor and warmth.

PEANUTS HOTEL -ROOM64-


Guests will be able to buy plush toys of the giant puppy from ROOM64, because happiness is a warm puppy.

Small: ¥2,400 | Large ¥6,400 (Before Tax)

The small size Snoopy comes with a key chain so it can go on your bag, while the large Snoopy is perfect for sitting on your sofa or bed and for hugs. Both are super fluffy so you won't be able to resist.

© 2020 Peanuts Worldwide LLC