Taiyou wa Ugokanai ('The Sun Does Not Move') is an upcoming film adaptation of Shuichi Yoshida's 2012 suspense novel of the same name. It has been said in the past that making the book into a film would be impossible due to its immense scale, many action scenes and more, and so the staff took on the challenge and carried out a large-scale shoot overseas. This vast project will include not only feature the film, but a serialised drama adaptation too with an original story overseen by Suichi Yoshida himself that will by air on WOWOW.
Playing the leading part of the film will be Tatsuya Fujiwara, who is known for his roles in Memoirs of a Murder (2017) and Kaiji: Final Game (2020). Co-starring with him is young actor Ryoma Takeuchi, who has starred in the live-action adaptation of the manga series Aozora Yell (2016) and Sensei Kunshu (2018). The two of them play agents for a spy organisation, and both have bombs attached to their hearts which are timed to set off in 24 hours. They must work to reset the 24 hours in this non-stop suspense story, littered with incredible action scenes that take them to land, sea and air.
The film is being directed by acclaimed Japanese film director Eiichiro Hasumi (Umizaru, 2004; Mozu, 2015).
Tatsuya Fujiwara ver.
Ryoma Takeuchi ver.
A special long trailer has just been released which features both Fujiwara and Takeuchi, who play the parts of Takano and Taoka respectively. We see red lights flickering in the darkness, from which Takano enters the scene bound to a chair. We found out that the flickering pulse of the lights is actually Takano's heartbeat. Fujiwara is famed in the Japanese film industry for his ability to portray intense characters―of which he has done countless of―but in 2020, the world will get to see his character driven into a corner and forced into a desperate struggle for survival.
Taoka has been stripped above the waist and is tied up by his arms, with a frantic, desperate expression. Like Takano, there is a flashing red light for his heart. And like Fujiwara, this is a very different role for Takeuchi, who until now has only played pure and lively characters. We're sure to see a different side to his acting ability with this new role.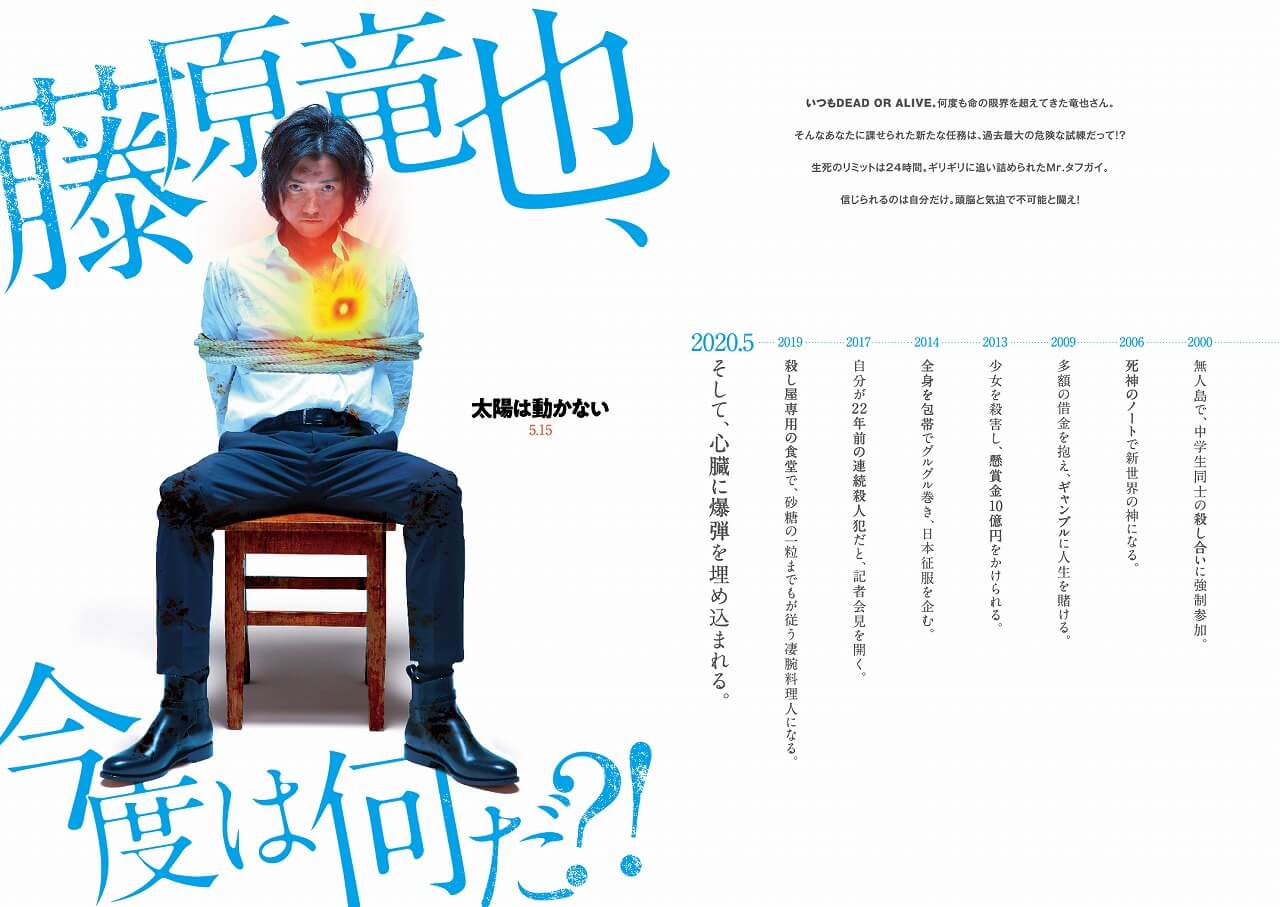 The words, "What's Tatsuya Fujiwara done this time?!" and, "What the hell happened, Ryoma Takeuchi?!" appear on the trailer, and we see the red light flickering so fast it almost seems as though their hearts are about to explode. Will the two of them be able to escape death?
This marks the first time Fujiwara and Takeuchi have starred in a film together. The roles they have played in their respective films differ greatly from one another, so anticipations are high to see just how far they go in Taiyou wa Ugokanai.
The film was shot in Bulgaria over a one month period, which made full use of city roads for the car action scenes. They also rented a train, shot action scenes in the capital Sofia, and more. What was called previously impossible has been achieved, with filming having wrapped up in Japan in August. The film will be released on May 15, 2020. Stay tunned for future updates.
©Shuichi Yoshida / Gentosha ©"Taiyou wa Ugokanai" Production Committee(©吉田修一/幻冬舎 ©2020 映画「太陽は動かない」製作委員会)
Information
Taiyou wa Ugokanai
Film Release Date: May 15, 2020
Original Work: Taiyou wa Ugokanai and Mori wa Shitteiru by Shuichi Yoshida (Gentosha)
Director: Eiichiro Hasumi
Screenwriter: Tamio Hayashi
Film Official Website: taiyomovie.jp
Drama Series Initial Broadcast: May 2020 on WOWOW Prime
Drama Series Official Website: https://www.wowow.co.jp/dramaw/taiyodrama/