FLOWERS BY NAKED 2020: Details Revealed For Tokyo's Flower-Themed Art Event
FLOWERS BY NAKED is an annual flower-themed art event held by NAKED Inc., and the company has announced its next run: FLOWERS BY NAKED 2020 – Sakura – will take place from January 30 to March 1 next year at Nihonbashi Mitsui Hall in Tokyo, where visitors can enjoy flowers an a wholly new kind of interactive experience. Tickets went on sale on December 17, 2019, and this event will mark its 5th anniversary of taking place in Nihonbashi.
To date, FLOWERS BY NAKED has seen over 500,000 people attend the events, which have become a place for Instagrammable photos with over 660,000 posts made with the hashtag #flowersbynaked.
2020's theme is cherry blossoms, so to celebrate, NAKED has unveiled four key visuals for four gardens set for the event along descriptions. As visitors journey through the gardens, they will experience an immersive story melding the worlds of flowers and art.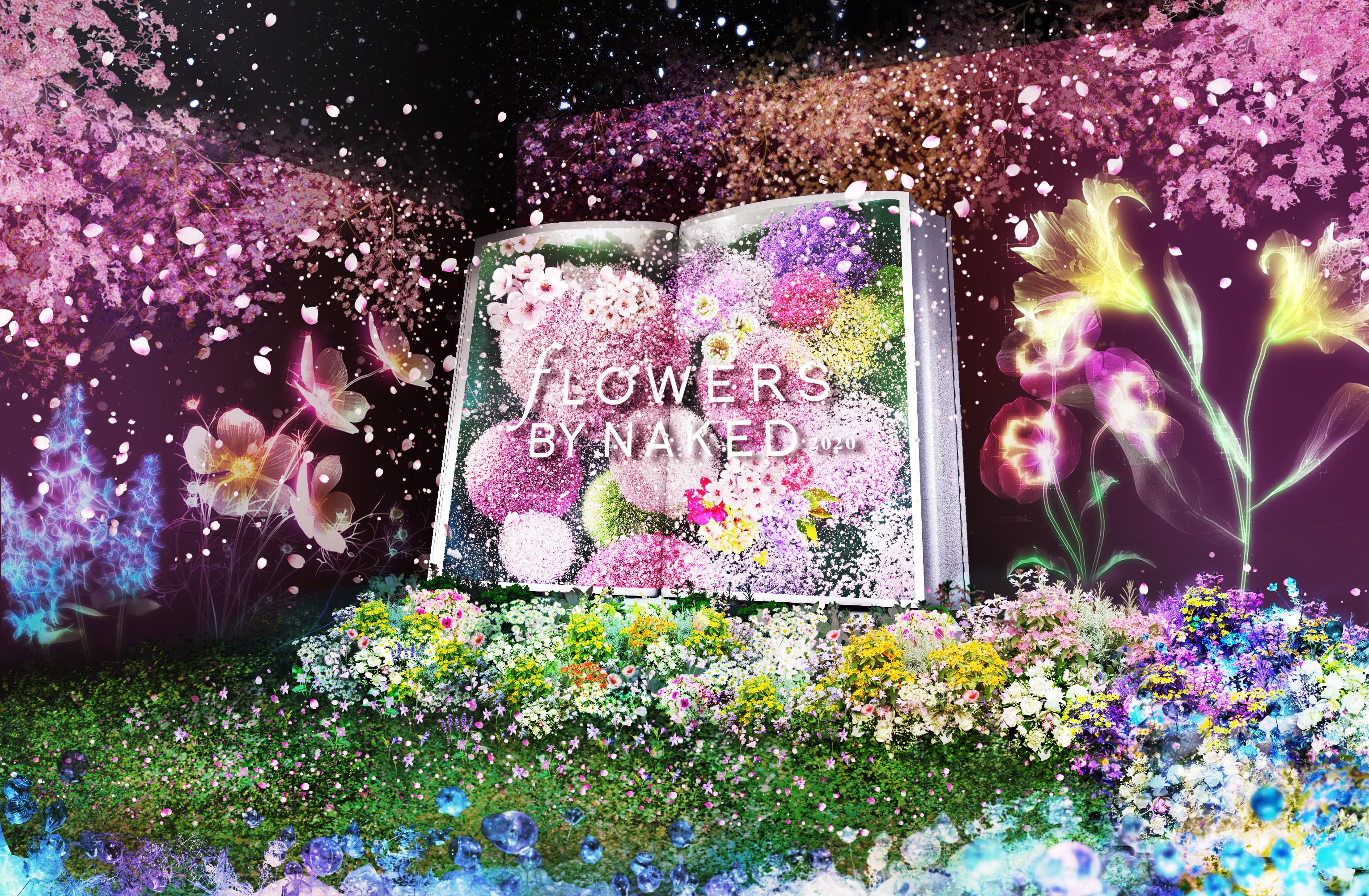 ■Prologue
"When a butterfly telling the spring dances in the snowy winter world, the page is turned and the world changes from winter to spring."
This is where the story begins: where winter flowers bloom. But as the pages of the big book are turned, the space is transformed into springtime as the snow melts.
■Dandelion Hill
"When you blow dandelion as if you were playing as a child, the fluff soars up to the sky with your old memories."
Watch as the scenery changes when you blow on the towering dandelions in this incredible interactive experience that combines real life with digital technology.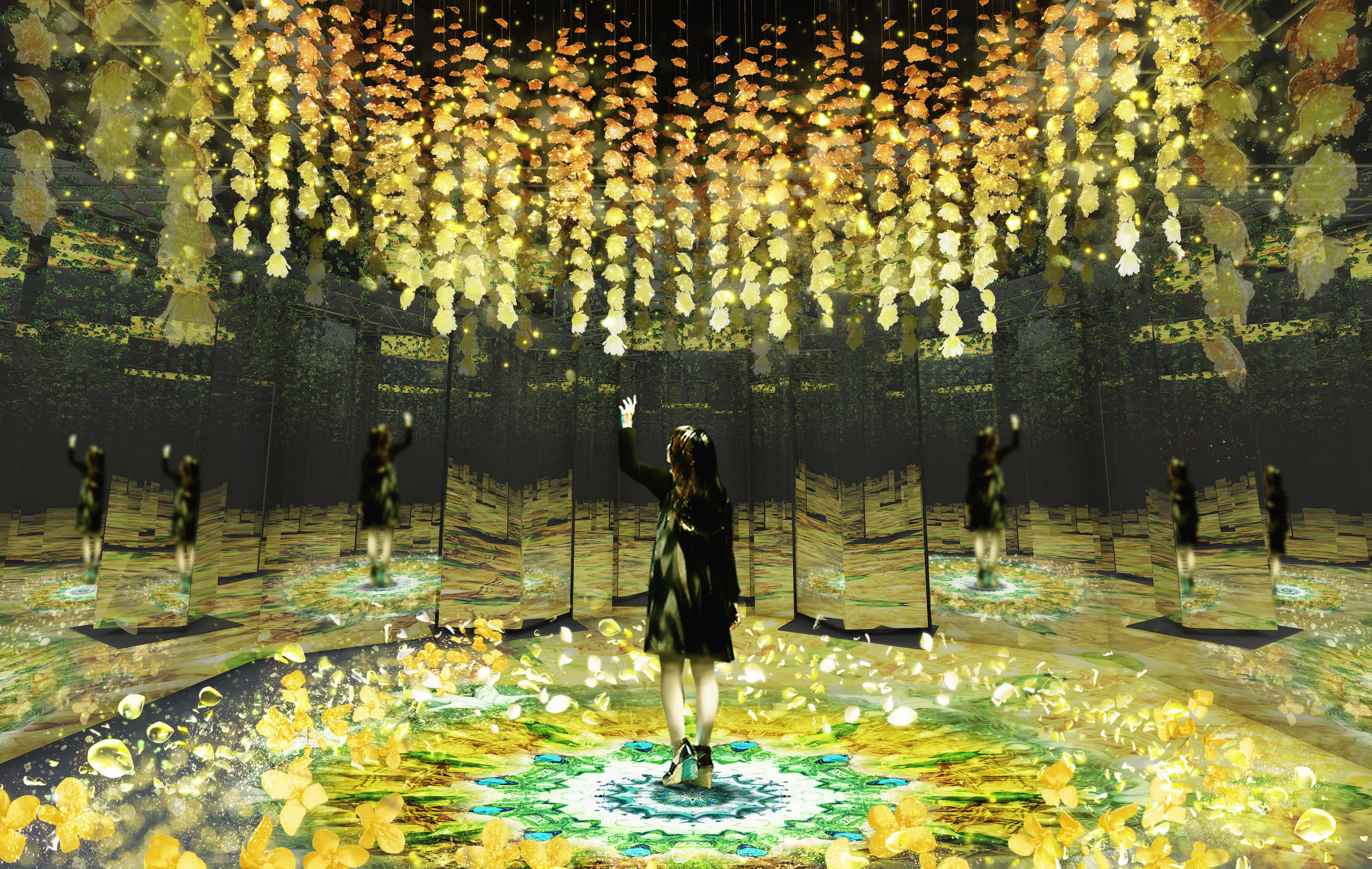 ■Glowing Garden
"In a shimmering space that seems to be lost in a kaleidoscope by a mirror, the sun shines even more."
When you step into this radiant garden which is lit by the pouring sunlight, it will seem as if the entire world around you glows with the fiery light of our burning star.
■OUSAI Garden
"The fastest cherry blossom viewing space in Japan where you can enjoy the five senses, such as the blossoming cherry blossoms and the scent of spring."
The river seen at the beginning of the story leads to here, a holy cherry blossom garden watched over by an enormous pink cherry tree. There is plenty to interact with in this area for visitors to experience cherry blossoms with all five of their senses.
Advance tickets for this event are now on sale, so don't miss out.
Information
FLOWERS BY NAKED 2020 – Sakura –
Running: January 30, 2020 –  March 1, 2020
Opening Hours: 10:00-20:00 (Last entries 30 minutes before closing time)
*Opening hours subject to change
Location: Nihonbashi Mitsui Hall COREDO Muromachi Floors 1F + 5F (Entrance is on 4F)
Official Website (English/Japanese): https://flowers.naked.works/2020nihonbashi/
RELATED ENTRIES
Tokyo's MARUKO & COJICOJI CAFE Food Menu is Just Too Kawaii to Eat

Fans of Japanese mangaka Momoko Sakura won't be able to resist the new MARUKO & COJICOJI CAFE which is set to open at Sunday Brunch in Tokyo on January 31, 2020 for six months. It's collaboration between the manga series Chibi Maruko-chan and Coji-Coji, both by Momoko Sakura.

The cafe is opening to promote the release of the Chibi-Maruko-chan and Coji-Coji picture book. Customers can look forward to joining the two characters on their adventures as they are vividly recreated on their plates, with food and drink inspired by the beautiful scenes seen throughout the four seasons, cherry blossoms, Mount Fuji, and more. The menu line-up is an homage to Momoko Sakura's iconic work.

Today, we finally get to take a peek at what's on the menu at the cafe. Keep in mind this is just a small selection of what will be served.

*Menu item names are translated from Japanese

Homage Menu: Coji-Coji Came To Visit- ¥1,850 (Before Tax)

Both Marko-chan and Coji-Coji are made from cookies and are flying through the air together. Below them is Mount Fuji, made from rice and adorned with cherry blossoms. It's sat in a lake of cod roe cream sauce littered with tea leaves.

Summer Menu: King of Sun Kingdom – ¥2,000 (Before Tax)

Enjoy this healthy keema curry packed full of nutritious vegetables as well as a piece of French toast made from fresh eggs and milk. The individual suns are made from pumpkin flavoured mashed potato, while the two pals have written a letter that says "To the King."

Winter Menu: Three's Company – ¥1,880 (Before Tax)

Delicious butterfly pea and spinach purees sit atop a bed of shrimp tomato cream and pumpkin soup, creating an eye-popping mixture of colours.

Sweets: Coji-Coji Came to Visit Baked Cheese Cake – 1 Slice w/Drink ¥1,380 (Before Tax)

This baked cheese cake celebrates the two's meeting. You get one slice which will contain Mount Fuji and either Maruko-chan or Coji-Coji. Which will you be given?

Sweets: A Chat in the Cold Morning Chocolate Cake – 1 Slice w/Drink ¥1,380 (Before Tax)

Layered with sumptuous mango custard cream, this cute gateaux chocolate cake is moist and delicious.

Parfait Drink: Onigiri People & Star Festival – ¥1,700 (Before Tax)

Inspired by the Milky Way in the Tanabata festival, this parfait drink includes jelly under which hides an assortment of fruits, cream, and vanilla ice cream. The juice itself has a squirt of cheese cream in it too.

Special Drink: What's The Rainbow Invitation? – ¥980 (Before Tax)

A glass of lemonade that comes with a cafe-exclusive charm. There's jelly inside the glass which dances and sparkles as you stir.

The cafe itself will also be decorated in picture book art in the form of tapestries and other things. There will also be a display of Momoko Sakura's work, as well as Maruko-chan and Coji-Coji merchandise up for sale.

©️Momoko Sakura ©️Sakura Production

Information

MARUKO & COJICOJI CAFE

Location: Sunday Brunch, Marronnier Gate Ginza 1 Floor 4F (2-2-14 Ginza, Chuo Ward, Tokyo)

Running: January 31, 2020 – July 31, 2020 (Subject to change)

Opening Hours: 11:00-21:00

Reservations/Official Website: http://www.marucoji-cafe.com

See Tokyo's Cherry Blossoms at the SAKURA FES NIHONBASHI/OFF TO MEET Event

SAKURA FES NIHONBASHI/OFF TO MEET is set to take place in the Nihonbashi, Yaesu and Kyobashi areas of Tokyo from March 15 to April 5 this year.

This marks the 7th run of the event. Naoki Ono, the chief editor of Kohkoku magazine, was invited on board as creative director for this year's event, which promises plenty of cherry blossom-themed activities and content which you won't experience anywhere else.

Running alongside the festival will be the Kengai・NIHONBASHI event which will take place on March 28 and 29. This two-day event encourages people to turn off their smartphones and spend some quality time in the real world away from the digital world. There will be a food market run by local famous restaurants of Nihonbashi, which is known for its incredible food, who are preparing some special bites to eat. There will also be live performances, a book market, and much more.

SAKURA FES NIHONBASHI/OFF TO MEET Schedule

The Tree Of Light –Akari Sakura-

This cherry blossom art display will see around 100,000 LED lights bloom their beautiful radiance.

Running: March 16, 2020 – March 31, 2020

Location: COREDO Muromachi Terrace Main Roof

Nihonbashi Art Street -Kotobana Mik–

Inspired by the weeping cherry trees that blossom in Nihonbashi during springtime, this art installation will react to people's voices as they walk and talk around it, causing the trees to bloom.

Running: March 16, 2020 – March 31, 2020

Location: Naka-dori Street

Sakura Menu Walk

Around 120 participating restaurants and eateries will serve up special cherry blossom-inspired menus for the season. When you order any  of these menu items, you'll receive a special novelty gift exclusive to the SAKURA FES NIHONBASHI/OFF TO MEET event.

Running: March 15, 2020 – April 5, 2020

Location: Restaurants in the Nihonbashi area

 

Sakura Light Up

The town's major facilities and establishments will be adorned and lit up beautifully with cherry blossom pink, as well the rows of cherry trees along Edozakura-dori Street.

Running: March 15, 2020 – April 5, 2020

Location: Edozakura-dori Street / Facilities along Chuo-dori Street

Kengai・NIHONBASHI Schedule

Kengai・SACOCHE

10,000 bags will be given away for free for locking your smartphone inside. This will enable attendees to enjoy the here and now of the event without being distracted by technology

Location: Handed out around Fukutoku Shrine

 

Kengai・BOOK MARKET

The book market is offering a new way to encounter books. The stock will include those featured at the Eslite Spectrum Nihonbashi pop-up shop from September 2019, as well as a selection of books from around Japan.

 

This is just a small look at what to look forward to at this year's event, there is lots more planned. More details are to be announced in the coming months, so stay tuned.

BALCÓN TOKYO: Roppongi's Sophisticated New Bar and Restaurant Offers Luxurious Food & Drinks

BALCÓN TOKYO is the newest luxury bar and restaurant to hit Tokyo's Roppongi district. Set to open on the 14th floor of Mitsui Garden Hotel Roppongi Tokyo Premier on January 24, BALCÓN TOKYO offers opulent lounge and balcony spaces for fine wine and dining.

Located away from the hustle and bustle of busy Roppongi, the establishment offers a breathtaking view of Tokyo's city nightscape in both the eastern and western directions.

When customers pass through the beautiful bar and lounge they are met with the spacious museum-like balcony area where they can enjoy a dining experience wrapped in soft warm lights. For those looking for a more private meal, they can reserve one of the individual private rooms, each of which has its own distinct touch and flavour. Whether you're looking for a quiet drink or dinner, or even midnight teatime, BALCÓN TOKYO caters to customers' needs.

The interior design is the brainchild of none other than Yasumichi Morita of GLAMOROUS co.,ltd., and company that specialises not only on interior and exterior building and establishment designs, but graphic visuals, products, and more.

​Taking the spotlight at dinnertime is the restaurant's incredible and mouthwatering roast beef which is aged at ice temperature and cooked carefully with time and care. The gravy sauce drizzled over the meat takes three days to make and only adds to the delicious offering of the beef.

The restaurant also offers plenty of seasonal foods and ingredients that go perfect with a glass of champagne. Whether you're celebrating something special or just out for a casual meal, the restaurant caters to all.

For breakfast, a half-buffet of western-style food is prepared where you can pick one main. And so that foreign guests can get a taste of the quality of Japanese food, all ingredients used at the restaurant are domestic to Japan. The restaurant also uses organic vegetables shipped directly from growers and producers.

To celebrate the grand opening of BALCÓN TOKYO, customers who reserve a table online or via telephone between January 24 and February 29 this year will receive a 30% discount on meal courses.

Information

BALCÓN TOKYO
Address: Mitsui Garden Hotel Roppongi Tokyo Premier (Floor 14F), 3-15-17 Roppongi, Minato War, Tokyo
Opening Hours:
・Morning 6:30-10:30 (Last Orders 10:00) *Please note that there may be waiting times due to priority going to hotel guests
・Dinner 17:00-02:00 (Food Last Orders 01:00 / Drinks Last Orders 01:30)

Enquiries: 03-6441-3231
Official Website:  http://balcon-tokyo.jp/

Reservation Page: https://www.tablecheck.com/shops/balcon-tokyo/reserve

Warm Food and Succulent Seasonal Strawberries Served at Ginza Six For Winter

GINZA SIX—officially the biggest shopping complex in Tokyo's high-end Ginza district—is home to a host of restaurants now serving some seriously luxurious and gourmet winter food.

For the winter season only, the shopping centre's cafes and restaurants have cooked up menus of food to warm both the heart and body. The extravagant line-up is made up of carefully-selected seasonal ingredients that's sure to warm you to the core. Let's take a select look at some of the things on offer.

JASMINE Specially-Made Hotpot Plan – ¥7,800 (Before Tax) @ JASMINE Washinkansai

This hot pot is made with a broth of chicken bones and collagen boiled in water and a broth of mala sauce. Both broths have a deep and nourishing taste and are filled with carefully-chosen ingredients as well as nine condiments for complex flavours. As well as that seen in the photo above, it is served as a set with an appetiser, fried gyoza, Chinese-style noodles, and almond tofu.

Matsusaka Beef Sukiyaki Gozen Hotpot – ¥3,400 @ Sukiyaki Gyu-shabu Matsuju

Warm yourself up with this hot pot which is made sukiyaki-style and contains high-quality Matsusaka beef picked out by Asahiya, a shop specialising in Matsusaka beef. The beef is soft, tender, and has a rich sweet taste and fragrance. It's served with a red miso soup seasoned with Japanese pepper which complements the salty-sweetness of the sukiyaki.

Homemade Sausage and Potato Raclette Cheese Melt – ¥2,400 (Before Tax) @ Bistro AUX AMIS

Raclette cheese is a staple food in France during the winter. This delicious dish is served with juicy homemade sausages made from yoshidabuta pig from Saitama, bacon, potato, and warm veg, all covered in a hot melted cheese. It's sure to warm you up and goes even better with a glass of wine.

Once you've had a fill of lunch or dinner, you should go and check out the in-season strawberry takeout treats and desserts that are being sold on the booth floor where the latest in culinary trends gather.

Strawberry Chocolate Sandwich – ¥300 (Before Tax) @ Patisserie Sembikiya Ginza Six

Coated in white chocolate, this biscuit sandwich is made with a strawberry ganache that squeezes every last delicious drop out of the fresh strawberries. Combined with he raspberry sablé cookies and chocolate, it's a strawberry match made in heaven.

Real Strawberry Gummies – ¥1,050 for 3 @ Candy Art Museum by PAPABUBBLE

These gummy candies are made as big as real large strawberries. They are coated in chocolate and made with lots of real strawberry juice, and when bitten into, taste fresh and juicy.

Strawberry Matcha Daifuku – ¥400 Each @ Kurogi Chacha

Kurogi Chacha's Strawberry Matcha Daifuku are filled with a whole fresh strawberry and coated in a matcha-laced white bean paste and gyūhi, a form of Japanese confection. The rich taste of the matcha comes together with the sweet and sour strawberry to create a delicious combination. They are hand-wrapped fresh as soon as your order is put in to retain their freshness.

Enjoy the full course winter has to offer at GINZA SIX, from soul-warming hotpot dishes to strawberry delights and more.

Information

GINZA SIX

Address: 6-10-1 Ginza, Chuo Ward, Tokyo

Opening Hours: Shops/Cafes (B2F-5F) 10:30-20:30 / Restaurants (6F, 13F) 11:00-23:00

*Business hours differ from shop to shop.

No Fixed Holidays (But shops and restaurants will be closed on January 1, 2020)

Access: Directly connected to Ginza Station via the Tokyo Metro Ginza Line, Marunouchi Line and Hibiya Line.

TEL: 03-6891-3390

Business hours will be shortened on December 31, 2019 and January 2, 2020 as shown below.

December 31st

Shops/Cafes (B2F-5F) 10:30-18:00

Restaurants (6F, 13F) 11:00-21:00

January 2nd

Shops/Cafes (B2F-5F) 10:30-20:00

Restaurants (6F, 13F) 11:00-22:30

Official Website: http://ginza6.tokyo/

Sai Sai Jaran Jaran #8: SILENT SIREN's Ainyan Becomes a Wine Connoisseur at Fukagawa Winery Tokyo in Monzennakacho

Sai Sai Jaran Jaran is a featured series here on MOSHI MOSHI NIPPON from the members of the all-female band SILEN SIREN (aka Sai Sai) who visit various hot spots in Japan and experience different things, the Sai Sai way.

Band bassist Ainyan enjoys a beer or cocktail, but she wants to step into the world of wine, so we will join her on her journey today as she goes to learn all about wine from the very basics.

It's a clear sky today. Great weather for going for a drink during the day, am I right?

We visited Fukagawa Winery Tokyo in Monzennakacho, an area located in Shitamachi, Tokyo. We were looking forward to going there because it offers the full wine experience, allowing visitors to see wine brewing up close to learn all about it.

This experience is offered twice a day on weekends and national holidays at 14:00 and 16:00.

Fukagawa Winery Tokyo opened in Tokyo in 2016 as a winery where the ordinary person could go and see wine being made to fully understand its process. It has expanded its circulation in recent years and is now able to take in grapes from across Japan, including Tokyo, to craft many different wines.

On the day we visited we saw the staff bottling up the wine. On average, the winery ships out around 30,000 bottles a year.

The corks have illustrations of "Wine Man" on them, a character created by Fukagawa Winery Tokyo. Ainyan was fairly fond of him!

Time to see how the winery works!

When you step inside, the scent of grapes is the first thing to hit your senses.

The one in charge of Fukagawa Winery Tokyo is Kousuke Ueno, who was kind of enough to show us around. He taught us the process of wine making, as well as what types of grapes and tools they use.

"This machine separates the grapes and stalks using the propellers. This method has been used for 150 years," explained Ueno.

There are periods when visitors can observe this machine being used to separate the grapes. It takes place between mid-August to November, so follow Fukagawa Winery Tokyo's social media for announcements and details.

"Wow! It smells so good!" said Ainyan. We got to see a bucket where Cabernet Sauvignon was being made. They put in whole grapes with the skin on and add natural yeast for the fermentation process. The sweet smell of the grapes fills the air and makes you want to have a glass.

Now for what Ainyan has been waiting for: taste-testing time! She learned everything about the wine making process, so it was time to taste and compare some different wines.

The winery allows taste-testing until 17:00. You can try 3 types for ¥700. And of course, if there's one you tried that you really liked, you can buy it there and then. So sip, scrutinise, and select!

"Please try this one first. It is wine, but it's like a lemon sour," explained Ueno, recommending that Ainyan first try the Yamanashi  Delaware Sparkling.

Soak up all the notes of the drink by having a good smell first before taking a small sip. "Smells really good. This sourness really is like a lemon sour! I wonder why?" said Ainyan.

This wine uses premature grapes which gives the wine a sour taste. The sourness of this wine can play the part of lemons, so it's best paired with fried foods or meals with chicken in them.

The second drink was the Yamagata Delaware Muroka. It's an unfiltered wine made from completely ripened Yamagata Delaware grapes.

Unfiltered means that the filtration process to take out visible solids and such is not used. This gives it a slightly cloudy appearance and an exquisite taste that's somewhere between wine and juice.

Left: Unfiltered Yamagata Delaware / Right: Filtered Yamagata Delaware

For the third glass, Ainyan ordered the filtered Yamagata Delaware to test the difference between it and the unfiltered version.

"The filtered one has a good balance of flavours and is refreshing. The unfiltered one has a smooth juiciness to it. They're both delicious, but I like the unfiltered one more!" said Ainyan.

Her fourth glass was an unfiltered red wine: the East Bay Assemblage Red B.

The grapes used are a combination from Hokkaido, Nagano, and Aomori. It really is an assemblage!

"The red wine has such a different taste and colour depending on the type too! This dark red wine is close to what I usually drink!" said Ainyan with a happy smile.

At the end of the session, Ainyan had tried 10 wines and bought two bottles! She was delighted with her experience, saying: "I was surprised how different each and every one of the wines I tried at Fukagawa Winery Tokyo were. I think I'm getting hooked on the appeal of unfiltered, natural wines."

With Christmas and New Year around the corner, now is the season to indulge in wine. If you're in Tokyo this December, pay a visit to Fukagawa Winery Tokyo for a full wine experience.

Writer:Yuki Yokoo

Photographer:Kayo Sekiguchi

SILENT SIREN

SILENT SIREN is a four-member all-female band consisting of vocalist & guitarist Sumire "Suu" Yoshida, drummer Hinako "Hinanchu" Umemura, bassist Aina "Ainyan" Yamauchi, keyboardist Yukako "Yukarun" Kurosaka.

The band made their major debut in November 2012 with their single Sweet Pop! The band is known to fans by their nickname "Sai Sai." They are especially popular with middle school girls in Harajuku and have over 540,000 follows on their official LINE account.

In 2015, they performed their first solo concert at Nippon Budokan, making them the fastest Japanese all-female band in history to perform there after their major debut. In 2016, they performed a headline show at Yokohama Arena, and embarked on a world tour consisting of 6 shows in 5 countries.

At the end of 2016, they changed label to Universal Music and revamped their band logo and how they write their band name. In 2017, they wrapped up their 5th anniversary tour with their first two-day concert series at Nippon Budokan.

In 2018, they embarked on their biggest Japan tour to date "Tenkaippin presents SILENT SIREN LIVE TOUR 2018 ~"Girls will be Bears" TOUR~ consisting of 33 shows. They also performed at big music festivals and at countless events, as well as performed their annual New Year's solo concert at Yokohama Cultural Gymnasium.

In 2019, they began celebrations of 7 years since their debut and 10 years as a band. They released their final album of the Heisei era and 6th album in total 31313 on March 13 ,2019 and promoted it on their tour SILEN SIREN LIVE TOUR 2019 "31313" ~Sai Sai 10th Anniversary~ supported by Tenkaippin. They also performed at numerous summer festivals and events.

On December 30, 2019, they will performed their annual New Year's concert "SILENT SIREN Nenmatsu Special Live 2019 HERO" at Yokohama Cultural Gymnasium.

In 2020, they will celebrate 10 years since forming the band with a show at Yamanakako Communication Plaza Kirara on September 20, 2020.

SILENT SIREN Official Website: https://silent-siren.com/

Information

Fukagawa Winery Tokyo

TEL: 03-5809-8058

Address: Takahata Bldg. 1F, 1-4-10 Furuishiba, Koto Ward, Tokyo

Opening Hours: Weekdays 15:00-22:00 / Weekends & Public Holidays 12:00-22:00

Closed: Tuesdays

Winery Observations: Weekends & Public Holidays at 14:00 and 16:00 for 20 minutes each. Must book in advance.

Official Website: https://www.fukagawine.tokyo/

Tokyo Otaku Mode TOKYO Collaborates With Hatsune Miku at Shibuya PARCO

Tokyo Otaku Mode Inc. is opening a pop-up shop in collaboration with Hatsune Miku at Tokyo Otaku Mode TOKYO which is located on the 6th floor of Shibuya PARCO in Tokyo.

The shop will be open from December 27 until January 19 next year. Japanese illustrator hakusai is on board to illustrate the designs for the shop itself as well as the shop-exclusive merchandise. The design features Hatsune Miku, Megurine Luka, Kagamine Rin and Len, KAITO and MEIKO wearing traditional Japanese dress.

Acrylic Stands – ¥1,200 Each (Before Tax)

Mini Towels – ¥700 Each (Before Tax)

There are 10 original and exclusive pieces of merchandise with various designs to choose from. Plus, customers who purchase over ¥3,000 (tax included) worth of items will receive a special Vocaloid sticker.

The Snow Miku Sky Town store at New Chitose Airport in Hokkaido is also collaborating with the pop-up shop where they will sell select merchandise from Snow Miku Sky Town.

Those of you looking to get your hands on some limited-edition Vocaloid goodies will want to roll on up to Tokyo Otaku Mode TOKYO before the pop-up shop closes.

*The items shown in the photos above are of products in development. Actual products are subject to change.

Art by hakusai  © Crypton Future Media, INC. www.piapro.net  

Information

Tokyo Otaku Mode TOKYO

Address: Shibuya PARCO (floor 6), 15-1 Udagawacho, Shibuya Ward, Tokyo

Opening Hours: 10:00-21:00

Sales Period: December 27, 2019 – January 19, 2020

Corporate Website: https://corporate.otakumode.com/

Tokyo DisneySea Announces 'Pixar Playtime' Event For 2020

Tokyo DisneySea has revealed details for its upcoming special event "Pixar Playtime" which is set to plunge guests into the wonderful worlds of Disney/Pixar films from January 10, 2020. Meet your favourite characters at one of the many programs or greeting events set to take place at one of the park's first big events of the New Year.

There are plenty of ways to enjoy yourself at Pixar Playtime, from snapping photos of the colourful Pixar decorations to wearing Pixar character merchandise, tucking into food and drink inspired by the characters of Pixar, and more. Let's take a look.

Decorations

For Pixar Playtime 2020, Tokyo DisneySea will be decorated like a colourful board game, making for plenty of great photo opportunities with friends and family. The floor will be lined with squares like moves on a board game, so why not challenge yourself to the various objectives written on them and try and reach the goal at Water Front Park? There's also a photo service where guests can have photos taken of them from high up as pictured above so it looks like they are pieces in the game.

The park will of course also be littered with decorations referencing Pixar's film catalogue, from Toy Story 4's Forky to the iconic Pixar Ball. Some returning features from last year's event will also make an appearance including interactive photo spots, game booths, and lots more. There's countless ways to enjoy yourself at Pixar Playtime.

Special Merchandise

Feel even more part of the festive fun by picking up some official colourful Pixar Playtime merch.

Available at Emporio: Unisex Jumper – M Size ¥3,900, L Size ¥4,200 / Cap ¥2,900 / Headband ¥1,700 / Smartphone Case ¥2,100 / Lighting Pendant ¥1,900 / Cushion ¥1,900

Red, yellow and blue define the Pixar Playtime goods line-up just like the Pixar Ball. We recommend picking up any of these items like the jumper, headband or smartphone case and snapping some photos in front of one of the many Pixar Balls scattered around the park, or while on the board game squares. Buying your own Pixar Ball cushion is sure to make for a great photos too. Dress up with friends and family and become part of the fun!

Available at Emporio: Sun Visor ¥2,900 / Earmuffs ¥2,400 / Flag ¥600 / Plush Toy ¥2,700 / Jacket ¥5,900 / Shoulder Bag ¥2,500

There's also a new collection of Cars merchandise like a jacket and earmuffs, as well as a sun visor that has Lightning McQueen's eyes on its front. We recommend taking these items to the "Lightning McQueen Victory Lap" entertainment program at American Waterfront and taking some photos while cheering on McQueen!

Special Menu Line-ups

Lots-o'-Huggin' Bear's Cookie Sandwich w/ Souvenir Pouch – ¥1,300 @ Gondolier Snacks

Restaurants around the park will be serving food, drinks and desserts inspired by the Pixar cast, like this cookie sandwich centred on Lots-o'-Huggin' Bear from Toy Story 3. The pink cookies are filled with chewy marshmallows and sweet-smelling strawberry flavoured cream. It even comes with a pouch that looks like the cookie treat itself, so much so you might find yourself wanting to bite into it after trying the real thing.

Sparkling Drink (Mango & Orange) – ¥450 @ Cafe Portofino

Sparkling Drink (Orange & Strawberry) – ¥450 @ Horizon Bay Restaurant

These drinks are also Pixar-inspired. The mango and orange version is based on the colours of Ducky and Bunny from Toy Story 4, while the orange and strawberry beverage is made in the image of the octopus from Finding Nemo.

Pixar Playtime officially begins on January 10, 2020, so make sure you get the chance to visit Tokyo DisneySea next year.

*The special merchandise and menu line-ups will go on sale early from January 9, 2020, one day before the event begins. The products and food are subject to change without notice. Please note that items are subject to selling out.

©Disney ©Disney/Pixar

Harajuku's Korilakkuma Cafe: another me in the mirror | Food Review

"Korilakkuma Cafe: another me in the mirror" is set to open in Japan's hub of kawaii culture Harajuku on December 21 where it will run until March 22 next year.

MOSHI MOSHI NIPPON received early access to the cafe, so we went together with Ruki from Spain.

The cafe incorporates "interactive tabletop projection mapping" technology developed by Sony, which allows customers to enjoy their meals while playing together with the characters as they walk around their plates and tables.

So what exactly does this look like…?

Korilakkuma Cafe: another me in the mirror is located along Takeshita Street in Harajuku. Enter Takeshita Street and walk just a little bit to find HARAJUKU AR BOX. The entrance is pictured above.

The cafe operates on a "pair seating" system, making it the perfect spot to go with your best friend or special someone♡

The theme of the cafe is "another me in the mirror," which sees Korilakkuma meeting another Korilakkuma inside of a mirror. When seated at your pair table, you'll notice all of the Korilakkuma artwork adorning the cafe.

When we sat down, the staff came and gave us a dolomite coasterーa gift for all customers who visit the cafe.

When you place the coasters down on the table, that's when the fun begins. Trace your finger around the table to play with Korilakkuma and company.

Here is Ruki having Korilakkuma move around.

When we had finished playing, the appetisers from our course menu arrived. It costs ¥2,500 per person, and you both have to order when ordering this course menu. You can pick from clam chowder or minestrone.

If you thought that was it for the projection mapping, think again! The fun was only just beginning, as a new display came on the table when the plates went down.

Ruki was completely enchanted by the sparkling food. It makes you feel like you're inside of a picture book♡

The salad was Caesar, and the minestrone was packed full of veg and ingredients, making it nice and filling.

The next dish that was brought was the main. You pick one each of a main dish and dessert and share between two people.

We ordered the "Omurice – Let's Draw Together" (in Japanese: 一緒におえかきオムライス). Korilakkuma was wrapped up completely in an omelette blanket. The projection mapping comes on when you set this plate down too.

Korilakkuma draws around the plate, and we got to join in too by decorating Korilakkuma's blanket with drawings of Rilakkuma and Kiiroitori in ketchup.

The mapping helps you with drawing by projecting an outline you can trace. Ruki did hers really well!

As we forked into the omurice we found a cheeseburger underneath! The combination of the juicy cheese hamburger with the soft egg was to die for, and it becomes even more delicious and smooth when you pour over the cream sauce.

Last up was dessert. We got the "Spell-Cast Pancakes" (in Japanese: パンケーキに魔法をかけて). The projection mapping cast a mirror onto the pancakes. Even more animations happen when you wave the brush you're given on the table.

The fluffy pancakes are topped with a hearty serving of cream. You can enjoy them as they are, but they're delicious if you top them with the fruits, iced cream and nuts scattered around the plate too!

Twin Korilakkuma Strawberry Milk – ¥990

Korilakkuma Cafe au Lait – ¥890 (Served Hot Only)

As well as the course menu, there are also special drinks you can order separately which come with another free and exclusive coaster.

Sliding Mirror (Pink or Purple) – ¥1,200 Each

Acrylic Key Ring (4 Designs/Chosen Randomly) – ¥500 Each

Korilakkuma fans can expect to sift through a whole range of cafe-exclusive merchandise too, so be sure to check out what they've got in stock when you visit.

Korilakkuma Cafe: another me in the mirror is Harajuku's hottest new spot where you can enter the kawaii world of Korilakkuma. Pull up a seat and enjoy and interactive meal experience.

©2019 San-X Co., Ltd. All Rights Reserved.

Information

Korilakkuma Cafe: another me in the mirror

Running: December 21, 2019 – March 22, 2020 (Not running December 30, 2019 to January 3, 2020)

Location: HARAJUKU AR BOX -table projection mapping cafe- (4-28-28 Jingumae, Shibuya, Tokyo)

Grand Opening: December 9, 2019 at 16:00

Reservations: Now Open

*This cafe serves course menus for two people to share only

*Drinks ordered separately

Table Projection Mapping Seats: ¥2,500 per person (Before Tax)

*Reservations for two people only
*Course menu charged separately

Official Website: https://korilakkumacafe.jp/

Laforet Harajuku's 2020 Fukubukuro Lucky Bags Are Not to be Missed

Laforet Harajuku has finally dropped details on its 2020 fukubukuro. Fukubukuro is a New Year custom in Japan where stores make up grab bags full of random items for people to purchase at a discounted price. Around 50 stores in Laforet are set to participate, with pre-orders now running until December 31, 2019.

As always, the line-up this year is diverse, from the unique fukubukuro you can actually look inside to see what they have—which is a popular one every year—to the Laforet Gentei Fukubukuro which contains items exclusive to Laforet Harajuku, and more.

Those who pre-order a lucky bag will receive one of two things: either a coupon to get a random free item at one of the eateries at the GOOD MEAL MARKET on the second floor, or a ¥200 discount voucher to spend at Laforet Harajuku.

On New Year's Day and January 2, a taiko performance by Yushima Tenjin Shiraume Taiko will take place at the first floor entrance to drum in the New Year.

Around 70 stores in the shopping complex will also sell items at a special price between January 1 and 7 to celebrate 2020. Select stores will be handing out bag hooks in collaboration with the popular South Korean boy band SEVENTEEN.

The "Look and Choose" Fukubukuro

OLIVE des OLIVE (Floor 5F) – Set of up to 6 items priced at ¥7,700 (Tax Included) (Original Price: ¥25,000)

Cosme Kitchen (Floor 1.5F) – Set of 7 items priced at ¥5,500 (Tax Included) (Original Price: ¥14,000)

Laforet Harajuku Exclusives-Filled Fukubukuro

POU DOU DOU (Floor 4F) – Set of 7 items priced at ¥13,200 (Tax Included) (Original Price: ¥56,000)

la belle Etude (Floor B0.5F) – Set of 6 items priced at ¥11,000 (Tax Included) (Original Price: ¥70,000~¥80,000)

Other Fukubukuro

Ank Rouge (Floor 4F) – Set of 6 items priced at ¥16,500 (Tax Included) (Original Price: ¥50,000)

jouetie (Floor 4F) – Set of 5 items priced at ¥11,000 (Tax Included) (Original Price: ¥39,600)

This is just a small look at just some of the fukubukuro set to be sold, there are so many more to get your hands on. Start your 2020 year with some delicious discounts from Laforet Harajuku.

*Contents subject to change without notice

*Listed photos are select look only – more fukubukuro to be sold

Starbucks Reserve® Roastery Tokyo Releases Merchandise in Collaboration With BEAMS

Starbucks Coffee Japan has collaborated with BEAMS Creative Lab (ビームス創造研究), which is led by Kazuyoshi Minamimagoe, Senior Creative Director at BEAMS, to release a collection of merchandise to celebrate the coming New Year. The items arrived at Starbucks Reserve® Roastery Tokyo on December 17.

Since opening on February 28, 2019, Roastery Tokyo has collaborated with BEAMS Creative Lab on three separate occasions to release collections of merchandise themed on "Play," "Travel," and "Go out!" respectively. They have proven popular with both Japanese and foreign customers. For this fourth collaboration, the theme is "Lucky Charms."

The line-up of items range from classic Japanese New Year's celebratory items like pochibukuro mini envelopes and a towel with a New Year's greeting design on it to Roastery Tokyo-exclusive Kewpie dolls coloured copper and silver like the roasters in the coffee shop.

Look over the past year and beckon the New Year with a cup of coffee at Starbucks and some festive goodies.

Information

Starbucks Reserve® Roastery Tokyo

Address: 2-19-2 Aobadai, Meguro, Tokyo

Business Hours: 7:00-23:00

No Fixed Holidays.

Access: 14-minutes on foot from Naka-Meguro Station / 14-minutes on foot from the East Exit of Ikejiri-Ōhashi Station

Official Website: https://www.starbucks.co.jp/roastery/

A.T.A.D: Harajuku's New adidas Store to Open in Collaboration With atmos

adidas Japan is collaborating with atmos—Tokyo's streetwear and sneaker focused boutique—to open a new shop called A.T.A.D in Harajuku on December 20, 2019.

adidas Japan has collaborated with countless artists to date, and this will be its first with atmos, together with whom it will showcase streetwear sneakers the likes of which people have never seen.

A carefully selected line-up of adidas' newest shoes will be displayed at the counter where customers order their shoes like they would a drink at a bar. They can pick the model, colour, and size, and can try them on before making a purchase. The current designs, logos and other items in the store were created by YAR, a creative studio spearheaded by Japanese graphic artist YOSHIROTTEN.

The store also plans to sell items exclusive to A.T.A.D in collaboration with Japanese artists. More information will be posted on the store's official Instagram page.

Information

A.T.A.D

Grand Opening: December 20, 2019

Address: Majima Bldg. 1F, 4-29-1 Jingumae, Shibuya, Tokyo
Opening Hours: 11:00-20:00

Official Instagram: @a.t.a.d_tokyo

CAPSULE & Other Major Japanese Artists to Perform at ageHa's 2020 Countdown Party in Tokyo

ageHa is set to host one of Japan's biggest countdown parties again this year, falling on December 31, 2019 once more.

Headlining the ARENA is English DJ and producer Sigala. He released his debut single Easy Love in 2015 which shot to number one on the UK charts. Since then, he has continued to pump out club and festival bangers such as Sweet Lovin and Say You Do. Seven of his nine singles have gone platinum, proving that he is one of the main players in the scene right now.

Another headlining act for the show, this time from Japan, is CAPSULE, the music duo spearheaded by internationally-acclaimed Japanese DJ and record producer Yasutaka Nakata who is the official producer for two of the biggest names in Japanese music: Perfume and Kyari Pamyu Pamyu. CAPSULE plan to put on a special performance for the countdown party.

banvox is also making a return from last year's ageHa countdown concert, and CYBERJAPAN DANCERS are entering the fray for a special showcase.

In the WATER area of the venue, which is produced by WORLD CLASS and TCPT, France-based bass house duo Loge21, who have piled up t he releases since Confession, will perform in Japan for the very first time. DJ Remo-con will join the line-up as a guest too.

Over at the ISLAND area, the latest in cutting edge hip hop will take to the stage. Several DJs representing Tokyo will join rapper Jin Dogg, who is garnering attention right now, including HOKUTO, KEKKE, CHARI, and FUJI TRILL.

Finally, the BOX area will give rise to trance tunes, with performances from DJ KAYA, NORIO SP, FULLMOON RAVE, agefarre, and more.

But that's not all, because the famous Robot Restaurantーa major tourist attraction in Shinjukuーis making an unexpected collaboration with ageHa to put on their first ever show outside the restaurant.

A variety of other celebratory things are planned for the countdown party to chime in the new year, including servings of toshikoshi soba, omikuji fortunes, goshuin seals, and more. If you happen to be in Tokyo for the New Year, then don't miss out on this very special event.