Doraemon and Hello Kitty Collaborate in New Kawaii Merchandise Line
Sanrio has announced a new Doraemon and Hello Kitty design series which is set to be released on December 26 at Sanrio stores across Japan, as well as department stores stocking Sanrio goods and the Sanrio online shop.
The Doraemon x Hello Kitty collaboration project began in 2015. Both characters have come to be symbols of Japan adored by all generations, with the Doraemon manga series set to celebrate its 50th anniversary next year, and Hello Kitty having celebrated hers this year. The project is now expanding its range for all the grown-ups that were raised on both franchises.
Hello Kitty Mascot Holder – ¥1,980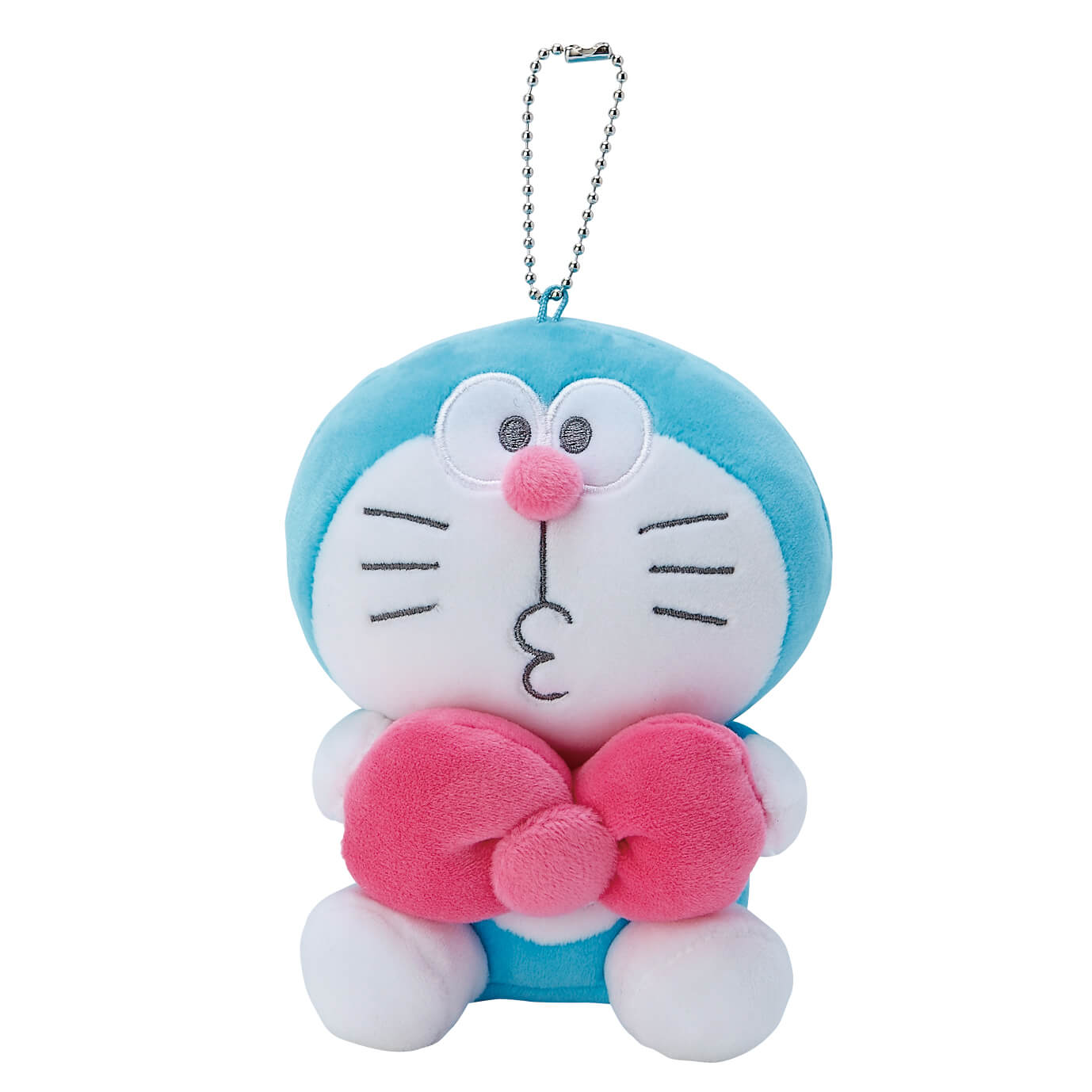 Doraemon Mascot Holder – ¥1,980
This marks the 4th Doraemon and Hello Kitty collaborative design series developed by the Sanrio shop. All the merchandise incorporates fun and instantly-recognisable motifs from the characters, like Doraemon's secret gadgets and Hello Kitty's ribbon.
Reversible Cushion – ¥3,080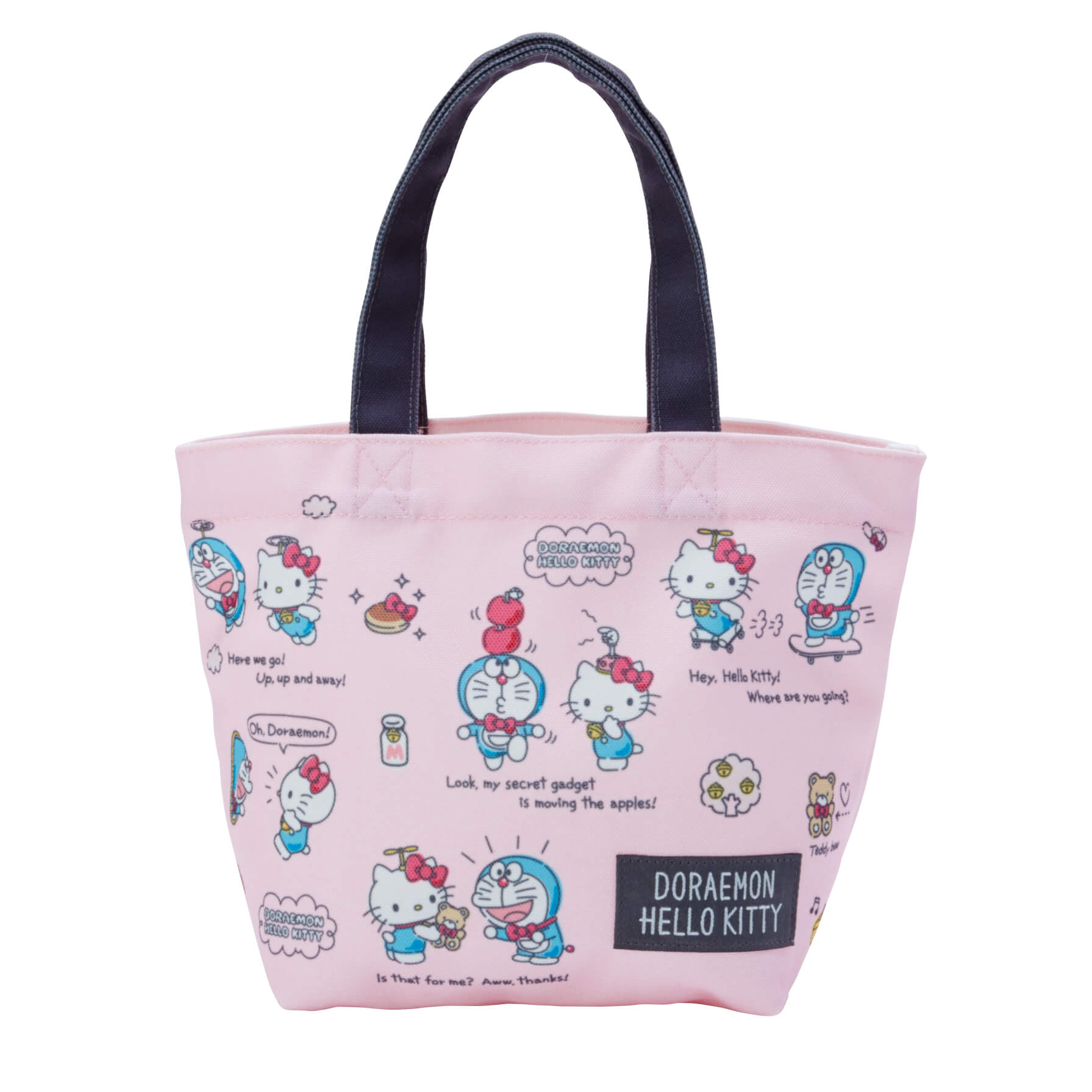 Handbag – ¥2,200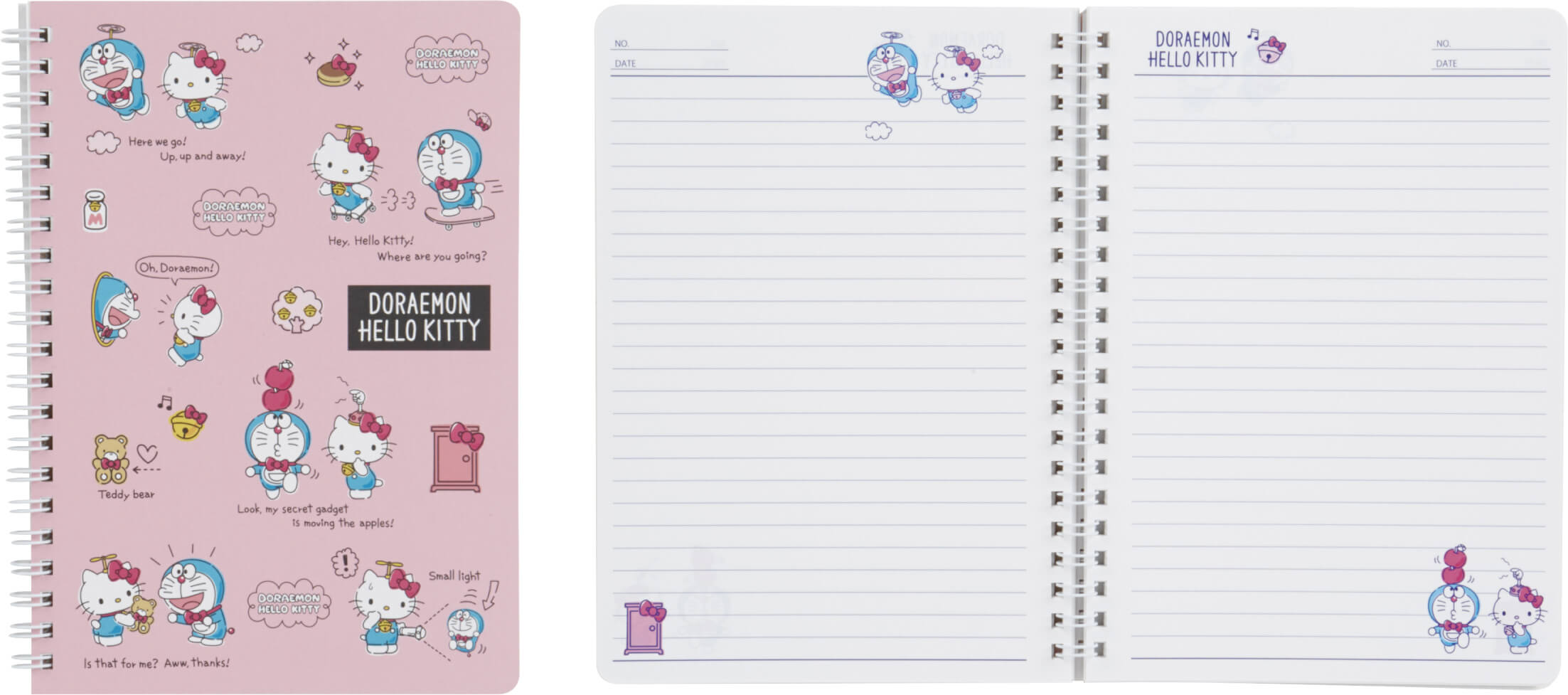 A5 Notebook – ¥605
The cute mascot holders see Hello Kitty borrowing Doraemon's bell and takecopter and Doraemon with Kitty's ribbon. This adorable feature follows into the designs of the other items too, like the reversible cushion which turns inside out into either the Doraemon or Hello Kitty design. There's lots of items in the line-up besides that shown here too, including pens and more.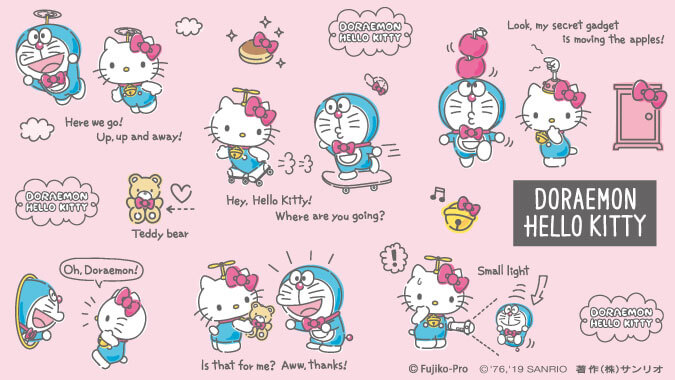 Don't miss out on this sweet collection.
*All prices include tax
©️Fujiko-Pro ©️'76, '19 SANRIO
RELATED ENTRIES
Fans Asked to Name Blimp Inspired by the Upcoming Film 'Doraemon: Nobita's Sky Utopia'

The film Doraemon: Nobita's Sky Utopia will be released on March 3, 2023. The 42nd Doraemon movie follows Doraemon, Nobita, and his friends as they venture off to find Utopia, a perfect land in the sky where everyone lines in joy and happiness. They do so using an airship with a time warp function on their adventure, and to commemorate the film's release, the Flying Doraemon Project began on January 14. A real-life 17-meter-long Doraemon blimp will soon appear in the sky, and fans are being asked to decide on a name for the craft.

The blimp, inspired by the Doraemon movie, will feature popular characters including Nobita, Shizuka, Suneo, and Gian. The blimp is the largest unmanned airship in Japan.

The message of the Flying Doraemon Project is to convey the feeling that in this day and age, children and adults alike can once again look upward and move forward toward their hopes and dreams.

Fans are asked to contribute ideas for the blimps name during the application period. Check the website for more details!

Original Doraemon Shirt Inspired by Nobita's Room Now Available

Shogakukan's online store has released a long-sleeve shirt inspired by Nobita's room from the long-running Doraemon series. Released on December 15, the fashionable and fun item is sure to be a fan favorite.

Shirts Inspired by Nobita's Room!

The shirt was developed in collaboration with Kawatani Shirt, a Tokyo-based brand dating back to 2011 specializing in casual shirts for adults. 

 

The green stripes were inspired by the tatami mats found in Nobita's room, and the simple back is white with a slight checker pattern at the top.

 

Part of the inner lining is even decorated with Doraemon's Take-copter!

The button at the neck is bright yellow, inspired by Doraemon's signature bell.

The lining of the left breast pocket features an embroidered Doraemon as well. 

As expected, Nobita can also be seen lounging on the bottom right of the shirt. 

The shirt is available in four sizes from S to XL. Made from 100% cotton, this is a comfortable piece of clothing perfect for wearing all year round. Why not add this playful shirt to your rotation?

 ©Fujiko-Pro

Information

Doraemon Long-sleeve Shirt 'Nobita's Room'

Release Date: December 15, 2022

Sizes: S, M, L, XL

Price: 14,300 (Tax Included)

Doraemon Sleeping Bag and Neckwear Perfect for Bringing on a Winter Camping Trip

Doraemon fans who also love the great outdoors will be able to grab some new goods for their winter outings. A Doraemon-inspired sleeping bag created by down maker NANGA and neckwear made by Spanish brand BUFF are now available at the Shogakukan online department store!

NANGA is one of Japan's leading down manufacturers, beginning as Yokota Sewing in 1941 in Maibara, Shiga Prefecture, a famous production center for cotton futons. The down used in this new sleeping bag has been cleaned and refined using the newest technology, promising that this bedding will last for years to come.

Sleeping Bag

In addition to the blue, white, and red Doraemon-inspired coloring, the character's famous collar also makes an appearance. Covered head to toe in motifs from the series, this bedding is also highly functional and warm.

Neckwear

The included storage bag is compact and able to fit in a backpack, measuring approximately 20cm x 40cm. Will you be adding these items to your camping pack this winter?

©Fujiko-Pro

Chiikawa and Sanrio Characters Collaborate for Special Merch Collection

A collection of must-have goods featuring Chiikawa and Sanrio characters has been announced! The items will be available at the Sanrio Online Store on November 24  and Sanrio shops nationwide, including department stores, starting November 25. The popular character Chiikawa, created by illustrator nagano, has been invited into the world of Sanrio, and the results are perfectly adorable. The merch lineup includes 21 items from plush toys to acrylic keychains. Purchase bonuses will also be given to those snagging any of the items on offer.

Goods at a Glance

This marks the second collaboration between Sanrio characters and Chiikawa. Fans will want to grab these limited-edition goods, including fluffy plush toys, a mascot-style brooch set, pouches, tote bags, clear folders, and handy cases perfect for storing small items. These items feature completely original designs. Which one is your favorite?

Sanrio Virtual Festival 2023 in Sanrio Puroland to Bring Fans Into the Metaverse

The Metaverse event that was a smash hit in 2021 will be returning in 2023! Sanrio Virtual Festival 2023 in Sanrio Puroland, one of the world's largest music festivals blending both the real and virtual worlds, will be held starting January 13, 2023.

A lineup of high-profile performers has been announced, including Airi Suzuki, SKY-HI, Yabai T-Shirts Yasan, and Aoi Fuji. Popular Sanrio characters such as Hello Kitty, Cinnamoroll, and Kuromi will also appear, and visitors will be able to experience the virtual Puroland by utilizing unique avatars and taking part in a number of exciting events.

The 2021 event was incredibly popular, and the 2023 version will increase the duration and amount of content available. To do this, Puroland has joined forces with VRChat, a well-known US company and social platform. Artists, VTubers, and Sanrio characters will perform in a massive space on B5 of Virtual Sanrio Puroland, and fans can enjoy live performances while also communicating with other guests!

Highlights of SANRIO Virtual Festival 2023 in Sanrio Puroland

・Inspired by PURO VILLAGE at Sanrio Puroland, VIRTUAL PURO VILLAGE is now available in the Metaverse!

・The popular Sanrio Puroland parade will be performed in the virtual space with an original story!

・Starting January 13, 2023, visitors will be able to chat and play in an open space before the concert, and special events–like radio calisthenics–will be held.

・Guests can enjoy mini concerts featuring Sanrio characters every day from January 14 until January 20 (*Fee required.)

The event can be accessed via smartphone, PC, or other devices. Guests can have fun creating their own unique avatars and immersing themselves in the Sanrio Puroland atmosphere no matter where they are! Come experience this state-of-the-art Metaverse space while you can.

Experience Mini Live Shows Featuring Popular Sanrio Characters Every Day

A daily mini concert will be held daily from January 14 until January 20 with a different Sanrio character appearing each day. 

The mini-concert ticket allows guests to watch all seven mini-concerts and also includes digital items to use with your avatar, including a fan and a T-shirt. 

17 Artists Announced (So Far) to Perform During Virtual Music Festival!

Artists like Airi Suzuki, SKY-HI, and Yabai T-Shirts Yasan will take to the LUNA STAGE (*fee required), with virtual artists including Aoi Fuji appearing on the FUTURE STAGE (*fee required.)

Hello Kitty and other Sanrio characters will also appear at CHILL PARK, each giving a mini live performance. The second artist lineup and performance timetable will be announced in early December.

Free areas will be open to the public. More details and ticket information is available on the official website. 

Information

SANRIO Virtual Festival 2023 in Sanrio Puroland

Running: January 13 – January 22, 2023

Venue: Virtual Sanrio Puroland

Official Site: https://v-fes.sanrio.co.jp

Doraemon's Official Store Launches Limited Edition Dorayaki-Flavored Black Tea

Doraemon's Mirai Department Store, Doraemon's official shop, has announced a limited edition black tea flavored with the character's favorite food: dorayaki! The tea and four special themed plates will be available starting November 11, 2022. The tea itself is provided by the tea specialty shop LUPICIA. 

Doraemon's Mirai Department Store Black Tea (Dorayaki Flavor)

Doraemon's Mirai Department Store is now offering this special tea in an adorable themed tin.

The flavor of the tea is inspired by Doraemon's favorite food, dorayaki, a sweet Japanese pastry filled with red bean paste. The gorgeous blue and red toppings blended into the tea leaves were inspired by Doraemon himself, and fans will want to enjoy a cup as they lose themselves in the classic manga or anime series.

Doraemon's Mirai Department Store Tasty Plate (4 varieties)

These 14cm square plates are perfect for snacks with tea. Dishwasher-safe, fans can pick from four designs, each showing Doraemon enjoying some tasty treats. 

©Fujiko-Pro

60th Anniversary Sanrio Exhibition: The Beginning of Kawaii to Open at Hokkaido Museum of Modern Art in February 2023

The word 'kawaii' is now commonly used around the world. Sanrio is largely to thank for this, and the beloved company has announced that the 60th Anniversary Sanrio Exhibition will open at the Hokkaido Museum of Modern Art from February 11 until April 2, 2023. Advance tickets will include a discount and will be available until November 14 online. 

"Sanrio celebrated its 60th anniversary in 2020, and the company continues to share Japan's character culture with fans around the world," Sanrio said in a comment. "Kawaii is now a universal language, and this is very much thanks to the over 450 characters that are part of Sanrio's history, from Hello Kitty to My Melody. 

This exhibition traces the history of Sanrio and guests can enjoy seeing rare materials including merchandise, publications, and early designs from the company's founding. We want to continue to grow and develop our characters while valuing communication with our fans, ensuring that our adorable characters are loved by generations to come."

The Sanrio exhibition is something that generations of fans can enjoy, so come immerse yourself in this kawaii world! For more details, visit the official website. 

Information

60th Anniversary Sanrio Exhibition: The Beginning of Kawaii

Running: February 11 – April 2, 2023

Hours: 9:30 – 17:00 (Last entry at 16:30)

Venue: Hokkaido Museum of Modern Art (17-chome Kita 1 Jonishi, Chuo-ku, Sapporo, Hokkaido)

Official Site: https://stv.jp/event/sanrio

Doraemon's Official Shop Opens for a Limited Time at Daimaru Umeda

From December 1, 2022 until May 28, 2023, Doraemon's official shop will appear at Daimaru Umeda! Doraemon's Mirai Department Store will offer a variety of limited-edition products for this brief period. 

Doraemon's Mirai Department Store Exclusive Goods (Selection)

Chenille Embroidered Tote Bag (Doraemon and Mini Doraemon): ¥3,520 (Tax Included)

This tote bag is decorated with lasting embroidery and is sure to brighten any Doraemon fan's day. The shoulder-length handles are practical and each bag has excellent storage capacity!

Doraemon Striped Socks (Red/Green): ¥2,420 each (Tax Included)

These thick socks are sure to keep your feet warm during the cold winter months. The simple lines and chic colors make these a great gift for any age.

Come check out these exclusive items that you can only find here!

©Fujiko-Pro

Information

Doraemon's Mirai Department Store in Daimaru Umeda 2022-2023

Running: December 1, 2022 – May 28, 2023
Venue: Daimaru Umeda 13F (3-1-1 Umeda, Kita-ku, Osaka)

Hours: 10:00-20:00
Doraemon's Mirai Department Store Official Site: https://mirai.dora-world.com/

Doraemon Ukiyo-e Series Reimagines Popular Characters in Classic Hiroshige Work

A Doraemon version of Hiroshige's 1833 ukiyo-e painting Fifty-Three Stations of the Tokaido Hoeido Edition (Rainstorm) will be available to order on October 29!

This work is said to be one of the most famous paintings by the artist, who was considered the last great master of ukiyo-e.


 

The painter was best known for his depiction of rainscapes, and many of his paintings pushed the envelope of traditional art.

 

This painting shows Ise Province, what is now present-day Mie Prefecture. 

Doraemon and his friends have been expertly placed into the famous piece of art, desperately climbing a steep hill during a sudden evening shower.

 

For Doraemon and Nobita, the rain is a chance to have fun. Looking at the piece, viewers can see an image of hope in tough times and can remember that with friends, anything is possible and any difficulties can be overcome. 

The piece is made from high-quality materials, and you won't want to miss ordering one of these rare works of art!

Information

Doraemon Ukiyo-e / Fifty-Three Stations of the Tokaido Hoeido Edition (Rainstorm)

Orders Open: October 29, 2022 at 12:00
Price: ¥45,000 (Excluding tax and shipping charges)
Number Available: 300
Echizen-Manufactured Washi Paper Provided by Iwano Ichibei
Online Shop: http://ukiyoework.com/

Hello Kitty Autumn Event 'Apple Halloween 2022' Running Until October 31

HELLO KITTY SHOW BOX, a theater and restaurant offering Hello Kitty-themed shows and meals on Awaji Island, and HELLO KITTY APPLE HOUSE, an apple-shaped observation theater based on the popular character's home, are both currently holding the Apple Halloween 2022 event until October 31! 

Guests can enjoy a mystery-solving event and some adorable photo spots inspired by apples and the Halloween season. By solving certain riddles, visitors will be rewarded with candy!

Come have fun this Halloween with Hello Kitty, friends, and family!

Started in October, the New Show 'HELLO KITTY THE PARTIES' Gets Rave Reviews

HELLO KITTY THE PARTIES, a new show at the theater and restaurant HELLO KITTY SHOW BOX, will run until December 30, 2022. The show features a new theme each month and currently features a jazz band.

October's theme is Happy Halloween Party, and visitors can listen to a number of famous songs while enjoying tasty and healthy dishes packed with autumn flavors. At the end of the performance, a meet and greet with Hello Kitty will be held. November's theme will be Hello Kitty's Birthday Party, while December will focus on a Christmas Party!

Information

Apple Halloween 2022

Running until October 31, 2022

Hours: 11:00-17:00

Venue: Awaji Hello Kitty Apple Land ( 177-5 Nojimahirabayashi, Awaji, Hyogo)

Official Website: https://awaji-resort.com/hellokittyshowbox/

The #KuromifyTheWorld Project Celebrates First Anniversary with Special Week of Events

The #KuromifyTheWorld campaign is already one year old! Created to share the adorable Sanrio character Kuromi with the world, fans will be invited to celebrate this milestone from October 20 until October 31 with special events in Tokyo, Osaka, and Nagoya. 

Kuromi's Drink Stand will be open for a limited time in Tokyo and Osaka. Customers will be invited to choose the color of their drink according to their mood, and will also be able to customize it with tags, acrylic stands, and stickers! An original photo spot will also be set up beside each drink stand, and those wanting to attend can enter the lottery to win tickets now. 

Sanrio's first and largest Kuromi ad truck will also be driving through the streets of Tokyo, Nagoya, and Osaka during the event week. 

Kuromi will also be teaming up with (G)I-DLE, a popular five-member global idol group from South Korea. Campaigns are planned to appear in Hangzhou, Suzhou, Taiwan, Korea, North America, and Europe.

Kuromi ranked in the top three in this year's Sanrio Character Awards, and her popularity is steadily growing with Gen-Z. Keep an eye out for more Kuromi-inspired events in the future!

Information

#KuromifyTheWorld Week

・Kuromi's Drink Stand: 

Running: 

Shinjuku, Tokyo: October 20 – October 24, 2022

Shinsaibashi, Osaka: October 29 – October 31, 2022

・#KuromifyTheWorld Ad Truck:

Running:
Tokyo: October 20 – October 24

Nagoya: October 26 – October 27

Osaka: October 29 – October 31

Sanrio Releases New Collection Inspired by Gyaru from the 90s and 2000s

On September 14, Sanrio will release an adorable new collection of goods inspired by 90s gyaru fashion! Fans of Japanese pop culture may be familiar with the gyaru subculture, and now, you can grab your favorite Sanrio character all dressed up like a fashionable girl on the streets of Tokyo during the Heisei era. These items will be available at Sanrio stores nationwide, Sanrio corners in department stores, and Sanrio online. The lineup includes goods featuring Hello Kitty, My Melody, Kuromi, and Cinnamoroll. 

 

A total of 17 new items will be available, including mascot keychains, accessory cases, and plenty more to show off your gyaru side. Hair clips, which were very popular during the height of gyaru fashion, are perfect to either attach to your head or to your school bag. 

Along with the listed goods, secret straps featuring nostalgic 90s motifs will also be sold at random! These are perfect for hanging on your glove compartment, a mirror in your purse, or your bag.

 

New Products

Mascot Keychain (4 varieties): ¥1,980 each

Each mascot keychain shows a popular Sanrio character dressed in popular Gyaru fashion.

Accessory Case with Hole for Strap (4 varieties): ¥1,100 each 

Hair Clip (4 varieties): ¥990 (Set of 2)

Pouch: ¥2,420

Secret Strap (8 varieties): ¥880 each

Each comes with a strap. The Cell phone can be opened and closed.

*Secret Straps are sold in a blind box.