Triple Chocolate Crispy Valentine's Cream Puffs Releasing at CROQUANTCHOU ZAKUZAKU
Cream puff maker CROQUANTCHOU ZAKUZAKU has announced two new products for the Valentine's season in Japan which will be served from January 6 to February 14 next year: the "Chocolate Chocolate Chocolate Zaku" and the "Chocolate Chocolate Chocolate Zaku Soft."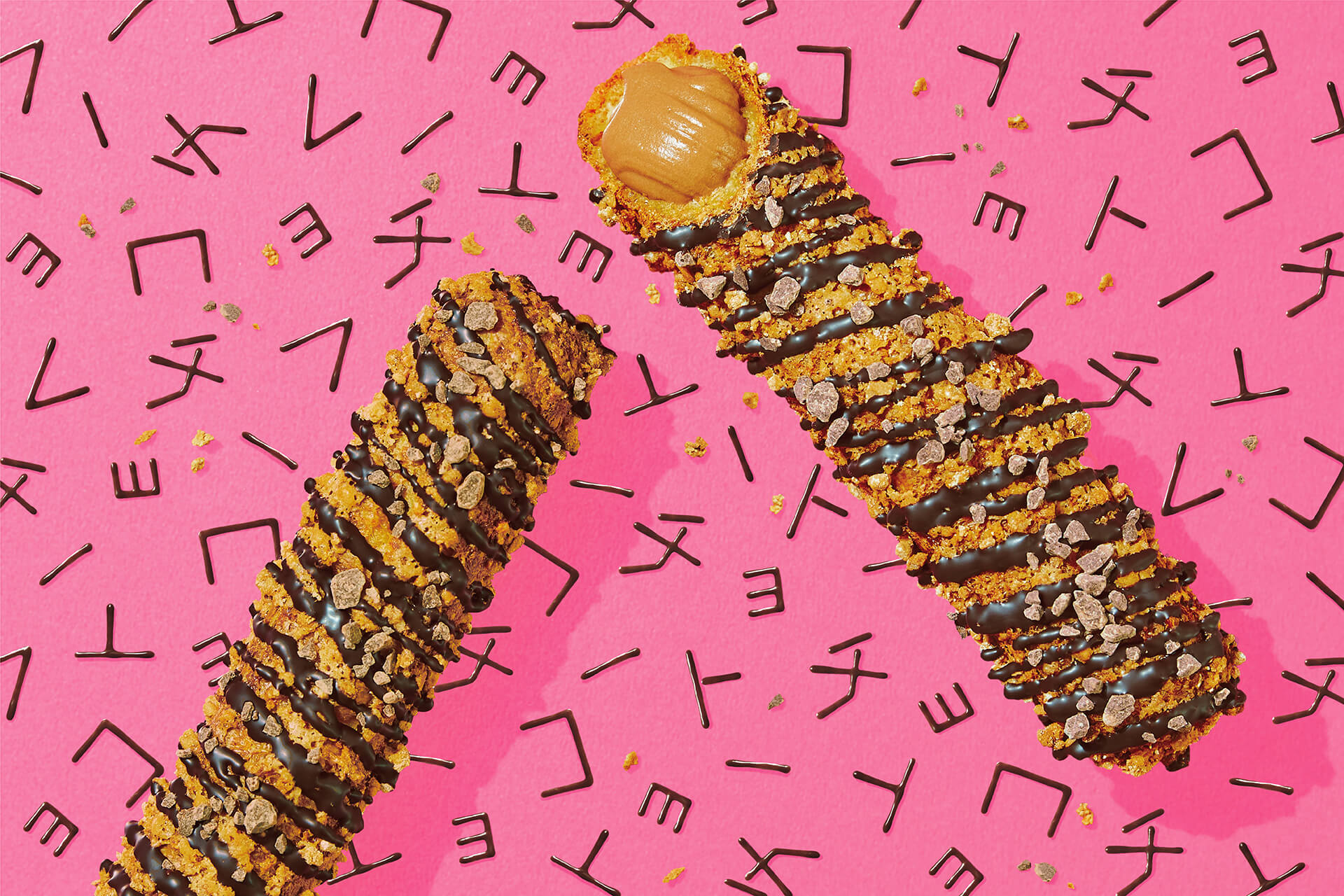 The Chocolate Chocolate Chocolate Zaku is a limited-edition flavour of the popular Croquant Sugar Zaku Zaku which was released in January 2018. It has been upgraded with three kinds of chocolate, from chocolate custard cream to chocolate toppings and chocolate flakes.
The Soft version is coated with rich soft serve ice cream that's so soft it's like melted fresh cream. It's served with the croquant cream puff and also topped with chocolate flakes.
Both new desserts offer their own tempting textures and are available for the Valentine's season only. Which has your mouth watering?
Information
Chocolate Chocolate Chocolate Zaku – ¥290 (Tax Included)
Chocolate Chocolate Chocolate Zaku Soft – ¥550 (Tax Included)
Running: January 6, 2020 – February 14, 2020
Available: At CROQUANTCHOU ZAKUZAKU stores across Japan (Except Tobu Ikebukuro and SAKURA MACHI Kumamoto branches)
Official Website:  https://zakuzaku.co.jp/
RELATED ENTRIES
Mister Donut x BAKE Release Crispy Cream Puffs

BAKE CHEESE TART has teamed up with Mister Donut to release CROQUANTCHOU ZAKUZAKU, a crispy cream puff by BAKE CHEESE TART's sister company of the same name. They are being served from July 2 to August 1.

CROQUANTCHOU ZAKUZAKU is a crispy cream puff with a custard cream filling made from Hokkaido milk. It was first produced in Hokkaido. They are stick shaped and covered in almond crunch and 'ZAKUZAKU,' a coating combination of egg white and sugar.

Don't miss the chance to enjoy both BAKE CHEESE TART and CROQUANTCHOU ZAKUZAKU's tasty treats at the same time.

Information

CROQUANTCHOU ZAKUZAKU

Price: ¥250 Each (Tax Included)

Serving: July 2, 2021 – August 1, 2021 (Fridays, Weekends, Public Holidays Only)

Where: 17 branches of BAKE CHEESE TART in Japan

*Available while supplies last

More Details: https://cheesetart.com/news/zaku2021/

Warm Your Heart with a Sweet Shizuoka Satsuma Cheese Tart

BAKE CHEESE TART will be baking up another fresh flavour which will be released in BAKE CHEESE TART shops across the country from November 15. The new featured flavour is of a Japanese Satsuma sourced from Shizuoka prefecture called Mikka Mikan. The brand new Mikan Cheese Tart will be sold at BAKE CHEESE TART shops countrywide. 

The Mikka Mikan Satsumas used for the cheese tart are sourced from Shizuoka, which is renowned for its deep history of producing Mikka Mikans, which are a kind of Satsuma Mandarin (Unshu Mikan). The Mikka Mikans are used to make a purée and powder which is then mixed with an original recipe cheese mousse for the tart.

This flavour first arrived at BAKE CHEESE TART's PARCHÉ branch in Shizuoka to celebrate its grand opening back in November 2018. The tart was intended to be a delicacy limited to the Shizuoka branch and to only be sold for a limited time. However, following its immense popularity, the Mikka Mikan Cheese Tart is going to be released again this winter for a limited time. 


The mild and fresh cheese mousse is perfectly balanced with the tangy sweetness of the Mikka Mikans. The subtle sweetness of the biscuit base makes for the perfect match with the soft cheese mousse which will melt in your mouth. 


BAKE CHEESE TART is also running an Instagram campaign involving the hashtag #おすそわけタルト. Those who purchase the Mikan Cheese Tart and post a photo of it on Instagram during the limited time period have the chance to enter a prize draw for a BAKE CHEESE TART coupon.

Warm up your heart with a soft and sweet, freshly-baked cheese tart and join in the campaign fun. 

Information

Mikan Cheese Tart

Price: ¥280 each (Tax Included)

Selling: November 15, 2019 – November 30, 2019

Available at: BAKE CHEESE TART shops across Japan *Not available at ASSE Hiroshima and SAN-A PARCO CITY branches.

More Information: https://cheesetart.com/en/

Instagram Campaign Information #おすそわけタルト

Running: November 15 – November 30, 2019

Prize: A coupon for 6 freshly-baked cheese tarts from BAKE CHEESE TART (20 winners)

* For more information on application requirements and how to apply, please refer to BAKE CHEESE TART's social media websites.

BAKE CHEESE TART Official Website: https://cheesetart.com/en/

Dark and Delicious Halloween Spirit Possesses Crunchy and Creamy Pastries

Every year choux pastry shop CROQUANTCHOU ZAKUZAKU sells 2 million of their unique, crunchy and creamy choux pastries. This Halloween, these white angelic sticks of heaven have been possessed by the Halloween spirit and will be sold from October 1 – 31.

The devilishly delicious Black Zaku and Black Zaku Soft Serve Ice Cream were overwhelmingly popular when they were first sighted last year. Now they are being revived again for the Halloween season and will be haunting practically all CROQUANTCHOU ZAKUZAKU branches across Japan. 

Black cocoa powder is infused into the crunchy choux pastry. The empty shell is then filled with a molten custard core which is made using Hokkaido milk and purple sweet potato paste. Once you take your first crunchy bite, you will be completely possessed by the Halloween spirit.

This Halloween, the original pure white ice cream has been inverted. From the ice cream to the wafer cone, the Black Zaku Soft Serve is completely black. The ice cream is incredibly soft and creamy and full of flavour. The black colour comes from white chocolate dyed with bamboo charcoal. This chilling ice cream is only around for the Halloween season and tastes wicked!

 There is more than just Halloween treats at the shop. The regular Croquant Chou Zaku Zaku and regular Zaku Zaku Soft® are also being served. Head to a store with an adjoining kitchen to sink your teeth into freshly made delicious treats. 

There is no better trick to treating yourself this Halloween than to indulge in a beautiful, black, crunchy and creamy sweet treat!

Information

CROQUANTCHOU ZAKUZAKU

Available: October 1, 2019 – October 31, 2019

Available at all CROQUANTCHOU ZAKUZAKU shops across Japan excluding Kumamoto  Sakuramachi branch. Website: https://zakuzaku.co.jp/

Croquant Chou Zakuzaku Reveals Chocolatey Valentine's Day Treats

Cream puff extraordinaire chain Croquant Chou Zakuzaku has unveiled two new crunchy chocolate delights that will be available from January 14 to February 14: the Choco Zaku and the Choco Soft.

The Choco Zaku has a crunchy exterior made from an almond crunch base and is filled with chocolate flavoured custard cream made with milk from Hokkaido. The entire puff is drizzled with chocolate sauce and topped with chocolate flakes. The crispiness of the hardened chocolate sauce and flakes add an additional crunchy layer to the outside. This means you get three different chocolate experiences from the cream, sauce and flakes.

The Choco Soft is made with rich soft serve ice cream that tastes almost frozen and has been dipped in chocolate sauce. It is crowned with chocolate flakes and croquant, allowing for a deliciously cool harmony between the crunchy texture and the milk in the ice cream.

As well as these seasonal options the stores will continue to serve their regular cream puffs and ice cream all made fresh.

Pitch Black Halloween Desserts to be Sold at Croquant Chou Zakuzaku

Cream puff connoisseurs Croquant Chou Zakuzaku are getting in on the Halloween season fun this year by releasing two tasty treats. The Kuro Zaku and Kuro Zaku Soft will be available from October 1 to October 31.

The Kuro Zaku is an almond crunch croquant filled with a cream that's made with black cocoa powder. Inside that is a purple sweet potato cream that's made with 1:1 custard cream and purple sweet potato paste. The paste is made in Japan and its purple colour gives the dessert that Halloween look.

The Kuro Zaku Soft is an ice cream that's completely black – including the cone. The rich soft serve ice cream melts like fresh cream and includes a white chocolate dip made with bamboo charcoal powder.

Customers who order either of these desserts will take them selves a Halloween face paint seal too.

The shop is designed like a factory so you can eat everything freshly made. Try their delicious products for yourself this Halloween.

CROQUANTCHOU ZAKUZAKU announces limited edition Valentine's & White Day cream puffs

Cream puff specialist shop CROQUANTCHOU ZAKUZAKU have announced that they are to release two new products for Japan's two romantic seasons: the dark chocolate clad Zaku Zaku Noir for Valentine's Day and white chocolate Zaku Zaku Blanc for White Day.

Zaku Zaku Noir is drizzled with luscious dark chocolate, perfect for Valentine's Day. The fragrance of the cocoa and whole-bodied flavour of the dark chocolate make a perfect match for the custard cream filling.

Zaku Zaku Blanc is the White Day dream, splashed with pure white chocolate. The white chocolate itself is sweetly rich and creamy and will dazzle your palate.

Both luxuries are served sophisticatedly in limited edition white and black packaging to maintain the monotone theme of Valentine's Day and White Day.

Moreover, if customers purchase the store's staple cream puff, as well as one Zaku Zaku Noir and one Zaku Zaku Blanc, they will receive a discount coupon for a half-size "Zaku Zaku Soft" ice-cream. Purchase all 3 at once between January 18th and March 18th to obtain a coupon.

*Coupons redeemable from February 16th – March 18th

Why not head on over to CROQUANTCHOU ZAKUZAKU and get your hands on a crunchy cream puff for that special someone, a friend or even yourself?

◼︎Information

Limited Edition Valentine's Day Product: "Zaku Zaku Noir" – Price: ¥290 each (tax incl.)

Available: January 18, 2018 – February 14, 2018

Stores: Harajuku, Kamata and Tobu Ikebukuro branches of CROQUANTCHOU ZAKUZAKU

Limited Edition White Day Product: "Zaku Zaku Blanc" – ¥290 each (tax incl.)

Available: February 16, 2018 – March 18, 2018

Stores: Harajuku and Tobu Ikebukuro branches of CROQUANTCHOU ZAKU ZAKU (*Kamata branch not participating)

"Zaku Zaku Soft Ice Cream" Coupon

Stores: Harajuku and Tobu Ikebukuro branches of CROQUANTCHOU ZAKU ZAKU (*Kamata branch not participating)

Available January 18, 2017 – March 18, 2018

Redeemable: February 16, 2018 – March 18, 2018

 Z CROQUANTCHOU ZAKUZAKU will release "Murasaki Imo (purple potato) Zaku" which suits well with the autumn season.

A cream puff specialized store "Z CROQUANTCHOU ZAKUZAKU" will release a new sweets item this autumn called "Murasaki Imo Zaku" for a limited time offer. The product is only available at "Z CROQUANTCHOU ZAKUZAKU's Tokyo Soramachi store.

The newly created product "Murasaki Imo Zaku" is a new derivative product from the store's standard product, "CROQUANTCHOU Zaku Zaku Mini." The cream inside the product has a tender flavor which is a mixture of custard cream made by milk produced in Hokkaido and colorful murasaki imo paste produced in Kagoshima Prefecture.

The combination of the rich custard cream and crunchy skin of the cream puff makes for a perfect match.

Why not enjoy this limited-time-offer crunchy cream puff – a perfect match with this autumn season.

■Information

Murasaki Imo Zaku

Price: 230 yen per cream puff (tax included)

Date: September 12th, 2017 (Tue.) to September 24th (Sun.)

Available stores: Z CROQUANTCHOU ZAKUZAKU Tokyo Soramachi store

Address: 〒131-0045 2F of Tokyo Sky Tree Town Soramach, 1-1-2, Oshiage, Sumidaku, Tokyo

Business hours: 10:00 to 21:00

TEL: 03-5637-7559

Products: "CROQUANTCHOU ZAKUZAKU mini" Price: 180 yen (tax included) / 880 yen per box (five cream puffs included) (tax included), "Murasaki Imo Zaku" Price:230 yen (tax included)

"Zaku Zaku Soft Milk" / "Zaku Zaku Soft Choco Dip" Price 450 yen  (tax included)

Popular chou pastry specialist store "Croquant Chou Zakuzaku" opens a branch in Taiwan! Originally from Japan's epicentre of trendy culture ー Harajuku!

Cream pastry specialist store "Croquant Chou Zakuzaku" will be launching a new branch in Taipei, Taiwan. The new branch opened its doors to the public on Friday 23rd December 2016 on the 1st floor of Shin Kong Mitsukoshi Hsinyi Place A11 alongside many other establishments; some of which are big fashion brand shops.

This will be the first overseas branch of "Croquant Chou Zakuzaku", bringing the same quality and ingredients to create the same perfect pastries as in the Harajuku store. The store has been designed to have a studio-style layout where the pastries can be seen being made. These freshly made pastries will then be displayed for customers to purchase.

First, the uncooked chou pastry is directly imported from Hokkaido and then baked at the store. Once a customer has ordered, the inside of their pastry shell is then pumped full of specially made custard cream. The custard cream used at the Taiwan chain uses high quality fresh milk directly sent from two of Taiwan's ranches. Experience the same quality of milk as that produced by the grazing cows in Hokkaido. The producer of the milk is known and the milk has been carefully selected, so rest assured that you're tasting only the best product! Finally, enjoy the crunchy coating of croquant and almonds ー you won't be able to get enough of this combination of textures!

■ Information

"Croquant Chou Zakuzaku"

Taiwan chain      :Shin Kong Mitsukoshi Hsinyi Place A11
Address    :No.11,Songshou Rd,, Xinyi Dist., Taipei City 110,, Taiwan (R.O.C.)
Open from :23rd December 2016(Friday)

Official website : http://tw.zakuzaku.co.jp/

Cool Down With CROQUANTCHOU ZAKUZAKU's Brand New Limited Time Treat!

Anyone who's a fan of chou pastry is in for a treat. If you're a chou maniac, you've obviously already been in line for BAKE's CROQUANTCHOU ZAKU ZAKU that's got a crunchy texture serving as a delightful contrast to the regular chou pastry.

With its recent opening in Ikebukuro, they've come up with a new food item just to celebrate the occasion! Named "HIYAZAKU" the pastry combines its signature crunchy chou texture with a milk soft serve lying right in the middle — this is by far the most gorgeous break treat you've ever had. Rush over to CROQUANTCHOU ZAKU ZAKU in Ikebukuro for this short-lived treat!

HIYAZAKU

Get yours from Jul. 14 (Thurs) – 24 (Sun) at Tobu Ikebukuro location CROQUANTCHOU ZAKU ZAKU 

Price: ¥350 (tax incl.)

*Limited to 100 HIYAZAKUs/day!

CROQUANTCHOU ZAKU ZAKU Ikebukuro Tobu store

Open date: Jul. 1, 2016 (Fri)

Operation hours:10:00-21:00 (Sundays/Holidays: 10:00~20:00)

Tel:03-6912-8950

Official Website: http://www.zakuzaku.co.jp/