Surprise That Special Someone on Valentine's Day with Décadence du Chocolat Japanese-Style Chocolates
Décadence du Chocolat will release their popular Valentine's chocolate assortment from January 23, 2020 for a limited time only. Each carefully crafted chocolate is packed with Japanese flavours and originality by chocolatiers who follow a detailed procedure. The assortment range features three Valentine's bonbon chocolates. The shop will also be releasing their popular LOVE KISS chocolate again this year in Yuzu Orange and Strawberry-flavour.
Valentine's Limited Bonbon Chocolate Assortment (Contains 4): ¥1,100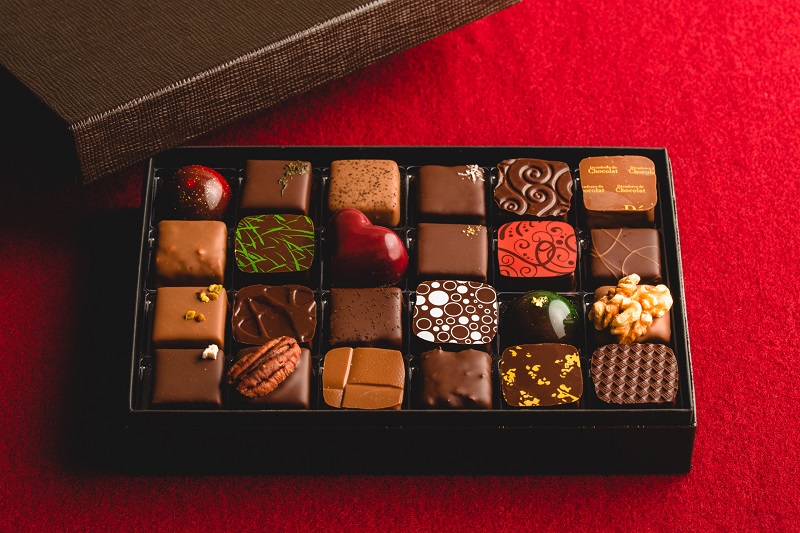 Valentine's Limited Bonbon Chocolate Assortment (Contains 24): ¥5,200
The bonbon assortment of four contains one Kinako chocolate which is made with roasted soybean flour, a Muscovado Matcha chocolate, an Apple Hojicha chocolate made using roasted green tea, and the shop's popular standard bonbon chocolat. The boxes come in 4, 9, 12 and 24 chocolates to cater for every situation. These chocolates are bound to be the perfect gift for your partner whether they are Japanese or foreign.
Valentine's Limited LOVE KISS: ¥550
Décadence du Chocolat's lip-shaped LOVE KISS is popular every year and has become a symbol of Valentine's Day. Concealed in a beautiful box fit for a wedding ring, just seeing it is enough to fill your partner with excitement. This year's LOVE KISS chocolate is made with a yuzu orange and strawberry ganache for a sweet and tangy flavour.
These Japanese-style chocolates are the perfect way to treat anyone on Valentine's Day. 
Information
Décadence du Chocolat Shop Information
Ginza (Main Shop)
Address:G-ZONE, 1-2-3, Ginza, Chuo Ward, Tokyo
Opening Hours:11:00-21:00
(No holidays)
TEL:03-5579-9181
Myogadani Factory
Address: Domi Koishikawa, 5-6-9, Koishikawa, Bunkyo City, Tokyo
Opening Hours: 10:00-19:00 (Closed Tuesdays*)
*Open on February 4
TEL: 03-3943-9882
Shinjuku Keio
Address: Noren-gai, 1-1-4 Nishishinjuku, Shinjuku Ward, Tokyo
Opening Hours:
Monday – Saturday: 10:00-20:00
Sundays and National Holidays: 10:00 – 20:00
TEL:03-6304-5353
Official Website: https://decadence.jp/
RECOMMENDED ENTRIES
Handmade Christmas Chocolate Santa and Snowman Released at ATELIER de GODIVA in Kyoto

GODIVA Japan released two new chocolate products at the Daimaru Kyoto branch of ATELIER de GODIVA, a chocolate shop which combines GODIVA's skilful craftsmanship with chocolate artistry. Named "ATELIER Christmas Showpiece Santa Claus" and "ATELIER Christmas Showpiece Snowman," the two chocolate artworks were released on Wednesday and are available until December 25.

Each and every one of these chocolate sculptures are handmade in-store by the shop's chefs. They are exclusive to ATELIER de GODIVA Daimaru Kyoto and the perfect Christmas treat to adorn any Christmas party this holiday season.

These cute Christmas-exclusives not only taste delicious, but are fun to look at. Santa is sat in a chimney ready to deliver the presents while the snowman is sat next to a Christmas tree looking warm with its scarf.

Both of these are limited in stock and won't be available ever again after they sell out, so don't miss out.

Information

ATELIER Christmas Showpieces

Running: December 11, 2019 – December 25, 2019

Price: ¥1,500 Each (Before Tax) *Takeout only

Available: ATELIER de GODIVA Daimaru Kyoto (Daimaru Kyoto B1F, 79 Tachiuri Nishimachi, Shimogyo Ward, Kyoto, Kyoto Prefecture)

Opening Hours: 10:00-20:00

GODIVA Japan Official Website: https://www.godiva.co.jp

Furoshiki-Wrapped Matcha and Strawberry Sandwich Biscuits Released at PRESS BUTTER SAND

PRESS BUTTER SAND released two new sandwich biscuit products on December 13. PRESS BUTTER SAND Kyoto Station will release the Tsutsumi Uji Matcha and PRESS BUTTER SAND Hakata Station the Tsutsumi Amaou Strawberry. Both are limited in stock.

Both boxes of these delicious treats contain five of the store's famous "PRESS BUTTER SAND" sandwich biscuits, and they come gift-wrapped in an original furoshikiーa type of Japanese wrapping cloth. The appearance of both products in their packaging maintain an artisanal aesthetic and capture the vibe of their respective cities.

The furoshiki were designed by Yumiko Kakizaki (BAKE Inc.), the creative director at PRESS BUTTER SAND, and several creators active around Kyoto and Fukuoka. Each design was made to represent the characteristics of Kyoto and Hakata.

Also available is the Tsutsumi Black, a set each of 5 original and black flavoured butter biscuit sandwiches.

PRESS BUTTER SAND boasts over 2.5 million sales a year on average. If you've get to try their scrumptious biscuit sandwiches then don't pass up the opportunity to try these new flavours.

Information

Tsutsumi Uji Matcha (Includes 5 Uji Matcha and 5 Original Biscuit Sandwiches)

Price: ¥3,240

Available: PRESS BUTTER SAND Kyoto Station

Running: December 13, 2019 until stock sells out

Tsutsumi Amaou Strawberry (Includes 5 Amaou Strawberry and 5 Original Biscuit Sandwiches)

Price: ¥3,240

Available: PRESS BUTTER SAND Hakata Station

Running: December 13, 2019 until stock sells out

Official Website: https://buttersand.com

Hilton Tokyo Bay Tips Over the Toy Box to Reveal Playful Pink Strawberry Dessert Buffet

Tokyo Disney Resort® 's official hotel Hilton Tokyo Bay will be serving up a strawberry dessert buffet called Strawberry Playroom from December 28 at lounge O. The buffet will be served exclusively on weekends and national holidays excluding New Year's Day.

Hilton Tokyo Bay has tipped over the toy box, creating a dessert buffet which is like the playroom of every little girl's dreams. The interior decor of the buffet room is a nostalgic throwback to the Vaporwave days of dial-up internet, bulky CRT TVs and retro games, however, everything is transformed with a pop pink filter. 

If you think the decor is playful, just wait until you see the desserts. Slice into the heart-shaped Very Berry Cream Cake and a strawberry and heart-shaped chocolate filling will come bursting out like a jack-in-the-box. This is the dessert to go for if you want a slice of fun.

Delving deeper into the world of toys, you will discover the Berry Brownie Toys dessert, which is garnished with chocolate robot toys. 

The MELTY or NOT Mousse Cake is the only time you won't feel disappointed seeing a dropped ice cream. This vanilla mousse cake is topped with a "melting ice cream" and is freshly baked from the fantasy oven.

When you need a break from all the sugar intake or are looking for a late lunch, make sure to check out the 15 savoury dishes. Some savoury dishes include the Infinite Coleslaw Tower, which is made of purple cabbage and crunchy fried noodles, the Peachy Pink Beetroot Scattered Sushi (Chirashizushi) which is made from purple sushi rice and the Macaroni Gratin Treasure Hunt which challenges you to find the macaroni with a unique shape. 

All together, the buffet includes approximately 40 varieties of fun savoury mains and desserts for you to enjoy and are bound to get lots of likes on your Instagram. 

Information

Strawberry Dessert Buffet: Strawberry Playroom

Location: Hilton Tokyo Bay Lobby "Lounge O"

(1-8 Maihama, Urayasu, Chiba)

Running: December 28, 2019 – April 12, 2020

*Open only on weekends and national holidays. Closed on New Year's Day.

Opening Hours: 3:00 ー 15:00/ 15:30 ー 17:30 (Two sessions per day, each runs for two hours each)

Price**: Adult: ¥3,100, 4 – 8 y/o: ¥1,200, 9 -12 y/o: ¥1,800

*Drinks bar access included (Approx. 15 drinks)

** Prices Before Tax and Service Charge

Reservation Tel:  047-355-5000 (Restaurant Extension Number)

 

Website:  https://www.hiltontokyobay.jp/plans/restaurants/sweets/lounge_1912
RELATED ENTRIES
Akiyoshido Cave in Yamaguchi to be Illuminated for Christmas & Valentine Theater Event

The Mine City Tourism Association has announced a Christmas & Valentine's Day event at Akiyoshido Cave, one of the largest limestone caves in Japan. The event will see the natural wonder illuminated by a number of colorful lights. The Christmas event will run from December 21 to 25, 2022, while the Valentine's Day event will run from February 10 to 14, 2023.

Akiyoshido Cave is one of Yamaguchi Prefecture's most popular tourist attractions. The interior will be decorated with colorful lights and unique soundscapes, creating a once-in-a-lifetime setting for visitors. These illuminations and sounds were directed by world-renowned lighting designer Motoko Ishii, known for her work on Tokyo Tower and the Akashi-Kaikyo Bridge.

Information

Christmas & Valentine Theater ~ Akiyoshido Cave 'Fantasy of Light and Echoes'

Dates:
Christmas Theater: December 21 – December 25, 2022
Valentine Theater: February 10 – February 14, 2023
Times: (1) 10:00-11:00 (2) 12:00-13:00 (3) 14:00-15:00
3 events per day

Venue:
Akiyoshido Cave, Shuhocho Akiyoshi, Mine, Yamaguchi

Tickets/Details:  https://karusuto.com/event/christmas-valentine-theater-2022/

Godiva Japan Launches Animal Crossing: New Horizons Valentine's Day Collection

Godiva Japan has announced an exclusive collaboration with Animal Crossing: New Horizons for Valentine's Day 2023! Products in the collection will be available in limited quantities and for a limited time starting January 6, 2023 at Godiva stores nationwide, Godiva Online, the Godiva cafe, and convenience stores nationwide.

 

Fans of chocolate and this beloved Nintendo Switch title can find unique assortments of tasty treats decorated with images of different characters and logos from the Nintendo Switch game. Certain bundles also come with an original pouch, and some assortments are only available at certain locations or at convenience stores nationwide. A total of six items will be available.

 

These products will also be sold in an original collaboration-only box depicting Godiva's 2023 Valentine's Day collection theme, a merry-go-round, and characters from the game.

~Godiva meets Animal Crossing~

Heart

Leaf Symbol

Chocolate with Game Logo

Tom Nook

Timmy and Tommy

Isabelle

Dom

Marshall

Rosie

Godiva meets Animal Crossing Assortment (6 pieces)

Godiva meets Animal Crossing Assortment (6 pieces) with Original Pouch

Godiva meets Animal Crossing Assortment (9 pieces)

Godiva meets Animal Crossing Assortment (9 pieces) (Events Only)

Tom Nook

Isabelle

Timmy & Tommy

Chocolate with Game Logo

Godiva meets Animal Crossing Assortment (4 Pieces) *Convenience Store Exclusive

Godiva meets Animal Crossing G Chocolate Assortment & Tin (7 pieces)

©2020 Nintendo

Information

Godiva meets Animal Crossing

Release Date: January 6, 2023

Where to Buy: Godiva stores nationwide, Godiva Online Shop, Godiva Cafe, Convenience Stores nationwide

*Limited quantities available

Official Site: https://www.godiva.co.jp/

Touken Ranbu ONLINE Inspires Original Chocolate Candies

Orders are now open for some tasty chocolates inspired by the many handsome characters from Touken Ranbu ONLINE! These sweets come in decorative tins, and while they can be ordered now from Premium Bandai, they will also be available in supermarkets and other shops starting December 26, 2022.

Chocolate Tins / Touken Ranbu ONLINE

These tins feature many popular characters, and customers can choose from Yamanbagiri Chogi, Nankaitarou Chouson & Hizen Tadahiro, Suishinshi Masahide & Minamoto Kiyomaro, Kokindenjunotachi & Jizou Yukihira, or Ichimonji Norimune. These gorgeous tins contain three types of chocolate: rolled chocolate, fan-shaped chocolate printed with the swordsman's crest and motif, and cherry-blossomed-shaped strawberry chocolate.

Assorted Chocolate Tin / Touken Ranbu ONLINE

These assorted chocolate tins are available in four designs. The first depicts Mikazuki Munechika, Kogitsunemaru, Ishikirimaru, Iwatooshi, and Imanotsurugi. The second features Kashuu Kiyomitsu and Yamatonokami Yasusada, while the third depicts Taikogane Sadamune, Shokudaikiri Mitsutada, Ookurikara, and Kuninaga Tsurumaru. The fourth shows Higekiri and Hizamaru. The chocolates in each tin are inspired by these characters, and these would make perfect gifts for fans of the mobile and online game.

Variety Chocolate Tin / Touken Ranbu ONLINE

Those who can't choose a favorite character will want to snag one of these assorted tins, filled with familiar faces from the series. Grabbing all three will net you all 101 swordsmen!

(C)2015 EXNOA LLC/NITRO PLUS

Information

Chocolate Tins / Touken Ranbu ONLINE

Price: ¥972 each (Tax Included, Shipping and Handling Not Included)

5 varieties total

Cafe 'Junkissa Bread & Espresso' to Start Chocolate Fair

Specialty cafe chain 'Bread, Espresso &' will begin selling special items as a part of its chocolate fair at the Harajuku location, 'Junkissa Bread, Espresso &' starting June 1!

Many of the existing items on the shop's menu will be available in chocolate versions. The Chocolate Mint French Toast is chilled and perfect for summer, drizzled with chocolate cream and mint sauce. Additional mint can be added to your heart's content!

The mint cocoa (pictured top right) features blended mint cream on top with cocoa on the bottom. The two halves blend effortlessly as the top warms and the bottom cools.

Come enjoy these chocolate treats during the warm summer months!

Information

Bread, Espresso &

Address: 6-25-5 Jingumae, Shibuya-ku, Tokyo
Hours: 8:00-18:00 (Last order at 7:30)
Open Every Day
Homepage: http://www.bread-espresso.jp/

Meiji Milk Chocolate Celebrates 95th Anniversary with Laforet Harajuku Collaboration Project

From March 12 until April 3, chocolate lovers will want to visit Laforet Harajuku! 30 different stores are celebrating the 95th anniversary of Meiji Milk Chocolate with over 80 new pieces of collaborative apparel, toys, and snacks.

Collaboration Items at a Glance

Laforet Staff in Unique Collaboration Outfits

Wind and Sea Pop-up Shop

Laforet Harajuku continues to be a place to discover local fashion and culture. Meiji spearheaded this collaboration after realizing the potential to create new and exciting pieces for fashionable chocolate lovers to enjoy! A wide range of products from clothing to chocolate block-shaped home goods are available now, along with Meiji White Chocolate and Meiji Black Chocolate items!





A Wind and Sea pop-up shop will open for the first time at Laforet Harajuku during the event and will also be selling chocolate-themed items. Fashion model and YouTuber Noah Sato will also be featured in event ads as a Meiji Chocolate ambassador! Those purchasing collaboration items will receive a special Meiji Chocolate bar in unique packaging while supplies last.

Godiva Cafe Launches Limited Edition Valentine's Day Sweets

As part of the 'Chocolate Me' event, Godiva Cafe is now offering a variety of Valentine's Day items until March 15, 2022. The first 300 customers to spend ¥2,000 yen or more (including tax) during the event period will receive an original mini tote bag as a gift!

Godiva White Chocolate Strawberry Maritozzo

Godiva Chocolate Strawberry (White/Dark)

Chocolate Fondant

Whole Fruit Cacao Hot Chocolat (Valentine's Version)

Godiva Cafe Limited Edition Valentine's Item

Alto Luna / Antonieta Maragogype Coffee Beans (Original Bottle Designs)

In addition to last year's popular chocolate strawberries, this year's chocolate fondant chocolate will only be available for Valentine's Day. The whole fruit cacao hot chocolate, currently available as a seasonal beverage, will feature a special heart topping, and two types of bottled coffee beans will be on sale! 

Which item would you want to share with your sweetheart?

Shaun the Sheep Cafe Unveils New Valentine's Day Menu, Cooking Workshop

The British claymation series Shaun the Sheep is celebrating its 15th anniversary in 2022. With Valentine's Day almost here, the Shaun the Sheep Cafe in Tokyo will be offering a selection of limited-time Valentine's treats perfect for enjoying with your sweetheart. 

Baby Shaun's Chocolate Cake & Drink Set

Penne with Cream Sauce & French Toast

Shaun's Crazy Waffle & Banana Milk

Workshop

New Goods

Valentine's Recipe

How to Make a Shaun the Sheep Brownie Bar

How to Make a Large Shaun Cocoa Roll Cake

Located in Kichijoji PARCO, the Shaun the Sheep Cafe with Sunday Brunch is a permanent location initially opened to celebrate the 10th anniversary of the series.

 

The cafe offers plates inspired by Shaun's world travels and seasonal offerings. Each month, the cafe hosts a sweets workshop to teach fans how to create Shaun-inspired goodies! These events are a blast with family and friends, and the February workshop will be teaching how to make Valentine's cookies.

SHAUN THE SHEEP AND SHAUN'S IMAGE
ARE ™ AARDMAN ANIMATIONS LTD. 2022

Gelato Pique Cafe Now Serving Valentine's Day Chocolate Sweets

From January 19 until February 15, gelato pique cafe is selling four chocolate-based treats for Valentine's Day! The theme of this new menu is 'Melt,' and guests are asked to enjoy the richness of melting chocolate during this sweet season.

 Fondant Chocolat Crepe (Dine-in: ¥980 / Take-out: ¥970)

This crepe is topped with chocolate fondant that melts into a warm chocolate sauce inside. The chocolate whipped cream is combined with Royal Bourbon gelato, accented with blackberry and black currant sauce, and a bit of crunchiness from the cookie bits.

Chocolate Crepe (Dine-in: ¥980 / Take-out: ¥970)

This mouth-watering crepe includes plenty of whipped cream and a luxurious fresh chocolate sauce topping. Inside, dark chocolate gelato is mixed with cocoa-flavored chocolate whipped cream. 

Hot Chocolate Chai (Dine-in: ¥640 / Take-out: ¥630)

This hot chocolate is a variation of the popular chai beverage. White chocolate is combined with Assam tea leaves, cinnamon, cardamom, ginger, and cloves for that perfect chai flavor. The sweetness of the hot chocolate is enhanced by the rich spices, giving it a more mature flavor!

Hot Dark Chocolate (Dine-in: ¥640 / Take-out: ¥630)

Extra dark chocolate is only enhanced with a roasted flavor creating a less sweet hot chocolate beverage. Available toppings are less sweet whipped cream, milk chocolate, and chocolate sauce.

Mister Donut Releases Valentine's Day Donuts in Collaboration with Belgian Patisserie Wittamer

Mister Donut has unveiled three new donuts as part of the 'misdo meets Wittamer Heart Donut Collection!' These will be available nationwide for a limited time only and were developed alongside the royal Belgian patisserie brand Wittamer. 

Rouge Heart

Noir Heart

Blanche Heart

 

These heart-shaped treats are a new take on Wittamer's popular Coeur Lait donuts including crunchy pralines. The Rouge Heart donut is made with dough that will remind guests of a Belgian waffle. The Noir Heart contains macadamia nuts and almonds, and the Blanche Heart is accented with blueberry jam. 

Which do you think looks the tastiest?

Online Shop 'Cake with' Begins Selling Limited Edition Valentine's Day Cakes

Online cake site 'Cake with' is now accepting orders for two limited edition Valentine's Day cakes until February 14, 2022. Which of these gorgeous sweets will best convey your love to that special someone?

Cake with "Valentine Heart Red"

Cake with "Valentine Heart Black"

Information

Cake with Valentine's Day

Order: https://cakewith.jp/

Available to Order until February 14, 2022

JACK IN THE DONUTS to Release Limited-Edition Valentine's Day Sweets

JACK IN THE DONUTS has released a collection of cute sweets as Valentine's Day exclusives, including special European donuts and a very creative Teddy Bear donut. 

Kuma3da-pon

European Donut Series

Be sure to grab one of these sweet teddy bear donuts to give to the person you love. This collection features a variety of chocolate flavors and is sure to fill both your heart and your stomach!

Information

JACK IN THE DONUTS 

Sanrio Puroland to Stream VIVA LA VALENTINE for the Second Year

Sanrio Puroland's online performance VIVA LA VALENTINE was first aired in February 2021. The event trended on Twitter and was incredibly popular, with many celebrities also speaking up about how much they loved the show. Due to popular demand, the event will be restreamed from February 5 to February 14 on the ZA streaming platform. Fans can watch the performance as many times as they like from the end of the performance until 20:00 the next day.



In addition, a screening will also be held at Sanrio Puroland on February 13. Archived footage from last year's VIVA LA VALENTINE will be screened, as well as a live performance featuring characters performing to original music composed by Sayonara Ponytail, ZoZhit (Dos Monos), Kroi, and Tomggg. There will also be a grand send-off by characters and actors in VIVA LA VALENTINE costumes, so don't miss taking some great photos!

© 2022 SANRIO CO., LTD. TOKYO, JAPAN  著作 株式会社サンリオ

Information

VIVA LA VALENTINE Stream

Available: February 5 – February 14, 2022
Runtime: Around 50 minutes
Streaming Platform: ZA
Contents: A rerun of last year's VIVA LA VALENTINE Play

VIVA LA VALENTINE Screening (with Show)

Date: February 13, 2022
<Part 1> Doors Open 14:00 / Show Starts 14:30
<Part 2> Doors Open 16:30 / Show Starts 17:00
Address: Sanrio Puroland 1F Fairyland Theater
Length: Around 70 minutes

Special Website: https://www.puroland.jp/viva_la_valentine/