We Interviewed The Creators Behind Sanrio's Popular Enjoy Idol Series
Are you aware of Sanrio's "Enjoy Idol Series"? For idol fans, it's an essential part of your concert trip for the ultimate experience.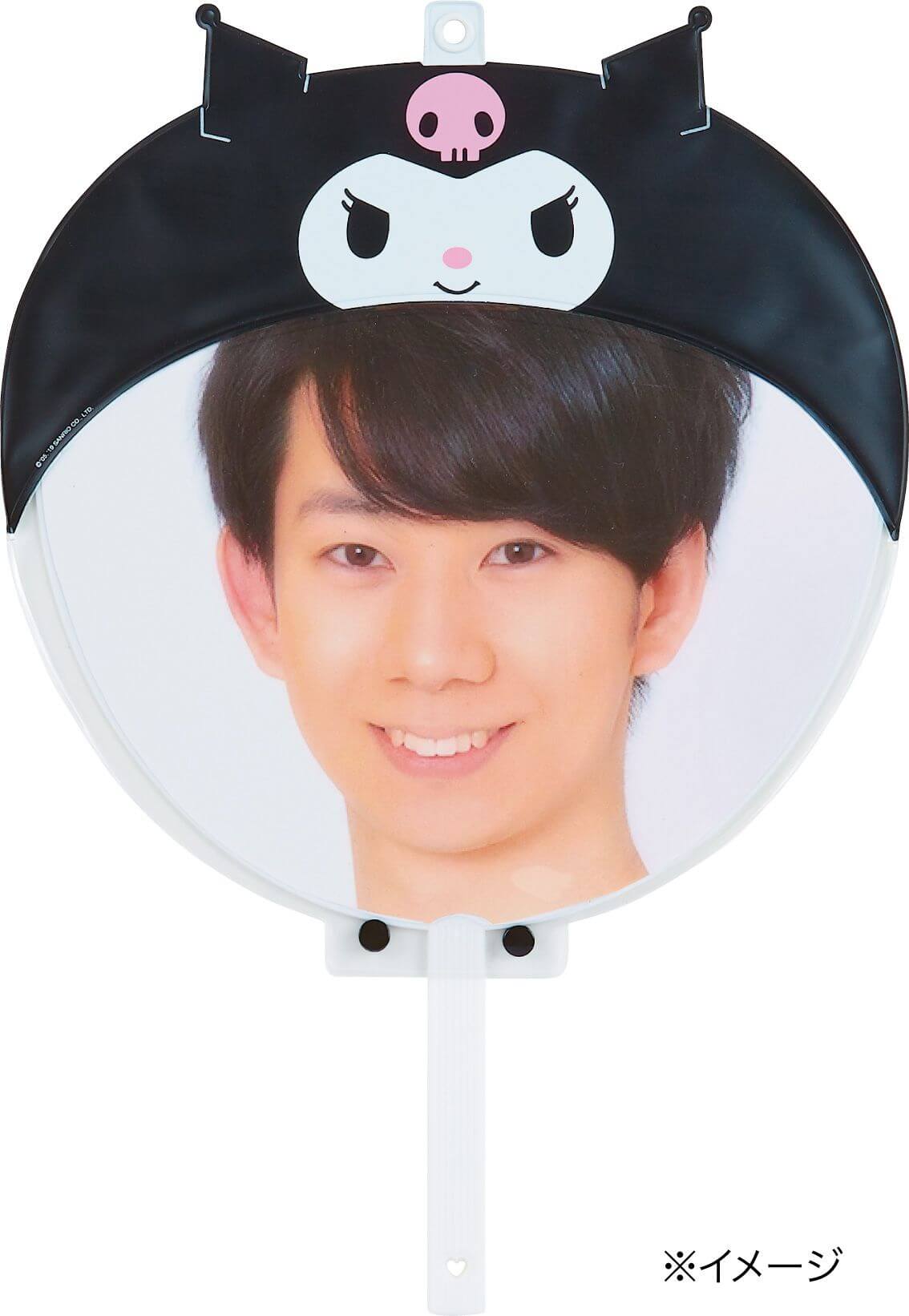 Uchiwa Fan Case (10 Varieties): ¥880 (After Tax)
A cute case to protect your precious uchiwa fan from damage. You can even stick it on your wall!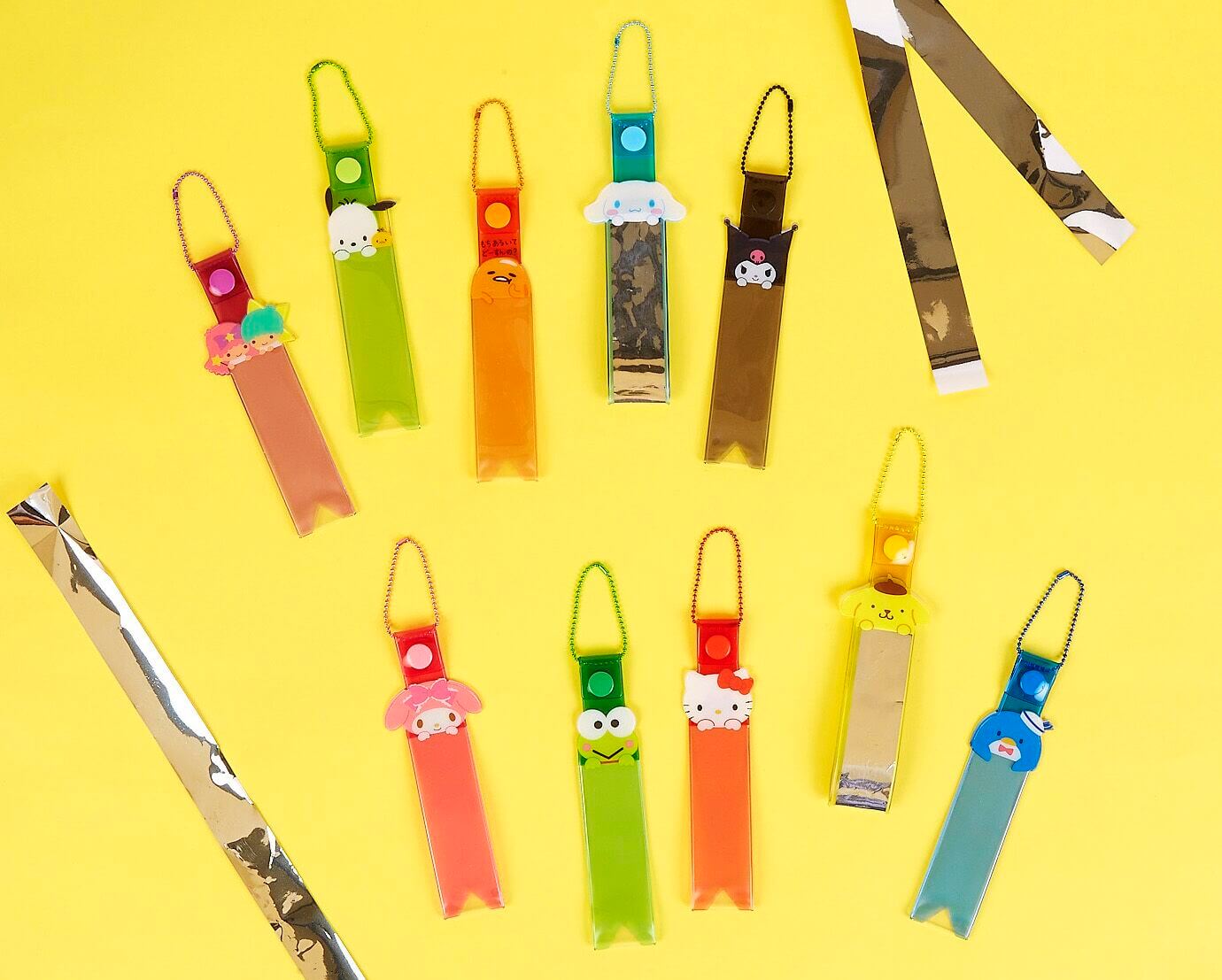 Concert Confetti Storage Keyring (10 Varieties): ¥550 Each (After Tax)
Want to keep living the memory of confetti bursting out from the sky at that concert? Store one in this keyring!
Idol uchiwa fans. If you're in Japan, you'll have definitely seen these around – a round fan bearing a large picture of an artist or idol in the centre. From cute Sanrio-themed items to decorate your idol concert merchandise to even a keyring that preserves concert confetti, Sanrio's Enjoy Idol Series is full of must-have items for concert-going idol fans. However, there seems to be no other secondary use of these items that cater to the non-concert-goer. What a niche market.
Fan Memory Notebook: ¥550 Each (After Tax)
This is an easy way to keep your notes on activities you do to support your idols.
Just how much do idol fans love these items? After conducting research among friends with over 10-years of experience as an obsessive idol fan, it seems that these are more popular than one may think. A quick visit to Sanrio's official website revealed that the series is so popular that many items sell out quickly.
Despite trying to reach out to what might seem a small, niche market, these items seem to be in high demand among idol fans. Just what kind of person came up with such an idea? Curious to find out, we met up with the Enjoy Idol Series project planners for an interview.
Q1: It's a pleasure to have this interview. We at MOSHI MOSHI NIPPON love Sanrio so much that it's not often we go long without releasing some kind of news about you. One of the most fascinating Sanrio merchandise series has to be the Enjoy Idol Series for its high demand in such a niche area. Our first question is: From what idea or initial thought was this series born?
Project Planner: The Enjoy Idol Series is managed by me and one other person. Both of us are avid idol fans. We noticed not only lots of fans at concerts using Sanrio merchandise, but also many idol fans on social media using Sanrio characters as profile pictures and as stickers on their photos online. For quite a few years now there's been a connection forming between idol fans and Sanrio characters in several ways.
We also noticed that although merchandise aimed at idol fans is steadily increasing, there still wasn't anything cute for them out there. That's why we started designing this series. The other project leader and I often go to concerts and watch DVDs together. That's when the ideas started flowing. Eventually, we were packing our project full of ideas and it was really fun. We thought of how we could combine Sanrio characters and idol fans to create something incredibly cute
Q2: It's wonderful to hear that you are both idol fans yourselves. When you first had these initial ideas running through your head, were you confident that your series would become popular among other idol fans?
Planner: We were very excited to have created this cute Enjoy Idol series and we were certain that other fans would feel the same. And the reaction to it exceeded my expectations. Even people who don't usually go to Sanrio shops buy something from the series because of their love of Sanrio which made us really happy to see.
Q3: Having seen all the sold out products on your website, it's clear that many people appreciate what you've done. How does it feel to see idol fans using merchandise that you designed?
Project Planner: We're just so grateful to see people using items from the Enjoy Idol Series to make the most of their concert experience. A lot of people buying products from the series buy specific items based on strongly associating their idol with a certain Sanrio character. We've now learned the reasons behind the choices fans make when purchasing from the series which has been a real eye-opener.
Silver Decoration Case (7 Varieties): ¥660 (After Tax)
A box to save your concert confetti

Q4: After some research among a number of friends who are idol fans, it seems that your series is a big hit. Many are excited to see what you are going to knock up next. Do you have any new ideas you're warming up to?
Project Planner: I cannot reveal any specific details just yet. We are still in the process of creating our next items. You can expect them to maintain Sanrio's cute style. As an idol fan myself, I am committed to making sure these items are of high functionality for our users.
Q5: I'm sure that many people will be over the moon to hear that you are developing yet more cute items. Do you have any final words you would like to say to idol fans and Sanrio fans?
Project Planner: I would like to thank you all for your continuous support for the Enjoy Idol Series. We are delighted to improve your lifestyle and we hope that these items help you make the most of your experience as an idol fan.
When you have something to adore, you lead a fulfilling life. I've heard the stories of friends who are idol fans and can feel their excitement towards the release of our new products. I'm so happy to think that these products are improving the quality of life for many idol fans.
Diary Stickers (7 Varieties): ¥275 (After Tax)
 These stickers are full of words perfect for idol fans but of no use to those who are not idol fans!
Just seeing some of the specific words and phrases written on the idol stickers shows just how much the project planners understand and feel close to other idol fans. It is enough to warm your heart.
The two project planners put their love of idol fans at the centre of their design proposal, creating a merchandise series just for them. Each item connects idol fans through their mutual love. This eye-opening interview showed the true strength of shared passion when catering to a niche market.
Despite not being an idol fan themselves, our interviewer could feel the love poured into each item in the series. What item will be released next? We'll be just as excited as the idol fans are, waiting eagerly for its release.
ⓒ'76, '88, '89, '96, '01, '05, '19 SANRIO. 著作(株)サンリオ
RELATED ENTRIES
Sanrio Puroland Announces Valentine's Day Themed Online Event

Sanrio Puroland is teaming up with Gekidan No Meets to host a 5-day Valentine's day themed event titled 'VIVA LA VALENTINE' on February 6, 7, 11, 13, and 14. The event comes in response to COVID-19 so people can enjoy the park from the comfort of their own homes.

Join fan favourites Hello Kitty, Dear Daniel, Pompompurin, Cinnamoroll, and Kuromi who will live stream from Puroland after the park closes for a special song and dance show. Music will be performed by a multi-genre line-up consisting of Sayonara Ponytail, Zo Zhit (Dos Monos), Kroi, and Tomggg.

VIVA LA VALENTINE

The event will have its own story that follows Hello Kitty pouring her heart and soul into a new show 'VIVA LA VALENTINE' with Dear Daniel as the first on the list. Everyone is in high spirits as they prepare for the big day. However, the show's sponsor Bias Seika, makes an abrupt and ruthless change to the show just three days before it's scheduled to be performed. What will they do, and what will become of Valentine's Day?

See the Sanrio characters preparing the show


Sanrio Puroland's official Twitter account has been posting live streams of the Sanrio characters working hard in preparation for the show since December 22 with the hashtag #ビバラバ. The first clip was viewed over 50,000 times with supportive comments flying in from fans.

More clips and photos will continue to roll out starting on January 14, 2021 too, so be sure to give them a follow.
Sanrio Puroland Official Twitter: https://twitter.com/purolandjp

Puroland set to come to life on February 6, 2021 after turning the lights out on December 22



Dear Daniel and the gang in a merry circle at Furry Tale Theater on December 28



Dear Daniel exchanging business cards on January 6



Hello Kitty putting up posters on January 12


Catch all the fun at Sanrio Puroland live with a special 50-minute show online.

©1976, 1996, 1999, 2001, 2005, 2020 SANRIO CO., LTD.

Go Strawberry Picking With Hello Kitty and Friends at Sanrio Puroland

Sanrio Puroland opened a special new event last Friday (January 8) called "Sweets Puro" which is themed on strawberry picking.

Characters greet guests in their strawberry-designed outfits

Guests participate in an augmented reality strawberry stamp rally

New character videos play at the illuminations

A strawberry-packed dessert menu

Limited-edition merch

Tables in the food court receive makeovers

Guests can look forward to seeing sparkly new pink-coloured illuminations, snapping sweet photos at the entrance photo spot, getting involved in the AR strawberry picking stamp rally using their smartphones, and more. They can also pay to spend one minute with the park characters who will be dressed in their strawberry outfits, and if they arrive 30 minutes before the first floor character food court opens, they can get the limited-offer morning breakfast "Strawberry Morning Bread Set." The park will even be serving up seasonal alcoholic drinks like the Sweets Puro Strawberry Peach Sour.

The first day of the event saw the characters come out to greet guests in their adorable strawberry and dessert themed costumes. This was followed by a new illumination show, Puro Sweets Party, which took place at Puro Village, and My Melody sang and danced to the music against the bright and beautiful lights. Guests enjoyed a selection of limited-time food like the Pompompurin's Croissant Doughnut Strawberry Sandwich and Hello Kitty's Sweet Strawberry Milk.

©1976, 2009 SANRIO CO., LTD. ©1975, 1976, 1990, 1996, 2001, 2004, 2005, 2010, 2017, 2021 SANRIO CO., LTD.

Information

Sanrio Puroland – "Sweet Puro"
Running: January 8, 2021 – March 9, 2021
Official Website: https://www.puroland.jp

Tomica x Sanrio Adds Badtz-Maru and Pekkle to Toy Car Series

Takara Tomy is set to release its second batch of toy cars in collaboration with Sanrio as part of its Tomica mini car series on January 16, 2021. The collection will be released at toy stores, department stores, Tomica branches, Takara Tomy's online site, select Sanrio stores, Sanrio's official website, and elsewhere in Japan.

Dream Tomica Sanrio Characters Collection 2 (6 Designs) | ¥770 Each (Before Tax)


Hello Kitty


Cinnamoroll


Pochacco

Pompompurin

Badtz-Maru

Pekkle

The first collection was released last year as a collaboration between Tomica, which has turned 50 years old, and Sanrio Characters, which has been on shelves since the 1980's. There are six cars in the collection which can be bought individually or as a set for ¥4,200 (before tax).

Get your hands on these cute cars inspired by the Sanrio characters.

© '76, '89, '90, '93, '96, '01, '21 SANRIO CO., LTD.

© TOMY

Interview: NiziU Discuss Their Favourite Moments in Life For Coca-Cola Japan's New Commercial

Coca-Cola Japan launched a new campaign and commercial on Monday (January 4) titled "Kono Shunkan ga, Watashi," which roughly translates to "This Moment is Me."

2020 saw tremendous changes in the lives of people around the world as a result of the COVID-19 pandemic, and those changes continue to this day. Coca-Cola Japan's new campaign aims to spread positivity with a mindset that says enjoy yourself to the fullest is the right way to go precisely because things have changed. It's a campaign for loving those moments spent with friends and family in whatever way possible.

The new commercial posted alongside the campaign's launch features the members of the Japanese girl group NiziU singing and dancing to the tune of their new song Take a picture. The commercial shoot took place over the course of two days, and it's reported that the set had a bright and positive atmosphere as NiziU greeted staff with smiles, vim, and vigour. On the first day they shot the dance and rooftop scenes, while the second day took them to the house studio. There's also a scene of the group giving MAYUKA's a surprise birthday celebration her birthday had fallen on the day before.

Coca-Cola Japan has released limited-edition NiziU bottles as part of the collaboration which feature a QR code on them. When scanned, you can access the campaign website to sign up to win access to a special Coca-Cola x NiziU online event, a NiziU-original QUO card worth ¥1,000, and points for the LINE app. A total of 200,000 lucky winners will be chosen. There are 10 bottle designs to look out for.

Additionally, a special 35-meter long ad poster is being displayed for a limited time at Shinjuku Station connecting to the East and West exits.

NiziU Interview

―Your names are written on the limited-edition NiziU Coca-Cola bottles. How do you feel about them lining the shelves in stores?

MAKO:
I am super happy that our names get to go on the Coca-Cola labels! I hope lots of people see them and are filled with positive vibes.

RIKU:
It doesn't feel real to me yet either that our names are featuring on Coca-Cola products. When they hit the stores I kind of want to go searching for my own name <laughs>.

RIMA:
There's a QR code on the bottles when might land you something if you scan it with your phone, so be on the lookout and try finding my bottle.

―When do you find yourselves wanting to drink Coca-Cola?

RIO:
I'm personally a huge foodie, so I like to drink it together with people when everyone's eating their favourite food.

MAYA:
I definitely find myself wanting some when I need a kick of positivity or need some energy.

―Please give your thoughts on the commercial shoot.

MAYUKA:
When went on the rooftop with everyone, and when we were practicing the dances, we were drinking Coca-Cola. I feel the shoot had a completely different air to it than our usual practice. Everyone said "Cheers!" [with their drinks] on the roof. It was a lot of fun.

AYAKA:
It was hard to convey the appeal of Coca-Cola [during the shoot], so we thought to convey its delicious taste how we would convey the appeal of [NiziU]. We showed ourselves really enjoying its delicious taste.

NINA:
The shoot for this commercial was so much fun, there's so many great bits in it! It looks so tasty watching everyone gulp down their drinks. It was a great time, I like everyone's facial expressions in it. Be sure to check it out.

―Give us each of your thoughts on the "This Moment is Me" campaign and how it relates to yourselves.

MAKO:
I feel the most me thing is when I'm writing in my diary. I write in it at the end of every day, it's my favourite moment.

RIKU:
When I'm eating something. I feel only happiness when eating; I forget all the bad things and can concentrate just by eating something tasty. It's a moment I can be myself.

RIMA:
I really love steady and straightforward work, like puzzles, so when I'm concentrating on one thing I really get in the zone, to the point where I can't hear people even if they call my name. I think that kind of moment is most me.

RIO:
For me, it's when I'm dancing. It's something I've done since I was little, so I think working hard and practicing to improve in that is my most me moment.

MAYA:
The moment which is most me is when I'm cooking. I find it so much fun and love seeing people enjoy the food I cook for them.

MAYUKA:
It would be when I'm playing with my cat. I have two cats at home and can be my true self when playing with them.

AYAKA:
When I'm video calling my mom. We talk about the silliest things and laugh, and that's when I feel most like myself. I love those moments the most.

NINA:
The moments I love the most are when I'm drawing. I don't have to think about anything when I'm drawing and can relax, so they're definitely my favourite.

Information

Coca-Cola "Kono Shunkan ga, Watashi" Campaign
Campaign/Bottle Launch Date: January 4, 2021
Official Website: https://www.cocacola.jp/

Maison de FLEUR x Sanrio Reveal Kawaii Bag Collection For Second Collaboration

Lifestyle brand Maison de FLEUR and Sanrio have announced that preorders for the second collaboration in their "Maison de FLEUR×Sanrio characters" series will launch on Sanrio's online shop on January 8, 2021.

Ribbon Tote Bags (5 Designs) | ¥6,050 Each (Tax Included)

The cute collection combines fancy frills and ribbons with items inspired by My Melody, Cinnamoroll, Kuromi, as well as two new additions for this second collaboration due to fan demand – Pompompurin and Pochacco.

Items include the Ribbon Tote Bag, Ribbon Backpack, Mobile Shoulder Bag, and Tissue Pouch. Pre-orders run in Japan from January 8 to February 7 with shipping to begin in early March. The collection will subsequently go on general sale at Sanrio stores in late May. Further information will be announced by Sanrio at the end of April.

Ribbon Backpacks (3 Designs) | ¥12,100 Each (Tax Included)


Mobile Shoulder Bags (3 Designs) | ¥5,390 (Tax Included)

The collection is inspired by a tea party which is captured in the fancy designs featured on each item with the five characters enjoying themselves a cup of tea each.

Tissue Pouches (3 Designs) | ¥3,630 (Tax Included)


Mascot Charms | ¥2,970 (Tax Included)

The mascot charms will also make a return this collaboration at select Sanrio shops and the company's online store in late May 2021.

Alternate Colour Mascot Charms (5 Designs) | ¥2,970 (Tax Included)

Sanrio fans can also get their hands on another set of mascot charms with different colours. These will be sold exclusively at Maison de FLEUR stores in Japan and their online shop STRIPE CLUB.

ⓒ'76, '89, '96, '01, '05, '20 SANRIO 著作(株)サンリオ

Sanrio Puroland Announces the Park's First Magic Leap Attraction

Sanrio Puroland has announced that its first-ever attraction using Magic Leap 1 technology will open for a limited time from January 15 to February 14 next year.

Magic Leap 1 is a wearable spatial computer that brings the physical and digital worlds together as one. Puroland guests can look forward to an immersive experience together with their favourite characters including Hello Kitty, Cinnamoroll, and more.

Hello Kitty inside the attraction

Cinnamoroll inside the attraction

Free pins for those who participate

Have a go at Hello Kitty's Space Shooting, a digital shooting game which will earn you a free pin depending on the score you get.

Hello Kitty's Space Shooting


Cinnamoroll's Decoration Cafe lets you put up decorations together with Cinnamoroll using an original collection of stamps. Once you've finished decorating, you can take a photo and download it onto your phone.

Original photo frame

Cinnamoroll's Decoration Cafe

If you get to visit Sanrio Puroland in the New Year, be sure to try out the park's new limited-time attraction.

©1976, 1990, 2001, 2005, 2010, 2020 SANRIO CO., LTD. ©2013, 2020 SANRIO CO., LTD. S/D・G

*MAGIC LEAP is a trademark of Magic Leap, Inc.

Sanrio's My Melody, Pompompurin, and Little Twin Stars Keep Your Face Masks Safe

Sanrio released pre-sales of its new Sanrio Characters Mask Bags for face masks via the online shop Asunarosha on Wednesday (December 9).


Following the success of the Hello Kitty and Cinnamoroll face mask bags released in September, all of which sold out, Sanrio is adding new designs into the mix. The bags are washable and allow you to carry your mask around conveniently and hygienically.

My Melody, Pompompurin, Little Twin Stars (Kiki & Lala) | ¥700 Each (Before Tax)

The new designs include the popular characters My Melody, Pompompurin, and Little Twin Stars (Kiki & Lala).


Hello Kitty, Cinnamoroll | ¥700 Each (Before Tax)

Hello Kitty and Cinnamoroll are also making a return so fans can pick from 5 different designs.

Sanrio Puroland is also releasing a cute collection of face mask and mask cases on December 18.

©1976, 1996, 2001, 2020 SANRIO CO., LTD.

Hello Kitty and Dear Daniel Winter Doughnuts to be Served at Floresta

Floresta Nature Doughnuts, a doughnut cafe that hand-makes doughnuts using organic ingredients, is baking up Hello Kitty and Dear Daniel doughnuts this Christmas from December 11 to 25. They will be served in-store at be available to order online in Japan.


Floresta Hello Kitty & Dear Daniel Christmas Doughnuts | ¥450 Each (Before Tax)

Both ring-shaped doughnuts are covered in a chocolate coating with Dear Daniel's made with organic matcha and Hello Kitty's with strawberry powder made from strawberries grown in Japan. The doughnuts are dusted with organic coconut flakes to look like snow and are decorated with the Star of Bethlehem.

These two doughnuts are naturally sweet and are the perfect kawaii treat to indulge in for this year's Christmas in Japan.

©'76,'99,'20 SANRIO APPR.NO.L610318

Sanrio's Little Twin Stars Kiki & Lala Light Up Shinjuku With TWINKLE COLOR CHRISTMAS Illumination Event

Sanrio's beloved character pair Kiki & Lala, also known as the Little Twin Stars, are hosting a special winter event titled "TWINKLE COLOR CHRISTMAS" at Shinjuku Southern Terrace from December 1 to 25, illuminating the area with beautiful Christmas lights, as part of their 45th anniversary.

Kiki & Lala's twinkling Christmas tree magical in the daytime and night time

The towering 4-meter tall Christmas Tree is decorated in countless mirror balls which reflect beautifully both during the day from the sun and at night with Kiki & Lala's illuminations. A special light show is also taking place from 16:30 each day with Christmas songs.


Decorated around the tree are Kiki & Lala neon signs and pastel-coloured adornments.

Those unable to visit Shinjuku this Christmas can access the "TWINKLE COLOR CHRISTMAS AR TREE" digitally This will have Kiki & Lala's Christmas tree appear on your phone when taking photos. You can access it here.

Kiki & Lala treats at the Sanrio Cafe Wagon

Limited time menu

45th Anniversary Items

On weekends, as well as from December 19 up to Christmas Day, a food wagon will make an appearance at the event serving Kiki & Lala food and drink like the pink and fruity Ruby Chocolate Latte and fruit-filled Twinkle Crepe.

©'76,'20 SANRIO 著作(株)サンリオ

Information

Little Twin Stars x Shinjuku Southern Terrace TWINKLE COLOR CHRISTMAS
Running: December 1, 2020 – December 25, 2020
Tree Light-Up Schedule: December 1 = 17:00-24:00 / December 2-24 = 16:30~24:00 / December 25 = 16:30-21:00
Address: 2-2-1 Yoyogi, Shinjuku, Tokyo
Entry: Free
Official Website: https://www.sanrio.co.jp/news/ts-odakyu-twinkle-color-christmas-20201119/

Sanrio's Little Twin Stars Get Themed Cafe in Osaka This Holiday Season

Sanrio's popular characters Kiki & Lala, also known as the Little Twin Stars, are getting their own themed cafe which will open for a limited time at the Fruits Parlor & Bakery Season & Co. in LINKS UMEDA in Osaka From December 3, 2020 to January 24, 2021.

The cafe will serve up a variety of menu items inspired by the Little Twin Stars as well as sell related merchandise. There will also be a photo spot for taking cute pictures, and a special dessert assortment made in collaboration with the popular artist Dream Ami which includes a parfait made up of their favourite sweet treats.

Cafe Menu (Prices Listed Before Tax)

Menu ①: December 3, 2020 – December 25, 2020


Little Twin Stars Shortcake (X'mas Ver.) | ¥1,900


Kiki's Shooting Star Sweets Parfait | ¥1,600

Menu ②: December 26, 2020 – January 24, 2021


Little Twin Stars Tart | ¥1,700


Lala's Shooting Stat Sweets Parfait | ¥1,700

Drinks Menu (Excerpt) (Available Throughout Collaboration)

Little Twin Stars Strawberry Tea Latte | ¥1,000

Dream Ami's Special Collaborative Menu (Available Throughout Collaboration)

Dream Ami×Little Twin Stars Star Sweets 2020 2,100円

Customers who spend more than ¥1,000 (before tax) on merchandise at the cafe will also receive a free A4 folder. These are available while supplies last.

Dream Ami's collaborative dessert looks both cute and delicious and definitely worthy of being on a Little Twin Stars menu!

Information

Little Twin Stars Collaborative Cafe
Running: December 3, 2020 – January 24, 2021
Location: Fruits Parlor & Bakery Season & Co.
Address: LINKS UMEDA (Floor 1F), 1-1 Ofukacho, Kita-ku, Osaka-shi, Osaka
Opening Hours: 9:30-22:00 (Last Orders 21:30)
TEL: 06-6743-4212

Official Website: https://season-co.shop

Sanrio Puroland Announces the Release of Sanrio Character Face Masks and Cases

Sanrio Puroland has announced the release of a new Sanrio character face mask and case collection on December 18, 2020.


Original Masks & Cases – Regular Sizes (6 Designs) | ¥1,650 Each (Tax Included)

The face masks and face mask cases feature cute designs of Sanrio characters including Dear Daniel, Badtz-Maru, Kuromi, My Sweet Piano, and Mocha.


Original Masks & Cases – Kids Sizes (3 Designs) | ¥1,320 Each (Tax Included)

There are also kids sizes with My Melody, Kuromi, and a character mix designs so parents and children can look cute together.

Mask Attachments (6 Designs) | ¥1,650 Each (Before Tax)

Sanrio also has a line-up of Hello Kitty, Dear Daniel, My Melody, Kuromi, Pompompurin, and Cinnamoroll attachments for the face masks.

©1976, 2009 SANRIO CO., LTD. ©1976, 1988, 1989, 1990, 1993, 1996, 2001, 2005, 2020 SANRIO CO., LTD.

Sanrio's Little Twin Stars Kiki & Lala to Feature in Special Christmas Event in Shinjuku

Sanrio's beloved character pair Kiki & Lala, also known as the Little Twin Stars, will feature as part of a special winter event titled "TWINKLE COLOR CHRISTMAS" in collaboration with Odakyu Electric Railway. It will take place at Shinjuku Southern Terrace from December 1 to 25, illuminating the area with beautiful Christmas lights.

Kiki & Lala's Twinkling Christmas Tree

Shinjuku Southern Terrace will dazzle visitors with its pink and blue illuminations as will its towering 4-meter tall Christmas Tree which was made in collaboration with the installation art group MIRRORBOWLER. It will be decorated in countless mirror balls which will reflect beautifully both during the day from the sun and at night with Kiki & Lala's illuminations. The tree will also be adorned with numerous Christmas decorations like clouds, moons, and stars—all very reminiscent of Sanrio's pastel-coloured pair.

Kiki & Lala Food & Drink

Kiki & Lala Ruby Chocolate Latte ¥400 (Tax Included) | Kiki & lala Twinkle Crepe ¥600 (Tax Included)

On weekends, as well as from December 19 up to Christmas Day, a food wagon will make an appearance at the event serving Kiki & Lala food and drink like the pink and fruity Ruby Chocolate Latte and fruit-filled Twinkle Crepe.

Limited-Edition Design Clip

Customers who spend over ¥2,000 (tax included) at the wagon will get themselves a free limited-edition design clip.

Cafe Wagon Schedule
Running: December 5th-6th, 12th-13th, 19th-25th, 2020
Opening Hours: 10:00-19:00

AR Kiki & Lala Tree

Those unable to visit Shinjuku this Christmas can access the "TWINKLE COLOR CHRISTMAS AR TREE" digitally This will have Kiki & Lala's Christmas tree appear on your phone when taking photos. You can access it here.

©'76,'20 SANRIO  著作(株)サンリオ

Information

Little Twin Stars x Shinjuku Southern Terrace TWINKLE COLOR CHRISTMAS
Running: December 1, 2020 – December 25, 2020
Tree Light-Up Schedule: December 1 = 17:00-24:00 / December 2-24 = 16:30~24:00 / December 25 = 16:30-21:00
Address: 2-2-1 Yoyogi, Shinjuku, Tokyo
Entry: Free
Official Website: https://www.sanrio.co.jp/news/ts-odakyu-twinkle-color-christmas-20201119/