Going to an idol concert? These cute, multipurpose Sanrio goods are a must! ♡
Sanrio, the maker of Hello Kitty, is helping you to support your favourite idols with their new goods series called "Sanrio Character Enjoy Idol Series". This series includes 43 new items which will be launched for sale at Sanrio shops, the Sanrio corner of departments stores, and the Sanrio online shop from Wednesday 15th May.
The new series aims to make it more fun for fans to support their favourite idols! Although the world is already full of idol merchandise, you rarely ever find anything that makes you feel like a cute idol fan! If you're a fan looking for goods to support your favourite idol, you'd definitely want something cute that makes you excited! From this concept, the developer of this series then thought "these kinds of goods would be perfect as Sanrio characters!" and there you have the birth of this series!
Uchiwa fan case ¥864 each (price after tax)
When you receive a photo of your idol's face at a concert and have no idea where to keep it safe, keep it in the case just in case.  When you're a fan wanting to make your own fan to wave in support as your idol sings on stage, this is when the Uchiwa fan case comes in handy! 
If you use this case to store your idol's photo, it looks like they're wearing a character hood! After you arrive home you can also decorate your room with this fan as you can easily hang it up using the small hook hole! The case can easily open and close with the snap button, so you can store multiple fans inside and quickly whip out the one you need in an instant!
Some events may not allow you to bring your fan but even in the worst case scenario you can take photos outside the venue and carry the case around with you or use the case mainly to store photos.
 Tape holder ¥540 each (price after tax) 
You go to the concert of a lifetime and get your paper wristband. You don't want to throw it away…. Now you don't have to! You can walk around with it, decorate your bag with it as a charm, or even decorate your room with it with these wristband tape holders!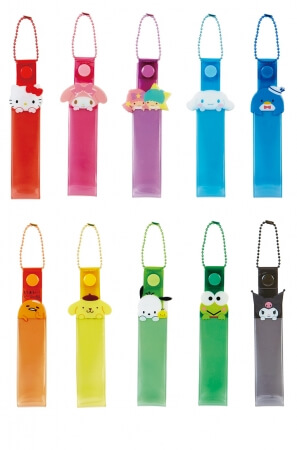 There are 10 different character designs in 10 different colours. You can choose your wristband holder based on the character design or on your idol's main theme colours. Not only is it fun to choose, but they have also been specially made to make it easy to slip the wristband in.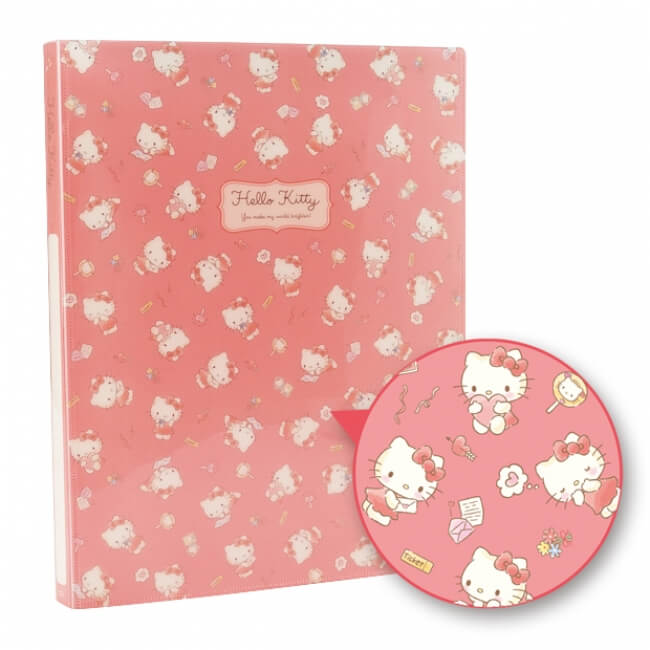 Clear file holder ¥972 each (price after tax)
As you know, concerts sell loads of A4 clear files. Now you can buy as many as you want and store them in a book! The clear file holder contains 20 pockets and each pocket can store one file on the front and one on the back. You can arrange your clear files in any way you like, creating your own collection book! You're not just limited to concert goods either ー feel free to make a collection out of any clear files!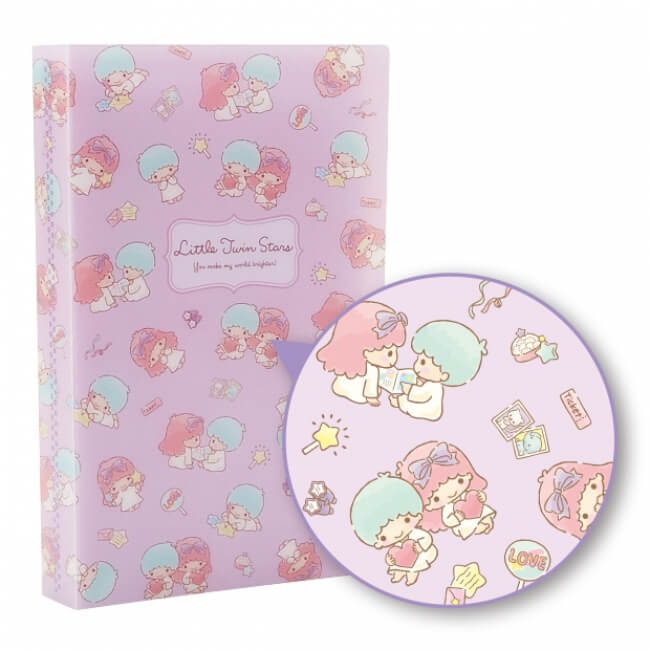 Concert fan file: ¥7516 (price after tax) 
This is the perfect file to store your concert tickets and snippets of reports from fan club magazines.  The pockets are made from non-woven fabrics and are the same colour as the front cover. As there are five different character file themes, we recommend you split this according to the groups/ individuals you are supporting.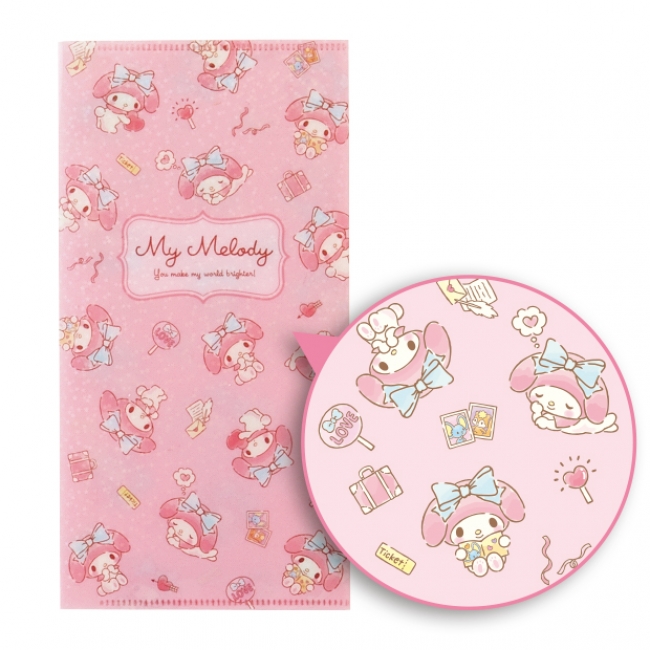 Ticket holder: ¥432 each (price after tax)
There are so many essential things to bring to a concert but nowhere to put them. Thanks to this handy ticket holder which comes with a pocket for your cards, you can safely store your fan club membership certificate, important ID, and all your important event tickets in one place.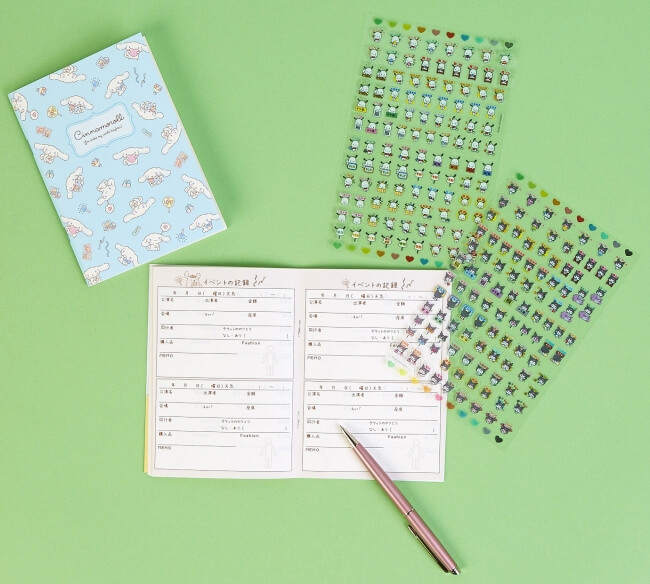 Fan Notebook  ¥540 each
Such a great idea yet nobody has ever thought of it before! This is a notebook which dedicated fans can use to record their fun memories and activities. On special days, you can use it to create an anniversary list, write down information on the idols you support, artist profiles, and record memories of when your idols appeared on TV or in magazines or featured in any sales events! Whether you want to make a job list or keep track of limited ticket sales and event results, you can now keep track of it all with the ticket application history part of the notebook. The notebook has been specially designed so that you can write a range of information easily.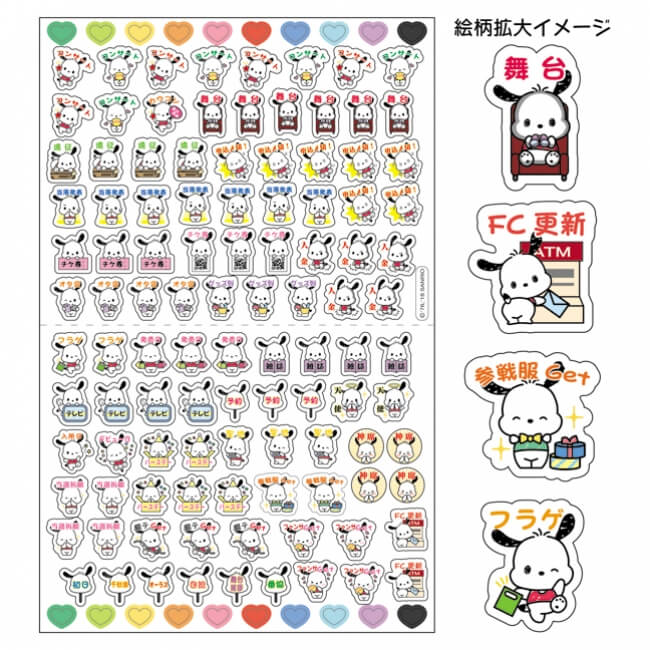 Schedule stickers ¥270 each
In 2018, these schedule stickers became really popular amongst idol fans. They're a great way to enhance the look of your schedule. Now they're back again! The stickers feature the same characters as last year ー the Little Twin Stars, Pochacco and Kuromi. This year, stage-themed stickers, which are perfect for a concert, have also been added to the pack! You can use these in your fan notebook or your schedule to really make the most out of being an idol fan!
Supporting your favourite idols just got more fun thanks to these cute Sanrio goods!
Information
Sanrio Character Enjoy Idol Series
Release:Wednesday 15th May 2019
Available at Sanrio stores, the Sanrio corner of department stores and elsewhere. (Some Sanrio stores/department stores are not included). Also available from the Sanrio online shop:https://shop.sanrio.co.jp/
Rakuten market:https://www.rakuten.co.jp/sanrio/
Yahoo! shopping: https://shopping.geocities.jp/sanrio/
Queries:Customer centre:  ℡03-3779-8148 (Open 10am ー 5pm, closed weekends & national holidays)
RECOMMENDED ENTRIES
Hello Kitty cafe with 45th anniversary menu to open for a limited time at Seibu Ikebukuro!

This year will mark the 45th anniversary for Hello Kitty; one of Sanrio's most popular characters! To celebrate, a Hello Kitty cafe will run from Thursday 25th April ー Sunday 7th July 2019. The cafe will open at Dining Park Ikebukuro, which is on the 8th floor of Seibu Ikebukuro main store, close to the east exit of Ikebukuro station.

The cafe will sell cute desserts that tickle your heart and hearty meals that will satisfy your stomach as well as your heart! This is your chance to enjoy a menu that is overflowing with originality!

Hello Kitty peeping out from taco rice ¥1,690 (price includes tax)

The taco rice dish features Hello Kitty wearing a tiara. She is peeping out from a cup surrounded by lettuce and taco meat. The meal is topped with bright tomato sauce, diced avocado and cheese! Finally, there are some taco chips set into the taco meat. Mix the mince with the Hello Kitty rice to enjoy your meal! Don't forget to look out for the mini apple made from a mini tomato and mint leaf!

Hello Kitty tomato cream pasta  ¥1,590 (price includes tax) 

This is pasta mixed with tomato cream sauce and spread over a plate. It is then topped with cream cheese sauce and garnished with a large piece of bread with Hello Kitty's face on it! Beetroot is used for the colouring. There is also an apple made from mash potato salad. The dish comes as a set accompanied by mushroom soup to make for a filling meal.

Hello Kitty cup trifle ¥1,290 (price includes tax)

Blue curaçao panna cotta, sponge cake, and strawberry sauce with mixed berries make the three layers of the trifle. Whipped cream is spread over the top of the cup and then garnished with a marshmallow Hello Kitty holding a heart made from a strawberry. This is the perfect dessert to celebrate the anniversary!

Hello Kitty tapioca gradation drink ¥890 (price includes tax) 

Enjoy a gradation of tasty colours created by pink strawberry yoghurt, blue curaçao yoghurt and white whipped cream! This cute tapioca drink combines the acidity of the yoghurt with the chewy texture of the tapioca. You also just cannot miss the cafe-limited design on the cup which features the 45th-anniversary celebration of Hello Kitty and other popular characters!

There will also be a range of 45th-anniversary Hello Kitty merchandise available!

This is your chance to enjoy the countless number of goods, foods and drinks that are carefully crafted for maximum Hello Kitty goodness!

©1976, 2019 SANRIO CO., LTD. APPROVAL NO.S585334

Information

Hello Kitty Cafe Ikebukuro

Address: :Gourmet stadium II, Seibu Ikebukuro 8th floor (1-28-1, Minami-Ikebukuro, Toshima, Tokyo

Running: Thurs 25/04 ー Sun 07/07 2019

Opening hours: 11:00 ー 23:00 (Open from 10:30 on Sat, Sun & national holidays)

※Last orders: food: 21:30, drinks:22:00

No regular closing days. Closing days subject to Seibu Ikebukuro closing times.

TEL:03-5949-5675 (dial in number)

Sanrio character cafe official website: https://www.sanrio.co.jp/special/chara-cafe/

Pearl Lady Bubble Tea Collaborates With Sanrio Character Cast

To celebrate their 15th anniversary, Japanese bubble tea shop Pearl Lady is now collaborating with six characters Sanrio characters including Hello Kitty and Pompompurin.

Participating Stores (Above Drinks): Shinjuku Higashi-guchi / Ikebukuro / Harajuku / Shibuya / Machiya / Machida / Omiya / Nagoya Natsuta / Kokura / Nago / Haebar

Pearl Lady is credited as the creator of 'dessert bubble tea' drinks. Their menu has many options from classic milk tea to whipped cream tea, ice cream tea and more.

For this collaboration customers can enjoy drinks inspired by Hello Kitty, My Melody, and Pochacco.

Participating Stores (Above Drinks): SHINJUKU TOHO BLDG / Shinjuku PePe / Akabane / Kamata / Kasai / Shimokitazawa / Kichijoji / Musashi Murayama / Kawagoe / Yokohama Vivre / Kamiooka / Chiba / Funabashi / Nikke Colton Plaza / Shizuoka / Osaka Tsurumi / Kashihara / Kobe South

Sweets Pearl Lady is a sister brand of the shop and offers a rich menu with amazing ingredients. They also have a huge variety of tapioca options in four varieties of their milk teas. They will collaborate with Cinnamoroll, Pompompurin and Tuxedosam.

All six of these drinks come with a seal tag that can be used as a sticker. You can also get your hands on one of twelve possible pin badges.

Sanrio Celebrates Japan's New Reiwa Era With Character Merchandise

To commemorate Japan's new Reiwa era, Sanrio has announced it will sell eleven pieces of exclusive Sanrio character merchandise at Sanrio branches, department stores and their online shop from May 1, 2019.

Sanrio has encouraged everybody to get along through their characters across the Showa and current Heisei eras. They will do the same with their first line of Reiwa merchandise.

The designs feature the word "Reiwa" written in both Roman letters and Japanese kanji and will feature the brand's most popular characters including Hello Kitty, My Melody, Little Twin Stars, Pompompurin, Cinnamoroll, Pochacco, and Badtz-Maru.

Clear File: ¥270 (Tax Included)

Hello Kitty Key Ring: ¥648 (Tax Included)

Items include a tote bag, clear file folder, pin badge, acrylic key rings of each character, and more.

Let's celebrate a happy start to the new era with the Sanrio characters!

 ⓒ1976,1989,1993,1996,2001,2019 SANRIO CO., LTD.
RELATED ENTRIES
Sanrio Puroland Begins Halloween 2020 Event 'PURO HALLOWEEN PARTY'

Sanrio Puroland's Halloween event "PURO HALLOWEEN PARTY" is now on and is set to run up to Halloween Day, with everyone's favourite characters dressed in their spooky attire ready to greet guests, themed food and decorations, Halloween illuminations, and more.

Sanrio characters greet guests in their Halloween costumes

Masquerade Party is the theme of this year's Halloween event at Puroland.

"Miracle Light" Halloween illuminations

Photo Spot

The event welcomes a new illumination show to the beat of Halloween tunes as well as a photo spot that combines cute pastel and stylish dark themes for the Masquerade Party theme.

Meet characters dressed in Masquerade Party outfits

There's also a chance to meet your favourite characters dressed in Masquerade Party attire for one minute by yourself.


There's plenty of pastel and dark inspired food and merchandise too, available both at the park and the Sanrio Puroland Online Shop. The park is also carrying out video calls for visitors who can meet the Sanrio characters online using talkport.

Pastel & Dark food menu

The spooky menu includes the "Hello Kitty & Dear Daniel Dark Masquerade Beef Curry," "Sleepy Pompompurin's Halloween Beef Ramen," and more.

©1976, 2009 SANRIO CO., LTD.  ©1976, 1989, 1993, 1999, 1996, 2001, 2020 SANRIO CO., LTD.

Information

PURO HALLOWEEN PARTY

Running: September 11, 2020 – October 31, 2020

Sanrio Puroland Official Website: https://www.puroland.jp

Sanrio's Cute Face Mask Bags Keep Your Mask Safe With Hello Kitty and Cinnamoroll

Pre-sales for Sanrio's new face mask bags opened on Wednesday (September 9) on Asunarosha's online shop. There are two bag designs, one with Hello Kitty and another with Cinnamoroll.

Hello Kitty Face Mask Bag ¥700 (Before Tax) / Cinnamoroll Face Mask Bag ¥700 (Before Tax)

Now you can store your masks safely and hygienically wherever you go and make it look cute.

The bags are made from TPU plastic and combines the strength of plastic with the lightweightness of silicone, so your mask won't get dusty and even if the bag gets wet or dirty, the face mask stays safe and in tact.

The bags also take on an adorable rainbow colour when the light hits them, adding a bit of fun to the face mask routine.

©1976, 2001, 2020 SANRIO CO., LTD.

My Melody and Kuromi Merchandise to Release in Collaboration With Women's Fashion Magazine bis

In celebration of My Melody's 45th anniversary and Kuromi's 15th anniversary, Sanrio is collaborating with the Japanese women's fashion magazine bis, published by Kobunsha, to release a collection of new products on October 7, 2020. The items will be sold at select Sanrio stores, Sanrio's online shop, and KOBUNSHA SELECT SHOP. Merchandise made in collaboration with The Skips will also be released in early October via The Skips' online shop.

bis is a fashion magazine aimed at women in their 20's that focuses on 'sweet with a hint of poison' fashion culture. Their style is a combination of vintage and trends to express cuteness that isn't sickly sweet.

The My Melody and Kuromi collaboration incorporates bis's motifs of bees and roses, the latter of which often appears on the magazine's front covers. My Melody has been drawn in the style of how she looked when she first appeared in 1975. Likewise, though Kuromi came much later, she has been drawn in that 70's style too.

 My Melody & Kuromi Plush Toys | ¥2,420 Each


Face Mask Pouch (bis) | ¥2,530

The lineup ranges from soft plush toys to a velvet tote bag, mugs, and more.

My Melody & Kuromi T-Shirts (bis) | ¥3,080 Each


The Skips My Melody & Kuromi Heart Hairband | ¥2,640 *Launching early October 2020

There's also a mini 130ml thermal bottle, T-shirts—the list goes on, for a total of 34 items.

Celebrate My Melody and Kuromi's anniversary milestones with bis's collaboration.

© 1976, 2005, 2020 SANRIO CO.,LTD.

KUROMI♡MY MELODY CAFE Reveals Halloween Themed Menu

Sanrio's beloved characters Kuromi and My Melody have taken over EGG&SPUMA in Shinjuku this summer with the KUROMI♡MY MELODY CAFE which is open for a limited time until October 31, 2020.

The cafe has been split into two separate themes, with the second theme arriving on September 16, turning the cafe into a cute Halloween experience.

The menu, including the popular afternoon tea set, will transform into spooky Halloween inspired food, with Jack-o'-lanterns and bats decorating the plates.

The Kuromi Kimagure Omelette Curry will be sold in limited quantities on weekends at dinnertime. This cute plate features a pink curry topped with Kuromi's favourite leeks as well as seafood, souffle omelette, and Kuromi herself who is made out of rice.

There's also cute pancakes drizzled in berry sauce, My Melody and Kuromi drinks, and more.

Customers who order anything from the Halloween menu will receive one of these coasters free too!

© 1976, 2020 SANRIO CO., LTD. APPROVAL NO. L611679

Information

KUROMI♡MY MELODY CAFE

Location: EGG&SPUMA

Address: Shinjuku Lumine EST 8F, 3-38-1 Shinjuku, Shinjuku-ku, Tokyo

Running: August 1, 2020 – October 31, 2020

Opening Hours: 11:00-21:00 (Last Orders 20:00)

TEL: 03-6273-0255

Official Website: http://salt-group.jp/shop/egg-spuma/

Sanrio's Little Twin Stars Design Monorail Begins Operation This September

Tokyo Monorail Theater is celebrating the 45th anniversary of Sanrio's popular characters Little Twin Stars, also known as Kiki & Lala, by decorating their monorails in the twins. The trains will begin running on September 14, 2020.

The concept behind the trains is to wish everyone health, happiness, and a bright future. As well as the train decorations, there will be photo spots dotted around stations, an Instagram photo campaign, and original merchandise.

Kiki & Lala Monorail

Monorails number 1 and 6 are the ones to be decorated in all things Little Twin Stars, from the ceilings to the seats and outside of the trains. The mirrors of the other trains will also be decorated.

Running: From September 14, 2020

Photo Spots

Four stations on the monorail line will have their own photo spots for people to take pictures, and people can write wishes on special cards to tag onto it.

Running: September 14, 2020 – January 11, 2021

Participating Stations: Hamamatsucho Station (Central Entrance, outside ticket gates) / Tennōzu Isle Station (Central Entrance, outside ticket gates) / Haneda Airport Terminal 1 Station (South Entrance, inside ticket gates) / Haneda Airport Terminal 2 Station (North Entrance, inside ticket gates)

Kiki & Lala Instagram campaign

If you follow Tokyo Monorail on Instagram, post a photo of yourself on the Kiki & Lala monorail or at one of the photo spots with the hashtag #キキララモノレール, you'll enter for a chance to win a prize.

Campaign 1

The first 4,500 people to post a photo of themselves at a photo spot at any of the stations below on Instagram with the hashtag #キキララモノレール will receive an A6 size seal.

Running: September 14, 2020 – January 11, 2021

Participating Stations: Hamamatsucho Station (Central Entrance, outside ticket gates) / Tennōzu Isle Station (Central Entrance, outside ticket gates) / Haneda Airport Terminal 1 Station (South Entrance, inside ticket gates) / Haneda Airport Terminal 2 Station (North Entrance, inside ticket gates)

Campaign 2

15 random people will be selected to meet the Little Twin Stars by following Tokyo Monorail on Instagram and posting the hashtag #キキララモノレール with their photos.

Running: September 14, 2020 – October 31, 2020

Winners: Will be contacted by direct message by the end of November
Greeting Day: Late December, TBA

Original merchandise

Folder Set (2 Designs): ¥500 | Acrylic Key Ring: ¥600

A selection of themed merchandise will also be sold at participating, including a folder set and acrylic key ring. Plush toys are in the works too.

Release Date: September 14, 2020

Participating Stations: Hamamatsucho Station ticket counter / Tennōzu Isle Station Central Entrance / Oikeibajo-Mae Station ticket gate entrance / Ryūtsū Center Station ticket gate entrance / Tenkūbashi Station HI City entrance / Haneda Airport Terminal 1 Station South Entrance / Haneda Airport Terminal 2 Station North Entrance / Haneda Airport Terminal 3 second floor ticket gates

Sanrio Puroland Announces New Mewkledreamy Live Show

Sanrio Puroland is giving Mewkledreamy (Mew) her very first show this autumn titled "Mewkledreamy March ~Atsumare☆Dreamy Mate" which will begin showing from October 16, 2020.

Mew made her debut at Sanrio Puroland in January 2018. This will be the first show she has ever participated in. Like the anime series named after her, the performance will feature an original story that will pull the audience into a mysterious and wonderful world. She will be joined by her friends Peko and Suu who have never made an appearance at Sanrio Puroland before.

Dreamy☆Set | ¥1,500

Miracle♡ Heart Light | ¥1,500

The show will include a dance scene that encourages audience participation. Park guests can get their hands on the Dreamy☆Set which includes a headband and cute colour as well as the Miracle♡ Heart Light to make their time watching the show even more fun. These will be released at Sanrio Puroland and their online shop on September 11.

Rope Purse | ¥1,320

Mewkledreamy Mewchan's Twinkling Chesse & Korokke Curry | ¥1,400

As well as the show, Mewkledreamy will have her own exclusive merchandise, food dishes, and more for fans of the cute and fluffy pink kitten.

Mew, Peko, and Suu were born on top of the clouds of the Miracle Dreamy Kingdom, and each holds a mysterious power. See them come together for the first time at Sanrio Puroland this autumn. Oh, and Hello Kitty will be in the show too!

©1976, 2009 SANRIO CO., LTD.  ©1976, 1989, 1993, 1999, 1996, 2001, 2020 SANRIO CO., LTD.

Information

Mewkledreamy March ~Atsumare☆Dreamy Mate

(Japanese Title: ミュークルドリーミーマーチ~集まれ☆ドリーミーメイト~ )
Running: October 16, 2020 until an indefinite date
Location: Sanrio Puroland Floor 1F entertainment hall
Participating Characters: Mew, Peko, Suu, Hello Kitty

Official Website: https://www.puroland.jp/liveshow/mewkledreamy_march/

Sanrio Harmonyland Announces 'Happy Halloween' Event For October 2020

Harmonyland, a theme park centred on Sanrio's cast of characters, has announced that this year it is holding a Halloween themed event titled "Happy Halloween" which will run from October 11 to 31.

Meet the characters

A greeting event will take place twice a day where guests can have photos taken next to the Sanrio characters who will be dressed in their best Halloween outfits. For the afternoon greeting, the characters will dance too.

Photo opportunities

There will be many photo opportunities around the park at a variety of Hello Kitty, My Melody, Kuromi, and other character decorations. Shops inside the park will also be decorated in all things spooky.

Hello Kitty's Castle transforms into Halloween mode

Hello Kitty Castle will feature Halloween themed decor to greet guests who enter. Hello Kitty will also change into a spooky ghost costume at 10:00, 12:00, and 14:30 each day of the event.

Halloween character merchandise

Sanrio fans can get their hands on a selection of Halloween themed character merch.

Limited-time character events

Sanrio character 'Wish Me Mell' will also have her own birthday party between September 20 and 23 where she will be out to greet guests. After each greeting, 100 people will be given a special free thank you card on a first-come, first-served basis.

Pin Badge Set ¥990 / Acrylic Key Ring Set ¥1,540 / Strawberry Milk Pudding ¥500 / Pancakes ¥600 / Smile Set ¥1,200

This year marks the 15th anniversary of Kuromi, as well as My Melody's 45th anniversary, and so both will be performing mini live concerts between September 25 to October 31. After each show 100 people will be given a Kuromi anniversary card on a first-come, first-served basis.

Pin Badge Set / Kuromi Black Curry ¥1,380

©'76,'79,'88,'89,'91,'93,'96,'98,'99,'01,'05,'10,'12,'13,'17,'20 SANRIO  S/D・G
*The information in this article is correct as of September 2, 2020. Please note that information related to the event is subject to change.

Maison de FLEUR Collaborates With Sanrio On Droopy Ear Character Merchandise

Maison de FLEUR, a brand developed by Stripe International Inc., is currently celebrating its 7th anniversary with the event "7éme Anniversaire." The event will see collaborations with popular companies, the first of which will be Sanrio which will begin on September 11. The brand collaborates with Sanrio every year and their items always sell out immediately.

This year's Sanrio collaboration will see the characters Cinnamoroll, My Melody, and My Sweet Piano, as well as Pompompurin for the first time. Pochacco items will also be sold but will be exclusive to STRIPE CLUB's online website.

Cinnamoroll & My Melody: Frilly Handle Tote Bag (5 Designs) ¥4,290 | Pouch (5 Designs) ¥3,290 | Purse (5 Designs) ¥3,290 | Smartphone Ring (4 Designs) ¥2,590

The item lineup includes tote bags, pouches, purses, and smartphone rings, all of each feature the characters with adorable droopy ears as well as cute tails on the back.

My Sweet Piano & Pompompurin

Pochacco *Available exclusively online at STRIPE CLUB

The smartphone rings are coloured just like each character, and the ribbons have the characters in gold leaf print deliver an anniversary vibe.

The full lineup of merchandise will be released at Maison de FLEUR stores and online at STRIPE CLUB in Japan on September 11. Maison de FLEUR stores are also taking telephone orders from Sunday and five Lumine branches will have pre-sales on September 10.

ⓒ'76,'89,'96,'01,'20 SANRIO APPR.NO.L612380

Information

Maison de FLEUR x Sanrio Characters
Release Date: September 11, 2020 at Maison de FLEUR and STRIPE CLUB

Pre-Sales: September 10, 2020 at five Lumine stores

In-Store Reservations: September 6, 2020 at 12:00 (JST)

Kaori's Easy Recipe: Learn to Make Hello Kitty Strawberry Ice Cream

With just a small bit of ingenuity, turn everyday food into something cute using Kaori's Easy Recipe! With a few simple ideas, an ordinary recipe magically transforms into a cute dish.

Today's recipe will show you how to make a simple ice cream made with frozen strawberries and a blender.

Ingredients


500g frozen strawberries (either store bought or self-frozen)

120ml condensed milk

Sliced white chocolate to make Hello Kitty

1.


Defrost around 3/10 of the frozen strawberries until they are more soft than frozen, allowing them to be blended more easily.

2.


Throw the defrosted strawberries into a blender along with the condensed milk and blend.

3.


Place the blended mix into a ziplock bag and place into the freezer. After about an hour, massage the mix while it's still inside the bag. Repeat this whole process 2-3 times. Doing this will make the ice cream tastier.

Once fully set, place into a serving cup of your choice, use sliced white chocolate to make your chocolate Hello Kitty, and serve!

Kaori invites you into her world of character-themed food dishes in her recipe series. Be sure to check out her Instagram where she has uploaded many pictures of her character dishes!

Kaori Kubota (@kaopan27)

I live in Hokkaido and I love to make character themed foods, desserts and pastries♡

I want to see my family smile, so I enjoy putting in a bit of effort to make character foods and changing food into something cute♡

You can see more of my character foods and character bento boxes on my Instagram page → @kaopan72

Hello Kitty, My Melody and Kuromi Themed Dessert Buffet Whipped Up at Hilton Osaka

Hilton Osaka has revealed a special dessert buffet called "Mysterious Sweets Forest ~Hello Kitty, My Melody & Kuromi's Collaboration Tea Party~" which will be served at the hotel's Folk Kitchen restaurant from September 18 to December 20 this year.


Themed on a mysterious magic forest, the dessert line-up is a tantalising buffet of 25 sweet treats made with chestnuts, sweet potatoes, apples, pear and other tasty bites. The buffet will also have several photo spots for people to take cute photos, including one with a giant Hello Kitty ribbon and one with My Melody and Kuromi.

Following the success of the "Summer Sweets Buffet Festival ~Hello Kitty & My Melody Collaboration Tea Party~" held at Hilton Osaka this summer which we also covered, the Sanrio characters return, this time with the cute and mischievous Kuromi joining the party.

Mochi Mochi Doughnuts Parfait

The "Mochi Mochi Doughnuts Parfait" is a sweet mix of Japanese gyuhi and raspberry jam topped with a doughnut that has a cute Hello Kitty chocolate on it.

Kuromi's Jet Black Heart Chocolate Mousse

Kuromi's chocolate mousse is made with fruity organic chocolate from Dominica and is topped with fruity chocolate crunch pieces for added texture.

Magic Pudding

The Magic Pudding is made using sweet potato and is served with a square-shaped chocolate that has different My Melody illustrations on it.

There's also the "White Candle Cake" which is made to look like a candle you would light at home, made from moist almond sponge and filled with berries and vanilla Bavarian cream. It's finished with a chocolate Hello Kitty ribbon.

Forest Mushroom Cinnamon Bavaria

The hotel's pastry chefs recommend the Forest Mushroom Cinnamon Bavaria. Their yellow colour and red dots will catch your eye, and one bite will have you hooked as sweet and sour redcurrant jelly and cinnamon Bavarian cream create a harmony of flavours on your taste buds.

Snow Covered Gateau Chocolate

This snow-covered chocolate cake is filled with various spices like cloves and ginger and a coating of snowy cream. This one's really giving those winter vibes.

Children of the Forest

The "Children of the Forest" which are actually lemon cakes dipped in chocolate. Other desserts include the "Vegan Chestnut Cream Cupcakes" which are generously topped with mont blanc cream, "Apple Pie" made luxuriously with apples, "Mysterious Forest Mousse" which combines sour yuzu citrus with bitter matcha, and lots of others.

There's also savoury options too like curry, mushroom soup, pumpkin and mushroom salad, and more.

Finally, Hilton Osaka's cafe and bar "MYPLACE" is also getting in on the tea party by serving up a special Hello Kitty, My Melody, and Kuromi afternoon tea, all served in a beautiful jewellery box.

Information

Mysterious Sweets Forest ~Hello Kitty, My Melody & Kuromi's Collaboration Tea Party~
Location: Hilton Osaka – Folk Kitchen (Floor 2F)

Running: September 18, 2020 – December 20, 2020 (Everyday except November 15)

Time: 15:00-16:30

Prices
[Weekdays] ¥3,950 per person / ¥1,950 for those ages 4-11 years
[Weekends/Holidays] ¥4,250 per person / ¥2,100 for those ages 4-11 years
*Comes with drink of choice from tea, coffee, hot chocolate, and others

*Listed prices do not include 10% consumption tax or service charge

Mysterious Sweets Forest ~Hello Kitty, My Melody & Kuromi's Afternoon Tea Set~

Location: MYPLACE (Hilton Osaka Floor 1F)
Running: September 18, 2020 – December 20, 2020
Time: From 12:00 until it sells out (limited quantity per day)

Price: ¥3,500 per person

*Comes with drink of choice from tea or coffee

*Listed prices do not include 10% consumption tax or service charge

Official Website: https://www.hiltonosaka.com/plans/restaurants/sweets/folkkitchen_2009

Hello Kitty and Sanrio Character Socks Released in Collaboration With Tabio

Japanese sock manufacturers Tabio, which manages numerous stores like KUTSUSHITAYA, Tabio and TabioMEN, has collaborated with Sanrio and released a collection of character socks on August 21. The socks are available on Tabio's official website and at Tabio stores in Japan.


The cute sock designs feature popular Sanrio characters such as Hello Kitty and come in a variety of colours to add to your wardrobe.

HELLO KITTY Box Logo Socks | ¥1,200 (Before Tax)

These colourful socks feature a subtle illustration of Hello Kitty's ribbon on the logo.

HELLO KITTY Logo Name Glitter Short Socks | ¥1,200 (Before Tax)

A cute collection of basic colour socks with glitter on them, also featuring Hello Kitty's ribbon on the heel.

SANRIO CHARACTERS Collaboration Print Low Crews | ¥2,300 (Before Tax)

This pair features a sushi design with Hello Kitty, Keroppi, Hangyodon, Badtz-Maru, Gudetama, and Cinnamoroll.

Fans who buy a pair of any of these socks will receive a free mirror. Available on a first-come, first-served basis.

New Gudetama Sticker Designs Cover All Prefectures Across Japan

Japanese online store Asunarosha is releasing a new set of Gudetama stickers this Friday (August 21) with designs featuring motifs and references to all 47 prefectures in Japan.

¥350 Each (Before Tax)

So far, we've seen Gudetama stickers with the lazy egg himself at tourist spots, practicing customs, experiencing, eating food, transforming into historical figures, and more, each tied to various cities around the country.

This time around, there are 47 stickers for all 47 prefectures in Japan. Gudetama has transformed into famous products and locations from each prefecture.


The stickers are a cute way for people in Japan to buy something related to each prefecture during this time when people are having to limit travel.


Sticking one on the back of your phone adds a bit of travel fun to your day.