Sanrio, the maker of Hello Kitty, is helping you to support your favourite idols with their new goods series called "Sanrio Character Enjoy Idol Series". This series includes 43 new items which will be launched for sale at Sanrio shops, the Sanrio corner of departments stores, and the Sanrio online shop from Wednesday 15th May.
The new series aims to make it more fun for fans to support their favourite idols! Although the world is already full of idol merchandise, you rarely ever find anything that makes you feel like a cute idol fan! If you're a fan looking for goods to support your favourite idol, you'd definitely want something cute that makes you excited! From this concept, the developer of this series then thought "these kinds of goods would be perfect as Sanrio characters!" and there you have the birth of this series!
Uchiwa fan case ¥864 each (price after tax)
When you receive a photo of your idol's face at a concert and have no idea where to keep it safe, keep it in the case just in case.  When you're a fan wanting to make your own fan to wave in support as your idol sings on stage, this is when the Uchiwa fan case comes in handy! 
If you use this case to store your idol's photo, it looks like they're wearing a character hood! After you arrive home you can also decorate your room with this fan as you can easily hang it up using the small hook hole! The case can easily open and close with the snap button, so you can store multiple fans inside and quickly whip out the one you need in an instant!
Some events may not allow you to bring your fan but even in the worst case scenario you can take photos outside the venue and carry the case around with you or use the case mainly to store photos.
 Tape holder ¥540 each (price after tax) 
You go to the concert of a lifetime and get your paper wristband. You don't want to throw it away…. Now you don't have to! You can walk around with it, decorate your bag with it as a charm, or even decorate your room with it with these wristband tape holders!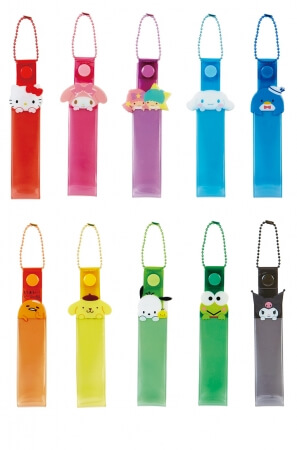 There are 10 different character designs in 10 different colours. You can choose your wristband holder based on the character design or on your idol's main theme colours. Not only is it fun to choose, but they have also been specially made to make it easy to slip the wristband in.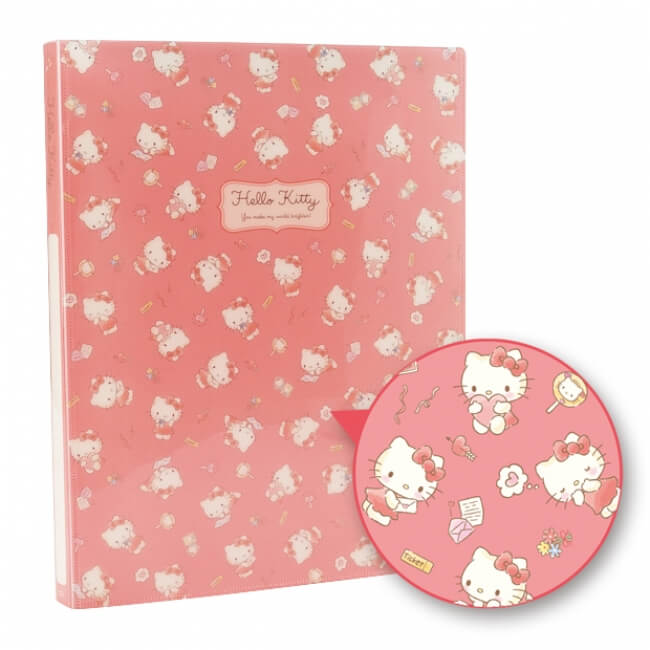 Clear file holder ¥972 each (price after tax)
As you know, concerts sell loads of A4 clear files. Now you can buy as many as you want and store them in a book! The clear file holder contains 20 pockets and each pocket can store one file on the front and one on the back. You can arrange your clear files in any way you like, creating your own collection book! You're not just limited to concert goods either ー feel free to make a collection out of any clear files!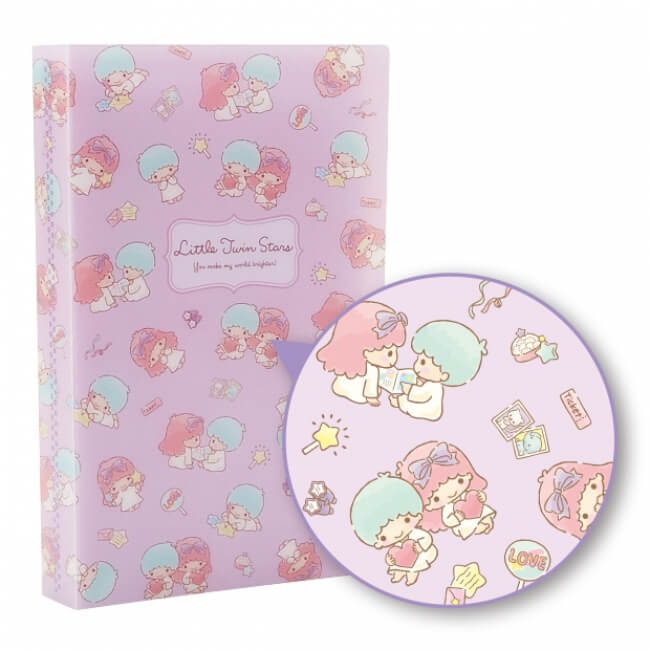 Concert fan file: ¥7516 (price after tax) 
This is the perfect file to store your concert tickets and snippets of reports from fan club magazines.  The pockets are made from non-woven fabrics and are the same colour as the front cover. As there are five different character file themes, we recommend you split this according to the groups/ individuals you are supporting.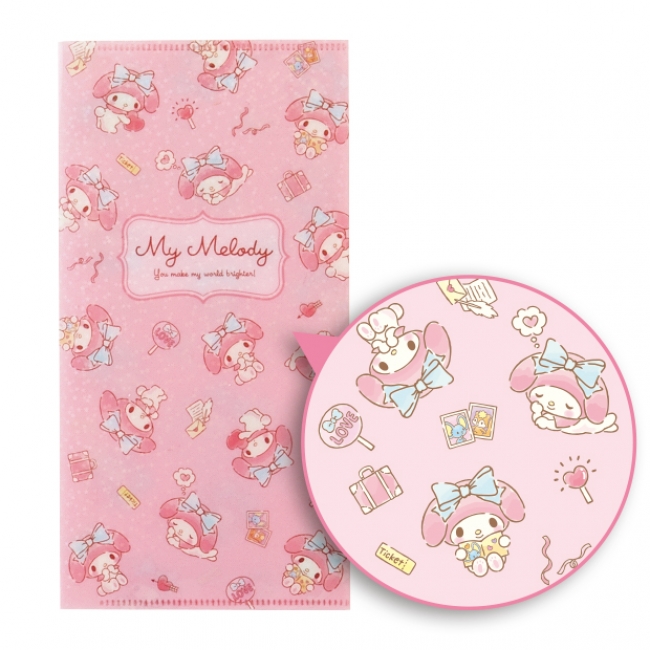 Ticket holder: ¥432 each (price after tax)
There are so many essential things to bring to a concert but nowhere to put them. Thanks to this handy ticket holder which comes with a pocket for your cards, you can safely store your fan club membership certificate, important ID, and all your important event tickets in one place.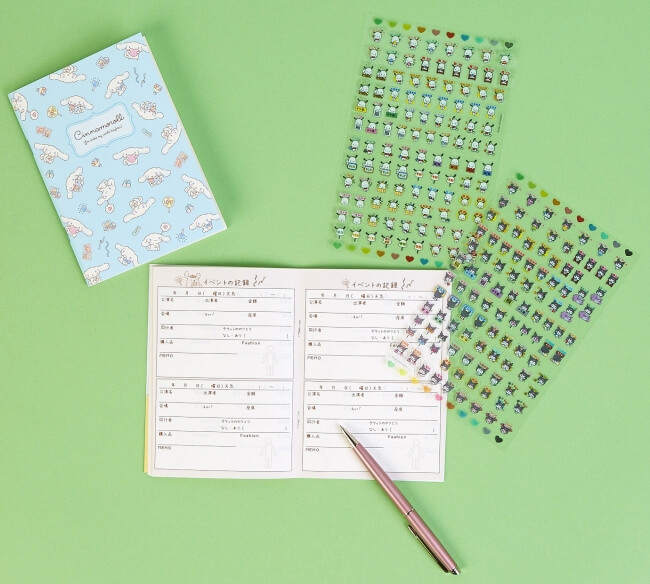 Fan Notebook  ¥540 each
Such a great idea yet nobody has ever thought of it before! This is a notebook which dedicated fans can use to record their fun memories and activities. On special days, you can use it to create an anniversary list, write down information on the idols you support, artist profiles, and record memories of when your idols appeared on TV or in magazines or featured in any sales events! Whether you want to make a job list or keep track of limited ticket sales and event results, you can now keep track of it all with the ticket application history part of the notebook. The notebook has been specially designed so that you can write a range of information easily.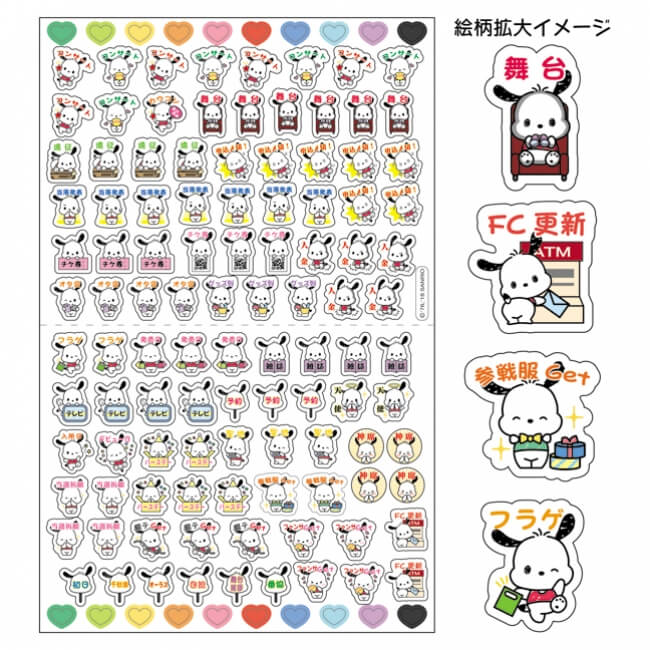 Schedule stickers ¥270 each
In 2018, these schedule stickers became really popular amongst idol fans. They're a great way to enhance the look of your schedule. Now they're back again! The stickers feature the same characters as last year ー the Little Twin Stars, Pochacco and Kuromi. This year, stage-themed stickers, which are perfect for a concert, have also been added to the pack! You can use these in your fan notebook or your schedule to really make the most out of being an idol fan!
Supporting your favourite idols just got more fun thanks to these cute Sanrio goods!
Information
Sanrio Character Enjoy Idol Series
Release:Wednesday 15th May 2019
Available at Sanrio stores, the Sanrio corner of department stores and elsewhere. (Some Sanrio stores/department stores are not included). Also available from the Sanrio online shop:https://shop.sanrio.co.jp/
Rakuten market:https://www.rakuten.co.jp/sanrio/
Yahoo! shopping: https://shopping.geocities.jp/sanrio/
Queries:Customer centre:  ℡03-3779-8148 (Open 10am ー 5pm, closed weekends & national holidays)