Going to an idol concert? These cute, multipurpose Sanrio goods are a must! ♡
Sanrio, the maker of Hello Kitty, is helping you to support your favourite idols with their new goods series called "Sanrio Character Enjoy Idol Series". This series includes 43 new items which will be launched for sale at Sanrio shops, the Sanrio corner of departments stores, and the Sanrio online shop from Wednesday 15th May.
The new series aims to make it more fun for fans to support their favourite idols! Although the world is already full of idol merchandise, you rarely ever find anything that makes you feel like a cute idol fan! If you're a fan looking for goods to support your favourite idol, you'd definitely want something cute that makes you excited! From this concept, the developer of this series then thought "these kinds of goods would be perfect as Sanrio characters!" and there you have the birth of this series!
Uchiwa fan case ¥864 each (price after tax)
When you receive a photo of your idol's face at a concert and have no idea where to keep it safe, keep it in the case just in case.  When you're a fan wanting to make your own fan to wave in support as your idol sings on stage, this is when the Uchiwa fan case comes in handy! 
If you use this case to store your idol's photo, it looks like they're wearing a character hood! After you arrive home you can also decorate your room with this fan as you can easily hang it up using the small hook hole! The case can easily open and close with the snap button, so you can store multiple fans inside and quickly whip out the one you need in an instant!
Some events may not allow you to bring your fan but even in the worst case scenario you can take photos outside the venue and carry the case around with you or use the case mainly to store photos.
 Tape holder ¥540 each (price after tax) 
You go to the concert of a lifetime and get your paper wristband. You don't want to throw it away…. Now you don't have to! You can walk around with it, decorate your bag with it as a charm, or even decorate your room with it with these wristband tape holders!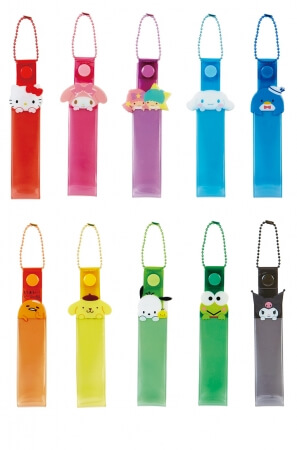 There are 10 different character designs in 10 different colours. You can choose your wristband holder based on the character design or on your idol's main theme colours. Not only is it fun to choose, but they have also been specially made to make it easy to slip the wristband in.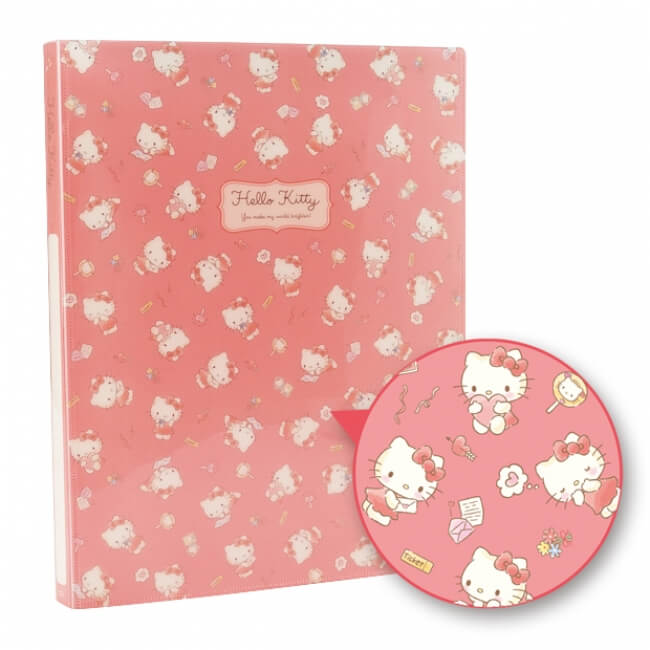 Clear file holder ¥972 each (price after tax)
As you know, concerts sell loads of A4 clear files. Now you can buy as many as you want and store them in a book! The clear file holder contains 20 pockets and each pocket can store one file on the front and one on the back. You can arrange your clear files in any way you like, creating your own collection book! You're not just limited to concert goods either ー feel free to make a collection out of any clear files!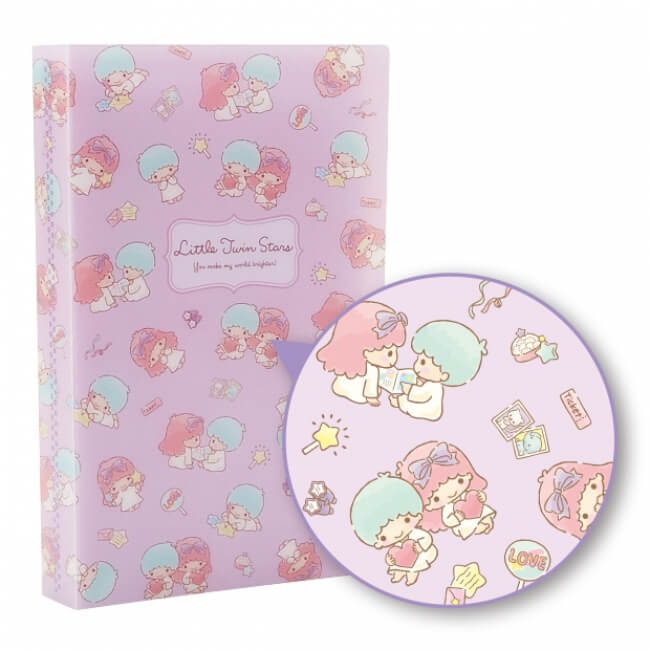 Concert fan file: ¥7516 (price after tax) 
This is the perfect file to store your concert tickets and snippets of reports from fan club magazines.  The pockets are made from non-woven fabrics and are the same colour as the front cover. As there are five different character file themes, we recommend you split this according to the groups/ individuals you are supporting.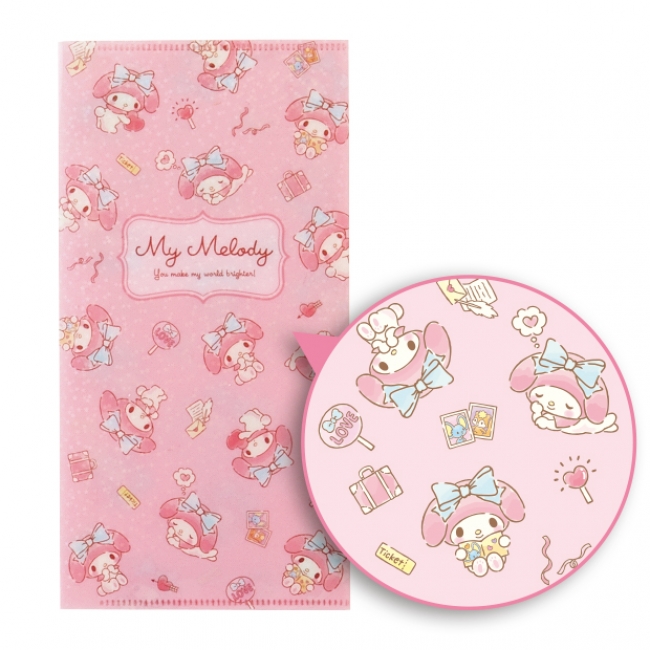 Ticket holder: ¥432 each (price after tax)
There are so many essential things to bring to a concert but nowhere to put them. Thanks to this handy ticket holder which comes with a pocket for your cards, you can safely store your fan club membership certificate, important ID, and all your important event tickets in one place.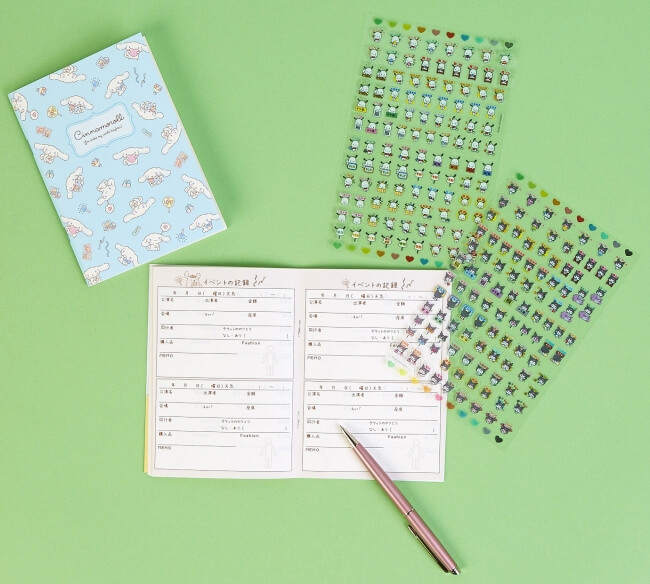 Fan Notebook  ¥540 each
Such a great idea yet nobody has ever thought of it before! This is a notebook which dedicated fans can use to record their fun memories and activities. On special days, you can use it to create an anniversary list, write down information on the idols you support, artist profiles, and record memories of when your idols appeared on TV or in magazines or featured in any sales events! Whether you want to make a job list or keep track of limited ticket sales and event results, you can now keep track of it all with the ticket application history part of the notebook. The notebook has been specially designed so that you can write a range of information easily.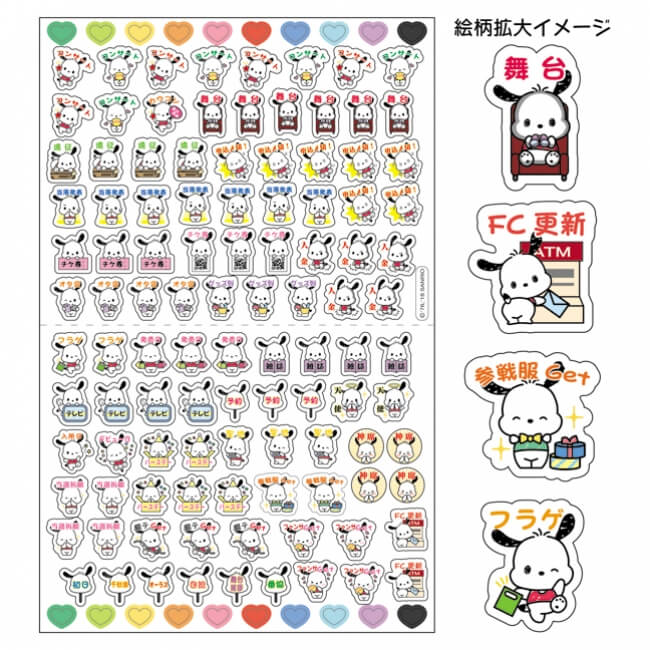 Schedule stickers ¥270 each
In 2018, these schedule stickers became really popular amongst idol fans. They're a great way to enhance the look of your schedule. Now they're back again! The stickers feature the same characters as last year ー the Little Twin Stars, Pochacco and Kuromi. This year, stage-themed stickers, which are perfect for a concert, have also been added to the pack! You can use these in your fan notebook or your schedule to really make the most out of being an idol fan!
Supporting your favourite idols just got more fun thanks to these cute Sanrio goods!
Information
Sanrio Character Enjoy Idol Series
Release:Wednesday 15th May 2019
Available at Sanrio stores, the Sanrio corner of department stores and elsewhere. (Some Sanrio stores/department stores are not included). Also available from the Sanrio online shop:https://shop.sanrio.co.jp/
Rakuten market:https://www.rakuten.co.jp/sanrio/
Yahoo! shopping: https://shopping.geocities.jp/sanrio/
Queries:Customer centre:  ℡03-3779-8148 (Open 10am ー 5pm, closed weekends & national holidays)
RECOMMENDED ENTRIES
Hello Kitty cafe with 45th anniversary menu to open for a limited time at Seibu Ikebukuro!

This year will mark the 45th anniversary for Hello Kitty; one of Sanrio's most popular characters! To celebrate, a Hello Kitty cafe will run from Thursday 25th April ー Sunday 7th July 2019. The cafe will open at Dining Park Ikebukuro, which is on the 8th floor of Seibu Ikebukuro main store, close to the east exit of Ikebukuro station.

The cafe will sell cute desserts that tickle your heart and hearty meals that will satisfy your stomach as well as your heart! This is your chance to enjoy a menu that is overflowing with originality!

Hello Kitty peeping out from taco rice ¥1,690 (price includes tax)

The taco rice dish features Hello Kitty wearing a tiara. She is peeping out from a cup surrounded by lettuce and taco meat. The meal is topped with bright tomato sauce, diced avocado and cheese! Finally, there are some taco chips set into the taco meat. Mix the mince with the Hello Kitty rice to enjoy your meal! Don't forget to look out for the mini apple made from a mini tomato and mint leaf!

Hello Kitty tomato cream pasta  ¥1,590 (price includes tax) 

This is pasta mixed with tomato cream sauce and spread over a plate. It is then topped with cream cheese sauce and garnished with a large piece of bread with Hello Kitty's face on it! Beetroot is used for the colouring. There is also an apple made from mash potato salad. The dish comes as a set accompanied by mushroom soup to make for a filling meal.

Hello Kitty cup trifle ¥1,290 (price includes tax)

Blue curaçao panna cotta, sponge cake, and strawberry sauce with mixed berries make the three layers of the trifle. Whipped cream is spread over the top of the cup and then garnished with a marshmallow Hello Kitty holding a heart made from a strawberry. This is the perfect dessert to celebrate the anniversary!

Hello Kitty tapioca gradation drink ¥890 (price includes tax) 

Enjoy a gradation of tasty colours created by pink strawberry yoghurt, blue curaçao yoghurt and white whipped cream! This cute tapioca drink combines the acidity of the yoghurt with the chewy texture of the tapioca. You also just cannot miss the cafe-limited design on the cup which features the 45th-anniversary celebration of Hello Kitty and other popular characters!

There will also be a range of 45th-anniversary Hello Kitty merchandise available!

This is your chance to enjoy the countless number of goods, foods and drinks that are carefully crafted for maximum Hello Kitty goodness!

©1976, 2019 SANRIO CO., LTD. APPROVAL NO.S585334

Information

Hello Kitty Cafe Ikebukuro

Address: :Gourmet stadium II, Seibu Ikebukuro 8th floor (1-28-1, Minami-Ikebukuro, Toshima, Tokyo

Running: Thurs 25/04 ー Sun 07/07 2019

Opening hours: 11:00 ー 23:00 (Open from 10:30 on Sat, Sun & national holidays)

※Last orders: food: 21:30, drinks:22:00

No regular closing days. Closing days subject to Seibu Ikebukuro closing times.

TEL:03-5949-5675 (dial in number)

Sanrio character cafe official website: https://www.sanrio.co.jp/special/chara-cafe/

Pearl Lady Bubble Tea Collaborates With Sanrio Character Cast

To celebrate their 15th anniversary, Japanese bubble tea shop Pearl Lady is now collaborating with six characters Sanrio characters including Hello Kitty and Pompompurin.

Participating Stores (Above Drinks): Shinjuku Higashi-guchi / Ikebukuro / Harajuku / Shibuya / Machiya / Machida / Omiya / Nagoya Natsuta / Kokura / Nago / Haebar

Pearl Lady is credited as the creator of 'dessert bubble tea' drinks. Their menu has many options from classic milk tea to whipped cream tea, ice cream tea and more.

For this collaboration customers can enjoy drinks inspired by Hello Kitty, My Melody, and Pochacco.

Participating Stores (Above Drinks): SHINJUKU TOHO BLDG / Shinjuku PePe / Akabane / Kamata / Kasai / Shimokitazawa / Kichijoji / Musashi Murayama / Kawagoe / Yokohama Vivre / Kamiooka / Chiba / Funabashi / Nikke Colton Plaza / Shizuoka / Osaka Tsurumi / Kashihara / Kobe South

Sweets Pearl Lady is a sister brand of the shop and offers a rich menu with amazing ingredients. They also have a huge variety of tapioca options in four varieties of their milk teas. They will collaborate with Cinnamoroll, Pompompurin and Tuxedosam.

All six of these drinks come with a seal tag that can be used as a sticker. You can also get your hands on one of twelve possible pin badges.

Sanrio Celebrates Japan's New Reiwa Era With Character Merchandise

To commemorate Japan's new Reiwa era, Sanrio has announced it will sell eleven pieces of exclusive Sanrio character merchandise at Sanrio branches, department stores and their online shop from May 1, 2019.

Sanrio has encouraged everybody to get along through their characters across the Showa and current Heisei eras. They will do the same with their first line of Reiwa merchandise.

The designs feature the word "Reiwa" written in both Roman letters and Japanese kanji and will feature the brand's most popular characters including Hello Kitty, My Melody, Little Twin Stars, Pompompurin, Cinnamoroll, Pochacco, and Badtz-Maru.

Clear File: ¥270 (Tax Included)

Hello Kitty Key Ring: ¥648 (Tax Included)

Items include a tote bag, clear file folder, pin badge, acrylic key rings of each character, and more.

Let's celebrate a happy start to the new era with the Sanrio characters!

 ⓒ1976,1989,1993,1996,2001,2019 SANRIO CO., LTD.
RELATED ENTRIES
Puro Easter 2020: Sanrio Puroland's Easter Event Will Be 'American Oldies' Themed

Sanrio Puroland is serving its annual "Puro Easter" event once again this spring. Taking on an American oldies taste, this cute-retro combining event will run from March 13 to June 2.

A new show and the return of 2019's hugely successful "Egg'n'Roll Easter" show

Weekends will see the commencement of the "Easter Bunny Race," a new show to determine who will take the place as Sanrio Puroland's number one Easter bunny. You'll have to turn up to the show to see what rabbit characters will be competing!

Running: March 13, 2020 – June 2, 2020 (Weekends, Public Holidays & School Holidays Only)

Location: Wisdom Tree, Sanrio Puroland Floor 1F

Last year's "Egg'n'Roll Easter" show was so popular that it's making a return. It combines nostalgic music and fashion of the American oldies. All of the Sanrio characters performing in the show wear cute Easter themed accessories like bunny ears.

Must-eat Sanrio Easter food and desserts

For the Easter season only, Sanrio Puroland is serving up a colourful food and dessert menu, ranging from waffles topped with banana mix ice cream, whipped cream and chocolate sauce; a curry with blue roux and snow-white omelette, and more.

There's plenty of places to take great photos too, including at the entrance to the third floor of Puroland where there's a juice box wearing adorable bunny ears. You can take a picture that looks like you're enjoying a party together with Hello Kitty and the rest of the Sanrio cast.

There's also a back panel in the first floor entertainment hall with an Easter design which serves as the perfect backdrop for a retro pop photo.

Receive an entry discount by wearing polka dots

Those who arrive to Sanrio Puroland wearing a polka dot outfit will receive am Easter discount when entering the park. This doesn't include small items like bags, shoes, shawls or accessories. Full conditions can be found on the event page below in Japanese.

Experience Easter like never before this year at Sanrio Puroland.

©1976, 2009 SANRIO CO., LTD.  ©1976, 1989, 1996, 1999, 2001, 2004, 2010, 2012, 2020 SANRIO CO., LTD.

Sanrio to Open Official My Melody Shops in Tokyo, Osaka and Nagoya to Celebrate Character's 45th Anniversary

Sanrio has announced that it is opening an official My Melody store to commemorate the popular character's 45th anniversary this year. It will open for a limited time on the first floor of Takashimaya Shinjuku in Tokyo from February 12 to 25.

The store is a must-visit for fans of Sanrio's kawaii white rabbit where they can get their hands on a huge assortment of merchandise, including exclusives, so adorable you'll want to add everything to your collection.

The line-up looks back at My Melody's 45 years in the business. The first 4,000 people to visit the store will be given a limited-edition shopping back, and the first 1,000 people who spend over ¥2,000 (tax included) will receive a free card.
*One card per person, per transaction

The store will also feature interactive projection mapping showcasing My Melody's 45-year history which when touched reacts. On February 15, the designer for the store will be drawing illustrations as well as doing signings for people.

As well as Takashimaya Shinjuku, the shop is set to hit Nagoya's Takashimaya Gate Tower Mall Nagoya and Osaka Takashiyama. Check the dates below, and help My Melody commemorate her 45th anniversary!

©'76, '20 SANRIO 著作(株)サンリオ

Information

My Melody 45th Anniversary Shop
Location: Takashimaya Shinjuku 1st Floor Main Square
Running: February 12, 2020 – February 25, 2020 (Closed February 19)
Opening Hours: [Mon-Thurs & Sun] 10:00-20:00 / [Fri-Sat] 10:00-20:30

Signings
Date: February 15, 2020 (Two Slots – ①11:30 / ②15:00)
No. of People: 20 per slot
Location: My Melody 45th Anniversary Shop
How to Participate:
・Receive a lottery draw ticket to the signing at the shop on the day (February 15) between 10:00-10:20.

・In the case that there are more people who want to join, one person may not receive two tickets for two signings. Additionally, tickets will not be handed out after 10:20.

・Winners and the order they will enter the signing will be announced at 10:20.

・Those who are chosen will receive a "Buyers Ticket." This must be exchanged for a ticket to attend the signing by spending more than ¥4,000 (tax included) at the My Melody 45th Anniversary Shop and handing over your Buyers Ticket.

*Signings and illustrations will only be done on paper and not merchandise.

*Requests for designs cannot be made

・My Melody 45th Anniversary Shop Nagoya
Running: March 25, 2020 – April 7, 2020
Location: Takashimaya Gate Tower Mall 7th Floor Rose Terrace

・My Melody 45th Anniversary Shop Osaka
Running: April 1, 2020 – April 7, 2020
Location: Takashimaya 1st Floor Good Shock Place

Sanrio Official Website: https://www.sanrio.co.jp/

Soar Into The Kawaii Dream World of The Little Twin Stars For Their 45th Anniversary

Sanrio's adorable star-themed characters the Little Twin Stars are celebrating their 45th anniversary this year. The adorable twin stars named Kiki and Lala were born into the universe in 1975 in the hyped run up to Christmas. Following their debut in the December edition of Sanrio's monthly magazine Ichigo Shimbun, the years saw their hair colours and designs retouched here and there. The one thing that remains unchanged is the love that connects them to fans all over Japan across three generations.

As Hello Kitty was celebrating her 45th anniversary last year and with My Melody also celebrating her 45th anniversary this year, now it's time for the Little Twin Stars' time to shine. 45th anniversary celebrations include collaboration events and special merchandise themed around the adorable, colourful, twinkling twins which are sure to get your heart fluttering with excitement. More information on these events and merchandise will be revealed in the future. A number of special events will be held at Sanrio Puroland and we are also expecting some new merchandise to hit the shelves at the Sanrio shop this summer. 

Sanrio Puroland: "LittleTwinStars 45th Anniversary"

Sanrio Puroland's Little Twin Stars 45th Anniversary event is set to take place from April 24 – December 31, 2020. The theme of the celebration will be Mainichi Kiki & Lala, Mainichi Kirakira (Sparkle Every Day, Kiki and Lala Every Day).


Want to soar up high into the world of Kiki & Lala? As part of Sanrio Puroland's anniversary celebrations, the attraction Kiki & Lala – Twinkling Tour is being improved to a whole new level, transforming into an even higher dreamy world where you can take photos in Puroland-limited photo booths. The attraction will only be operating on certain days.


Of course, there will be a new food menu serving up meals, desserts and more adorable treats based on Kiki and Lala's theme colours of blue and pink. What's more, Kiki and Lala will also take to the scene dressed in anniversary-limited costumes for a special photo event that your Instagram can't miss out on. Add some sparkling magic to your day and plunge deep into the world of Kiki and Lala.

LittleTwinStars 45th Anniversary

Running: April 24 – December 31, 2020. 

Sanrio Puroland Event Information: https://www.puroland.jp/ts45th/ 

Collaboration with Japanese Comedy Duo Nagareboshi

As Japanese comedy duo Nagareboshi (shooting star) is celebrating 20 years since their debut, they will be collaborating for a second time with Kiki and Lala, brightening up the year even more. Check out the collaboration design that features the four stars in Kiki and Lala's blue and pink themes. Merchandise using this design will be sold at Nagareboshi's Japan tour this year. More information on the tour will be released in the future. The first lineup of collaboration merchandise sold face towels and iPhone cases which became so popular that many items were sold out. If you missed out the first time, this is your chance!

Anniversary Collaboration with Detclear Facial Cleansing Gel: 6 Varieties

Kiki and Lala are collaborating with Detclear: a popular facial cleansing gel formulated for dry, sensitive skin that gently removes dead skin cells and dissolves blackheads. The collaboration Detclear Bright & Peel Peeling Jelly will be released on February 25, 2020 with six Kiki and Lala-themed bottle designs. The designs travel through time from the 1970s which sees our twinkling stars with yellow and brown hair to a retro time with a pink and aqua theme to the adorable magical unicorn theme that came out in more recent years. 

Whether it's an adorable pastel dreamworld design or one of the more nostalgic ones, you are bound to find a bottle that you really love. 

Detclear Bright & Peel Peeling Jelly – Unscented

Price: ¥1,200 (Before Tax)

Release Date: February 25, 2020

Available At: drugstores, general stores, cosmetics shops and official beauty online shops.

Sprinkle some stardust into your life this year for Kiki and Lala's 45th anniversary celebrations.

©'76,'20 SANRIO 著作(株)サンリオ 

Win Hello Kitty & Chibi Maruko-chan Prizes With Sanrio's Lottery Draw

To celebrate the 30th anniversary of the Chibi Maruko-chan anime adaptation, the franchise is teaming up with Sanrio's internationally beloved character Hello Kitty.

For the collaboration, cute and original artwork has been created featuring Hello Kitty and Maruko-chan hanging out together in their everyday lives, a scene that's sure to incite a sense of nostalgia to both kid and adult fans of the longtime anime series.

We see Maruko-chan wearing Hello Kitty's iconic red ribbon, as well as Maruko's grandpa Tomozo Sakura donning a hat inspired by Hello Kitty.

There's also an illustration of the two friends drinking milk bottles together which they bought from Mitsuya in the background, a candy shop that appears in the Chibi Maruko-chan seires.  If you look closely you can see Noguchi peeking her head from behind the shop.

A special lottery draw is set to roll out in Japan at Sanrio stores, department stores stocking Sanrio products, Lawson, MiniStop, Daily Yamazaki, bookstores, and elsewhere from early June 2020. Fans are guaranteed to win a prize, which includes a line-up of nine items as well as a special top prize. Merchandise includes a takoyaki machine, hot plate, bath towel, and more.

Following the lottery draw, more exciting things are set to take place as part of the collaboration.

ⓒ Sakura Production / Nippon Animation

ⓒ 1976, 2020 SANRIO CO.,LTD. TOKYO,JAPAN  著作:株式会社サンリオ

Information

Chibi Maruko-chan x Hello Kitty – Sanrio Lottery

Price: ¥700 (Tax Included) per go

Start Date: Rolling out early June 2020 (Start date differs between stores)

Available: Sanrio products, Lawson, MiniStop, Daily Yamazaki, bookstores, and elsewhere (*Select branches not participating)

Sanrio Character Museum to Open in Tokyo's Roppongi Hills For 60th Anniversary

Sanrio is set to turn 60-years-old in August 2020. To commemorate, the company has announced that it will open a museum called "Sanrio Character Museum" in summer 2020 where it will tour around Japan until 2025. The full dates and locations have yet to be announced, but its first stop will be the Tokyo City View Sky Gallery located on the 52nd floor of Roppongi Hills Mori Tower in Tokyo. Details for this first stop will be revealed sometime next month.

ⓒ '74, '75, '76, '77, '79, '80, '82, '83, '84, '85, '86, '88, '89, '90, '92, '93, '96, '98, '99, '01, '04, '05, '20 SANRIO CO., LTD.

Since its establishment, Sanrio has sought to spread kawaii culture to the world, as well as the message of everybody getting along and being friends. But how have gotten to this point with each passing generation? The museum exhibition will answer that very question, exploring its line-up of over 450 characters Sanrio has created over the years, including the most prominent ones like Hello Kitty, My Melody and Little Twin Stars who have been around for more than 40 years. It will also showcase characters that will be nostalgic to longtime Sanrio fans.

The exhibition will peruse the history of Sanrio from before it created its characters, and delve into the origin of the company's kawaii world. Fans can expect to see valuable prints, products, materials, and more. The exhibition will also include works made in collaboration with some of Japan's up-and-coming and prominent artists. Expect plenty of kawaii, and plenty of what is sure to be invaluable information for Sanrio fans.

Information

60th Anniversary Sanrio Character Museum

Start Date: Summer 2020

*Details TBA at the time of posting this article

Sanrio's Kuromi Begins 15th Anniversary Celebrations With Kuromi Cafe, Merchandise & More

This year, Sanrio is celebrating the 45th anniversary of its popular character My Melody. But she isn't the only one celebrating in 2020, as this year is also Kuromi's 15th anniversary, for which Sanrio has many exciting things planned for fans.

Kuromi first appeared back in 2005 in a television anime series entitled Onegai My Melody. She is known for her black hood with a pink skull on it. She seems like the rowdy type, but she's actually just a cute girlーsomething which has earned her many a fan, both guys and girls.

The Kuromi Cafe opens for a limited time

As you read this article, the official Kuromi Cafe is serving Kuromi-themed food, drinks and desserts to customers at the CHIBA SOGO branch of JUNNU on the first floor "Character Cafe." The menu line-up is inspired by the cheeky white rabbit, taking motifs such as her black hood. The cafe also has a photo spot for you to snap a picture to remember this celebratory day, and you can also pick up some official Kuromi merchandise.

Kuromi's Prim and Proper Curry – ¥1,540 (Tax Included)

Running: Now until March 22, 2020

Location: Character Cafe, JUNNU Floor 1F, CHIBA SOGO, Tokyo

Opening Hours: 10:00-20:00

Valentine's Doughnuts at Floresta Nature Doughnuts

Floresta is selling its first batch of My Melody and Kuromi doughnuts between February 1 and 7, and will be selling a new batch of balled doughnuts in a cup with Flat-kun and Kuromi between February 8 and 14.

 

Batch ①: February 1, 2020 – February 7, 2020

Prices: My Melody/Kuromi – ¥495 Each (Tax Included)

Batch ②: February 8, 2020 – February 14, 2020

Price: Rolled Doughnuts – ¥660 (Tax Included)

Official Website: https://nature-doughnuts.jp/

Merchandise collaboration with ITS'DEMO

All branches of ITS'DEMO in Japan are set to stock their shelves with Kuromi and My Melody items from February 15, 2020. ITS'DEMO is a chain of stores which sell fashion accessories, cosmetics, snacks, and more.

The cute line-up features flower prints which remind one of spring. Hidden within the designs are also motifs and references to each character. There are around 60 items to sift through, including stationery, snacks, and more.

Running: February 15, 2020 – March 9, 2020

Location: ITS'DEMO stores in Japan (*Select branches not participating)

Official Website: http://itsdemo.jp/

Kuromi herbarium bottle and pen by Hibiya Kadan

Hibiya Kadan is now selling a herborium and pen with Kuromi and My Melody designs. The herborium is split into two sections, one with hydrangea and annual baby's breath flowers, and the other with colourful oils. The hand-crafted pen is both a ballpoint pen and herborium in one. Both give you that fresh feeling of plants and flowers, and both are great for personal use or as a gift to someone.

Product Prices (Tax Included) Kuromi Floral Herborium – ¥2,420 / Kuromi Herborium Ballpoint Pen – ¥1,980

Release Date: Now on sale at Sanrio shops and the Sanrio online store. Releasing at Hibiya Kadan in March 2020.

Purchase:

・Sanrio

Select Sanrio shops and the Sanrio online store (https://shop.sanrio.co.jp/)

・Elsewhere

Rakuten: https://www.rakuten.co.jp/sanrio/

Yahoo! Shopping: https://shopping.geocities.jp/sanrio/

Hibiya Kadan shops and online store (https://www.hibiyakadan.com/sanrio/)

Kuromi's first collaboration with muta MARINE

muta MARINE is an ocean-inspired clothing and goods line from luxury good brand muta. They are planning to release the "Black Marine" line together with My Melody and Kuromi in March 2020.

Exhibition: 59th Japan International Boat Show 2020

Location: Pacifico Yokohama

Running: March 5, 2020 – March 8, 2020

Products: T-shirts, eco bags, and more

Available: At muta MARINE stores and the muta online shop (www.mutatokyo.com/)

Celebrate Kuromi's 15th anniversary this year with one of the many things planned for her in 2020♡

ⓒ 1976, 2005, 2020 SANRIO CO .,LTD.  著作:株式会社サンリオ

Hello Kitty Collaborates With Japanese Biscuit Brand Tabekko Doubutsu

Sanrio is teaming up with Japan's longtime loved snack maker Ginbis to release a new line of 11 products featuring Hello Kitty. They will go on sale from February 6, 2020 at Sanrio shops across Japan, the online store, and select stores stocking Sanrio products. The collaboration combines the deliciousness of their biscuits, which are a nostalgic snack for Japanese people, with the cuteness of Hello Kitty.

The snack in question is the butter flavour of the popular longtime selling biscuit Tabekko Doubutsu, which are light to eat and come in cute animal shapes with the name of the animal written on them. Hello Kitty is a character known the world over, who celebrated her 45th anniversary last year. But the collaborative product line doesn't just include the biscuits – it includes merchandise too which will be sold as gift sets.

Plastic Mug (2 Designs) & Tabekko Doubutsu Biscuits – ¥700 Each

Two exclusive designs were created for the plastic mugs, including one with Hello Kitty flying an aeroplane over the animals, and the other with her face mixed in with the biscuit shapes.

*Please note that the biscuit packs do not come with biscuits of Hello Kitty's face

Mascot Holder & Tabekko Doubutsu Biscuits – ¥1,650

Mini Handbags (2 Designs) & Tabekko Doubutsu Biscuits – ¥1,100 Each

The mascot holder features Hello Kitty covered in biscuits, and the mini handbags come in the same designs as the plastic mugs. There are also pouches, mini purses, and more, for a total of 11 different items.

Treat yourself or your Valentine's Day sweetheart to an item in this kawaii new collaboration from Sanrio and Ginbis.

©️'76,'20SANRIO ©️Ginbis

*All listed prices include tax

Licca-chan Collaborates With Sanrio's Little Twin Stars Kiki & Lala in New Product Range

The new "LiccA Stylish Doll Collection Little Twin Stars Anniversary Style" is a new Licca-chan doll from Takara Tomy's made in collaboration with Sanrio and their popular characters Kiki & Lala, aka the Little Twin Stars. Pre-orders for the collection are set to open on February 3, 2020 at four branches of Takara Tomy as well as online at Takara Tomy Mall and the Sanrio online shop. It will be released in June, when it will also hit shelves at select Sanrio shops.

Part of the official LiccA brand of dolls, this collaboration features Licca-chan wearing the Little Twin Stars' 45th anniversary pastel colours, a mix of Kiki's pure blue and Lala's gentle pink. Stars are dotted all over the outfit, including the dress and earrings, and Licca-chan has a hairstyle that's fluffy like clouds.

Decorating her dress is a print of Kiki and Lala riding a unicorn. Her accessories include a stick with cotton candy on it, a shoe box with Kiki and Lala's logo on it coloured in rainbow leaf, and more. Everything in the design is a commemoration of Kiki and Lala's 45th anniversary.

The design for the outfit and hairstyle was chosen in a survey taken by 200 people at Sanrioworld GINZA back in September 2019 which was held to get fans involved with Kiki and Lala's 45th anniversary.

Kiki & Lala and Licca-chan have been friends since the 80's when a range of collaborative merchandise was released, such as the Licca-chan doll size Sanrio Gift Gate shop set featuring Kiki & Lala, the Licca-chan outfit with Kiki & Lala designs which was released as part of the "Sanrio Mate" series, and more.

If you're a collector of Licca-chan and Sanrio merchandise, then don't miss out on this new and very special collaboration.

© TOMY ©1976,2020 SANRIO CO.,LTD.TOKYO,JAPAN

Information

LiccA Stylish Doll Collection Little Twin Stars Anniversary Style

Pre-Orders: February 3, 2020

Release Date: June 2020
Price: ¥14, 000 (Before Tax)

Participating Stores: Takara Tomy Omocha no Yoshida Branch (Ashikawa, Hokkaido) / Takara Tomy Hakuhinkan Toy Park Branch (Ginza, Tokyo) / Takara Tomy KIDDYLAND Harajuku Branch (Harajuku, Tokyo) / Takara Tomy KIDDYLAND Osaka Umeda Branch (Umeda, Osaka) / Takara Tomy Mall / Sanrio Online Shop

Official Website: licca.takaratomy.co.jp/stylishlicca

Sanrio Gift's New Shop in Ueno Welcomes Hello Kitty Panda Merchandise & More

Sanrio opened a new gift shop called Sanrio Gift Gate in Ueno on January 24, 2020. This is the 107th branch of the gift shop to open in Japan, following the openning of the Asakusa branch which opened in Asakusa last year. Aimed at tourists both Japanese and foreign, it sells merchandise of Sanrio's popular cast of characters.

You can't miss the shop as a giant Pompompurin embracing a panda suit-clad Hello Kitty are waiting to greet you at the entrance. The panda is a symbol of Ueno due to Ueno Zoo housing giant pandas.

The souvenir shop features a range of Ueno exclusives, including a line-up of six popular Sanrio characters wearing panda outfits.

Plush Toys (6 Designs) – ¥2,200 Each / Small Plush Toys (6 Designs) – ¥1,760 Each

Who could resist one of these cute toys? The bigger ones at 16cm tall and the small ones 11cm. The line-up includes fan favourites Hello Kitty, Pompompurin, Cinnamoroll, My Melody, Kuromi, and Pochacco.

There's also pop-up cards with a variety of designs, including one that opens up into Ameya-Yokochō open-air market, another that turns into Hello Kitty and a panda sat down, and more.

Edo-Tamagawaya x Hello Kitty Pink Tonkotsu Ramen – ¥390

Budoonoki Sanrio Character Baumkuchen – ¥594 Each (Hello Kitty/My Melody/Pompompurin/Cinnamoroll)

The Salt Industry Center of Japan x Hello Kitty Table Salt – ¥248

There's also food and snacks amongst a whole range of other goodies, all perfect as gifts and souvenirs.

Be sure to stop by Sanrio Gift Plaza the next time you're in Ueno.

ⓒ 1976, 1996, 2020 SANRIO CO.,LTD. TOKYO, JAPAN  Original Text: SANRIO CO.,LTD.

*All listed prices include tax. Sold items receive stock turnovers.

Information

Sanrio Gift Gate Ueno
Address: Plaza U Bldg. 1F, 4-8-6 Ueno, Taito Ward, Tokyo

Business Hours: 11:00-20:00 (subject to change – please check website for latest info))

Other: Duty-Free/Payment possible with Alipay and WechatPay.
Shop Information: https://www.sanrio.co.jp/shop/sh8122100/

Cute and Chewy Pompompurin Confection Now Being Sold at Lawson Convenience Stores in Japan

Lawson, one of the main convenience store chains in Japan, has released the all-new Mochi Mochi Pompompurin Yaki, a cute and chewy confection filled with custard pudding flavoured cream.

The kawaii sweet recreates Pompompurin's adorable sleeping form. Inside of him is a squirt of purin, or Japanese custard pudding, flavoured cream, which happens to be Sanrio Golden Retriever's favourite treat. You'll find yourself reaching for your phone to snap a photo of him to post online before tucking in.

The confection will be discontinued once all have been sold, so if you're in Japan, head to your closest Lawson.

©1996, 2020 SANRIO CO., LTD. APPROVAL NO.S604266

We Interviewed The Creators Behind Sanrio's Popular Enjoy Idol Series

Are you aware of Sanrio's "Enjoy Idol Series"? For idol fans, it's an essential part of your concert trip for the ultimate experience.

Uchiwa Fan Case (10 Varieties): ¥880 (After Tax)

A cute case to protect your precious uchiwa fan from damage. You can even stick it on your wall!

Concert Confetti Storage Keyring (10 Varieties): ¥550 Each (After Tax)

Want to keep living the memory of confetti bursting out from the sky at that concert? Store one in this keyring!

Idol uchiwa fans. If you're in Japan, you'll have definitely seen these around – a round fan bearing a large picture of an artist or idol in the centre. From cute Sanrio-themed items to decorate your idol concert merchandise to even a keyring that preserves concert confetti, Sanrio's Enjoy Idol Series is full of must-have items for concert-going idol fans. However, there seems to be no other secondary use of these items that cater to the non-concert-goer. What a niche market.

Fan Memory Notebook: ¥550 Each (After Tax)

This is an easy way to keep your notes on activities you do to support your idols.

Just how much do idol fans love these items? After conducting research among friends with over 10-years of experience as an obsessive idol fan, it seems that these are more popular than one may think. A quick visit to Sanrio's official website revealed that the series is so popular that many items sell out quickly.

Despite trying to reach out to what might seem a small, niche market, these items seem to be in high demand among idol fans. Just what kind of person came up with such an idea? Curious to find out, we met up with the Enjoy Idol Series project planners for an interview.

Q1: It's a pleasure to have this interview. We at MOSHI MOSHI NIPPON love Sanrio so much that it's not often we go long without releasing some kind of news about you. One of the most fascinating Sanrio merchandise series has to be the Enjoy Idol Series for its high demand in such a niche area. Our first question is: From what idea or initial thought was this series born?

Project Planner: The Enjoy Idol Series is managed by me and one other person. Both of us are avid idol fans. We noticed not only lots of fans at concerts using Sanrio merchandise, but also many idol fans on social media using Sanrio characters as profile pictures and as stickers on their photos online. For quite a few years now there's been a connection forming between idol fans and Sanrio characters in several ways.

We also noticed that although merchandise aimed at idol fans is steadily increasing, there still wasn't anything cute for them out there. That's why we started designing this series. The other project leader and I often go to concerts and watch DVDs together. That's when the ideas started flowing. Eventually, we were packing our project full of ideas and it was really fun. We thought of how we could combine Sanrio characters and idol fans to create something incredibly cute

Q2: It's wonderful to hear that you are both idol fans yourselves. When you first had these initial ideas running through your head, were you confident that your series would become popular among other idol fans?

Planner: We were very excited to have created this cute Enjoy Idol series and we were certain that other fans would feel the same. And the reaction to it exceeded my expectations. Even people who don't usually go to Sanrio shops buy something from the series because of their love of Sanrio which made us really happy to see.

Q3: Having seen all the sold out products on your website, it's clear that many people appreciate what you've done. How does it feel to see idol fans using merchandise that you designed?

Project Planner: We're just so grateful to see people using items from the Enjoy Idol Series to make the most of their concert experience. A lot of people buying products from the series buy specific items based on strongly associating their idol with a certain Sanrio character. We've now learned the reasons behind the choices fans make when purchasing from the series which has been a real eye-opener.

Silver Decoration Case (7 Varieties): ¥660 (After Tax)

A box to save your concert confetti


Q4: After some research among a number of friends who are idol fans, it seems that your series is a big hit. Many are excited to see what you are going to knock up next. Do you have any new ideas you're warming up to?

Project Planner: I cannot reveal any specific details just yet. We are still in the process of creating our next items. You can expect them to maintain Sanrio's cute style. As an idol fan myself, I am committed to making sure these items are of high functionality for our users.

Q5: I'm sure that many people will be over the moon to hear that you are developing yet more cute items. Do you have any final words you would like to say to idol fans and Sanrio fans?

Project Planner: I would like to thank you all for your continuous support for the Enjoy Idol Series. We are delighted to improve your lifestyle and we hope that these items help you make the most of your experience as an idol fan.

When you have something to adore, you lead a fulfilling life. I've heard the stories of friends who are idol fans and can feel their excitement towards the release of our new products. I'm so happy to think that these products are improving the quality of life for many idol fans.

Diary Stickers (7 Varieties): ¥275 (After Tax)

 These stickers are full of words perfect for idol fans but of no use to those who are not idol fans!

Just seeing some of the specific words and phrases written on the idol stickers shows just how much the project planners understand and feel close to other idol fans. It is enough to warm your heart.

The two project planners put their love of idol fans at the centre of their design proposal, creating a merchandise series just for them. Each item connects idol fans through their mutual love. This eye-opening interview showed the true strength of shared passion when catering to a niche market.

Despite not being an idol fan themselves, our interviewer could feel the love poured into each item in the series. What item will be released next? We'll be just as excited as the idol fans are, waiting eagerly for its release.

ⓒ'76, '88, '89, '96, '01, '05, '19 SANRIO. 著作(株)サンリオ

Hello Kitty, Cinnamoroll & Pompompurin Japanese Wagashi Confections Releasing at Lawson Convenience Stores.

Hello Kitty, Cinnamoroll and Pompompurin are the latest to be picked up by character-inspired Japanese confectionery series Tabemas. These wagashi sweets will go on sale at Lawson convenience stores across Japan (excluding Lawson Store 100 branches) on January 21, 2020.

The character line-up is based on the top three winners of the 2019 Sanrio Character Awards which we covered last summer. Hello Kitty came first place at the awards, and so she has gotten a special limited edition design for the sweets series. Cinnamoroll was second on the award list, and this is his first time joining Tabemas. Third place was Pompompurin who appears once again with Tabemas due to his popularity.

The 'Tabemas' brand name is an abbreviation of the Japanese words taberareru masukotto, meaning 'mascots that you can eat.' It is a Japanese confectionery series that combines well-known characters and Japanese sweets made from ingredients like red bean paste, sugar and rice flour. The sweets are also made with a dough called "nerikiri" which is used in making traditional Japanese wagashi sweets.

In line with the Year of the Rat in the Chinese zodiac, Hello Kitty is donning a kawaii rat outfit. Cinnamoroll's charm point is his big ears and pink cheeks.

Each confection is filled with a different flavour bean paste: Hello Kitty is cheese, Cinamoroll is milk, and Pompompurin is of course Japanese custard pudding, or 'purin,' flavoured. They maintain that delicate flavour of traditional Japanese wagashi while having cute contemporary designs. You'll be happy to know that all of the colouring is natural tooーno synthetic colours were added.

Perfect as a delicious treat, but don't forget to snap a photo for Instagram first! Each of them is also limited in stock, so don't miss your chance to grab one at the nearest Lawson store to you while in Japan.

© '76,'96,'01,'20 SANRIO APPR.NO.S604062

Information

Tabemas Hello Kitty 2020 / Tabemas Cinnamoroll / Tabemas Pompompurin 2020

Price: ¥280 Each (Tax Included)

Release Date: January 21, 2020

Available: At chilled desserts section of Lawson convenience stores across Japan

*Not available at Natural Lawson or Lawson Store 100

*Available while supplies last

Product Page: https://www.bandai.co.jp/candy/tabemas/sanrio3/