Going to an idol concert? These cute, multipurpose Sanrio goods are a must! ♡
Sanrio, the maker of Hello Kitty, is helping you to support your favourite idols with their new goods series called "Sanrio Character Enjoy Idol Series". This series includes 43 new items which will be launched for sale at Sanrio shops, the Sanrio corner of departments stores, and the Sanrio online shop from Wednesday 15th May.
The new series aims to make it more fun for fans to support their favourite idols! Although the world is already full of idol merchandise, you rarely ever find anything that makes you feel like a cute idol fan! If you're a fan looking for goods to support your favourite idol, you'd definitely want something cute that makes you excited! From this concept, the developer of this series then thought "these kinds of goods would be perfect as Sanrio characters!" and there you have the birth of this series!
Uchiwa fan case ¥864 each (price after tax)
When you receive a photo of your idol's face at a concert and have no idea where to keep it safe, keep it in the case just in case.  When you're a fan wanting to make your own fan to wave in support as your idol sings on stage, this is when the Uchiwa fan case comes in handy! 
If you use this case to store your idol's photo, it looks like they're wearing a character hood! After you arrive home you can also decorate your room with this fan as you can easily hang it up using the small hook hole! The case can easily open and close with the snap button, so you can store multiple fans inside and quickly whip out the one you need in an instant!
Some events may not allow you to bring your fan but even in the worst case scenario you can take photos outside the venue and carry the case around with you or use the case mainly to store photos.
 Tape holder ¥540 each (price after tax) 
You go to the concert of a lifetime and get your paper wristband. You don't want to throw it away…. Now you don't have to! You can walk around with it, decorate your bag with it as a charm, or even decorate your room with it with these wristband tape holders!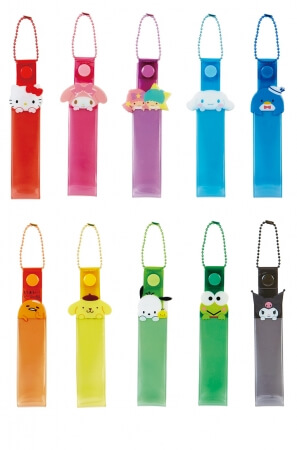 There are 10 different character designs in 10 different colours. You can choose your wristband holder based on the character design or on your idol's main theme colours. Not only is it fun to choose, but they have also been specially made to make it easy to slip the wristband in.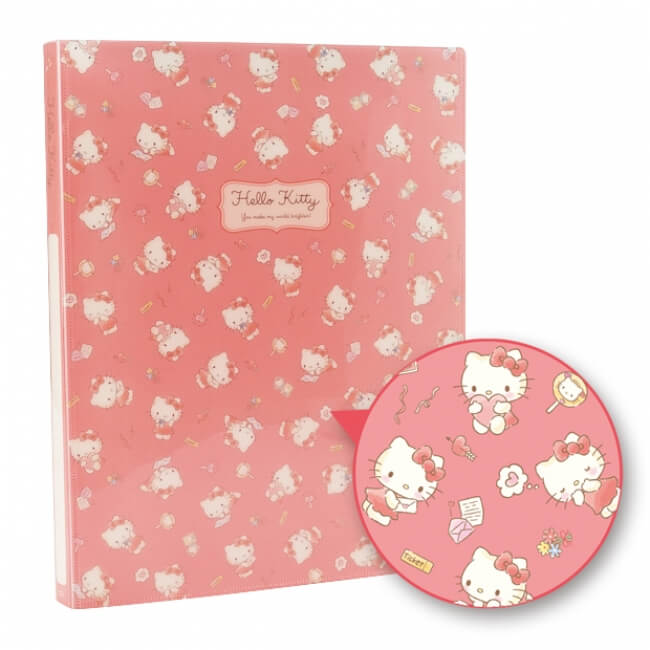 Clear file holder ¥972 each (price after tax)
As you know, concerts sell loads of A4 clear files. Now you can buy as many as you want and store them in a book! The clear file holder contains 20 pockets and each pocket can store one file on the front and one on the back. You can arrange your clear files in any way you like, creating your own collection book! You're not just limited to concert goods either ー feel free to make a collection out of any clear files!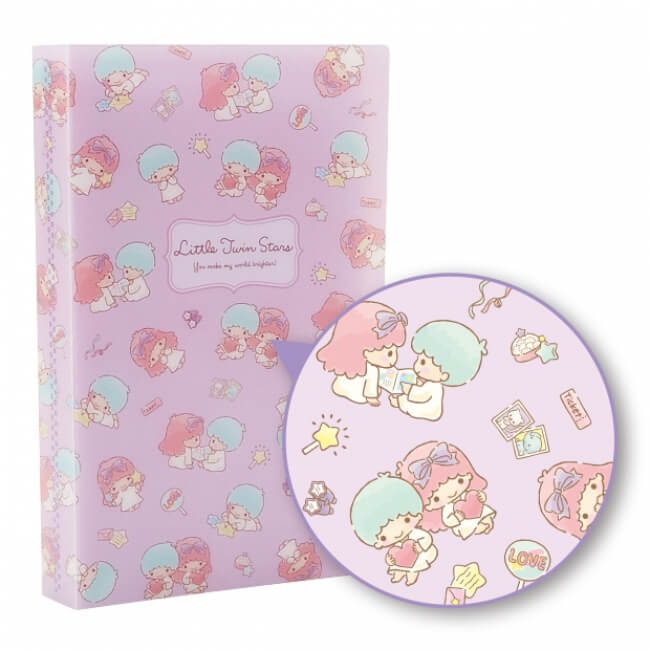 Concert fan file: ¥7516 (price after tax) 
This is the perfect file to store your concert tickets and snippets of reports from fan club magazines.  The pockets are made from non-woven fabrics and are the same colour as the front cover. As there are five different character file themes, we recommend you split this according to the groups/ individuals you are supporting.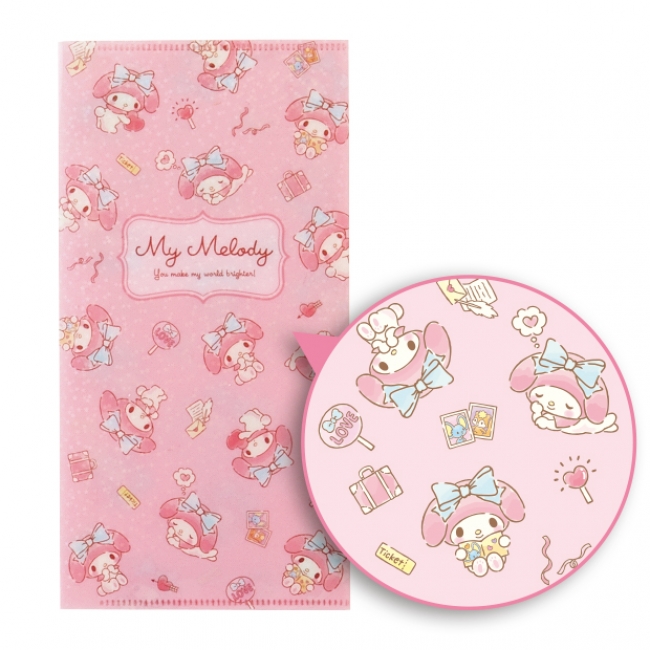 Ticket holder: ¥432 each (price after tax)
There are so many essential things to bring to a concert but nowhere to put them. Thanks to this handy ticket holder which comes with a pocket for your cards, you can safely store your fan club membership certificate, important ID, and all your important event tickets in one place.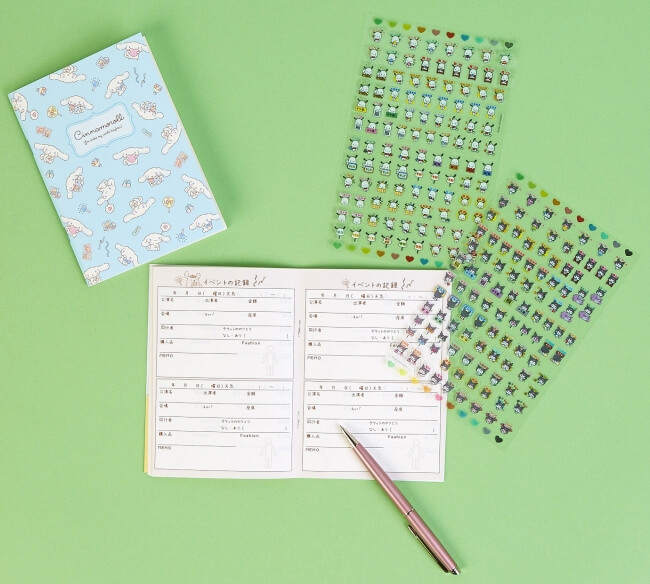 Fan Notebook  ¥540 each
Such a great idea yet nobody has ever thought of it before! This is a notebook which dedicated fans can use to record their fun memories and activities. On special days, you can use it to create an anniversary list, write down information on the idols you support, artist profiles, and record memories of when your idols appeared on TV or in magazines or featured in any sales events! Whether you want to make a job list or keep track of limited ticket sales and event results, you can now keep track of it all with the ticket application history part of the notebook. The notebook has been specially designed so that you can write a range of information easily.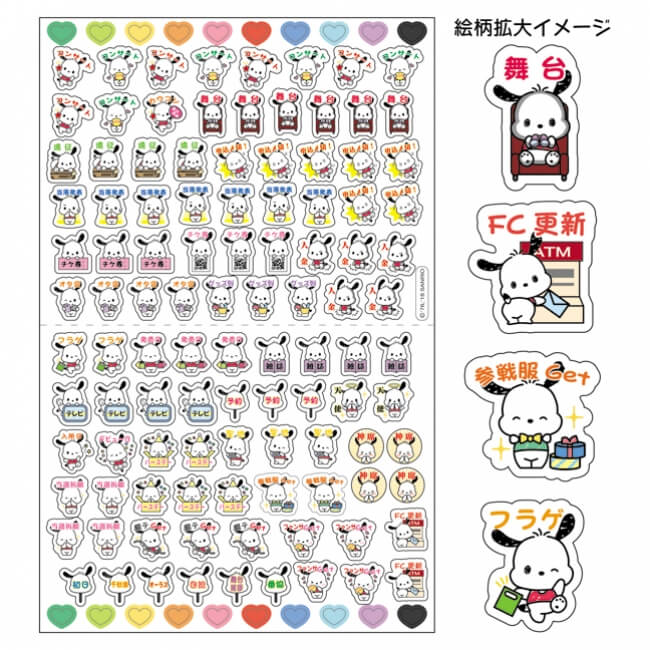 Schedule stickers ¥270 each
In 2018, these schedule stickers became really popular amongst idol fans. They're a great way to enhance the look of your schedule. Now they're back again! The stickers feature the same characters as last year ー the Little Twin Stars, Pochacco and Kuromi. This year, stage-themed stickers, which are perfect for a concert, have also been added to the pack! You can use these in your fan notebook or your schedule to really make the most out of being an idol fan!
Supporting your favourite idols just got more fun thanks to these cute Sanrio goods!
Information
Sanrio Character Enjoy Idol Series
Release:Wednesday 15th May 2019
Available at Sanrio stores, the Sanrio corner of department stores and elsewhere. (Some Sanrio stores/department stores are not included). Also available from the Sanrio online shop:https://shop.sanrio.co.jp/
Rakuten market:https://www.rakuten.co.jp/sanrio/
Yahoo! shopping: https://shopping.geocities.jp/sanrio/
Queries:Customer centre:  ℡03-3779-8148 (Open 10am ー 5pm, closed weekends & national holidays)
RECOMMENDED ENTRIES
Hello Kitty cafe with 45th anniversary menu to open for a limited time at Seibu Ikebukuro!

This year will mark the 45th anniversary for Hello Kitty; one of Sanrio's most popular characters! To celebrate, a Hello Kitty cafe will run from Thursday 25th April ー Sunday 7th July 2019. The cafe will open at Dining Park Ikebukuro, which is on the 8th floor of Seibu Ikebukuro main store, close to the east exit of Ikebukuro station.

The cafe will sell cute desserts that tickle your heart and hearty meals that will satisfy your stomach as well as your heart! This is your chance to enjoy a menu that is overflowing with originality!

Hello Kitty peeping out from taco rice ¥1,690 (price includes tax)

The taco rice dish features Hello Kitty wearing a tiara. She is peeping out from a cup surrounded by lettuce and taco meat. The meal is topped with bright tomato sauce, diced avocado and cheese! Finally, there are some taco chips set into the taco meat. Mix the mince with the Hello Kitty rice to enjoy your meal! Don't forget to look out for the mini apple made from a mini tomato and mint leaf!

Hello Kitty tomato cream pasta  ¥1,590 (price includes tax) 

This is pasta mixed with tomato cream sauce and spread over a plate. It is then topped with cream cheese sauce and garnished with a large piece of bread with Hello Kitty's face on it! Beetroot is used for the colouring. There is also an apple made from mash potato salad. The dish comes as a set accompanied by mushroom soup to make for a filling meal.

Hello Kitty cup trifle ¥1,290 (price includes tax)

Blue curaçao panna cotta, sponge cake, and strawberry sauce with mixed berries make the three layers of the trifle. Whipped cream is spread over the top of the cup and then garnished with a marshmallow Hello Kitty holding a heart made from a strawberry. This is the perfect dessert to celebrate the anniversary!

Hello Kitty tapioca gradation drink ¥890 (price includes tax) 

Enjoy a gradation of tasty colours created by pink strawberry yoghurt, blue curaçao yoghurt and white whipped cream! This cute tapioca drink combines the acidity of the yoghurt with the chewy texture of the tapioca. You also just cannot miss the cafe-limited design on the cup which features the 45th-anniversary celebration of Hello Kitty and other popular characters!

There will also be a range of 45th-anniversary Hello Kitty merchandise available!

This is your chance to enjoy the countless number of goods, foods and drinks that are carefully crafted for maximum Hello Kitty goodness!

©1976, 2019 SANRIO CO., LTD. APPROVAL NO.S585334

Information

Hello Kitty Cafe Ikebukuro

Address: :Gourmet stadium II, Seibu Ikebukuro 8th floor (1-28-1, Minami-Ikebukuro, Toshima, Tokyo

Running: Thurs 25/04 ー Sun 07/07 2019

Opening hours: 11:00 ー 23:00 (Open from 10:30 on Sat, Sun & national holidays)

※Last orders: food: 21:30, drinks:22:00

No regular closing days. Closing days subject to Seibu Ikebukuro closing times.

TEL:03-5949-5675 (dial in number)

Sanrio character cafe official website: https://www.sanrio.co.jp/special/chara-cafe/

Pearl Lady Bubble Tea Collaborates With Sanrio Character Cast

To celebrate their 15th anniversary, Japanese bubble tea shop Pearl Lady is now collaborating with six characters Sanrio characters including Hello Kitty and Pompompurin.

Participating Stores (Above Drinks): Shinjuku Higashi-guchi / Ikebukuro / Harajuku / Shibuya / Machiya / Machida / Omiya / Nagoya Natsuta / Kokura / Nago / Haebar

Pearl Lady is credited as the creator of 'dessert bubble tea' drinks. Their menu has many options from classic milk tea to whipped cream tea, ice cream tea and more.

For this collaboration customers can enjoy drinks inspired by Hello Kitty, My Melody, and Pochacco.

Participating Stores (Above Drinks): SHINJUKU TOHO BLDG / Shinjuku PePe / Akabane / Kamata / Kasai / Shimokitazawa / Kichijoji / Musashi Murayama / Kawagoe / Yokohama Vivre / Kamiooka / Chiba / Funabashi / Nikke Colton Plaza / Shizuoka / Osaka Tsurumi / Kashihara / Kobe South

Sweets Pearl Lady is a sister brand of the shop and offers a rich menu with amazing ingredients. They also have a huge variety of tapioca options in four varieties of their milk teas. They will collaborate with Cinnamoroll, Pompompurin and Tuxedosam.

All six of these drinks come with a seal tag that can be used as a sticker. You can also get your hands on one of twelve possible pin badges.

Sanrio Celebrates Japan's New Reiwa Era With Character Merchandise

To commemorate Japan's new Reiwa era, Sanrio has announced it will sell eleven pieces of exclusive Sanrio character merchandise at Sanrio branches, department stores and their online shop from May 1, 2019.

Sanrio has encouraged everybody to get along through their characters across the Showa and current Heisei eras. They will do the same with their first line of Reiwa merchandise.

The designs feature the word "Reiwa" written in both Roman letters and Japanese kanji and will feature the brand's most popular characters including Hello Kitty, My Melody, Little Twin Stars, Pompompurin, Cinnamoroll, Pochacco, and Badtz-Maru.

Clear File: ¥270 (Tax Included)

Hello Kitty Key Ring: ¥648 (Tax Included)

Items include a tote bag, clear file folder, pin badge, acrylic key rings of each character, and more.

Let's celebrate a happy start to the new era with the Sanrio characters!

 ⓒ1976,1989,1993,1996,2001,2019 SANRIO CO., LTD.
RELATED ENTRIES
Sanrio Design Face Masks by Maison de FLEUR Keep You Stylish and Safe

Maison de FLEUR has revealed a new collection of face masks created in collaboration with Sanrio which will be released in Japan on February 23.

Sanrio Character Collab Masks | ¥2,200 Each (Tax Included)

My Melody

     Cinnamoroll

Little Twin Stars

Pompompurin

Kuromi

The masks are designed from the popular Sanrio characters My Melody, Cinnamoroll, Little Twin Stars, Pompompurin, and Kuromi. The parts that hook over your ears are fitted with a big, cute satin ribbon, and the front of the masks feature a gold leaf print matte design.

The masks can be used both as a fashion item and for protection against COVID-19.

Information

Maison de FLEUR x Sanrio Character Collab Masks

Release Date: February 22, 2021 at 20:00 @ STRIP CLUB / February 23, 2021 @ Maison de FLEUR stores

STRIPE CLUB Official Website: https://stcl.page.link/Z3cE

ZOZOTOWN: https://zozo.jp/

Little Twin Stars Doughnuts at Floresta Celebrate White Day

Floresta Nature Doughnuts, a doughnut cafe in Japan that hand-makes doughnuts using organic ingredients, is celebrating White Day this year by releasing two doughnuts based on the Little Twin Stars which will be served from March 1 to 14.

The Little Twin Stars, also known as Kiki & Lala, are two of the most popular characters by Sanrio, the company known for such iconic faces as Hello Kitty.

Kiki & Lala Doughnuts | ¥450 (Before Tax)

Kiki & Lala are twins who were born on the Star of Compassion. The doughnuts capture the cute duo atop fluffy pink clouds made from strawberry and white chocolate.

The doughnuts are made without any additives or colouring. The ring part of the doughnut is coated in a strawberry chocolate made from organic strawberry powder for a sweet and sour kick.

 

Celebrate White Day this year, the sequel to Valentine's Day in Japan, with the Little Twin Stars.

©'21 SANRIO CO., LTD. APPROVAL NO. L615092

Perfectly Pink Sanrio Valentine's Day Collection Heads to Maison de FLEUR

For Maison de FLEUR's annual "PINK MANIA" Valentine's season event, it is teaming up with Sanrio to release a positively-kawaii pink collection of bags at its stores in Japan on February 11. The line-up also made a pre-release on the online shop STRIPE CLUB last week.

PINK MANIA x Sanrio Characters Collection: Azato Melody / Azato My Sweet Piano / Azato Cinnamoroll / Azato Bonbonribbon / Azato Pochacco

PINK MANIA Double Ribbon Tote Bag | ¥5,290 (Before Tax)

PINK MANIA Side Pocket S Tote Bag | ¥5,290 (Before Tax)

PINK MANIA Side Pocket M Tote Bag | ¥5,990 (Before Tax)

PINK MANIA Ribbon Pouch | ¥3,590 (Before Tax)

PINK MANIA Pouch | ¥3,590 (Before Tax)

PINK MANIA Face Mask Case Pouch | ¥3,590 (Before Tax)

Interior design of each bag and pouch

PINK MANIA is an event held by Maison de FLEUR every year around Valentine's Day where select items turn all pink. This year's line-up includes some of the brand's iconic tote bags and pouches as well as some new entries. Familiar faces from Sanrio include My Melody, My Sweet Piano, Bonbonribbon, Pochacco, and Cinnamoroll.

Go pink and kawaii this Valentine's Day with this year's PINK MANIA collection.

Cute Hello Kitty and Little Twin Stars Face Masks Release in Sanrio Collaboration

Japanese sneakers select shop atmos pink teamed up with Sanrio to release a cute collection of face masks on Thursday (January 28).

KIKI&LALA★atmos MASK Colours: White/Blue – ¥1,400 (Before Tax)

HELLO KITTY♡atmos MASK Colours: White/Pink – ¥1,400 (Before Tax)

The masks can be washed and are durable, fast-drying, block pollen, and cut UV. Face masks are part of everyday life now, so why not add a little fun to routine?

Pokémon, My Melody, Moomin and More Valentine's Day Chocolates Arrive at Daimaru Tokyo

The Hoppe Town area of Daimaru Tokyo is currently celebrating Valentine's Day up to February 14 with the release of a selection of gift chocolates by six brands in collaboration with popular characters.

Pokémon Chocolate Set (Large Box) | ¥1,404 (Tax Included)

My Melody x Goncharoff Chocolates (Contains 21) | ¥2,160 (Tax Included)

Moomin x Merry Chocolate's Hattifatteners Chocolates (Contains 11) | ¥1,188 (Tax Included)

Dick Bruna by Morozoff: Picture Book Chocolates (Contains 15) – ¥864 (Tax Included) / Miffy Pouch Chocolates (Contains 8) – ¥1,320 (Tax Included)

Chatrois Kitten Tiny Plain Chocolates | ¥783 (Tax Included)

Katanukiya Angel Panda | ¥684 (Tax Included)

Which of these cute and tasty-looking treats has caught your eye the most?

©Nintendo・Creatures・GAME FREAK・TV Tokyo・ShoPro・JR Kikaku ©Pokémon
©1976,2021 SANRIO CO,LTD.APPROVAL NO.L613374
©Moomin Characters™

Information

Daimaru Tokyo Valentine's Sweets
Running: January 27, 2021 – February 14, 2021

Location: Hoppe Town on Floor 1F of Daimaru Tokyo
Official Website: https://www.daimaru.co.jp/

Pompompurin Doughnuts Celebrate Sanrio Character's 25th Anniversary This Valentine's Day

Floresta Nature Doughnuts, a doughnut cafe that hand-makes doughnuts using organic ingredients, has baked up a new 'n' tasty collection of kawaii doughnuts to celebrate the 25th anniversary of Sanrio's popular character Pompompurin. The "Pompompurin Valentine Doughnuts" will be served from February 1 to 14 for the lead up to Valentine's Day.

Character Doughnuts (Pompompurin/Muffin) | ¥450 Each (Before Tax)

The Pompompurin and Muffin doughnuts will arrive in the first week on February 1. The doughnuts are covered in white chocolate sprinkled with strawberry powder, freeze-dried strawberries, and a chocolate heart. Sat comfortably on top of them are good friends Pompompurin and Muffin. Pompompurin is pumpkin flavoured.

Korokoro Cup Doughnuts (Pompompurin & Macaron) | ¥600 (Before Tax)

Arriving on the second week from February 8 is a cup of round, bite-sized Pompompurin and Macaron doughnuts.

Online pre-orders for the doughnuts opened on January 30.

©'21 SANRIO CO., LTD. APPROVAL NO. L615071

Pompompurin Themed Desserts and Drinks Now Being Served Up in Osaka

The Osaka-based fruit parlour and bakery Season&Co., which is located on the first floor of LINKS UMEDA, is celebrating the 25th anniversary of Sanrio's popular character Pompompurin with a themed menu of desserts and drinks until April 12, 2021.

Menu item names have been translated from Japanese by MMN.

Pompompurin Peeking From the Nabe Hot Pot | ¥1,000 (Before Tax)

Pompompurin's Specially-Made Parfait | ¥1,600 (Before Tax)

Pompompurin's Strawberry Omelette | ¥1,600 (Before Tax)

Pompompurin's Pudding Juice | ¥730 (Before Tax)

Pompompurin's Mixed Juice | ¥730 (Before Tax)

NMB48 x Pompompurin's Chocolate Cake | ¥700 (Before Tax)

NMB48 x Pompompurin's Osaka Cupid | ¥500 (Before Tax)

The menu includes a range of Pompompurin themed drinks and desserts as well as merchandise. There's also two items made in collaboration with NMB48.

For every order, customers will receive a free lunch mat, and if they spend over ¥1,000 (before tax) on anything on the menu, including the merch, they'll get a free sticker.

Information

Season&Co. x Pompompurin Collab Cafe
Running: January 27, 2021 – April 12, 2021
Where: FRUITS PARLOR+BAKERY Season & Co.

Address: LINKS UMEDA 1F, 1-1 Ofukacho, Kita-ku, Osaka-shi, Osaka
Opening Hours: 9:30-20:00 (Last Orders 19:30)
Official Website: https://season-co.shop

Hello Kitty Hairbrushes Ensure Your Locks Are Kept Kawaii at All Times

Hairbrush brand WetBrush® joined hands with Sanrio to release a new collection of Hello Kitty design brushes at drug stores and variety stores across Japan on Friday (January 15).

Under My Umbrella | ¥1,540 (Before Tax)

Bubble Gum | ¥1,540 (Before Tax)

Original | ¥1,540 (Before Tax)

WetBrush® is a hairbrush brand sold in over 70 countries worldwide that can be used on damaged hair, wavy hair, thin hair, wigs, and more without causing damage to lovely locks, leaving hair detangled and silky smooth.

The Hello Kitty collection features three brushes with different designs – a must have for any fan of Sanrio's most recognisable face.

Information

WetBrush® x Hello Kitty Collaboration
Released: January 15, 2021

Available: Drug stores and variety stores in Japan (Select branches not participating)

Official Website: http://www.wetbrush.jp

D-UP x Hello Kitty Eyelash Fixer EX Launches in Japan

If you're looking to look as cute as Hello Kitty, then you'll want to pick up the new D-UP Eyelash Fixer EX, a product by D-UP released in collaboration with Sanrio on Friday (January 22) at Don Quijote stores in Japan. The product will also begin rolling out at variety shops and drug stores from March 5.

D-UP Eyelash Fixer EX is a super strong glue for false eyelashes. First released in 2000, it has gone to enjoy huge popularity in Japan where it has sold over 27 million units. It is also popular outside of Japan too.

With face masks now a norm for everyone worldwide, makeup trends are now tending towards the eyes, and so D-UP is launching its 5th collaboration with Hello Kitty, a partnership which first began in 2021.

D-UP Eyelash Fixer EX552 Hello Kitty S | ¥5,990 (Tax Included)

The packaging and product design features a retro style coloured in pastel colours and Hello Kitty.

Information

S5D-UP Eyelash Fixer EX552 Hello Kitty S
Pre-Release: January 22, 2021 @ Don Quijote
General Release: March 5, 2021
D-UP Official Website: https://d-up.co.jp/

Hello Kitty Valentine's Day Chocolates by Bicerin Are Sure to Surprise Your Lover

Café Al Bicerin released a special collection of chocolates in Japan for Valentine's Day on Wednesday (January 20) in collaboration with Hello Kitty.

Café Al Bicerin is a cafe in Torio, Italy, that first opened back in 1763. It has a long history and is a place that was enjoyed by the likes of Friedrich Nietzsche and Ernest Hemingway.

Bicerin × Hello Kitty Love Assortment | ¥2,160 (Tax Included)

Bicerin × Hello Kitty Love Assortment | ¥2,160 (Tax Included)

Valentine's Baci di Dama (Includes 5) | ¥1,350 (Tax Included)

© 2021 SANRIO CO., LTD. APPROVAL NO. L617585

Information

Bicerin x Hello Kitty Valentine's Collection
Released: January 20, 2021
Available: Bicerin Japan (Ginza SIX, Takashimaya Shinjuku, Midland Square, Hankyu Umeda, Roppongi Hills, Tokyo Midtown Hibiya)
Official Online Store: https://shop.bicerin.co.jp/
Official Website: http://www.bicerin.co.jp/

Pompompurin Celebrates 25th Anniversary With Special Birthday Party Event

This month marks the 25th anniversary of Sanrio's popular character Pompompurin, and to celebrate, the kawaii character-creation company is honouring the adorable golden retriever both online and offline with a special birthday event, the selling of commemorative merchandise, and more.

Pompompurin 25th Anniversary

Pompompurin first came out of the kennel in 1996. The golden retriever is known for his trademark beret and his iconic colour scheme which is inspired by the Japanese custard pudding dessert known as purin―which is also where he gets his name from! He is a popular face amongst fans of Sanrio's character cast, and that's proven in the fact that he has placed top in the annual Sanrio Character Ranking three times. He lost to Cinnamoroll in the 2020 Sanrio Character Ranking, coming in second, but maybe he has a chance this year?

Pompompurin has over 600,000 followers on his official Twitter account, where he posts pictures of his easy-going, everyday life and what he's up to (probably not much during the day though as he is known for loving afternoon naps). The custard-coloured doggo also has over 20,000 registered members of his Pompompurin Ambassador program which has "Pombassadors" publishing social media posts and blog entries about Pompompurin.

Birthday Event – "Pom Shusokai"

A birthday event titled "Pom Shusokai" (Pom General Meeting) will take place at Sanrio Puroland, a theme park in Tokyo themed completely on Sanrio's character roster, on March 21, 2021. At the general meeting, Pompompurin will appear "not as a stakeholder, but as the Head Pom" where various exciting things will take place in the run up to his actual birthday which falls on April 16. Tickets go on sale from mid February, but Pombassadors will get early access. Full details on what to expect at the event will be announced in the coming weeks on Sanrio's homepage.

25th Anniversary Merchandise

A cute, original line-up of three merchandise designs has been created to commemorate Pompompurin's 25th.

Anniversary Design Items: Celebration, Collection, World Rice

Celebration Designs

Collection Designs

Rice From Around The World Designs

The collection will roll out at select Sanrio stores, variety stores, and pop-up shops in Japan from in early February.

Pompompurin x Pastel Desserts Collab

Pompompurin is also collaborating with the desserts brand Pastel who have baked up a special pudding-flavoured 25th anniversary chiffon cake. It will be sold at Pastel branches in Japan from March 15.

©︎'76, '90, '96, '21 SANRIO 著作(株)サンリオ

Pompompurin's 25th Anniversary Announces More Celebrations at Sanrio Puroland and Harmonyland

This month marks the 25th anniversary of fan-favourite Sanrio character Pompompurin, and to celebrate, Sanrio is holding a special 1-year commemoration to the adorable gold retriever which will run throughout 2021 with a host of events and exclusive merchandise at Sanrio Puroland and Sanrio Harmonyland, and more.

Pompompurin 25th Anniversary Key Visual

Sanrio Puroland Pompompurin 25th Anniversary "Niko Niko" Purin Party With Team Purin Key Visual

Niko Niko Purin Room

Pompompurin 25th Anniversary Special Merchandise

Pompompurin 25th Anniversary Food & Desserts

Pompompurin 25th Anniversary Event in Harmonyland New Costume Design

There's lots to look forward to this year for Pompompurin fans, such as the Pompompurin 25th Anniversary Niko Niko Purin Party With Team Purin event taking place at Sanrio Puroland from March 12 to December 31 where fans can snap a photo in the Niko Niko Purin Room, get their hands on exclusive anniversary merch, tuck into a themed menu, enjoy online content if they can't get to Puroland, and more. Pompompurin is also debuting a cute new costume and fans will get to meet the cute character too.