Tokyo DisneySea's Pixar Playtime Event Now in Full Swing and Loved by Pixar Movie Fans
You say there's a snake in your boot? That's because Tokyo DisneySea's long-awaited Pixar Playtime is finally here, partner! Running from January 10 to March 19, this special event is a celebrating of all-things Pixar, with appearances from fans' favourite films from Toy Story to Finding Nemo and beyond.
Today, we're taking a small peek into what Pixar fanatics can look forward to. From shows to food and merchandise, this is an event you won't want to miss!
Pixar Playtime
Pixar Playtime is an annual event that plunges guests into the wonderful worlds of Pixar's filmography, giving them a chance to meet and celebrate with some of the most iconic characters in animation history. For Pixar Playtime 2020, Tokyo DisneySea has been decorated like a colourful board game with squares which guests can move along and challenge themselves to the many different objectives written on them. There are many programmes prepared for this year, including the one below.
The "Pixar Playtime Pals" Show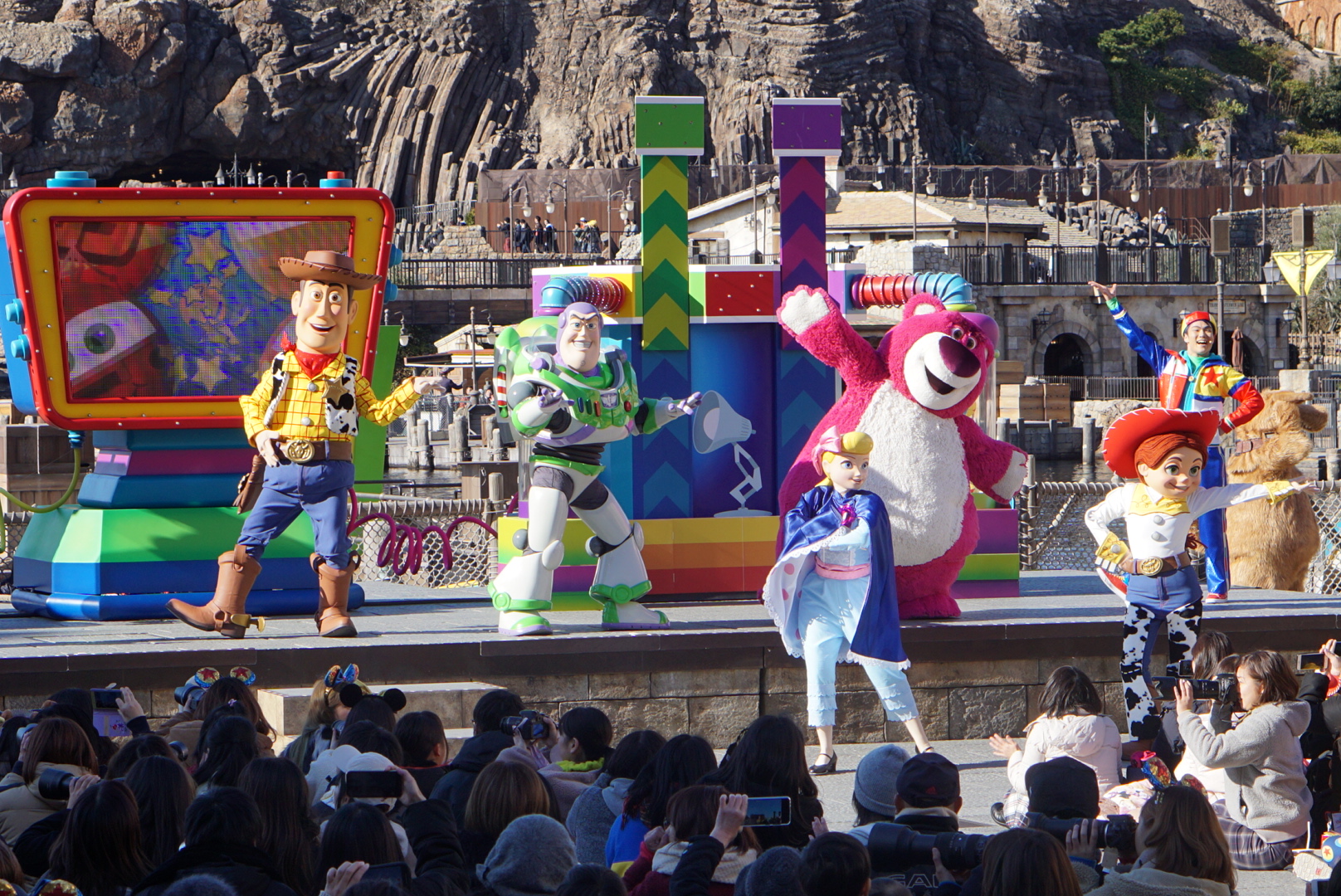 Taking place at Piazza Topolino in Mediterranean Harbor, the Pixar Playtime Pals show invites guests into playing various fun games inspired by the Toy Story, The Incredibles, and Finding Nemo films.
As the games progress, more and more characters begin to appear to raise levels of excitement including those from Ratatouille, Up, Brave, and Inside Out.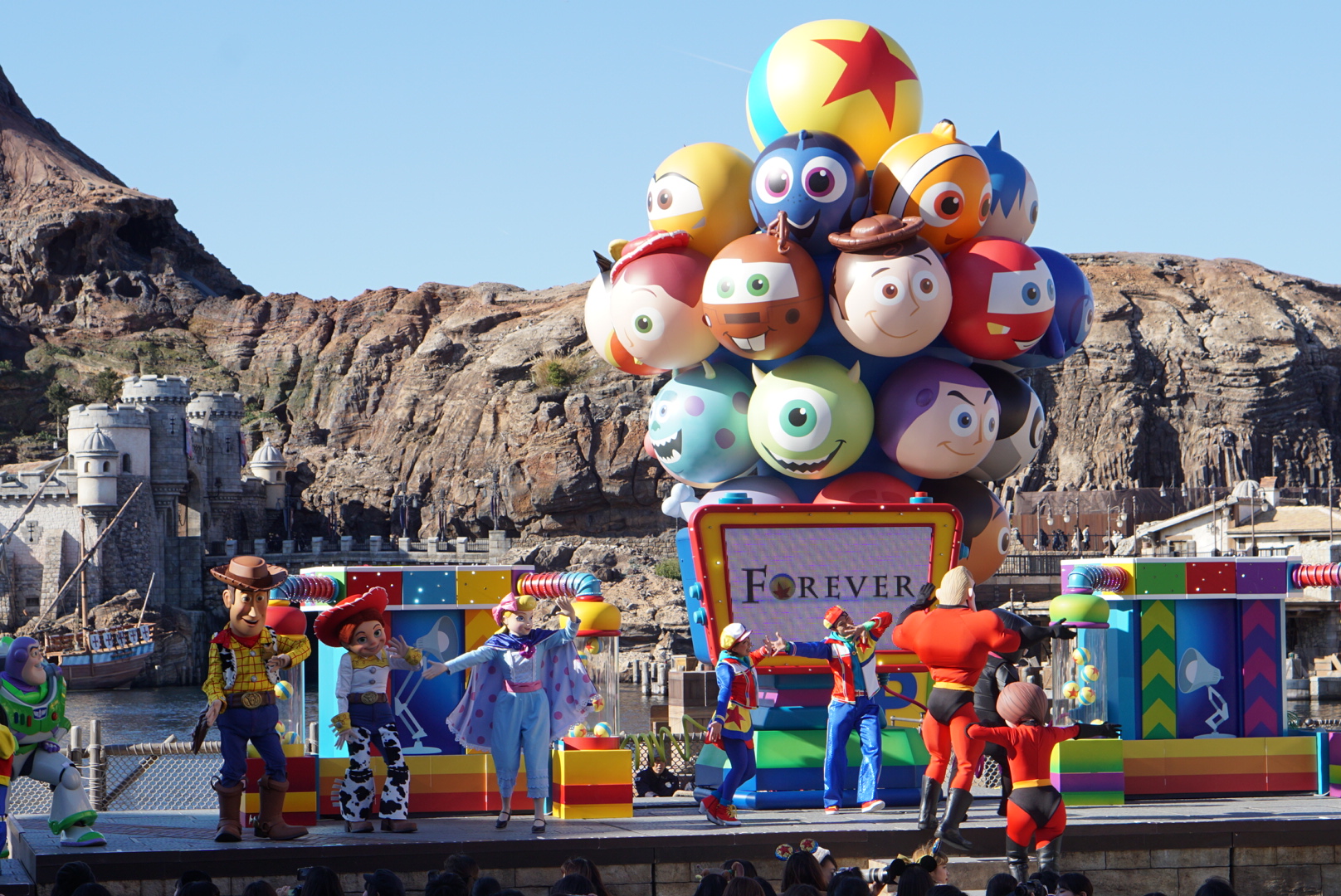 It's an exciting time for Pixar fans to interact with lots of their favourite characters.
Decorations Aplenty
Tokyo DisneySea is littered with decorations referencing Pixar's films for the event including the iconic Pixar Ball.
Other things guests will spot is the colourful roulette featuring numerous characters, a game booth based on the Toy Story film series, a plethora of photo spots including the one above of Jack-Jack from The Incrediblesーthe list goes on. There's plenty to be enjoyed at every turn, so be sure to take it all in.
Themed Menu
Special Set – ¥1,980 @ Horizon Bay Restaurant
This special set is inspired by Finding Nemo. The pink mashed potato spread on the hamburger is made to look like coral.
There are also other little motifs, like this fish-shaped carrot which is orange like the titular clownfish himself.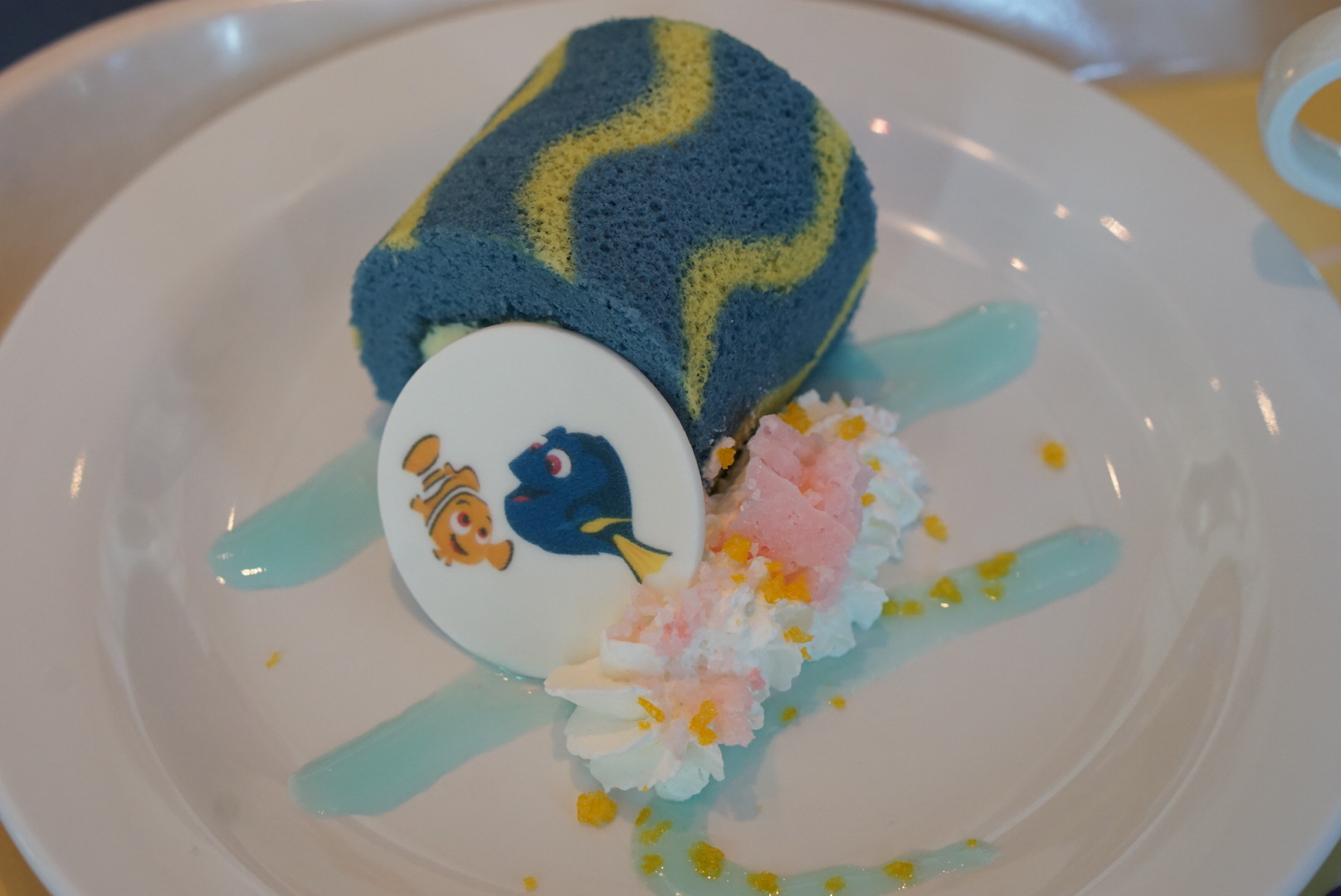 The captivating colours of the lemon roll cake bring to mind Dory swimming through the ocean, while the accompanying pumpkin cream soup is sure to warm you up.
Sparkling Drink (Orange & Strawberry) – ¥450 @ Horizon Bay Restaurant
This orange and strawberry flavoured sparkling drink is inspired by Hank the octopus. It's topped with strawberry flavoured pearls which look like octopus suckers and add a delicious chewy texture to your sipping experience.
Orange & White Chocolate Mousse w/ Souvenir Mug – ¥800 @ Mamma Biscotti's Bakery
This two-layered cup dessert is made from orange and white chocolate mousse. You're sure you recall the famous claw scene from Toy Story as your fork descends onto the custard-flavoured Little Green Man. The dessert comes with a free Toy Story and star design mug.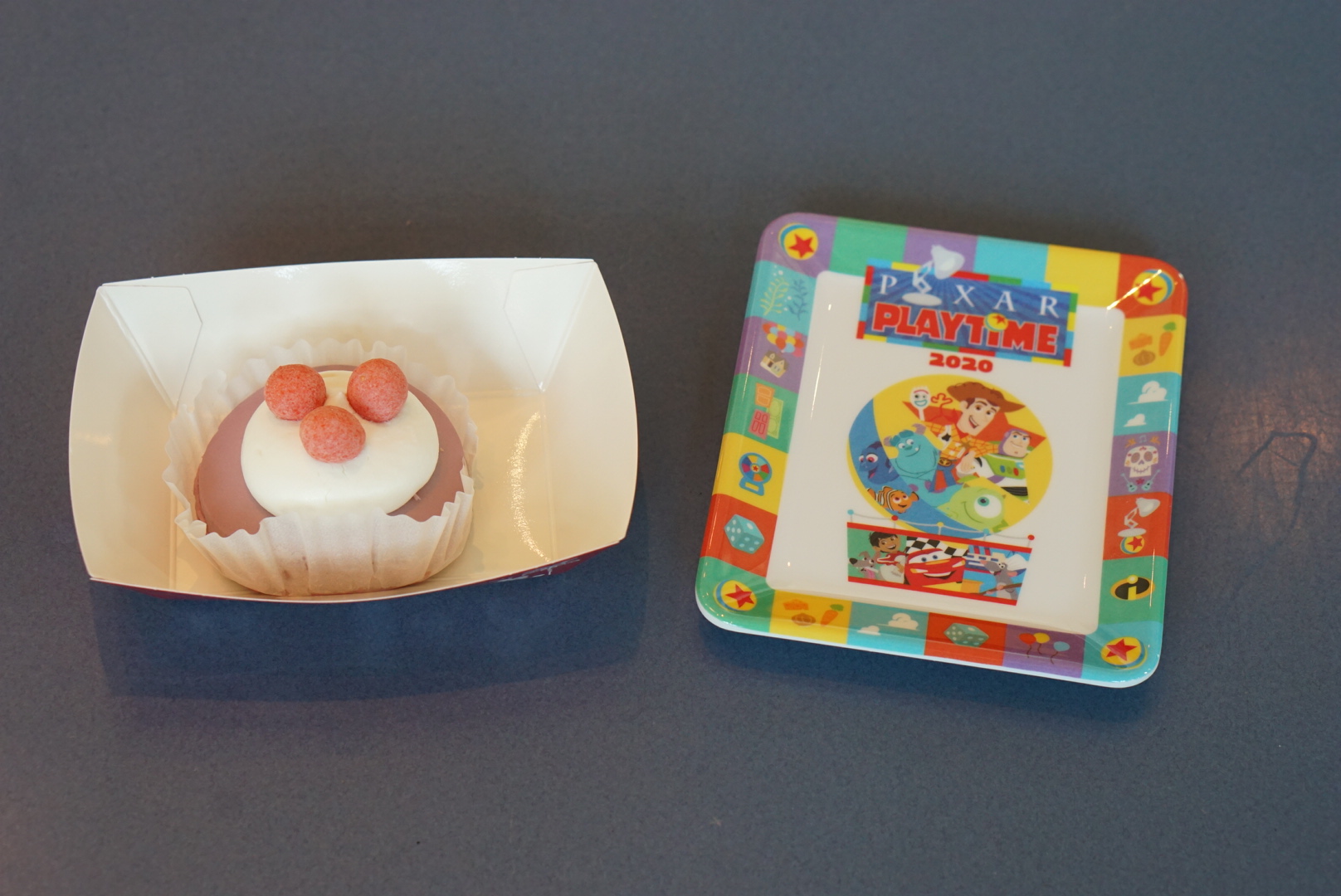 Blueberry Cheesecake w/ Souvenir Plate – ¥800 @ Mamma Biscotti's Bakery
The fresh smell of blueberry will hit your nose as you munch into this moist cheesecake, topped with strawberry chocolate-coated wheat bran. It also comes with a plate featuring the Pixar Playtime board game design.
Special Merchandise
Mug – ¥'2,300
It wouldn't be a Pixar event without some love for Luxo Jr., the famous lamp that is a symbol of Pixar. The "Playtime" text written on the mug depicts various movies from the animation studio.
Pouch Set – ¥2,100
You're sure to be spoiled for choice when picking which of these pouches to use, but luckily they come as a set, so you get all three. They feature cute designs of the Pixar character cast.
Osenbei – ¥1,100
This set of osenbei rice crackers make for a perfect souvenir. There are five flavours in the set including persimmon seed, sweet & salty, curry, salted, and cheese.
Jump into the wonderful world of Pixar at Tokyo DisneySea's Pixar Playtime Event.
©️Disney
RELATED ENTRIES
Disney Japan to Release New Year's Themed Merchandise This Holiday Season

Walt Disney Japan has announced the release of a new collection of merchandise to celebrate the New Year which will hit Disney Japan stores on December 1, 2020. Pre-sales items will also open at select stores and on ShopDisney on November 27.

The line-up includes a selection of traditional Japanese New Year decorations and more, all with Disney motifs, like daruma dolls, kadomatsu pine decorations, and more.

<Daruma Plush Toy Sets> Mickey Mouse & Minnie Mouse or Chip & Dale – ¥2,750 Each | <Mascot Figure> Donald Duck – ¥2,750 | Shimekazari – ¥2,860 | Kadomatsu – ¥1,980 (All Before Tax)

Welcome the year with good fortune with the red and white Mickey and Minnie or Chip & Dale daruma dolls. They are sure to brighten up any house entrance or room.


Winnie the Pooh Plush (Large) ¥3,300 | Roo or Piglet – ¥1,760 | Eeyore – ¥1,980 (All Before Tax)

The faces of the Hundred Acre Wood arrive dressed in cute cow outfits to represent the Year of the Ox in 2021. Each of them is holding a bottle of milk.


Tsum Tsum Plush Toys  – ¥990 Each (Before Tax)

Disney Japan is also releasing a collection of Tsum Tsum plush toys, each of which is also dressed in cow clothing.


nuiMOs Kimono Plush Toy Set – ¥2,530 Each | Year of the Ox Costumes – ¥1,980 Each | UniBEARsity Plush Toy Costume – ¥3,630 (Before Tax)

nuiMOs and UniBEARsity have created their own New Year's plush toy outfits too in celebration of the Ox.

©Disney
©Disney. Based on the "Winnie the Pooh" works by A.A. Milne and E.H. Shepard.

Information

Release Date: December 1, 2020

Pre-sales: November 27, 2020 at Disney Store Sendai Toei Plaza, Disney Store Shibuya Koen-dori, Disney Store Kyoto Shijo Kawaramachi, Disney Store Shinsaibashi
ShopDisney Official Website: https://shopdisney.disney.co.jp/

Mickey & Friends Disney Christmas Cupcakes to be Released at Ginza Cozy Corner

Japanese confectionery company Ginza Cozy Corner is teaming up with Disney once again to release a new Christmas collection of cupcakes on December 1.

Colourful Disney treats for the holiday season

This sweet seasonal collection is inspired by Mickey & Friends and contains nine unique cupcakes which depict the characters getting ready for their Christmas party.

Disney Christmas Collection (Contains 9) | ¥2,500 (Before Tax)

Cupcakes include a Santa-hat wearing, chocolate ganache-filled Mickey cream cheese cake, a strawberry jam-filled Minnie mousse cake, a lemon and mint cream-packed, Christmas decoration-adorned Donald tart, a banana and mint cream Pluto tart, an orange cream Goofy chocolate cake, and more.

The cakes are packed in a special Disney Christmas box which is sure to catch the attention of sweet tooths this holiday season, perfect for stay-at-home Christmas parties.

Information

Disney Christmas Collection
Running: December 1, 2020 – December 25, 2020

Ginza Cozy Corner Official Website: https://www.cozycorner.co.jp/

Toy Story's Little Green Men and Lots-o' Get Turned Into Confections at Japanese Convenience Stores

Bandai's character-inspired Japanese confectionery series Tabemas has revealed that its next batch of sweet treats will be inspired by the Little Green Men and Lots-o'-Huggin' Bear from the popular Pixar movie franchise Toy Story. The confections will hit 7-Eleven convenience stores in Japan on November 21, 2020.


Tabemas Toy Story | ¥258 Each (Before Tax)

The lovable Little Green Men and Toy Story 3's main antagonist Lots-o have been fully recreated, down to the finest details, into delicious confections. The details are well crafted you can almost hear the aliens chanting "OOOOOH" in unison! The sweets are also made with a dough called "nerikiri" which is used in making traditional Japanese wagashi sweets.

The Little Green Men are matcha flavoured while Lots-o is strawberry flavoured. Both contain Japanese bean paste, and neither use artificial colourings. Their colours comes from the original ingredients. Each sweet is also only 100kcal making is a perfect quick treat.

'Tabemas' is an abbreviation of the Japanese words taberareru masukotto, meaning 'mascots that you can eat.' It is a Japanese confectionery series that combines well-known characters and Japanese sweets made from ingredients like red bean paste, sugar and rice flour.

©Disney/Pixar

Information

Tabemas Toy Story 25th Anniversary – Little Green Man & Lots-o'-Huggin' Bear
Release Date: November 21, 2020
Available: At the chilled sweets section of 7-Eleven convenience stores in Japan

*Available while supplies last

*Stock date may differ from branch to branch

*Select stores not participating

Official Website: https://www.bandai.co.jp/candy/tabemas/toystory/  

Japan's Pixar Bullet Train Project 'GO! WAKU WAKU ADVENTURE with Pixar' Announces New Merchandise

The "GO! WAKU WAKU ADVENTURE with Pixar" project has announced its second batch of original merchandise. Let's take a look at a sample of the line-up.

About GO! WAKU WAKU ADVENTURE with PIXAR

JR Kyushu signed a promotional license agreement with Walt Disney Japan to launch the "GO! WAKU WAKU ADVENTURE with PIXAR" project, which began on September 12, 2020, and sees select shinkansen bullet trains decorated in characters from Pixar's animated filmography.

Original Merchandise – Batch ②

Pixar Torimon | ¥1,512 (Tax Included)

The Hakata Tormin is a popular souvenir confection in Fukuoka Prefecture. This collection features exclusive Pixar packaging.

Pixar Stainless Steel Bottle | ¥3,190 (Tax Included)


Pixar Mobile Battery | ¥4,180 (Tax Included) *Available online only

Two items which are must-haves when travelling are a drink bottle and a mobile battery. The Pixar stainless steel bottle holds 130ml and is perfect for keeping hot drinks during the autumn and winter season.

minimaginationTOWN Toy Story Woody Set | ¥2,480 (Tax Included)


minimaginationTOWN Toy Story Ducky & Bunny Set | ¥3,278 (Tax Included)

Cute Pixar plush toys riding the Pixar bullet train. There's also Buzz and Little Green Men designs!

Pixar Arita Ware Plate (Up design) | ¥3,080 (Tax Included) *Available online only

Little Green Men Hand Towel | ¥2,816 (Tax Included) *Available online only

Two traditional Japanese items with an Arita ware plate inspired by Up as well as hand towels which are available in navy and brown.

Original Merchandise – Batch ②

Release Date: November 13, 2020
Available: Kokura Souvenir Shop, Hakata Souvenir Shop at Hakata Station's Hakata Entrance, Hakata Souvenir Shop Dates, Hakata Souvenir Shop at Hakata Station's Shinkansen area, Oita Souvenir Shop, Kumamoto Souvenir Shop, Nagasaki Souvenir Shop, Kagoshima Souvenir Shop, Miyazaki Souvenir Shop, and elsewhere
Online Shop: https://jrk-kyushutabi.shop/html/page2.html
*Limited in stock so available while supplies last

Instagram campaign to win more original merch

©Disney/Pixar


Prize: Embroidered Pouch With Pin

The WAKU WAKU ADVENTURE Instagram Campaign will run from November 16, 2020 to January 16, 2021 for a chance for 20 people to enter to win an embroidered pouch with a pin. All they need to do is follow the official Instagram page @wakuwakuadventure and post a photo related to the project with the Japanese hashtag #わくわくアドベンチャーキャンペーン.

©Disney/Pixar

Toy Story's Lotso Gets Special Disney Bag and Blanket Collection by Maison de FLEUR

Japanese brand Maison de FLEUR launched a new collection of merchandise on Saturday (October 31) themed on Lots-o'-Huggin' Bear from Toy Story 3 as part of their Disney Collection.

 

LOTSO Frilly Handle Tote Bag | ¥4,590 (Before Tax)

LOTSO Round Pouch | ¥3,990 (Before Tax)

LOTSO Blanket | ¥4,990 (Before Tax)

The line-up includes a fluffy tote bag, pouch, and blanket each of which bears Lotso's cute face. The items are made from boa fabric which is so soft you'll just want to hug your Lotso. Perfect for the autumn and winter season.

LOTSO Square Tote Bag | ¥4,290 (Before Tax)

There's also a square canvas tote bag which can is suitable for any season. Lotso's embroidered face is looking very cheeky. The insides of all the bags and the pouch also have prints of the characters from Toy Story so you can take them with you wherever you go.

This collection is a must-have for fans of Lotso and Toy Story.

Disney's Fantasia Gets Sweets Collection by Tokyo Banana

GRAPESTONE is releasing a new sweets collection at Disney SWEETS COLLECTION by Tokyo Banana, which is located in Tokyo Station, in collaboration with the Disney classic Fantasia. The confections will be released in limited quantities from October 30, 2020.

© Disney Disney SWEETS COLLECTION by Tokyo Banana JR Tokyo Station

Disney SWEETS COLLECTION by Tokyo Banana opened on the JR Line side of Tokyo Station in November of last year. The shop is a joint-collaboration with Tokyo Banana—the official souvenir sweet of Tokyo—and Disney. The shop sold over 100,000 products in the first week of its opening, and caught the attention of Disney fans on social media who described the shop and the packaging of their sweets as cute.

Disney Fantasia Chocolate Sandwich (Contains 28) | ¥3,024 (Tax Included)

The cute packaging features Mickey Mouse as The Sorcerer's Apprentice in the 1940 animated film Fantasia. The light and crunchy cat tongue cookies at filled with chocolate banana milk shake flavoured cream

The confections serve as the perfect gift or souvenir from Japan to yourself or any fan of Disney.

© Disney

Information

Disney Fantasia Chocolate Sandwich
Running: October 30, 2020 – Mid December 2020

Available: Disney SWEETS COLLECTION by Tokyo Banana JR Tokyo Station

Purchasing: 70 available per day, max 2 per person
Official Website: https://www.tokyobanana.jp/disney/index.html

Disney: Twisted-Wonderland Mobile Game Gets Themed Cafes in Tokyo, Osaka and Nagoya

LEGS, INC. has announced that it will open three cafes themed on the mobile game Disney: Twisted-Wonderland at OH MY CAFE branches in Tokyo and Osaka on November 20 and in Nagoya on November 27.

Disney: Twisted-Wonderland is a Japanese mobile game that was released on March 18, 2020. The concept, character designs, and scenario for the adventure rhythm game were conceived by Yana Toboso, the creator of the popular Black Butler manga series. The game is centred on the villains of Disney.

The cafe's theme places customers in the food hall of Night Raven College, the magic training school where the game is set. It will be adorned in decorations inspired by the game's food hall, and coupled with that, the cafe will serve up food and drink that actually appear in the game. There's also exclusive merchandise for players to get their hands on.

The Menu

There are four different lunches to pick from, all of which are low in salt content and so are a healthy option for wizards and witches flying into the cafe.

Food

<Lunch Option A>


Deluxe Menchi Katsu Sandwich | ¥1,990, with plate ¥4,290 (Before Tax)

The most popular item on the food hall's menu is the non-fried menchi-katsu meat cutlet sandwich.

<Lunch Option B>


Salmon Cream Stew | ¥1,990, with plate ¥4,290 (Before Tax)

A cream stew packed with salmon and vegetables and served with slices of baguette for dipping.

<Lunch Option C>


Tomato Base Squid Ink Pasta | | ¥1,990, with plate ¥4,290 (Before Tax)

A colourful tomato-based veggie pasta in squid ink and served with fruity yoghurt.

<Lunch Option D>


Four Mushroom Risotto | ¥1,990, with plate ¥4,290 (Before Tax)

A creamy, mild-flavoured risotto served with four different kinds of mushrooms.

Drinks


Character Drinks (7 Flavours) – Heartslabyul, Savanaclaw, Octavinelle, Scarabia, Pomefiore, Ignihyde, Diasomnia | ¥890 with coaster ¥1,790 (Before Tax)

A selection of colourful tinted waters inspired by seven different characters seen in the game.

Merchandise


Superdeformed Series Art Example


Pattern Series Art Example

Magic-wielding players can get their hands on a selection of merchandise both at the cafes, and from November 20, via the OH MY CAFE STORE website. There are two different designs for the merch line-up as pictured above.

Bonus Items

Customers who book a table in advance (¥650 before tax per person) at the cafe will receive one of 22 possible lunch mats, and if they order a drink, one of 22 coasters.

©Disney

Information

Disney: Twisted Wonderland @ OH MY CAFE

OH MY CAFE TOKYO

Address: Tokyu Plaza Omotesando, 4-30-3 Jingumae, Shibuya, Tokyo

Running: November 20, 2020 – January 31, 2021

kawara CAFE&DINING Shinsaibashi

Address: Shinsaibashi Opa Floor 9F, Nishi-Shinsaibashi, Chuo Ward, Osaka, Osaka Prefecture

Running: November 20, 2020 – February 2, 2021

kawara CAFE&KITCHEN Nagoya PARCO
Address: Nagoya PARCO, 3-29-1 Sakae, Naka-ku, Nagoya-shi, Aichi
Running: November 27, 2020 – February 9, 2021

Official Website: http://twst.ohmycafe.jp

Tokyo's Mickey Mouse Exhibition 'THE TRUE ORIGINAL & BEYOND' Previews 5 Japanese Artworks

The Asahi Shimbun and Nippon TV are set to host an exhibition centred on Mickey Mouse at the MORI ARTS CENTER GALLERY in Roppongi, Tokyo, from October 30, 2020 to January 11, 2021, in celebration of 90 years since Mickey Mouse's screen debut. The exhibition will showcase works shown at the Mickey: The True Original Exhibition held in New York in 2018-2019.

Before the exhibition opens, five participating Japanese artists have each revealed their never-before-seen artworks which will be on display.

The Tokyo exhibition will be a travel back through time, looking at Mickey Mouse from the past to the present. It will be split into three zones: "The Origin," "The True Original," and "Beyond." The five artists showcasing their work early will be featured in the "Beyond" zone and include Tomoko Oshima, Kosuke Kawamura, Nana Soeda, Calligrapher MAMI, and WAKU. Below are their featured pieces along with their comments.

Tomoko Oshima | Comment

"What's fascinating about Mickey Mouse is, for reasons I can't begin to work out, how he became a part of each person's life. I was raised in a household that banned cartoon characters, so it always felt like something unobtainable. Mickey Mouse is like a hero to all of us. He's dazzling and radiant, a kind of being I can't look directly in the face of. When working on my Mickey Mouse art [for the exhibition], my concept was to create a Mickey that's special only to me, so I challenged myself to turning that Mickey Mouse that everyone feels happy looking at and loves into my usual art style."

Oheya (Bedroom), Tomoko Oshima

Kosuke Kawamura | Comment

"What I find fascinating about Mickey Mouse is that no matter how old I get, he always transports me away from the real world to a world of dreams. He's an idol of mine. I even have my own collection of merchandise I've been collecting over the years. For the exhibition, I needed to creating something for the Beyond [zone], so I tried shaping Mickey Mouse from how I see him in my head. I've always made sure to balance my artwork in such a way that it can be seen in two ways. When you stand close, you can see the detailed composition, but when you step away, it looks different. This time around I gave myself a little challenge and made the silhouette of his face and hands using flowers. If you get close to it you'll see that it's made up of lots of flowers, but stand from afar and you'll be able to see the facial expressions and his pointing figure. I'd like people to give both a go, so when you've looked at it up close then take a step back."

Untitled, Kosuke Kawamura

Nana Soeda | Comment

"I feel Mickey Mouse's appeal from his long history and how he has changed overtime, so I tried to express these aspects in the piece I made. The theme for it is centred on Mickey Mouse in the future, so when I was thinking about what he might look like in the future, I looked to past [designs] and tried fixing them up. So in my piece there's a trace of looking back at past Mickey Mouse while giving him an update. Creating those 'futures' made me feel like I was walking through my own past and processes. You can't know exactly what's to come in the future even for someone as internationally popular as Mickey Mouse. But by learning from past memories and mistakes, you can draw on those to create a future, don't you think? That's something I wanted to convey in this piece, and I did so by creating something that's close to the Mickey Mouse of the past with both 2D and 3D surfaces. The Mickey Mouse I drew is the one of ages past that looks completely different to his appearance today. But those look at it might feel something newer about it than older. That, or they might feel uncomfortable seeing him in a way they're not used to. I want people to take their time looking at both and feeling whatever they feel when they do."

LOVE, Nana Soeda

Calligrapher MAMI | Comment

"I've captured Mickey Mouse's silhouette as its own kanji by using calligraphy. His appearance is iconic worldwide, and by making him recognisable through this common language, I've tried to create a new kanji, effectively breaking the language barrier of calligraphy, something which is difficult in itself to overcome for people. Another thing with calligraphy is that you can write the same piece hundreds of times which means it can be fine tuned over and over. I believe that overlaps with Mickey Mouse's design as he has too has evolved for a hundred years. But by no means have his designs he just spring out of existence immediately. He has undergone trial and error through the times, and always shines bright. It's because of everyone who will see my piece as this exhibition that I've been able to create something I can feel from the heart."

ZEN Mickey, Calligrapher MAMI

WAKU | Comment

"I think the appeal of Mickey Mouse lies in the fact that people around the world all remember him from their childhoods. We form memories during our childhoods, and ever I've been able to recognise those memories inside of me, Mickey Mouse was something that was always close to me. When I see three circles together, Mickey Mouse's face comes into my mind. He might be the first internationally recognisable symbol. I felt that the affinity between symbolism and neon signs is very high. So for my piece, I incorporated the techniques used for traditional Japanese neon signboards, something which I see less of these days. I took that and created the three Mickey Mouse circles using light."

Untitled (Still Being Worked On), WAKU

Information

MICKEY THE TRUE ORIGINAL & BEYOND
Running: October 30, 2020 – January 11, 2021

Time: 10:00-20:00

Venue: MORI ARTS CENTER GALLERY (Roppongi Hills Mori Tower Floor 52F)

Entry Price: General ¥2,800 / Junior & High School Students ¥2,000 / Elementary School Students ¥1,200 / Preschoolers – Free
Official Website: mtob.exhibit.jp

Review: Tokyo Disneyland's New Big Hero 6 Attraction and Minnie's Style Studio

Tokyo Disneyland® is set to open its all-new Beauty and the Beast area of the park tomorrow on September 28, 2020. It's opening in line with the new Big Hero 6 attraction, Minnie Mouse area where guests can meet Minnie, and the park's new popcorn shop.

MOSHI MOSHI NIPPON was granted early access to the news areas, so here's our review!

Check out our review of the new Beauty and the Beast area too here: https://www.moshimoshi-nippon.jp/362152

The Happy Ride with Baymax: The world's first Big Hero 6 attraction

The Happy Ride with Baymax ride has guests joining one of the personal healthcare companion robots on an exciting cart ride.

The park is limiting the number of people allowed on the attraction at once due to the pandemic. To board the attraction, guests need to download the app after entering the park.

Big Pop: Tokyo Disneyland's first popcorn shop

Tokyo Disneyland's first permanent popcorn shop opens in Tomorrowland.

This space-themed shop serves up a whole range of flavours like cookie cream, caramel and cheese, and strawberry milk. There's also four different popcorn baskets to choose form, including Big Hero 6 and Beauty and the Beast designs.

Minnie's Style Studio: Meet Minnie Mouse

This studio imagines Minnie Mouse as an international fashion designer who designs outfits, shoots photos, and more. Guests can meet Minnie Mouse at her studio if they book in advance.

©Disney

Review: Tokyo Disneyland's New Beauty and the Beast Area

Tokyo Disneyland® is set to open its all-new Beauty and the Beast area of the park tomorrow on September 28, 2020. It's opening in line with the new Big Hero 6 attraction, Minnie Mouse area where guests can meet Minnie, and the park's new popcorn shop.

MOSHI MOSHI NIPPON was granted early access to the Beauty and the Beast area – here's our review!

Check out our review of the new Big Hero 6 attraction and Minnie's Style Studio too here: https://www.moshimoshi-nippon.jp/362221

The world of Beauty and the Beast brought to life

The area connects Belle's village to Beast's castle by way of the forest. At the entrance to the village, guests will immediately spot the cottage of Maurine, Belle's father and the vilage inventor. Beyond that is Gaston's water fountain as well as a restaurant inspired by Gaston's bar. There are also other shops that Belle visits in the film, such as the bookshop. It's like stepping into the magical world itself.

When you leave the village and head through the forest, you are met by the spectacle that is Beast's castle, coloured in a cute pink. There's a large-scale attraction inside called "Enchanted Tale of Beauty and the Beast."

The Tokyo Disneyland-original attraction "Enchanted Tale of Beauty and the Beast"

The attraction, located inside the towering 30m-tall castle, features magical cups that guests board. The cups dance in rhythm to music from the film as they take guests through iconic moments seen in the Disney classic.

There are many surprises and discoveries to be found inside the castle.

The park is limiting the number of people allowed on the attraction at once due to the pandemic. To board the attraction, guests need to download the app after entering the park.

Village shops based on the movie

The Village Shops area features a line of shops inspired by those seen in Belle's town, each of which sells various items from clothing to accessories and souvenirs.

There are around 100 pieces of merchandise for fans to sift through.

The shops are also carrying out measures against COVID-19, showcasing the items in a display only so they cannot be touched when entering the store. Guests must use the sign-up system on the app beforehand if they want to enter the shop.

La Taverne de Gaston

All the little details have been captured to recreate Gaston's bar, making it like a snippet right out of the film.

Big Bite Croissant

 

Very Cheers

Sweet Gaston

The menu features a line-up dishes, drinks, and desserts, like sausage croissants with, French toasted cheese sandwiches, soft drinks made to look like beer, and more. The bar also requires booking on the app prior to visiting.

Le Fou's Churros (Apple Caramel)

Le Fou's is located next to La Taverne de Gaston where you can get your fingers on snacks like apple caramel churros.

And don't miss up on visiting the new popcorn wagon either which serves popcorn in a Beauty and the Beast bucket.

The new Beauty and the Beast area is a must-visit for any fan of the film, or for people who want to feel like a Disney princess.

©Disney

Mickey Mouse Exhibition 'THE TRUE ORIGINAL & BEYOND' to be Held in Roppongi

The Asahi Shimbun and Nippon TV are set to host an exhibition centred on Mickey Mouse at the MORI ARTS CENTER GALLERY in Roppongi, Tokyo, from October 30, 2020 to January 11, 2021, in celebration of 90 years since Mickey Mouse's screen debut. The exhibition will showcase works shown at the Mickey: The True Original Exhibition held in New York in 2018-2019.

 

Walt Disney's concepts and ideas are formed around innovation, creativity, imagination, and storytelling. And one character who walked that journey with him and continues to this day is none other than the iconic Mickey Mouse, who since making his first appearance in Steamboat Willie in 1928, has gone on to be a symbol of the Walt Disney Company loved by people the world over.

Mickey: The True Original Exhibition in New York

The Mickey: The True Original Exhibition held in New York looked at how Mickey Mouse has influenced art and pop culture over the years, covering everything from Steamboat Willie which hailed as Walt Disney's first black and white sound film to over 100 colour short animations, artwork, and more.

Keiichi Tanaami – "Mickey's Japan Tourism"

Javier Sanchez Medina – "Studio for Mickey's hands"

The exhibition was ran from November 2018 to February 2019 and saw installations from over 20 international artists including New York-based artist Daniel Arsham and Los Angeles-based artist and graphic designer Brian Roettinger.

Brian Roettinger – "(L)imitation of Sound"

DRx – "3000% Mickey Be@r"

The Tokyo exhibition will be a travel back through time, looking at Mickey Mouse from the past to the present. It will be split into three zones: "The Origin," "The True Original," and "Beyond."

The Beyond zone will welcome original artwork from five Japanese artists.

 

Original Merchandise – Pin Badge

Original Merchandise – Ballpoint Pen

The exhibition's museum shop will have exclusive Mickey Mouse merchandise for sale, as well as pre-sales on other items. See new official goods from works like Steamboat Willie and Fantasia as well as items designed by Japanese artists. It's a chance to see Mickey in a variety of different ways.

Free eco-bag

Visitors to the exhibition will also receive one of four original eco-bags for free upon arrival.

Information

MICKEY THE TRUE ORIGINAL & BEYOND
Running: October 30, 2020 – January 11, 2021

Time: 10:00-20:00

Venue: MORI ARTS CENTER GALLERY (Roppongi Hills Mori Tower Floor 52F)

Entry Price: General ¥2,800 / Junior & High School Students ¥2,000 / Elementary School Students ¥1,200 / Preschoolers – Free
Official Website: mtob.exhibit.jp

Review: Meeting Pixar Characters in Japan at PIXAR FEST in Omotesando

OH MY CAFE, a chain of cafes in Japan, is now running a special Pixar-themed food event called 'PIXAR FEST' which will run in Tokyo, Osaka, and Nagoya.

"Keep On Smiling" is the the concept of the event, which will serve up a whole range of different foods including a Lightning McQueen exclusive on September 5, a special drink inspired by Disney Pixar's Onward which released earlier this year, a collection of strawberry desserts centred on Lots-o'-Huggin' Bear to celebrate Toy Story's 25th anniversary, and more. There's lots to see, so we follow MIOCHIN to the Tokyo event in Omotesando.

PIXAR FEST at OH MY CAFE is packed full of exciting things for both kids and adults alike. Here's our report.

The fun begins even before you enter the cafe, as at the entrance, you are met with a wall poster of numerous popular Pixar characters.

The moment you step inside, Sully is there ready to greet you! You can even take a picture with him, so if you visit, don't miss the chance.

You'll find familiar faces scattered all around the cafe, like Woody, Buzz, Mike, Nemo. The decorations and designs are really wonderful.

The original menu has a cute lineup too, with dishes, drinks, and desserts inspired by characters from the animated movies.

The food tastes really good too, so be sure to pick out a menu item based on your favourite movie.

Until October 9, you can order the special Onward and Lightning McQueen menu items. This includes 'Ian & Barley's Pink Sunset Blue Mallow Tea' and 'Lightning McQueen's Kachow Lightning Hamburger Sandwich.' You can see the full menu lineup here. It makes you want to watch Pixar movies all day then grab some Pixar food!

Lots-o'-Huggin' Bear from Toy Story 3 will have his own special menu items too: the 'Lots-o's Strawberry Chicken Hamburger' and 'Lots-o'-s Strawberry Drink.' These will be served from October 10 to November 24.

The cafe has its own collection of PIXAR FEST merchandise in three different types: the "PIXAR FEST Series" which uses the cafe's main visual for its design, the "Vintage Series" which uses a cute purple, and the "Alien Mix" which has a pop design with the Little Green Men from Toy Story.

Customers can also receive a limited-edition OH MY CAFE sticker if they order something from the menu, buy some merchandise, and post their thoughts about the cafe and their items on Twitter with the hashtags #キャンペーン #PIXAR FESTカフェで最高の思い出を作ろう #OHMYCAFE. Be sure to get involved if you're in Japan this summer and autumn.

PIXAR FEST at OH MY CAFE is a dreamland for Pixar fans, and is best experienced in person.

©Disney/Pixar

Information

PIXAR FEST OH MY CAFE

Tokyo

OH MY CAFE TOKYO / August 28, 2020 – November 15, 2020

Address: Tokyu Plaza Omotesando Harajuku (Floor 3F), 4-30-3 Jingumae, Shibuya, Tokyo

 

Osaka

kawara CAFE&DINER Shinsaibashi / August 28, 2020 – November 17, 2020

Address: Shinsaibashi OPA (Floor 9F), 1-4-3 Nishishinsaibashi, Chuo Ward, Osaka, Osaka Prefecture

 

Nagoya

kawara CAFE&KITCHEN Nagoya PARCO / September 4, 2020 – November 24, 2020

Address: Nagoya PARCO South Building (Floor 5F), 3-29-1 Sakae, Naka Ward, Nagoya, Aichi Prefecture

Pixar Fest OH MY CAFE Official Website: https://pf2020.ohmycafe.jp/