Kawaii Fashion Magazine LARME's 44th Issue Includes Pokémon Inspired Outfits & More
The 44th issue of self-described "sweet girly artbook" fashion magazine LARME was released today (January 17).
Nagisa Saitō makes her second appearance in the =LOVE section
Japanese music artist Nagisa Saitō made her debut appearance in LARME 043 and received a huge reaction from readers in the =LOVE section of the magazine. In the latest issue, she showcases trending spring makeup for the start of the new year, explains how to make your lips look juicy and tempting, and more.
Maika Yamamoto becomes a mystery foreign exchange student
Maika Yamamoto is serving various hair and fashion styles in the new issue inspired by foreign exchange students from various countries, including a lycéenne from France, a beautiful blonde-haired girl from Russia, a hot girl from Mexico, a girl from a samgyeopsal shop in South Korea, and a traditional-looking girl from England.
Stylish collaboration with Pokémon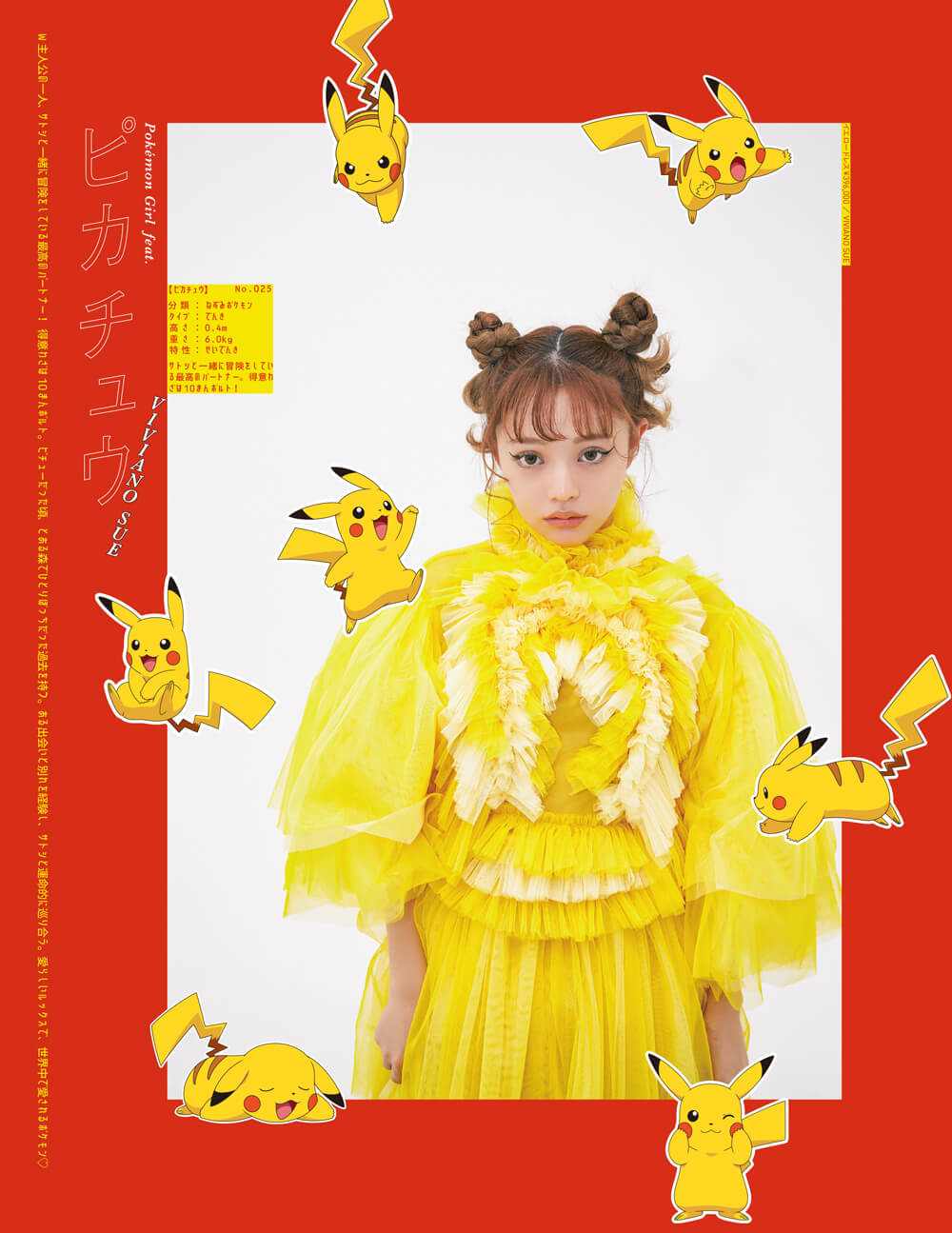 ©Nintendo/Pokémon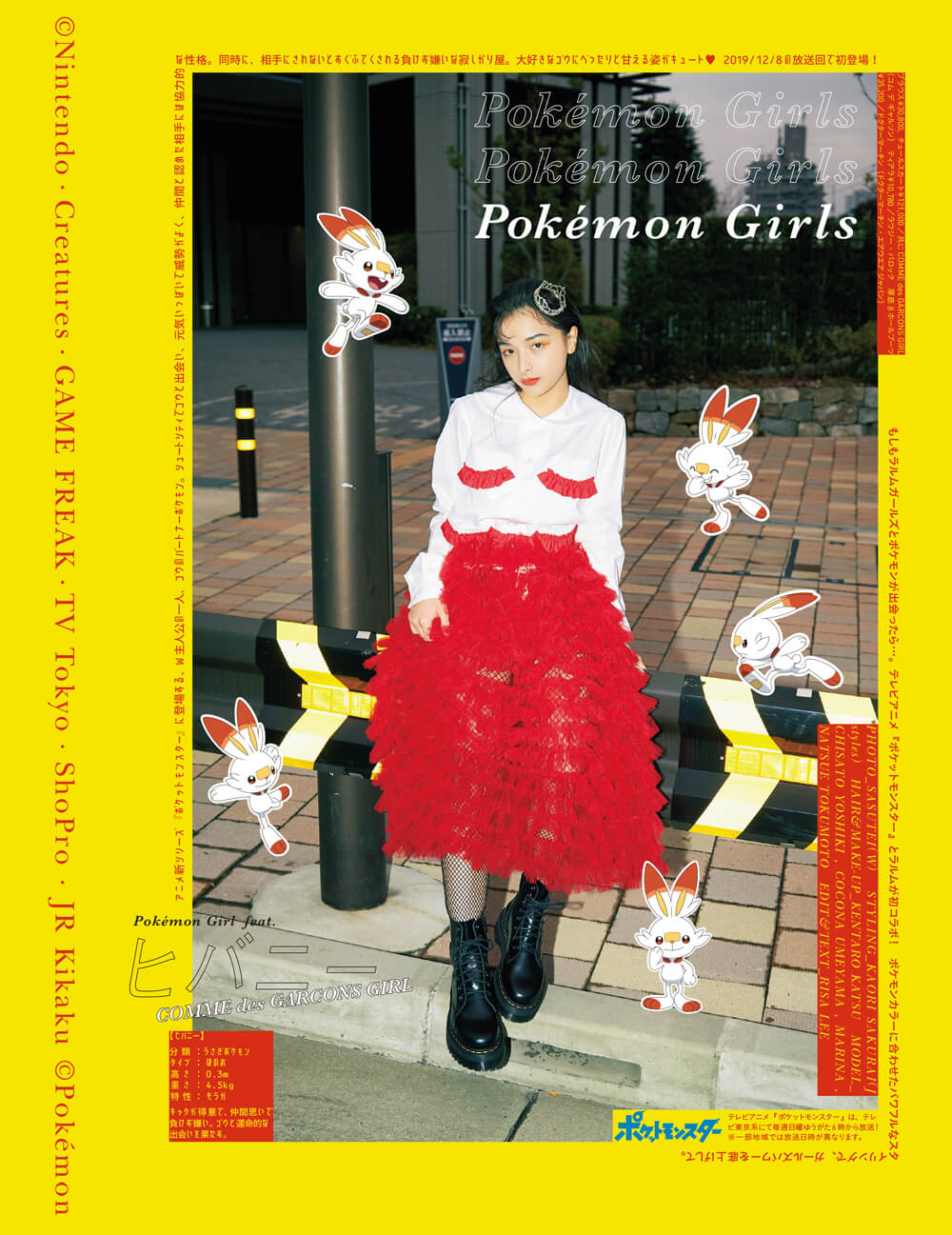 ©Nintendo/Pokémon
LARME has collaborated with Pokémon to bring Pokémon-inspired outfits. See Marina, Chisato Yoshiki, Cocona Umeyama, and Natsue Tokomoto dress like Pikachu, Scorbunny, Bulbasaur, Eevee, Ho-Oh, Gengar, Mew, and Vulpix (Alola version).
And plenty more kawaii content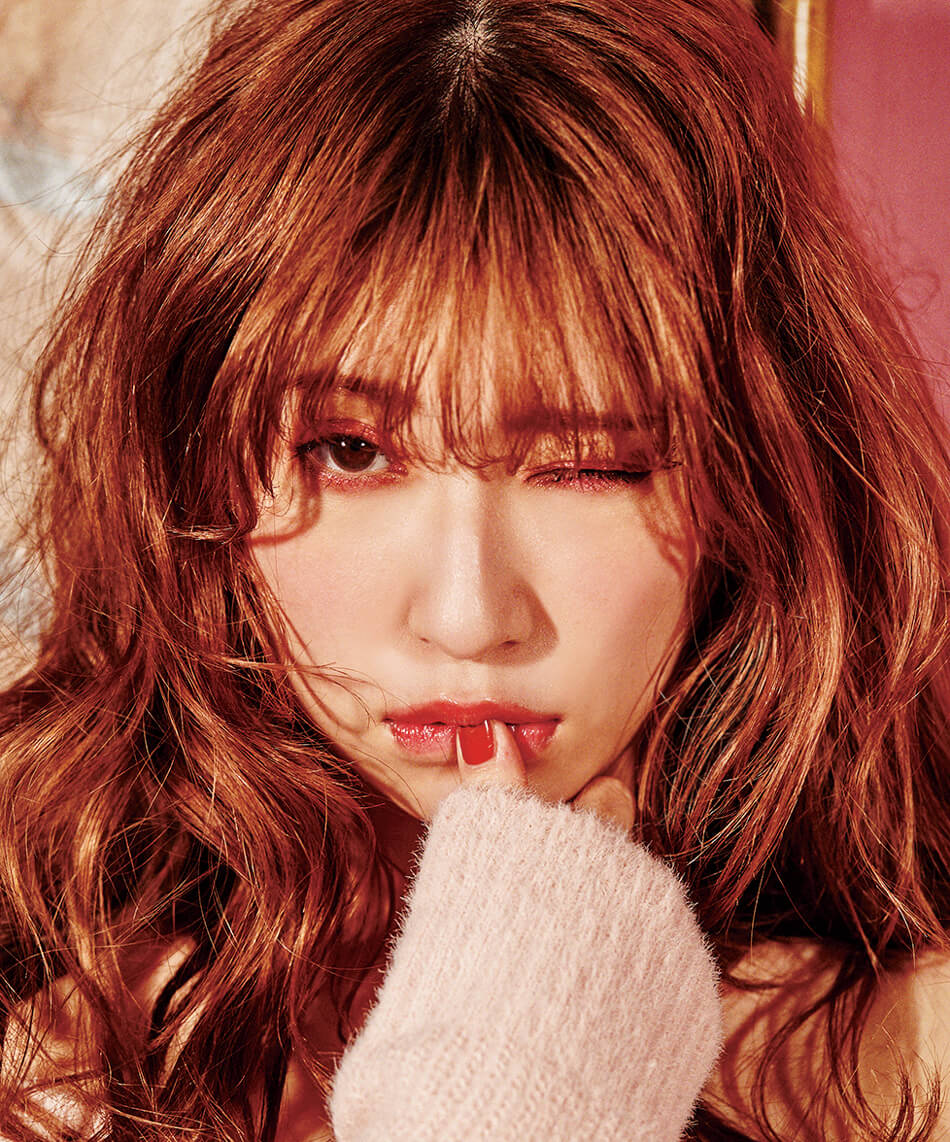 There's lots of other cute content to took forward to in the first issue of 2020 too, including a lolita maid Valentine's co-ord, the LARME models' various interpretations of "girly" shown in a chronology of how their styles have matured, and more.
Learn all about the latest in Japanese fashion trends in the new spring-themed issue of LARME.
Information
LARME 044 MARCH
Release Date: January 17, 2020
Available: At bookshops, convenience stores, and online bookshops in Japan
Price: ¥609 (Before Tax)
LARME Official Website: http://www.larme-magazine.jp
RELATED ENTRIES
Spring 2023 Issue of Zipper Magazine Now on Sale

The Spring 2023 issue of the revived fashion creator magazine Zipper was released on March 23.

This issue focuses on the major fashion and beauty trends this spring and the globally-popular eight-member boy group ATEEZ appears on the cover clad in retro-pop Harajuku fashion. The deluxe edition also comes with a double-sided poster.

Zipper ended its 24-year history in December 2017, but in March 2022, ASOBISYSTEM teamed up with DONUTS Inc. to revive the magazine as a quarterly release. The fashion magazine, popular with Gen Z, is known for sharing details aspects of Harajuku culture and will continue to share more from the creative center of Tokyo for years to come.

Legendary Street Fashion Magazine FRUITS Launches Collaborative Issue with atmos pink

FRUiTS, a magazine capturing the essence of Harajuku culture through fashion, will release a special issue in collaboration with women's sneaker store atmos pink and SNKRGIRL, the first and only sneaker news site for women in Japan.

SNKRGIRL, Japan's first and only sneaker media for women by women, is participating in this special collab with FRUiTS, the legendary street photo magazine that introduced Harajuku culture to the world, and atmos pink, the popular Tokyo-based sneaker select store for women.

Bikkuriman Sticker

FRUiTS editor-in-chief shot the images for the special issue. Female sneaker lovers are becoming more common in the Japanese fashion scene, with #SneakerGirls often trending on social media.

 

The new issue will feature popular influencers who attended SNKRGIRL's recent Harajuku Snap Party, as well as models, dancers, and women from many other walks of life. The magazine will be a way to see what Harajuku fashion looks like in 2022, and each issue will include a special Bikkuriman sticker!

The cover features influential model YURINO, a big name in the fashion and sneaker scene. Readers can enjoy an interview between Harajuku fashion expert Kaoru Takami and FRUiTS editor-in-chief too, so don't miss it!

Sakurazaka46 2nd Gen Members Hono Tamura, Karin Fujiyoshi, Hikaru Morita and Rena Moriya Appear on Cover of B.L.T. Magazine

The cover of the May 2022 issue of B.L.T Magazine will be graced by second-generation members of the idol group Sakurazaka46! The new issue will go on sale on March 24.

The group will release its 4th single, Samidare yo, on April 6. Hono Tamura, Karin Fujiyoshi, Hikaru Morita, and Rena Moriya will be dressed in vivid red outfits against a bright blue sky on the new cover, and fans of the group won't want to miss getting their hands on this commemorative issue! A 22-page long photoshoot is also included inside, so look forward to seeing the members in vintage clothing!

Information

B.L.T. May 2022 Issue
On Sale March 24, 2022

Official Site: https://zasshi.tv/

Harajuku Girls Magazine Zipper to Return to Quarterly Release Schedule After 5 Years

Popular Harajuku-based fashion magazine Zipper, which ceased publication in 2017, will return in March 2022! The rebirth of the magazine is being spearheaded as a joint venture between DONUTS Inc. and ASOBISYSTEM.

Zipper was first published in 1993 as a way to say "NO!" to traditional style. It continued to inspire creative minds for 24 years until it ceased publication in 2017, and many Harajuku-based celebrities and influencers cite the magazine as a major source of inspiration over the years. Now, this beacon of individuality and fashion is making a triumphant comeback right when the world needs it most.


In addition to the magazine, Zipper will also be available on YouTube, TikTok, Instagram, and Twitter, opening up the brand to fans of Japanese fashion around the world. More details will be announced in the future.


Information

Zipper

Resuming Publication in March 2022

Yuriyan Retriever Features in VOUGE GIRL's 'Girl of the Month'

VOGUE GIRL is a leading new-generation web magazine picking up the latest in international trends for women. Its most popular feature is Girl of the Month which offers a close-up of a different girl every month where they serve their own fashion stories.

This month features Yuriyan Retriever who is celebrating her loss of 36kg, showcasing a fresh new look and positive mindset. She is serving curves, power, humour, and cuteness with her eye-catching combination of makeup with abstract colours and a sensual mini dress.

"It's not because she has lost weight that she has become more beautiful," the editor of her feature explains, "but rather that living a healthy and positive lifestyle has caused her to shine and given her much more confidence. " They go on to describe the photo shoot itself being a fun experience thanks to Yuriyan's erratic posing and dazzling expressions, and how they have never seen a shoot before that has resulted in so many laughs amongst the staff.

In her upcoming appearance in '90 Second Challenge' on VOGUE GIRL's official YouTube channel, Yuriyan will talk about her morning routine before work, the music she listens to when working out, her favourite body parts, and more.

Kanjani Eight Feature on Front Cover of PERSON Magazine's 100th Issue

The 100th issue of Japan's popular photo magazine TV GUIDE PERSON will be released on December 9, 2020, featuring Japanese boy band Kanjani Eight on the front cover.

TV GUIDE PERSON's first issue was released in March 2012 and has welcomed countless acts on the front cover.

Kanjani Eight is a five-member boy band from Japan's Kansai region. Their latest single, Re:Live, was released on August 19 this year. Their front cover shoot was taken by Singaporean photographer Leslie Kee who has shot photos for the fashion and music industries, advertisements, and more around the world.

The magazine features a long interview with the Kanjani Eight members, including their thoughts on the COVID-19 pandemic in 2020, what 2021 holds for the group including their "Road to Re:LIVE," and more.

Information

TV GUIDE PERSON vol.100
Release Date: December 9, 2020
Line-Up: Kanjani Eight / Takahisa Masuda / Issei Takahashi / Kento Hayashi / A.B.C-Z / Takanori Iwata / Kazuma Kawamura / Mamoru Miyano / Shouta Aoi / Reon Yuzuki / Yuya Matsushita / Yasuko Kobayashi / Sota Fukushi
Available: Bookstores in Japan / Online

Tokyo Ghoul Movie Actress Maika Yamamoto Appears in LARME Fashion Magazine

The 40th issue of "sweet girly artbook" fashion magazine LARME was released on July 17.

The new issue is a special beauty edition celebrating 7 years of the magazine. Making her debut on the front cover and featuring in the opening pages is Japanese actress and model Maika Yamamoto who is known for playing Touka in the recently-released Tokyo Ghoul S movie as well as her role in the serialised television drama Scum.

In her feature she expands on the concept of 'kawaii' by showcasing her relationship with makeup and clothing. Glitter, organdy, tulle and other white adornments make up her looks.

Yui Ogura also makes her LARME debut in the new issue. She is known for her voice acting work in recent popular TV anime series and movies and has also garnered huge popularity as a singer. In the magazine she appears alongside NMB48 member Akari Yoshida and fashion model Yui Kanno to show how anybody can cover up their complexes with makeup. Ogura will use herself as an example by showing how she covers hides the "dango-like look" of her nose by using makeup.

The LARME models also show their adorable pets in the latest issue.

Pick up the newest edition of LARME and find out what's hot in Japan's fashion world right now.

Information

LARME 041 September
Release Date: July 17, 2019

Price: ¥731 (Before Tax)
Available: At bookstores, convenience stores and online bookstores in Japan
LARME Official Homepage: http://www.larme-magazine.jp

Mai Shiraishi Features On Front Cover Of LARME Magazine's 40th Issue

The 40th issue of "sweet girly artbook" fashion magazine LARME was released today.

The newest issue is centred around things that girls are crazy about with 11 topics included. Japanese model, singer and member of idol group Nogizaka46 Mai Shiraishi features on the magazine's front cover, her first time in almost a year.

The opening page features an interview with Shiraishi about things that she's always liked and has newly come to like. In the photos, she delivers sophisticated and elegant vintage-like fashion, signalling her transition to adulthood; something much different from her cuter, sweeter looks from when she was younger.

In the Cosmetics section Shiraishi features alongside fellow Nogizaka46 member Renka Iwamoto in which they both introduce 4 of their favourite latest cosmetic brands. In one part they showcase items which are high in quality but especially cute in appearance.

Yui Kanno and Risa Nakamura feature in the Girl Is Crazy About 2: RIBBON section and actress Nana Mori in Girl Is Crazy About 8: PRETTY GIRL.

There is also a special interview with popular visual kei band A9―who will celebrate their 15th anniversary this August―who are asked a series of questions centred around "If LARME readers were your girlfriends…"

Pick up the newest issue of LARME and find out what girls are crazy about today!

Information

LARME 040 July
Release Date: May 17, 2019
Available: In Japan at bookstores, convenience stores and online
LARME Official Homepage: http://www.larme-magazine.jp

NMB48's Akari Yoshida Makes Front Cover Debut in LARME Magazine Issue 039

The latest edition of girl magazine LARME, issue 039, was released on March 15, 2019.

LARME 039 sees the hugely popular Akari Yoshida of Japanese idol group NMB48 appear on the magazine's front cover for the first time as well as on the magazine's first page. The issue includes a big feature entitled "CAT HOUNTED AKARI YOSHIDA" which debuts her new brand.

The following is an excerpt from the magazine by Yoshida: "My goal this year was to appear on lots of front covers so I am over the moon! I never imagined I would make it onto a magazine that I buy and read regularly. I don't think my fans predicted it either, so I think they will be very surprised♡ It's all thanks to everybody having worked hard to answer the questionnaire. Thank you so much as always! There's also a thing attached to the magazine I made in collaboration with EATME, so this is a really wonderful issue."

Yuna Shibata/Sakura Endou/Saya Kanagawa (Nogizaka46)

Many of the members of idol group Nogizaka46 work as regular models for girl magazines. Yuna Shibata, Sakura Endou and Saya Kanagawa are making their appearance in LARME for the very first time in a feature titled "AMBIGUOUS HAIR ARRANGE" which combines a sweet look with an adult maturity, creating an ambiguous appearance. There are 8 Q&A topics which cover their strong and weak points, personal outfits, makeup, messages to the reader and more.

Other features include one focusing on the colour pink, another on one-piece co-ords, the history of "girly" looks, a spring fashion feature and more.

Discover the latest fashion trends in Japan by picking up a copy of LARME 039 May.

Information

LARME 039 May

Release Date: March 15, 2019

Price: ¥676 (Before Tax

Available: At bookshops, convenience stores and online book stores in Japan

LARME Official Website: http://www.larme-magazine.jp

Nogizaka46's Asuka Saitō Features in LARME Magazine Issue 038 March

Issue 038 Mar of the cute girls fashion magazine LARME was released today on January 17.

Making her cover photo return to 2019's first issue after a year and a half is Asuka Saitō of Japanese idol group Nogizaka46.

The issue includes a section by Saitō talking about her everyday life including her recent routine, three big pieces of news from 2018, her plans for Valentine's Day this year, her comments on her LARME photoshoot and more. There is also a fashion feature of her dressed as a flower fairy.

This issue's special feature section focuses on "Red," LARME's recommended colour for this spring, a Valentine's piece and more. LARME's iconic models Yui Kanno, Maria Kurotaki, Risa Nakamura and Chisato Yoshiki also talk about their aspirations for 2019 while donning colourful furisode.

Don't miss out on this year's LARME trends in the newest issue.

Information

LARME 038 Mar

Release Date: January 17, 2019

Available: At bookshops, convenience stores and online book stores in Japan

Price: ¥722 (Before Tax)

LARME Official Website: http://www.larme-magazine.jp

Discover Japan's Autumn Fashion Trends in LARME Magazine in Issue 036

Issue 036 of popular "Girly & Sweet" fashion magazine LARME was released on September 15. The new issue comes with a separate bonus volume featuring Japanese fashion model Risa Nakamura who has a large following with LARME readers. It also contains lots of information on fashion and makeup for the coming autumn.

Bonus Book: Jam-Packed With Information on Risa Nakamura

Risa Nakamura's feature "RISA is addicted to ♡♡♡" has been serialised in LARME since the 014 issue published in 2015. The latest issue marks the feature's 22nd entry which comes as a separate 24-page booklet containing coloured-themed photos, an interview with the model herself talking about the feature and much more.

Asking LARME Models: What Are You Interested In This Autumn?

Hear about the fashion, makeup and culture of autumn this year from 10 LARME models. The line-up includes Risa Nakamura, Rika Watanabe, Chisato Yoshiki, Nana Kato, Yui Kanno, Maria Kurotaki, Moe Kamikokuryo, Maika Yamamoto, Akari Yoshida and Yui Oguri.

Defining & Explaining LARME-Style Lolita

The autumn edition of this year's LARME will look at neo-lolita, a style that isn't childish but not mature either. It will include 10 must-know keywords of the "New Lolita Girl" as well as plenty of outfit co-ords exemplifying them. Learn what lolita is to LARME.

Angerme's Moe Kamikokuryo Make A Return

It's almost Halloween, and this season, LARME won't be presenting how-to's. You will instead see Moe Kamikokuryo and Nana Kato dress up as sisters who live in an old fashioned western-style house. What is the shocking secret these two beautiful girls are hiding…?

Get yourself a copy of LARME and learn all about autumn fashion in Japan♡

◼︎Information

LARME 036 Nov

Released: September 15, 2018

Available: Bookshops, convenience stores and online bookshops in Japan

Price: ¥639 (+Tax)

LARME Official Website: http://www.larme-magazine.jp

LARME Magazine's First Photo Collection in 4 Years Features Sayumi Michishige

Issue 35 of popular kawaii girl's magazine LARME will be released on July 17.

The new issue features the magazine's first photo collection in 4 years and includes pop-singer and talent Sayumi Michishige for the very first time, who's currently on the rise. The magazine also includes a new feature from Rika Watanabe, aka Pee-chan, titled "Inside Pee's Head." Japanese model Chisato "Chii Popo" Yoshiki has also made the front cover for the first time in a year.

Sayumi Michishige Makes Her LARME Debut

Includes photos of kawaii outfits described as 'transient' like strawberry, vanilla, lemon, mint and chocolate ice cream. Also features an interview for readers to get to know her, covering topics such as her thoughts on the photo shoot, what she wants to do this summer, and fashion she wants to try out.

Regular Model Rika Watanabe Begins Her First Feature

Rika "Pee-chan" Watanabe unveils her brand new LARME feature series "Inside Pee-chan's Head." It will talk about the Pee-chan of today, detailing her thoughts as well as places and things she's interested in, all told through illustrations. The first feature will talk about her love towards her plush toy that she's held onto for years.

Chisato Yoshiki's Return to the Front Cover

Support for Chii Popo from readers has risen over the past year. She has levelled up to being a representative model of LARME magazine. This issue includes an interview with her about how she became a girl that everybody loves. You'll also get to see her 'Sweet Popo' make-up which you can't see anywhere else.

The new issue includes plenty of other kawaii topics too, so be sure to get your hands on a copy!

■Information

LARME 035 Sep

On Sale: July 17, 2018=

Available: In Japanese bookstores, convenience stores and online shops

Price: ¥602 (+Tax)

LARME Official Homepage: http://www.larme-magazine.jp