NINJA SKILL BALLERZ Short Movie Combines the Worlds of Ninja, Basketball, Shamisen & Taiko Drumming
If you haven't heard of NINJA SKILL BALLERZ yet, you're in for a treat. They are a crew of five of the world's top level basketball players spreading a fascination of freestyle basketball to the world.
Their video NINJA x BASKETBALL? garnered over 1 million views on Facebook within just 10 days of its posting. One month after its release, they appeared on the Japanese television show Sukkiri where they held their first ever live television performance. The group are paving the way for the freestyle basketball culture, which in Japan isn't recognised enough and has few players.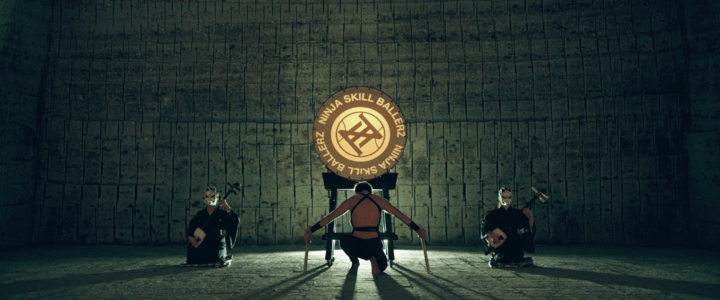 Now, the group have just dropped a new short movie which translates to "Ninja-Style Basketball Squad."
The video not only shows off the group's thrilling skills, but their performance also incorporates Japanese elements like the tsugaru shamisen and taiko drums which serve to make the show that much more captivating. Pay particular attention to three of the members: ZiNEZ, the Flow Ninja; ISSEI, the Spin Ninja; and TaMa, the Multi-Ball Ninja.
RELATED ENTRIES
Shu Takada Wins World Yo-Yo Contest 2019 in Art & Performance Category

Japanese acrobat yo-yo performer Shu Takada took part in this year's World Yo-Yo Contest which took place at the Renaissance Cleveland Hotel in Ohio from August 7-10. For the first time in his professional yo-yo career, Takada took home the win in the Art & Performance category. This marks his 6th world title acquisition.

The theme of Takada's performance was "SHINOBI" which combined yo-yo tricks with acrobatics and ninja moves. His unique performance enthralled the audience and allowed him to take home the top award as well as the Artistic Award.

No description could do his performance justice as he transformed into a cool yo-yo ninja, flipping his body and swinging his LED-equipped yo-yo like a shuriken.

His outfit was provided by NINJA PROJECT, which mixed the iconic black ninja colour with a sporty look, turning it into his own awesome style.

No photography or filming was allowed at the event, but if you're wondering if ninja still exist in real life, then you'll want to check out the video above posted on Takada's YouTube channel, where he has plenty of other yo-yo related content too.

LEGOLAND Japan Celebrates The Grand Opening of LEGO NINJAGO World

Looking for a fun day out with kids in Japan? LEGOLAND Japan is the perfect family day outing destination. At 1pm on July 1, the park celebrated the grand opening of the brand new area LEGO NINJAGO World. This is the first time this park has ever been expanded since opening in April 2017.

The opening ceremony featured special guests, including pop singer and actress Miki Shoji and approximately 70 students from Nagoya Shiritsu Inaei Elementary School. Miki Shoji, who also enjoys a trip to LEGOLAND from time to time, made the following comment at the ceremony:

"Whether you are a child or adult, the new LEGO NINJAGO World has many attractions such as the Flying NINJAGO that everyone can enjoy. This is the perfect place to have fun with your family this summer!"

There were many other special events held on the day of the grand opening, such as a countdown. At one point, Miki Shoji and the children even took part in a shuriken-throwing event with seven NINJAGO characters. What a spectacular day it was! After the ceremony had finished, some of the students who were selected as representatives of their school were given the opportunity to be the first to ride the Flying NINJAGO. 

LEGO NINJAGO World is the eighth area of LEGOLAND Japan and is a popular area in all Legolands across the world. From the moment the children step into the NINJAGO area, they will be immersed in an entirely new world. From the surroundings to the attractions and Ninja activities, they will learn a variety of essential ninja skills.

Whether you are a child or an adult, LEGOLAND Japan invites you to enjoy a ninja experience. ♪

Information

LEGOLAND Japan

Address: Kinjoufutou, LEGOLAND Japan Limited, 2 Chome-2-1, Minato Ward, Nagoya, Aichi

Website: https://www.legoland.jp/

LEGO NINJAGO World Grand Opening! Check out the Ninja Food Menu!

LEGOLAND JAPAN is no doubt the perfect day trip for families with kids (and adults who still haven't grown up). 13:00 on Monday 1st July will be a very special moment for the park… as it will be celebrating the grand opening of LEGO NINJAGO World! This will be the first time the park has ever been extended since opening!

Except Dubai, all countries/states in the world that are home to a LEGOLAND own a NINJAGO World too ー and they are so popular! Now, it's about time that the country of ninja actually gets a LEGO NINJAGO World! It will be the eighth area of the park. From the moment you enter, you will be immersed in a ninja world! Rise up to the challenges set by the activities and plunge into all the attractions to better your ninja skills!

Flying Ninjago

The new area is home to three new attractions.  The Flying Ninjago will be the first to catch your eye. This is a gigantic ride that adults and kids are bound to get a thrill out of! Two brand new rides called Lloyd's Spinjitzu Spinners and Kai Sky Master will have their world debut at LEGOLAND JAPAN!

Apart from the attractions, there's so much more fun stuff to do to immerse fully in the NINJAGO experience.

Jay's Lightning Drill

Cole's Rock Climb

Polish your fundamental ninja skills with Jay's Lightning Drill and Cole's Rock Climb. NINJAGO World also contains many new lego models. The largest in the area is the 4-metre tall Samurai robot lego model!

Spin Tower Burger Set【Brick House Burger】¥2,000 (price after tax)

Shuriken Pancake【Naruto Table】¥450 (price after tax)

To commemorate the birth of NINJAGO World, there are so many ninja-themed meals, treats and desserts being sold all over the new attraction area and throughout the theme park!

Challenge your ninja skills, enjoy the thrilling rides and indulge in the delicious ninja food at LEGO NINJAGO World!

Information

LEGO NINJAGO World

Grand opening: Monday 1st June 2019 at 13:00

LEGOLAND JAPAN

Address: Kinjoufutou, LEGOLAND Japan Limited, 2 Chome-2-1, Minato Ward, Nagoya, Aichi

Website: https://www.legoland.jp/

Become a Ninja in VR, Tuck Into Ramen & More at Osaka Castle Park

JO-TERRACE OSAKA is a restaurant and shopping complex at Osaka Castle Park. On May 30, the facility is set to open Osaka Castle Shitamachi, a line of shops where you can experience all the great things from Osaka and the Kansai region from food to activities.

This traditional-modern fusion of Kansai-style establishments will make use of JO-TERRACE OSAKA's main space which covers 893m². Its concept is to be a "third place" of Japanese experiences. The term third place refers to public spaces like shops, cafes, clubs and so on―separate from the "first place" (the home) and "second place" (the workplace).

In the lane of ramen shops, which take on a traditional-modern look, various kinds of ramen from across Japan will be served up to customers. Restaurants will include those that were first established in Kansai as well as the most popular restaurants in the ramen scene right now.

Over at VR NINJA Yasuke you can feel what it's like to be a real ninja, VR-style. Aimed at foreign tourists, this service is available in English, Chinese and Korean.

At WAHAKU you can tuck into some delicious and high quality wagyu beef and taste different brands of sake.

There are lots of other exciting things to look forward to as well, so if you're ever travelling to Osaka Castle be sure to pop in.

Information

Osaka Shitamachi

Address: JO-TERRACE OSAKA E TERRACE 2F, Osaka Castle Park, 3-1 Osakajo, Chuo Ward, Osaka

Grand Opening: May 30, 2019

Business Hours: 11:00-21:00

Official Website: http://emarche.co.jp/

Ise Ninja Kingdom is full of fun stuff to do! You can enjoy wearing the same clothes as Japanese people did long ago! We recommend you try it.

Take a stroll around Ise Ninja Kingdom and enjoy travelling backwards in time.

The revived castle grounds are full of photo spots! You can try on luxurious kimonos and take loads of Instagram-worthy photos! You can also dress up like a ninja and challenge yourself to a ninja adventure! This is your chance to embrace your inner ninja!

Although junk food comes to mind when one thinks of a theme park, Ise Ninja Kingdom has a lot of carefully prepared food. In the castle town, you can eat the same food that ninja would eat. There's plenty that adults as well as kids would enjoy. You can indulge in the Ise buffet or premium gourmet food that is all made using locally sourced fresh ingredients.

This is your chance to have an authentic experience of foods such as Sobauchi, and even watch chefs prepare tuna. You can watch, experience and eat!

According to an online survey conducted among leisure parks across the country in March 2019, Ise Ninja Kingdom was acknowledged as the "best cosplay theme park", the theme park with the tastiest food" and the best "ninja theme park"!

This is where you can make the memories of a lifetime so bring your family and friends to Ise Ninja Kingdom!

The New VR NINJA DOJO in Kanda Combines the Ninja Experience With Virtual Reality

The new VR NINJA DOJO is set to open in Kanda, Tokyo on March 18, 2019.

Aimed at overseas visitors to Japan, the new entertainment facility blends the real and the virtual to provide an immersive virtual reality ninja experience. The building itself―from the exterior to the interior―take on traditional Japanese decor with tatami mats, sliding doors and more.

It is set up in such a way that even those not wearing the VR headset can enjoy the experience, allowing for everyone to come together even if the dojo is packed with people. The entire operation is carried out in English too, so ninja participants don't have to worry if their Japanese isn't up to scratch.

Everybody will carry out real ninja training before heading to the VR portion of the operation where they will be challenged against a real fully-trained ninja.

Get involved in a whole new kind of ninja experience at the new VR NINJA DOJO.

Information

VR NINJA DOJO
Grand Opening: March 18, 2019
Address: Takebashi Bldg. Floor 1F, 2-15-15 Uchi-Kanda, Chiyoda Ward, Tokyo
Target Guests: Visitors from abroad or foreigners living in Japan
*Free for foreigners if they bring a Japanese friend
Official Website: https://vr-ninja.jp/

Become a Real Ninja at Fushimi Inari Taisha in Kyoto with 'NINJA–RUN' Activity

NINJA–RUN is a new activity that was introduced this month at Fushimi Inari Taisha that let's you play like a ninja.

You'll dress up in ninja attire and engage in a real-life RPG experience by carrying out tasks. Kids and adults can all get involved in over 100 duties all ranked in difficulty from easy to hard. You can solve puzzles around town, participate in an escape game, and if there's a lot of people you'll be split into teams to play mind games and work to cheat each other. The games can all be played in Japanese, English, Chinese and Spanish. If you're a tourist in Japan, then join in the fun!

The big surprise at the NINJA–RUN are the early morning and late night runs. You'll need to sign up for these if you want to participate. Summers in Kyoto are extremely hot and are known to even keep tourists indoors. These ninja runs can be experienced from 7am to 10pm and are perfect for people who want to avoid daytime or who are bored at night.

When the day finishes, the tasks you have completed will be checked. Depending on how many you have successfully completed, you'll be bestowed a ninja rank: Jonin (high-ranking ninja), Chunin (middle-ranking ninja) or Genin (low-ranking ninja). You'll be given a proper certificate too.

Daniel Jolay, managing director at URUWASIKI, came up with the idea for this activity. Born in Peru, Jolay loved katana from an early age and wanted to become a ninja. Today, he dons his ninja outfit and takes his ninja dog Kaji-kun out to stroll around Fushimi Inari Taisha. He grabs the attention of foreigners who want a picture with him.

If you're in Kyoto this summer, how about becoming a ninja yourself?

Five Japanese-style cafes in Tokyo where you can enjoy the culture of ninja, Japanese food and Japanese desserts.

There are lots of stylish cafes in Tokyo and the number of "Japanese-style cafés" is increasing.

In this article, I will introduce to you some modern but good-old Japanese-style cafes.

"Ninja Sabo KUNOICHI" where you can meet with ninjas (Shibuya)


The concept of this café is "a café where you can meet with ninjas." Of course, the menu items will be delivered by "kunoichis" (female ninja). They sell special menu items such as "omusubi"(rice balls) which you can learn how to make, KUNOICHI's special dango (rice dumpling) and cherry-blossom gelidium jelly. They also sell lots of nihonshu (sake) so you can use the café as a bar.

◼︎Information

Ninja Sabo KUNOICHI

Address: 2-23-6, Higashi, Shibuyaku, Tokyo

Business hours: 10:00 to 22:00 (21:30L.O.)

Fixed holiday: None (except for year's end and New Year holidays)

TEL:03-5778-4419(a reservation can be made from 11/8)
URL:http://galtpop.jp/kunoichi/jp/

A Japanese tea-café where you can enjoy "Yamecha"-"CHAKAS CAFÉ" (Kohto-ku)

CHAKAS CAFÉ is a café where one can enjoy Fukuoka Prefecture's brand tea, "Yamecha" (the tea will be served in a teapot) and handmade onigiri.

You can enjoy full-fledged tea and onigiris produced by a "Japanese tea appraiser" and a "five-star rice master" everyday.

Detailed:http://www.moshimoshi-nippon.jp/60179

>>next page

Koga Ninja Art Certification Test will be held in Zojo Temple in Tokyo

A site run by Tokyo Shiga Kenjinkai "Ima Shiga" (http://imashiga.jp/) is now featuring Kogaryu Ninjutu Kentei (Koga Ninja Art Certification Test) which will be held on the 22nd of October 2017 (Sun.). The certification test is an event at which one can test your knowledge of Koga Ninja Art run by the Kogashi Tourism Committee.

It is said that the ninjas of Koga lead Ieyasu Tokugawa (a general in the Sengoku Era who conquered Japan and started the Edo Period) from Osaka to Mikawa (Aichi Prefecture) with the ninjas of Iga. The test has been held a total of ten times this year and it will be held at Zojo Temple (the head temple of Jodo Shinshu) which is related to the Tokugawa family.

Kogaryu Ninjutsu Kentei which will be held at in Tokyo is a test where you must answer 50 questions (four multiple choices) within 30 minutes (primary level). If you obtain a score higher than 60, you can pass the test. Ninja costume play and throwing shuriken (ninja's weapon) are part of the test and you can obtain a score of up to 10. Let's pass the test while disguising as a ninja!

Also, a talk show describing the descendents of Koga Ninja and young researchers lecture the real-life image of ninjas and a ninja show of the traditional ninja group "Kurondo" will be held in the piloti space of the venue.

The show presents the wisdom, weapons and defensive tactics of ninjas using ninja art related to Yasukuni Shrine. The show will be held two times per day (from 11:00 and from 12:00 / 30 minutes per session) and anyone can participate in the show (please note that you might have to stand to watch the show).

Why don't you enjoy the world of ninja at Zojo Temple on the 22nd of October.

■Information

Kogaryu Ninjutsu Kentei

Venue: Zoho Temple (head temple of Jodoshu) (4-7-35, Shiba Park, Minatoku, Tokyo)

Date: 2017,10,22 (Sun.) 9:00 open

Content: primary level (200 persons limited, first-come-first-serve-basis) ※middle and senior levels will not be held

Requirement: Older than 5th grade elementary school student, available to all nationalities.

How to participate: download the requirement form from the website, fill the form and send it to us.

http://www.koka-kanko.org/contents/ivent/ninja-kentei/ninja-kentei.html

※the fees must be paid initially and the fees cannot be paid on the day when the event will be held.

※an examination admission card will be sent after we receive the fee.

※please note that the fee cannot be returned.

Foreigners dressed as Ninjas while sightseeing are on the rise: Ninja event becoming the latest trend

Holiday Jack, a company which makes unique events, is holding special experience-based events for foreign sightseers.

The number of overseas visitors is increasing in the run up to the 2020 Tokyo Olympics. A unique event called "Be a Ninja" is becoming very popular among foreigners.

Guests can walk around the city wearing a Ninja costume, something which is really enjoyed by the sightseers, and walk around the downtown areas of Asakusa, Ryogoku and Tokyo Skytree, as well as heading into the deeper spots that aren't found in the guidebooks.

The walking course allows you to be exposed to local Japanese culture where you can walk and eat, hit up the game centers to have a go at the "UFO Catchers" (claw machines) and have your photo taken at purikura, and more.

Everyone who participates are so excited to wear the special costumes and to take photos and videos of themselves, ninja style! If you're in Japan, why not have a go at being a ninja and sightseeing yourself?

■Informaion

Be a Ninja

Official site:http://ninjatour.jimdo.com/

—

■Related article:The entertaining sushi restaurant that you can feel like being in Edo.

■Related article:What we all needed but never realised it: a kotatsu restaurant! Experience the true charm of a Japanese winter

Enjoy a relaxing stay at the new samurai and ninja-themed hostel which has just opened in Ikebukuro.

The unique "SAMURAIS HOSTEL" has recently opened in Ikebukuro. Fusing together the concepts of samurai, ninja and art, the hostel consists of rooms decorated with wall paintings and castle-themed private rooms. You can enjoy a variety of events at the same location, including commemoration photography where the guests can try on armour. This is no ordinary accommodation ー it is packed with entertainment!

The concept of "Samurai, Ninja X Art" runs through the hostel. The 4th floor has been designed for families and groups. This floor contains private rooms themed around castles which stood during the Warring States Period of Japanese history (approx. 1467-1568 CE). The 3rd floor consists of dormitory-style rooms, and the 2nd floor includes private rooms for up to 2 guests. Both the 3rd and 2nd floors include rooms which are ninja-themed, mount fuji-themed, and much more!

Guests are welcome to have their photo taken whilst wearing  samurai armour and a helmet. This event is located in the reception area of the 1st floor. Guests will then receive a photo of themselves wearing the armour set as a present (fee included).

The price to stay at this accommodation depends on the season, varying between ¥3,000 〜 ¥6,000 per person per night. Experience Japan to your heart's content at a reasonable price at this hostel!

■Information

SAMURAIS HOSTEL Ikebukuro
Address:3-52-12 Ikebukuro, Toshima-ku, Tōkyō-to
Contact number:03-5904-8384
URL: http://www.samurai-s.co.jp/

ーーー

■Related article: Dress up as a wartime samurai over at the "Samurai Armor Photo Studio" in Shibuya!

■Related article: 【MOSHI MOSHI GOURMET】Why don't you go bar hopping at "Omoide Yokocho"?

Awaken your inner Ninja by visiting the special 'THE NINJA- ninjatte nanja!?-' exhibition!

This summer from Saturday 2nd July, come along to the Miraikan in Odaiba, Tokyo to witness the exhibition 'The NINJA –ninjatte nanja!?-' (Also known as the 'Ninjaten')

Even though the word 'Ninja' is widely known and widely used across the world, their existence still remains a complete mystery. However, in recent years, results from studies conducted at Mie University have revealed the reality and truth about Ninja!

At this exhibition, explanations of the Ninja way, including details of their knowledge and abilities and the strength of their heart, technique and body, will be given. The exhibition will also introduce special ninja training including details about secret Ninja methods of walking, running and jumping, and their ability to throw shuriken (small star-shaped throwing blades).

The Ninja arts of infiltration, memorisation and communication used for survival in the modern age will also be introduced. On the scientific side, a peak into the Ninja diet, knowledge of astronomy and climate, neuroscience and gunpowder will also be available to learn at the event.

Approximately 200 exhibits presenting Ninja weapons and Ninja clothing is planned to be displayed at the event! You don't want to miss out on this groundbreaking revelation!

■Information

Exhibition: The NINJA –ninjatte nanja!? – (The NINJA -忍者ってナンジャ!?-)

Period  : Saturday 2nd July 2016 〜 Monday 10th October 2016 (Public holiday)

Opening/closing times:10am 〜 5pm(Tickets will be sold until 30 minutes before the venue closes)

Venue :Miraikan 1st floor Exhibition Zone —  2-3-6 Aomi, Koto, Tokyo 135-0064

Venue address in Japanese: 日本科学未来館 1 階 企画展示ゾーン(〒135−0064 東京都江東区青海2丁目3番6号)

Official website homepage :http://ninjaten.com