Häagen-Dazs Ranks Most Popular Ice Cream Products Of Late 2019
Häagen-Dazs held a vote with 300 male and female fans of the company to find out the most popular new products in Japan for the second half of 2019.
The people chosen to cast their votes were between the ages of 10-60 years and had to eat Häagen-Dazs more than once a month. When asked which flavour they would eat again, the "Strawberry Brownie Parfait" mini cup came in at No. 1 with 15.7% of the votes. In second place as the "Fondant au Chocolat" with 14.8%, and in third place the "Midori ~Koicha~" green tea flavour with 10.5%, which was released to celebrate the company's 35th anniversary.
"Strawberry Brownie Parfait" Mini Cup
Crumbled chocolate brownie is lumped into the rich, full-bodied vanilla custard ice cream, which is glazed over the top with drizzles of sweet and sour strawberry sauce. The three flavours mix together deliciously to create a parfait-like cup dessert.
"Fondant au Chocolat" Crispy Sandwich
Inside the crunchy chocolate biscuit is a rich and bitter dark chocolate ice cream. Sealed away sumptuously inside of the ice cream is a smooth melted chocolate sauce. Enjoy a luxury chocolate fondant in the form of a crispy sandwich, which is served in a gift box packaging.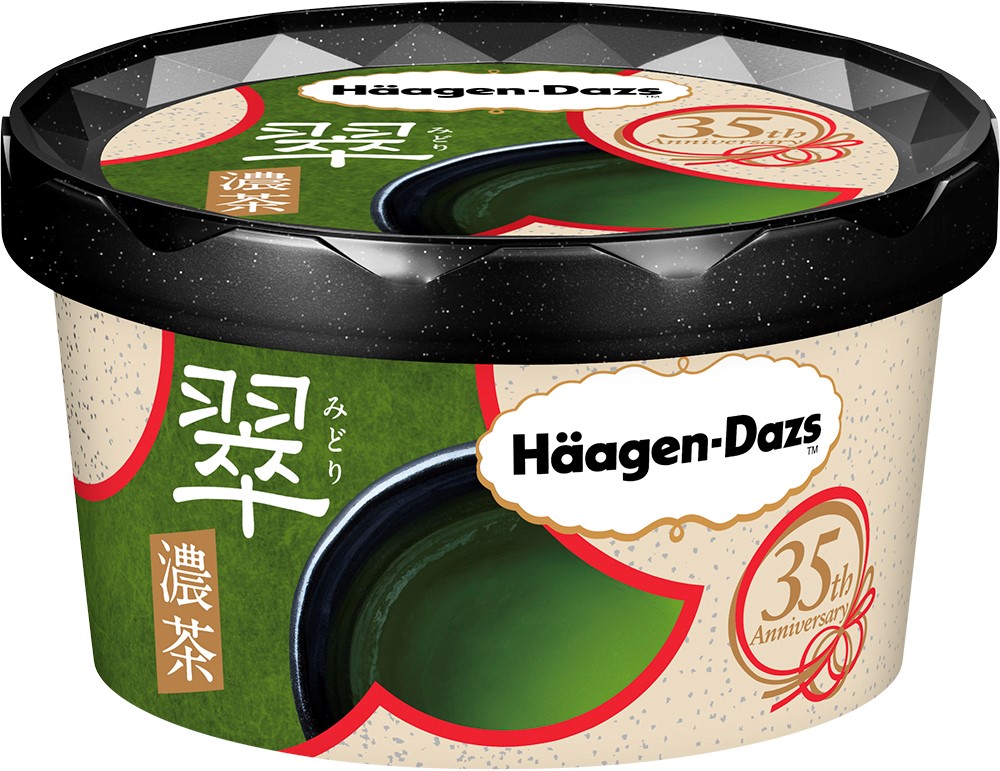 "Midori ~Koicha~" 35th Anniversary Commemoration Release
Finally, to commemorate Häagen-Dazs Japan's 35th anniversary, they released this ice cream made from high quality tea leaves and full-bodied milk. The tea leaves in question are of the koicha variety, a rich green tea. These special leaves were cultivated and hand-picked specially for this release.
When comparing both male and female results, the two most popular choices for men were the "Fondant au Chocolat" and "Strawberry Brownie Parfait," while for women it was the "Midori ~Koicha~" and the "Strawberry Brownie Parfait."
RELATED ENTRIES
Toy Story Inspired Ice Cream Cakes Release at Baskin-Robbins Japan

Baskin Robbins released a new collection of ice cream cakes inspired by the characters from the Pixar film Toy Story. There are 15 delicious flavours to enjoy, so let's take a look.

Buzz Lightyear

Popping Candy / Chocolate Chips / Strawberry / White Sponge

Ham 

Love Potion / Chocolate / Chocolate Sponge
 

Rex

Matcha Cookie / Vanilla / Chocolate Sponge

Ducky & Bunny

Very Berry Strawberry / Chocolate Chips / White Sponge

Forky

Dark Chocolate / Chocolate Bits / Milk Chocolate / Chocolate Sponge

Little Green Men

Popping Candy / Melon / White Sponge

Bo Peep

Strawberry Cheesecake / Strawberry / White Sponge

Woody

Caramel Ribbon / Chopped Chocolate / Chocolate Sponge

Pick

Mat

The ice cream cakes include designs based on everyone's favourite toys such as Woody and Buzz, as well as their new friends Forky, Ducky, and Bunny.

Information

Baskin-Robbins Japan's Toy Story/Palette 8

Released: July 9, 2021 (Available all year)

Price: ¥4,200 (Tax Included)

*Price different by branch

Size: 18.5cm x 5cm

Baskin-Robbins Japan Official Website: https://www.31ice.co.jp/

Sendagaya's Japanese Tea Cafe Hachiya Reopens After Renovations

Hachiya, a Japanese tea cafe located in Setagaya, Tokyo, reopened on June 28 after undergoing renovations.

Handmade onigiri rice balls

Seasonal fruit anmitsu with Japanese tea set

Hachiya offers a new way to enjoy Japanese tea, serving it in a range of styles such as carbonated, as a tea latte, in smoothies, and more. It's located in Setagaya, a stylish and relaxed part of Shibuya that's surrounded by trees and plants and has become more talked about in recent years. Alongside the cafe's reopening, it has also introduced new items to the menu such as onigiri and animitsu which can be enjoyed together with a cup of tea.

Matcha with confections

Ice cream available in four flavours: vanilla, nanko-ume, sobacha, and kusa mochi

Other new menu items include a set of matcha and confections as well as four different ice cream flavours, all of which go perfect with Japanese tea.

The cafe has incorporated a new lightning system and has also introduced a special coating that uses photocatalysis which can eliminate up to 99% COVID-19, allowing for guests to enjoy their time there safely.

Information

Hachiya

Reopening: June 28, 2021

Address: 3-2-10 Setagaya, Shibuya-ku, Tokyo

Opening Hours: 8:30-18:30 (Last Orders 18:15)

Closed: Weekends / National Holidays/ New Year

Acccess: 2-minutes on foot from Kita-Sando Station / 8-minutes on foot from Harajuku Station

Hachiya Official Website: http://8ya.jp/

LOUANGE TOKYO Le Musée Releases Refreshing Summer Dessert Menu

LOUANGE TOKYO has released their 'SUMMER COLLECTION 2021' menu line-up of refreshing desserts for cooling down this summer. They are available to enjoy at LOUANGE TOKYO Le Musée in Ginza, Tokyo.

PARFAIT SOFT PISTACHE

PARFAIT SOFT CANECHEE

CRYSTAL MELON

CRYSTAL PECHE (Available from July)

PARFAIT FLAFFY NOOMY CARAMEL ORANGE (Also available online)

PARFAIT FLAFFY NOOMY MIXED BERRY (Exclusive to Cake.jp)

LOUANGE TOKYO Le Musée's SUMMER COLLECTION 2021 includes a seasonal fruit parfait made by world class baker Koji Fujita, artistic summery ice creams, and more. All the mouth-watering picks are served in delicious luxury.

gelato pique café Begins Serving Desserts Made With American Cherries

gelato pique café is now serving up a selection of three desserts topped with seasonal American cherries. The items are available on the menu until July 15.

American Cherry Crepe: Have In ¥980 / Takeout ¥970

American Cherry Soft Cream: Have In ¥580 / Takeout ¥570

American Cherry Soda: Have In ¥580 / Takeout ¥570 (Photo for illustrative purposes only – served in a takeout cup)

American Cherry Crepe & Soda Set: Have In ¥1,380 / Takeout ¥1,370

Plain Crepe & American Cherry Soda Set: Have In ¥980 / Takeout ¥970

The American Cherry Crepe is filled with sweet and velvety royal milk gelato and seasonal American cherries. The sweetness of the gelato, sour kick of the cherries, and rich chocolate ganache cream make for a tasty combination, complemented by the range of textures including the soft fruit and crunchy granola.

The American Cherry Soft Cream contains a cherry sauce made with fresh cherries – and the whole thing is topped off with a cute cherry.

The beautifully red American Cherry Soda is made completely out of sweet cherries. The cherry syrup adds a gorgeous gradation to the drink as well as a refreshing after taste. There are two ways to enjoy this special drink: as it is, which offers a feeling of refreshment, or mixing the milk-flavoured gelato in for sweetness and creaminess.

Information

AMERICAN CHERRY SPECIAL

Serving: May 25, 2021 – July 17, 2021

Where: gelato pique café (Participating Branches: Atre Ebisu, Lumine Ikebukuro, Mitsui Outlet Park Makuhari, Mitsui Outlet Park Kisarazu, Mitsui Outlet Park Jazz Dream Nagashima, Gotemba Premium Outlets, Mozo Wonder City, Namba Marui, Mitsui Outlet Park Hokuriku Oyabe, Kanazawa Forus, Tamagawa Takashimaya S.C)

*Tamagawa Takashimaya S.C is now serving the soft cream

*Opening hours subject to shortening depending on COVID-19

Official Website: https://pique-cafe.com/

Häagen-Dazs Dessert Buffet Whipped Up at Keio Plaza Hotel

Keio Plaza Hotel in Shinjuku, Tokyo, is welcoming Häagen-Dazs through its doors who have prepared a very special dessert buffet for the hotel's "Summer Trip with Häagen-Dazs" service. The sweet treat line-up will be served from June 1 to September 30 along with a range of savoury foods from around the world – an inviting prospect to those unable to travel during the pandemic.

Sweets Collection with Häagen-Dazs ~Ice Cream Holic~ | General ¥4,800, Children (Aged 4-12)

The first entry to the Summer Trip with Häagen-Dazs is the "Sweets Collection with Häagen-Dazs ~Ice Cream Holic~" dessert buffet. To protect customers, all desserts are ordered and served like a course rather than going to pick up the food yourself. This marks the third year of the dessert buffet, and this time it's inspired by ice cream shops in New York, the home of Häagen-Dazs. Ice cream will be served in a cool and refreshing variety of ways.

Experience that feeling of picking out a flavour from the ice cream store with a line-up of eight flavours including classics such as vanilla and strawberry as well as the new rich royal milk tea. Each serving is customisable with numerous toppings.

Other menu items include mini ice cream croissants, ice cream sodas, ice cream cake, and more. There's also a line-up of savoury food too if you want to line your belly before dessert: fried chicken, burgers, hot dogs, fries, and so on.

While the buffet is on, the hotel restaurant itself will be transformed into an ice cream theme park with summery tropical fruit colouring as well as designs and decor inspired by ice creams and cones.

Information

Sweets Collection with Häagen-Dazs ~Ice Cream Holic~

Running: June 1, 2021 – September 30, 2021

Bookings; Now Open

Location: Jurin (Keio Plaza Hotel Floor 2F)

Address: 2-2-1 Nishi-Shinjuku, Shinjuku-ku, Tokyo

Slots: 15:00-17:00 (Last Orders 16:30) / 15:30-17:30 (Last Orders 17:00)

Jurin Official Page: https://www.keioplaza.com/restaurants/coffee.html

Deliciously Luxurious Matcha Shaved Ice to be Served in Shinjuku This Summer

This summer, Southern Tower Dining and Lounge South Court—both of which are located inside Odakyu Hotel Century Southern Tower—are serving up a fluffy matcha shaved ice dessert called Wa -Nagomi- from June 1 to September 30.

Southern Tower's Famous Fluffy Light Snowfall Wa -Nagomi- Shaved Ice | Eat In ¥1,470, Takeout ¥700

The matcha-flavoured shaved ice has a texture as light and fluffy as snow. As you spoon through the dessert your taste buds are met with a range of delicious tastes and textures like the Japanese rice flour confection known as gyuhi, winter melon syrup, black soybean flour ice cream, and cream.

The dessert can also be ordered for takeout. The black soy bean flour ice cream adds a crunchy cereal-like texture to the soft shaved ice, and with the takeout option, there's also chocolate-coated wheat bran and brown sugar syrup.

Information

Wa -Nagomi-

Japanese Name: 和 -なごみ-

Serving: June 1, 2021 – September 30, 2021

Where: Southern Tower Dining / Lounge South Court (Odakyu Hotel Century Southern Tower Floor 20F)

Address: 2-2-1 Yoyogi, Shibuya, Tokyo

Opening Hours:

[Southern Tower Dining] 11:30-16:00 (Last Orders 15:00) / 17:30-22:00 (Last Orders 21:00)

[Lounge South Court] 10:00-23:30 (Last Orders 22:30)

Southern Dining Official Website: https://www.southerntower.co.jp/restaurant_lounge/st_dining/bar_lunch/

Häagen-Dazs Releases Matcha Chocolate Cookie and Almond Caramel Cookie Ice Cream

Häagen-Dazs Japan released two new ice cream flavours as part of its Decorations mini cup series on March 23: the Matcha Chocolate Cookie and Almond Caramel Cookie.

The visually-striking Häagen-Dazs Decorations series is a smooth, rich-flavoured ice cream with delicious toppings to compliment the ice cream.

For the third entry to Decorations, Häagen-Dazs welcomes back the Almond Caramel Cookie from 2019 and adds the all-new matcha and chocolate combo Matcha Chocolate Cookie.

Matcha Chocolate Cookie / Almond Caramel Cookie – ¥295 Each (Before Tax)

Even more delicious after stirring

The best way to enjoy Decorations is to first spoon the ice cream as it is to taste the flavours. After that, you'll want to stir it all together to all the flavours and textures fuse, creating a delightful contrast between the soft ice cream and crunchy toppings.

Almond Caramel Cookie

Almond Caramel Cookie takes inspiration from the Florentine biscuit which is a sweet pastry topped with nuts and fruits. The cup contains delicious caramel butterscotch ice cream laced with caramel sauce, all of which is topped off with crumbly sliced almonds and crunchy butter cookie pieces.

Matcha Chocolate Cookie

The Matcha Chocolate Cookie is exactly what it says on the cup: a fragrant matcha ice cream infused with chocolate sauce and topped with sweet chocolate and matcha cookies.

Information

Decorations: Almond Caramel Cookie & Matcha Chocolate Cookie

Released: March 23, 2021

Where: Japan (Supermarkets, convenience stores, department stores, and elsewhere)

Product Page: https://www.haagen-dazs.co.jp/decorations_2021/

Kanjani Eight Appear in Morinaga Ice Cream's New Commercial

Japanese confectionery company Morinaga released two new commercials on Saturday (March 20) for their popular Monaka Jumbo ice cream. The commercials feature Japanese boy band Kanjani Eight.

The first commercial, entitled Choco Mimi, sees the band members dressed in cute rabbit ears to promote the chocolate and vanilla flavours of Monaka Jumbo. It also features the band's new song Sweet&Bitter which even features the lyric "vanilla." The second commercial, entitled Ice Case, has the band members spoilt for choice on which flavour to go for, but ends up with them saying, "Why not both?"

Vanilla Monaka Jumbo "Choco Mimi"

Choco Monaka Jumbo & Vanilla Monaka Jumbo "Ice Case"

THE RAMPAGE from EXILE TRIBE Features in Promotion For Morinaga Ice Cream

J-pop dance and vocal group THE RAMPAGE from EXILE TRIBE return once again this year to feature as the promoters for the popular Ice Box dessert by Morinaga.

Fans of the band can download the official Ice Box AR app on their smart devices which when used on any Ice Box products has the four members appear on the label and dance to the tune of a song by THE RAMPAGE from EXILE TRIBE as part of the collaboration.

"The theme of our collaboration this year is 'Having a wall is the best thing,' the band said in a statement. "When we're living our lives and chasing our dreams and goals, a wall is sure to appear before us. We as a band had to climb over that wall to become artists. We formed RAMPAGE and used all our strength to get over the top of a wall we were hitting into. We felt a sense of growth after doing so. We're all still in the midst of achieving our dreams, but we want to give everyone else a bit of power so that they too can overcome that wall in the same way!!"

ROLL ICE CREAM FACTORY x Mr. Osomatsu Collaborate On Themed Ice Creams in Japan

Japananese ice cream chain ROLL ICE CREAM FACTORY is collaborating with the TV anime series Mr. Osomatsu at seven of its branches from February 10 to March 14. It will include a selection of ice creams, hot drinks, and merchandise based on the characters from the popular comedy series.

ROLL ICE CREAM FACTORY x Mr. Osomatsu Collab Visual

Ice Cream Menu

Drinks Menu

Novelty Coasters (7 Designs)

Merchandise line-up

Campaign for 5 people to win prize

Coupon to receive novelties earlier

So what exactly is 'roll ice cream'? Just as the name suggests, liquid ice cream is poured onto a freezing cold plate which is then rolled with a spatula to create cylindrical shapes. As expected, roll ice cream continues to make its way onto Instagram for its cute visual impact and unique design. Roll ice cream began in Thailand before becoming a boom over in New York. It's now popular worldwide having spread across Europe and the rest of Asia too. The first branch opened in Harajuku, Tokyo, back in 2017.

Fans of Mr. Osomatsu can look forward to a special selection of berry, vanilla, chocolate mint, and other tasty ice cream scoops based on the Matsuno siblings. Each cup also comes with a toothpick featuring an illustration of the character. There are also three hot takeout beverages perfect for the cold inwter season.

Customers can get their hands on a novelty coaster at participating branches for every item they order from the Mr. Osomatsu menu. There are seven designs which includes a secret, unknown design.

ROLL ICE CREAM FACTORY is also hosting a campaign on their official Twitter and Instagram accounts for 5 lucky fans to win a free poster. Details below.

Information

ROLL ICE CREAM FACTORY x Mr. Osomatsu Collab Cafe
Running: February 10, 2012 – March 14, 2021
Participating Branches: ROLL ICE CREAM FACTORY (Harajuku/Omotesando/Marui Family Mizunokuchi/Osaka/Dotonbori/AEON Mall Tokushima/Nagasaki/Huis Ten Bosch, Hiroshima, Hatchobori/Kumamoto/Shimotori)
Collab Details: https://edith-online.com/lp/osomatsusan-rollice

Twitter & Instagram Campaign
Running: February 10, 2012 – March 14, 2021
How to Participate: Follow ROLL ICE CREAM FACTORY on Instagram or Twitter and post with hashtag #おそ松ロールアイス
Twitter Account: @ROLLICErCREAM_F
Instagram Account:  @rollicecreamfactory
*Winners will be contacted directly on Twitter/Instagram

ROLL ICE CREAM FACTORY Official Website: https://rollicecreamfactory.com/

Japan's First Earl Grey Shop Makes Appearance at Chocolate Mode 2021 Event in Saitama

&EARL GREY, the first shop in Japan to sell exclusively earl grey products, is appearing at the Chocolate Mode 2021 event at Isetan Urawa in Saitama which is taking place until February 14. Visitors can look forward to tucking into a sweet selection of delicious earl grey flavoured ice creams.

Double Chocolate Gelato & Macaron: Chocolate & Continental Earl Grey / Chocolate & Sunshine Earl Grey / Chocolate & Exotic Earl Grey – ¥605 Each (Tax Included)

Earl Grey Rich Milk Tea Gelato: Butterfly Pea & Earl Grey / Pistachio & Matcha / Mango Passion & Jasmine / Mixed Berries & Rooibos / Peche de Vigne & Honeybush Lavender – Single ¥495, Double ¥550, Triple ¥605 (Before Tax)

&EARL GREY has prepared a sweet line-up of rich ice creams made using high quality tea leaves from Japan, China, Sri Lanka, South Africa, and elsewhere. And for Valentine's Day, some of the ice cream options have been topped with cute macarons.

Nana's Green Tea x Häagen-Dazs Release Chocolate Matcha Glass Dessert

Nana's Green Tea is serving up a brand-new dessert in collaboration with Häagen-Dazs for Valentine's Day at 77 branches in Japan. The dessert was released on January 6 and will be available up to February 14.

Matcha Chocolate Glass with Häagen-Dazs | ¥880 (Before Tax)

The dessert is a tempting sight to behold – not only is it delicious but visually appealing to the eye too, and layered with various textures so that every bite is a surprise.

The dessert is made with Häagen-Dazs' "Sweet Chocolate" ice cream coupled with Nana's Green Tea's own original matcha ice cream, soft and crunchy meringue sticks, crumbled cookies, white chocolate whipped cream, and matcha chiffon cake. Sat at the bottom waiting to be discovered is a sweet strawberry sauce for a tangy kick.

Information

Nana's Green Tea – Matcha Chocolate Glass With Häagen-Dazs
Serving: January 6, 2021 – February 14, 2021
Price: ¥880 (Before Tax)
Available: 77 Nana's Green Tea branches in Japan (Excluding DiverCity Tokyo Plaza, Tokyo Dome, and Iias Okinawa Toyosaki)
Official Website: http://www.nanasgreentea.com/