Japanese Travel Website Jalan Set To Launch Tokyo Station Fair As Cat Stalks Closer
Japanese travel website Jalan, which has been running for 30 years, is collaborating with Tokyo station's shopping centre GRANSTA for their third collaboration fair, which will run from February 15 – March 1, 2020. Travelling in Japan will be even more fun as the travel website's adorable mascot Nyalan takes to the scene in a variety of delicious foods – just what every cat person kneads!
Even more shops are participating for the third fair, which is now stretching to cover shops at Ecute Tokyo and Ecute Keiyo Street. Everything at the fair cannot be purchased from anywhere else or at any other time. From bento lunches and sweet treats to merchandise, everything is based on Jalan's adorable cat mascot Nyalan. The fair is full of the essentials to enhance the fun factor in your spring travels around Japan – fur real.
Nyalan Caramel Cream: ¥490 (Fairy Cake Fair) *Only at GRANSTA
A fluffy whipped cream Nyalan sits on top of a delicious fairy cake. Grinning from cheek to cheek, the expressions on these hand-decorated mini cake are packed with detail. The adorable Nyalan cupcake is filled with velvety homemade caramel sauce for a rich sweetness. 
Nyalan Paw-Shaped Bento: ¥880 *Only at GRANSTA
Dried katsuobushi and salmon are mixed with rice to create two different coloured paw-shaped sushi rolls. Enjoy the adorable round rolls and sides of simmered bamboo shoots and sakura mochi – pawfect for a spring outing!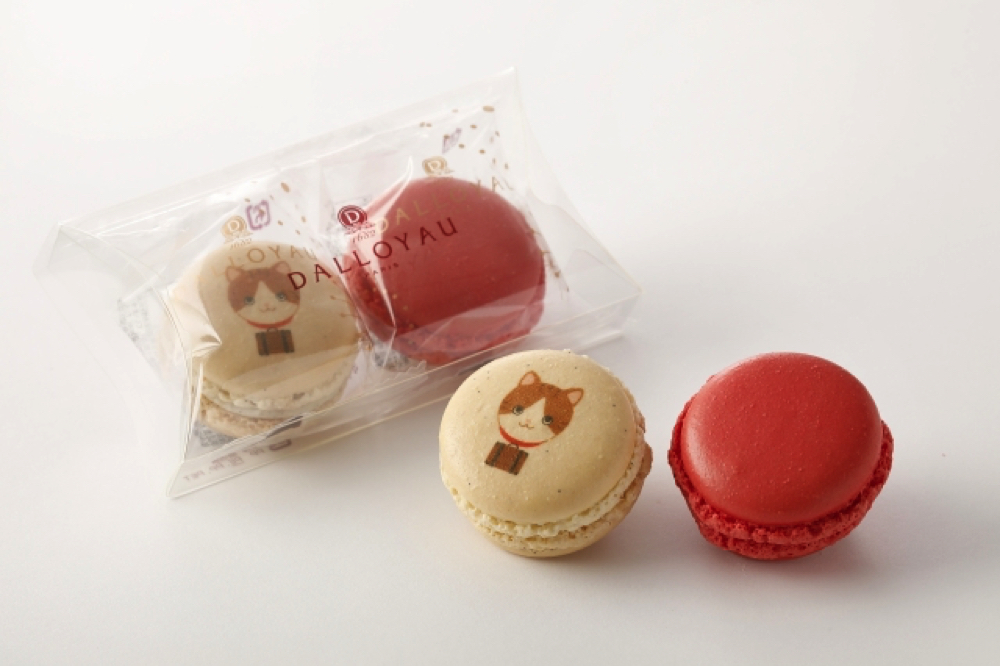 Amaou Strawberry Macaron and Nyalan Print Macaron: ¥648 (Pack of 2) *Only at DALLOYAU, GRANSTA
Nyalan print macarons were a big hit last year and now the adorable macarons are making a comeback for a limited time. The set of two macarons includes the popular amaou strawberry macaron and a vanilla macaron. This is great as a souvenir, however there are only 400 sets available so be quick if you want one!
Nyalan Doughnuts: ¥420 Each, Shiretoko Doughnut, available at Ecute Keiyo Street only
You won't be able to stop yourself from gasping at how adorable these doughnuts are. The moment you feast your eyes on the doughnuts, you won't be able to stop smiling. These sweet doughnuts are bursting with the delicious flavours of Hokkaido and would make the puurrfect quick munch when on a shopping break or a wonderful souvenir. 
Nyalan no Otetechirashi (1 pack: Approx. 12cm diameter)
【Uoriki Kaisen Sushi】 *Available only at Ecute Keiyo Street
On top of this cake-shaped sushi lies a paw made from negitoro (minced tuna). The sushi cake is made of up layers of the finest seafoods including crab and salmon. Only 20 are sold per day.

Nyalan Hand Towel: ¥880 Each, Handkerchief: ¥550 Each 【Hamamonyo】 *Available at Ecute Tokyo only
 This cute Nyalan hand towel and handkerchief are just what you need for your hot spring trip and are bound to add a sprinkle of fun to your everyday life. Enjoy spotting the different facial expressions of Nyalan in this Yokohama print design. Once you make a habit of using it every day, you won't be able to stop because it feels so nice. 
If you love cats, spice up your life with Nyalan!
RELATED ENTRIES
Tokyo Revengers Characters Speak Local Dialects on New Posters Across Tokyo Station

Starting September 13, characters from the popular anime series Tokyo Revengers are taking over Tokyo Station in a unique new poster campaign! In addition to one main poster featuring all main characters, 47 local posters–one for each Japanese prefecture–are being displayed throughout the massive train station, with characters speaking in local dialects to promote different areas of Japan. For those learning Japanese, this is a neat way to learn more about the unique vocabulary used throughout the country. 





A fun Twitter campaign is also underway, asking fans to tweet #オレの地元が最強 (#MyHometownIsTheStrongest). The special prize will be a B0 Japan Revengers poster, given to only one winner, with the remaining 47 winners able to snag a B2-size poster. 

A special advertisement for Japan Revengers will appear in the morning edition of the September 17th edition of the Asahi Shimbun newspaper. Additionally, to celebrate the release of the 24th volume of the Tokyo Revengers manga series, those who purchase the new volume will receive one randomly-selected 47-prefecture illustration card during the in-store campaign.

Be sure to check out which prefecture your favorite character is repping! 

Special Area for Doraemon Tokyo Banana Opens in JR Tokyo Station

Popular souvenir brand Tokyo Banana is celebrating 30 years! These tasty treats are a must-buy for those visiting Japan, and now, a familiar face will be popping up at a special area in the JR Tokyo Station Tokyo Banana shop: Doraemon Tokyo Banana Tokyo Station opens on August 6, 2021. Our favorite blue robot-cat just turned 50 in 2020, and this is the perfect way to celebrate!

Doraemon Tokyo Banana 'Found it!' 

Shop Image

Package Design

The Doraemon Tokyo Banana is a fluffy, gluten-free sponge cake. Created to celebrate the original creation of these dreamy sweets, the special Doraemon Tokyo Banana Tokyo Station area is now open at JR Tokyo Station. Adorned with various super cute designs, you'll also be able to find these treats at convenience stores across Japan!

Visitors will also be able to purchase a special gift box, complete with a gently smiling Doraemon design. The box contains eight Tokyo Banana sweets, and is perfect as a souvenir for family and friends–or even for yourself! The sweets within are decorated with random Doraemon designs, so you'll have to open the box to find out which ones you got! This item is sure to bring joy to all Doraemon fans both young and old.

A two-pack Doraemon Tokyo Banana will also be available. Three different Take-copter varieties and three different Anywhere Door varieties will be on sale, each with uniquely adorable designs to make you want to collect them all. Be sure to check out this special area, and pick up some memorable gifts!

(Please note that the shop has certain quantities of each package, and not all packages may be available depending on the date.

This product is manufactured in the same facility as products containing wheat flour.)

©Fujiko-Pro,Shogakukan,TV-Asahi,Shin-ei,and ADK

Chibi Maruko-chan and Coji-Coji Get Retro-Themed Shop in Tokyo Station

Two of Nippon Animation's most loved properties have come together for a limited-time shop like no other! Chibi Maruko-chan and Coji-Coji have joined forces to bring customers a curious collection of retro goods, available now at First Avenue Tokyo Station. The shop will be open until October 4, so there's plenty of time to grab some new swag!

Wet Wipes: ¥550 each (Tax Included) / Alcohol Hand Spray: ¥880 (Tax Included) / Drug Notebook: ¥550 (Tax Included) / Clear File: ¥385 (Tax Included) / Acrylic Keychain: ¥715 each (Tax Included) / Acrylic Stand: ¥1,100 each (Tax Included) / Mini Tote Bag: ¥1,650 (Tax Included) / Canned Konpeito: ¥1,100 each (Tax Included) / Gacha Can Badge: 1 Turn ¥300 (Tax Included) / Gacha Mini Photo Stand: 1 Turn ¥400 (Tax Included)

Novelty Clear Bookmark

Novelty Set of 4 Clear Bookmarks with Mounts

 

Ten items in the shop feature this stunning new artwork, inspired by the idea of modern boys and girls in Taisho (1912-1926) retro style. In addition, plenty of other Chibi Maruko-chan and Coji-Coji goods are available at the shop for those wanting a more complete collection!

Customers spending over ¥1,500 or more (with tax) will receive a clear bookmark featuring the new retro art, while those spending over ¥6,000 (with tax) will get all four bookmarks with mounts, making it easy to decorate your space with these limited-time products. 

Which of these goods are you most hoping to snag? Don't miss your chance!

Information

The Maruko & Coji-Coji Store Tokyo

Running: August 4, 2021 – October 4, 2021

Location: First Avenue Tokyo Station, Basement 1F North (Next to Mihashi)

Hours of Operation: 10:00-20:00 (Hours subject to change.) 

Phone Number: 03-6260-9048

Official Instagram: https://www.instagram.com/chibimaruko_official/ 

(@chibimaruko_official)

KYARY PAMYU PAMYU meets IMABARI: A Visit to the Historical Sea Route

Imabari is a city in Ehime Prefecture that faces the Seto Inland Sea. Since olden times, it has flourished as an important location for marine traffic. It's home to a bounty of recognised national treasures and historical heritage sights, and is also famous for its production of citrus fruits such as mikan. Japanese pop star, model, and icon Kyary Pamyu Pamyu took a trip to this ancient city to discover its wonder and beauty.

A Visit to the Historical Sea Route

Oyamazumi Shrine

A 'power spot' revered by prominent people

Oyamazumi Shrine has been revered by prominent figures throughout history as a place dedicated to the god of the mountain, god of the ocean, and the god of war. It's home to numerous Important Cultural Properties which are available for viewing by the public such as the armour worn by the military commander Minamoto no Yoshitsune when the Minamoto clan won the Genpei War (1180-1185), armour worn by women, and more. The shrine is also a notable power spot for the ancient tree that has stood there for 2,600 years and is now recognised as a natural monument of Japan. Power spots are places in Japan where the spiritually-inclined draw energy from.

Information

Oyamazumi Shrine

Address: 3327 Omishimacho Miyaura, Imabari, Ehime 794-1393, Japan

TEL: 0897-82-0032

Opening Hours: Sunrise to 17:00

National Treasure Building: 8:30-17:00 (Last Entries 16:30)

Official Website: https://oomishimagu.jp/

Kurushima Kaikyo Service Area

Lip-smacking food aplenty

If you're one for great views, then the Kurushima Kaikyo service area is a must-visit, offering a panoramic look at the Kurushima Strait of the Seto Inland Sea. The service area is very well know particularly for the Jaguchi Mikan Juice, something of a city legend in Ehime where you can enjoy fresh mikan juice straight from a tap. You can also tuck a rice bowl dish made with tachiuo hairtail caught in the Seto Inland Sea that's made to look like Kurushima Kaikyō Bridge, or try Imabari's soul food dish: the Imabari Yakibuta Tamago Meshi, a pork, egg, and rice bowl. Don't pass up the chance to snap a photo at the designated photo spot with the Seto Inland Sea in the back either like Kyary above.

Information

Kurushima Kaikyo Service Area

Address: 3-9-68 Ohamacho, Imabari, Ehime, 794-0002, Japan

Food Court: [Weekdays] 8:00-21:00 / [Weekends & Holidays] 7:00-22:00

Shops: [Weekdays] 8:00-21:00 / [Weekends & Holidays] 7:00-22:00

Outside Shopping Area & Cafes: [Weekdays] 9:00-17:00 / [Weekends & Holidays] 9:00-18:00

Official Website: https://www.jb-highway.co.jp/sapa/kurushima.php

Murakami Suigun Museum

Dedicated to the Imabari heroes who protected the ocean




Murakami Suigun Museum is dedicated to kaizoku—pirates, or lords of the sea—something which conjures to mind villainy or bad guys, but the Murakami pirates were also considered heroes who helped maintain order and protect the sea during the Sengoku warring period of Japan. The museum features many displays of Murakami family treasures including the battle surcoat which the pirate leader wore over his armour, proudly bearing the Murakami family crest. Visitors can wear replicas of this coat, which Kyary tired herself: "Now I'm sorta like a military commander too," she said.

Information 

Murakami Suigun Museum

Address: 1285 Miyakubocho Miyakubo, Imabari, Ehime 794-2203, Japan
TEL: 0897-74-1065

Opening Hours: 9:00-17:00

Closed: Mondays (or Tuesday if the Monday falls on a public holiday) / New Year Holidays (Dec 29-Jan 3)

Official Website: https://www.city.imabari.ehime.jp/museum/suigun/

Roadside Station Yoshiumi Iki-iki-kan

A bundle of fun and entertainment in one place

Roll on up to Roadside Station Yoshiumi Iki-iki-kan to enjoy a shichirin BBQ feast with fresh seafood caught in the Seto Inland Sea while gazing out across Kurushima Kaikyo. This building complex serves as a resting spot and is also the perfect place to purchase local souvenirs including Ehime specialty products. It's also famous for its offering the chance to board a boat to ride around Kurushima Kaikyo, renting out bicycles, and more. You'll also be able to meet Koro-chan, a popular fish who has lived there for 30 years.

Information

Roadside Station Yoshiumi Iki-iki-kan

Address: 4520-2 Yoshiumichomyo, Imabari, Ehime 794-2114, Japan

TEL: 0897-84-3710

Opening Hours: 9:00-17:00

Restaurant: 10:00-16:00 (Last Orders 15:00)

Closed: New Year's Day (and certain days in winter)

Official Website: http://www.imabari-shimanami.jp/ikiiki/

Dolphin Farm Shimanami

Meet the cute and friendly dolphins

Dolphin Farm Shimanami, which is connected to Hakata Beach, is the best and biggest place in Japan to interact with dolphins. Visitors can get close to them and the dolphins will show off their tricks and skills. There's even a car camping area you can stay at.

Information

Dolphin Farm Shimanami

Address: 1673 Hakatacho Kanoura, Imabari, Ehime 794-2302, Japan

TEL: 0897-72-8787

Opening Hours: 9:00-17:00

Closed: On days with bad weath

Official Website: https://www.df-shimanami.com/

Hakata Beach

A white sandy beach rolling out 200-meters 

Hakata Beach is located at the base of Oshima Bridge in Hakata. The beach is famous for its salt which is best tried on their popular sweet-tasting sea salt ice cream.

Information

Hakata Beach

Address: 1668-1 Hakatacho Kanoura, Imabari, Ehime 794-2302, Japan

Sea Bathing: Early July – Late August

Official Website: https://www.city.imabari.ehime.jp/kanko/spot/?a=198

Imabari Towels

High quality towels woven with tradition and technique

Imabari is the biggest producer of towels in Japan. Even their white towels alone have countless types you can choose from, allowing you to pick which level of softness and comfort you want. The iconic brand logo is also impactful, capturing the quality, production, and enthusiasm that the makes have for the product. Kyary herself uses them all the time!

Information 

Imabari Towel

Official Website: https://www.imabaritowel.jp/

Sunrise Itoyama

Need a bike?

Sunrise Itoyama, located in the Imabari Central Cycling Terminal, is a rental bicycle service that has bikes and helmets for everyone's needs. Rent out a bike and ride the Shimanami Sea Route which connects Ehime and Hiroshima with a series of bridges that hop across the islands of the Seto Inland Sea.

Information 

Sunrise Itoyama

Address: 2-8-1 Sunabacho, Imabari, Ehime 794-0001, Japan

TEL: 0898-41-3196

Rent-a-Cycle Details: https://www.sunrise-itoyama.jp/archives/rentacycle/

Official Website: https://www.sunrise-itoyama.jp/

Marutomi

The famous restaurant known to every local

If you want the real experience of Imabari's yakitori soul food, you should visit Marutomi, a yakitori eatery. Imabari yakitori is different from the usual Japanese yakitori as it doesn't come skewered. Instead, the chicken is cut into small pieces and fried that way. One of the most popular ways to have it is with the skin on so the outside is crunchy and the inside succulent. It goes perfect with a cup of sake too.

Information 

Marutomi

2-3-6 Katayama, Imabari, Ehime 794-0063, Japan

TEL: 0898-23-2740

Opening Hours: 17:30-22:00

Closed: Wednesdays

Official Website: https://maru-marutomi.jp/

Imabari Castle

A castle by the sea

Imabari Castle, built by the daimyo Tōdō Takatora, is known famously as one of Japan's three "Castles on the Sea" and was also listed in Japan's Top 100 Castles. When it was first constructed, boats could enter the moat from the ocean. It's a site that breathes the prosperity that Imabari has enjoyed as a significant location for maritime traffic, the same Imabari that the Murakami pirates sought to protect. Head on up to the top of the castle to stand on the observation deck and gaze at an unbroken view of the city.

Information

Imabari Castle

Address: 3-1-3 Toricho, Imabari, Ehime, 794-0036, Japan

TEL: 0898-31-9233

Opening Hours: 9:00-17:00

Closed: December 29 – December 31

Official Website: https://www.city.imabari.ehime.jp/museum/imabarijo/

Kirosan Observatory Park

A breathtaking spectacle to remember

Kirosan Observatory Park is officially recognised by Setonaikai National Park. Standing atop the observation deck fills the eyes with wonder as they gaze upon a panoramic stretch of Imabari, the Seto Inland Sea, and Kurushima Kaikyo all at once. Kyary wrapped up her time in Imabari here as the sunset coloured the sky and sea in warm evening hues.

Information 

Kirosan Observatory Park

Address: 487-4 Yoshiumicho Minamiura, Imabari, Ehime 794-2115, Japan

No Fixed Holidays

Open 24-hours a day

Official Website: https://www.city.imabari.ehime.jp/kanko/spot/?a=182

Imabari Tourism Information: https://www.city.imabari.ehime.jp/kanko/

We hope you enjoyed joining Kyary on her adventures across Imabari, and perhaps she even got you a little curious in wanting to visit the city yourself. It's a treasure trove filled with vistas by the sea, in nature, and in the city itself with its Important Cultural Properties. Food is also a big part of travel for many people, so you can rest assured that your belly will be satisfied in Imabari as you try their speciality mikan, fresh seafood fished in the Seto Inland Sea, and more.

Taiwan's Gift and Souvenir Shop Lai Hao Arrives in Japan

JAPAN POSTEC, a wholesaling company in Japan, is now an authorised dealer of products from the popular Taiwanese gift shop Lai Hao. The first product to enter the Japanese market from the company is a colourful collection of blotting papers which hit the country last Thursday (January 28).

Lai Hao Blotting Paper (8 Designs)

Taiwanese Scents: Oolong Tea / Gardenia / Yulan Magnolia / Hinoki / Pineapple

Size and Ingredients

Lai Hao's products are a display of Taiwanese creativity and high quality and are sure to leave an impression on buyers.

The blotting paper designs are based around a variety of different foods, with eight different picks to choose from. Each one comes scented with fragrances that remind one of Taiwan.

Tokyo's Cat-Shaped Food Bakery Tokyo Neko Neko Announces New Branch in Tokyo Station

Tokyo Neko Neko will open a new branch at ecute Keiyo Street inside Tokyo Station on January 25, 2021.

The launch comes just 6 months after the bakery opened its store in Ginza, attracting customers from all over for its line-up of cat-shaped pastries. Both of these bakeries are the result of yet another branch, Kyoto Neko Neko, which opened in June last year as the first in the line of these cute locations.

Tokyo Station Exclusives: Neko Neko Jam Bread – Marmalade, Caramel, Strawberry, Blueberry

Tokyo Neko Neko Bread – Plain, Chocolate, Caramel Almond, Tsubu-an, Matcha, Soybean

As well as the classic Tokyo Neko Neko Bread—which is like a croissant being loaded with French butter, crunchy on the outside, and moist on the inside—the new Tokyo Station branch is also serving its own exclusive pastry treat: the Neko Neko Jam Bread, made with plenty of milk, and arriving in four irresistible flavours including marmalade, caramel, strawberry, and blueberry. And most important of all: everything is shaped like an adorable kitty.

If you're travelling through Tokyo Station then don't miss out on a trip to Tokyo Neko Neko, opening January 25.

Information

Tokyo Neko Neko (Tokyo Station branch)
Grand Opening: January 25, 2021

Shop Name: Tokyo Neko Neko ecute Keiyo Street

Location JR Tokyo Station inside the ticket gates of the Yaesu South Exit on Floor 1F

Address: 1-9-1 Marunouchi, Chiyoda, Tokyo, 〒100-0005

Opening Hours: 8:00-22:00 (until 21:30 on weekends and holidays)

No Fixed Holidays
TEL: 03-3217-5557
Official Website: https://nekoshoku.jp

Tokyo Banana Chooses Eevee as Next Pokémon Souvenir Sweet

Tokyo Banana World has revealed that its next sweet treat in its Pokémon Tokyo Banana series will be Eevee which Pokémon Trainers can expect to catch up and down Japan from January 2, 2021, including at the store itself as well as at 7-Eleven branches.

Pokémon Tokyo Banana Welcomes Eevee as Entry #2

Tokyo's official souvenir sweets brand Tokyo Banana launched its new Pokémon Tokyo Banana series of confections in November with the first catch being Pikachu. Now Eevee is being added to the collection.


The fluffy sponge is a delicious caramel macchiato flavour and is filled with sweet banana custard cream. It can be eaten as it is, refrigerated, or even baked to create completely different flavour experiences.

6 Designs Including a Lucky Heart-Shaped Tail

The sponge cakes come in six different designs, all of which are adorable. The one to look out for though is the one with a cute heart-shaped tail.

Fluffy Eevee Design Packaging

Eevee Tokyo Banana Caramel Macchiato (Contains 2) | ¥291 (Tax Included)

The packaging features fluffy artwork of Eevee in six different designs, such as a waving Eevee and winking Eevee.

Where Can You Catch Eevee Tokyo Banana?

Eevee will roll out at 7-Eleven stores across Japan (excluding Okinawa) at the dates listed below. Each branch will have a limited stock so don't miss out.

January 2, 2021 Release
Tokyo/Kanagawa/Chiba/Saitama

January 16, 2021 Release
Hokkaido/Aomori/Iwate/Akita/Miyagi/Yamagata/Fukushima/Ibaraki/Tochigi/Gunma/Niigata/Fuji/Ishikawa/Fukui

January 23, 2021 Release
Yamanashi/Nagano/Shizuoka/Aichi/Gifu/Mie/Okayama/Hiroshima/Tottori/Yamaguchi/Tokushima/Kagawa/Ehime/Kochi

January 30, 2021
Osaka/Kyoto/Hyogo/Shiga/Nara/Wakayama/Fukuoka/Saga/Nagasaki/Oita/Kumamoyo/Miyazaki/Kagoshima

©2021 Pokémon. ©1995-2021 Nintendo/Creatures Inc. /GAME FREAK inc.
ポケットモンスター・ポケモン・Pokémonは任天堂・クリーチャーズ・ゲームフリークの登録商標です。

Tokyo Station's Pokémon Tokyo Banana is the Souvenir to Buy in Tokyo

Tokyo's official souvenir sweets brand Tokyo Banana launched pre-sales of its new Pokémon Tokyo Banana series of confections last month, with Pikachu as the first catch. Official sales will roll out at the Tokyo Station branch of Tokyo Banana on December 10, 2020.

Pokémon turn into Tokyo's official souvenir sweets

Pikachu will be the first Pokémon to feature as the design for Tokyo Banana.

A special Pokémon Tokyo Banana stall will open at Tokyo Station's JR Line

An official Pokémon Tokyo Banana stall will open inside Hanagataya on the JR side of Tokyo Station on December 10 which will sell exclusively Pokémon Tokyo Banana products. This will begin with Pikachu followed by an upcoming new entry set for release in January 2021.

They come in a cute gift box

Pikachu Tokyo Banana (Contains 8) | ¥1,188 (Tax Included)

Pokémon Trainers can pick up a pack of eight in a special gift box. These boxes are also available at other branches of Tokyo Banana in Tokyo including Shinagawa, Ueno, Ebina, and elsewhere. A must-grab to take home if you're travelling to Tokyo.

©2020 Pokémon. ©1995-2020 Nintendo/Creatures Inc. /GAME FREAK inc.
ポケットモンスター・ポケモン・Pokémonは任天堂・クリーチャーズ・ゲームフリークの登録商標です。

Disney's Fantasia Gets Sweets Collection by Tokyo Banana

GRAPESTONE is releasing a new sweets collection at Disney SWEETS COLLECTION by Tokyo Banana, which is located in Tokyo Station, in collaboration with the Disney classic Fantasia. The confections will be released in limited quantities from October 30, 2020.

© Disney Disney SWEETS COLLECTION by Tokyo Banana JR Tokyo Station

Disney SWEETS COLLECTION by Tokyo Banana opened on the JR Line side of Tokyo Station in November of last year. The shop is a joint-collaboration with Tokyo Banana—the official souvenir sweet of Tokyo—and Disney. The shop sold over 100,000 products in the first week of its opening, and caught the attention of Disney fans on social media who described the shop and the packaging of their sweets as cute.

Disney Fantasia Chocolate Sandwich (Contains 28) | ¥3,024 (Tax Included)

The cute packaging features Mickey Mouse as The Sorcerer's Apprentice in the 1940 animated film Fantasia. The light and crunchy cat tongue cookies at filled with chocolate banana milk shake flavoured cream

The confections serve as the perfect gift or souvenir from Japan to yourself or any fan of Disney.

© Disney

Information

Disney Fantasia Chocolate Sandwich
Running: October 30, 2020 – Mid December 2020

Available: Disney SWEETS COLLECTION by Tokyo Banana JR Tokyo Station

Purchasing: 70 available per day, max 2 per person
Official Website: https://www.tokyobanana.jp/disney/index.html

Solo Sauna Tune: Tokyo's New Privacy Guaranteed Finnish-Style Sauna

Solo Sauna Tune is a new sauna that offers "total privacy" which is set to open its first branch inside UNPLAN Kagurazaka in Tokyo this November.


Most sauna facilities in Japan cater to groups, but at Solo Sauna Tune, all guests are given their own space where they can undress, bathe, and relax in their own private room. This is especially desirable during the current pandemic where social distancing is paramount, and is a great opportunity for people not wanting to travel in groups.

The solo saunas are heated using sauna stoves imported from Finland. Adding water to the sauna stones lets guests control the amount of steam in the room so they can adjust as they like. There is also a Japanese white birch aroma provided to the löyly (Finnish for 'steam').

Guests can also cool off in cold water. The Chiller provides water at 15℃. There are also overhead showers for cooling down, and the showerheads can be adjusted to make the water come out like mist.

The relaxation area is coloured in a stylish black where guests can kick back for a while.


After using the sauna, guests can visit the powder room where there are a varieties of free amenities. There's also a café which serves craft beers, food, and other treats.

Information

Solo Sauna Tune
Address: UNPLAN Kagurazaka, 23-1 Tenjincho, Shinjuku-ku, Tokyo
Grand Opening November 2020

Opening Hours: TBA

Prices: TBA
Access: 3-minutes on foot from Kagurazaka Station / 7-minutes on foot from Edogawabashi Station / 9-minutes on foot from Ushigome-Kagurazaka Station

Official Website: https://www.solosauna-tune.com/

Fufu Nara: The First Luxury Hotel Set to Open in Nara Park is Designed by Kengo Kuma

Fufu Nara is set to be the first luxury hotel to open inside Nara Park on June 5, 2020. Designed by industry-leading Japanese architect Kengo Kuma, the hotel promises a unique dining experience with food served using herbal medicines that can only be tasted here, and guest rooms that are covered in art made by Nara-based artists who use traditional techniques. Both the dining and accommodation experiences aim to immerse guests in the culture of Nara.

Witness the handiwork of Nara's artists

Nara is a city steeped with beautiful history and culture. This has been captured by the artists who have collaborated with Fufu Nara in the form of paintings, crafts, entrance decorations, and more. A stay at Fufu Nara is an opportunity to witness first hand the deep traditions and techniques of Nara's art world.

There are 30 rooms in total which are split into five different types. For example, one room type is designed around the old Japanese style of sitting on the floor. Inks and woods are used in the room to enhance that feeling that you're in Nara, and the colour tones too are chosen to bring to mind the ancient city.

Fufu Nara's dining concept

Nara Prefecture is closely tied to herbal medicines. Herbal medicine came about in the year 611 during the monarch of Empress Suiko. It is written in the Nihon Shoki that the use of herbal medicine had already been adopted by the time Prince Shōtoku was serving under the Empress. Many different traditional herbal medicines are still used in Nara today, including Angelica root, shakuyaku peonies, fennel, and so on. Traditional herbal medicines have become popular again in the prefecture in recent years.

The food prepared at Nara Fufu makes use of ingredients grown and produced in Nara, from vegetables to herbs and beyond. Breakfast, lunch, and dinner all incorporate Japanese and Chinese herbal ingredients.

Spa by sisley

The hotel also has a spa made in collaboration with French luxury skin care brand Sisley. There, guests can enjoy Fufu Nara's medicated baths.

Information

Fufu Nara
Address: 1184-1 Takabatakecho, Nara, Nara Prefecture
Grand Opening: June 5, 2020
Price: From ¥77,000 (for 1 night and 2 meals for 2 guests in 1 room) *Tax and service charge included; spa charged separately
TEL: 0557-52-6606
Official Website: https://fufunara.jp

Join Kawaii Virtual Traveller Emma on Her Global Sightseeing Tour

While the world is on lockdown, embark on a global adventure from the comfort of your own home with kawaii virtual character Emma.


The newly-launched EMMA Travel project follows the adventures of Emma as she travels from country to country, discovering and learning new things.

Satisfying your thirst for adventure couldn't have been easier. Emma will be uploading pictures of her adventures to Instagram so you can enjoy travelling without leaving your house. All her travels will be documented in English to cater to foreigners who are eagerly awaiting the chance to visit Japan.

While global lockdown measures are still in place, join Emma as she takes you on a virtual tour of must-visit sightseeing locations.