Tokyo's GINZA SIX Reveals Colourful Spring Dessert Line-Up
GINZA SIXーthe largest shopping complex in Ginzaーhas unveiled some of the incredible desserts arriving for this spring only.
Ginza is famous for its host of restaurants which serve up gorgeously gourmet food throughout the four seasons, and so you can expect GINZA SIX's line-up to be something special. Let's take a look.
Strawberry Sweet Afternoon Tea – ¥4,200 (Before Tax) @ THE GRAND GINZA
"Shun'un" pecial Make Maruto Parfait – ¥2,300 (Before Tax) @ Nakamura Tokichi Honten Ginza
Strawberry Mix Candy – ¥593 (Before Tax) @ Candy Art Museum by PAPABUBBLE
The line-up of delectable treats at GINZA SIX won't just satisfy your sweet tooth, but your eyes too due to their delightful appearanceーlike the strawberry and roses littered afternoon tea, or the strawberry candy which is made using only the best available strawberries. The shops and restaurants at GINZA SIX have ensured to prepare sweets that will bring spring to mind Japanese springtime and the pink cherry blossoms.
Matcha Ganache – ¥1,800 (Before Tax) @ Tsujiri
Matcha & Tamba Azuki Bean Cake – ¥2,600 (Before Tax) @ Marlowe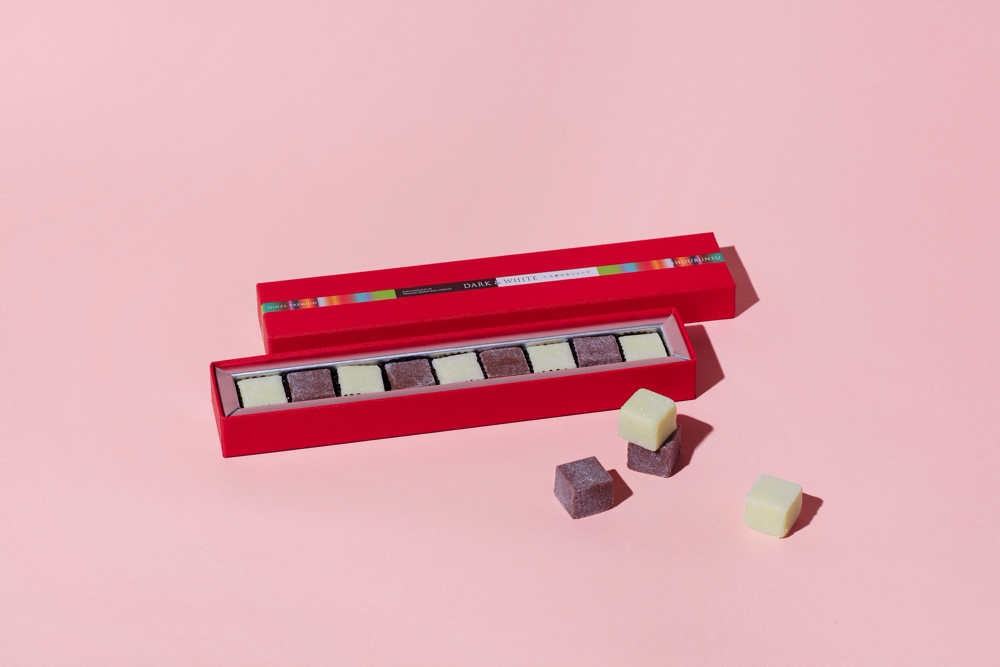 Kurozu Vinegar Raw Chocolate – ¥1,500 (Before Tax) @ Shoubunsu Vinegar Brewery
Other tantalising treats include more Japanese-tasting selections, like cookies injected with a rich matcha ganache, raw chocolate doused with kurozu vinegar, gluten-free pound cake made with freshly-made Uji matcha, and more.
Of course, since this is a spring line-up, there are flowery fusions to find too, like candy topped with edible flowers and rose flavoured frozen fruit bars.
Rose & Raspberry – ¥520 (Before Tax) @ PALETAS
Spring Edible Flower Lollipops – ¥555 (Before Tax) @ Candy Art Museum by PAPABUBBLE
Aya Farm Saku Mango Selection – ¥3,800 (Before Tax) @ Aya Farm
If you're in Tokyo for spring, the cherry blossoms and hanami, then be sure to stop by GINZA SIX to indulge yourself this season.
Information
GINZA SIX
Address: 6-10-1 Ginza, Chuo Ward, Tokyo
Opening Hours: Shops/Cafes (B2F-5F) 10:30-20:30 / Restaurants (6F, 13F) 11:00-23:00
*Business hours differ from shop to shop.
No Fixed Holidays (But shops and restaurants will be closed on January 1, 2020)
Access: Directly connected to Ginza Station via the Tokyo Metro Ginza Line, Marunouchi Line and Hibiya Line.
TEL: 03-6891-3390
Official Website: http://ginza6.tokyo/
RELATED ENTRIES
Hotel New Otani Tokyo, Osaka & Makuhari Now Serving Rich Chestnut Pancakes For Autumn

The Tokyo, Osaka, and Makuhari branches of Hotel New Otani are now serving seasonal autumn versions of their specially made pancakes at their coffee shop and all-dining restaurant SATSUKI until November 30, 2020

Fantastically fluffy pancakes

Hotel New Otani has been serving its special pancakes for the past 10 years which have become a favourite amongst guests.

The hotel's pastry chefs have whisked up a variety of flavours in line with the changing seasons this past decade using strictly-selected ingredients including strawberry, melon, mango, chestnut, and more.

A marriage of rich chestnut and fluffy pancake

Hotel New Otani Specially Made Chestnut Pancakes 2020 | ¥2,800 (Before Tax/Service Charge)


Chestnuts are the flavourful theme for autumn 2020's pancakes, made with strictly-selected chestnut astringent skin, sweet bean jelly, and topped with a chestnut macaron.
The pancakes are served with melt-in-the-mouth Italian ricotta. There are two different doughs, one made from coffee flour which has high nutritional value, and the hotel's original "White Cereal" which is a combination of millets and amaranth.
The pancakes are cooked on a low heat for about 5 minutes on each side so they rise to a fluffy 5cm thickness and become startlingly smooth.

Strawberries for winter

For this year's winter, the hotel will be serving strawberry pancakes.

Enjoy a selection of seasonal pancakes when staying at Hotel New Otani.

Information

Hotel New Otani Tokyo
Location: SATSUKI, Hotel New Otani Tokyo Main Lobby
Address: 4-1 Kioicho, Chiyoda-ku, Tokyo
Bookings/Enquiries: 03-5275-3177 (10:00-21:00)
Official Website: https://www.newotani.co.jp/tokyo/restaurant/satsuki/

Hotel New Otani Makuhari
Location: SATSUKI, Hotel New Otani Makuhari
Address: 2-120-3 Hibino, Mihama-ku, Chiba, Chiba Prefecture
Bookings/Enquiries: 043-299-1848 (07:00-21:00)
Official Website: https://www.newotani.co.jp/makuhari/restaurant/satsuki/

Hotel New Otani Osaka
Location: SATSUKI, Hotel New Otani Osaka
Address: 1-4-1 Shiromi, Chuo-ku, Osaka, Osaka Prefecture
Bookings/Enquiries: 06-6949-3234 (07:00-20:00)
Official Website: https://www.newotani.co.jp/osaka/restaurant/satsuki/

Sip Sparkling Wine and Other Drinks Among Tokyo's Nightscape With Sarabeth's HIGH TEA TERRACE NIGHT

The Tokyo branch of New York-based restaurant chain Sarabeth's has announced a special autumn event that goes by the name 'HIGH TEA TERRACE NIGHT.' Set to run from September 23 to October 31, customers will be able to sit on a rooftop terrace in the evening with Tokyo's towering cityscape surrounding them while drinking sparkling wine and other all-you-can-drink free-flow alcoholic beverages—high tea style.


High tea refers to post-dinner evening tea time. At Sarabeth's, customers can look forward to dining on a special set menu for grown-ups with alcohol and other treats.


High Tea Style Set Menu With Free Drink | ¥5,000 (Before Tax)

Served on an afternoon tea stand, tuck into six different appetisers, meatball sliders, and truffle flavoured French fries. For the main dish, there's steak made in a red wine sauce and boletus mushrooms. Free drinks include sparkling wine, red and white wine, beer, high balls, cocktails, soft drinks, and more.

Feel the evening breeze of autumn while indulging in a special high tea experience in Tokyo.

Information

Sarabeth's Tokyo – HIGH TEA TERRACE NIGHT

Running: September 23, 2020 – October 31, 2020

Location: Sarabeth's Tokyo

Address: 1-8-2 Marunouchi, Chiyoda-ku, Tokyo

Serving Hours: 17:00-20:30
TEL: 03-6206-3551
*Free -flow drinks are all-you-can-drink for 90 minutes

*Reservations required by 16:00

Official Website: http://www.sarabethsrestaurants.jp/

Kaori's Easy Recipe: Learn to Make Winnie the Pooh Pumpkin Soft Cookies

With just a small bit of ingenuity, turn everyday food into something cute using Kaori's Easy Recipe! With a few simple ideas, an ordinary recipe magically transforms into a cute dish.

Halloween in closing in, so for this recipe I'll be using pumpkin to make delicious cookies—crunchy on the outside and moist in the middle. This recipe rolls the dough into a ball, so it's a great alternative for people who aren't good with shaping or cutting cookies.

Ingredients

50g pumpkin (mashed and skin removed)

20g-25g sugar (I used sanonto sugar to bring out the sweetness of the pumpkin, but white sugar is fine too)

30g unsalted butter

A pinch of salt

60g weak flour

1

Combine and mix the steamed pumpkin, room temperature butter, and sugar. Then incorporate the salt and flour and mix again.

2

Now to shape everything. For pumpkin decorations, roll the pumpkin together and create a little depression in the top. Use a toothpick or something similar to create five indents around the outside as pictured above.

To make Pooh Bear, simply roll round and add the ears.

3

Bake at 150℃ for 20-25 minutes. Leave to cool, then decorate Pooh's facial features with a chocolate pen.

Kaori invites you into her world of character-themed food dishes in her recipe series. Be sure to check out her Instagram where she has uploaded many pictures of her character dishes!

Kaori Kubota (@kaopan27)

I live in Hokkaido and I love to make character themed foods, desserts and pastries♡

I want to see my family smile, so I enjoy putting in a bit of effort to make character foods and changing food into something cute♡

You can see more of my character foods and character bento boxes on my Instagram page → @kaopan72

Art and Lifestyle Come Together at Isetan Shinjuku's 'Living with ART' Event

Isetan Shinjuku is now hosting its "Living with ART" event on the 5th floor of the main building until September 29, 2020.

Living with ART brings together collections of artistic products by designers from both inside and outside Japan, from unique items to add accent to your daily life to more daily-use bits and bobs.

STUDIO THE BLUE BOY comes to Isetan Shinjuku for the first time

<STUDIO THE BLUE BOY> Wavy Gradient rug – Orange × Yellow | ¥289,000 (Before Tax)

Keisuke Shoda is a Tokyo-based designer and art director whose name is known both in Japan and overseas. He creates products for his art studio, STUDIO THE BLUE BOY, all of which are sold exclusively online from rugs to interior products and more. Exhibiting at Isetan Shinjuku for the first time, STUDIO THE BLUE BOY's lineup will include their popular rugs, fragrances, bags, and more.

<STUDIO THE BLUE BOY> Zen Garden Collection (Left: Charcoal Grey, Right: Matcha Deep Green) | ¥329,000 Each (Before Tax)

Visitors will also be able to order the Charcoal Grey and Matcha Deep green rugs early from the studio's new Zen Garden Collection line.

Valeria Vasi showcases their new range in Japan for the first time

<Valeria Vasi> Vases | ¥12,000-¥75,000 Each (Before Tax)

Barcelona-based designer Valeria Vasi is showcasing her iconic and eye-catching handcrafted vases. Her designs are simple, but have their own beauty and quality, giving room for a single flower to express its own beauty. She will be selling around 40 items.

<Valeria Vasi> Vases | ¥34,000-¥45,000 (Before Tax)

As well as her ceramic vases, which have a beautiful glossy finish, Valeria Vasi is also selling her newest glass-type vases in Japan for the first time.

Young artists' pictures turned into blankets

<Slowdown Studio> Blanket | ¥32,000 (Before Tax)

Slowdown Studio's products are available in 16 countries worldwide. It is a home product brand that makes items using pictures and illustrations created by young artists around the world. At the event, they will be selling 10 different kinds of blankets, including three from their new TOKYO COLLECTION together with Japanese artists.

<Slowdown Studio> Blanket | ¥32,000 (Before Tax)

The blankets can even be used as wall art.

This is just a snippet of what will be on show at Living with ART. If you're in Tokyo this month, don't miss out on the event.

Starbucks Japan Unveils Candied Sweet Potato Frappuccino®

Starbucks Coffee Japan has revealed the second beverage in its Artful Autumn @ Starbucks® series of drinks. The "Candied Sweet Potato Frappuccino®" will be released at Starbucks branches in Japan on September 23, 2020.

Candied Sweet Potato Frappuccino® | Tall Size Only – ¥590

Each drink is made using a whole chopped and blended Japanese daigaku imo candied sweet potato to serve those autumn flavours, with its marbled golden colour also reminiscent of the autumn leaves. It's topped with whipped cream, black sesame seeds, and sweet potato syrup.

Truly the perfect dessert drink to sip on for the changing seasons.

Information

Candied Sweet Potato Frappuccino®
Serving: September 23, 2020 – October 31, 2020

Available: Starbucks in Japan (select branches not participating)

Starbucks Coffee Japan Official Website: https://www.starbucks.co.jp/

Halloween Doughnuts Creep Their Way Into Krispy Kreme Doughnuts in Japan

Halloween arrived at Krispy Kreme Doughnuts in Japan on September 16 with the "monster HARVEST" collection of themed doughnuts. Available until November 1, the spooky lineup incorporates a selection of Japanese autumn flavours like pumpkin and purple sweet potato.

The doughnut collection is here to put us in the Halloween spirit nice and early. Krispy Kreme Japan's popular jack-o'-lantern doughnuts are back this year, as are the new black cat doughnuts which first arrived last year. A completely new purple sweet potato flavour was also introduced to the menu on September 1.

Pumpkin Pudding Jack-o'-lantern | ¥240 (Before Tax)

The jack-o'-lantern doughnuts have been made even more delicious for Halloween 2020 by using pumpkins from Hokkaido and filling them with velvety pumpkin Japanese-style pudding. Add to that the chocolate facial features and you've got yourself a tantalising treat for the spooky season.

Black Cat Caramel | ¥250 (Before Tax)

A black cat made with big white chocolate eyes and a dark chocolate face topped with crunchy almond pieces and stuffed with caramel cream.

Muchimochi Purple Sweet Potato Mont Blanc | ¥240 (Before Tax)

The tasty, chewy, and hot purple sweet potato doughnut is made with sliced sweet potato and coated in powdered sugar. It's served hot which makes the flavour even more intense.

Halloween Dozen (12 Doughnuts) | ¥2,000 (Before Tax)

Share a dozen with friends this Halloween which includes not only two of each of the ones already shown, but Krispy Kreme's popular "Chocolate Sprinkle" and "Original Glazed®" too.

Halloween Mini Box (20 Doughnuts) | ¥2,000 (Before Tax)

There's also a colourful box of 20 mini versions of the doughnuts too.

Information

monster HARVEST
Running: September 16, 2020 – November 1, 2020

Krispy Kreme Doughnuts Official Website: https://krispykreme.jp

Harajuku's New Carbonara Restaurant Serves Pasta Japanese Style

A new spaghetti carbonara restaurant by the name of Nama Carbonara opened in Harajuku, Tokyo on September 17, 2020.

The restaurant opened in the same building as Harajuku's popular fresh cream shop MILK and bubble tea shop Mot Tram. The restaurant makes its own fresh flat pasta everyday and uses fresh, rich cream sourced from Hokkaido.

The current menu lineup consists of six dishes, from classic carbonara to Japanese twists. Let's take a look at some of them.

Classic Carbonara | ¥790

Walleye Pollack Roe Japanese Carbonara | ¥1,090

Freshly Grated Cheese & Bacon Carbonara | ¥1,090

Seafood, Avocado & Basil Carbonara | ¥1,190

Discover a brand new world of carbonara like never before at Nama Carbonara in Harajuku.

Information

Nama Carbonara (生カルボナーラ専門店 原宿店)

Grand Opening: September 17, 2020

Address: THE SHARE 1F, 3-25-18 Jingumae, Shibuya, Tokyo

Opening Hours: 11:00-19:00 (Last Orders 18:30)

TEL: 03-5772-8858

Official Website: http://www.opefac.com/

Manga Series Tokyo Revengers Gets Exhibition at Tower Records Shibuya

Tower Records Shibuya will host an exhibition dedicated to the ongoing manga series Tokyo Revengers from September 26 to October 18. The exhibition is being held to promote the release of the 19th volume which hits shelves in Japan on September 17.

Tokyo Revengers is a manga series written and illustrated by Ken Wakui. An anime adaptation is scheduled to broadcast in 2021.

The exhibition will feature a variety of works drawn by Ken Wakui for the series, both black and white as well as coloured illustrations, as well as panels of each character, and more. There will also be an exhibit for the upcoming live-action film.


Tokyo Revengers x TOWER RECORDS OSMO Stamps (22 Designs) | ¥909 Each (Before Tax)

Tokyo Revengers Monochrome Panels | ¥30,000 Each (Before Tax, Includes Shipping)

Fans can also get their hands on a range of exhibition-exclusive merchandise, and from October, the exhibition will sell some Tokyo Revengers x Tower Records collaborative merch. There'll be some signed artwork for sale too.

Character Business Cards (11 Designs)

And for every ¥1,000 spent at the exhibit, fans will receive one of 11 possible character business cards.

Information

Tokyo Revengers Exhibition – Tower Records Shibuya
Running: September 26, 2020 – October 18, 2020

Time: 12:00-15:00 / 16:00-20:00 (Last Entries 19:30)

Location: Tower Records Shibuya Floor 8F SpaceHACHIKAI
Entry: Free (But you must book a place online)

Exhibition Information (Japanese): http://towershibuya.jp/news/2020/09/15/148467

TALENT PROFILE

Anna Yano

Released the song "Shape My Story" produced by kz (livetune) in August 2013. Performed as the vocalist on a single for kz's solo project 'livetune' in January 2014. Both songs were used as theme songs for anime series and received attention in Japan and overseas. In October 2015, she formed a new unit with kz called 'livetune+' and they released their first EP "Sweet Clapper" on May 11, 2016.

Ayumi Seto

Active as a model, especially in fashion magazines. Receives tremendous support for her cute and distinct fashion. In February 2014, she debuted her apparel brand 'Aymmy in the batty girls' where she works as a designer. She was the first Harajuku and Aomoji-kei model to establish an authentic apparel brand. She develops clothing items through her unique fashion sense lens.

Ema Tanioku

"Emaeri" is the nickname for models Ema and Eri Tanioku, who are Aomoji fashion model twins. Ema and Eri Tanioku specialise in twin fashion coordination. Over the years their fanbase has increased due to their cute looks. Ema Tanioku spreads Harajuku culture within Japan as well as overseas and works as a Harajuku Tourism Ambassador. Starting off as a model, Ema has broadened her talent range from fashion magazines to TV, and from playing the lead role in dramas to movies.

Pastel Coloured Halloween Served Up at Grand Nikko Tokyo Bay Maihama's Happy Halloween Sweets Buffet

Grand Nikko Tokyo Bay Maihama is a new hotel which opened on July 1 this year. Easily spotted by its pink exterior, the hotel offers Grand Nikko's brand concept of guests releasing all of their sense to enjoy a relaxing and sophisticated time while providing a refreshing resort-like experience.

This Halloween, the hotel's all-dining restaurant Le Jardin will serve up its "Happy Halloween Sweets Buffet" from October 10 to 16.

There will be 20 different desserts to pick from all in pastel colours, offering a different kind of Halloween vibe. Desserts are decorated with cute Halloween motifs like Jack-o'-lanterns, ghosts, and pumpkins. The chefs will also be certain desserts in front of guests like pumpkin mont blanc, praline mille-fuille, and pavlova.

There will also be a savoury menu too like roast beef in onion sauce, seafood acqua pazza, bread, salad, soups, and more, as well as soft drinks and non-alcoholic cocktails.

The restaurant will be restricting the number of people allowed in the dining area at once to protect diners during the pandemic.

Information

Happy Halloween Sweets Buffet
Location: Le Jardin – Grand Nikko Tokyo Bay Maihama Floor 3F
Running: October 10, 2020 – October 16, 2020

Time: 12:00-14:30 (Last Orders 14:00)

Prices: General ¥4,500 / 9-12 years old ¥2,780 / 4-8 years old ¥1,580 / 3 years old and below – Free
Enquiries/Bookings: 047-711-2427 (10:00-18:00)

Official Website: https://bit.ly/325uwjt

Grand Nikko Tokyo Bay Maihama
Address: 1-7 Maihama, Urayasu, Chiba

Official Website: https://tokyobay.grandnikko.com

Luxurious Shine Muscat Grape Parfait Served Up at Hotel Gajoen Tokyo For Autumn

Hotel Gajoen Tokyo, a museum and hotel combination, is home to New American Grill "KANADE TERRACE," the hotel's restaurant popular for its food grilled in the open kitchen, its afternoon teas made with seasonal ingredients, and cocktail lineup.

This autumn, Hotel Gajoen Tokyo is serving up its new "Shine Muscat Parfait," an richly-sweet and elegance-scented dessert made using Shine Muscat grapes.

Shine Muscat Parfait ¥2,800 | With Champagne ¥3,600 (Before Tax & Service Charge)

The parfait is layered with Kyoho grape and shampagne jelly, crémet d'Anjou which is made from fresh cheese, and maqui berry granola. It's topped with blackcurrant sherbet and tuile.

Information

Shine Muscat Parfait
Serving: October 1, 2020 – November 20, 2020

Location: New American Grill "KANADE TERRACE" (Hotel Gajoen Tokyo)

Serving Hours: 14:30-17:30 everyday

Official Website: https://www.hotelgajoen-tokyo.com/archives/54655

teamLab's Borderless Autumn Themed Digital Art Exhibition Arrives in Tokyo

teamLab Borderless is a world of artwork without boundaries, a museum without a map created by art collective teamLab. Over at their museum in Tokyo, MORI Building DIGITAL ART MUSEUM: EPSON teamLab Borderless, they are exhibiting a range of autumn themed digital art in time for the changing seasons. Let's take a closer look at what's on show.


September Flowers

October Flowers

Proliferating Immense Life – A Whole Year per Year | teamLab, 2020, Interactive Digital Installation, Sound: Hideaki Takahashi

Proliferating Immense Life – A Whole Year per Year looks at the life cycle of flowers. Throughout the year, with the passing of time, flowers bloom and change. They bud, grow, and blossom before their petals begin to wither and eventually fade away. The cycle of growth and decay repeats itself in perpetuity as the flowers propagate. When too many flowers grow, they scatter and fade all at once. When people touch them, the flower petals scatter and fall away

A variety of autumn flowers will be recreated in digital art, such as Blackberry Lily (September) and Red Spider Lily (October). Visitors who touch these digital flowers will see them wither and decay, and subsequently bloom new flowers in their place.

Rice Fields

Autumn Colours
Memory of Topography | teamLab, 2018, Interactive Digital Installation, Sound: Hideaki Takahashi

This artwork installation depicts a rural mountain landscape of varying elevations. The scenery instills in the viewer a feeling of eternal permanence, however with the flow of real time the scenery is continuously changing. In the spring, the rice fields are still small and lush. In summer, they begin to mature, and in fall, they turn a golden color.

The colours of autumn will be depicted in its glorious combination of golds and reds for the exhibit.


Forest of Resonating Lamps – One Stroke, Autumn Mountain | teamLab, 2016, Interactive Installation, Murano Glass, LED, Endless, Sound: Hideaki Takahashi

When a person stands still close to a lamp at Forest of Resonating Lamps – One Stroke, Autumn Mountain, it shines brightly and emits a colour that resonates out. The light becomes the starting point, and it spreads to the two nearest lamps. The light from the two nearest lamps transmits the same colour to other lamps, spreading out continuously. The light transmitted always resonates out as a bright light once, passing to close lamps, until all lamps have shone brightly once, and then returns to the first lamp.

For October, this exhibit will turn into Forest of Resonating Lamps – One Stroke, Autumn Mountain.


Flowers Bloom in an Infinite Universe inside a Teacup | teamLab, 2016, Interactive Digital Installation, Endless, Sound: Hideaki Takahashi

Make tea, and flowers bloom inside the teacup. If you pick up the teacup, the flowers scatter and spread outside of the cup. Flowers bloom infinitely as long as there is tea. The tea in the teacup becomes an infinite world in which the flowers continue to bloom. Drink in the infinitely expanding world.

The exhibition hall's tea house "EN TEA HOUSE" will see a variety of autumnal flowers used including safflower, dianthus, and Chinese aster for September and cosmos, osmanthus, and chrysanthemum for October.

Information

MORI Building DIGITAL ART MUSEUM: EPSON teamLab Borderless

Address: Odaiba Palette Town, 1-3-8 Aomi, Koto-ku, Tokyo

Official Website: http://borderless.teamlab.art/jp

Tangled Inspired Disney Princess Cake Revealed by Ginza Cozy Corner

Ginza Cozy Corner has revealed its new Disney princess cake based on the 2010 animated film Tangled which will be available to order at all branches in Japan from October 1, 2020.

Tangled Dress Cake | ¥3,500 (Before Tax)

The cake is centred on the golden-lock beauty Rapunzel, with her dress as the foundation for the cake. The cake is made with cream chess, strawberry jam, and blueberries, while Rapunzel's iconic hair is lemon flavoured.

Decorate the cake yourself

The cake comes with the parts for you to decorate yourself. This adds a whole new level of fun to parties!

Exclusive Rapunzel design box

This cake was actually sold earlier this year during the Hinamatsuri festival in Japan, with all 1,000 cakes being sold out. It is now returning on October 1 and is made-to-order only.

Information

<ラプンツェル>ドレスケーキ

店頭受付

予約受付:10月1日(木)より *4日前までの予約限定
引き渡し:10月5日(月)より

Online Orders

Order Here: Ginza Cozy Corner

Order Window: From October 1, 2020
Delivery Window: From October 6, 2020

Official Website: https://www.cozycorner.co.jp/