Grab Tokyo Souvenirs at Roppongi Hills' New Food & Gift Area
The new "Food & Gift Area" at Roppongi Hills is set to open in the North Tower on Floor B1F on April 10 where you can get your hands on a huge range of exclusive gifts and souvenirs, as well as quick and delicious food. It will house a total of 19 stores; that's 12 shops selling Japanese confections and other picks perfect as gifts to yourself or someone else, and 7 eateries offering takeout and eat-in options.
In the gift area, 12 storesーa mix of new establishments as well as well-known businesses setting up shop in Tokyo for the first timeーwill open their doors, such as the New Style Ginza Sembikiya cafe, Kashi no Kirokujo which sells exquisite cakes that are hard to get your hands on, and more. And there's a whole range of Roppongi Hills exclusives too, like artistic yokan sweet bean jelly inspired by Tokyo's streets, castella with the Roppongi Hills logo on it, senbei rice crackers, assorted sliced mochiーthe list goes on.
Gift Area – Roppongi Hill Exclusives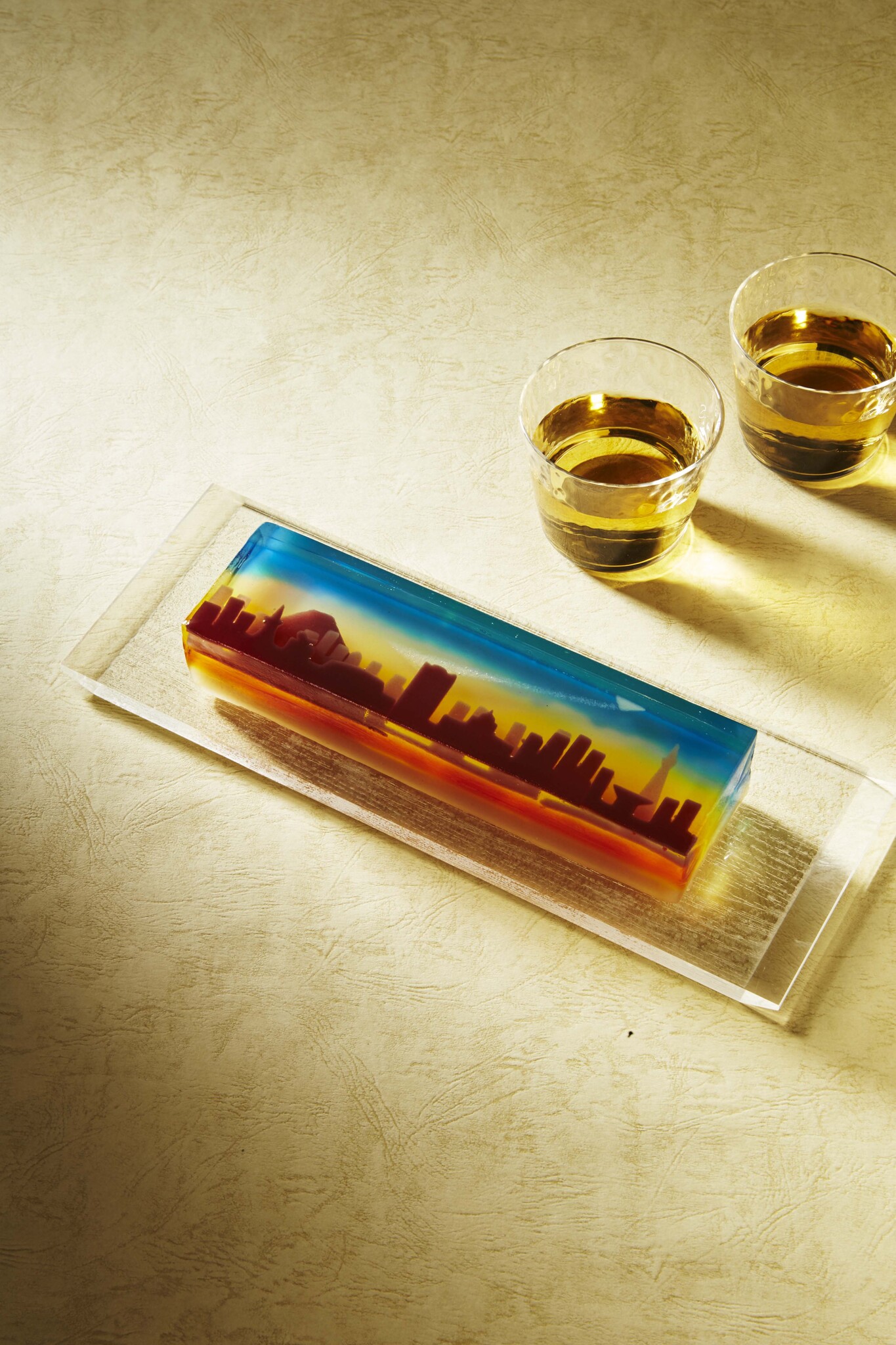 Tokyo Enbo – ¥4,320 (Tax Included) @ Wagashi Yui
Recreated are the landmarks of Tokyo in the morning sun, with the beautiful silhouettes of the city's skyrise buildings formed into sweet bean jelly. Try and find Roppongi Hills in this picturesque perfection.
Ukeian Castella Wasanbon – ¥2,160 (Tax Included) @ Ukeian
This castella cake is made rich and moist thanks to the eggs laid by specially-bred chickens. It's made with wasanbon fine-grained Japanese sugar,  which gives it a tantalizing smell. The logo stands out too, giving it a beautiful appearance in addition to the delicious flavour.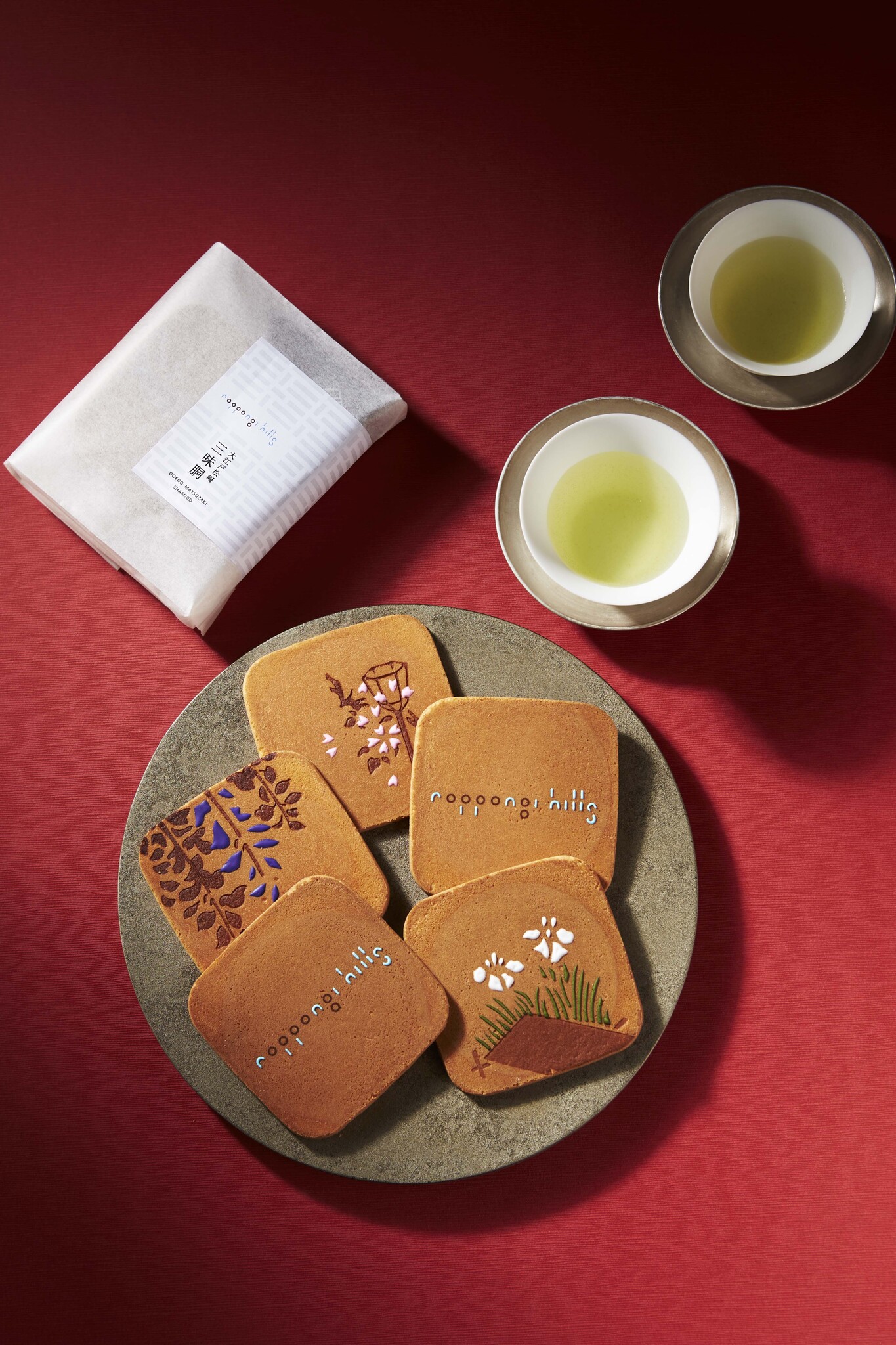 Roppongi Hills Sanmaido (5 Included) – ¥702 (Tax Included) @ Ginza Matsuzaki Senbei
The senbei rice crackers have a gentle flavour, handcrafted one by one by the shop's master chefsーincluding the Roppongi Hills logo design of these tile-shaped rice crackersーby adding eggs and sugar to wheat flour.
Kinanomiya Sando (Exclusive Packaging/3 Included) – ¥540 (Tax Included) @ KISSHOKARYO
KISSHOKARYO Japan Premium "Miyabi" – ¥1,870 (Tax Included) @ KISSHOKARYO
Munch down on these delicious chocolate cookies made with high quality soy flour, almonds, and oat milk.
They're also serving a special Japanese parfait for eating-in, made with specially-selected Uji matcha from Kyoto and homemade soy flour.
Sankaku Box Sando – ¥1,080 (Tax Included) @ New Style Ginza Sembikiya
Roppongi Hills Exclusive Melon Parfait – ¥2,700 (Tax Included) @ New Style Ginza Sembikiya
Added to the thick and fluffy bread is fresh fruit and subtly sweet cream to make a refreshing sandwich. The chocolate sandwich in the left of the picture is exclusive to Roppongi Hills.
The must-try is the melon parfait, which is made with melons grown in Shizuoka that have been specially selected by the shop.
Cake Shop Miracle Collaboration Set – ¥3,456 (Tax Included) @ Kashi no Kirokujo
This set is an assortment made by four long-standing cake makers: Akasaka Kakiyama, Obusedo, Ganyudo, and Nanohana.
Roppongi Lingotto – ¥3,240 (Tax Included) @ Bicerin
Caffe mocha al Bicerin – ¥660 (Tax Included) @ Bicerin
Served in a limited-edition Roppongi Hills box, the "Roppongi Lingotto" bears the shopping complex's logo, and is a popular gift that was even served to members of the Japanese government at the G7 Ise-Shima and G20 Osaka summits.
When dining in, you can order a rich bicerin which is a mix of espresso, milk, and chocolate sauce topped with whipped cream that's shaped to look like a hill.
Raw Pound Cake Assortment – ¥1,700 (Tax Included) @ Pavlov
Choose from seven adorable small-size cakes, including cream vanille, pistachio fruits rouges, chocolate orange, very berry, Kyoto matcha, caramel nuts, and mont blanc.
Roppongi Exclusive GIFT – ¥918 (Tax Included) @ Jiichiro
Wrapped in special Roppongi Hills packaging, this box contains an assortment of Jiichiro treats from their popular baumkuchen to rusk, gateau chocolat, and more.
In the Food Area, seven restaurants will open serving quick, authentic food. A number of popular restaurants are also making an appearance, like Kyu Yamutei which is famous for its Osaka spice curry, as well as THAI STREET FOOD by KRUNG SIAM. The menu line-ups will include dishes exclusive to Roppongi Hills.
Food Area – Roppongi Hill Exclusives
Curry-Gear MAX – ¥1,650 (Tax Included) @ Kyu Yamutei
This curry combines unique ingredients and spices. The ingredients and roux are switched up every month, and you can pick from one to four rouxs.
Khao Soi No-Broth Mazemen Noodle Curry – ¥1,200 (Tax Included) @ THAI STREET FOOD by KRUNG SIAM
This mazemen noodle curry is a spin on the hugely popular khao soi Chiang Mai ramen, made without any broth. It has the full-bodied aroma and spiciness that comes with Thai-style curry. Change up the flavour with a topping of homemade pepper.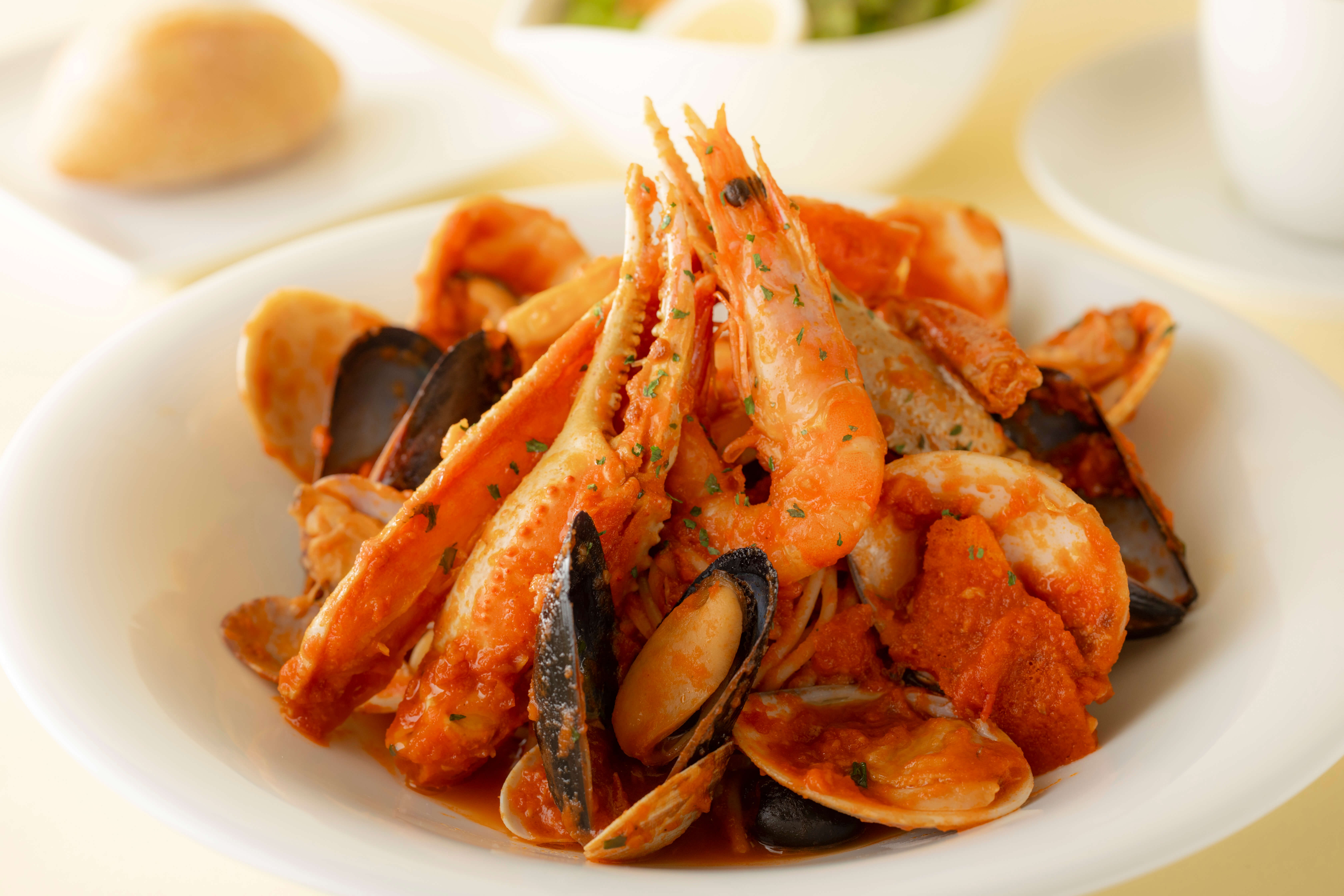 Fisherman's Seafood Spaghetti alla Pescatora – ¥1,848 (Tax Included) @ Pasta & Pizza Uota
Piled with plenty of seafood, this luxurious and specially-made tomato pasta wastes no flavour of the fish used for its rich sauce.
Brioche Vendée N – ¥864 (Tax Included) @ Boulangerie Bonheur
A traditional brioche from Vendée in France. It's combined with orange flower water and contains raisins soaked in Kirsch. The center is moist and just melts in your mouth.
Seafood & Eel Dashi Chazuke – ¥1,320 (Tax Included) @ Dashi Chazuke En
Another exclusive to Roppongi Hills is this chazuke, filled with all the flavours and sea like tuna, porgy, eel, and more. Try it as it is first and then pour over the broth.
Spring Vegetables & Fried Fish Lunch Box – ¥900 (Tax Included) @ Dexee Deli
A set of seasonal vegetables like edible chrysanthemums, asparagus, and cabbage, combined with fried fish, rice, and bamboo shoots.
Find a whole world of food, desserts and gifts at Roppongi Hills' new Food & Gift Area.
Information
Roppongi Hills Food & Gift Area
Address: 6-10-1 Roppongi, Minato Ward, Tokyo
Grand Opening: April 10, 2020
Official Website: https://www.roppongihills.com/
RELATED ENTRIES
Grab These Adorable and Delicious-Looking Kirby Figures at Japan's Game Centres

The second batch in a series of Kirby figurines, based on the Kirby's Dream Land game series, began rolling out at game centres across Japan on March 26, 2020. They are part of the "Palcolce collection," a line of palm-sized figures themed around desserts.

Three figures make up the second batch of the series, which includes Kirby standing atop a Star Block shortcake holding a bright-red strawberry, another of Waddle Dee climbing a cupcake on chocolate ladder, and Kirby flying through the sky on a cheesecake Warp Star.

A third batch is also planned drop in the near future.

Collect all three from arcades throughout Japan to create a truly kawaii Kirby scene!

©Nintendo / HAL Laboratory, Inc. KB19-3661

Information

Kirby – Paldolce collection vol.2

Release Date: Rolling out March 26, 2020

Figures: 3

Available: Amusement centres throughout Japan (*select branches not participating)

Official Website:  https://bpnavi.jp/s/toru/pc/prizes/81933

McDonald's Japan Releases Citron and Pistachio Flavoured Macarons at McCafé by Barista Branches

McCafé by Barista branches of McDonald's in Japan released two new flavours in their macaron series on Wednesdayーpistachio and citronーwhich will be served for a limited time until the end of August this year.

 
The pistachio and citron flavours join McCafé by Barista's colourful macaron series alongside vanilla, raspberry, and chocolate, which cost just ¥150 each.

The pistachio flavour is filled with a pistachio powder-dusted pistachio cream, giving the crunchy macaron a deliciously nutty flavour and fragrance.


The citron macaron is filled with a refreshing and sour lemon cream. Both of the new flavours are the perfect treat for the start of spring and going into the summer season. They're even better with one of McCafé by Barista's high quality coffees.



McCafé by Barista is also serving the "Special Macaron Set" for ¥500 which comes with any two macarons of your choice and a medium hot or iced latte.

Information

Macaron Pistachio / Macaron Citron

Serving: March 25, 2020 – Late August 2020 (subject to change)

Available: McCafé by Barista in Japan

McDonald's Japan Official Website: http://www.mcdonalds.co.jp/

Succulent Strawberry Drinks & Desserts Served Up at GELATO PIQUE CAFE

GELATO PIQUE CAFE branches in Japan began their "Strawberry Fair" on Wednesday serving up drinks and desserts made using seasonal strawberries.

What is GELATO PIQUE CAFE all about?
"Desserts for adults" is the concept at GELATO PIQUE CAFE, a cafe brand developed by GELATO PIQUE which specialises is comfy loungewear. The cafe, which has branches in Tokyo, Osaka, Nagoya, and elsewhere in Japan, serves comfort food and is interested in the health and happiness of its guests. Their menu is overflowing with ideas, with all options made using only the best selected ingredients.

The enticing line-up is nothing short of kawaii, and screams springtimeーfitting for the season as Japan celebrated Vernal Equinox Day yesterday, the first day of springーwith sweet and sour strawberries adorning their crepes, smoothies, gelatos, soft serve ice creams, and more.

Strawberry Mille Feuille Crepe – ¥830 (Before Tax)

Topped with a whole strawberry, this mille feuille-inspired seasonal crepe is made with an in-house crafted strawberry cream, mille feuille puff pastry, and vanilla gelato. The strawberries used are a mix, all grown in Kumamoto Prefecture, including yuubeni, koinozomi, koiminori, and others. Much love and care is put into growing strawberries in Kumamoto, making them sweet and delicious.

White Strawberry & Red Strawberry Gelato – ¥460 (Before Tax)

This two-coloured serving of gelato ice cream is made with sweet-smelling white strawberries and a brand of red strawberry from Fukuoka called amaou. No strawberry lover will be able to resist this pick.

Strawberry Smoothie – ¥590 (Before Tax)

Enjoy a cold strawberry smoothie made from seasonal strawbs, milk, and honey. Indulge in the refreshing sweetness of the strawberries, and enjoy the cute pink flavour of the beverage.

Strawberry Milk Soft Serve Ice Cream – ¥450 (Before Tax)

Or grab yourself a cone of soft serve ice cream to enjoy the combination of flavours: sweet and sour strawbs and sweet, creamy milk.You can also get a mix together with the light blue vanilla flavour.

Information

Strawberry Fair

Running: March 18, 2020 – May 31, 2020

Location: GELATO PIQUE CAFE (Participating Branches: atré EBISU, LUMINE Ikebukuro, Mitsui Outlet Park Makuhari, Mitsui Outlet Park Kisarazu, Mitsui Outlet Park Jazz Dream Nagashima, Gotemba Premium Outlets, Nagoya LACHIC, Mozo Wonder City, Namba Marui, Mitsui Outlet Park Hokuriku Oyabe)

Official Website: https://pique-cafe.com/

*Strawberry variety is subject to change depending on production conditions

Shirasagi Coffee: Ehime Prefecture's Cafe Releases Springtime Cherry Blossom Menu

Shirasagi Coffee, a cafe in Ehime Prefecture, has released a new seasonal menu full of strawberries and cherry blossoms to commemorate the spring season.

Shirasagi Coffee's logo features a heron, a reference to a legend that says the locals of Matsuyama in Ehime noticed that a white heron healed its injured leg by bathing in the hot springs of Dōgo Onsen, one of the oldest hot springs in  Japan. The cafe was renovated using furniture made from scrap wood from when Dōgo Onsen was built. It's an artistic cafe that has garnered much attention from both locals and tourists.

Thick-Cut Natural Yeast Toast

This thick-sliced bread is provided by Panya Uzu, a bread shop also in Matsuyama, Ehime. Perfect for breakfast or lunch, it's topped with a cherry blossom jam and mascarpone cheese cream.

Top: Cream Soda / Right: Cherry Blossom Tea Latte / Left: Cherry Blossom & Strawberry Mint Sour

This line-up of three drinks are made using seasonal strawberries grown in Ehime Prefecture.

Sweet Bavarois

Bavarois is a classic dessert at Shirasagi Coffee, and this one is made using matcha grown in the village of Shingu in Ehime and is coated in a cherry blossom cream.

Spring Madonna Parfait

This limited-time parfait is stacked with 12 different ingredients of varying textures and flavours, including cherry blossom, as well as Ehime strawberries, chestnuts, and matcha. It's the culmination of Ehime's springtime ingredients.

Takeout Drinks

Mini Parfait

The cafe also serves mini parfaits, drinks and other items for takeout. Pick something out and go and observe the cherry blossoms for Hanami at Dōgo Park.

Information

Shirasagi Coffee

Address: 2F, 12-1 Dōgoyunomachi, Matsuyama, Ehime Prefecture

Opening Hours: 08:00-18:00 (from 07:00 on weekends and public holidays)

No Fixed Holidays

Closest Station: Dogo Station via Iyotetsu

Official Website: https://shirasagicoffee.com/

*Open everyday until 22:30 from March 23, 2020

*Table reservations available on weekdays

*Breakfast-only until 11:00

Tea & Chocolate Brownie Released by Dandelion Chocolate and IYEMON SALON ATELIER

Dandelion Chocolate and IYEMON SALON ATELIER have joined sticky fingers to bake up their new "Tea & Cocoa Brownie" which is now being served at IYEMON SALON ATELIER KYOTO and Dandelion Chocolate Kyoto Higashiyama Ichinenzaka.

This collaboration came about to celebrate 1 year since IYEMON SALON ATELIER KYOTO opened. The chocolates fuse IYEMON SALON's tea with Dandelion Chocolate's organic, single origin bean to bar chocolate.

Tea & Cocoa Brownie (Uji Matcha/Houjicha) – ¥1,800 (Before Tax) *Contains 2 of each flavour

The two different flavoured brownies, Uji matcha and houjicha, are filled with a ganache made from Japanese tea and carefully selected chocolate from the Dominican Republic. The chocolate has a strong, rich flavour like that of coffee and cherries, but is still easy to get without it tasting overwhelming. The brownies are also vegan-friendly and gluten-free, containing no eggs, dairy products, wheat, or white sugar. They are the perfect accompaniment to both tea and a mild-tasting sake.

The vegan lifestyle is slowly gaining recognition in Japan, so don't miss this chance to treat yourself to some melt-in-the-mouth vegan delights.

©Dandelion Chocolate Japan

Vegan Almond Caramel Sponge Cake Now Available at TOKYO BANANA in Tokyo Station

TOKYO BANANA WORLD released a new vegan-friendly almond caramel flavour of its popular Tokyo Banana sponge cakeーthe official souvenir sweet of Tokyoーat the TOKYO BANANA store on the JR side of Tokyo Station on March 15, 2020.

This is TOKYO BANANA's first vegan-friendly sweet. It's made from 100% plant-based ingredients while keeping 100% of the product's delicious flavour. That includes almond milk, which is promoted for its health and beauty benefits, and delicious caramel.

TOKYO BANANA Almond Caramel Sandwiches – Box of 4: ¥680 (Tax Included) / Box of 8: ¥1,200 (Tax Included)

Other ingredients include beat sugar, which is made from beetroot, a subtle banana flavour, and crunchy roasted almonds, all wrapped together in a bite-size sponge cake.

The product is both vegan and vegetarian friendly, containing no eggs or dairy products.

This tasty snack is available only at TOKYO BANANA in Tokyo Station, so be sure to pop buy and pick some up if you're travelling through there.

Information

Tokyo Banana Almond Caramel Sand

Released: March 15, 2020

Available: TOKYO BANANA (JR Tokyo Station)

Official Website: https://www.tokyobanana.jp/ 

TSUTAYA TOKYO ROPPONGI Re-Opens After New Renovations Catering to International Customers

TSUTAYA TOKYO ROPPONGI originally opened in 2003 as a "BOOK & CAFE." On March 7, 2020, it has now reopened as a TSUTAYA BOOKS.

The concept of the newly-renovated location is to create a place that better caters to Roppongi's large population of foreign tourists. On average, 40 million travellers from around the world flock to Roppongi Hills annually, so to create a more comfortable environment for them, TSUTAYA TOKYO ROPPONGI has increased its number of Western books and magazines. It stands proud as a "Global Thinker" that serves what Roppongi has to offerーfrom a global perspective.

Customers can read a book or magazine while enjoying a cup of coffee at the coffee shop before they make their purchase, or they can enjoy a drink in the new "BOOK & BAR-LOUNGE."

as exotic as you can be, inspired by Giuseppe Arcimboldo's "Summer" – ¥2,400


after this , you may, inspired by Paul Gauguin's "Woman Holding a Fruit" – ¥2,200


Enjoy one of the many creative cocktails inspired by famous artworks.

The store also has its own souvenir shop for people to take a piece of Japan back home. Made by expert craftsmen, items include stationery, gadgets, items for decorating homes, and much more, all offering a new standard when it comes to lifestyle proposals.

TSUTAYA BOOKS goes above and beyond what an ordinary bookshop is, instead providing a place for people to really stand back and think what it is they are looking for. It's a place where you can discover what's going on in the world right now, what's popular, and where you stand amongst it all. You are sure to discover something new or surprising, so be sure to pay a visit to the new TSUTAYA TOKYO ROPPONGI if you're travelling to Tokyo.

Information

Information

TSUTAYA TOKYO ROPPONGI

Address: Roppongi Hills Keyakizaka-dori 1F/2F, 6-11-1 Roppongi, Minato Ward, Tokyo

Opening Hours: 7:00-Midnight (2nd floor BAR-LOUNGE is open 10:00-Midnight)

TEL: 03-5775-1515 (BAR-LOUNGE TEL: 03-5843-1467)

Official Website: https://store.tsite.jp/roppongi/

Tokyo's Pokémon Cafe Reveals Cherry Blossom Aloha Pikachu Cake & Latte

The Pokémon Cafe in Nihonbashi Tokyo is bringing two new "Sakura Aloha Pikachu" items to its menu this spring for a limited time. They will be served between March 14 and April 19.


The Pokémon Cafe previously served up a cherry blossom Aloha Pikachu-inspired dessert and latte last year too to celebrate one year since the cafe opened. This year, they've changed their designs.

Sakura Aloha Pikachu Fruit Sandwich Cake – ¥1,738 (Tax Included)

Sakura Aloha Pikachu Latte 2020 – ¥770 (Tax Included)

The fruit sandwich is filled with flurry strawberry cream and fruits, while the latte features cute latte art of Aloha Pikachu who has a fluffy cherry blossom afro.

Don't miss these seasonal picks at Tokyo's Pokémon Cafe this year.

© 2020 Pokémon.©1995-2020 Nintendo/Creatures Inc./GAME FREAK inc.
Pokémon, ポケットモンスター, and ポケモン are trademarks of Nintendo, Creatures Inc., and GAME FREAK inc.

Information

Pokémon Cafe (Nihonbashi, Tokyo)

Address: Nihonbashi Takashimaya SC East Bldg. 5F, Nihonbashi, Chuo Ward, Tokyo
Opening Hours: 10:30-22:00
Closed: When Nihonbashi Takashimaya SC East Bldg. is closed

Reservations: https://www.pokemoncenter-online.com/cafe/reservation.html

*Reservations can be made online only

Matcha Sweets & Mini Tea Ceremony Experience Coming to The Strings Omotesando in Tokyo

Cafe & Dining ZelkovA is set to offer a new "Japanese Tea Set" service from March 3 to July 2 this year which gives customers a mini tea ceremony experience where they can enjoy a cup of matcha and tuck into some matcha sweets.

Japanese Tea Set – ¥2,600 (Tax Included) *Plus separate 12% service charge

This tea set comes with genuine a nanbu tekki cast iron kettle for pouring hot water and a chasen tea whisk for mixing the matcha powder. Authentic Uji matcha from Kyoto is used which has a wonderfully rich fragrance that reminds you just how good matcha really is.

The tea set also comes with an Uji matcha tiramisu and a rice flour dumpling anmitsu which comes with an assortment of fruits like the setoka citrus and melon, Tokachi adzuki beans, and brown sugar syrup from Okinawa.

Sit either on the sunny terrace or inside with the cafe's high-end interior design and enjoy yourself luxuriously with a cup of matcha and some Japanese matcha treats.

Information

Cafe & Dining ZelkovA

Address: The Strings Omotesando (Floor 1F), 3-6-8 Kitaaoyama, Minato Ward, Tokyo

Serving: March 3, 2020 – July 2, 2020

Opening Hours: [Weekdays] 11:30-22:00 / [Weekends & Holidays] 11:00-22:00

Reservations/Enquiries: www.strings-hotel.jp/omotesando/restaurant/zelkova/   

Treat Yourself to a Breathtaking Cherry Blossom Afternoon Tea at Tokyo's Royal Park Hotel

Lobby Lounge FONTAINE on the first floor of Royal Park Hotel in Tokyo never fails do outdo themselves in terms of intricacy and cuteness when it comes to their afternoon teas. For the spring season this year, they're serving their adorable pink "Sakura Afternoon Tea" set which is inspired by a garden in full bloom during Hanami.

Sakura Afternoon Tea For One – ¥4,235 / With Sparkling Wine – ¥4,840 (Tax Included) *Photo shows serving for two people

This is the kind of food you want to eat but also want to keep staring at because of how good it looks. This pink perfection comes with light coloured chocolate creations made to look like Japanese umbrellas with fallen cherry blossom leaves fallen on them, a glass dessert which has a faint cherry blossom scent that goes deliciously with the cheese of the crémet d'Anjou, a cherry blossom roll cake, macarons, and more.

Line-Up:

・Top Tier

Sakura Chocolate Saiku / Glass Desserts (Crémet d'Anjou & Sakura Jelly)

・Middle Tier

Sakura Roll Cake / Matcha Madeleine / Raspberry Cream Puffs / Scones (Sakura & Plain) / Macarons

・Bottom Tier

Open Brioche Sandwich With Broad Bean and Egg / Rape Blossom and Seafood Quiche

・Drink

Tea or Coffee

Sakura Roll Cake – ¥486 / Sakura Verrine – ¥540 / Sakura Anpan Bread – ¥216 / Sakura Sweet Bean Danish – ¥324 / Sakura Sweet Bean Brioche Cube – ¥216

Sweets & Bakery IKI is also located on the first floor of the hotel, where they too are serving up the perfect sweets and pastries for the spring season, like cherry blossom roll cake, cherry blossom cream puffs, and more. These cute treats are great as gifts too.

Treat yourself to a lovely afternoon tea time with the Sakura Afternoon Tea in the hotel's luxurious lounge.

Writer: Shihori Shibui

Information

Royal Park Hotel

Address: 2-1-1 Nihonbashikakigaracho, Chuo Ward, Tokyo

Afternoon Tea Set

Location: Lobby Lounge FONTAINE (Royal Park Hotel Tokyo Floor 1F)

Running: April 1, 2020 – April 30, 2020

Spring Sweets & Pastries

Location: Sweets & Bakery IKI (Royal Park Hotel Tokyo Floor 1F)

Running: March 15, 2020 – April 30, 2020

Royal Park Hotel Official Website: https://www2.rph.co.jp/en

CHANEL Ginza's Rooftop Space to Welcome Gorgeous Terrace Café LE JARDIN DE TWEED

The rooftop terrace space of the CHANEL Ginza building is set welcome LE JARDIN DE TWEED this March which is collaborating with champagne producer Perrier-Jouët.

LE JARDIN DE TWEED will open for a limited time this March where it will run until late October. As the name of the chic café suggests, the space takes on a tweed design with trimmed plants housed throughout. They will serve finger food from BEIGE ALAIN DUCASSE TOKYO as well as afternoon tea and more.

For drinks, there is of course exquisite Perrier-Jouët champagne, as well as a selection of special original cocktails. Their detox non-alcoholic cocktails are special recommendations for refreshing the mind and body.

©PierreMonetta

Afternoon Tea – ¥4,800 (With Tea or Coffee) / With Perrier-Jouët – ¥6,000 (1 glass serving) Serving: 14:00-16:00

The items adoring the afternoon tea set will change with each passing season. Enjoy with a glass of Perrier-Jouët, tea, coffee, or one of the available soft drinks.

What could be more indulging than sitting atop CHANEL in Tokyo's high-end Ginza district while tucking into a tasty afternoon tea with a glass of champagne?

Information

LE JARDIN DE TWEED

Running: March 2020 – Late October 2020 (Subject to change)
Opening Hours: 14:00-22:00 (Last Orders: Food 20:30/Drinks 21:30)
Closed: Mondays/Tuesdays

BEIGE ALAIN DUCASSE TOKYO

Address: CHANEL GINZA Bldg. Floor 10F, 3-5-3 Ginza, Chuo Ward, Tokyo
Opening Hours:

<Lunch> 11:30-16:00 (Last Orders 14:00)
<Dinner> 18:00-23:00 (Last Orders 20:30)
Closed: Mondays/Tuesdays/Summer Season/New Year Holidays
Official Website: http://www.beige-tokyo.com/en/

OIMON: The New Local Kagoshima Sweets Brand Established by BAKE

BAKE Inc., a confectionery company that manages the freshly-baked cheese tart chain BAKE CHEESE TART and cream puff chain CROQUANTCHOU ZAKUZAKU, has announced the launching of a new brand.

Named "OIMON," the brand will specialise in creating sweets made from local sweet potatoes, with the first branch opening at the new Gohobi Street zone inside Amu Plaza Kagoshima, a shopping complex connected directly to the JR side of Kagoshima-Chūō Station, on March 13, 2020.

What is OIMON?

OIMON is a new shop specialising in sweet potato confectionery whose concept is "Tradition x Innovation." Its first branch is opening in Kagoshima, a prefecture that produces sweet potatoes and shochu from its warm climate. These traditional ingredients and methods will be combined with both Kagoshima's contemporary food and food culture and BAKE Inc.'s design, flavours and preparation methods to create a new kind of local Kagoshima confectionery

Sweet potato cakes aplenty with Kagoshima flavour

Freshly-Baked Mini Mikan Sweet Potato Cake: Single Serving – ¥237 / Box of 5 – ¥1,188 / Box of 10 – ¥2,376 (Tax Included)

Freshly prepared in-store, you can pick from a single serving as well as a box of 5 or 10. The mini sweet potato cakes are inspired by gane, something taken from traditional Kagoshima cuisine. Gane refers to julienned sweet potatoes, but it also means "crab" in the Kagoshima dialect because the way it's cut looks like a crab. The sliced sweet potatoes are wrapped and baked in a sweet potato paste to bite-size pieces.

The cakes are also soaked in caramel sauce, and their surface lathered in "Kosama Gin," a craft gin made using lots of mikan oranges grown on Sakurajima in Kagoshima. Enjoy the delicious milky taste of the caramel coupled with the crunchy gane texture. The sweet potato paste is laced with powder made from the mikan oranges, adding a fresh and fruity flavour.

OIMON will promote Kagoshima to the rest of Japan

The brand colouring is a mix of beige and pink, reminiscent of Japanese sweet potatoes. OIMON went for a minimalist design to convey the simplicity of sweet potatoes. The logo is made up of round slices, also like round slices of sweet potato. The entire design conveys the fact that this is something from and exclusive to Kagoshima.

Information

OIMON

Grand Opening: March 13, 2020

Address: Amu Plaza Kagoshima Main Building 2F, 1-1 Chuocho, Kagoshima, Kagoshima Prefecture

Opening Hours: [Mon-Thurs] 10:00-20:30 / [Fri-Sun, Holidays & Day Before Holidays] 10:00-21:00

TEL: 099-210-5695 

Official Website: https://oimon.jp