Plum Blossom Festival 2020: See the Plum Blossoms Of Odawara Flower Garden
The plum blossoms of Odawara Flower Garden, which is located in Odawara, Kanagawa, are at the height of their blossom right now. The park's Keiryu no Baien ("Mountain Stream Plum Garden") area boasts the largest collection of plum blossoms in Japan's Kanto region, with 480 trees spanning 200 species.
This year's Plum Blossom Festival at the park is now running until March 8, 2020, and is the perfect time to witness these beautiful flowers.
Home to 480 trees spanning 200 types of plum blossom treeーfrom early bloomers to late bloomersー, the Keiryu no Baien is a true spectacle to behold and a must-visit for any plant-lovers out there visiting the Kansai region of Japan. Every year, the Plum Blossom Festival takes on a unique theme, with 2020's titled "Rare Plum Blossoms ~Uncommon Plum Blossoms in the Auspicious Months of Early Spring~".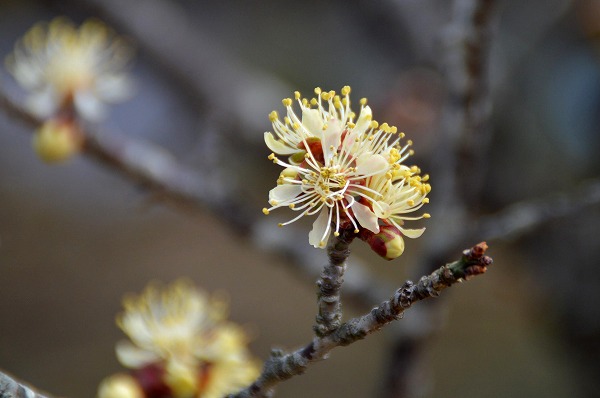 As the theme suggests, the Keiryu no Baien is home to many rare types of plum blossoms you won't see anywhere else, such as the ougonbai (黄金梅), which has distinct thin, pale yellow petals. This year's festival shines the spotlight on many more of these uncommon speciesーan unmissable chance for horticulturalists.
Plum Blossom Festival Soba Noodles – ¥600 (Tax Included) / With Drink ¥700 (Tax Included)
The Odawara Flower Garden cafe, Cafe Hibiscus, is serving a selection of plum blossom themed meals and drinks for the festival. This includes the above-pictured new soba noodle dish, which is topped with plum pulp grown in Odawara as well as kamaboko fish cake, shrimp fritters, and spring onion. The broth in particular is worth of note which the staff went to great lengths to create. There's also plum blossom ice cream too made with nanko plums, as well as other delicious bites.
Entry to Odawara Flower Park as well as use of the car park are completely free. The festival runs until early March, but to fully enjoy the early and mid bloomers in their height, now is the best time to go. Don't miss out.
Information
Odawara Flower Garden
Address: 3798-5 Kuno, Odawara-shi, Kanagawa Prefecture
Garden Opening Hours: 9:00-17:00 (Last entries to the Tropical Dome – 16:30)
Entry: Free (Fee charged to enter the Tropical Dome – Adults ¥200/Children ¥100)
Closed: Mondays (Or the following day if the Monday falls on a National Holiday) / National Holidays / New Year Holidays (December 29-January 3)
Access:
①Board the Izuhakone Bus towards "Flower Garden" (フラワーガーデン・県立諏訪の原公園) from Platform 2 of Odawara Station's East Exit and get off at "Flower Garden".
②20 minutes on foot from Iidaoka Station via the Daiyūzan Line
Plum Blossom Festival
Running: January 25, 2020 – March 8, 2020
Time: 9:00-17:00
Official Website: https://www.seibu-la.co.jp/odawarafg/
RELATED ENTRIES
Shaun the Sheep Themed Food Served Up in Japan to Celebrate 25th Anniversary

To celebrate 25 years since the screen debut of the beloved clay animated Shaun the Sheep, a new shop and cafe called "Shaun the Sheep Farm Cafe Stand" is opening up in Kanagawa serving up themed food, drink, and desserts.

Shaun the Sheep Farm Cafe Stand

Shaun the Sheep Farm Cafe Stand will open on October 15, 2020 in Kamiooka, Kanagawa, as a takeout cafe stand inspired by Shaun the Sheep. Customers can look forward to a selection of coffees and desserts based on the adorable sheep himself. And to celebrate the cafe's grand opening, a special free show will take place there from October 15-18, 2020.

Shaun Soft Cream | ¥500 (Before Tax)

Subtly sweet soft serve ice cream topped with a Shaun the Sheep cookie.

Shaun Cafe Latte | ¥700 (Before Tax)

A foamy latte with a cute Shaun marshmallow sat on top.

Shaun the Sheep Farm Cafe Stand

Location: mioka LIST (Floor 6F)

Access: Directly connected to Kamiōoka Station via the Tokyu Line and Yokohama City Blue Line
Opening Hours: 11:00-21:00 (Last Orders 20:45)

Shaun the Sheep Village Shop & Cafe

The Shaun the Sheep Village Shop & Cafe in Minami Machida Grandberry Park, which opened in November 2019, introduced a limited-time autumn menu last month which is still being served.

Shaun's Special Meatball Spaghetti | ¥1,580 (Before Tax)

A hot meatball spaghetti served with a Shaun the Sheep waffle which can be enjoyed together with fresh cream, maple syrup, and the meat sauce.

Baby Shaun's Forest Grape Trifle w/ Drink | ¥1,480 (Before Tax)

A towering trifle topped with seasonal grapes, vanilla ice cream, grape sherbet, custard, and grape jelly for a sweet and sour autumntime mix.

Fluffy Baby Shaun Custard or Caramel | ¥250 for one, ¥1,000 for five (Before Tax)

An adorable confection enjoyed by both child and grown-up customers. The cafe has now introduced a new caramel flavour.

Shaun the Sheep Village Shop & Cafe

Location: Grandberry Park Central Court Wonder Theatre (Floor 1F)

Opening Hours: 10:00-22:00 (Food Last Orders 21:00 / Drinks Last Orders 21:30)

Shaun the Sheep Farm Cafe: Halloween Menu

Shaun the Sheep Farm Cafe, a permanent cafe located inside Prime Tree Akaike Shopping Mall in Aichi, is serving up a special Halloween menu this year.

Shaun's Happy Halloween Plate 2020 | ¥1,380 (Before Tax)

A bright-red tomato sauce hamburger served with pumpkin cream soup and salad.

Shaun's Happy Halloween Dessert Assortment | ¥1,180 (Before Tax)

A sweet combo of pumpkin mont blanc and a pumpkin tart.

SHAUN THE SHEEP AND SHAUN'S IMAGE
ARE ™ AARDMAN ANIMATIONS LTD. 2020

Pokémon Illuminations to Shine at Lake Sagami in Kanagawa

Lake Sagami Pleasure Forest, an outdoor multi-resort in Sagamihara, Kanagawa, has announced that the Kanto region's biggest illumination event SAGAMIKO ILLUMILLION is set to return for 2020-2021. The event will see 6 million illuminations light up the area from November 14, 2020 to April 4, 2021.

About SAGAMIKO ILLUMILLION

SAGAMIKO ILLUMILLION is an annual winter event held at Lake Sagami Pleasure Forest. About an hour from the main city, the event takes place up a high slope with the 6 million lights becoming one with the surrounding natural environment. The event uses the latest in lighting technology and has gotten bigger and better every year. In 2018, it was chosen as one of Kanto's three main illumination events.

This year marks the 12th run of SAGAMIKO ILLUMILLION, and this time around it's collaborating with the Pokémon franchise with lots of colourful illuminations set to light up the area and plenty of Pokémon photo spots to take your picture with including Pikachu sleeping in the forest, Charmander taking a nap by an open-air, and more.

As well as the Pokémon illuminations, the 40,000㎡ illumination area will be split into 10 different kinds of illuminations, with each individual area having their own colourful lights. There will also be a 250 meter lift people can ride, amongst lots of other exciting things.

SAGAMIKO ILLUMILLION is being held with all the necessary precautions in place against COVID-19.

Information

SAGAMIKO ILLUMILLION
Address: 1634 Wakayanagi, Midori-ku, Sagamihara, Kanagawa
Running: November 14, 2020 – April 4, 2021

Illumination Times: 16:00-21:00 (Last Entries 20:30)

*Illumination times to begin from 17:00 starting in February

Official Website: https://www.sagamiko-resort.jp/illumillion/

Monet & Matisse Exhibition at Hakone's Pola Museum of Art Expanded

Pola Museum of Art in Hakone, Kanagawa is currently holding an exhibition centred on Monet and Matisse titled Monet and Matisse: Visions of the Ideal. Eight more Monet works and six more Matisse pieces were added to the exhibition on Saturday.

The exhibition opened on June 1, but due to the situation surrounding the COVID-19 pandemic, the museum was not able to obtain the full line-up of artwork from abroad that was originally scheduled to be exhibited. The entire range is now on display, including Monet's Wisteria borrowed from Musée Marmottan Monet in Paris as well as Matisse's tapestry The Lute from Mobilier National, also in Paris.

Claude Monet, Wisteria, 1919-1920
Musée Marmottan Monet, Paris ©Musée Marmottan Monet, Paris, France / Bridgeman Images 原画:アンリ・マティス 

Henri Matisse, The Lute, 1947-1949, Pola Museum of Art
Mobilier national, Paris © Mobilier national / Isabelle Bideau

No.35 Claude Monet, Water Lilies, 1907
Musée d'Art Moderne et Contemporain de Saint-Étienne Métro-Pole
Yves Bresson / Musée d'Art Moderne et Contemporain de Saint-Étienne Métropole


No.80 Henri Matisse《光の縞模様のある室内》1942年 油彩/カンヴァスマティス美術館、ル・カトー=カンブレジ
Musée départemental Matisse, Le Cateau-Cambrésis
Photo Musée départemental Matisse, Philip Bernard


The exhibition is running until November 3, 2020, and is a chance for people in Japan to enjoy the original works from two of France's most famous painters.

Information

Monet and Matisse: Visions of the Ideal
Running: August 8, 2020 – November 3, 2020
*Closed September 1-3
Opening Hours: 9:00-17:00 (Last Entries 16:30)

Pola Museum of Art
Address: 1285 Sengokuhara, Hakone, Ashigarashimo District, Kanagawa Prefecture
TEL: 0460-84-2111

Official Website: https://www.polamuseum.or.jp/english/exhibition/20200423s01/

Starbucks Japan to Open New Branch Produced by Hiroshi Fujiwara in Miyashita Park

Starbucks Japan is opening a new branch in MIYASHITA PARK on August 4, 2020. Set to be Starbucks Japan's fifth "park" branch—opening inside a park—the new coffee shop is being produced by Hiroshi Fujiwara's Fragment brand.

MIYASHITA PARK is a shopping complex filled with shops stocking high quality products, and stands as a new landmark of Shibuya. On the rooftop is the newly-arranged park area which has its own skate park, bouldering wall, and more. It's home to all-new facilities, and there's also the actual park where events can take place.

Starbucks Coffee Miyashita Park offers a new style of Starbucks conceived from the mind of Hiroshi Fujiwara. Glass doors are fitted on both the front and back sides of the cafe, allowing for a full-open design. The flooring is coloured green, making it feel as if it has become one with the green outdoors of the park, and the same mesh used inside Miyashita Park is used for the ceiling.

The cafe's design was conceived to be a unique standout in the park, specifically with the image in mind of countries outside Japan where you walk along a lone road and eventually come to a gas station.

Starbucks Coffee Miyashita Park will also sell a range of merchandise at the back of the shop, as well as Starbucks coffee beans. There's also a glass table in the middle of the cafe which slots in nicely with the overall aesthetic. The fun design together with the expanse of the park outside adds for an enjoyable combination that makes it a pleasant stay as you sip your beverage.

The regular line-up of merchandise sold at the Miyashita Park branch, such as the tumblers, are all produced by Hiroshi Fujiwara's Fragment brand. Items are branded with the word "MYST" which lets you know it's from this particular branch, as well as Fragment's logo.

Discover a new Starbucks experience at Miyashita Park.

Information

Starbucks Coffee Miyashita Park
Address: 6-20-10 Jingumae, Shibuya, Tokyo

Grand Opening: August 4, 2020

Opening Hours: 8:00-22:00

Biwako Bunka Park in Shiga Prefecture Begins Special Lotus Exhibition

Biwako Bunka Park in Shiga Prefecture has begun its special lotus exhibition which will take place in the Japanese garden of Sekishoan, a tea house located in one corner of the park, which is taking place now until August 16, 2020. The lotuses will be displayed for a limited time only and are the same ones being grown in the forest of Mizunomori Water Botanical Garden in Shiga.

Biwako Bunka Park

Biwako Bunka Park is located in the Arts and Education Culture Cluster part of Biwako Bunka Park Toshi Kousou which was built in 1979. The Arts and Education Culture Cluster site stands as a collection of facilities representing the arts and education of Shiga Prefecture. The park itself is a combination of nature and culture and houses lush verdure, an art gallery, library, Japanese garden, tea house, and more.

Special lotus exhibition

Sekishoan, a tea house and Japanese garden in the park inspired by the Evening glow at Seta in the Eight Views of Ōmi, serves up matcha and Japanese confections to customers. In the Japanese garden, they are holding a special exhibition of 10 lotus flowers from 6 different types. These lotuses have been specially selected and borrowed from Mizunomori Water Botanical Garden.

teamLab's Acorn Forest Exhibition to Open in Saitama's Higashi-Tokorozawa Park

teamLab's upcoming new digital art exhibition teamLab: Resonating Life in Acorn Forest is set to open in Higashi-Tokorozawa Park in Saitama on August 1, 2020. The interactive display will react to and change from the presence of people.

The Kadokawa Culture Museum calls the collection of oaks and other deciduous broadleaf trees of Musashino the "Musashino Woods." These Musashino Woods transition through the greens of spring and summer, display beautiful autumnal leaves from fall until early winter, and are home to ripe acorns in autumn.

Deciduous broadleaf forests were widespread in Japan during the Jomon Period. These forests were home to acorn-bearing trees, and acorns were a major food source for the Jomon people. During the Jomon Period, many people existed alongside the acorn forests, living easily with this abundant food source.

teamLab's Digitized Nature art project uses non-material digital technology to transform nature into art without having a physical impact on it.

teamLab: Resonating Life in the Acorn Forest will transform the acorn forests of Musashino into an interactive art space which changes due to the presence of people.

Autonomous Resonating Life – Liquified Light Color, Sunrise and Sunset / teamLab, 2020, Interactive Digital Installation, Sound: Hideaki Takahashi

With sunrise, the ovoids begin to reflect the world around them. When pushed down by a person or blown by the wind, the ovoids fall back and then rise releasing a resonating tone. The ovoids around it also respond one after another, continuing to resonate with the same tone.

As the sun sets, the ovoids shine by themselves. When an ovoid is pushed by a person or blown by the wind it falls down and then rises, a sound resonates out, and it emits a light color specific to the sound.

Resonating Trees / teamLab, 2014, Interactive Digitized Nature, Sound: Hideaki Takahashi

The trees shine brightly. The light of each tree is autonomous, slowly blinking.

The light transmitted from Autonomous Resonating Life – Liquified Light Color, Sunrise and Sunset causes the trees' lights to change color, and a tone specific to that color resonates out. The light of a tree is transmitted to the surrounding trees one by one, as the sound is continuously emitted.

When a light resonates from the trees in the distance, it signifies the presence of people. Perhaps people will become more aware of the existence of others in the same space.

Information

teamLab: Resonating Life in the Acorn Forest

Running: August 1, 2020 – Permanent

Address: Musashino Woods Park in Higashi-Tokorozawa Park (3-9, Higashi-Tokorozawa, Tokorozawa, Saitama)

Hours:
12:00 – 22:00
Daytime: 12:00 – 17:00 / Nighttime: 18:00 – 22:00

*Hours of exhibition varies depending on the season

Jan, Feb, Mar: 12:00 – 17:00 / 18:00 – 22:00
Apr, May, Jun: 12:00 – 18:00 / 19:00 – 22:00
Jul, Aug, Sep: 12:00 – 17:00 / 18:00 – 22:00
Oct, Nov, Dec: 12:00 – 16:00 / 17:00 – 22:00
*Last entry at 21:30

Tickets: On sale from July 22, 2020
https://kadcul.com/park

*Also available to buy at the exhibition

Official Website: http://acornforest.teamlab.art

RELAX FUJINO: The New Glamping Guest House Opening in Kanagawa

Hibiya-Kandan is set to open a new glamping guest house by the name of "RELAX FUJINO" on August 21, 2020.

Just an hour and a half's journey from the city, RELAX FUJINO is opening in Kanagawa Prefecture's town of Fujino, a place known for its abundant nature and traditional arts. It aims to be a place where both "the heart and body can be happy."

The guest house promises to serve guests the ultimate relaxation experience, have them feeling positive about themselves, and opening their eyes to new discoveries. They will be able to enjoy the region's culture and nature while indulging in the kind of luxurious experience that Hibiya-Kandan is known for offering.

The glamping site is home to two separate sites: the Japanese-style "RURI" and the Western-style "ECRU," both of which have decks offering a panoramic view of the mountain range. Each site also has its own dome-shaped tent which span 28 square meters in length. There are counter tables which offer a panoramic view of the sights, garden tables, and even BBQ spaces. This mix of indoors and outdoors makes guests feel like part of Fujino's gorgeous natural environment. There are communal showers and toilets inside too, as well as a nearby hot spring facility.

The food served is made with plenty of organic vegetables grown in Fujino. A stay at the site means you get a free dinner and breakfast too.

There are plenty of both indoor and outdoors activities to get involved in, like yoga, coffee roasting, crafts, blueberry picking, and more.

Bookings open on August 1, 2020. If you're in Japan this summer, then why not get away from the hustle and bustle and enjoy a relaxing time out in nature?

Information

RELAX FUJINO
Grand Opening: August 21, 2020 (Bookings open from August 1, 2020)
Address: 4611-1 Magino, Midori-ku, Sagamihara, Kanagawa
TEL: 042-649-0286

Official Website: https://hibiya-stay.com/relax/

Witness 10,000 Sunflowers Bloomed in the Fields of Yokosuka Soleil Hill in Kanagawa

The sunflower season is set to bloom on Soleil Hill, a park in Yokosuka, Kanagawa, from mid July to late August where approximately 10,000 bright yellow sunflowers will shine across the 5,000㎡ rolling expanse. And it's free to enter.

Yokosuka Soleil Hill

Soleil Hill is a slightly elevated mass spanning 24.6 hectares which faces Sagami Bay in the Miura Peninsula. It's a comprehensive park home to the Miura Peninsula farm as well as a host of hands-on activities. For example, you can experience picking the vegetables planted there, make your own bread, craft your own crafts, and more. You can also come into contact with various animals such as capybara and alpaca, go go-karting, sledding, and more.

Soleil Hill's Sunflowers

Mid July to late August is the best time to see Soleil Hill's sunflowers as this is when they are in full bloom. This period can change however depending on the weather. The spectacle of the beaming yellow flowers beneath the blue summer sky attracts over 130,000 visitors every year, making is a popular sightseeing spot. On a good day when the weather is clear, you can even see Mount Fuji and Sagami Bay.

The park has an atmosphere and aesthetic similar to Provence in southeastern France with its array of terracotta and brick buildings. In fact, the word "soleil" means "sun" in French, making it a fitting name for the sunflower fields of Soleil Hill. As well as there being plenty of photo opportunities there this year, the park will also be holding a stamp rally. Collect all of the stamps around the park and receive a prize. They even have sunflower-inspired food too.

SENNAN LONG PARK: Osaka's New Recreational Facility With Food, Leisure & Sports

Set to be the largest recreational facility in the Kansai region of Japan, SENNAN LONG PARK is set to open on July 3, 2020. The facility, which is being opened by DAIWA LEASE in Rinkuminamihama, was originally scheduled to open earlier but this was postponed due to effects of COVID-19.

What is SENNAN LONG PARK?

SENNAN LONG PARK is located nearby Kansai International Airport—the doorstep of Kansai. Its concept as the region's largest recreational facility is to combine create a space for people to enjoy the sea, sky, and nature.

Pre-Opening

Inside people will find four separate zones: the Activity Area, Community Area, Market Area, and Glamping Area, where they can enjoy sports, food, and leisure. And in the run up to the grand opening, several places inside will open early from June 20 to 30 (10:00am-5:00pm). This includes THE BBQ BEACH in Marble Beach, the athletic spot HEARTTHROB, and RECAMP Rinku.

Information

 SENNAN LONG PARK
Address: 2-201 Rinkūminamihama, Sennan, Osaka
Grand Opening: July 3, 2020

Pre-Opening: June 20, 2020 – June 30, 2020 (*Select spots only)
Official Website: https://sennanlongpark.com/

Fufu Nara: The First Luxury Hotel Set to Open in Nara Park is Designed by Kengo Kuma

Fufu Nara is set to be the first luxury hotel to open inside Nara Park on June 5, 2020. Designed by industry-leading Japanese architect Kengo Kuma, the hotel promises a unique dining experience with food served using herbal medicines that can only be tasted here, and guest rooms that are covered in art made by Nara-based artists who use traditional techniques. Both the dining and accommodation experiences aim to immerse guests in the culture of Nara.

Witness the handiwork of Nara's artists

Nara is a city steeped with beautiful history and culture. This has been captured by the artists who have collaborated with Fufu Nara in the form of paintings, crafts, entrance decorations, and more. A stay at Fufu Nara is an opportunity to witness first hand the deep traditions and techniques of Nara's art world.

There are 30 rooms in total which are split into five different types. For example, one room type is designed around the old Japanese style of sitting on the floor. Inks and woods are used in the room to enhance that feeling that you're in Nara, and the colour tones too are chosen to bring to mind the ancient city.

Fufu Nara's dining concept

Nara Prefecture is closely tied to herbal medicines. Herbal medicine came about in the year 611 during the monarch of Empress Suiko. It is written in the Nihon Shoki that the use of herbal medicine had already been adopted by the time Prince Shōtoku was serving under the Empress. Many different traditional herbal medicines are still used in Nara today, including Angelica root, shakuyaku peonies, fennel, and so on. Traditional herbal medicines have become popular again in the prefecture in recent years.

The food prepared at Nara Fufu makes use of ingredients grown and produced in Nara, from vegetables to herbs and beyond. Breakfast, lunch, and dinner all incorporate Japanese and Chinese herbal ingredients.

Spa by sisley

The hotel also has a spa made in collaboration with French luxury skin care brand Sisley. There, guests can enjoy Fufu Nara's medicated baths.

Information

Fufu Nara
Address: 1184-1 Takabatakecho, Nara, Nara Prefecture
Grand Opening: June 5, 2020
Price: From ¥77,000 (for 1 night and 2 meals for 2 guests in 1 room) *Tax and service charge included; spa charged separately
TEL: 0557-52-6606
Official Website: https://fufunara.jp

TOTOCO Odawara: Kanagawa's Sea Food Theme Park Opens November 22

Gyoko no Eki TOTOCO Odawara is a new "fish theme park" set to have its grand opening on November 22, 2019 at 10:00am (JST).

The facility was established to promote further exchanges with Odawara Fishing Port which is said to be the biggest fish market in western Kanagawa Prefecture. It is the first "Fishing Port" (Gyoko no Eki*) and will sell seafood sourced locally, fishery products and more, as well as hold events to help promote Odawara.

The building has three flours. The first floor is like a marketplace where fish, fishery products, produce, and more will be sold. The second and third floors house seafood restaurants and offer a panoramic view of Sagami Bay. This view is best observed from the terrace while you enjoy your delicious meal.

*Fishing Port (in Japanese: Gyoko no Eki, or 漁港の駅) is a registered trademark of Odawara City to highlight facilities that promote exchange with Odawara Fishing Port. (Registered Trademark No.: 6163121).

Odawara Fishing Port sells fresh fish sourced from the waters of Sagami Bay, which houses a variety of fish species, as well as fish and processed marine products from around Japan. TOTOCO Odawara will sell these very same products, all delivered directly from the port, to help spread the fishing culture and economy of Odawara.

Let's take a look at some of the delicious gourmet seafood meals you can expect to tuck into at TOTOCO Odawara!

Totomaru Summit Bowl – ¥2,480

A hearty and towering dish so high that it looks like it might topple over.

Greedy Sea Urchin Eggs & Salmon Roe Bowl – ¥4,280

A dream combination you've been waiting for your entire life. Savour the richness and sweetness of both of these mouth-watering delights.

Oyster Egg Donburi Set – ¥1,680

You can't even see the rice any more for the pile of tasty oyster eggs, with their exquisitely soft texture.

Osashimi Tengoku – Odawara Kaisen GO GO

The third floor of the building is home to Osashimi Tengoku – Odawara Kaisen GO GO, a restaurant that calls itself "Sashimi Heaven" and offers a 59 minute all-you-can-eat buffet of fish, sides, desserts and more.

59 Minute All-You-Can-Eat
Adults – ¥2,590 / Children (Elementary School & Younger) – ¥1,390 / 3-Years & Younger – Free (All Prices Before Tax)

Gyoko no Eki TOTOCO Odawara is easily reachable from Tokyo and right next to the local station. If you've come to Japan looking to try the country's famous seafood, then make sure to put this place on your list.

Information

Gyoko no Eki TOTOCO Odawara

Address: 1-28 Hayakawa, Odawara, Kanagawa Prefecture (West side of of Odawara Fishing Port)
Opening Hours: 9:00-17:00 (Subject to change depending on the season)
Access: By train – 10 minutes on foot from JR Hayakawa Station / By car – 2 minutes from Seishō Bypass Hayakawa Interchange or 4 minutes from Odawara-Atsugi Road Odawara-Nishi Interchange
Official Website: https://www.totoco-odawara.com

Eir Aoi Just Dropped The Music Video For Granbelm Anime Opening Tsuki wo Ou Mayonaka

Eir Aoi's LIVE TOUR 2019 Fragment oF took her on a journey across the country, performing at eight different locations to approximately 10,000 wild fans. She saw her final tour performance at Kanagawa Kenmin Hall on July 15.  

The overpowering digital rock song UNLIMITED sent an instant surge of energy through the crowd. Her heart-throbbing setlist included a range of big hits that were used as theme songs for the anime Sword Art Online including Iris, INNOCENCE, Cynthia no Hikari, Ryusei and IGNITE . Her strong vocals and the passion etched onto her face enthralled the crowd. 

For the encore, she performed Tsuki wo Ou Mayonaka, which is the new opening theme song for the anime Granbelm. The urgent beat of the song energised the audience, who were dancing and singing as one. For the last song, she performed AURORA, which she especially prepared for this day only. 

"There are times that I just cannot sing this song, but seeing the encouraging and excited faces of my fans gave me the support I needed to sing," she said.

Eir Aoi: Tsuki wo Ou Mayonaka Music Video

After the encore was over, there was a surprise for the fans. The music video for Tsuki wo Ou Mayonaka, the new theme song for the anime Granbelm, was played before the crowd. Fans could not contain their wild joy at being the first people to watch the video. The music video was just released on July 16 at 8pm, so please check it out.