Fermented Food Cafe 'Tsuke x Koji Haccomachi' to Open in Kyoto's Sanjo Area
Tsuke x Koji Haccomachi is a new cafe opening in the Sanjo area of Kyoto on February 22, 2020, that is centred entirely on fermented foods.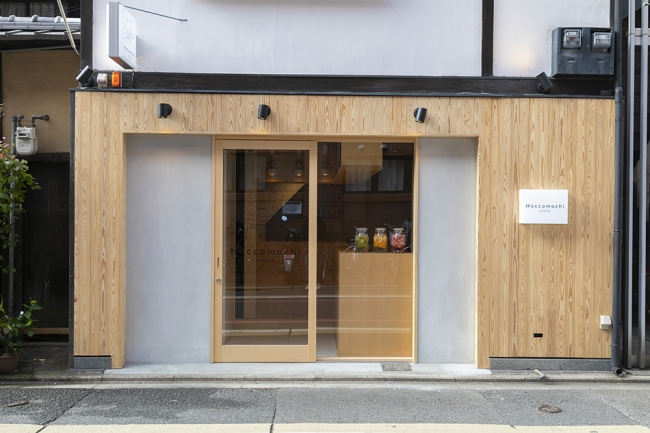 The name "Haccomachi" derives from the Japanese word Hakko (Hacco), meaning fermented, and Komachi (Comachi), meaning a beautiful woman. The cafe hopes for people to incorporate fermented foods into their livesーsomething which is rooted in Japanese food cultureーand live comfortably.
The cafe's logo showcases the making of kōjiーa type of mould used in the fermentation process of certain food products in Japan, like soybeans. The logo hope to pass down this long upheld tradition.
Hakko fermentation is a major part of Japan's food culture. Since ancient times, the sweetness and umami brought about by the enzymes in the fermentation process have served to accompany many foods in the country, such as miso, soy sauce, mirin, rice vinegar, and so onーall traditional condiments used in the Japanese kitchen that are still fundamental today.
The menu at Tsuke x Koji Haccomachi features a line-up of fermented foods made in Kyoto, including those from Kyoto-based soybean makers Fujiwara Shokuhin, Sawai Shoyu Honten which has produced the same high quality soy sauce for decades, sake brewery Kitagawa Honke which has been around since the Edo Period, and more.
A Small Look at the Menu
Lunch Menu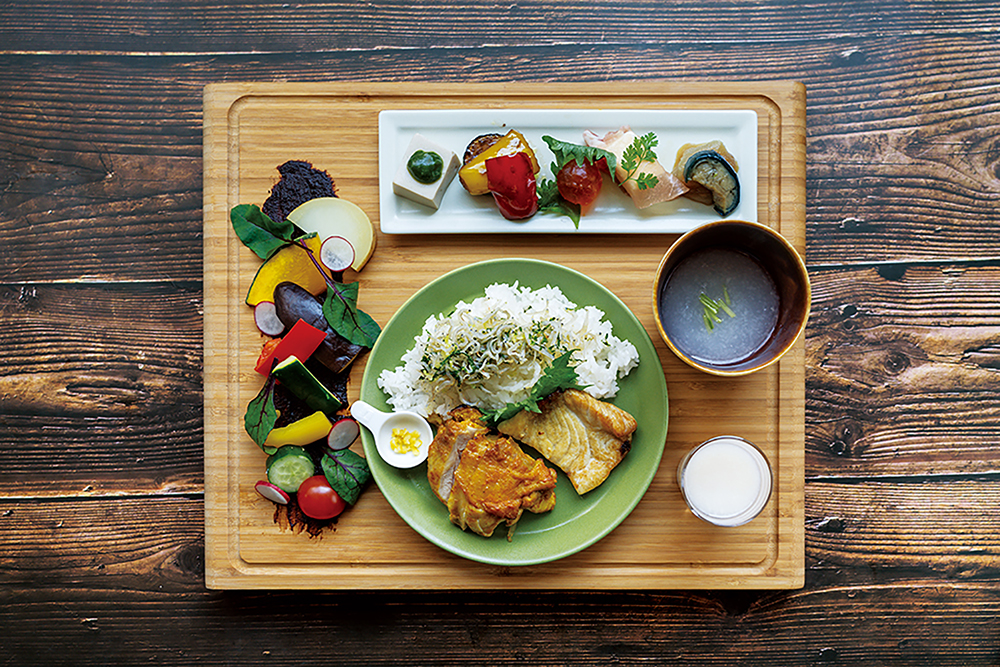 Haccomachi Special – Fermented Lunch Plate: ¥1,690
This lunch plate is an assortment of hors d'oeuvre made with fermented condiments, tandoori chicken that has been pickled to elevate the umami, marlin fish, soup, and more.
Dinner Menu
Spare Ribs On The Bone in Miso Yuan Yaki: ¥1,490
This hearty portion of spare ribs are marinated in a miso, mirin, and soy sauce mix. Taste the full umami flavour of the juicy meat.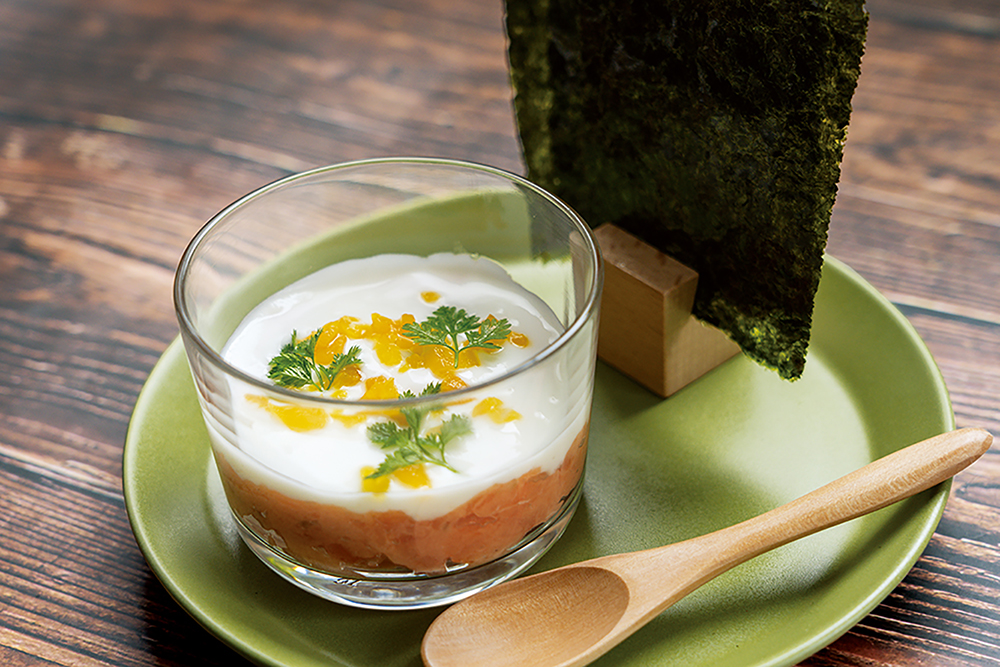 Namerō Miso Salmon in Yoghurt Sauce: ¥770
The salmon is served namerō style, a type of tataki or pounding method, in miso. The yoghurt has both a refreshing and rich flavour.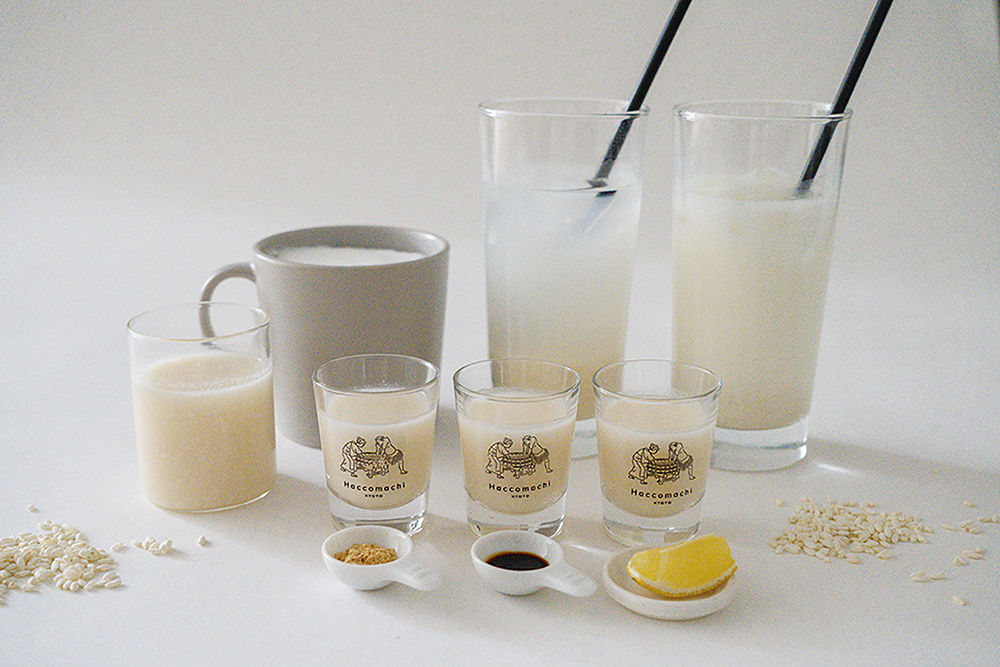 Homemade Komekoji Rice Malt Sweet Sake Yoghurt: ¥470
The splitting of the sour yoghurt serves to elevate the sweetness of the sake. This is a drink that even those who don't like sweet sake are sure to enjoy.
Cafe Menu
Miso Pound Cake w/ Vanilla Ice Cream: ¥550
The miso pound cake is a collaboration with Japanese confectionery company Sarasa, which has 6 branches of cafes and shops in Kyoto. It's made using komekoji rice malt powder provided by an old-fashioned Japanese shop (菱六もやし). The umami of the miso is intensified, and the cake stays moist thanks to the powder. It's served with a dollop of refreshing vanilla ice cream.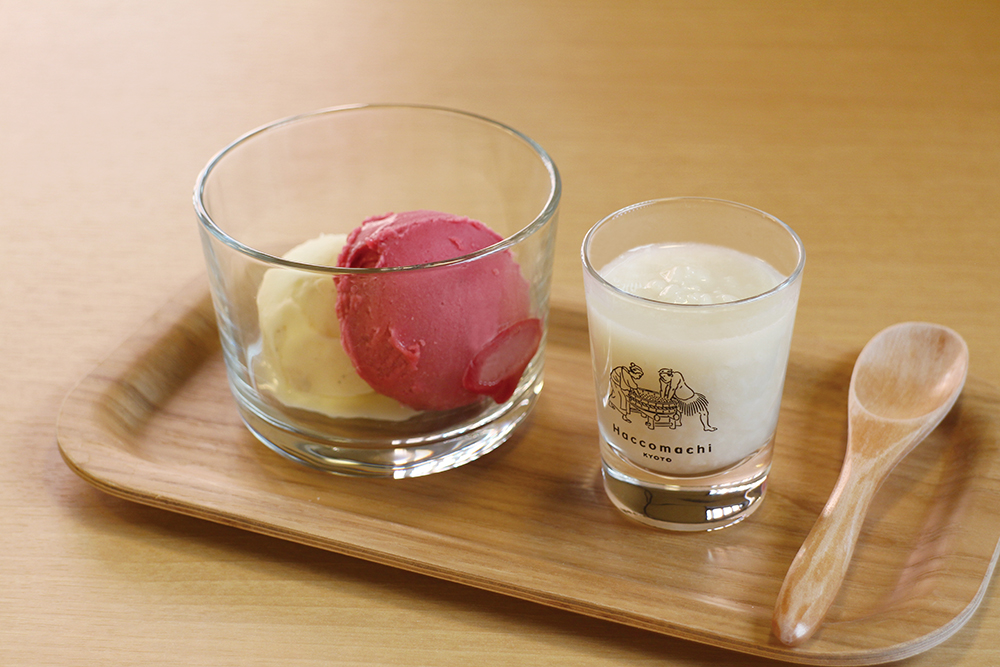 Blackcurrant & Vanilla Sweet Sake Affogato: ¥550
A unique spin on the affogato dessert which has you pouring hot sweet sake over tangy and refreshing blackcurrant sherbet and rich vanilla ice cream. Enjoy the mix of the hot sake and the cool ice cream.
Discover the Japanese tradition of fermentation at Tsuke x Koji Haccomachi, opening February 22, 2020.
Information
Tsuke x Koji Haccomachi
Grand Opening: February 22, 2020
Address: 78-1 Masuyacho, Shitagaru Yanaginobamba Sanjo-dori, Nakagyo Ward, Kyoto,
Opening Hours: [Weekdays] 11:00-15:00 & 17:00-22:00 / [Weekends & Holidays] 11:00-22:00
Closed: Wednesdays
Official Website: https://haccomachi.jp/
RELATED ENTRIES
Enjoy Miffy and a Glass of Wine at Dick Bruna TABLE Opening in Kobe This July

Dick Bruna TABLE is a new wine bar set to open in Kobe, Japan on July 17, 2020 where customers can enjoy various wines from around the world. The bar is themed around the popular children's author and graphic designer Dick Bruna (1927-2017) who is known for his popular character Miffy.

The first bar of its kind to be centred on Bruna, table bookings for both the bar and cafe spaces opened on July 1. Customers who book before July 16 will receive two free original Dick Bruna TABLE coasters.

Dick Bruna TABLE is split into 4 floors. The first floor is the takeout counter, the second the merchandise shop and a cafe which is designed to be like a Dick Bruna studio, the third is the wine bar which is made to look like an old cafe in Utrecht, the city where Dick Bruna lived, and the fourth is the event space where exhibitions and parties will take place. There's also a special VIP room on the top floor.which include a takeout counter, merchandise shop, cafe, wine bar, and event space.

Takeout Counter & Entrance

Entrance

The staircase that leads from the first floor takeout counter to the second floor is like a gallery with various Dick Bruna artworks scattered around. There are plenty of chances snap some photos.

Cafe & Shop


The cafe and shop are like a studio dedicated to Dick Bruna's many works. They have a warm welcoming atmosphere to them thanks to the old wooden beams and white walls and lights. The merchandise area and cafe areas blend seamlessly into one.

The wine bar, inspired by old cafes in Dick Bruna's beloved home of Utrecht, serves authentic wine. The brick tiles are reminiscent of the streets of Utrecht and, together with the old wood, give it an inviting vibe. The bar also houses many paperbacks bound and designed by Dick Bruna.

Event Space & VIP Room


The event space is painted a simple white. It can be used for art exhibitions, workshops, parties, and more.

Head to Dick Bruna TABLE to enjoy both the cute world of Dick Bruna's characters as well as a delicious glass of wine.か

IIIustrations Dick Bruna © copyright Mercis bv,1953-2020 www.miffy.com © Dick Bruna 

Information

Dick Bruna TABLE
Address: 3-1-1 Sannomiyacho, Chuo-ku, Kobe
Opening Hours:
[Weekdays] 11:00-15:00 (Last Orders 14:00) / 17:00-23:00 (Last Orders 22:00)
[Saturdays] 11:00-23:00 (Last Orders 22:00)
[Sundays/Public Holidays] 11:00-21:00 (Last Orders 20:00)

Official Website: https://dickbrunatable.com/

Sanrio Characters Come Together at Tokyo's New POWDER ART CAFE HARAJUKU

The new limited-time character cafe POWDER ART CAFE HARAJUKU is set to open in Harajuku, Tokyo from July 15, 2020 to mid-January 2021.

From July 15 to mid-October, the cafe will be centred on the Top 10 characters of this year's Sanrio Character Ranking, an annual event where fans around the world can vote for their favourite Sanrio characters. The cafe will subsequently celebrate the 45th anniversaries of both My Melody and Little Twin Stars until mid-January next year.

At POWDER ART CAFE HARAJUKU, where the customers can draw their own designs on their orders, like latte art, Sanrio fans can look forward to a super cute menu line-up inspired by the adorable character roster.

My Melody Sweet & Sour Strawberry Shaved Ice


Tuxedo Sam Seafood Coquille Plate

If you're visiting Harajuku any time up to January next year, be sure to stop by POWDER ART CAFE HARAJUKU to make your own kawaii Sanrio character dishes.

Information

POWDER ART CAFE HARAJUKU

Address: IMON Bldg. B1F, 6-3-9 Jingumae, Shibuya, Tokyo

TEL: 03-6450-6037

Opening Hours: 11:00-21:00 (Last Orders 20:00)

Official Website: https://k-tanuma.com/company#04

Kyoto's World Heritage Site Nijo Castle Announces Summer Evening Illumination Event

NAKED, INC. has announced that it is holding a special summertime light-up event at Nijo Castle, a World Heritage Site in Kyoto, from August 8 to August 30. The company has also released its first ever 3DCG VR experience NAKED NINJA -Nijo-jo Castle- on the official NAKED, INC. online store.

Enjoy art entertainment in person or at home

NAKED, INC. has collaborated with many World Heritage Sites, Cultural Properties, tourism centres, leisure spots, and more over the years. Right now, the company is grappling with the question of what the shape of tourism, as well as art and entertainment, looks like during the COVID-19 outbreak—and what shape it will take post-pandemic. Nijo Castle is no exception, a place that enjoys tourism from both Japanese people and people overseas. In considering these issues, NAKED has conceived two different ways Nijo Castle can still entertain tourism now and in the near future.

The first is holding an event in person at Nijo Castle in the form of an outdoor light-up event that will have people wandering around as opposed to being stationary. In spring of 2017, NAKED held "Nijo Castle Cherry Blossom Festival 2017" where they hosted a variety of performances and events in line with the season. In fact, one such event was planned to take place at Nijo Castle this summer, but it had to be reconsidered as a result of COVID-19. Those involved still wanted to come up with a way that people who live close by could still enjoy some leisure time this summer, which is what led to this light-up event from NAKED.

Visitors will be able to enjoy the light-up safely by staying a set distance from one another while walking around Nijo Castle. The number of people inside at once will also be restricted. As well as this, people will need to wear masks, temperature will be regulated, and alcohol gel will be provided—all to ensure that visitors are kept safe.

The second way that NAKED has devised for people to still enjoy Nijo Castle is with the release of NAKED NINJA -Nijo-jo Castle-, the company's first ever full 3DCG VR experience that lets people enjoy Nijo Castle online in a virtual space. This is so that people who cannot visit Nijo Castle can still enjoy its sights. NAKED plans to launch even more real and virtual, offline and online experiences in the future too in order to promote tourism in a new way during COVID-19.

Information

Nijo Castle x NAKED Summer Special Light-Up 2020
Running: August 8, 2020 – August 30, 2020

Time: 19:00-22:00 (Last Entries 21:20)
Location: Nijo Castle

Address: 541 Nijojocho, Nakagyo Ward, Kyoto場

NAKED NINJA-Nijo-jo Castle- VR
Price: ¥880 (Tax Included)

Official Website: https://event.naked.works/nijojo-summer2020/

Kyoto's Famous Kifune Shrine Celebrates Tanabata With Bamboo Lamp Light-Up

Kifune Shrine, which is dedicated to the god of water Takaokami no Kami, is currently holding evening illuminations with Tanabata bamboo lamps until August 15, 2020.

About Kifune Shrine

Kifune Shrine is one of Kyoto's foremost historical shrines. Records show that the shrine was already built in 677 during the reign of Emperor Tenmu. It is located near the source of Kamo River and is dedicated to the god of water who is said protect Kyoto's water sources. The area is also known for kawadoko which is where Kibune's restaurants build platforms over the river where visitors can enjoy their meal as the water flows beneath them.

Kifune Shrine and Tanabata

Tanabata is said to originate from the Suijinsai Festival (Water God Festival), with the stars themselves as the god of water. At Kifune Shrine, which is dedicate to Takaokami no Kami—the god of water—people not only pay their respects to the blessing of water, but hold Tanabata events as well as the Kifune Water Festival.

For this year's Tanabata event, bamboo lamps will be lit up with wishes written on them by people.

Tanabata Shinto Rituals and the Kifune Water Festival

Tanabata Shinto rituals and the Kifune Water Festival will be held on July 7 where people will express their gratitude to the god who watches over Kifune's waters as well as pray for water's blessing throughout the year.

Information

Kifune Shrine Tanabata Bamboo Lamp Light-Up
Running: July 1, 2020 – August 15, 2020
Time: From sunset to 20:00
Location: Kifune Shrine, 180 Kuramakibunecho, Sakyo-ku, Kyoto
TEL: 075-741-2016

Official Website: http://kifunejinja.jp

Tanabata and Milky Way Inspired Food and Drink Arrives at PLANETARIA TOKYO

KONICA MINOLTA PLANETARIA TOKYO, a twin-dome planetarium in Tokyo's Yurakucho district, introduced a new menu at its Cafe Planetaria on July 1, 2020.

A cafe where you can taste the stars

Cafe Planetaria's concept is that customers happened upon it during a trip through the galaxy. It is the only cafe in space—one where you can delight in cocktails that shine bright like a nebula, or tuck into finger food that's like fragments of planets.

The new menu hopes to serve customers a day they won't forget after they have gaze upon the starry night sky.

How best to enjoy Cafe Planetaria

Cafe Planetaria's menu can be enjoyed at DOME 1 inside the planetarium so you can enjoy cocktails and food while watching the starlit show. It's open to those who aren't using the planetarium too, so if you're looking for a quick stop-off on your time through the galaxy and don't have time for stargazing you can enjoy the galactic delights too.

Nebula Soft Serve Ice Cream: ¥550 (Tax Included)

This purple soft serve ice cream is inspired by nebula imagery.

Moon Parfait: ¥770 (Tax Included)

A colourful parfait topped with the moon and sweet-tasting planets.

Mercury (Cocktail): ¥880 (Tax Included)

Part of the planetary cocktail series.

Observe "Tokyo's Milky Way"

PLANETARIA TOKYO has brought back its planetarium work Tokyo no Amanogawa o Wasurenai (Never Forget Tokyo's Milky Way). The show makes use of works left behind by Japanese novelist Kenji Miyazawa, poets Chūya Nakahara and Yumeji Takehisa, and others, to bring viewers back to a time when you used to be able to see the Milky Way in the city of Tokyo. When the city lights switch off for the night, the former Milky Way will shine its radiant brilliance. Viewers will be able to see the same sight that so many artists and writers saw when creating works about Tokyo's starry sky.

Make a wish upon a falling star

A popular service at PLANETARIA TOKYO that is also free is getting to see falling stars in real time with a system set up by Meteor Broadcaster. They are shown across a giant 12m long screen. On the Gregorian calendar, Tanabata is celebrated on July 7, but on the old Japanese lunisolar calendar it will fall on August 25 this year. If you're in Tokyo around that time, why not visit the planetarium and make a wish?

Online shop to enjoy the Milky Way at home

Gallery Planetaria is a concept shop in PLANETARIA TOKYO whose concept is based around being a secret shop hidden away somewhere in the galaxy. Their online shop is selling plenty of fun items that you can only get on this side of the galaxy. The service is available in Japan only, but check out their website to see what they've got in stock.

Gallery Planetaria Online Shop
https://planetaria.theshop.jp/

Starry Sky Guide: Summer – At Home Version (Narrated by Yoshimasa Hosoya)

PLANETARIA TOKYO has posted an at-home version of their summertime starry sky guide which was shown at the venue. It's narrated by Japanese voice actor and narrator Yoshimasa Hosoya and features a 360° VR experience. Check it out here.

Information

KONICA MINOLTA PLANETARIA TOKYO
Address: Yurakucho Marion 9F, 2-5-1 Yurakucho, Chiyoda Ward, Tokyo
Opening Hours: 10:30-22:00 (Reception closes 21:00)

*No Fixed Holidays

*Open until 22:30 (reception closes 21:30) on weekends and public holidays

Official Website: https://planetarium.konicaminolta.jp/planetariatokyo/

Hamtaro Cafe 2020 to Open in Tokyo, Saitama, and Osaka

LEGS COMPANY has announced that it will open three cafes based on the popular Japanese character Hamtaro in Tokyo and Saitama on July 30 and Osaka on July 31.

Hamtaro is a manga and storybook series created and illustrated by Ritsuko Kawai. The series began serialisation in 1997 and an anime adaptation first broadcast back in 2000. More than 20 years later, Hamtaro continues to enjoy much popularity in Japan.

Hamtaro Cafe 2020 will be themed around sunflowers and the sea, and will serve up a fun experience perfect for the hot summer. The Ham-Hams have come out of their Clubhouse to pay a visit to the seaside and enjoy the sun. There will be sunflower and ocean themed food, drinks, and desserts for everyone to munch on.

Yakisoba On Beach Hut Sunflower Bread: ¥1,499

A plate of yakisoba and egg arranged to look like a sunflower, with Hamtaro sat right in the middle.

Cone Cappy Hide and Seek Ice Cream Parfait: ¥1,399

Cappy is wearing a cone on his head and is hiding amongst the ice cream, chocolate banana, and fresh mint.

Ham Ham Glass Drinks: Drink Only – ¥789 Each / With Glass – ¥1,789 Each

There are two drinks to choose from: the orange flavoured Hamtaro and the yogurt flavoured Bijou.

Vinyl Pouch: ¥1,300


Mascot Keyring Hamtaro: ¥1,550

The cafe will also sell a range of exclusive merchandise too, which is scheduled to be available for online purchase as well in Japan.

Ham-Ham Fans (14 Designs)


Original Coasters (15 Designs)

Those who dine at the cafe will receive a free Ham-Ham fan, and if you order a drink you'll get a coaster too.

©Ritsuko Kawai / Shogakukan

Information

Hamtaro Cafe 2020

Booking Price: ¥500 (4 people max per booking) *Comes with free gift

Tokyo: TOKYO BOX cafe&space / July 30, 2020 – September 6, 2020

(Address: Tokyo Solamachi Floor 1F East Yard 8, Tokyo Skytree Town, 1-1-2 Oshiage, Sumida-ku, Tokyo)

Saitama: BOX cafe&space / July 30, 2020 – September 27, 2020
(Address: AEON Laketown kaze Lake Town Gate 1F, 4-2-2 Koshigaya, Saitama)

Osaka: Shinsaibashi contact / July 31, 2020 – August 16, 2020

(Address: 1-6-24 Kitahorie, Nishi-ku, Osaka-shi, Osaka Prefecture)

Official Website: https://hamutarocafe.sho.jp/

Chocolate-Piled Shaved Ice & Other Summer Season Delights at BEL AMER Kyoto Villa

Kyoto-based chocolate bar BEL AMER Kyoto Villa is serving up the perfect line of new chocolatey bites for summer 2020.


The entire line-up is a delight to look at, from a mountain of chocolate piled on top of shaved ice, a summertime mango and melon dessert, and more.

Chocolate Noir Shaved Ice x Matcha: ¥1,540 (Tax Included)

Shaved ice is the quintessential summertime dessert in Japan, and since this one is being served at a shop specialising in chocolate, what better way to serve it than drizzled in a mountain of the stuff? The shaved ice is covered in rich chocolate cream and chocolate sauce and is topped with chocolate nibs. It's also served with a side of matcha sauce which you can pour over yourself, creating a delicious harmony of flavours.


Mille-Feuille au Chocolat Exotic With 196℃ Chocolate Ice Cream: ¥1,650 (Tax Included)

This summertime dessert is made with lots of mango and melon. In the centre of it all is even more mango, as well as pineapple and coconuts, for a flavourful layered experience. Served on the side is ice cream made from BEL AMER Kyoto Villa's own original couverture chocolate.

Summer Pavlova: ¥1,320 (Tax Included)

This piece of art of a dessert is a must for lovers of matcha and melon. It's made from fluffy meringue topped with white chocolate, matcha mousse, and chocolate cream, which itself is then topped with refreshing melon and grapes for a refreshing kick.


Chocolate Croquette Sandwich: ¥990 (Tax Included)

BEL AMER Kyoto Villa is also serving up a very unique dish indeed which mixes together chocolate and croquette—a flavour that actually works, combining sweetness and bitterness. The croquette is made from potatoes. The brioche sandwich also contains cheese and bacon.

These are just some of the delights on show at BEL AMER Kyoto Villa this summer. If ever you're in Kyoto, be sure to stop by, especially in the summer.

Information

BEL AMER Kyoto Villa Bettei Sanjo

Address: 66 Sanjodori Sakaimachi Higashi Iru Kitagawa Masuyacho, Nakagyo-Ku, Kyoto

TEL: 075-221-7025

Official Website: https://www.belamer-kyoto.jp

Hello Kitty Cafe to Open in Narita Airport's Anime Deck This July

KADOKAWA is set to open a Hello Kitty themed cafe on the Narita Anime Deck—which is located on the Main Building second floor of Narita International Airport Terminal 2—for a limited time from July 3, 2020 to October 2, 2020.

The Narita Anime Deck

The Narita Anime Deck opened inside Narita International Airport Terminal 2 in November 2019. It's an entertainment facility where travellers from around the world can experience and enjoy Japanese anime culture in various forms such as with character merchandise, food, events, and a variety of photo spots.

Hello Kitty Cafe

The facility has collaborated with numerous anime series to open up limited-time cafes since it opened. This time around it is joining paws with Hello Kitty, a face known to all across the globe. As well as themed food, drinks and merchandise, customers can take a Hello Kitty quiz, learn the history behind Hello Kitty, and more.

An Original Food Menu


Hello Kitty's Lovely♡ Pink Curry: ¥1,500


Hello Kitty's Gurakoro Burger: ¥1,500


Hello Kitty's Strawberry Pancake: ¥1,400


Hello Kitty's Strawberry Parfait: ¥1,200

An Original Drinks Menu

The incredible drinks menu is diverse, including lattes where you can get 46 different latte art designs of Hello Kitty from 1974-2019. It could be fun to pick your birth year, or a year where you have fond memories.

Hello Kitty's Colourful Tapioca Drinks (Matcha Milk/Strawberry Milk/Milk Tea): ¥720 Each

 
Hello Kitty's Marshmallow Coffee: ¥800


Hello Kitty's Latte (46 Designs): ¥720 Each

Novelties

For every item you order from the collaboration menu, you can also receive one of 46 possible original coasters once again featuring a different design of Hello Kitty between the years 1974-2019.

1st Line-Up: July 3, 2020 – August 2, 2020


2nd Line-Up: August 3, 2020 – September 2, 2020


3rd Line-Up: September 3, 2020 – October 2, 2020

If you're travelling through Narita Airport anytime this year up to October, then be sure to head on up to the Narita Anime Deck to dine at the Hello Kitty Cafe.

© 1976, 2020 SANRIO CO., LTD. APPROVAL NO. L611439

Mobile Game BanG Dream! Girls Band Party Gets Themed Cafe in Tokyo, Osaka, & Nagoya

LEGS COMPANY is opening three cafes in Tokyo (Ikebukuro), Osaka (Umeda), and Aichi (Nagoya) based on the popular mobile game Game BanG Dream! Girls Band Party for a limited time from July 31, 2020.

Game BanG Dream! Girls Band Party is a rhythm and adventure mobile game that was released in Japan in 2017. It is part of Bushiroad's "BanG Dream!" music media franchise which is centred on all-female bands.

Since summer 2017, LEGS COMPANY has opened themed cafes based around the game every year. 2017 saw the cafes focus on the vocalists of the bands in the game. In 2018, it was the keyboardists and DJs, and last year the drummers. Each theme brought with it illustrations and decorations created specifically for the cafes, as well as a food menu inspired by the characters, original merchandise, and more.

This year marks the 4th run of the annual summer cafe which will hit Tokyo, Nagoya, and Osaka. The theme this time around focuses on the seven main bands from the game. Seven characters from the bands, including one from a new band, will welcome fans in the form of kawaii-packed dishes, drinks, and desserts.

Yamabuki Bakery's Mini Croissant Plate (Poppin'party): ¥1,590 (Before Tax)


Kitazawa Butcher's Stamina Croquette Curry (Hello, happy world!): ¥1,490 (Before Tax)

All of the main dishes on the menu are colourful and vivid, plated with hearty portions of delicious and nutritional goodies.

Strawberry Rock Parfait (Afterglow): ¥1,290 (Before Tax)


Colourful Doughnut Sandwich (Pastel*Palettes): ¥1,290 (Before Tax)

This gourmet dessert is topped with fruit, so gorgeous it seems a waste to eat.

Grape: ¥890


Ramune: ¥890

There are colourful drinks too with each colour representing a different band. Support your favourite band by getting a glass!

Pin Set 2020 ver. (7 Designs): ¥3,100


Canvas Art (7 Designs): ¥3,500 Each


Birthday Pins (4 Designs): ¥650 Each

Fans can get their hands on plenty of exclusive merchandise too, and there's even birthday items and food available too.

Online Birthday Cake (4 Designs): ¥3,850 Each (+¥950 shipping fee)


Cushions (22 Designs): ¥3,800 Each

You can even order your own special birthday cake in Japan from the cafe, and they're not short on exclusive merchandise.

©BanGDream! Project ©Craft Egg Inc. ©bushiroad All Rights Reserved.

Information

Game BanG Dream! Girls Band Party Cafe 2020
Tokyo

IKEBUKURO BOX cafe&space / July 31, 2020 – September 6, 2020
Address: Matsumoto Kiyoshi Ikebukuro Part 2 (Floor 4F), 1-22-8 Higashi-Ikebukuro, Toshima-ku, Tokyo

Osaka

UMEDA BOX cafe&space / July 31, 2020 – September 6, 2020
Address: Umeda LOFT (Floor 1F), 16-7 Chayamachi, Kita-ku, Osaka, Osaka Prefecture

Aichi

NAGOYA BOX cafe&space / July 31, 2020 – August 30, 2020
Address: LACHIC (Floor B1F), 3-6-1 Sakae, Naka-ku, Nagoya, Aichi Prefecture

Booking Price: ¥650 (Before Tax) *Max 4 people per booking, comes with gift

Game BanG Dream! Girls Band Party Cafe 2020 Official Website: https://bang-dream-cafe.jp/

New Kaguya-sama: Love Is War Themed Menu Arrives in Akihabara

Royal Host, a family restaurant in Akihabara, is collaborating with the popular TV anime series Kaguya-sama: Love Is War to serve two different menu line-ups. The first is currently running right now until July 5, which we covered recently. This time we'll be taking a look at the upcoming second menu which will be served from July 6.

Kaguya-sama: Love Is War is a romantic comedy manga series written and illustrated by Aka Akasaka. A 12-episode anime adaptation premiered in January. The series's collaboration with Royal Host last year was such a success that the restaurant chain decided to bring it back again.

2nd Collaboration Menu


Five items make up this second Kaguya-sama: Love Is War x Royal Host menu.

~I Wanna Feed Miyuki Shirogane~ Kaguya Shinomiya's Handmade Pasta: ¥1,800 (Before Tax)

A tomato cream pasta topped with salted salmon roe and seafood, and served with a side of salad and garlic bread.

~Save the Student Council~ Student Council Member's Bonding Curry: ¥1,800 (Before Tax)

Butter rice topped with curry, spinach, melted cheese, boiled egg, and spicy onion rings. Served with a side of salad and mango dessert.

~Kaguya Shinomiya is Happy~ Kawaii Strawberry Parfait: ¥800 (Before Tax)

Bright-red sweet and sour strawberry sorbet topped with fresh strawberries.

~I Wanna Befriend Kei Shirigane~ Blue Lychee: ¥500 (Before Tax)

Lychee-flavoured soda topped with whipped cream.

~I Wanna Make Ai Hayasaka Feel Better~ Lonely Person's Cheesecake: ¥580 (Before Tax)

A slice of cheesecake drizzled in blueberry sauce.

When you order from this second collaboration menu you will receive a free and exclusive coaster.

Mug: ¥1,580 (Before Tax)


Before Tax: ¥3,500

There's also a selection of exclusive merchandise for fans to get their hands on too, like a mug, cushion, or acrylic stand.

©Aka Akasaka / Shueisha・Kaguya-sama: Love Is War Production Committee

Information

Royal Host Akihabara
Address: 4-5-4 Sotokanda, Chiyoda Ward, Tokyo

1st Collaboration Menu : June 13, 2020 – July 5, 2020

2nd Collaboration Menu: July 6, 2020 – July 30, 2020

Time: 11:00-22:00 (Last Orders 22:00)

Official Website: http://www.royal-holdings.co.jp/

4 Refreshing Matcha Shaved Ice Flavours Released at Itohkyuemon in Kyoto

Kyoto's famous tea shop Itohkyuemon began serving four new Uji matcha and shaved ice mixed desserts on its menu yesterday (June 29). Itohkyuemon was founded in 1832 in the latter period of Edo. Ujitawara, the place in Kyoto where the shop is located, is famous for the tea served by Itohkyuemon which has been harvested by the Ito family for years.

Uji Matcha Parfait Ice: ¥1,490 (Tax Included) | Serving: Until Late September 2020 | Avaialble: Itohkyuemon JR Uji Station/Itohkyuemon Gionshijo

The Uji Matcha Parfait Ice uses a blend of matcha and milk-infused ice as its base. It's then topped with sweet treats like rice flour dumplings, red bean paste, ice cream, matcha jelly, and more to turn it into a parfait.

Uji Matcha Daifuku Ice: ¥1,290 (Tax Included) | Serving: Until Late September 2020 | Avaialble: Itohkyuemon JR Uji Station/Itohkyuemon Gionshijo

This Uji Matcha Daifuku Ice is an upgrade of the one Itohkyuemon served last year. It has a creamy custard base with matcha daifuku hidden in the shaved ice.

Fluffy Uji Kindokei Vanilla Ice Cream: ¥990, Matcha Ice Cream ¥1,090 (Tax Included) | Serving: Until Late September 2020 | Avaialble: Itohkyuemon JR Uji Station/Itohkyuemon Gionshijo


Fluffy Uji Kindokei Rice Flour Dumpling: ¥850, Rice Flour Dumpling & Vanilla Ice Cream ¥970, Rice Flour Dumpling Matcha Ice Cream ¥1,090 Serving: Until Late September 2020 | Avaialble: Itohkyuemon Uji Main Branch

These two "Kindokei" (Gold Watch) servings use more ice. At the main branch of Itohkyuemon they're more crunchy, while at the JR Uji Station and Gionshijo branches they're more fluffy.

Cute and Dreamy Tanabata Inspired Confections Arrive at Q-pot CAFE. in Omotesando

Q-pot CAFE. is celebrating Japan's Tanabata festival with a limited-time menu which was introduced on June 27.

Romantic Star Plate w/Drink: ¥2,060 (Tax Included)

This starry delight is plated with a fromage blanc filled with ganache cream and peach jelly. There's star-shaped meringue macarons filled with cream, creamy blueberry and blackcurrant panna cotta, star-shaped chocolate to represent the Tanabata deities Orihime and Hikoboshi, and a luxurious Q-pot CAFE. macaron.

さらに、レモンの皮を練り込み、サクッと焼き上げた星型クッキーには短冊のようにグラサージュショコラで願い事を込めて・・・クッキーを残さず口にすれば、願いもきっと叶うはず!


Romantic Peach & Elderflower Soda: ¥750 (Tax Included)

Refresh yourself with a summery glass of this peach and elderflower soda which is filled with blue, purple, and pink transparent jelly which twinkle like a kaleidoscope.

Bottled Drinks (Takeout Only): ¥1,296 Each (Tax Included) *Limited quantity available / *¥100 off if you take your own bottle

Enjoy a takeout bottle of "Aurora Lychee Tea Soda" with its romantic pink, purple, and blue gradation. This herb tea changes colour like magic, and contains marrow cheese plant, lychee puree, and Blue Curacao. The twinkling pearl powder makes it glow like an aurora.

There is also bottled Strawberry Tea Soda, Ginger Ice Milk Tea, and Honey Lemon Vinegar Soda.

If you're in Tokyo this summer, head to Q-pot CAFE. to enjoy a round of pastel-coloured Tanabata confections and drinks.

Information

Q-pot CAFE. Omotesando
Address: 3-4-8 Jingumae, Shibuya, Tokyo
Running: June 27, 2020 – July 20, 2020
*From July 21, 2020 to September 4, 2020 the cafe will be reservation-only in line with an event, and the regular menu will not be available.
*For the time-being, reservations can be made by telephone call only. Web reservations are currently not available.

Official Website: http://www.q-pot.jp