Fashion magazine Oggi's popular Warui Otoko ("Bad Boys") feature has turned into a photo book. Released on February 12, it features a collection of photos of handsome 'lady-killers.'
Warui Otoko stars a special selection of current popular Japanese actors and artists that have women across the country in thrall. The photos are taken by internationally-renowned Japanese photographer and director Mika Ninagawa who has captured the lovely line-up's alluring nature beautifully.
Yudai Chiba | Photographer: Mika Ninagawa
Koji Seto | Photographer: Mika Ninagawa
Every issue, the editors hand pick female readers' requests of heart-throbbing situations, and in turn, Mika Ninagawa makes those dreams come true in the form of photos, such as "What if Kentaro Sakaguchi was my co-worker?", "What if I visited an aquarium alone, and while I was there I just happened to be standing next to Masaki Suda?", "What if I had an appointment with Kuranosuke Sasaki on a Saturday night in a bar?", and so on. The feature also includes interviews with the handsome men photographed.
Below are comments from some of the 'lady-killers' featured in the photo collection.
Comment: Eita Nagayama
Eita Nagayama | Photographer: Mika Ninagawa
"I just met with Mika Ninagawa before the shoot for Warui Otoko for another magazine. Getting to shoot with again, I couldn't help but think, 'so it's one of those times.' Usually when I look at Ninagawa's various pieces and how she works, it gives me insight into what she's thinking during that time. That being said, I think we've created something interesting together this time. What made it so interesting for me was the theme of 'Bad Boys.' Ninagawa photo conveys my idea of a 'Bad Boy.' I wonder why it's so fun to do?"
Comment: Tori Matsuzaka
Tori Matsuzaka | Photographer: Mika Ninagawa
"I first met Mika Ninagawa around eight years ago. It's been a considerably long time since I've known her, but this 'Bad Boys' [feature] is only the second time I've shot with her. It didn't feel like we hadn't shot together in so long, but I was really nervous when the shutter closed on the first shot. There might have been things we overcame, like that sense of it being the first time again, but to say 'you haven't changed' after eight years would be pretty bad. In the time you don't meet with someone, their way of thinking will have changed, not to mention their physical appearance, and that may show itself. I thought to myself, Ninagawa is sensitive to details, she's someone who's going to see through worries like that. That's how nervous I was with that first cut after these eight years. I wonder how it will come out of her?"
Comment:Ryota Katayose (GENERATIONS from EXILE TRIBE)
Ryota Katayose | Photographer: Mika Ninagawa
What impressed me most about shooting with Mika was how quick she was when we started. But there was absolutely nothing stressful about it. We were chatting naturally, and before I knew it, the shoot was over. The Warui Otoko pages have been a buzz on social media, so I remember how happy I was when I found out I'd be part of it. But in all honesty, when I look at it now, I think how childish I looked <laughs>. If I get the chance again, I want to make myself look even more like a 'Bad Boy.'"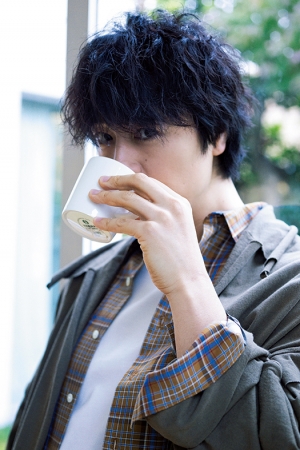 Takumi Saitoh | Photographer: Mika Ninagawa
"When this serialisation was released in book form, it garnered attention with the ladies, and orders skyrocketed on online book shops! Prints for additional copies were decided before it even went on sale. The volume is a keeper, and has stirred the imaginations of girls, so check it out."
Information
Warui Otoko
Release Date: February 12, 2020
Price: ¥2,700 (Before Tax)
Photographer: Mika Ninagawa
Line-Up: Kentaro Sakaguchi, Masaki Suda, Kuranosuke Sasaki, Shohei Miura, Yudai Chiba, Sota Fukushi, Kento Nagayama, JUNHO, Hiroki Hasegawa, Koji Seto, Ryo Ryusei, Kazuki Kitamura, Ryo Narita, Mahiro Takasugi, iKON, Tomoya Nakamura, Ryota Katayose, Eita Nagayama, Tori Matsuzaka, Takumi Saitoh
Shogakukan Official Website: https://www.shogakukan.co.jp/books/09682327