Sonic the Hedgehog Movie Dashes Past $200 Million in Box Office
It has been revealed that the Sega-published Sonic the Hedgehog movie has broken $200 million in the box office worldwide. The film was distributed by Paramount Pictures.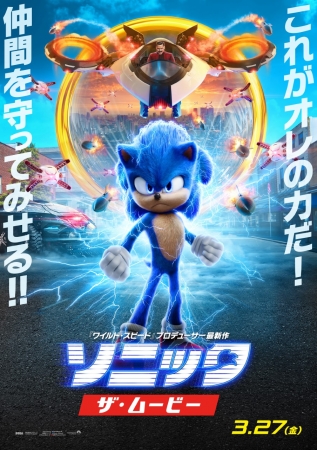 Sonic the Hedgehog was released worldwide on February 14, 2020. It hit up 4,167 theatres in the US, and in its three-day weekend debut amassed $58 million, breaking Detective Pikachu's record ($54.3 million) for the biggest opening weekend for a movie adapted from a video game.
In its second weekend, the film made $26 million and retained its top spot in the box office. After 10 days, it had garnered $107.7 million in the US and $102.2 million elsewhere for a total of $209.9 million.
Sonic the Hedgehog will be released in Japan on March 27, 2020.
©︎2019 PARAMOUNT PICTURES AND SEGA OF AMERICA, INC. ALL RIGHTS RESERVED.
RELATED ENTRIES
Sonic Speed Simulator Played Over 500 Million Times

Sonic fans across Japan are thrilled to finally be able to see Sonic the Hedgehog 2 in theaters. The popular series isn't only finding success on the big screen, however, but also within the world of the Metaverse. 


In April 2022, the Sonic Speed Simulator was uploaded to Roblox, a global game creator connecting tens of millions of people each day. The game has surpassed 500 million plays worldwide as of August 21, 2022. The official Sonic game is completely free and was created by Gamefam, a leading game developer and publisher, in collaboration with Sega.

The title attracted more than 6 million daily active users worldwide in its first week after launching on April 16, 2022. Sonic Speed Simulator is currently the top-ranked Roblox game of 2022.

The game takes place in six immersive 3D worlds. In addition to regular gameplay, events, and mini-games, users can unlock player skins of popular characters such as Tails and Knuckles as they progress through the game.


Sonic Frontiers Teaser Site

https://sonic.sega.jp/SonicFrontiers



In conjunction with the Japanese release of Sonic the Hedgehog 2 in theaters, the Japanese version of Sonic Speed Simulator has been unveiled. Japan had the highest daily active user growth on Roblox in the first quarter of 2022 among the 25 largest internet markets worldwide.


Comment from Sonic Series Producer at SEGA, Takashi Iizuka

"Since its launch in April, Sonic Speed Simulator has seen a massively positive response from the global Roblox community, and I'm so happy to see a new fanbase growing in the Metaverse. With Sonic's popularity spreading around the world with audiences both young and old following the release of the film series, I hope that more fans will enjoy the world of Sonic with the release of Sonic Frontiers later this year!" 

 

A trial version of Sonic Speed Simulator has also been released on the Japanese App Store in cooperation with Apple Japan.


Paramount Confirms 3rd Sonic the Hedgehog FIlm and an Original TV Series

While Sonic the Hedgehog 2 isn't coming to theaters until April 8, Paramount has confirmed that a third film is already in the works. A Paramount+ streaming series based on Sonic's sidekick Knuckles is also coming soon, and will star Idris Elba. 

The first Sonic the Hedgehog film is the highest-grossing movie based on a video game to ever be released in the US, grossing $320 million worldwide. The sequel is scheduled to release in the west on April 8 and in Japan this summer. The cast from the first film has returned for the second installment, with Jeff Fowler directing and Josh Miller and Pat Casey providing the screenplay.

Inspired by Sega's video game franchise, Sonic the Hedgehog tells the story of Sonic, the world's fastest hedgehog, and his adventures after arriving on Earth. The first live-action adventure comedy film was released in 2020 and starred Ben Schwartz as the voice of Sonic, James Marsden, Tika Sumpter, and Jim Carrey as Dr. Robotnik. 

©SEGA

Nintendo Switch's Ninjala Launches Sonic the Hedgehog Collaboration

The Nintendo Switch™ title Ninjala finally rolled out its collaboration with Sonic the Hedgehog on Thursday (September 24).


In the world of Ninjala, players blow bubble gum to craft different weapons and fight using the fighting style of ninjutsu. Players can also transform into nearby objects, and they must use parkour to traverse different landscapes while aiming to take down their opponents.


Players can get their hands on Sonic, Tails, and Knuckles costumes for their avatars, as well as turn into a Dr. Eggman Gum Utsusemi.


There are also IPPON decorations and stickers for players to use. All of these items are available to purchase via the in-game shop.

Enter the world of Sonic the Hedgehog in Ninjala today!

© SEGA
© GungHo Online Entertainment, Inc.

Information

Ninjala

Platform: Nintendo Switch™

Official Website: https://ninjalathegame.com/en/

*Company names, logos, product names and service names are trademarks and registered trademarks of their respective companies.

*Nintendo Switch and the Nintendo Switch logo are trademarks of Nintendo.

Ninjala's Sonic the Hedgehog Collaboration Launches September 23

It was revealed in Developer Diary #9 for the Nintendo Switch title Ninjala by both the game's director and game designer that the previously promised highly-anticipated Sega collaboration is really happening, with Sonic the Hedgehog set to speed his way into the gum world.

In the world of Ninjala, players blow bubble gum to craft different weapons and fight using the fighting style of ninjutsu. Players can also transform into nearby objects, and they must use parkour to traverse different landscapes while aiming to take down their opponents. Released on June 25, 2020, the game has been downloaded over 4 million times worldwide.

In the latest Developer Diary, the team revealed not only the Sonic collaboration—which comes in the form of costumes you can obtain in-game—but details on the upcoming "Featured Battle Mode" too

The new game mode will first bring the "Beast Attack!" limited-time event which is an 8-player game of tag where one player becomes a Beast and must defeat other Ninjas to earn points. Likewise, Ninjas must avoid being defeated for themselves to earn points.

You can check out the full details in the Developer Diary episode below.


© GungHo Online Entertainment, Inc.

©SEGA

Information

Ninjala

Platform: Nintendo Switch™

Official Website: https://ninjalathegame.com/en/

*Company names, logos, product names and service names are trademarks and registered trademarks of their respective companies.

*Nintendo Switch and the Nintendo Switch logo are trademarks of Nintendo.

Ninjala Announces Sonic the Hedgehog Collaboration

In the latest developer's diary (Dev Diary #8) for the Nintendo Switch title Ninjala, it was revealed that the game will collaborate with Sonic the Hedgehog.

In the world of Ninjala, players blow bubble gum to craft different weapons and fight using the fighting style of ninjutsu. Players can also transform into nearby objects, and they must use parkour to traverse different landscapes while aiming to take down their opponents. Released on June 25, 2020, the game has been downloaded over 4 million times worldwide.

More details about the Sonic the Hedgehog collaboration will be revealed at a later date. It will be the first in-game collaboration for the game.

© GungHo Online Entertainment, Inc.

Information

Ninjala
Official Website: https://ninjalathegame.com/en/

*Company names, logos, product names and service names are trademarks and registered trademarks of their respective companies.

*Nintendo Switch and the Nintendo Switch logo are trademarks of Nintendo.

New Sonic the Hedgehog DJ Popcultcha Themed Merchandise Released

Sonic the Hedgehog's 29th anniversary is set to fall on June 23, 2020, so to celebrate, SEGA has launched a new collection of merchandise called "Sonic the Hedgehog DJ Popcultcha."

The new Sonic The Hedgehog DJ Style "Party" mix album will also be released on June 17, 2020 as the first in a series of albums. All of this is part of the "SONIC 2020" project in which new Sonic content will be released each month.

Sonic the Hedgehog DJ Popcultcha


The merchandise line-up features the Sonic the Hedgehog DJ Popcultcha artwork taken from the Sonic The Hedgehog DJ Style "Party" album cover. The collection includes a T-shirt, pin badge, and full colour acrylic stand.

Sonic the Hedgehog DJ Popcultcha T-Shirt: ¥3,000 (Tax Included)

The T-shirt features fluorescent colours in full DJ Popcultcha style, the perfect design to don while listening to music and enjoying the summer sun.

Sonic the Hedgehog DJ Popcultcha Pin Badge Set (2 Pins): ¥800 (Tax Included)

Add these pins to your bag, hat, or anywhere else to add some summertime Sonic spice to your items.

Sonic the Hedgehog DJ Popcultcha Acrylic Stand: ¥1,700 (Before Tax)

The acrylic stand features Sonic in full colour, ready to decorate your desk or shelf.

Click here to see the product page.

Sonic The Hedgehog DJ Style "PARTY" Album

The DJ mix album features a list of 33 tracks from across the Sonic the Hedgehog series. The album cover design was illustrated exclusively for the album.

Click here to see the product page.

Mobile Game Sonic at the Olympic Games – Tokyo 2020 Confirms 2 Million Pre-Registered Users

SEGA has revealed that Sonic at the Olympic Games – Tokyo 2020™ has pre-registered 2 million users across Android, iOS, and FireOS platforms.

What is Sonic at the Olympic Games – Tokyo 2020™?

As the title suggests, it's a mobile game that features characters from across the Sonic the Hedgehog series at the Tokyo 2020 Olympic games. Set to release worldwide on May 7, 2020, it features both new and popular games that are set to take place at Tokyo 2020ーwhich has now been postponed to July 2021. Players can rank online on the worldwide leaderboard while they compete in games set around famous sights in Tokyo.

To celebrate 2 million registered users, players are being gifted with the song Glimmering Gift – Super Transformation (SONIC MANIA) from the soundtrack as well as Training Points which can be used to unlock character actions and new stages.

SEGA Japan is also holding a competition on its official Twitter account. 5 people who follow the account and retweet the competition tweet will receive the above-pictured exclusive jacket.

Pre-register for the game here: https://www.olympicvideogames.com/sonic/en/

TM IOC/TOKYO2020/USOC 36USC220506. © 2019 IOC. All Rights
Reserved. ©SEGA.

Information

Sonic at the Olympic Games – Tokyo 2020™
Release Date: May 7, 2020

Platforms: Android/iOS/FireOS
Price: Free to download
*Select content must be purchased

Official Website: https://www.olympicvideogames.com/sonic/en/

H&M Drops Sonic the Hedgehog Collection in Japan

H&M has teamed up with everybody's favourite blue hedgehog, Sonic, to release a new unisex clothing collection of 8 items featuring t-shirts, sweatshirts, hoodies and more. This is the perfect opportunity to grab some Sonic merch with the recent release of the hotly-anticipated live-action Sonic the Hedgehog movie which dropped on Valentine's Day.

The models used for promotion of the collection, featured on Droptokyo, are all street culture icons in Japan.

Long Sleeve Top – ¥2,499 / Seiya Ohta, Hair & Makeup Artist (@ohta_seiya)

T-Shirt – ¥1,799 / Erica, Model (@hi_erica_)

T-Shirt – ¥1,799 / Kenta Shimahara, Model (@kenta_shimahara)

The collection is now rolling out across H&M stores across Japan, with select branches not participating. It was also released on the official H&M Japan website today. And to celebrate the release of the collection, the Harajuku, LaLaport TOKYO-BAY, and Shibuya branches of H&M have been decorated with Sonic the Hedgehog windows.

T-Shirt – ¥1,799 (Front)

T-Shirt – ¥1,799 (Back)

Long Sleeve Top – ¥2,499 (Front)

Long Sleeve Top – ¥2,499 (Back)

   

Hoodie – ¥2,999

Head to H&M this spring in Japan and pick up some exclusive Sonic goodies.

Mario & Sonic at the Olympic Games Tokyo 2020 Unveils 5 Sports in the Game

As excitement is on the rise worldwide in anticipation for the Tokyo 2020 Games, the world just cannot wait for the release of the iconic Nintendo Switch™ game Mario & Sonic at the Olympic Games Tokyo 2020, which is due to be released very soon. Sega has just unveiled a small snippet of information on five events that are going to be included in the game which we are sharing with you today.

Tokyo 2020 100m

Aim for nothing but first place in the Tokyo 2020 100m. Increase your speed with the rapid push of a button. By building up your speed before the race starts and releasing it at the correct moment, you will get off to a dashing start. The "special dash" is a way to rapidly cut down on your time. 

Tokyo 2020 Rugby Sevens

This game will plunge you straight into the action. Work with your team of seven and use a range of tactics such as passes, strong tackles and kicks to get the upper hand. Carry the ball to the goalline to watch those points roll in. When your special gauge reaches its max power, you will be able to use a "super dash" ability to get the ball to the goalline if on the offense. If on defence, your special ability is the "special tackle", which will provide you with the power to whip the ball away from your opponent. These special abilities have the power to drastically turn the tables and are not to be taken lightly. This game features guest character Diddy Kong!

Tokyo 2020 Canoeing

Get your heart pumping with the thrill of competition while staying synchronised with your partner in a canoeing race. If your timing is perfect, you will pick up speed straight away. Team up with your friend and dive right into the fun. If you are falling behind, don't let your heart sink in despair. Paddle as much as you can and you will be able to catch up with the others in no time!

Toyko 2020 Equestrian Jumping

Let no hurdle taint your gracefulness as you soar through the sky and clear each one. You can take part in Equestrian Jumping individually or as part of a team. Be careful of sharp turns and hurdles! When you increase your speed, your stamina will drop, however, you will recover lost stamina with every hurdle you successfully clear. If you manage to clear lots of hurdles in succession, you will gain enormous amounts of speed and will be on your way to a record-breaking winner. You can also use a special dash once in this game. If you manage to use it while successfully striking a difficult pose, you will continue to zoom off to the finish line at high speed. This game features Larry Koopa as a special guest!

Tokyo 2020 Table Tennis

Face off in a singles match or team up with your friend for a doubles match. Your avatar will move automatically, allowing you to fully dedicate your brain power to using a range of techniques. Build up your power to change the speed and spin of the ball.Zazz has infiltrated this game to take part as a guest character!

Join in the Tokyo 2020 celebration fun with these new epic games!

TM IOC/TOKYO2020/USOC 36USC220506. © 2019 IOC. All

Rights Reserved. © NINTENDO. ©SEGA.

Information

Mario & Sonic at the Olympic Games Tokyo 2020™

Platform: Nintendo Switch™

Initial Release Date: November 1, 2019

Price: ¥5,990 (before tax)

Genres: Sports, action

Players: 1 – 4

* Play with up to 8 people when you play online.

*Nintendo Switch™ supports 2 – 4 local players.

Official Website: https://www.olympicvideogames.com/marioandsonic/jp/

Mario & Sonic at the Olympic Games Tokyo 2020 Release Date & Details Revealed

Sega has announced that Mario & Sonic at the Olympic Games Tokyo 2020 will be released on Nintendo Switch™ on November 1, 2019.

The upcoming sports video game is a crossover between Nintendo's Super Mario and Sega's Sonic the Hedgehog franchises which makes full use of the Joy-Con™ on the Nintendo Switch.

The latest trailer which dropped on Tuesday revealed that players will also be sent back in time to the Tokyo 1964 Olympics with a set of 10 games with classic 2D graphics. The game will also feature a Story Mode where players can compete in the Olympics and play a variety of mini games.

The game is now available for pre-order on the Nintendo eShop. If you pre-order the game you will be able to play the game immediately at midnight when it drops on November 1.

TM IOC/TOKYO2020/USOC 36USC220506. © 2019 IOC. All Rights Reserved. © NINTENDO. ©SEGA.

Sonic Mania Adventures: A Behind-The-Scenes Look at Developing the Animated Series

SEGA Games has released an animated video looking at the behind-the-scenes of making Sonic mania Adventures, an animated series that serves as a continuation of Sonic Mania Plus for the PlayStation®4 and Nintendo Switch™ that was released on July 17, 2018.

Sonic Mania was released worldwide on August 15, 2017 as a return to the classic 2D style, something longed for by fans for many years. The game received acclaim for its nostalgic presentation, classic core mechanics and introduction of new content. It has been one year since its release during which it has sold over 1 million copies across all platforms.

Sonic Mania Plus introduces two new characters―Mighty the Armadillo and Ray the Flying Squirrel―in addition to the new game mode Encore Mode. The Japanese limited edition released also includes the soundtrack and an artbook.

The making-of video titled Sonic Mania Adventures features director Tyson Hesse as well as Lirit Rosenzweig-Topaz, executive producer at animation studio NEKO Productions.

Be sure to check out the video alongside the full Sonic Mania Adventures animated series.

■Information Sonic Mania Plus

Platforms:  PlayStation®4 / Nintendo Switch™

Released: July 19, 2018

Genre: 2D Platform Game

Players: 1-4

Publisher: ©SEGA

Official Website:

http://sonic.sega.jp/SonicMania/