BLUE ENCOUNT to Perform Ahiru no Sora Anime's New Opening Theme 'Hummingbird'
Kumamoto-bred Japanese rock band BLUE ENCOUNTーwho have been garnering huge attention recently for the announcement of their nationwide tour set to begin on May 13, 2020ーwill perform the new opening theme song Hummingbird for the ongoing TV anime series Ahiru no Sora. The song will be introduced to the series this April.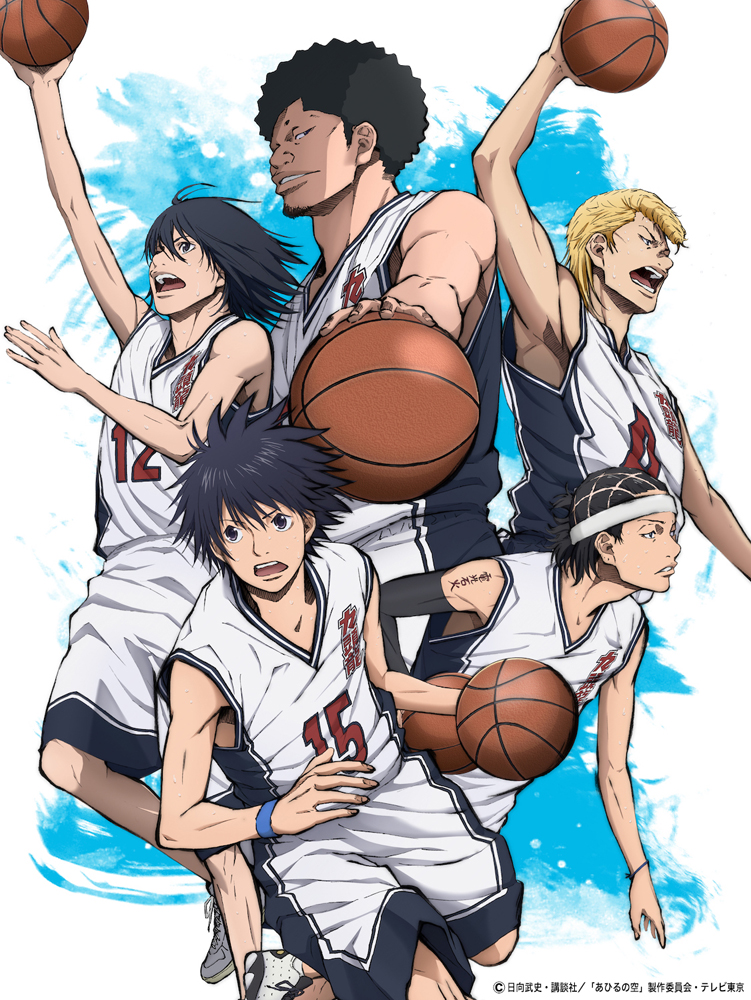 Ahira no Sora is a popular basketball manga series written and illustrated by Takeshi Hinata. 51 volumes have been published in Japanese to date, making it known as Hinata's masterpiece. Hear BLUE ENCOUNT add their positive messages into this manga seriesーone which paints a picture of youth days.
RELATED ENTRIES
TV Anime Ahiru no Sora's New Ending Theme 'Taiyou Runner' Performed by Shogo Sakamoto

It has been announced that Japanese singer-songwriter Shogo Sakamoto's new song Taiyou Runner (Sun Runner) will be used as the new ending theme for the ongoing TV anime series Ahiru no Sora.

Ahiru no Sora is a basketball manga series written and illustrated by Takeshi Hinata. The anime adaptation began airing in last year in October.

The story follows Sora Kurumatani, a boy who lacks what is seen as an essential boon in basketball: height. Despite this, he has never let his stature get the better of him in a game. When he enters high school, after promising to join the basketball team to his mother and compete in tournaments, he finds that the team is full of delinquents and people who have no interest in the game. It is Sora's job to rekindle the flame of passion for basketball amongst his team mates.

Shogo Sakamoto's new song Taiyou Runner was written specifically as the new ending song for Ahiru no Sora, and captures the positive outlook seen in the protagonist as well as being fast-paced like the anime itself.

Shogo Sakamoto | Comment

"By chasing your dreams and goals, things like pain, bitterness, and the anxiety of setbacks try to catch up to you. But a person with a heart that continues to fight and focus is a shining light. When I read the manga, I felt that Sora Kurumatani is exactly that. A beam of light. I wrote the song 'Taiyou Runner' to capture that image of someone who burns like the fiery sun and who has a strong heart that acts as a ray of hope for the people around them. I pray that the heart of people who are chasing their dreams becomes a shining light."

Information

Ahiru no Sora
Initial Broadcast: October 10, 2020

Opening Theme: ACIDMAN – "Rebirth"
Ending Theme: Shogo Sakamoto – "Taiyou Runner"

Ahiru no Sora Official Website: http://ahirunosora.jp/

Shogo Sakamoto Official Website: http://www.sakamotoshogo.com/

flumpool Perform Ahiru no Sora Anime's New Opening Theme 'Nevermind'

It has been announced that flumpool will perform the new opening theme Nevermind for the ongoing basketball anime series Ahiru no Sora. It will be used from January 8, 2020, and also be released digitally on the same day.

In 2019, the band came out of their indefinite hiatus after flumpool vocalist Ryuta Yamamura recovered from his functional vocal disorder, and the band successfully completed a nationwide tour in Japan. The band promised fans during the tour that they would go all out in 2020.

It was previously announced that flumpool would perform a special end-of-year concert in their hometown of Osaka at Osaka-jo Hall on December 30. It has now been revealed that vocalist Yamamura will feature as a regular presenter on the local Osaka radio show Radio Fields on FM802 starting in January. 2020 is already looking to be a huge start for the band.

Speaking about Neverland, Yamamura said: 'We wrote the song about not losing to yourself. I was impressed by the [Ahiru no Sora] protagonist Sora Kurumatani, who finds no excuse for his height when playing basketball. Everybody more or less has their own complexes, some kind of disease or handicap. At the same time, they should also promise and vow that they will never lose to those things. At times, it's something people have to live with and carry on their back, like a cross you can't separate from. When I was diagnosed with functional vocal disorder last year, and my voice wouldn't come out, I said these words to myself. "I'm not paying any attention to my hopeless self! Never mind! I'll make it through to tomorrow the best I can. I won't lose to myself." This is a lifelong issue that's much more difficult than putting into words. I believe Sora Kurumatani's incredible courage will lead other people. We want to convey this song too while feeling that Neverland is responsible for a part of that happiness."

Information

TVアニメ「あひるの空」

2019年10月より放送中

・テレビ東京系列6局ネット:毎週(水)18:25~

(6局ネット=テレビ東京・テレビ大阪・テレビ愛知・テレビせとうち・テレビ北海道・TVQ九州放送)

・BSテレ東:毎週(水)24:30~

・AT-X:毎週(水)21:00~

(リピート放送:毎週金曜日 13時/毎週火曜日 朝5時)

「FM802 Radio Fields」

放送日時=2020年1月4日(土)から、毎週土曜日21:00~

DJ=山村隆太(flumpool)

<ライブ情報>

flumpool年末ライブ「FOR ROOTS」~シロテン・フィールズ・ワンスモア~

日時:2019年12月30日(月)16時開場/17時30分開演(20時終演予定)

チケット代:7,000円(税込)

会場:大阪城ホール(〒540-0002 大阪市中央区大阪城3番1号)

お問合わせ先:キョードーインフォメーション 0570-200-888(全日10:00~18:00)

公演オフィシャルサイト:http://www.flumpool.jp/sp/johall2019/

flumpool公式サイト:http://www.flumpool.jp/

My Hero Academia's 'Polaris' Opening Theme Band BLUE ENCOUNT Announce 2020 Tour

BLUE ENCOUNT recently released their new single Polaris, which is being used as the opening theme for season four of the ongoing TV anime series My Hero Academia.

The band just wrapped up their "B.E. with YOU" 2019 tour with a final show at Zepp Tokyo which was live streamed on LINE LIVE. At the show, they dropped the news that they are set to tour the whole of Japan from May next year. Following the success of their recent tour, as well as their first-ever hall tour entitled "apartment of SICK(S)"ーwhich took them to four enormous venues across Japan earlier this yearーtheir new 2020 tour will take them to 12 places throughout the country.

Pre-sale tickets for the new hall tour are now on sale via the band's fan club website "LIVER'S CREW" as well as through LINE TICKET for non-members. Fans who grab tickets via the fan club will receive a limited-edition rubber wristband.

Information

BLUE ENCOUNT TOUR 2020 Japan Hall Tour

Ticket Prices: Advance ¥5,500 (Includes tax; separate mandatory drink fee charged upon entry to each venue)

Pre-Sale Tickets: https://lc.blueencount.jp/pages/special?p=tour2020

 

05/13 @ Urayasu City Cultural Hall, Chiba

05/24 @ Doshin Hall, Hokkaido

05/31 @ Sendai Denryoku Hall, Miyagi

06/07 @ Aichi Prefectural Art Theater, Aichi

06/27 @ Fukuoka Sunpalace

06/28 @ JMS Aster Plaza, Hiroshima

07/25 @ Sunport Hall Takamatsu, Takamatsu

07/26 @ Kobe International House, Hyogo

08/08 @ Niigata Prefectural Civic Center, Niigata

09/01 @ LINE CUBE SHIBUYA (Shibuya Public Hall), Tokyo

09/02 @ LINE CUBE SHIBUYA (Shibuya Public Hall), Tokyo

09/21 @ ORIX THEATER, Osaka

 

BLUE ENCOUNTER's New Single: Polaris 

Release for sale: November 20, 2019

■ First-Run Limited Edition Version (CD + DVD)

Price: ¥2,200 (Before Tax)
Catalog Number: KSCL-3200~3201

■ Regular Edition Version (CD)

Price: ¥1,100  (Before Tax)
Catalog Number: KSCL-3202

■Limited Edition Version(CD+DVD)

Price: ¥1,500  (Before Tax)
Catalog Number: KSCL-3203~3204

*Presented in a digipak with an original design illustration and contained within a jacket.

Polaris (Special Edition) Advanced Streaming Services: https://kmu.lnk.to/polaris

Special Edition Website: https://blueencount.jp/feature/special2019

BLUE ENCOUNT Official Website: http://blueencount.jp/

My Hero Academia Series Information:

Broadcasted every Saturday evening from 5:30 since October 12 by Yomiuri Telecasting Corporation, Nippon Television Network System and 29 other affiliated stations across Japan. (Not available in some regions).

Original Manga Creator: Kōhei Horikoshi, Shueisha Inc.

A Weekly Shōnen Jump series.

My Hero Academia Official Website:  http://heroaca.com/

BLUE ENCOUNT Drops My Hero Academia Opening 'Polaris' Along With Official Music Video

Four-person music group BLUE ENCOUNT has launched their new song 'Polaris' on streaming services and dropped the official music video on YouTube. The CD and DVD versions of 'Polaris' will be released on November 20. 


'Polaris' Music Video 

Polaris is currently the opening theme song for hit anime series My Hero Academia.

The music video was shot entirely outdoors and is set in Muroran: a port city which sits on the south coast of Hokkaido. As strong seaside winds blow, the band members are seen performing at the top of a cliff. Natural rough winds ruffle the scene, creating a realistic presence. Just as the North Star (Polaris) dazzles in the pitch black night sky, the vast natural landscape of the video is dotted with the four prominent figures of the band members dressed in distinctive red costumes. The music video will capture your gaze just like the beautiful Polaris. In the video, natural scenes are weaved perfectly with cuts of animation. The beautiful movements of nature and animation in this video is something you don't want to miss. 

Information

BLUE ENCOUNTER's New Single: Polaris 

Release for sale: November 20, 2019

■ First-Run Limited Edition Version (CD + DVD)

Price

: ¥2,200 (Before Tax)

Catalog Number: KSCL-3200~3201

■ Regular Edition Version (CD)

Price: ¥1,100  (Before Tax)

Catalog Number: KSCL-3202

■Limited Edition Version(CD+DVD)

Price

: ¥1,500  (Before Tax)

Catalog Number: KSCL-3203~3204

*Presented in a digipak with an original design illustration and contained within a jacket.

Polaris (Special Edition) Advanced Streaming Services: https://kmu.lnk.to/polaris 

Special Edition Website: https://blueencount.jp/feature/special2019

My Hero Academia Series Information:

Broadcasted every Saturday evening from 5:30 since October 12 by Yomiuri Telecasting Corporation, Nippon Television Network System and 29 other affiliated stations across Japan. (Not available in some regions).

Original Manga Creator: Kōhei Horikoshi, Shueisha Inc.

A Weekly Shōnen Jump series. 

My Hero Academia Official Website:  http://heroaca.com/

BLUE ENCOUNT Release My Hero Academia Season 4 OP Theme 'Polaris'

Japanese rock band BLUE ENCOUNT released their song Bad Paradox just last week, which serves as the main theme for the Japanese TV drama series Voice 110 Kinkyu Shirei Shitsu. The band was set to hold a free live show at Yoyogi Park on the day of release, but due to unforeseen weather conditions it had to be cancelled. The band instead decided to host a live stream from the studio entitled to B.E. continued earlier this week.

Their new song Polaris will be used as the opening theme for season four of the ongoing hit anime series My Academia from October 12. The song will be released on CD as a single on November 20.

Limited Pressing Edition and First Press Limited Edition copies of the single are coupled with a DVD which features the full footage of the recent live stream. Details on the CD's tracklist will be revealed in the near future.

This year marks 15 years since BLUE ENCOUNT first formed and their 5th anniversary since going major. They will head on tour in Japan later this year.

Information

Polaris

Release Date: November 20, 2019

First Press Limited Edition (CD+DVD): ¥2,200 (Before Tax) [KSCL-3200~3201]

Limited Pressing Edition (CD+DVD): ¥1,500 (Before Tax) [KSCL-3203~3204]

Regular Edition (CD): ¥1,100 (Before Tax) [KSCL-3202]

BLUE ENCOUNT Official Website: http://blueencount.jp/

My Hero Academia – Season 4

Initial Broadcast: October 12, 2019

Based On: Kohei Horikoshi's manga series My Hero Academia serialised in Shueisha's Weekly Shōnen Jump

My Hero Academia Official Website: http://heroaca.com/

Banana Fish Anime's 2nd Opening Song to be Performed by BLUE ENCOUNT

Having wrapped up their nationwide Japan tour entitled TOUR 2018 Choice Your 「→」, four-member Japanese rock band BLUE ENCOUNT have been thrilling crowds at summer festivals across the country.

In recent news, it has just been announced that the band's new song FREEDOM will be used as the second opening theme song for the ongoing anime series Banana Fish which began airing on Fuji TV's Noitamina block on July 5. The news was announced on the band's official TwitCasting stream page on September 10, the date of their 4 year anniversary since their debut. They also revealed that FREEDOM will be released as a CD single on November 21.

In addition, the band's song RUN from the third album VECTOR which was released in March this year will be used as the theme song for the TV Asahi drama Genki Atsu!! Yankee Soccer Bu, a show that explores the high school days of former Japanese football players Masayuki Okano. Other tracks from the album will also feature in the series.

BLUE ENCOUNTER will host their first ever live event "DO IT HERE vol. 1" in Kumamoto this December. Performing in the line up will be punk rock band Kyuso Nekokami and alternative metal band SiM. Pre-sale tickets are now available so be sure to get your hands on them quick.

Look forward to the band's next single dropping on November 21.

■Information

"FREEDOM"

On Sale: November 21, 2018

First Press Limited Edition (CD+DVD): ¥1,759 (Pre-Tax) *PlayPASS compatible

Regular Edition (CD-Only): ¥1,204 (Pre-Tax)

BLUE ENCOUNT presents "DO IT HERE vol. 1"

2018/12/06 @ Kumamoto B.9 V1 (Open 18:00 / Start 19:00)

2018/12/07 @ Kumamoto B.9 V1 (Open 18:00 / Start 19:00)

Pre-Sale Tickets

Buy: https://l-tike.com/st1/blueencount-201812hp2

Ticket Window: September 10 at 21:00 to September 16 at 23:59

Price: Standing ¥4,300 (Tax Included / Separate Drink Fee Charged)

BLUE ENCOUNT Official Website: http://blueencount.jp/

Banana Fish Official Website: https://bananafish.tv/ (Available on Amazon Prime Video in Japan and Overseas)

BLUE ENCOUNT conclude their Japan tour "BLUE ENCOUNT TOUR 2017 break 'THE END'" with a performance in Fukuoka!

Having released their latest album "THE END" earlier this year, BLUE ENCOUNT headed on a nationwide tour around Japan entitled "BLUE ENCOUNT TOUR 2017 break 'THE END,'" which concluded at the Fukuoka Convention Center.

The final show began with the title song "THE END." Tanabe began with the opening lyrics, "owarasete hajimete ugokidasu kodou ga aru / tachiagare sono subete ni hajimari wo tsugero." The words are a little negative, but are in fact filled with feelings of facing forward in a positive manner. The feelings of the fans whose excitement buried the room, and the feelings of each band member grew to elate quietly but surely.

 The second song was "HEART." The performance stayed true to and surged into the tracklist of the album, bringing together both the fans and the band into a thrilled frenzy. While that frenzy played out, Tanabe sang "jibun no koudo wo kiku no sae tsurainda." These lyrics are much different to the previous song "THE END" and give us a peek into the hurt in Tanabe's heart, which struck a chord in the hearts of those in the crowd. It tells us that all human emotions, which are filled with contradictions, chaos and more, are true feelings. Again, this is a theme linked to the diverse album that is "THE END."

It's also something that displayed itself throughout this tour – and during the course of this final live performance. BLUE ENCOUNTER went on to perform rebellious beat punk tunes such as "TA.WA.KE" and "School Clap" which stirred up the crowd, as well as the tear-inducing love song "Namida" and rap song "city." These were seamlessly connected together with their power pop tune "LOVE" which is sung entirely in English. The opening and ending of the show were extremely well-received by all, but what really sold it was how well the performance was strung together, with absolutely no pauses even in the middle, displaying the true charm of "THE END" as an album and the strength of BLUE ENCOUNTER's concerts today.

What made it that much better was that this final show was a kind of homecoming as the band performed in their hometown. Vocalist Tanabe said at the start of the performance, "This is the quickest I've felt the love on this tour. Thank you. The love is strong with our hometown… And I can finally say, we're back!" The tour also included their birthplace of Kumamoto, the place where they performed their first big, packed-out solo concert. Although they felt nervous performing their first one man live in their hometown, they performed strong and wholeheartedly with the freedom to have a good time.

Each of the members' characters were much more prominent during this tour. Tsujimura plays his bass with such energy that the fans' excitement continues to grow, showing just how entertaining he really is. Eguchi is a tall rock guitarist that has a real coolness about him, and you can catch him smiling while playing his guitar, giving us that real intimate vibe he has with the crowd. And Takamura's performance is filled with liveliness when he drums. Their characters are sincere, it would be crazy not to love everything about them.

But the one that sums up the tour and what this band's about is Tanabe. His singing will make you dance, cry, go crazy, and his words will pierce through you when he talks. At the end of the performance, he said, "This concert is sold out. This gorgeous scene in front of me taught me that selling tickets isn't everything. But I still really wanted to do this with a full house." Since there's currently no Zepp Fukuoka venue, this might be called a reckless challenge of a concert, yet they still decided to perform at the Fukuoka Convention Center. The capacity of the convention center way outnumbers that of a Zepp venue, but Tanabe said he would definitely like to try it again in the future.

The tour also included a performance at Makuhari Messe. But with that, BLUE ENCOUNT's biggest tour has finally come to a close. It was a huge success, but this tour showed that the band has only just begun.

The band will be supporting MAXIMUM THE HORMONE on their tour at two performances – one in Fukuoka and one in Kumamoto. It's also been announced that they will be participating "NUMBER SHOT," a festival in Fukuoka. Tanabe said, "I can't say exactly what just now, but we have a number of things in mind. Please look forward to it." They really are just beginning. He also stated, "We've always wanted to continue 'Owari wo Kowasu Tabi.'" We can continue to look forward that trip too.

Photo:Kazushi Hamano

■Information

BLUE ENCOUNT

TOUR 2017 break "THE END"

May 7th, 2017 @ Fukuoka Convention Center

−−−

Related article:Tie-up between BLUE ENCOUNT and the "Super Ukiyo-e: The Edo Code" digital art exhibition in new commercial