Okinawa's New Hot Spring Resort Lequ Okinawa Chatan Spa & Resort Opens
Lequ Okinawa Chatan Spa & Resort is the first hotel resort from Vessel Hotels. Operating on the concept of "Loving Yourself, Family, and the Town," the hotel opened in the town of Chatan in Nakagami, Okinawa on March 1, 2020.
Rooftop Infinity Pool & Cafe/Bar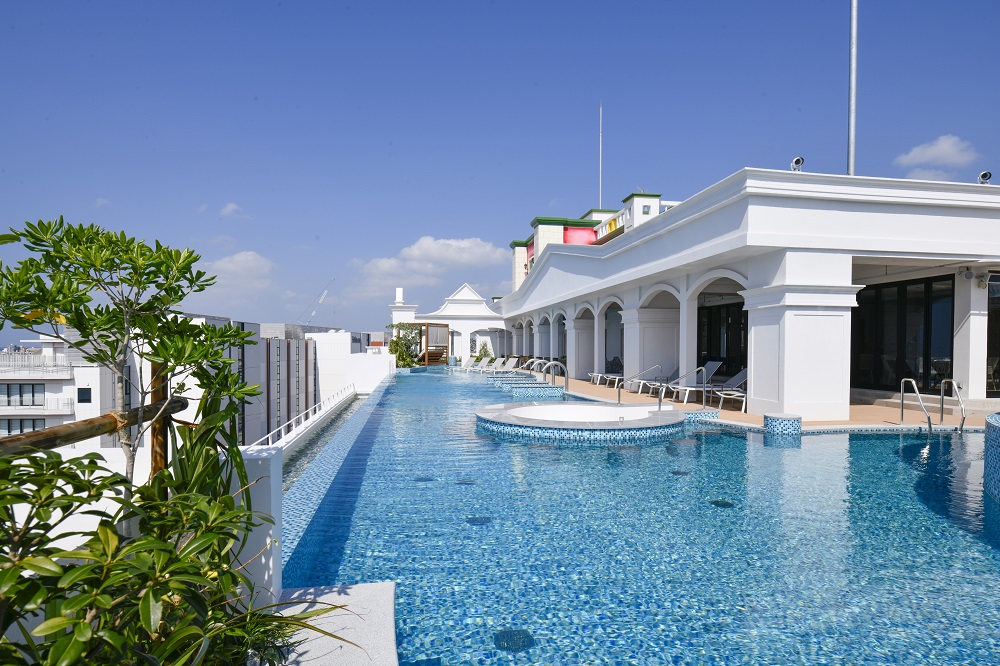 Sat atop the hotel roof is a spa which houses an infinity pool that offers an unbroken view of Chatan as well as the picturesque sunset in the evenings. There's also a 3-meter high infinity pool, jacuzzis, and more, offering a luxurious space to relax.
Located to the side of the pool is a cafe and bar that serves a selection of original cocktails and fruity drinks as well as light food. When the sun sets and the evening settles, the pool lights are turned on, creating a relaxed atmosphere. Enjoy a cup of Japanese sake or one of the refreshing cocktails while staring down at nighttime Chatan.
Vessel Hotel's First Natural Hot Spring
Chatan Onsen hails as Vessel Hotel's first-ever natural onsen hot spring. The water is drawn from 1,400m underground, which provides relief and relaxation from a day of sightseeing and travelling. The hot spring has towering windows, and there's also a sauna for both men and women.
SPA SOLANI OKINAWA CHATAN – The Relaxation Salon
SPA SOLANI OKINAWA CHATAN is a "relaxation salon" which offers a Hawaiian-style spa experience using original products made using ingredients sourced in Okinawa. Oils are made with carefully-selected organic ingredients for that natural feeling. There are body treatments, messages, quick treatments, and more.
Filling Breakfasts at the Resort's Kitchen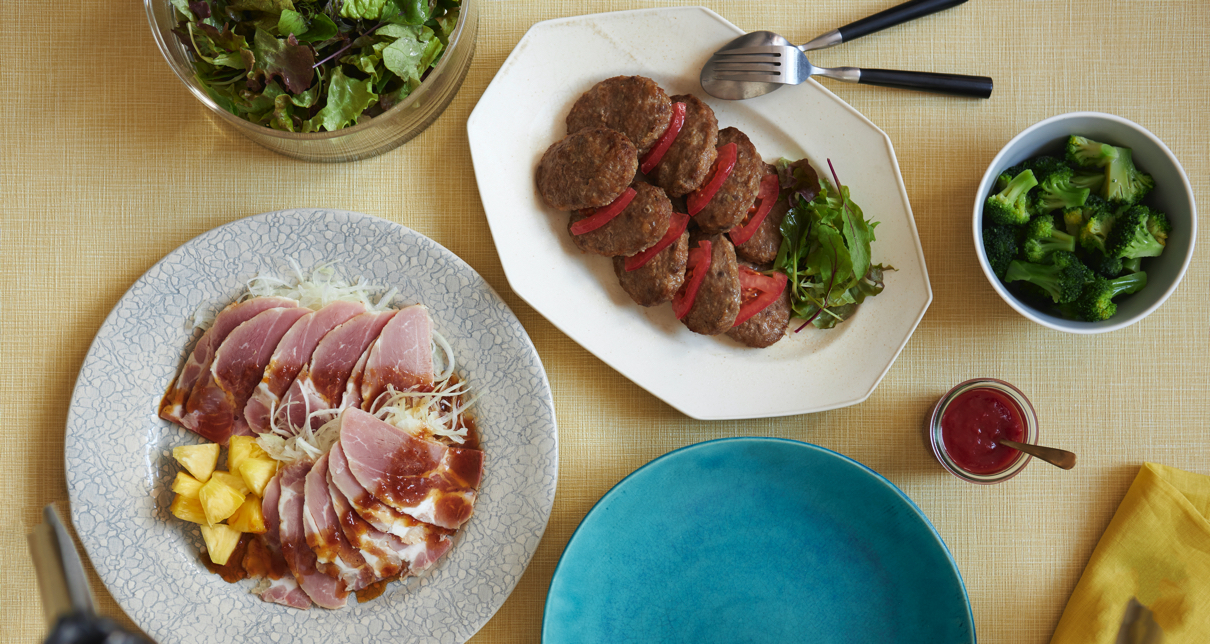 Vessel Hotel has brought its "Happy Breakfast Project" to Lequ Okinawa Chatan Spa & Resort. Tuck into a variety of meals prepared with Okinawan ingredients, or try one of the household classic Okinawan breakfasts. Whatever you have, you are guaranteed the Okinawan experience to start your day off.
The restaurant's original souffle hamburger is made with a mix of Okinawan black cattle beef and Agu pork. The souffle is made in-house and prepared by the hotel guests' hands. Food is also served in Okinawan yamuchin porcelain.
RELATED ENTRIES
Yukai Resort Premium Toba Saichoraku: The New Hot Spring Resort Hotel in Mie Prefecture

Yukai Resort, a company in Japan which manages lots of famous hot spring resorts across the country, opened Yukai Resort Premium Toba Saichoraku in Toba, Mie on June 5, 2020.

Yukai Resort manages 29 well-established hot spring resort hotels and ryokan throughout Japan, including hotels where you can get one night with dinner and breakfast from just ¥7,500 (before tax) to ryokan where you can enjoy kaiseki meal courses, and more. All their luxury establishments feature hot springs surrounded in lush environments.

Yukai Resort Premium Toba Saichoraku opened on June 5, 2020 and is taking all of the necessary precautions against COVID-19 to protect guests and so that guests can enjoy a comfortable stay.

Yukai Resort Premium Toba Saichoraku is 10 minutes by car from Toba Aquarium and 30 minutes from Ise Grand Shrine, making it a great location to enjoy the sightseeing spots of Ise and Shima. The hotel's concept is centred on being an "active resort" where you can get the full Toba experience with history, the sea, and activities.

The large open-air communal baths look out onto Toba Bay. The baths are designed like infinity pools, giving the effect that they are connected to the sea. Guests can enjoy a dip in the day or evening so they can enjoy both a blue sky or starry sky. There are also saunas.

There is also an indoor swimming pool with warm water, as well as foot baths, a kids play park, karaoke room, and many more fun features.

Yukai Resort Premium Toba Saichoraku also houses Yukai Resort's first ever indoor glamping guest rooms with large tents decked with beds, sofa, carpet, cushions, and other amenities for a glamorous camping experience. There are glamping rooms with their own open-air baths that look out onto Toba Bay too, as well as both Japanese-style and Western-style rooms.

As a precaution against COVID-19, the restaurant is serving its food for takeout only until August 31, 2020. Guests can enjoy their meal in their rooms or in one of the many communal spaces. There's plenty of health Japanese food to enjoy including sushi, Matsuzaka roast beef, eel, tuna, and more.

A Cafe With a View: Okinawa's New Seaside Cafe 'Hoshino Resorts Banta Cafe' Opens This July

Hoshino Resorts's new cafe Hoshino Resorts Banta Cafe will open in the village of Yomitan in Okinawa on July 1, 2020, offering a spectacular view.

The cafe is split into four distinct areas which overlook the the beach from atop a cliff. Customers are invited to take in the breathtaking scenery with a delicious dessert made from ingredients like mangoes, pineapple, and sugar—or a tasty meal.

An incredible beach cafe overlooking the sea

Banta Cafe runs along the western coast of Yomitan, a village in central Okinawa which is about an hour's drive from Naha Airport. The cafe gets its name from iyumibanta which in Okinawan dialect refers to the cliffs you climb to spot the shadows of fish in the water, and is also the name they give to enormous rocks. The cafe is located atop one of these iyumibanta, or cliffs, making Banta Cafe a fitting name. From the cliff, customers can enjoy a panoramic view of the horizon which stretches across infinity. According to Hoshino Resorts, Banta Cafe sits as the largest beach cafe in Japan, spanning 1600㎡.

4 Unique Areas to Pick From

Having four distinct areas to choose from means you can select where you want to go depending on your mood on the day. Let's take a look at each of them.

Rooftop Deck: A panoramic view welcomes you

Beyond the entrance is the Rooftop Deck which offers an unbroken view of the horizon. With the comfortable shadow cast by the eaves of the roof, and the sound of the rolling waves and wind, it feels like you're sitting on the deck of a boat.

Beach Terrace: Kick back and enjoy the sea breeze

The Beach Terrace is located along a footpath that leads from the top of the cliff down to the beach. This spacious area sits nice and close to the sea. The Okinawan Ryukyu-tatami flooring has cushions for you to sit on as well as cabanas, so you can sit and chat with people while enjoying the view of the ocean, offering the real Okinawan experience.

Rocky Terrace: Lose yourself in the green wild of nature

The Rocky Terrace is enveloped in plants and vegetation that has grown naturally—it's like a hideaway created by nature. The area has a wooden deck and rocking chairs for people to kick back and relax in, and there are tables with towering rocks that offer shade too.

Goro Goro Lounge: Lay down on a sofa and look out to the sea

The final area is the Goro Goro Lounge where an entire wall is made up of open windows. Here, you can relax and lay down nice and comfy on the sofas. There are long tables by the sofas too, perfect for pulling out a map or guidebook and planning the rest of your trip.

A true Okinawan cafe experience


Bubbly Jelly Soda

The cafe's "Bully Jelly Soda" is inspired from a traditional bubbly Okinawan tea called bukubuku cha. It's flavoured with lemongrass and mint and contains different jellies like mango and hibiscus.

Chulato

This gelato ice cream gets its name from the Okinawan word for delicious which is chura. Choose from a variety of classic Okinawan flavours like pineapple and guava and top your ice cream with purple yam and bitter melon chips, chinsuko, and more.

Food Menu


The food lineup is to die for, with tasty bites like pizza toast topped with bitter melon, pork and egg rice ball which is a soul food of Okinawa, hot dogs filled with juicy sausages, shrimp fritters served with mango sauce, fried chicken, and plenty of other finger food.

Witness the magnificent sunset during business hours


Banta Cafe is home to a gorgeous beach with coral. The sea is cobalt blue as far as the eyes can see, there are strangely shaped rocks worn by the waves, and in the evenings is an incredible view of the sunset which can be enjoyed with a cocktail in hand.

Hoshino Resorts Olu Grill


Banta Cafe will also have its own separate grilled food restaurant called Olu Grill. Olu is another Okinawan word which means "blue," in this case referring to the blue ocean. From fried steak served with an original sauce made from Okinawan awamori liquor and kurozu black vinegar to seafood and juicy burgers, there's plenty to fill you up.

Information

Hoshino Resorts Banta Cafe / Olu Grill
Grand Opening: July 1, 2020
Address: 560 Gima, Yomitan, Nakagami District, Okinawa Prefecture
Access: 60-minutes by car from Naha Airport / 90-minutes by limousine bus from Naha Airport

Hoshino Resorts Banta Cafe
Opening Hours: 10:00 until sunset
TEL: 098-921-6810
Official Website: https://banta-cafe.com/
*Breakfast service available from mid-July 2020. Serving hours will be 7:00-9:30

Hoshino ResortsOlu Grill
Opening Hours: [Dinner] 17:00-21:00 (Last Orders 20:30)
TEL: 098-921-6811
Official Website: https://banta-cafe.com/olu-grill/
*Reservations required. Lunch service available from mid-July 2020. Serving hours will be 11:00-15:00.

FUNATSURU Kyoto Kamogawa Resort Opens Rooftop 'KAMOGAWA Tenku Terrace'

FUNATSURU Kyoto Kamogawa Resort, the administrative building of VMG HOTELS & UNIQUE VENUES, has opened its 4th floor rooftop terrace 'KAMOGAWA Tenku Terrace' for a limited time. It will remain open until August 31, 2020.

VMG HOTELS & UNIQUE VENUES uses historical buildings to open new brands, like hotels and unique venues, while offering historical and cultural experiences of the buildings' local areas.

FUNATSURU Kyoto Kamogawa Resort originally opened as a traditional inn priding itself on its cuisine back in 1870. It was renovated and reopened as FUNATSURU Kyoto Kamogawa Resort in 2008. Its historical and artistic value has been highly acclaimed as a time-honoured work of architecture and was registered as a tangible cultural property of architecture by Japan's Agency for Cultural Affairs. It has banquet and ceremony spaces, and in the summer you can enjoy its restaurant on the riverbed. The building is also used for parties and wedding ceremonies.

Like all businesses, FUNATSURU Kyoto Kamogawa Resort too has suffered at the hands of the COVID-19 pandemic, but the facility wants people to enjoy the summer nighttime skies of Kyoto and so while observing the necessary coronavirus precautions it has opened its rooftop terrace which can be used as a bar.

Information

KAMOGAWA Tenku Terrace
Running: June 6, 2020 – August 31, 2020 (Closed Tuesdays & rainy days)
Opening Hours: 20:00-Midnight (Last Orders 23:00)
Price: Table Charge ¥1,000 per person (includes tax and service charge)

Official Website: https://www.funatsuru.com/restaurant/news/#new_01

Fufu Nara: The First Luxury Hotel Set to Open in Nara Park is Designed by Kengo Kuma

Fufu Nara is set to be the first luxury hotel to open inside Nara Park on June 5, 2020. Designed by industry-leading Japanese architect Kengo Kuma, the hotel promises a unique dining experience with food served using herbal medicines that can only be tasted here, and guest rooms that are covered in art made by Nara-based artists who use traditional techniques. Both the dining and accommodation experiences aim to immerse guests in the culture of Nara.

Witness the handiwork of Nara's artists

Nara is a city steeped with beautiful history and culture. This has been captured by the artists who have collaborated with Fufu Nara in the form of paintings, crafts, entrance decorations, and more. A stay at Fufu Nara is an opportunity to witness first hand the deep traditions and techniques of Nara's art world.

There are 30 rooms in total which are split into five different types. For example, one room type is designed around the old Japanese style of sitting on the floor. Inks and woods are used in the room to enhance that feeling that you're in Nara, and the colour tones too are chosen to bring to mind the ancient city.

Fufu Nara's dining concept

Nara Prefecture is closely tied to herbal medicines. Herbal medicine came about in the year 611 during the monarch of Empress Suiko. It is written in the Nihon Shoki that the use of herbal medicine had already been adopted by the time Prince Shōtoku was serving under the Empress. Many different traditional herbal medicines are still used in Nara today, including Angelica root, shakuyaku peonies, fennel, and so on. Traditional herbal medicines have become popular again in the prefecture in recent years.

The food prepared at Nara Fufu makes use of ingredients grown and produced in Nara, from vegetables to herbs and beyond. Breakfast, lunch, and dinner all incorporate Japanese and Chinese herbal ingredients.

Spa by sisley

The hotel also has a spa made in collaboration with French luxury skin care brand Sisley. There, guests can enjoy Fufu Nara's medicated baths.

Information

Fufu Nara
Address: 1184-1 Takabatakecho, Nara, Nara Prefecture
Grand Opening: June 5, 2020
Price: From ¥77,000 (for 1 night and 2 meals for 2 guests in 1 room) *Tax and service charge included; spa charged separately
TEL: 0557-52-6606
Official Website: https://fufunara.jp

THIRD ishigakijima: Okinawa's New Island Hopping Hotel to Open in July

Due to concerns surrounding the novel coronavirus (COVID-19), Star Resort had to postpone the opening of THIRD ishigakijima, a new hotel in Okinawa originally scheduled to open in April 2020. However, it has been confirmed that the hotel's new grand opening date is July 31, 2020.

Ishigaki is an island in Okinawa which faces Ishigaki Port Ritoh Terminal, a port that connects Okinawa to remote islands like Taketomi Island and Iriomote Island. Many tourists and sightseers flock to Ishigaki to hop to all the different islands it connects to.

The new THIRD ishigakijima hotel is a perfect choices for groups of travellers, with its room that can accommodate over 3 guests. As well as hotel food, drinks and alcohol, THIRD ishigakijima also offers various activities to guests like shisha, fitness, and more. The hotel is all-inclusive, something which isn't offered that much on Ishigaki.

The hotel also benefits from a self check-in system accessed using a QR code. Rooms are also accessed using a facial recognition system, making THIRD ishigakijima a tech-savvy experience.

The hotel is adopting guidelines from the government on operating hotels during the novel coronavirus (COVID-19) pandemic to protect its staff, guests, and local islanders.

Information

THIRD ishigakijima
Address: 4-7 Misakicho, Ishigaki, Okinawa
Guest Rooms: 28 (21 Loft Rooms/3 Suite Rooms/3 Twin Rooms)
Facilities: Cafe & Lounge, Book Lounge, Rooftop, Fitness
No Car Park
Access: 30-minutes on foot from Ritoh Terminal / 30-minutes by car or bus from Painushima Ishigaki Airport

Official Website: https://hotelthird.com/

COVID-19: https://hotelthird.com/antivirus/

Join Kawaii Virtual Traveller Emma on Her Global Sightseeing Tour

While the world is on lockdown, embark on a global adventure from the comfort of your own home with kawaii virtual character Emma.


The newly-launched EMMA Travel project follows the adventures of Emma as she travels from country to country, discovering and learning new things.

Satisfying your thirst for adventure couldn't have been easier. Emma will be uploading pictures of her adventures to Instagram so you can enjoy travelling without leaving your house. All her travels will be documented in English to cater to foreigners who are eagerly awaiting the chance to visit Japan.

While global lockdown measures are still in place, join Emma as she takes you on a virtual tour of must-visit sightseeing locations.

1→10, Inc. Brings Magical Shores Interactive Land Art to Siloso Beach in Singapore

Japanese creative studio 1→10, Inc. opened up Singapore's first ever permanent interactive land art exhibition "Magical Shores" on January 23 this year together with Lighting Planners Associates (LPA), a lighting company based in both Tokyo and Singapore.

Magical Shores spans 400 meters of Sentosa's Siloso Beach, turning it into an immersive, multi-sensory experience of AI-operated lights and sounds which elevate the beauty of the surrounding natural environment.

Guide To Magical Shores | Siloso Beach, Sentosa:

AI technology responds to visitors on the beach, giving them a breathtaking and unique performance. Sensors are dotted around the area which use sensing data to react based on people's movement around the beach. The AI is constantly developing as it collects big data about the temperature and climate of Siloso Beach as well as that of people's movements.


In two of the interactive areas, people can witness the "Circle of Life" beginning with the big bang. After that there is magma, followed by heavy rainfall and eventually flowing water which gives birth to life. Cells divide as plants begin to sprout, fish swim in the sea, and birds and insects sing in the mountains. At the end, life falls, and the process begins again.


Japanese musician Masakatsu Takagi was put in charge of the music and sound design of the exhibition. Takagi is known for having written the music for Wolf Children and The Boy and the Beast. He took inspiration from his music project "Marginalia," a sound diary where he would record the sounds of birds, insects, the wind, rain, and so on from his studio window. Takagi did field recording on the beach to capture the sounds of nature to use for the art exhibition.

Kuniyuki Takahashi also offered his musicianship to the exhibition. Based in Sapporo, he is an internationally-recognised composer. He also recorded the sounds of Siloso Beach, and together with Takagi, created the perfect soundtrack for Magical Shores.

Magical Shores is currently temporarily closed as a result of the coronavirus but will resume once more as soon as the situation allows it.

Yowamushi Pedal Anime's 'Five Bridges of Amakusa' Ranks Number One in Places People Want to Visit Most

Seikatsu Guide, and online website that helps support and promote local regions around Japan, has announced its Top 10 selection for "Places I Most Want To Go And See (Western Japan)" as voted for by people.

Right now, most of us are under lockdown and are prohibited from making trips deemed unnecessary. So why not make a list of places you want to visit for when we can next travel? One of those places should be the Five Bridges of Amakusa in Kumamoto Prefecture.

"Yowamushi Pedal" Anime | Five Bridges of Amakusa in Kumamoto


Taking the number one spot on the list is Five Bridges of Amakusa which is located in Kamiamakusa, Kumamoto. As the name suggests, five bridges make up the landmark, all of which stretch from Misumimachi and connect to Oyano Island, Nagaura Island, Oike Island, and Maejima Island. The bridges are a famous sightseeing spot and have been chosen as one of Japan's "100 Best Evening Spots" and "100 Best Roads."


One woman in her 30's said, "I've been there on numerous occasions. It's a really beautiful place." A man in his 30's also commented, "I love the [Yowamushi Pedal] manga. If you're going as a fan, that scene is really exciting, so I went there on my bike."

Comment from the person in charge of the Kamiamakusa Planning Committee

"Thank you for honouring us with 1st place in this […] ranking. Five Bridges of Amakusa features as the location for the race in the Yowamushi Pedal movie. It gets its name from its five bridges which connect the islands along National Route 266. The area is also nicknamed 'Amakusa Pearl Line' for the abundance of pearls that can be found here. It was also selected as one of Japan's 100 Roads. It's a truly beautiful bridge which is also an example of Japan's fine bridge building craftsmanship."

They continue: "Amakusa is surrounded by the beautiful ocean and spectacular mountains. Most of the city is located in Unzen-Amakusa National Park. There are islands that sit atop the glistening sea, and there's the Amakusa Alps which offer a spectacular view. It hails as one of Japan's best places for nature! There are many fun outdoor activities to experience, like dolphin watching, kayaking, cycling, and more. We have incredible food like kuruma prawns, which are a speciality food here, as well as free range local chickens. You can relax your mind and body with a dip in the hot springs while gazing at the ocean. Please be sure to drop by Kamiamakusa to enjoy everything it has to offer."

Other places that ranked on the list include the following.

2nd Place – "Manpuku" TV Drama | Porto Europe, Wakayama

3rd Place – STU48 Promotional Video | Chichibugahama Beach, Kagawa

4th Place – "Yatsuhakamura" Movie | Makido Cave, Okayama

5th Place – "Segodon" TV Drama | Tatsumonjizaka Trail (Ryumonjizaka), Kagoshima

Kanucha Resort in Okinawa Announces Spring and Summer Activity Program for 2020

Located in the city of Nago in Okinawa lies Kanucha Resort, a hotel resort which boasts 2.6 million square meters of land. The resort has revealed its spring and summer program which invites guests to enjoy everything Okinawa has to offerーnot just its breathtaking oceans.

What is Kanucha Resort?

Kanucha Resort sits on the east coast of Nago on the northern part of the Okinawa mainland. It's surrounded by the vast rolling sea and mother nature, and also faces Oura Bay, which is known for its coral reefs, which includes blue coral. Guest rooms come in nine styles, all of which incorporate gorgeous wooden decor. The resort has a bounty of restaurants, its own golf course, the beach, and over 70 activities to choose from, all of which makes Kanucha Resort a little town of its own. In the past winter months just gone, it also celebrate the 20th anniversary of Okinawa's largest illumination event, Stardust Fantasia.

Buggy Ride Tours & Buggy Adventure Tours

Experience a different side of Okinawa away from the beaches with an off-road ride through Yanbaru no Mori Forest on a quad bike.


Running: All Year

Time: 9:00-17:00

Meeting Locations: Buggy Ride Tour @ Dokidoki Yambarunture / Buggy Adventure Tour @ Matayoshi Coffee Farm

Ages: 4 years and older

Coral Snorkeling Tour in Banana Boats

Witness the tropical fish swimming around you, and gaze upon the gorgeous coral reefs, as you explore the waters below when you climb off the banana boat.

Running: July 23, 2020 – August 31, 2020

Time: 60 minutes

Ages: 5 to 65 years

Mangrove Kayak Tour Along the Kesaji River

The Okinawan mainland is home to many mangroves. See them together with the expand of Yanbaru's nature with a kayak ride along the Kesaji River.

Running: All Year

Time: Subject to change each day depending on how busy it is – please enquire directly

Courses: 150 Minutes (5 years and older) / 90 Minutes (3 years and older)

Star Sommelier to Space Walk

Hear about the moon and space with talks from Hoshi no Somurie® ("Star Sommeliers") and use a telescope to observe the stars at the planetarium.

Running: Monday-Thursday

Time: 20:00-20:50

Meeting Point: Leisure Counter

Oura Mangrove Kayak

Enjoy a round trip kayak ride around the Oura Mangrove which has been designated as an Important Cultural Property of Nago.

 

Running: All Year Round

Time: Please enquire directly

Ages: 3 years old and above (*For guests only)

Meeting Point: Wansaka Oura Park

For more details on the activities available at Kanucha Resort, visit their website here.

Information

Kanucha Resort

Address: 156-2 AbuNago, Okinawa

TEL: 0980-55-8880

FAX: 0980-55-8693
Reservations: 0980-55-8484 (9:00-18:00)

Access: 1 and a half hours by car from Naha Airport

Official Website: https://www.kanucha.jp/en/

5 Best Cherry Blossom Spots in Hokkaido | 2020 Edition – MOSHI MOSHI NIPPON

Sapporo, Asahikawa, Abashiriーthe list goes on when it comes to incredible places to see the cherry blossoms in Hokkaido. And the best time to see them in Japan's northernmost main island is May.

Today, we are joined by Mirina, an Instagrammer who posts photos of tourist and sightseeing spots in Hokkaido that are rich in nature. She has shared her photos with us along with details of 5 must-visit famous cherry blossom sites in Hokkaido. Let's take a look.

Tokiwa Park


Tokiwa Park is located in the city of Asahikawa, and is home to around 200 individual cherry trees of various kinds including the Yoshino cherry and ezo yamazakura. Weeping cherries also dangle their graceful branches around the lake, which you can sail through on a boat for an even more memorable cherry blossom experience. Tokiwa Park is also listed as one of Japan's "100 City Parks," so it's one that needs to go on your list of sightseeing spots if you're travelling to Hokkaido.

Tokiwa Park


Address: Tokiwakoen, Asahikawa, Hokkaido

Access: 25-minutes on foot from Asahikawa Station (via JR Line). Alternatively, board the Tohoku Bus and get off at Tokiwa Park (常磐公園).

Official Website: http://www.asahikawa-park.or.jp/

Twin Harp Bridge

This spot is also located in Asahikawa. It gets its name from how the bridge looks like two harps lined up next to each other. Twin Harp Bridge is also a popular place with the locals for celebrating Hanami in the spring season as cherry blossoms bloom in the vicinity of the bridge.

Twin Harp Bridge

Address: 4 Chome Toko 18 Jo, Asahikawa, Hokkaido to 5 Chome Kyokushin 1 Jo, Asahikawa, Hokkaido

Access: 20-minutes by car from Asahikawa Airport / 15-minutes by car from Asahikawa Station

Official Website: http://www.city.asahikawa.hokkaido.jp/files/tosi_kei/index.htm

Kitoushi Forest Park – Family Village

Located southeast of Asahikawa, Kitoushi Forest Park – Family Village offers views of ezo yamazakura as well as shibazakura moss phlox. Visitors can also have barbeques at the facility for an even better outdoor experience combining great food with cherry blossom viewing.

Kitoushi Forest Park – Family Village (Kitoushi Shinrin Koen Kazokuryokomura)

Address: 5 Gokita-44 Nishi, Higashikawa, Kamikawa-gun, Hokkaido

Access: 40-minutes by car from Asahikawa Station

Official Website: http://www.kazokuryokoumura.jp/

More Information (English): http://www.asahikawa-tourism.com/asahikawa/asahikawa_sites/higashikawa/higashikawa_en.html

Maruyama Park


Maruyama Park is another famous cherry blossom site where Yoshino cherry trees and ezo yamazakura bloom. Compared to Asahikawa, the cherry blossoms here bloom a little earlier during spring. You'll catch them from late April to early May. During the cherry blossom season, there is a place where fires can be lit, so you'll catch people cooking up jingisukan, a type of Japanese mutton dish.

Maruyama Park

Address: Miyagaoka, Chuo Ward, Sapporo, Hokkaido

Access: 5-minutes on foot from Maruyama-Kōen Station

Official Website: http://www.sapporo.travel/find/nature-and-parks/maruyama_park/

Higashimokoto Shibazakura Park


Higashimokoto Shibazakura Park's rolling hills offer a breathtaking view of shibazakura moss phlox cherry blossoms. The hills themselves aren't steep, so the spectacle can be enjoyed from both the top and bottom of them. The Shibazakura Festival is also held between May and June.

Higashimokoto Shibazakura Park

Address: 393 Higashimokotosuehiro, Ozora, Abashiri-gun, Hokkaido

Access: 30-minutes by cat from Abashiri Station. Alternatively, board the transit bus from Abashiri Station, get off at Higashimokotocho (東藻琴町). The park is a 5-mintue drive from here.

Official Website: http://www.shibazakura.net/

 

Photo:Mirina has visited many sightseeing spots in Hokkaido, so if you're looking for more places to visit be sure to follow her on Instagram.

Photos: Mirina Nishio

Travel Virtually to Japan's City of Komoro in Nagano to See Cherry Blossoms, Soak in the Onsen & More

Komoro Tourism Bureau has developed the new "Komoro Tourism Channel" using Voicy, a news and media site which reports spoken information online. The channel focuses on the latest information with regards to tourism in Komoro, and focuses on the city's many different hot springs.

About Komoro

Komoro is a city in Nagano Prefecture. Komoro Castle is home to Kaikoen Park, which was chosen as the 100 best cherry blossom spots in Japan. The city also boasts a wide variety of onsen (hot springs) which offer amazing views and numerous different bathing experiences. Komoro Tourism Channel covers all of this and more.

Komoro is about 2-hours by car via the Nerima Interchange on Kan-etsu Expressway. It's also accessible from Tokyo via car. You can also reach it in around 24 minutes from Karuizawa Station via Shinano Railway.

Delivering the sounds of the relaxing onsen from Komoro

Komoro has eight water sources which provide water to its hot springs. The city sits 1,400 meters above sea level, from which each of its hot springs offer breathtaking views. The podcast on the hot springs, which is in Japanese, lets you feel like you're experiencing them from your very own home. More podcasts on Komoro are planned to be released in the future, and QR codes will be implemented are various hotels and tourist facilities in Komoro which when scanned will offer voice guides to those places.

Komoro Tourism Channel: https://voicy.jp/channel/1074

The Komoro Tourism Bureau is coming up with measures to continue promoting the city during the ongoing coronavirus pandemic. As well as Komoro Tourism Channel, it is also releasing information on its website, Twitter page, and elsewhere.

Kaikoen Park at Komoro Castle

Kaikoen Park at Komoro Castle is a tourist hot spot in Komoro. The castle itself was chosen as one of Japan's 100 most famous castle sites. It is also famous for the castle itself being situated lower than the town around the castle. Kaikoen Park was selected as one of Japan's 100 best cherry blossom spots, where around 500 trees bloom Yoshino cherries, shidare-zakura, higan-zakura, and more through April every year. The "Komoro-yae-beni-share" tree is an endemic species of cherry tree to Komoro and has a deep pink colour. The park also has towering stone walls and is home to the the front castle gate.

Komoro Castle Official Website (Japanese): https://www.komoro-tour.jp/castle/

Komoro Castle Official Website (English): https://www.komoro-tour.jp/lg_en/

Learn About Ito City in Shizuoka Prefecture in This Breathtaking 8K PR Video

A new PR video for Ito City in Shizuoka Prefecture was posted on the city's official YouTube channel on March 2, 2020 as part of Ito City's digital marketing efforts for 2020, and it's already garnered over 21 million views in just over two weeks.

Mount Omuro

Jogasaki Coast

The video was directed and editor Yuki Eikawa who has gained much attention across Japan for his touristic PR video work. It captures the most famous sights across Ito including Mount Omuro and Jogasaki Coast, and showcases the city's food, culture, and incredible natural environments. Check it out below.

ITO City, Shizuoka, Japan in 8K HDR

Learn more about Ito on the city's official website which has a bounty of useful information for exploring everything Ito has to offer.