The Starbucks Japan Limited Menu (Spring Version)
The worldwide famous coffee shop, Starbucks, has different types of drink menus for each country.
Japan has loads of limited seasonal specials, and now spring (cherry blossom) season is among us!
Starbucks began selling sakura flavored Frappuccino! (FYI sakura is cherry blossom in Japanese).
You have a choice of Frappuccino or latte. Since it's still cold in Japan, people tend to order the latte version, but I decided to go with Frappuccino.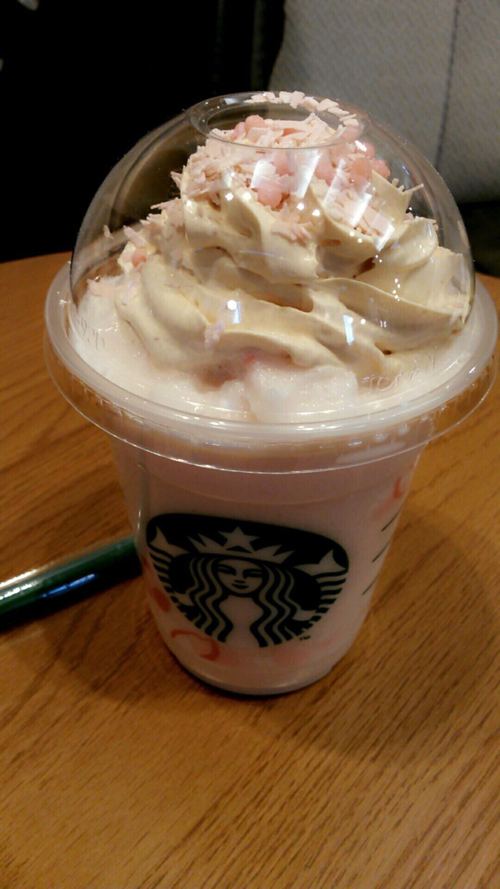 It's very pink even at the top. They decorated the whip cream topping with pink sprinkles and pink crisped rice flakes.
The sakura aroma reaches the nose when I put the straw in my mouth.
I'm having a very hard time to describe what it tastes like, but it tastes very floral. Sakura is very hard to explain, but I guess it kind of tastes like strawberries with fewer flavors.
There were so many rice flakes in the Frappuccino, that it reminded me of eating a sakura flavored crunch bar.
The Sakura Frappuccino will be sold until March 14th.
Now they are giving out coasters with cute cherry blossom designs on it. By accessing the website with the QR code on the coaster, you can take pictures with a special spring starbucks frame!
Let's go to Starbucks!
■Writer:Jessica
■SNS:@mintbaaby
■Information
SAKURA Blossom Cream Frappuccino®
RELATED ENTRIES
Japanese Hanami 2020: Soak Up the Pink Springtime Cherry Blossoms at Hoshino Resorts KAI

KAI, a hot spring ryokan brand managed by Hoshino Resorts, has announced an exciting new experience at 14 of its branches called "Otsu na Hanami Tabi" (A Chic Flower-Viewing Trip) which will run from March 15, 2020 to May 31, 2020.

The service offers a new kind of Hanami, or flower-viewing, experience for guests that doesn't stop at just admiring the cherry blossoms, but enables them to enjoy both local history and customs too. Guests will be provided with a wicker basket of delicious Hanami goodies to enjoy, just like they did in the past.

We've picked five of the Hoshino Resorts KAI hot spring inns that we think our readers will be most interested in. Let's take a look!

Hoshino Resorts KAI Tsugaru | Aomori

Hoshino Resorts KAI Tsugaru is located in the town of Owani, which sits in southern Tsugaru in Aomori Prefecture. They are offering an exciting experience this May: "Shidare-zakura Hitorijime Taizai," which lets a single group have exclusive access to an area of seven shidare-zakura weeping cherry trees blooming in the inn's spacious garden, which sit far away from guest rooms. Those lucky enough to experience this service can sip on cider and tuck into some delicious apple pie while listening to a Tsugaru-style shamisen performance, known as tsugaru-jamisen.

Shidare-zakura Hitorijime Taizai

Running: May 1, 2020 – May 7, 2020

Price: ¥5,000 per person

No. of People: 1 group per day (2-4 people per group)

Booking: 0570-073-011 (KAI Reservation Centre)

Note: The tsugaru-jamisen performance will take place 15:30-16:30

Hoshino Resorts KAI Kawaji | Tochigi


Feel what it's like to live the life of someone living in a satoyamaーa village centred around an agricultural lifestyleーby waking up with the sunrise to start work early. Your morning job will be making tea at the watermill. You will use traditional and ancient tools like the suribachi mortar and the houroku pan to make tea grown from tea leaves in the area which you can enjoy a cup of to start your Hanami. As well as making tea, you'll be able to enjoy a quiet breakfast while gazing at the Yoshino cherry trees, so you can get that real satoyama spring experience.

Running: April 18, 2020 – April 25, 2020

Hoshino Resorts KAI Izumo | Shimane

Hoshino Resorts KAI Izumo is located in Tamatsukuri Onsen in Shimane Prefecture, where all guest rooms have their own open-air bath. The hot spring ryokan's "Sakura Koraku" experience gives you a chance to try wariko sobaーa style of soba noodles originating in Shimane's city of Matsueーunder the cherry blossom trees.

Sakura Koraku

Running: April 1, 2020 – April 20, 2020

Time: 15:00-19:00

Price: ¥500 for one Hanami picnic set for two people (5 sets prepared per day)

Booking: Hoshino Resorts KAI Izumo front reception

Notes: Rickshaw will run from April 1, 2020 to April 7, 2020 costing ¥1,300 per person. 30 minute ride. 5 groups per day (2 people per group).

Hoshino Resorts KAI Kaga | Ishikawa

Head to one of Kaga's famous weeping cherry blossom tree spots to enjoy a cup of Japanese tea prepared yourself. This plan offers the chance to experience Ishikawa culture in a spot that has been loved by locals for decades.

Running: April 1, 2020 – April 30, 2020

Hoshino Resorts KAI Aso | Kumamoto

Hoshino Resorts KAI Aso stands in Aso-Kuju National Park. Gaze at the five peaks of Mount Asoーthe largest active volcano in Japanーwhile sipping on water drawn from one of Japan's 100 famous water sources. Change up the water of the water to your liking: carbonate it, add syrup, and so on. You'll also get some refreshing fruits that have sat in carbonated water. Sit amongst the colourful flowers, like tulips and baby blue eyes, while soaking up the beautiful sights of Aso.

Tansan Ohanami

Running: April 20, 2020 – May 31, 2020

Price: ¥3,000 per person

No. of People: 3 groups per day (two people per group)

Booking: 0570-073-011 (KAI Booking Centre)

Note: In the case of rain, Tansan Ohanami will not run on that day

This is just 5 of the 14 Hoshino Resorts KAI branches offering a chic Hanami experience. If you're travelling to Japan this spring, be sure to check out what they're offering.

GODIVA's Irresistible Chocolixir Sakura Drink Available This Spring

GODIVA Japan Inc. is releasing a new chocolate drink as part of their Chocolixir series. The new drink flavour "Chocolixir Sakura" will be sold from February 16 to April 9, 2020 at GODIVA shops only. 

Chocolixir Sakura: ¥630 (Before Tax)

Cherry blossom jelly and pink chocolate curls rest on top of a white cloud of whipped cream to create the appearance of cherry blossom petals. The drink creates the image of beautiful sakura petals as they reflect off the water's surface, creating the warm image of the rays of the spring sun. The sweet aroma and creamy melt-in-the-mouth white chocolate is divine. This chilled drink also contains small pieces of smashed white chocolate, creating a fun texture in your mouth. 

It looks just as wonderful as it tastes. One sip will fill your heart with the refreshing vibes of spring. GODIVA's velvety smooth chocolate drinks are always to die for. You just have to try it. 

Kate Spade New York Reveals Japanese Cherry Blossom Inspired Collection

Optimistic femininity is at the core of Kate Spade New York's brand, and that is upheld with the revealing of their new "Cherry Blossom" collection which is set to drop this spring.

Nicola Glass, the Creative Director at Kate Spade, was inspired to design the Cherry Blossom collection after her many times seeing her favourite flower, the Japanese cherry blossom, when visiting Japan. The colourful line-up features a variety of pink shades and flower prints.



from left: molly cherry blossom large satchel in black ¥53,000, molly cherry blossom medium satchel in tutu pink ¥45,000, spencer cherry blossom zip around continental wallet in soft pink multi ¥31,000

from left: spencer cherry blossom small dome cosmetic ¥11,000, spencer cherry blossom wrislet in soft pink multi ¥14,000, iphone case cherry blossom liquid glitter in clear multi ¥6,000


Nine items adorn the floral collection, including two sachel bags, two wallets, two fragment card cases, a cosmetic pouch, key ring, and iPhone case. The collection will be released at Kate Spade New York stores in Japan (select branches not participating) on February 26, 2020. Japan will also get some exclusive colours not available anywhere else.

Starbucks Japan Reveals Cherry Frappuccino®ーThe Second Drink of Starbucks Sakura Season

Starbucks Japan has announced that the second drink in its Sakura Season series of springtime cherry blossom drinks will be released on February 26, 2020. Named the "Sakura Sakuranbo Frappuccino®" (Cherry Blossom Cherry Frappuccino®), this tasty-looking drink is exclusive to Japan.

Sakura Sakuranbo Frappuccino®—Savour the sweet and tangy fresh cherry pieces

Sakura Sakuranbo Frappuccino® – Tall ¥590 (Before Tax) / Available: February 26, 2020 – March 12, 2020

The new drink contains fresh and sweet cherry pieces. It uses a cherry blossom flavoured base together with strawberry milk, which adds a subtle flavour, and a sauce made from fresh cherries. Cherries in Japan also go by the name outou (桜桃), which has the Japanese kanji for sakura (cherry blossom) in it. This is because its roots come from the same family of roses.

The drink has a unique sweet and sour punch to it, and one sip is enough to make you feel like spring is here. Topped with pink, white, or blue Japanese sugar candies known as konpeitō, this drink truly offers a toast to a kawaii Japanese spring.

Customise your drink for free with "Sakura Toppings"

Free Sakura Toppings / Available: February 26, 2020 – March 12, 2020

For Sakura Season at Starbucks, customers can customise all drinks with two different colours of mochi pieces and dried raspberries shaped like cherry blossom petals. The coffee company highly recommend topping cappuccinos, white mochas, and matcha cream frappuccinos® with them. Make your drink your own!

Starbucks is also releasing a new range of merchandise, such as mugs and tumblers, with theme "Spring Misty-Rain," on February 26. These gorgeous designs are inspired by the light rainfall in spring which falls onto the cherry blossoms and grass and makes them glisten with the light. A new cherry blossom Starbucks Card will also be available to pick up for a limited time.

Sakura Season at Starbucks is always a popular time in Japan, so if you're planning a trip here for spring and are in need of a coffee top-up, then you're in for a real treat.

'SAKURA Romantic Tea Party' is Q-pot CAFE. Omotesando's Newest Afternoon Tea Experience

Q-pot. has revealed its new "SAKURA Romantic Tea Party" line-up which is set to be served at Q-pot CAFE. in Omotesando, Tokyo from March 1, 2020 for a limited time.

The cherry blossom pink coloured and flavoured line-up includes a glamorous afternoon tea set, limited-edition parfaits, plated goodies, drinks, and more. "Romantic" is the key word for this beautiful Japanese springtime assortment.

Romantic SAKURA Parfait w/ Drink – ¥1,850 (Tax Included)

The tall Romantic SAKURA Parfait is layered with a mix of both Japanese and Wesrern flavours, built up delicious with cherry blossom cream cherry blossom petal-laced jelly, houjicha tea sauce and more, all of which is topped off with cherry blossom cookies and meringue.

Romantic SAKURA Mont Blanc Plate w/ Drink – ¥2,060 (Tax Included)

This plate of delight features a soft mont blanc made with cherry blossom bean paste cream, rich matcha chocolate, Japanese waguri chestnut, and chestnut cream. Q-pot. CAFE offers a selection of original macarons too which you can pick from including strawberry, chocolate, lemon, and melon. Feel the call of Japanese spring with this romantic cherry blossom mont blanc.

Romantic SAKURA Afternoon Tea Set w/ Drink – ¥2,400 (Serves 1) (Tax Included) *Photo shows tea set for two

Simply put: a colourful pink and romantic afternoon tea set.

The top tier is decorated with cherry blossom St. Honoré cakes made with gorgeous cherry blossom cream, peach bavarois, strawberry cookies, and rich cream ganache-filled biscuits.

The bottom tier includes fat croissants filled with duck pastrami and cucumber that has been dressed with white wine vinegar. They're served together with a white asparagus cream potage soup and skewered olives, mini tomatoes and pickles, creating a truly gourmet addition to your afternoon tea experience.

Romantic SAKURA Berry Blossom Tea (Hot/Iced) – ¥750 Each (Tax Included)

There's also a cute pink cherry blossom tea that can be served hot or iced. It's made using Q-pot CAFE.'s popular "Flower Garden" flavour which has a refreshing after taste as well as a floral and fruity sweet scent. Added to it is cherry blossom and raspberry flavouring which mixes deliciously with the milk.

Hanami Party Plan – ¥3,000 Per Person (Tax Included) *Reservation-only

You can also book a special hanami party plan which adds a sparkling beverage to the afternoon tea set together with a a cherry blossom card and a crunchy meringue. You must reserve for 2+ people, making it perfect for enjoying together with a friend or special someone.

It's not long until March now, meaning springtime, cherry blossoms, and Hanami flower-viewing is just around the corner in Japan. Why not celebrate romantically at Q-pot CAFE.?

Information

SAKURA Romantic Tea Party

Running: March 1, 2020 – April 26, 2020

Online Reservations: Now Open

*Afternoon tea set and hanami plan to be served until March 29, 2020

Q-pot. Omotesando

Address: 3-4-8 Jingumae, Shibuya, Tokyo

Opening Hours: 11:00-20:00 (Last Orders 19:30)

Closed: New Year's Holidays

Official Website: https://www.q-pot.jp/eng/

Tokyo Cherry Blossoms 2020: Hotel Gajoen Tokyo Reveals Cherry Blossom Food Menu

Hotel Gajoen Tokyoーwhich is both a museum and hotelーhas announced its plans to serve up cherry blossom themed food at its numerous restaurants this spring beginning in March.

Hotel Gajoen Tokyo is situated along Meguro River, which is one of the most famous cherry blossom spots in Tokyo during springtime and Hanami season. To chime in this year's sakura season, the hotel's restaurants are preparing a selection of gourmet cherry blossom food and desserts.

Sakura Dining – From ¥7,000 (Before Tax/Service Charge) @ RISTORANTE "CANOVIANO" / Serving: March 20, 2020 – April 5, 2020


Dine in style at RISTORANTE "CANOVIANO" where they're serving up their 'Sakura Dining' course. Based on the idea of a cherry blossom bento meal, the heapfuls of veggies conjure up the image of the budding flowers of springtime.

Sakura Lunch – ¥5,000 (Before Tax/Service Charge) @ RISTORANTE "CANOVIANO" / Serving: March 16, 2020 – April 10, 2020


An assortment of hors d'oeuvres such as the "Cherry Blossom Carpaccio," "Sakura Ebi Pasta," and other spring-inspired delights.

Sakura Afternoon Tea – ¥4,000 (Before Tax/Service Charge) @ New American Grill "KANADE TERRACE" / Serving: March 14, 2020 – April 12, 2020


Treat yourself to a luxurious afternoon tea with cherry blossom bon bon chocolates, panna cotta, and moreーand wash it all down with a cup of floral cherry blossom tea. Available this spring only.

SAKURA LADY – ¥1,200/ Shizuku Sakura drops – ¥1,000

KANADE TERRACE also has two cherry blossom cocktails: the "SAKURA LADY" (¥1,200) and "Sakura Drops" (¥1,000). These drinks are inspired by blooming cherry blossoms and dancing cherry blossom petals. The "SAKURA LADY" is a gin-based White Lady cocktail.

Sakura – ¥600 (Tax Included) @ PATISSERIE Lien 1928 / Serving: From March 1, 2020

This luxurious dessert is surrounded by white chocolate and is made up of strawberry biscuit topped with strawberry jam and cherry blossom cream, creating a tempting and extravagant fragrance of strawberries and cherry blossom flowers. It also contains a bit of jelly with Japanese sake in it which adds a full-bodied flavour to the overall dessert.

Experience Japanese spring in luxury this year at Hotel Gajoen Tokyo.

Starbucks Reserve®︎ Roastery Tokyo to Release Cherry Blossom Spring Drinks and Merchandise

Starbucks Reserve®︎ Roastery Tokyo boasts the most incredible location, sitting by the side of Nakameguro, one of Tokyo's most famous spots for seeing the cherry blossoms in spring.

This year, the coffee roastery's "Sakura Season" is set to begin on February 15, when its cherry blossom-inspired merchandise collection is released, along with a line-up of pink beverages and food.

The official Starbucks sakura merchandise ranges from tumblers and mugs to a key ring, handkerchief, and more, for a total of 10 items.

Strawberry Chia Oolong – ¥900

Poppun Sakura Jasmine Tea – ¥950

Floating Blossom – ¥900

Six beautiful beverages from last year's Sakura Season at Starbucks are also making a return from the Teavana™️ brand, made with delicate and soft cherries, hibiscus, and tea leaves as refreshing as green grass.

Clockwise From Left: Gianchetti & Sakura – ¥880 / Mini Panettone Sakura – ¥680 / Cornetti Sakura – ¥380 / Maritozzo Sakura – ¥540

Italian bakery Princi®︎ is also heading to Japan for the first time to serve up Italian food culture to people at Starbucks Reserve®︎ Roastery Tokyo. Enjoy the floral taste of cherry blossoms done in a Princi®︎ way.

Heading to Tokyo for Hanami and the cherry blossoms? Then make a stop at Starbucks Reserve®︎ Roastery Tokyo for this year's Sakura Season.

Information

Starbucks Reserve®︎ Roastery Tokyo Sakura Season

Release Date: February 15, 2020

Location: Starbucks Reserve®︎ Roastery Tokyo

*The Princi®︎ products will also be served at the Starbucks Reserve®︎ Store at Ginza Maronie-dori

Official Website: https://www.starbucks.co.jp/press_release/pr2020-3360.php

5 Must-Eat Cherry Blossom Foods & Desserts at Hotels in Tokyo

We're keeping the cherry blossom theme running here on MOSHI MOSHI NIPPON as we approach spring. Today, we're showcasing something for those planning a trip to Tokyo for the cherry blossom and Hanami season: 5 must-try cherry blossom foods and desserts served at hotels across Tokyo.

Sakura Strawberry Afternoon Tea at InterContinental Tokyo Strings


Sakura Strawberry Afternoon Tea – ¥4,800

The fraisier is a strawberry cake said to represent the coming of spring in France. At Rhythmos, a cafe and bar at InterContinental Tokyo Strings, it's served in a glass so you can see all the delicious insides, from the round-sliced strawberries to the beautiful green pistachio mousseline cream. The pure white crémet d'Anjou has a fluffy texture and is mixed with refreshing and sour strawberry and raspberry sauce which elevates the flavour of the fromage blanc.

Other treats to pick from include the cherry blossom ganache tart which has a faint cherry blossom fragrance, cherry blossom and strawberry cream-stuffed macarons, strawberry daifuku, and more―all with spring flavours and colours.

The savoury line-up too offers some elegant and unique items. There's the sandwich wraps which include cherry blossom leaf-topped grilled chicken with a lining of shredded dried plum, strawberry ceviche with grilled scallops, and much more.

▶︎Sakura Strawberry Afternoon Tea

Running: March 1, 2020 to April 30, 2020

Location: Rhythmos Café and Bar (InterContinental Tokyo Strings)

Time: 14:00-18:00 (Last Orders 16:30)

Price: ¥4,800 per person

Official Website: https://intercontinental-strings.jp/?updatelang=yes

InterContinental Tokyo Strings

Address: 2-16-1 Konan, Minato Ward, Tokyo

Official Website: https://intercontinental-strings.jp/?updatelang=yes

For more details, check out our previous article here: Cherry Blossom Themed Menu to be Served at InterContinental Tokyo Strings in Spring 2020

Cherry Blossom Afternoon Tea at Hotel Chinzaso Tokyo


Cherry Blossom Afternoon Tea

On the top plate is a collection of four pink and white desserts. This includes some tempting macarons which are filled with a cherry blossom ganache. The macarons themselves are vanilla flavoured, packed with cherry blossom cream, and have prints of delicate cherry blossom flowers on them.

On the lower tier are crunchy pie sandwiches filled with a cream cheese that is laced with cherry blossom leaves, while the bottom tier is an assortment that includes refreshing shrimp, grapefruit and asparagus sandwiches, and more.

▼Cherry Blossom Afternoon Tea

Running: February 17, 2020 – April 12, 2020
Time: 12:00-18:00
*On weekdays between January 6, 2020 to February 28, 2020, the afternoon tea will be served from 14:30-18:00 due to the holding of the sweets buffet
Location: Le Jardin at Hotel Chinzaso Tokyo
Prices: Cherry Blossom Afternoon Tea ¥4,000 / With Welcome Drink ¥4,500

Hotel Chinzaso Tokyo

Address: 2-10-8 Sekiguchi, Bunkyo Ward, Tokyo

Official Website (English): https://www.hotel-chinzanso-tokyo.com/

For more details, check out our previous article here: Cherry Blossom Afternoon Tea in Japan: Hotel Chinzaso Tokyo's Beautiful Floral Menu

Sakura Picnic Basket at Grand Hyatt Tokyo's Steak House "The Oak Door"


Sakura Picnic Basket – ¥5,500

The Oak Door is noted for its use of high quality ingredients prepared in a dynamic way. This spring, they have the perfect pick to give you that feeling that the Japanese Hanami season is here with a cherry blossom picnic basket. This stylish selection has the lot: food, dessert, glasses, and cutlery. The burgers bear pink buns which are stuffed with prime beef patties, pastrami beef, and veg. They also have skewered vegetables too like radishes. Seeking that springtime sensation? Then order your very own Sakura Picnic Basket!

▼Sakura Picnic Basket at Grand Hyatt Tokyo's Steak House "The Oak Door"

Running: March 1, 2020 – Mid April 2020
Time: 9:00〜22:00

Price: ¥5,500

Location: The Oak Door (Grand Hyatt Tokyo Floor 6F)

Grand Hyatt Tokyo

Address: 6-10-3 Roppongi, Minato, Tokyo

Official Website (English): https://www.hyatt.com/en-US/hotel/japan/grand-hyatt-tokyo/tyogh/offers

Gorgeous Springtime Cherry Blossom Set at Keio Plaza Hotel

At eight of Keio Plaza Hotel's restaurantsーwhose menus span traditional Japanese dishes, French food, Chinese cuisineーthey are cooking up their own unique cherry blossom servings.


"Kadode" Lunch & Dinner – ¥15,500 @ Soujuan

A traditional kaiseki-style Japanese course consisting of a bounty of luxury ingredients like Japanese Black wagyu beef, caviar, and more.


"contente" French Lunch – ¥9,000 @ Duo Fourchettes

You need only look at the dishes served at Duo Fourchettes to understand the level of quality and beauty that goes into their dishes. This French lunch line-up is packed with plenty of seasonal spring ingredients, and there's even a succulent strawberry-packed dessert to indulge in.

▼Gorgeous Springtime Cherry Blossom Set at Keio Plaza Hotel

Running: March 1, 2020 – April 30, 2020
Prices:
"Kadode" Lunch & Dinner – ¥15,500 @ Soujuan
"contente" French Lunch – ¥9,000 @ Duo Fourchettes

Keio Plaza Hotel
Address: 2-2-1 Nishi-Shinjuku, Shinjuku, Tokyo

Official Website (English): https://www.keioplaza.com/

Spring Sakura Sweets & Pastries at Grand Nikko Tokyo Daiba

At the "Bakery & Pastry Shop," which is managed directly by the hotel, they have a beautiful choice of desserts perfect for Hanami flower-viewing.


Sakura Opera – ¥610

This three-layered cake is made up of matcha joconde biscuit, adzuki and cherry blossom butter cream, and strawberry jelly. It's also topped with white chocolate by French premium chocolate company Valrhona.


Spring Milk Cream – ¥320

The pastry of these eclairs are made with plenty of milk and are filled with a homemade cherry blossom milk cream. The cherry blossom petals on top are pickled in salt to give a slight salty bite, contrasting deliciously with the sweetness of the cream.

▼Spring Sakura Sweets & Pastries at Grand Nikko Tokyo Daiba

Running: March 1, 2020 – April 30, 2020
Time: 10:00-20:00
Location: Bakery & Pastry Shop at Grand Nikko Tokyo Daiba
Prices:
Sakura Opera – ¥610
Spring Milk Cream – ¥320

Grand Nikko Tokyo Daiba
Address: 2-6-1 Daiba, Minato Ward, Tokyo
Official Website (English): https://www.tokyo.grandnikko.com/eng/

Which of these picks has your mouth watering the most? If you're travelling to Tokyo for the springtime cherry blossoms, why not book at one of these hotels and start your trip with a delicious sakura treat?

Garrett Popcorn Reveals Cherry Blossom Pink Strawberry & White Chocolate Popcorn Flavour

American gourmet popcorn brand Garrett Popcorn Shops® has revealed its new cherry blossom pink coloured, strawberry and white chocolate flavoured popcorn "Very Berry White Chocolate," along with the new "Garrett Sakura Tin"ーboth of which will be released tomorrow on February 15 in limited quantities.

Very Berry White Chocolate: Small ¥580/Medium ¥1,030/Large ¥1,670/Jumbo ¥3,300/Quarter Tin ¥1,700/1 Gallon Tin ¥4,300/2 Gallon Tin ¥8,250

Also released for spring last year to overwhelming popularity, the "Very Berry White Chocolate" popcorn takes Garrett Popcorn's fruity, sweet and sour "Strawberry Caramel Crisp™" flavour, coats it in sweet white chocolate, and sprinkles it with strawberry flakes to create a truly succulent strawberry treat, which is made even more delicious with the milk white chocolate. Its pink colour also brings to mind images of Japan's cherry blossoms.

Garrett Sakura Tin/Quarter Tin: From ¥1,130

The Garrett Sakura Tin has been sold every spring since 2014, and makes a return once again for 2020, covered in beautiful cherry blossoms in full bloom.

The pink-on-pink combination is a great Valentine's Day present, for a springtime movie nightーwhatever takes your fancy!

Information

Garrett Sakura Tin

Running: February 15, 2020 – April 15, 2020 (Available while supplies last)

Available: At all Garrett Popcorn Shops® branches in Japan

*Limited quantities sold per day. Available while supplies last.

*Jumbo and 2 Gallon sizes available at Shisui Premium Outlets and LaLaport Expo City branches only.

Official Website: http://jpgarrettpopcorn.com/

Immerse Yourself in Japan's Cherry Blossoms at teamLab Planets This Spring

Tokyo's interactive art museum teamLab Planets TOKYO DMM, located in Toyosu, consists of several exhibition spaces where visitors become part of the art by moving through them. After opening in July 2018, 1.25 million visitors from 106 countries and regions visited within one year. The museum is famously known for its large mirror-walled room of water with an interactive projection mapping display where visitors move barefoot through the water to influence the beautiful display on the water's surface.

With the coming of spring, teamLab Planets is giving two of their attractions a sakura makeover. The new attractions will run from March 1 to April 30, 2020.

The Floating in the Falling Universe of Flowers exhibition, where visitors are showered in beautiful flowers which grow and change overtime, will be replacing the flowers with cherry blossoms for spring. 

The famous attraction Drawing on the Water Surface Created by the Dance of Koi and People – Infinity, where visitors move through water barefoot, will also be transforming for spring. The koi fish projection mapping will be replaced by an infinite number of cherry blossoms, which will gently fall apart as you move through the water and reform elsewhere. 

 

As spring arrives in Japan and the cycle of life is born again, teamLab's world of digital art is the perfect place to explore changing seasons and the beautiful cycle of nature. 

Information

teamLab Planets  TOKYO DMM

Address: teamLab Planets TOKYO, 6-1-16, Toyosu, Kōtō, Tokyo

Business Hours:

Monday – Thursday: 10:00-19:00

Fridays: 10:00-21:00

Saturdays and the day before national holidays:  9:00-21:00

Sundays and national holidays: 9:00-19:00 

* Last entries accepted 30 minutes before closing time.

*Open from 9:00-21:00 from March 20 to April 4

* Open from 9:00-19:00 on April 5. 

Closed: February 13, March 12, April 6, April 14, April 15, 2020

teamLab Planets  TOKYO DMM Tickets: https://teamlabplanets.dmm.com 

Official Website: https://www.teamlab.art

Starbucks Japan Unveils Cherry Blossom Milk Latte, Frappuccino & More For Sakura Season

Every year, Starbucks Coffee Japan serves up its seasonal "Sakura Season" drinks menu, a limited-time offering of special cherry blossom flavoured drinks for the spring. This year's Sakura Season at Starbucks begins on February 15, and they've revealed the first of several upcoming batches of drinks and merchandise.

Sakura Milk Pudding Frappuccino® & Sakura Milk Latte ー Japan Only

The first two drinks of the Sakura Season menu are a gorgeous light pink, reminiscent of cherry blossoms. They're available at Starbucks in Japan only.

The Sakura Milk Pudding Frappuccino® is made like a Japanese pudding, scented with fresh cherry blossom leaf extract. The milk base is mixed with a cherry blossom and strawberry sauce, and it's all topped off with cream and decorations made to look like flower petals. The pink gradation in the cup also calls to mind the beautiful dance of falling cherry blossom leaves.

The Sakura Milk Latte is a subtly sweet, no-coffee beverage made with a combination of cherry blossom and strawberry suace as well as warm milk. It's still cold out right now, so this is the perfect treat to warm you up for the coming spring.

Sakura Milk Pudding Frappuccino®: Tall ¥590 (Before Tax) *Tall size only

Sakura Milk Latte: Short ¥450 / Tall ¥490 / Grande ¥530 / Venti® ¥570 (Before Tax)

Running: February 15, 2020 – February 25, 2020

*The Sakura Milk Latte will be served until March 12, 2020

Available: At most Starbucks branches in Japan (while supplies last)

Reusable Cherry Blossom Cups ー Japan Only

Starbucks introduced its reusable cups to help reduce plastic waste, and now you can get them in these stylish new cherry blossom designs. If you're still using disposable plastic cups, then make that important step today and get your own reusable cup.

SAKURA 2020 Reusable Cup (473ml) & Bag Set – ¥2,800 (Before Tax)

SAKURA 2020 Reusable Cup (473ml) – ¥350 (Before Tax)

Release Dates:

SAKURA 2020 Reusable Cup (473ml) & Bag Set: February 15,  2020

SAKURA 2020 Reusable Cup (473ml): February 19, 2020

Available: At most Starbucks branches in Japan (while supplies last)

SAKURA Season Merchandise ー Batch ①

The theme of the first batch of Sakura Season 2020 merchandise is "Spring Breeze." The design captures the image of cherry blossom petals falling from the gentle spring breeze, the warm days, and hope. The line-up includes not only tumblers and mugs, but a picnic mat with a cherry blossom print, and more. Enjoy your coffee with one of the reusable cups or tumblers and feel good about doing your part to reduce plastic this spring.

Batch ①

Release Date: February 15, 2020

Available: At most Starbucks branches in Japan (while supplies last)

Starbucks's cherry blossom filter makes flowers blossom in your photos!

Experience the cherry blossoms early before they bloom with the Starbucks Sakura 2020 (Japanese: #スターバックスさくら2020) filter. You don't even have to download an app to use it.

To get access to the filter, simply scan the QR code in a Starbucks branch, tap the button, and take your springtime photo!

The filter lets you choose between the three most common cherry blossom trees in Japan: the Yoshino cherry, yae-zakura, and shidare-zakura.

Starbucks Sakura 2020 Filter (#スターバックスさくら2020)

Running: February 15, 2020 – March 12, 2020

Available: At most Starbucks branches in Japan

Experience Tokyo's Cherry Blossoms at Night With Rickshaw and Boat Rides

HOSHINOYA Tokyo, a ryokan accommodation in the centre of Tokyo, has announced an exciting new plan for guests this spring season. Titled "Tokyo Yozakurabune Asobi," the plan gives guests the chance to enjoy city's cherry blossoms under the night sky from the seat of a rickshaw and from a boat ride. It's running from March 25 to April 10 this year.

Observe Tokyo's nightscape and cherry blossoms from the Sumida River

The departing site for the boat ride is located at Nihombashi Pier, just a 5-minute car ride from HOSHINOYA Tokyo. This 60-minute night cruise begins at the pier before floating across the Sumda River. Passengers will be able to to set their gaze on a multitude of Tokyo's many beautiful cherry blossom spots, including along the coast of Tsukuda and along Oyokogawa River, amongst others.

While aboard the boat, you can enjoy tucking into a spring coloured hanami bento box and sipping on sparkling Japanese sake. Your meal will provide the perfect accompaniment to the enchanting sights your eyes will be treated to, from the dusk-basked cherry blossoms to the reflection of the city lights on the water surface.

Hanami flower viewing on a boat – a tradition since the Edo Period

When Tokyo was known as Edo, its former name used until 1868, the city thrived as a Mizu no Miyako, or "Water Metropolis" due to its sophisticated water transportation system which enabled the carrying of people and goods. During this time, the people of Edo enjoyed the waterside in many different ways. One of these was Fune Asobi, or "pleasure boating," where people would enjoy the nature along the shore throughout the four seasons. In spring, cherry blossoms would bloom along the Sumida River where some of the official buildings of the Tokugawa Shogunate were located. The Bakufu also incentivized pleasure trips of the masses, and so people would enjoy Hanami, or flower-viewing, from the boats.

HOSHINOYA Tokyo has recreated this experience to not only pay homage to the activities of Edo, but to let people enjoy a luxurious time away from everyday life.

1: Peer at the nighttime cherry blossoms and Tokyo's evening scenes from your pleasure boat

Your boat ride will take you to the best spots to see the cherry blossoms on that particular day. As night falls, you'll also get to see some of Tokyo's most famous tourist spots light up, like Tokyo Skytree and Eitai Bridge. Riverboat Mizuha, who operate the boat, will provide guests with a guide who will give them an insight into the history of the bridges, towns, and surrounding sights.

2: Overhead cherry blossoms fill your vision on the rickshaw

Experience Hanami like never before with HOSHINOYA Tokyo's rickshaw ride. Your journey begins at the ryokan and ends at Nihombashi Pier. This one-way 30-minute trip will take you to some  breathtaking cherry blossom sites, including Edozakura-dori Street which is home to many historical buildings such as the Bank of Japan.

 

3: Hanami bento and sake provided by a longstanding shop

In the evening, enjoy tucking into a decorative Hanami bento made by Shin-Kaika, a long-standing restaurant in Kanda Myoujinshita by Kanda Myoujin Shrine. The colourful and light-tasting assortment includes cherry blossom pink sea bream kombu, as well as sushi rice seasoned with kurozu. Your meal will also be paired with delicious sparkling Japanese sake. On the way back, you can also enjoy matcha and tea-flavoured confections.

Optional: Rent a springtime kimono and have it fitted on you

For those looking to spend and even more special time out this spring in Japan, they can rent a silk kimono and have it fitted onto them. You select it beforehand and it is put on you at HOSHINOYA Tokyo. They will also do your hair and makeup. And if you have it all fitted early, you can spend the day walking around Tokyo seeing the cherry blossoms. You must book to choose and have a kimono fitted.  Prices start upward from ¥50,000 per person.

Information

Tokyo Yozakurabune Asobi

Running: March 25, 2020 – April 10, 2020
Time: 17:30-19:15 (Boat ride is 60-minutes)
Meeting Place: Nihombashi Pier
No. of People: 1 group per day of 2-4 people
Price: Two People ¥102,000 / Three People ¥132,000 / Four People ¥142,000 (Tax, service charge and accommodation price not included)
Includes: Night Cruise, Rickshaw Ride, Hanami Bento, Sparkling Sake, Tea Sweets, Matcha
Bookings: Must be made up to 14 days before your selection date from the official website
Note: Exclusive to guests of HOSHINOYA Tokyo
*Schedule and content subject to change

*Depending on the bloom rate of the cherry blossoms, there is a chance they may not be seen on certain days

*Price of transport from the pier to HOSHINOYA Tokyo not included

Official Website: https://hoshinoya.com/tokyo/en