EVANGELION STORE Heads to Shopee Thailand
BeeCruise, a company that supports the expansion of Japanese content overseas, has joined hands with the official Evangelion e-commerce site EVANGELION STORE, which is run by Ground Works, to make the EVANGELION STORE available in more countries around the world. The store hit the Thai branch of Shopeeーthe largest e-commerce site in Southeast Asiaーon March 4, 2020.
EVANGELION STORE first appeared on Shopee Taiwan in 2019. Since then, it expanded to Shopee Singapore and Shopee Malaysia in January this year. Shopee Thailand will be its fourth excursion, and to celebrate its opening, customers can get 10% off products on Shopee Thailand now until March 25, 2020 when they follow EVANGELION STORE.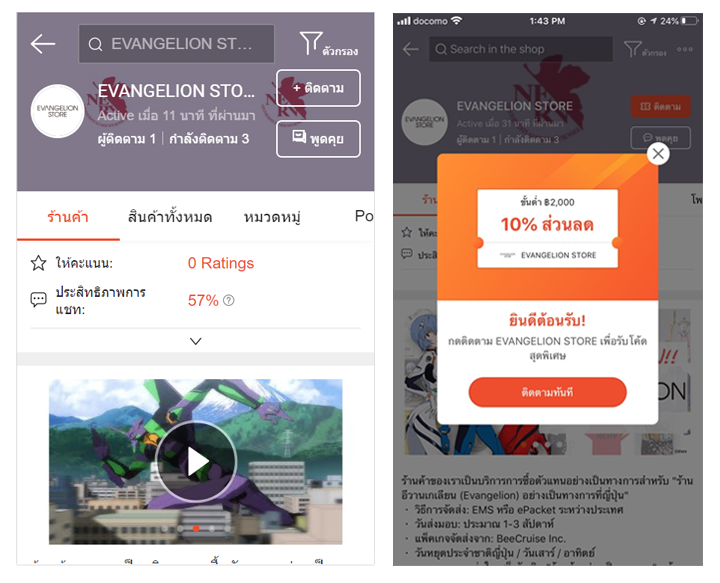 The EVANGELION STORE release an official statement saying: "To all Evangelion fans, we are incredibly happy to be able to bring the official merchandise of EVANGELION STORE to you all. The final Evangelion film [Evangelion: 3.0+1.0] will be released on June 27, 2020. We ask for your support in getting excited about Evangelion!"
Find your favourite merchandise on the EVANGELION STORE today.
RELATED ENTRIES
Dance Vocal Group BALLISTIK BOYZ Release New Track 'Drop Dead' with Popular Thai Group TRINITY

BALLISTIK BOYZ, currently busy training in Thailand, released a new track titled Drop Dead feat. TRINITY on February 16. This marks the group's first time collaborating with a popular Thai artist, and to commemorate the occasion, the music video has also been released on the High Cloud Entertainment YouTube channel.

In September 2022, BALLISTIK BOYZ moved their base of operations to Thailand to realilze the group's motto of "music has no borders." The group has since appeared at a number of live events, including the OCTO POP FEST in October 2022 and the BIG MOUNTAIN MUSIC FES 12, one of the largest festivals in Southeast Asia.

Drop Dead feat.TRINITY – BALLISTIK BOYZ from EXILE TRIBE (Music Video)

Drop Dead feat. TRINITY was created following an encounter with TRINITY, a popular T-pop group that shares the same aspirations as the BALLISTIK BOYZ. The group is known for blending pop and rap with addictive Trap and EDM beats, and this new track shares the feelings many experience while chasing their dreams. Designed to give listeners a bit more fighting spirit, it's perfect for blaring when you need a pick-me-up.

The music video tells the story of how BALLISTIK BOYZ and TRINITY met in a foreign land, taking on the world stage and trying to make it where many challengers have lost their dreams and given up. Filmed in spectacular locations across Thailand, the video has plenty of cinematic flair.

Footage from the song's recording sessions can be seen on the New School Breakin', a brand-new reality show on High Cloud Entertainment's YouTube channel. Fans can also see the first collaboration performance between the two groups during the BIG MOUNTAIN MUSIC FESTIVAL 12.

Comment from BALLISTIK BOYZ

"We're proud to announce the release of our first international production, Drop Dead!!

 This time around, we collaborated with TRINITY, an incredible group from Thailand. Fusing together J-pop and T-pop, we're aiming to bring Japanese music to the rest of Asia, and from Asia, we want to spread to the rest of the world. This song really shows off our determination in the music, lyrics, and choreography!

This is our first attempt at completely English lyrics, and I think it gives a brand new feel to the BALLISTIK BOYZ. I hope you'll listen to it and check out the music video!

We'll continue to work hard to take this song to the next level, so please continue to support us!"

Information

Drop Dead feat.TRINITY – BALLISTIK BOYZ from EXILE TRIBE
Stream and Download: https://ldh.lnk.to/Drop_Dead_feat_TRINITY

New School Breakin' (Reality Show)
BALLISTIK BOYZ from EXILE TRIBE & PSYCHIC FEVER from EXILE TRIBE, who restarted their activities in Thailand aiming to be active on the world stage, will take on new challenges in the reality show New School Breakin'. Popular Thai actors and artists appear in the series, taking on tons of unique missions and challenges as the members of BALLISTIK BOYZ work towards achieving their dreams.

How to watch: https://youtu.be/uNLXPiln5tE

Evangelion: 3.0+1.0 Thrice Upon a Time Director Hideaki Anno Gives Message For International Release

Amazon is set to release the anime film Evangelion: 3.0+1.0 Thrice Upon a Time worldwide on August 13, offering it dubbed in 10 languages and subtitled in 28.


Originally released in Japan on March 8, 2021, Evangelion: 3.0+1.0 Thrice Upon a Time is the fourth and final instalment of the Rebuild of Evangelion film series. The film's theatrical run ended on July 21 where it was revealed that it had received 10.22 billion yen in total, making it the highest-grossing film in the franchise and the first film distributed by Toei to reach this mark.

An online panel titled Comic-Con@Home was streamed on July 23 which was attended by the film's director and writer Hideki Anno. The full video can be seen below.

"It's been 16 years since this movie was remade," explains Anno. "I was planning to finish it in about 8 years, but it took twice as long. So I'm relieved that it is finished."


Asked about what he thinks attracts fans to the franchise, he says: "The story of the work, the drama, and the technical quality are kept as high as possible. We work hard to maintain high quality. And this is not possible without the efforts of our staff and cast. Aside from that, maybe there was something in Evangelion that people around the world emphasized with. It might be the emotions, or the structure that could be taken as their own stories. This is something that people all over the world feel for themselves, so it is hard to say what attracts them."


Anno also discusses his enthusiasm towards seeking new goals. "Now that I've turned 61 this year, from now on, I plan on making some new live-action movies instead of Eva. For animation, it'd be great if I have a chance to do it again after I take some live-action shots." He continues: "Making a live-action video is totally different from animation. Because I can do a lot of things that I can't do with animation, that's why I'm really looking forward to it."


At the end of his talk, he comments: "Not only Evangelion, but my work basically deal with themes unique to Japan, aimed at people who grew up in Japan. I am really grateful and honoured that such works are seen and loved by people all over the world. Thank you so much for supporting Evangelion, and I hope you enjoy the film."


Amazon Prime Video is currently streaming the first three films in the film series: Evangelion: 1.0 You Are (Not) Alone, Evangelion: 2.0 You Can (Not) Advance, and Evangelion: 3.0 You Can (Not) Redo. The final film, Evangelion: 3.0+1.0 Thrice Upon a Time, will be released on the service worldwide on August 13, 2021.

©khara

Information

Evangelion: 3.0+1.0 Thrice Upon a Time

Amazon Prime Video Release Date: August 13, 2021

Luxury Neon Genesis Evangelion Pocket Watch Released by U-TREASURE

When it comes to character-themed jewellery for adults, U-TREASURE pulls out all the stops. Fans of the Evangelion series are sure to love the Rei Ayanami-inspired design of this gorgeous new pocket watch which was released on Monday (March 29).

Ayanami Rei Pocket Watch | ¥363,000

The silver case features a 3D metal design of Rei with the second hand and clip being based on the Spear of Longinus and the chain based on the Spear of Cassius.

This luxury watch is a must-have for hardcore collectors of Evangelion merchandise.

Evangelion T-Shirt Collection Releases in Collaboration With OJICO

Japanese T-shirt brand OJICO released a new collection of T-shirts in collaboration with the popular anime franchise Neon Genesis Evangelion on Sunday (March 7).

Evangelion x OJICO T-Shirts | 12 Designs | ¥3,600-¥5,200 (Before Tax)

The collection features 12 designs with references to the popular anime series that fans are sure to recognise. The stylish designs make them a perfect way to express your love for the series while looking good at the same time.

(c)カラー

Information

Evangelion x OJICO Collaboration T-Shirts

Released: March 7, 2021

Evangelion Film's Tokyo Skytree Collaboration Gets Extended to May

Evangelion took over Tokyo Skytree in December last year in promotion of the new anime film Evangelion: 3.0+1.0 Thrice Upon a Time which was released on March 8, 2021. The ongoing event has been extended from March 31 to May 31.





 ©カラー ©TOKYO-SKYTREE

Special Tokyo Skytree Lighting

©カラー ©TOKYO-SKYTREE

Tokyo Skytree is being lit up in five different special illuminations on select days representing Eva Unit-01, Eva Unit-00, Eva Unit-02, Eva Mark.06, and Eva Unit-08.

 

Dates: March 8, 2021 / March 19-21, 2021

Times: 18:45-20:00

 

"Soul's Refrain" Video Added to the Screens

©カラー/Project Eva. ©TOKYO-SKYTREE

©カラー/Project Eva. ©TOKYO-SKYTREE

The SKYTREE ROUND THEATER® has been showcasing a special HD music video on the Floor 350 windows edited by the episode director for Neon Genesis Evangelion Masayuki. It features the classing opening theme A Cruel Angel's Thesis. The video and music, coupled with nighttime Tokyo in the background, makes for an unforgettable spectacle.

Now, a second music video is being added for the song Soul's Refrain which served as the main theme for the 1997 anime film Neon Genesis Evangelion: Death & Rebirth.

Where: Tokyo Skytree Tembo Deck (Floor 350F)

Price: Free

*The video runs approx. 9 mins

About the SKYTREE ROUND THEATER®

The SKYTREE ROUND THEATER surrounds and envelops you with a Panoramic screen (110m length x 2m height) screen which encircles 255 °of the Tembo Deck.
With 34 projectors, the images and visuals projected onto the night view are the pinnacle of artistry and fantasy.

©カラー/Project Eva. ©TOKYO-SKYTREE

The Spear of Longinus Pierces the Sky Arena

©カラー ©TOKYO-SKYTREE

The Sky Arena, which is located on Floor 4F of Tokyo Skytree Town, is now home to a giant recreation of the Spear of Longinus which makes for a great photo op.

Evangelion Promotes 'Thrice Upon a Time' Anime Film by Collaborating With 5 Popular Japanese Food Chains

In promotion of the new anime film Evangelion: 3.0+1.0 Thrice Upon a Time, which was released in Japan today on March 8, 2021, the Evangelion franchise has launched a collaboration with five of Japan's top food chains including Sukiya, Nakau, Hamazushi, Coco's, and Big Boy.

Key Visual

Sukiya

Evangelion Unit-01 Beef Omelette Curry w/ Onion Soup | ¥890 (Tax Included)

Onion Soup Evangelion Unit-01 Mayo Potato Salad | ¥300 (Tax Included)

Nakau

Evangelion Unit-01 Roast Beef Plate | ¥990 (Tax Included)

Evangelion Unit-00 Oyako Don | ¥890 (Tax Included)

Hamazushi

Evangelion Unit-01 Berserk Mode Roll | ¥649 (Tax Included)

Evangelion Unit-02 Beast Roll | ¥649 (Tax Included)

Coco's

Pierced Core Hamburger | ¥1,859 (Tax Included)

Big Boy

First Impact | ¥1,518 (Tax Included)

Matcha Blanc Manger Blueberry | ¥240 (Tax Included)

Matcha Blanc Manger Mango | ¥240 (Tax Included)

Matcha Blanc Manger Strawberry | ¥240 (Tax Included)

Lid Designs

36 folder designs, one for every menu item ordered excluding desserts

Original plate artwork

Eva-01 Mug (Front)

Eva-01 Mug (Back)

Acrylic Stands (10 Designs)

The collaboration is taking place at 3,700 branches of the participating restaurants across Japan.

Information

Neon Genesis Evangelion Food Collaboration Campaign

Japanese Campaign Name: 外食5チェーン共同作戦

Running: March 8, 2021 – April 20, 2021

Participating Brands: 3,743 branches of Sukiya, Nakau, Hamazushi, Coco's, and Big Boy in Japan

Merchandise: https://netstore.zensho.co.jp 

Further Details: https://eva2020cp.zensho.co.jp

Evangelion Cosmetic Collection Launching to Promote Upcoming Anime Film 'Thrice Upon a Time'

A new Evangelion cosmetic collection is set to launch from March 13 in collaboration with the lottery draw cosmetic series Coffret to celebrate the release of the upcoming anime film Evangelion: 3.0+1.0 Thrice Upon a Time.

EVANGELION coffret collection

The makeup palette features designs and colours inspired by the Evangelion pilots Asuka Langley Soryu, Rei Ayanami, and Mari Illustrious Makinami. The collection also includes loose powder based on the A.T. Field, lip gloss inspired by the characters, and a collection of two-coloured face blushes centred on Japan's Evangelion Store mascot Yurushito.

As part of the lottery draw, those lucky enough to win the "Last One" prize can win a stand mirror with special illustrations of Asuka, Rei and Mari. There is also a chance of winning 3 sets of makeup palettes by joining the "Doubles Chance" campaign that is being held – links below. An original shopper bag will also be gifted for the first 13 people who purchase 5 lottery draws at once.

Enjoy your daily make up with the Evangelion Coffret collection.

(C)カラー

Information

EVANGELION coffret collection

Launch: March 13, 2021

Collection Details:  https://bpnavi.jp/t/eva_c

Price: ¥980 (Tax Included) per game

6 prizes (19 selections) + Last One prize

Participating Shops: EVANGELION STORE TOKYO-01(Ikebukuro), EVA STORE, Evangelion store(Hakone), book stores, hobby shops, game centres, drugstores, Animate, Lawson, Mini Stop etc.

Shop Details: https://bpnavi.jp/s/kuji/pc/ssc/search_pref/3131/prize

Official Site: https://p-bandai.jp/contents/global/

Rei Ayanami Wears Red Lipstick in Second Collaboration With Makeup Brand KATE

Global makeup brand KATE released its second animated video in collaboration with the anime series Neon Genesis Evangelion on Tuesday (February 2) to promote its "KATE Red Nude Rouge (EV)" lipstick.

"Rei Ayanami, Her First Lipstick, And the Results"

Rei dons the vibrant red lipstick in the commercial.

"No more rules, this is a red for me and red only," is what KATE expresses in the promotional video.

The person Rei was waiting for finally arrives, and she smiles, showing off the beautiful rouge tint on her lips.

KATE Red Nude Rouge (EV) is a limited-edition online-exclusive in 4 designs

How to

KATE released the first Rei Ayanami commercial in November last year. In it, the original voice actress for Rei, Megumi Hayashibara, reprised her role in the animated trailer which was created by illustrator and animator Yoneyama Mai. It exploded on Japanese social media, resulting in this sequel.

KATE's slogan is "NO MORE RULES" which encourages consumers to pick the colours they want to wear themselves without being tied down by society. This concept has led them to innovate in their makeup products, and is a concept that they believe connects with Rei Ayanami from the Evangelion franchise, which is what led to this collaboration.

©カラー

Evangelion Business Shirts, Ties, and Accessories Released in Japan

Haruyama Trading, a company in Japan that supports the health of businesspersons, has teamed up with the popular Evangelion anime franchise to release a collection of business dresswear at Harumaya, P.S.FA, and Foel stores in Japan.

i-Shirt (9 Designs)

Necktie (10 Designs)

Tie Clips (7 Designs)

Cuffs (3 Designs)

The i-Shirts is equipped with a stretchy material that means no ironing is required after washing it, so you can don your shirt after it's dried and head straight on out. It also fast-drying, has an antimicrobial and deodorant finishing, stain resistant, and breathable, making it a stress free experience and a shirt that can be worn in all seasons.

The collection also features a line-up of 10 different neckties that are simple to the untrained eye but a nod towards the Evangelion series for fans with their character-inspired colour palette and other designs that reference NERV, WILLE, Evangelion Unit-01, and so on. There's also tie clips and cuffs too so you can kit yourself out with a look that is nerdy on the inside while looking professional on the outside.

Evangelion x Q-pot Reveal New Accessory Collection Featuring Designs From the Anime Series

Q-pot., a Japanese accessory brand which makes jewellery that looks like real sweets and desserts, has announced a second accessory collaboration with the Evangelion series titled "2nd Melty Impact" which will hit Q-pot. stores, select Evangelion stores, and the IKSPIARI pop-up shop on January 20, 2021.

Evangelion x Q-pot. Accessory Collection

A.T. Field Gummy Candy Necklace | ¥10,500 (Before Tax)

The delicious-looking Gummy Candy Necklace inspired by the Absolute Terror Field, the protective barrier that Angels and Evangelions can create to protect themselves. The reverse side of the necklace pedestal also features an engraving of the Tree of Life.

Red Sea & Blue Sea Metal Rings | ¥9,000 Each

Two rings representing the blue sea and red sea, the former being before the Second Impact when the world was teeming with life and the latter after the Second Impact when life is destroyed.

L.C.L. Metal Rings | ¥9,000 Each

These rings are based on LCL, the amber-coloured liquid which enables the piloting of an Evangelion Unit. In the series we see the Entry Plug of an Eva Unit flooded with this translucent liquid.

Cassius's Fork Necklace | ¥16,000

Inspired by the Spear of Cassius that the mysterious boy Kaworu retrieves when he's piloting Mark.06. The spear is fitted as a necklace through a heart which is embedded between an Angel-like halo.

The 4th Angel's Macaron Necklace ¥9,000 / Bag Charm ¥8,000

A necklace and bag charm made to look like sweet macarons. The design is based on the 4th Angel with white faces and a black body. Inside is a bright-red Swarovski crystal to represent the Angel's Core.

Asuka's Puppet Sugar Cookie Necklace ¥9,500 / Bag Charm ¥8,000

A necklace and bag charm inspired b the cute hand puppet of Asuka Langley, the pilot of Unit-02. Made to look like a sugar cookie, the accessories capture the bright-red outfit and blue eyes of the adorable puppet. It looks like it's just come freshly baked out of the oven.

Each of these accessories arrives packaged in an original tin featuring the Evangelion x Q-pot. logos. The A.T. Field Gummy Candy, 4th Angel Macaron, and Asuka's Hand Puppet also feature unique serial numbers.

Other Merchandise

The collaborative collection also feature a selection of original merchandise too.

Asuka's Puppet Pop Socket | ¥2,200

Melty Impact Mug | ¥2,800

Evangelion x Q-pot. 1st Collaboration Restock

The popular macaron and Melty Melt series from Q-pots.'s first collaboration with Evangelion is also being restocked at select Q-pot. stores.

1st Collaboration Restock – Macaron Series

1st Collaboration Restock – Melty Melt Series

Evangelion x Q-pot. Novelty

Fans who spend over ¥30,000 on any of these items at Q-pot. stores or the IKSPIRIA pop-up shop will receive a set of 6 postcards featuring designs of each Eva pilot.

ANNA SUI x Evangelion Merchandise Collaboration Promotes New Anime Film

To promote the upcoming release of the new anime film Evangelion: 3.0+1.0 Thrice Upon a Time, Evangelion teamed up with fashion brand ANNA SUI to open orders for a collection of 12 new items on Wednesday (January 13) on Bandai's official shopping website Premium Bandai.

Excerpt of merch line-up

The line-up combines iconic symbols of ANNA SUI, like butterflies and roses, with motifs from Evangelion like Unit-01. It's a special, must-grab collection for fans of the anime series and brand.

(C)カラー

Evangelion: 3.0+1.0 Thrice Upon a Time Nail Decals Included in VOCE Magazine

Japanese beauty magazine VOCE is collaborating with the upcoming anime film Evangelion: 3.0+1.0 Thrice Upon a Time to include a selection of cute and colourful exclusive nail decals in its March 2021 issue.

Chibi Evangelion nail decals

The decals feature designs and references that are sure to be instantly recognisable to fans of the Evangelion franchise. The character decals in particular are extra adorable as they come in chibi form. And these decals don't have to be used just for nails either: you can stick them on your phone, computer or laptop, notebook – anywhere!

The collection is exclusive to the March 2021 issue of VOCE which will release in Japan on January 22, 2021.