Witness Mount Fuji and Fully Bloomed Cherry Blossoms at HOSHINOYA Fuji
HOSHINOYA Fuji is offering a very special Hanami flower-viewing experience for guests from April 7 to 21 this year where they can observe the springtime cherry blossoms against the backdrop of Mount Fuji. Offers include cherry blossom desserts, a glamping experience inside a cabin eating curry while enjoying the scenery of the outdoors, a private outdoor dining dinner, and more.
HOSHINOYA Fuji hails as Japan's first luxury camping resort. Located on the hill overlooking Lake Kawaguchi near Mount Fuji. It offers the ultimate glamping experience, with a large outdoor terrace surrounded by nature, cabins that can be enjoyed throughout the year, and more. It's difficult to go out and enjoy the cherry blossoms on the streets right now, but if you'd still like to enjoy spring safely with your special someone, then HOSHINOYA Fuji has created a special springtime experience.
Sakura Apéro: Witness the cherry blossoms during sunset with desserts in hand
"Sakura Apéro" is a chance to take a breather and enjoy all the beauties nature has to offer. It is held in the cabin area of HOSHINOYA Fuji under the towering cherry blossom trees. Sit back, relax, and enjoy an evening treat of cherry blossom flavoured bean paste rice cake, a cup of matcha milk or a matcha cocktail, and a front row seat of the cherry blossoms as the sun sets.
Hanami on the terrace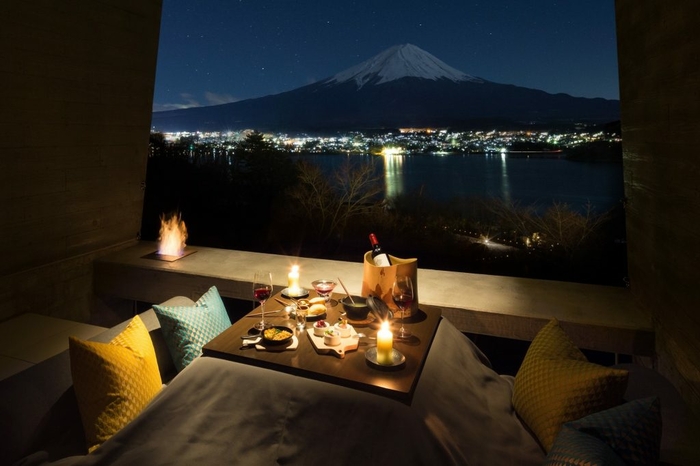 HOSHINOYA Fuji's cabina area is built in such a way so that guests can enjoy an outdoor experience. One third of the cabin has a terrace area with an enormous window that looks out into the natural landscape. A fireplace and kotatsu is available so you can still enjoy the outdoors even inside while relaxing with a comfortable stay into the late nights. Some of the cabins offer a view of the surrounding cherry blossom trees, inviting spring into your room.
Curry made on one of Mount Fuji's lava plates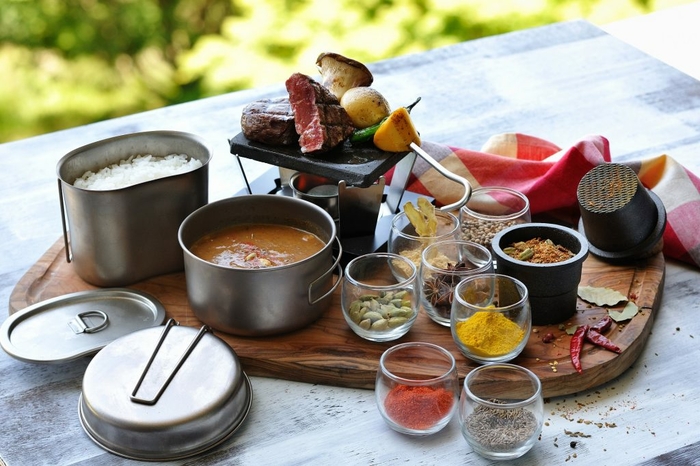 At HOSHINOYA Fuji, guests can enjoy outdoor cooking in luxury be it in one of the cabins or the dining restaurant in the forest. Those who want to relax in a cabin are recommended the "Glamping Curry" at the terrace. You grill beef and vegetables yourself on a Mount Fuji lava plate and can combine five spices of your choice to create your own original flavour. In the outdoor dining area, which is exclusive to groups of guests, game meat is also served, such as boar and deer, as well as seasonal vegetables prepared in a dutch oven. For dessert, there's cherry blossom flavoured ice cream. You can also make your own strawberry sauce using fresh strawberries over a fire to pour over your ice cream before topping it with matcha crumbles.
Due to the ongoing situation surrounding the coronavirus, all guest rooms and public areas at all HOSHINOYA facilities are being thoroughly cleaned in line with the recommended guidelines to ensure the health and safety of guests and staff. Alcohol gel is available at all HOSHINOYA facilities, and staff's health and hygiene are being consistently examined.
Information
HOSHINOYA Fuji
Address: 1408 Ōishi, Fujikawaguchiko, Minamitsuru-gun, Yamanashi
Official Website: https://www.hoshinoya.com/
RELATED ENTRIES
Kyoto's Female-Only Hotel CAFETEL Kyoto Sanjo for Ladies Reveals Halloween Room

CAFETEL Kyoto Sanjo for Ladies, a hotel in Kyoto exclusive to female guests, is offering a new Halloween room plan between October 1 and November 1. There is just one room and it can only be booked for one day between that period. This plan was offered last year and was a resounding success amongst guests.

Last year's Halloween room took on a more cute and bright theme, but they're going for something darker this time. The theme this year is "The Secret Witches-Only Get-Together," with all ideas and designs conceived and handmade by the hotel staff themselves.

Guests will find decorations all around the room, such as bats on doors and walls who will listen in on the witches' gossip to creepy crawly spiders in the bed. Candles are provided in the room to set the Halloween mood, and there's even witch and devil costumes and props for guests to dress up in.

Free goodies for the witch get-together

Guests can enjoy a gorgeous view of the Kamogawa River from their room. They are also presented with a free Halloween drink exclusive to those who stay in this room.

Information

CAFETEL Kyoto Sanjo for Ladies

Running: October 1, 2020 – November 1, 2020

Rooms: 1 (up to 3 people)

Price: From ¥10,650

Official Website: https://cafetel.jp/

Luxurious Shine Muscat Grape Parfait Served Up at Hotel Gajoen Tokyo For Autumn

Hotel Gajoen Tokyo, a museum and hotel combination, is home to New American Grill "KANADE TERRACE," the hotel's restaurant popular for its food grilled in the open kitchen, its afternoon teas made with seasonal ingredients, and cocktail lineup.

This autumn, Hotel Gajoen Tokyo is serving up its new "Shine Muscat Parfait," an richly-sweet and elegance-scented dessert made using Shine Muscat grapes.

Shine Muscat Parfait ¥2,800 | With Champagne ¥3,600 (Before Tax & Service Charge)

The parfait is layered with Kyoho grape and shampagne jelly, crémet d'Anjou which is made from fresh cheese, and maqui berry granola. It's topped with blackcurrant sherbet and tuile.

Information

Shine Muscat Parfait
Serving: October 1, 2020 – November 20, 2020

Location: New American Grill "KANADE TERRACE" (Hotel Gajoen Tokyo)

Serving Hours: 14:30-17:30 everyday

Official Website: https://www.hotelgajoen-tokyo.com/archives/54655

nol kyoto sanjo: Kyoto's New Hotel Renovated From an Old Townhouse

Tokyu Land Corporation are set to open the new hotel "nol kyoto sanjo" in central Kyoto on November 1, 2020. The hotel is just a 5-minute walk from Karasuma Oike Station.

A place where you can be yourself

Hotels in Japan are more and more catering to a wide variety of guests' needs as well as not only providing convenience and being affordable, but creating a space that really places importance on peoples' stay experience. And nol kyoto sanjo follows suit, allowing people to both let their hair down where they can be themselves as well as enjoy the local area. This comes in response to peoples' desire to have a stay experience that feels like it's their own home.

Clad in Kyoto, living in Sanjo

The concept for the hotel's design was conceived by Kyoto Vintage. Sanjo-dori is connected to Kyoto's main street, making it a convenient location for reaching the city centre. It's also home a variety of architectural examples from old, ancient buildings to more modern ones built during the Meiji Period. Surrounding the hotel is a whole selection of cafes famous for their breakfast menus, restaurants that use local ingredients, long-standing stationery shops, and more. The hotel sits in the perfect spot for coming in contact with the local people and city.

The hotel lounge built from an old townhouse

The hotel site is renovated from a townhouse that was built during the Edo Period. It was formerly used as a place for selling Kinshi Masamune sake. To ensure that old, quaint charm was preserved in the refurbishment, the hotel hired a Japanese designer and planner who is known for renovating these kinds of townhouses in Japan.

The entrance to the hotel greets guests with the lounge which gives people a chance to kick back and relax in this authentic building. Guests are even given some Kinshi Masamune sake as a welcome drink.

High grade guest rooms for medium to long stays

There are three kinds of guest rooms including 2-people rooms, 4-people rooms, and rooms with an additional Japanese-style room attached to it, for a total of 48, all of which face the hotel gardens. The rooms were designed by Yukio Hashimoto who has made sure to preserve both the townhouse and feel of the materials which have only ripened with age while adding a high grade feel to them. The scent of hinoki leaf invites you to relax in your room. All rooms are equipped with microwaves, washing machines, and mini kitchens too, making it perfect for guests looking to stay a while. Pick up some local ingredients from town and get cooking.

Old-time Kyoto served in a new style

Old townhouses used since ancient times are on the decrease in Kyoto. By renovating and reusing, new life can be breathed into them while promoting that ancient culture. If you're planning a trip to Kyoto, be sure to check out nol kyoto sanjo, opening November 1, 2020.

Information

nol kyoto sanjo

Grand Opening: November 1, 2020

Address: 700 Osakazaimokucho, Nakagyo-ku, Kyoto, Japan (in Japanese: 京都市中京区堺町通姉⼩路下る⼤阪材⽊町700 番)
Rooms: 48

Access: 5-minutes on foot from Karasuma Oike Station

Official Website: https://www.nolhotels.com/kyoto-sanjo/

FUFU NIKKO: The New Hot Spring Hotel in Nikko, Tochigi Prefecture

Kato Pleasure Group is set to open its 4th branch of FUFU NIKKO hotels in Nikko, Tochigi on October 2, 2020 following their Atami, Lake Kawaguchi, and Nara branches.

A resort steeped in Japanese history and culture

The site in which the hotel is located has a sacred air to it. It dates back to the Meiji Period and has continued into modern times. Upon entering the hotel, your ears are treated to the sound of classical music. Overhead you will spot high ceilings made from wood which give it a warm and welcoming atmosphere.The shadows of the outside walls, the warmth of the inviting lights, and the metallic decorations which catch the light present a calm and quiet mood.

Classy and sophisticated cuisine

Both the food and plates it is served on capture the essence and beauty of the Japanese way. Meals are prepared using seasonal ingredients from Tochigi as well as high quality foods like foie gras, truffles, and caviar. Each dish expresses elegance and refinement and combines both Japanese and Western flavours.

Hot spring water sourced from Tamozawa

All rooms at the hotel are fitted with hot springs or large baths which natural light from the outdoors shining through. In the open-air baths, guests get to experience the surrounding sights of nature coupled with the sound of the flowing stream and chirping birds.

Information

FUFU NIKKO JAPAN

Grand Opening: October 2, 2020

Address: 1573-8 Honcho, Nikko, Tochigi Prefecture

Official Website: https://www.kpg.gr.jp/

Giant Pink Snoopy Placed Inside Rooms at Kobe's PEANUTS HOTEL Now Available as Plush Toys

Last year, the PEANUTS HOTEL celebrated its 1st anniversary by selling giant Snoopy plush toys, all of which sold out. The hotel is doing the same again this year, releasing two different sizes on September 4.

ROOM64: "Happiness is a warm puppy"

Lucy squirms when Snoopy kisses her, but she sure loves hugging him, because of his warmth. ROOM64 is inspired by this lovable comic, and uses millennial pink for the walls, chairs and even the fireplace. There's also a big pink Snoopy that you can hug any time you want. Lucy's iconic Lemonade stand stands next to a signboard that says, "1 cent for hugging a cute puppy". It is a room filled with humor and warmth.

PEANUTS HOTEL -ROOM64-


Guests will be able to buy plush toys of the giant puppy from ROOM64, because happiness is a warm puppy.

Small: ¥2,400 | Large ¥6,400 (Before Tax)

The small size Snoopy comes with a key chain so it can go on your bag, while the large Snoopy is perfect for sitting on your sofa or bed and for hugs. Both are super fluffy so you won't be able to resist.

© 2020 Peanuts Worldwide LLC

SOKI ATAMI: The New Hot Spring Hotel in Shizuoka's City of Atami

SOKI ATAMI is a new hot spring accommodation set to open in the town of Koarashicho in Atami, Shizuoka, on November 1, 2020.

The town of Koarashicho is considered the annex, as it were, to Atami. SOKI ATAMI can be reached in around 40 minutes by bullet train from Shinagawa Station. The accommodation takes into account the value of Atami's hot spring resorts and what's on offer there. It will serve a 'sojourn style' of accommodation that allows you to return to yourself as you are, without any stresses, something which is enhanced thanks to being situated away from the hustle and bustle of the city in nature.

Just being yourself

The accommodation, surrounded by nature, offers a panoramic view of the ocean, and consists of a reception wing, guest room wing, and restaurant wing. In the 'Village Garden,' there are trees growing citrus fruits and a variety of plants and crops, showcasing the regional lifestyle and natural features.

Guest Rooms

There are 54 guest rooms in total ranging from 40㎡ to 65㎡ which can fit up to 4 people. Guests can enjoy the hot springs with all room types. TONERICO:INC. is in charge of the inter design who have given it a natural feel.

Tea Salon & Bar

The Tea Salon & Bar on the top floor overlooks Atami Bay. Guests can enjoy sipping on tea grown in Shizuoka as well as tucking into seasonal meals made using Japanese ingredients. There's also a terrace from which guests can enjoy the firework festivals held at Atami Bay throughout the year.

Public Onsen

The public baths benefit from the changing seasons which changes up the bathing experience. The water is perfect for de-stressing, moisturising, and making your skin look beautiful.

Dining Room

In the restaurant wing is the dining room designed by age co.,ltd which has worked on many different ryokan and restaurants. Fish, vegetables, and other ingredients are all sourced locally and directly.

Information

SOKI ATAMI
Grand Opening: November 1, 2020

Address: 4-36 Koarashichō, Atami, Shizuoka

Access: 10-minutes by car from Atami Station

Official Website: http://www.so-ki.jp/

Okinawa: Summer BBQ Plan Opens at Southern Beach Hotel & Resort Okinawa With Swimming Pool

Southern Beach Hotel & Resort Okinawa has opened a new plan that includes an evening meal, BBQ, and accommodation at the beach hotel and resort.

Southern Beach Hotel & Resort Okinawa is in a favourable location—just a 20-minute drive from Naha Airport in the city of Itoman. It's a 3-minute drive from Roadside Station Itoman, the largest farmers and fish market in Okinawa, and within 10-minutes drive of the new 'iias' shopping complex that opened in June this year, DMM Kariyushi Aquarium, and Okinawa Outlet Mall Ashibinaa.

The hotel's impressive garden pool is 70 meters wide and is shaped in a unique way with five different levels of water spanning the entire length. Families flock to the pool in the summertime as the sun shines down and sparkles on the water.

The new plan includes access to the pool in the evenings right up to 9:00pm, allowing guests to cool down in the pool without having to worry about getting sunburned, as well as a delicious dinner to be enjoyed after fun in the pool.

The open air garden BBQ includes 90 minutes of all-you-can-eat meat, fish, and other delights to tuck into as the sea breeze caresses you.

Guests can also choose a buffet option instead which makes use of local Okinawan ingredients.

If you're in Japan this summer, and are looking for the beach resort experience, then hit up Southern Beach Hotel & Resort Okinawa.

Information

Southern Beach Hotel & Resort Okinawa – BBQ Plan

Running: August 15, 2020 – September 30, 2020

Includes: Dinner (BBQ or Buffet)

*Guess access to the pool is free

*Please choose your dinner time in advance

Official Website: https://www.southernbeach-okinawa.com/

Premium Uji Matcha Afternoon Tea Begins at Hotel Chinzanso Tokyo This September

Hotel Chinzanso Tokyo has announced a collaboration with Tsuji Rihei—a tea shop that first opened in 1860 in Uji, Kyoto—to serve up a new "Premium Uji Matcha Afternoon Tea" in its lobby lounge Le Jardin from September 1.

This will be the hotel's fifth serving of the Premium Uji Matcha Afternoon Tea, which first began in 2016. Last year saw 5,000 customers enjoy experience.

Hotel Chinzanso Tokyo actually began serving the afternoon tea from April 13 this year, but had to stop service in May as a result of COVID-19. September 1 will see its return.

The food and drinks in the afternoon tea are all made with a Japanese green tea known as Kuradashi. The first fresh leaves picked from springtime have been put to one side for the summer serving, so customers can enjoy an enrichened tea-sperience.

Top Tier – Desserts: Sencha Jelly, Genmaicha Egg Tart, Kabusecha Souffle Cake, Kyobancha Tiramisu

Middle Tier – Scones: Plain Scone, Gyokuro Scone, Hojicha Scone

Bottom Tier – Savoury: Tea Leaf & Walleye Pollack Open Sandwich, Lily Bulb Honey Ham Tart, Smoked Salmon & Plum Mayo Sandwich, Smoked Dick & Cheddar Cheese Japanese-Style French Toast

Drinks: Uji Tea (3 Flavours), Hotel Original Blend Tea (15 Flavours)

The afternoon tea set is three tiers of desserts, scones, and savoury snacks, all served with a tea of your choice. Summer 'falls' into autumn with this lovely selection of delights.

Information

Premium Uji Matcha Afternoon Tea
Running: September 1, 2020 – September 30, 2020
Serving: 12:00-18:00
Location: Le Jardin (Lobby Lounge), Hotel Chinzanso Tokyo
Price: ¥4,500 (with welcome drink ¥5,000 – 20 people per day)
TEL/Enquiries: 03-3943-0920 (10:00-21:00)

Official Website: https://hotel-chinzanso-tokyo.jp/restaurant/plan/ujichaafternoontea2020/

Enjoy Tokyo: Hoshinoya Tokyo Rolls Out Activities For Guests to Experience Japan's Capital

Hoshinoya Tokyo began rolling out a new series of activities on August 6, 2020, for people to enjoy Tokyo from a different perspective. Let's take a look at some of the upcoming activities on offer.

Oedo Master: Experience traditional Edo in modern Tokyo | From August 20

"Oedo Master" is a chance for guests to learn more about Nihonbashi, Kanda, and Ningyocho—three areas in Tokyo which still have a traditional Edo vibe to them, a unique juxtaposition against modern day Tokyo. As an example, guests can have the opportunity to use Japanese washi paper provided by Ozu Shoten to make small paper items. They can also enjoy a private tour of Nihombashi Mitsukoshi which first opened as a dry-goods store in 1673, learn the proper etiquette and manners of praying at Kanda Shrine, and more.

Night Bus Cruise: Travel through nighttime Tokyo on an open-top bus | From August 20

The Night Bus Cruise is a one-hour ride through Tokyo at night on a double decker bus, which is a chance to see Tokyo from a completely different perspective. To ensure social distancing measures, the bus will accommodate up to 20 people at a time. Guests will depart at sunset from Otemachi and they'll get to see the Imperial Palace, the Kasumigaseki district where the National Diet Building is located, Toranomon, and Tokyo Tower. The bus still stop for about 10 minutes at Tokyo Tower so guests can get up close to the illuminated tower.

Deep Breathing Exercises: Control your breathing while gazing out across Tokyo | From August 6

In the early hours of the morning, guests will be able to stand atop a 160 meter tall building in Otemachi—located in central Tokyo—and look out over Tokyo's cityscape while engaging in some deep breath exercises. Being so close to the blue sky while in the skyscraper-tall city of Tokyo is a refreshing experience, and all the while guests will be able to spot plenty of the capital's iconic buildings like Tokyo Skytree. This too will be limited to 6 people a day to prevent the spread of COVID-19.

Oedo Pleasure Boat: Witness Tokyo's night view aboard a boat | From August 20

Guests will depart from Nihonbashi Tourist Pier and travel from Nihonbashi River by way of Sumida River on a 90-minute night cruise. They will tuck into a bento meal prepared by Nihonbashi Benmatsu Souhonten in Nihonbashi, sip on sake from Toshimaya in Kanda, and enjoy some sweet treats from famous shops in Ningyocho—ningyo-yaki by SHIGEMORI EISHINDO and dorayaki by Hikokurou. Partway along the trip, the boat will stop by Hamarikyu Gardens where guests can enjoy their food and drinks. 2-4 people of the same group are allowed on the boat at once.

The list of things to do in Tokyo is endless, but if you're staying there this summer, why not take a look at Hoshinoya Tokyo's options?

Information

Hoshinoya Tokyo
Address: 1-9-1 Otemachi, Chiyoda-ku, Tokyo

TEL: 0570-073-066

Rooms: 84

Check In 15:00 / Check Out 12:00

Price: From ¥84,000 per night (doesn't include tax, service charge, or meals)

Official Website: https://hoshinoya.com/

Mizugiwa no Lodge: Ehime Prefecture's New Riverside Lodge Opens in Japan's Best Canyoning Location

SUN-CREA Co., Ltd. opened the new 10-room Mizugiwa no Lodge along with its own Italian restaurant Selvaggio on March 20, 2020. It is located at Nametoko Gorge in Ashizuri-Uwakai National Park which is known as Japan's leading canyoning spot.

Nametoko Gorge is a secluded region about a 2-hour car ride from Matsuyama, the capital of Ehime Prefecture. It stands as an activity resort basked in green nature with a long list of programs and activities such as hiking, canyoning, and more. It's also home to Yukiwa Falls, one of the waterfalls included on the One Hundred Waterfalls of Japan list. The waterfall cascades over a 40 meter high granite rock where you can experience canyoning. This, along with it having the biggest natural waterslide in Japan, brings in people from inside and outside Ehime Prefecture.

The guest rooms

Mizugiwa no Lodge sits along Nametoko Gorge, where you can see deer and fawn, and is the first entry to Mori no Kuni Hotel's regeneration project. The lodge's red triangular roof and classic look is reminiscent of the mountain resorts of the alps.

The lodge's open lobby has its own fireplace. There are two floors and 10 guest rooms, each of which can accommodate 4-6 people, and each with bunk beds. From the rooms, guests can hear the sounds of the river and smell natural the scents of the forest. This sense of natural is heightened with the natural colours and wooden furniture used in the rooms. Every guest room has around 15 books related to nature too, so guests can kick back, relax, and enjoy the trickling of the river and chirping of the birds outside while they read.

Dining at the lodge

Selvaggio is Mizugiwa no Lodge's official restaurant, located on the first floor. The menu was created by Masakazu Iwasawa, the owner of award-winning restaurant PIZZERIA GTALIA DA FILIPPO in Tokyo. The pizzas are cooked in a wood-fired kiln and are made from a wheat made by Chef Iwasawa himself in Hokkaido.

Pizzas include classic "Margherita" made from tomatoes with excellent acidity grown by farmers in Matsuno, "Quatro Formadge" made from citrus fruits and honey, and much more.

Activities

Yukiwa Falls, which is included on the One Hundred Waterfalls of Japan list, is 80 meters high and 20 meters across. It is called Japan's biggest natural water slide and is popular with people across Japan as being the country's best canyoning spot. Canyoning is the river sport of traversing canyons using a variety of techniques such as climbing, using ropes, jumping, and so on. The instructors at Nametoko Gorge are very helpful and will explain how best to enjoy your experience, so even beginners can challenge themselves to the task.

There's also tree climbing, guests can enjoy breakfast by the riverside, go picking fruits and vegetables, and much more to enjoy at Mizugiwa no Lodge.

Information

Mizugiwa no Lodge (In Japanese: 四万十川源流、森の国『水際のロッジ』)
Address: Nametoko Gorge, Meguro, Matsuno, Kitauwa District, Ehime

Official Website: https://morino-kuni.com/

Kyukaruizawa Kikyo, Curio Collection by Hilton Ranks On Tripadvisor's Best Hotels List

Kyukaruizawa Kikyo, Curio Collection by Hilton, a hotel in Karuizawa, Nagano that is managed by Tokyu Resort Service Co., Ltd. made it onto Tripadvisor's 2020 Travellers' Choice Best of the Best and also ranked on the website's Top 20 best hotels in Japan for high quality service.

Travellers' Choice Best of the Best is Tripadvisor's highest recognition, presented annually to the top 1% of businesses across select categories.

Kyukaruizawa Kikyo hails as Hilton's first "Curio Collection by Hilton" in Japan. First open in 2018, the hotel's name "Kiyko" is a reference to both the flower of the same name and the Japanese word kikyo which means "to return to one's home" or "homecoming." The hotel is active alongside the community in working towards the Sustainable Development Goals and is committed to the Hilton CleanStay initiative to ensure the cleanest possible stay for guests.

Hilton's first Curio Collection hotel in Japan

Curio Collection by Hilton is an upscale hotel brand first established by Hilton in 2014. To date, the brand has around 70 establishments worldwide, supporting guests who are looking for unique and authentic hotel experiences.

Get away from the hustle and bustle of the city

Karuizawa is a popular resort area that's easily accessible from Tokyo. It's loved by some of the biggest names in the political, financial, and celebrity worlds. Guests can enjoy a free rides in a Mercedes-Benz from Karuizawa Station to the hotel.

Enjoy the sights while shopping and soaking up nature

The hotel is just a 5-minute walk from Old Karuizawa Ginza Street with shops offering all things Karuizawa. It's also the perfect spot to enjoy walking and cycling while taking in the sights of nature.

Information

Kyukaruizawa Kikyo, Curio Collection by Hilton
Address: Kyūkaruizawa-491-5 KaruizawaKitasaku-gun, Nagano
Access: 1 hour by Shinkansen from Tokyo Station

Official Website: https://www.kyukaruizawa-kikyo.com/

Japan's Hello Kitty Themed Hotel Rooms Open at Asakusa Tobu Hotel in Tokyo

Tobu Hotel Management are set to welcome Tokyo's only hotel rooms based around Sanrio's popular character Hello Kitty at Asakusa Tobu Hotel when the hotel official opens for business on October 8, 2020.

There are two different room types, of which there are three rooms for each for a total of 6 rooms: "Cherry Blossom Maiden" and "Japanese Modern," both centred around Hello Kitty.

The Cherry Blossom Maiden room brings together Japanese cherry blossoms with Hello Kitty dressed as a cute maiden. Decorated in pastel pink, this room is all things kawaii, and even comes with a raised flooring area to add to that Japanese vibe.

On the other side of the kawaii coin is the Japanese Modern room. The design here combines Asakusa-style colours with traditional Japanese elements, resulting in a stylish interior.

Reservations for the Hello Kitty Rooms open on August 24 at 10:00 (JST) via the hotel's official website. If you're staying in Japan anytime after October 8, make sure to book your room ASAP!

Information

Hello Kitty Rooms
Official Website Reservations: August 24, 2020 @ 10:00am (JST)
Telephone Reservations: August 31, 2020 @ 10:00am (JST)

*Other guest rooms already available for bookings
Official Website: https://www.tobuhotel.co.jp/asakusa/
TEL: 03-5809-7320 (Weekdays 10:00-18:00)

Asakusa Tobu Hotel
Address: 1-1-15 Asakusa, Taito-ku, Tokyo
Grand Opening: October 8, 2020

Access

30 seconds on foot from Asakusa Station via the Tobu Skytree Line side

1 minute on foot from Asakusa Station via the Tokyo Metro Ginza Line side
3 minutes on foot from Asakusa Station via the Toei Asakusa Line side
1 minute on foot from Kaminarimon