Witness Mount Fuji and Fully Bloomed Cherry Blossoms at HOSHINOYA Fuji
HOSHINOYA Fuji is offering a very special Hanami flower-viewing experience for guests from April 7 to 21 this year where they can observe the springtime cherry blossoms against the backdrop of Mount Fuji. Offers include cherry blossom desserts, a glamping experience inside a cabin eating curry while enjoying the scenery of the outdoors, a private outdoor dining dinner, and more.
HOSHINOYA Fuji hails as Japan's first luxury camping resort. Located on the hill overlooking Lake Kawaguchi near Mount Fuji. It offers the ultimate glamping experience, with a large outdoor terrace surrounded by nature, cabins that can be enjoyed throughout the year, and more. It's difficult to go out and enjoy the cherry blossoms on the streets right now, but if you'd still like to enjoy spring safely with your special someone, then HOSHINOYA Fuji has created a special springtime experience.
Sakura Apéro: Witness the cherry blossoms during sunset with desserts in hand
"Sakura Apéro" is a chance to take a breather and enjoy all the beauties nature has to offer. It is held in the cabin area of HOSHINOYA Fuji under the towering cherry blossom trees. Sit back, relax, and enjoy an evening treat of cherry blossom flavoured bean paste rice cake, a cup of matcha milk or a matcha cocktail, and a front row seat of the cherry blossoms as the sun sets.
Hanami on the terrace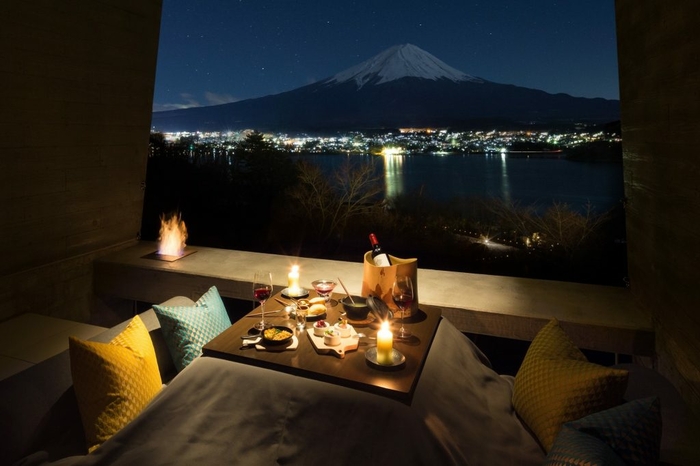 HOSHINOYA Fuji's cabina area is built in such a way so that guests can enjoy an outdoor experience. One third of the cabin has a terrace area with an enormous window that looks out into the natural landscape. A fireplace and kotatsu is available so you can still enjoy the outdoors even inside while relaxing with a comfortable stay into the late nights. Some of the cabins offer a view of the surrounding cherry blossom trees, inviting spring into your room.
Curry made on one of Mount Fuji's lava plates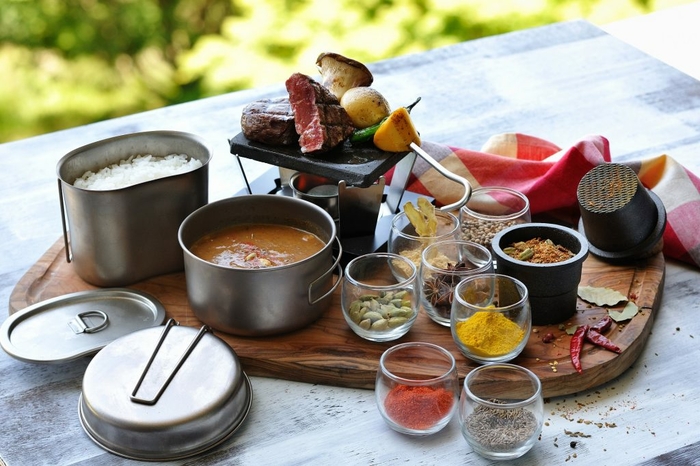 At HOSHINOYA Fuji, guests can enjoy outdoor cooking in luxury be it in one of the cabins or the dining restaurant in the forest. Those who want to relax in a cabin are recommended the "Glamping Curry" at the terrace. You grill beef and vegetables yourself on a Mount Fuji lava plate and can combine five spices of your choice to create your own original flavour. In the outdoor dining area, which is exclusive to groups of guests, game meat is also served, such as boar and deer, as well as seasonal vegetables prepared in a dutch oven. For dessert, there's cherry blossom flavoured ice cream. You can also make your own strawberry sauce using fresh strawberries over a fire to pour over your ice cream before topping it with matcha crumbles.
Due to the ongoing situation surrounding the coronavirus, all guest rooms and public areas at all HOSHINOYA facilities are being thoroughly cleaned in line with the recommended guidelines to ensure the health and safety of guests and staff. Alcohol gel is available at all HOSHINOYA facilities, and staff's health and hygiene are being consistently examined.
Information
HOSHINOYA Fuji
Address: 1408 Ōishi, Fujikawaguchiko, Minamitsuru-gun, Yamanashi
Official Website: https://www.hoshinoya.com/
RELATED ENTRIES
See 3,000 Rhododendrons in Full Bloom at the Tsutsuji Garden by Lake Ashi in Hakone

May is the most colourful time of the year at Hotel de Yama near Lake Ashi in Hakone, when a total of 3,000 rhododendronsーcomprised of 30 different typesーbloom their beautiful flowers in the large Tsutsuji Garden, where one can enjoy a great view of Mount Fuji and Lake Ashi.

Tsutsuji Garden at Hotel de Yama

"Tsutsuji" is the Japanese word for rhododendron. The Tsutsuji Garden at Hotel de Yama was once the villa of Koyata Iwasaki, "the fourth and last president of a unified Mitsubishi." During that time, numerous varieties of rhododendrons were planted in the garden, which have since been maintained. There are plants amongst them that are over 100-years-old, ones that tower over the human stature, and more; with petals that bloom pink, red, purple, and white.

A combined view of the kaleidoscopic rhododendrons and Mount Fuji

The staff who are experts on the garden have set up two photo frame stands in two of the best spots in the garden for taking picturesque photos. Snap some Instagrammable and memories with the colourful rhododendrons and Mount Fuji together.

Rhododendron Desserts: Saison a colorier – ¥1,634 / Tea Set – ¥2,360 (Before Tax)

Salon de thé Rosage, the dessert restaurant that sits in front of the hotel, is serving up a new special dessert called "Saison a colorier" in line with the full bloom of the rhododendrons. It captures the colourful pink, red, white, and purple appearance of the flowers, and looks like a mini version of the hotel's garden on your plate. The main part of the dessert is the tea mousse, which has a bright red colour as it is coated beautifully in a strawberry puree nappage. The tea used in the mouse is an original rhododendron blend exclusive to the restaurant.


The white rhododendron dessert is a macaron that's filled with raspberry sorbet. The red which contrasts with the white is a rhododendron milk tea cream and fresh raspberries. The rest of the plate is adorned with pink jelly and edible flowers. The perfect afternoon tea to finish off your time at Tsutsuji Garden.

Coronavirus in Japan: Kaname Inn Tatemachi in Kanazawa Offers Free Accommodation to Foreigners Who Can't Get Home

Kaname Inn Tatemachi, a hotel in Kanazawa, Ishikawa, has announced a project named "Room for rescue" which will offer free accommodation to foreigners unable to travel back to their home countries from Japan due to lockdowns and restrictions from going outside as a result of the ongoing COVID-19 pandemic

With flights cancelled around the world, there is no way for foreigners to return home from Japan, resulting in them being forced to change their plans and extend their stay. They are living their days in constant worry, both financially and mentally. To ensure that foreign travellers don't feel like their trip to Japan was a bad experience, free accommodation is becoming available to those who meet certain prescribed conditions.

In response to the decreasing number of tourists, Kaname Inn Tatemachi opened its doors to Japanese citizens through Facebook for free accommodation to help support businesses like local restaurants that could no longer make a living. They received a lot of guests, as well as a request from a friend who asked if someone from the Netherlands could stay there because they couldn't get back to their country. This sparked the "Room for rescue" project for stranded foreign tourists to stay at Kaname Inn Tatemachi for free too.

 

Kaname Inn Tatemachi is using its own funds to pay for the project and allow free stay. However, doing this long term will put strain on the business, so to help pay for hotel use and staff's wages, the hotel has opened up a crowd funding page which you can find here.

Information

Room for rescue

Aimed at: Foreign travellers who cannot return home

How to Apply

Send the following details to the e-mail address r4r@kaname-japan.com

①Write "Room 4 Rescue" as the subject of your e-mail

②Include which country you are from

③Write the names of all the people who wish to stay at the hotel

④Write the number of adults

⑤Write the number of children

⑥Write your check-in time and date

⑦Write your check-out time and date

⑧Attach a screenshot or photo of your cancelled flight details

Application Deadline: March 28, 2020 at 23:59 (JST)

Free Accommodation Stay Time: Until April 15, 2020

3 Must-Visit Cherry Blossoms Spots in Nagasaki Prefecture's Hirado City | Spring 2020

Spring has arrived in the city of Hirado, Nagasaki, which has been dyed a cherry blossom pink colour from the blossoming of the cherry trees. A simple glance at the signs of spring there is enough to have one feeling elated. It has also made the news that the budding of the cherry blossoms in Hirado has arrived earlier than usual.

We've made a list of 3 popular spots to enjoy Hanami in Hirado this spring.

Jigenzakura


Jigenzakura is a single sakura tree that stands proud and majestic. Aged 140 years old, the tree is listed as a National Treasure of Hirado. It's close to the Oshima variety of cherry tree, and was planted by Catholics who migrated to Japan at the beginning of the Meiji Period. A visit to Jigenzakura offers a splendid sight to behold as it blossoms in the ravine. The best time to see it in full bloom last year was March 31.

Address: Kigatsucho, Hirado, Nagasaki (35-minutes from Hirado Bridge)

Nagasaki Tabi Net: https://www.nagasaki-tabinet.com/guide/51690/

 

Kameoka Shrine / Kameoka Park


Kameoka Park is a famous cherry blossom site that's adjacent to Hirado Castle. It's home to around 1,000 sakura trees, which are best seen from the end of March to early April. It also has a very rare type of cherry blossom called the nidozaki-zakura which blooms twice. You can see these around mid-April at Kameoka Park.

Address: 1458 Iwanouechō, Hirado, Nagasaki (7-minutes from Hirado Bridge)

Nagasaki Tabi Net: https://www.nagasaki-tabinet.com/guide/370/

Tabira Park


Tabira Park is just over Hirado Bridge, and is a place where you can look out at both Hirado Bridge and Hirado Seto while gazing at the rows of cherry trees.

Address: 823-1 Tabirachō Kotedamen, Hirado, Nagasaki (Next to Hirado Bridge)

Official Website: http://nagasaki-park.or.jp/free/tabira

Hirado is easy to get to, and is a must-visit not just for Hanami, but for the food and its rich history too.

Feel Like You're Living On Okinawa's Taketomi Island With HOSHINOYA's New 'Workation' Hotel Plan

HOSHINOYA Taketomi Island in Okinawa rolled out a new hotel plan on March 18 that's set to run until June 30 this year.

Taketomi Island can be said to be home to landscape of what Okinawa used to be, with the Ryukyuan red roof tiles of its buildings, stone walls, and alleys spread with coral sand. Someone plucks away at a three-stringed sanshinーthe Okinawan precursor to the mainland shamisenーas time flows with gentle ease on the island. Taketomi Island is rich in traditional culture which can be felt throughout.

The guest rooms at HOSHINOYA Taketomi Island emulate the island's traditional architecture. All guest rooms have south-facing windows that can be opened to let in the southern winds, which the local islanders say are lucky. HOSHINOYA Taketomi Island developed its new workation plan in response to the current situation when more people are having to do remote work and work from home. It enables people a private abode where they can work and relax simultaneously. And all the necessary amenities have been prepared for a workation.

The guest rooms at HOSHINOYA Taketomi Island are known as guest pavilions, which allow for you feel like you're living like a real islander. They are equipped with Wi-Fi, printers, pand photocopiers too, making it the perfect work environment. And you don't have to worry about hay fever as there are no Japanese cedar or cypress trees around.

The pavilions offer a beautiful view of the bright blue sky and sea. The beaches are also open from March, so you can take a dip in the springtime sea too while basking in the warm climate.

Information

Paikaji Workation

Running: March 18, 2020 – June 30, 2020
Price: From ¥278,460 (Before tax/service charge)

People: Up to 2 people per room

*70% off from the normal price. The above-listed price is calculated for 30 days of stay.

HOSHINOYA Taketomi Island

Address: Taketomi, Yaeyama District, Okinawa 907-1101

TEL: 0570-073-066

Official Website: https://hoshinoya.com/taketomijima/en/
*You must select the meal option if you require food

Go Skiing This Golden Week in Japan at Nekoma Ski Resort

Nekoma Ski Resort, which is located on the northern slope of the Urabandai area, is holding a special spring ski event from March 30, 2020 called "Haru Nekoma ~Nekoma GO! GO! GO!"

The spring season at Nekoma Ski Resort is the time to enjoy the compacted snow berms, with lots of different kinds of berms to try out. So skiers can enjoy the snow berms that pile up in the early morning, the resort is open from from as early as 5:55, and there's also snow lifts, so they can maximise their piste riding experience to the fullest. Skiers can enjoy the full view of Mount Bandaiーwhich is officially listed as one of the 100 most famous mountains in Japanーas well as Lake Inawashiro too as they hit the downhill ski trails.

Haru Nekoma ~Nekoma GO! GO! GO!

Running: March 30, 2020 – May 6, 2020

Times: [Weekdays] 7:30-15:00 / [Weekends & Public Holidays] 5:55-15:00

Lift Price: [1 Day Ticket] Adults ¥3,818 / Junior & High School Students ¥3,091 / Elementary School Students ¥1,909 (Before Tax)

Note: Dates and times subject to change depending on weather conditions

Ride the springtime pistes of Alts Bandai too

For the 2019-2020 season, you can ride the snow footpath that connects Nekoma Ski Resort to Alts Bandai. Go through the gate leading to it, walk through the Japanese beech trees for about 15 minutes, and you'll arrive at the pistes in the deepest part of Alts Bandai which opens up to a spectacular view of Mount Bandai and the town of Inawashiro. Alts Bandai will be shut from March 29, but since there is still plenty of snow to ski down in the high-up pistes even in April, some of the lifts will still be operated. Enjoy a springtime walk and a springtime ski with the beautiful scenery before you with this special ski route.

Running: From March 20, 2020 until the snow melts

Gate Times: 10:00-13:30 (Last entries from Nekoma Ski Resort at 12:00)

Price: Free

Available Courses: Frozen 1, 2, 3 / Peak Lower 3 / Peak Lower 4

Note: A valid day ticket from Nekoma Ski Resort is required

Nekoma Terrace

Bask in the springtime weather at the foot of the pistes in the Nekoma Terrace which has its own bar. After an early morning ski, take a break and relax at the terrace with a drink in hand and soak up the scenery around you as the temperature warms through the day.

Spring Nekoma Terrace

Time: 10:00-14:00

Price: Alcohol ¥454 / Soft Drinks ¥182 (Before Tax)

Location: Nekoma Ski Resort Centre House

Spring discount tickets are also available, which can also be used at Alts Bandaiーwhich has the biggest pistes in Japanーuntil March 29. Ride across 189 hectares and enjoy 26 courses.

Spring Discount Tickets

Available: February 1, 2020 – May 6, 2020

Valid: March 1, 2020 – May 6, 2020

Price: Adults (20-23 Years) ¥20,000 / Junior & High School Students ¥10,909 / Elementary School Students ¥10,000 (Before Tax)

Sold at: Alts Bandai / Nekoma Ski Resort Official Homepage / Alts Bandai and Nekoma Ski Resort sites

5 Must-Visit Cherry Blossom Spots in Toyota City in Aichi Prefecture For Hanami 2020

Toyota in Aichi Prefecture is a city abundant with nature and one home to countless famous flower spots. Tourism Toyota has outlined a list of the perfect places to visit there this spring to enjoy viewing the cherry blossoms for this year's Hanami.

Asian Fawnlily | Korankei

Korankei is a valley created by the Yodo River in Toyota, Aichi, and is said to be one of the best places in Japan to enjoy the autumn colours. In spring, an area covering 5,000m² blooms with beautiful Asian fawnlilies, dyeing the grass as a light purple carpet.

Best Time To See: Mid March – Late March

Location: Korankei, Iimori Asukecho, Toyota, Aichi

Access: Board the Meitetsu Bus bound for Yamani (矢並線) at Toyotashi Station's East Exit, get off at Korankei (香嵐渓), and walk for 10-minutes

Official Website: https://www.tourismtoyota.jp/spots/detail/272/

Cherry Blossoms & Spiraea Thunbergii | Aichi Greenery Center

 

Every year at Aichi Greenery Center from late March to early April, the Spiraea Thunbergii, also known as Thunberg's meadowsweet, blossom their white flowers in full along a path stretching 200 meters, which makes it look like the area is covered in snow. When the cherry blossoms bloom, their light pink flowers offer a beautiful contrast with the snowbound meadowsweet.

Best Time To See: Late March – Early April

Address: Saruta-21-1 Nishinakayamachō, Toyota, Aichi

Access: Board the Oiden Bus bound for Fujioka/Toyota Via Nishinakayama (藤岡・豊田線(西中山経由)) and get off at the Greenery Center (緑化センター)

Official Website: https://www.tourismtoyota.jp/spots/detail/277/

Weeping Cherry Blossoms | Kaminaka

Kaminaka is home to some incredible weeping cherry sights. Around 3,000 weeping cherry trees stretch 1km from the car park, dyeing the mountainous landscape white, red, and pink.

Best Time To See: Early to Mid April

Address: Makigahora Kaminakacho, Toyota, Aichi

Access: 27km from Shidare Interchange (枝下IC) via Sarugata Green Road (猿投グリーンロード)

Official Website: https://www.tourismtoyota.jp/spots/detail/225/

Weeping Cherry Blossoms | Zuiryuji Temple & Daian-ji Temple

Zuiryuji Temple is home to a weeping cherry tree that is said to be 400 years old. It is officially listed as a Natural Treasure of Aichi Prefecture. Its flowers are best enjoyed in early April when it offers a spectacular sight next to the temple gate.

Daian-ji Temple also has an ancient weeping cherry tree that is 260 years old and listed as a National Treasure of Toyota. Another row of cherry trees are located next to it, wrapping the area in gorgeous pink hues. Both of these temple trees are also lit up in the evenings, offering a different kind of beautiful atmosphere from a daytime viewing.

Best Time To See: Early April

Address: Terayama-3 Inabuchō, Toyota, Aichi

Access: Board the Oiden Bus [Kaisoku Inabu] at Toyotashi Station's East Exit, get off at Dongurinoyu Mae (どんぐりの湯前), and walk for 10-minutes

Official Websites:

https://www.tourismtoyota.jp/spots/detail/39/ (Zuiryuji Temple)

https://www.tourismtoyota.jp/spots/detail/697/ (Daian-ji Temple)

Wisterias | Fuji no Kairo

This 370-meter long path is known as Fuji no Kairo, or "Wisteria Corridor," which is home to four different species of wisteria that bloom fully in the spring to the delight of those passing under it.

Best Time To See: Late April – Early May

Address: Mitsukuricho, Toyota, Aichi

Access: Board the Oiden Bus bound for Fujioka/Toyota Via Kanocho (藤岡・豊田線(加納経由)) and get off at Toyota City Hall (藤岡支所). Change onto the Fuji Bus bound for Kawaguchi/Ino (川口・飯野線), then get off at Fuji no Kairo (ふじの回廊口).

Official Website: https://www.tourismtoyota.jp/spots/detail/191/

Shirasagi Coffee: Ehime Prefecture's Cafe Releases Springtime Cherry Blossom Menu

Shirasagi Coffee, a cafe in Ehime Prefecture, has released a new seasonal menu full of strawberries and cherry blossoms to commemorate the spring season.

Shirasagi Coffee's logo features a heron, a reference to a legend that says the locals of Matsuyama in Ehime noticed that a white heron healed its injured leg by bathing in the hot springs of Dōgo Onsen, one of the oldest hot springs in  Japan. The cafe was renovated using furniture made from scrap wood from when Dōgo Onsen was built. It's an artistic cafe that has garnered much attention from both locals and tourists.

Thick-Cut Natural Yeast Toast

This thick-sliced bread is provided by Panya Uzu, a bread shop also in Matsuyama, Ehime. Perfect for breakfast or lunch, it's topped with a cherry blossom jam and mascarpone cheese cream.

Top: Cream Soda / Right: Cherry Blossom Tea Latte / Left: Cherry Blossom & Strawberry Mint Sour

This line-up of three drinks are made using seasonal strawberries grown in Ehime Prefecture.

Sweet Bavarois

Bavarois is a classic dessert at Shirasagi Coffee, and this one is made using matcha grown in the village of Shingu in Ehime and is coated in a cherry blossom cream.

Spring Madonna Parfait

This limited-time parfait is stacked with 12 different ingredients of varying textures and flavours, including cherry blossom, as well as Ehime strawberries, chestnuts, and matcha. It's the culmination of Ehime's springtime ingredients.

Takeout Drinks

Mini Parfait

The cafe also serves mini parfaits, drinks and other items for takeout. Pick something out and go and observe the cherry blossoms for Hanami at Dōgo Park.

Information

Shirasagi Coffee

Address: 2F, 12-1 Dōgoyunomachi, Matsuyama, Ehime Prefecture

Opening Hours: 08:00-18:00 (from 07:00 on weekends and public holidays)

No Fixed Holidays

Closest Station: Dogo Station via Iyotetsu

Official Website: https://shirasagicoffee.com/

*Open everyday until 22:30 from March 23, 2020

*Table reservations available on weekdays

*Breakfast-only until 11:00

Lisa Larson Designs Cute New Cherry Blossom Hedgehog Items

An adorable new collection of items fitting for Japanese springtime have been released featuring Lisa Larson's popular hedgehogs and cherry blossoms. Larson has an interest in Japanese culture, and has designed this line-up in time for the Hanami season.

Letter Paper Set – ¥440 (Tax Included) / Masking Tape (35mm) – ¥550 (Tax Included)

The letter paper and masking tape features cute illustrations of the hedgehogs taking a stroll amongst the cherry blossoms. A great spring gift or souvenir from Japan.

Water Absorbent Cloth – ¥660 (Tax Included) / Tea Towel – ¥660 (Tax Included)

The cloth and tea towel are perfect additions to the kitchen, whether for drying the plates, for food prep, wiping the counter, and so on. The adorable strolling hedgehogs will add a warm touch to any kitchen.

Printed Hand Towel – ¥1,540 (Tax Included)

The hedgehogs are enjoying observing the cherry blossoms on this hand towel, which is light-pink and has a gentle Japanese taste to it. The towel is made using a dyeing technique known as kata-yuzen which is used to dye fabrics for kimono in Kyoto. It's a versatile item: it can of course be used as a kitchen towel or cloth, but also for wrapping gifts like wine too.

Mamezara Dish (Hasami Ware) – ¥1,430 (Tax Included)

The hedgehogs are in the thick of the fully-bloomed cherry blossoms on this mamezara dish, which can be used for food or placing small items like keys and accessories.

Waffles – ¥1,620 (Tax Included)

These tins, which feature Mikey and the hedgehogs, are filled with a traditional waffle confection that has been sold by Tokyo Fugetsudo since 1927. They are light and crunchy round wafers stuffed with cream.

Hanami Set 2020 (Online Orders Only) – ¥11,000 (Tax Included)

Available online only, this special set is the perfect way to enjoy Hanami in Japan this season, featuring a cute bird sake jug and more.

Celebrate the arrival of the cherry blossoms in Japan with this new line-up from Lisa Larson.

Hoshino Resorts to Open New KAI Poroto Ryokan in Hokkaido in Winter 2021

Hoshino Resorts, which manages 42 ryokan inside and outside Japan serving Japanese tradition and culture, signed a partnership agreement with the town of Shiraoi in Hokkaido on June 28, 2018, which would have them open a hot spring ryokan there. It has been revealed that the new facility will be named Hoshino Resorts KAI Poroto.

Hoshino Resorts KAI Poroto. Built by Japanese architect Hiroshi Nakamura, the site will open its doors in winter 2021 as the 19th branch of Hoshino Resorts's hot spring ryokan brand KAI, of which it operates 16 in Japan. It will be the third branch of KAI in Hokkaido, following from Hoshino Resorts RISONARE Tomamu in Shimukappu village and Hoshino Resorts OMO7 Asahikawa.

Hot springs in Shiraoi, Hokkaido include moor springs, a type of organic spring water that is rare globally. KAI Poroto faces Poroto Lake, which is enveloped in nature and home to creatures such as wild birds. All rooms at the ryokan enjoy a view of the lake, as well as a chance to see the trees and flowers bloom and change in different colours throughout the seasons.


KAI's aim is to offer Japanese hospitality that can only be experienced in that town or city, and during that season, as well as to give guests a comfortable experience in a Japanese-style accommodation. At KAI Poroto, they are set to offer a completely new experience tied to Ainu culture in collaboration with the Upopoy National Ainu Museum and Park currently in development in Shiraoi.

Upopoy is scheduled to open at Lake Poroto on April 24, 2020. "Upopoy" is a word in the Ainu language that means "singing in a large group." The museum is the first national museum in Japan to be dedicated to the indigenous Ainu people. It will serve as the national center for the revival and development of Ainu culture, something which is on the verge of extinction, and it will do this by showcasing Ainu culture and history through exhibitions, hands-on programmes, performances, and more.

Hiroshi Nakamura is the architects that designed Hoshino Resorts KAI Poroto. "Poroto" is also a word in Ainu to mean "large lake." The ryokan's lobby, which is decorated with Japanese white birch, offers a view of the lake and Mount Tarumae. There are also small bath houses called kashi which have been made using Ainu architectural methods, as well as open-air baths that have you feeling like you're taking a dip in the lake.

Information

Hoshino Resorts KAI Poroto

Address: 1-1018-1 Wakakusacho, Shiraoi, Shiraoi District, Hokkaido

Construction Work Start: Mid-May 2020 (subject to change)
Grand Opening: Winter 2021 (subject to change)

Official Website: https://kai-ryokan.jp/

Cherry Blossoms and Rape Blossoms Compete For Spring at Kusaba River in Fukuoka

The town of Chikuzen in Fukuoka Prefecture is home to a 2km strip of cherry blossom trees which bloom their pink beauty along the Kusaba River in spring. The area sees countless people flock there during the Hanami season to see the trees in full bloom.

But Kusaba River isn't only home to cherry blossoms; it also sees rape blossoms sprout their yellow flowers during springtime, which offers a beautiful contrast to the overhead pink from the cherry trees.

The place is lit up in the eveningsーa great chance to see the cherry blossoms in a different light at night.

Rich verdure lines the whole of Kusaba River, so be sure to visit if you're heading to Fukuoka this spring to see the cherry and rape blossoms.

Information

Kusaba River

Address: 875 Hisamitsu, Chikuzen, Asakura-gun, Fukuoka

Bloom Period: Late March – Early April

Access: 5-minutes on foot from Shincho Bus Stop (新町バス停) via Nishi Tetsu Bus

Experience Hanami and Cherry Blossoms With Digital Art at FLOWERS BY NAKED 2020 – Sakura –

FLOWERS BY NAKED is an annual flower-themed digital art event held by NAKED Inc. As part of this year's event, FLOWERS BY NAKED 2020 – Sakura –, a special addendum event entitled "Nijo Castle Sakura Matsuri" will take place during the evenings at the World Heritage Site Nijo Castle From March 20 to April 12 this year.

FLOWERS BY NAKED is an interactive digital art experience. It has been held at Nijo Castle during the autumns of 2018 and 2019, but this will be the event's first time being held in Kyoto during the spring season. 2020's theme is cherry blossoms, and this will be showcased in a number of wonderful ways.

Prologue | NAKED BIG BOOK

"NAKED BIG BOOK, a monument of the beginning of this exhibition, will show collaboration works by an artist Ryotaro Muramatsu and a photographer LESLIE KEE. LESLIE KEE contained energy into photographs as the quiet expression, and Ryotaro Muramatsu reinterprets his works to dynamic photography art.​"

Arrival of Spring | Kara-mon Gate (Important Cultural Property)

"Projection mapping expresses the coming of Spring on Karamon-Gate as an important cultural property."

Flowers Wall ~ SAKURA ~ | Inner Moat

"Projection mapping of impressive sakura on the moats in Nijo-jo Castle. The landscape will transition following sakura."

Sakura Droplets | Seiryu-en Garden

"A mystical space surrounded by real sakura where bubbles confined spring fragrance float as the sakura droplet.​ ​"

The event is working on countermeasures against the coronavirus, such as installing disinfectants and having staff wear masks. It requests that visitors take normal measures against the infection such as cough etiquette and washing your hands. Click here for more information.

Information

FLOWERS BY NAKED 2020 −Sakura− World Heritage Nijo-jo Castle

Running: March 20, 2020 – April 12, 2020
Opening Hours: 18:00-21:00 (Closed at 22:00)
Location: Nijo-jo Castle
Admission Fees:

Early Bird Tickets (Available until March 19, 2020) / Junior High School and Older ¥1,000, Elementary School Students ¥800
General Tickets (March 20, 2020 – April 12, 2020) / Junior High School and Older ¥1,400, Elementary School Students ¥800
*All prices above include tax. Free for preschoolers. Disability discount available.

Official Website: https://flowers.naked.works/2020nijojo-sakura/

Must-Visit Spots in Kagawa Prefecture in 2020: Cherry Blossoms, Dolphins, Bonsai & More

Appreciation for the Seto Inland Sea in Japan is on the rise: American company Discovery named Shikoku one of its Top 10 must-visit rising locations around the world for 2020, and the city of Setouchi in Okayama has featured as a recommended travel destination in Western media. One particular location, Kagawa Prefecture, has been featured on many international travel sites as a must-visit place, including on Booking.com, Skyscanner, and REMOTE LANDS, with places such as Takamatsu, Teshima, and Shōdo Island being picked up.

Takamatsu is known as the doorstep that brings together the many islands of Seto Inland Sea. It's a port city with great fresh food, highly convenient for travellers wanting to visit lots of different islands, and a popular region that brings together elements of Japanese culture.

Today, we take a look at some must-visit locations around Takamatsu, including a new facility opening, must-visit spots for spring to early summer, food, and more.

Shikoku Aquarium – The largest aquarium in Shikoku

Shikoku Aquarium is set to be the largest across Shikoku when it opens its doors to the public on March 20, 2020. It's located inside Utazu Seaside Park in the town of Utazu where it will exhibit the creatures that live in Shikoku and feature the many different seaside landscapes located there. But the aquarium won't just stop at showcasing animals, it will also be a cultural facility where you can learn about the history, culture, and natural environment of Shikoku, and there'll be artwork perfect for the Setouchi Triennale contemporary art festival which is held around Seto Inland Sea every three years.

Shikoku Aquarium

Address: Utazu Rinkaikoen, 4-1 Utazu, Ayauta District, Kagawa

Opening Hours:

[March 20, 2020 – September 30, 2020] 9:00-18:00

[October 1, 2020 – March 19, 2021] 10:00-18:00

[Golden Week/Summer Break] 9:00-21:00

No Fixed Holidays

Price: General (16+ Years & High School Students) ¥2,200 / Children (Elementary School Students) ¥1,200 / Toddlers (3+ Years) ¥60

Official Website: http://shikoku-aquarium.jp/

Well-Known & Little-Known-Good Cherry Blossom Spots

Kagawa Prefecture is home to many spots that offer beautiful sounds and sights throughout the four seasons. Cherry blossom season is right around the corner in Japan, so let's take a look at some must-visit spots, both popular and little-known good ones.

■Well-Known Spots

Ritsurin Garden (Takamatsu)

One of the most famous historical gardens in Japan, Ritsurin Garden is home to around 320 Yoshino cherry trees, whose pink colour reflects beautifully off the lake together with the 1,000 green pine trees.

Marugame Castle (Marugame)

Marugame Castle is one of only 12 castle in Japan to have an original wooden tenshu, or castle tower, built. From the great height of the castle's stone wall, which is the tallest in Japan, one can gaze down at 1,000 cherry blossom trees in bloom.

■Little-Known-Good Spots

Megijima (Takamatsu)

Around 3,000 cherry trees bloom on t he island, including Yoshino cherries, yama-zakura, and yae-zakura, which roll from the port to the lighthouse.

Asahiyama Forest Park (Mitoyo)

Asahiyama Forest Park is located on the peak of Mt. Asahi, up 238 meters high. There, you can witness 2,000 vibrant cherry blossom trees bloom in spring, including Yoshino cherries. The park's observation deck is popular too, offering a 360° panoramic view.

Experience the world of bonsai in Kagawa, the only place in Japan which produces pine bonsai trees

Interest in bonsai trees continues to grow every year not just in Japan but overseas too. The number of people incorporating them into their lives as interior decoration is on the rise. Kagawa Prefecture is the only place in Japan which produces pine bonsai trees, the largest places being Kinashi and Kokubunji in Takamatsu. There are around 60 bonsai makers in both of these towns, so you are sure to spot some if you walk through them.

Official Website: https://takamatsu-bonsai.com/en/

The new Takamatsu Bonsai no Sato is also set to open on April 17, which will include an information centre providing information on bonsai culture in Takamatsu, and there will be workshops too. Whether you're new to bonsai or a pro, there's something for everyone to enjoy.

Takamatsu Bonsai no Sato

Grand Opening: April 17, 2020

Address: 353-1 Kokubunjichō Kokubu, Takamatsu, Kagawa

Travel to Kagawa this spring to enjoy the cherry blossoms and pay a visit to the new Shikoku Aquarium.