Witness Mount Fuji and Fully Bloomed Cherry Blossoms at HOSHINOYA Fuji
HOSHINOYA Fuji is offering a very special Hanami flower-viewing experience for guests from April 7 to 21 this year where they can observe the springtime cherry blossoms against the backdrop of Mount Fuji. Offers include cherry blossom desserts, a glamping experience inside a cabin eating curry while enjoying the scenery of the outdoors, a private outdoor dining dinner, and more.
HOSHINOYA Fuji hails as Japan's first luxury camping resort. Located on the hill overlooking Lake Kawaguchi near Mount Fuji. It offers the ultimate glamping experience, with a large outdoor terrace surrounded by nature, cabins that can be enjoyed throughout the year, and more. It's difficult to go out and enjoy the cherry blossoms on the streets right now, but if you'd still like to enjoy spring safely with your special someone, then HOSHINOYA Fuji has created a special springtime experience.
Sakura Apéro: Witness the cherry blossoms during sunset with desserts in hand
"Sakura Apéro" is a chance to take a breather and enjoy all the beauties nature has to offer. It is held in the cabin area of HOSHINOYA Fuji under the towering cherry blossom trees. Sit back, relax, and enjoy an evening treat of cherry blossom flavoured bean paste rice cake, a cup of matcha milk or a matcha cocktail, and a front row seat of the cherry blossoms as the sun sets.
Hanami on the terrace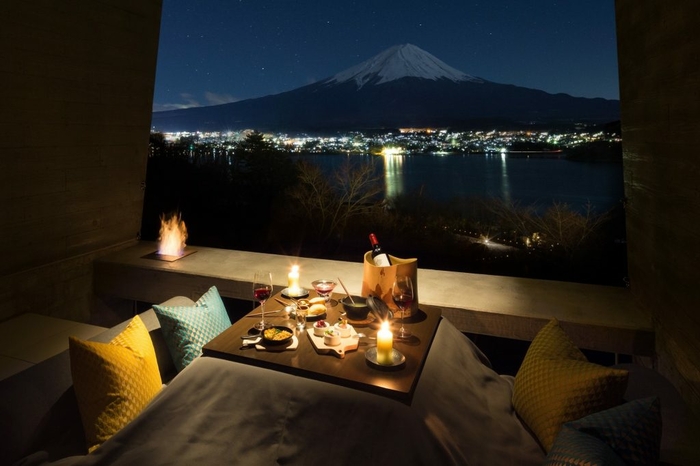 HOSHINOYA Fuji's cabina area is built in such a way so that guests can enjoy an outdoor experience. One third of the cabin has a terrace area with an enormous window that looks out into the natural landscape. A fireplace and kotatsu is available so you can still enjoy the outdoors even inside while relaxing with a comfortable stay into the late nights. Some of the cabins offer a view of the surrounding cherry blossom trees, inviting spring into your room.
Curry made on one of Mount Fuji's lava plates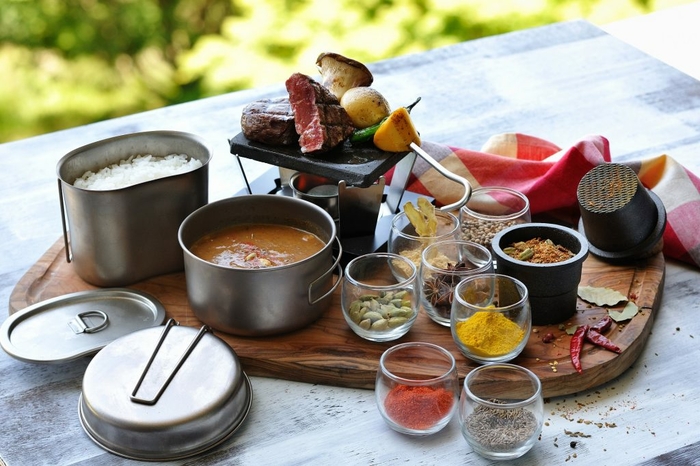 At HOSHINOYA Fuji, guests can enjoy outdoor cooking in luxury be it in one of the cabins or the dining restaurant in the forest. Those who want to relax in a cabin are recommended the "Glamping Curry" at the terrace. You grill beef and vegetables yourself on a Mount Fuji lava plate and can combine five spices of your choice to create your own original flavour. In the outdoor dining area, which is exclusive to groups of guests, game meat is also served, such as boar and deer, as well as seasonal vegetables prepared in a dutch oven. For dessert, there's cherry blossom flavoured ice cream. You can also make your own strawberry sauce using fresh strawberries over a fire to pour over your ice cream before topping it with matcha crumbles.
Due to the ongoing situation surrounding the coronavirus, all guest rooms and public areas at all HOSHINOYA facilities are being thoroughly cleaned in line with the recommended guidelines to ensure the health and safety of guests and staff. Alcohol gel is available at all HOSHINOYA facilities, and staff's health and hygiene are being consistently examined.
Information
HOSHINOYA Fuji
Address: 1408 Ōishi, Fujikawaguchiko, Minamitsuru-gun, Yamanashi
Official Website: https://www.hoshinoya.com/
RELATED ENTRIES
Hoshino Resort's Banta Cafe in Okinawa to Open Limited-Time Night Cafe During Winter

Located in wonderfully warm Okinawa, Hoshino Resort is the perfect getaway for those wanting a warmer winter. The Banta Cafe overlooks the ocean, offering unmatched views. From December 1, 2021, until January 31, 2022, the cafe will hold the 'Illumi-Banta: Night Lights by the Sea' event. Of course, Illumi-Banta is a portmanteau of the words 'Illumination' and 'Banta,' but the Okinawan word iyumibanta means 'a cliff overlooking the fish.' The entire location, from the top of the cliff all the way to the sea, will be bathed in otherworldly light. A special menu will also be available during the event period, serving up food perfect for eating as guests wander by the seaside. A number of Okinawan workshops will also bring local craftsmen to the site to show off their creations. Why bundle up when you can enjoy a warm winter by the ocean? 

A Fantastic World of Light and Ocean Life

Banta Cafe sits on a cliff above the water, and the waters beneath it hide gorgeous coral reefs. Watch the sea come to life, as the ocean, white sand beach, and rock formations are illuminated. The lights will change colors during the daily light show along with the tides, so don't miss it!

Light Show Times: 18:30, 20:00, 21:00 *Each show lasts about five minutes.

Playful Plant Shadows

On the large roof deck located at the entrance, large fern and palm leaves have been arranged to welcome guests along with other plants local to Okinawa. Using lights, the shadows from these plants reach massive heights on the 4-meter high Ryukyu limestone walls, and guests are encouraged to try making some fun shadow puppets for the perfect snapshot!

Enjoy a Lantern-Lit Night Picnic with the Strolling Soup Set

The night cafe will be selling a special Strolling Soup Set menu, inviting guests to venture out onto the sandy shore with a lantern in hand to enjoy a meal beside the sea. Guests can choose two of the available four soups along with a crispy baguette and herb butter. 

Hours: 18:00 – 20:30 (Last Order)

Price: Strolling Soup Set for Two, ¥2,600

Includes: Two types of soup and bucket for two people, lantern and basket rental

Four Types of Soup

・ Minestrone
Filled with colorful vegetables, such as tomato, bitter melon, and yellow carrot

・Clam Chowder

Packed with seafood flavor and a unique mix of Okinawan spices

・Consomme with Yushi Tofu
A lightly-salted soup made with Okinawa's fluffy Yushi Tofu and thick-cut bacon

・Yam and Cauliflower Potage
Creamy potage with white cauliflower and brightly colored yam

The Night Light Market, a Gathering of Proud Okinawan Artists

On Saturday nights from January 8 to January 29, the Night Light Market will bring various artists and craftsmen from Okinawa to the Hoshino Resort. These artists will be excited to share the culture of Okinawa and will offer a range of products made of locally sourced materials. Guests can even try their hand at local crafts at the indoor Gorogoro Lounge!

Running: Every Saturday Night from January 8 – January 29, 2022

Hours: 18:00-21:00

Wouldn't you prefer a warm Okinawan winter? 

Information

Illumi-Banta

Running: December 1, 2021 – January 31, 2022 (Closed from January 17-21)

Hours: Sunset – 21:30

Official Site: https://banta-cafe.com/

RIHGA Royal Hotel Osaka to Offer Extremely Limited Halloween Accommodations

The RIHGA Royal Hotel Osaka has announced a spectacularly limited Halloween accommodation plan, titled 'A Terrifying Banquet in the Mysterious Lord's Castle.' Only one lucky person per day can book the decorated room, which features in-room meals and more treats to discover. Reservations are open through October 28, and the room will be available from September 10 until October 31.

'A Terrifying Banquet' Dining Table

Living Room

Skeletons in hotel uniform, ready to greet guests in the front room

This spooky setup will be held in the Fontainebleau suite, themed as a French palace. Guests will enjoy a western dinner course in the comfort (or discomfort) of the room. Decorated with black cats, ever-watchful owls and skeletons, guests can also look forward to taking plenty of photos at a designated photo spot on the sofa.

As the COVID-19 pandemic continues to keep people in their homes, the hotel created this room as a way to experience a new kind of cozy Halloween getaway. Visitors will enjoy plenty of other perks, including free parking, soft drink coupons, and breakfast the following morning.

Would you be able to sleep in this room filled with skeletons and specters?

Information

Special Halloween Room: 'A Terrifying Banquet in the Mysterious Lord's Castle'

Reservations Open: September 1 – October 28, 2021

Room Available: September 10 – October 31, 2021

*Reservations accepted until 8:00AM, 3 days in advance.

Official Site: https://www.rihga.co.jp/osaka/stay/plan/halloween2021

Hoshino Resort Tomamu Offers Limited-Time Salmon Themed Package

One of the largest resorts in Hokkaido, Hoshino Resort Tomamu will be offering a 'Family Salmon Trip' package starting on September 4, 2021. This two-day, one-night plan will be available until October 31, 2021, and features a salmon-themed room complete with salmon pajamas! The accompanying meal plan includes dishes made from different parts of salmon, complete with a challenge: try your hand at making salmon roe, and enjoy your creation at breakfast the next day! Who knew that a salmon-themed getaway was even possible? 

Salmon Room

Bath inspired by a salmon roe bowl

Salmon Roe making experience

Children's Salmon Plate

Salmon Dinner

Breakfast 'Salmon and Roe Oyako-don'

Why the salmon theme? The source of the Mukawa River is located near the resort, and where salmon are said to migrate, leaping upstream. Starting in September 2017, the salmon travel plan was introduced to inspire visitors to enjoy this fish at peak season. During the two-day, one-night stay, guests can surround themselves with all things salmon, going so far as to feel like one themselves! This 'Family Salmon Trip' was launched to give children a chance to experience the fun, based on one of Hokkaido's most beloved dishes. 

The plan includes a room decorated from floor to ceiling in fishy furnishings, including salmon curtains, mugs, figures, and cushions. The bedroom is inspired by the salmon's difficult trek up the river, with a bed frame depicting father and son bears attempting to make a catch. Children will have a blast transforming into a salmon in their special pajamas, complete with a nightcap. The whirlpool tub offers stunning views, but that's not all–with the help of bath salts, the bathtub transforms into a bowl of salmon roe, with a new salmon fillet float to make the experience even more memorable!

Families can change into a cook's coat and try their hand at preparing salmon roe, which will then be used in next day's 'Salmon and Roe Oyako-don' breakfast. The 'Children's Salmon Plate' features a collection of unique salmon dishes on a fish-shaped plate, while adults can enjoy the featured Salmon Dinner, which uses every part of the salmon, from the nose to the tip of the tail!

How do you feel about a salmon-themed family vacation? 

Information

Family Salmon Trip

Running: September 4, 2021-October 31, 2021 until check-in
Details/Reservations (up to 10 days in advance): https://www.snowtomamu.jp/ 

Relax With Cows and Sheep at Hoshino Resorts Tomamu in Hokkaido

Hokkaido's largest hotel resort Hoshino Resorts Tomamu is set to open its enormous new 100-hectare farm area this summer for a limited time between July 1 and September 30. Guests are invited to sit and lay amongst the farm's animals during the warm season.

Relax in nature

The farm area was originally an agricultural ground home to around 700 cows. Hoshino Resorts Tomamu wanted to bring the space back to its origins for people to enjoy, and so it is now operating as 100s hectares of farmland. The resort has offered a range of limited-time experiences on the land in the past, such as the Cow & Daytime Nap Hammocks where people can doze on hammocks and count the sheep, as well as the Pasture Lounge, and more.

What to expec

Inhale the smells of nature while laying on some comfy beds

Guests are invited to kick back and relax on a warm and cosy bed spanning 30 meters. Its large size means you don't have to come into close contact with everyone, enabling you to enjoy yourself withour worry. Cushions and blankets are also prepared.


Soak up the sights and sounds of the farm

The cows on the grass

Hammocks for a siesta snooze

Yagi the Postman

Information

Farm Beds

Running: July 1, 2021 – September 30, 2021

Price: Free

Time: 10:00-16:00

Location: Hoshino Resorts Tomamu Farm Area

Note: Accessible to hotel and daytrip guests 

*Will not run if the weather is bad

Official Website: https://www.snowtomamu.jp

Experience Japan's Rainy Season Hydrangea With This Special Hotel Plan

Hoshino Resorts KAI Hakone has announced a special hydrangea-themed hotel plan for Japan's rainy season which will run from June 12 to July 4.

Hydrangeas bloom before guest room benches

At KAI Hakone, there is a special guest room with an outdoor bench seating area which looks out into the green forest. Hydrangeas will bloom, providing a gorgeous backdrop as guests enjoy the sounds of the Sukumogawa River.

Hydrangea accessory kit

Guests will be given an accessory kit in their rooms to make their own flower accessories from hydrangea leaves and wooden mosaics. These accessories can be fitted to yukata, used as piercings, and more to serve a Japanese summer vibe.

Enjoy hydrangea sweets and shaved iced

Guests can turn their rooms into a little tearoom with the wooden mosaic plaques provided on which they can tuck into a range of hydrangea-flavoured sweets and desserts along with a cup of matcha. The shaved ice is a KAI Hakone-original made with jelly and syrup coloured purple with hydrangea.

The hydrangea is perhaps the most celebrated flower in all of Hakone, arriving in early summer. It's hailed in a variety of ways, one of the most popular being the Hydrangea Train, a nickname given to the train that runs from Odawara Station to Gora Station. Passangers are treated to an incredible view out the train window as their vision is filled with vivid hydrangea flowers.

This year marks the second that KAI Hakone is offering its seasonal hydrangea plan. If you're able to visit during this time, don't miss out.

Sakura Miku Blossoms On Merchandise at Hirosaki Sakura Matsuri 2021 in Aomori

Japanese anime, game, and hobby merch site CharaAni released a new collection of Sakura Miku merchandise on Monday in collaboration with the Hirosaki Sakura Matsuri 2021 festival.

Hirosaki Sakura Matsuri 2021 x Sakura Miku Line-Up

Folders | ¥450 Each (Tax Included)

Tapestries | ¥3,500 Each (Tax Included)

Acrylic Stands | ¥1,500 Each (Tax Included)

Holographic Pins | ¥550 Each (Tax Included) *Blind box, designs are random

Reversible Blankets | ¥5,500 Each (Tax Included)

Scarf Towel (Art by iXima) | ¥2,000 (Tax Included)

Happi (Art by iXima) | ¥6,000 (Tax Included)

Hand Towel (Art by Mamo) | ¥1,000 (Tax Included)

Motel Key Ring (Art by iXima) | ¥1,500 (Tax Included)

Teacups | ¥1,700 Each (Tax Included)

Flat Pouch (Art by iXima & Mamo) | ¥2,500 (Tax Included)

Drum Bag (Art by iXima) | ¥6,500 (Tax Included)

Full Graphic T-Shirt (Art by Morichika) | ¥5,500 (Tax Included)

Full Graphic Zipper Hoodie (Art by Hechima) | ¥9,900 (Tax Included)

Fashion Mask (Art by iXima) | ¥2,200 (Tax Included)

Desk Mat (Art by iXima) | ¥3,300 (Tax Included)

Shitakawa Rayaki Dove Whistle | ¥2,200 (Tax Included)

Music Box: "Haru o Matsu Hito" – PolyphonicBranch feat. Hatsune Miku

The Sakura Miku x Hirosaki Sakura Matsuri 2021 collection invites on board four artists: iXima, Mamo, Hechima, and Morichika who have created original artwork for the line-up. The items can be bought both at the festival and online.

The collection also includes Sakura Miku-inspired dove whistles made by Shitakawa Rayaki Tsuchi Ningyo, a clay doll company that has been around for over 200 years. The company began in the latter half of the Edo Period when Takaya Kanegura, who had learned how to make ceramics in the town of Chikuzen in Fukuoka, was employed by the Hirosaki Domain to build a furnace.

Miku fans can also get their hands on a music box which features an original song created for the festival called Haru o Matsu Hito ("Person Waiting For Spring"). It features artwork by iXima.

Art by iXima / Mamo / へちま / もりちか © Crypton Future Media, INC. www.piapro.net

Get Wet at This Rain Themed Event at Hoshino Resorts RISONARE Yatsugatake

Hoshino Resorts RISONARE Yatsugatake is calling for the rain this summer with the announcement of its Yatsugatake Fure Fure Sky event. The event will see over 1,000 fure fure bozu strung up—small handmade dolls to pray for the rain—along the 150-meter main street Green Pepper Avenue. The dolls act as the opposite of the more well known teru teru bozu dolls which are used to prevent rainy days.

Rain is something that's always on the mind of travellers who hope for a dry trip when they reach their destination. This event however takes advantage of the rainy days to turn it into something to be enjoyed.

Yatsugatake Fure Fure Sky: 3 Things to Enjoy

The grand spectacle of the rain and over 1,000 dolls

Colourful fure fure bozu will line Green Pepper Avenue which serve as gorgeous decorations. There are eight colours to be spotted which represent the Yatsu in Yatsugatake meaning "eight" in Japanese.

Enjoy the sight and sound of the rainfall in the Rainy Domes

Sit inside your very own dome along Green Pepper Avenue and enjoy the sounds of the tapping rain. This is an experience that is best enjoyed when it rains, meaning praying for the rain is a must. It's a chance to enjoy the rain without getting wet while sipping on wine and tucking into some light food.

Times: 11:00-16:00
Price: Free

Location: Green Pepper Avenue

Snap some photos in the rain wearing a Fure Fure Poncho

Inside the activity centre, visitors can rent their very own Fure Fure Poncho. This means they can head out in the rain and enjoy the sounds of the rain hitting their poncho, which is available in three different colours and all sizes for the family.

Times: 9:00-18:00

Price: Free

Location: Activity centre

Notes: Exclusive to Hoshino Resorts RISONARE Yatsugatake guests

Information

Yatsugatake Fure Fure Sky

Running: June 1, 2021 – July 11, 2021
Times: 9:00-18:00


Price: Free

Location: Green Pepper Avenue (Japanese Name: ピーマン通り)

Official Website: https://risonare.com/yatsugatake/

Enjoy a Picnic Under Okinawa's Starry Night Sky on Taketomi Island

HOSHINOYA Taketomi Island, a hotel resort in Okinawa, is bringing back its night time picnic plan this year where guests can sit on sofas by the beachside with the gorgeous starry sky overhead. The plan is called "Hoshi Furu Yoru no Teingaara Picnic" (Starry Night Milky Way Picnic). Teingaara (てぃんがーら) is Okinawan for the Japanese word for Milky Way (Ama no Gawa, 天の川). It will run from June 1 to August 31.

Gaze at the Milky Way beside the tranquil seaside

Aiyaru Beach is just a five-minute walk from HOSHINOYA Taketomi Island, and it's here where guests can enjoy a breathtaking view of the Milky Away. The beach is situated away from any hustle and bustle, and not many people visit at night, allowing for a chance to enjoy the sound of the waves. Plus, there aren't many days when people have picnics when the moon is out, meaning guests can enjoy a more quiet and private picnic under the moonlight on a comfy sofa.

A fancy picnic inspired by the Milky Way

Tuck into a very special picnic based on the Milky Way made with Taketomi Island's famous Japanese leek, papaya, purple yam, and other delicious veggies as well as island tofu cream and miso. The set comes with a sparkling wine which captures the deep hues of the night sky.

A conversation with the stars

An expert on the Ishigaki Island and the stars will take guests on a journey through the stars, offering commentary on the island's beauty and culture.

In March 2018, the Yaeyama Islands, which includes Taketomi Island, were recognised by the non-profit organisation International Dark‑Sky Association as Japan's first International Dark Sky Park for its distinguished quality of starry nights. The Yaeyama Islands have a lower latitude than Tokyo meaning many more stars can be seen in the sky. Summertime is the best season for enjoying its stars too.

Information

Hoshi Furu Yoru no Teingaara Picnic"

Japanese Plan Name: 星降る夜のてぃんがーらピクニック

Running: June 1, 2021 – August 31, 2021

Closed: June 20-25, July 19,-24, August 7-22.

Times: 20:00-21:30

Price: ¥30,000 per group (does not include tax, service charge, or accommodation fees)

Capacity: 1 group of two people per day
Bookings: https://hoshinoya.com/taketomijima/

*Bookings must be made 14 days in advance

*Picnic will not run if the weather is bad

*Picnic ingredients subject to change depending on stock

Hoshino Resorts OMO3 Kyoto To-ji Opens For Business

The all-new Hoshino Resorts OMO3 Kyoto To-ji hotel opened its doors on April 15, 2021, welcoming guests to the surrounding area home to To-ji, Kyoto's famous Shingon Buddhist temple. The hotel's concept is "The Heart's Trip Through Time and Space," and aims to showcase to guests the sights and wonders of the To-ji area. The temple itself, which is listed as a UNESCO World Heritage Site, is just a 5-mintue walk from the hotel.

To-ji has a long history dating back to 796 when it was founded. Its 1,200 year or so history has spanned multiple periods of Japanese history. In 823, the Emperor Saga honoured the Japanese monk Kukai and bestowed the temple to him. Kukai made To-ji the central seminary of esoteric Buddhism and built various buildings such as the pagoda and halls. Since then, To-ji has been the headquarters of this esoteric sect of Japanese Buddhism. It is a hot spot for tourists and a sight many have most likely seen when looking up must-visit locations around Kyoto.

Inside the hotel

A delightful assortment of menu items

A stroll around To-ji

National Treasure morning walk

Two artworks: "Mandala Art" and "Hohoemi Wall"

Sand table for writing characters

Deepen your knowledge at the Shinbashira book table

OMO Hotels introduce their guests to the local area's secrets, allowing them to jump right in to all that's on offer. It acts as a resort of sorts with the hotel at the centre and the local sights within walking distance. To enjoy all there is to see, OMO offers the Go-KINJO tour guide service which comes in two forms: Go-KINJO Map and Go-KINJO Activity. Both have guests led by an OMO Ranger who are experts in the area and will take guests to see various locations while providing commentary.

On their tour, guests can learn all there is to know about the To-ji area, both past and present. That includes information about famous local stores not listed in guidebooks. It's an opportunity to discover the true To-ji area from when the temple was built to today by actually walking around seeing the sights yourself.

Stay in a Penguin Themed Hotel Room at Hoshino Resorts OMO7 Asahikawa

Hoshino Resorts OMO7 Asahikawa opened its Penguin Room on April 6, a single new guest room themed around penguins designed in collaboration with Asahikawa Zoo.

Penguin Room Feature ①

Guests are immediately greeted with penguins galore as the enter their room, with penguin plushies by the bedside, on the ceiling, and pretty much everywhere else. It will be like staying with a family of penguins for the duration of their stay.

Penguin Room Feature ②

After a visit to Asahikawa Zoo, guests can head back to their hotel room where a variety of fun penguin-related items are stocked including games, all of which will remind them of their time at the zoo.

Penguin Room Feature ③

The room is also decorated with boards featuring photos and information of animals at Asahikawa Zoo. The boards are handwritten by the zoo staff, something they do every spring season.

Hoshino Resorts OMO7 Asahikawa previously collaborated with Asahikawa Zoo when a polar bear themed room. Now, penguin lovers can have their dream come true as they spend their time surrounded by penguin decorations in their room. The hotel is just a 30-minute car ride from Asahikawa Zoo, so why not make a plan to experience both if you're visiting Hokkaido this spring?

Hoshino Resorts Tomamu Releases Original Craft Beers

Hokkaido-based luxury resort Hoshino Resorts Tomamu is set to sell a limited-time selection of original craft beers this summer from July 1 to August 31.

Tomamu Pilsner

Tomamu Amber Ale

Tomamu Black Ale

The Japanese word for corn is toumorokoshi, but in Hokkaido it's called toukibi. This collection of corn beers is made with natural water drawn from Hokkaido along with other tasty ingredients. These beers are each made in collaboration with North Island Beer, The Heavy Snow Beer, and Onuma Beer, and come in response to the decrease in occasions to be able to enjoy chilled glass of beer as a result of COVID-19.

The beers have sweet notes of corn and are each made in the style of the three respective beermakers who each have their own malt, hops, and flavours they pick.

Karuizawa's New Apple Farm Opens in Collaboration With Hoshino Resorts and Local Farmers

The Karuizawa-based hotel and hot spring complex Hoshino Onsen Tombo-no-yu joined hands with local apple farmers last year to help support apple cultivation for their apple hot springs. This is now being taken to the next level with the opening of Ringo Tsuchi, an apple farm that Tombo-no-yu staff helped to build. The farm opened on March 19, and locals will be able to visit part of the farm for free starting on April 26.

The project ties in with the global Sustainable Development Goals (SDGs) initiative, specifically the 12th goal: "Responsible Consumption and Production," which looks to ensure sustainable consumption and production patterns. Karuizawa is located in Nagano Prefecture which is ranked as the 2nd biggest producer of apples in Japan. When growing apples, those fruits which incur any kind of damage or grazing isn't shipped to the country's supermarkets or stores. It's these not-so-perfect apples that Tombo-no-yu uses for its apple hot spring experience. Though it may just be a small step towards that goes, it still goes a small incremental way towards achieving it.

Free entry to Ringo Tsuchi

The main raw materials at Ringo Tsuchi ("Apple Earth") are the apples used in the apple hot springs and fallen leaves from around the Hoshino area. In addition to compost and water, the materials are fermented, which adds the necessary nutrients to growing apples and creates soft and breathable soil. And since compost is added, it creates an environment where gardening tools can be used in the earth without any prior preparation.

The completion of Ringo Tsuchi

In the mid-October last year, work was carried out at Nomoto Kajuen Orchards in Mimakigahara Okubo, Nagano, to carefully select picked apples and not-so-perfect apples. These apples were used for the apple hot springs at Tombo-no-yu over a three day period from October 23 to 25. The apples are placed in both the male and female hot springs to float on the water.

After that three-day period, the apples were collected, washed, and cut to be used for compost. Since fermentation removes water content, the staff also had to add water twice a month to manage the compost.

Working with the locals

Katsuya Nomoto is a representative of Nomoto Kajuen Orchards, a farm that grows apples, prunes, and more. The farm takes advantage of the area's high altitude and takes pride in its work to cultivate produce that is healthy to the body and environment using soil microbes as an organic fertiliser. It's also officially recognised as a farm dedicated to supporting Nagano's environment, and carries out school trips for children to visit, creating ties with the local community.