Re:Zero Gets First Mobile Game With Branching Story Releasing in 2020
Sega has announced it is releasing the first ever mobile game for the popular anime series Re:Zero − Starting Life in Another World this year. The game's tentative title is the same as the anime series.
Re:Zero − Starting Life in Another World is a light novel series written by Tappei Nagatsuki and illustrated by Shinichirou Otsuka. It began as a web novel and has since become immensely popular within the international anime and manga community. The 22nd volume of the light novel series was released in March of this year, and the series as a whole has shipped over 7 million copies.
A 25-episode anime series aired in 2016, and a second season is slated for July 2020. Before that's released, an edited version of the first season has been airing since January which features new cuts and one-hour durations.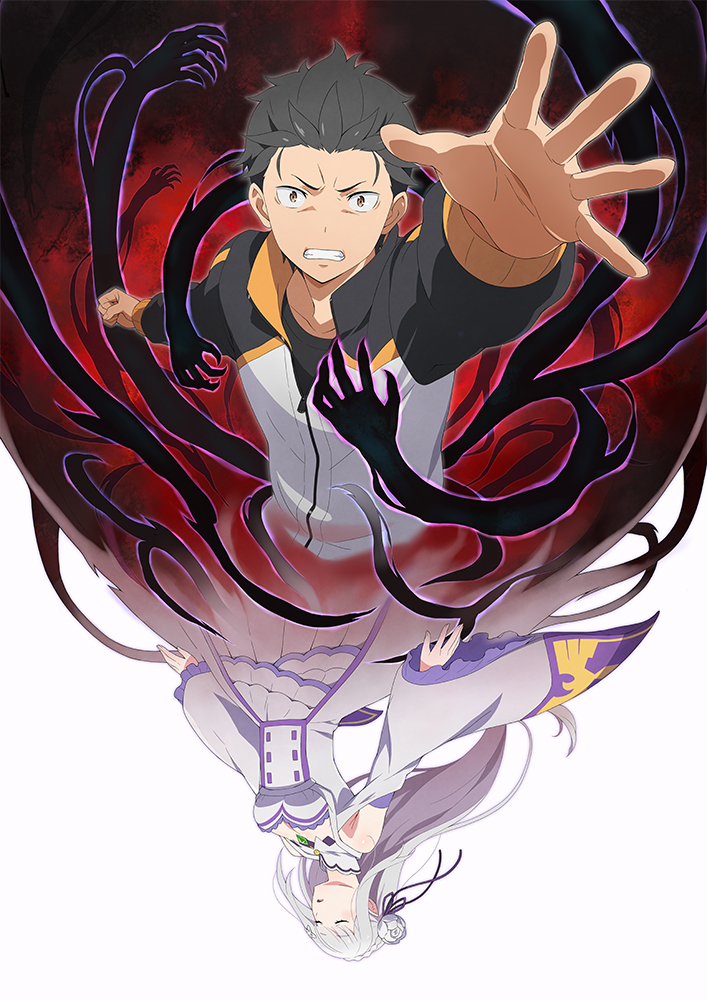 The video game will be based on the popular light novel series. Players will take the role of series protagonist Subaru and relive the experiences of the anime's story.
Re:Experience the anime's story
Experience the turning point of the "IF" story – "What if I had chosen differently…?"
Your choices affect the route of the story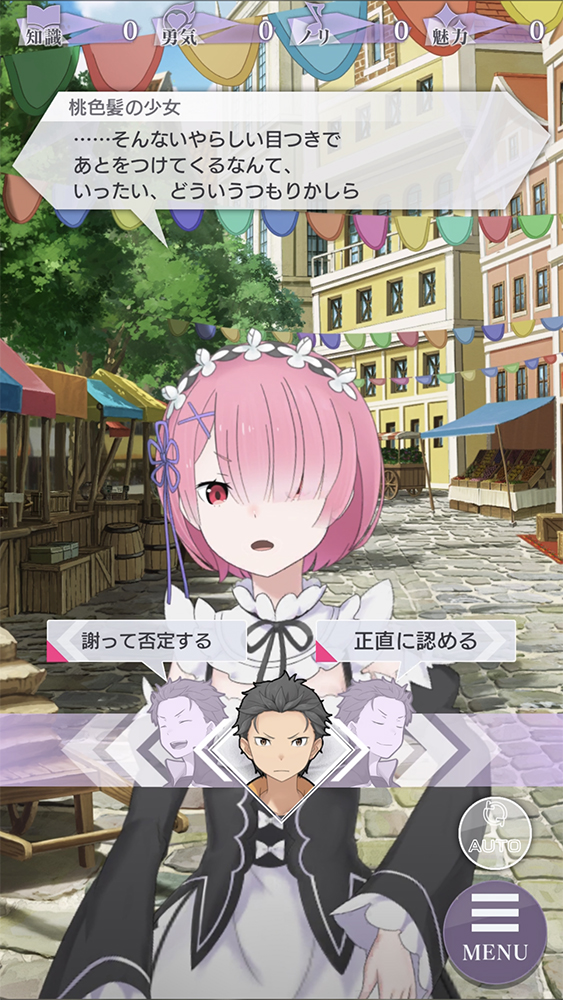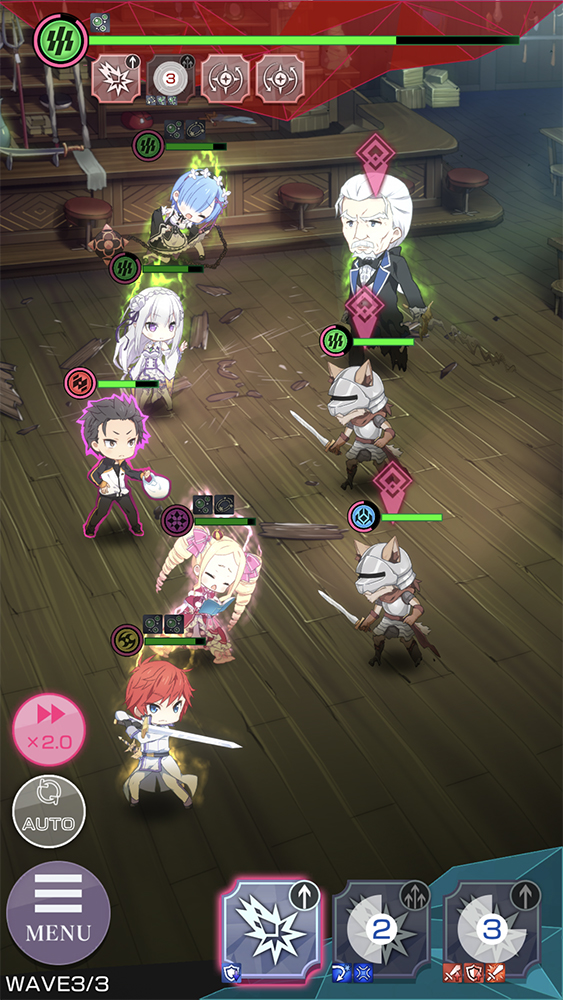 New and original content will also be placed into the game with everything written by the light novel's author Tappei Nagatsuki. Interact with your favourite characters, engage in battles, and level up.
The anime's production team returns
The game's opening animation is being created by WHITE FOX, the animation studio responsible for working on the anime series.
Speaking about the upcoming mobile game, the author Tappei Nagatsuki said: "The game will be packed full of "ifs," where you get to see what would happen if you chose differently during that time. You experience countless branching stories as you pursue Natsuki Subaru's memories which have disappeared. Just like the main story, your connections will be different depending on your encounters!"
©Tappei Nagatsuki・KADOKAWA / Re:Zero − Starting Life in Another World 2 Production Committee
©SEGA
Information
Re:Zero − Starting Life in Another World (Tentative Title)
Release Date: 2020
Platform: iOS/Android
Price: Base game is free (paid items available)
Genre: Adventure/RPG
Official Website: https://re-zero-rezelos.jp
RELATED ENTRIES
Re:Zero Characters Ram and Rem Birthday Goods Available at Shibuya Marui

Starting February 2, 2022, Shibuya Marui begin selling Ram and Rem birthday goods! The popular characters from the anime series Re:Zero will be featured in brand-new illustrations exclusively for the event, showing them in their pajamas on a plethora of merchandise. Two birthday sets have been announced ahead of the event's start date.

Selected Merchandise

Ram & Rem Birthday Celebration 2022 Mug

Ram & Rem Birthday Celebration 2022 Full Color Tote Bag

Ram & Rem Birthday Celebration 2022 Canvas Art

Ram & Rem Birthday Celebration 2022 Acrylic Stand Keychain

Birthday Set

Ram & Rem Birthday Celebration 2022 Birthday Set A

Ram & Rem Birthday Celebration 2022 Birthday Set B

 

Birthday Set A will include a blanket and pillow, while the B Set will feature a trendy hoodie with silhouettes of Ram and Rem. The bag is also split into two colors with motifs of each character. Which girl is your favorite?

© 長月達平・株式会社KADOKAWA刊/Re:ゼロから始める異世界生活2製作委員会

Re:Zero x New Era® Cap Collection Features Emilia & Rem Designs

Japanese online retailer ARMA BIANCA released a new collection of caps by New Era® in collaboration with the anime series Re:Zero − Starting Life in Another World featuring Emilia and Rem designs.

 

The Line-Up

Emilia | ¥8,228 (Tax Included)


The cap features the letters 'EMT' decorated with Emilia's hairpin. The underside of the cap is decorated with various scenes of Emilia from the anime series along with the words 'Emilia-tan,' 'Seriously,' and 'Angel' in Japanese. The tip of the cap also has the New Era logo on it.

Rem | ¥8,228 (Tax Included)


The front of Rem's cap has 'FROM 0' embroidered on the front and scenes of the popular character underneath. It also has phrases she says written in English including 'Let us start over from here,' 'From one…,' and 'No.' This cap also bears the New Era logo.

The caps have a casual and simple design to them, making them easy to coordinate with outfits while also celebrating the globally-popular anime.

©長月達平・株式会社KADOKAWA刊/Re:ゼロから始める異世界生活2製作委員会

Re:Zero Themed Desserts to be Served at Dohtonbori in Japan This Spring

Japanese restaurant chain Okonomiyaki Dohtonbori has announced a collaboration with the popular TV anime series Re:Zero − Starting Life in Another World which will begin at all branches on April 1.

Food and desserts inspired by the series characters

Whether it's sweet or savoury you're looking for, fans can look forward to tucking into five different dishes from okonomiyaki to pancakes, all inspired by characters from the anime series.





Emilia's Bishojo Pancake | ¥1,320 (Tax Included)

Fat and fluffy pancakes based on Emilia, topped with fresh cream that's the same colour as her hair and adorned with assorted berries.






Rem's Gratin Okonomiyaki | ¥1,320 (Tax Included)

A gratin-style okonomiyaki that recreates Rem's iconic hairband. It's layered with light-blue sauce and spring onions.

Ram's Spanish Omelette Okonomiyaki | ¥1,320 (Tax Included)

This Spanish omelette is made with steamed potatoes, something which fans will recall Ram being a pro at making.

Beatrice's Skirt Butatama | ¥1,320 (Tax Included)

Another okonomiyaki dish made with a vinegar sauce and pork simmered in black tea.

Echidna's Magical Girl Tea Party Set | ¥1,320 (Tax Included)

A set of pancakes and a parfait, perfect for a magical girl tea party.

Merch Freebies





For every item ordered on the menu, fans will receive one of five possible A4-size folders as pictured above with super cute designs. The designs are given randomly – who do you want the most?

Re:Zero − Starting Life in Another World Pop-Up Event Landing at Narita Airport

A pop-up event for the hugely popular TV anime series Re:Zero − Starting Life in Another World is set to open at Narita Anime Deck—which is located on the Main Building second floor of Narita International Airport Terminal 2—for a limited time from October 9, 2020.

The event will include a themed menu, pre-sales on Re:Zero merchandise, and more. The first week of the event will introduce a booking-only system as a precaution against COVID-19. Bookings for the cafe will run from October 9-15 and for the merchandise store from October 13-19.

Re:Zero Entertainment Cafe

Running: October 9, 2020 – January 11, 2021

Fans of Re:Zero can look forward to tucking into a menu of themed food, drinks, and desserts, including a traditional Japanese plate topped with Emilia, Rem, and Ram wafer cakes, as well as super spicy Natsuki and Subaru black noodles, and more. Customers who order from the menu will receive a free Re:Zero coaster and lunch mat. These are limited in stock, and there are two sets of designs to get your hands on: the first will be available from October 9 and the second from November 27.


And for the first four days that the cafe is open, from October 9-12, they will serve up a special matcha mont blanc cake based on the Re:Zero character Betelgeuse. Only 30 will be served per day.

Merchandise Shop

Running: October 13, 2020 – December 14, 2020

Fans can get their hands on a merchandise pre-sales featuring items designed for the event itself. The theme of the line-up is "Isekai Inn" and includes pins, acrylic stands, mini folding screens, charms, and more.

Bonus Items

But that's not all. Customers who spend over ¥3,500 (tax included) on the merchandise in one transaction will receive one of the above postcards.

The merchandise sold at the pop-up event will also be sold at KADOKAWA's Da Vinci bookshop which is set to open inside Tokorozawa Sakura Town on November 6.

Information

Re:Zero − Starting Life in Another World Pop-Up Event
Cafe: October 9, 2020 – January 11, 2021
Merchandise Shop: October 13, 2020 – December 14, 2020

Address: Narita International Airport Terminal 2 Main Building Floor 2F (1-1 Furugome, Narita, Chiba)

*The cafe can be accessed by anyone at the airport
Opening Hours: 10:00-20:00 (Food Last Orders 19:30)

Narita Anime Deck Official Website: https://www.animedeck.jp/en/narita/
Narita Anime Deck Official Twitter: https://twitter.com/nrtanimedeck

Re:Zero Mobile Game 'Lost in Memories' Pre-Registrations Open

Sega is set to release its first ever mobile game Re:Zero − Starting Life in Another World Lost in Memories for Android and iOS this year. The game is based on the popular anime series Re:Zero − Starting Life in Another World.

Pre-registrations for the game opened on May 22, 2020, and over 50,000 people have registered so far. A new teaser preview and details on the game have also been released.

What's 'Re:Zero − Starting Life in Another World Lost in Memories' About?

The video game is based on the popular light novel series Re:Zero − Starting Life in Another World. Players will take the role of series protagonist Subaru and relive the experiences of the anime's story. They will experience the turning point of the "IF" story, i.e. "What if I had chosen differently…?" Players' choices will affect the story, which will also have woven into it new and original contentーwith everything written by the light novel's author Tappei Nagatsuki. Interact with your favourite characters, engage in battles, and level up.

Pre-Registration Campaign

Sega had several tiers of gacha tickets to give out to players depending on the number of people who pre-registered. For exceeding 20,000, players will receive an item called "Rem ★3" and 10 gacha tickets, plus three extra for breaking 50,000 pre-registrations.

A new teaser video was released for the game which features its main theme song Reloaded which was used as the ending theme for season two of the Re:Zero − Starting Life in Another World anime series.

nonoc Comments (Extracts from video comment)

"I've been given the opportunity to sing the Re:Zero theme song Reloaded for the game. The song is about the mental state of the protagonist Subaru, how fate is divided left and right for him, and how he has had to 'reload' is life countless times. I sing about how prepared he has to be in choosing so many different paths, so be sure to pay attention to the song and lyrics. Please look forward to both the game and the song."

nonoc's Full Comment: https://sgap.ps/C8Qdri

Re:Zero Author Tappei Nagatsuki is writing this adventure RPG

The game features a turn-based battle system. Players will combine their characters and skills for epic battles, and there's also auto and fast modes for lighter play. Players will get to see their favourite characters from the original story fight with high quality animation. They can also create parties with sub-characters and enemies from the anime series.

©Tappei Nagatsuki・KADOKAWA / Re:Zero − Starting Life in Another World 2 Production Committee
©SEGA

Information

Re:Zero − Starting Life in Another World Lost in Memories

Release Date: 2020

Platform: iOS/Android

Price: Base game is free (paid items available)

Genre: Adventure/RPG

Official Website: https://re-zero-rezelos.jp

*Listed company names and product names are registered trademarks of their respective companies.

Re:Zero Mobile Game 'Lost in Memories' to be Released in 2020

Last month, Sega revealed the release of its first ever mobile game for Android and iOS based on the popular anime series Re:Zero − Starting Life in Another World. The name of the game had yet to be officially announced, but it has now been officially announced that the game is entitled Re:Zero − Starting Life in Another World Lost in Memories.

The video game will be based on the popular light novel series. Players will take the role of series protagonist Subaru and relive the experiences of the anime's story. They will experience the turning point of the "IF" story, i.e. "What if I had chosen differently…?" Players' choices will affect the story, which will also have woven into it new and original contentーwith everything written by the light novel's author Tappei Nagatsuki. Interact with your favourite characters, engage in battles, and level up.

The game's opening animation is being created by WHITE FOX, the animation studio responsible for working on the anime series.

The mobile game is being promoted on Japanese social media with the hashtag #リゼロス. Be sure to include it when posting about the game online!

©Tappei Nagatsuki・KADOKAWA / Re:Zero − Starting Life in Another World 2 Production Committee
©SEGA


Information

Re:Zero − Starting Life in Another World Lost in Memories

Release Date: 2020

Platform: iOS/Android

Price: Base game is free (paid items available)

Genre: Adventure/RPG

Official Website: https://re-zero-rezelos.jp

Re:Zero Season Two Promoted in Japan With Merchandise Fair at Animate Stores

Animate stores across Japan and the Animate online shop are set to promote the upcoming second season of Re:Zero − Starting Life in Another World with a merchandise fair beginning on March 28, 2020.



Re:Zero − Starting Life in Another World is a light novel series written by Tappei Nagatsuki and illustrated by Shinichirou Otsuka. The first season aired in 2016 and become an international sensation within the anime community. Season two was originally set to air in April this year but has been delayed to July due to the ongoing coronavirus situation.



Fair Bonus Item: Special Sticker (9 Designs)

Running from March 28 to April 19, the Re:Zero season two promotional fair is a chance for fans to get their hands on lots of merchandise, the light novels and manga, CDs, DVDs, and Blu-rays. For every ¥1,000 spent on these items, they'll receive a random pick of one of the above-pictured special stickers. The bottom three were illustrated exclusively for the fair and feature Emilia, Rem, and Echidna in their party outfits.



Acrylic Door Key Holder Stands (Party Version) – ¥1,320 Each (Tax Included)

Mugs (Party Version) – ¥1,650 (Tax Included)

Select branches of Animate will also be promoting the release of the Re:Zero − Starting Life in Another World: Hyōketsu no Kizuna movie on DVD and Blu-ray with fairs dedicated exclusively to it. There will be life-sized stands, scene panels, anime documents, exclusive merchandise, and more. See the branch list below.

©Tappei Nagatsuki・KADOKAWA / Re:Zero − Starting Life in Another World Production Committee

Information

Re:Zero − Starting Life in Another World Animate Fair
Running: March 28, 2020 – April 19, 2020
Location: Animate stores in Japan / Animate Online Shop

Details: https://www.animate-onlineshop.jp/contents/fair_event/detail.php?id=103722 

Re:Zero − Starting Life in Another World: Hyōketsu no Kizuna Animate Fair
Running: March 28, 2020 – April 19, 2020

Location: Animate AKIBA Annex (Floor B1F) / Animate Osaka Nipponbashi (Floor 2F) / Animate Nagoya / Animate Yokohama