Go Skiing This Golden Week in Japan at Nekoma Ski Resort
Nekoma Ski Resort, which is located on the northern slope of the Urabandai area, is holding a special spring ski event from March 30, 2020 called "Haru Nekoma ~Nekoma GO! GO! GO!"
The spring season at Nekoma Ski Resort is the time to enjoy the compacted snow berms, with lots of different kinds of berms to try out. So skiers can enjoy the snow berms that pile up in the early morning, the resort is open from from as early as 5:55, and there's also snow lifts, so they can maximise their piste riding experience to the fullest. Skiers can enjoy the full view of Mount Bandaiーwhich is officially listed as one of the 100 most famous mountains in Japanーas well as Lake Inawashiro too as they hit the downhill ski trails.
Haru Nekoma ~Nekoma GO! GO! GO!
Running: March 30, 2020 – May 6, 2020
Times: [Weekdays] 7:30-15:00 / [Weekends & Public Holidays] 5:55-15:00
Lift Price: [1 Day Ticket] Adults ¥3,818 / Junior & High School Students ¥3,091 / Elementary School Students ¥1,909 (Before Tax)
Note: Dates and times subject to change depending on weather conditions
Ride the springtime pistes of Alts Bandai too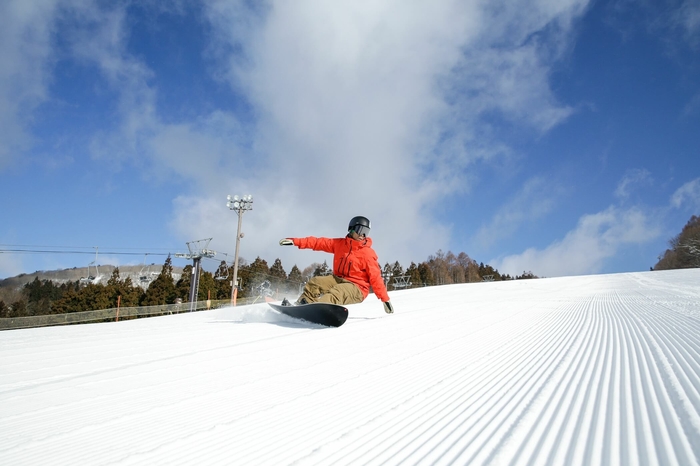 For the 2019-2020 season, you can ride the snow footpath that connects Nekoma Ski Resort to Alts Bandai. Go through the gate leading to it, walk through the Japanese beech trees for about 15 minutes, and you'll arrive at the pistes in the deepest part of Alts Bandai which opens up to a spectacular view of Mount Bandai and the town of Inawashiro. Alts Bandai will be shut from March 29, but since there is still plenty of snow to ski down in the high-up pistes even in April, some of the lifts will still be operated. Enjoy a springtime walk and a springtime ski with the beautiful scenery before you with this special ski route.
Running: From March 20, 2020 until the snow melts
Gate Times: 10:00-13:30 (Last entries from Nekoma Ski Resort at 12:00)
Price: Free
Available Courses: Frozen 1, 2, 3 / Peak Lower 3 / Peak Lower 4
Note: A valid day ticket from Nekoma Ski Resort is required
Nekoma Terrace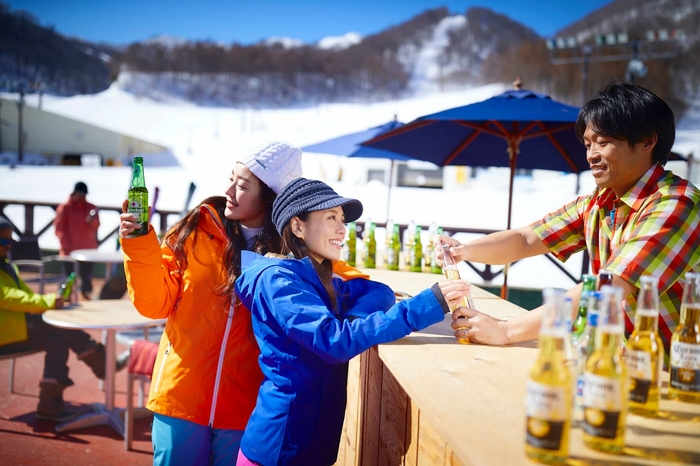 Bask in the springtime weather at the foot of the pistes in the Nekoma Terrace which has its own bar. After an early morning ski, take a break and relax at the terrace with a drink in hand and soak up the scenery around you as the temperature warms through the day.
Spring Nekoma Terrace
Time: 10:00-14:00
Price: Alcohol ¥454 / Soft Drinks ¥182 (Before Tax)
Location: Nekoma Ski Resort Centre House
Spring discount tickets are also available, which can also be used at Alts Bandaiーwhich has the biggest pistes in Japanーuntil March 29. Ride across 189 hectares and enjoy 26 courses.
Spring Discount Tickets
Available: February 1, 2020 – May 6, 2020
Valid: March 1, 2020 – May 6, 2020
Price: Adults (20-23 Years) ¥20,000 / Junior & High School Students ¥10,909 / Elementary School Students ¥10,000 (Before Tax)
Sold at: Alts Bandai / Nekoma Ski Resort Official Homepage / Alts Bandai and Nekoma Ski Resort sites
RELATED ENTRIES
Okinawa: Summer BBQ Plan Opens at Southern Beach Hotel & Resort Okinawa With Swimming Pool

Southern Beach Hotel & Resort Okinawa has opened a new plan that includes an evening meal, BBQ, and accommodation at the beach hotel and resort.

Southern Beach Hotel & Resort Okinawa is in a favourable location—just a 20-minute drive from Naha Airport in the city of Itoman. It's a 3-minute drive from Roadside Station Itoman, the largest farmers and fish market in Okinawa, and within 10-minutes drive of the new 'iias' shopping complex that opened in June this year, DMM Kariyushi Aquarium, and Okinawa Outlet Mall Ashibinaa.

The hotel's impressive garden pool is 70 meters wide and is shaped in a unique way with five different levels of water spanning the entire length. Families flock to the pool in the summertime as the sun shines down and sparkles on the water.

The new plan includes access to the pool in the evenings right up to 9:00pm, allowing guests to cool down in the pool without having to worry about getting sunburned, as well as a delicious dinner to be enjoyed after fun in the pool.

The open air garden BBQ includes 90 minutes of all-you-can-eat meat, fish, and other delights to tuck into as the sea breeze caresses you.

Guests can also choose a buffet option instead which makes use of local Okinawan ingredients.

If you're in Japan this summer, and are looking for the beach resort experience, then hit up Southern Beach Hotel & Resort Okinawa.

Information

Southern Beach Hotel & Resort Okinawa – BBQ Plan

Running: August 15, 2020 – September 30, 2020

Includes: Dinner (BBQ or Buffet)

*Guess access to the pool is free

*Please choose your dinner time in advance

Official Website: https://www.southernbeach-okinawa.com/

Chansey Pokémon Manhole Cover Designs Placed Around Fukushima Prefecture

As part of The Pokémon Company's ongoing Poké Lid project to place Pokémon manholes around the country, Fukushima has welcomed new Chansey design lids in nine places across the prefecture.

The first series of Poké Lids were place in the city of Ibusuki in Kagoshima Prefecture back in December 2018. They were Eevee lids, and saw designs for all of the Pokémon's evolutions. All of the Poké Lids feature completely original Pokémon designs making each individual one the only one in the world. Until now, 87 had been placed across 7 prefectures in Japan, with more set to roll out throughout 2020.

Back in March of this year, The Pokémon Company laid down Sandshrew and Alola Sandshrew manholes in Tottori Prefecture.

In February last year, Chansey was appointed as the "Fukushima Support Pokémon" for Fukushima prefecture help to support the prefecture by promoting information about it around Japan. To date, Chansey has toured the tourist and sightseeing hot spots of Fukushima, performed at events, and worked as PR across the country.

There are nine Chansey Poké Lid designs, all of which feature original artwork. There are plans to make each of them PokéStops for the mobile game Pokémon GO in the future.

©2020 Pokémon. ©1995-2020 Nintendo/Creatures Inc./GAME FREAK inc.
Pokémon, ポケットモンスター and ポケモン are registered trademarks of Nintendo, Creatures Inc. and GAME FREAK inc.

Yukai Resort Premium Toba Saichoraku: The New Hot Spring Resort Hotel in Mie Prefecture

Yukai Resort, a company in Japan which manages lots of famous hot spring resorts across the country, opened Yukai Resort Premium Toba Saichoraku in Toba, Mie on June 5, 2020.

Yukai Resort manages 29 well-established hot spring resort hotels and ryokan throughout Japan, including hotels where you can get one night with dinner and breakfast from just ¥7,500 (before tax) to ryokan where you can enjoy kaiseki meal courses, and more. All their luxury establishments feature hot springs surrounded in lush environments.

Yukai Resort Premium Toba Saichoraku opened on June 5, 2020 and is taking all of the necessary precautions against COVID-19 to protect guests and so that guests can enjoy a comfortable stay.

Yukai Resort Premium Toba Saichoraku is 10 minutes by car from Toba Aquarium and 30 minutes from Ise Grand Shrine, making it a great location to enjoy the sightseeing spots of Ise and Shima. The hotel's concept is centred on being an "active resort" where you can get the full Toba experience with history, the sea, and activities.

The large open-air communal baths look out onto Toba Bay. The baths are designed like infinity pools, giving the effect that they are connected to the sea. Guests can enjoy a dip in the day or evening so they can enjoy both a blue sky or starry sky. There are also saunas.

There is also an indoor swimming pool with warm water, as well as foot baths, a kids play park, karaoke room, and many more fun features.

Yukai Resort Premium Toba Saichoraku also houses Yukai Resort's first ever indoor glamping guest rooms with large tents decked with beds, sofa, carpet, cushions, and other amenities for a glamorous camping experience. There are glamping rooms with their own open-air baths that look out onto Toba Bay too, as well as both Japanese-style and Western-style rooms.

As a precaution against COVID-19, the restaurant is serving its food for takeout only until August 31, 2020. Guests can enjoy their meal in their rooms or in one of the many communal spaces. There's plenty of health Japanese food to enjoy including sushi, Matsuzaka roast beef, eel, tuna, and more.

A Cafe With a View: Okinawa's New Seaside Cafe 'Hoshino Resorts Banta Cafe' Opens This July

Hoshino Resorts's new cafe Hoshino Resorts Banta Cafe will open in the village of Yomitan in Okinawa on July 1, 2020, offering a spectacular view.

The cafe is split into four distinct areas which overlook the the beach from atop a cliff. Customers are invited to take in the breathtaking scenery with a delicious dessert made from ingredients like mangoes, pineapple, and sugar—or a tasty meal.

An incredible beach cafe overlooking the sea

Banta Cafe runs along the western coast of Yomitan, a village in central Okinawa which is about an hour's drive from Naha Airport. The cafe gets its name from iyumibanta which in Okinawan dialect refers to the cliffs you climb to spot the shadows of fish in the water, and is also the name they give to enormous rocks. The cafe is located atop one of these iyumibanta, or cliffs, making Banta Cafe a fitting name. From the cliff, customers can enjoy a panoramic view of the horizon which stretches across infinity. According to Hoshino Resorts, Banta Cafe sits as the largest beach cafe in Japan, spanning 1600㎡.

4 Unique Areas to Pick From

Having four distinct areas to choose from means you can select where you want to go depending on your mood on the day. Let's take a look at each of them.

Rooftop Deck: A panoramic view welcomes you

Beyond the entrance is the Rooftop Deck which offers an unbroken view of the horizon. With the comfortable shadow cast by the eaves of the roof, and the sound of the rolling waves and wind, it feels like you're sitting on the deck of a boat.

Beach Terrace: Kick back and enjoy the sea breeze

The Beach Terrace is located along a footpath that leads from the top of the cliff down to the beach. This spacious area sits nice and close to the sea. The Okinawan Ryukyu-tatami flooring has cushions for you to sit on as well as cabanas, so you can sit and chat with people while enjoying the view of the ocean, offering the real Okinawan experience.

Rocky Terrace: Lose yourself in the green wild of nature

The Rocky Terrace is enveloped in plants and vegetation that has grown naturally—it's like a hideaway created by nature. The area has a wooden deck and rocking chairs for people to kick back and relax in, and there are tables with towering rocks that offer shade too.

Goro Goro Lounge: Lay down on a sofa and look out to the sea

The final area is the Goro Goro Lounge where an entire wall is made up of open windows. Here, you can relax and lay down nice and comfy on the sofas. There are long tables by the sofas too, perfect for pulling out a map or guidebook and planning the rest of your trip.

A true Okinawan cafe experience


Bubbly Jelly Soda

The cafe's "Bully Jelly Soda" is inspired from a traditional bubbly Okinawan tea called bukubuku cha. It's flavoured with lemongrass and mint and contains different jellies like mango and hibiscus.

Chulato

This gelato ice cream gets its name from the Okinawan word for delicious which is chura. Choose from a variety of classic Okinawan flavours like pineapple and guava and top your ice cream with purple yam and bitter melon chips, chinsuko, and more.

Food Menu


The food lineup is to die for, with tasty bites like pizza toast topped with bitter melon, pork and egg rice ball which is a soul food of Okinawa, hot dogs filled with juicy sausages, shrimp fritters served with mango sauce, fried chicken, and plenty of other finger food.

Witness the magnificent sunset during business hours


Banta Cafe is home to a gorgeous beach with coral. The sea is cobalt blue as far as the eyes can see, there are strangely shaped rocks worn by the waves, and in the evenings is an incredible view of the sunset which can be enjoyed with a cocktail in hand.

Hoshino Resorts Olu Grill


Banta Cafe will also have its own separate grilled food restaurant called Olu Grill. Olu is another Okinawan word which means "blue," in this case referring to the blue ocean. From fried steak served with an original sauce made from Okinawan awamori liquor and kurozu black vinegar to seafood and juicy burgers, there's plenty to fill you up.

Information

Hoshino Resorts Banta Cafe / Olu Grill
Grand Opening: July 1, 2020
Address: 560 Gima, Yomitan, Nakagami District, Okinawa Prefecture
Access: 60-minutes by car from Naha Airport / 90-minutes by limousine bus from Naha Airport

Hoshino Resorts Banta Cafe
Opening Hours: 10:00 until sunset
TEL: 098-921-6810
Official Website: https://banta-cafe.com/
*Breakfast service available from mid-July 2020. Serving hours will be 7:00-9:30

Hoshino ResortsOlu Grill
Opening Hours: [Dinner] 17:00-21:00 (Last Orders 20:30)
TEL: 098-921-6811
Official Website: https://banta-cafe.com/olu-grill/
*Reservations required. Lunch service available from mid-July 2020. Serving hours will be 11:00-15:00.

FUNATSURU Kyoto Kamogawa Resort Opens Rooftop 'KAMOGAWA Tenku Terrace'

FUNATSURU Kyoto Kamogawa Resort, the administrative building of VMG HOTELS & UNIQUE VENUES, has opened its 4th floor rooftop terrace 'KAMOGAWA Tenku Terrace' for a limited time. It will remain open until August 31, 2020.

VMG HOTELS & UNIQUE VENUES uses historical buildings to open new brands, like hotels and unique venues, while offering historical and cultural experiences of the buildings' local areas.

FUNATSURU Kyoto Kamogawa Resort originally opened as a traditional inn priding itself on its cuisine back in 1870. It was renovated and reopened as FUNATSURU Kyoto Kamogawa Resort in 2008. Its historical and artistic value has been highly acclaimed as a time-honoured work of architecture and was registered as a tangible cultural property of architecture by Japan's Agency for Cultural Affairs. It has banquet and ceremony spaces, and in the summer you can enjoy its restaurant on the riverbed. The building is also used for parties and wedding ceremonies.

Like all businesses, FUNATSURU Kyoto Kamogawa Resort too has suffered at the hands of the COVID-19 pandemic, but the facility wants people to enjoy the summer nighttime skies of Kyoto and so while observing the necessary coronavirus precautions it has opened its rooftop terrace which can be used as a bar.

Information

KAMOGAWA Tenku Terrace
Running: June 6, 2020 – August 31, 2020 (Closed Tuesdays & rainy days)
Opening Hours: 20:00-Midnight (Last Orders 23:00)
Price: Table Charge ¥1,000 per person (includes tax and service charge)

Official Website: https://www.funatsuru.com/restaurant/news/#new_01

Kanucha Resort in Okinawa Announces Spring and Summer Activity Program for 2020

Located in the city of Nago in Okinawa lies Kanucha Resort, a hotel resort which boasts 2.6 million square meters of land. The resort has revealed its spring and summer program which invites guests to enjoy everything Okinawa has to offerーnot just its breathtaking oceans.

What is Kanucha Resort?

Kanucha Resort sits on the east coast of Nago on the northern part of the Okinawa mainland. It's surrounded by the vast rolling sea and mother nature, and also faces Oura Bay, which is known for its coral reefs, which includes blue coral. Guest rooms come in nine styles, all of which incorporate gorgeous wooden decor. The resort has a bounty of restaurants, its own golf course, the beach, and over 70 activities to choose from, all of which makes Kanucha Resort a little town of its own. In the past winter months just gone, it also celebrate the 20th anniversary of Okinawa's largest illumination event, Stardust Fantasia.

Buggy Ride Tours & Buggy Adventure Tours

Experience a different side of Okinawa away from the beaches with an off-road ride through Yanbaru no Mori Forest on a quad bike.


Running: All Year

Time: 9:00-17:00

Meeting Locations: Buggy Ride Tour @ Dokidoki Yambarunture / Buggy Adventure Tour @ Matayoshi Coffee Farm

Ages: 4 years and older

Coral Snorkeling Tour in Banana Boats

Witness the tropical fish swimming around you, and gaze upon the gorgeous coral reefs, as you explore the waters below when you climb off the banana boat.

Running: July 23, 2020 – August 31, 2020

Time: 60 minutes

Ages: 5 to 65 years

Mangrove Kayak Tour Along the Kesaji River

The Okinawan mainland is home to many mangroves. See them together with the expand of Yanbaru's nature with a kayak ride along the Kesaji River.

Running: All Year

Time: Subject to change each day depending on how busy it is – please enquire directly

Courses: 150 Minutes (5 years and older) / 90 Minutes (3 years and older)

Star Sommelier to Space Walk

Hear about the moon and space with talks from Hoshi no Somurie® ("Star Sommeliers") and use a telescope to observe the stars at the planetarium.

Running: Monday-Thursday

Time: 20:00-20:50

Meeting Point: Leisure Counter

Oura Mangrove Kayak

Enjoy a round trip kayak ride around the Oura Mangrove which has been designated as an Important Cultural Property of Nago.

 

Running: All Year Round

Time: Please enquire directly

Ages: 3 years old and above (*For guests only)

Meeting Point: Wansaka Oura Park

For more details on the activities available at Kanucha Resort, visit their website here.

Information

Kanucha Resort

Address: 156-2 AbuNago, Okinawa

TEL: 0980-55-8880

FAX: 0980-55-8693
Reservations: 0980-55-8484 (9:00-18:00)

Access: 1 and a half hours by car from Naha Airport

Official Website: https://www.kanucha.jp/en/

Witness Mount Fuji and Fully Bloomed Cherry Blossoms at HOSHINOYA Fuji

HOSHINOYA Fuji is offering a very special Hanami flower-viewing experience for guests from April 7 to 21 this year where they can observe the springtime cherry blossoms against the backdrop of Mount Fuji. Offers include cherry blossom desserts, a glamping experience inside a cabin eating curry while enjoying the scenery of the outdoors, a private outdoor dining dinner, and more.

HOSHINOYA Fuji hails as Japan's first luxury camping resort. Located on the hill overlooking Lake Kawaguchi near Mount Fuji. It offers the ultimate glamping experience, with a large outdoor terrace surrounded by nature, cabins that can be enjoyed throughout the year, and more. It's difficult to go out and enjoy the cherry blossoms on the streets right now, but if you'd still like to enjoy spring safely with your special someone, then HOSHINOYA Fuji has created a special springtime experience.

Sakura Apéro: Witness the cherry blossoms during sunset with desserts in hand

"Sakura Apéro" is a chance to take a breather and enjoy all the beauties nature has to offer. It is held in the cabin area of HOSHINOYA Fuji under the towering cherry blossom trees. Sit back, relax, and enjoy an evening treat of cherry blossom flavoured bean paste rice cake, a cup of matcha milk or a matcha cocktail, and a front row seat of the cherry blossoms as the sun sets.

Hanami on the terrace

HOSHINOYA Fuji's cabina area is built in such a way so that guests can enjoy an outdoor experience. One third of the cabin has a terrace area with an enormous window that looks out into the natural landscape. A fireplace and kotatsu is available so you can still enjoy the outdoors even inside while relaxing with a comfortable stay into the late nights. Some of the cabins offer a view of the surrounding cherry blossom trees, inviting spring into your room.

Curry made on one of Mount Fuji's lava plates

At HOSHINOYA Fuji, guests can enjoy outdoor cooking in luxury be it in one of the cabins or the dining restaurant in the forest. Those who want to relax in a cabin are recommended the "Glamping Curry" at the terrace. You grill beef and vegetables yourself on a Mount Fuji lava plate and can combine five spices of your choice to create your own original flavour. In the outdoor dining area, which is exclusive to groups of guests, game meat is also served, such as boar and deer, as well as seasonal vegetables prepared in a dutch oven. For dessert, there's cherry blossom flavoured ice cream. You can also make your own strawberry sauce using fresh strawberries over a fire to pour over your ice cream before topping it with matcha crumbles.

Due to the ongoing situation surrounding the coronavirus, all guest rooms and public areas at all HOSHINOYA facilities are being thoroughly cleaned in line with the recommended guidelines to ensure the health and safety of guests and staff. Alcohol gel is available at all HOSHINOYA facilities, and staff's health and hygiene are being consistently examined.

Information

HOSHINOYA Fuji

Address: 1408 Ōishi, Fujikawaguchiko, Minamitsuru-gun, Yamanashi

Official Website: https://www.hoshinoya.com/

O Park OGOSE: Saitama's Hotel Resort Opens New Sauna Suite Cabin

BIO RESORT HOTEL & SPA O Park OGOSE, a hotel resort in Iruma, Saitama, is opening a new accommodation facility on March 12, 2020 called the "Sauna Suite Cabin."

This single-building cabin brings to mind a sauna cabin of Northern Europe. The entire interior is decked out in beautiful warm wood. It's roomy and fully equipped with furniture, a Finnish-style private sauna, jaccuzi, stove, and other bits.

Guests can enjoy a contrast bath experience with the sauna and open-air bath, as well as entertain themselves with a glamping-style dinner in the spacious outdoor dining area.

To make the Sauna Suite Cabin's atmosphere even more enjoyable, O Park OGOSE teamed up with Finland's oldest textile brand, Finlayson, which turned 200-years-old this year, to bring in some of their elephant design furniture and products, including bed linen, towels, and more. Their "ELEFANTTI" line-up is popular even in Japan.



In the bedroom drawers, their are even ELEFANTTI notebooks and letter sets which guests are free to take and use.

If you're looking for a private sauna experience away from the busy city while in Japan, then be sure to check out the new Sauna Suite Cabin at BIO-RESORT HOTEL & SPA O Park OGOSE.

Information

Sauna Suite Cabin

Location: BIO-RESORT HOTEL & SPA O Park OGOSE (3083-1 Ueno, Ogose, Iruma-gun, Saitama Prefecture)

Date: March 12, 2020

Time: 11:00-14:00
Official Website: https://opark.jp/

UMI HOTEL ANNEX: The New Luxury Hotel Opens in Shizuoka's Resort Area Usami

Usami is known as the resort area of Ito in Shizuoka Prefecture, and it's here that the new luxury relaxation hotel UMI HOTEL ANNEX, which boasts a horizon-stretched ocean view, has openedーtogether with the new restaurant and bar known as The SEA.

UMI HOTEL ANNEX, a hotel for relaxation

UMI HOTEL ANNEX offers a breathtaking experience for guests with its ocean view, the sounds of the waves, and the natural scent of trees that envelop it. The hotel is on the small side, built with just six rooms, but this opens the door for greater hospitality, consideration, and comfort. If you want to wind down from a long day of travelling, need some adequate sleep, and wish to get away from the hustle and bustle of Japan's busy cities, then UMI HOTEL ANNEX has you covered.

Enjoy a sweeping ocean view

Upon entering a guest room, you are met with an unobstructed view of the sea. All rooms are also equipped with mirrorsーwhich span the entire wallーwhich bring the view of the ocean into your own room too. This means you can sleep soundly while surrounded by the sea, which is just 30 seconds from the hotel. *4 rooms of the rooms offer the ocean view

Rooms also have a pillar made from hiba cypress, a type of tree symbolic of Aomori Prefecture. The pillars not only serve to support the structure of the hotel, but also wrap the room with the natural scent of timber. Hiba is a strong antibacterial and pesticide wood, and its aroma also has a relaxing effect. 

Open-air infinity pool baths with water flowing from the source

The roof is decked out with infinity pool baths with water flowing in from the source. Everything in and around the pools is made from the same Aoyama hibi cypress, including the pools themselves, meaning all rooms enjoy that warm smell of cypress. The pool joins together with Usami Bay, which stretches 1km, offering a feeling of openness like no other. There are even waterproof sofas in the pool rooms for more relaxation.

Amenities galore for a quiet night's sleep

Amenities offered include items by Sansatia, a Bali-based natural cosmetics company. There's also an original line of room wear made from a special Japanese gauze which can also be used in the surrounding area outside too. The linen is provided by Imabari Towel, and the beds by Simmons. There's also bath salts, shoehorns, and more.

All guest rooms are equipped with pots, microwaves, refrigerators, irons, and trouser pressers. There's also coin operated laundry machines, accommodating for those longer stays.

Okinawa's New Hot Spring Resort Lequ Okinawa Chatan Spa & Resort Opens

Lequ Okinawa Chatan Spa & Resort is the first hotel resort from Vessel Hotels. Operating on the concept of "Loving Yourself, Family, and the Town," the hotel opened in the town of Chatan in Nakagami, Okinawa on March 1, 2020.

Rooftop Infinity Pool & Cafe/Bar

Sat atop the hotel roof is a spa which houses an infinity pool that offers an unbroken view of Chatan as well as the picturesque sunset in the evenings. There's also a 3-meter high infinity pool, jacuzzis, and more, offering a luxurious space to relax.

Located to the side of the pool is a cafe and bar that serves a selection of original cocktails and fruity drinks as well as light food. When the sun sets and the evening settles, the pool lights are turned on, creating a relaxed atmosphere. Enjoy a cup of Japanese sake or one of the refreshing cocktails while staring down at nighttime Chatan.

Vessel Hotel's First Natural Hot Spring

Chatan Onsen hails as Vessel Hotel's first-ever natural onsen hot spring. The water is drawn from 1,400m underground, which provides relief and relaxation from a day of sightseeing and travelling. The hot spring has towering windows, and there's also a sauna for both men and women.

SPA SOLANI OKINAWA CHATAN – The Relaxation Salon

SPA SOLANI OKINAWA CHATAN is a "relaxation salon" which offers a Hawaiian-style spa experience using original products made using ingredients sourced in Okinawa. Oils are made with carefully-selected organic ingredients for that natural feeling. There are body treatments, messages, quick treatments, and more.

Filling Breakfasts at the Resort's Kitchen

Vessel Hotel has brought its "Happy Breakfast Project" to Lequ Okinawa Chatan Spa & Resort. Tuck into a variety of meals prepared with Okinawan ingredients, or try one of the household classic Okinawan breakfasts. Whatever you have, you are guaranteed the Okinawan experience to start your day off.

The restaurant's original souffle hamburger is made with a mix of Okinawan black cattle beef and Agu pork. The souffle is made in-house and prepared by the hotel guests' hands. Food is also served in Okinawan yamuchin porcelain.

Stay at Miyazaki Prefecture's Phoenix Seagaia Resort For the Ultimate Springtime Experience

Spring is the season for relaxationーa time for kicking back and letting your mind and body chill in its cool embrace. If you're looking for the ultimate relaxation this spring, say, to be treated like a princess, then look no further than Phoenix Seagaia Resort.

Located in Japan's Miyazaki Prefecture, this resort offers the perfect springtime experience, with an all-you-can-eat dessert buffet, a walk through the flower-filled garden, massages, a bath with an ocean view, and much more.

All-you-can-eat dessert buffet with 50 different treats – Available Spring Only

The pastry chefs at Sheraton have poured their hearts and souls into this ambrosial line-up. Fifty beautifully colourful delights make up this all-you-can-eat dessert buffet, which features a bountiful of berries such as strawberries, raspberries, and blueberries. The line-up will change for the second month of this limited-time service to introduce a different fifty items. That makes 100 options over the course of two months. Even better, all the soft drinks are all-you-can-drink too.

Sheraton Sweets Buffet" Very Very Berry"

Running: March 1, 2020 – April 30, 2020 (Except March 22, 2020)

Time: 14:00-15:30

Location: "Pine Terrace" Garden Buffet at Sheraton Grande Ocean Resort (Floor 1F)

Price: Ages 13+ ¥2,500 / Ages 4-12 ¥1,250

Information Page: https://seagaia.co.jp/article/641

*Members of the Segaia Premium Members Club receive a discount: Ages 13+ ¥2,300 / Ages 4-12 ¥1,150

*Those looking to eat lunch at the Sheraton restaurant can pay the following price on the day only: Ages 13+ ¥1,000 / Ages 4-12 ¥625

Drink tea and feel like a princess around the pool

"THE LIVING GARDEN" is a garden area attached to Sheraton Grande Ocean Resort, where guests can enjoy a "springtime garden party" in a gorgeous, Instagrammable-looking space. Purchase a "Picnic Basket" set for takeout and enjoy some well-deserved princess teatime either on one of the sofas surrounding the pool or in a gazebo, the latter of which you can rent.

FLOWER LIVING ~Spring Garden Party~
Running: February 21, 2020 – May 24, 2020
Price: Free (For Sheatron guests only)
Information Page: https://seagaia.co.jp/article/641

Hog that breathtaking ocean view all to yourself

Sheraton Grande Ocean Resort's favourable location places it by the sea, meaning all rooms guests stay in enjoy an ocean view. There are also two very special rooms called "Corner Suites" which boast a panoramic view of the Pacific Ocean from the bathtub. The blue sea and sky can be enjoyed from every part of the room too, not just the bath, meaning everyone can enjoy their own private little resort experience without being intruded upon by anyone else.

Special Club Suite – Grand View Bath

Location: Sheraton Grande Ocean Resort – Club Floor (Floors 39/41) 109㎡

No. of People: 2

Information Page: https://seagaia.co.jp/hotel/sgor/club-floor/20

Unwind at the spa

Experience true luxury at the Banyan Tree Spa, a pioneering Asian spa brand that was established in Phuket, Thailand. Enjoy nature and beauty come together in your treatment with quiet music, natural light from the towering windows, and the scent of original essential oils.

Banyan Tree Spa

Location: Sheraton Grande Ocean Resort (Floor 39)

Opening Hours: 10:00-20:00 (Reservation Only)

Information Page: https://seagaia.co.jp/hss/254

Eye-catching artisanal cocktails to complete your spring evenings

Left: Berry Rose Bouquet / Right: Cherry Blossom Tonic

The KURO BAR offers an unbroken view of the lit-up garden area. Sip on one of their delicious and expensive-looking cocktails, like the "Berry Rose Bouquet," a full-bodied beverage made with a tea liqueur, rose syrup and cranberry juice. Or you can order the "Cherry Blossom Sonic" at Pacifica, a cocktail lounge with live music. This drink is fragrant with cherry blossom and mixes together cherry blossom liqueur and gin.

Flower Cocktails

Available: March 1, 2020 – April 30, 2020

Prices: Berry Rose Bouquet ¥1,300 / Cherry Blossom Tonic ¥1,600

Taste the flavours of a Miyazaki Prefecture spring

At the resort's main restaurant, Pine Terrace, they are serving a buffet-style menu with seasonal springtime ingredients. Enjoy a line-up of typical Miyazaki flavours, like shimaura sea bream and steamed kumquat white wine, spring cabbage and sakura shrimp spaghetti aglio e olio, tempura, and more.

Pine Terrace's Spring Dinner Buffet

Available: March 1, 2020 – April 30, 2020

Time: 17:30-22:00 (Last Orders 21:30)

Prices: Ages 13+ ¥4,500 / Ages 4-12 ¥2,250

*Prices for the dinner buffet will change from the start of April to: Ages 13+ ¥4,600 / Ages 4-12 ¥2,300

Information Page: https://seagaia.co.jp/article/641#paragraph_1557

Make some springtime memories this year at the incredible Seagaiaシーガイアで春の楽しい思い出を作ろう!

*Listed prices include tax. Photos are for illustrative purposes only.

Information

Phoenix Seagaia Resort

Address: Hamayama Yamasakicho, Miyazaki, Miyazaki Prefecture

Official Website: https://seagaia.co.jp/

Fukushima 50 Cast and Director Premiere Film About the Nuclear Disaster to Fukushima Locals

Fukushima 50 is an upcoming film based on the non-fiction book On the Brink: The Inside Story of Fukushima Daiichi by Japanese journalist Ryūshō Kadota. It will be released on March 6, 2020.

The film will discuss the Fukushima Daiichi nuclear disaster that occurred after the 9.0 magnitude Great East Japan Earthquake on March 11, 2011 which stands as the largest ever earthquake recorded in Japanese history.

The film's title refers to the pseudonym given by the media to the 50 employees that remained on the site after the nuclear power plant disaster. It will show the reality that the group faced that only they knew from being inside the plant and in the face of death.

Japanese actors Kōichi Satō and Ken Watanabe, who star in the upcoming film, held a campaign where they visited various locations across Fukushima Prefecture. Satō, as well as the film's director Setsurō Wakamatsu and executive producer at KADOKAWA Shinichiro Inoue, made a courtesy call to Tomioka, a town which is still difficult for residents to return to. Tomioka is in fact one of the settings featured in Fukushima 50, and so before the films releases in March 2020ー10 years since the disaster struckーthe cast and staff went to pay their respects to the locals still living there.

The film premiered at Koriyama Theatre in Fukushima where Kōichi Satō, Ken Watanabe, and director Setsurō Wakamatsu all made an appearance. The event began with cast and staff announcing that they first wanted the people of Fukushima to watch the film before they made their comments. This was the first time the film had been shown to the general public, less than two months from its official release.

Satō, Wakamatsu, and Inoue's appearance in Tomioka took place on January 22. Executive producer Inoue was the first to greet the people. "We have come to Tomioka today to officially announce to you the completion of the film Fukushima 50. We hope everybody, including the mayor, will see it as soon as soon as possible." The director Wakamatsu followed, saying: "We are gratefully indebted to the people of Tomioka for letting us interview you before the film shoot. We wish for you all to see it and for it to be a film you believe the rest of the world should see."

Satō said: "I believe there will be many people who look back on [the incident] and remember it like it was yesterday rather than something that happened a long time ago. I think there will be people who do not wish to remember as well. However, the film needed to be powerful in order for the memories of the incident to not fade away. The film may bring back pain, but I ask you to view the film as necessary so we can pass down the reality of what happened to future generations."

Director Wakamatsu commented on Yonomori, a park in Tomioka and one of the filming locations which people are currently prohibited from entering due to the high radiation levels. "We filmed a crucial 'cherry blossom scene' there. Cherry blossoms are a thing of beauty, but it was really complicated when I thought about how these cherry blossoms cannot be seen by anyone." Satō weighed in on this point. Speaking about his character Toshio Izaki, he said: "I don't know to what extent his complex feelings are conveyed regarding his mental state when observing the cherry blossoms, but I hope that the beauty and transience of the cherry blossoms ties itself to the thought of never wanting this incident to happen again with those to watch the film."

The Tomioka town mayor Miyamoto commenting on the team having filmed in Tomioka. "As living witnesses, for us to be able to pass this film down to future generations, I greatly felt that I wished for them to shoot the film, rather than permitting them to do it. I don't believe Tomioka has been used as a film location or such before, so I want to go ahead with doing PR, both myself and as a town, so that everybody can see it."

The courtesy call at Koriyama Theatre in Fukushima's city of Koriyama took place the following day on January 23. Satō said before the audience: "I'm overwhelmed that we've finally come to this moment. By no means is this a film I could ask you to enjoy. I think there are some scenes in there that are very painful to watch, but I ask kindly that you see it through to the end."

Watanabe spoke with strong words, saying: "There are many people whose lives were unfortunately changed by this incidentーpeople who cannot return to Fukushima. When we began filming, me and the rest of the cast and staff said that we would be unable to shoulder the extent of what actually happened, but we should dive head first into the movie, and understand even a little of what those people went through. From there we went and finished the film, and now we're going around promoting it, starting with this city, and for that I am proud. This film absolutely enables one to feel connected to the future in some way."

Director Wakamatsu followed up this comment. "We started this film project five years ago, and at last it's finished. I am proud that we are able to say that as well as promote the film here in Fukushima. We set out to make this film faithfully and with sincerity."

At the end of the talk, everybody gave their final comments. Satō said: "Let's change this negative legacy into a different kind of legacy, even if just a little." Watanabe said: "In my heart, I feel I hadn't actively supported Fukushima until now. But, I believe I have been able to deliver that now to all of the people of Fukushima, doing what I'm best at. I hope it's something you can get behind."

After their closing statements, the cast and director were given a huge round of applause by the people of Fukushima.

©2020 "Fukushima 50" Production Committee