Re:Zero Season Two Promoted in Japan With Merchandise Fair at Animate Stores
Animate stores across Japan and the Animate online shop are set to promote the upcoming second season of Re:Zero − Starting Life in Another World with a merchandise fair beginning on March 28, 2020.


Re:Zero − Starting Life in Another World is a light novel series written by Tappei Nagatsuki and illustrated by Shinichirou Otsuka. The first season aired in 2016 and become an international sensation within the anime community. Season two was originally set to air in April this year but has been delayed to July due to the ongoing coronavirus situation.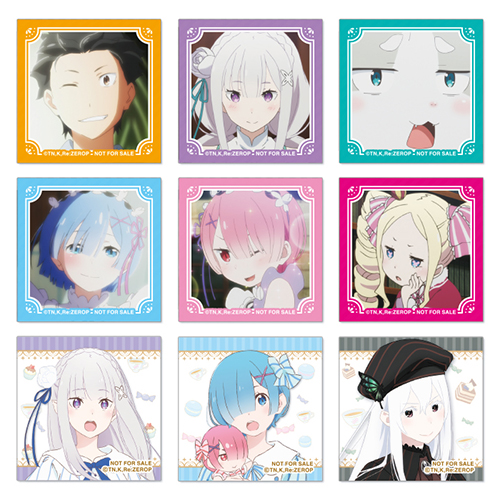 Fair Bonus Item: Special Sticker (9 Designs)
Running from March 28 to April 19, the Re:Zero season two promotional fair is a chance for fans to get their hands on lots of merchandise, the light novels and manga, CDs, DVDs, and Blu-rays. For every ¥1,000 spent on these items, they'll receive a random pick of one of the above-pictured special stickers. The bottom three were illustrated exclusively for the fair and feature Emilia, Rem, and Echidna in their party outfits.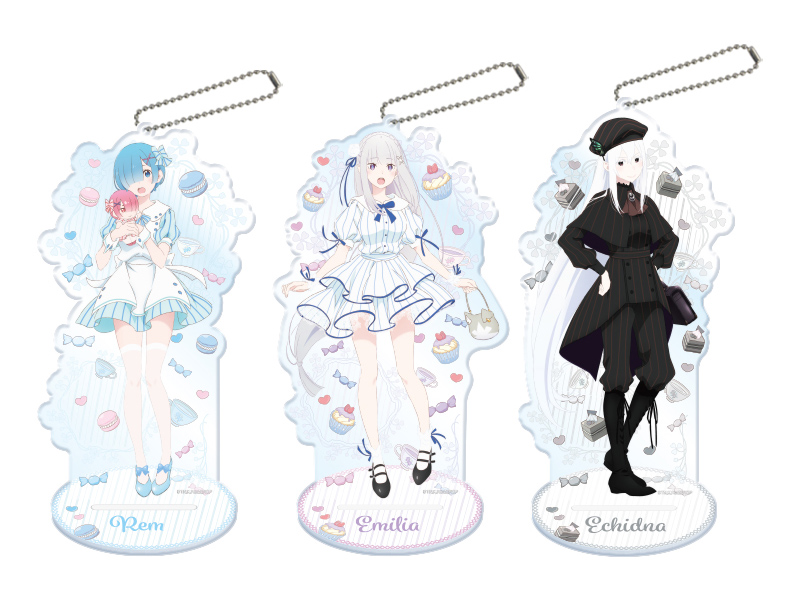 Acrylic Door Key Holder Stands (Party Version) – ¥1,320 Each (Tax Included)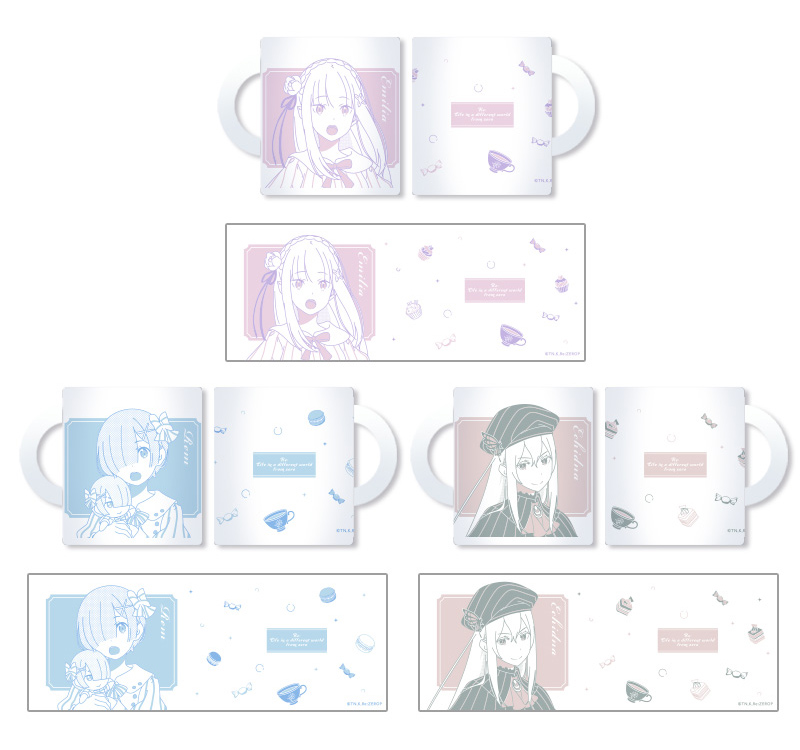 Mugs (Party Version) – ¥1,650 (Tax Included)
Select branches of Animate will also be promoting the release of the Re:Zero − Starting Life in Another World: Hyōketsu no Kizuna movie on DVD and Blu-ray with fairs dedicated exclusively to it. There will be life-sized stands, scene panels, anime documents, exclusive merchandise, and more. See the branch list below.
©Tappei Nagatsuki・KADOKAWA / Re:Zero − Starting Life in Another World Production Committee
Information
Re:Zero − Starting Life in Another World Animate Fair
Running: March 28, 2020 – April 19, 2020
Location: Animate stores in Japan / Animate Online Shop
Details: https://www.animate-onlineshop.jp/contents/fair_event/detail.php?id=103722 
Re:Zero − Starting Life in Another World: Hyōketsu no Kizuna Animate Fair
Running: March 28, 2020 – April 19, 2020
Location: Animate AKIBA Annex (Floor B1F) / Animate Osaka Nipponbashi (Floor 2F) / Animate Nagoya / Animate Yokohama
RELATED ENTRIES
Re:Zero Gets First Mobile Game With Branching Story Releasing in 2020

Sega has announced it is releasing the first ever mobile game for the popular anime series Re:Zero − Starting Life in Another World this year. The game's tentative title is the same as the anime series.

Re:Zero − Starting Life in Another World is a light novel series written by Tappei Nagatsuki and illustrated by Shinichirou Otsuka. It began as a web novel and has since become immensely popular within the international anime and manga community. The 22nd volume of the light novel series was released in March of this year, and the series as a whole has shipped over 7 million copies.

A 25-episode anime series aired in 2016, and a second season is slated for July 2020. Before that's released, an edited version of the first season has been airing since January which features new cuts and one-hour durations.

The video game will be based on the popular light novel series. Players will take the role of series protagonist Subaru and relive the experiences of the anime's story.

Re:Experience the anime's story

Experience the turning point of the "IF" story – "What if I had chosen differently…?"

Your choices affect the route of the story

New and original content will also be placed into the game with everything written by the light novel's author Tappei Nagatsuki. Interact with your favourite characters, engage in battles, and level up.

The anime's production team returns

The game's opening animation is being created by WHITE FOX, the animation studio responsible for working on the anime series.

Speaking about the upcoming mobile game, the author Tappei Nagatsuki said: "The game will be packed full of "ifs," where you get to see what would happen if you chose differently during that time. You experience countless branching stories as you pursue Natsuki Subaru's memories which have disappeared. Just like the main story, your connections will be different depending on your encounters!"

©Tappei Nagatsuki・KADOKAWA / Re:Zero − Starting Life in Another World 2 Production Committee
©SEGA

Information

Re:Zero − Starting Life in Another World (Tentative Title)

Release Date: 2020

Platform: iOS/Android

Price: Base game is free (paid items available)

Genre: Adventure/RPG

Official Website: https://re-zero-rezelos.jp

Animate's Shonen Jump Fair 2020: My Hero Academia, Demon Slayer, One Piece & More

The series of Shonen Jump are set to fall on the Japanese anime merchandise chain Animate as "Jump Fair in Animate 2020" begins on March 19 and will run until April 12.

Fans can expect exclusive merchandise from various Shonen Jump series, as well as original bonus items when they purchase items from Animate stores across Japan. More on these below.

Bonus Items – Batch ①: Jump Fair Selection (Select Items)

Those who purchase or pre-order any piece of designated merchandise at Jump Fair in Animate will receive one of the pictured cards or other item. You can also get your hands on some of the original Shonen Jump items sold at Jump Festa last year, a popular Shonen Jump festival held every year.

The bonus items will be split into two batches sold at different dates and comprised of 58 items in total. Batch 1 items will drop from March 19 to April 2 and will include merchandise from My Hero Academia, The Promised Neverlandーfor which a live-action film has been green-litーand more. Batch 2 will available commencing April 3 and will include series like One Piece, Demon Slayer: Kimetsu no Yaiba, and more.

If you're a Shonen Jump fan, and are headed to Japan this spring, then don't miss out on Animate's Shonen Jump fair.

©SHUEISHA Inc. All rights reserved.

Haikyu!! Season 4 To The Top Fair to be Held at Animate Stores Across Japan

Animateーa chain of anime and manga related merchandise storesーhas announced that it will hold a fair to promote season four of the ongoing TV anime series Haikyu!! from February 15.

Haikyu!! is a popular manga series written and illustrated by Haruichi Furudate and serialised in Weekly Shonen Jump. The series has spawned an anime series and stage adaptation. The fourth season of the anime series began airing on January 10 this year.

The event will be held at Animate stores from February 15 to March 8 where fans of the series can get their hands on exclusive merchandise. Those who purchase or pre-order items will receive one of 8 possible postcards as pictured above featuring the cast of characters.

A special pop-up shop at the Sendai and Yokohama Vivre branches of Animate will also be open from February 15 to March 1, which will include not only merchandise, but a chance for fans to deepen their love of the series even more. Those who purchase any of the items at those shops will receive one of the above-pictured postcards. Exclusive big-size badges will also be sold in Sendai and Yokohama, so don't miss out.

©Haruichi Furudate/Shueisha・"Haikyu!!" Production Committee・MBS

Information

Haikyu!! TO THE TOP Promotional Fair

Running: February 15, 2020 – March 8, 2020

Location: Animate stores in Japan

Notes: If you purchase Haikyu!! related merchandise or pre-order the season 4 DVD or Blu-ray during the fair you will receive one of 8 possible postcards. For every ¥1,000 spent on the manga, books, or character merchandise, for every CD, DVD or Blu-ray bought, and for every DVD or Blu-ray pre-ordered (collectively over ¥1,000), you'll receive a present.

Haikyu!! TO THE TOP Animate Only Shop

Running: February 15, 2020 – March 1, 2020

Location: Animate Sendai / Animate Yokohama Vivre

Notes: If you purchase Haikyu!! related merchandise you'll receive one of 12 possible postcards. For every piece of character merchandise bought, and for every CD, DVD or Blu-ray bought, you'll receive a present.

Fair Website: https://www.animate-onlineshop.jp/contents/fair_event/detail.php?id=103322

Animate Only Shop Webpage: https://www.animate.co.jp/onlyshop/302652/

Jump Fair Announced at Animate Stores Across Japan in March

The manga and anime merchandise chain Animate is set to host Jump Fair '19 from March 15 to April 14 at Animate and ACOS branches in Japan where Jump fans can get their hands on lots of merchandise.


This hugely popular event is held every year where they sell and take orders on exclusive merchandise. This year the event will also see a collection of original items drawn by manga authors of Jump series that were sold at Jump Festa.

Some of the series that will appear at this year's fair include My Hero Academia which released a hit movie last year, The Promised Neverland which is currently airing an anime adaptation, the internationally adored One Piece, Yu Yu Hakusho, Dragon Ball and more.

There will also be a Jump Fair collection of mini paper (pictured below) available to those who purchase or order select items. Other character related bonuses be available this year too which will change through the duration of the event including both manga and anime related items.

Below is a small look at some of the items that will be sold.

My Hero Academia Pin Badges (18 designs, given randomly): ¥350 (Before Tax)

One Piece 3 Brothers Set (Lufi/Ace/Sabo): ¥3,000 (Before Tax)

Kimetsu no Yaiba Acrylic Strap (10 designs, given randomly): ¥700 (Before Tax)

Dragon Ball Full Colour Art Board: ¥3,250 (Before Tax)

Yu Yu Hakusho Full Colour Art Board: ¥3,250 (Before Tax)

Fans of Jump series can't afford to miss out on this year's Jump Fair!

Information

Jump Fair in Animate 2019
Running: March 15, 2019 – April 4, 2019 / April 5, 2019 – April 14, 2019
Location: Animate and ACOS stores in Japan
Bonus: Jump Fair mini paper collection

*Bonus items to change across the duration of the fair

Event Page: https://www.animate-onlineshop.jp/corner/cc/jumpfair2019/cd/1408/

©SHUEISHA Inc. All rights reserved.

"Summer Wars" Exhibition to be Held in Thailand at Animate Bangkok!

It has been 8 years since "Summer Wars" was released back in 2009. Directed by Mamoru Hosoda, the film went on to become an international hit, being distributed in over 90 different countries including the US, France, UK, Germany, Australia, South Korea, Taiwan, Hong Kong and more, and was one of the first feature length animated movies to be shown at the Berlin International Film Festival, the world's third biggest film festival. It has gained much attention overseas and Hosoda has been praised by critics around the world.

Due to popular demand displayed by passionate fans of the film, a special "Summer Wars" exhibition will be set up at "Animate Bangkok" in Thailand.

The gorgeous original illustrations, background, character setting, story boards and more will be shown outside Japan for the very first time. Fans have also expressed their desire to see "Summer Wars" on the big screen, so as part of the exhibition, it will be shown in the movie theatre absolutely free. After the screening, a talk is scheduled to be held by Summer Wars producer Yuichiro Saito of Studio Chizu, an animation studio that was established during the production of Hosoda's own "Wolf Children."

The exhibition will feature merchandise designed by Takashi Okazaki, who was responsible for the designs of numerous avatars that appear in the film, including King Kazuma and Love Machine. There will also be brand new Summer Wars merchandise up for grabs which you can only get in Japan.

Although Thailand is in Southeast Asia, Japanese anime is very popular over there. There will be an event titled "Anico" by the Thailand publisher and Japanese publisher running at the same time.

If you have plans to visit Thailand and are a big Summer Wars fan, then make sure to drop by Animate Bangkok on your visit.

▶︎Comment from the manager of Animate Bangkok

"Animate opened its doors in Thailand in February 2016. Once year has passed, and I feel that Japanese pop culture, such as anime and manga, are spreading at a rapid pace in Thailand. And now, because "Summer Wars," a Japanese animated film, is being shown once more here in Thailand after being shown in the past and proving to be remarkably popular, I hope that all Thai fans of anime can enjoy the screening while also getting close and personal with the wonder of Japanese animation. That's why we have planned this screening. I dare say that the main thing reason for holding this screening is because we want people who could not see the film when it was shown in theatres previously the beautiful aesthetic of the scenery and the virtual world in which Summer Wars is set."

■Information

Running: Saturday September 9, 2017 to Sunday September 10, 2017

Location: Animate Bangkok store, Mahboonkrong Center (MBK) 7F

Event: Screening (free) at 14:00-16:00 in the MBK Cinema

Talk Event: 16:30-17:30 <MBK 5F *ANICO>

Related Article:Say Goodbye To Rainy Sorrows With Our MOSHI MOSHI Rainy Season Guide

Related Article:"Yuri" Themed Exhibition to Be Held at "2017 Comic Exhibition" in Taiwan