Vogue Japan, fragment design, & THE CONVENI to Release T-Shirts and Hoodies in Triple Collaboration
Vogue Japanーthe Japanese edition of the world's most influential fashion magazine Vogueーhas teamed up with Hiroshi Fujiwara-led brand fragment design and his concept store THE CONVENI to create two T-shirts and hoodies. This is the first time Vogue Japan has collaborated to release an item with its logo branding.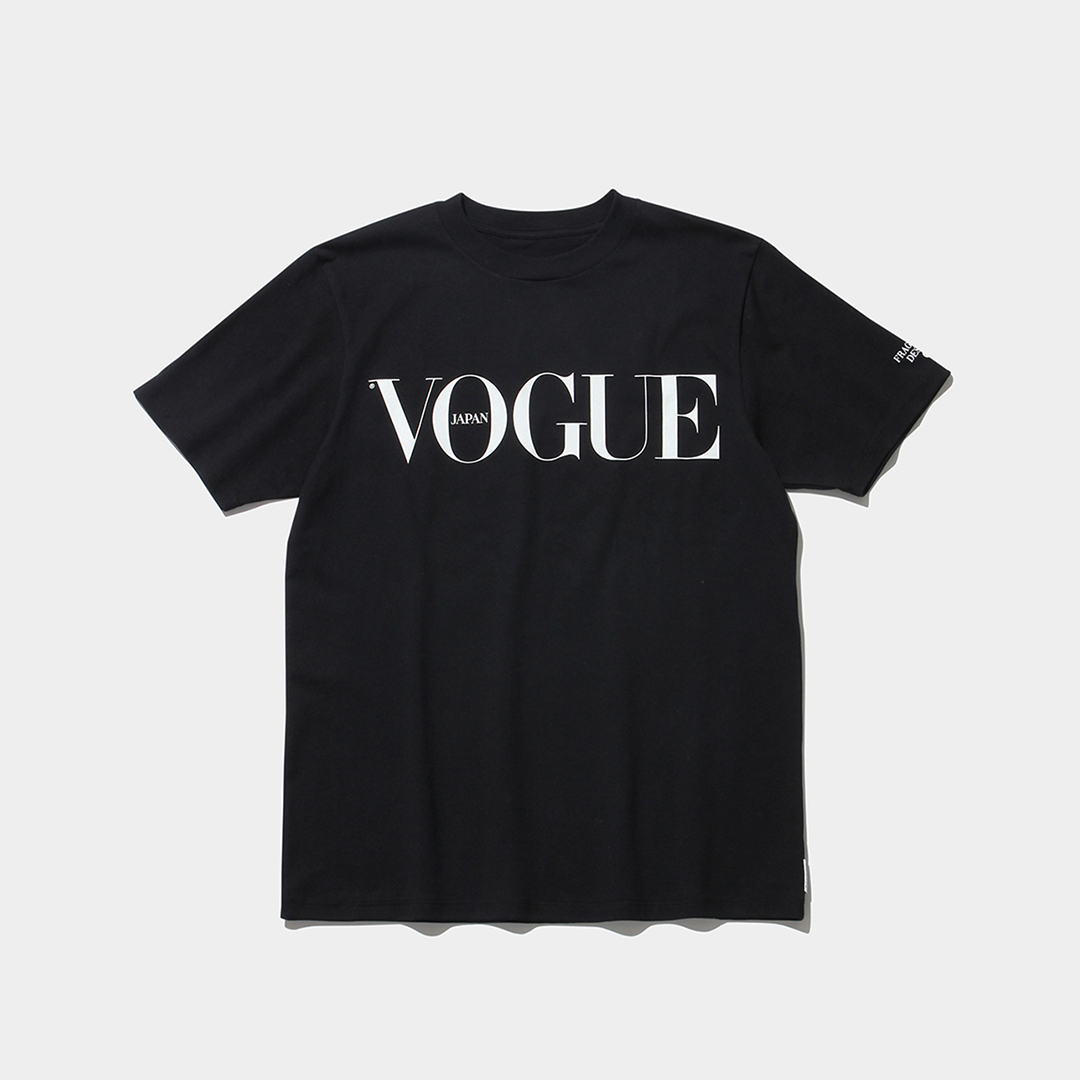 VOGUE MAGAZINE TEE: ¥8,500 (Before Tax) / COLOR: BLACK, WHITE / SIZE: S, M, L, XL
This is Vogue Japan's first ever triple-collaboration and celebrates the 20th anniversary since it launched. THE CONVENI is known for its creative packaging, which has spilled into this collaboration too with the hoodie being packaged in a cereal box and the t-shirt in a milk carton.
VOGUE MAGAZINE HOODIE: ¥18,000 (Before Tax) / COLOR: BLACK, WHITE / SIZE: S, M, L, XL
Both the T-shirts and hoodies are available in black or white. The front reads "VOGUE JAPAN," the back features the 20th anniversary logo, and the sleeves read "FRAGMENT." The release dates for the items will be announced on THE CONVENI's social media, so follow them on Instagram to keep up to date.
RELATED ENTRIES
Starbucks® Releases Stylish Stainless Steel Bottle Produced By fragment design

Starbucks Coffee Japan will sell a stainless bottle set produced by fragment design – a design project produced by Hiroshi Fujiwara – from December 18, 2019. The set will consist of the Starbucks Ware® Stainless Steel Bottle fragment (500ml), fragment Coffee Essence Colombia coffee sticks and special design paper cups.

To purchase, enter the online lottery draw which starts on November 5. Those who are successfully chosen will have the opportunity to purchase the set from specified Starbucks cafes or from the online store. 

fragment design started collaborating with Starbucks back in 2012. The November 2019 collaboration will see the release of the first ever stainless steel vessel which comes with cups. The fragment design and Starbucks logos decorate a matte black-themed background, making for an artistic design that you will never get tired of seeing. The vacuum insulation of the bottle makes it highly effective at reducing heat transfer, retaining the original temperature of your hot or cold drink for longer. The material is highly durable and the bottle's capacity is equal to that of a Starbucks grande. The set comes with three Colombia coffee sticks and three original paper cups so you can enjoy the classic flavours of Starbucks just by pouring hot water. 

Starbucks Ware® is made using an original manufacturing method. The coffee in the set boasts Starbucks' high-quality and delicious flavour. The coffee sticks allow you to easily prepare a cup of your favourite coffee at any time and even when on the go. Just add hot water and milk to your liking to enjoy a cup of irresistible flavours. The cups feature the same black theme as the fragment design Stainless Steel Bottle. 

This is a great chance to enjoy the flavours of Starbucks anywhere and anytime in a stylish bottle.

Information

fragment design + Starbucks® Special Design Collaboration Set

Stainless Bottle Fragment 500ml

Product Specification:

Size: 7cm X 7cm X 22.5 cm (width, depth, height)

Capacity: 500ml 

Temperature Retention:

Can preserve a drink of 76°C or over or 8°C and below for 6 hours.

fragment/Starbucks Ware® Coffee Essence Colombia & Cup and Starbucks Ware® 3 Colombia Coffee Sticks + 3 Original Paper Cups

Total Price: ¥6,000 (¥6,590 Tax Included)

Stainless Steel Bottle: ¥5,500 (¥6,050 Tax Included)

fragment/ Starbucks Ware® Coffee Essence Colombia & Cup: ¥500 (¥540Tax Included)

* Not sold Separately 

Application Procedure:

Opens: November 5 – 20, 2019 (23:59)

Selling: December 18 – 25, 2019

* If you apply through a participating Starbucks Cafe, you can access the application website from November 5. 

Miki Ehara & UTA Feature on Front Cover of Vogue Japan's Asia-Packed Issue

The theme of Vogue Japan's May 2019 issue is "Asia Rising" in which it covers all you need to know about fashion, entertainment and culture in Asia, including the lifestyles of women across the continent, a full guide to cities and more.

Look forward to seeing a new interpretation of silhouettes made bold by Japanese designers in the 70s and 80s, the latest fashion reports of countries throughout Asia, brand introductions by internationally-recognised designer―the list goes on. If you're searching for the latest in Asian fashion then look no further.

VOGUE JAPAN May 2019 © 2019 Condé Nast Japan. All rights reserved. (Photo: Giampaolo Sgura)

The issue's front cover features a shot of Japanese models Miki and UTA. Combining western and eastern beauty, the refined look was forged by leading stylist Paul Cavaco and shot by and by photographer Giampaolo Sgura.

Check out a special behind-the-scenes video of the shoot here.

Ryo Ishikawa & Hiroshi Fujiwara's Final 'Denim by Vanquish & Fragment' Collection Arrives

Denim by Vanquish & Fragment is a collaborative brand between fashion brand Vanquish and Hiroshi Fujiwara's Fragment Design. The final collection of the line―the 19S/S Collection―is set to go on sale on February 23, 2019.

Denim by Vanquish & Fragment was first made public at the Vanquish 2011 Spring/Summer Collection fashion show in 2010. The following year, in 2011, the brand arrived at Vanquish stores. It has now been on the market for 9 years.

1st Collaborative Denim Line From 2011

The 19S/S Collection incorporates neon colours in its designs with the brand's iconic denim pants as the main apparel. It includes the first women's denim line as well as a range of accessories like an 18K chain and other miscellaneous items such as mugs and a luggage box. Those who purchase "DENIM BY" items in the line will also receive a free novelty. These are limited in stock.

A pop-up store will also open to commemorate the final collection.

Denim Pants: Straight / Tapered / Wide / Skinny / Angle Cut / Jogger Pants

Women's Denim Pants: Rigid Tapered / Skinny

Don't miss out on the final collection of this hugely popular and well-recognised collaborative brand.

Information

19S/S Collection Pop-Up Store

Address: Champs-Elysees Floor 1F, 4-28-14 Jingumae, Shibuya, Tokyo

Running: February 23, 2019 – February 24, 2019

Time: 11:00-18:00

Dealers

Release Date: February 23, 2019

Online Store

Release Date: February 23, 2019

Website: https://ceno.jp/DENIMBY

Hiroshi Fujiwara x Pokémon Pop-Up Store to Open at Ginza Sony Park

A pop-up store for Hiroshi Fujiwara and Pokémon's collaborative Thunderbolt Project is set to hit mainland Japan for the first time at Ginza Sony Park from November 24 to December 2.

The pop-up shop is teaming up with THE CONVENI, a concept store and new take on the convenience store by Fujiwara. A range of items will be sold by the Thunderbolt Project brand including those that were popular at Hypefest. There will also be kid's sizes available for the first time as well as a line-up of items exclusive to Ginza.

Advance bookings will be entered into a lottery draw for attendance. New information as well as first looks at the Ginza exclusive items will be made available on the pop-up shop's official social media so be sure to check there before visiting.

Laforet Harajuku to Participate in Vogue Fashion'S Night Out 2018

It has been announced that Laforet Harajuku will attend Vogue Fashion'S Night Out (FNO) set to take place on Saturday September 15.

FNO was first held in 2009 at the call of editor-in-chief of Vogue US Anna Wintour. It is the world's biggest shopping event that seeks to revitalize fashion industry and boost its economic recovery.

Laforet Harajuku, which was established 40 years ago, will join the 10th FNO for a collaboration titled 'VOGUE GIRL×LA40RET Festival.' Laforet Harajuku will extend its opening times so people can enjoy all the special plans they have in store for each of its shop on this one-day event.

An opening ceremony for VOGUE GIRL×LA40RET Festival will take place at the 6th floor Laforet Museum Harajuku. There will also be a special Mickey Mouse 90th anniversary collection fashion show, a festive styling show and DJ performance by VOGUE GIRL, and more.

Fashion lovers won't want to miss out on this very special one-day-only event!

■Information

Laforet Harajuku Participation Details

Date: September 15, 2018

Venue: Laforet Harajuku (1-11-6 Jingumae, Shibuya, Tokyo)

Participating Shops: All shops inside Laforet Harajuku

Opening Hours: 11:00am-10:00pm

*Opening times extended by 1 hour.

About: http://www.laforet.ne.jp/special/fno/

VOGUE FASHION'S NIGHT OUT Official Website: http://www.vogue.co.jp/fno/tokyo/

In The Bag is a popular series by Vogue where celebrities showcase what's inside their bags. Big names that have featured on the series include Victoria Beckham, Taylor Hill, Zoë Kravitz and many more.

Vogue Japan have featured AMIAYA on their list, a model and DJ twin duo massively famous as Tokyo pop fashion icons.

We get to see the full scope of their stylish bags which include everything from their favourite purses to make-up pouches, sunglasses, and sparkly accessories. Despite the contents of their bags being different there's something that still unifies the two of them.

They also discuss their favourite towns, what they do on their days off, what type of partner they like and more.

In The Bag – AMIAYA: https://www.vogue.co.jp/fashion/trends/VJ1012-InTheBag-2018-08ORIG_AmiAya/videos

Check out the video for yourself and you might even discover some fashion tips!

Namie Amuro Features on the Front Cover of VOGUE JAPAN October 2018

Namie Amuro will be featured on the front cover and in the Fashion Story section of the October 2018 edition of VOGUE JAPAN which goes on sale from August 28.

Well-established photography duo Luigi & Iango are responsible for snapping these shots of the Queen of Japanese Pop. She is clad and cool in Saint Laurent's 2018 fall and winter collection. This is the first monochrome front cover page in VOGUE JAPAN since the July 2001 edition – 17 years ago.

The new edition also comes with a special Namie Amuro poster and features an interview with her as she looks back over her 25-year career as a music artist, discussing topics from music to live shows since her debut.

Namie Amuro fans won't want to miss out on this exclusive edition.

Starbucks, Stanley & Hiroshi Fujiwara's Triple Collaboration on Stainless Bottles

Musician and designer Hiroshi Fujiwara has taken his design project Fragment Design to collaborative with Starbucks and US summer ware brand STANLEY to release two new stainless bottles.

Both bottles will be released on June 27, 2018 and can be picked up at most Starbucks branches in Japan as well as via their online store.

This is the latest in collaborations between Fragment Design, which began in 2012, and Starbucks. STANLEY has joined the fray this time and marks the first time their bottles have been used at Starbucks. The bottles use vacuum isolation and so will keep hot drinks hot and cold drinks cold. They also have lasting durability so can be used over a long period of time at home, in the workplace and elsewhere. It's sure to be a hit in Japan for the coming summer season as people take trips to the mountains and seaside.

You can pick from either navy blue or grey both of which are finished with a matte coating. Their size also makes carrying them around convenient, clocking in at the same size as a Starbucks Short. On the front of the bottles you'll see logos for all three collaborators involved. The minimalist design echoes influence by Hiroshi Fujiwara.

Be sure check them out yourself in a Starbucks near you while in Japan.

■Information
Stainless Bottle Navy Fragment×STANLEY Navy (236ml)

Stainless Bottle Navy Fragment×STANLEY Grey (236ml)

Available at most Japanese Starbucks branches and via the Starbucks Japan online store.

On Sale: June 27, 2018

Price: ¥4,000 (Pre-Tax)

*Limited stock.

*A limit of one of each colour purchasable per customer.

Starbucks Japan Online Store: http://www.starbucks.co.jp/onlinestore/

Vogue Fashion'S Night Out 2018 to Take Place in Tokyo, Kobe, Nagoya & Osaka

Vogue is the world's most influential fashion magazine. The Japanese edition, Vogue Japan, is once again holding Vogue Fashion'S Night Out (FNO) this year, a global event for shopping and fashion.

Hosting this year's night out is Tokyo on September 15, Kobe on September 22, Nagoya on October 27, and Osaka on November 17 and 18.

FNO was created by editor-in-chief of Vogue Anna Wintour. It's the world's biggest fashion event that takes place in countries where Vogue is published and aims to invigorate the fashion industry.

The event began in Japan in the same year and grew rapidly across the country. This year marks its 10th run.

The 10th annual FNO will return to its origins of spreading the joy and depth that fashion brings to people and share the enjoyment of shopping.

Special guests will be invited again this year to host ceremonies, and in addition to plans in store from various shops, there will also be charity projects in place once more.

 

Comment from Mitsuko Watanabe, Vogue Japan Editor-in-Chief

"FNO is shows liveliness year by year and has become an annual event. This memorable 10th year will take place in four cities, the biggest scale in FNO history. From the bottom of my heart I'm looking forward to getting to meet people in each of these places in Japan."

FNO is a must-see for fashionistas. Get involved and come face to face with the world's cutting edge styles!

■Information

VOGUE FASHION'S NIGHT OUT 2018 

Tokyo – 10th Annual Run
Locations: Omotesando, Aoyama, Harajuku areas

Date: Saturday September 15, 2018

Kobe – 2nd Annual Run
Locations: Daimaru Kobe, Kyukyoryuichi areas

Date: Saturday September 22, 2018

Nagoya – 1st Annual Run
Location: Matsuzakaya Nagoya

Date: Saturday October 27, 2018

Osaka – 7th Annual Run
Locations: Hankyu Umeda, Hankyu Men's Osaka

Dates: Saturday November 17, 2018-Sunday November 18, 2018

VOGUE JAPAN Official Homepage
www.vogue.co.jp/fno

"Wednesday Campanella" won the award, VOGUE JAPAN WOMAN OF THE YEAR 2017!

VOGUE JAPAN WOMEN OF THE YEAR is an award that selects women who worked actively in many kinds of fields and inspired the readers of "VOGUE JAPAN" in their fashion, life styles and sense of beauty.

Suiyobi no Campanella (aka Wednesday Campanella, internationally) is a unit centering around Kom_I which was formed in 2013. The unit consist of the three members; Kom_I (main performer), Hidefumi Kenmochi (music) and Dir.F (other works) but only Kom_I appears in public. The full album "SUPERMAN" released in February 2017 won the first place on iTunes for two days straight and the first one-man live in Nippon Budokan was a great  success. The main performer of the unit, Kom_I is working in many fields. She participated in the winter collection of DOLCE&GABBANA 2017/8 held in Milano, as a runway model.

 

Also, YOON (AMBUSH®) won the award of "Rising Star of the Year" which was established by "VOGUE JAPAN" under the concept of supporting young women who are working actively in the fashion scenes all around the world.

 

The winners of the award, wearing gorgeous dresses, walked the red carpet and the crowd applauded and shouted for joy. Photos of this award ceremony, portrait photos and special interviews will appear in VOGUE JAPAN's January 2018 issue to be released on November 28th (Tue.).

Don't miss the activities of Suiyobi no Campanella's Kom_I!

■Information

"Wednesday Campanella" official site:http://www.wed-camp.com/

VOGUE JAPAN WOMAN OF THE YEAR 2017 official site:

adidas Originals Flagship Store Tokyo will participate in VOGUE FASHION'S NIGHT OUT 2017!

adidas Originals Flagship Store Tokyo will participate in "VOGUE FASHION'S NIGHT OUT 2017" which will be held on the 9th of September, 2017 (Sat.).

On the day that the event will be held, special art works focusing on "EQT" which is a popular collection, tentatively called "the best of Adidas," born in 1991.

 

Also, "#EQT LIVE PHOTO with Tammy Volpe" will be held as a special event. A participatory photo session with a young, up and coming photographer who was born in 1990 (the same year when EQT was born) will be held too. She is working actively in the Tokyo area in the fashion industry and ad industry such as "VOGUE GIRL JAPAN" and "i-D."

 

Moreover, portraits of the visitors will be shoot by Tammy Volpe in the special space located in front of adidas Originals Flagship Store Tokyo. The portraits can be printed out on the printer installed inside the store with the logo of "EQT" and can be taken home as a souvenier.

Let's enjoy the night of Aoyama, Omotesando and Harajuku where lots of fashionistas gather and "EQT" which was created under the theme of the "90's," the origin years of the sneaker culture!

■Information

・Date:September 9th, 2017 (Sat.) 17:00 to 21:00 (plan)

Venue: adidas Originals Flagship Store Tokyo (Jingumae Torus, 5-17-4, Jingumae, Shibuyaku, Tokyo)

Tammy Volpe Instagram :

VOGUE JAPAN introduces the world of rock with YOSHIKI and Kenshi Yonezu!

VOGUE JAPAN's October 2017 issue was launched for sale on 28th August. With "ROCK STAR" as the running theme, the new release is packed with rock-themed fashion for the  autumn-winter 2017 runway. Demolishing the old and reconstructing the new – the spirit of rock from the old to the new makes up this special feature.

This marks the first appearance of Japanese rock star YOSHIKI on the front cover of VOGUE.

Actor Masaki Suda has transformed into legendary rock stars Patti Smith, Sid Vicious and David Bowie for this special edition. For the fashion story, soaring music band D.A.N, and multitalented artists such as Kenshi Yonezu are featured wearing clothes designed by Yves Saint Laurent and Alexander McQueen. There is so much rock smashed into this feature of VOGUE JAPAN!

In the special rock video feature, Yoohei Kawakami; the freaky vocalist of popular band Alexandros, stands alongside top consultant of United Arrows Ltd. and fashion and music devotee Kurino Hirofumi, and stylist Ikuko Jibiki to introduce their recommended rock videos. Additionally, VOGUE JAPAN's "Editor's Pick" will introduce the editor's top fashion items. The editorial department's popular web project will also feed their recommended rock to the public!

The rock video that is incorporated into these two plans will be available to rent out at TSUTAYA BOOKS Daikanyama (2nd floor – video floor) thanks to a special campaign that will be running until Wednesday 27th September. At this bookstore, a poster exhibition will be running alongside the magazine sales. The poster exhibition features the ROCK STAR front cover, story and much more!

Feel the ROCK STAR vibes from this magazine and event!

■Information

VOGUE JAPAN – October 2017 commemoration edition featuring rock videos – rental service and poster exhibition

Location:TSUTAYA BOOKS Daikanyama(2nd floor) – video floor

Event period:Monday 28th August 〜 Wednesday 27th September 2017

Contents of October 2017 magazine edition: https://www.vogue.co.jp/magazine

Editor's pick edition:  https://www.vogue.co.jp/fashion/feature/rock-movies-2017