Doraemon Manga Set Collector's Edition Features All 45 Volumes to Commemorate 50th Anniversary
As part of the ongoing promotions to commemorate 50 years since the Doraemon manga was first published in January 1970, pre-orders for the new "100 Years Doraemon" collector's edition full manga set Tentōmushi Comics by are now open. And there's some other exciting collector's merchandise pieces to go along with it.
What's "100 Years Doraemon"?
Specially-Selected Coloured 'Surreal' Picture Collection
Doraemon was born in the 22nd century, and so this collector's edition aims to have the famous manga series make it all the way there. To ensure that happens, Fujiko Fujio's full 45-volume collection will have expertly-crafted and carefully-considered book binding and printing.
Beautiful designs to lead Doraemon across the next 100 years into the 22nd Century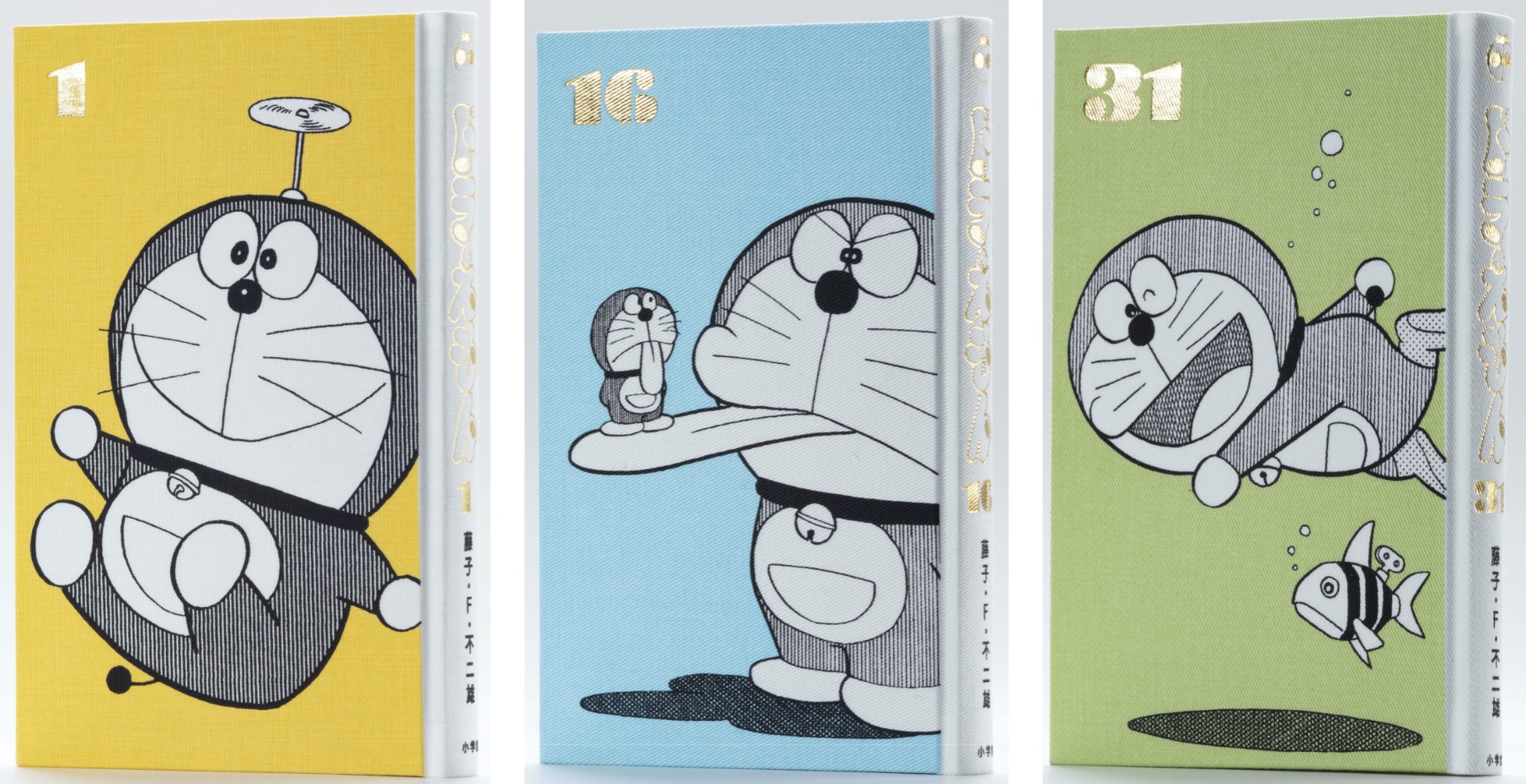 Manga cloth front covers with gold leaf on silk screen prints
All the volumes will have hardback covers, which will feature the series's first ever cloth front covers. The silk screen printing incorporates gold leaf. The books are also thread-bound to make for more fun page turning. Pages are made from high-quality "Opera Clear Max" paper which ensures the pages do not deteriorate over time. The manga itself features completely remastered prints using the latest technology which are printed with 150 line output as opposed to the common 133 output. All volumes use Tentōmushi Comics's Doraemon cover illustrations made by book and graphic designer Naoko Nakui.
5 Bonus Items
①Specially-Selected Coloured 'Surreal' Picture Collection
An assortment of cuts and illustrations from the Doraemon manga series using original colours from back when the volumes were announced. Also includes previously unreleased illustrations by Fujio F. Fujiko.
②Complete Index
A complete index that allows you to look up what volumes characters and Secret Gadgets appear in.
③Volume 0
A special Volume 0 will be included featuring 6 variations of the first Doraemon story.
Doraemon & Nobita-kun Figure
This figure captures the scene from Volume 40 of the manga series. The figure was created by MEDICOM TOY.
Giant Time Furoshiki Cloth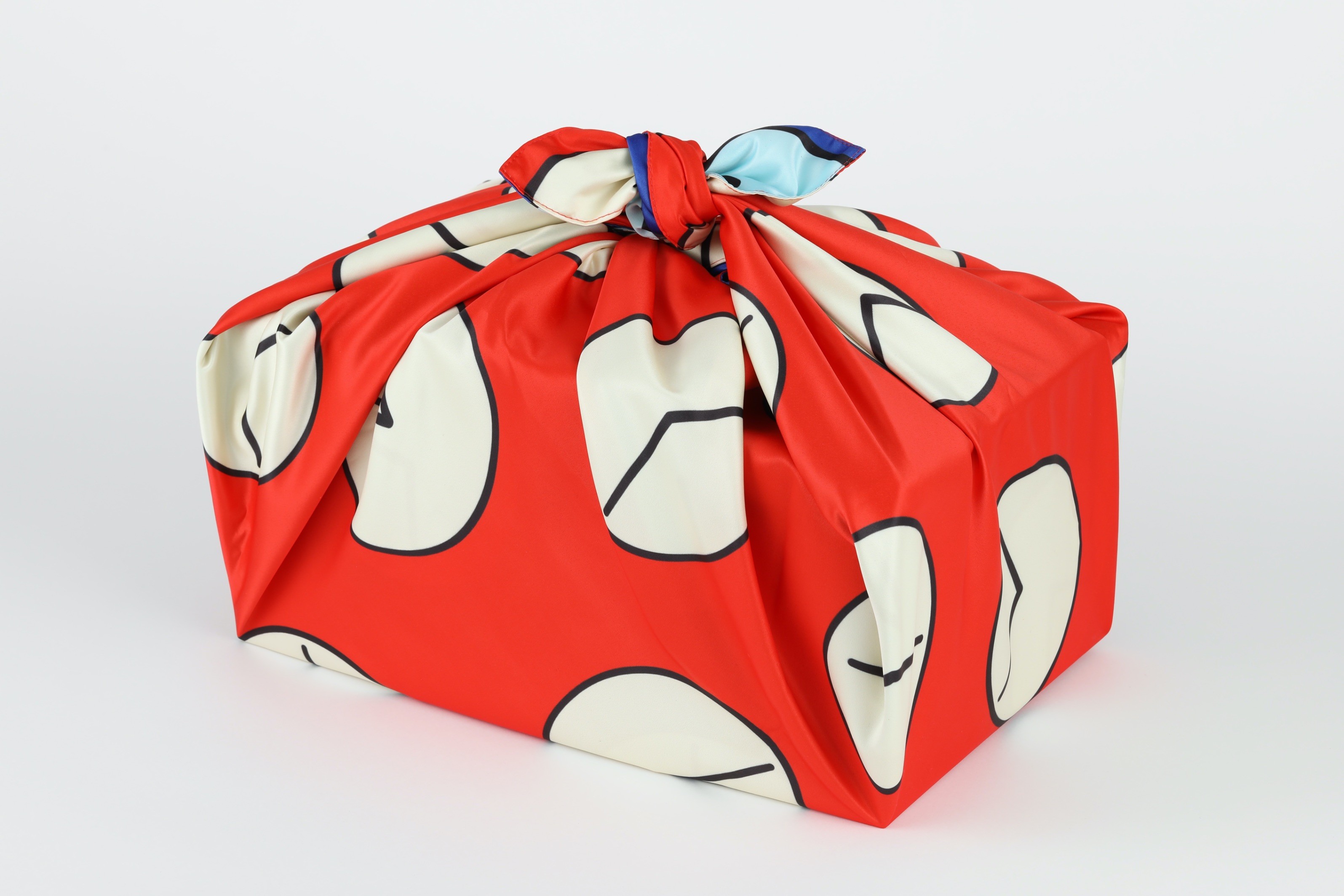 This giant 110cm x 110cm furoshiki cloth can wrap the entire three boxes which house the manga set.
100 Years Doraemon Anywhere Door Bookshelf
Store your books on this limited-edition bookshelf which is exclusive to those who purchase the 100 Years Doraemon set. Each shelf stacks 15 volumes to fit the entire collection. It's inspired by the Anywhere Door, one of Doraemon's many Secret Gadgets. It was co-developed with furniture maker Karimoku, MEDICOM TOY, and Shogakukan. Sign-ups for this bookshelf will be announced at a later date.
©Fujiko Pro・Shogakukan
Information
"100 Years Doraemon" 45 Volume Set
Pre-Orders: Opened March 28, 2020
Release Date: December 1, 2020
Price: ¥70,000 (Before Tax)
ISBN: 978-4-09-179333-1
Binding: Naoko Nakui
Editor: 100 years Doraemon Project Team Shogakukan
*Book and  bonus items design subject to change

Official Website: https://www.shogakukan.co.jp/pr/100dora/
RELATED ENTRIES
Doraemon Promises the Future is Bright With His New STAY HOME Project

Fujiko Pro and the Fujiko F Fujio Museum have launched their new "STAY HOME" project together with Doraemon.

A message from Doraemon was included in the April 29 issue of The Asahi Shimbun's morning edition. The message has also been translated into English, Chinese, Thai, Korean, Hindi, Indonesian, and Arabic and posted across Doramon's social media accounts for people around the world.

As part of Doraemon's STAY HOME project, his official website, Doraemon Channel, has been posting numerous things including free manga, wallpapers which can be used to make video calls more fun, and more.

The STAY HOME project aims to relieve people's worries and stresses during this turbulent time and will continue to roll things out to cheer everyone up.

The website has also released some special posters you can download and print to show thanks to people having to deliver parcels, food and so on as a result of shop and restaurant closures. The one above reads "Thank you for the delivery. Please leave the parcel here."

Fujiko F Fujio Museum has also released some wallpapers which if used in a video call make it look like you're in the museum itself. Try them out to lift the mood during a video call.

Download Official Free Doraemon Wallpapers From Doraemon Channel

Doraemon Channelーthe official website for Doraemonーhas opened a new download service where you can download free wallpapers from the Doraemon anime series.

Designs are taken from familiar scenes in the anime such as inside the time machine, Nobita-kun's bedroom, the iconic Open Lot with the pipes, and more.

You can use them as desktop wallpapers or as video call backgrounds. The wallpapers were created in response to the lockdown measures and restrictions on going outside to bring a little light into people's lives.

Download your favourite one now from the link below.

Cute New Doraemon Merchandise From Felissimo Can Be Enjoyed By Adults Too

Felissimo launched online pre-orders for its new line of 12 Doraemon themed items on February 20, 2020. Doraemon is a symbol of Japanーa national treasure that continues to be be adored by kids and adults alike around the country.

The collection is centred around everyday practical items that can even be enjoyed nonchalantly by grown-ups.

Doraemon Laundry Net Set – ¥1,400 (Before Tax)

There are four in this collection of laundry nets, big and small. Designs include "Mini Doraemon," "Memory Bread," "Anywhere Door," and "Dress-Up Camera."

Doraemon & Nobita-kun Slippers – ¥2,100 (Before Tax)

 Doraemon and Nobita-kun features on this collection of slippers. There are four designs, with the tops being made from corduroy, and all with beautiful colours.

Doraemon Pull Pass Case – ¥2,300 (Before Tax)

These three pass cases all have Doraemon designs and come with a pullable elastic string. Each has its own classy one tone colour. Perfect for storing small items and heading out.

Doraemon Smartphone Cases – ¥2,900 (Before Tax)

The three cute smartphone cases come in chic colours and designs, with an additional colour inside for the four card pockets.

Doraemon Plastic Bottle Towels – ¥950 (Before Tax)

Decorate your drinking bottle with one of these four cute Doraemon bottle towels, all with a cute tail. They can be used for other things like deodorant too.

Doraemon Zipper Bag Set – ¥800 (Before Tax)

Keep your food stored and safe in an adorable Doraemon zipper bag, whether it be snacks or ingredients. They're perfect for giving gifts in too.

Doraemon Nail Seals <Basic> – ¥1,450 (Before Tax)

Glam up with some cute Doraemon nail seals, ranging from natural colours to gold leaf and more, which can cater to a variety of different situations.

Doraemon Embroidered Pouches – ¥3,000 (Before Tax)

These kits embroidery equipment to make your own Doraemon-design pouch. Make the pouch, attach the fastener, and you've got yourself a place to store your items.

Doraemon Manga's 50th Anniversary Celebrated With Kawaii Confections by Tabemas

Character-inspired Japanese confectionery series Tabemas is celebrating the 50th anniversary of the Doraemon manga series with two adorable new confections which will release at Lawson convenience stores around Japan on March 3, 2020.

Tabemas Doraemon 2020 Chocolate Flavour – ¥285 (Tax Included)

Tabemas have produced Doraemon confections before to huge popularity amongst fans, and this time around he's got a new facial expression. There's also a special "Ganso Doraemon" version.

Tabemas Doraemon 2020 (Ganso Doraemon Ver.) Custard Flavour – ¥285 (Tax Included)

Ganso Doraemon, who was born in the future, is a bright yellow colour with cute ears. Both confections sit plump and adorable, and each have little Doraemon details like the bell, whiskers, and a tail.

The sweets are also made with a dough called "nerikiri" which is used in making traditional Japanese wagashi sweets. Doraemon is chocolate flavoured while Ganso Doraemon is custard flavoured. Perfect for snacks and would look great on an Instagram feed!

Information

Tabemas Doraemon 2020

Release Date: March 3, 2020

Available: At chilled desserts section of Lawson convenience stores across Japan

*Not available at Natural Lawson or Lawson Store 100

*Available while supplies last

*Stock date may differ from branch to branch

*Select stores not participating

Product Page: https://www.bandai.co.jp/candy/tabemas/doraemon3/

Doraemon and Hello Kitty Collaborate in New Kawaii Merchandise Line

Sanrio has announced a new Doraemon and Hello Kitty design series which is set to be released on December 26 at Sanrio stores across Japan, as well as department stores stocking Sanrio goods and the Sanrio online shop.

The Doraemon x Hello Kitty collaboration project began in 2015. Both characters have come to be symbols of Japan adored by all generations, with the Doraemon manga series set to celebrate its 50th anniversary next year, and Hello Kitty having celebrated hers this year. The project is now expanding its range for all the grown-ups that were raised on both franchises.

Hello Kitty Mascot Holder – ¥1,980

Doraemon Mascot Holder – ¥1,980

This marks the 4th Doraemon and Hello Kitty collaborative design series developed by the Sanrio shop. All the merchandise incorporates fun and instantly-recognisable motifs from the characters, like Doraemon's secret gadgets and Hello Kitty's ribbon.

Reversible Cushion – ¥3,080

Handbag – ¥2,200

A5 Notebook – ¥605

The cute mascot holders see Hello Kitty borrowing Doraemon's bell and takecopter and Doraemon with Kitty's ribbon. This adorable feature follows into the designs of the other items too, like the reversible cushion which turns inside out into either the Doraemon or Hello Kitty design. There's lots of items in the line-up besides that shown here too, including pens and more.

Don't miss out on this sweet collection.

*All prices include tax

©️Fujiko-Pro ©️'76, '19 SANRIO

Doraemon Future Department Store: Secret Gadget Lab, Exclusive Merchandise & More

Doraemon Future Department Store is the world's first official Doraemon shop, and it's set to open tomorrow on December 1, 2019. Before its grand opening, however, the store has given customers a sneak peek into what to expect.

The shop's concept is from the perspective of Doraemon, who says, "I'll help make your future a good one." It's split into three areas: the Secret Gadget Lab, the Customise Zone, and the Shop Zone, each of which offers a unique Doraemon experience you won't find anywhere else.

Secret Gadget Lab

The Anywhere Door

Just like in the manga and anime series, the Dokodemo Door, or Anywhere Door, lets you travel anywhere.

Discover secret gadgets, like the air gun!

Have a go at trying to shoot and hit the 10 targets within the time limit.

*Requires one Doraemon Future Department Store coin to play

Dorayaki Baybayin Game

Touch the dorayaki to increase your score. Touch too many, and something crazy might just happen…

*Requires one Doraemon Future Department Store coin to play

Fly as far as you can with the Bamboo Copter

Reach the goal with the Take-copter, or Bamboo Copter.

*Requires one Doraemon Future Department Store coin to play

Customise Zone

Embroidered items

Embroider Doraemon characters and the logo onto towels, bags, clothes and more.

Characters (18 Designs): ¥700 Each (Before Tax)

Text  (45 Designs): ¥400 Each (Before Tax)

*The place where a design is embroidered is chosen for you

*There may be a waiting time during busy hours

 

Carved Seal Items

Have character designs, text and more carved onto various items like key rings.

Plate Key Ring (10 Designs) – ¥1,000 Each (Before Tax)

Room Key Holder (6 Designs) – ¥1,200 Each (Before Tax)

¥500 per carving (Before Tax)

*There may be a waiting time during busy hours

Shop Zone (Exclusive Merchandise)

These cute mugs have illustrations of Doraemon's secret gadgets on one side, and the first letter of those gadgets written in Katakana on the other side. It makes you want to collect them all!

Product Name (Pictured): Doraemon Dora-moji Mug Cup A

Price: ¥1,200 (Before Tax)

This cute figure of Doraemon is actually a piggy bank, a perfect gift to yourself or someone else!

Product Name: Doraemon Piggy Bank

Product: ¥4,000 (Before Tax)

Book Corner

There's even a book shop where you can pick up the latest issues of the Doraemon comic.

Bonus Items

To celebrate its grand opening, the store will give out the following items to customers.

Those who purchase any piece of merchandise will receive a free postcard with an original design with every transaction.

For every ¥4,000 (tax included) spent on a transaction on merch, you'll get an original handkerchief.

And for every book bought, you'll get a holographic postcard featuring a design of volume 0 of the manga.

*Bonus items available while supplies last

Information

Doraemon Future Department Store

Address: DiverCity Tokyo Plaza 2F, 1-1-10 Aomi, Koto Ward, Tokyo

Grand Opening: December 1, 2019

No fixed holidays except when DiverCity Tokyo Plaza is closed.

Doraemon Future Department Store to Open in DiverCity Tokyo Plaza

The 'Doraemon Future Department Store' is dedicated to the famous anime Doraemon, which is loved all over the world and has captured the hearts of people through all generations. The official shop is opening on December 1, 2019 in DiverCity Tokyo Plaza, Odaiba, Tokyo as the world's first official shop.

Not only is this the place to get your hands on merchandise, but the shop is split into three zones which each offer a unique interactive experience with Doraemon's secret gadgets and much more. Each zone is open to everybody.

Doraemon will be there to greet all guests into the store. After passing through the entrance you can get started on testing out some secret gadgets in zone 1: a Secret Gadgets Lab. 

After a fun session in the Secret Gadgets Lab, it's time to create your very own one-of-a-kind merchandise in the Customisation Zone. How about making a collection of original merchandise with your friends or family for a fun and memorable adventure?

The Shop Zone is the final stop of your adventure. This is your chance to get some Doraemon Future Department Store-limited merchandise that is not sold elsewhere. If you're a fan of Doraemon, this is the perfect place to stock up on Doraemons for your collection!

More details on the original merchandise, Secret Gadget Lab and Customisation Zone will be released at some point in the future. Keep your eyes peeled for more updates!

Information

Doraemon Future Department Store

Address: DiverCity Tokyo Plaza, 2nd Floor, 1-chōme-1-10 Aomi, Edo Ward, Tokyo 

Grand Opening: December 1, 2019

Closed when DiverCity Tokyo Plaza is closed.

Cute & Shiny Doraemon Cookies & Dango Tin Are Kyoto Souvenirs You Can't Leave Without

If you're looking for must-buy souvenirs while in Kyoto then look no further. Heso Production are set to begin releasing Doraemon cookies and a cookie tin early this month at that are exclusive to souvenir shops and variety stores in Kyoto.

The cute printed cookies feature not only familiar faces from the Doraemon series, including the adorable cat robot himself, but illustrations of sights that are quintessential to traditional Kyoto culture including the five-story pagoda and the Daimonji bonfire.

Another must-grab is this shiny Doraemon tin. Also exclusive to Kyoto, the tin features a way-too-cute shiny design of Doraemon who is holding some dango.

The tin is filled with lemon flavoured ramune candy, a perfect nibble to have while travelling.

©Fujiko Pro・Shogakukan・TV Asahi・Shinei・ADK

Information

Dokodemo Doraemon Kyoto Exclusive Printed Cookies

Contains: 20

Price: ¥800 (Before Tax)

Release Date: Early September 2019 (Date may differ from store to store)

Location: Souvenir shops and variety stores in the Kansai region

Dokodemo Doraemon Kyoto Exclusive Shiny Tin

Contains: 2 bags (8g each) of lemon flavoured ramune candy

Price: ¥600 (Before Tax)

Release Date: Early September 2019 (Date may differ from store to store)

Location: Souvenir shops and variety stores in the Kansai region

Heso Production Official Website: https://www.heso-pro.com/

Sebastian Masuda And Other Phenomenal Artists Create Outstanding Doraemon Exhibition

28 artist groups and individuals have created artistic pieces to represent Japan's favourite animated character Doraemon. From July 12 to September 23, 2019, you can see these magnificent creations at the Doraemon Exhibition Osaka 2019 which will take place at Osaka Culturarium at Tempozan.

The Doraemon Exhibition Osaka 2019 features a range of artists who exhibit their works in Japan and even in foreign countries. This is a fantastic chance to meet a range of new Doraemon that the world has never seen. This event covers a range of genres through modern art that is overflowing with creativity and dedication for the anime character that has grasped the nation. 

On July 11, the day before the opening of the exhibition, there was a special opening ceremony and private viewing event held exclusively for staff and the press, which was a massive success. 

Press releases of the event reveal that artists Yasumasa Morimura and Sebastian Masuda were present at the ceremony for photos and greetings. 

Yasumasa Morimura commented with deep emotion: "I am so happy to have finally taken part in the Doraemon Exhibition. For this creation, I used lots of paper to make the costumes. I collaborated with Junko Koike, collecting lots of Doraemon manga as raw materials for the dress. As Doraemon has the power to manipulate time and space, and has the ability to create a door that leads to anywhere he desires, I thought a grey dress would be appropriate. In fact, the entire exhibition venue is just like the inside of Doraemon's pocket ー it is packed with the work of 28 solo artists and groups. What a fun experience it is. I hope that many people in the Kansai region come see this," he explained.

Sebastian Masuda commented: "I'm actually the same age as Doraemon and I share the same birthday as Noby; the main character from the series. I was born with a love for Doraemon."

He then commented on his art piece: "I actually wanted to make it as big as the Budha statue at Todaiji Temple in Nara, but we wouldn't be able to fit it in the venue so I made it two metres tall instead", he laughed. "I collected materials from markets from all around the world, so the final piece is literally made up of the colours of the world," he continued. 

His message to the people of Osaka is: "I would love it if lots of children came to see this. It would really make my day to hear reactions from them like "whoa, it's huge" or "that's so cool!""

Please come stop by to visit your favourite Doraemon!

Information

The Doraemon Exhibition Osaka 2019

Running: July 12, 2019  ー September 23, 2019 (74 days) 

※ No closed days.

Venue:  Osaka Culturarium at Tempozan (next to the Osaka Aquarium Kaiyukan) 

Address: 1-5-10, Kaigandori, Minato Ward, Osaka

Open: 10:00 ー 17:00 ※ Last entries: 30 mins before closing time 

Entry prices

General:¥1,500

Middle/High School: ¥1,200

4 y/o ー Elementary School: ¥800

Enquiries: (Hello Dial)  TEL: 050-5542-8600 (8:00 ー 22:00, no holidays)

Pyokotama♪ Releases Doraemon, Hello Kitty, Pikachu & Shin Chan Soft Balls

Sega Toys Co., Ltd. will launch a new lineup of large, round character-themed balls called Pyokotama♪ Character series! The lineup includes four designs; Crayon Shin Chan, Doraemon, Hello Kitty, and Pikachu! These characters are famous in Japan and all over the world! The lineup will reach stores on Thursday 26th September 2019.

The cloth ball is approximately 13 cm in diameter. The faces of Crayon Shin Chan, Doraemon, Hello Kitty and Pikachu decorate the surface of the cushions…but what's on the other side…? Make sure you take a look! Turn on the switch on the ball and and then throw it around as much as you like! When you do, it will play the character's theme song or a famous song when you throw it!

Crayon Shin Chan

Make sure to check out the "backside" of the ball! As you throw the ball around, it will play the nostalgic melody of the Shin Chan theme song I'm Popular (Ora wa ninkimono).

Doraemon

His four-dimentional pocket is on the front of the ball and on the back is his small, red, circular tail! As you throw him around, he will play the anime opening song Yume o Kanaete Doraemon.

Hello Kitty

Her left ear is decorated with her signature large ribbon. When you throw this ball, a famous melody by Tchaikovsky will fill the air!

Pikachu

This ball is especially cute because of the ears! Throw this ball, and Pikachu will sing his own anime ending theme song"

These cute and round balls are perfect to enjoy the outdoors with your family and friends!

Ⓒ Yoshito Usui/ Futabasha, Shinei, TV Asahi, ADK Ⓒ Fujiko-Pro, Shogakukan, TV Asahi, Shinei, ADK

Ⓒ1976,2019 SANRIO CO.,LTD. APPROVAL NO.S600788 ⒸNintendo・Creatures・GAME FREAK・TV Tokyo・ShoPro・JR Kikaku ⒸPokémon

Information

Pyokotama ♪ soft balls (4 character designs)

Prices: ¥2,500 + tax each
Release date: Thurs 26/09/2019

Available at: Toy stores, volume retailers, general goods stores, online shops etc

Sega official website: http://www.segatoys.co.jp/

Noborito Station Transforms Into a Doraemon Dream World

Hi, everybody. I'm Midori from MMN's editorial department.

Right now, the Odakyu section of Noborito Station in Kanagawa is all Doraemon coloured! It is the closest station to the Kawasaki City Fujiko F Fujio Museum―a museum for the manga duo who created Doraemon―and so the station has been transformed into all things Doraemon to immerse fans in his bright blue world before they head to the museum. I heard that the station looked super cute so I took no time at all to pay a visit!

You can arrive at Noborito Station is 16-minutes from Shinjuku Station via the Odakyu Line. There may be some people unfamiliar with the area but it's surprisingly close! Recently the Rapid Express trains have started stopping there making it easier to commute to. The JR Nambu Line also rides to Noborito Station so you can leave from Tachikawa or Mizunokuchi too.

As soon as you step off the train the platform signs are all Doraemon coloured! And if you look closely you can see his bell too.

These little details are everywhere―they're even on the pillars!

The platform garbage bins too!

And the bigger waste and recycling bins.

The staircase leading down to the platform and up into to the station features illustrations of Doraemon flying with his friends in the clouds.

The elevator design is based on Doraemon's Anywhere Door♡

And if you look closely at the toilet doors you can see cute designs of Doraemon for the men's and Dorami-chan for the women's! The section in the middle hadn't been changed.

There's also a Doraemon to the side holding a small light. He's pretty big so he's perfect for taking a picture with!

Walking a little further along there was an Anywhere Door, which when you approached…

opens up! You'll get to see many different sights through the door.

They went all out with the little details even putting Doraemon's colours and bell on this big sign too.

A little further along…

was a bronze Doraemon statue! He's surprisingly small but really stands out.


He has a shiny nose.

I then descended the escalator to the bus terminal…

…and found a statue of Dorami-chan too. In front of this statue is a shuttle bus that takes you to the Kawasaki City Fujiko F Fujio Museum.

The bus design is really special! So cute!

It was so much fun just walking around the station and seeing all the carefully placed details. There might be even more that I didn't see too, so you should head to the station and seek them out!

ⒸFujiko-Pro・2011 Fujiko-Museum

Information

Odakyu Station
Address: 2417 Noribito, Tama Ward, Kawasaki, Kanagawa Prefecture
Access: 1 stop from Shinjuku Station via the Odakyu Line
Trains: Rapid Express / Express / Commuter / Semi Express / Local

Kawasaki City Fujiko F Fujio Museum
Address: 2-8-1 Nagao, Tama Ward, Kawasaki, Kanagawa Prefecture
Business Hours: 10:00-18:00
Closed: Tuesdays & New Year's Holiday
Website: http://fujiko-museum.com/

Doraemon's 40th Anniversary Celebrated With Re-Recordings of 2 Famous Songs

The Doraemon anime series first hit the air on April 2, 1979 with its 40th anniversary having just passed on the same date this year. To celebrate this major milestone, two famous songs from the series―Doraemon no Uta and Boku Doraemon―both of which have been very well known since it first aired have been re-recorded.

The former was the first ever opening song of the series. Originally performed by Kumiko Osugi with lyrics written by Takumi Kusube, the track has been performed by several different artists across the show's long run. Now, with the series hitting the 40 year mark, the song has once again been re-recorded, this time by music producer and one half of the J-pop band Sukima Switch Shintarō Tokita. Tokita has written many songs for projects and artists. artists and has worked as a sound producer. The song is performed by the regular cast including Wasabi Mizuta who provides the voice of Doraemon in the 2005 series. The seamless recording makes each of their singing parts like a relay race.

In charge of the other song Boku Doraemon is hit maker ha-j who is well known for having written songs for boy band Arashi and female idol group Nogizaka46. Wasabi Mizuta provides her energetic singing once more for this track.

Both re-recordings maintain the same level of nostalgia while having a fresh spin added to them. Shintarō Tokita commented on the joy and pressure he embraced while working on his rearrangement: "I never imagined I would have the opportunity to be involved with the TV series so I was simultaneously taken aback and filled with happiness. But the song is also tied to the creator so it was also a challenge to reach the height of those emotions."

ha-j also talked about his version of Boku Doraemon and the respect he has for the series which he put into the song: "I put everything that Doraemon raised me with into the song. I threw down the gauntlet and squeezed everything in there."

The regular cast for the anime series participated in the recordings including the already-mentioned Wasabi Mizuta (Dorameon), Megumi Oohara (Nobita), Yumi Kakazu (Shizuka), Subaru Kimura (Takeshi) and Tomokazu Seki (Suneo). Their teamwork spans 15 years, and that harmony was carried with them to the recording room.

These two songs debuted the new opening and ending themes respectively on Doraemon on April 5, 2019 and serve to commemorate 40 whole years.