Doraemon Manga Set Collector's Edition Features All 45 Volumes to Commemorate 50th Anniversary
As part of the ongoing promotions to commemorate 50 years since the Doraemon manga was first published in January 1970, pre-orders for the new "100 Years Doraemon" collector's edition full manga set Tentōmushi Comics by are now open. And there's some other exciting collector's merchandise pieces to go along with it.
What's "100 Years Doraemon"?
Specially-Selected Coloured 'Surreal' Picture Collection
Doraemon was born in the 22nd century, and so this collector's edition aims to have the famous manga series make it all the way there. To ensure that happens, Fujiko Fujio's full 45-volume collection will have expertly-crafted and carefully-considered book binding and printing.
Beautiful designs to lead Doraemon across the next 100 years into the 22nd Century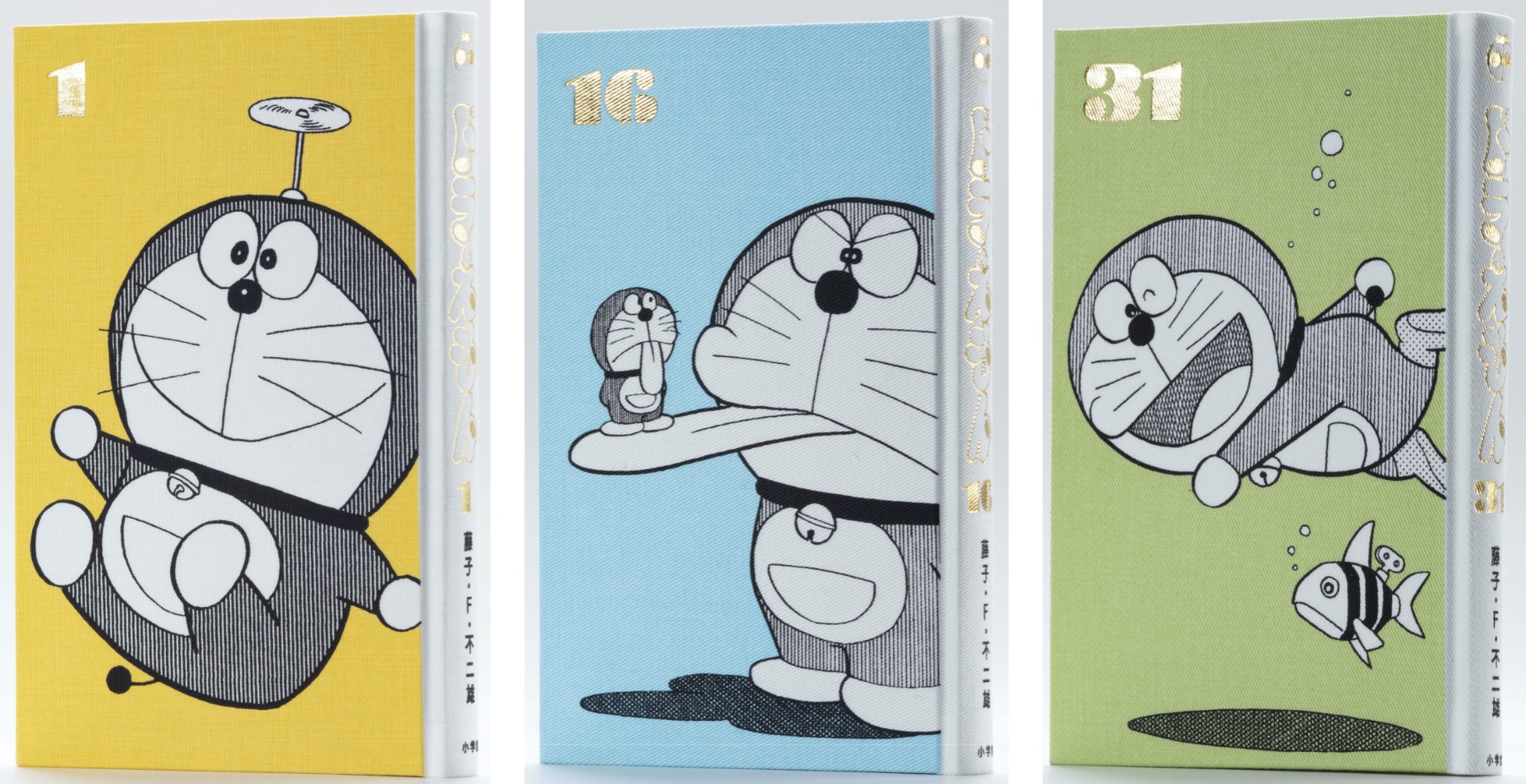 Manga cloth front covers with gold leaf on silk screen prints
All the volumes will have hardback covers, which will feature the series's first ever cloth front covers. The silk screen printing incorporates gold leaf. The books are also thread-bound to make for more fun page turning. Pages are made from high-quality "Opera Clear Max" paper which ensures the pages do not deteriorate over time. The manga itself features completely remastered prints using the latest technology which are printed with 150 line output as opposed to the common 133 output. All volumes use Tentōmushi Comics's Doraemon cover illustrations made by book and graphic designer Naoko Nakui.
5 Bonus Items
①Specially-Selected Coloured 'Surreal' Picture Collection
An assortment of cuts and illustrations from the Doraemon manga series using original colours from back when the volumes were announced. Also includes previously unreleased illustrations by Fujio F. Fujiko.
②Complete Index
A complete index that allows you to look up what volumes characters and Secret Gadgets appear in.
③Volume 0
A special Volume 0 will be included featuring 6 variations of the first Doraemon story.
Doraemon & Nobita-kun Figure
This figure captures the scene from Volume 40 of the manga series. The figure was created by MEDICOM TOY.
Giant Time Furoshiki Cloth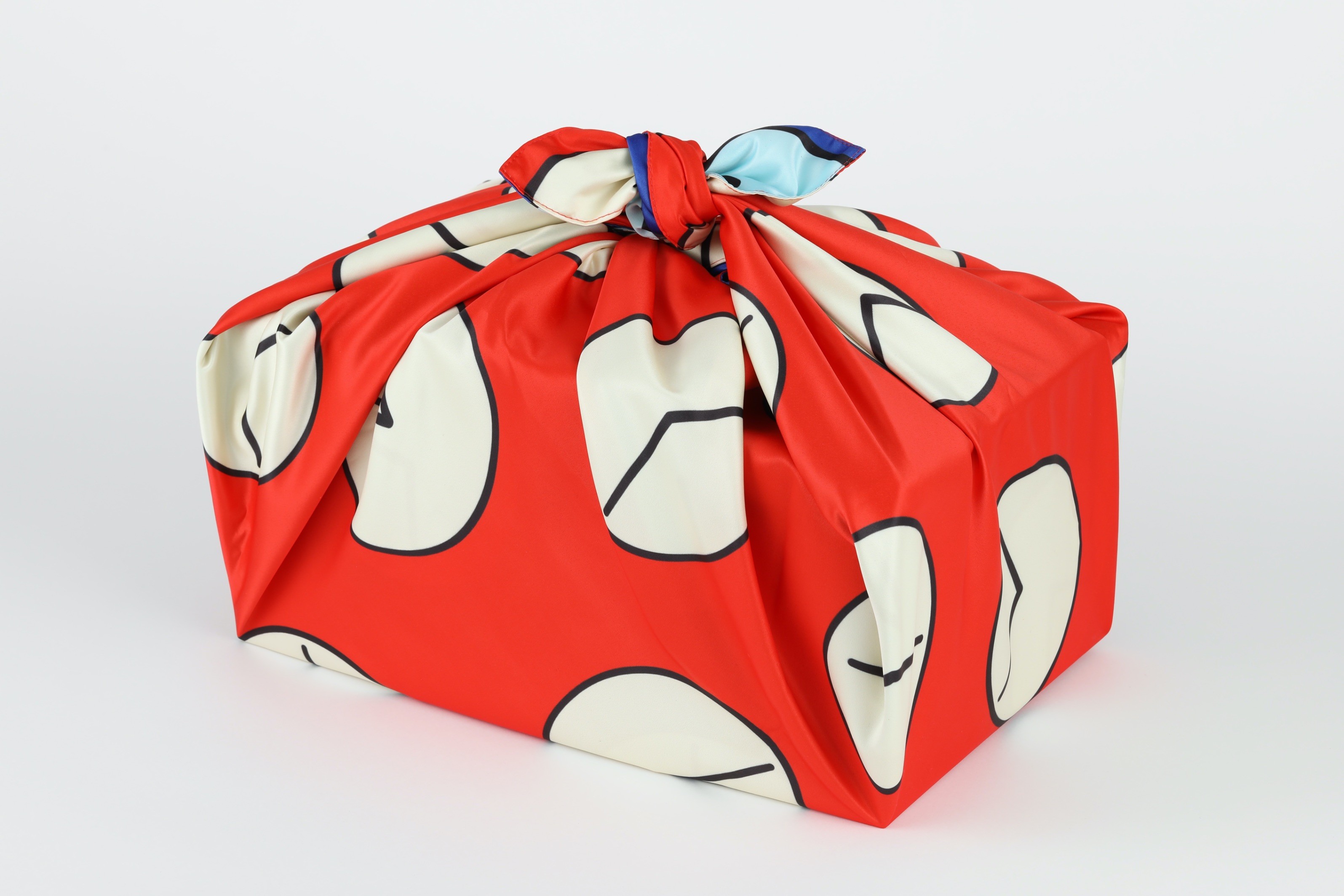 This giant 110cm x 110cm furoshiki cloth can wrap the entire three boxes which house the manga set.
100 Years Doraemon Anywhere Door Bookshelf
Store your books on this limited-edition bookshelf which is exclusive to those who purchase the 100 Years Doraemon set. Each shelf stacks 15 volumes to fit the entire collection. It's inspired by the Anywhere Door, one of Doraemon's many Secret Gadgets. It was co-developed with furniture maker Karimoku, MEDICOM TOY, and Shogakukan. Sign-ups for this bookshelf will be announced at a later date.
©Fujiko Pro・Shogakukan
Information
"100 Years Doraemon" 45 Volume Set
Pre-Orders: Opened March 28, 2020
Release Date: December 1, 2020
Price: ¥70,000 (Before Tax)
ISBN: 978-4-09-179333-1
Binding: Naoko Nakui
Editor: 100 years Doraemon Project Team Shogakukan
*Book and  bonus items design subject to change

Official Website: https://www.shogakukan.co.jp/pr/100dora/
RELATED ENTRIES
Doraemon Appears in Traditional Ukiyo-e Woodblock Print Limited-Edition Release

Everyone's favorite robot cat is making a peculiar appearance inside a piece of famous Japanese art! Using traditional Ukiyo-e crafting techniques, the Hanzou company has successfully inserted Doraemon into the painting Fujimigahara in Owari Province by Hokusai, originally created between 1830 and 1832. The painting will be available to preorder online starting October 8, 2021, with only 300 copies available!

Ukiyo-e Woodblock Print Production Process

Engraving by Craftsman

Rubbing by Craftsman

First, a sketch is made, and a monochrome version of the print is carved. After carving a number of woodblocks for each color and using them to rub the painting tirelessly to bring it to life, one single woodblock print is completed. The extremely delicate and advanced techniques these craftsmen utilize have been passed down from the Edo period. 

The original painting was created after Hokusai turned 70, and took two years to complete. The painting is said to portray the view of Mount Fuji from Fujimi-cho, Naka-ku, Nagoya City. An eccentric piece for the time, looking closely shows that each and every line and dot was meticulously calculated. Note the vivid indigo sky and the abundance of blue shades that Hokusai loved to use. Doraemon and Nobita are shown having fun as they make barrels, a welcome departure from the more stoic figure in the original painting. 

Information

Doraemon Ukiyo-e Woodblock Print: Fujimigahara in Owari Province from the series Thirty-six Views of Mount Fuji

Preorders begin on October 8, 2021, at 12:00

Price: ¥46,000 (Tax and Shipping not Included)

Number of available copies: 300 

Echizen-Manufactured Washi Paper Provided by Iwano Ichibei

Online Shop: http://ukiyoework.com/

'UCC CAFE@HOME' Release Coffee to Match Doraemon & Dorami's Favorite Snacks

UCC Ueshima Coffee is currently developing the Food with Coffee themed 'UCC CAFE@HOME' selection, pairing snacks with a perfectly matching coffee. Doraemon is the latest to appear in the CAFE@HOME series in the new collaboration, designed by Sanrio. The new series features coffee and gifts based on the Doraemon characters' favorite snacks and was released on September 3, Doraemon's birthday.

CAFE@HOME Doraemon Series

UCC CAFE@HOME DORAEMON Dorayaki Suited Coffee VP10g: ¥281 (Tax Incl.)

UCC CAFE@HOME DORAMI Melon Pan Suited Coffee VP10g: ¥281 (Tax Incl.)




UCC CAFE@HOME NOBITA Caffeine-free Coffee VP10g: ¥281 (Tax Incl.)

Gifts

UCC CAFE@HOME Doraemon Secret Gadget Print 6-piece Set: ¥1,901 (Tax Incl.)


UCC CAFE@HOME Doraemon Open Lot Printed 6-piece Set: ¥1,685 (Tax Incl.)

Goods

Doraemon Mug (Dorayaki): ¥1,540 (Tax Incl.)

Doraemon Cotton Handkerchief (Yellow) ¥990 (Tax Incl.)

Present Campaign Freebie: Original Coaster

CAFE@HOME, main product and cafe brand of UCC Group's COFFEE STYLE UCC, are releasing a lineup of Doraemon themed coffees, each to be drank with the characters' favorite snacks: One to go with Doraemons beloved Dorayaki, one for Dorami's preferred Melon Pan, and a caffeine-free blend for the sleep-loving Nobita.

UCC has been researching coffee and food combinations for many years, using taste sensors to analyze both the coffee and food before diagnosing the comparability rating between each product. The company has patented their 'Food Matching System' technology, which has now been used to find out which coffee would be best suited to Doraemon's Dorayaki.

 

An in store campaign has been announced to celebrate the release of CAFE@HOME's Doraemon series, starting on September 3. During the campaign, customers who spend over ¥3,000 on CAFE@HOME's Doraemon series will receive a free coaster. The coasters are only available in store and are limited in quantity.

 

Taste the world of Doraemon for yourself with UCC CAFE@HOME's special coffee technology!

 

Doraemon Tokyo Banana Now Available by Mail-order Nationwide for Limited-time

Tokyo Banana World has started selling 8-packs of the new Doraemon Tokyo Banana by mail for a limited time. The treats will be available on the Tokyo Banana Official Online Shop until September 14. (Once they're gone, they're gone.) 

In the first week of release, the Doraemon Tokyo Banana sold over 150,000 units. 

Doraemon Tokyo Banana 'Found it!' (8-pack): ¥1,188 (Tax Included)

The Doraemon Tokyo Banana is a fluffy, gluten-free sponge cake baked in a Doraemon pattern with rich banana custard cream in the center. The treats come in a cute gift box adorned with Doraemon's smiling face. 

The sponge cakes come in 6 different designs, with the Takecopter design being the rarest. If you snag one, consider it good luck!

©Fujiko-Pro,Shogakukan,TV-Asahi,Shin-ei,and ADK

New Lottery Campaign Celebrates 10th Anniversary of Fujiko F. Fujio Museum

To celebrate the 10th anniversary of the Kawasaki-based Fujiko F. Fujio museum on September 3, a book fair lottery event featuring a variety of the manga artist's works is coming to bookstores nationwide starting August 13. For each specially-marked manga or book purchased, participants can grab a special sticker as a prize. These stickers are new versions of those from last spring's 'Not-only-Doraemon Sticker Lottery.' 

10th Anniversary Pin (©Fujiko-Pro/Shogakukan)

10th Anniversary Denim Doraemon Plushie (©Fujiko-Pro/Shogakukan)

*Images submitted from social media.

The prize stickers for the campaign don't only feature beloved characters from Fujio's beloved Doraemon series, but also familiar faces from Perman and Kiteretsu Daihyakka. These are perfect for decorating smartphone cases, notebooks, or anywhere that needs a manga makeover! 

There are also two secret stickers, along with two special rewards for lottery winners. You'll have to win to find out which characters are featured!

As part of this event, a special photo campaign using these stickers will be held from August 13 to September 30. Just follow the official Doraemon Channel Instagram and Twitter and post a photo featuring a prize sticker of your choice with the hashtag #NotOnlyDoraemonStickerLottery (#ドラえもんだけじゃないシール) to enter. 10 people will be randomly selected to receive both the 10th Anniversary Pin and Denim Doraemon Plushie!

Which sticker set would you choose? Who is your favorite Fujiko F. Fujio character? 

©Fujiko-Pro/Shogakukan

Special Area for Doraemon Tokyo Banana Opens in JR Tokyo Station

Popular souvenir brand Tokyo Banana is celebrating 30 years! These tasty treats are a must-buy for those visiting Japan, and now, a familiar face will be popping up at a special area in the JR Tokyo Station Tokyo Banana shop: Doraemon Tokyo Banana Tokyo Station opens on August 6, 2021. Our favorite blue robot-cat just turned 50 in 2020, and this is the perfect way to celebrate!

Doraemon Tokyo Banana 'Found it!' 

Shop Image

Package Design

The Doraemon Tokyo Banana is a fluffy, gluten-free sponge cake. Created to celebrate the original creation of these dreamy sweets, the special Doraemon Tokyo Banana Tokyo Station area is now open at JR Tokyo Station. Adorned with various super cute designs, you'll also be able to find these treats at convenience stores across Japan!

Visitors will also be able to purchase a special gift box, complete with a gently smiling Doraemon design. The box contains eight Tokyo Banana sweets, and is perfect as a souvenir for family and friends–or even for yourself! The sweets within are decorated with random Doraemon designs, so you'll have to open the box to find out which ones you got! This item is sure to bring joy to all Doraemon fans both young and old.

A two-pack Doraemon Tokyo Banana will also be available. Three different Take-copter varieties and three different Anywhere Door varieties will be on sale, each with uniquely adorable designs to make you want to collect them all. Be sure to check out this special area, and pick up some memorable gifts!

(Please note that the shop has certain quantities of each package, and not all packages may be available depending on the date.

This product is manufactured in the same facility as products containing wheat flour.)

©Fujiko-Pro,Shogakukan,TV-Asahi,Shin-ei,and ADK

This Doraemon Eco Bag Collection is Inspired by the Anime Character's Secret Gadgets

Japanese clothing retailer BLACK OJICO released two new eco bags as part of Sanrio's "I'm Doraemon" series on July 2.

Eco Bag・I'm Doraemon Small Light

Eco Bag・I'm Doraemon Time Cloth

The designs are inspired by two of Doraemon's Secret Gadgets: the Small Light which can turn other objects smaller, and the Time Cloth, which can advance or regress an object.

Information

BLACK OJICO "I'm Doraemon" Eco Bag

Released: July 2, 2021

Price: ¥900 Each (Before Tax)

Size: 60cm x 46cm

Material: 100% Polyester
Buy Online: https://www.ojico.net/

New Doraemon and Korosuke Dessert Gets Served at the Fujiko F. Fujio Museum

The Kawasaki-based Fujiko F. Fujio Museum, which is dedicated to the Japanese manga writing duo who created Doraemon, is now serving up its new Doraemon Korosuke Chiffon Sandwich which was added to the menu on Wednesday.

Doraemon Korosuke Chiffon Sandwich | ¥1,280 (Tax Included)

The new arrival sees Doraemon and Korosuke turned into chiffon sandwiches with the beloved blue robot cat made from chocolate and filled with banana cream and his friend filled with mango cream.

Check out some of the other items available on the menu at the museum too.

Doraemon Arrabbiata | ¥1,230 (Tax Included)

French Toast de Anki Bread | ¥980 (Tax Included)

Fork into the Doraemon Arrabbiata with tomato sauce and a Doraemon face made from egg sheets, or a French toast inspired by Doraemon's Copying Tost, one of his many Secret Gadgets.

ⒸFujiko-Pro

Information

Doraemon Korosuke Chiffon Sandwich

Released: April 21, 2021

Where: Fujiko F. Fujio Museum

Address: 2-8-1 Nagao, Tama Ward, Kawasaki, Kanagawa 214-0023, Japan

Opening Hours: 10:00-18:00

Official Website: http://fujiko-museum.com/english/

Doraemon Daytime Umbrellas Release to Celebrate Manga's 50th Anniversary

Japanese rain wear brand Wpc. is celebrating the 50th anniversary of Doraemon with the release of its I'm Doraemon series of daytime umbrellas. The collection dropped on Thursday at Wpc.'s online shop as well as at Wpc. Shinsaibashi PARCO and LOFT, PLAZA, and Mauri stores in Japan.

Shade Doraemon Galore mini | ¥3,400 (Before Tax)

Shade 4th Dimension mini | ¥3,200 (Before Tax)

Shade I'm Doraemon mini | ¥3,200 (Before Tax)

Shade Pass Loop mini | ¥3,200 (Before Tax)

The cute mini umbrella series cutes 99.99% of UV light and offers the same amount of shade.

Doraemon Future Department Store to Open Pop-Up Shop in Ginza Mitsukoshi

Benelic Co., Ltd. has announced the opening of a pop-up shop version of Doraemon Future Department Store, the world's first official Doraemon shop, at Ginza Mitsukoshi in Tokyo from March 17.

Doraemon Future Department Store first opened back in December 2019 in Odaiba, Tokyo. Dedicated to the beloved manga and anime character Doraemon, the store has opened various pop-up shops across Japan including Fukuoka, Osaka, and Nagoya. The new pop-up shop will be the first to open in Tokyo and will be stocked with the usual fan must-grabs, items exclusive to the Odaiba shop, Ginza exclusives, pre-sales, and more.

 

Ginza Mitsukoshi Exclusives & Pre-Sales

1. The Exclusives

The Ginza Mitsukoshi pop-up shop will sell four exclusive items including a T-shirt, handy tote bag, and more.

The merchandise will feature an illustration based on the designs of the shopping bags given at Doraemon Future Department Store. Take a look below.

Ginza Mitsukoshi Exclusive T-Shirt (5 Colours) | ¥3,520 (Tax Included)

Sizes: S・M・L

Ginza Mitsukoshi Exclusive 2-Way Tote Bag | ¥2,860 (Tax Included)

2. The Presales

Fans can get their hands on pre-sales of 7 items in the "Flying to Department Store" series of kitchen, cookware, and other items, as well as 12 accessories that both kids and adults alike can enjoy.

 

Flying to Department Store Series – Kitchen Apron | ¥4,400 (Tax Included)

 

Flying to Department Store Series – 21cm Plate | ¥3,850 (Tax Included)

 

Doraemon & Dorami Back Earrings | ¥2,200 (Tax Included)

Customisation Service

The pop-up shop will offer a customisation service which lets customers have different embroideries put into the T-shirts, tote bags, and key rings. The work is done on the spot by hand so you can see the result of what will be a very special item of which only one exists in the world. Perfect for Doraemon fans and gifts to friends and family.

Freshly-Made Dorayaki

The Ginza Mitsukoshi pop-up shop will also serve freshly-baked dorayaki stamped with Doraemon's cute face. They will be made in limited quantities each day.

 

Dorayaki | ¥290 (Tax Included)

Bonus Items For Spending

1. Every purchase at the Doraemon Future Department Store pop-up will earn customers a free sticker. These are available in limited quantities.

2. The first 300 people at the pop-up shop to take their receipts to the main Doraemon Future Department Store in Odaiba between March 17 and 29 will receive a different limited-edition free sticker.

 

Ginza Mitsukoshi Original Doraemon Sticker

 

Odaiba Doraemon Future Department Store Sticker

Information

Doraemon Future Department Store in Ginza Mitsukoshi 2021

Running: March 17, 2021 – March 29, 2021

Where: Ginza Mitsukoshi Shinkan Floor 7F

Address: 4-7-16 Ginza, Chuo-ku, Tokyo

Opening Hours 10:00-20:00 (Until 18:00 on March 29)

Doraemon Future Department Store Official Website: https://mirai.dora-world.com/

Premium Doraemon Cookware Developed by French Brand Le Creuset to Release in Asia, Australia, and New Zealand

Premium French cookware brand Le Creuset Japan is celebrating Doraemon's 50th anniversary by releasing a collection of original cookware items inspired by the characters, colours, and designs from the series.

The line-up will be released not only in Japan but across Asia as well as Australia and New Zealand and can be enjoyed by both kids and adults alike during dinnertime.

Pre-sales of the items in Japan will begin on March 4 at Doraemon Future Department Store, Le Creuset Japan's online shop, Rakuten, and Yahoo! Shopping. The collection will then roll out for general sale at Le Creuset stores and elsewhere in Japan on March 6.

A special pop-up shop will also open from March 4 to 17 on the 5th floor of Shibuya Hikarie in Tokyo where fans can get their hands on all the products in the collection.

 

Special Sets | Prices Include Tax

Le Creuset Japan opened pre-orders for limited-stock item sets on Thursday (February 25) before everything is released digitally with designs based on Doraemon, Dorami, and other characters from the manga and anime series.

The Sets

Doraemon Special Set | ¥53,900

Dorami Special Set | ¥48,400

 

 

Cast Iron

Doraemon | ¥38,500

Dorami | ¥33,000

Doraemon | ¥44,000

Stoneware

Doraemon & Dorami Plate Set | ¥8,800

 

Doraemon & Dorami Oblong Plate Set | ¥6,600

Doraemon All-Stars Stone Plates (5 Included) | ¥14,300

Doraemon All-Stars Stone Tumblers (5 Included) | ¥11,100

Information

Lu Creuset x Doraemon Collaboration

Release Date: March 6, 2021

Where (Japan Locations): Le Creuset, Rakuten, Yahoo! Shopping, Amazon, Mitsukoshi Iseten, Hare no Hi Kitchen, ZOZOTOWN, Doraemon Future Department Store, and elsewhere

Product Page: https://www.lecreuset.co.jp/brand/doraemon/

Doraemon's 50th Anniversary Celebrated With Traditional Limited-Edition Edo Kiriko Cut Glasses

Imperial Enterprise is celebrating the 50th anniversary of Doraemon with the release of a very special glass collection. The glasses, which are limited to just 500 units, are made using the traditional Japanese glass cutting method known as Edo Kiriko. They were released via the online shop PREMICO on Wednesday (February 24).

Doraemon 'Sky Blue Dream' Glass

Dorami 'Future Brilliance' Glass

Special Doraemon & Dorami Glass Boxes

Doraemon's "Sky Blue Dream" glass is cut with some of the blue robot cat's iconic gadgets while his sister, Dorami's "Future Brillance" glass is adorned with her accessories.

The Edo Kiriko Cooperative Association is a long-standing establishment that has been around since 1921. Its artisans craft each and every glass using traditional methods. These Doraemon glasses are no different and come packaged in specially-made boxes.

(c)Fujiko-Pro

Information

Doraemon Edo Kiriko Glasses

Japanese Product Name: ドラえもん 夢切子 江戸切子グラス

Released: February 24, 2021

Delivery: From Early March 2021

Designs: 2

Price: ¥29,800 (Before Tax)

Units: 500 (Limited-Edition)

Official Website: https://iei.jp/doraemon-kiriko/

Doraemon Cherry Blossom Handkerchief Perfect For Springtime Hay Fever

A cute new cherry blossomed collection of Doraemon themed handkerchiefs is set for release in Japan on February 20 in time for the spring season – and perfect for sufferers of hay fever!

Doraemon Handkerchief Collection

Doraemon Towel Handkerchief | ¥1,000 (Before Tax)

The designs see Doraemon playing around and enjoying the Japan's cherry blossom season. The handkerchiefs are on the larger, sizing up at 53cm, making them perfect for wrapping bento and lunch boxes too.

Information

Doraemon Towel Handkerchief
Release Date: February 20, 2021
Available: Department stores and stores selling handkerchiefs in Japan
Kawabe Official Website: https://www.kawabe.co.jp/