Ghost in the Shell: SAC_2045 Anime Film Gets Twitter Icons
Ghost in the Shell: SAC_2045 is an upcoming 3D CG animated film set to hit Netflix simultaneously worldwide in on April 23, 2020. The film is being directed by Kenji Kamiyama and Shinji Aramaki at Production I.G and Sola Digital Arts.
Ghost in the Shell is an internationally celebrated series. The original manga, written and illustrated by Masamune Shirow, was first serialised in Weekly Young Magazine 1989, and went on to become a media franchise, spawning a catalogue of animated films beginning with Ghost in the Shell in 1995, which was directed by Mamoru Oshii, as well as multiple anime series, video games, and a live-action Hollywood adaptation.
STORY
The year is 2045, and after being plunged into an economic disaster known as the "Synchronized Global Default," the world is now engulfed in an AI-led "sustainable war." Major Motoko Kusanagi and her second-in-command  Buttotsu Batou are former agents of Public Security Section 9, an information security and intelligence department. They must get the old team back together again and reassemble Section 9 to counter new forms of cyber threats, namely "post-humans" who have extreme intelligence and overwhelming physical strength.

What are Tachikoma?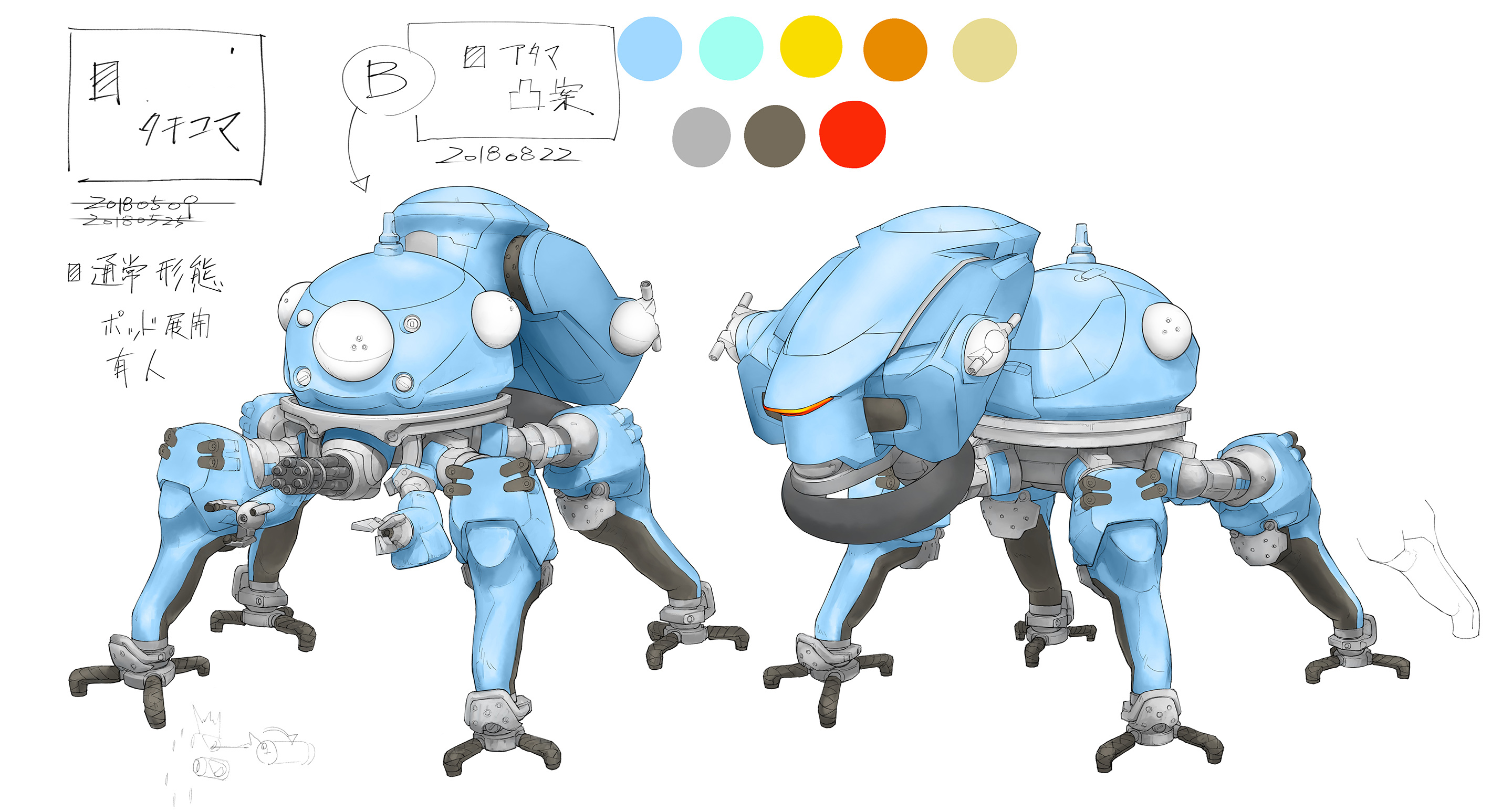 The model sheet for the Tachikoma set to appear in the film have been revealed. They are walker robots and combat vehicles equipped with AI that fight alongside the members of Section 9.

Tachikoma are popular within the Ghost in the Shell community. They featured on the front cover of German magazine Highsnobiety alongside Daiki Tsuneta (millennium parade, King Gnu) who will perform the film's opening theme. They have also been turned into figurines.

In Ghost in the Shell: SAC_2045, the size of Tachikoma has changed: they now stand 1.3 meters tall, 2.0 meters wide, and 2.2 meters deepーjust the right size for Batou to ride them.

Hashflags now available on Twitter

Tachikoma Hashflags (Twitter hashtags with emojis attached to them) were released on Twitter worldwide on April 9 and will be available for 3 months. The hashtags to make them appear include #攻殻機動隊SAC_2045, #GhostInTheShellSAC_2045, #渋谷攻殻, #タチコマ, and #tachikoma.
ⒸMasamune Shirow・Production I.G/Kodansha・ Ghost in the Shell: SAC_2045 Production Committee
RELATED ENTRIES
X-girl Announces Ghost in the Shell: SAC_2045 Clothing Collaboration

Japanese women's street-wear brand X-girl has announced a clothing line-up in collaboration with the anime series Ghost in the Shell: SAC_2045 which will launch at X-girl and XLARGE/X-girl stores, as well as X-girl's online site, in Japan, on September 4, 2020.

The collection includes 1 long sleeve T-shirt and 3 short sleeve T-shirts.

X-girl x GHOST IN THE SHELL: SAC_2045 TACHIKOMA L/S TEE | ¥6,500 (Before Tax)

The long sleeve T-shirt features an illustration of the AI-endowed Tachikoma walking robot from the anime series reflected and shaped to look like the letter 'X' to represent the X-girl brand. The sleeves have the anime series logo and X-girl logo written down in the same fronts, giving them that near-future vibe.

X-girl x GHOST IN THE SHELL: SAC_2045 FACE IN PROFILE S/S TEE: ¥5,500 (Before Tax)

The first short sleeve T has the "Public Security Section 9" logo on the front which the series protagonist Motoko is linked to. The back has a scanning-like image of Motoko.

X-girl × GHOST IN THE SHELL: SAC_2045 MOTOKO S/S TEE: ¥5,500 (Before Tax)

This T-shirt also has the triangular Public Security Section 9 logo which has the city night sky coloured into it. The back of the collar has a plug print on it while the front has Motoko's plug code on it together with a graphic of the character herself looking tense in a firefight.

X-girl × GHOST IN THE SHELL: SAC_2045 FACE S/S TEE: ¥5,500 (Before Tax)

The final T-shirt in the lineup features a digital noise design, something which is seen a lot on the series, which an X-girl-like design.

This collection is a must-grab for fans of Ghost in the Shell, especially if you enjoyed Ghost in the Shell: SAC_2045, which is available to watch now on Netflix.

©S,IG/K/2045 

Enter Virtual Shibuya: The New Ghost in the Shell Digital Platform

Shibuya 5G Entertainment Project launched its new digital platform "Virtual Shibuya" with an opening event on May 19. The event Virtual Shibuya helped promote release of Ghost in the Shell: SAC_2045 with talks and performances from SEKAI NO OWARI's DJ LOVE, virtual YouTuber and member of Nijisanji Ange Katrina, Chinatsu Wakatsuki of Future Design Shibuya, and Naohiro Ukawa of S/U/P/E/R DOMMUNE—all of whom are fans of Ghost in the Shell.

Officially recognised by Shibuya City, Virtual Shibuya comes in response to the effects of the novel coronavirus (COVID-19) which has brought tight restrictions to the economy and people's way of life. It will enable people to continue enjoying entertainment from the comfort of their homes by participating in a whole host of virtual events and activities. The project aims to deliver content from Shibuya with live performances from artists, art exhibitions, talks, and more. The use of 5G and the latest cutting edge technology will connect the real Shibuya to a virtual space, combining the realms of the digital and real world.

The guests joined over 50,000 users for the first event which went down a storm. Chinatsu Wakatsuki said: "I was amazed how much it looked like Shibuya! I can't go to Shibuya right now, so it felt like I got to visit home again after so long."

Shibuya was fully recreated a virtual space for people to visit

Lots of Ghost in the Shell fans gathered in the city

Everybody in this virtual world jumped into their avatar skins, including the diverse range of guests who probably would never have come together had it not been for the Ghost in the Shell theme, as well as DJ LOVE, Katrina, Chinatsu Wakatsuki, and Naohiro Ukawa.

The real world and the world of Ghost in the Shell collide

The four performers, who were coming face to face with each other for the first time, talked to guests about what they love about Ghost in the Shell while strolling around Virtual Shibuya and having fun with fans on equal terms.

Comments from the performers

・Chinatsu Wakatsuki (Future Design Shibuya)
"I was amazed how much it looked like Shibuya! Shibuya is a place I hold near and dear to my heart. There were a lot of 'firsts' for me, like my first time using an avatar, and meeting new people for the first time, so I thought it was going to be difficult at first, but I found myself not nervous at all and had fun with everyone in there using this futuristic entertainment. Looking forward, au 5G will grow and the number of things we can do will as well. I hope to challenge myself as a tarento and a mum in many different things and have fun with this Virtual Shibuya!"

・"DJ LOVE" (SEKAI NO OWARI)
"It felt like I had dived right into the world of Ghost in the Shell, my favourite series. It was a wonderfully fun event which expanded on my dreams. I'm looking forward to seeing it evolve and I hope to perform live there at some point. I want to make stuff that people who haven't been physically able to go to venues up to now can enjoy. I think it would be fun to communicate with people who participated."

・Ange Katrina
"The streets of Shibuya I know were completely transformed into the world of Ghost in the Shell, and my favourite Tachikoma made an appearance too. For a Ghost in the Shell fan like myself it was a whale of a time! Right now we have to battle with staying indoors. Me having disappeared has caused a bit of trouble, but the thrill of this virtual event has lifted my nerves. I had a lot of fun."

You can check out footage from the event in the video below which was posted on Shibuya 5G Entertainment Project's official YouTube channel.

The world of Ghost in the ShellVirtual Shibuya in can be experienced until May 31, 2020, so sign up while you still can.

Shibuya 5G Entertainment Project to Launch Virtual Shibuya Platform

Shibuya 5G Entertainment Project is set to launch its new digital platform "Virtual Shibuya" on May 19, 2020. The platform is officially recognised by Shibuya City.

Virtual Shibuya comes in response to the effects of the novel coronavirus (COVID-19) which has brought tight restrictions to the economy and people's way of life. It will enable people to continue enjoying entertainment from the comfort of their homes by participating in a whole host of virtual events and activities.

The project aims to deliver content from Shibuya with live performances from artists, art exhibitions, talks, and more. The use of 5G and the latest cutting edge technology will connect the real Shibuya to a virtual space, combining the realms of the digital and real world.

1: Online Events

A variety of online events will be held inside the virtual event space. People tune into Virtual Shibuya while at home by connecting with their smartphones, PCs or VR devices. They will have their own avatar and be able to traverse the area together with other people who are connected while participating in different interactive online events. The events will also be streamed on video streaming services.

2: XR Art

Experience XR (cross reality) content which will connect both Virtual Shibuya to the real Shibuya. Those in either Shibuya will be able to experience the same content and entertainment.

The opening event for the grand opening of Virtual Shibuya will promote the release of Ghost in the Shell: SAC_2045 with talks and performances from SEKAI NO OWARI's DJ LOVE, who is a fan of Ghost in the Shell, as well as virtual YouTuber and member of Nijisanji Ange Katrina, Chinatsu Wakatsuki of Future Design Shibuya, and Naohiro Ukawa of S/U/P/E/R DOMMUNE.

Information

Ghost in the Shell Night by au 5G

Date: May 19, 2020

Time: 19:00-19:45

How to Participate

Virtual Shibuya can be accessed using a VR device, smartphone, or PC/Mac. To participate, you must create a (free) Cluster account and install the Cluster app on your device. This event will also be streamed live on YouTube Live and the official Twitter page of Shibuya 5G Entertainment Project.

Join Here: https://cluster.mu/e/bee95acc-5c7f-4ebb-b08a-606348747487

Shibuya 5G Entertainment Project Official Twitter: https://twitter.com/shibuya5g

Netflix Releases Ghost in the Shell: SAC_2045 Staff Interview and Behind the Scenes Video

Ghost in the Shell: SAC_2045 is a 3D CG animated film that was released worldwide on Netflix on April 23, 2020. The film was directed by Kenji Kamiyama and Shinji Aramaki at Production I.G and Sola Digital Arts.

Ghost in the Shell is an internationally celebrated series. The original manga, written and illustrated by Masamune Shirow, was first serialised in Weekly Young Magazine 1989, and went on to become a media franchise, spawning a catalogue of animated films beginning with Ghost in the Shell in 1995, which was directed by Mamoru Oshii, as well as multiple anime series, video games, and a live-action Hollywood adaptation.

Netflix has released a video on their YouTube channel which features interviews with the film's directors Kenji Kamiyama and Shinji Aramaki who discuss how the film came to be. It shows snippets of the voice recording, the actors in the motion capture studio, the team discussing the script together, and more. The directors also discuss the benefits from making the film fully 3D CG, as well as the hidden intentions behind the film's theme and its time period setting.

Ghost in the Shell: SAC_2045 Interview & Behind-the-Scenes


ⒸMasamune Shirow・Production I.G/Kodansha・ Ghost in the Shell: SAC_2045 Production Committee

See Ghost in the Shell: SAC_2045's Tachikoma Running Around in New Trailer

Ghost in the Shell: SAC_2045 is an 3D CG animated film that was released worldwide on Netflix on April 23, 2020. The film was directed by Kenji Kamiyama and Shinji Aramaki at Production I.G and Sola Digital Arts.

Ghost in the Shell is an internationally celebrated series. The original manga, written and illustrated by Masamune Shirow, was first serialised in Weekly Young Magazine 1989, and went on to become a media franchise, spawning a catalogue of animated films beginning with Ghost in the Shell in 1995, which was directed by Mamoru Oshii, as well as multiple anime series, video games, and a live-action Hollywood adaptation.

A new trailer was released revealing the Tachikoma which are walker robots and combat vehicles equipped with AI that fight alongside the members of Section 9. Tachikoma are popular in the Ghost in the Shell community, especially in Japan where news of them getting their very own hashflags on Twitter trended.

In Ghost in the Shell: SAC_2045, the year is 2045, and after being plunged into an economic disaster known as the "Synchronized Global Default," the world is now engulfed in an AI-led "sustainable war." The adorable yet powerful Tachikoma join Motoko Kusanagi in her efforts to reassemble Section 9 to counter new forms of cyber threats, namely "post-humans" who have extreme intelligence and overwhelming physical strength.

Ghost in the Shell has had an enormous influence in the anime industry and community. We look forward to seeing what Ghost in the Shell: SAC_2045 brings to the table, now streaming worldwide on Netflix.

ⒸMasamune Shirow・Production I.G/Kodansha・ Ghost in the Shell: SAC_2045 Production Committee


New Ghost in the Shell: SAC_2045 Clip Released On Netflix's YouTube Channel

Ghost in the Shell: SAC_2045 is an upcoming 3D CG animated film set to hit Netflix simultaneously worldwide on April 23, 2020. The film is being directed by Kenji Kamiyama and Shinji Aramaki at Production I.G and Sola Digital Arts.

Ghost in the Shell is an internationally celebrated series. The original manga, written and illustrated by Masamune Shirow, was first serialised in Weekly Young Magazine 1989, and went on to become a media franchise, spawning a catalogue of animated films beginning with Ghost in the Shell in 1995, which was directed by Mamoru Oshii, as well as multiple anime series, video games, and a live-action Hollywood adaptation.

A clip from the upcoming film has just dropped on the official Netflix Japan YouTube channel to whet our appetites in the run up its international release this Thursday. An English version has yet to be released at the time of this article's release.

First full clip from the film released

The year is 2045, and after being plunged into an economic disaster known as the "Synchronized Global Default," the world is now engulfed in an AI-led "Sustainable War." Major Motoko Kusanagi and her second-in-command  Buttotsu Batou are former agents of Public Security Section 9, an information security and intelligence department. They must get the old team back together again and reassemble Section 9 to counter new forms of cyber threats, namely "post-humans" who have extreme intelligence and overwhelming physical strength. We do not yet know the goal of these post-humans, but they are clearly not to be messed with.

In the clip, after a heated battle with a post-human, Motoko Kusanagi goes to remove him from his Armoured Suit, but something is off. She finds herself inside an electronic brain and unable to fight the situation despite her superior brain and fighting ability. This unusual event also has an effect on her surroundings. Will she be able to safely return? Why do the post-humans exist, and what are their intentions? We'll have to find out when the film drops on April 23, 2020.

ⒸMasamune Shirow・Production I.G/Kodansha・ Ghost in the Shell: SAC_2045 Production Committee

Ghost in the Shell: SAC_2045 Anime's Trailer Reveals April 2020 Netflix Release

A new trailer released on Monday revealed that the upcoming new 3D CG animated film Ghost in the Shell: SAC_2045 will hit Netflix simultaneously worldwide in April 2020. The film is being directed by Kenji Kamiyama and Shinji Aramaki at Production I.G and Sola Digital Arts.

Ghost in the Shell is an internationally celebrated series. The original manga, written and illustrated by Masamune Shirow, was first serialised in Weekly Young Magazine 1989, and went on to become a media franchise, spawning a catalogue of animated films beginning with Ghost in the Shell in 1995, which was directed by Mamoru Oshii, as well as multiple anime series, video games, and a live-action Hollywood adaptation.

The new trailer unveiled the main voice cast, music composers, and opening theme artists. Atsuko Tanaka, Akio Ohtsuka, and Kōichi Yamadera will all reprise their respective roles as Motoko Kusanagi, Batou, and Togusa. This goes for rest of the original main voice cast of Ghost in the Shell: Stand Alone Complex too who are also making a return.

Nobuko Toda and Kazuma Jinnouchi are composing the music. Toda is best known for her composition work across the Metal Gear Solid video game series. Toda and Jinnouchi previously collaborated together on the Ultraman anime last year. Russian illustrator Ilya Kuvshinov is working as the character designer for the film.

millennium parade will perform the opening theme song Fly with me. They are a multi-talent creative team led by Daiki Tsuneta of King Gnu, made up of millennials, or "digital natives" i.e. focused on the current digital generation, including musicians, film directors, CG creators, designers, illustrations, and more. You can hear the song in the newest trailer below.

The film will be promoted at AnimeJapan 2020 in Tokyo. It will feature on the Netflix Anime panel on the BIRD BLUE STAGE at 14:00-14:30 on Saturday March 21. Both directors will be present as will the main voice cast including Atsuko Tanaka, Akio Ohtsuka, and Kōichi Yamadera.

Speaking about his involvement with the film, Daiki Tsuneta (millennium parade) said: "I still remember how I tingled with excitement when they sent me an offer saying that they wanted me to write the theme song for Ghost in the Shell. The reason for that is because millennium parade takes a lot of influence from Ghost in the Shell. I sent two replies asking to let me have a crack at it. The song we wrote, 'Fly with me,' is both the theme song for Ghost in the Shell: SAC_2045 and the theme song for millennium parade. That's the kind of love and emotional attachment we have for this song, so I'm overjoyed at it playing a part in Ghost in the Shell. It will be released digitally worldwide this year, so please look forward to hearing it."

ⒸMasamune Shirow・Production I.G/Kodansha・ Ghost in the Shell: SAC_2045 Production Committee