Stay Home With ChiMy: Keep Drawing to Face Yourself During the Lockdown
Here at MOSHI MOSHI NIPPON, we post news and information about Japan in six languages. Our aim is to deliver a variety of content related to Japan for those who love and enjoy Japanese culture.
Right now, people across the globe are in self-isolation as a result of the coronavirus pandemic. The same goes for Japan too, so we've taken this opportunity to create a new series on the website to show how we're spending time at home here in Japan. The future is yet uncertain, and we hope for normality to return for all of us soon. We created a new articles series called Stay Home with which we hope to take your mind off the situation, even for just a little bit, to help you feel calmer. It might give you some tips on what you can do while spending time at home.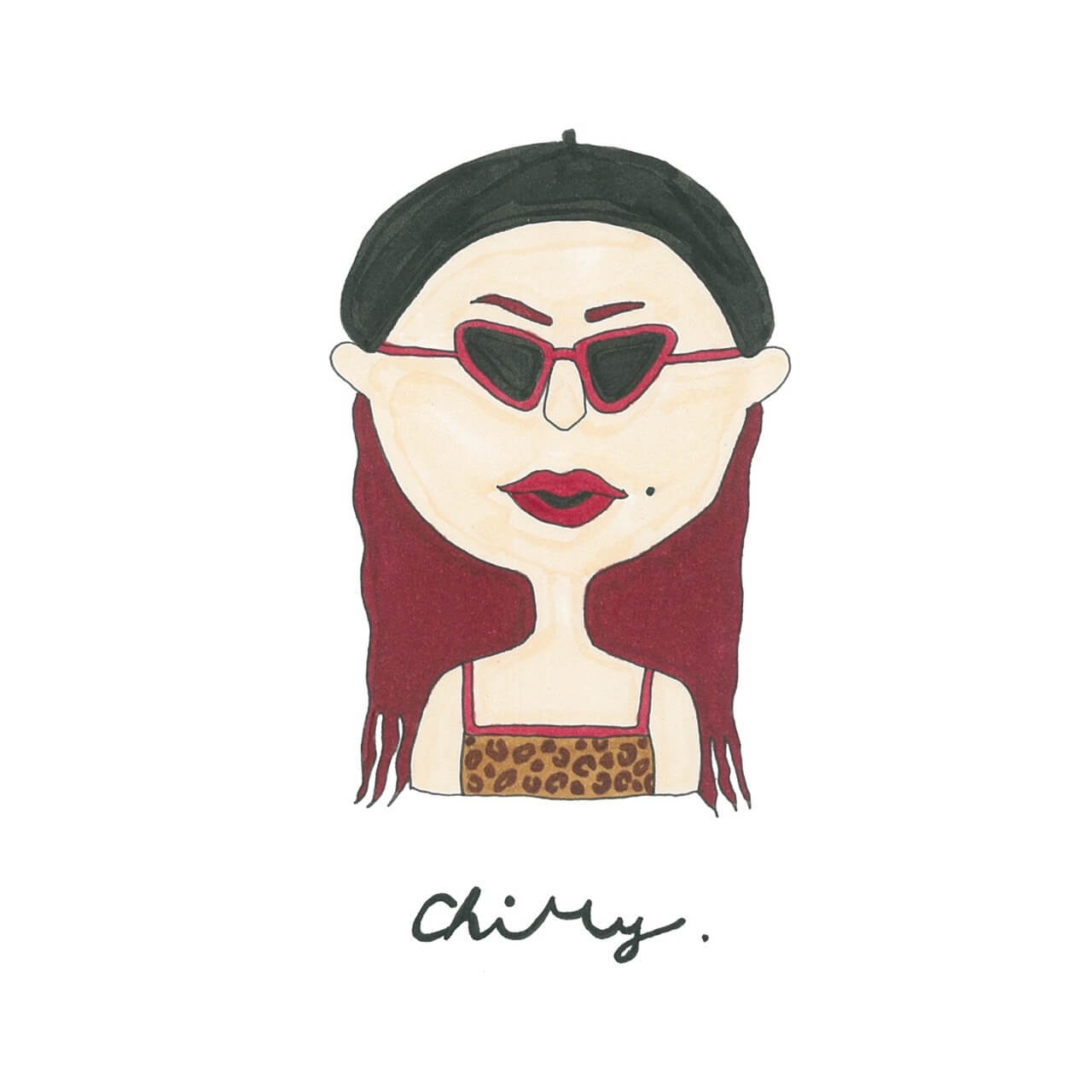 Today, we are joined by illustrator and DJ ChiMy to see how she's been spending her time at home.
1: Determined to draw
My main occupations are illustrator and DJ. But since I normally DJ 3-5 times a week, I think way more people associate as a DJ. I plan to continue going all out as a DJ, but I want more people to know about my illustration work too! I've keep thinking to myself that I want to do more work as ChiMy, The Illustrator, and so I thought to myself since we're in quite the pinch right now with the current situation, I'll use that to draw more to show people each day.
2: Challenge Time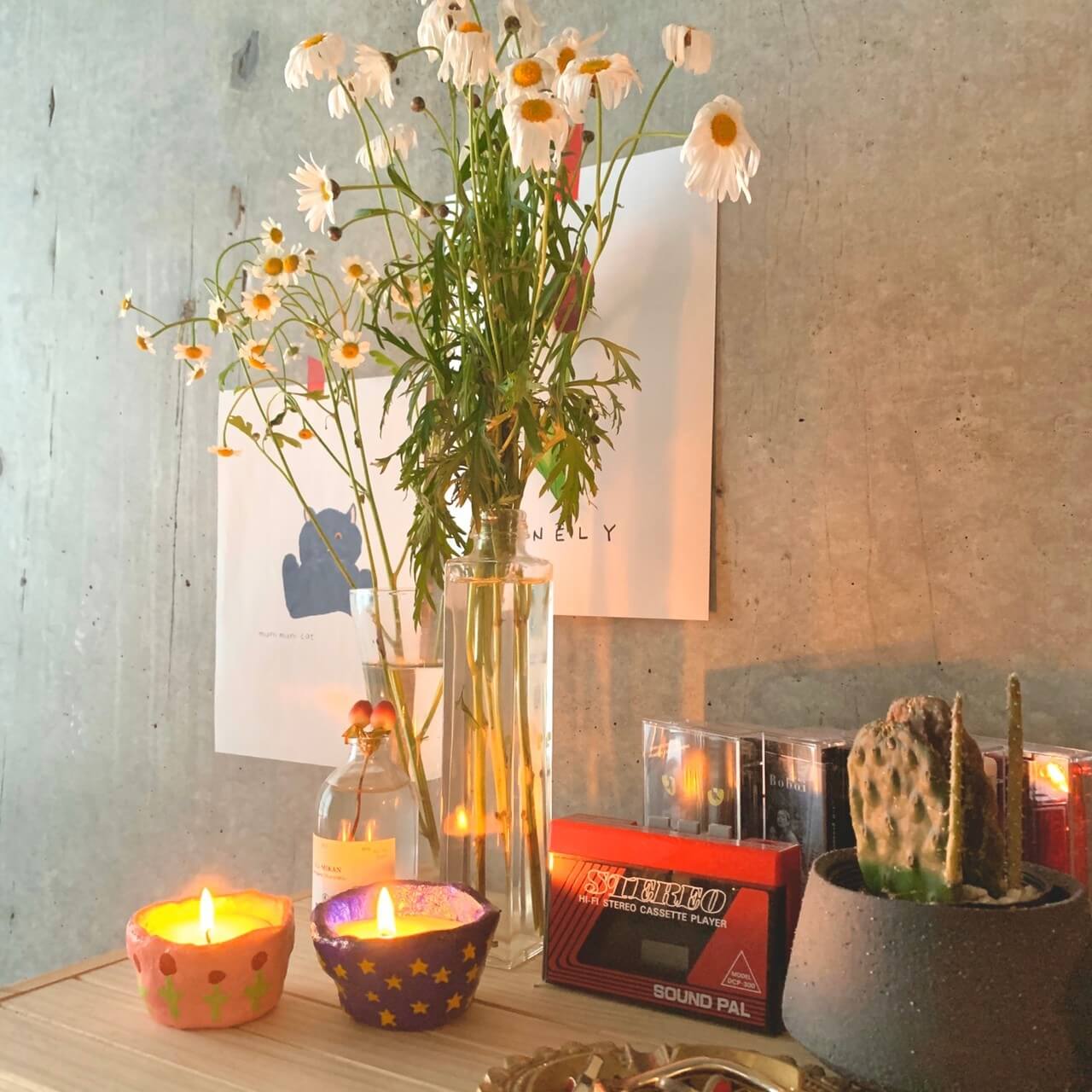 I've also had a go at firing clay at home to make my own pottery, it's something I've always wanted to do. I've also made candles for the pottery and painted them.
3: Self-Portrait
I've been accepting orders to draw portraits of people!
(I can now draw them in 15 minutes!)
4: Coming up with new merch
I'm working hard to create merchandise I've always wanted to try making but haven't gotten around to.
(Look forward to seeing what I have in the works when it's all ready)
What's your secret to spending time at home?
"Right now, I'm looking to myself every day as an illustrator. I'm thinking that even when I become a granny, I want to carry on drawing, and making things (and of course DJ'ing). So right now at home, I'm making time to do everything I need to do order to continue living my life as a creator."
Please give a message to those reading this article
"It's not just artists like us who are suffering and struggling throughout the world. It's people from many different professions. It's not something just in the world of anime or the world of movies. This is an event occurring in the world we live in right now. What we can do right now to end this chain of sadness, and to protect those we treasure, is to have plenty of 'home time.' I'm sure each and everyone of us has something we can only do right at this moment, something we can challenge ourselves to because of this situation, or something we can change right now because of it. Let us all be levelled up [versions of ourselves] when we meet each another again!"
ChiMy
Illustrator/DJ
ChiMy is an illustrator who hand draws rough sketches and adds vivid colours to them, something which is rare to see nowadays. Her drawings are bright and colourful. They are cute and a little silly, enough to make you giggle at a glance. Perhaps she is expressing herself in her creations… Recently, she has been knee deep in brand collaborations and holding exhibitions of her work. Her work as a DJ is multifarious: she not only perform at clubs, she at fashion events and fashion shows too, amongst other events. Her style sees her not tied down to any one specific genre. Rather, her flexibility has her playing what feels right for the location."
RELATED ENTRIES
Art Charity Auction Opens to Support the Fight Against COVID-19

Last year, the Pola Museum Annex in Tokyo hosted a charity auction to support the fight against the COVID-19 pandemic breaking out across the globe. As the world continues to feel the effects of the virus, the charity event is returning for a second year, and is set to be held from November 12 until December 5, 2021. The title for this year's art exhibition is 'Find Your Travel.' 

Lemon Tree – Yuka Kashihara. Acrylic and oil on canvas.  2020. 

POLA Dot or snowball ~Based on Tosa Mitsuyoshi's Colored Painting of Yugiri from The Tale of Genji~ – Tetsuya Noguchi. Acrylic. 2020. 

our whereabouts – Moe Nakamura. Camphor, bronze, oil. 2021. 

Philanthropy – Yuko Higuchi. Hemp paper, pen, watercolor. 2020. 

Baby Heel-less Shoes – Noritaka Tatehama. Cowhide, pigskin, dye, metal zipper, coated crystal glass. 2020. 

Last year's charity auction raised over ¥9,145,000 (about $83,000) for the Japanese Red Cross. As the COVID-19 pandemic continues around the globe, and as Japan remains locked down, this year's event hopes to raise even more useful funds to help medical professionals on the front lines. 

 

20 artists are participating in the exhibition, with each creating one work based on the theme of 'travel.' In addition to simply viewing these pieces at the exhibition, a silent auction will also be held online. With travel being severely restricted, these works of art seek to inspire and encourage visitors to imagine a better future, when the world is open once again. All proceeds will once again be donated to the Japanese Red Cross. 

 

 

Information

Find Your Travel Charity Auction

Running: November 12 – December 5, 2021

Hours: 11:00-19:00 (Last entry 18:30) / Admission Free

Address: Pola Museum Annex 3F (1-7-7 Ginza, Chuo-ku, Tokyo)

Official Site: http://www.po-holdings.co.jp/m-annex/

Japanese Unisex Loungewear Brand Arce Opens Online Store

Wanget's unisex loungewear brand Arce launched its online shop on Wednesday (February 17). The brand is hosting a campaign on its social media pages to promote the launch where customers can win some free items.

Arce was established from Makuake on November 25, 2020. The brand creates clothes made in Japan using environmentally-friendly Japanese materials. Their loungewear is versatile and can be worn not only indoors but outdoors too, and even when going to meet people. The clothes are shipped in boxes made from FSC-certified cardboard, and the vinyl bags used to protect each item are made using biodegradable saccharum officinarum.

Arce held its first exhibition in Japan on November 25 and 26 last year to resounding success, bringing in many customers.

The brand is currently holding a campaign on its Instagram page from February 17 to 28 where people can enter for a chance to win the above-pictured T-shirt and pullover. Only one of each will be given to two people respectively. To enter, you need to follow Arce on Instagram and give a like on which item you want.

Universal Studios Japan to Release Snoopy, Elmo and Other Cute Character Face Masks

In an effort to ensure the safety and protect the health of guests and staff, Universal Studios Japan (USJ) introduced strict measures to prevent the spread of COVID-19 on June 8, 2020, such as limiting the number of people who could enter the park each day and enforcing thorough cleaning routines. This enabled the park to reopen after its temporary closure. It has since been able to deliver its scope of fun and excitement to guests, albeit in a more structured way.

USJ wants to make wearing masks more fun too, and so it is releasing a range of character-inspired face masks, such as Snoopy, Elmo and the Cookie Monster, on August 7. Part of the money made from sales of these masks will be donated to the USJ Wonder Kids Program which helps support children in need.

Universal Studios Japan original design masks

The masks' unique designs take the mouths of each character. These can be worn together with each respective characters' headband which are also sold at USJ. Designs include Elmo, Cookie Monster, Snoopy, Tim, Jurassic Park, and Jaws.

Photos provided by Universal Studios Japan.
HARRY POTTER characters, names and related indicia are © & ™ Warner Bros. Entertainment Inc. Harry Potter Publishing Rights © JKR. (s20)
Minions and all related elements and indicia TM & © 2020 Universal Studios. All rights reserved.
TM & © 2020 Universal Studios.
© 2020 Peanuts
© '76, '20 SANRIO
© 2020 Sesame Workshop
TM & © Universal Studios & Amblin Entertainment
TM & © Universal Studios.
TM Universal Studios.

Information

Universal Studios Japan Original Design Face Masks
Release Date: August 7, 2020
Price: Single Mask – ¥900 (Tax Included) / Set of Two – ¥1,500 (Tax Included)

Universal Studios Japan Official Website: https://www.usj.co.jp/

Japan's Manga Artists Join Hands For New Manga Project Depicting Life During COVID-19

Over 50 manga artists in Japan are coming together for the launch of the new "MANGA Day to Day" project which will depict daily life during the novel coronavirus (COVID-19) pandemic.

The project is set to roll out for free in mid-June on Twitter and Comic Days. A teaser by famous manga artist Tetsuya Chiba (Ashita no Joe; Notari Matsutarō) was released on May 22, 2020.

A related project entitled "Day to Day" is also taking place over on the Japanese literature news website TREE where over 50 popular authors have penned writings and essays on the restrictions of today's everyday life. In addition to Japan, both projects have caught the attention of overseas news media and websites too. Like the related "Day to Day" project, "MANGA Day to Day" will have one new manga strip released for free each day on Twitter and Comic Days. A piece entitled Akudama by Tetsuya Chiba is already available to see over on the project's official Twitter account.

People's lives have changed drastically as a result of the pandemic. To pass down this time in history to the next 100, or even 200 years, the pieces contributed to the "MANGA Day to Day" project will be compiled into a book that's scheduled for release in early 2021. A special edition of the book will also be compiled featuring both the manga and writing pieces.

Be sure to follow the Twitter account below to keep up to date.

BAPE® Releases Face Mask Case For Storing Your Mask

A BATHING APE® released its new face mask case on Saturday (May 23) for people to hygienically put away their face masks, whether to store away or for on the go. The cases will be given to everyone that purchases something from the BAPE STORE® or BAPE.COM in Japan.

The case features BAPE's iconic APE HEAD design. It's made from PVC and so can be hand washed so people can safely and hygienically store their face masks. The case can of course be used to store hand sanitiser or hand wipes too.

Information

BAPE® MASK CASE

Release Date: Saturday, May 23rd, 2020
Available: BAPE STORE® and BAPE.COM in Japan to all customers. One case per transaction. Available while supplies last.

Product Page: https://bape.com/blogs/news/bape-mask-case

Mori Art Museum Encourages People to Stay Creative at Home With Free Online Art Content

Like many institutions around the world now, Mori Art Museum is temporarily closed as a result of COVID-19. But that hasn't stopped the museum spreading creativity as it recently launched a new page on its website titled "Mori Art Museum Digital."

The page comes as part of a new agenda by Mori Art Museum which it is calling "MAM @ HOME" which encourages people to "Stay Home, Stay Creative." The project aims for the museum to stay connected with people even while the building itself is closed by offering a host of free art-related content.

This includes the "Future and the Arts 3D Walkthrough" which had to end in response to the museum's closure, an online sneak preview of the postponed "MAM Screen 013: Mounira Al Solh," the "ARTISTS COOKBOOK" which features recipes, photos and stories from artists around the world, and more.

Program #1: Online Sneak Preview of MAM Screen 013: Mounira Al Solh

Mounira Al Solh – Rawane's Song (2006)

Mounira Al Solh – As If I Don't Fit There (2006)

Since "MAM Screen 013: Mounira Al Aolh" has been postponed as a measure against the novel coronavirus (COVID-19), Mori Art Museum is introducing two works online prior to the official screening: Rawane's Song (2006) and As If I Don't Fit There (2006).

Mounira Al Solh works internationally and is based in her home country Lebonan and in Europe. Her work offers humorous takes on everyday events and stories, as well as episodes based on the lives of women from a contemporary society where political and religious conflicts as well as issues surrounding refugees occurs.

Program #2: Future and the Arts 3D Walkthrough

Due to the museum's closure, "Future and the Arts: AI, Robotics, Cities, Life – How Humanity Will Live Tomorrow" was forced to end earlier than scheduled. Since then, the museum has been able to share walkthroughs of the exhibition via Instagram Live, as well as photos. Now people can enjoy the exhibition in a more immersive way as the museum introduces a virtual, 3D walkthrough, which they were able to capture thanks to the galleries being empty. It's a complete recreation of the exhibition for people to enjoy at home.

Special #1: ARTISTS COOKBOOK by MAM

As a special project during Mori Art Museum's closure, the museum has introduced "ARTISTS COOKCOOK by MAM," a collection of recipes, stories, and photographs that artists from around the world have shared with them. The first recipe showcased is the "Kusama Lotus" by Kataoka Mami, the Director of Mori Art Museum. She describes lotus roots as reminiscent of polka dots and white nets, and that it's a dish we could keep eating forever. She calls it a "dish for infinity."

More recipes can be found on the museum's official social media pages, so be sure to check them out.

Learning Online: Enjoy, Play, Learn Art @ HOME

Mori Art Museum hosts various programs and events where people can deepen their knowledge about contemporary art from around the world. The museum has posted an archived list of videos from some of their programs which people can tune in to from the comfort of their homes.

Information

Mori Art Museum
Address: Roppongi Hills Tower Floor 53F, 6-10-1 Roppongi, Minato Ward, TOkyo
Opening Hours: 10:00-22:00 (until 17:00 on Tuesdays)
*Last entries 30 mins before closure
*The museum is currently temporarily closed due to the COVID-19 pandemic
Official Website: https://www.mori.art.museum/en/

Buy These Face Masks and Help Save Japan's Cats in the Process

Neco Republic launched online pre-orders of its new face masks, called "SAVE THE CAT MASK," via its website on May 6, 2020. Neco Republic is a company who pours efforts into helping save cats in Japan; they manage various businesses including the cat cafe Neco Republic which takes in rescue cats, NECOREPA/ which sells a variety of products and items with all proceeds going towards their efforts to taking in stray cats, Neco Ichi Neco Za which is a rescue cat event held in Japan, and more.

The "SAVE THE CAT MASK" series was launched for cat lovers and as a way to help cats in the process. The previous batch of these masks sold out in just two days.

High quality materials and skilful sewing, all made in Japan

SAVE THE CAT MASK – ¥1,980 for one / ¥9,900 for five

The masks are made from high quality natural cotton with all manufacturing carried out in Japan. They are sewed using a Japanese sewing method known as ayaori which ensures elasticity and makes it harder for the masks to wrinkle. The masks can also be washed repeatedly. Maintaining hygiene is of utmost important when it comes to face masks, and so these face masks are made so you can hand wash them lightly with detergent as well as put them in a net before putting them in the washing machine.

The masks are all sewn in Gifu Prefecture which is where Neco Republic is based.

Cute designs inspired by cats

There are five design variations of the masks each inspired by a different cat breed including calico, Russian Blue, tuxedo, white, and black. They are also shaped subtly like a cat which most likely won't be noticed by other people meaning you can express you love of cats secretly.

Save cats during the process

The masks aren't only for us humansーthey benefit our cats too. All proceeds from the masks will go towards Neco Republic's rescue cat cafe as well as be used for the company's efforts for helping rescue cats.

Information

Neco Republic's SAVE THE CAT MASK

Left-Handed Ellen Manga Spin-Off Launched by UNICEF to Help Support Children During COVID-19

UNICEF Japan launched a spin-off story of the manga series Left-Handed Ellen on May 1 to help support children from the novel coronavirus. The web series gives tips on how to raise kids.

What is Left-Handed Ellen?

Left-Handed Ellen is a web manga series written by Kappy and illustrated by nifumi. Kappy became popular for his Facebook Police web manga. Left-Handed Ellen was the first full-length manga series to win the Special Prize at the Cakes Creator Content which was organised by Note. The series was made into a televised drama in October 2019.

The new spin-off made in collaboration with UNICEF Japan takes inspiration from UNICEF's "6 Hints On Raising Kids" which was released on April 10 this year. It was made with parents in mind who are having to stay at home more with their children now due to COVID-19 and gives tips on teaching them about the virus, spending one-on-one time with them, how to stay positive each day, and so on.

Schools in 190 countries and regions are currently closed as a result of the pandemic, with around 60% of the world's children at home from the lockdown. The sudden change to everyday life where we're having to stay at home over long periods of time is sure to cause household stress levels to rise. There is also fear of an increase in fights and abuse at home. Kappy, who himself is raising a child at home, made the following comment with regards to this new manga collaboration.

Kappy | Comment

"I have a daughter who is 1-and-a-half years old. Me and my wife are working together to bring her up. But we're also swamped with work, so when I'm not in tiptop shape there are times I feel like I can't raise her to the best of my ability. UNICEF release their own message about this, but I think the most important thing in all of this is to lay down a daily routine so you can live a more peaceful life. And it doesn't have to be something special. It might be something ordinary that you can do which will benefit someone else. Myself, for example, all I can do right now is draw manga. So if me drawing manga as I usually do helps somebody else in some way, I don't think there's a more economical way of doing so. If parents can bring back a sense of normality I believe the kids will be able to relax too. When I hear things about fighting at home and domestic violence my mind automatically wants to think that that has no relation to us. But in these times when we can't even do the things that are the most natural to us, spending time with family is important, and so I hope [this manga] helps people remember that."

©左ききのエレン

Stay Home: 6 More Toast Arrangements to Bring the Cafe Experience to Your Home During the Lockdown

Here at MOSHI MOSHI NIPPON, we post news and information about Japan in six languages. Our aim is to deliver a variety of content related to Japan for those who love and enjoy Japanese culture.

Right now, people across the globe are in self-isolation as a result of the coronavirus pandemic. The same goes for Japan too, so we've taken this opportunity to create a new series on the website to show how we're spending time at home here in Japan. The future is yet uncertain, and we hope for normality to return for all of us soon. We created a new articles series called Stay Home with which we hope to take your mind off the situation, even for just a little bit, to help you feel calmer. It might give you some tips on what you can do while spending time at home.

In this edition of Stay Home, we're taking a look at six more cute, easy-to-make toast recipes that were featured with the trending Japanese hashtag #おうちカフェ ("Cafe at Home"). Try making them yourself at home for breakfast, lunch, or as a snack.

Related Article: Stay Home: 6 Toast Arrangements to Bring the Cafe Experience to Your Home During the Lockdown

 

Candy Rose's recipe shows us how to make orange toast. Orange and chocolate is a tried and tested combination. The fresh cream adds a dessert-like quality to the toast.

Ingredients
・Bread  ・Navel Orange & Chocolate Jam  ・Orange Jam ・Fresh cream ・Orange

Method
1: Simmer the orange in white wine and granulated sugar.
2: Toast bread and smear with the jam.
3: Add a dollop of fresh cream on top.
4: Top with sliced orange and tuck in!

2: Mini Strawberry & Red Bean Paste Butter Toast | @__yk._

yk.'s toast recipe is a combination of Japanese and western flavours with red bean paste and buttered brioche which looks cute when it's cut thick and small like in the picture♡

Ingredients
・Brioche toast ・Strawberries ・Red bean paste ・Butter ・Fresh cream

Method
1: Toast the bread and add the red bean paste.
2: Top with a strawberry and fresh cream.
3: Finish with a knob of butter and enjoy!

KAORUKO's toast recipe is a great dessert idea too. It's a super simple recipe made with microwaved apple compote.

Ingredients
・Bread ・Apple ・Lemon juice ・Sugar ・Fruit granola

Method
1: Slice apple with the skin on.
2: Add 1 tbsp of lemon juice and 30g sugar to the apple and microwave for 3 minutes.
3: Slice a thin slice of bread and toast. Add the apple compote to the toast and finish with a sprinkle of fruity granola.

4: Marshmallow Toast | @woo.rrei

Rei has added marshmallows to their toast to create a fluffy, dessert-like, and cafe-worthy recipe.

Ingredients
・Bread ・Marshmallows ・Chocolate Sauce

Method
1: Slice a thin piece of bread and toast. Top with marshmallows.
2: Toast once again under a grill until the marshmallows take on colour.
3: Drizzle with chocolate syrup and you're done!

5: Open Avocado Sandwich | @keijunrin

Keiko's recipe makes a fresh open-style sandwich with lots of avocado. The egg yolk adds a melt-in-the-mouth texture. The texture of the whole thing is nice and smooth.

Ingredients
・Bread ・Avocado ・Pink pepper ・Egg yolk ・Mayonnaise

Method
1: Add the avocado to a slice of bread and grind on some rose pepper.
2: Drop on an egg yolk and lightly toast under a grill.
3: Drizzle with mayonnaise and enjoy!

izumi's recipe is a combination of bread and "naporitan" which is a Japanese pasta dish. It's a hearty serving that makes for a great lunch.

Ingredients
・Bread ・Naporitan pasta ・White Sauce ・Cheese

Method
1: Make naporitan and white sauce in advance. Cut the naporitan into small pieces.
2: Slice 1 thin and 1 thick slice of bread.
3: Cut out the inside of the thick slice. Place this hollowed-out thick piece on top of the thin slice of bread. This thin slice forms the bottom of your bread.
4: Add the naporitan inside. Drizzle in white sauce so it's like a lid over the pasta.
5: Sprinkle on cheese, toast, and you're done!

Bring the cafe experience into your own home by making your own fun toast arrangements.

#StayHome and Enjoy Art With Pola Museum of Art's Creativity Packed Website

Pola Museum of Art, an art museum in Hakone, Kanagawa, has launched a new page on its website for people to immersive themselves in the world of art while at home. From gallery talk videos to painting activities that kids and adults alike can enjoy, the web page is packed full of fun and diverse content.

The page is split into four sections: "Watch," "Read," "Create," and "Learn About Pola Museum of Art."

<Watch>

A menu of videos showcasing exhibitions and artwork from the museum. This includes videos hosted by the museum's curators who talk about certain works of art, paintings, art tools, and more.

<Read>

Learn more about art by reading commentary about artists and their works. This includes manga, life drawing, and much more. Discover the history of these artists, see how scientific research has brought to life the process of how they created their works, and more.

<Create>

A wide selection of video tutorials encourage you to simply move your hand to create something yourself. From painting to cutouts, there's something for everyone to enjoy.

<Learn About Pola Museum of Art>

This section is a chance for people who have never heard of the Pola Museum of Art, or who have never visited it, to get to know the place. It covers everything from Fuji Hakone Izu National Park where the museum is located to the work that goes on behind the scenes at the museum.

Pola Museum of Art will continue to update the page, so be sure to check it out.

Q-pot. Adds Kids Sizes to Next Batch Of Stylish Textile Face Masks

Q-pot. dropped its new collection of textile style face masks from its "Made in Japan" apparel line Q-pot.Dress via its online shop on April 22, 2020. The company is now taking orders for its 4th batch of masks.

The masks feature the same textile design seen in Q-pot.Dress's attire collection. The "Chocolate College" design features Q-pot.'s signature motif. Due to high demand, the company is bringing the mask back in a kid's size. "Honey Lemon" will also be available again.


The "Candy" design from the brand's autumn collection which was released around Halloween has also been introduced into the fray. The fourth batch of masks are available to order until May 6, 2020 at 23:59 (JST).


The masks are a great way for parents and kids, as well as friends, to coordinate their outfits and look stylish.

Information

Q-pot. Cloth Masks – 4th Batch
Order Window: May 2, 2020 at 12:00 (JST) – May 6, 2020 at 23:59 (JST)
Buy Here: Q-pot. ONLINE SHOP / Q-pot. INTERNATIONAL ONLINE SHOP

Deliveries: Rolling out from mid-September 2020
*Maximum 5 masks per person for all designs.

*Depending on manufacturing decisions, delivery times may range beyond mid-September.

*Resales are strictly forbidden.

*Face masks are not scientifically recognised to help prevent the spread of viruses. Q-pot. requests that customers purchasing their face masks understand that they are not guaranteed protection.

*Photos are for illustrative purposes only.

Japan Coronavirus: Room for Rescue Project Provides Free Accommodation to Foreigners Who Can't Get Home

With flights cancelled around the world, it is becoming increasingly harder for foreigners to return home from Japan, resulting in them being forced to change their plans, extend their stay, and live every day in stress and uncertainty. To lend a helping hand to foreign travellers in this stressful time, three accommodation companies Slacktide Co., Ltd, Shared Value Co.,Ltd. and Life Bonds, LLC, who manage Kaname Inn Tatemachi, Sakura Cross Hotel and BONDS HOUSE respectively, have launched a joint accommodation project called "Room for Rescue" which provides free accommodation to international visitors who cannot return home as a result of the current travel restrictions.

This collaborative project was launched to ensure that foreign travellers don't feel like their trip to Japan was a bad experience, which could be a reason to avoid visiting Japan again in the future and heavily impact the tourism industry.

Tokyo:BONDS HOUSE

Tokyo:Sakura Cross Hotel

Kanazawa: KANAME INN

Currently, three accommodations in Tokyo and one in Kanazawa have opened their doors to stranded foreigners.

Room for Rescue: Request a Room

https://kaname-inn.com/room-for-rescue/

To apply for a room, you need a valid visa and a cancelled flight ticket which meets Room for Rescue's criteria. For more information, please refer to the application page. The Room for Rescue project is also looking for more accommodations to join the fight against coronavirus and open their doors to stranded foreigners. If you own an accommodation in Japan and want to help foreign travellers, please apply using the link below.

Become Part of Room for Rescue (for accommodation owners)
https://kaname-inn.com/room-for-rescue/contact/


If you are an individual who wants to support this project, please consider donating via their crowdfunding page mentioned in the information section below.