Stay Home: 6 Toast Arrangements to Bring the Cafe Experience to Your Home During the Lockdown
Here at MOSHI MOSHI NIPPON, we post news and information about Japan in six languages. Our aim is to deliver a variety of content related to Japan for those who love and enjoy Japanese culture.
Right now, people across the globe are in self-isolation as a result of the coronavirus pandemic. The same goes for Japan too, so we've taken this opportunity to create a new series on the website to show how we're spending time at home here in Japan. The future is yet uncertain, and we hope for normality to return for all of us soon. We created a new articles series called Stay Home with which we hope to take your mind off the situation, even for just a little bit, to help you feel calmer. It might give you some tips on what you can do while spending time at home.
In this edition of Stay Home, we're taking a look at some cute, easy-to-make toast recipes that were featured with the trending Japanese hashtag #おうちカフェ ("Cafe at Home"). Try making them yourself at home for breakfast, lunch, or as a snack.
Hinako Satou's lemon toast recipe combines sweet sugar with sour lemon for an addictive flavour. The lemon-topped looks cute too♡
Ingredients
・Toast・Sugar Margarine ・Powdered Sugar・Sliced Lemons
Methods
1: Layer the toast with the sugar margarine.
2: Dust with the powdered sugar and then top with sliced lemons.
3: Add another dusting of powdered sugar on top of the lemons to balance the flavours and enjoy!
Sumomolife's strawberry toast uses a thick slice of bread which is topped with a dollop of cream and piled with sliced strawberries. Layer on the fresh cream while the chewy toast is still piping hot and indulge!
Ingredients
・Toast・Fresh Cream・Brandy・Strawberries
Method
1: Cut a thick slice of bread and toast until the outside is nice and crispy and the bread has heated through. The trick is to make sure that the centre is still soft.
2: Put the cream into a bowl or keep in the container and then set this aside in ice water to make smooth, velvety cream. The cream in the photo was set aside for 7 minutes.
3: Add a small amount of brandy to the fresh cream to create a rich flavour.
4: Top your hot toast with the cream and strawberries to finish.
3: Banana Cream Cheese Toast | @yuuki.sweets_1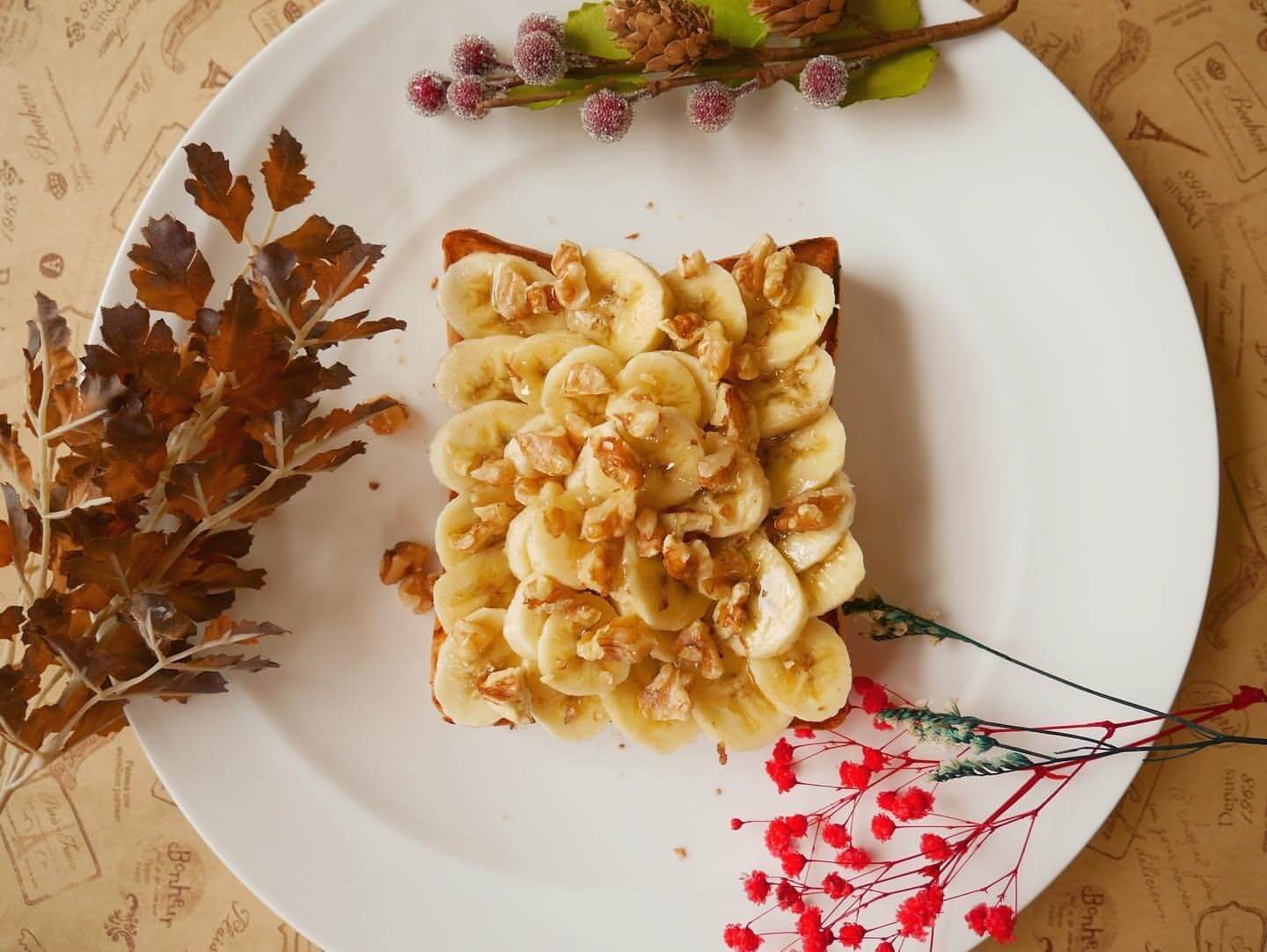 Yuu's home cafe toast is a mix of banana, cream cheese and walnuts. The banana is fried in coconut oil for added texture and taste.
Ingredients
・Toast・Bananas・Coconut Oil・Walnuts・Cream Cheese・Maple Syrup
Method
1: Chop the banana into slices and lightly fry in coconut oil.
2: Fry both sides of the bread in the frying pan at a heat that can char the surface.
3: Lather the fried bread with cream cheese then top with the sliced bananas and walnuts. Finish with a drizzle of maple syrup.
Kirara's toast arrangement is kimcheeseーthat's a combination of kimchi and cheese! The spiciness of the kimchi and the smoothness of the cheese is a match made in heaven.
Ingredients
・Toast・Kimchi・Egg・Cheese (that you can melt)・Spring Onion・Mayonnaise
Method
1: Layer your toast with kimchi and spread mayonnaise around the edges.
2: Add a fried egg on top.
3: Top with melted cheese and spring onion and you're done!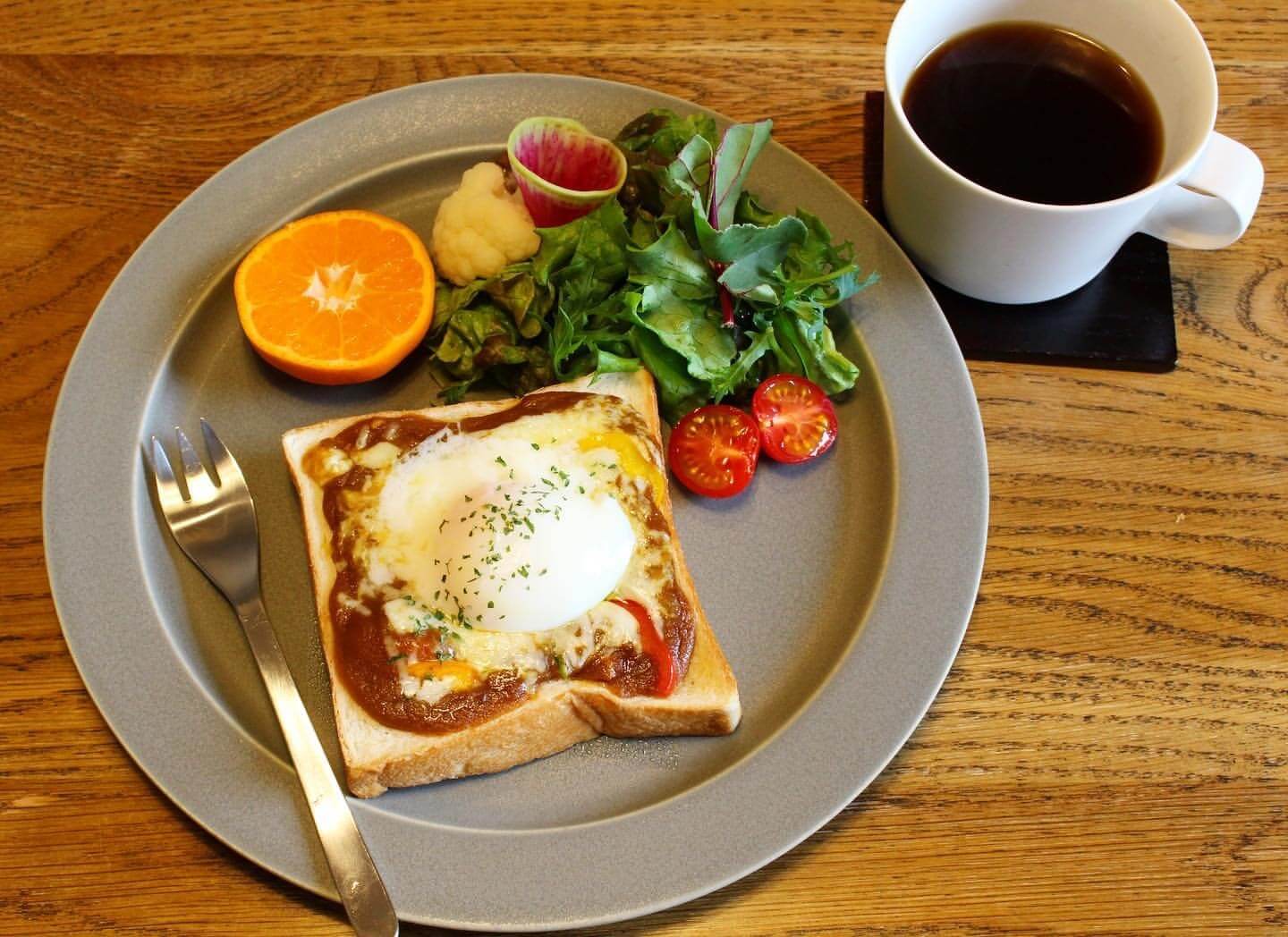 This curry toast is made using leftover curry from the day before. The flavours from yesterday are transformed by topping with egg and cheese. Add a touch of paprika to taste.
Ingredients
・Toast・Curry・Paprika・Cheese (that you can melt)・Soft Boiled Egg・Parsley
Method
1: Add your toppings to the toast in this order: curry, paprika, and melted cheese.
2: Dollop on your soft boiled egg.
3: Garnish with parsley.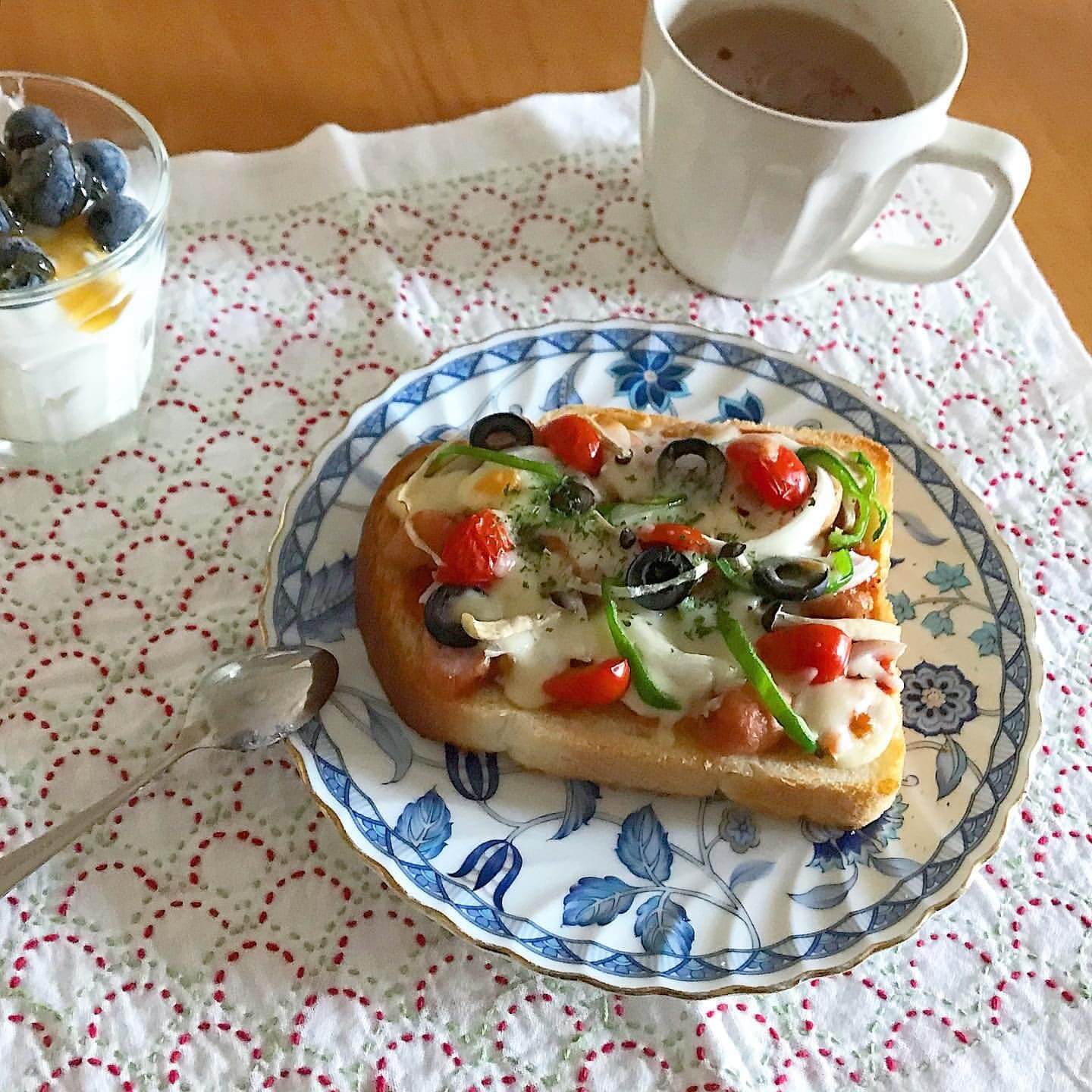 Turn your toast into a pizza with Unagi's recipe. The fun aspect of this arrangement is you can add any toppings of your choice to make your own original filling and nutritious pizza toast.
Ingredients
・Toast・Pizza Sauce・Sausage・Assorted Vegetables (Unagi used spring onion, bell pepper, and mini tomatoes)・Shimeji Mushroom・Black Olives・Cheese (that you can melt)・Dried Parsley・Black Pepper
Method
1: Lather your bread with pizza sauce, then arrange the sausage and vegetables. 
2: Next, add the shimeji mushroom, black olives, and cheese. Toast.
3: Finally, finish with a sprinkle of dried parsley and black pepper.
Bring the cafe experience into your own home by making your own fun toast arrangements.
RELATED ENTRIES
Drama Series Zenra Meshi, Starring Yutaro, to Get Official Photo Book in June

The Kansai Television drama Zenra Meshi, starring Yutaro, is getting an official photobook release on June 23, 2023 titled Zenra Meshi Official Photobook -Our Recipes Start Here-.

The unusual romantic comedy follows an elite businessman hiding an incredible secret–he loves to eat naked to relieve his stress. One day, this habit is revealed, and Ichijo finds himself quickly falling in love.

The official photobook will include over 30 pages of gravure photos of Yutaro (Miki Mahiro) and Shori Kondo (Futa Ichijo). Set as an epilogue taking place after the main story shown in the series, Futa and Miki can be seen enjoying a picnic date with a handmade bento and spending cozy time together in PJs at home.

Also included are 20 pages of solo photos of Futa wearing a suit and posing in front of a beautiful night scene and Miki wearing a hoodie in a restaurant that smells of spices. Both shoots were intended to look as though a lover snapped the images. The photobook also includes Mizuchi's Recipe Notebook, highlighting recipes from around the world with comments by popular cookbook author Yummy. Fans can also look forward to plenty of interviews with the cast and crew along with behind-the-scenes filming and production details.

Information

Zenra Meshi Official Photobook -Our Recipes Start Here-
Release Date: June 23, 2023
Price: ¥3,850
Publisher: Tokyo News
*The book may be released on a different date depending on the area.

■Purchase Bonus
Amazon: Limited Edition Cover
We! Premium Limited Store: Photo (Shori Kondo)
Seven Net Shopping: Autographed Photobook (Shori Kondo or Yutaro)

<Notes>
*The start date and time for orders may vary depending on the store. Check each company's website for details.
*Purchase bonuses and limited-edition copies are available while supplies last.
*Additional retailers and special offers may be added in the future.
*Availability will vary by store. Please check with each location for details.

Official Photobook Release Event
Date: June 24, 2023
Venue: Tokyo
More details will be released later in TOKYO NEWS magazine&mook (https://zasshi.tv/)

Gelato Pique Cafe Unveils New American Cherry Sweets Menu

Summer is fast approaching, and gelato pique cafe knows exactly how to celebrate! From May 25 until July 13, guests can enjoy a selection of four sweets featuring tons of American Cherries.

American Cherry Crepe

Made with a mildly sweet American Cherry Gelato and topped with fresh cherries, this crepe isn't just delicious–it's perfect for posting on social media.

American Cherry Gelato & Sherbet

This blend of gelato and sherbet can only be found at gelato pique cafe. Accented with a fresh American Cherry on top, it's perfect for keeping cool during the summer heat.

American Cherry Float / American Cherry Soda

*The glasses featured in the image will not be available at the cafe. All beverages will be served in take-out cups.

With a dramatic shift in color, these fizzy and refreshing cherry beverages make a huge impact before the first taste. After making a splash last year, the soda has been re-released in a big new way to welcome the beginning of summer!

Information

gelato pique cafe  – AMERICAN CHERRY ~EAT CHERRY NOW!~

Available: May 25 – July 13, 2022

Official Site: https://pique-cafe.com/

Pastel Easter Sweets and Bakery Items Coming to Grant Hyatt Tokyo

The luxury hotel Grand Hyatt Tokyo will offer Easter sweets and baked goods at the on-site Fiorentina Pastry Boutique from April 1 until Easter, April 17, to celebrate the arrival of spring.

Easter Egg Macaroon

Easter Cookies with Icing

Easter Lollipop

Easter Bunny Brioche

This year, in addition to the new Easter Bunny and Easter egg macaroons, cookies with icing, lollipop chocolates, brioche in the shape of the Easter Bunny, and other sweets and bakery items will be available. Don't miss it!

Fate/Grand Order Galatea Cooking Project Recipes Available for a Limited Time

A selection of recipes inspired by the Fate/Grand Order mobile game are now available until February 11, 2022! These were developed by FGO Project and supervised by the popular site Cookpad.

FGO Original Apron Design

The cooking project is being held to commemorate the in-game Valentine's event going on for a limited time. Five recipes inspired by the game's armor will be introduced on social media, the game's official site, and Cookpad for five consecutive days, from February 7 until February 11. In addition, 50 people who respond to the Cookpad recipe will be selected by lottery to win an original FGO apron.

Don't miss these costume-inspired recipes!

©TYPE-MOON / FGO PROJECT

English Dessert Strawberry Eton Mess Available at koe lobby During the Holiday Season

The koe lobby on the first floor of hotel koe Tokyo is now selling the traditional English dessert Strawberry Eton Mess for a limited time. 

Eton Mess is made with a mixture of strawberries, meringue, and whipped cream, and is popular during the holiday season!

koe lobby's Eton Mess features a baked meringue with a crispy texture, homemade sweet and sour strawberry sauce, and fluffy cream and fresh strawberries. If you're in the area, be sure to order one before they're gone!

Information

Available: Starting December 21, 2021 

Available Hours: 12:00-18:00 (Last Order at 17:30)

*While supplies last. 

Price: ¥850 (Tax Included) 

*Drink Set: ¥1,290 (Tax Included)

Address: koe lobby (3-7 Udagawacho, Shibuya, Tokyo)

Hours: 7:30-12:00 (Breakfast, Last Order at 11:30) / 12:00-15:00 (Lunch, Last Order at 14:30) / 15:00-20:00 (Tea Time, Last Order at 19:30)

*After 18:00 only drinks and bread are served. 

Official Site: https://hotelkoe.com/food/ 


Cute Brothers Grimm's 'Rapunzel' Themed Dessert Buffet to be Held for Six Days

Wedding venue 'Art Grace Wedding Coast Tokyo Bay' will be hosting the 'Princess Rapunzel's Flower Sweets Party,' a colorful garden-themed dessert buffet based on The Brothers Grimm's 'Rapunzel' for six days this Winter. The buffet will be open on November 14, November 21, November 23, December 4, December 8, and December 25. 

 

Rapunzel's Singing Voice Rare Cheese Tart

Sweet and Sour Romance Flavored Strawberry Mont Blanc




Rapunzel's Yellow Carrot Salad

Braided Meat Pie

Dressed Up in Flowers Berry Roll Cake

 

You'll find a selection of over 20 delicious desserts that can be enjoyed by both children and adults at the buffet, including a cheese tart topped with a drawing of Rapunzel, a strawberry mont blanc that tastes like a sweet and sour love with a prince, roll cakes and chiffon cakes topped with plenty of flowers. It isn't just sweets either! You can also enjoy braided meat pies, vegetable and chicken meatballs with tomatoes, and a spicy doria among other savory meals.

The buffet will be held in the spacious wedding venue, which boasts impressive views and a gentle sea breeze. The hall will be decorated in flowers, inviting customers into a spectacular new world. Whether you're a couple, a friend group, or a family with children, be sure to check out this floral sweets party!  

 

Information

Dessert Buffet 'Princess Rapunzel's Flower Sweets Party' 

Availability: November 14, November 21, November 23, December 4, December 8, December 25 (Reservations required) 

Opening Hours: First Session 12:30 ~ 14:00 (L.O 13:30) Second Session: 15:00 ~ 16:30 (L.O 16:00)

Location: Art Grace Wedding Coast Tokyo Bay Guest House

Address: 5-8-2 Meikai, Urayasu City, Chiba 279-0014

Details & Reservations:  https://www.bestbridal.co.jp/guestparty/chiba/artgrace_shinura/2021event-79/ 

Hello Kitty and Pierre Hermé Collaboration Series Coming to Sanrio Stores

Everyone's favorite cartoon cat Hello Kitty is about to celebrate her birthday! To celebrate, Sanrio is releasing a collection of limited-time goods in collaboration with world-famous patisserie Pierre Hermé starting October 20, 2021. These items will be on sale at Sanrio stores nationwide, in specific department stores, and on the official Sanrio online store. 

Collaboration with Hello Kitty's favorite sweet, Ispahan

Ispahan, a raspberry cake, is Hermé's signature dessert. For Hello Kitty's birthday celebration the creator drew the character in an elegant rose-inspired dress inspired by the sweet. This design was made with the hope that Hello Kitty will continue to bring different people and cultures together for years to come. 

Mascot Keychain  Hello Kitty/Mimmy: ¥2,530

Accessory Case: ¥3,080

Inspired by Pierre Hermé's Ispahan and Satine sweets, fans will love these colorful goods perfect for a birthday celebration. 

Hello Kitty Birthday Doll: ¥15,400 (Tax Included)

Each year a Hello Kitty Birthday Doll is released, and 2021 is no different! This year, the doll is wearing an elegant dress designed exclusively for the collaboration. Each one has an embroidered serial number on the left leg, and quantities will be limited. 

Gâteau Anniversaire Hello Kitty: ¥2,640 (Tax Included)

This special birthday dessert will be available at Pierre Hermé Paris Aoyama from November 1 to November 15. It includes a special Hello Kitty Ispahan along with a scoop of rose ice cream and a dusting of raspberry powder!

©'21 SANRIO 著作(株)サンリオ

Information

Hello Kitty and Pierre Hermé Collaboration Design Series

Release Date: October 20, 2021

Sanrio Official Goods Page: https://www.sanrio.co.jp/goodsinfo/kt-pierreherme-202110/ 

Hello Kitty and Pierre Hermé Birthday Doll 2021

Price: ¥15,400 (Tax Included)

Release Date: October 20, 2021

Where to Buy: Sanrio Stores, Sanrio Areas at Department Stores

Gâteau Anniversaire Hello Kitty 

Available: November 1 – 15, 2021 *Limited-time only

Where to Buy: Pierre Hermé Paris Aoyama 2F Heaven

Art Charity Auction Opens to Support the Fight Against COVID-19

Last year, the Pola Museum Annex in Tokyo hosted a charity auction to support the fight against the COVID-19 pandemic breaking out across the globe. As the world continues to feel the effects of the virus, the charity event is returning for a second year, and is set to be held from November 12 until December 5, 2021. The title for this year's art exhibition is 'Find Your Travel.' 

Lemon Tree – Yuka Kashihara. Acrylic and oil on canvas.  2020. 

POLA Dot or snowball ~Based on Tosa Mitsuyoshi's Colored Painting of Yugiri from The Tale of Genji~ – Tetsuya Noguchi. Acrylic. 2020. 

our whereabouts – Moe Nakamura. Camphor, bronze, oil. 2021. 

Philanthropy – Yuko Higuchi. Hemp paper, pen, watercolor. 2020. 

Baby Heel-less Shoes – Noritaka Tatehama. Cowhide, pigskin, dye, metal zipper, coated crystal glass. 2020. 

Last year's charity auction raised over ¥9,145,000 (about $83,000) for the Japanese Red Cross. As the COVID-19 pandemic continues around the globe, and as Japan remains locked down, this year's event hopes to raise even more useful funds to help medical professionals on the front lines. 

 

20 artists are participating in the exhibition, with each creating one work based on the theme of 'travel.' In addition to simply viewing these pieces at the exhibition, a silent auction will also be held online. With travel being severely restricted, these works of art seek to inspire and encourage visitors to imagine a better future, when the world is open once again. All proceeds will once again be donated to the Japanese Red Cross. 

 

 

Information

Find Your Travel Charity Auction

Running: November 12 – December 5, 2021

Hours: 11:00-19:00 (Last entry 18:30) / Admission Free

Address: Pola Museum Annex 3F (1-7-7 Ginza, Chuo-ku, Tokyo)

Official Site: http://www.po-holdings.co.jp/m-annex/

Autumn Limited Parfait Released at The Strings Hotel Tokyo Intercontinental's Cafe & Bar Rhythmos

Between September 15 and November 30 2021, two seasonal Autumnal Strings Parfaits will be available to order at the Rhythmos Cafe & Bar, found on the 26th floor of The Strings Hotel Tokyo Intercontinental. Executive pastry chef Osada Gaku has selected seasonal fruits and flavors such as citrus, chestnut, and crystal pomelo to create an artistic autumnal parfait. For parfait lovers who want to compare the seasonal dessert with Rhythmos' standard parfait, the iconic Duo Parfait set will still be available to purchase along with a selection of drinks. This sweet treat can be enjoyed not only with afternoon tea but also as a post-dinner dessert.

 

The Marron parfait is formed of crimson and purple layers, starting with chestnut cream and panna cotta, with beautifully textured glacé chestnut chunks and fluffy candied chestnuts. The rum-infused custard cream brings out the chestnut taste, with the addition of panna cotta and acidic cassis jule bringing the taste to a whole new level.

The orange Autumn Citrus parfait is made with seasonal citrus fruits, including crystal pomelo,  mikan, and pink grapefruit. Starting with the fresh citrus, you'll find an orange and bergamot jule, paired with a caramel panna cotta and cream to balance out the subtle sweet and bitter flavors, along with chocolate cream and panna cotta, plus a cookie crunch to accent. The refreshing acidity of the citrus combined with the bittersweet caramel come together to create a wonderful harmony for your tastebuds.

Why not enjoy a blissful and mature lunchtime with this luxurious seasonal parfait?

Information

The Strings Parfait – Marron/Autumn Citrus

Availability: September 15 ~ November 30, 2021

Location: Cafe & Bar Rhythmos (26F)

Opening Hours: 11:30 ~ 20:00 (L.O.18:30) *Subject to change due to Covid-19 rules

Reservations:

Tel. 03-5783-1258 (Direct restaurant reservation line)

Official Site:https://intercontinental-strings.jp/jp

Second Pokémon Room Summer Vacation Project comes with Original Themed Recipes

Cosmos Hotel Management have announced a new Pokémon Room option at APARTMENT HOTEL MINIMARU, complete with special Pokèmon original recipes. APARTMENT HOTEL MINIMARU is a hotel service that offers spacious rooms and kitchen spaces, ideal for families and large groups.

You can make lasting summer memories as you cook adorable themed meals as a family in their incredible new Pokémon themed room.

Original Recipe (preview)

The dining and sleeping areas of the impressive new room are covered in Pokéball motifs, while the cute Pokémon appear to be playing hide and seek throughout the wallpaper. You'll be greeted by a giant Snorlax plushie on the bed and have your food served on Pokèmon themed plates and cups – Perfect for Pokèmon lovers! The room will be available at MINIMARU in Tokyo, Kyoto, and Osaka.

Following their Pokémon Card Game Sword & Shield / Family Pokémon Card Game free summer vacation project, MINIMARU have prepared several original recipes for guests of the new Pokémon Room. Try making some cute Pokémon dishes and desserts in the kitchen for yourself, with recipes including Pikachu Omurice and more!

The Pokémon Room offers 7 special dinner and snack recipes for parents and children to make during their stay. The ingredients are easily obtained at the local supermarkets and cooked in the kitchen space. You can even share your handmade masterpiece on social media using the hashtag #ポケモンルームレシピ (pokémonroomrecipe).

©2021 Pokémon. ©1995-2021 Nintendo / Creatures Inc. / GAME FREAK inc.
ポケットモンスター・ポケモン・Pokémonは任天堂・クリーチャーズ・ゲームフリークの登録商標です。

Disney's Lilo & Stitch and Donald Duck Recipe Kits Revealed

Japanese online supermarket Oisix released its "Donald Duck Summer Nasi Goreng Mountain" meal kit on July 15, and will release the new "Lilo & Stitch Hawaiian Loco Moco" version on July 29. Both are part of the "Kit Oisix" series of recipe kits which lets people cook up a meal inspired by characters.

Kit Oisix Donald Duck Summer Nasi Goreng Mountain

Kit Oisix Lilo & Stitch Hawaiian Loco Moco

Recipe book contents page

Recipe book step example

Summer Challenge from Donald section

Summer Challenge from Donald work sheet

A child taking on Donald's summer cooking challenge

The ingredients and recipe book delivered with the Donald Duck Kit Oisix

Lunch Mat

The ingredients and recipe book delivered with the Lilo & Stitch Kit Oisix

Lunch Mat

Both meal kits arrive with all the necessary ingredients and condiments needs to make delicious themed meals. They also come with a recipe book which features step-by-step breakdowns of how to prepare the meal as well as other fun bits such as a work sheet. The kits are aimed at parents and children and fostering their relationship, but if you love Disney, anyone can enjoy these cooking experiences.

Kaori's Easy Recipe: Learn to Make a Rilakkuma Banana Cake

With just a small bit of ingenuity, turn everyday food into something cute using Kaori's Easy Recipe! With a few simple ideas, an ordinary recipe magically transforms into a cute dish.

In this recipe, I'll show you how to make a delicious banana cake that is tasty even if refrigerated!

Ingredients

Makes a 18cm pound cake

2 ripe bananas

100g unsalted butter

50g granulated sugar

2 eggs

100g weak flour

1

Bring the butter to room temperature and mix it with the sugar until it becomes white. I used unsalted margarine for this.

2

Gradually add both the egg whites and yolks and pour slowly into the mixture while mixing. Mash the banana with a fork, add to the bowl, and mix.

3

Sieve in the flour and mix lightly.

4

Bake at 160℃ for 40-45 minutes and it's ready! I used a 15cm pound cake tin and muffin tin to make mine. If using a muffin tin, bake for 30 minutes.

Leave to cool and use the edge of the pound cake tin to cut ears. Finish by using a chocolate pen to draw on Rilakkuma's face.

Kaori invites you into her world of character-themed food dishes in her recipe series. Be sure to check out her Instagram where she has uploaded many pictures of her character dishes!

Kaori Kubota (@kaopan27)

I live in Hokkaido and I love to make character themed foods, desserts and pastries♡

I want to see my family smile, so I enjoy putting in a bit of effort to make character foods and changing food into something cute♡

You can see more of my character foods and character bento boxes on my Instagram page → @kaopan72