Stay Home With Mr. Yabatan: Better and Ready Yourself For the Future During the Lockdown
Here at MOSHI MOSHI NIPPON, we post news and information about Japan in six languages. Our aim is to deliver a variety of content related to Japan for those who love and enjoy Japanese culture.
Right now, people across the globe are in self-isolation as a result of the coronavirus pandemic. The same goes for Japan too, so we've taken this opportunity to create a new series on the website to show how we're spending time at home here in Japan. The future is yet uncertain, and we hope for normality to return for all of us soon. We created a new articles series called Stay Home with which we hope to take your mind off the situation, even for just a little bit, to help you feel calmer. It might give you some tips on what you can do while spending time at home.
Today we are joined by Mr. Yabatan, a popular video content creator and comedian who posts videos about Japanese culture to the world.
1: Making Videos / Making Contents
Now that I can't go outside I have to shoot videos at home.
I usually have a certain pattern for my videos but now that I have to shoot at home I see that there's so many different topics and things I can make videos about. It's fun!
2: Daily exercise is fundamental!
Usually I have a fixed plan from the morning until evening which means I have routines for what I do at a certain time. Now that I have to stay at home all the time it's difficult to keep those routines going but I still try my best to follow the same routine as I used to when I could go outside.
That's why it's important to exercise even though you are at home. So I always try to do some exercise in the morning. Both strength and stamina.
3: Studying Japanese
In this period we should not meet too many people so I can feel that my Japanese level is going down. That's why I try to maintain it by studying every day. Actually this time is a good chance to learn a new language!
4: Pals with the computer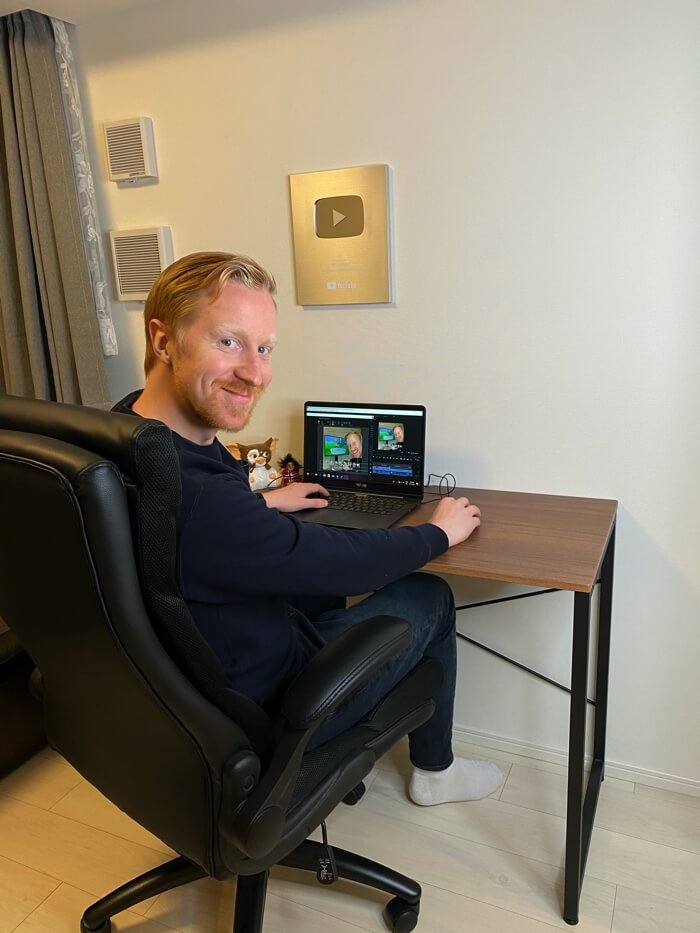 My best friend in these times must be my computer! This is where I do all my editing, studying, talking to friends etc. So I am spending most of my time with the computer! That sounds so strange lol.
5: Home Cooking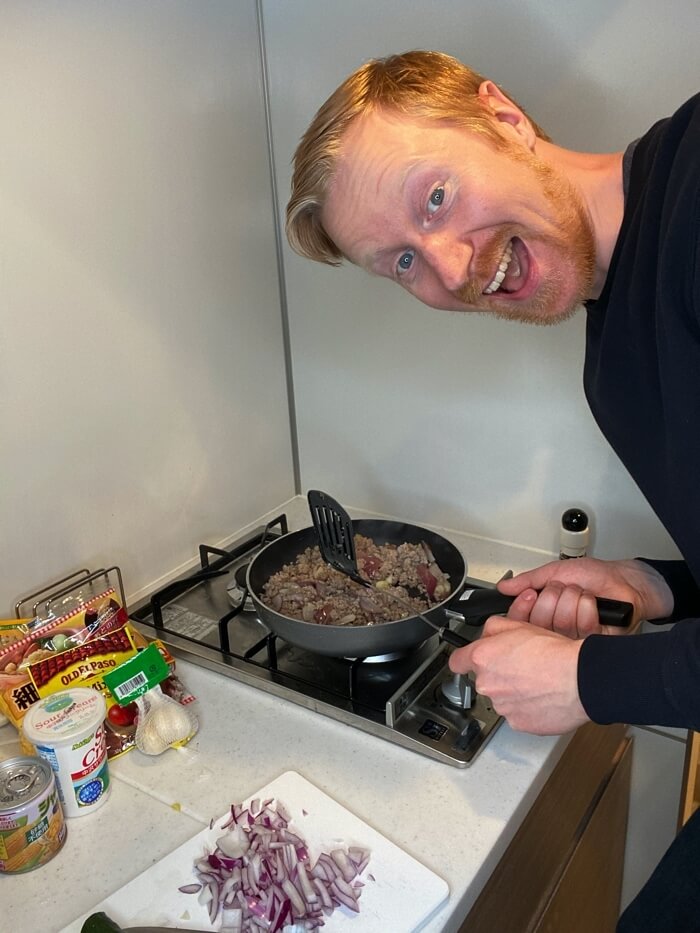 Before all this happened I spent most of my time outside and not at home so I didn't cook at all, but now that I need to stay at home I'm cooking every day! I actually remembered that I know how to cook.
Every Friday I make tacos! This is actually a tradition in Norway. We make tacos on Fridays with our families and watch TV together. Norwegian tacos are delicious!
What's your secret to spending time at home?
Try to follow a routine and do something productive so that it will be worth going to bed at night watching all your favorite TV series.
Please leave a message to those reading this article!
Even though it's difficult to imagine right now, remember that everything will come to an end, our lives will gradually go back to normal if we just keep staying at home and doing our best to prevent spreading the disease. This is the time for you to plan and prepare for when you get out! Do all the things you usually wouldn't have the time doing, like learning an instrument or a new language etc. Plan for your new projects and plans and go right into them as soon as things are back to normal! Then you will be stronger than ever and enjoy things a lot more. 頑張ろう!
Mr. Yabatan
Comedian/Video Creator. Born in Norway, currently resides in Japan. His love and fascination with Japan's 'owarai' comedy culture is what took him to Japan. He posts comedy videos on Instagram and his social media pages reporting on various places around Japan.

RELATED ENTRIES
Japan's Manga Artists Join Hands For New Manga Project Depicting Life During COVID-19

Over 50 manga artists in Japan are coming together for the launch of the new "MANGA Day to Day" project which will depict daily life during the novel coronavirus (COVID-19) pandemic.

The project is set to roll out for free in mid-June on Twitter and Comic Days. A teaser by famous manga artist Tetsuya Chiba (Ashita no Joe; Notari Matsutarō) was released on May 22, 2020.

A related project entitled "Day to Day" is also taking place over on the Japanese literature news website TREE where over 50 popular authors have penned writings and essays on the restrictions of today's everyday life. In addition to Japan, both projects have caught the attention of overseas news media and websites too. Like the related "Day to Day" project, "MANGA Day to Day" will have one new manga strip released for free each day on Twitter and Comic Days. A piece entitled Akudama by Tetsuya Chiba is already available to see over on the project's official Twitter account.

People's lives have changed drastically as a result of the pandemic. To pass down this time in history to the next 100, or even 200 years, the pieces contributed to the "MANGA Day to Day" project will be compiled into a book that's scheduled for release in early 2021. A special edition of the book will also be compiled featuring both the manga and writing pieces.

Be sure to follow the Twitter account below to keep up to date.

Stay Home: 6 More Toast Arrangements to Bring the Cafe Experience to Your Home During the Lockdown

Here at MOSHI MOSHI NIPPON, we post news and information about Japan in six languages. Our aim is to deliver a variety of content related to Japan for those who love and enjoy Japanese culture.

Right now, people across the globe are in self-isolation as a result of the coronavirus pandemic. The same goes for Japan too, so we've taken this opportunity to create a new series on the website to show how we're spending time at home here in Japan. The future is yet uncertain, and we hope for normality to return for all of us soon. We created a new articles series called Stay Home with which we hope to take your mind off the situation, even for just a little bit, to help you feel calmer. It might give you some tips on what you can do while spending time at home.

In this edition of Stay Home, we're taking a look at six more cute, easy-to-make toast recipes that were featured with the trending Japanese hashtag #おうちカフェ ("Cafe at Home"). Try making them yourself at home for breakfast, lunch, or as a snack.

Related Article: Stay Home: 6 Toast Arrangements to Bring the Cafe Experience to Your Home During the Lockdown

 

Candy Rose's recipe shows us how to make orange toast. Orange and chocolate is a tried and tested combination. The fresh cream adds a dessert-like quality to the toast.

Ingredients
・Bread  ・Navel Orange & Chocolate Jam  ・Orange Jam ・Fresh cream ・Orange

Method
1: Simmer the orange in white wine and granulated sugar.
2: Toast bread and smear with the jam.
3: Add a dollop of fresh cream on top.
4: Top with sliced orange and tuck in!

2: Mini Strawberry & Red Bean Paste Butter Toast | @__yk._

yk.'s toast recipe is a combination of Japanese and western flavours with red bean paste and buttered brioche which looks cute when it's cut thick and small like in the picture♡

Ingredients
・Brioche toast ・Strawberries ・Red bean paste ・Butter ・Fresh cream

Method
1: Toast the bread and add the red bean paste.
2: Top with a strawberry and fresh cream.
3: Finish with a knob of butter and enjoy!

KAORUKO's toast recipe is a great dessert idea too. It's a super simple recipe made with microwaved apple compote.

Ingredients
・Bread ・Apple ・Lemon juice ・Sugar ・Fruit granola

Method
1: Slice apple with the skin on.
2: Add 1 tbsp of lemon juice and 30g sugar to the apple and microwave for 3 minutes.
3: Slice a thin slice of bread and toast. Add the apple compote to the toast and finish with a sprinkle of fruity granola.

4: Marshmallow Toast | @woo.rrei

Rei has added marshmallows to their toast to create a fluffy, dessert-like, and cafe-worthy recipe.

Ingredients
・Bread ・Marshmallows ・Chocolate Sauce

Method
1: Slice a thin piece of bread and toast. Top with marshmallows.
2: Toast once again under a grill until the marshmallows take on colour.
3: Drizzle with chocolate syrup and you're done!

5: Open Avocado Sandwich | @keijunrin

Keiko's recipe makes a fresh open-style sandwich with lots of avocado. The egg yolk adds a melt-in-the-mouth texture. The texture of the whole thing is nice and smooth.

Ingredients
・Bread ・Avocado ・Pink pepper ・Egg yolk ・Mayonnaise

Method
1: Add the avocado to a slice of bread and grind on some rose pepper.
2: Drop on an egg yolk and lightly toast under a grill.
3: Drizzle with mayonnaise and enjoy!

izumi's recipe is a combination of bread and "naporitan" which is a Japanese pasta dish. It's a hearty serving that makes for a great lunch.

Ingredients
・Bread ・Naporitan pasta ・White Sauce ・Cheese

Method
1: Make naporitan and white sauce in advance. Cut the naporitan into small pieces.
2: Slice 1 thin and 1 thick slice of bread.
3: Cut out the inside of the thick slice. Place this hollowed-out thick piece on top of the thin slice of bread. This thin slice forms the bottom of your bread.
4: Add the naporitan inside. Drizzle in white sauce so it's like a lid over the pasta.
5: Sprinkle on cheese, toast, and you're done!

Bring the cafe experience into your own home by making your own fun toast arrangements.

Exercise at Home With Hello Kitty and Shimajiro in New Video Series

Kodomo Challenge, a brand created by Benesse Corporation which helps support the growth and education of infants, has joined hands with Sanrio to release a series of exercise videos in English, Japanese, and Chinese. Titled "Exercise with Friends," the series lets you exercise together with popular characters from Japan.

The first video features Kodomo Challenge's character Shimajiro and Sanrio's character Hello Kitty. The video is part of a bigger project called "Daisuki na Minna to Issho Project" (Together With Everyone We Love) which aims to bring smiles to people's faces and relieve their worries during the ongoing COVID-19 pandemic.

Japanese Version

English Version

Chinese Version

*A Traditional Chinese version will be released on April 30, 2020

The videos are being enjoyed on Japanese social media where people have commended the videos for being easy for kids to follow as well as pretty good exercise for adults too.

Lots of Friends Version (Japanese)

The newest entry to the series adds several other characters into the mix including Kumamon, Mell-chan, and Cheburashka.

Make sure you're getting in your daily exercise at home during the lockdown, and if you're in need of motivation, join Hello Kitty and Shimajiro!

Stay Home: 5 Simple and Kawaii Drinks to Try Making During the Lockdown

Here at MOSHI MOSHI NIPPON, we post news and information about Japan in six languages. Our aim is to deliver a variety of content related to Japan for those who love and enjoy Japanese culture.

Right now, people across the globe are in self-isolation as a result of the coronavirus pandemic. The same goes for Japan too, so we've taken this opportunity to create a new series on the website to show how we're spending time at home here in Japan. The future is yet uncertain, and we hope for normality to return for all of us soon. We created a new articles series called Stay Home with which we hope to take your mind off the situation, even for just a little bit, to help you feel calmer. It might give you some tips on what you can do while spending time at home.

In this edition of Stay Home, we're taking a look at five simple and kawaii drinks that were featured with the trending Japanese hashtag #おうちカフェ ("Cafe at Home"). Try making one of these drinks yourself to bring the cafe experience into your home.

Related Article: Stay Home: 5 Simple and Delicious Drinks to Try Making During the Lockdown

This is a strawberry version of the dalgona coffee which is hugely popular right now. It's a super simple recipe that you can make in just 3 minutes, so give it a go yourself.

Ingredients
・3 packs of Milmake powder (strawberry flavoured) ・4-5 tbsp fresh cream ・Milk

*If you can't get your hands on Milmake, use another strawberry flavoured powder as a substitute 

Method
1: Add the Milkmake and fresh cream to a bottle.
2: Shake the bottle until the mix becomes thick.
3: Pour the mix over milk, top with a strawberry, and enjoy!

2: Colourful Cream Soda @miki__718

Miki's made a serving of several colour and cute cream soda drinks. This is another easy recipe where she added coloured syrup to soda poured into cute glasses.

Ingredients

・Soda ・MONIN syrup ・Ice cream ・1 strawberry

Method

1: I recommend using MONIN syrup to make your colourful soda.

2: Mix together the soda and MONIN syrup, then add a dollop of ice cream and finish with a strawberry!

3: Strawberry Cream Cider @onew_tc72

Chihiro's beverage is a cream soda with fresh fruit inside. If you're looking for a fruity drink then this one's for you.

Ingredients

・Strawberries ・Vanilla Ice Cream ・Soda ・Thyme (for decorating)

Method

1: Slice the strawberries into small pieces.

2: Add the cut strawberries into the soda and spoon in a large dollop of ice cream.

3: Adorn with the thyme and a whole strawberry and enjoy!

chii's mango soda is made using a homemade jam. The orange drink looks super stylish with the giant ice cube inside. A cool and refreshing pick for those hot days.

Ingredients
・100g mango ・15 sugar ・A squirt of lemon juice ・1 tsp rum

Method
1: Boil all of the ingredients together.
2: Mix in soda and jam.
3: Top with rosemary and drink up.

HITOMI's choice is the popular mikan latte! You can use sliced orange for the topping too if you can't get your hands on mikan.

Ingredients
・200ml milk ・Sugar to taste ・Yoghurt ti taste ・1 mikan ・Sliced mikan (for topping)

Method
1: Blend all of the ingredients together in a blender.
2. Once smooth, add to a cup a finish with a slice of mikan or orange.

Stay Home: 5 Simple and Kawaii Fruit Sandwiches to Try Making During the Lockdown

Here at MOSHI MOSHI NIPPON, we post news and information about Japan in six languages. Our aim is to deliver a variety of content related to Japan for those who love and enjoy Japanese culture.

Right now, people across the globe are in self-isolation as a result of the coronavirus pandemic. The same goes for Japan too, so we've taken this opportunity to create a new series on the website to show how we're spending time at home here in Japan. The future is yet uncertain, and we hope for normality to return for all of us soon. We created a new articles series called Stay Home with which we hope to take your mind off the situation, even for just a little bit, to help you feel calmer. It might give you some tips on what you can do while spending time at home.

In this edition of Stay Home, we're taking a look at five simple and kawaii fruit sandwiches that have been featured with the trending Japanese hashtag #おうちカフェ ("Cafe at Home"). Stuck for ideas for breakfast, lunch, or snacks? Then try making one of these super simple yet mouth-watering recipes.

1: Fruit Sandwich @tgm___n

naho's fruit sandwich is layered in a specific way to make the fruit look like flowers. You can add an artistic touch to your sandwiches with just a bit of prep.

Ingredients
・Bread ・Yogurt ・Strawberries ・Grapes

Method
1: Add Greek yogurt to the sandwich.
2: Cut the strawberries and grapes in a cross-section and stuff into the bread.
3: Wrap and leave in the refrigerator for one hour. Slice down the middle and you're done!

Mari's has served their fruit sandwich open-style and with plenty of fruit. The fresh cream and cream cheese adds a richness to the sandwich.

Ingredients
・Bread ・Fresh cream ・Cream cheese ・Fruits of your choice

Method
1: Layer cream cheese over the bread slices and then the fresh cream.
2: Top with your assorted fruit.
3: Cut into bite-size slices and tuck in!

3: Strawberry Cake Style Fruit Sandwich @_ll_rire_ll_

riE.'s fruit sandwich is just like a cake! By arranging it correctly, she has transformed her sandwich into a strawberry dessert.

Ingredients
・Bread ・Strawberries ・Fresh Cream ・Honey ・Cinnamon

Method
1: Slice a thick cut of bread in half and fill with fresh cream and strawberries.
2: Spread fresh cream on the outside and top with strawberries
3: Drizzle with honey, sprinkle with a little lemon, and enjoy!

4: Cocoa Bagel Fruit Sandwich @chiezzz8

chie's fruit sandwich is made using homemade cocoa bagels and ponkan orange, creating a sweet and sour flavour combination.

Ingredients
・Cocoa bagels ・Ponkan orange ・Greek yogurt ・Cream cheese

Method
1: Mix Greek yogurt and cream cheese to a ratio of 1:1.
2: Cut the bagels in half and add your yogurt and cream cheese mix.
3: Add the ponkan orange and enjoy!

5: Hot Banana & Oreo Crispy Tiramisu Sandwich @ks.daidokoro

Kancho makes lots of different hot sandwich recipes. This is a simple one you can make using a frying pan.

Ingredients
・2 slices of bread ・5 Oreo Crispy Tiramisu ・Greek yogurt to taste ・1 banana ・30g shredded cheese ・Cinnamon powder to taste ・Honey to taste

Method

1: Top one slice of bread with Greek yogurt and add half the shredded cheese.
2: Add the Oreos (and fill the empty spaces with smashed Oreos).
3: Top with sliced banana, the cinnamon powder, and honey.
4: Add Greek yogurt and the rest of the shredded cheese to your other slice of bread.
5: Toast in a frying pan and press. Fry until both sides are a light brown and enjoy!

Bring the cafe experience into your own home with one of these 5 simple recipes.

Stay Home With AMIAYA: Love Fashion and Love Yourself During the Lockdown

Here at MOSHI MOSHI NIPPON, we post news and information about Japan in six languages. Our aim is to deliver a variety of content related to Japan for those who love and enjoy Japanese culture.

Right now, people across the globe are in self-isolation as a result of the coronavirus pandemic. The same goes for Japan too, so we've taken this opportunity to create a new series on the website to show how we're spending time at home here in Japan. The future is yet uncertain, and we hope for normality to return for all of us soon. We created a new articles series called Stay Home with which we hope to take your mind off the situation, even for just a little bit, to help you feel calmer. It might give you some tips on what you can do while spending time at home.

In today's feature, we are joined AMIAYA, whose model work has taken them around Japan and overseas.

1: amiayacookingram

Since our time at home has lengthened, we're cooking everyday and showcasing what we've made on Instagram with the hashtag #amiayacookingram. Make the time you have been given worthwhile by immersing yourself in the things you love at home and doing some soul-searching.

2: LOVE FASHION_LOVE YOURSELF, MY_FOAH

LOVE FASHION LOVE YOURSELF♡

Since we're involved with fashion for our work, we believe in the power of fashion. We wanted to turn it into positive energy and share it with everyone through Instagram. You feel livelier by dressing up in the clothes you like. It brings the real you out. Let's enjoy fashion and looking good whether we're at home or anywhere else!

3: Dance to your favourite music!


Wrap yourself in your favourite garments and move your body to your favourite tunes. That alone is fun beyond imagination♡

What's your secret to spending time at home?

Keep on expressing yourself. For us, that would be through fashion. We think it's important to be yourselfーbe who you areーand we do that by changing into our favourite clothes and doing our makeup. You choose what your comfort is to make you happy. You can watch movies, read books, study something you're interested in, or do things that change the time you're at home since it's up to you now. We think it's important to put effort into making the time you have been given worthwhile."

Please give a message to those reading this article

We hope we can spread happiness and positivity to everyone through our love of fashion. You can change up your time at home however you like. As long as you're enjoying yourself, you can't go wrong! We'll all get through this together!

Stay Home With Yutaro: Laugh, Learn, & Do All The Things You Want To Do During the Lockdown

Here at MOSHI MOSHI NIPPON, we post news and information about Japan in six languages. Our aim is to deliver a variety of content related to Japan for those who love and enjoy Japanese culture.

Right now, people across the globe are in self-isolation as a result of the coronavirus pandemic. The same goes for Japan too, so we've taken this opportunity to create a new series on the website to show how we're spending time at home here in Japan. The future is yet uncertain, and we hope for normality to return for all of us soon. We created a new articles series called Stay Home with which we hope to take your mind off the situation, even for just a little bit, to help you feel calmer. It might give you some tips on what you can do while spending time at home.

Today, Japanese actor and model Yutaro shares with us how he has been spending his time at home.

1: Gaming




I was recently given a Switch Lite as part of a TV show project, so I've been enjoying some Animal Crossing at my leisure. Right now, I'm addicted to farming iron ore. I'm Team Tsubukichi, by the way.

2: Music

While I do enjoy listening to my music loud on speakers when I'm at home, when I'm alone and want to lay around while I listen to my music I like to use my AirPods too. I generally always have music playing at home. I've recently been into a South Korean band called SURL. You should give them a listen.

3: Post-Bath Skin Care

I love baths, so I take a dip most days. I enjoy spending as much time as I like in there, but it's kind of tricky to take a photo of that, so I've taken one of some skin care items I've been using recently. CNP is a South Korean brand. It has propolis in it so you feel pretty moisturised afterwards. It's not too pricey either so I definitely recommend it.

4: Cooking

Since I'm spending more time at home now, I've been coming up with recipes to cook everyday for me and my sister who is staying with me.

I made curry on this day. It's full of meat and veg which we had with brown rice, something I'm crazy about again. It's surprisingly easy to share roles, so I've come to enjoy cooking for myself recently. A guy cooking for himselfーthat's a typical image of a model, isn't it?

The curry I made was a portion for 3 days.

Bonus: Hammock

I'm generally the kind of person who's not good with staying indoors, so I ended up splurging on a hammock which I can use when I want to feel the outside air. Rolling around in this for about 10 minutes when the weather's nice, or after a bath, or eating ice cream while listening to music is enough to make me happy.

What's your secret to spending time at home?

If I think about it too much I'll end up suggesting too many things. I don't think about it too much and just do plenty of the things I want to do right now, or things that I can only do now because of the situation. I'm using my time luxuriously.

Please give a message to those reading this article

Just like everyone else, I'm itching as the days go by, but it's all about taking advantage of the situation to do what you can. I'm enjoying gaming online to my heart's content, face timing my family and laughing, learning Korean from my friend, relaxing and swaying in my hammock, finding challenging myself to cooking surprisingly fun, and so on. There are lots of things to do to feel happiness in these times, so I want people to make their time worthwhile. Let's all get through this together!

Stay Home With SILENT SIREN: Think Positive and Enjoy the Here and Now During the Lockdown

Here at MOSHI MOSHI NIPPON, we post news and information about Japan in six languages. Our aim is to deliver a variety of content related to Japan for those who love and enjoy Japanese culture.

Right now, people across the globe are in self-isolation as a result of the coronavirus pandemic. The same goes for Japan too, so we've taken this opportunity to create a new series on the website to show how we're spending time at home here in Japan. The future is yet uncertain, and we hope for normality to return for all of us soon. We created a new articles series called Stay Home with which we hope to take your mind off the situation, even for just a little bit, to help you feel calmer. It might give you some tips on what you can do while spending time at home.

Today, we are joined by the members of all-girls band SILENT SIRENーwho have their own featured series here on MOSHI MOSHI NIPPONーto see how they've been spending their time indoors.

Stay Home With SUU

1: Smoothies Everyday

I love bananas, so I mix a bunch of them with some berries to drink♡ I wanna try making lots of different smoothies!

2: Chilling With My Pet Dog Komeko

I've been home a lot so Komeko is always sat with me lovingly♡

3: Reading

Since I'm at home more now, I've been doing lots of reading. I've been thinking of getting or making a new bookcase that's bigger than the one in the photo.

 

What's your secret to spending time at home?

A positive mindset! Since you're at home, find things to do that you normally wouldn't be able to otherwise♡

Please give a message to those reading this article

I've kept my spirits up by cooking at home, listening to music, watching movies, trying out different scents, and recently I've been rearranging the place. I think this unexpected time is the time to do things we weren't able to before, so I want everyone to enjoy their at-home time too!

Stay Home With Hinanchu

1: Takeout From Places I Never Go

Since I can't really go out, I'm making fun with eating, being greedy, and indulgence.

2: Changing The Mood Of My Home Entrance

Since I can't go out, moods tend to build up when I'm home, so I've aired it out a little to feel refreshed.

3: Plenty Of Playtime With My Pets

My cats are great at being home alone when I'm out, but I get to play with them lots while I'm indoors, so much so that they never seem to get tired of it.

What's your secret to spending time at home?

I'm making an environment that makes me feel refreshed, even if just a little, by rearranging my home, decluttering, and cleaning. I've used this opportunity to get into feng shui, so it could be fun for people to look up the directions in their house and enjoy some feng shui too.

Please give a message to those reading this article

Know that you are absolutely not alone if you're going through a tough or lonely time. Everyone is feeling the same. So let's all be lively and positive while we're at home and we might just discover something new about ourselves! Another good thing to do might be to make a list of all the places you want to visit when the world returns to its peaceful self! Let's all work together and get through this, okay?

Stay Home With Ainyan

1: Foam Roller Full Body Massage

It's easy for your body to become stiff as you spend more time at home, so I've decided to loosen up everyday by massaging my armpits, thighs, and back. It hurts pretty bad since you loosen up by using your whole body weight!

2: Clearing The Veranda And Making My Own Terrace Seat

Since we can't go outside, I've cleaned my room to make myself feel good and have brought the outside air indoors. I spend my time sat on the veranda relaxing and enjoying something to drink.

What's your secret to spending time at home?

I look on social media for tips on how everyone is having fun at home and try out different things!

Please give a message to those reading this article

It's important in these times to think about what you can do at home and enjoy it, so I want to keep on posting about what fun things I'm up to indoors too.

Stay Home With Yukarun

1: Rice Pot

I've always cooked rice for myself, but what I've been addicted to since last year is making rice in a pot! It's super delicious and surprisingly easy to make♡

I can't get enough of that moment of happiness when I lift the lid off the pot♡

2: Healthy Treats

Being at home so much tends to result in not getting enough exercise.

But I still want to eat a sweet treat, so I made some gluten-free scones using soy flour.

Freshly-baked scones are the flavour of happiness♡

3: Doing My Nails

Since I can't get to a nail salon, I'm enjoying enjoying some self nail care!

Whatever I go to do I can always see my fingertips, so simply making my nails look pretty is enough to lift me up.

4: Stretches

I'm making a conscious effort to move my body as much as possible at home.

Wearing leggings that I can train in all the time at home means I can stretch right away there and then, so I definitely recommend doing the same♡

What's your secret to spending time at home?

It's important to enjoy the things you can do now while at home for so long, be it doing your nails, trying new makeup, so on♡

Please give a message to those reading this article

I'm sure a lot of people are feeling down right now with how life as we knew it has changed so drastically. But it's in these times when we need to stay positive, so let's all smile and get through this together!

Stay Home With TEMPURA KIDZ: Polish Your Skills And Look to the Future During the Lockdown

Here at MOSHI MOSHI NIPPON, we post news and information about Japan in six languages. Our aim is to deliver a variety of content related to Japan for those who love and enjoy Japanese culture.

Right now, people across the globe are in self-isolation as a result of the coronavirus pandemic. The same goes for Japan too, so we've taken this opportunity to create a new series on the website to show how we're spending time at home here in Japan. The future is yet uncertain, and we hope for normality to return for all of us soon. We created a new articles series called Stay Home with which we hope to take your mind off the situation, even for just a little bit, to help you feel calmer. It might give you some tips on what you can do while spending time at home.

Today, we are joined by all four members of Japanese dance and vocal group TEMPURA KIDZ who have shared with us what they have been doing at home recently.

Stay Home With AO

1: Watching movies

I've been sipping on nice hot drinks while cosied up watching movies. One that I want to recommend that makes me cry is The Green Mile. For comedy is would be A Story of Yonosuke!

2: Reading

Reading at home! I don't make a lot of progress with reading, but I can concentrate better setting time aside to read at home alone rather than when I usually would on trains or in my spare time. So I've developed the ability to read a lot quicker now! I want to use this time to read lots and lots!

What's your secret to spending time at home?

It's all about putting the time in right now! I usually don't get this kind of time to enjoy chilling at home, so I'm consuming lots of media like movies, dramas, anime, and books. I think it's great time spent to power up my power as a human, by laughing and crying while increasing my knowledge and sensibility!

Please give a message to those reading this article

With more time spent at home because of the lockdown period, you might feel a sense of loneliness or anxiety, but it's important to increase your immunity, even a little, and make your mind and body strong! I hear that tears and laughter are a way of de-stressing and upping your immunity. Let's immerse ourselves in some kind of media and laugh and cry so we can eliminate stress, increase our immunity, and level ourselves up.

Stay Home With KARIN

1: Feeling better with candied fruit!

I'm lifting my mood at home by making candied fruit! It's super simple, you just need fruit, sugar, and water.

Though I'm at home indoors, it makes me feel like I'm at a stall at a Japanese festival, so it makes me happy!

It's really easy to do, so why not give it a go yourself?

What's your secret to spending time at home?

If you use your time at home wisely to try out things you normally don't have time for you're bound to discover something new. I think that's important.

Please give a message to those reading this article

Wash your hands, be aware that each and every person is a potential danger, and make the right decision until the fun days return. Let's all get through this together!

Stay Home With YU-KA

1: Dancing on TikTok at home!

I started using TikTok just recently. Since the lockdown means being at home everyday, I'm posting dance videos everyday as part of my daily routine!

They're super easy to make and post, I think it's the best kind of content to enjoy with everyone. Plus, you feel refreshed after moving your body about, and it lifts your mood!

2: I can't meet with the other members, but…

I'm also doing duet dances in my videos too! When the lockdown finally ends and I get to meet with everyone again, my happiness won't feel incomplete anymore.

Doing this means you can stay connected with people even if you're at home. It made me realise again what a convenient time we live in. I'm posting everyday, so I hope it kills a bit of time for everyone at home!

Check out my videos here: https://www.tiktok.com/@yuka_tempurakidz

What's your secret to spending time at home?

This period we're in now might actually be a great opportunity to do those things you've been neglecting everyday, or to challenge yourself to something new! You might also realise something you didn't before because of this very situation. It's made me reconsider the peaceful life I took for granted, so let's think of it as a plus because of the good time we've been granted!

Please give a message to those reading this article

Our want for the lives we loved together to continue will ensure that they return quicker. Let's pray for things to turn back to normal and work hard to get through this together!み

Stay Home With P→☆

1: Making music and editing YouTube videos

I'm set on making music and editing YouTube videos, and other things too. I'm using my time at home to do the things I normally wouldn't be able to because it takes time. I'm also absorbing myself in a lot of research and making things. Keeping myself busy by looking up the things I love relieves my stress and makes me feel great.

What's your secret to spending time at home?

Feeling positive trying out things you normally can't!

Please give a message to those reading this article

Make sure to properly self-isolate at home, and let's all look forward to and work towards when we can enjoy outdoors again! I'll work hard to deliver entertainment to everyone from home too!

Kyary Pamyu Pamyu, ONE OK ROCK & Other Japanese Artists to Watch Live On YouTube During the Lockdown

With the world on lockdown as a result of the COVID-19 pandemic outbreak, everybody is cooped up indoors and spending time at home. If you're looking for something new to watch or listen to, then we've got you covered. MOSHI MOSHI NIPPON has compiled a list of 11 Japanese artists who have or are planning to post live footage of their full concerts and performances on YouTube.

The future looks uncertain as it is right now, so in the meantime let's find time to do the things we enjoy and stay positive as we get through this together.

ONE OK ROCK

ONE OK ROCK are set to premiere 6 of their past concerts on YouTube from 2014-2018. They will be the full performances with no cuts and will not be archived, so mark your calendars and be sure to tune in when they drop.

Full Details: https://www.moshimoshi-nippon.jp/313887

ONE OK ROCK's YouTube Channel: https://www.youtube.com/user/ONEOKROCKchannel

ARASHI

ARASHI has posted a full concert taken from his "untitled" tour which ran from November 2017 to January 2018. "Untitled" is the theme of the tour which looked towards ARASHI of the future. The stage set up and incredible performance are absolute must-sees.

ARASHI's Youtube Channel: https://www.youtube.com/channel/UCP7Gw_YZAuh4Yg2fcdcuumQ/

Kyary Pamyu Pamyu

Kyary Pamyu Pamyu is in the middle of posting 100 videos of her live performances which will be available to watch for a limited time between April 14 to May 17 this year. The videos are being released as a part of the at-home entertainment #ouchiasobi ("Play At Home") project launched by ASOBISYSTEM, the agency that Kyary is signed to. Now you can have fun too with Kyary by bringing her concerts into your home.

Full Details: https://www.moshimoshi-nippon.jp/313974

Kyary Pamyu Pamyu's Youtube Channel: https://www.youtube.com/kyarypamyupamyutv

AAA

AAA's performance at Saitama Super Arena was a highlight of their 2013 tourーa tour which took them to see 150,000 fans across Japan. The full show is now available to watch on YouTube until April 30, 2020 at 23:59 (JST), so be sure to check it out.

avex's Youtube Channel: https://www.youtube.com/user/avexnetwork/

RADWIMPS

RADWIMPS have posted some content from their recently-released live DVD and Blu-ray ANTI ANTI GENERATION TOUR 2019 onto their YouTube channel. Feel part of the crowd with the following thrilling performance.

Full Details: https://www.moshimoshi-nippon.jp/290378

RADWIMPS's Youtube Channel: https://www.youtube.com/user/radwimpsstaff/

Taichi Mukai

Taichi Mukai recently posted a video of his performance of his popular song Reset. The song was written as the first ending theme for the anime series Run with the Wind.

Taichi Mukai's Youtube Channel: https://www.youtube.com/user/0313taichi/

Official HIGE DANdism

Official HIGE DANdism's performance of I LOVE… at Pacifico Yokohama, which was held on February 10, 2020 as part of their "Travelers" tour, is available to listen to on Apple Music. This is another one that makes you feel part of the experience.

Apple Music "I LOVE…" Pacifico Yokohama (2020.02.10)

TK from Ling Tosite Sigure

TK posted a video on his YouTube channel of footage taken from his live performance at Landmark Studio in Yokohama. His live band line-up includes the familiar faces BOBO (Drums) and Sato Honoka (Violin) as well as Yoshida Ichiro Untouchable World (Bass) who was a support member for TK last year, Hiroko Sebu (Piano) who provided her piano playing on TK's single katharsis from last year, and Masao Watanabe (Cello).

Full Details: https://www.moshimoshi-nippon.jp/178674

Ling Tosite Sigure's YouTube Channel: https://www.youtube.com/user/sigureSMEJ/

amazarashi

amazarashi dropped a trailer last year for his live DVD and Blu-ray release Mirai ni Narenakatta Subete no Yoru ni. His self-cover of Long Hope Philiaーthe theme song of the anime film My Hero Academia: Two Heroes and fifth ending theme of the My Hero Academia anime seriesーis a must-see!

Full Details: https://www.moshimoshi-nippon.jp/270910

amazarashi's Youtube Channel: https://www.youtube.com/user/amazarashiSMEJ/

Suchmos

A live performance of Suchmos's hugely popular Mint. It features footage backstage from the band's tours across three years.

Full Details: https://www.moshimoshi-nippon.jp/207422

Suchmos's Youtube Channel: https://www.youtube.com/channel/UCQ3U5YJLWUr3VmQsO48jcQg/

Superfly

Here's a live music video of Superfly's song Kakusei, the theme for the anime movie Promare. The video uses live footage taken from Superfly's arena tour which incorporates gorgeous CG imagery.

Full Details: https://www.moshimoshi-nippon.jp/288707

Superfly's YouTube Channel:  https://www.youtube.com/user/superfly/

Stay Home With MIOCHIN: Use Social Media To Connect With People and Share Ideas During the Lockdown

Here at MOSHI MOSHI NIPPON, we post news and information about Japan in six languages. Our aim is to deliver a variety of content related to Japan for those who love and enjoy Japanese culture.

Right now, people across the globe are in self-isolation as a result of the coronavirus pandemic. The same goes for Japan too, so we've taken this opportunity to create a new series on the website to show how we're spending time at home here in Japan. The future is yet uncertain, and we hope for normality to return for all of us soon. We created a new articles series called Stay Home with which we hope to take your mind off the situation, even for just a little bit, to help you feel calmer. It might give you some tips on what you can do while spending time at home.

Today, we are joined by model and illustrator MIOCHIN who has shared with us how she has been spending her time at home recently.

1: Colouring In

I like to colour in pictures while listening to music☆

I try out different colour schemes depending on my mood. I express my feelings and emotions on paper in the form of colour by colouring in different pictures.

2: TikTok

I post on TikTok everyday! I watch the videos that pop up in my recommendations and think to my self, "I wanna try that too!" and so I do. You can have fun with lots of people on there with the latest trending dance or lip sync. It's the best.

Recently I've been wanting to upload videos that only I can do, so right now I'm into making videos that express me.

MIOCHIN's TikTok: https://www.tiktok.com/@mionosekai

3: Live Streaming

I live stream everyday on LINE LIVE. I have fun and interesting conversations with viewers. I try to bring some happiness to everyone.

4: Merchandise

I'm thinking of new merch to sell on my online store☆

Once I've made it, it goes on my website MIONOSEKAI.

What's your secret to spending time at home?

The way I have fun at home is connecting with people through social media. I spend some relaxing time alone, and I also share ideas and have fun with everyone using TikTok and live streams everyday!

Please give a message to those reading this article

"I think you can liven up, even just a little, by having fun with other people. You can still connect with people even if you can't go outside, so let's work hard support each other."

Stay Home With NEEKO: Simple DIY, Games With Kids & Other Ways to Keep Busy During the Lockdown

Here at MOSHI MOSHI NIPPON, we post news and information about Japan in six languages. Our aim is to deliver a variety of content related to Japan for those who love and enjoy Japanese culture.

Right now, people across the globe are in self-isolation as a result of the coronavirus pandemic. The same goes for Japan too, so we've taken this opportunity to create a new series on the website to show how we're spending time at home here in Japan. The future is yet uncertain, and we hope for normality to return for all of us soon. We created a new articles series called Stay Home with which we hope to take your mind off the situation, even for just a little bit, to help you feel calmer. It might give you some tips on what you can do while spending time at home.

Today, we are joined by actress, voice actress, and DJ NEEKO to see how she's been spending her time at home.

1: Battling it out with my son in Othello, Shogi, UNO & other old games

We sit in the traditional seiza seating position for a shogi match on the iPad! We're both beginners but the app has a guide on it so it's been easy for us to start enjoying it.

My son's also quite the pro when it comes to UNO! When we play, we play loud and all out.

2: Using the time indoors for a spot of interior design

If you're looking for some form of interior DIY that is simple but can completely change the atmosphere then you can't go wrong with wallpaper!

I bought some online to put up. It has a black and grey brick design with white parts between each brick. With wallpaper, you can take down or put it up as many times as you like, so it's super easy even for a girl. And if you get tired of it, you can just tear it down!

The theme of our house's interior is an "apartment of a handsome man in Brooklyn," with the main colour being black. I often hear people saying that their interior aesthetic ends up becoming mismatched, so I recommend really committing to a theme or colour and getting furniture, ornaments and so on that match what you've decided on.




Green is all the rage right now. I have artificial plants that are coated with something called CT Shokubai ("Change Transfer Catalyst") which I bought online, which bring a semipermanent refreshing air to the room. They are antibacterial, anti-odour, antifouling, and offer negative ion exposure for 24 hours a day, even if the light hits them. You also don't need to tend to them, just dust them once in a while. Perfect for someone like me who finds things like that a lot of effort! I have these CT green plants around my house.

Bringing the club vibes home

I enjoy music with my family at home. I put on my DJ face and play all different genres depending on how we're feeling that day. My son joins me too so we DJ back-to-back! I also plan children's songs, something which I don't do live at the clubs, which is actually quite refreshing to do.

Please give a message to those reading this article

"Hey, everyone. I'm NEEKO. How are you all holding up, physically and emotionally? The world, and those around us, could never have imagined something like this was going to happen a few months ago. We should all work to overcome this situation until the day we can all roam free again to enjoy our days! I think our time indoors has increased dramatically both for the benefit of ourselves and those we hold dear. And since all of us are in our homes right now, we should use this opportunity to do the things we have been putting off because we've been too busy, or the things that we always wish we had time for. Rearranging our rooms, DIY, cooking, crafts, sewing, reading, watching movies, playing games, studying, exercising, yoga, etc. I hope we can all fill our time doing things, even if just a little. So here is how I've been spending my time at home!"

NEEKO

NEEKO is a multitalented Harajuku-style artist who works as a voice actress, band vocalist, actress, MC, lyricist and songwriter, DJ, brand director, school teacher, and more. As a voice actress, she has voiced the main character Reborn from the Shonen Jump series Reborn! and has also lent her unique voice to such series as Witchy PreCure!, ēlDLIVE, Granblue Fantasy, and Hyperdimension Neptunia among others. She is the mother of a son and refuses to change her pink-haired personality.

NEEKO Instagram: @neeko_isuzu