Escape From the Werewolf Village in SCRAP's New Remote Escape Game
Japanese real-life escape game creator company SCRAP has revealed details for its upcoming "Escape From the Werewolf Village" escape game which is set to run from April 29 to May 6.
The Story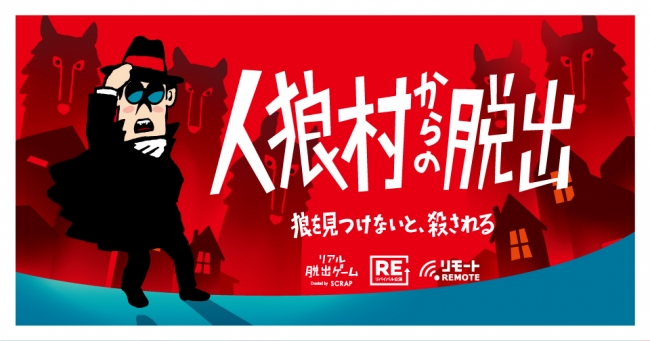 You've found yourself lost in the village of werewolves.
Every night, these werewolvesーwho disguise themselves as villagersーattack the locals.
The local villagers disappear one by one.
The werewolves are gradually approaching closer to you with a mouth full of fangs.
If you do not uncover the truth behind these attacks, and if you cannot solve the mysteries hidden in this villageー
Then you will not leave these place alive.
Do you have the guts to solve all the pieces of the puzzle and escape from the Werewolf Village?
An escape came you can enjoy online

Escape From the Werewolf Village is a popular escape game from SCRAP, and they've now come up with a new version that you can enjoy at home by using the video call service Zoom and the messaging app LINE.
Participating teams will give instructions to the staff at the escape game venue to collection information, crack codes, and solve puzzles to locate the werewolves hiding in the village. This is a completely different and fresh kind of escape game experience which uses online communication rather than direct communication in person.
Only tickets for groups of up to 6 will be sold, and anyone is welcome even if they have completed the escape game before or have their own regular teams for this game.
Information
Escape From the Werewolf Village – Remote Play
Running: April 29, 2020 – May 6, 2020
Ticket Release Dates
Shonen Tantei SCRAP Group Pre-Sale: April 25, 2020 at 12:00 (JST) – April 26, 2020 at 12:00 (JST)
General Sale: April 26, 2020 at 13:00 (JST)
Ticket Price: Group Ticket ¥13,500
*A group ticket accommodates 1-6 people. The recommended amount for this game is 4-6.
Gameplay Style
Max Players: 6 per team
Time Limit: 60 minutes / Required Time: 120 minutes
*The time limit for the game is 60 minutes. Together with the prior instructions and explanations, the entire experience will last 120 minutes.
Notes
This remote game makes use of the video call service Zoom and messaging app LINE. Please make sure you have downloaded these prior to starting the game. AN internet connection is also required, so it is recommended that you play on a PC.
Event Details (Japanese): https://realdgame.jp/event/jinro_remote.html
RELATED ENTRIES
Mr. Osomatsu Escape Game Heads to Fukuoka

SCRAP's Mr. Osomatsu themed escape game "Escape From the Black Market Empire," which is currently taking place in Tokyo, Nagoya, and Osaka, has proven so popular that it's set to open in Fukuoka on August 1.

Exclusive merchandise when buying select tickets: glass, coaster, business card, and card case

Sticker Set ¥300 / Folder ¥1,000 / Pins ¥500 / Acrylic Keyrings ¥800 / Mini Tote Bags ¥2,000 (Tax Included)


The escape game, which is called "Escape From the Black Market Empire," features an original voiced story (recorded by the original voice actors) that has players using their smartphones to communicate with the six Matsuno siblings. They must work with them to help repay their debt.

The event also has its own exclusive merchandise. In Fukuoka, it will be held at SPACE on the Station on the 6th floor of SOLARIA STAGE which is located not even a minutes' walk from Nishitetsu Fukuoka (Tenjin) Station.

Information

Mr. Osomatsu Escape Game: Escape From the Black Market Empire

Start Date: August 1, 2021

Venue: SOLARIA STAGE (6th Floor – SPACE on the Station)

General Tickets: ¥2,700

Advance Tickets w/Merchandise: ¥5,700

Official Website: https://realdgame.jp/osomatsusan/

Detective Conan Escape Games Open in Japan

In promotion of SCRAP's new Detective Conan themed escape game Escape From the Scarlet Investigation (Blood Task Force), five of the company's past escape games made in collaboration with the anime series are being revived for a temporary period.

Escape From the Orient Express

Escape From the Magical Castle

Escape From the Black Assassin

Escape From the Final Public Examination

Escape From the Navy Blue Art Museum

Here's what it's like to play..

SCRAP's escape games are made in collaboration with many different series and see players become a character in the story where they must solve puzzles and riddles to find a way out. They have collaborated with Detective Conan since 2013 during which over 1.3 million people have played. The newest entry to the series is Escape From the Scarlet Investigation (Blood Task Force).


Five previous escape games make a return this year including Escape From the Orient Express (2014), Escape From the Magical Castle (2015), Escape From the Black Assassin (2016), Escape From the Final Public Examination (2018), and Escape From the Navy Blue Art Museum (2019). Each features a completely original story set in the world of Detective Conan.

©青山剛昌/小学館・読売テレビ・TMS 1996
©青山剛昌/小学館

Information

Escape From the Scarlet Investigation (Blood Task Force)

Japanese Title:「緋色の捜査網からの脱出」

Release Date: 2021

Details:  https://realdgame.jp/conan2020/

Escape From the Orient Express

Japanese Title:「オリエント急行からの脱出」

Tokyo
Venue: Tokyo Mystery Circus
Running: August 4, 2021 – September 12, 2021
Details: https://mysterycircus.jp/events/8933

Aichi
Venue: Real Dasshutsu Game Nagoya (formerly Nazo Complete Nagoya)

Running: September 2, 2021 – September 20, 2021
Details: https://www.scrapmagazine.com/nazocomplex/events/orient_express2021/
 

Escape From the Magical Castle

Japanese Title:「奇術城からの脱出」

Tokyo
Venue: Real Dasshutsu Game Kichijoji
Running: August 19, 2021 – September 5, 2021
Details: https://www.scrapmagazine.com/nazobldg_kichijoji/events/2021conan3/
 

Escape From the Black Assassin

Japanese Title:「黒き暗殺者からの脱出」

Aichi
Venue: Real Dasshutsu Game Nagoya (formerly Nazo Complete Nagoya)

Running: July 29, 2021 – August 29, 2021
Details: https://www.scrapmagazine.com/nazocomplex/events/assassin2021/

Tokyo
Venue: Real Dasshutsu Game Kichijoji

Running: September 15, 2021 – October 24, 2021
Details: https://mysterycircus.jp/events/8934
 

Escape From the Final Public Examination

Japanese Title:「公安最終試験からの脱出」

Aichi
Venue: Real Dasshutsu Game Nagoya (formerly Nazo Complete Nagoya)

Running: August 26, 2021 – September 26, 2021
Details: https://www.scrapmagazine.com/nazocomplex/events/project_zero2021/
 

Escape From the Navy Blue Art Museum

Japanese Title: 「紺青の美術館からの脱出」

Tokyo
Venue: Real Dasshutsu Game Kichijoji

Running: September 9, 2021 – September 26, 2021
Details: https://www.scrapmagazine.com/nazobldg_kichijoji/events/2021conan7/

The Promised Neverland Escape Game Has You Running Away From the Forest Demons

Japanese real-life escape game creative company SCRAP is set to open a new game in collaboration with the anime series The Promised Neverland. Titled "Escape from the Demons' Forest," the game will open in seven cities across Japan on July 8.

Escape game bring people together in a themed space where they have to solve puzzles in order to escape. Players of this new game take on the role of one of the special children to be eaten like Emma, Ray, and Norman. They must work alongside the characters while avoiding the demons guarding the area. If you've always wanted to feel like you're in the world of The Promised Neverland, this immersive experience is on way of getting there.


SCRAP has collaborated with The Promised Neverland before, with their 2019 game receiving the Best Event Award for its original story and level of immersion. The new game is sure to be a similar experience, with newly-recorded voice lines for Emma, Norman, and Ray who players will interact with.

Players who book a ticket in advance can also receive a special message in a bottle.

©白井カイウ・出水ぽすか/集英社・約束のネバーランド製作委員会
*「リアル脱出ゲーム」は株式会社SCRAPの登録商標です。

Information

Escape From the Demons' Forest

Japanese Title:「人喰いの森からの脱出」

Duration: 60 minute
Players: 1-4

Location: SCRAP venues in Japan

Tickets: Now on Sale

Official Website: https://realdgame.jp/neverland2021/

Demon Slayer: Kimetsu no Yaiba Escape Game Launches in Japan

Real-life escape game creative company SCRAP launched a new escape game on Monday in collaboration with the anime series Demon Slayer: Kimetsu no Yaiba.

Demon Slayer: Kimetsu no Yaiba – Escape From the Demon Infested Natagumo Mountain | ¥3,400 (Tax Included)

'Escape From the Demon Infested Natagumo Mountain' is a collaboration between SCRAP's immensely popular 'Real Dasshutsu Game' escape game series which has been experienced by over 8.2 million people and Demon Slayer: Kimetsu no Yaiba, the anime series that has taken the world by storm when it aired in 2019. Its popularity surged once again with the release of the anime film Demon Slayer: Kimetsu no Yaiba the Movie: Mugen Train last year, and the hype is set to continue when the second season of the anime begins airing this year.

This escape game is available to buy online at SCRAP GOODS SHOP as well as their stores. It's an easy to use kit which only requires the use of a smartphone, PC, or tablet. Players can play with as many people as they like from the comfort of their own home.

The game is inspired by the battle between Tanjiro and the Lower Rank 5 Demon Rui on Natagumo Mountain. Players form part of the Demon Slayer Corps and must use the documents provided to solve riddles in order to defeat the demons.

The escape game features many characters from the series including completely new recordings by the actual voice cast for Tanjiro, Zenitsu, Inosuke, Tomioka, Shinobu, Kagaya, Rui, and the Kasugai Crows.

Merchandise Line-Up


SCRAP has also released a collection of original merch illustrated by ufotable, the studio that animates the series.

Sticker Set ¥300 / Folder ¥1,000 / Folder Set ¥4,000 / Pins ¥500 Each / Key Rings ¥800 Each / Wooden Stands ¥1,500 Each / Memo Pad ¥800 / Bath Towel ¥3,000 (Tax Included)

Bonus Item


Nezuko Wooden Box

A bonus wooden Nezuko box with a puzzle inside is also available which comes with a limited-edition Nezuko pin. Available for an extra ¥3,000.

The game is available in Japanese only. Do you have what it takes to escape from Natagumo Mountain?

©吾峠呼世晴/集英社・アニプレックス・ufotable

©SCRAP

Information

Demon Slayer: Kimetsu no Yaiba – Escape From the Demon Infested Natagumo Mountain

Japanese Name: リアル脱出ゲーム×鬼滅の刃 鬼棲まう那田蜘蛛山からの脱出

Order Window: May 27, 2021 – August 28, 2021

Shipping: From June 3, 2021

Play Window: June 10, 2021 – November 28, 2021

Available: SCRAP GOODS SHOP / SCRAP Stores

Official Website: https://realdgame.jp/kimetsu/

Summer Time Rendering Manga Series Themed Escape Game Announced

Japanese escape game creative company SCRAP has announced a brand new game in collaboration with Summer Time Rendering, a manga series written and illustrated by Yasuki Tanaka which concluded in February this year. An anime adaptation for the series has been green-lit.

Shueisha describes the manga's story: "Upon hearing of Ushio's death, Shinpei returns to his hometown of Wakayama City on Hitogashima and reunites with his childhood friend's family. The funeral goes smoothly, but under the surface something strange is brewing on the island. What mysteries await him on this secluded summer island?"

SCRAP's escape game will take place on Tomogashima, an island located in Wakayama which inspired the setting of Summer Time Rendering. Taking place for one day only on July 22, the game will have players solving puzzles and mysterious around the real-life island in order to escape. The game is limited to just 50 groups and a maximum of 100 people. Applications are open now until April 26 and players will be selected randomly.

©田中靖規/集英社

Information

Escape From the Isolated Shadow-Cast Island

Japanese Game Name: 影潜む離島からの脱出

Application Window: April 2, 2021 – April 26, 2021 at 23:59

Date: July 22, 2021

Location: Tomogashima, Wakayama-shi, Wakayama Prefecture

Event Details: https://www.shonenjump.com/p/sp/2021/summer_reald/

Mr. Osomatsu Escape Game Releases Original Merchandise Collection

Japanese escape game developer company SCRAP released a new collection of original and exclusive merchandise based on one of its Mr. Osomatsu themed escape games. The escape game was created in collaboration with the anime's third season.

The merch at a glance

Bonus items for those who book advance tickets

The escape game, which is called "Escape From the Black Market Empire," features an original voiced story that has players using their smartphones to communicate with the six Matsuno siblings. They must work with them to help repay their debt.

The merchandise collection includes plenty of must-grabs for fans like folders, stickers, tote bags, and more. And there's some bonus items for those who buy an advance tickets.

©赤塚不二夫/おそ松さん製作委員会 ©SCRAP

Mr. Osomatsu Themed Escape Game Begins Across Japan

Japanese escape game developer company SCRAP, who has welcomed more than 7.4 million players worldwide to its iconic escape games, is now holding a game themed on the popular TV anime series Mr. Osomatsu.

The game is titled "Escape From the Black Market Empire" and features an original voiced story that has players using their smartphones to communicate with the six Matsuno siblings. They must work with them to help repay their debt. It is taking place at SCRAP branches across Japan including in Kichijoji, Nagoya, and Osaka, each of which has been decorated with posters signed by seven members of the anime's voice cast.

The escape game's official website also posted a commercial that's worth checking out featuring newly-recorded lines from the iconic sextuplets.

Bonus Merch

Bonus merch for participating in the game includes:
・Champagne glass
・Coaster
・Business card
・Business card case

Original Merchandise (Prices Include Tax)

Hand Towel Set ¥2,000 / Sticker Stick ¥300 / Folder ¥1,000 / Pins ¥500 / Key Rings ¥800

©赤塚不二夫/おそ松さん製作委員会
©SCRAP

Chihayafuru Anime Gets Escape Game at TOKYO MYSTERY CIRCUS

TOKYO MYSTERY CIRCUS, Japan's first and biggest puzzle-themed theme park, has announced the opening of a new escape game based on the popular manga anime series Chihayafuru which will begin at the site on March 4, 2021.

The immersive story-driven escape game has players take on the role of a member of the Fujiyama High School karuta club. While learning the essential points of competitive karuta from Chigaya Ayase and the gang, they must aim for victory to escape. No prior preparations are necessary – players can book their tickets and just turn up on the day.

This unique escape game takes place in a traditional tatami mat room and combines puzzle-solving skills with competitive karuta in which clues are written on the cards. Fans of the manga and anime series are sure to enjoy this immersive game.

Tickets will go on sale on January 23, 2021 at 12:00 (JST).

©末次由紀/講談社

Attack on Titan The Final Season Escape Game Announced at TOKYO MYSTERY CIRCUS

SCRAP has announced the release of a new escape game at TOKYO MYSTERY CIRCUS, Japan's biggest puzzle-themed theme park, in promotion of the final season of Attack on Titan which is now airing. Set to begin on February 25, 2021, the escape game is titled "Escape Game x Attack on Titan The Final Season: Escape From the 5 Titans."


This marks the fifth Attack on Titan themed escape game to be held. Players will become a member of the Survey Corps and worked with Levi, Mikasa, and other characters to face off against five Titans. The immersive story will have players feeling like they are really in the world of the anime series.

The key to this escape game is the map provided to players which they must used together with other items to assemble a diorama map of Marley. They will then use their completed diorama to their advantage in order to escape.

The escape game is a celebration and mark of Attack on Titan's final season and a must-experience for fans in Japan.

©SCRAP
©諫山創・講談社/「進撃の巨人」The Final Season製作委員会」

Information

Escape Game x Attack on Titan The Final Season: Escape From the 5 Titans
Location: TOKYO MYSTERY CIRCUS
Running: Febrauary 25, 2021 – April 25, 2021

Nazo Complex Nagoya
March 25, 2021 – April 25, 2021
June 30, 2021 – July 25, 2021

Osaka Himitsukichi Of Scrap
May 13, 2021 – June 27, 2021

Ajito Of Scrap Sapporo
July 2, 2021 – August 1, 2021

Ajito Of Scrap Sendai
April 29, 2021 – June 13, 2021

Ajito Of Scrap Okayama
April 29, 2021 – May 30, 2021

Nishitetsu Hall Fukuoka
April 29, 2021 – May 5, 2021

Event Website: https://realdgame.jp/shingeki_2021/

Online Pokémon Escape Game Launches in Promotion of Pokémon the Movie: Secrets of the Jungle Anime Film

SCRAP launched a new online escape game entitled "Escape From the Mystery Pokémon Jungle" on November 14, 2020 in promotion of the upcoming anime film Pokémon the Movie: Coco which will be released in Japan on December 25, 2020. The film will also be released in the US in 2021 under the title Pokémon the Movie: Secrets of the Jungle.


SCRAP is a Japanese company that specialises in the creation of escape games. Since the outbreak of the pandemic, SCRAP has been hosting online escape games for people around the world. It has collaborated with Pokémon every year since 2013, with 300,000 participants having played the games collectively. This new escape game has players watching a video on the game's official website while using a pen and paper to solve the puzzles and mysteries of the Mystery Pokémon Jungle.

Players can download and print the materials they will need for the game from the website. This will be their puzzle-solving kit which includes gimmicks of its own that will require assembly with tape. And since the game can be played at any time, players can choose what time works best for them when they have a free slot in the day.

The game offers a selection of different courses including two different two-person standard courses as well as a lighter family course for parents to play with their children.

The escape game is a great way to celebrate the upcoming and highly-anticipated release of Pokémon the Movie: Secrets of the Jungle.

©Nintendo・Creatures・GAME FREAK・TV Tokyo・ShoPro・JR Kikaku
©Pokémon
©2020 Pikachu Project

TOKYO MYSTERY CIRCUS Announces Escape Game Based On J-Pop Group Perfume

TOKYO MYSTERY CIRCUS, the world's first and Japan's biggest puzzle-themed theme park, has announced a new escape game centred on the Japanese pop group Perfume. Titled "Escape From The Room Next To Perfume," the game is set to hit the indoor theme park on September 22, 2020.

An escape game is a real-life interactive experience that has players solving puzzles to escape a room. The story of the Perfume game puts players on the same team as Perfume. As players wait in anticipation, an LED display made to look like a window opens to reveal the Perfume members, who greet players and encourage them on their escape. And so begins the game.

There are various items and pieces of information in the room for players to solve the puzzle, including dance poses by Perfume which give hints for the next step. It's an interactive experience that makes it feel like Perfume are really there with you.

Perfume fans can get their hands on a range of exclusive merchandise too, like a sticker set, folder, and message cards. These items will be sold at the TMC GOODS SHOP at Tokyo Mystery Circus as well as the online stores SCRAP GOODS SHOP and Perfume's own A!SMART.

Information

Escape From The Room Next To Perfume

Start Date: September 22, 2020

Location: TOKYO MYSTERY CIRCUS
Address: APM Bldg., 1-27-5 Kabukicho, Shinjuku-ku, Tokyo

Official Website:  https://mysterycircus.jp/perfume/

Online Japanese Haunted House Horror Game to Terrify On Zoom Live Call

Japanese escape game creative company SCRAP has announced a new online haunted house experience which will have players utilising Zoom to escape from a cursed home. The experience will be launched on September 11, 2020.

The online game is an entirely new experience developed by SCRAP in collaboration with Hirofumi Gomi, a producer of haunted houses across Japan as well as Tokyo Dome City Attractions. The game's story sees players' underclassman Utsumi searching for you inside a particular house which is rumoured to be haunted.

Players are put into a team of 1 to 7 people and use Zoom or LINE to give directions to the rest of the cast. Players must work together and with the in-game cast to uncover the hidden malice behind the house and escape. It's an interactive game that will plunge players into a scary experience they won't soon forget.

Information

Escape From the House of Cursed Mirrors (Japanese Title: 呪い鏡の家からの脱出)
Tickets: On sale from September 6, 2020 at 10:00 (JST)

Start Date: September 11, 2020

Time: 60 minutes

Groups: 1-7 people

Service: Zoom or LINE

Official Website: http://realdgame.jp/noroi_kagami/