Onitsuka Tiger x Shu Uemura Announce Unisex Sneaker and Cosmetic Collaborations
Japanese fashion brand Onitsuka Tiger and professional makeup artist brand Shu Uemura have joined up to release a new pair of collaborative sneakers and line of cosmetic products.
Since their individual establishments, both Onitsuka Tiger and Shu Uemura have hailed as pioneering brands from Japan, cementing their names across the globe. Together, Onitsuka Tigerーa brand which fuses heritage and innovation around fashion and sports in their contemporary collectionsーand Shu Uemuraーa company which inspires the millennials to bring out their unique and inner beautyーhave collaborated to release a pair of sneakers as well as 11 cosmetic items.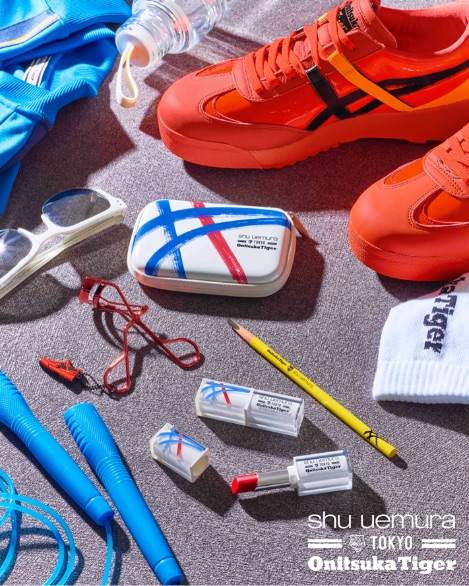 The new sneakers by Onitsuka Tiger are a new model that take inspiration from the company's DELEGATION EX™ pair which released back in 1964 and were worn by Japanese sports players back then. Glossy enamel has been added to bring to mind cosmetics, and matte has been used to create smooth calves. Tokyo Red is used for the colouring. The mid soles have volume and are made with spongy FLYTEFOAM™ Propel, ensuring comfort. Both ends of the spare laces, which are also Tokyo Red, bear the brand logos. The overall design screams active and urban sporty.

Unisex Shoes – ¥17,000 (Before Tax)
Shu Uemura's new collection of 11 items is made up of five different cosmetic products which come in Onitsuka Tiger's iconic key colours: Tokyo Red, Energy Orange, Indigo Blue, and others. They also bear Onitsuka Tiger's stripes. The cosmetics elicit stylishness and an energetic mood.
The new Onitsuka Tiger shoes were released on May 1, 2020 at select stores and online shops both inside and outside Japan.
RELATED ENTRIES
Reebok Promotes Contemporary Street Culture Scene with 'CLUB C WILD REMIX' Video

Global fitness brand Reebok released its new 'CLUB C FVS' model sneakers on Monday (February 15). The suede-woven shoes make up part of the brand's CLUB C series which first released back in 1985.

Reebok released a video entitled 'CLUB C WILD REMIX' on YouTube on Monday in promotion of the new models. The video is themed on aspects of contemporary street culture such as fashion, music, dance, and skateboarding. It features appearances of eight up-and-coming creators to the tune of the popular Japanese song Get Wild, a track that was a hit in Japan back in 1980, the same era as when CLUB C first dropped.

CLUB C WILD REMIX

The 'CLUB C WILD REMIX' is a new arrangement of the popular song Get Wild, remixed for eight individual videos by each of the aforementioned creators, all of which are strung together in the video. The video also incorporates 80's retro-style animation, CG, live-action, video game aesthetic, TikTok dances, and more. All of this comes together to form a nostalgic amalgamation of that 80's retro vibe and modern street culture.

shigge (Music Arranger) | Comment

"CLUB C is a Reebok classic. They are the best kicks, even I spent my youth together with them. They have a history and culture, something which I incorporated into my remix of this famous song together with eight talented individuals. It' a remix that prays for the continuation of CLUB C and respects its history as a diverse and unwavering line that expresses new ideas."

CLUB C FVS

Originally released in 1985, the Reebok 'Club Champion' model was created to suit the needs of tennis players, focusing on durability and high performance. The late 70's saw the rise of a tennis boom. These shoes evolve the refreshing silhouette and unique look of tennis shoes from performance models to shoes that can be worn in day-to-day life. In the 80's, Reebok's Club Champion created the basic white sneaker trend, something which continues today.

The Line-Up (Prices Include Tax)

CLUB C FVS – From Top Left: [GX2495] Porcelain・Core Black・Footwear White / [GX2495] Core Black・Core Black・Footwear White – ¥9,900 Each

CLUB C FVS – From Bottom Left: [GX5068] Core Black・Core Black・Chalk / [GX5069] Classic White・Classic White・Chalk / [GX5070] Pantone・Pantone・Chalk – ¥6,990

The CLUB C FVS incorporates vulcanized soles, a process often used in the outer soles of skating shoes that makes the rubber more durable, making them suited to the skater scene. The models take the orthodox CLUB C tennis shoes and turns them into something completely wild and new.

Don't miss out on the new CLUB C FVS drop from Reebok.

©1987 by SUNRISE Music INC. & Jun & Kei Music Publishers, Inc

Information

CLUB C WILD REMIX

Released: February 15, 2021

Where: Reebok Japan Onlne Shop / Reebok Classic Stores (Harajuku/HEP FIVE/DiverCity Tokyo/Abeno HOOP, Tachikawa Tachihi/Yokohama Vivre/Nagoya Minato AQULS) / ZOZOTOWN / Rakuten / Rakuten Fashion / Yahoo! / Locondo / Magaseek / Wowma / ABC-MART Grand Stage / ABC-MART Online 

*GX5068 and GX5069 models exclusive to Reebok's online store and Reebok branches

Porudct Page: https://reebok.jp/classic/clubc/

Onitsuka Tiger Reveals Spring/Summer 2021 Collection

Japanese fashion brand Onitsuka Tiger has revealed its 2021 Spring/Summer Collection which combines fashion with sports, heritage, and innovation.日

Look Book (Excerpt)

Shoes

The concept for the 2021 Spring & Summer Collection is "The Onitsuka Tiger Attitude" which incorporates the brand's attitude not only into the product details and branding but each and every collection piece. The collection is divided into four themes: "THE SAILING KITE," "THE CLEAN LINES," "THE VINTAGE IS NOW," and "THE WORKING PROGRESS." The line-up is inspired by the blowing winds and the sails of a boat on the ocean.

The shoes fuse elements from Onitsuka Tiger's footwear archive with contemporary designs to create all-new models. The "ACROMOUNT" takes inspiration from the brand's 1970's array combining fabric and leather for a vintage feel. The "DENITGRE," a popular long-selling model which also appeared in the 2020 Autumn & Winter Collection, arrives as a hybrid model in the new "DENITIGRE MX." The "TAI-CHI-REB™️ SOCK MT" features a slim form with embroidered uppers.

The collection's colour palette is a mix of highlight colours like orange and saxe blue as well as black, green, burgundy, and more, capturing that Onitsuka Tiger spirit while infusing into contemporary pieces for a fresh result.

Shu Uemura Drops New Rouge Unlimited Iron Reds Collection

Japanese makeup artist brand Shu Uemura dropped its new limited-edition "rouge unlimited iron reds collection" on New Year's Day. Pre-sales for the  collection opened via the brand's online shop on Boxing Day.

Shu Uemura is inviting people to blast into 2021 with 13 powerful iron red lip shades. This includes 12 colours as part of the rouge unlimited iron reds collection (9 limited-edition, 3 existing) in three textures – Rouge Unlimited, Rouge Unlimited Matte, and Rouge Unlimited Lacquer Shine – and 2 colours of the Rouge Unlimited Liquid Matte (1 new, 1 existing).

Metallic colours designed for Asian skin

The rouge unlimited iron reds collection arrives in three textures as part of Shu Uemura's popular Rouge Unlimited series, from a vivid combination of reds and oranges to deep rusty browns. The colours have a sensual metallic sheen to them which gives them a complex appearance like that of a flame. The colour variation has been designed with Asian skin tones in mind to bring out their beauty.


Rouge Unlimited (3 Limited-Edition Colours/1 Existing) | ¥3,300 Each (Before Tax)

"Metallic" MET OR 555 / "Metallic" MET CR 355 / RD 163 / BR 788

Rouge Unlimited Matte (3 Limited-Edition Colours/1 Existing) | ¥3,300 Each (Before Tax)
"Metallic"  MET M RD 163 / "Metallic" MET M BR 786 / M RD 163 / M BR 786

Rouge Unlimited Lacquer Shine (3 Limited-Edition Colours/1 Existing) | ¥3,300 Each (Before Tax)
"Metallic" / M LS OR 570 / "Metallic" M LS OR 583 / LS RD 198 / LS BR 784

Eye-catching Liquid Rouge ignites


Rouge Unlimited Liquid Matte (1 Limited-Edition Colour/1 Existing) | ¥3,600 Each (Before Tax)
M RD 04 / M OR 01
A long-lasting liquid matte colour that's striking but doesn't run. It comes with a brush inspired by traditional Japanese writing brushes that makes it easy to fit and draw beautiful lip lines.

New Year Limited-Edition "Iron New Year Collection"


Released January 1, 2021

To celebrate the New Year, three of Shu Uemura's signature items have been dressed up in red and liquid gold. These iconic items capture the quality and craftsmanship of Japanese products and arrive in limited-edition packaging for the start of 2021.

Ultime 8 Sublime Beauty Cleansing Oil | ¥11,500 (Before Tax)

Hard Formula (Brown/Acorn) | ¥2,600 Each (Before Tax)

Petal 55 Foundation Brush | ¥6,000 (Before Tax)

Yoon Ahn's AMBUSH x Nike x NBA Collection Launches Globally On December 11

Yoon Ahn is teaming up with Nike and the NBA to release a new apparel capsule collection on December 11, 2020.

As the first female designer to collaborate with the NBA, Yoon, who is the Creative Director at AMBUSH®︎, is serving fresh energy for female fans of basketball this winter.

Nike x AMBUSH NBA Collection: JACKET BK ¥35,000 / PANTS BK ¥20,000 / TOP BK ¥12,500 / JACKAT LA ¥35,000 / PANTS LA ¥20,000 / TOP LA ¥12,500 / BASKETBALL ¥10,000 (All Before Tax)

Yoon has drawn on her multidimensional and multidisciplinary perspective to reimagine Los Angeles Lakers and Brooklyn Nets apparel, from pants to sleeved tops, jackets, and more.

Nike x AMBUSH DUNK HI ¥20,000 (Before Tax)

The apparel line-up also includes the AMBUSH® approach to the iconic Nike Dunk. Channelling Japanese bike, car and truck culture, the shoes are given an elongated and heightened form, with Swooshes extending beyond the heel-like bike pipes.

The Nike x AMBUSH NBA Collection launches globally on December 11, 2020.

YOON | Comment

"The project began with a conversation about making women feel proud to represent their favorite teams. We were considering how to balance the culture of the sport without losing style. I thought of all these amazing and strong female characters from the '90s who would come out in men's clothes, and I wanted to see how we could carry that attitude, but bring in more feminine forms."

VERBAL | Comment

"Yoon is someone who thinks outside the box, and that's the case for DUNK too, which is both simple at first glance and littered with innovative ideas. The ladies NBA capsule collection is a must-check-out too, it has attitude."

One Piece x Shu Uemura Makeup Collection is a Pirate Girl's Dream

The second instalment of the "Shu Uemura x One Piece Collection" finally launched on November 15. The collection was first announced back in September with the first instalment released on November 1.

The special collection is inspired by the brave and heroic Luffy and the Straw Hat Pirates from One Piece, one of Japan's biggest manga and anime franchises. The second instalment welcomes a new collection of highlighters, makeup brushes, and more for the holiday season.

Shu Uemura x One Piece Collection

Fearless Crew Highlighter Gold Feast / Fearless Crew Highlighter Romance Dawn (¥5,000 Each Before Tax)

Smooth, silky highlight powder to accentuate the face. Colours include shining gold which glistens like pearls and sun-basked peach. These highlighters capture the lively energy of Nami and Robin.

Fearless Crew Premium Brush Set (¥6,500 Before Tax) | Includes: Face Brush, Cheek Brush, Eyeshadow Brush, and Eyebrow Brush

The high quality mini brush set includes a face brush, cheek brush, eyeshadow brush, and eyebrow brush. Their small sizes makes them conveniently portable for the party season. They come in a marine blue bag with the Straw Hat Pirates on the front of it.

Petal 55 Foundation Brush (¥6,000 Before Tax)

A high quality Shu Uemura brush with beautiful form and functionality crafted by the brand's makeup artists. Their foundation brushes are very popular for layering the perfect base makeup.

Wanted Gold Eyelash Curler (¥2,000 Before Tax)

Add some volume to those lashes with this golden pair of curlers equipped with a One Piece skull charm.

©Eiichiro Oda/Shueisha, Toei Animation

Onitsuka Tiger Releases New Autumn/Winter Sneakers in Premium Line 'THE ONITSUKA'

Onitsuka Tiger is a Japanese contemporary fashion and sports brand that combines heritage with innovation. Their simple yet timeless "THE ONITSUKA" line features hybrid design dress hoes and sneakers that match every style from casual to formal.

Many of the shoes in THE ONITSUKA line feature shoes with uppers made from internationally-renowned, high-quality leather from Kobe cattle, as well as αGEL Foam soles for high shock resistance and comfort, and shark tooth soles made from rubber sponge for added durability and comfort.


JUMPA Unisex Model | ¥38,000 (Before Tax)

Inspired by ski boots and fitted with a large tongue. Made entirely with Japanese leather.

CHUKKA-S (Men's Model) | ¥43,000 (Before Tax)

Classic chukka boots with hidden laces to give a smart appearance.

BLUCHER MT (Unisex Model) | ¥50,000 (Before Tax), BLUCHER LO (Unisex Model) | ¥48,000 (Before Tax)

Based on the first ever basketball shoes released by Onitsuka Tiger in 1950. The upper features multiple colours and materials to create an original knitted tweed look.

UGG Reveals Colourful New Merchandise in Collaboration With Tadanori Yokoo

Japanese sneaker selection shop 'atmos' and Southern California-based global lifestyle brand UGG® (a division of Deckers Brands [NYSE: DECK]) are teaming up with Japanese graphic designer and artist Tadanori Yokoo to release the colourful new CA805 x Yokoo sneakers along with a capsule collection of apparel featuring his artwork on October 9, 2020 in Japan.




CA805 X Yokoo Self Portrait | ¥20,000 (Before Tax)

  

CA805 X Yokoo Wonderland RED MULTI/PURPLE MULTI/BLUE MULTI | ¥20,000 (Before Tax)

The CA805 sneaker collection is made up of two designs: Self-Portrait and Wonderland II, both of which comes in four different colourful prints.


UGG x Yokoo Tadanori Hoodie | ¥14,000 (Before Tax)

UGG x Yokoo Tadanori Shorts | ¥8,000 (Before Tax)

UGG x Yokoo Tadanori T-Shirt | ¥6,000 (Before Tax)

The line-up also includes unisex T-shirts, shorts, and hoodies featuring famous prints by Yokoo, showcasing the high level and quality of his craftsmanship.

The collection will be released in Japan at UGG@mos, atmos, and atmos pink stores as well as their online shop and at UGG® Ginza and UGG® Japan's online shop on October 9. At UGG@mos, the collection will be available only until October 30.

Information

CA805 x Yokoo Collection
Release Date: October 9, 2020
Availabke: UGG@mos / atmos / atmos pink / atmos online shop / UGG® Ginza UGG® Japan online shop

Official Website: https://www.atmos-tokyo.com/

One Piece x Shu Uemura Collaborate On Colourful New Makeup Collection

Japanese makeup artist brand Shu Uemura's highly-anticipated holiday collection is here. The "Shu Uemura x One Piece Collection" will launch in two parts: the first on November 1 and the second on November 15.

The special collection is inspired by the brave and heroic Luffy and the Straw Hat Pirates from One Piece, one of Japan's biggest manga and anime franchises.

The first part of the collection launching on November 1 welcomes Shu Uemura's popular vivid eyeshadows and iconic lipsticks from the Rouge Unlimited collection while the second part is made up of a variety of face colours, accessories, and more, made specially for the holiday season. Pre-orders for both parts will launch via Shu Uemura's website and select online stores in Japan on October 15, 2020.

Shu Uemura x One Piece Collection

Bright colours and textures inspired by the marine blue ocean, the beaming sun, and treasure—all elements that scream the adventures of One Piece. Shu Uemura invites people to join Luffy on that adventure with this new collection.

Part One

Wanted Treasure Box Eye Palette Grand Line / Wanted Treasure Box Eye Palette Thousand Sunny | ¥8,500 Each (Before Tax)

The Wanted Treasure Box Eye Palette Grand Line comes in a treasure chest-like eye palette case and boasts ten gorgeous colours, which includes numerous new colours and textures like Crushed Stone, Deep Matte, Antique Metal, and Warm Pearl. Inspired by the Grand Line ocean current in One Piece.

Rouge Unlimited Amplified / Rouge Unlimited Amplified Matte / Rouge Unlimited Matte / Rouge Unlimited Amplified Lacquer Shine | ¥3,300 Each (Before Tax) *Includes 9 colours

Each colour is based on one of the special moves performed by characters in One Piece. The colour arrangement is diverse, ranging from colours to make a statement to more casual ones. Wield the power of the Straw Hats wherever you go.

Part Two

Fearless Crew High Rider Gold First / Fearless Crew High Rider Romance Dawn | ¥5,000 (Before Tax)

Smooth, silky highlight powder to accentuate the face. Colours include shining gold which glistens like pearls and sun-basked peach.

Fearless Crew Premium Brush Set | ¥6,500 (Before Tax)

The high quality mini brush set includes a face brush, cheek brush, eyeshadow brush, and eyebrow brush.

©Eiichiro Oda/Shueisha, Toei Animation

Naomi Watanabe Appointed Shu Uemura Ambassador For Launch of 'Rouge Amplified Unlimited' Lipstick

Japanese makeup artist brand Shu Uemura has invited Naomi Watanabe on board as the global ambassador for the launch of the new colour and packaging for their "Rouge Unlimited Amplified" lipstick which will hit shelves on September 16, 2020.

Rouge Unlimited Amplified looks to amplify the user's lip experience with its bold colours. The collection will see a range of updated colours and packaging, including the brown "BR 784 Naomi's redwood."

In the promotion for the lipstick, Naomi Watanabe has donned the "Rouge Unlimited Amplified Matte AM BR 784."

Naomi Watanabe | Comment

"This is a really beautiful colour and gives you a personalised look that you don't see with other lipsticks. You can use it pretty much anywhere, whether at the office or at a party. As long as you wield this lipstick, you can go anywhere, and do anything."

Naomi Watanabe is a fashion icon in Japan, promoting positivity and letting people know they can wear whatever makeup and clothing they like. Her message ties in with Shu Uemura's core concept of individual beauty.

Rouge Unlimited Amplified Matte AM BR 784

The "BR 784 Naomi's redwood" was specially developed to bring out the tones in the skin of those in Asia. It's a tailor-made brown inspired by reddish-brown, a popular colour trend. Adding a reddish tinge makes it contrast well against the skin and makes it possible to wear it on any occasion. The brown hue adds a sense of sophistication and balances out the red, so you can wear it both casually and formally. Four different textures of the "BR 784" are available to purchase.

Onitsuka Tiger Unveils New Visuals with Brand Ambassador Willow Smith

Japanese fashion brand Onitsuka Tiger has appointed global artist Willow Smith as brand ambassador. Together, they have laughed a new brand campaign.

The campaign visuals show Willow in Onitsuka Tigers's 2020 autumn and winter collection. Oniktsuka Tiger's unique heritage and innovative spirit have been fused for a contemporary design. Together with Willow's unique style, the campaign's vision was made complete.

Some of the clothes featuring in the 2020 autumn and winter collection feature a colourful patchwork style ー a fusion of pop art and sportswear. Onitsuka Tiger's creative director Andrea Pompilio, who is director of this campaign stated:

"In this generation, we have to focus on what is happening in the world – the pressing issues such as environmental protection and saving our planet. This campaign shows Willow's natural beauty, her strength, her indomitable spirit and never-ending love for the planet. "

Onitsuka Tiger's communication team commented:

"Willow Smith is blessed with her creativity that reaches out to all of humanity. Her boundless influence is not restricted to generation Z or millennials. As 2020 heralds a new generation, we are so happy to be working in such natural harmony with Willow Smith, whose intelligence and strong faith in her opinion deliver our message to the world.

Onitsuka Tiger with Willow Smith – Official Video

 

A Statement by Willow Smith


"When working with Onitsuka Tiger, I found we were soon on the same page. We supported each other and accomplished our goal of inducing positive change in society by creating our vision. I can't wait to see just how we continue to shape the future together."

The new campaign visuals are going to be released globally on a number of platforms, including Onitsuka Tiger's official social media, from June 6, 2020. A portion of the money raised from the campaign will be donated to the NAACP Legal Defense and Educational Fund, Inc.

*All statements have been translated from Japanese.

Shu Uemura to Release 100 New Pressed Eye Shadow Colours

Shu Uemura has revamped its Pressed Eyeshadow collection and is releasing 100 colours on June 19, 2020.

6 textures add further shape and depth to Asian eyes

Six textures have been developed for the 100 different colours specifically to further elevate the beauty of the eyes of Asian people. The combinations are diverse, allowing buyers to find their own tailor-made colour.

Pressed Eye Shadow: ¥2,300 Each (Before Tax) *Refill

The gorgeous colours are made from pigments sourced in Japan. The colours are well compatible with the skin and leave you with beautiful eye makeup all day long. Pre-sales for the new eye shadows as well as eye shadow cases went live on Shu Uemura's official online shop on June 1.

Your 2020 Summer Makeup: The Shu Uemura x Onitsuka Tiger Collection


Beyond The Limit Eye Pallete: ¥8,500 (Before Tax)

The "Beyond The Limit" eye palette is a collection of summertime colours to energise your mood and give you a playful look this summer.

Deep, Blood Red Lipstick


Rouge Unlimited Matte M RD 163 Red Boost: ¥3,300 (Before Tax)

The product to look out for is the Rouge Unlimited Matte lipstick that glides smoothly onto your lips and lasts all day. This highly-pigmented lipstick adds dimension to your look.

In a time where many people are having to wear face masks right now, make your eyes stand out beautifully even more with Shu Uemura's new Pressed Eye Shadow line-up.

Information

Pressed Eye Shadow
Pre-Orders: June 12, 2020

Release Date: June 19, 2020

Official Website: http://www.shuuemura.jp

Yutaro Features in PUMA's Promotional Material For 80's Fast Rider Sneakers

Inspired by their Fast Rider sneakers from the 80's, PUMA has forged two new models of the running shoes: the Future Rider Ride On and Style Rider Ride On. A special website went live in Japan featuring Japanese actor and model Yutaro as the model for promoting the sneakers.

The new models feature a cool and fun street style design for the new generation while retaining but revamping that retro look. Yutaro, who began his career from the age of 15 working in a second-hand clothing store and eventually went into modellingーand this year featured in the Japanese drama series Sherlockーdons the Ride On's and walks the streets of Tokyo in the photo shoot wearing outfits co-ordinated by himself.

In an interview for the promotion, Yutaro looked back at the complexes and indifferent personality of his past and how he grew as an individual after getting into modelling and working. He said his world became more colourful like the Ride On sneakers.

Future Rider Ride On

These sneakers feature an iconic pop style combining vibrant colours like neon green, red, and blue. The lightweight uppers are made from ripstop nylon with a suede overlay an minimum padding. The mid soles are made from the new Rider Foam which has high resilience. The outer soles and TPU stabilisers are made with superior comfort and stability in mind.

Style Rider Ride On

The eye-catching blue Style Rider Rider On's are made with TPU gel and boast an upfront fun street style. These sneakers are also made with the newly-developed Rider Foam on the mid soles. The thick mid soles are lightweight and cushioned, and the sneakers enjoy a strong grip.

Both styles have ridden the wave of generations to reappear in current times. Be sure to check out the special website featuring more content with Yutaro and Riders.

Information

Future Rider Ride On

Price: ¥9,000 (Before Tax)
Stock No.: 372838
Colours: 1

Style Rider Ride On

Price: ¥11,000 (Before Tax)

Stock No.: 372839
Colours: 1

Now available at PUMA stores, the PUMA online store, and select stores in Japan.

PUMA RIDER Special Website: https://puma-rider.com/ 

Yutaro Official Website: https://asobisystem.com/talent/yutaro/