Snoopy Roomwear Releasing in Collaboration with gelato pique
Japanese roomwear company gelato pique is collaborating with the popular Peanuts comics to release a new Snoopy themed collection on May 14, 2020. The summer line-up is inspired by 70's and 80's colours blended into soft attire that feels super good on the skin for lounging about your home in.
′SMOOTHIE' LOGO KNIT
Jagged Parker – ¥7,200 / Jagged Short Pants – ¥4,800 (All Before Tax)
These two items are made from gelato pique's popular "SMOOTHIE" fabric which is soft to the touch. They feature a pop design with Snoopy logo'd on the front.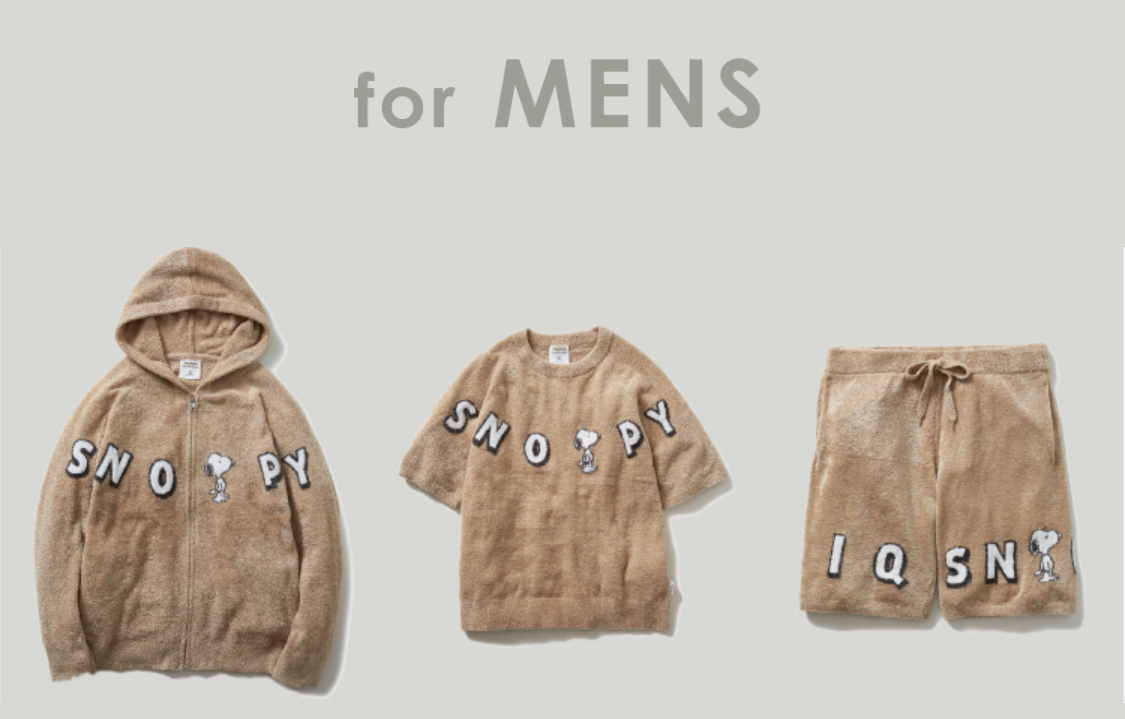 HOMME Jagged Parker – ¥8,200 / HOMME Jagged Pullover – ¥7,400 / HOMME Jagged Pants – ¥6,000 (All Before Tax)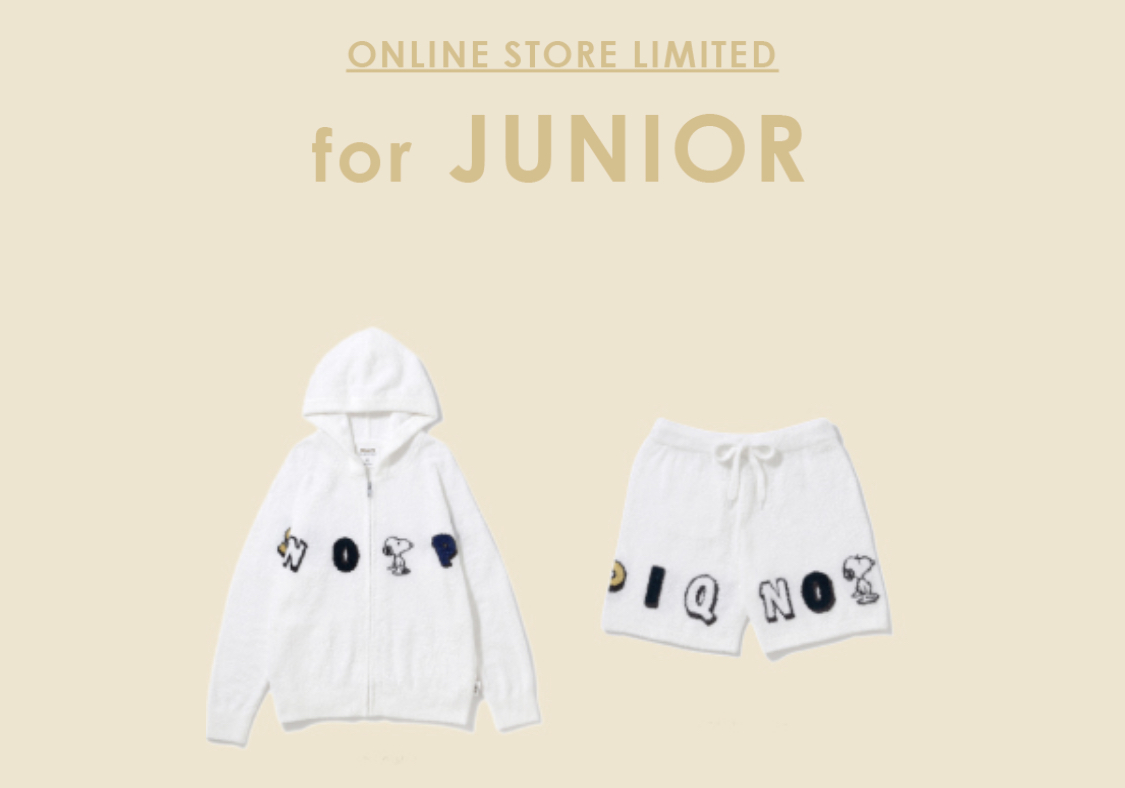 Jagged Junior Parker – ¥6,400 / Jagged Junior Short Pants – ¥4,400 (All Before Tax)
The collection also features men's sizes with chic colours as well as junior sizesーthe latter of which is exclusive to online orders.
PRINTED SHIRTS PAJAMA
Shirt – ¥6,200 / Short Pants – ¥4,400 / Room Shoes – ¥3,200 (All Before Tax)
Featuring patterns all over, this individual item set is perfect for the spring and summer season. Each piece is made from a mix of recycled cotton that make it feel super comfortable to wear.
HOMME Shirt – ¥6,400 / HOMME Half Pants – ¥5,400 / Shirt – ¥6,200 / Short Pants – ¥4,400 (All Before Tax)
There men's sizes of this set too so it's perfect as a pairing gift.
Merch For Snoopy Fans
SLEEP Tissue Case – ¥4,800 (Before Tax)
Eco Cup – ¥1,000 (Before Tax)
There's also a selection of merchandise that Snoopy fans will love including a tissue box cover, eco cup, and more. Who better to spend your time with at home during the lockdown than Snoopy?
© 2020 Peanuts Worldwide LLC
RELATED ENTRIES
Snoopy Tea Brand SNOOTEA Launches Chocola Tea for the Holidays

Since its start in 2007, the Snoopy tea brand SNOOTEA has remained popular with Peanuts fans and tea fans alike. Typically, the brand has sold black tea in cute tins featuring Snoopy and his friends.

Starting November 7, fans can purchase a special Chocola tea made by tea blender Shuntarou Kumazaki. Blended to suit Japanese water and inspired by the world of Peanuts, it promises to be the perfect flavor for the holidays.

Made with cacao nibs, the flavor of standard black tea is punctuated with a chocolate aroma. The tea leaves themselves come from India, Sri Lanka, and Kenya, and are blended together in a balanced way to create an appealing taste that will have tea lovers coming back again and again. This blend is also perfect for making milk tea, and fans can even add whipped cream and marshmallows. This tea also goes well with strawberries, oranges, bananas, and other fruits, as well as nuts!

Snoopy and his friends dressed in winter attire will appear on each tin, adding to the festive holiday spirit. On the online store, customers can also find Darjeeling, Earl Grey, Apple Tea, and other varieties.

© 2022 Peanuts Worldwide LLC

Super Mario Apparel and Home Decor Now Available from gelato pique

Popular loungewear brand gelato pique will begin selling items from the Happy Mario Home Collection, the third installment of the SUPER MARIO meets GELATO PIQUE collection, on November 10. 32 items will be available at gelato pique stores nationwide, the official USAGI ONLINE store, and official Nintendo stores in Tokyo and Osaka. 

 

On November 4, the official gelato pique online store USAGI ONLINE launched a special page dedicated to Super Mario. 

Jacquard Pullover & Long Pants Set

Jacquard Shawl Cardigan

Patterned Shirt & Long Pants Set

Hoodie and Long Pants Set

[Bedding] (Single) 3-piece Set / BABY MOCO Jacquard Blanket

Snack Bowl & Mini Tongs Set / Cup

Patterned Pouch / Hand Towel & Pouch Set

BABY MOCO Series

Decorate your home and deck yourself out in your favorite Super Mario characters!

Information

gelato pique's Happy Mario Home Collection

Release Date: November 10, 2022

Where to Buy: gelato pique locations nationwide: https://gelatopique.com/Page/shoplist.aspx

[USAGI ONLINE STORE] Laforet Harajuku / Yokohama Joinus / Shinsaibashi PARCO / Naha Main Place / Entetsu Department Store / Toyota / Keihan Mall Kyobashi / Akita OPA


[Nintendo TOKYO] [Nintendo OSAKA] https://www.nintendo.co.jp/officialstore/

A portion of the collection will be sold at the Tokyo and Osaka Nintendo stores.

Nintendo OSAKA will begin selling items from the collection on opening day, November 11.


The World of Peanuts to Take Over Grandberry Park this Winter

The limited-time Christmas event 'SNOOPY Merry Colorful Christmas' will be held at the Grandberry Park shopping mall from November 12 until December 25, 2022. The complex is directly connected to Manami-Machida Grandberry Park Station on the Den-en-toshi Line. 

This year's event is the most colorful one yet, focusing on diversity and individuality. Fans of Snoopy and friends are in for a treat, as the area around Grandberry Park will be illuminated in beautiful colors and decorated with unique Christmas decorations that will excite the whole family. 

Colorful Sculpture

Colorful Illuminations

Snoopy Ice Rink

Snoopy Happiness Float 2022

During the event period, a giant 8-meter-tall Christmas tree decorated with Peanuts-inspired ornaments will be set up for guests to enjoy. A huge and very colorful sculpture measuring 6 meters across and over 2 meters tall will also welcome visitors to this Christmas wonderland. In addition, colorful lights will be scattered around the entirety of Grandberry Park, and a special Christmas menu filled with cakes and hors d'oeuvres is sure to delight.

On December 10, the Snoopy Ice Rink will open at Oasis Plaza, and the Snoopy Happiness Float 2022, a giant Snoopy that has traveled across Japan, will return for another year of fun.

Come have a fun time this holiday season with Snoopy and friends! A series of events will be held over the next year to market the Colors of Peanuts marketing campaign throughout the country, so keep an eye out for more news!

*Sample images only.

gelato pique Releases Chip 'n Dale Bedding Collection

Chip 'n Dale will appear in a new bedding collection from the roomwear brand gelato pique! As part of the gelato pique Sleep collection, the adorable chipmunks will appear on a number of new products inspired by the theme of 'getting ready for bed.' Fans of the characters won't want to miss the body pillow, nightcap, pillowcase, and other products sure to liven up your bedroom and sleep routine!

Merch Lineup

Chip 'n Dale / 3-piece Set (Single)

Chip 'n Dale Jacquard Cover

Chip 'n Dale Jacquard Pillowcase

Chip 'n Dale Nightcap

Chip 'n Dale Body Pillow

 

The products will go on sale on the official site and online department store USAGI ONLINE starting on September 20, 2022 at 12:00 PM. They will also be available to purchase in select stores starting October 14.

GELATO PIQUE HOMME Limited Concept Store Opens at Hankyu Men's Tokyo for Father's Day

Men's roomwear brand GELATO PIQUE HOMME will open a limited-time concept store at Hankyu Men's Tokyo from June 15 until June 21, 2022. 

The store will offer a wide variety of items, including light and comfortable loungewear perfect for summer and unisex items perfect for partners. In addition, GELATO PIQUE x BE@RBRICK collaboration items will also be available for purchase. 

Popular around the world, Medicom's BE@RBRICK figure can now be purchased in full Gelato Pique loungewear, with customers able to choose between 400% and 1,000% sizes. Shoes are also available for each figure.

The summer collection includes soft and lightweight items perfect for the heat, including sweatshirts, long pants, and ultra-thin shirts.

Hand soap and face wash will also be available. Gelato Pique Homme's original citrus mint blend is made with bergamot and patchouli essential oils sourced from France.

Come pick up some of these items, perfect for Father's Day!

Information

GELATO PIQUE HOMME LIMITED CONCEPT STORE
Running: June 15 – June 21, 2022
Address: Hankyu Mens Tokyo Main Base, 1F (2-5-1 Yurakucho, Chiyoda-ku, Tokyo)
Hours: 11:00-20:00
*Business days and hours are subject to change.

GELATO PIQUE HOMME Official Site: https://gelatopique-homme.com/

Gelato Pique Announces Collaboration with Twin Pandas Xiao Xiao and Lei Lei

The Japanese loungewear brand gelato pique has launched a new series inspired by the twin pandas Xiao Xiao and Lei Lei living at Ueno Zoo! The adorable new items went on sale on May 12, 2022. 

The Ueno Zoo is the oldest zoo in Japan. Located in Taito-ku, it was first opened in March 1882.

To commemorate Xiao Xiao and Lei Lei's first birthday, gelato pique has created an incredible collection of loungewear and sundries. A portion of the proceeds will be given to the Giant Panda Conservation Support Fund to support education regarding pandas and conservation activities at the zoo.

Xiao Xiao & Lei Lei Collaboration

Roomwear Set

Panda Blanket

Panda Multi-use Cover

gelato pique Original Panda Series

Panda Hoodie & Shorts Set

Panda Print T-Shirt / Shorts / Dress

Panda Glass

Small Panda Reuseable Bag

Online Exclusives

3-piece Panda Set

gelato pique Sleep

3-piece Panda Print Bed Set (Single) / Pillow Case with Panda Ears / Panda Nightcap / Panda Rug

The Panda Series celebrates both the cute twin pandas at Ueno Zoo and all other pandas around the world. Still an endangered species, gelato pique wants to help these big animals however they can. The new collection's theme is "happy time at home."

Panda lovers shouldn't miss grabbing something cozy from this new collection!

Limited Edition Easter Bunny Sweets Available at gelato pique café

From March 25 until April 27, gelato pique café locations around Japan will be celebrating Easter with three special Easter Bunny-themed sweets.

Easter Bunny Crepe

Easter Bunny Gelato

Easter Bunny Float

Last year, gelato pique café released an Easter Bunny soft-serve ice cream dish which was incredibly popular. In 2022, the brand has decided to release three unique treats under the theme of 'Happy Bunny Hunt.' Those with a sweet tooth can snag a crepe, gelato, or float during the event period, all decorated with white and pink shades perfect for spring. 

Information

Happy Bunny Hunt

Running: March 25 – April 27, 2022
Location: All gelato pique cafe locations

Official Site: https://pique-cafe.com/

Gelato Pique Releases Bunny-themed Easter Collection

Roomwear brand gelato pique has released a new Easter collection, complete with a bunny rabbit motif! The Innocent Bunny Collection is now available at participating stores nationwide, as well as the gelato pique online store.

Fluffy Bunny Series

Bunny Series Goods

Easter Satin Series

"The soft fur makes it feel like you're holding a rabbit in your arms!" 

A full lineup of roomwear and other items are available, including slippers, eye masks, makeup pouches, and plushies. Celebrate the spring season with these soft and adorable items!


Peanuts Cafe Offering Love-Themed Seasonal Menu

Peanuts Cafe Nakameguro and six other locations have begun selling love-themed desserts and drinks for a limited time! Be sure to stop in by March 14 to try these tasty treats based on your favorite characters.

Lucy's Ruby Chocolate Mousse / Sally's Pink Dress Hot Chocolate

Love Each Other Special Donut

Love Each Other Latte Art

USHIO CHOCOLATL Collaboration Chocolate

Love Each Other Chocolate Brownie

 

Join Snoopy, Lucy, Sally, and other Peanuts characters as they express love for their family and friends. Guests ordering one of these love-themed desserts or drinks will receive a special paper lunch mat perfect for posting on social media!

(C) 2022 Peanuts Worldwide LLC (短縮形 (C) 2022 Peanuts)

Gelato Pique Cafe Now Serving Valentine's Day Chocolate Sweets

From January 19 until February 15, gelato pique cafe is selling four chocolate-based treats for Valentine's Day! The theme of this new menu is 'Melt,' and guests are asked to enjoy the richness of melting chocolate during this sweet season.

 Fondant Chocolat Crepe (Dine-in: ¥980 / Take-out: ¥970)

This crepe is topped with chocolate fondant that melts into a warm chocolate sauce inside. The chocolate whipped cream is combined with Royal Bourbon gelato, accented with blackberry and black currant sauce, and a bit of crunchiness from the cookie bits.

Chocolate Crepe (Dine-in: ¥980 / Take-out: ¥970)

This mouth-watering crepe includes plenty of whipped cream and a luxurious fresh chocolate sauce topping. Inside, dark chocolate gelato is mixed with cocoa-flavored chocolate whipped cream. 

Hot Chocolate Chai (Dine-in: ¥640 / Take-out: ¥630)

This hot chocolate is a variation of the popular chai beverage. White chocolate is combined with Assam tea leaves, cinnamon, cardamom, ginger, and cloves for that perfect chai flavor. The sweetness of the hot chocolate is enhanced by the rich spices, giving it a more mature flavor!

Hot Dark Chocolate (Dine-in: ¥640 / Take-out: ¥630)

Extra dark chocolate is only enhanced with a roasted flavor creating a less sweet hot chocolate beverage. Available toppings are less sweet whipped cream, milk chocolate, and chocolate sauce.

gelato pique Releases Adorable Valentine's Day Roomwear

Roomwear brand gelato pique has released a series of new Valentine's Day loungewear featuring adorable heart motifs. These items are available at participating stores nationwide and at gelato pique's official online store.

Item Lineup

'Souffle' Heart Aran Cardigan / 'Souffle' Heart Aran Shorts

 'Souffle' Heart Aran Dress / 'Souffle' Heart Aran Hairband / 'Souffle' Heart Aran Socks

Heart Chocolate Print Shirt / Heart Chocolate Print Pants

Heart Pouch

Heart Chocolate Print Vanity Pouch / Heart Chocolate Print Pouch

Heart Print Hand Towel

 'Souffle' Heart Aran Parker *Online store only

The gelato pique Valentine's Day Collection is made with soft materials and features lovey-dovey motifs. This season, the lineup centers on heart-shaped Aran knitwear and satin sprinkled with assorted chocolates. 

gelato pique Announces First Collaboration Collection with EAMES OFFICE

Popular loungewear brand gelato pique has started selling nineteen new items in collaboration with EAMES OFFICE Los Angeles. These unique pieces are available at participating locations nationwide, the official online store, and USAGI ONLINE.

Geometric Series

Logo Jacquard Series

Chair Motif Series

T-shirts

Pieces include those from the Geometric Series, which uses recycled yarn for environmentally-friendly products, and the Logo Series, which sport the bold EAMES logo across the front. Each item is light and comfortable to fit with the usual gelato pique feel. 

The Chair Motif Series, decorated with famous chairs and birds, is made of 100% environmentally friendly cotton. The T-shirts are also made of recycled material.