Tokyo's New Skin Care Concept Shop SKINCARE LOUNGE BY ORBIS to Open in Omotesando
SKINCARE LOUNGE BY ORBIS is the debut concept shop by Japanese beauty company ORBIS, and it's set to open in Omotesando this summer. The shop's teaser website opened on May 13 where information on its conception, special content, interviews with the company's partners, and more will roll out in the run up to the grand opening.
ORBIS established themselves in 1984, and in 1987 launched their mail-order service. Since then, their mission has been to "create a world filled with people who are true to themselves, think positively, and lead lives of beauty." They believe in the beauty each of us has inside them and want to unlock its full potential.
SKINCARE LOUNGE BY ORBIS aims to have people learning about their own skin and to unlock its full potential. "Feel," "Learn," and "Take" are the keywords of the concept shop.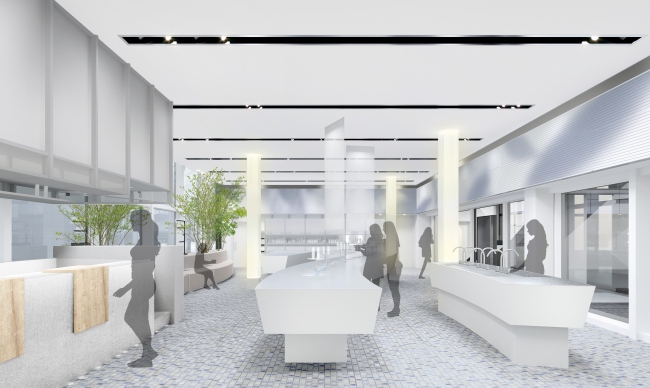 The shop's creative directors are Hisato Ogata, who is a designer and innovator at takram, and Momo Kudo of Tokyo-based architecture and interior design studio MMA Inc. They are also supported by George Amano of GEORGE CREATIVE COMPANY.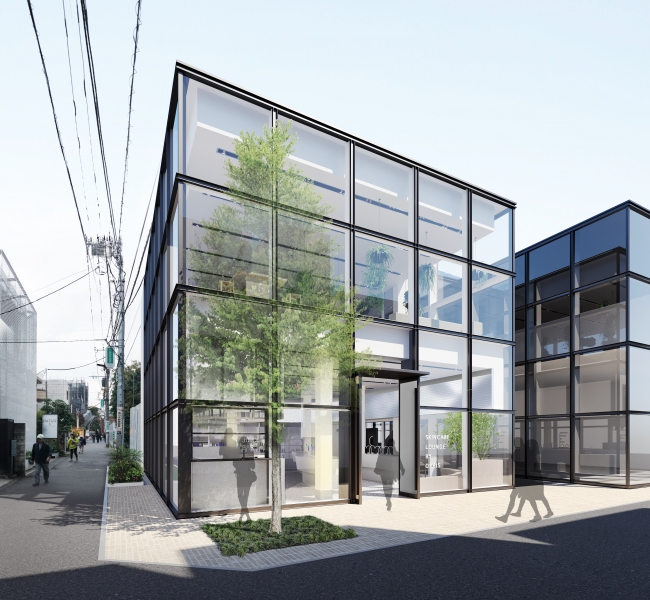 SKINCARE LOUNGE BY ORBIS has two floors. On the first floor, customers are free to test various products as well as learn about the correct way to look after their skin. The second floor offers skincare treatments, workshops, and various private events. You must be a member on the shop's official app and book in advance for the second floor services.
If you're strolling around the Harajuku and Omotesando area this summer, pop into SKINCARE LOUNGE BY ORBIS and learn all there is to know about proper skin care.
Information
SKINCARE LOUNGE BY ORBIS
Address: 5-7-1 Minamiaoyama, Minato Ward, Tokyo
LOUNGE: 10:00 AM-8:00 PM
JUICE BAR: 8:00 AM-8:00 PM
*Please note that the shop is subject to temporary closure
Official Website: http://www.orbis.co.jp/skincarelounge/
RELATED ENTRIES
Masquerade-Inspired Halloween Sweets Buffet Opens in Omotesando

The Strings Omotesando will hold the Violet Masquerade sweets buffet at GRAMERCY HOUSE, a banquet venue on the second floor, on select dates from September 7 until October 27, 2022.

Guests can enjoy a selection of desserts featuring chestnuts, grapes, and other autumn treats in calming violet space. Why not come enjoy the feel of a masquerade while eating your fill of sugary delights?

The event will feature jewel-like tarts lavishly decorated with figs and grapes, strawberry cheesecake inspired by a courtly flower garden, and lemon mousse shaped like a fanciful headdress. The buffet itself will be decorated with masks and glittering ornaments.

The buffet will also include lunch with a lineup of savory dishes such as spiced grilled chicken, black curry made with charcoal, and purple sweet potato potage.

Visitors showing up to the buffet wearing violet will receive an original purple mocktail called Fancy Violet. Why not come for a girls' night out or a family dinner this Halloween season?

Information

Violet Masquerade Sweets Buffet

Running: September 7 – October 27, 2022
*On select dates only. These dates will be announced on the website.
*Weekdays only.
Venue: GRAMERCY HOUSE / The Strings Omotesando 2F
Hours: 12:00-14:00 *120-minute seatings

Details / Reservations: https://www.strings-hotel.jp/omotesando/event/sweetsbuffet/#next

Popular Snack Tabekko Doubutsu Inspires Collaboration Cafe in Omotesando

A new concept cafe for the popular snack Tabekko Doubutsu will be opening in Omotesando for a limited time, from July 5 until August 21. The snack is similar to animal crackers in the west, though these little creatures are a little cuter.

Korean-style Macaron Set

Tabekko Doubutsu Cafe – Omotesando Goods Set (4 varieties)

Tabekko Doubutsu Cafe – Omotesando Mini Drawstring Pouch (9 varieties)

Tabekko Doubutsu has been hugely popular with young children and adults alike since the snack was first released in 1978. Guests visiting the collaboration cafe can enjoy themed sweets and new merchandise along with a special photo spot perfect for social media!

Fendi and Harajuku Omotesando Keyaki-kai Collaborate on #FendiTsunaguOmotesando Art Project

Italian luxury fashion brand Fendi has teamed up with Harajuku Omotesando Keyaki-kai on a new street art project! 'TSUNAGU – Omotesando Street Art Project' was unveiled on April 29, 2022.

 

The project, which aims to improve the city's scenery and share positive messages, is on display in Omotesando, a popular area with young people. The canvas is the formal site of the Oriental Bazaar, an iconic part of Omotesando for over four decades. Under the theme of 'hope,' three young artists will be displaying their artwork in a massive temporary enclosure on the site. Hopefully, Japan really will open tourism soon so that guests from around the world can enjoy these inspiring pieces!

The first piece of art was unveiled on April 29 and was drawn by Dai Tamura, a young Japanese artist who has attracted worldwide attention after becoming an illustrator for the NBA. The dynamic and powerful compositions vividly depict endangered animals and plants alongside delicate flowers to symbolize hope for the futures of these beautiful creatures. 



Be sure to keep an eye out for the next installation coming soon!

Information

TSUNAGU – Omotesando Street Art Project

Location: Oriental Bazaar Former Site

Address: 5-9-13 Jingumae, Shibuya-ku, Tokyo

Official Site: http://www.fendi.com

Idol Group Shiritsu Ebisu Chugaku to Open One-Day 'Ebisen Cafe' in Omotesando

The popular idol group Shuritsu Ebisu Chugaku will open a one-day-only cafe in Omotesando on May 1, 2022! The location will open in conjunction with CookpadTV, which hosts the popular show 'Shiritsu Ebisu Culinary Institute.'

The members of Shiritsu Ebisu Chugaku are passionate about cooking, making this the perfect project. Since October 2021, the girls have streamed their cooking stories and ideas on CookpadLive, and now, they're ready to put their hearts and souls into each and every item on this cafe menu. Visitors will also be able to purchase original merchandise on-site and see some of the member's costumes! 


Reservations for the cookpadLive Ebisen cafe are required, and the lottery for reservations is open now. Some of the menu items and original goods offered at the cafe are also available for purchase on cookpadLive's official E-commerce site, so don't worry if you aren't able to attend in person on May 1!

The cookpadLive Ebisen Cafe will feature a special lunch time, dinner time, and cafe time. The nine members of Shiritsu Ebisu Chugaku will appear in three teams for each session.

THE STRINGS Omotesando Offering Cherry Blossom & Strawberry Afternoon Tea for Take-Out

The ZelkovA Cake Boutique at the wedding venue THE STRINGS Omotesando is offering a Cherry Blossom & Strawberry Afternoon Tea set to-go from March 3 until April 26! How would you like to experience an authentic afternoon tea experience from the comfort of your own home?

Mini Afternoon Tea Set

The original take-out box can be displayed on a table in a standard three-tier afternoon tea format. Each set contains a number of spring-inspired sweets including a tasty Mont Blanc with strawberries and a tiramisu made with sponge cake soaked in strawberry extract and layered with cherry blossom mascarpone cream. The savory menu also includes pink strawberry sandwiches with shrimp and cabbage.

 

Two kinds of tea from the luxury Singapore tea brand TWG will be included in the set, and a mini afternoon tea set with seven types of sweets will also be available for purchase.

Jill Stuart Beauty Reveals Limited-Edition Cherry Blossom Spring Collection

Jill Stuart Beauty has launched a limited spring collection, 'Crystal Bloom Sakura Bouquet.' These items, inspired by beautiful double-layered cherry blossoms, are now available for purchase both in-store and online!

Jill Stuart Crystal Bloom Sakura Bouquet Eau de Parfum

Jill Stuart Crystal Bloom Sakura Bouquet Perfumed Hand Cream

Jill Stuart Sakura Bouquet Bloom Mixed Blush Compact

21 – Rosy Cherry Blossom

Jill Stuart Sakura Bouquet Lipstick – Lip Jewel Gemmy Satin / Jill Stuart Sakura Bouquet Lipstick Case

106 – Cherry Waltz

107 – Fluttering Petals

Jill Stuart Sakura Bouquet My Lips 01 – Fluffy Cherry

Cherry blossoms are a symbol of spring and continue to entrance people each year. Sakura in full bloom have the power to bring people together, and this spring, Jill Stuart hopes that this fragrance and beauty collection can do the same.

Third Installment of Popular 'cookpadLive Attack on Titan' Collaboration to Open in Tokyo and Osaka

CookpadTV is continuing to hold AniCook events, using anime and manga to make cooking more fun. A new collaboration with Attack on Titan is here, following two very successful tie-ups in the past. The cookpadLive Titan Festival Vol. 3 event will begin on March 17, 2022, and will be based on the theme of the character's memories. A lottery for entry is now open, and guests can look forward to tons of exclusive items only on sale at each venue and online during the event period.

Food

That Day's Determination…Carbonara Hamburger / That Day's Vow…Genoa Chicken Fricassee/Unyielding Will…Risotto Rice Croquettes

Desserts

The Courage to Believe…Mont Blanc Roll/Qualities of a Leader…Brownie Parfait/That Day's Sunset…Orange Cream Pancake

Drinks

Menu Order Bonus

Titan Festival Vol.3 Exclusive Goods

B-SIDE LABEL Collaboration Exclusive Goods

The event will take place in Omotesando in Tokyo and Shinsaibashi PARCO in Osaka. The collaboration menu expresses the character's worldview during The Final Season, and the limited-edition merchandise will feature newly drawn illustrations of Eren and his friends as they march towards the series' highly-anticipated end.


Along with newly-drawn illustrations, the collaboration project will also include goods made along with B-SIDE LABEL, a pop art group. Look forward to it!

©諫山創・講談社/「進撃の巨人」The Final Season製作委員会

Information

cookpadLive Titan Festival Vol. 3

Location: 

cookpadLive cafe Omotesando
Address: Ao Building 3F (3-11-7 Kitaaoyama, Minato-ku, Tokyo)
Running: March 17 – April 17, 2022
Hours: 11:00-21:00

cookpadLivecafe Shinsaibashi
Address: Shinsaibashi PARCO 5F (1-8-3 Shinsaibashisuji, Chuo-ku, Osaka)
Running: March 17 – April 17, 2022
Hours: 10:00-20:00

Artist Mai Yoneyama Opens Exhibition at ZeroBase Omotesando

Animator and illustrator Mai Yonoyama has opened a solo exhibition at ZeroBase Omotesando from February 10 until February 14, 2022. The exhibition will show off her new work 'printemps' for the first time, and 30 other unique works will be on display. Some will be on sale as well, and guests will be able to see '00:00:00,' which was exhibited at the 'START ART FAIR 2021' in London last year.

Merchandise featuring popular motifs from the artist's works will be on sale during the exhibition. Certain exhibited works will be sold on the special webshop in extremely limited quantities.

Comment from Mai Yoneyama

I'm pleased to announce that I will be holding a solo exhibition in cooperation with Credit Saison. All of my past and recent works will be on display, and I hope that you'll be able to see and feel the value of my art.

My new work is also the first in a series of seasonally-themed pieces. Enjoy the image of a plant budding and filling the world with a lovely scent.

THE STRINGS Omotesando Offering Authentic Strawberry Afternoon Tea to Enjoy at Home

THE STRINGS Omotesando is now selling the 'STRINGS Take-out Strawberry Afternoon Tea' at the ZelkovA Cake Boutique until March 2, 2022.

The original take-out box can be transformed into a three-tiered afternoon tea stand, featuring a gorgeous array of sweets studded with sweet and sour strawberries. Everything from strawberry shortcake with its cute pink cream, mousse, tarts, panna cotta, and sandwiches are included.


Each person will also enjoy two kinds of tea from TWG Tea, a luxury tea brand from Singapore.

Cosmetic Brand SHIRO Unveils Powerful Oil Collection

A powerful skincare collection is coming in January 2022 from cosmetic brand SHIRO. The Oil Collection will feature eight unique products with the company claiming that the life force of the Earth itself is put into each and every drop. 

Items in the collection utilize rich plant extracts and other healthy materials and offer something for each and every skin type. Depending on a user's skin and the amount of water used, the oils may react differently. People's skin changes as time goes on due to stress and things like temperature, and these may help reduce some of that damage. 

The eight oils come in three categories: FACE, FACE & BODY, and BODY. Choose the one that best suits your skin condition and daily needs!

FACE OIL

Calendula Oil

Tamanu Oil

St. John's-wort Oil

Kalahari Melon Oil

These four oils each utilize a specific extraction method and essential oil depending on the plant used. With different textures and fragrances, they can be helpful for achieving the best possible skin. You can't go wrong with this lineup, whether you're new to beauty oil or are a regular user. 

FACE&BODY OIL

Japanese Mugwort Oil

Flax Oil

This is the first time SHIRO has released two types of oils that can be used on both the face and the body. Sold in a generous size, these are perfect for daily skin care and body massage. 

BODY OIL

Castor Oil

Arnica Oil

These two body oils soften and moisturize skin while giving off incredible fragrances tinged with essential oils. 

Yoshitaka Amano Exhibition Now Open at Kikka Gallery in Omotesando

Known for his work on the Final Fantasy series, Yoshitaka Amano is one of the most beloved artists in Japanese popular culture. From November 5 until November 30, an exhibition displaying many of his works is open at the Kikka Gallery in Omotesando, Tokyo. Online lottery sales of many Amano works shown in the exhibition began on November 20. 

While overseas fans know him best for Final Fantasy, Amano is also the creator of many iconic characters such as Gatchaman, Tekkaman, and Casshan. 

The PREMONITION OF HAPPINESS exhibition boasts 111 paintings and 3D works on display, all of which are one-of-a-kind. A number of colorful works drawn on traditional Japanese paper and bamboo plates are also attracting guests, based on his fine artwork CANDY GIRL, which he has been working on since 2015. 

Q-pot CAFE. Serving Up Christmas-Themed Dishes in Omotesando

While Q.pot. is largely known as an accessory brand in Japan, its Q-pot CAFE in Omotesando, Tokyo serves up some of the most indulgent and decorative sweets you can imagine. The location has just started serving up its 2021 Christmas menu, featuring edible snowmen, teddy bears, and much more!

Limited Menu Pop-Up Snowman Cake Plate: ¥2,060 (Tax Included)

This mousse cake is covered with streusel, crunchy almonds, and a mix of lemon cream and chocolate. Guests can also enjoy yogurt mousse with apple pulp, mascarpone, fluffy almond chocolate cream, and plenty of Christmas spirit!

With a face made of crispy meringue, a nose made of sweet chocolate, and a hat made of red velvet cookie, how could anyone resist this Santa Clause? 

Teddy Bear's Merry Christmas Plate: ¥2,060 (Tax Included)

How would you like to spend Christmas with this sweet teddy bear? 

This bear is a scrumptious oatmeal cookie that's not too sweet. Underneath the layer of raspberry cream are a rich cream cheese mousse, chocolate mousse, and plenty of crunchy almonds drenched in dark chocolate. 

Teddy Bear's Almond Chocolate Tea Latte: ¥850 (Tax Included)

This special tea latte was inspired by a flower garden, featuring a slightly sweet fragrance reminiscent of fresh blooms and fruits. The beverage is served with oatmeal cookie ears and topped with almond chocolate cream. 

Snowman & Teddy Bear's Dreamy Afternoon Tea Set: ¥2,500 per person (Tax Included) 

Top: This limited-edition Christmas afternoon tea set features a pistachio mousse cake with marshmallow snowmen and oatmeal cookie bears. Guests can find cinnamon-flavored pound cake, grapefruit jelly decorated with red velvet Santa hat cookies, creamy macaroons, and plenty of other sweets to lift those holiday spirits!

Bottom: If sweets just aren't enough, this meal is sure to fill those hungry bellies. Crispy croissant sandwiches are covered with a black pepper and herb glaze and are served with rich lobster bisque and plenty of pickles and olives. 

Information

Q-pot CAFE. Christmas Menu

Where to Buy: Q-pot CAFE. Omotesando

Available: November 1 – December 25, 2021

Hours: 11:00-19:00 (Last Order at 18:30) 

*Hours subject to change.