Billie Eilish x Takashi Murakami Collaborate Once Again For UNIQLO UT Fashion Collection
Billie Eilish and Takashi Murakami have joined hands once again to drop a new clothing collection in UNIQLO's graphic T-shirt brand UT.
Billie made her debut when she was 13, and just five years later, her music is spearheading the charts and industry. Back in January this year, at 18-years-old, Billie won five Grammy Awards and hailed as the youngest person to win all four of the main Grammy categoriesーBest New Artist, Record of the Year, Song of the Year and Album of the Year. She is also only the second person to win all four in the same year.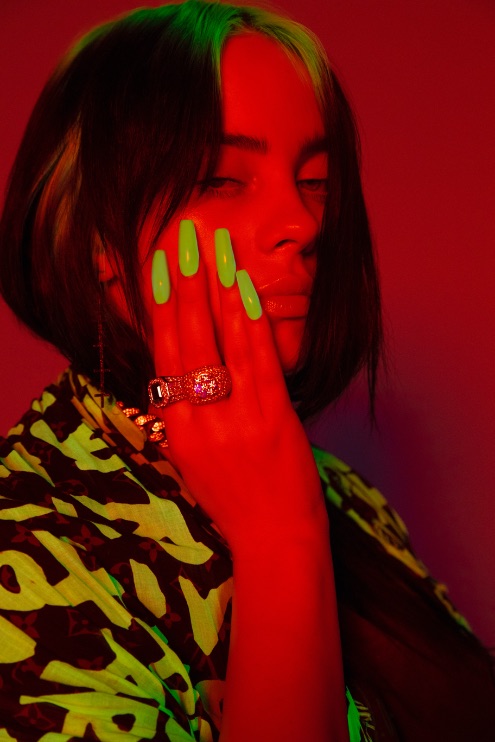 The collection will be available online from May 25, 2020 and in stores from May 29, 2020 as they reopen.
MEN

WOMEN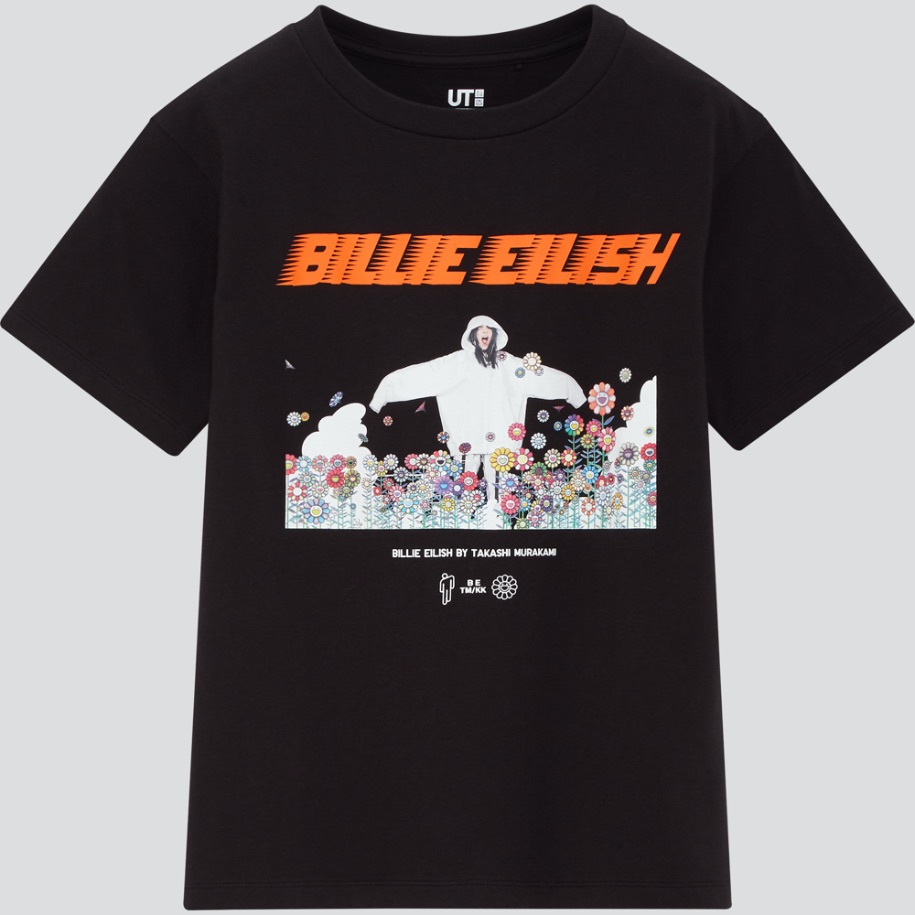 KIDS
UNIQLO USA released a trailer for the collection on their official YouTube channel which you can watch below. The colourful video combines Billie's iconic Blohsh character with Murakami's flowers.
UNIQLO Presents: Billie Eilish by Takashi Murakami For UNIQLO UT

Billie and Murakami's friendship started when they sent each other messages on Instagram. Billie performed at Summer Sonic in Japan in 2018. During her time in the country, she met with Murakami and together they completed an animated music video for her hit track you should see me in a crown which was released last April.
©️Takashi Murakami/Kaikai Kiki Co., Ltd. All Rights Reserved. Photo by RK (IG: @rkrkrk)
The music video has over 69 million views (as of May 18, 2020) and fuses together the visionary minds of Billie and Murakami.
Billie Eilish – you should see me in a crown (Official Video By Takashi Murakami)

To commemorate the new Billie Eilish x Takashi Murakami UT collection, a 3-meter tall statue of Billie created by Murakami is being erected at the Harajuku branch of UNIQLO in Tokyo this June.
*Please note that the opening day of the UNIQLO Harajuku is subject to change.
©2020 LASH Music, LLC
©2020 Takashi Murakami/Kaikai Kiki Co., Ltd. All Rights Reserved.
Information
Billie Eilish x Takashi Murakami UT Collection
Available Online 5/25 Mid Morning ET
In Stores 5/29 As They Reopen
Billie Eilish x Takashi Murakami UT Collection Website: www.uniqlo.com/billie-x-murakami/
RELATED ENTRIES
Artist Takashi Murakami and New Era to Release First Collaboration Collection

World-renowned artist Takashi Murakami and international headwear brand New Era have come together to release their first collaborative collection.

Murakami's embroidered artwork appears on New Era's iconic hats, and to prepare for this unique collaboration, artwork combining the icons of both companies will also appear on select products. For those who don't wear hats, apparel and bags will also be available at New Era's online store and select stores nationwide. The collection went on sale in Japan on January 1, 2022.

Jujutsu Kaisen 0 Inspires New Apparel from Uniqlo

UNIQLO's graphic t-shirt brand UT will release a new collection based on the upcoming Jujutsu Kaisen 0 film! These sleek new shirts will go on sale at UNIQLO stores nationwide and online starting December 24, 2021. 

The Past of Popular Characters as Depicted in UT's Unique Worldview


This collaboration focuses on the past of the main characters, unique to this prequel of the Jujutsu Kaisen anime series. The main character, Yuuta Okkotsu, is haunted by his childhood friend Rika who died in a car accident. Satoru Gojo, wearing a fresh white bandage over his eyes rather than the black mask seen in the anime, and Geto Suguru, the film's villain, are also making appearances in the new collection. 

An Original Box Online Exclusive

Those placing an order from the UNIQLO online store will receive their package in an original box beginning with shipments going out on December 14!

© 2021 「劇場版 呪術廻戦 0」製作委員会
©芥見下々/集英社

UNIQLO Kids' Holiday Loungewear Collection to Feature Demon Slayer Designs

Demon Slayer continues to be massively popular, and kids will be happy to know that a new collection featuring their favorite characters is coming! UNIQLO locations across Japan will release the Kids' Holiday Loungewear Collection on November 26, 2021. 

The new season of Demon Slayer is coming soon, and this new collection features many popular patterns worn by the series' characters. A special tote bag also features an illustration drawn by ufotable exclusively for this new collection. 

A limited-edition UNIQLO gift card design will also be available during the holiday season. Don't miss out on this collection that kids will love!

©吾峠呼世晴/集英社・アニプレックス・ufotable

UNIQLO U Future Forward Fall/Winter Collection Coming to Stores in September

Created by Artistic Director Christophe Lemaire and his team in Paris, Uniqlo U will soon be releasing its Fall/Winter 2021 collection. The inspiration for the new collection lies in both the present and the future, with simple silhouettes and practical details perfect for daily life. The men's, women's, and children's pieces are made with soft materials and can be layered easily, meant for both relaxing at home and exploring the outdoors. 

Future Forward: An Essential Wardrobe for the Future


The women's styles are elegant while remaining simple and practical, with light knitwear and denim perfect for layering during cooler months. 

Men's fashions are based on classic designs, which have now been made more refined and practical. The outerwear is easy to move in, making it a great fit for those commuting to work. 

Children will love Uniqlo U's new pieces, with loose-fitting designs allowing kids to focus on being free and spontaneous. Each item can be comfortably worn for long periods of time, and won't irritate or constrict even the most active of youngsters. 

Combining the more neutral pieces with the more colorful items will liven up the season! Will you be grabbing any of these new releases? 

Information

2021 Fall/Winter Collection

Release Date: September 17, 2021

*Some products are now on sale in advance.

Where to Buy: Full lineup to be available at 227 UNIQLO stores and online. 

*Some products will be available at all UNIQLO locations in Japan. 

UNIQLO U Special Site: http://www.uniqlo.com/UniqloU

New Cocktail Menu Gets Served at KYOTO YURA HOTEL MGallery

KYOTO YURA HOTEL MGallery is now serving a new cocktail and afternoon tea menu in collaboration with Perrier Promotion.

KYOTO YURA HOTEL MGallery is a hotel group based in Paris, France which operates over 5,000 hotels and resorts in 110 countries worldwide. Together with the mineral water brand Perrier, the two companies launched the 'Perrier Promotion with KYOTO YURA HOTEL MGallery' on July 21 which includes a special cocktail and afternoon tea line-up being served up at Lounge & Bar 1867.

Perrier x MURAKAMI Tote Bag

Perrier Cacao & Orange Asian Fizz Mocktail | ¥1,300 (Tax Included)

Perrier Umami & Ryokucha Green Tea Sour Mocktail | ¥1,300 (Tax Included)

Perrier Citrus Iced Tea Mocktail | ¥1,300 (Tax Included)

Perrier Evening Iced Coffee Cocktail | ¥1,700 (Tax Included)

Perrier Flower & Fruit Afternoon Cocktail | ¥1,700 (Tax Included)

Perrier Promotion with KYOTO YURA HOTEL MGallery is an all-day special event taking place at the hotel. At both the hotel entrance, as well as Lounge & Bar 1867, an artwork collaboration by Takashi Murakami and Perrier is being displayed for the duration of the event, adding a colourful vibe to the spaces.

The drinks line-up includes three mocktails which are available on the free flow drinks menu when ordering the hotel's popular afternoon tea. The afternoon tea set was conceived by pastry chef Jennie Chiu and is packed full of summer fruits like passion fruit and mango.

During the collaboration, the first 200 people to order either the afternoon tea set or high tea set will also receive a free novelty tote bag featuring the Takashi Murakami's characters Kaikai and Kiki.

In the evenings, the Perrier Pop-Up Bar are serving two alcoholic cocktails alongside the mocktails.

UNIQLO's Global Design Competition UT GRAND PRIX 2022 is Themed on the Peanuts Comics

The UT GRAND PRIX (UTGP) is a design competition that started in 2005. The contest uses the T-shirt as a creative medium and invites everyone to freely express their creativity. This year, the competition is themed on the Peanuts comic strips by Charles M. Schulz which first hit the scene in the US back in 1950, over a hundred years ago.


Create your own Peanuts tee design


Artists are invited to unleash their imagination and bring their own Peanuts creations to life using UNIQLO's UT brand as their canvas. Designs will be judged by the Charles M. Schulz Museum and a team of Charles M. Schulz creative associates.

An internship at the Peanuts studio


The Grand Prize is $20,000 and all winning designs will become products sold in UNIQLO stores worldwide in the summer of 2022. The winners of the top two prizes will be invited to the USA. There will also be an internship opportunity to be a member of the Charles M. Schulz creative associates team.

Sign up to the competition and submit your entry for the chance of your artwork being featured worldwide.

UNIQLO x Tate Modern Launch UNIQLO Tate Play

UNIQLO and British art gallery Tate Modern have signed a three-year global partnership. The two first came together for the UNIQLO Tate Lates event series which began in 2016. This new partnership brings about new free programme of playful activities for families of all ages. This summer, people are invited to transform the floor of the Turbine Hall at Tate Modern into a giant collaborative work of art at UNIQLO Tate Play: Mega Please Draw Freely. Tate will also release a t-shirt collection in collaboration with UNIQLO's UT brand in 2022.




Tadashi Yanai (Fast Retailing Chairman, President and CEO, UNIQLO) | Comment


"UNIQLO is proud to be partnering once again with the world-renowned Tate Modern especially this year, as 2021 is the year we are celebrating the 20th anniversary since launching UNIQLO in the United Kingdom. Our renewed collaboration with Tate Modern is based on a shared philosophy of Made for All, a concept echoed in LifeWear, clothing designed to help make everyone's daily life better, and in giving everyone the opportunity to enjoy art. My hope is for many families to get involved in the UNIQLO Tate Play program."

UNIQLO Tate Play invites everyone of all ages to scribble, doodle, sketch and become part of an unforgettable experience.


UT is UNIQLO's graphic print t-shirt brand which first launched in 2007. 'Wear Your World' is the brand's philosophy. It has collaborated with anime, manga, bands, films, and more, and next year, it is teaming up with Tate Modern in an exclusive collection.

YOASOBI x UNIQLO UT T-Shirt Collab Collection Releasing This July

UNIQLO's UT collection is a line of tees created in collaboration with other brands, anime, shows, and more. On July 2, UNIQLO is teaming up with the Japanese music duo YOASOBI to release an exclusive new collection.

YOASOBI, which is comprised of Ayase and ikura, made their debut in 2020 with their hit song Yoru ni Kakeru. Since then, their music has continued to top charts in JApan.

The collection is a fusion of fashion and music in women's and kids designs featuring stills taken from seven of the duo's iconic music videos including Yoru ni Kakeru, Halzion, Tabun, Gunjo, Haruka, Encore, and their new track Sangenshoku.

The Line-Up

Women's Tees | 7 Designs | ¥1,500

Kids Tees | 5 Designs | ¥990

To promote the collaboration, YOASOBI will also hold a free YouTube livestream on July 4 2021 at 6pm (JST). The online event is called "SING YOUR WORLD" and will see them perform live.

©藍にいな ©ラビットマシーン ©すばこ舎・山中琴美・村山辰徳・細矢祐輔 ©南條沙歩 ©しなの ©牧野惇
©古塔つみ ©むつき潤
©伊豆見香苗・すばこ舎・山中琴美・村山辰徳・細矢祐輔 ©文・すばこ舎・山中琴美・村山辰徳・細矢祐輔

Jujutsu Kaisen x UNIQLO T-Shirt Collection Announced

UNIQLO are set to collaborate with Jujutsu Kaisen for the first time ever in a new t-shirt collection from their UT brand on June 4. The Jujutsu Kaisen manga series written and illustrated by Gege Akutami has sold over 45 million copies, making it one of the best-selling series of all time.

The Line-Up

Men's T-Shirts (7 Designs)

Kids T-Shirts (4 Designs) 

This first collection features iconic scenes and lines taken from the main characters of the manga series. The line-up is a must-grab for fans looking to express their love of the series, which saw the first season of its anime adaptation conclude in March. A second collection is planned for release.

©芥見下々 / 集英社

Paul & Joe x UNIQLO to Launch UT Collection

UNIQLO has announced the worldwide release of its new "Paul & Joe UT Collection" which will hit the brand's site on March 26. The line-up features a variety of t-shirts with a fun and colourful springtime feel to them.

The Line-Up

Women's T-Shirts (2 Designs – 9 Colours) ¥1,500 | Blouses (1 Design – 3 Colours) ¥2,990

 Women's Skirts (1 Design – 4 Colours) ¥2,990 | One Piece (1 Design – 3 Colours) ¥4,990 | Scarfs (1 Design – 4 Colours) ¥990 | Bag (1 Design – 3 Colours) ¥1,500

Girls T-Shirts (2 Designs – 6 Colours) ¥990 | Girls One Piece (1 Design – 4 Colours) ¥2,990 | Baby T-Shirts (1 Design – 4 Colours) ¥990 | Baby Leggings (1 Design – 3 Colours) ¥790

Freebies

Hairbands

Customers who buy two or more of the items in this collection will receive a free hairband. These are limited in stock so are first-come, first-served. Additionally, those who use the gift service will have their items wrapped in a special gift sleeve case.

The collection features motifs that are symbolic of the Paul & Joe brand, such as chrysanthemums, and lilies, which are believed to bring happiness, in pastel colours. It also features cats, another iconic motif of the brand. The line-up includes all the wardrobe essentials such as t-shirts, dresses, blouses, scarfs, and bags for women, girls, and babies.

ALL PAUL & JOE PRINTS ARE COPYRIGHTED

UNIQLO x Haruki Murakami T-Shirt Collection Features Novelist's Book Motifs

UNIQLO is collaborating its T-shirt brand UT with the internationally-acclaimed Japanese writer Haruki Murakami to release a collection of T's featuring motifs inspired by the novelist's books and radio program. The collection will first release in Japan on March 8 and subsequently worldwide on March 15.

The collection features nods to some of Murakami's most acclaimed works including Pinball, 1973; Norwegian Wood, Dance Dance Dance; Sputnik Sweetheart; Kafka on the Shore; and 1Q84.


UNIQLO's Andy Warhol x Kosuke Kawamura Collection Launches This February

UNIQLO is set to release its new "Andy Warhol x Kosuke Kawamura" collection as part of its T-shirt series UT worldwide on February 8, 2021.

Men's

Kids

©/®/™ The Andy Warhol Foundation for the Visual Arts, Inc.
©Kosuke Kawamura

Trademarks Licensed By Campbell Soup Company. All Rights Reserved.

Marilyn Monroe™; Rights of Publicity and Persona Rights: The Estate of Marilyn Monroe, LLC.

The special collection sees the iconic artwork of the legendary American visual artist Andy Warhol redesigned by Japanese artist Kosuke Kawamura, who is greatly influenced by the pop art mastermind.