Billie Eilish x Takashi Murakami Collaborate Once Again For UNIQLO UT Fashion Collection
Billie Eilish and Takashi Murakami have joined hands once again to drop a new clothing collection in UNIQLO's graphic T-shirt brand UT.
Billie made her debut when she was 13, and just five years later, her music is spearheading the charts and industry. Back in January this year, at 18-years-old, Billie won five Grammy Awards and hailed as the youngest person to win all four of the main Grammy categoriesーBest New Artist, Record of the Year, Song of the Year and Album of the Year. She is also only the second person to win all four in the same year.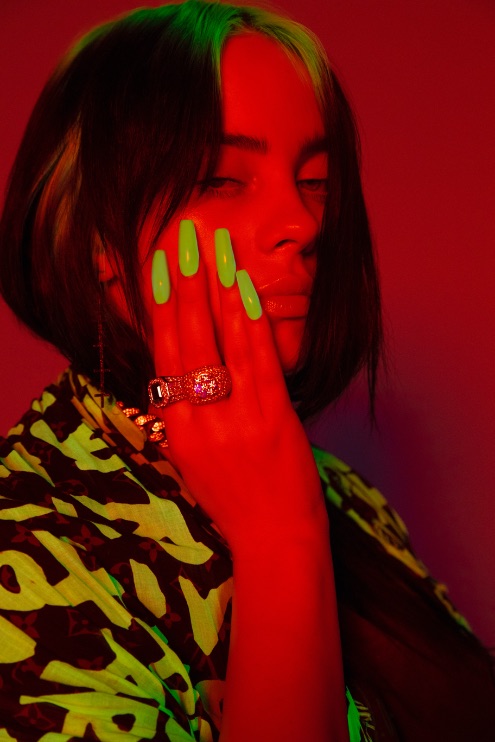 The collection will be available online from May 25, 2020 and in stores from May 29, 2020 as they reopen.
MEN

WOMEN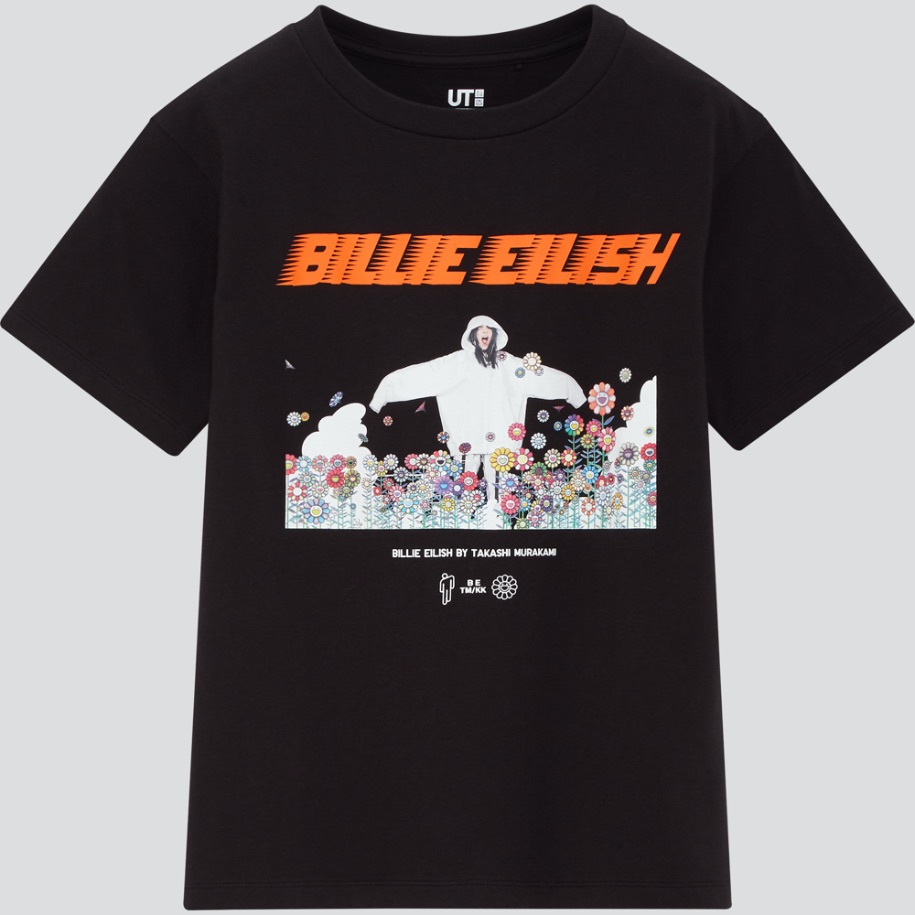 KIDS
UNIQLO USA released a trailer for the collection on their official YouTube channel which you can watch below. The colourful video combines Billie's iconic Blohsh character with Murakami's flowers.
UNIQLO Presents: Billie Eilish by Takashi Murakami For UNIQLO UT

Billie and Murakami's friendship started when they sent each other messages on Instagram. Billie performed at Summer Sonic in Japan in 2018. During her time in the country, she met with Murakami and together they completed an animated music video for her hit track you should see me in a crown which was released last April.
©️Takashi Murakami/Kaikai Kiki Co., Ltd. All Rights Reserved. Photo by RK (IG: @rkrkrk)
The music video has over 69 million views (as of May 18, 2020) and fuses together the visionary minds of Billie and Murakami.
Billie Eilish – you should see me in a crown (Official Video By Takashi Murakami)

To commemorate the new Billie Eilish x Takashi Murakami UT collection, a 3-meter tall statue of Billie created by Murakami is being erected at the Harajuku branch of UNIQLO in Tokyo this June.
*Please note that the opening day of the UNIQLO Harajuku is subject to change.
©2020 LASH Music, LLC
©2020 Takashi Murakami/Kaikai Kiki Co., Ltd. All Rights Reserved.
Information
Billie Eilish x Takashi Murakami UT Collection
Available Online 5/25 Mid Morning ET
In Stores 5/29 As They Reopen
Billie Eilish x Takashi Murakami UT Collection Website: www.uniqlo.com/billie-x-murakami/
RELATED ENTRIES
UNIQLO's UT Sweatshirt Collection Features Everything from Pop Culture Icons to Contemporary Art

UNIQLO's graphic T-shirt brand UT has revealed some new pieces for its Fall/Winter 2022 collection! Some new sweatshirts are hitting the market featuring everything from Peanuts and Disney characters to Museums of the World and classic Spider-Man art.

Peanuts

From the world-famous Peanuts comic strip comes a collection of sweatshirts for children and adults! Be sure to grab these adorable designs featuring the daily life of Snoopy, Charlie Brown and friends.

Release Date: August 22, 2022

The Philosophy of Andy Warhol

UNIQLO has worked with Andy Warhol's pieces for a number of years, and the latest collection features the powerful messages the artist left through his works. While the words themselves are powerful, the designs are simple and easy to incorporate into any look.

Release Date: August 29, 2022

New York Pop Icons


Keith Haring, Jean-Michel Basquiat, and Kenny Scharf were pioneers of New York pop culture in the 1980s. These bold prints are sure to turn heads. 

Release Date: August 29, 2022

Museums of the World Collection


The Museums of the World collection of men's shirts features beloved museums like the Tate Modern, the Louvre, the Museum of Fine Arts Boston, and more. This valuable collection was made possible by UNIQLO's continued art initiative, as the company has continued to work with museums around the world to share the wonders of art with as many people as possible.

Release Date: September 12, 2022

Disney Dearest Friends

Many Disney films depict wholesome friendships born from fateful encounters. Keeping the theme of best friends in mind, these sweatshirts feature sweet terms and beautiful typography.

Release Date: September 5, 2022

Disney Mickey & Friends

The collection is inspired by American college sweatshirts, adding motifs of Disney characters. The vintage-style design will make you feel wonderfully nostalgic.

Release Date: September 5, 2022

Spider-Man 60th Anniversary: Amazing Years


Since his debut in 1962, Spider-Man has grown to become a huge figure in pop culture. This special collection uses some of the coolest comic book art of all time, perfect for today's superhero fans.

Release Date: October 3, 2022

These sweatshirts are perfect for jazzing up your fall and winter wardrobe, so be sure to grab your favorites!

UNIQLO Releases UT Collection Inspired by the Great Museums of the World

UNIQLO's graphic T-shirt brand UT has launched an artful new collection! The Museums of the World collection of men's shirts features beloved museums like the Tate Modern, the Louvre, the Museum of Fine Arts Boston, and more. This valuable collection was made possible by UNIQLO's continued art initiative, as the company has continued to work with museums around the world to share the wonders of art with as many people as possible.

A Collection Allowing Customers to Enjoy the World's Best Museums as Part of Their Daily Lives

This collection brings together some of the world's most beloved museums, with designs inspired by the exteriors of these well-known homes of art. The Louvre design fully captures the iconic pyramid, while the contemporary MoMA is expressed with simple lines. The name of each museum is also printed on one sleeve for extra style.

UNIQLO's Art Initiative


UNIQLO has partnered with some of the world's leading museums over the years. Through free admission programs, sales of collaborative products and various events, these museums aim to provide opportunities for more people to experience and deepen their understanding of art.

May 2013 – Present / The Museum of Modern Art (New York, USA) 

March 2016 – Present / Tate Modern (London, England) 

September 2017 – Present / Museum of Fine Arts (Boston, USA) 

March 2018 – Present / Barcelona Museum of Contemporary Art (Barcelona, Spain)

February 2021 – Present / Louvre Museum (Paris, France)

Don't miss this unique collection! Which museum would you like represented in your wardrobe?

UNIQLO Releases New UT Collection Featuring Mickey & Friends Art by Steven Harrington

UNIQLO's graphic T-shirt brand UT has announced an adorable new Disney-themed collection. The 'Mickey & Friends Art by Steven Harrington UT' collection is a triple collaboration with Los Angeles-based artist Stephen Harrington and Disney. The items will go on sale at UNIQLO TOKYO and five other nearby stores on June 10 ahead of the collection's launch at all UNIQLO stores on June 13. The colorful collection was inspired by the happiness, joy, and freedom Harrington felt as a child, which the artist expresses through classic Disney characters designed his typical pop style.


This collection is the first made in collaboration with Steven Harrington, whose vibrant art is inspired by California's landscape and mixed culture. The colorful pop art found in his work alongside the beloved character Mickey Mouse is something Disney fans won't want to miss adding to their wardrobe.

Kids sizes are also available, so try coordinating with the younger people in your life this summer!

SPYxFAMILY Inspires First Collaboration at Uniqlo

UNIQLO's graphic tee brand UT has unveiled a selection of shirts inspired by the popular anime series SPYxFAMILY! Tatsuya Endo's original manga has been serialized in Shonen Jump+ since March 2019 and has won a number of awards, selling over 18 million copies to date. In April, the anime series premiered to great global fanfare, inspiring the new collaboration.

Popular characters appear on the new t-shirt designs, including everyone's favorite mind-reader Anya. The pink-haired child appears in a hilarious way–with half of her scheming face hidden by the shirt's pocket. The handsome spy Twilight and assassin Yor also appear in their own designs, so fans can choose the shirt that shows off their favorite character! One gorgeous design shows the series' logo with a silhouette of Twilight in the background. 

Have you been keeping up with SPYxFAMILY? Who's your favorite member of the Forger family? 

UNIQLO and MARNI Introduce Timeless Pieces in First Ever Collaboration

UNIQLO will begin selling items from the new UNIQLO and MARNI collection on May 20, 2022. This marks the first time the two brands have released a collaborative collection. Items will blend UNIQLO's LifeWear and MARNI's colorful and artistic prints.

Color + Print
Using UNIQLO's simple signature items as a blank canvas, the unique colors and prints synonymous with the MARNI brand come to life in bold and fun new ways. Perfect for everyday wear this summer, the items were made under the theme of 'universality,' bringing infinite possibilities to your wardrobe.

Style + Design
These beautiful designs with bold silhouettes can be comfortably worn by anyone, regardless of gender or age. The women's balloon skirt has a light, three-dimensional silhouette created by diagonal tucks, and is perfect to wear with a sleeveless shirt in a matching color. For men, tailored jackets and pants are available in true MARNI style. Gingham is in style this season, and these comfortable pieces will keep the guys both trendy and relaxed. The parka is made of resilient nylon and can be easily worn with swim trunks!

Comment from Francesco Risso, MARNI Creative Director
"I was excited immediately at the beginning of the project. Every step of the way, we strove to uphold the integrity of UNIQLO's spirit and vision. In doing so, we created our own interpretation of what UNIQLO LifeWear can be. By thinking outside the box, we were able to create products featuring both flawless craftsmanship and MARNI's offbeat and forward-thinking spirit. I hope that by wearing items from this collection, you can enjoy the best summer of your life in your own way, freely, and with all your might."

Information

UNIQLO and MARNI 2022 Spring/Summer Collection
Release Date: May 20, 2022
Where to Buy: Full collection available at 123 UNIQLO Stores and the UNIQLO Online Store
*Some products will be available at all stores in Japan.
Product Lineup: 9 items for women/10 items for men/ 1 additional item

UNIQLO and MARNI Special Site: https://www.uniqlo.com/marni

American Jazz Label Blue Note Records & Uniqlo Announce UT T-Shirt Collection

Universal Music Group's jazz label Blue Note Records is teaming up with UNIQLO to release five T-shirts featuring famous album art. The covers were selected by the Grammy Award-winning president of Blue Note Records Don Was.

 

The new items went on sale at Uniqlo stores and online on March 21, 2022.

Comment from Blue Note Records President Don Was

"We're delighted to work with Uniqlo to develop this new UT collection that will allow customers to immerse themselves in the designs of Reid Miles*. We can thank him for the enduring aesthetic of Blue Note constructed during the 50s and 60s. The album covers he created are works of art in themselves."

*Reid Miles: Graphic designer and photographer known for his work on many iconic Blue Note album covers.

 

The Blue Note and UNIQLO collaboration began in 2011, and this fourth collaboration is also the second installment of the popular UT graphic T-shirt collection which was first released last year. The UT designers selected the shirt designs from the 30 iconic Blue Note album jackets chosen by Don Was.

The five designs are inspired by Lee Morgan's Cornbread and The Rumproller, Freddie Hubbard's Hub-Tones, Andrew Hill's Judgment!, and Eric Dolphy's Out To Lunch.

 

To celebrate this collaboration, Blue Note has released "BLUE NOTE MEETS UT," an official playlist curated by Don Was. Be sure to give it a listen!

Artist Takashi Murakami and Swiss Luxury Watch Brand Hublot Collaborate on NFT

Swiss luxury watch brand Hublot and top Japanese artist Takashi Murakami have released two pieces of digital NFT artwork inspired by Hublot's 'Classic Fusion Takashi Murakami' watches shown at the international watch exhibition 'Watches & Wonders.'

 

These pieces of digital artwork were inspired by the Classic Fusion Takashi Murakami All Black watch and the Classic Fusion Takashi Murakami Sapphire Rainbow Watch. Both items were released in 2021 and marked the first collaboration between Hublot and a Japanese artist. These two watches were released in quantities of 200 and 100 pieces, respectively, and both sold out in only a few days.


The collaboration includes two pieces of digital artwork featuring smiling flowers, a symbolic theme of Murakami's work and the Superflat art movement. There are 216 digital art pieces inspired by the All Black watch and 108 pieces inspired by the Sapphire Rainbow watch. These NFTs are primarily intended for current owners of the two limited-edition watches. Current watch owners must apply for the NFT between April 1 and April 25.


But don't worry: these NFTs will also be available to the public in limited quantities in May 2022!

MoMA Launches 'MoMA Art Icons UT,' an Apparel Collection by Modern Artists

Uniqlo's graphic tee brand UT is teaming up with the Museum of Modern Art in New York City for a new apparel collection. The new clothing items were made under the concept of 'Art for All,' aiming to make art more accessible to the masses. 

The artwork on each T-shirt and sweatshirt were created by masters of modern art featured in the MoMA, from Van Gogh to Monet. Each product is also adorned with the MoMA logo to commemorate the collaboration.

Art lovers, don't miss this sale!

Information

MoMA Art Icons UT

Release Date: February 7, 2022
Products: Men's T-shirts (5 varieties): ¥1,500 / Men's Sweatshirts (3 varieties): ¥1,990
Where to Buy: UNIQLO stores nationwide, UNIQLO Online Store
*Some products are only available at select stores.
*Some products will only be available at MoMA Design Store Omotesando, Kyoto, and Shinsaibashi.

Special Site: https://www.uniqlo.com/jp/ja/spl/ut-graphic-tees/moma-art-icons/men

Artist Takashi Murakami and New Era to Release First Collaboration Collection

World-renowned artist Takashi Murakami and international headwear brand New Era have come together to release their first collaborative collection.

Murakami's embroidered artwork appears on New Era's iconic hats, and to prepare for this unique collaboration, artwork combining the icons of both companies will also appear on select products. For those who don't wear hats, apparel and bags will also be available at New Era's online store and select stores nationwide. The collection went on sale in Japan on January 1, 2022.

Jujutsu Kaisen 0 Inspires New Apparel from Uniqlo

UNIQLO's graphic t-shirt brand UT will release a new collection based on the upcoming Jujutsu Kaisen 0 film! These sleek new shirts will go on sale at UNIQLO stores nationwide and online starting December 24, 2021. 

The Past of Popular Characters as Depicted in UT's Unique Worldview


This collaboration focuses on the past of the main characters, unique to this prequel of the Jujutsu Kaisen anime series. The main character, Yuuta Okkotsu, is haunted by his childhood friend Rika who died in a car accident. Satoru Gojo, wearing a fresh white bandage over his eyes rather than the black mask seen in the anime, and Geto Suguru, the film's villain, are also making appearances in the new collection. 

An Original Box Online Exclusive

Those placing an order from the UNIQLO online store will receive their package in an original box beginning with shipments going out on December 14!

© 2021 「劇場版 呪術廻戦 0」製作委員会
©芥見下々/集英社

UNIQLO Kids' Holiday Loungewear Collection to Feature Demon Slayer Designs

Demon Slayer continues to be massively popular, and kids will be happy to know that a new collection featuring their favorite characters is coming! UNIQLO locations across Japan will release the Kids' Holiday Loungewear Collection on November 26, 2021. 

The new season of Demon Slayer is coming soon, and this new collection features many popular patterns worn by the series' characters. A special tote bag also features an illustration drawn by ufotable exclusively for this new collection. 

A limited-edition UNIQLO gift card design will also be available during the holiday season. Don't miss out on this collection that kids will love!

©吾峠呼世晴/集英社・アニプレックス・ufotable

UNIQLO U Future Forward Fall/Winter Collection Coming to Stores in September

Created by Artistic Director Christophe Lemaire and his team in Paris, Uniqlo U will soon be releasing its Fall/Winter 2021 collection. The inspiration for the new collection lies in both the present and the future, with simple silhouettes and practical details perfect for daily life. The men's, women's, and children's pieces are made with soft materials and can be layered easily, meant for both relaxing at home and exploring the outdoors. 

Future Forward: An Essential Wardrobe for the Future


The women's styles are elegant while remaining simple and practical, with light knitwear and denim perfect for layering during cooler months. 

Men's fashions are based on classic designs, which have now been made more refined and practical. The outerwear is easy to move in, making it a great fit for those commuting to work. 

Children will love Uniqlo U's new pieces, with loose-fitting designs allowing kids to focus on being free and spontaneous. Each item can be comfortably worn for long periods of time, and won't irritate or constrict even the most active of youngsters. 

Combining the more neutral pieces with the more colorful items will liven up the season! Will you be grabbing any of these new releases? 

Information

2021 Fall/Winter Collection

Release Date: September 17, 2021

*Some products are now on sale in advance.

Where to Buy: Full lineup to be available at 227 UNIQLO stores and online. 

*Some products will be available at all UNIQLO locations in Japan. 

UNIQLO U Special Site: http://www.uniqlo.com/UniqloU